Murmurings began on the evening of 10th that the strange Calonectris shearwater lingering around the bridges in the Firth of Forth might be something rather exciting, with Britain's third – and Scotland's first – Scopoli's Shearwater mooted as a likely identification. It had been present since the morning of 9th, when it had been keeping close company with a lone Cory's Shearwater. The latter species' close Mediterranean relative, it provided several enterprising twitchers with a worthy reward on 11th, present for just under three hours around midday.
Only time will tell how long it may hang around, although it has certainly been in the North Sea region for over a month. The distinctive white markings on its right wing (actually a result of extensive feather loss) allowed it to be belatedly identified as the individual which tracked along the north-east coast on 9 July, passing a number of sites in East Yorkshire, North Yorkshire and Cleveland. The extent of white on the primaries, as well as the more delicate bill and structure than Cory's, help to clinch this difficult identification.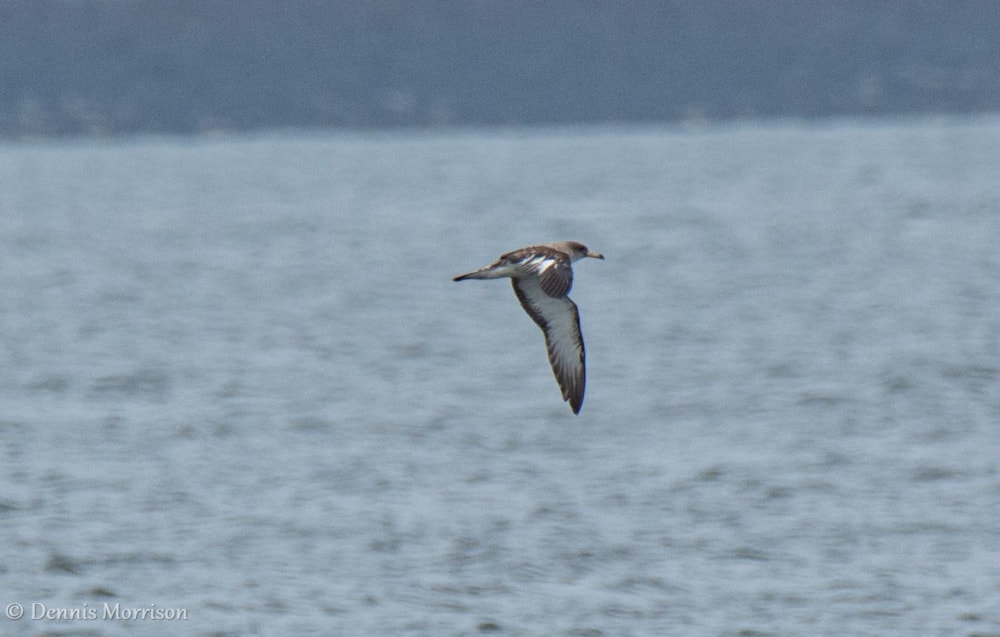 Scopoli's Shearwater, South Queensferry, Lothian (Dennis Morrison).
In East Yorkshire, early autumnal easterlies produced in style in the Spurn recording area on Monday, with a first-winter female Collared Flycatcher trapped and ringed at the Warren the highlight. A true classic Spurn day, Monday saw no fewer than three Icterine Warblers, a Greenish Warbler, White-winged Tern, Pectoral Sandpiper, two Red-backed Shrikes, Wood Warbler and Redwing alongside the star attraction. This is the earliest Collared Flycatcher ever by an impressive 20 days, with the earliest previous record also at Spurn on 30 August 2010. Other east-coast drift migrants included a Booted Warbler on Fife's Isle of May on 11th.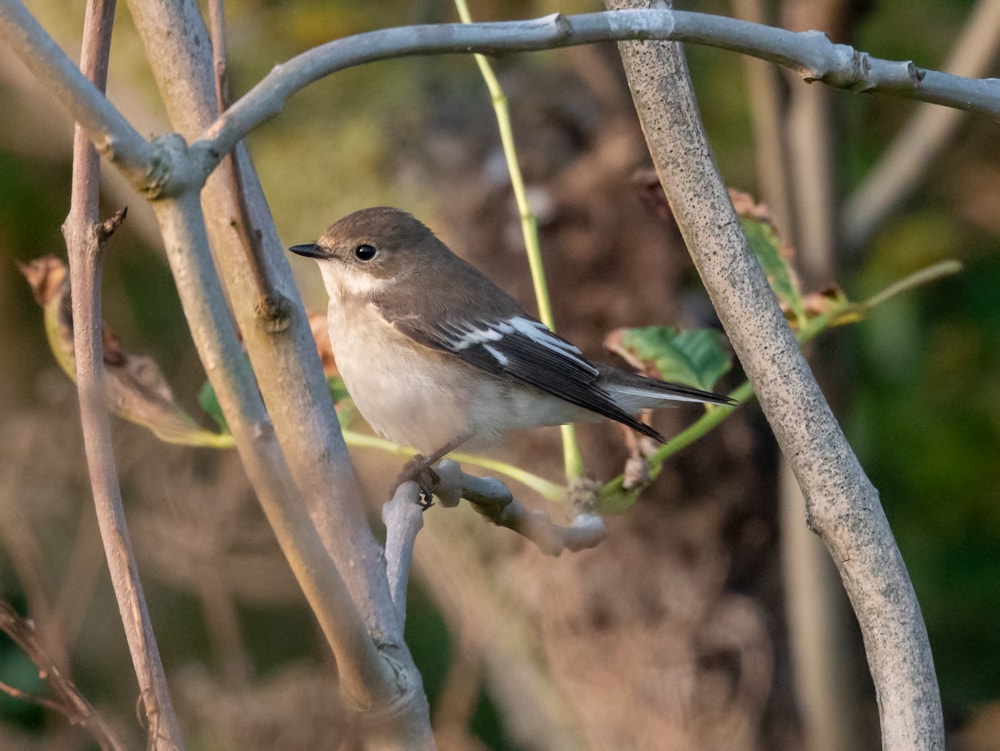 Collared Flycatcher, Spurn YWT, East Yorkshire (Brian Martin).
Another strong week for Laridae enthusiasts, Co Louth's returning Forster's Tern was back at Soldier's Point from 8th, although seems to have lost its right foot in an unfortunate incident between last September and now. A dark-backed tern south past Whitburn Coastal Park, Durham, on 9th was considered to almost certainly be the wide-ranging Sooty Tern, although unfortunately couldn't be picked up further south. Meanwhile, Suffolk's Gull-billed Tern continued delighting all comers at Alton Water, while a Caspian Tern at Hickling Broad on 9th maintained the site's impressive track record with the species. Another flew over the Gloucestershire side of Cotswold Water Park the previous day. The adult Bonaparte's Gull remained at Oare Marshes NR, Kent, throughout.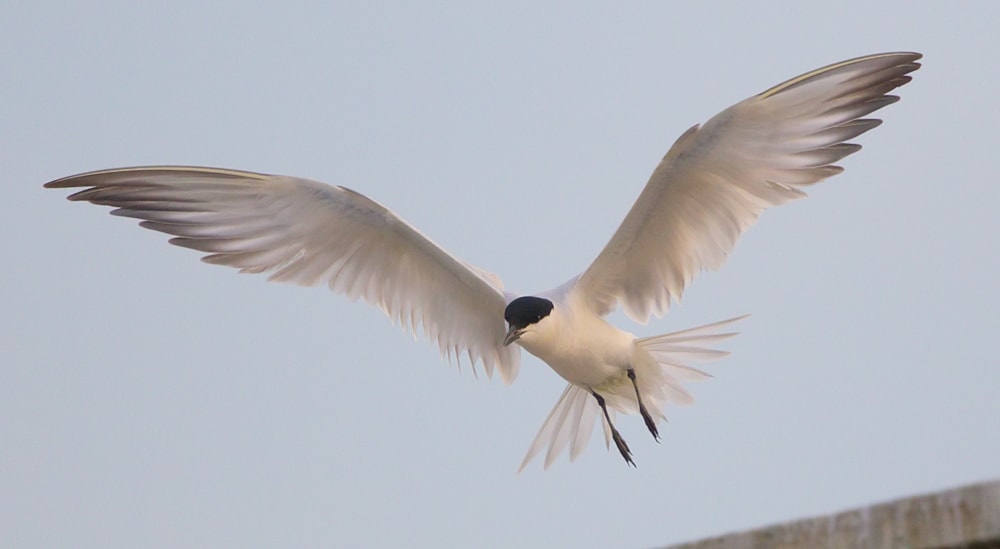 Gull-billed Tern, Alton Water, Suffolk (Nick Brown).
Spankingly fresh summer-plumaged waders are always a delight, and the adult male Pacific Golden Plover at Boulmer in Northumberland was no exception. Identified on 9th, it was later found to have been initially photographed three days earlier. Another adult was present in Suffolk on the Blyth Estuary on 7th for one day only. A scarce inland bird, a possible flew over Hollowell Reservoir, Northants, on 9th.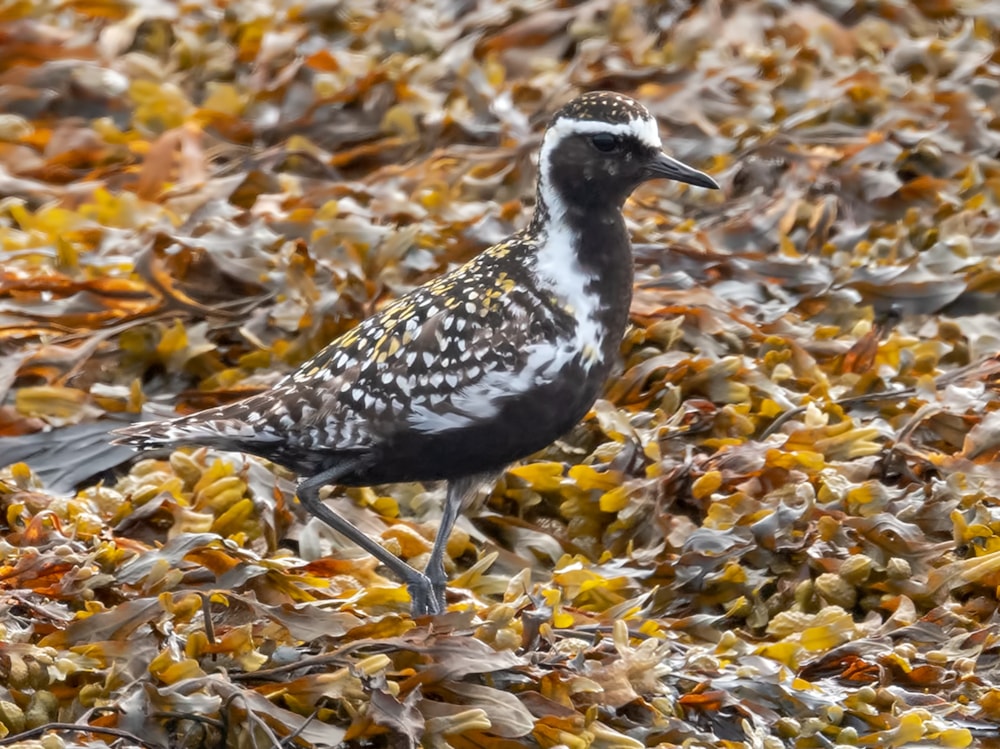 Pacific Golden Plover, Longhougton Steel, Northumberland (Brian Martin).
Spotty Spotted Sandpipers are always a delight, and we were blessed with no less than two this week. Northern Ireland was first to score, with a beauty at Castle Espie WWT, Co Down from 7th. Not to be outdone, Cornwall hit back with one at Drift Reservoir the following day, which remained until the week's end.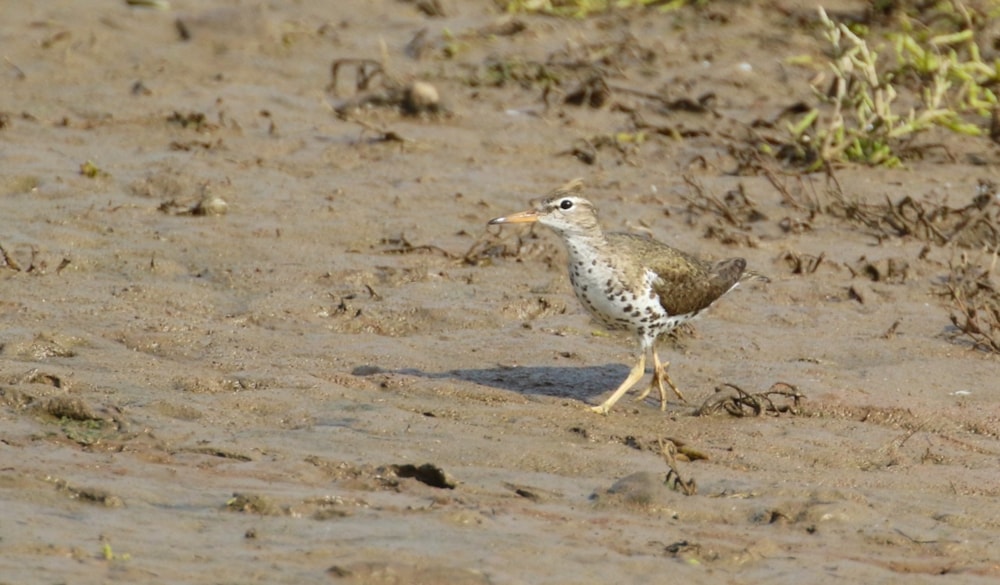 Spotted Sandpiper, Castle Espie WWT, Down (Stuart McQueen).
Derbyshire's Bearded Vulture continued finding the valleys in the Woodhead and Crowden area to its liking, with a few lucky observers getting it on their garden lists over Glossop on 8th. Rarity interest elsewhere included a Fea's-type Petrel past Galley Head, Co Cork, on 5th, while in Highland the Strontian American Black Duck made a reappearance on 8th. The Long-billed Dowitcher remained at Martin Mere WWT, Lancs, until 7th, while in Cumbria one was at Anthorn on the same date.
Scottish mainland
Off Fife, a Barred Warbler was on the Isle of May on 10-11th, while a Rosy Starling was briefly in sunny Angus in a Brechin garden on 10th. A Black Redstart remained at St Abbs Head, Borders, with an additional bird on 10th. A tuneful Common Quail was at Cookney, Aberdeens, on 11th, with at least three singing in Borders at Whitsome on 10th.
A Cory's Shearwater kept the Scopoli's company in the Firth of Forth off Fife and Lothian on 9th. Another flew south past Saltcoats, Ayrs, on 10th, with four Pomarine Skuas off Longman Point, Highland, on the same date. Other Poms were off Scoughall and Musselburgh, Lothian. A drake Surf Scoter was off Blackdog, Aberdeens, on 9th, while a first-summer Iceland Gull was at Boarhills, Fife, on 8th. Black Terns were at Carnoustie, Tentsmuir and Loch of Strathbeg.
A Red-necked Grebe remained off the Musselburgh sea wall on 10th, with the Hogganfield Loch individual still present until the same date. Ayrshire's redhead Smew was still present and correct at Auchincross.
Northern Isles and the Hebrides
Never a place short of eastern migratory flair, North Ronaldsay scored big with a northward-flying European Bee-eater over Ancum on 7th. The island bird observatory also saw a Melodious Warbler trapped and ringed on 10th, with a Barred Warbler on the same date. An adult male Red-backed Shrike was on the Mainland at Grimbister on 7th, the last date the Orphir Bay Rosy Starling was noted.
A new Rosy Starling was on Shetland at Skaw, Unst, on 6-7th. Nearby Northdale scored a Barred Warbler on 10th, topped by an Icterine Warbler the following day. Back on the Mainland, two Common Cranes were at Bixter on 8th, with the adult Long-tailed Skua still at Dalsetter Hill throughout. The first-summer White-billed Diver remained at South Nesting on 10th, while a Black-throated Diver was again off Skaw, Whalsay, on 11th.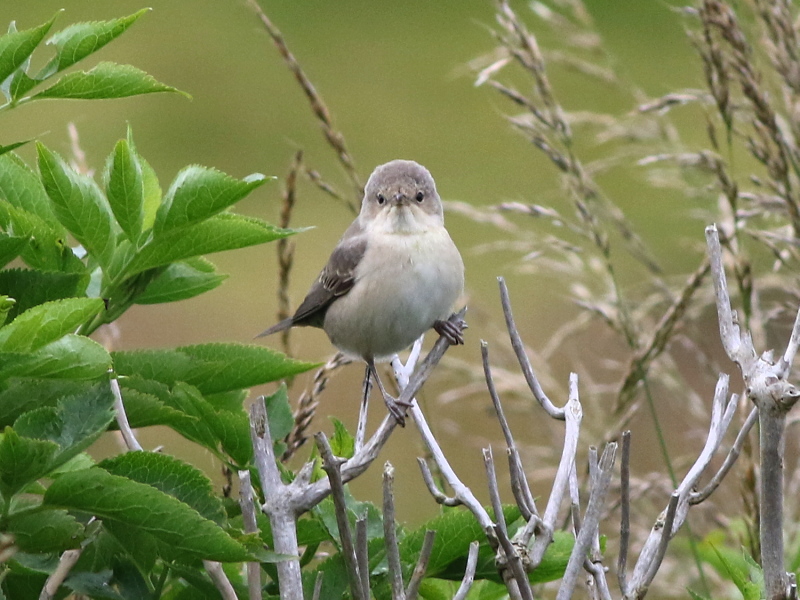 Barred Warbler, Northdale, Unst, Shetland (David Cooper).
Two Wilson's Storm Petrels at sea 67 km north-west of Ramna Stacks, Shetland, on 10th was an especially notable highlight, with all records of this Scottish mega few and far between.
Fair Isle highlights included a Wood Sandpiper on 7th, a Hawfinch on 8th, a Barred Warbler and Wood Warbler on 10th, and a Red-backed Shrike on 11th. A decent arrival of 299 Northern Wheatears on 9th was also notable.
The summering Eurasian Spoonbill at Loch Bee, South Uist, was the highlight in an otherwise quiet week for the Western Isles.
North-East England
Two Ruddy Shelduck at Saltholme RSPB, Cleveland, from 10th were joined by two Greater Scaup on the same date. A strong day for the county, it also saw a twitchable Cory's Shearwater off Hartlepool Headland throughout the day and a juvenile Black Tern at Greatham Creek. Meanwhile in Durham, a Common Quail overflew a South Shields garden at the start of the week and a Pomarine Skua flew south past Seaham on 10th.
A delightful White-rumped Sandpiper at Druridge Pools on 5th was Northumberland's star attraction, although was only a brief visitor. A brief Pectoral Sandpiper was at East Chevington NWT on 11th, while a Eurasian Dotterel was on Holy Island that same morning. An adult Curlew Sandpiper was the former site on 5th. Seabird action peaked with a Great Shearwater past Newbiggin-by-Sea on 9th, while a possible Cory's Shearwater flew past Beadnell Bay that afternoon. Wood Sandpipers were at Alnmouth and Holywell Pond on 7th and East Chevington NWT on 9th. A new Common Quail sang at Great Whittington on 9th. The returning Amble Caspian Gull remained in situ, while a new third-summer was at Tynemouth on 11th. On the Odonata front, a Vagrant Emperor at Longhirst Flash on 6th was a first for Northumberland.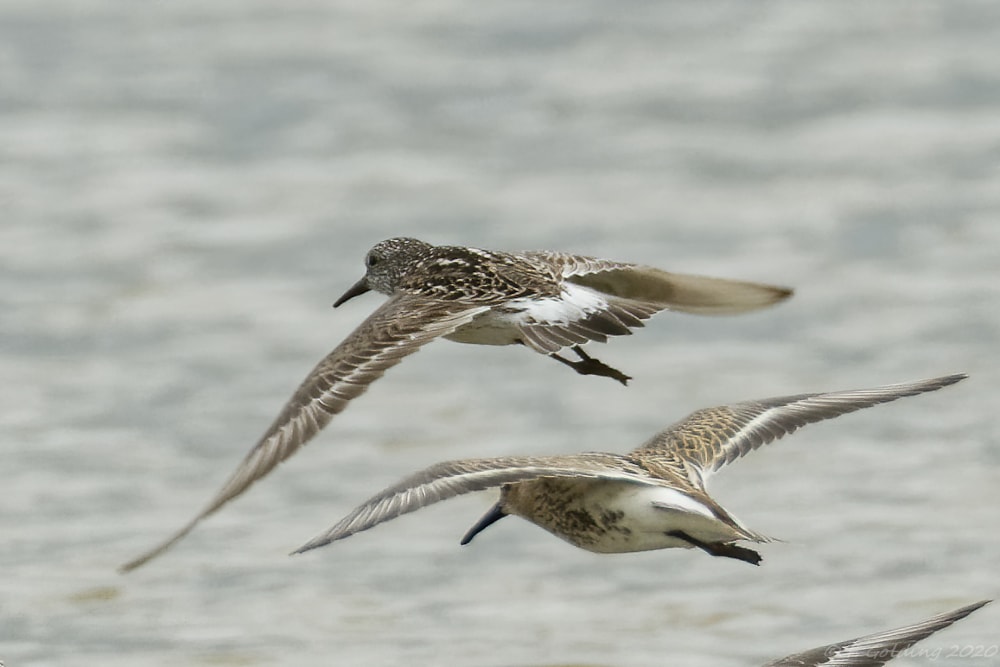 White-rumped Sandpiper, Druridge Pools, Northumberland (Frank Golding).
North-West England
Another Rosy Starling was in Cumbria this week – this time at Ravenglass – although it was only reported on 10th. South Walney NR bagged a Wood Warbler on 7th and one of the regular Hooded Crows is still frequenting the site. A Wood Sandpiper at Little Woolden Moss on 11th was Greater Manchester's only bird of note.
In Lancashire, a White Stork was seen circling low between Cronton and Tarbock Green before flying south. A Eurasian Spoonbill was at Banks Marsh on 5th, the first at the site for nearly a month. Wader passage is well underway; best went to a Pectoral Sandpiper at the Conder/Lune confluence on 7th. A Little Stint was at Hesketh Out Marsh RSPB on 9th; Wood Sandpipers were at Conder Green on 5th and Seaforth LWT on 10th – the latter a decent site record. Three Arctic Terns were over Alston Reservoirs on 11th.
A juvenile Purple Heron flirted with county listers around the Dee Estuary, Cheshire, on 9th only. First picked up briefly at Burton Mere Wetlands RSPB it moved over to the saltmarsh where it made on-and-off appearances anywhere between Burton Marsh and Parkgate – a long overdue county tick for many! More typical for the area, seven Eurasian Spoonbills remained on Parkgate Marsh as did a Wood Sandpiper, with another still at Carr Lane Pools, Hale. A Roseate Tern flew over the north end of Hilbre Island on 6th, while an adult Black Tern was at Red Rocks on 8th.
Lincolnshire and Yorkshire
The East Yorkshire coast proved the epicentre of a very reasonable early arrival of migrants, and especially Spurn, with Pied Flycatchers typically dominating the numbers (as they usually do in early August). With multiple Icterine Warblers and Red-backed Shrikes, plus Barred, Wood and Greenish Warblers, as well as White-winged Tern, Pectoral Sandpiper and various other waterbirds in the Kilnsea Wetlands area, it was a fine time to be at the Holderness hot-spot.
Moving up the coast, a Greenish Warbler was at Grimston on 11th, while the Flamborough Head area scored at least two Greenish Warblers, two Red-backed Shrikes, an Icterine Warbler and, offshore, both Great and Cory's Shearwaters. A Cory's also flew past Filey, North Yorkshire, on 11th.

Icterine Warbler, Spurn YWT, East Yorkshire (John Hewitt).
Inland, the Lesser Yellowlegs remained at Nosterfield, while a typical array of waterbirds was noted at the usual West Yorkshire sites. Three Great Egrets flew over Hatfield Moors on 9th, while Potteric Carr scored a brief Sandwich Tern on 11th. Both Great and Western Cattle Egrets were at Austerfield.
The Lincolnshire coast also produced, with Barred Warbler and Red-backed Shrike at Saltfleetby, plus another Barred at Gibraltar Point. Plenty of Pied Flycatchers included in excess of 30 at Gibraltar Point on both 10th and 11th. Southern Migrant Hawker dragonflies were located at Wolla Bank and Rimac. Highlights in the Deepings area included Dark-bellied Brent Goose, Little Stint and Western Osprey. A White Stork flew over Long Sutton on 5th.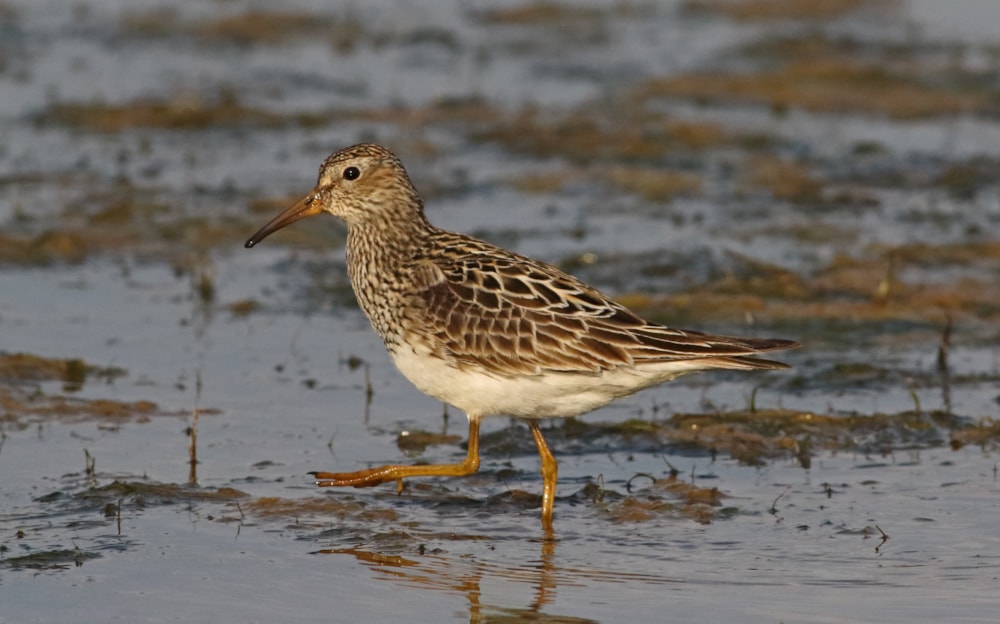 Pectoral Sandpiper, Kilnsea, East Yorkshire (John Hewitt).
West Midlands
Terns were largely the focus of Staffordshire's sightings this week, with a juvenile Little Tern at Belvide Reservoir on 6th, Black Tern at Blithfield Reservoir on 8th and an Arctic Tern there on 10th. A Wood Sandpiper was at Essington briefly on 11th. Shropshire's sighting of note was a juvenile Kittiwake in the gull roost at Chelmarsh Reservoir on the evening of 10th and West Midlands county scored a juvenile Arctic Tern at Bartley Reservoir on 7th.
A single Western Cattle Egret remains at John Bennett Wetland, Worcestershire, while two Wood Sandpipers graced Camp Lane Pools, Grimley on 9th. Brandon Marsh NR, Warwickshire, played home to a Little Stint on 6-7th. There was a juvenile Caspian Gull among 17 Yellow-legged Gulls in the evening roost at Draycote Water on 6th and a Spotted Crake proved frustrating at Ladywalk NR by remaining heard-only on the morning of 10th.
East Midlands
Derbyshire had a steady week, with a Wood Sandpiper at Chatsworth Estate on 7th and a third-summer Caspian Gull at Staunton Harold Reservoir on 9th, while a flock of 6 Avocet was a nice record at Middleton Moor the same day.
Content continues after advertisements
A Eurasian Spoonbill flew south over Pitsford Reservoir, Northants, on 11th. Hollowell Reservoir had a Little Gull and two Caspian Gulls during the week. A Wood Warbler was at Stanford Reservoir on 9th and up to two Wood Sandpipers were at Earls Barton GPs.
Nottinghamshire produced another nice week of sightings. A probable Spotted Crake was on the Slurry Lagoon at Netherfield Lagoons although sadly never confirmed. Continuing birds included the Western Cattle Egret behind the Ship Inn, Newington on 8th, juvenile Black-necked Grebe at Idle Valley NR till 9th. Back to migrants; an Arctic Tern was at Holme Pierrepont on 9th, while Wood Sandpipers were at Attenborough NR, Misson and Langford Lowfields through the week. A juvenile Greater Scaup was at Idle Valley NR on 5th only, while a Little Gull flew over Gotham and a juvenile Kittiwake flew over Stoke Bardolph on 10th.
A Northern Gannet was perhaps one of Leicestershire's birds of the week, with an adult north-west over Loughborough on 7th. A Western Cattle Egret set up camp at the Eyebrook Reservoir inflow on 5th and remained throughout the week, where up to three Wood Sandpipers and a Black-necked Grebe (9th) were also present. A Wood Sandpiper was also present at Rutland Water on 10th, with other site highlights including a Black Tern over Lagoon 3 on 9th, and an adult Caspian Gull on a couple of dates.
East of England
Norfolk wasn't quite on the same level as Yorkshire, but Red-backed Shrikes arrived at both Thornham Point and Hunstanton on 11th, while there were Icterine Warblers on Blakeney Point on 9th and at Wells Woods on 11th. A White Stork toured the north coast, as did the Isle of Wight White-tailed Eagle. Further east, a Richard's Pipit at Horsey on 11th was bizarrely early, while European Honey Buzzards were seen over Thornage and the Hickling Broad area. A Temminck's Stint was a brief visitor to Snettisham RSPB on 9th.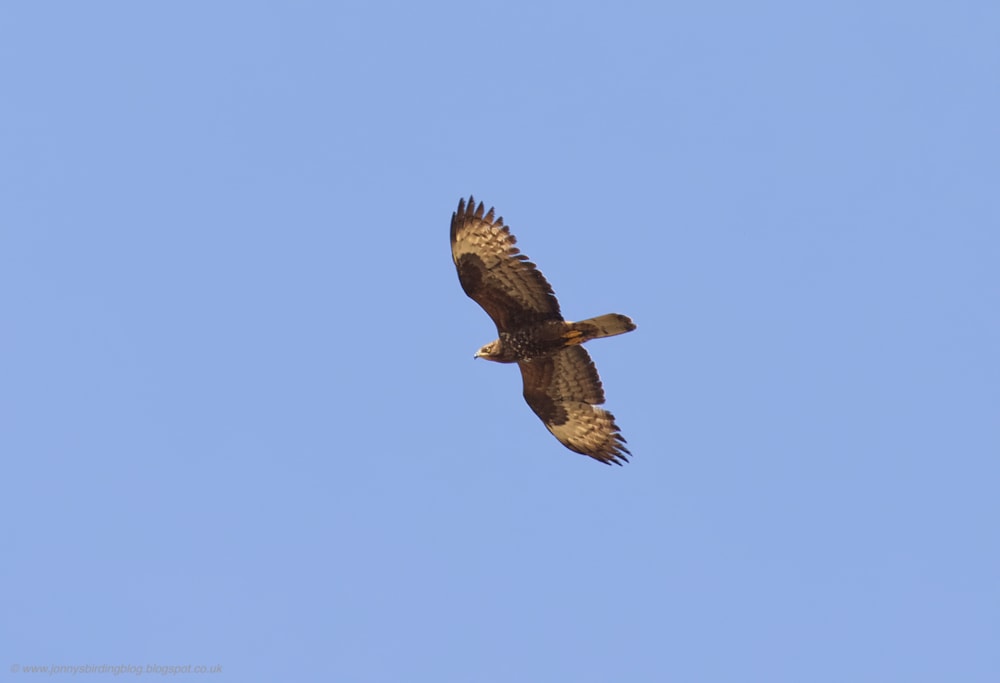 European Honey Buzzard, Potter Heigham, Norfolk (Jonathan Farooqi).
An adult Rosy Starling was at Aldringham, Suffolk, on 10th and several coastal sites in the county registered European Honey Buzzards, while a handful of Pied Flycatchers made up the best of the passerine action. White Storks were at Pipps Ford and Lakenheath.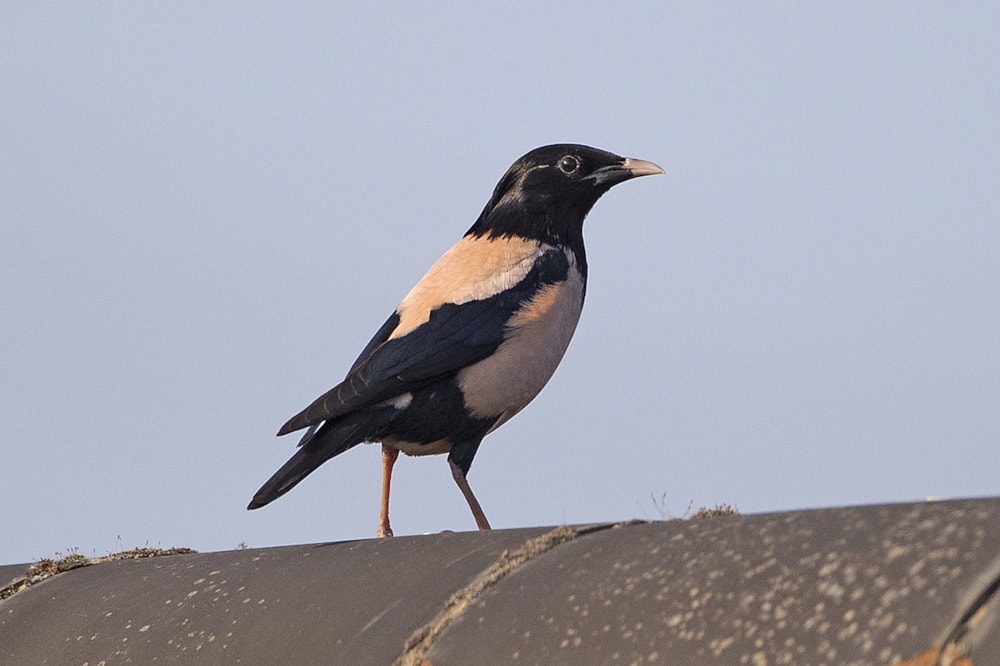 Rosy Starling, Aldringham, Suffolk (Andrew Moon).
A quiet week in Essex delivered Curlew Sandpiper and Ruddy Shelduck to Abberton Reservoir and the odd Pied Flycatcher on the coast, but little else out of the norm. Hertfordshire's clear highlight was an adult Temminck's Stint at Amwell NR from 10th.
Eight Sandwich Terns visited Grovebury Sand Pit, Bedfordshire, early on 11th, with Wood Sandpiper and both Caspian and 43 Yellow-legged Gulls there. Caspian Gulls were also seen at several Cambridgeshire sites, while Black-necked Grebes were at Grafham Water and Fen Drayton Lakes RSPB.
South-East England
Easterlies mean excitement in this part of the world, especially in August, when local birders rub their hands with glee. The warm, gentle airflow meant a decent selection of early autumn scarce was rustled up, with Kent unsurprisingly taking pole position. An Icterine Warbler at Kingsgate on 10th was a smart record; an unconfirmed Greenish Warbler in Coxheath the following day would have outdone this if it had been nailed down. A Red-footed Falcon at Nonington on 9th and a possible Citrine Wagtail at Oare Marshes on 10th sadly too remained unconfirmed.
On 9th, a Glossy Ibis settled in at Dungeness, where the Black-winged Stilt was present all week. A White Stork flew over Headcorn on the same day, while a Spotted Crake was at Grove Ferry on 7th – the same date an eagle species flew over Deal. An impressive 80 Black Terns were at Oare with nearly 200 Little Terns on 8th, though numbers of Blacks never really got going, although an inland record at Bough Beech Reservoir was of note.
Plenty of commoner passerine migrants were noted, with a handful of Wood Warblers eclipsed by a mighty 40+ Pied Flycatchers at 14 different coastal sites. Fourteen Wood Sandpipers were at five sites on 10th.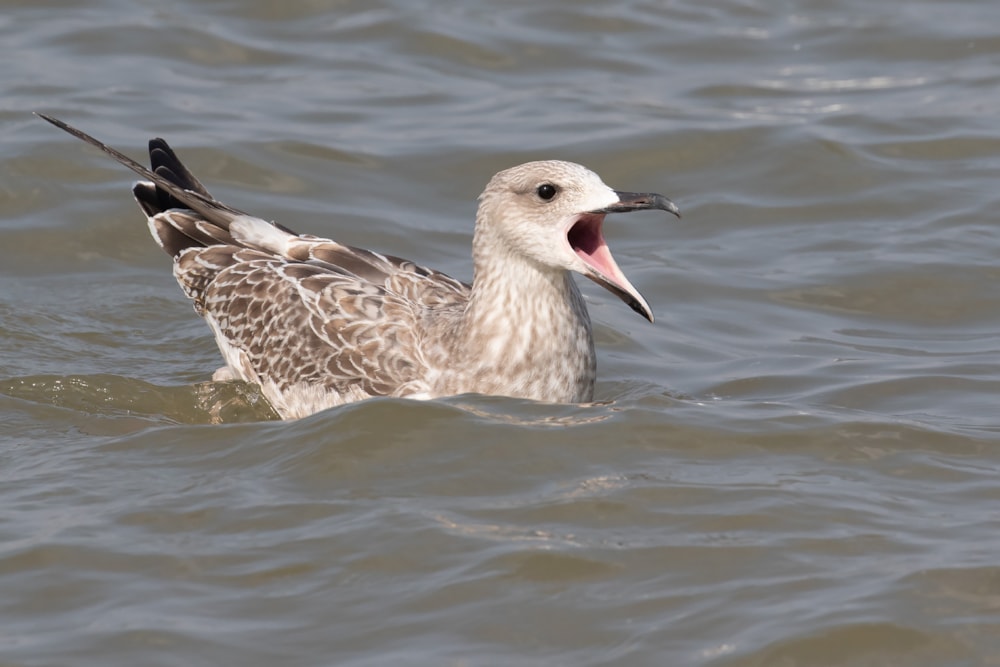 Caspian Gull, Erith, London (Josh Jones).
Unsurprisingly, Beachy Head enjoyed a good spate of birds, as it tends to do in the right weather in August. Pick of the bunch was a Greenish Warbler in a private garden on 8th – sadly not twitchable. A Melodious Warbler on 10th also didn't stick around. Pied Flycatchers were at five sites and a Garganey was at Rye Harbour..
In West Sussex, the showstopper passerine would have been a reported Cirl Bunting at Medmerry on 11th, but this unlikely record wasn't confirmed. Pied Flycatchers were at six sites, including three at Brooklands Park, Worthing. A European Honey Buzzard flew over Hickstead on 7th, Wood Sandpipers were at Pulborough Brooks and the Ferry Pool at Sidlesham and, on 6th, a Balearic Shearwater flew past Selsey Bill.
A juvenile Citrine Wagtail, at Hook-with-Warsash LNR on 8th, was easily the best report to come out of Hampshire. Other bits included a White-tailed Eagle over Bishop's Waltham on 10th (which was even heard calling), two European Honey Buzzards over Totton on 6th and a White Stork over Nursling on 5th.
Interestingly, nine Ruddy Shelduck were at Blenheim Park, Oxfordshire, from 5th. A Sanderling passed through Farmoor on 8th, where 39 Yellow-legged Gulls were tallied up earlier in the week. Cassington GPs hosted a Great Egret. In Buckinghamshire, three Common Cranes flew over College Lake on 9th and Great Egrets were at Floodplain Forest and Linford Lakes – the former site hosted five Sandwich Terns on 7th.
A juvenile Black-crowned Night Heron was a fine record at Lea Farm GPs, Berkshire, early in the morning on 8th, though it wasn't relocated after being picked up in flight. The Theale GPs Ruddy Shelduck remained. In Surrey, one of the Tice's Meadow Great Egrets relocated to Badshot Lea Ponds for most of the week and a European Honey Buzzard flew over Unstead SF on 9th.
Regent's Park, London, enjoyed a great week – a Western Cattle Egret over on 8th, a Wood Warbler and two Pied Flycatchers. No fewer than three other sites in the capital hosted Pied Fly, too. Five Wood Sandpipers were at Brent Reservoir on 7th, a Great Egret was at Ingrebourne Valley on the same day and Ruddy Turnstones were at Staines (up to eight) and Walthamstow Reservoirs. The former site also hosted a Sanderling.
South-West England
Autumn seems to be upon us, and so are the first Scillonian migrants. A probable Melodious Warbler was seen briefly on St Mary's on 6th, with a Wryneck present on the same isle on 11th. Casting our eyes to the sea, the Scilly pelagics produced the typical plethora of Wilson's Storm Petrels, and Great and Cory's Shearwaters. A Sabine's Gull on 11th was a nice bonus.

Wilson's Storm Petrel, Scilly pelagic, Isles of Scilly (Joe Pender).
Easterlies also produced on the mainland, with a Red-backed Shrike at Predannack Head on 7th. An Icterine Warbler was reported at Land's End the same day, with a Melodious Warbler there the following. Wood Sandpipers were recorded at five Cornish localities. Seawatching off the usual headlands proved fruitful during the right conditions, with both Great and Cory's Shearwaters logged at three sites, Balearic Shearwaters at five and Sooty Shearwaters off two. A Roseate Tern flew past Porthgwarra on 5th and a Little Tern paid a visit to Helston Loe Pool on 8th. A Black Kite flew over Skewjack on 10th, with another possible over Blackwater the previous day. Five Eurasian Dotterel paid a brief visit to Davidstow Airfield on 8th. Perhaps the most intriguing report came in the form of a female American Black Duck × Mallard hybrid in Devoran quay on 6th – you have to wonder as to how far away this bird originated!
Hopping over the border to Devon, and seawatching produced a Sooty and 33 Balearic Shearwaters off Start Point, with the latter being recorded at another two locations during the week. Wood Sandpipers were at Seaton Marshes from 5-11th and Dawlish Warren NNR on 9-10th. Bowling Green Marsh RSPB had a Curlew Sandpiper on 6th and a Eurasian Spoonbill was at Wrafton 7-8th.
One of the ringed Melodious Warblers hung around Portland, Dorset, until 5th, where Balearic Shearwaters continued passing the Bill. A Wryneck was showing well at Radipole Lake RSPB on the morning of 7th and a Curlew Sandpiper was in Holes Bay on 9th. An adult Rosy Starling was at Ferrybridge on 8th before being re-located at Wyke Regis with the Common Starling flock the same evening.
Corsham, Wiltshire, still provided suitable accommodation for the Rosy Starling until 7th. In Somerset, the Knepp White Stork bearing blue darvic 'GB35' remained around Spargrove until late afternoon on 8th. A species that is very much becoming expected in the county, a juvenile Purple Heron spent 6-9th at Durleigh Reservoir. The Black-winged Stilt family continued at Steart WWT. A Hoopoe was heard at Nailsea early on 7th, Chew Valley Lake had a couple of Black Terns on 9th, and Wood Sandpipers were at five localities across the county this week.
In Gloucestershire, Slimbridge WWT continues to produce some nice sightings, with a Little Stint on 7th and both a Wood Sandpiper and Spotted Redshank on 11th. A Wood Sandpiper was also at Pilning Wetland the same day and a Curlew Sandpiper at Purton on the previous. A Red-rumped Swallow floated south along Nailsworth Valley on 8th, with a juvenile Little Tern delighting at Cotswold Water Park.

Little Tern, Cotswold Water Park, Gloucestershire (Jonathan Bull).
Wales
Bardsey Island continued to score multiple juvenile Yellow-legged Gulls until 7th, while a Sabine's Gull was at Hafan Y Mor, Gwynedd, on 7th. The bird bears a striking resemblance to the bird seen off the former site early that week and is presumably one and the same. A Little Gull was at Shell Island, Gwynedd, on 6th, and Roseate Terns were again at Afon Wen, Gwynedd, and Cemlyn Bay, Anglesey. A new juvenile was along Criccieth beach, Gwynedd, on 8th.
Among a light arrival of Willow Warblers, a Wood Warbler was trapped and ringed on Skokholm Island on 6th and is the first island record for 13 years! Not to miss out on what is turning into a decent passage for the species, Wood Sandpipers were at Goldcliff Pools (8th), Cemlyn Bay (8th) and Llanelli Wetland Centre WWT (10-11th). Little Stints were at Pwllheli from 6-8th and at Goldcliff Pools on 6-9th. In other news, the adult Whooper Swan remained off Aber Ogwen NR, Gwynedd, and the ever-faithful Glossy Ibis hung on at Goldcliff Pools, Gwent, for yet another week.
Ireland
Irish highlight of the week was a Eurasian Stone-curlew at Kilcoole, Co Wicklow, on 10-11th. A major Irish bird, the last to be truly twitchable was as long ago as June 2009 (although there were records in Cos Cork and Waterford in 2010 and 2018 respectively).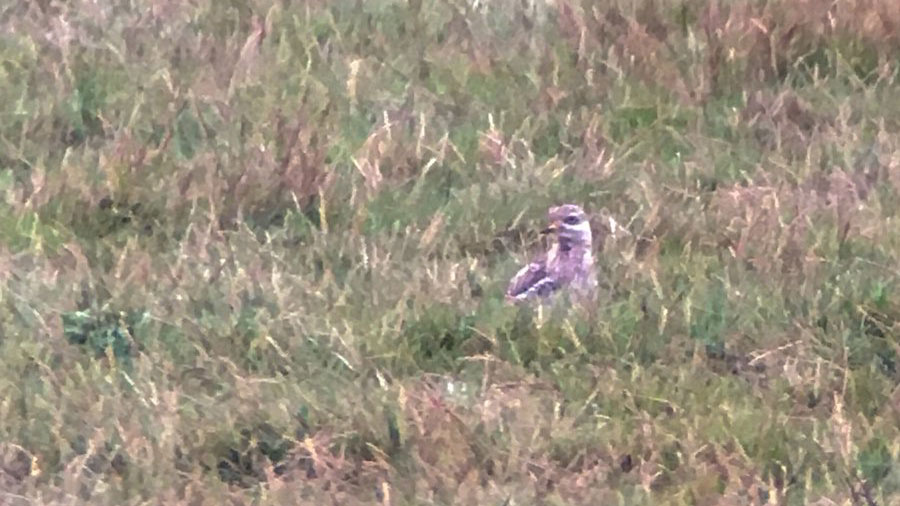 Eurasian Stone-curlew, Kilcoole, Co Wicklow (Brian McCloskey).
A very light scattering of large shearwaters early in the week included six Cory's and a Great off Fastnet Rock, Co Cork, on 6th.
A Garganey remained at Rahasane Turlough, Co Galway, Western Ospreys were at Killarney, Co Kerry, and Dundalk, Co Louth, and a Rosy Starling was found at Rossnowlagh, Co Donegal, on 11th. A likely European Honey Buzzard drifted over Malahide, Co Dublin, on 8th, with a Pectoral Sandpiper at Lady Bay, Lough Neagh, Co Antrim, that day.
Western Palearctic
The Azorean Flesh-footed Shearwater is this week's standout highlight, being just the second regional record after a bird in the Red Sea of the Israeli and Jordanian coastline on 15 August 1980. Discovered among throngs of Cory's Shearwaters during a whale-watching tour off Pico on 7th, it is also the first confirmed North Atlantic Ocean record. You can read about more about this remarkable find here.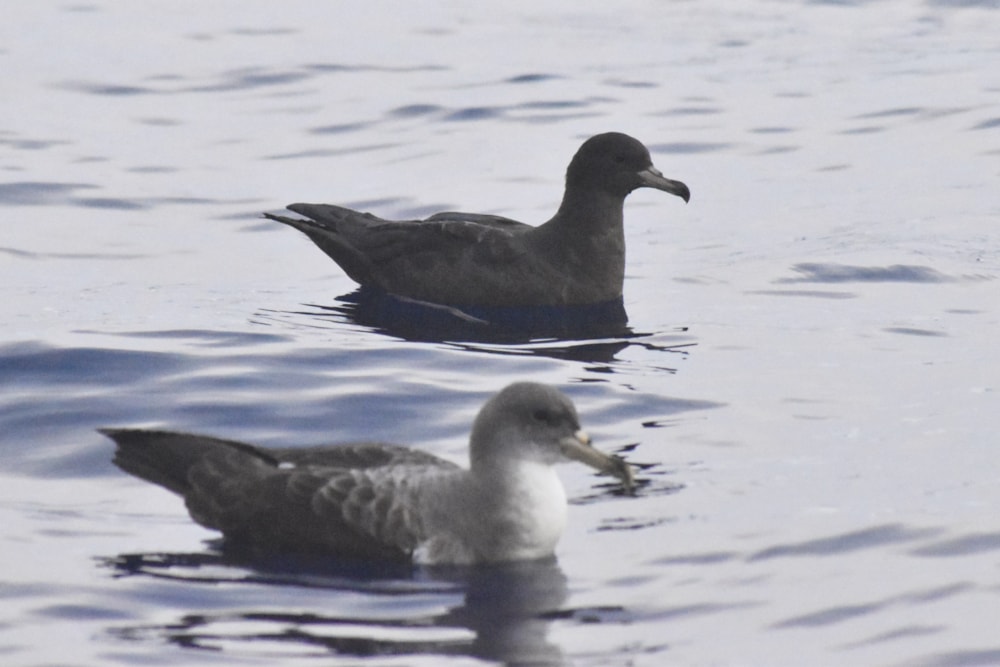 Flesh-footed Shearwater, at sea, Pico (Susana Simião).
A scallopy-fresh juvenile Black-winged Pratincole in The Netherlands at Sint Maartensburg on 11th is just a hair's breadth away from the North Sea coast. In neighbouring France, a Sharp-tailed Sandpiper was at Ambon from 9th. Sunday saw a Polish purple patch, with the nation's fourth Long-billed Dowitcher and the ninth Pacific Golden Plover at opposite ends of the country. Meanwhile, two Pied Crows remained at Las Palmas de Gran Canaria on the Canary Islands, with a new Pygmy Cormorant at Eltville, Germany.