| | |
| --- | --- |
| | |
| Rufous Turtle Dove: Ham, Highland. (Photo: Jack Levene) | Rufous Turtle Dove: Ham, Highland. (Photo: Jack Levene) |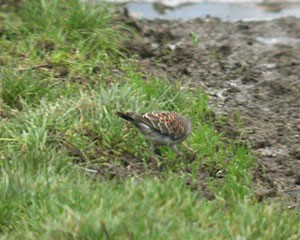 Rufous Turtle Dove: Ham, Highland. (Photo: Mark Stirland)
The presence of a Rufous Turtle Dove of the form meena at Ham (Highland) from 6th-9th was welcome news for those who did not travel to see the bird on Orkney last December. The bird was consorting with Collared Doves, and the strategy for would-be finders of this species would appear to be of paying close attention to their local Collared Dove flock – more must surely turn up? How many 'winter' records of Turtle Dove in county avifaunas may actually have been this species? Elsewhere in northwest Europe, there have been well over 30 records in Finland, Sweden, Norway and Denmark suggesting that Britain should have accumulated more than seven.
| | |
| --- | --- |
| | |
| Richard's Pipit: Little Orme, Conwy. One of two birds in Wales during the week. (Photo: Marc Hughes) | Waxwing: Shottisham, Suffolk. The largest flock reported was 140+ at Blaydon (Co. Durham). (Photo: Bill Baston) |
As would be expected pickings elsewhere were thinning out a bit. A Little Bunting was on St. Mary's (Scilly) on 9th, on which day 3 Serin were on St. Agnes (Scilly), with 4 present on 10th. There were 7 Yellow-browed Warblers reported, whilst both the Pallas's Warbler and Red-breasted Flycatcher at Mizen Head (Co. Cork) were last seen on the 4th. Richard's Pipits during the week included one at Llanilid (Glamorgan) from 5th-10th and another at Little Orme (Conwy) on 7th. A Penduline Tit was reported from Lee Valley CP (Essex) briefly on 7th. The Dusky Warbler was still present at Paignton (Devon) and the Hume's Warbler was last positively identified in Great Yarmouth (Norfolk) on 4th. A Rose-coloured Starling was on St. Agnes on 9th and the bird remained at Lisburn (Co. Antrim). Other long-stayers included the Sardinian Warblers in Lincolnshire and the Red-throated Pipit in Co. Wexford, with the 1st-winter male Desert Wheatear last seen at Reculver (Kent) on 5th. On Orkney, the probable female Cirl Bunting was still at Costa and a Dartford Warbler was a great find in Peterborough, constituting only the 3rd county record.
| | |
| --- | --- |
| | |
| American Coot: Lerwick, Shetland. Still present, and presumably in no hurry to go anywhere in the mild conditions. (Photo: Alan Clewes) | Desert Wheatear: Reculver, Kent. This 1st-sinter male was last seen on the 5th. (Photo: Mike Lawrence) |
On Shetland the American Coot remained at Lerwick all week and on Barra (Outer Hebrides) the 1st-winter female Redhead was still present on the 4th. A female King Eider was off Unst (Shetland) on 10th and the drake Lesser Scaup was again at Lough Swilly (Co. Donegal) with the drake still in Dorset. Rare ducks were represented by 3 Ring-necked Ducks, 6 Ferruginous Ducks, 6 Surf Scoters, 4 American Wigeons and 7 Green-winged Teals, plus the Black Duck was at Helston (Cornwall). In Co. Cork the American Herring Gull (now a 4th-winter) returned to Ballycotton and the adult Sabine's Gull was at Cobh. In addition, there were 13 Ring-billed Gulls reported, over a dozen Caspian Gulls, over a dozen Iceland Gulls and 9 Glaucous Gulls, including 4 1st-winters at Killybegs (Co. Donegal). In Co. Galway the adult Forster's Tern remains at Nimmo's Pier. A Grey Phalarope was off Selsey Bill (W. Sussex) on 9th with the bird last reported at Chasewater (Staffs) on 7th. The Lesser Yellowlegs remained on the Hayle Estuary (Conrwall) as did the bird at Newgale (Pembroke). A White-tailed Eagle was at Loch of Lintrathen (Angus/Dundee) on 10th and a wing-tagged bird was on Lewis (Outer Hebrides). This individual was born on the west coast of Scotland in 2001. In its first year it was seen as far as Rum, Caithness and South Uist, then was not noted again until this year on Skye, before being located on Barvas Moor.
| | |
| --- | --- |
| | |
| White-tailed Eagle: Barvas Moor, Outer Hebrides. (Photo: Martin Scott) | Great Northern Diver: Marbury CP, Cheshire. (Photo: Sue Tranter) |
| | |
| --- | --- |
| | |
| Jack Snipe: Strumpshaw, Norfolk. Difficult to see well, most of us have to make do with flight views as a bird flushes at the last minute. (Photo: Sean Nixon) | Hawfinch: Lynford Arboretum, Norfolk. Always a winter treat, numbers are declining rapidly in many areas. (Photo: Jonathan Theobald) |
Content continues after advertisements