It's taken until the second week of October for a true 'giga' rarity to change the course of an otherwise fairly innocuous autumn, but what a bird it was. The first twitchable Long-toed Stint in almost four decades was a remarkable inland find at St Aidan's RSPB, West Yorkshire, on 8th. The bird, an adult, proved a complicated identification process, first thought to be a Temminck's Stint and then a Least Sandpiper before its true identity was established. It is just the third (or fourth) for Britain and the 13th (or 14th) for the Western Palearctic, following birds at Marazion, Cornwall, in June 1970 and Saltholme RSPB, Cleveland, in August 1982. Another at Weir Wood Reservoir, East Sussex, in September 2011 remains in circulation with the BBRC, although will likely pass the test in light of this latest individual.
Long-toed Stint, St Aidan's RSPB (Swillington Ings), West Yorkshire (Alan Shaw).
Hampshire's first Western Sandpiper – an adult – kept south-coast birders occupied at Normandy Marsh, Hampshire, from 4th. This has turned into a record year for the species, with birds at Snettisham RSPB, Norfolk, and Ballinclamper, Co Waterford, in July and at least two elsewhere in Europe.
Western Sandpiper, Normandy, Hampshire (Richard Ford).
The remnants of Hurricane Sam was likely responsible for a number of Nearctic goodies in south-west Ireland. Best of the bunch was a Blackpoll Warbler at Galley Head, Co Cork, on 10th, the first in the Western Palearctic so far this autumn. A close second was an Upland Sandpiper on Dursey Island on 7th, while a first-winter female Rose-breasted Grosbeak was on Cape Clear from 7-9th.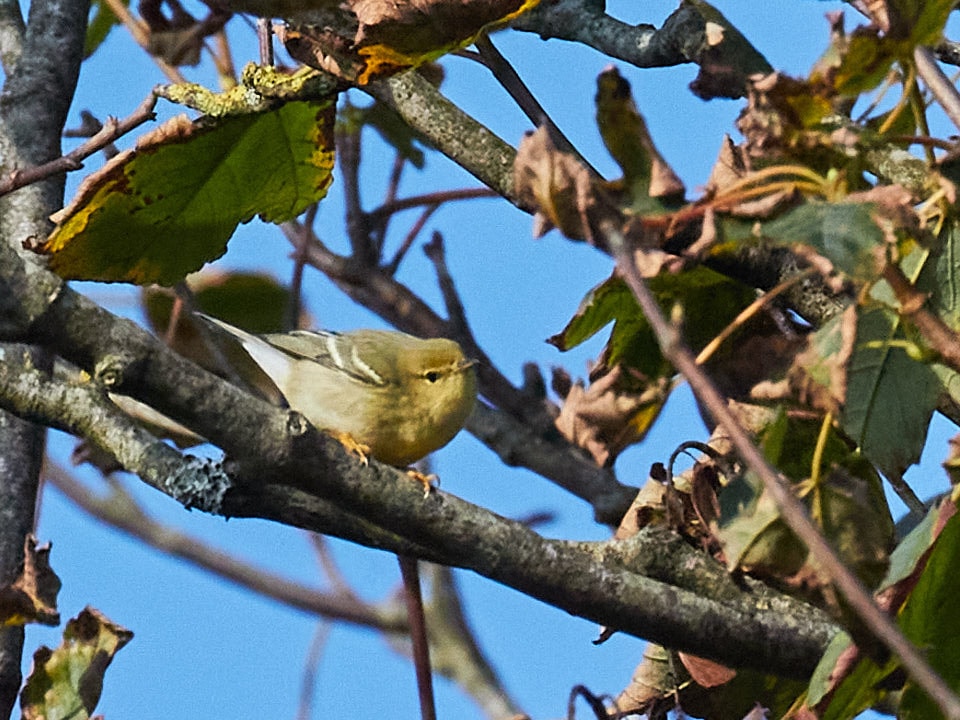 Blackpoll Warbler, Galley Head, Cork (Ciaran Cronin / Wildeye).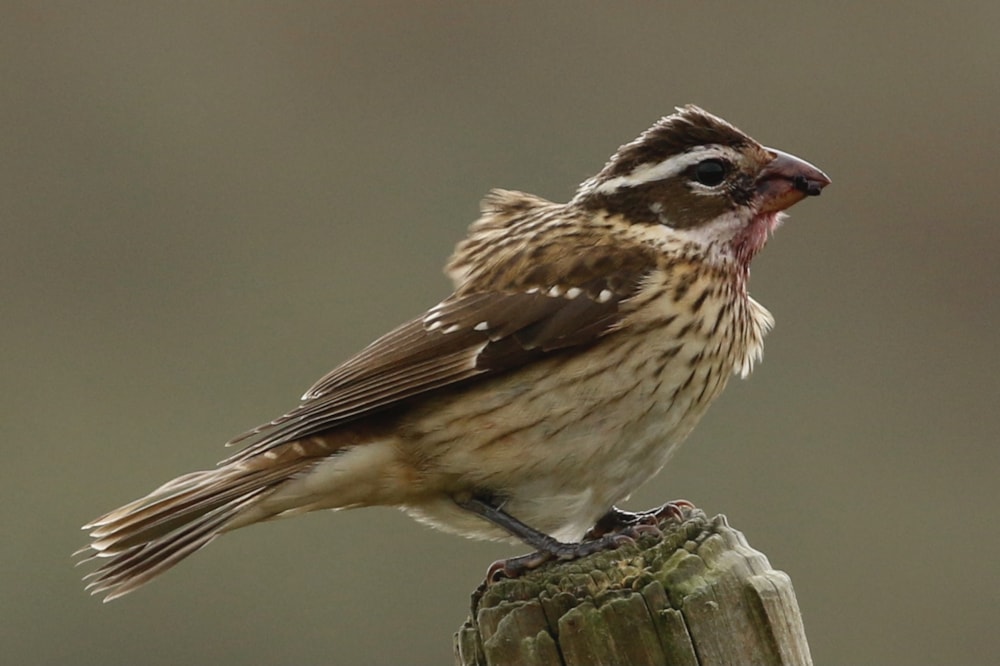 Rose-breasted Grosbeak, Cape Clear, Cork (John Lynch).
A Red-eyed Vireo at Holy Island, Northumberland, was just the third county record and geographically the most significant of the bunch from a strong showing of the species; another at Porth Meudwy, Gwynedd, from 6-9th was a rare occurrence for mainland Wales. On 4th, no fewer than three were on Mainland Shetland – at Brae, Sandwick and Sullom Voe – just the fourth, fifth and sixth records for the archipelago. Four other sites scored birds – Bardsey Island, Gwynedd, Soar, Devon, Inishbofin, Co Galway, and Doogort, Achill Island, Co Mayo.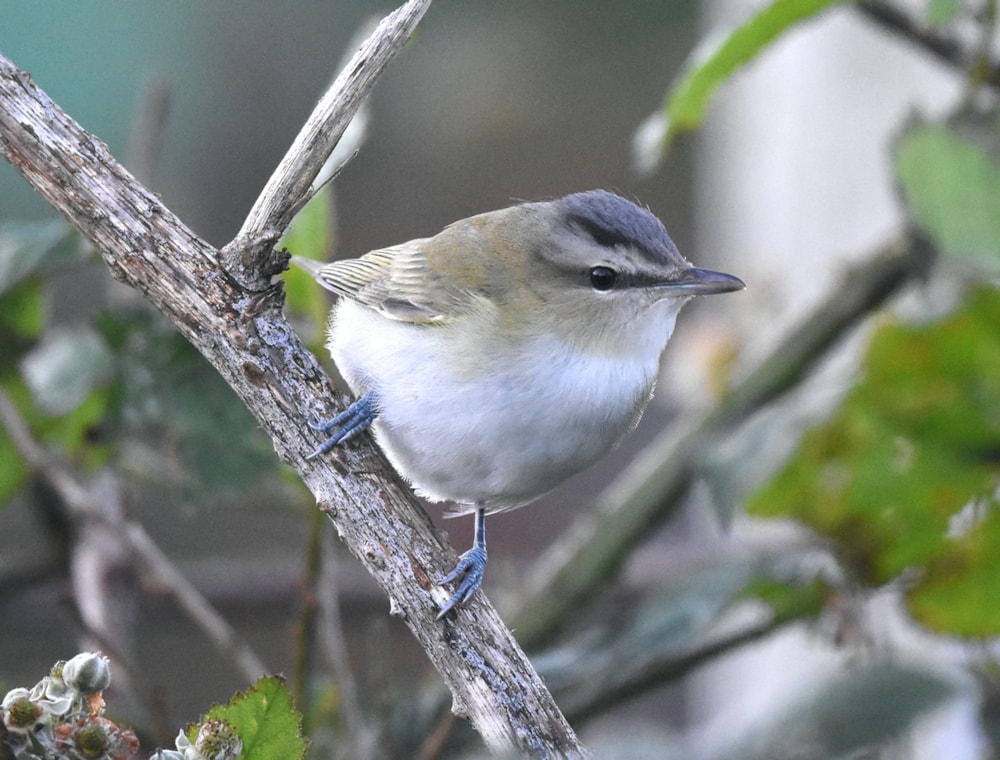 Red-eyed Vireo, Sandwick, Mainland, Shetland (Roger Ridley).
The second American Buff-bellied Pipit for Wales appeared at Weobley, Glamorgan, from 8th. In a bumper week for the species, others were at Keel, Achill Island, Co Mayo, Castle Point, Co Clare, Toll's Island, Scilly, and still on St Kilda, Outer Hebrides.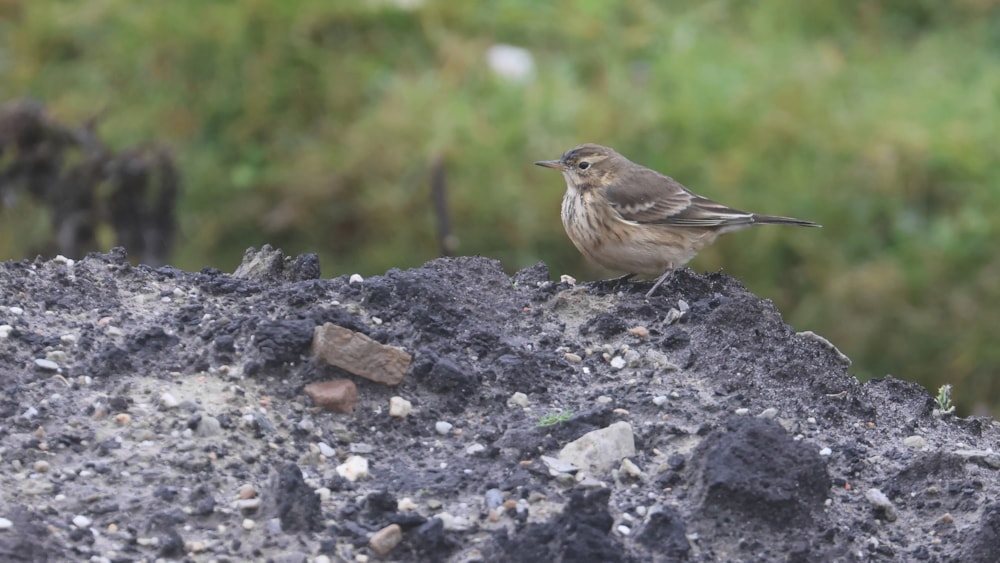 American Buff-bellied Pipit, Keel, Achill Island, Mayo (Josh Jones).
Although there was no sign of the Black-browed Albatross at Bempton Cliffs RSPB, East Yorkshire, this week, one flew lazily west past Pendeen on 10th. A Barolo Shearwater headed past Pendeen, Cornwall, on 5th, while a probable Yelkouan Shearwater lingered off Flamborough Head, East Yorkshire, for 10 minutes on 8th.
A harbinger of the end of autumn in many birders' eyes – although surely premature this time around – a male Desert Wheatear was at North Foreland, Kent, from 9th.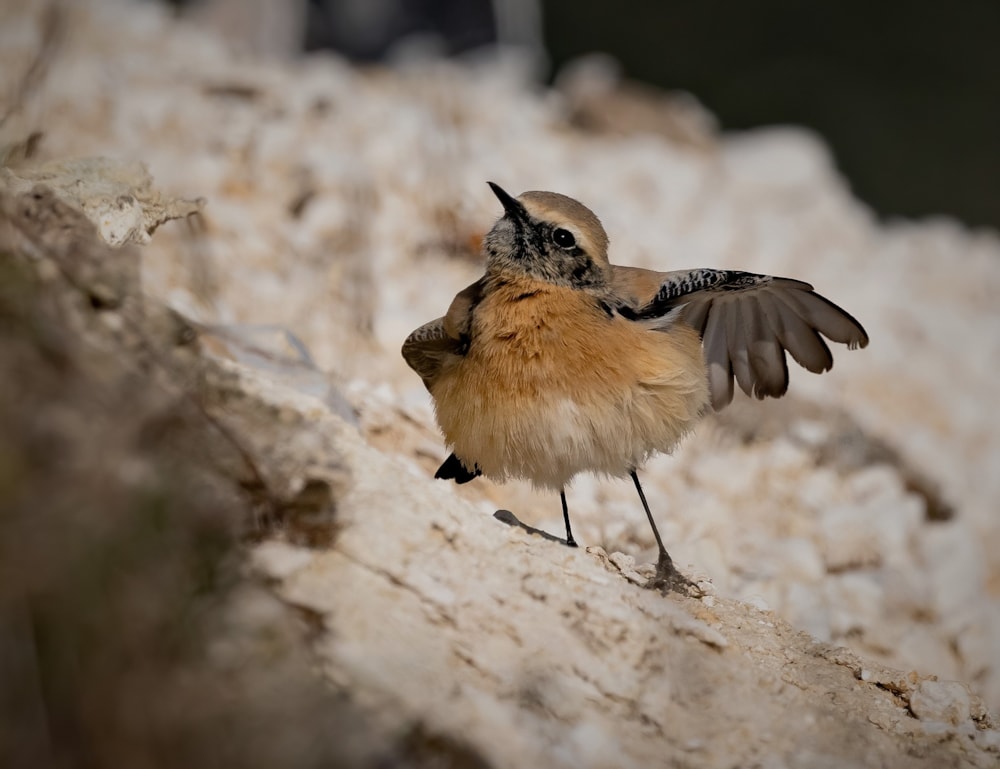 Desert Wheatear, North Foreland, Kent (Neil Hilton).
In Shetland, a first-winter Eastern Yellow Wagtail was a smart find at Gulberwick, Mainland, on 10th, while Western Bonelli's Warblers were at Easter Skeld and Easter Quarff, Mainland, on 4th and Tresta, Mainland, from 7th. Three sites scored Rustic Buntings – Hillwell, Culswick and Kergord. Elsewhere, a Coues's Arctic Redpoll was at Norwick, Unst, on 4th and a brief Hornemann's Arctic Redpoll visited Bardister, Mainland, on 9th. On Fair Isle, the Baikal Teal and Isabelline Shrike both lasted until 4th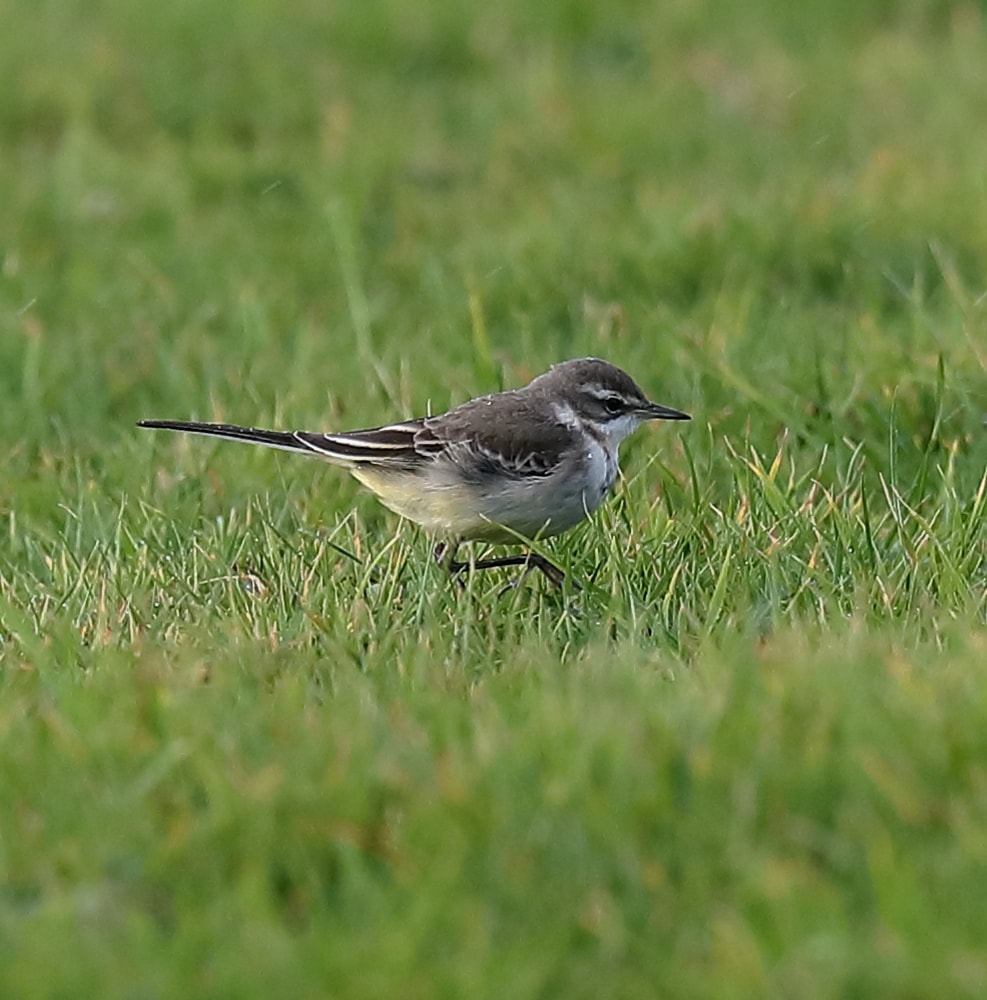 Eastern Yellow Wagtail, Gulberwick, Mainland, Shetland (Mark Rayment).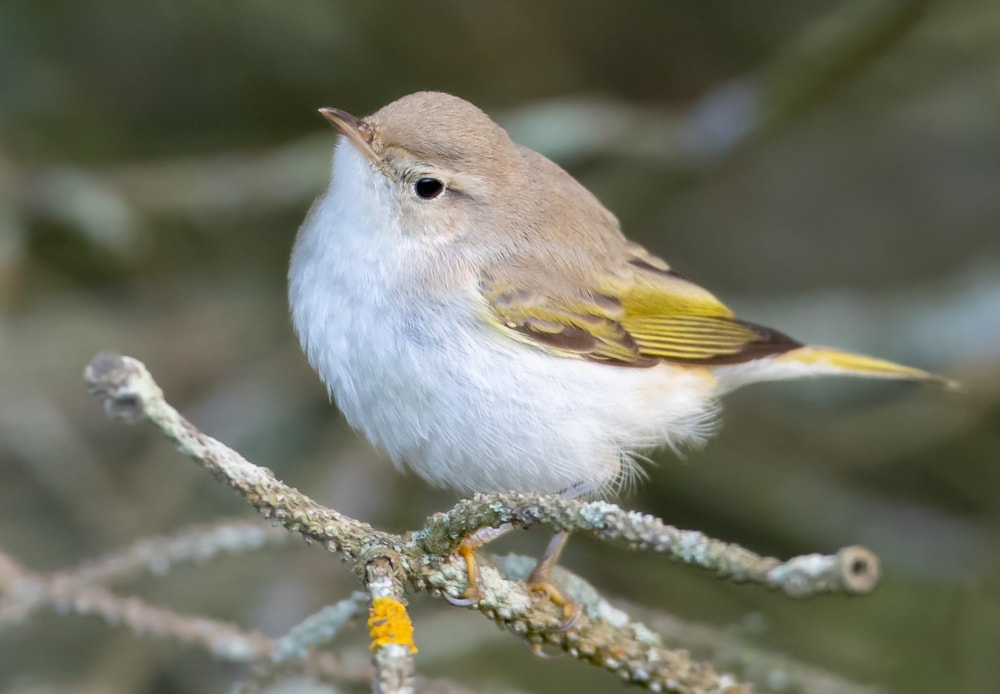 Western Bonelli's Warbler, Easter Quarff, Mainland, Shetland (Chris Griffin).
A male Eyebrowed Thrush was reported from Sea Palling, Norfolk, on 8th, with a Lanceolated Warbler on North Ronaldsay, Orkney, on 4th and a Rustic Bunting at Nanjizal Valley, Cornwall. Another new Western Bonelli's Warbler was on Inishmore, Co Galway, on 9th, with one lingering at Papa Westray, Orkney.
Over the weekend, a male subalpine warbler species was trapped and ringed at Filey, North Yorkshire, with a Red-throated Pipit at Flamborough Head, East Yorkshire. On 8th, an Eurasian Penduline Tit headed south over The Naze, Essex; the Balearic Woodchat Shrike departed St Mary's, Scilly, after 6th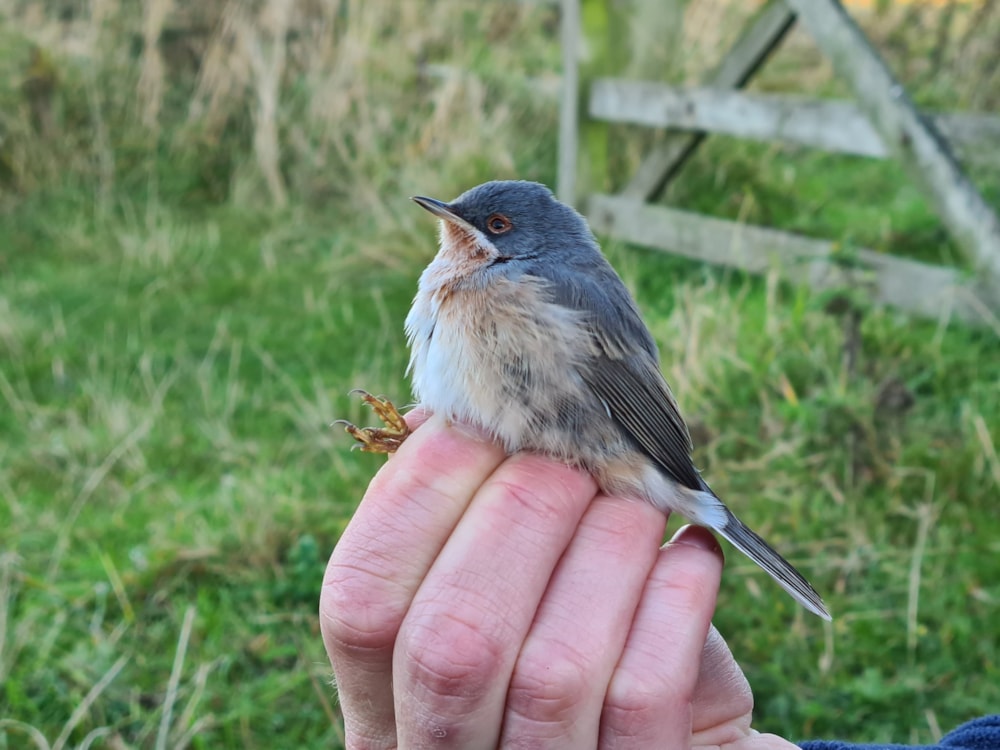 Subalpine warbler sp, Filey, North Yorkshire (Jonathan Holliday).

Balearic Woodchat Shrike, St Mary's, Isles of Scilly (Kris Webb).
Snowy Owls remained at Ben Macdui, Moray & Nairn, and St Kilda, Outer Hebrides. A possible dark-morph Eleonora's Falcon flew over Swaffham, Norfolk, on 4th, with a probable Gyr Falcon reported at Combs, Suffolk, on the same date.
A possible Great Knot at Pool of Virkie, Mainland, on 8th proved unfortunately brief, while lingering mega waders included the White-tailed Lapwing at Blacktoft Sands RSPB, East Yorkshire, and Greater Yellowlegs at Loch of Strathbeg RSPB, Aberdeenshire.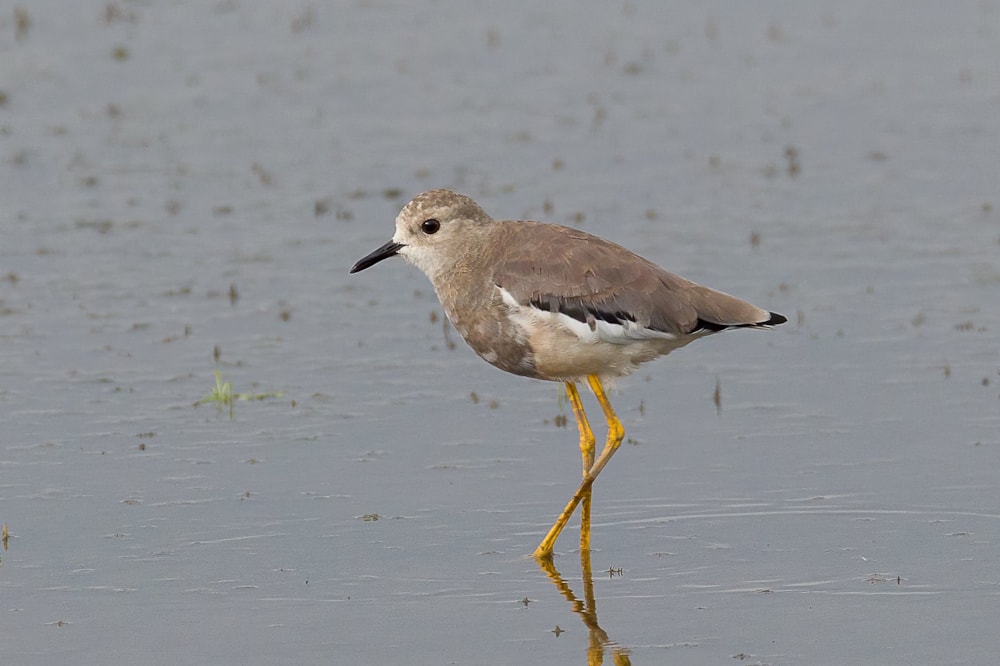 White-tailed Lapwing, Blacktoft Sands RSPB, East Yorkshire (Alan Curry).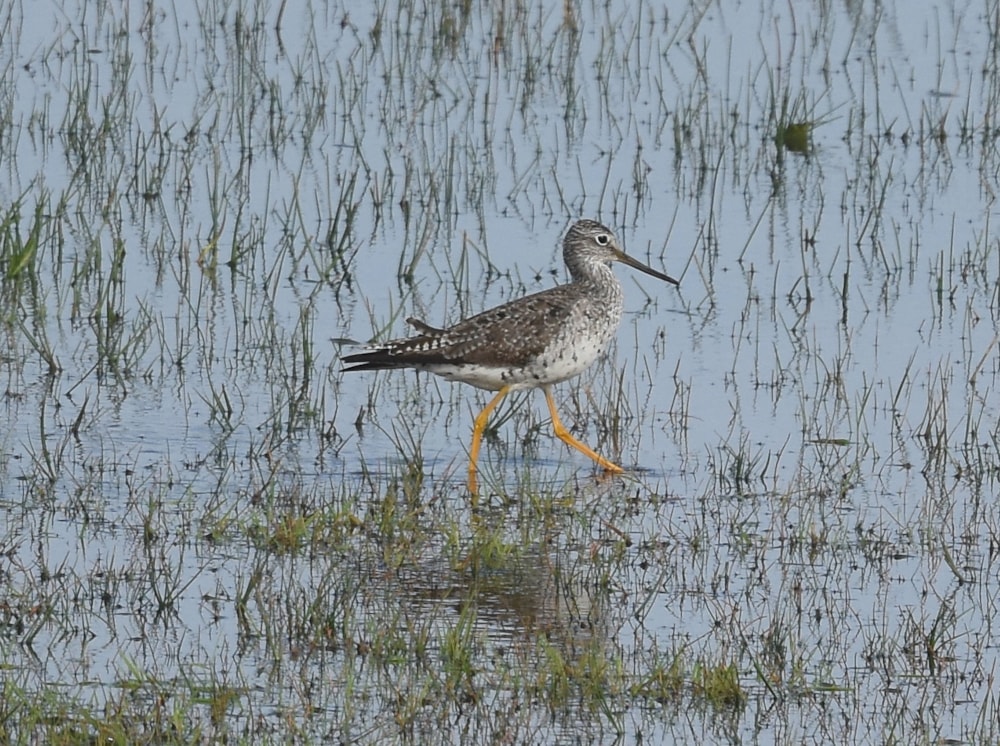 Greater Yellowlegs, Loch of Strathbeg RSPB, Aberdeenshire (Roger Ridley).
In Ireland, the Semipalmated Plover at Crookhaven, Co Cork, and Solitary Sandpiper at Clogher, Co Mayo, both remained for much of the week, although there was negative news on the latter on 9th. Co Kerry's first Pacific Golden Plover was at Blennerville on 10th.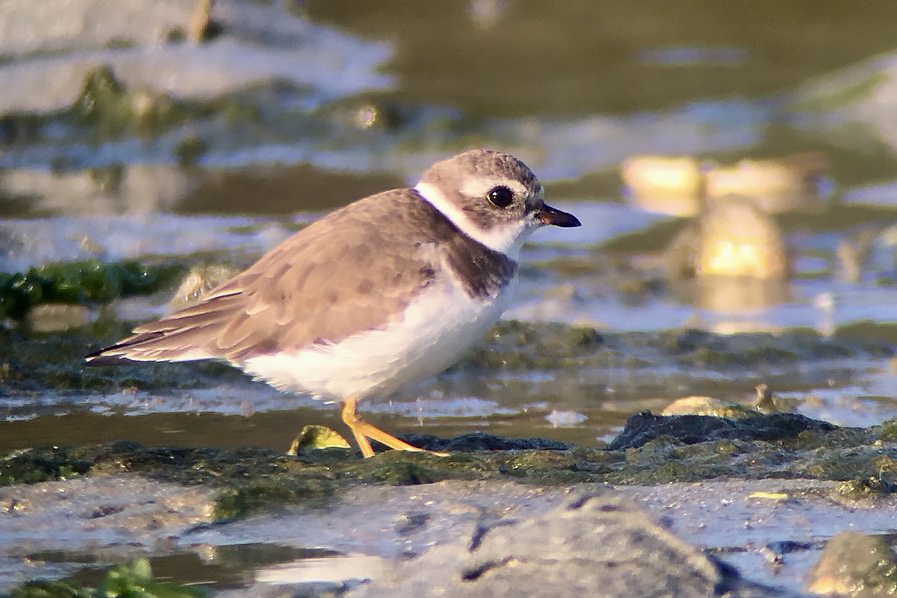 Semipalmated Plover, Crookhaven, Cork (Brian McCloskey).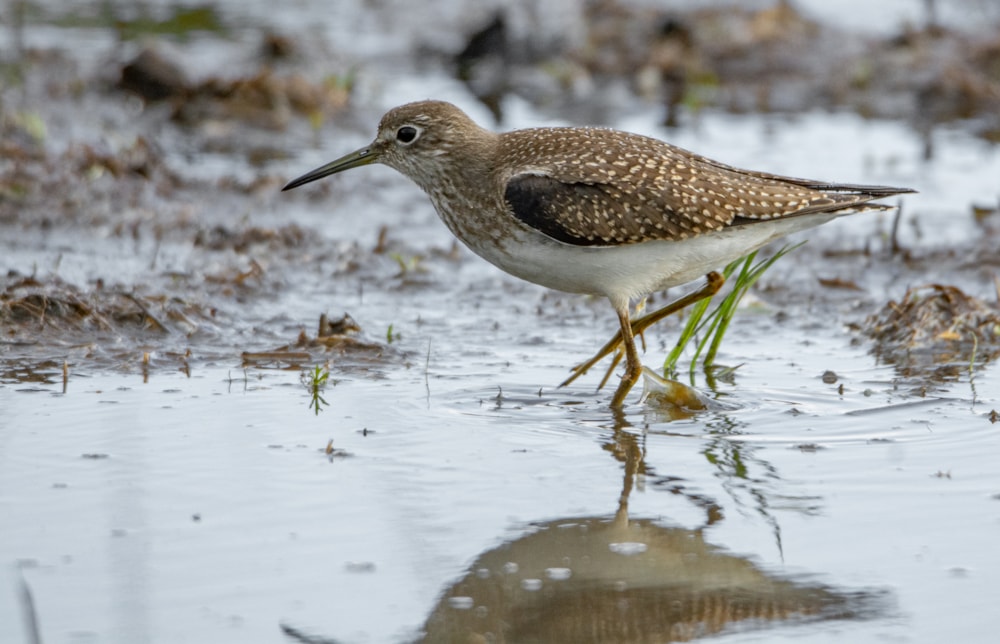 Solitary Sandpiper, Clogher, Mayo (Daniel Owen).
In the Outer Hebrides, a new Semipalmated Sandpiper was at Loch Bee, South Uist, on 4-5th; Shetland's juvenile lasted at Pool of Virkie, Mainland, until 5th. Long-billed Dowitchers were at Bann Estuary, Co Derry, Lough Beg and Portmore Lough RSPB, Co Antrim, and Potter Heigham Marshes, Norfolk, with a lone Baird's Sandpiper at Inny Strand, Co Kerry. On 8th, a colour-ringed Kentish Plover was at Berrow, Somerset & Bristol, on 8th.
A Red-breasted Goose, perhaps the returning bird, was with Barnacle Geese at Loch Gruinart RSPB, Islay, from 5th, while a possible flew south past Minsmere RSPB, Suffolk, with Brents on 7th. A Blue-winged Teal proved popular at Neumann's Flash, Cheshire, on 8-9th, with the American Black Duck still at Termoncarragh Lough, Co Mayo. Shetland King Eider continued at Trondra and Wadbister Voe, Mainland.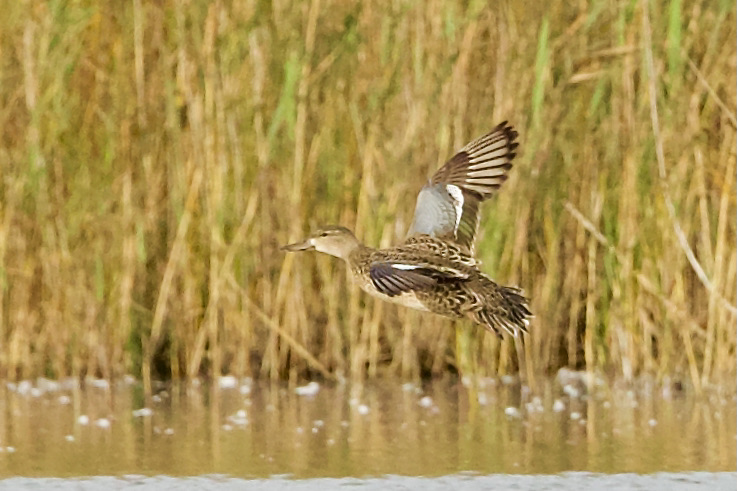 Blue-winged Teal, Neumann's Flash, Cheshire (Stuart Jackson).
An adult Bonaparte's Gull off the beach at Cley Marshes on 9th was Norfolk's highlight, with another newbie at Long Strand, Co Cork, from 7-9th. The adult lingered at Kinnegar Shore, Co Down. The Forster's Tern held on at Soldier's Point, Co Louth.
Two Monarch butterflies graced Shetland mid-week – at Hellister, Mainland, on 5th and Sumburgh, Mainland, on 6th – just the third and fourth records for Shetland. Another was briefly at Portland, Dorset, on 6th.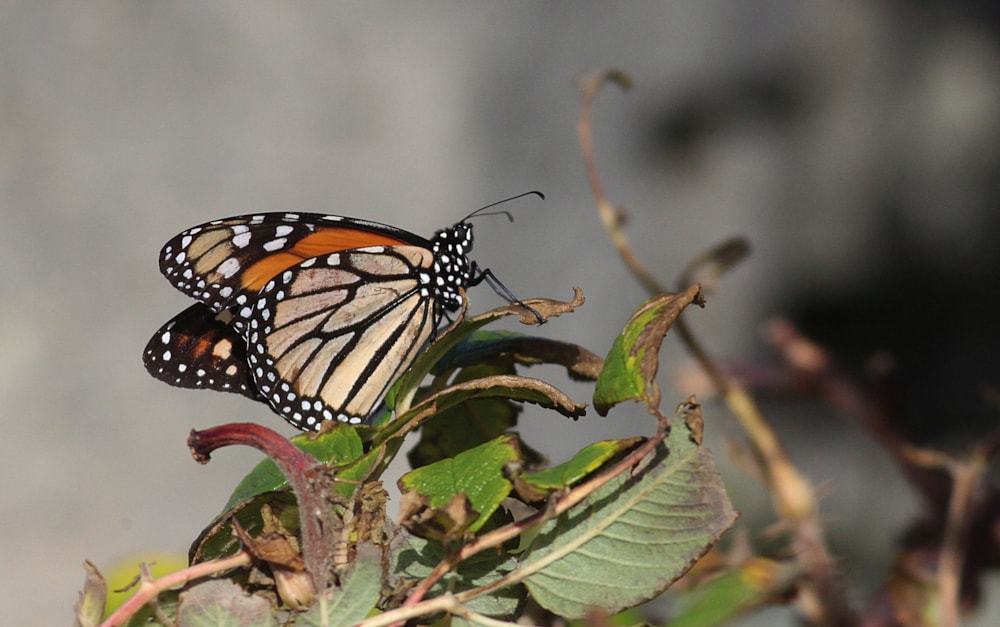 Monarch, Sumburgh, Mainland, Shetland (Drew Lyness).
Scottish mainland
The first nine Taiga Bean Geese returned to Slamannan, Forth, on 7th, with seven over North Queensferry, Fife, on 6th and 14 over St Andrews on 9th. Ruddy Shelduck were at Carstairs Junction, Clyde, Caerlaverock WWT, Dumfries & Galloway, and Lochwinnoch RSPB, Clyde, while three Snow Geese of unknown origin graced Findhorn Bay, Moray & Nairn, on 6th.
The Surf Scoter count off Musselburgh, Lothian, increased to two on 9th, the Garganey remained at Loirston Loch, Aberdeenshire, and a brief American Wigeon visited Balnakeil Marsh, Highland, on 4th. An inland Slavonian Grebe was at Blair Drummond GPs, Forth, with lost Guillemots there and at Stirling. At least two Glaucous Gulls continued around the Lossie Estuary, Moray & Nairn.
A Radde's Warbler on Isle of May, Fife, on 7-8th was the best on the passerine front, while a Hoopoe was at Crook of Baldoon, Dumfries & Galloway, on 8-9th and a European Turtle Dove at Scourie, Highland. On Skye, a Yellow-browed Warbler was at Trumpan; Barred Warblers were at Blackdog and Aberdeen, Aberdeenshire, and a juvenile Rosy Starling was at Barns Ness, Lothian. A Great Egret visited Cullaloe SWT, Fife, on 9th.
The Lesser Yellowlegs, Pectoral Sandpiper and Red-crested Pochard all held on at Loch of Strathbeg RSPB, Aberdeenshire, with another Pec still at Frankfield Loch, Clyde, until 8th. Curlew Sandpipers were at Skinflats Lagoons, Forth, and Fife Ness, Fife, with a Eurasian Dotterel by Torness Power Station, Lothian, on 10th. On Tiree, Argyll, both Ring-necked Duck relocated to Loch Bhasapol and Pectoral Sandpipers were at Loch an Eilein and Baugh.
Northern Isles and the Hebrides
Rarities aside, American birds were thin on the ground on Shetland this week. A single drake Ring-necked Duck is likely to be responsible for reports from several Yell lochs, after originally relocating from Loch of Cliff, Unst. Two of the wintering White-billed Divers arrived back into South Nesting Bay and two Grey Phalaropes were at Westing, Unst, on 4th. Tundra Bean Geese were reported from five Mainland localities, although how many birds were involved is still up for debate.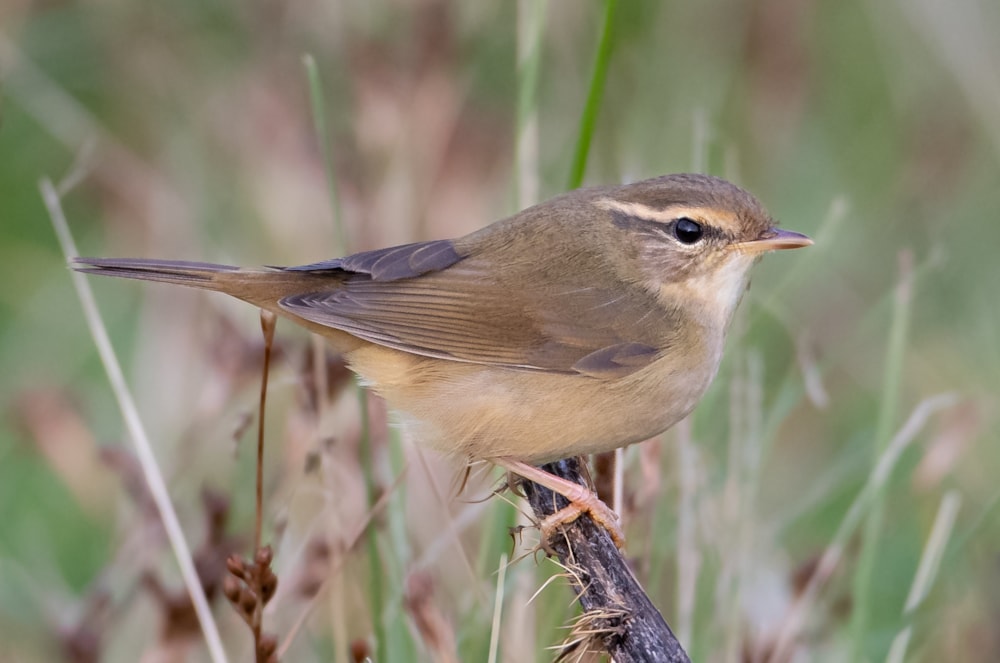 Radde's Warbler, Sullom, Mainland, Shetland (Chris Griffin).
The 5th saw two Radde's Warblers on the Mainland, with birds at Sullom and Kergord, while a Dusky Warbler was at Hamnavoe on 6-7th. A Greenish Warbler at Boddam on 6th was a one-day bird. The first-winter Woodchat Shrike found the burn at Aith to its liking and remained throughout. Olive-backed Pipits had a strong showing and were reported from eight sites, as did Shore Larks, with three on Out Skerries and five at Scatness, Mainland.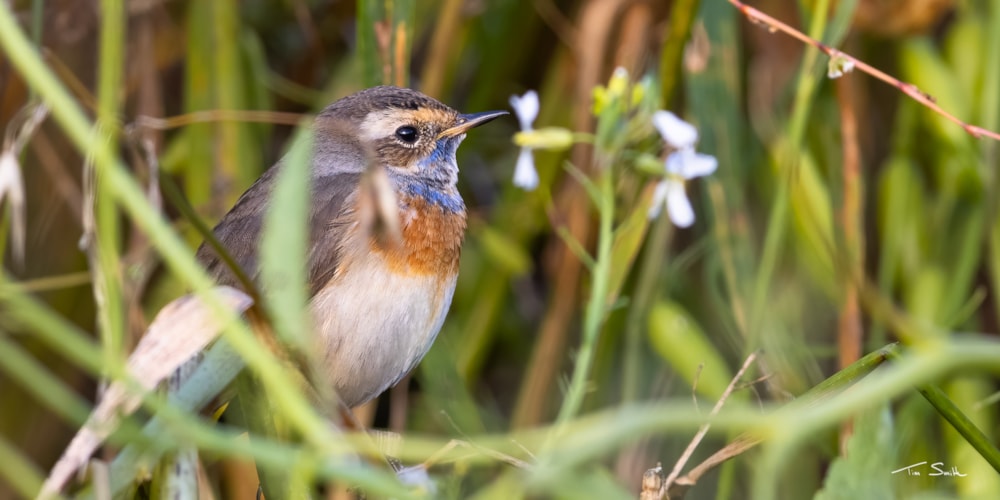 Bluethroat, Valyie, Unst, Shetland (Tim Smith).
A Citrine Wagtail was at Funzie, Fetlar, on 4th and another flew over Kikabister, Mainland, on 6th. A Hoopoe was at Vats-Houll, Whalsay, on 7th and Corncrakes were on Foula on 7th and Norwick, Unst on 8th. A smart pale-morph juvenile European Honey Buzzard tracked south on 8-9th. A Vagrant Emperor dragonfly was at East Burrafirth, Mainland, on 6th.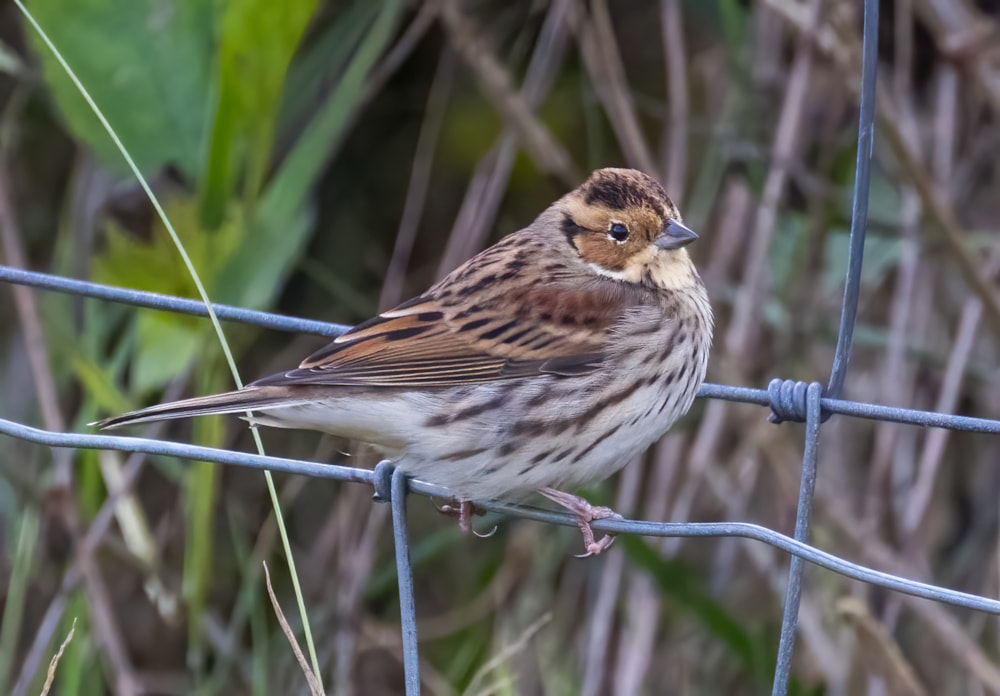 Little Bunting, Norwick, Unst, Shetland (Peter Garrity).
Four Shore Larks were a welcome addition to Fair Isle's year list, while lingering scarcities included the Greater Short-toed Lark, Red-backed Shrike, Little Bunting and Barred Warbler. Two adult white-morph Snow Geese toured the island on 6th although with two escaped German birds in Orkney they ought to be treated as guilty until proven innocent.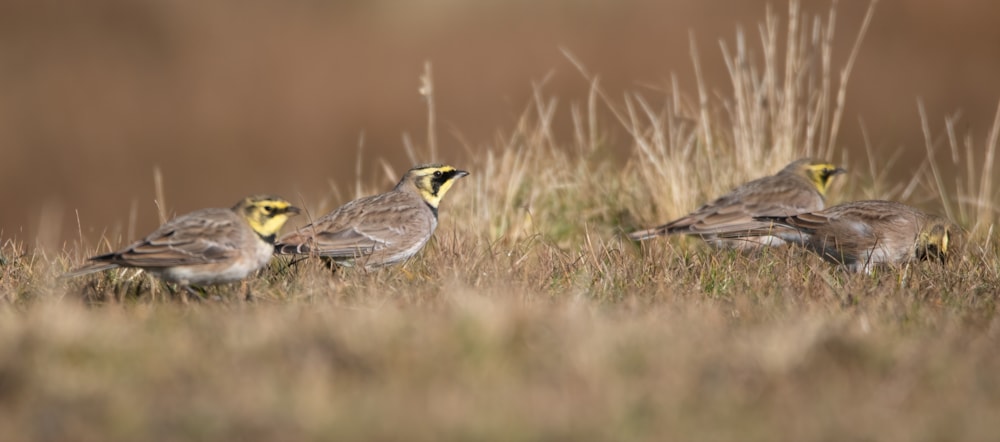 Shore Larks, Fair Isle, Shetland (Alex Penn).
In Orkney, the Radde's Warbler remained on Sanday until 5th. Barred Warblers were on Stronsay on 5th and Westray on 6th and a Balearic Shearwater flew north past Start Point, Sanday, on 8th. The Pectoral Sandpiper was still at Denwick, Mainland, on 5th. Two adult white-morph Snow Geese on Sanday on 6th (for the 10th day) and The Loons RSPB, Mainland, on 10th are all thought to relate to the aforementioned birds on Fair Isle.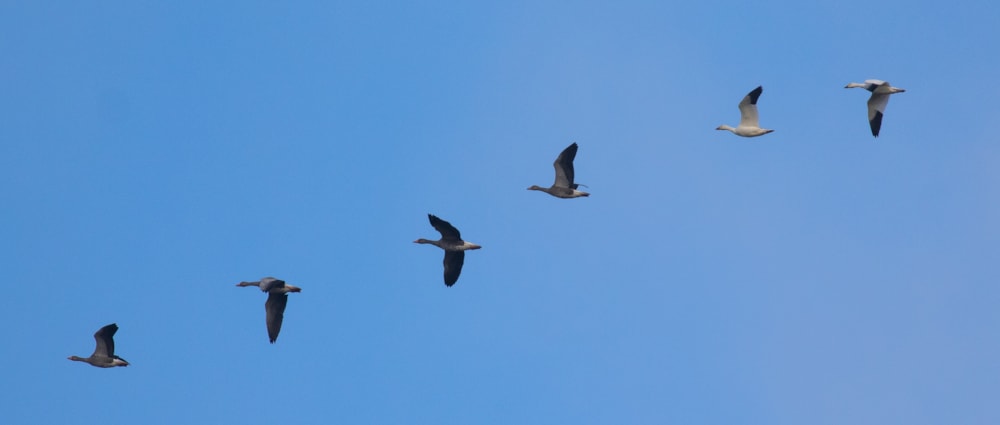 Snow Geese (right), Fair Isle, Shetland (Daniel Gornall).
A Richard's Pipit was on North Ronaldsay, with Red-breasted Flycatcher and two Barred Warblers for company. The Snow Bunting flock peaked at 178 birds on 9th.
The western bias continued in the Outer Hebrides, with the juvenile American Golden Plover still at Baleshare, North Uist, juvenile Lesser Yellowlegs, three Pectoral Sandpipers and four Ring-necked Duck still at Loch Stiapavat, Lewis, and drake Surf Scoter at Sound of Taransay. A Black-necked Grebe was on Coot Loch, Benbecula from 9th and the Greater Short-toed Lark remained on St Kilda.
Dan Owen
North-East England
I was an excellent week to be on Holy Island, Northumberland. In addition to the aforementioned vireo, Little Bunting, Red-breasted Flycatcher, a couple of Barred Warblers and a Siberian Chiffchaff were seen. A probable Blyth's Reed Warbler was noted at Bamburgh on 6th with a Red-breasted Flycatcher there the following day. Both St Mary's Island and Tynemouth produced Barred Warblers with a Siberian Chiffchaff also seen at the latter. A Red-backed Shrike was the highlight at Newbiggin-by-the-Sea.
A drake Surf Scoter spent an afternoon off Birling Carrs on 6th and four sites scored Long-tailed Skuas (including three past both Holy Island and Howick). A Leach's Storm Petrel was taken into care in Seahouses at the start of the week. Budle Bay had a productive day on 10th, with both a Glossy Ibis and Pectoral Sandpiper.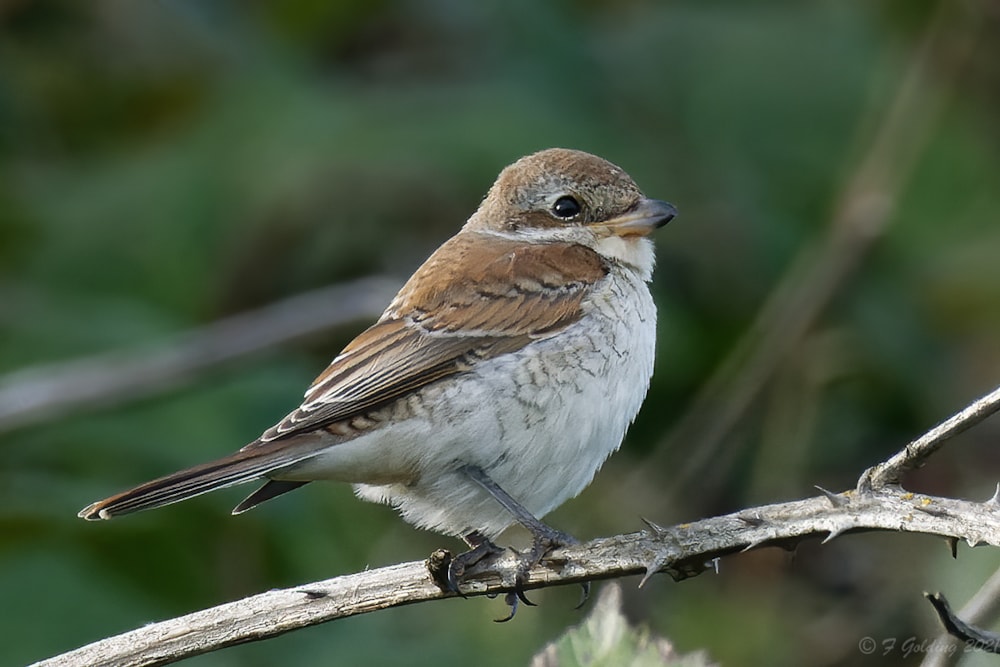 Red-backed Shrike, Newbiggin-by-the-Sea, Northumberland (Frank Golding).
An Olive-backed Pipit at Whitburn Coastal Park on 6th was the highlight of the week in Durham, with a single Long-tailed Skua seen passing there the same day. A Lapland Bunting flew over nearby Jackie's Beach and a good count of 141 Little Gulls flew north at Whitburn on 8th.
In Cleveland, an Arctic Warbler was a good find at the Hartlepool Headland's putting green on 6th. Two Barred Warblers were also seen on the headland. Both Lapland and Snow Buntings were at South Gare and small numbers of Yellow-browed Warblers were scattered across the region.
Jonathan Farooqi
North-West England
A Black Tern on the pools along Gretna Road, Longtown, was Cumbria's bird of the week. The reporting week saw a modest arrival of Pink-footed Geese, bringing with them an adult white-morph Snow Goose. First seen over Newton-with-Scales, Lancashire, on 6th, it was presumably the same bird at Banks Marsh two days later. Also present at the latter site was a Todd's Canada Goose. Three Greater White-fronted Geese at Martin Mere WWT on 9th round up the wildfowl action. Two Leach's Storm Petrels flew past Crosby on 5th and a Grey Phalarope was along the tideline there on 6th.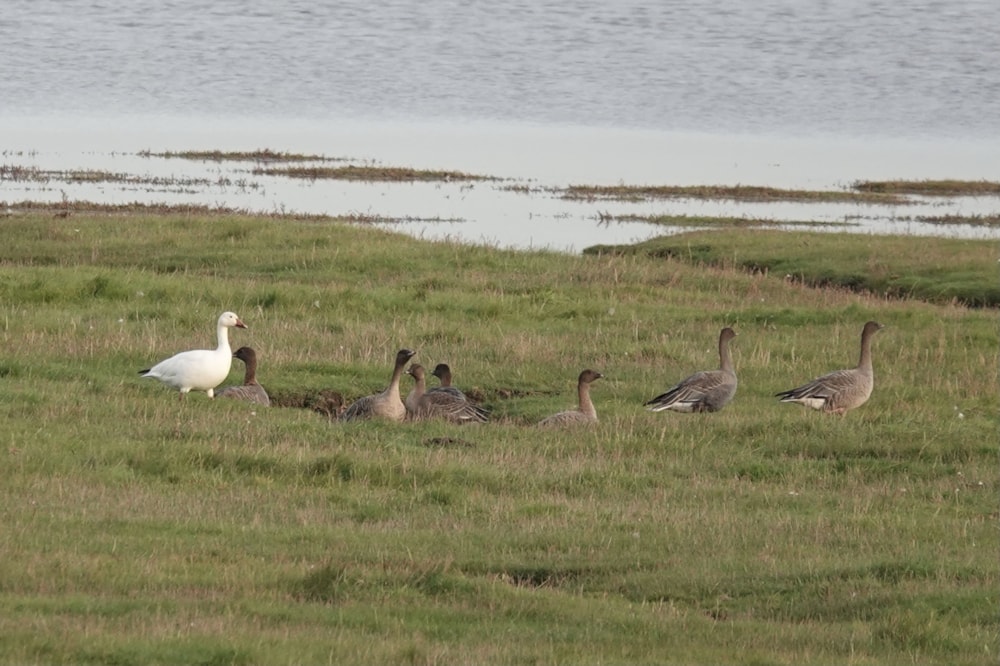 Snow Goose (left), Banks Marsh, Lancashire (Stuart Darbyshire).
Seawatching was slow in Cheshire but involved a few nice birds. A juvenile Sabine's Gull was logged past Hilbre Island on 5th, while Leach's Storm Petrels flew past six localities, notably two along the Mersey past Hale. Nine Eurasian Spoonbills at Sandbach Flashes on 7th was an excellent local count. In Greater Manchester, a Manx Shearwater was taken into care at Dukinfield on 4th.
Dan Owen
Lincolnshire and Yorkshire
East-coast birders have endured a torrid autumn so far, and it was another quiet week in Lincolnshire. A Red-breasted Flycatcher reached Gibraltar Point NNR on 8th, where there was a Richard's Pipit on 10th. A Red-backed Shrike was at Rimac on 9th. Yellow-browed Warblers were noted at just three sites. Frampton Marsh RSPB attracted a Grey Phalarope on 8th. Inland, a Pectoral Sandpiper was a brief visitor to Baston & Langtoft Pits on the evening of 6th, where a juvenile Northern Gannet flew south early on 7th.
Content continues after advertisements
Three Common Cranes were tracked moving south over Anglers CP, West Yorkshire, two sites in South Yorkshire and into Derbyshire on 10th; they had been seen over Farnham, North Yorkshire, the day previous. A Pectoral Sandpiper called in at Adwick Washlands on 5th. In a good week for the species, several sites in South and West Yorkshire registered Rock Pipit.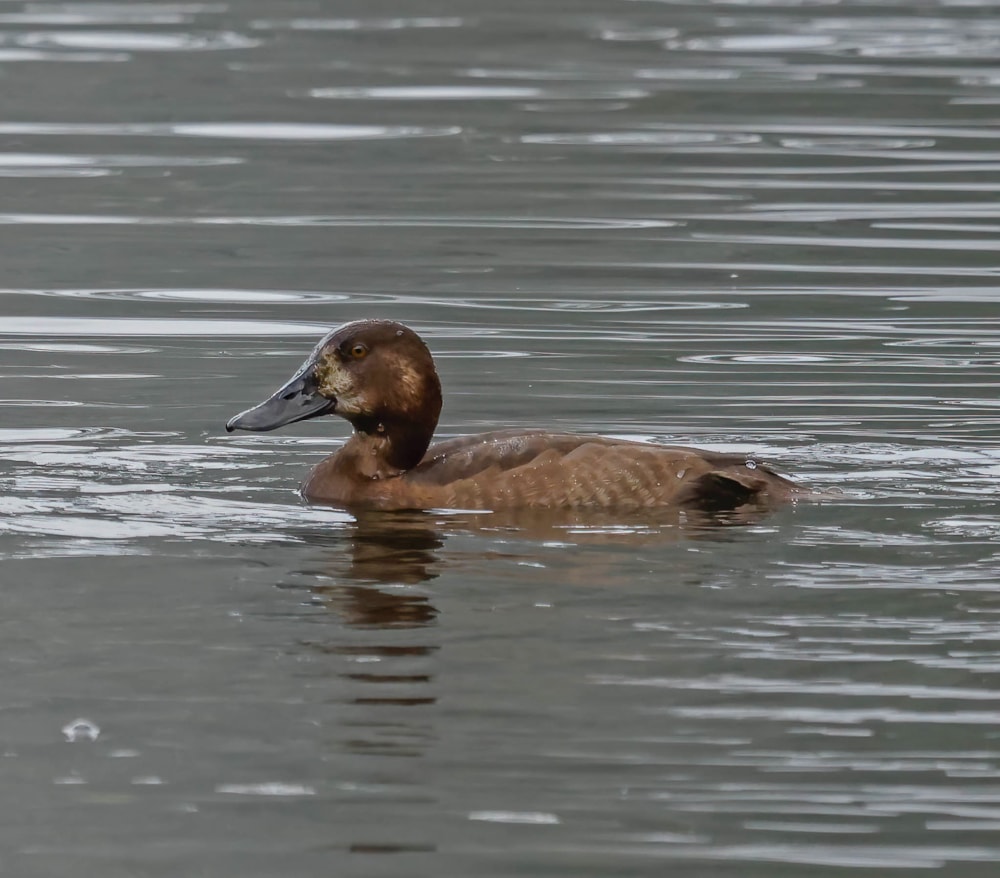 Greater Scaup, Roundhay, West Yorkshire (Dave Ward).
A Hoopoe was photographed at Northallerton, North Yorkshire, on 7th. With just five North Yorkshire sites registering Yellow-browed Warbler, one well inland at Barden on 7th was of note. Migrants were few and far between on the coast, with a Barred Warbler at Filey on 6th and a Siberian Chiffchaff at Scarborough on 10th.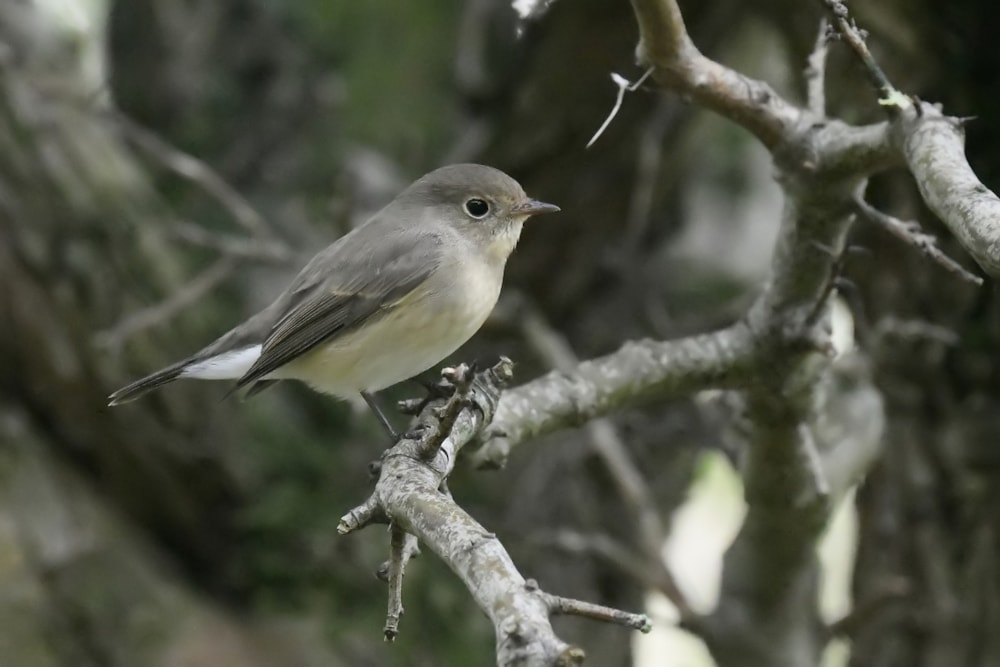 Red-breasted Flycatcher, Spurn YWT, East Yorkshire (Sonia Johnson).
Bempton Cliffs RSPB, East Yorkshire, had both Red-breasted Flycatcher and Barred Warbler this week, with another of the former at Thornwick Bay. The autumn's first mainland Red-flanked Bluetail was at Flamborough Head on 8th, with a Little Bunting there on 6th and a Great Shearwater offshore. Highlights from the Spurn area included Olive-backed Pipit, Red-breasted Flycatcher and a couple of Siberian Chiffchaffs, plus the first Yellow-browed Warblers of the autumn.
Josh Jones
West Midlands
A Pectoral Sandpiper was a brief visitor to Belvide Reservoir, Staffordshire, on 8th; a Little Stint, juvenile Arctic Tern and Black-necked Grebe were also present. The adult Black-necked Grebe lingered at Dosthill NR. A Red-breasted Merganser was at Blithfield Reservoir on 9th. It was quiet in Shropshire, although five Whooper Swans spent the afternoon at Venus Pool NR on 9th.
In Worcestershire, the 11 Russian White-fronted Geese remained at Ripple GPs until 5th and a juvenile Arctic Tern was at Upton Warren NR on 9th. Staffordshire's adult Black-necked Grebe hopped across the border to Dosthill Lake, Warwickshire, on a couple of occasions and a Red-breasted Merganser was at Brandon Marsh NR on 10th.
Dan Owen
East Midlands
A Snow Bunting at Carsington Water on 5th was a nice local find and lingered until at least 10th. Two Red-breasted Mergansers were at Valehouse Reservoir on 9th, while a light passage of Woodlark included three birds over two sites. Three Common Crane flew south over Carr Vale NR on 10th, having been tracked over four Yorkshire sites previously.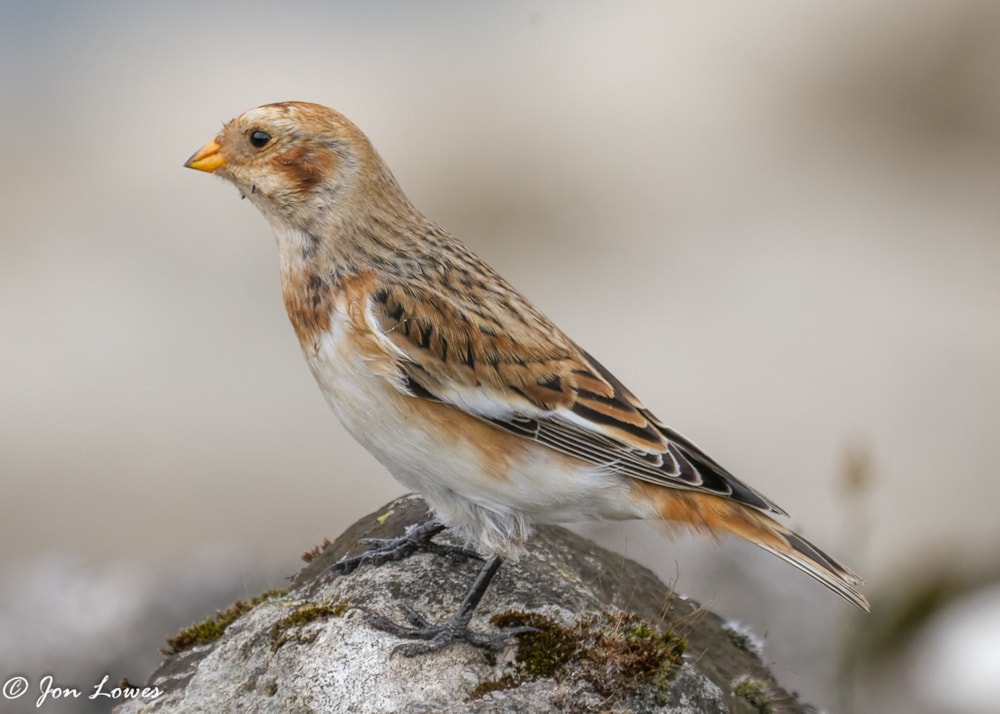 Snow Bunting, Carsington Water, Derbyshire (Jonathan Lowes).
Displaced Northern Gannets were reported in Nottinghamshire airspace on 7th, with Sherwood Forest CP, Worksop and Budby all producing records. Lingering birds at Idle Washlands included two Little Stints and a Garganey. The juvenile Little Stints remained at Langford Lowfields RSPB and five Eurasian Spoonbills flew over Edwinstowe on 5th. A Snow Bunting flew north over Thoresby Lake on 10th.
It was quiet in Northants. A Ruddy Shelduck was decorating the DIRFT 3 development site at Lilbourne and brought with it an escaped drake South African Shelduck. A Northern Gannet over Weedon Bec on 7th was the only other sighting of note. A redhead Red-breasted Merganser flew over Loughborough, Leicestershire, on 6th and a Eurasian Spoonbill was at Eyebrook Reservoir on 10th.
Dan Owen
East of England
It's rare to see the BirdGuides news page so devoid of highlights for Norfolk in early October, yet there was a real sense of scraping the barrel this week. The Rosy Starling roosted daily at Titchwell RSPB, with a Richard's Pipit flying over on 10th (one of at least five in the county). Hoopoe and Red-breasted Flycatcher were highlights from Wells Woods, while a candidate adult Baltic Gull visited Cley Marshes NWT on 4th. A Barred Warbler was at Winterton Dunes NNR on 8th.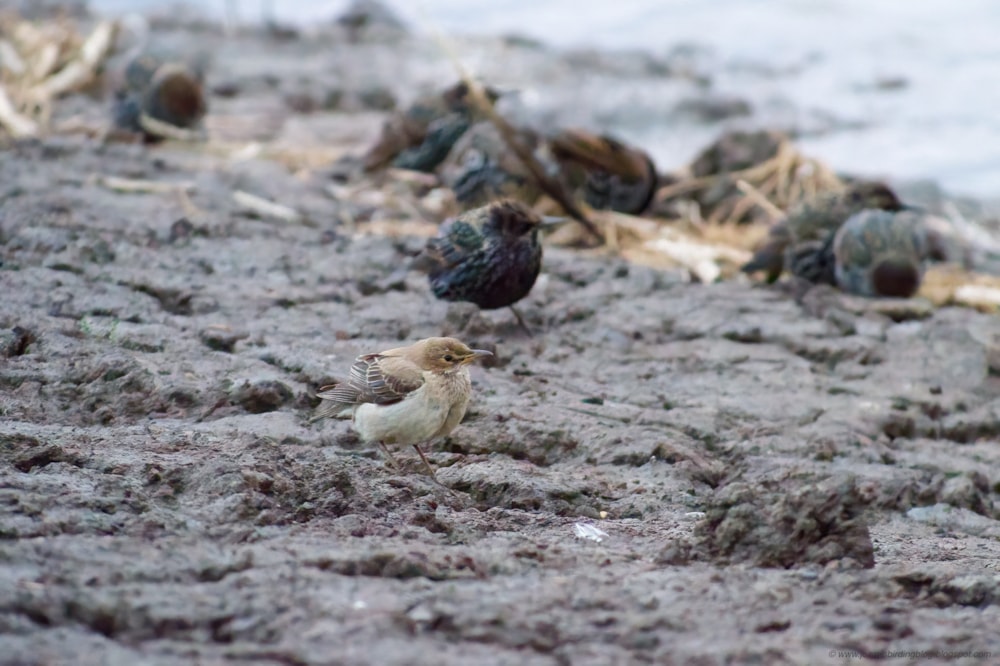 Rosy Starling (front bird), Titchwell RSPB, Norfolk (Jonathan Farooqi).
In Suffolk, a Red-necked Phalarope on a small reservoir near Fornham St Martin on 4th was a notable record. On the coast, a Radde's Warbler reached Lowestoft on 9-10th and a Pectoral Sandpiper was at nearby Carlton Marshes SWT on 10th. A Little Bunting was trapped at Trimley Marshes SWT on 10th. Three sites produced Yellow-browed Warbler.
A Red-necked Phalarope was a one-day visitor to Bowers Marsh RSPB, Essex, on 6th, while a European Honey Buzzard was a welcome sighting for someone on Southend Pier on 4th. An adult American Golden Plover visited Abberton Reservoir on 8th and a Rough-legged Buzzard was an early surprise at St Osyth on 10th. The unringed White Stork was also back at Stanway Green.
In Hertfordshire, a Yellow-browed Warbler was very notable at High Wych on 8th. Fifteen Eurasian Spoonbills were briefly at Wilstone Reservoir on the morning of 6th, with two Rock Pipits there on 9th.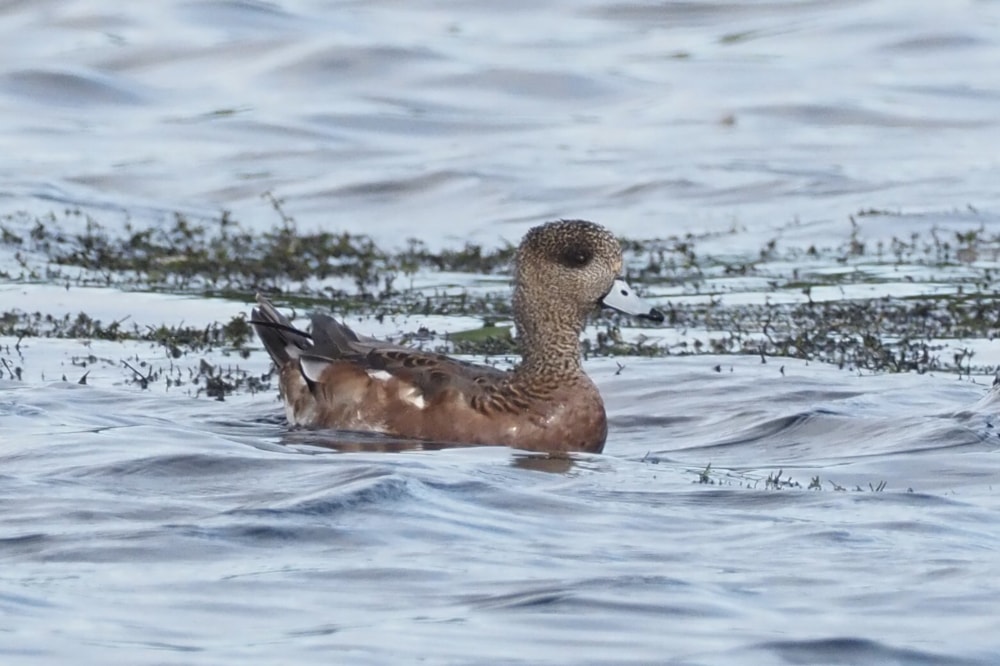 American Wigeon, Bluntisham, Cambridgeshire (Barry Wright).
A Cambridgeshire record count of nine Glossy Ibises was made at Earith on 10th. The American Wigeon was still near Bluntisham, while reports of an American Golden Plover at Pymoor were clouded by a greyish European Golden Plover on site, which accounts for at least some sightings this week. A Hoopoe was at Coveney on 6th.
Josh Jones
South-East England
A hint of easterlies during the review period delivered some decent bits, particularly in Kent where an Arctic Warbler visited Shuart on 9th. A Red-breasted Flycatcher was at Seasalter on the same day. On 10th, Richard's Pipits (or the same bird) were at Foreness Point and North Foreland and St Margaret's at Cliffe hosted a Bluethroat. At least four Yellow-browed Warblers were about, Lapland Buntings were at Foreness Point and North Foreland and a Snow Bunting was at Dumpton. Dungeness hosted Pectoral Sandpiper, Balearic and Sooty Shearwaters and a Grey Phalarope; another Grey Phal was Reculver. The Rosy Starling reappeared at Hythe and a Sabine's Gull was seen off Seasalter.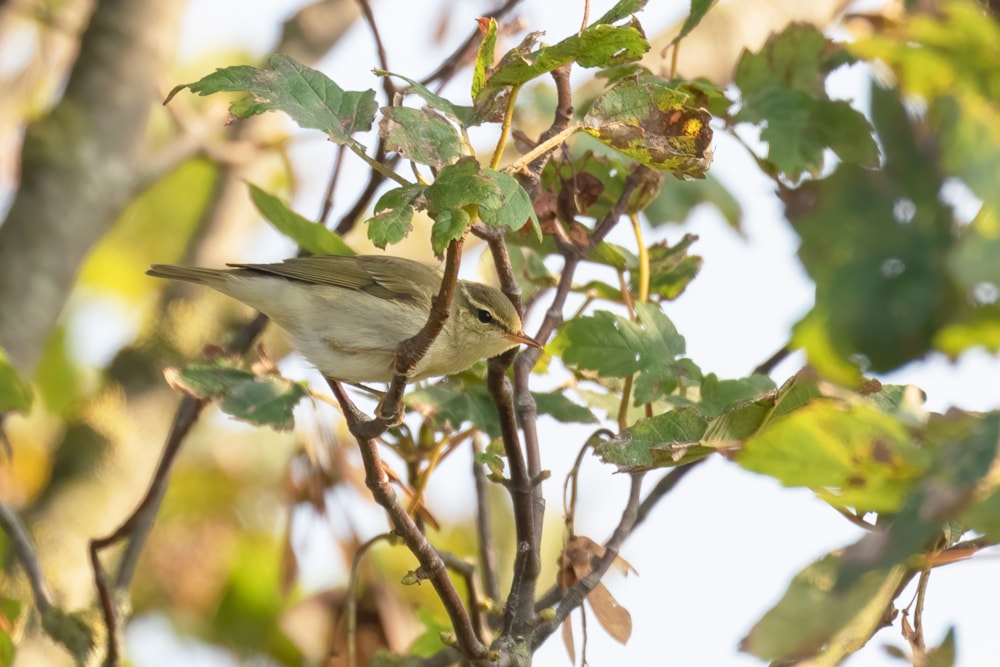 Arctic Warbler, North Foreland, Kent (Alex Perry).
It was quiet in Sussex, though the Pagham Harbour Purple Heron reappeared from 9th after a 14-day hiatus. A European Honey Buzzard flew over Hastings CP and two Northern Gannets were a notable record inland over Knepp – perhaps liking the look of the White Storks.
In Hampshire, both Oxey and Normandy Marshes hosted presumably the same Pectoral Sandpiper and a Wryneck was at Black Point on 7th. The Glossy Ibis continued at Farlington Marshes and Warblington, while the Fleet Pond Pink-footed Goose was still to be found throughout. Blackgang, Isle of Wight, hosted a Yellow-browed Warbler on 8th.
A Yellow-browed Warbler was at Thursley Common on 10th – a second site record. Holmethorpe SP hosted a Eurasian Spoonbill the previous day. In London, three Eurasian Spoonbills flew over Upminster on 10th, the Pectoral Sandpiper continued at Rainham and Walthamstow Wetlands hosted Rock Pipit. Staines Reservoirs scored a neat Northern Gannet and Roseate Tern double-act; another inland Northern Gannet was seen over Little Woodcote.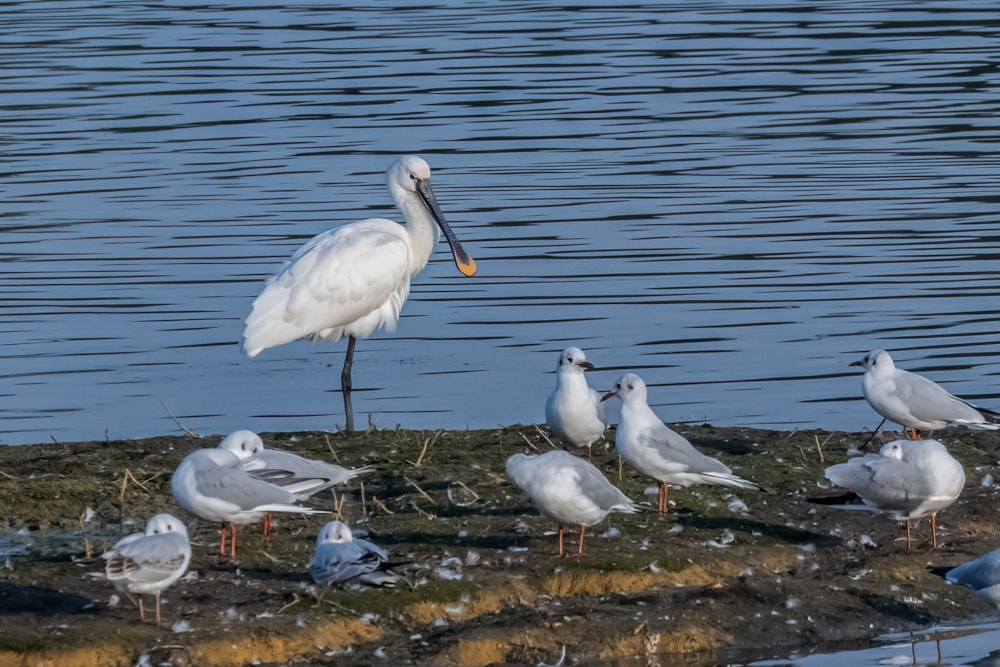 Eurasian Spoonbill, Spynes Mere SWT, Surrey (Arturas Kundrotas).
Dinton Pastures, Berkshire, logged a Rock Pipit on 10th, the same day an extremely early Bewick's Swan was reported over New Bradwell, Buckinghamshire. Farmoor, Oxfordshire, hosted Red Knot and Little Stint, while the eight Eynsham Greater White-fronted Geese continued and a Rock Pipit was at Thame.
Ed Stubbs
South-West England
Many of the good birds from last week were still present on Scilly, including the Red-backed Shrike and Spotted Crake on St Mary's, Red-breasted Flycatcher on St Martin's, Rosy Starling on Bryher and Common Rosefinch on St Agnes. Two Pectoral Sandpipers remained on Tresco. New arrivals consisted of a Radde's Warbler, Woodchat Shrike and Red-breasted Flycatcher on St Martin's, Rosy Starling on Tresco, Blyth's Reed Warbler and Grey Phalarope on St Mary's, and American Golden Plovers on Tresco and St Agnes. Two Common Rosefinches were on the islands and Little Buntings were found on St Mary's and St Martin's at the end of the week.
Two Red-breasted Flycatchers arrived in Cornwall – at Porthgwarra and Land's End. Five sites scored Richard's Pipits and Glossy Ibis were at four. Trevescan held onto its Rosy Starling throughout. Small numbers of Leach's Storm Petrels, Sabine's Gulls and Grey Phalaropes were seen on midweek seawatches, with one of the latter inland at Siblyback Reservoir from 5-7th. A drake Ring-necked Duck arrived at Dozmary Pool from 7-9th.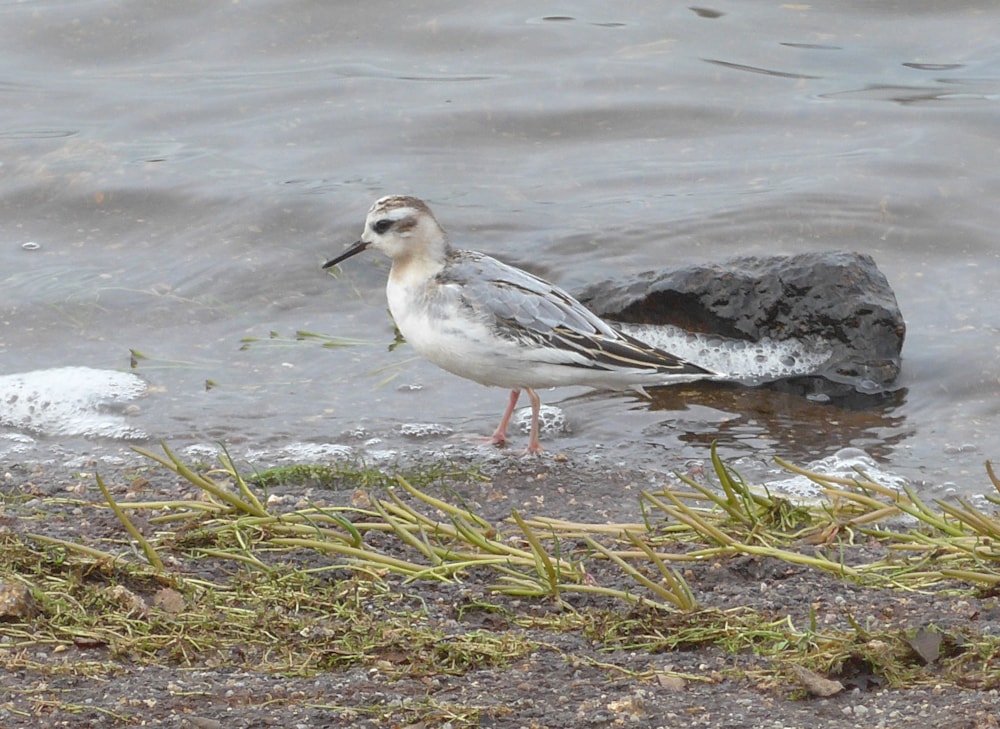 Grey Phalarope, Siblyback Reservoir, Cornwall (Phil Edmonds).
A Radde's Warbler at Soar on 10th and a juvenile Rosy Starling in Paignton on 7th were Devon's highlights. Two Glossy Ibis arrived at Fremington Pill at the week's end and a European Honey Buzzard flew over Soar. Five localities in Dorset produced Grey Phalaropes, with twos off Chesil Cove and Langton Herring. Wyke Regis scored an adult Black Brant on 9th. Some 111 Balearic Shearwaters past Portland on 9th was the highest count of the week.

Radde's Warbler, Soar, Devon (Steve M R Young).
In Gloucestershire, a Hoopoe was seen in flight at Innsworth on 7th and a possible Woodchat Shrike was reported from Woorgreens Lake at the week's end. Four Russian White-fronted Geese were at Slimbridge WWT, with three passing over Frampton-on-Severn. Several Little Stints and Spotted Redshanks were also at the former locality.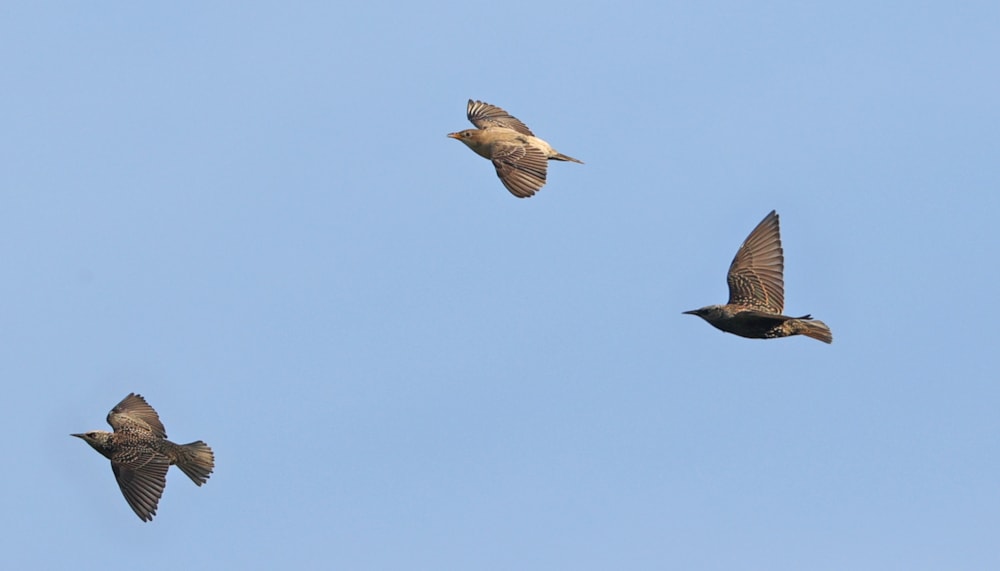 Rosy Starling (top), Paignton, Devon (Steve Hopper).
The Pectoral Sandpiper at Cheddar Reservoir, Somerset & Bristol, was still present on 7th, with Huntspill scoring a Grey Phalarope and Lapland Bunting on 5th. Little Stints at Steart WWT peaked at four on 10th and Yellow-browed Warblers were at Sand Point and Burnham-on-Sea. A dark morph Arctic Skua flew through Blagdon Lake on 6th. In Wiltshire, a Dipper was at Marlborough.
Jonathan Farooqi
Wales
In a busy Welsh week, a juvenile American Golden Plover at Dale Airfield, Pembrokeshire, from 8th proved a popular fixture. Elsewhere, an adult male Red-breasted Flycatcher dazzled on Bardsey Island, Gwynedd, on 9th, a Blyth's Reed Warbler was trapped and ringed on Skokholm, Pembrokeshire, on 9th (where the Wryneck remained on 4th), and the Hoopoe was again at Sker Point, Glamorgan, on 4th.
Juvenile American Golden Plover still on the Dale Airfield this evening, along with a Grey Plover and 6 Golden Plover. @PembsBirds pic.twitter.com/mWlhz6oueF

— Toby Phelps (@phelpstoby1) October 9, 2021
In Glamorgan, a Wryneck visited Mewslade Bay, Gower, from 6-9th. Lapland Buntings were at Great Orme, Conwy, and Weobley, Glamorgan, with Snow Buntings at two sites. Two Yellow-browed Warblers were trapped on Bardsey Island, Gwynedd, on 9th, with another at Penrhyn Bay, Conwy. On 6th, a possible White-tailed Eagle flew south over Goodwick, Pembrokeshire.
Two Ring-necked Duck remained in place – at Cardiff Bay, Glamorgan, and Llyn Alaw, Anglesey – a Garganey held on at Conwy RSPB, a drake Surf Scoter was again off Pensarn, Conwy, and a Ruddy Shelduck continued at Burton Mere Wetlands RSPB, Clwyd. Little Stints were brief visitors to Llyn Alaw, Anglesey, and Gann Estuary, Pembrokeshire, while an adult Curlew Sandpiper was at Pwllheli, Gwynedd.
On 5th, an impressive day's seawatching off Stumble Head, Pembrokeshire, included no fewer than 20 Leach's Storm Petrels, two Long-tailed Skuas, two Grey Phalaropes, six Balearic Shearwaters, five Sabine's Gulls and a Pomarine Skua. Leach's flew past another five sites, Sab's a further three, and a Grey Phalarope was off Mwnt, Ceredigion. Three more Long-tailed Skuas were off Strumble on 6th; an adult Glaucous Gull flew south past Flint, Clywd, on 7th.
Ireland
After a period of westerly weather, calmer conditions in Ireland this week saw an arrival of eastern birds. A Radde's Warbler was on Cape Clear, Co Cork, from 9th, with the famous island also scoring a Red-breasted Flycatcher – one of four this week, three in Co Cork and a fourth on Inishbofin, Co Galway.
Other drift migrants included a Little Bunting on Dursey Island, Co Cork, with four Common Rosefinches seen (three in Co Cork and a fourth on Achill Island, Co Mayo). A Greater Short-toed Lark spent three days at Kilcoole, Co Wicklow, from 7th. The only Wryneck was at Garinish, Co Cork, on 7th, while the Red-backed Shrike was last seen at Bolus Head, Co Kerry, on 5th.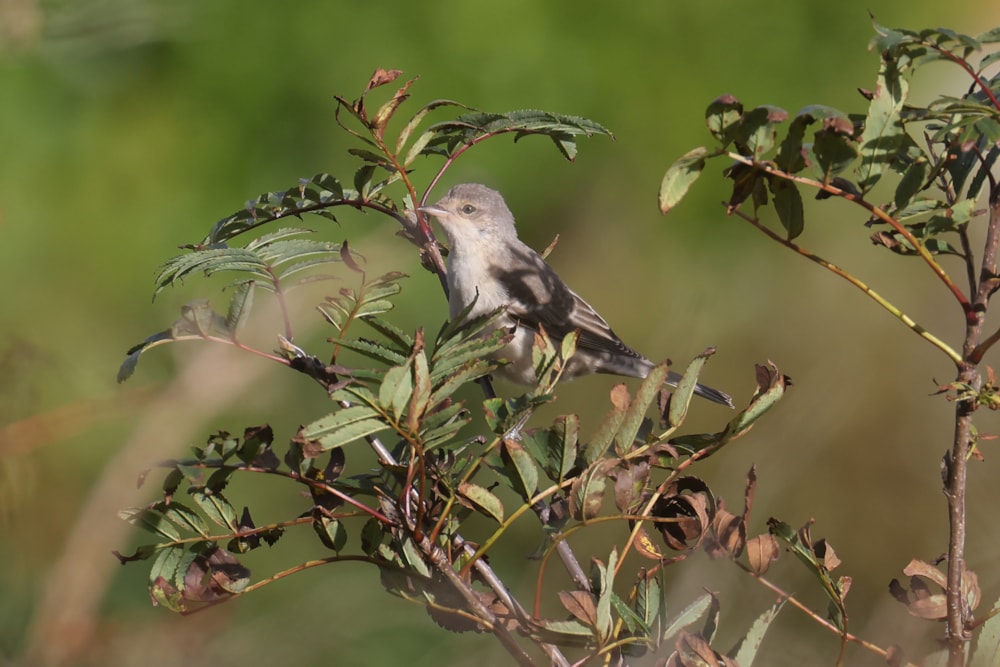 Barred Warbler, Doogort, Achill Island, Mayo (Josh Jones).
A modest arrival of American Golden Plovers saw six recorded: three in Co Cork and two in Co Kerry, in addition to last week's adult still in Co Derry. Two sites in Derry also produced Buff-breasted Sandpipers, with one at Mizen Head, Co Cork, on 10th. Lingering Lesser Yellowlegs were at Kilcoole, Co Wicklow, and Tacumshin, Co Wexford. Five Pectoral Sandpipers included three in Co Cork.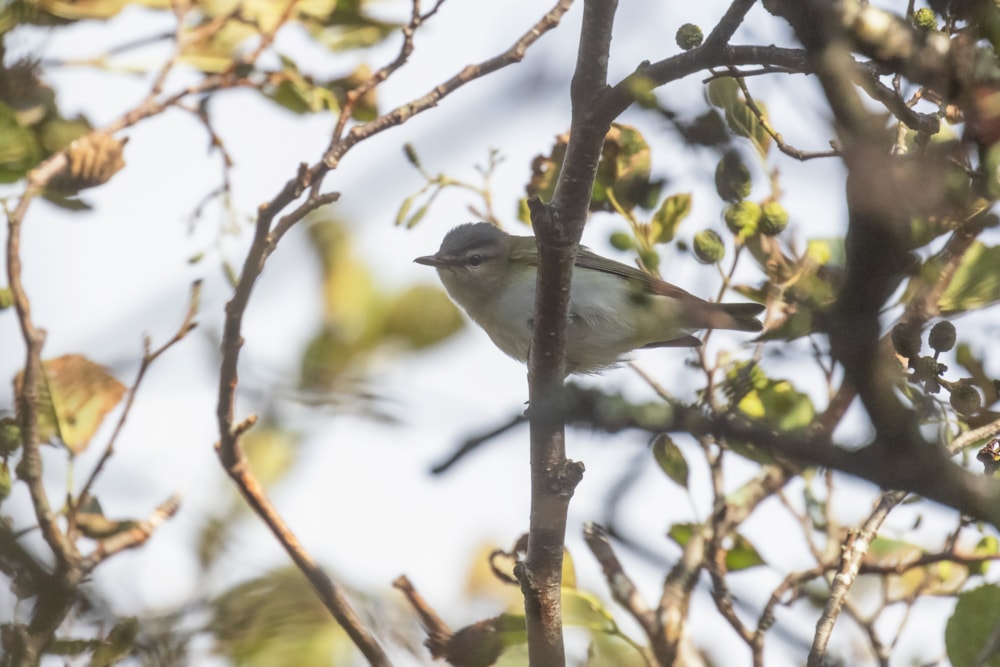 Red-eyed Vireo, Doogort, Achill Island, Mayo (Josh Jones).
Ring-necked Duck continued to arrive, with threes at two Co Mayo sites: Lough Dahybaun on 5th and Termoncarragh Lough from 8th. A further bird was on Tory Island, Co Donegal, on 10th. The American Wigeon was still at Cross Lough, Co Mayo.
Other snippets of interest included the Glossy Ibis still at Turvey NR, Co Dublin, and the long-staying adult Ring-billed Gull at Nimmo's Pier, Co Galway.
Josh Jones
Western Palearctic
The Azores' second Cape May Warbler of the autumn was the best on Corvo on 9th, starring alongside two Northern Parulas and a Philadelphia Vireo. Also there were American Redstart, Bobolink, Northern Harrier, Upland Sandpiper, two American Cliff Swallows, Rough-legged Hawk, American Buff-bellied Pipit and a Semipalmated Plover. Away from Corvo, a Green Heron appeared at Lagoa dos Patos, Flores, on 5-7th, a juvenile Stilt Sandpiper was at Cabo da Praia, Terceira, and the Great Blue Heron was again at Praia da Vitória.
Iceland's third Northern Harrier – a juvenile – quartered fields near Sandgerði on 9th. Elsewhere, a Killdeer was at Hellnar on 6th, the drake White-winged Scoter was again off Keflavík and a Laughing Gull visited Grindavík.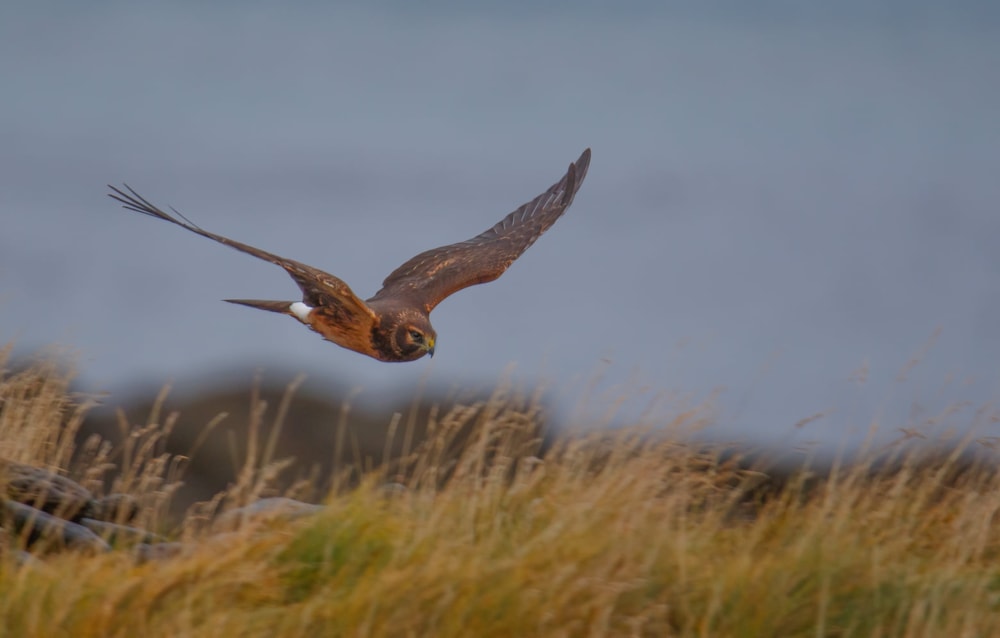 Northern Harrier, Sandgerði, Suðurnes (Siggi Bjarna).
The first two Pied Bush Chats for Turkey came to light this week – one belatedly reported from Istanbul Airport on 22 September and another at Milleyha, Samandağ, on 9th.
A young Sudan Golden Sparrow trapped and ringed at Ceuta on 3rd looks to be an outrageous vagrancy record. Elsewhere, a White-backed Vulture overflew Tarifa on 8th and Brown Boobies flew past Estaca de Bares on 3rd and Punta de la Vaca on 6th. In Cape Verde, a Semipalmated Plover was at Serra Negra, Sal, on 10th.
On 8th, The Netherlands scored two national fourths – a Two-barred Warbler at Maasvlakte and an adult drake Black Scoter north of Schiermonnikoog – the latter the first since 1977. Meanwhile, last week's juvenile Lesser Spotted Eagle flew south over Waspik on 4th, the Greater Sand Plover remained on Texel and the Pygmy Cormorant hung on near Utrecht. France's second Two-barred Greenish Warbler was on Ouessant Island from 8th, with a Black-winged Kite there next day, and a Least Sandpiper was at Mizottes des Vrillandes, Charron, on 6th.
The Scandinavian Sandhill Crane headed south with Common Cranes to Tyrnävä on 5th, becoming Finland's third in the process. In the Faroe Islands, the female Steller's Eider was again at Sumba. A simply gorgeous adult male Yellow-breasted Bunting was on Linosa, Italy, on 4-5th, while a Siberian Accentor was ringed at Sasnovy, Belarus, on 9th – a national third. Romania's third Sociable Lapwing was at Jilavele from 2nd.
Sandhill Crane, Tyrnävä, Northern Ostrobothnia (Tapio Kostet).