Mild and at times settled conditions allowed the first flush of summer migrants to sneak back into southern areas this week, with Sand Martins being seen at 30 sites as far north as Leighton Moss, Lancs, and a handful of Northern Wheatears in south-west England and South Wales, after the first at Northwick Warth, Glos, on 5th. More surprisingly, a handful of early Willow Warblers included one in song at Arlington Reservoir, East Sussex, on 7th.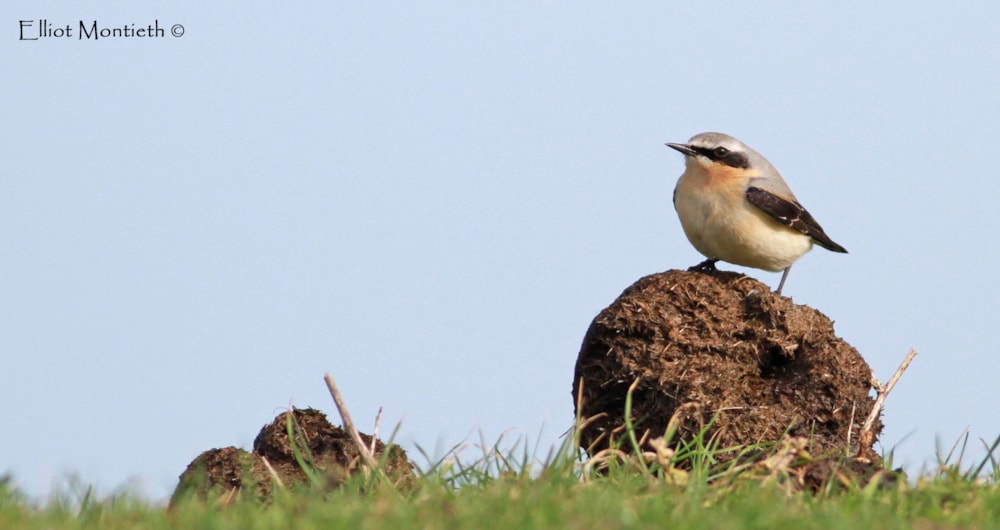 Northern Wheatear, Alderney Bird Observatory, Alderney (Elliot Montieth).
Rarity-wise, the picture nonetheless remained all too familiar. Both the Papa Westray Steller's Eider and Shetland Tengmalm's Owl remain a bit of a pain to see, yet each was noted this week – the former was back on 9th after a full day's searching drew a blank on 8th, while the owl was again located roosting at Tresta on 5th and 10th, albeit not at all on the intervening days.
Mercifully, the White-winged Scoter off Musselburgh, Lothian, was at least reliable, being reported near daily. Furthermore, for anyone wanting to make the trek to Loch Feorlin, Argyll, the Pied-billed Grebe now looks a shoe-in for the spring and summer.
Find of the week was a crisp adult Ross's Gull, which showed up at South Huish Marsh, Devon, for a couple of hours on the morning of 9th, before disappearing out to sea and not being seen again. All in all, a fairly typically fleeting occurrence of this maritime species, and a longer stay would have no doubt been appreciated – the last in the county was a rather fusty first-summer on the Exe Estuary between May and August 2014.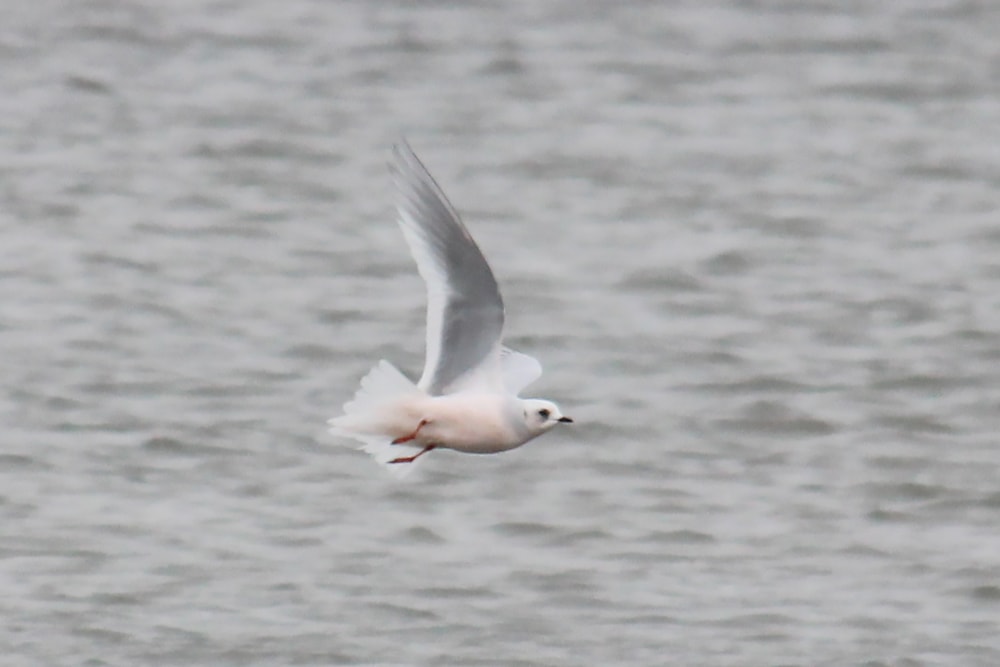 Ross's Gull, South Huish Marsh, Devon (Richie Moore).
However, that takes nothing away from the striking, swarthy first-winter Laughing Gull that was found roosting at Chew Valley Lake, Somerset, late afternoon on 10th. With a few seen elsewhere in the WP this winter, a 'Laugher' certainly felt on the cards this spring and it's nice to net one early – perhaps more will follow.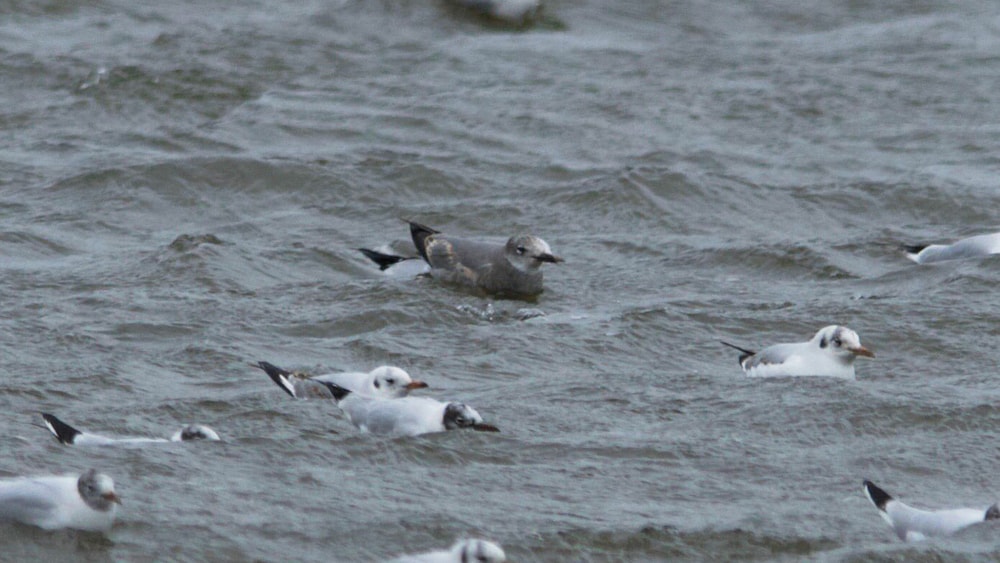 Laughing Gull, Chew Valley Lake, Somerset & Bristol (Brian Thompson).
Gulls were again prominent on the airwaves, with first-winter American Herring Gulls still at Castletownbere, Co Cork, and Cartron, Co Sligo, and the Bonaparte's Gull again reported regularly at Kilmore Quay, Co Wexford. The Forster's Tern was again seen off Doorus, Co Clare, on 8th.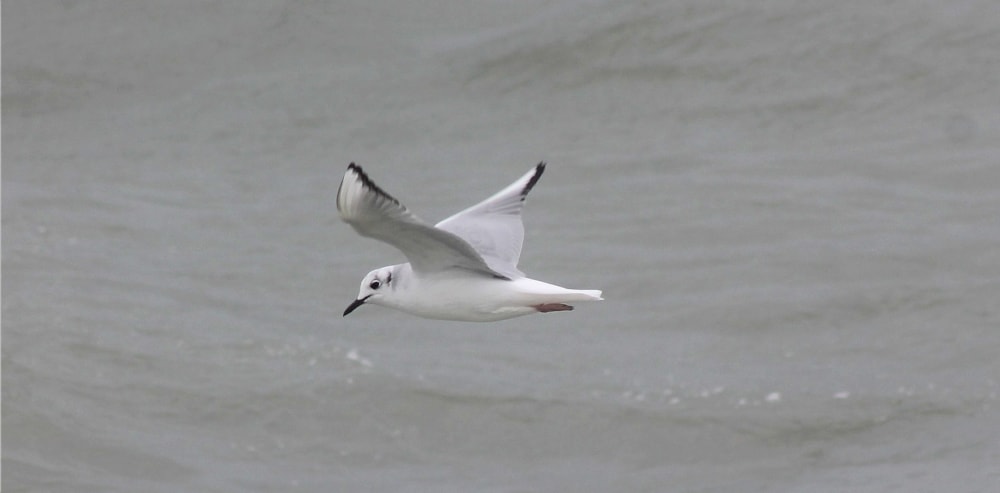 Bonaparte's Gull, Kilmore Quay, Wexford (Ian Stevenson).
Things were otherwise pretty routine, with continuing Long-billed Dowitchers still in Co Wexford and Co Wicklow, as well as Devon, Ferruginous Duck still on show in Wolverhampton, West Midlands, and at Blashford Lakes, Hants, the Blue-winged Teal at Man Sands, Devon, and American Black Duck at Strontian, Highland. The Angus Black Scoter was seen again at Lunan Bay on 6th, with the Northumberland bird also seen at Cheswick Sands.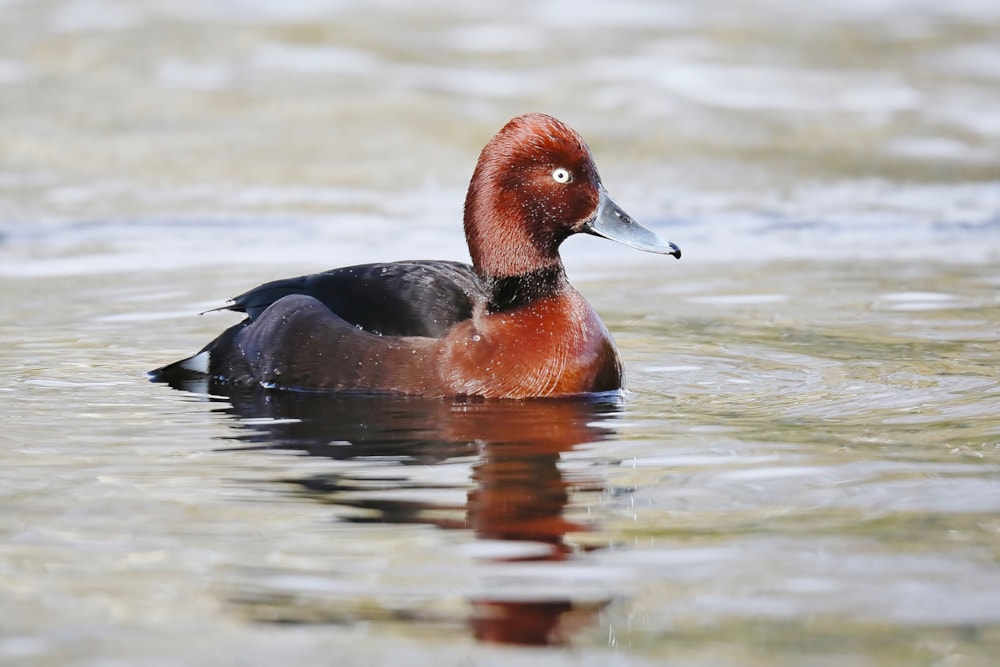 Ferruginous Duck, Wolverhampton, West Midlands (Clive Daelman).
The Richardson's Cackling Goose was back at Balloch, Highland, for the first time since mid-December, where one of the week's two Grey-bellied Brant was seen (the other still in Lancashire). Further Richardson's were on Islay and North Uist.
Unsurprisingly, the Whipsnade Zoo Black-throated Thrush is still about – it was seen at the Woodland Walk on 5th – and the Grimsby bird continued to be reported regularly. Also still around was Cheshire's Siberian Stonechat, which put in another seven days at Ashton's Flash.
Scottish mainland
Wintering wildfowl remained in evidence in a quiet week on the Scottish mainland. In the north the Ruddy Shelduck continued at Udale Bay and the Surf Scoter stuck around at Embo. Another of the latter remained off the Lothian coast at Musselburgh, while a Ring-necked Duck was in that county at Linlithgow. In Ayrshire, the Snow Goose stuck it out another week at Auchincross and a drake Green-winged Teal was at Loans on 9th. Further south, Loch Ryan's Lesser Scaup was also still present on 6th.
Up to 11 Iceland Gulls were well scattered with four in both Moray & Nairn and Aberdeenshire, two in Ayrshire and one in Dumfries & Galloway. In the latter county, the wintering Little Stint put in another appearance at Caerlaverock WWT.
Both the Aberdeenshire and Angus Great Grey Shrikes were noted again, as were Siberian Chiffchaffs in Aberdeenshire and Lothian.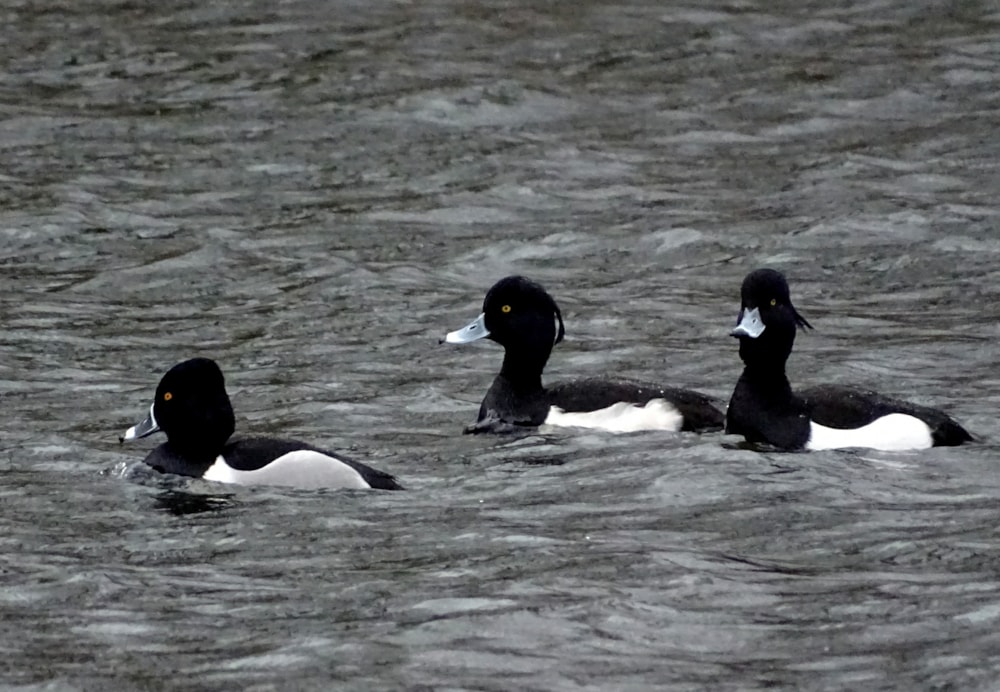 Ring-necked Duck, Linlithgow, Lothian (John Nadin).
Northern Isles and the Hebrides
South Nesting Bay, Shetland, remained the regular haunt of a wintering White-billed Diver, though the only other notable report from Shetland was a probable Todd's Canada Goose on Foula.
Papa Westray, Orkney, also retained its recent White-billed Diver, while Orcadian Green-winged Teal were on North Ronaldsay and at The Loons RSPB, Mainland, respectively.
The white-morph Snow Goose stuck around on North Uist, as did the Green-winged Teal at Loch Bee, South Uist, and the Ring-necked Duck on Barra. A third-winter Kumlien's Gull was in Stornoway Harbour at the weekend, with up to 10 Glaucous Gulls spread around the Hebrides – Rubh' Arnal, North Uist, notably chipped in with five.
Recent Green-winged Teal and Ring-necked Duck were still on Islay and Tiree respectively, with Islay also producing a Lapland Bunting in a winter that has been poor for the species.

Snow Goose, Paiblesgarry, N Uist, Outer Hebrides (Angi Harrell).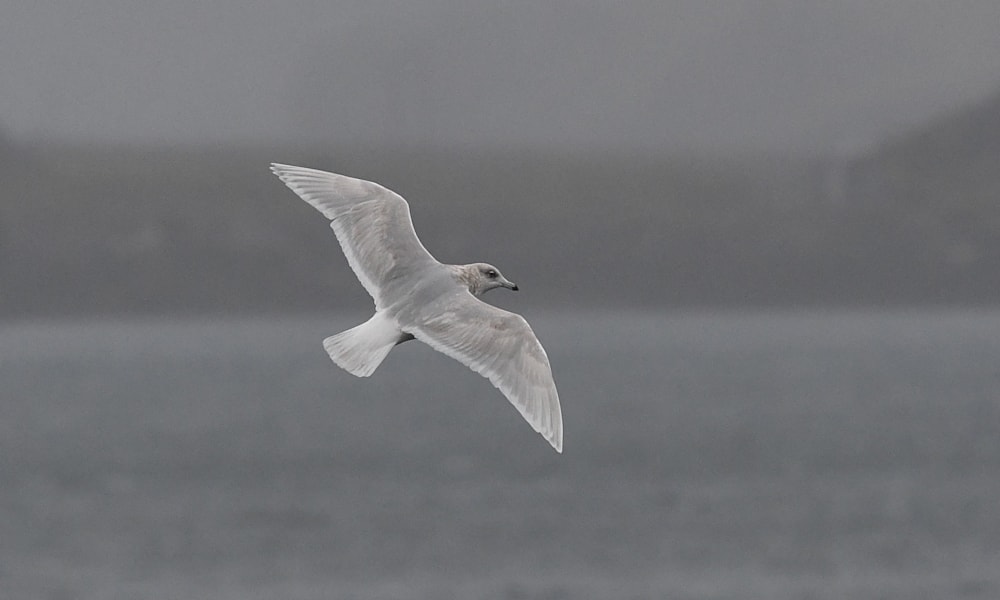 Kumlien's Gull, Stornoway, Lewis, Outer Hebrides (John Sweeney).
North-East England
There was a rather quiet feel to both weather and birds in Northumberland, though fly-throughs of four Common Cranes and a White Stork were of note. Much of the action continued inland, with the drake American Wigeon remaining at Grindon Lough and the Common Crane still in the Wansbeck Valley. Last week's Great Grey Shrike was re-found in roadside trees near Kirkharle, while the long-staying juvenile Iceland Gull remained a reliable excuse for a fish-and-chip supper at North Shields.
A new Great Grey Shrike near Trimdon was Durham's star bird. Early in the week, a Rough-legged Buzzard was noted moving south over South Shields and presumably the same individual was seen a couple of hours later at Washington WWT. The wintering Siberian Chiffchaff remained at Far Pasture NR and an adult Iceland Gull moved south past Whitburn Coastal Park.
In Cleveland, the regular Ruddy Shelduck of recent weeks continued to tour the Cowpen Marsh area and the third-winter Glaucous Gull was intermittent at nearby Dorman's Pool. Up to six Waxwings were at Coatham Marsh and the Scaling Dam Water Pipit was present, albeit elusive.
North-West England
Spring has definitely sprung in the north-west, with Greater Manchester hosting the region's first Sand Martin of the 2020: a single bird headed north over Audenshaw Reservoirs on 8th. A silent Siberian Chiffchaff candidate made a brief appearance at Pennington Flash CP on 5th, with a trio of Waxwings in Elton that day and the redhead Smew still at Wigan Flashes LNR.
Cheshire welcomed back its first Black-necked Grebe of the season at Lapwing Hall Pool on 8th. Also there, the two redhead Smew remained, while a Russian White-fronted Goose reappeared at Redes Mere on 6th. Still a good county bird, two Caspian Gulls were at Sandbach Flashes and Pickerings Pasture.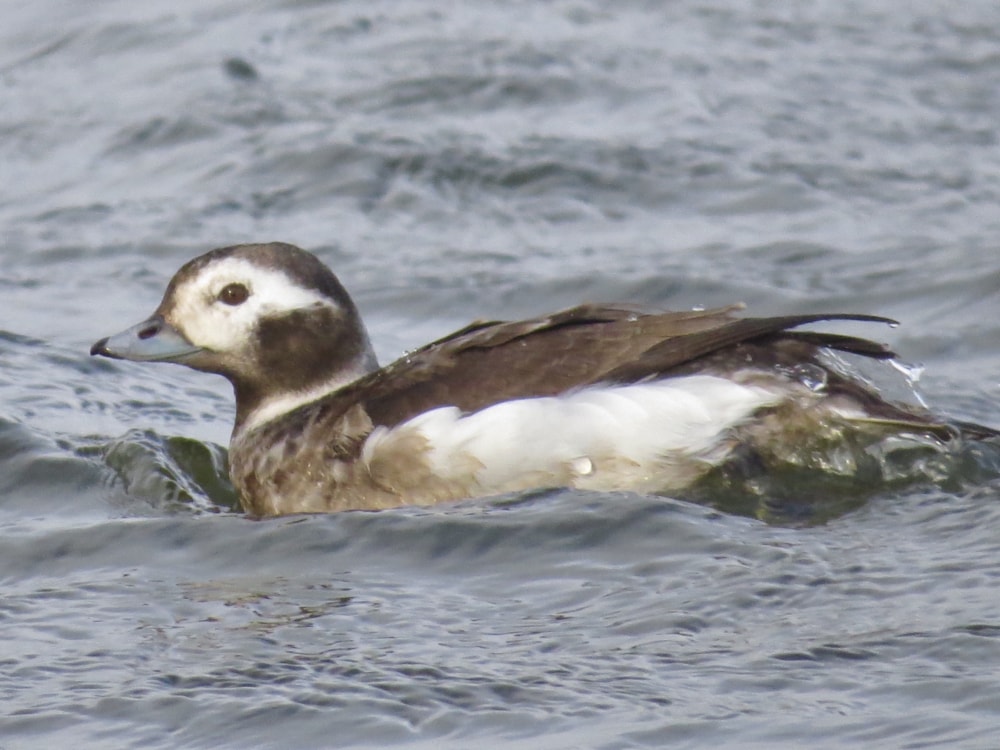 Long-tailed Duck, Crosby Marine Park, Lancashire (Pete Kinsella).
A Great Grey Shrike at Crag Head, Coniston Water, was bird of the week in Cumbria. Tundra Bean Geese were again reported at two sites in Lancashire, with the redhead Smew still at Brockholes LWT. A Little Stint at Leighton Moss RSPB was a nice record. Up to three Snow Buntings remained at Fleetwood and the juvenile Iceland Gull was again roosting at Fishmoor Reservoir.
Lincolnshire and Yorkshire
It's evidently not been a vintage week when a Western Cattle Egret headlines a county's bird news, yet the continuing Fiskerton Fen bird was arguably the best thing on offer in Lincolnshire this week, at least for inland birders. Nonetheless, a couple of Tundra Bean Geese hung on at Gibraltar Point NNR, where there were 91 Water Pipits on 4th. A pair of Waxwings drew visitors to Cleethorpes.
Despite their favoured trees being recently cut down, Hessle nonetheless managed to attract double figures of Waxwings this week. Other highlights from East Yorkshire included the Richard's Pipit at Flamborough Head and the Black Brant at Kilnsea, while North Cave Wetlands retained its Tundra Bean Goose.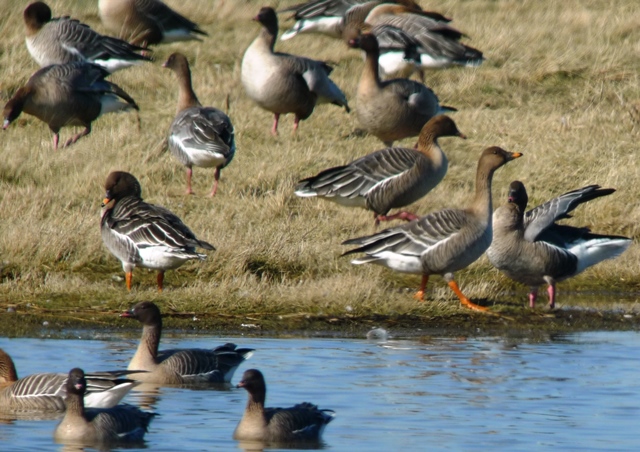 Tundra Bean Goose, Gibraltar Point NNR, Lincolnshire (Nige Lound).
In North Yorkshire, a drake Ring-necked Duck visited Long Preston Deeps on 8th. A Great Grey Shrike was at Linton-on-Ouse on 4th, while the Lesser Yellowlegs at Nosterfield and Western Cattle Egret at Bolton-on-Swale both hung around.
The Ring-necked Duck was still at Johnny Brown's Common, West Yorkshire, on 7th, with a Siberian Chiffchaff seen at Calder Wetlands. Signs that spring passage was hotting up included records of both Red Knot and Grey Plover from Swillington Ings. The Great Grey Shrike and Russian White-fronted Goose flock stuck around at Hatfield Moors, while an Iceland Gull was seen near Sheffield at Carlton on 10th.
West Midlands
The region's line-up was predictable in its nature: the Black-necked Grebe and up to four Greater Scaup were still at Draycote Water, with regular Iceland and Caspian Gulls in the roost.
Worcestershire's juvenile Glaucous Gull, affectionately but unimaginitively nicknamed 'beast', continued to commute between fields at Upton Snodsbury and Upton Warren NR. An adult Kittiwake at Upper Bittell Reservoir on 9th was welcome and the Black-necked Grebe remained. A single Waxwing continued to delight admirers at Blackminster throughout the week, with the drake Smew at Bredon's Hardwick to 8th and the long-staying Long-tailed Duck at Clifton Pits.
A drake Green-winged Teal turned up at Wall Farm NR, Shropshire, on 5th and proceeded to play cat-and-mouse there through the week – probably the same bird that was present in November. The Snow Bunting was again seen atop Titterstone Clee Hill, and three Waxwings were at Market Drayton on the 6th.
Belvide Reservoir, Staffs, produced a third Kittiwake of the season, with an adult on the morning of 7th. A first-winter Caspian Gull roosted at Chasewater on 7th. Cannock Chase held on to the wintering Great Grey Shrike.
East Midlands
Rushton landfill, Northants, attracted an adult Iceland Gull on 6th, while Western Cattle Egrets appear to be repopulating the Nene Valley – can we expect further breeding attempts in 2020? The county's first Sand Martin was at Aldwincle on 7th.
Nottinghamshire's first Sand Martin was at Holme Pierrepont on 9th, where the Red-necked Grebe hung on. Smew were at a couple of sites in the county, but the Slavonian Grebe at Attenborough NR wasn't reported beyond 5th. A Ruddy Shelduck was at the latter site, too.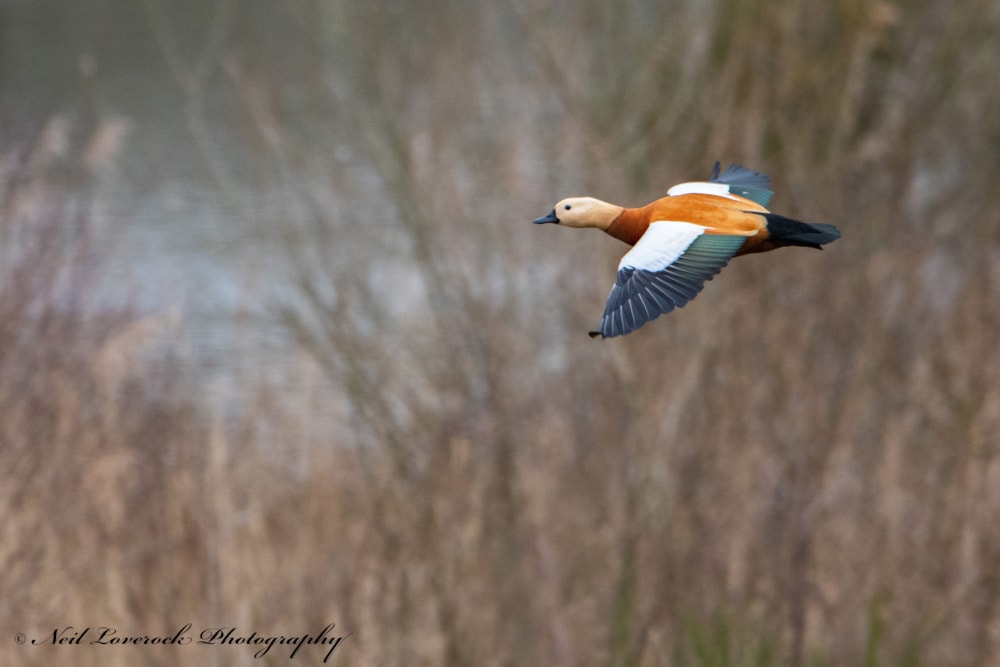 Ruddy Shelduck, Attenborough NR, Nottinghamshire (Neil Loverock).
Four Waxwings were in Willington, Derbyshire, on 10th, with Long Eaton GPs claiming county's first Sand Martins that day. At least one Great Northern Diver stuck around at Carsington Water.
Up to 15 Smew remained at Rutland Water, where Red-necked Grebe and other waterbird delights all hung on another week. An adult Glaucous Gull at Eyebrook Reservoir on 6th was a nice county record.
East of England
Four Common Cranes flew along the north Norfolk coast on 10th, but the wintering Rough-legged Buzzard didn't budge from its favoured fields at Wells-next-the-Sea. The group of Shore Larks was still at Holkham Gap, as was the Great Grey Shrike at Fincham.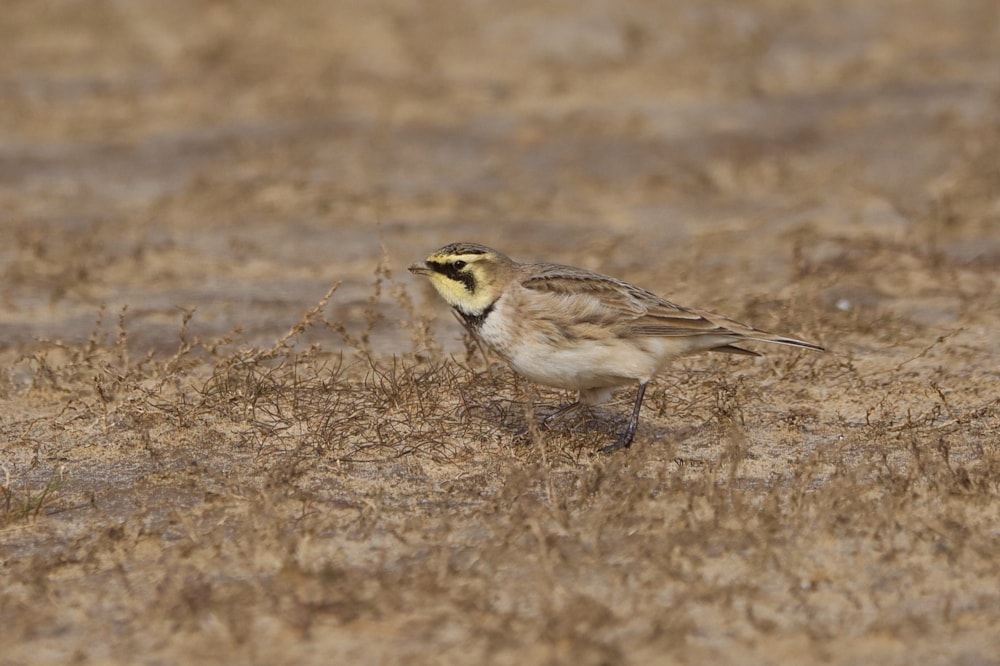 Shore Lark, Holkham Gap, Norfolk (Kevin Morris).
In Suffolk, Sand Martins reached Cavenham Heath and Mickle Mere on 8th. Photos of Minsmere's Green-winged Teal show it to have a worryingly prominent, off-white horizontal flank stripe, meaning it likely has Eurasian genes in it – at least the continuing Smew there were less problematic. A couple of groups of Waxwings were enjoyed at coastal localities.
The two Lee Valley Western Cattle Egrets remained a highlight for Essex birders, being seen several times at Cornmill Meadows. A couple of Black Brant were noted on the Essex marshes, but just a single Smew remained at Abberton Reservoir.
A trio of Smew were still at Bainton GPs, Cambs, while the Western Cattle Egret lingered at Whittlesey, a second-winter Iceland Gull was at Cambridge Research Park and a Siberian Chiffchaff was at Dernford Farm Reservoir.
Both the Ring-necked Duck at Priory CP and the Great Grey Shrike at Brogborough were once again pick of the bunch in Bedfordshire, although an early Swallow was noted over Henlow on 9th and a Dartford Warbler was popular at Houghton Regis Pits.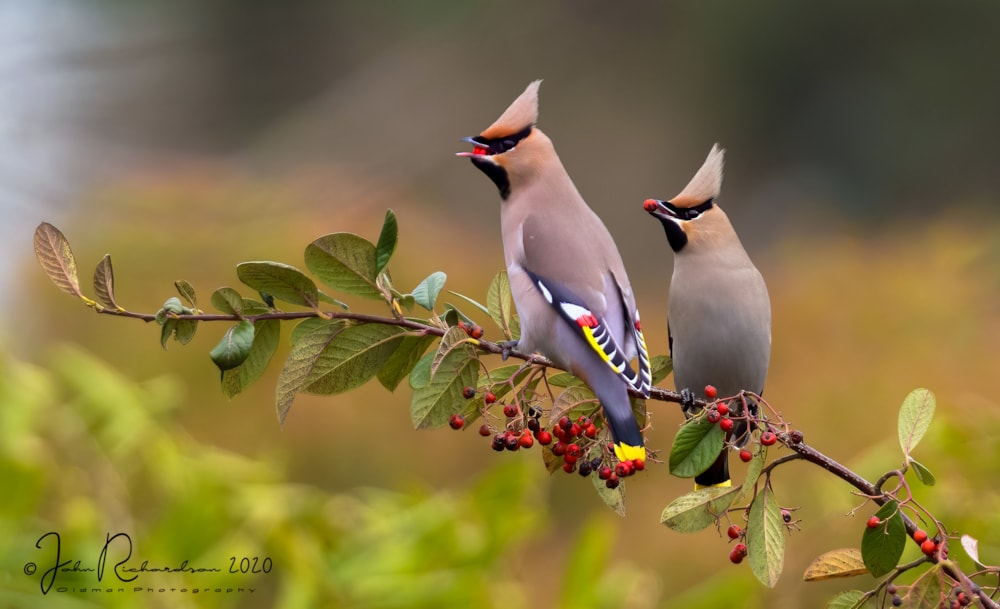 Waxwing, Eyke, Suffolk (John Richardson).
South-East England
Single records of Sand Martin and Swallow teased at spring in Kent, though the most newsworthy bits very much involved winterers – on 6th, the Cooling Marshes Richard's Pipit appeared for the first time in more than a month, while the juvenile Glaucous Gull was reliable at Dungeness (the juvenile Iceland Gull less so, with one appearance on Sunday). At Cliffe Pools, the Red-necked Grebe loitered, as did the Tundra Bean Geese at Seaton GPs.
A Tundra Bean in East Sussex, at Horse Eye Level on 8-9th, was a notable occurrence for what's a Sussex description species. East Sussex also enjoyed a crazy-early Willow Warbler, which was at Arlington Reservoir on 7th, the same day news emerged of a wintering Common Whitethroat in Hastings. Caspian Gull is still rare in West Sussex, so a first-winter at Shoreham-on-Sea on 7th was good value. Elsewhere, the Pulborough Brooks Garganey continued to draw a crowd, the Long-tailed Duck remained at Dell Quay and two Siberian Chiffchaffs were at Patching sewage works on 9th.
Two Northern Wheatears ensured spring sprang on the Isle of Wight, while Hampshire enjoyed its first Sand Martin of 2020 at Titchfield Haven on 5th. Elsewhere in Hants, the young drake Long-tailed Duck lingered on at Blashford Lakes and, in the New Forest, the Great Grey Shrike continued at Crab Tree Earth.
In Oxfordshire, the satellite-tagged juvenile White-tailed Eagle – from the reintroduction scheme – reappeared near Thame on 6th. Elsewhere, a Kittiwake was a nice find on floods at Waterstock on 8th and the Garganey remained at Standlake. Another highly popular Garganey continued in Buckinghamshire, at Stowe Park, with the county also scoring an early Little Ringed Plover at Woodburn Common on 10th, a juvenile Iceland Gull at Newton Leys on 4th and the continuing Ring Ouzel at Pitstone Hill.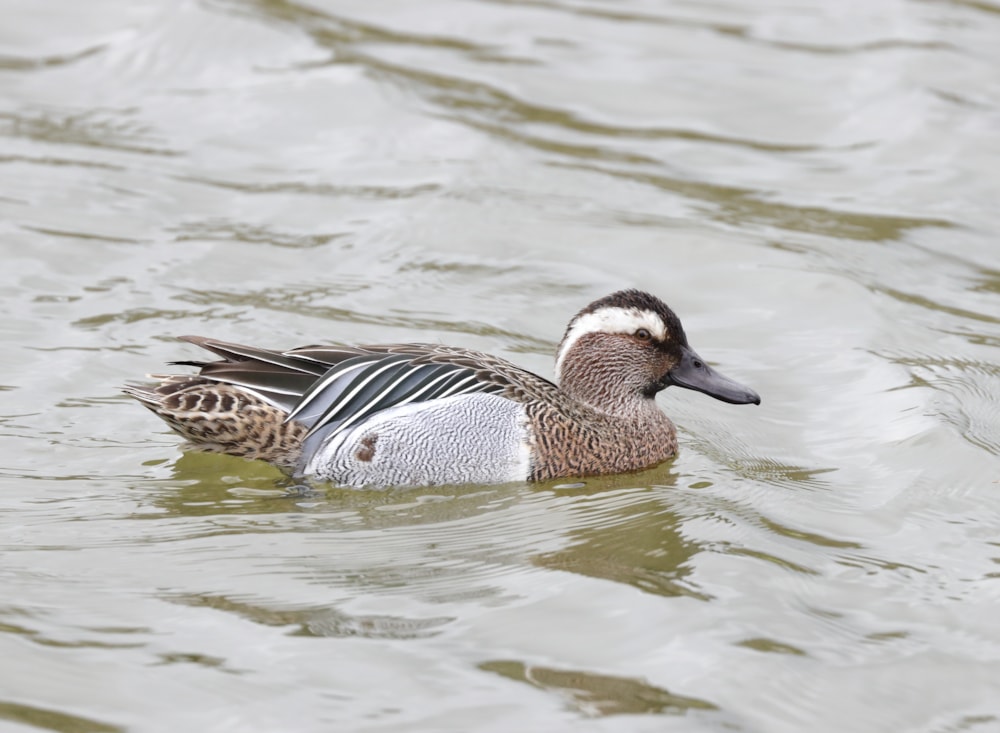 Garganey, Stowe Park NT, Buckinghamshire (John Friendship-Taylor).
The first London Sand Martins were at Upminster on 10th, where the capital's first Western Osprey was also logged on 6th. A curious record involved a probable Red Knot in flight over Kensington Gardens, following a shower, on 5th. Elsewhere, the Mitcham Yellow-browed Warbler and Siberian Chiffchaffs remained, as did the adult Iceland Gull at the London Wetland Centre and two Russian White-fronted Geese at Dagenham Chase. A new juvenile Iceland Gull was found at Rainham landfill site, and was present in the area from 4th.
In Surrey, the first-winter Great Grey Shrike continued to be a popular draw at Frensham Common. The Island Barn Reservoir Great Northern Divers continued and the resident adult Caspian Gull was seen at nearby Walton-on-Thames on 4th.
South-West England
One or two Kumlien's Gulls were seen in west Cornwall, where the adult Ring-billed Gull continued at Hayle Estuary. A Sooty Shearwater past Lizard Point on 10th was an unusual occurrence for March, as were a couple of Pomarine Skuas off Falmouth.
A Ring-necked Duck and likely Lesser Scaup were at Siblyback Lake, with the female Lesser Scaup also still at Stithians Reservoir. Four Ring-necked Duck stayed on the Devon border at Tamar Lakes, with single drakes in the latter county at Beesands Ley and Meeth Quarry. A Long-tailed Duck at Fernworthy Reservoir from 8th was a highly unusual record for Dartmoor.
Dorset highlights included the Eurasian Penduline Tit at Lodmoor RSPB, Black Brant at Wyke Regis and Ower Bay, and the female Ring-necked Duck, which moved back to Longham Lakes from Sturminster Marshall GPs. An adult Glaucous Gull visited Brownsea Island lagoon on the evening of 8th, while the Great Grey Shrike lingered at Wareham Forest.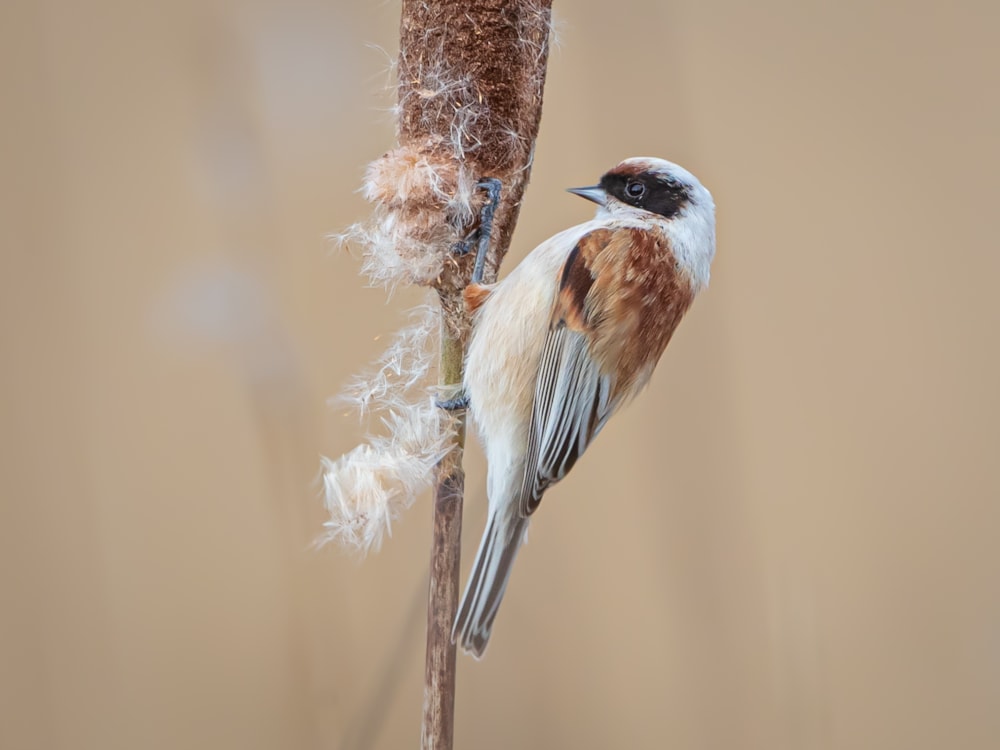 Eurasian Penduline Tit, Radipole Lake RSPB, Dorset (James Fisher).
A Kentish Plover at Burnham-on-Sea, Somerset, on 9-10th is presumably the bird seen there back in December rather than a genuine spring migrant – though Sand Martins at several waterbodies and a Northern Wheatear at Knighton showed that passage is under way. Chew Valley Lake held up to 17 Greater Scaup, while the trio of quality wintering waterbirds remained on offer at Barrow Gurney Reservoirs, as did the Great Grey Shrike at Croydon Hill.
Trowbridge, Wiltshire, played host to a Yellow-browed Warbler on 6th. Gloucestershire's Great Grey Shrike hung around at Crabtree Hill, while the first Northern Wheatear of the spring graced Northwick Warth on 6th. A reminder of winter, however, was the continuation of both Greenland White-fronted and Pink-footed Geese at Slimbridge WWT.
Wales
The first-winter Rosy Starling continued to indulge itself on feeders in Llanfaethlu, Anglesey. Following the coast westward, a drake Velvet Scoter remained off Benllech until 8th.
Great Grey Shrikes remained at four localities in the south, and the ever-present Glossy Ibis stayed put at Newport Wetlands, Gwent. The juvenile Kumlien's Gull was also reliable at Aberavon, Glamorgan, but the same couldn't be said for a brief juvenile Iceland Gull at Teifi Marshes NR, Pembs. An adult Glaucous Gull also played hard to get at Shotwick Fields on the morning of 8th.
A Waxwing was seen briefly opposite the county hall in Cardiff on 5th, and the pair of Great Northern Divers were seen again at Bala Lake, Gwynedd. Both of Ceredigion's Ring-necked Duck lingered.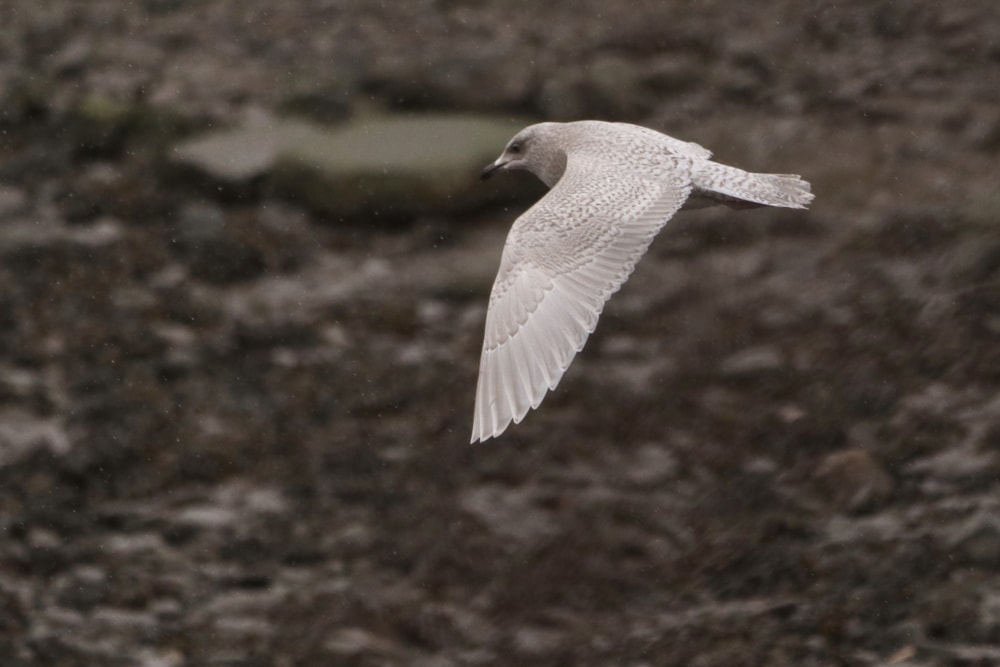 Kumlien's Gull, Port Talbot, Glamorgan (Tate Lloyd).
Republic of Ireland
Tundra Bean Goose is a great Irish bird, so one near the delightfully named Nobber, Co Meath, this week was of considerable significance. One of the few other new birds was a drake Green-winged Teal at Termoncarragh Lough, Co Mayo, on 4th, with another of that species (and the American Wigeon) still at East Coast NR, Co Wicklow. The Culdaff, Co Donegal, American Wigeon was also seen again on 4th. Three sites held Ring-necked Duck, including three females together at Lough Atariff, Co Cork. A Surf Scoter in Brandon Bay, Co Kerry, was a welcome county record in a dry winter for the species, while the drake continued off Gleninagh Quay, Co Clare.
Evidence of a push of Ring-billed Gulls included three birds, at least one of which was a rare first-winter, at Cork City Lough this week. There was also an adult at Bull Island, Co Dublin, on 8th in addition to regular adults again noted in Co Louth, Co Kerry and Co Cork (the latter at Kinsale Marsh). Blennerville, Co Kerry, once again produced the well-marked adult Kumlien's Gull.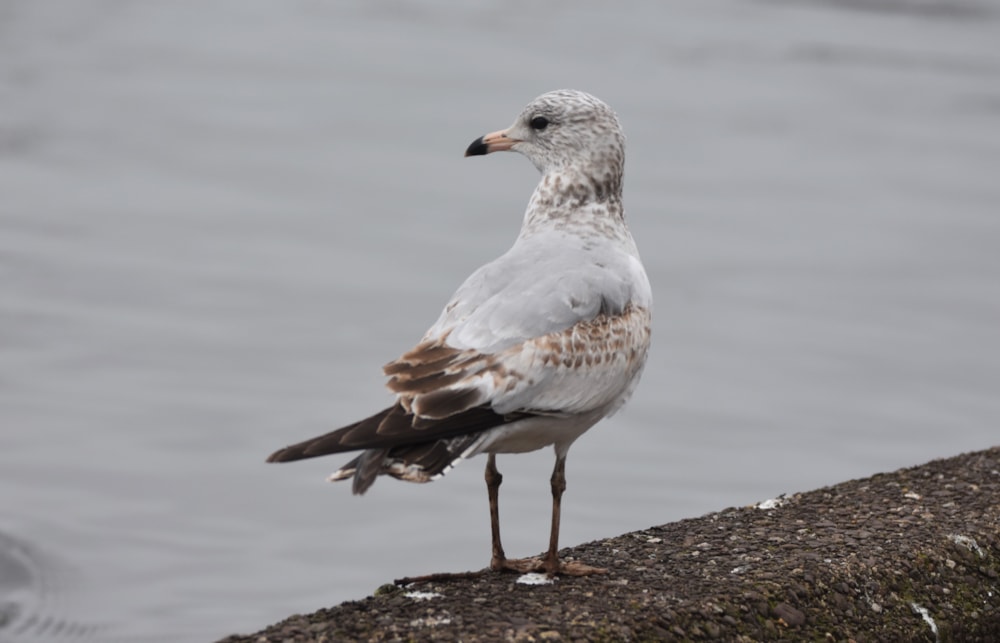 Ring-billed Gull, Cork City, Ireland (Brian Power).
Other bits included the Red-necked Grebe again in Wexford Harbour and the Glossy Ibis still at Pilmore, Co Cork, while early migrants included Sand Martin at Dungarvan, Co Waterford, on 7th and two Swallows at Greystones, Co Wicklow, on 10th.
Northern Ireland
A new drake Ring-necked Duck was at Stonyford Reservoir, Co Antrim, on 9th, with a female at Lough Beg, Co Derry, on 8th and a Black-necked Grebe at Reedy Flats, Lough Neagh, on 6-7th.
The usual Ring-billed Gull was again at Carrickfergus Harbour on 8th – the first report of it for almost a month. Also in Co Antrim, 20 Waxwings visited Dunmurry on 4th, while a Eurasian Spoonbill visited Quoile Pondage, Co Down, on 7-8th.
Western Palearctic
Belated news came to light about the presence of two Jacobin Cuckoos near Tamanrasset, southern Algeria, in October 2019 – only the third record for the region.
Just across the Channel, not one but two Wallcreepers could be found clinging to French cathedrals – the usual bird in Dinan, but also a new individual in Coutances. On Guernsey, the American Royal Tern remained.
The Dutch Oriental Turtle Dove hung on at Sneek, while German records included continuing Black Scoter and Baikal Teal, with further drakes of the former species in Denmark and Poland.
Sweden's Green-headed and Masked Wagtails lingered another week, while in Finland two Azure Tits were at Porvoo. The White-winged Scoter was seen again at Keflavík, Iceland.
Further highlights included the continuing Oriental Turtle Dove in Switzerland, Thayer's Gull and Sociable Lapwing in Spain, Northern Harrier on Flores, Azores, and a wealth of lingering rarities in the Canary Islands – not least the beautiful Abyssinian Roller (and two Pied Crows) at Las Palmas de Gran Canaria.