April may be here, but the bitterly cold conditions endured this week hampered the arrival of spring. That said, a few quality migrants managed to sneak through – and some reliable old favourites were still up for grabs, too.
Breeding across Italy, Ashy-headed Wagtail must be one of the smartest of all the Yellow Wagtail subspecies. A gorgeous male was at Porth Hellick on St Mary's, Scilly, on 1-2nd, with a probable along Nanjizal Valley on 3rd. Two possible Eastern Yellow Wagtails were recorded – again at Frodsham Marsh, Cheshire, on 5th and over Longhoughton Steel, Northumberland, on 31st.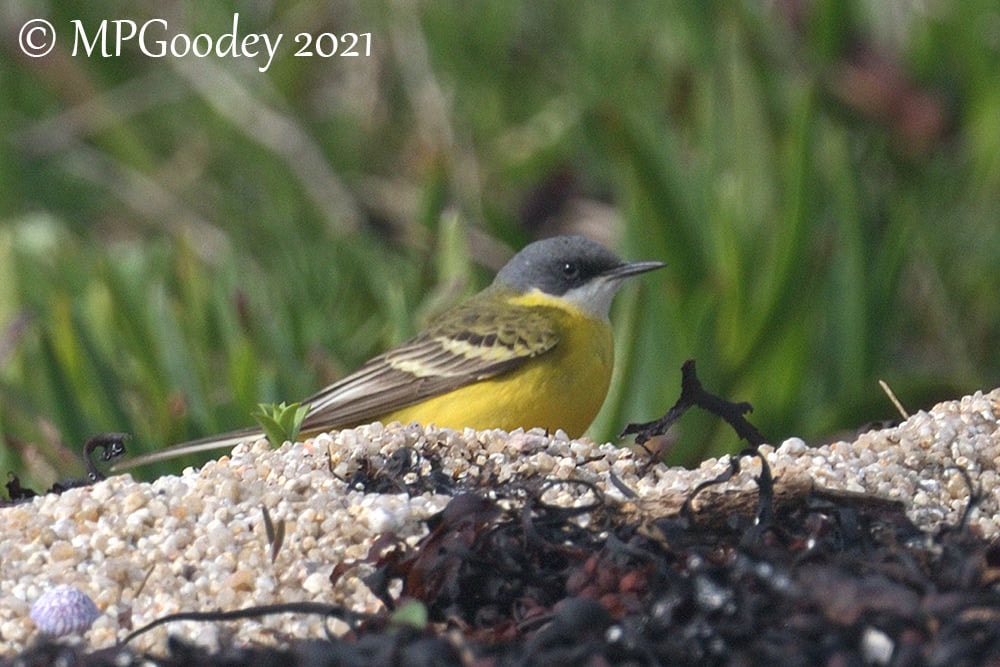 Ashy-headed Wagtail, St Mary's, Isles of Scilly (Martin Goodey).
A male Citrine Wagtail always makes for a rare spring treat, with Northumberland's latest at Lynemouth Flash on 2-3rd proving unsurprisingly popular. It is the second record in just under four years for this small coastal floodwater, following a female on 12-13 May 2017.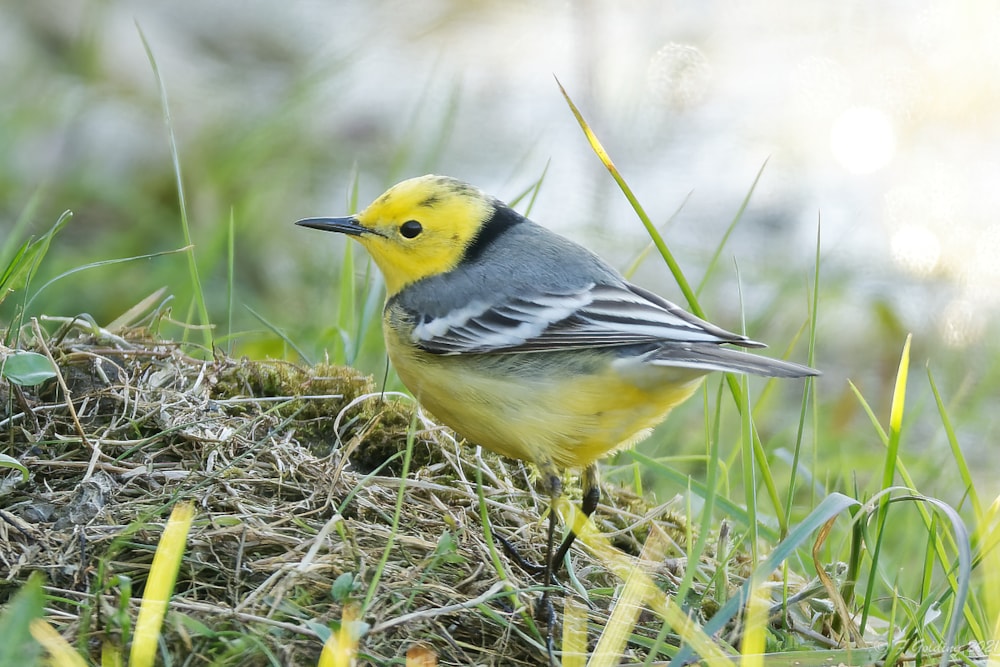 Citrine Wagtail, Lynemouth Flash, Northumberland (Frank Golding).
In Cornwall, a male Western Subalpine Warbler at Soapy Cove, Kynance, from 5th is sure to prove an attractive proposition as one of the first British records since the IOC chose to split the taxa from Eastern Subalpine Warbler. Nearby, the young American Herring Gull at Newlyn continued to attract a steady stream of admirers.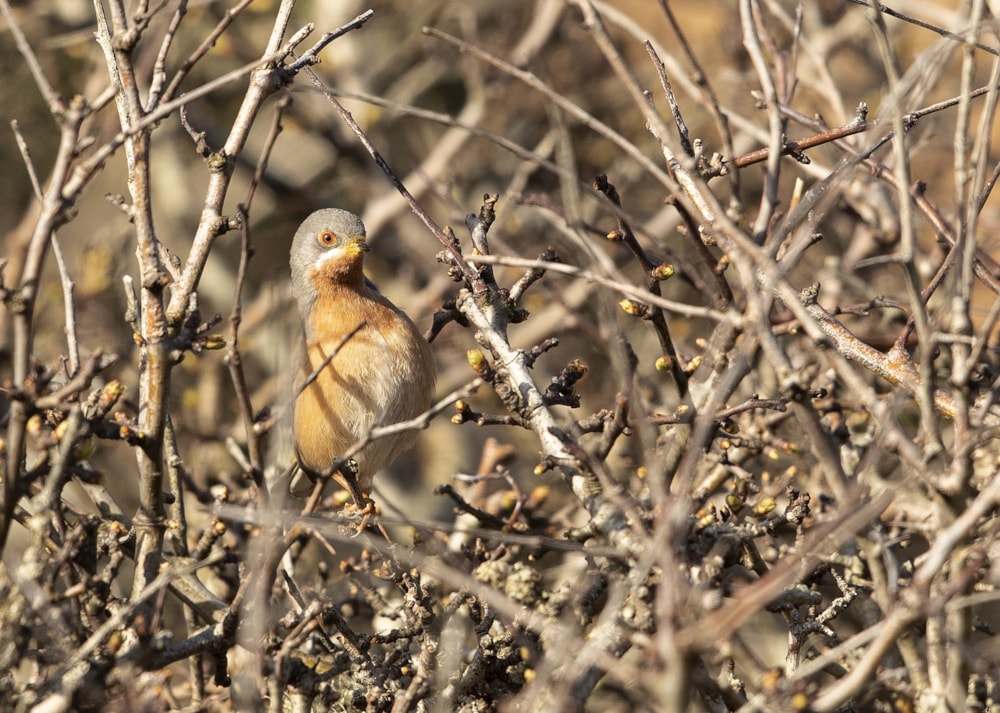 Western Subalpine Warbler, Kynance Cove, Cornwall (Connor Coombes).
American Herring Gull, Newlyn, Cornwall (Peter Hines).
Minsmere RSPB, Suffolk, hosted a probable Iberian Chiffchaff on 3rd. Britain's third-ever Northern Mockingbird continued in its adopted Exmouth, Devon, gardens, where its supply of palm berries doesn't look like running out any time soon.
Northern Mockingbird, Exmouth, Devon (Peter Hines).
Pembrokeshire's beach celebrity, the Tenby Walrus, leisurely daydreamed on the town's lifeboat slipway until 4th, with no sign thereafter. One wonders where he will appear next?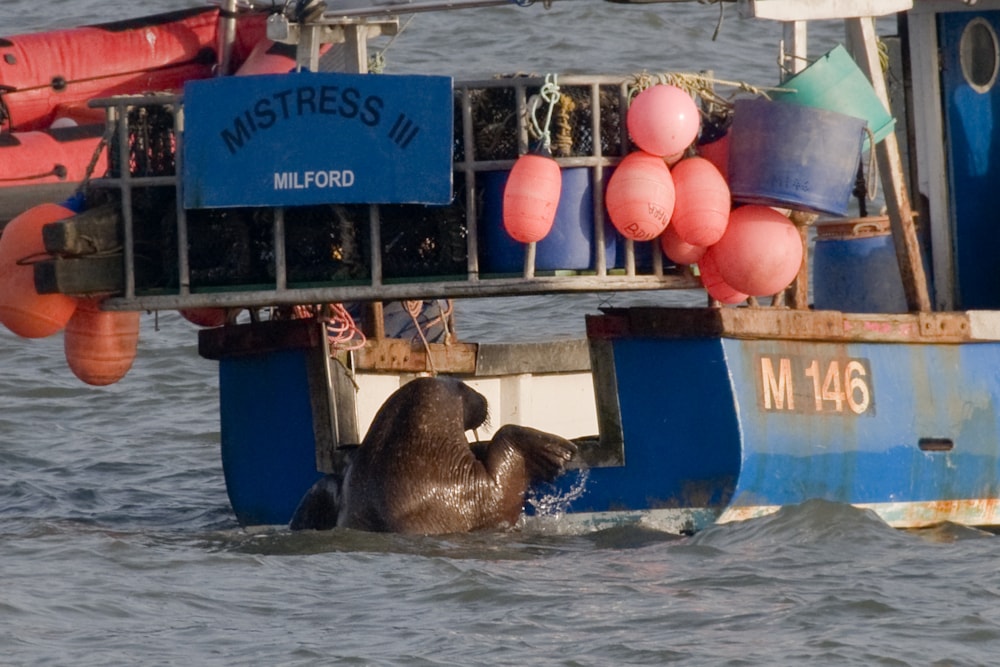 Walrus, Tenby, Pembrokeshire (Andrew Pickett).
Co Wexford's Cahore Marsh hosted a Bonaparte's Gull on 31-1st after relocating from Wexford harbour earlier in the month. In Gloucestershire, the first-winter remained at Frampton-on-Severn's Sailing Lake all week, with a brief visit to Slimbridge WWT on 1st.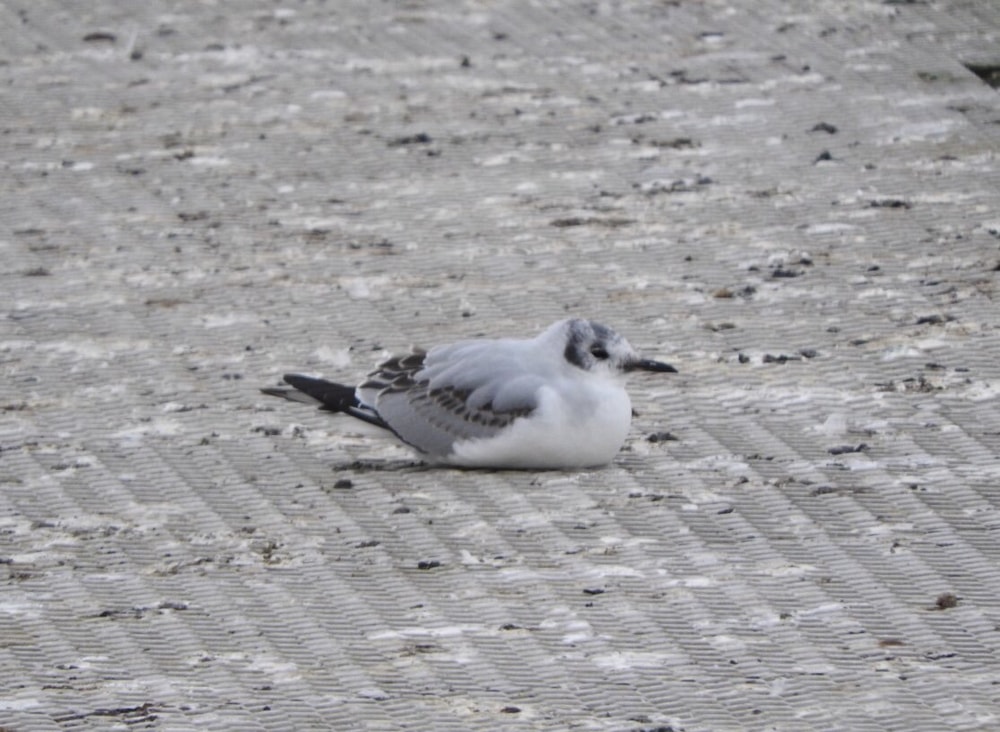 Bonaparte's Gull, Frampton-on-Severn, Gloucestershire (Mike King).
A first-winter drake King Eider on Papa Westray, Orkney, on 1-2nd completed the 'Holy Trinity' of eider for the island's warden, David Roche – maybe one day he'll make it a quadruple with a stray Spectacled? A possible Pacific Diver was off Cornwall's Pendower Beach on 31st, a site that has seen a returning individual annually since 2007.
The suspicious Hooded Merganser at Hornsea Mere, East Yorkshire, remained steadfast, with Lothian's White-winged Scoter reported off Musselburgh again on 4th. The first-winter drake American Black Duck reappeared at Inishkea Islands, Co Mayo, on 3rd, while the female Bufflehead at Nohoval Pond, Co Cork, behaved admirably for the lucky locals.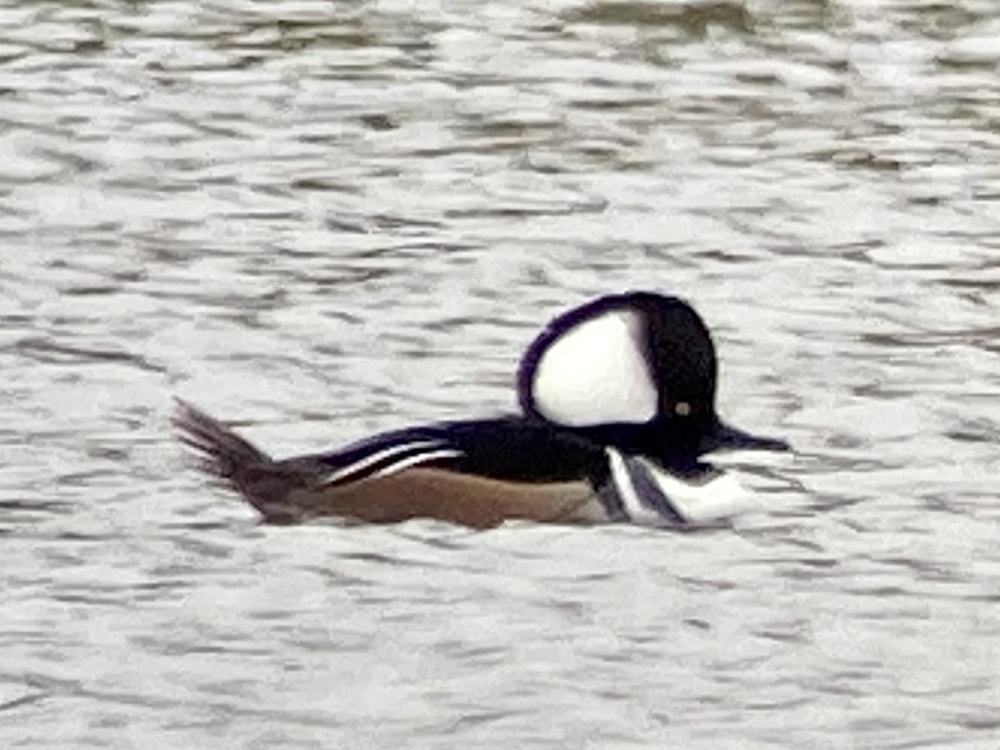 Hooded Merganser, Hornsea Mere, East Yorkshire (Mick Goodman).

Bufflehead, Nohoval Pond, Cork (Dave McGrath).
Two Grey-bellied Brant were still with Pale-bellied Brent Geese at Lurgan Green, Co Louth, with a new adult alongside last week's adult male (pictured are two of last week's first-winters). Another was at Castle Stuart, Highland, with Pink-footed Geese – a returning bird. In the Outer Hebrides, two Richardson's Cackling Geese remained at Balranald RSPB, North Uist.

Grey-bellied Brant, Lurgan Green, Louth (Brian McCloskey).
Co Kerry's Double-crested Cormorant was reported again from Carrig Island on 3rd. An all-too-brief probable Solitary Sandpiper was at Cot Valley on 2nd; Ayrshire's Spotted Sandpiper was still at Croy until 2nd at least. A lone Long-billed Dowitcher remained at Tacumshin, Co Wexford, throughout. In North Yorkshire, Scorton's wintering bird was last sighted on 31st when it was flushed by a helicopter and flew high south.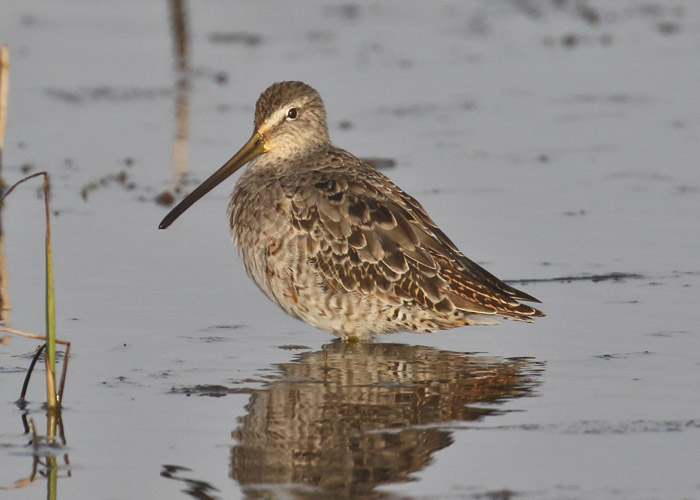 Long-billed Dowitcher, Tacumshin, Wexford (Paul Kelly).
Scottish mainland
Ducks dominated the news pages this week: a new American Wigeon was found at Ardwell, Dumfries & Galloway, on 5th, while long stayers included the drake Green-winged Teal at Tain, Highland, and up to five Surf Scoter, with two still at Embo and another two off the Lothian coast, while a drake was picked up on a sea-watch past Lossiemouth, Moray & Nairn, on 5th. Ring-necked Duck continued to entertain at Bingham's Pond, Clyde, Martnaham Loch, Ayrshire, and Kirkcaldy, Fife, with another three in Argyll at Loch Bhasapol, Tiree.
Two Snow Geese were at Loch of Strathbeg RSPB, Aberdeenshire, on 2nd, while offshore the now-annual early spring staging of White-billed Divers began with three in the waters off Portsoy on 3rd.
Up to 15 Iceland Gulls were well spread with birds mostly in the northern counties, including four juveniles at Scrabster, Caithness – the peak count at a single site. Four Glaucous Gulls were noted from Inverbervie, Aberdeenshire, Laggan Bay, Argyll, Rum, Highland and Lossie Estuary, Moray & Nairn. A first-winter Caspian Gull following the plough near Cockmuir Bridge, Lothian was a rare Scottish appearance for the species.
A single Eurasian Spoonbill was recorded at Haugh of Blackgrange, Forth, in the week. Ring Ouzels began to appear despite the weather with two single males at sites in Aberdeenshire on 5th.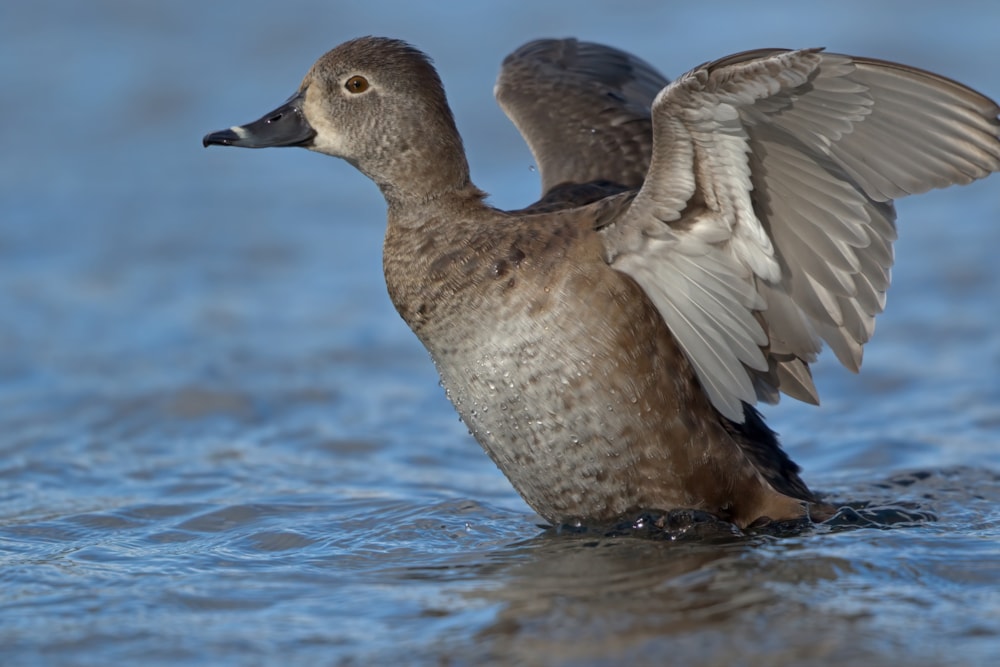 Ring-necked Duck, Kirkcaldy, Fife (Nigel Voaden).
Northern Isles and the Hebrides
In the Outer Hebrides, a remarkably early Little Tern was on the beach at Eoligarry, Barra, on 31st. There is just one earlier Scottish record in the history books, in Dumfries & Galloway on 30 March 1996. Elsewhere, lingering Green-winged Teal were at both Aird Mhor, Barra, and Loch Hallan, South Uist, while a Little Auk was seen from the RV Celtic Explorer to the north-west of St Kilda on 1st. Iceland Gulls were at seven sites, with Glaucous Gulls at eight.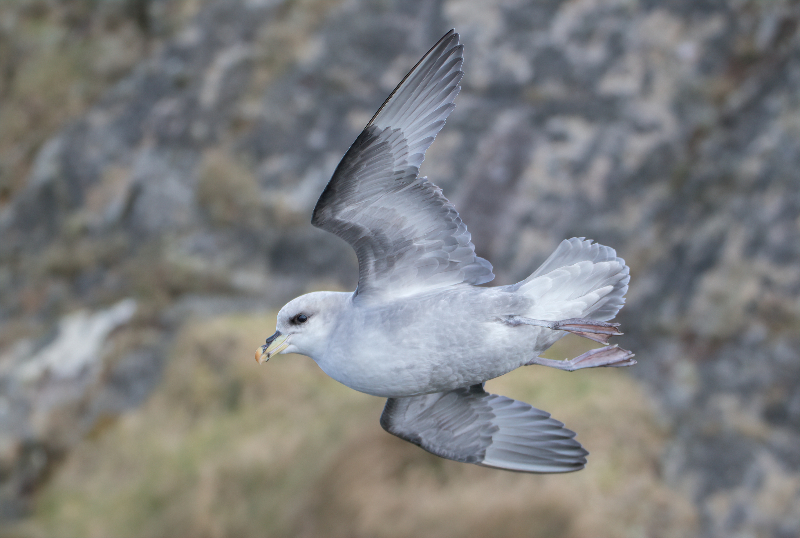 Northern Fulmar, Fair Isle, Shetland (Alex Penn).
The reappearance of the drake Surf Scoter off Kirkwall, Mainland, on 1st was the Orkney highlight. Papa Westray's White-billed Diver was still off South Wick and Iceland Gulls were at three sites.
Two White-billed Divers remained in Mainland Shetland's South Nesting Bay, with the American Wigeon still at Loch of Spiggie. On Fair Isle, the Tundra Bean Goose continued alongside two Russian White-fronted Geese, with a male White Wagtail and 'blue' Northern Fulmar also gracing the isle.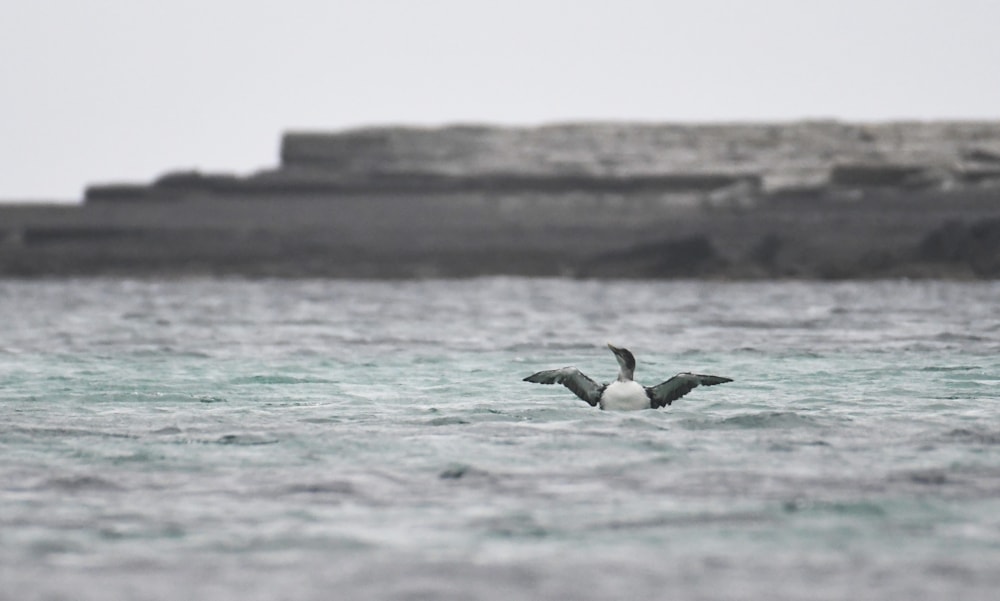 White-billed Diver, Papa Westray, Orkney (Jonathan Ford).
North-East England
As winter sent one last blast of Arctic weather it was wintering species that were most prominent in the news. In Northumberland, the Todd's Canada Goose was picked out of several thousand Pink-feet in fields around Cresswell, while just up the coast at Hemscott Hill the wintering Shore Lark re-emerged in the same field it was last seen in – albeit now freshly tilled. Iceland Gulls were noted at six locations including two at the favoured fish quay area of North Shields.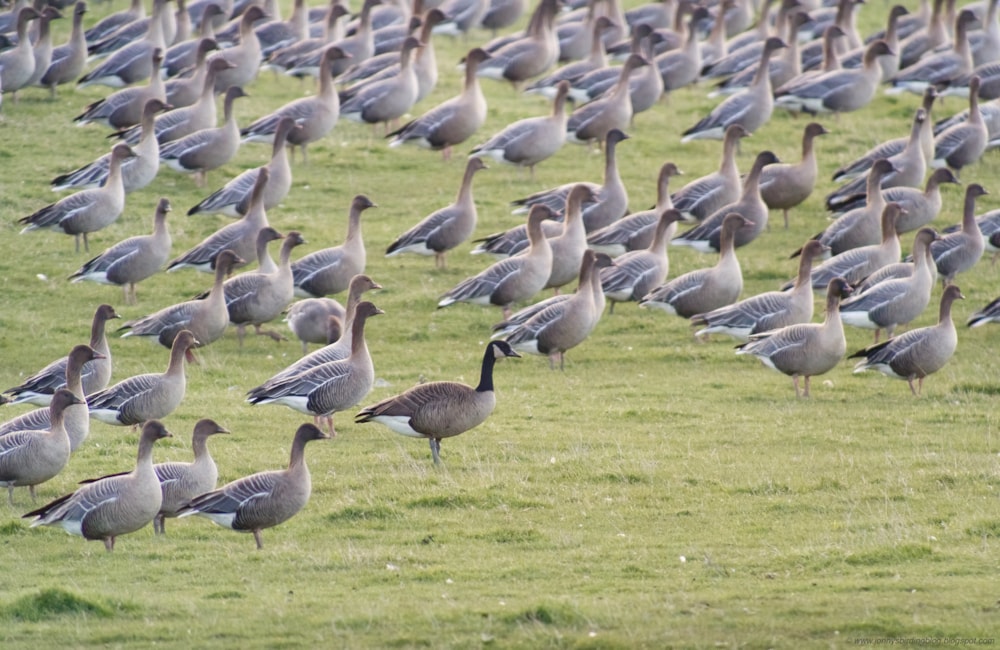 Todd's Canada Goose, Cresswell Pond NWT, Northumberland (Jonathan Farooqi).
A Eurasian Spoonbill was found at Monks House on 2nd and newly arrived Garganey were at Castle Island, Holywell Pond and Woodhorn Flashes. The wintering redhead Smew remained faithful to Widdrington Moor Lake and the Greenland White-fronted Goose extended its stay in Budle Bay. Black Redstarts at three locations, including two at Snab Point, hinted at what lies ahead.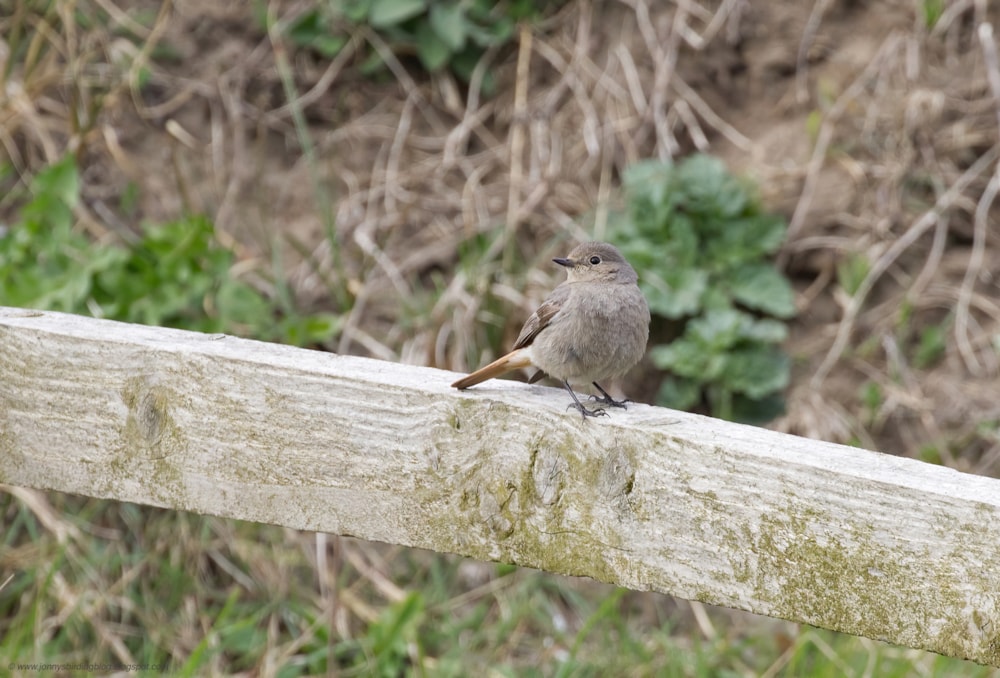 Black Redstart, Snab Point, Northumberland (Jonathan Farooqi).
Durham's week kicked off with three Garganey at Bolton Flats NR on 31st. A Northern Goshawk flying north at Seaburn was another early coastal spring record for the county. A juvenile Iceland Gull picked up off Whitburn was also noted off Hendon on 3rd and an adult favoured Lamesley Water Meadows on 4-5th. A juvenile Glaucous Gull at South Shields was only seen briefly on 3rd.
Cleveland's two American ducks – the drake Green-winged Teal at Saltholme RSPB and the American Wigeon at Port Clarence – both remained firm fixtures. A female Garganey on Holme Fleet offered a smidgeon of spring. The long-staying Eurasian Spoonbill continued to roam around the Saltholme area and Iceland Gulls noted at Redcar and Hartlepool on 3rd and 5th may have involved the same individual. A Black Redstart made a brief attempt at fooling everyone into thinking spring had arrived at Skinningrove on 1st.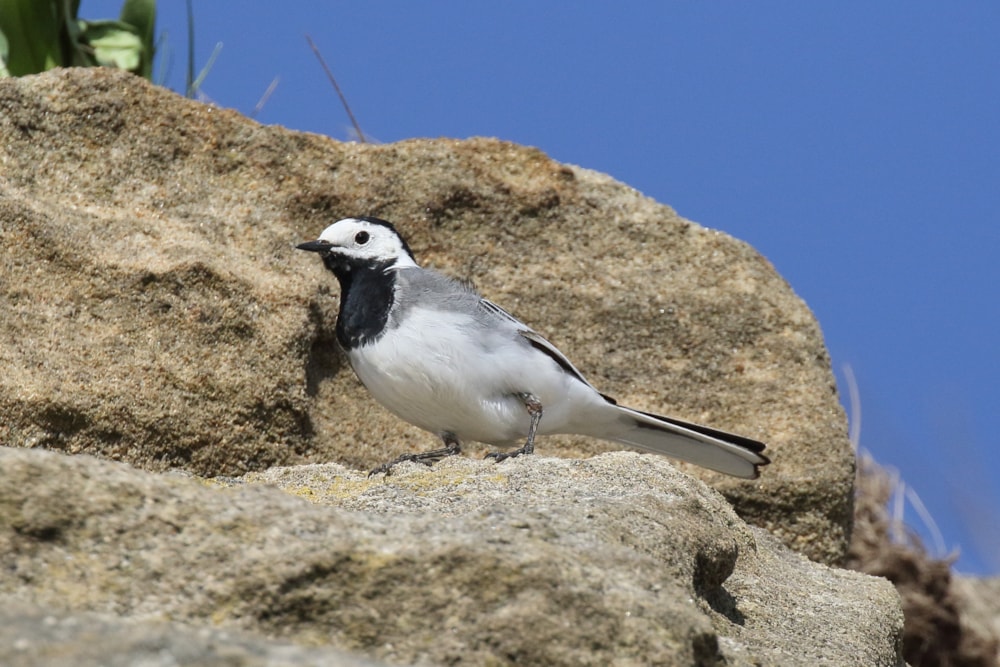 White Wagtail, Tynemouth, Northumberland (Alan Jack).
North-West England
Riggindale, Cumbria, experienced a partial eclipse on Friday when one of the Isle of Wight released immature White-tailed Eagles flew over. One or the same flew north over Kershope Forest on 5th. An early Pied Flycatcher was at Loweswater on 3rd and Garganey were at three sites. An adult Northern Gannet was looking rather out-of-place at Tindale Tarn on 4th.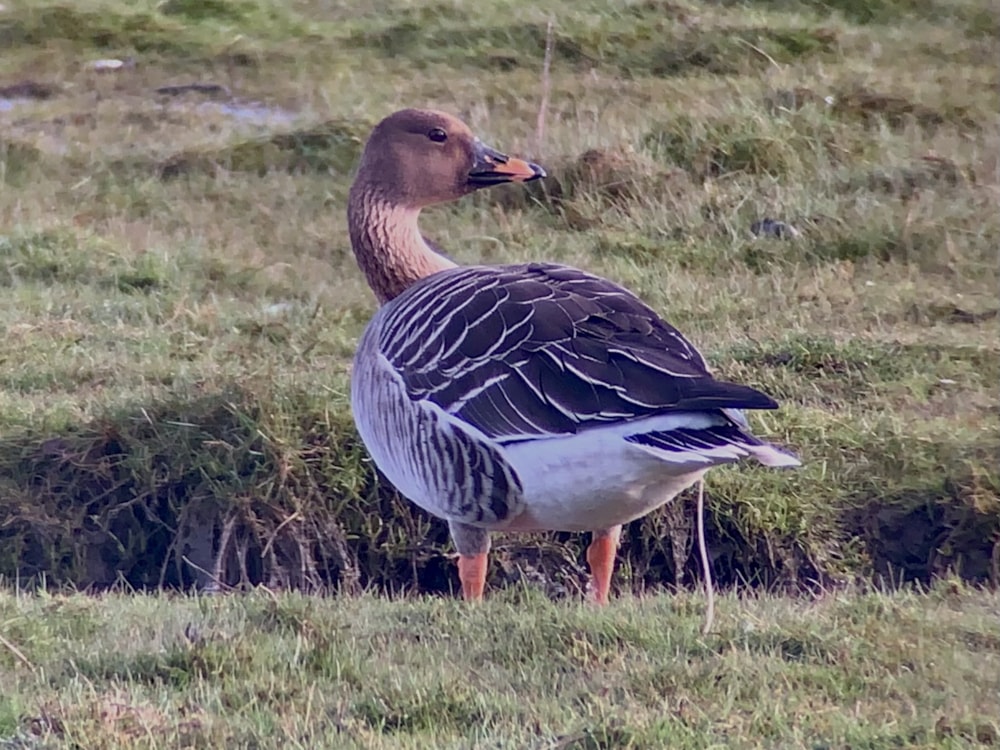 Tundra Bean Goose, Crossens Outer Marsh, Lancashire (Stuart Darbyshire).
Lingering wildfowl remained much on the forefront of Lancashire's birding; the Todd's Canada Goose put in sporadic appearances at Banks Marsh while at least one each of Tundra Bean and Russian White-front moved around the Ribble Estuary. Three Black-necked Grebes were an unlikely find at Crosby Marine Park on 3rd, while further north along the Sefton Coast produced a smattering of Ring Ouzels.
Cheshire got stuck in some early spring doldrums with two Russian White-fronts perhaps the scarcest sighting of the week. However, the rapid switch to a cold northerly breeze left any early migrants fleeing back for warmer climes, and so a rush of hirundines ensued over the skies of Woolston Eyes NR, with an impressive 9,400 Sand Martins, 155 Swallows and five House Martins logged between 07:30 and 13:00 on 1st. The first Channel Wagtail returned to Carr Lane Pools, Hale, on 6th. Manchester's female Ring-necked Duck had finally given up the ghost on 3rd and there was no further sign at any of her favoured park ponds.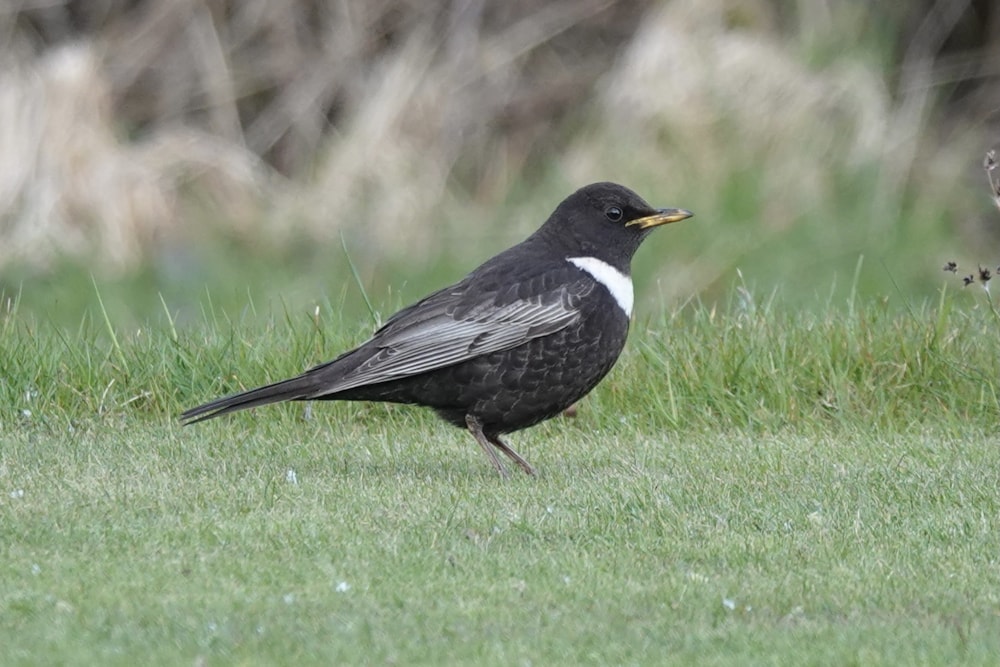 Ring Ouzel, Southport, Lancashire (Stuart Darbyshire).
Lincolnshire and Yorkshire
Two different Ring-necked Duck were in Lincolnshire this week: a drake at Barton-upon-Humber Pits from 2-5th and the female reappeared in the Langtoft area (having been seen at Tallington Lakes in February). Two Western Cattle Egrets and a drake Greater Scaup were at Deeping Lakes, with an inland Kittiwake lingering at Langtoft for a couple of days. A juvenile Glaucous Gull was brief at Pyewipe on 3rd and a juvenile Iceland Gull flew past Huttoft on 4th.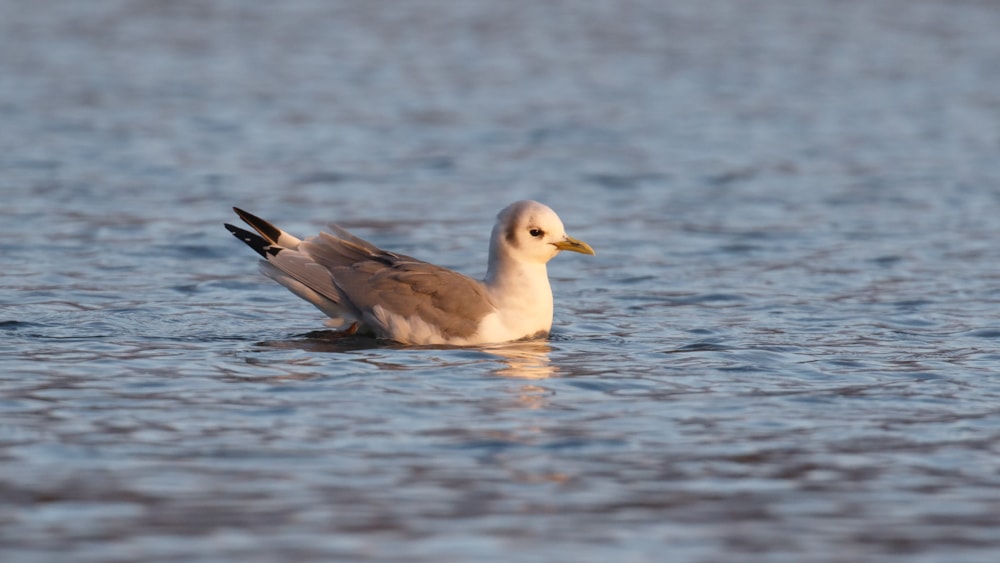 Kittiwake, Langtoft, Lincolnshire (Josh Jones).
Four sites produced Garganey in both Lincolnshire and Yorkshire, while other highlights in the latter county included a White-tailed Eagle over Rawmarsh on 6th and a mobile Iceland Gull in the Sheffield and Rotherham area.
Spring migration stalled somewhat in the week's often grim weather, but a few Western Ospreys were reported around Yorkshire. More fittingly for the conditions, a Ring-necked Duck was at Malham Tarn from 5th and a White-tailed Eagle was seen at Dalby Forest on 6th. A White Stork at Sand Hutton on 31-1st is presumably from the Knepp scheme. Caspian Gull remains fairly notable in the far north of Yorkshire, so one at Scorton on 4th was welcome.
In East Yorkshire, the Green-winged Teal stuck around at North Cave Wetlands. Southfield Reservoir produced four Sandwich Terns on 31st and a Greater Scaup. Flamborough's first spring Leach's Storm Petrel was offshore on 5th, with an Iceland Gull still around. Things were quiet in the Spurn area, although Woodlark over and Long-eared Owl trapped were pleasant.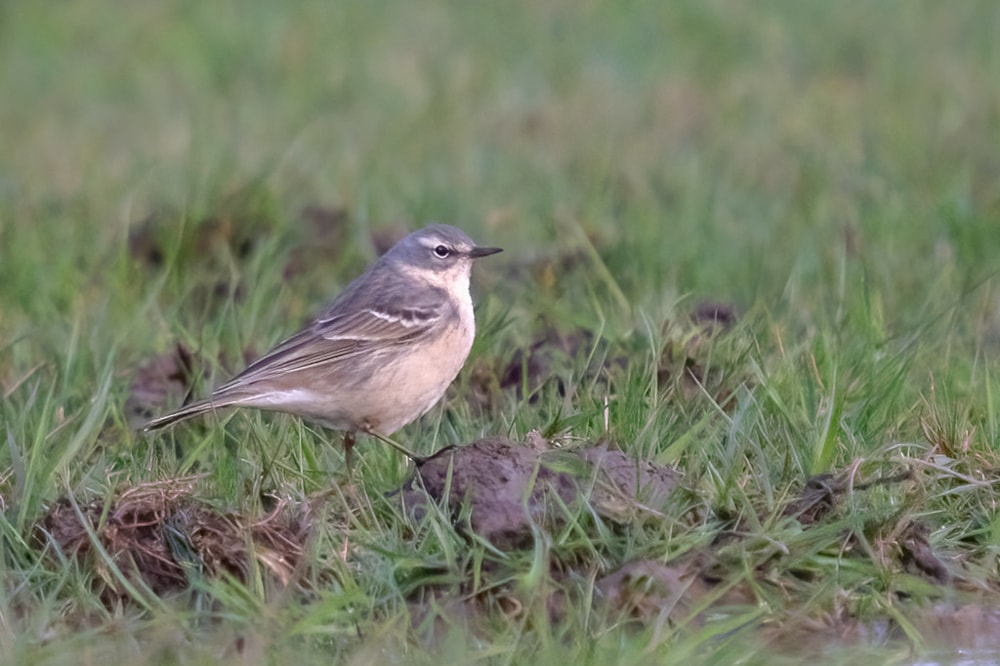 Water Pipit, Wilthorpe Marsh, South Yorkshire (Tim Melling).
West Midlands
A Hoopoe was reported over the M6 at Knowl Wall, Staffordshire, on 31st. Meanwhile, a Common Crane flew over Ipstones Edge on 2nd, a Sandwich Tern paid a brief visit to Branston GPs on 31st and two Eurasian Spoonbills hurried north a day later. An immature Iceland Gull quickly moved through Westport Lake on 6th.
Winter wasn't quite finished in Shropshire this week, with the Great Grey Shrike lingering at Abdon Burf until 4th at least. However, a male Pied Flycatcher found its way to Bridges the same day. Ring Ouzels arrived in a healthy dose, with three at Long Mynd and five at Titterstone Clee Hill.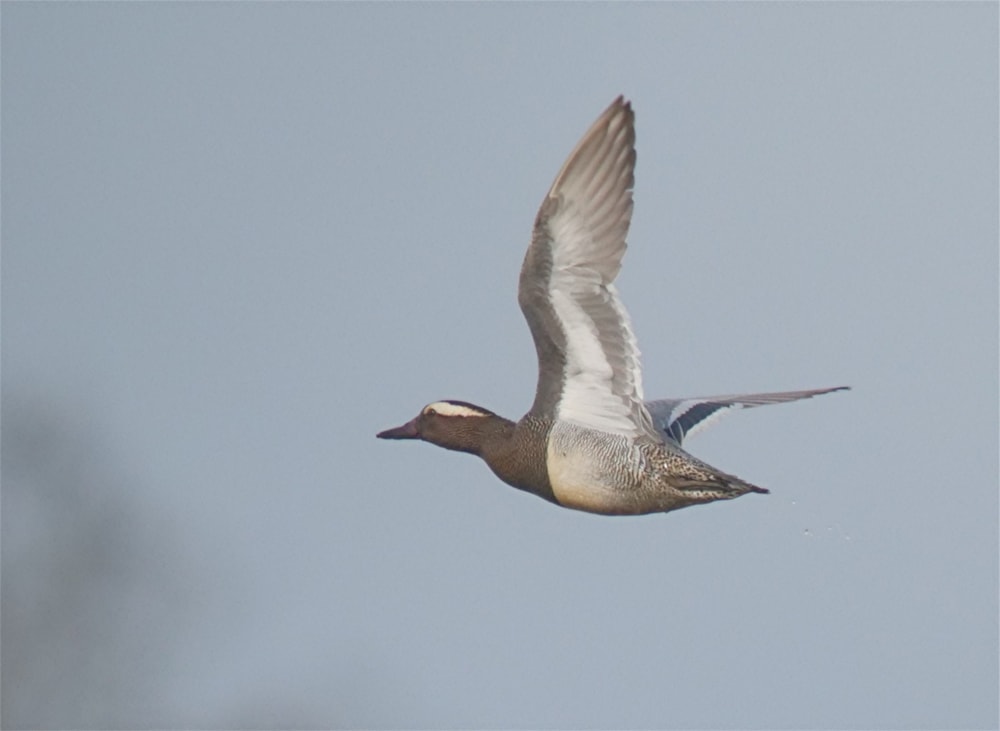 Garganey, Belvide Reservoir (PERMIT ONLY), Staffordshire (Steve Nuttall).
A Little Bunting trapped and ringed at a private site in Worcestershire on 4th served as the perfect advocate for supplementary farmland feeding. Elsewhere in the county, a White Stork flew over Broadway on 2nd and a male Channel Wagtail was decorating Camp Lane Pools, Grimley, from 1st.
Draycote Water was the jewel in Warwickshire's crown this past week with a second-winter Iceland Gull and two juvenile Glaucous Gulls the county's pick of the bunch. The three young European Shags remained present throughout.
A Black-necked Grebe was at Sheepwash Urban Park, West Midlands, from 2nd.
Content continues after advertisements
East Midlands
Carsington Water, Derbyshire, logged a Russian White-fronted Goose on 31st, where lingering scarcities included the Red-necked Grebe and adult Great Northern Diver. A Great Skua at Willington GPs on 1-2nd was another excellent inland record, where Sandwich Terns were reported on 31-1st. A Great Grey Shrike was at Middleton from 3rd.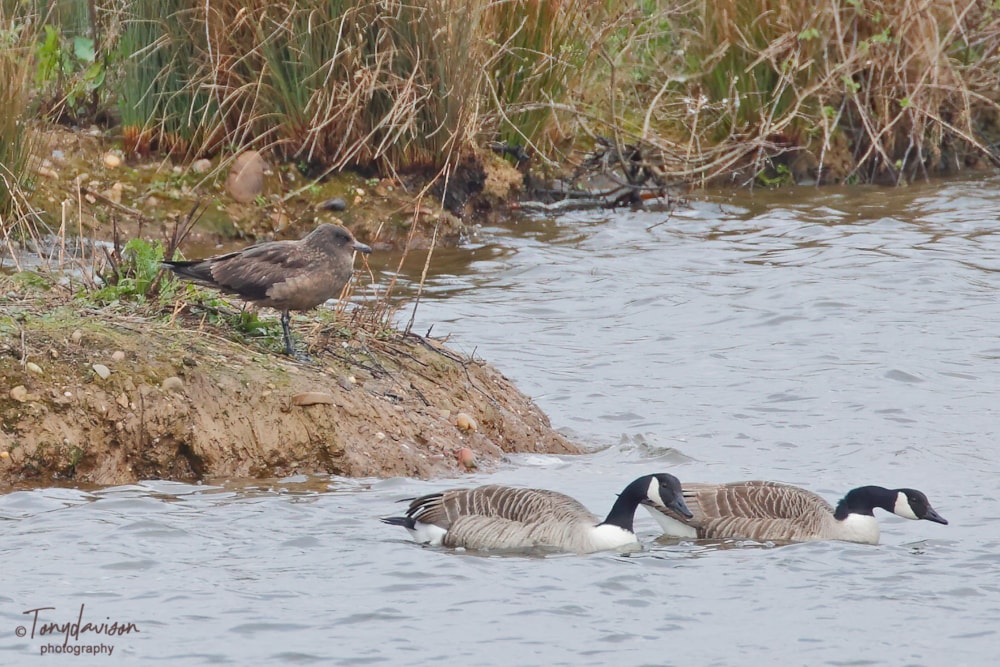 Great Skua, Willington, Derbyshire (Tony Davison).
The male Little Bunting was still present and correct at Langford Lowfields RSPB, Nottinghamshire, throughout. Two Common Cranes flew north over the site on 31st and five Dark-bellied Brent Geese put in a brief visit on 1st. Redhead Smew at Idle Valley NR and Collingham Pits round up the week nicely.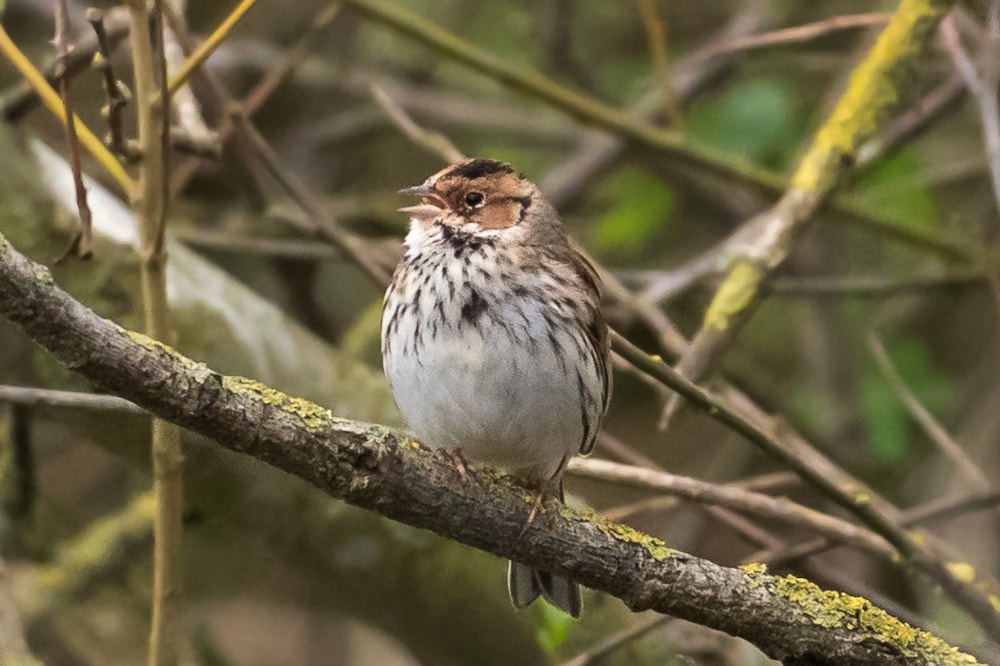 Little Bunting, Langford Lowfields RSPB, Nottinghamshire (Ian Bollen).
The first-winter drake Ring-necked Duck remained in place at Staunton Harold Estate, Leicestershire. For the second consecutive week, a White Stork is involved with the county's weekly round-up, again a flyover, south over Whetstone on 2nd. A juvenile Glaucous Gull visited the sand pit at Shawell and at least two Great Northern Divers were still at Rutland Water this week.
Lingering birds in Northants included the drake Ring-necked Duck at Clifford Hill GPs, Glossy Ibis at Titchmarsh NR and Dark-bellied Brent Goose at Irthlingborough Lakes. The latter site also supported a Black-necked Grebe from 31st. Two Sandwich Terns flew east through Stanwick GPs on 1st.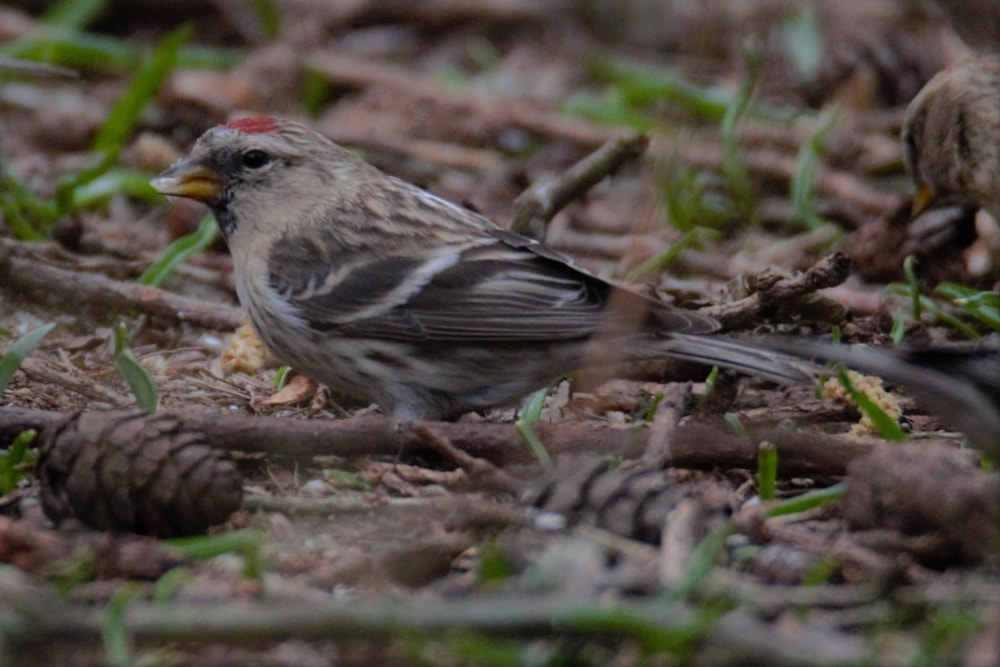 Mealy Redpoll, Wakerley Great Wood, Northamptonshire (Stuart Mundy).
East of England
A brief male Little Bunting at West Acre, Norfolk, on 1st wasn't seen again, although the wintering Dusky Warbler was still at Nunnery Lakes. An early sign of spring, a European Turtle Dove ended the week at New Buckenham. At least four White-tailed Eagles were reported, as well as a Grey Phalarope at Cley Marshes NWT, 14 Lapland Buntings at Happisburgh and three Shore Larks at Blakeney Point. A Norwegian-ringed Glaucous Gull at Titchwell RSPB was a smart recovery.
An unringed White Stork near Lakenheath, Suffolk, is interesting to speculate about, likewise the plethora of White-tailed Eagle sightings in the county during the week. Meanwhile, a probable Alpine Swift flew south over Sizewell on 31st, a juvenile Rough-legged Buzzard was at Sudbourne Marshes from 1-3rd and the Great Grey Shrike remained at Capel St Mary, while the Taiga Bean Goose continued at Hen Reedbeds. A Large Tortoiseshell at Landguard NR on 1st was the latest county record of this rapidly increasing butterfly, while, nearby, the young Iceland Gull was still between Gunton and Lowestoft.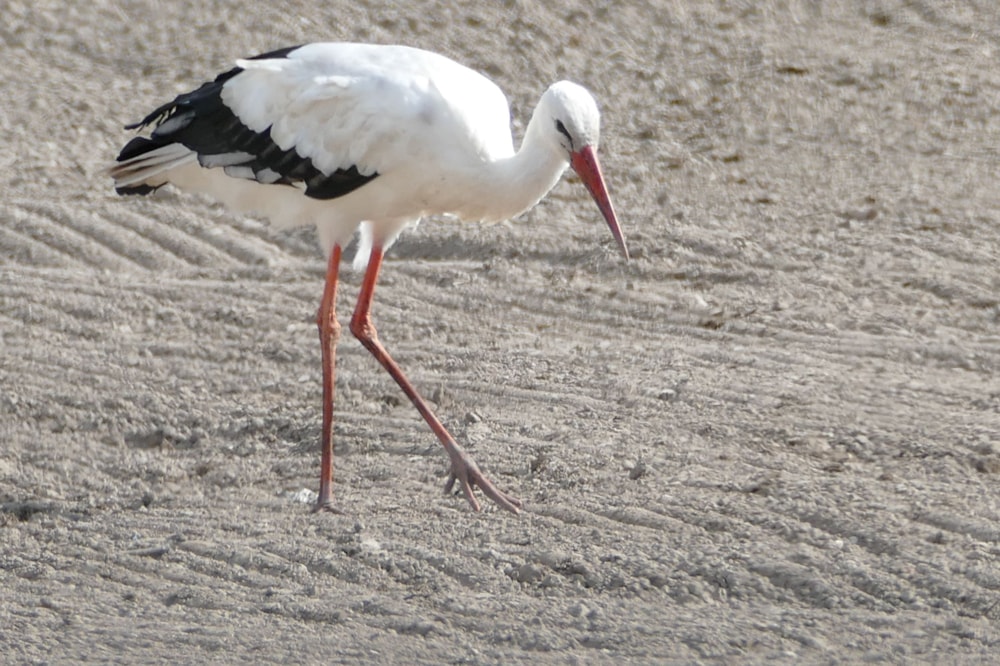 White Stork, Lakenheath, Suffolk (Fiona Grant).
The singing Siberian Chiffchaff remained at Broom GPs, Bedfordshire, while a Long-tailed Duck sighted flying over Sharnbrook golf course was an intriguing record. Common Cranes were at Rookery Pits (two) and Quest Pit and Ring Ouzels were at three sites, while the county scored some of the inland Kittiwake action with two at Stewartby Lake on 6th.
Cambridgeshire's Kumlien's Gull made a reappearance at Smithy Fen from 31st in a week where two White-tailed Eagles were recorded – a wild immature over Chain Corner and Teversham Fen on 3rd and wide-ranging 'G471' from the Isle of Wight along the Ouse Valley on 4-5th. Elsewhere, four Smew lingered at Paxton Pits NR, three Glossy Ibis remained at Earith, Tundra Bean Goose still at Wimpole Hall Park, and both a Black-necked Grebe and drake Smew at Pymoor. A Sandwich Tern was at Ferry Meadows.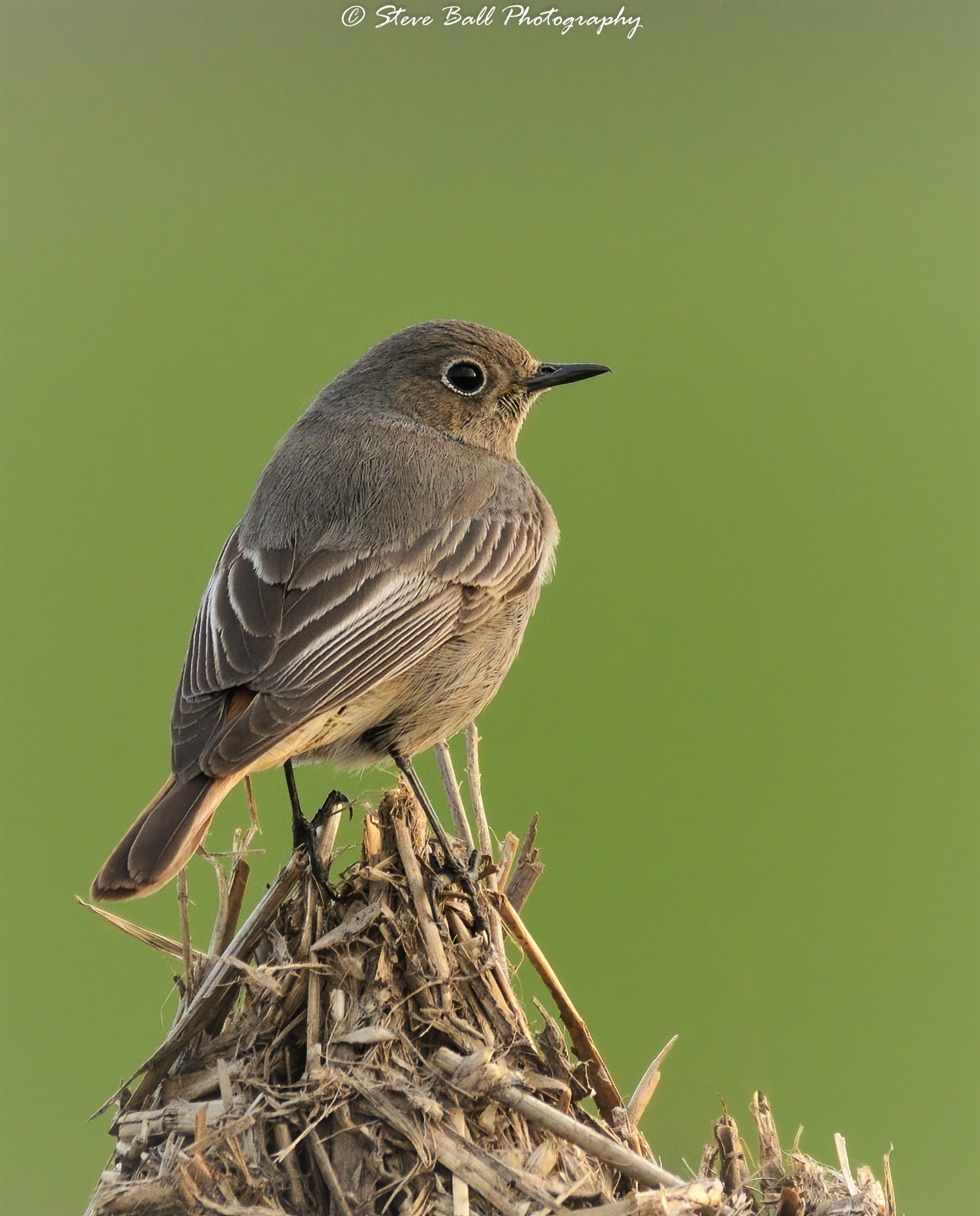 Black Redstart, Reach, Cambridgeshire (Steve Ball).
Blue House Farm, Essex, played hosted to the year's first Purple Heron on 2nd, although the six released White Storks that roosted on Wigborough Church on 4th proved far more accommodating. On 4th, a Eurasian Stone-curlew flew over St Osyth; Ring Ouzels were at Abberton Reservoir and Wivenhoe.
Hertfordshire bore the brunt of the Kittiwake movement on 6th, with an amazing flock of 55 at Hilfield Park Reservoir. Another was at Wilstone Reservoir that evening alongside a Russian White-front. Two Ring Ouzels were at Coleman Green, with others at Braughing and Weston.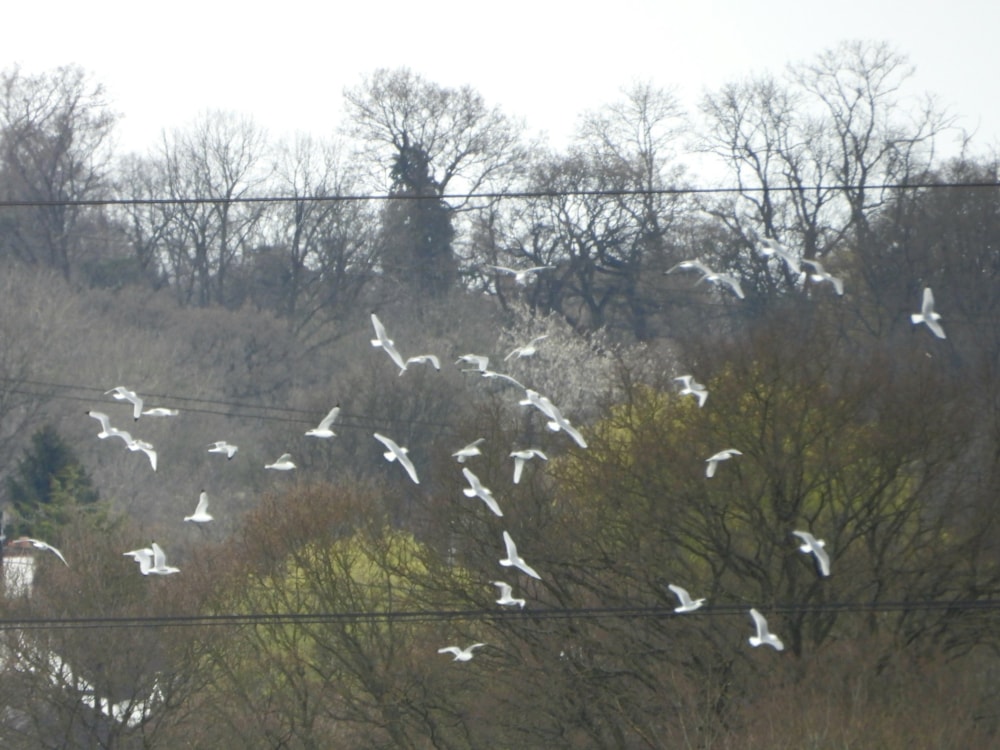 Kittiwakes, Hilfield Park Reservoir (Permit only), Hertfordshire (Barry Reed).
South-east England
Warm southerlies at the start of the review period meant there was a slight European flavour to proceeding in the region, not least in Kent, where a European Serin flew over Dartford Marshes on 2nd and a Red-rumped Swallow graced Dungeness on 4th. The latter site held onto its lingering Glossy Ibis and Iceland Gull throughout and hosted 18 Garganey on 1st – one of six sites in the county to score this attractive duck. A White-tailed Eagle toured several south coast sites over a period of a few days including Worth Marsh, where the Siberian Chiffchaff continued. Blue-headed Wagtails were at three sites.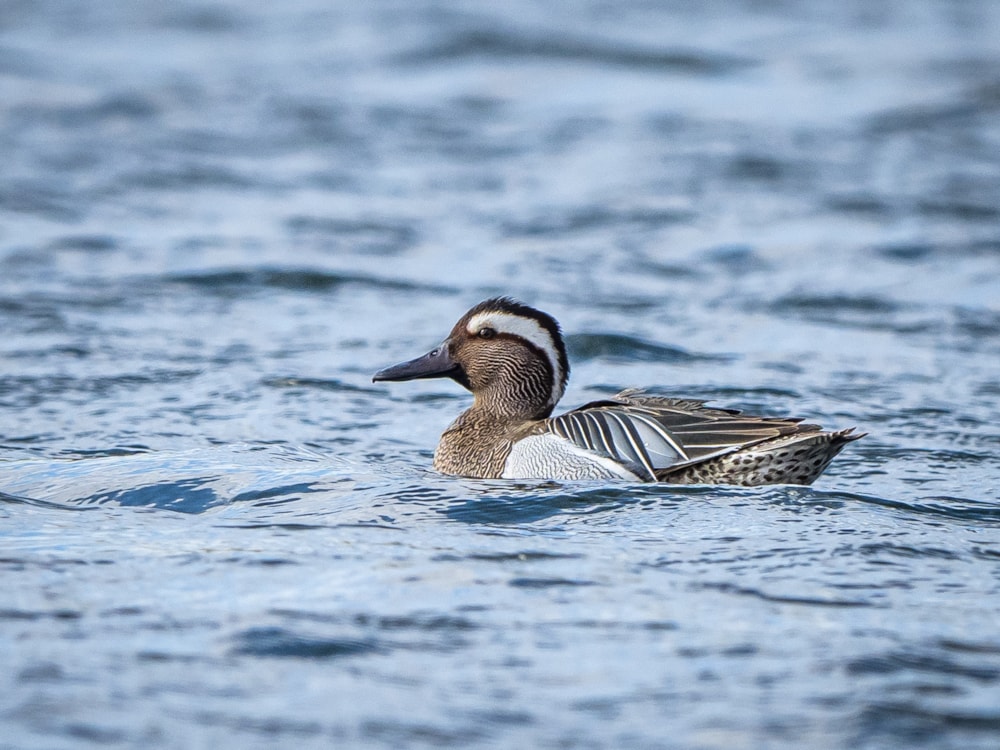 Garganey, New Hythe GPs, Kent (Terry Laws).
Sussex also scored Red-rumped Swallow, with a lingering bird at West Rise Marsh from 3-4th. The Sibe Chiff was still at the same site until 31st. A Sabine's Gull past Splash Point on 1st was unseasonal; a Glaucous Gull at Cuckmere Haven on 2nd and Widewater Lagoon the following day was less of a surprise. The Warnham Little Bunting continued throughout but could be elusive, while a Richard's Pipit at Sidlesham on 31st may have been the bird present nearby earlier in the winter. White-tailed Eagles were in the Arun Valley and over Worthing and East Preston and the Yellow-browed Warbler remained at Patching.

Red-rumped Swallow, West Rise Marsh, East Sussex (Beachy Birder).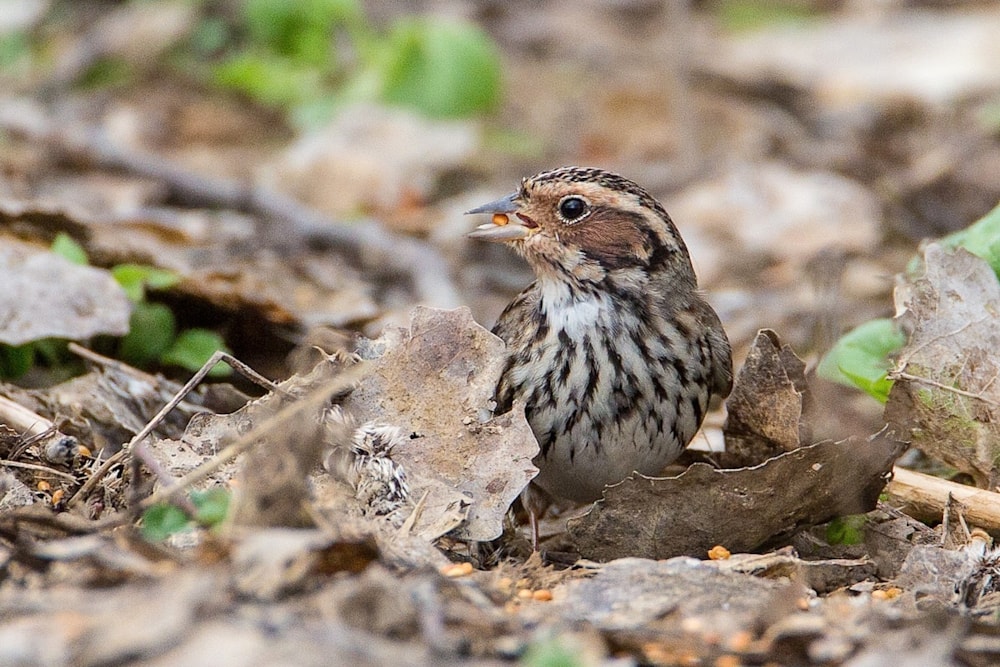 Little Bunting, Warnham, West Sussex (Dorian Mason).
On the Isle of Wight, two Eurasian Penduline Tits were at Brading Marshes briefly on the morning of 6th; later replaced by two Black-crowned Night Herons. Some decent bits in Hampshire included a Hoopoe in the New Forest on 1st, a Eurasian Wryneck on 3rd at Fishlake Meadows and a Siberian Chiffchaff at Farlington Marshes on 4th. The latter site hosted a remarkably early Wood Sandpiper from 1-2nd, too. Great Grey Shrikes were at Woolmer Forest and Stoney Cross Plain.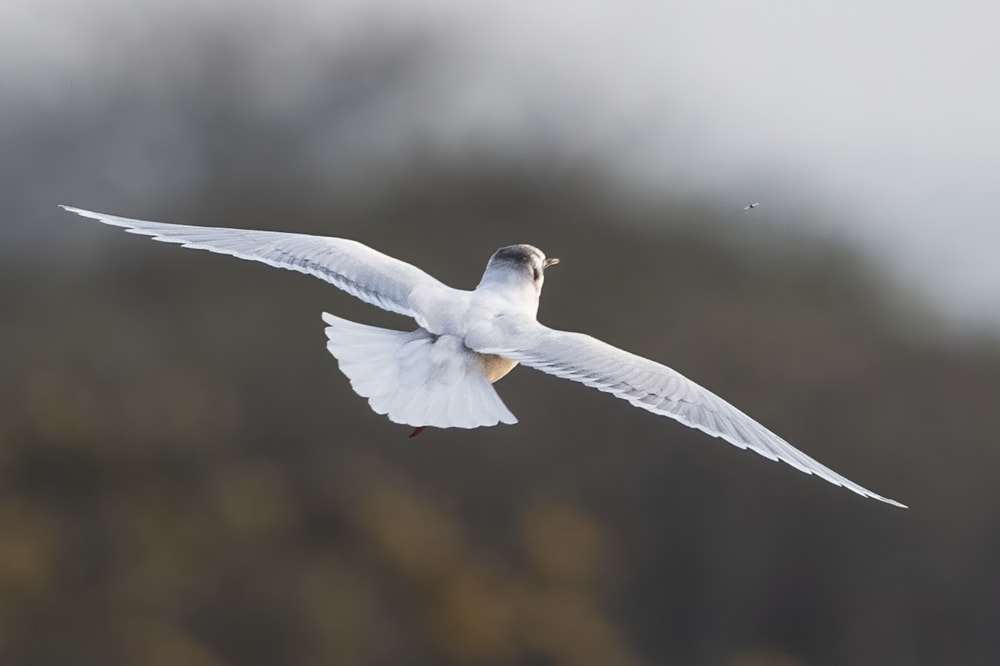 Little Gull, Pennington Marshes, Hampshire (Matthew Barfield).
Ruddy Shelduck and Western Cattle Egret were the best from Berkshire, while Buckinghamshire held onto its wintering Great Northern Diver and Yellow-browed Warbler, and boasted a flyover Kittiwake at Tattenhoe Park on 6th. Lingering scarcities in Oxfordshire included the Otmoor Glossy Ibis and Ring-necked Duck pair at Radley GPs. A couple of Sandwich Terns flew through Farmoor and eight Russian White-fronted Geese were at Otmoor on 4th.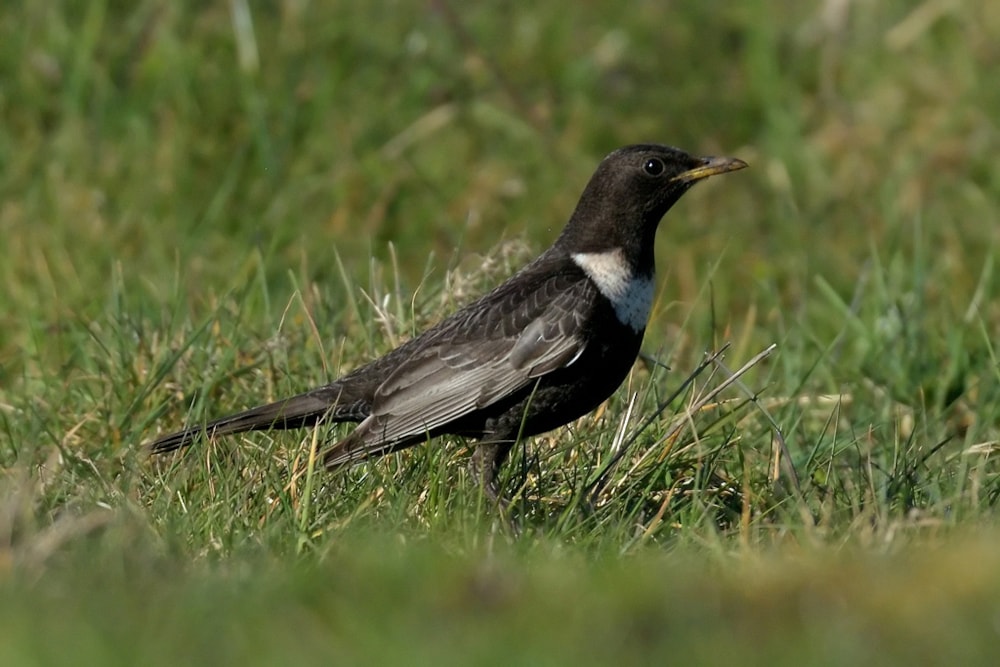 Ring Ouzel, Staines Moor, London (Ian Curran).
In the capital, King George V Reservoir hosted two Sandwich Terns and the lingering Smew, while a Siberian Chiffchaff was found at Beddington Farmlands, where the juvenile Iceland Gull made a reappearance. Six White Storks flew over Dagenham Chase on 4th, but arguably the record of the week was a mega count of 37 Kittiwakes at Staines Reservoirs, 34 of which flew through in one flock. The Great Northern Diver was still present at the same site. The two Little Buntings were reported sporadically throughout at Thursley Common, Surrey, and the Holmethorpe Ring-necked Duck was still there (along with the Russian White-fronted Goose).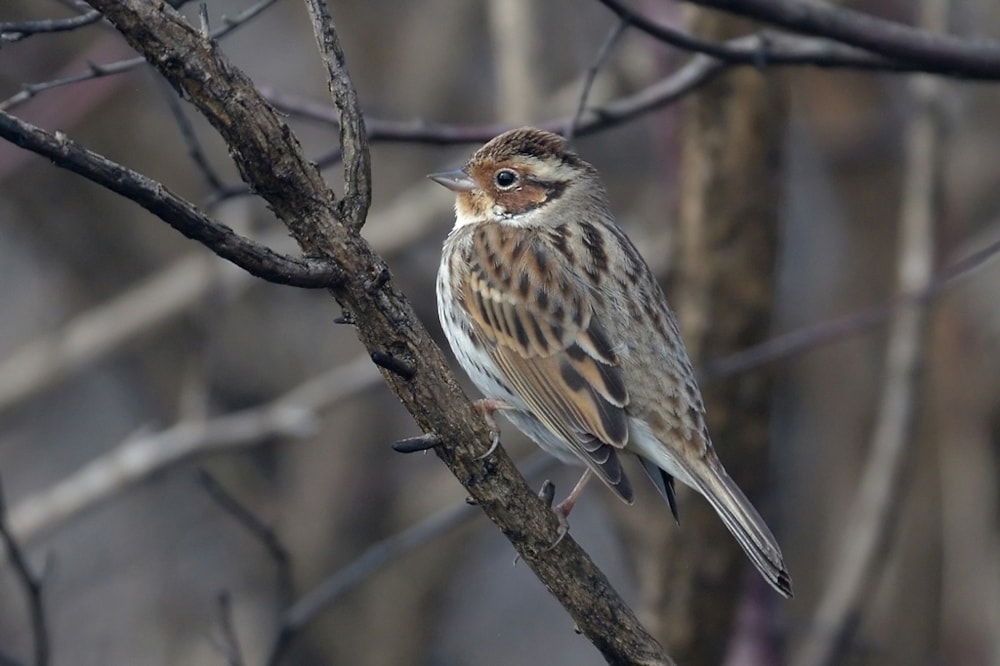 Little Bunting, Thursley Common, Surrey (Ian Curran).
South-west England
The week's warm southerly wind deposited a respectable dusting of European migrants into the South-West, including an Alpine Swift at Slapton Ley, Devon, alongside a Soar Hoopoe and a Thurlestone Wryneck. Ruddy Shelduck were at Exminster and Seaton Marshes (two), while a Chough headed west over Bolt Head on 1st. A Yellow-browed Warbler was in an Exwick garden. Elsewhere, it was much of the same – Lesser Yellowlegs at South Efford Marsh, three Glossy Ibis at Fremington Pill, Red-necked Grebe at Slapton Ley, and a drake Ring-necked Duck at Beesands Ley. Another drake was at Roadford Reservoir on 31st.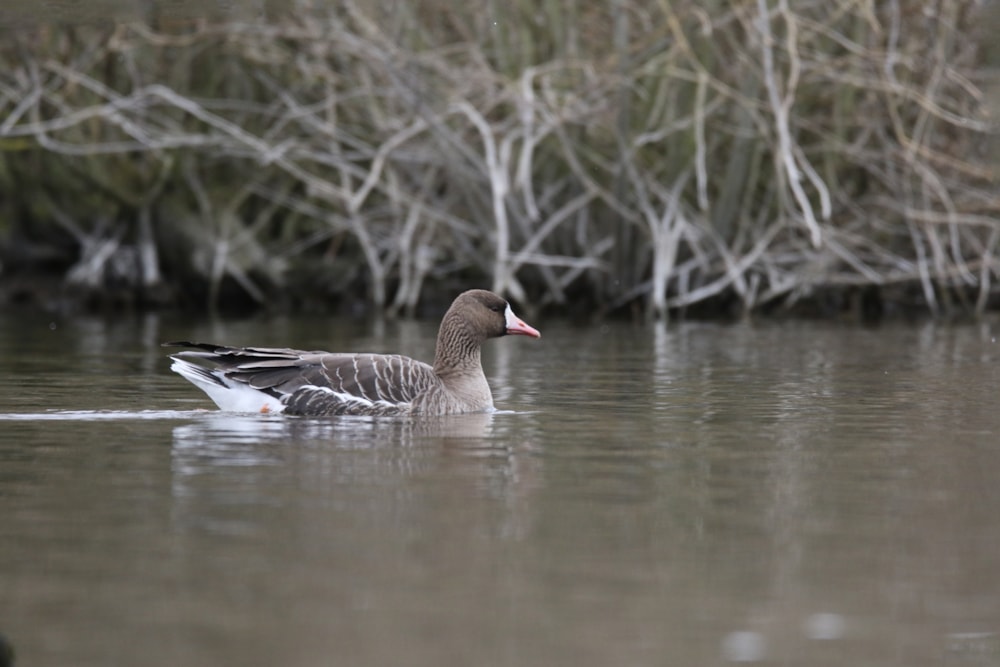 Russian White-fronted Goose, Coate Water CP, Wiltshire (Ian Stewart).
St Mary's, Scilly, hosted a single Wryneck alongside a wide-ranging Hoopoe, with at least two Blue-headed Wagtails at Porth Hellick; others were on St Agnes (two) and St Martin's on 2nd. At least one Iceland Gull continued at Porthloo – we haven't left the winter behind just yet.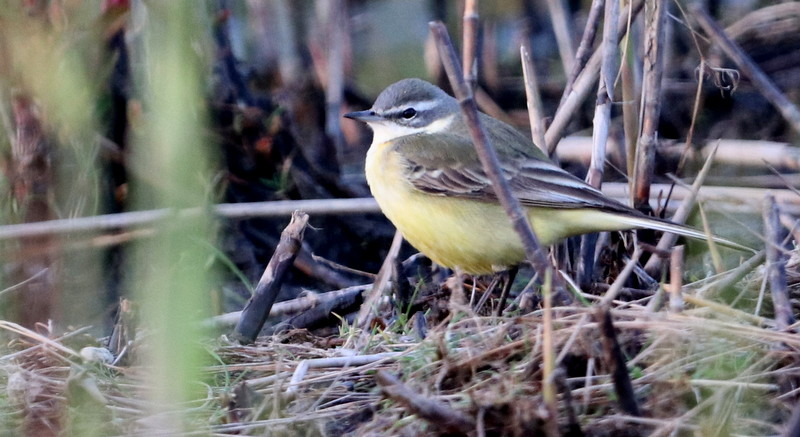 Blue-headed Wagtail, St Mary's, Isles of Scilly (Kris Webb).
Last week's Little Bunting at Trevilley, Cornwall, shared its adopted field with a European Serin on 4th, with the county recording no fewer than five Hoopoes. Pendeen lucked in with a Wryneck, while White-tailed Eagles were seen over Goonhilly Downs and Helford Passage. Both Marazion Marsh RSPB and Hayle Estuary hosted Siberian Chiffchaffs. The adult Kumlien's Gull noted on Scilly late last year was at Sancreed from 1st and Ring-necked Duck were at three sites, with a high count of four at Dozmary Pool.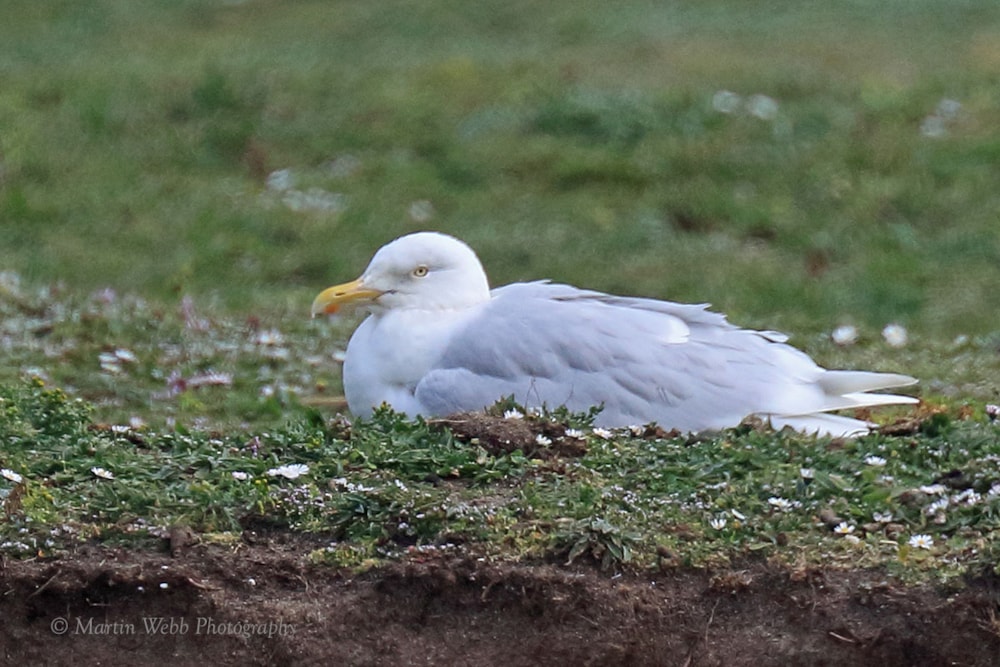 Glaucous Gull, Gwithian, Cornwall (Martin Webb).
The first Grasshopper Warbler of the year was in Dorset's Avon Valley on 30th, although the most impressive sign of spring was the impressive flock of 19 Garganey that flew in off the sea over Abbotsbury Swannery on 1st. A small influx of Red-rumped Swallows included individuals at Portland, Radipole Lake RSPB and St Aldhelm's Head, while Hoopoes were at three sites (Church Knowle, Upwey and Frome Whitfield). White Storks flew over both Dewlish and Pymore, a White-tailed Eagle headed over Wyke Down and a Eurasian Stone-curlew flew over Hengistbury Head. Meanwhile, the Ring-necked Duck remained at Longham Lakes, as did the Glossy Ibis at Stanpit Marsh. Two Glaucous Gulls were recorded, with Weymouth's Iceland Gull still in-situ.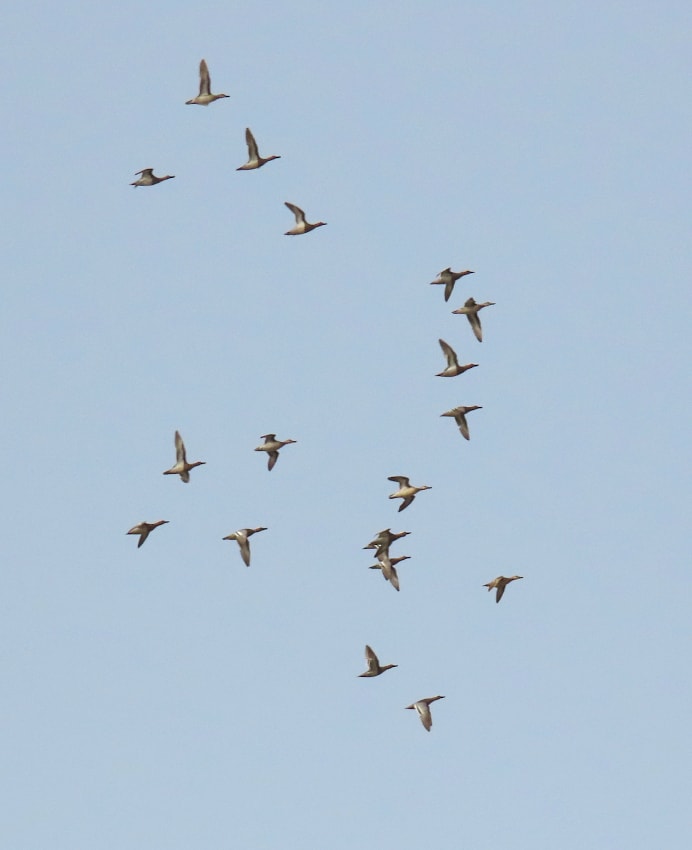 Garganey, Abbotsbury Swannery, Dorset (Joe Stockwell).
Somerset's retained its Eurasian Penduline Tits at Weston Airfield alongside the Siberian Chiffchaff, with Barrow Gurney Reservoirs's dapper Long-tailed Duck and the Dunster Beach Tundra Bean Goose also making an appearance. A White-tailed Eagle over Huntspill on 4th and a Little Stint at Stert Island were new in the county, while both Slavonian Grebes held on at Chew Valley Lake. Three Eurasian Spoonbills were at Steart WWT from 2nd.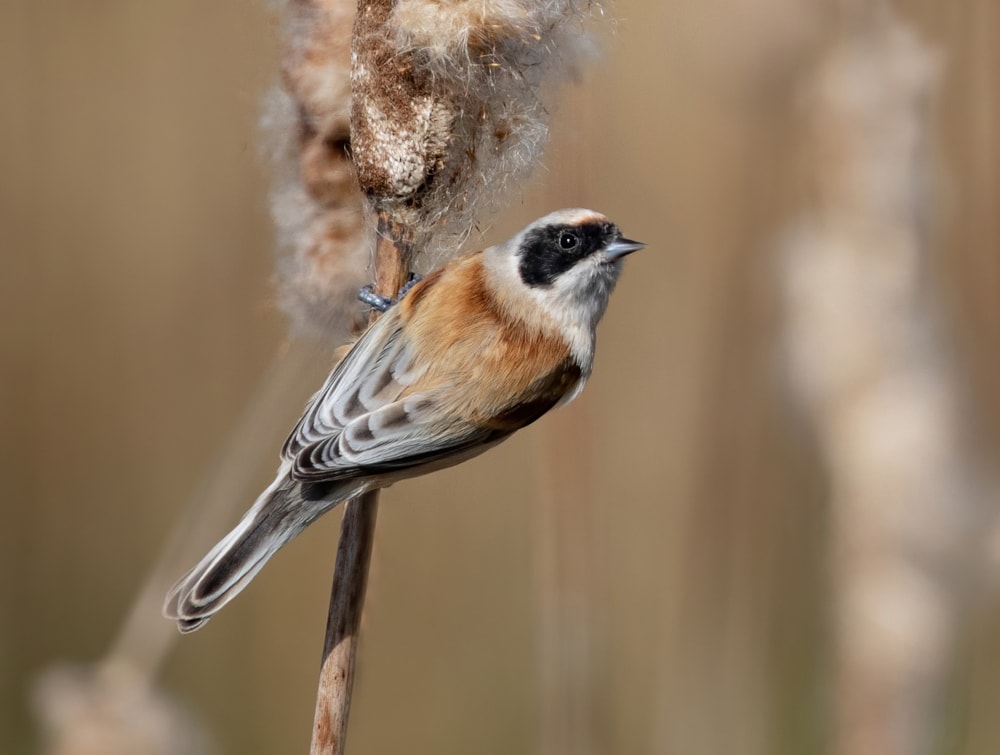 Eurasian Penduline Tit, Weston-super-Mare, Somerset & Bristol (Neil Hilton).
The Ring-necked Duck remained in Gloucestershire's half of Cotswold Water Park, as did the Great Grey Shrike at Crabtree Hill. Two Wood Sandpipers were reported from Coombe Hill Meadows, plus two Eurasian Spoonbills were at Slimbridge WWT. Several sites hosted Ring Ouzels, including no fewer than eight at Cleeve Hill.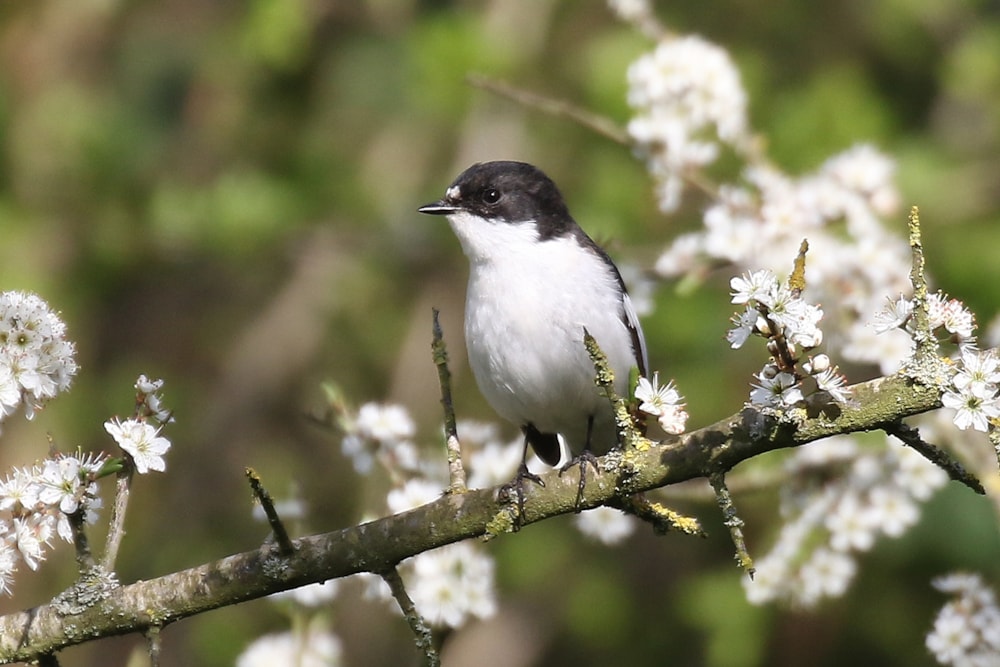 Pied Flycatcher, Frampton Cotterell, Gloucestershire (Chris Teague).
In Wiltshire, a White Stork flew over Hosdon, several Ring Ouzels were at Liddington Hill and a Russian White-front graced Coate Water. A brief Kittiwake was at Langford Lakes, while Cotswold Water Park held three Black-necked Grebes.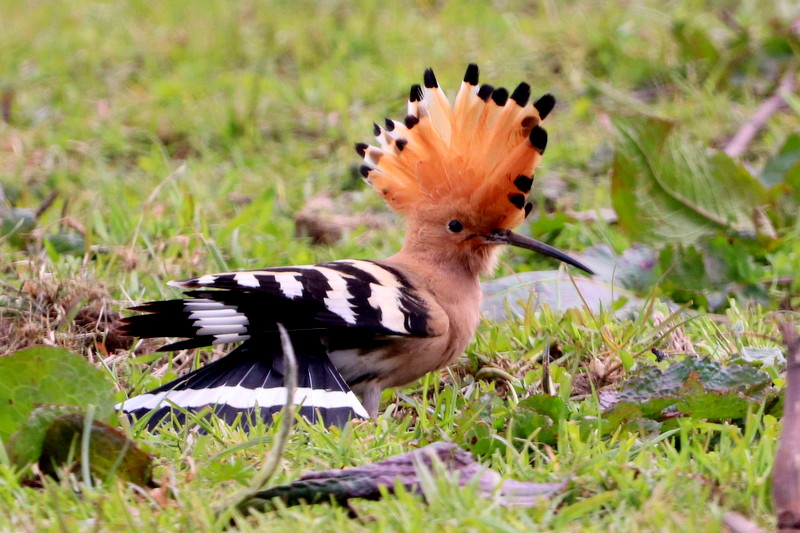 Hoopoe, St Mary's, Isles of Scilly (Kris Webb).
Wales
Lingering geese involved the Tundra Bean-Russian White-front double at Goldcliff Pools NR, Gwent, and another Russian White-front at Kenfig NNR, Glamorgan. The drake Surf Scoter continued bobbing in the swell off Llanddulas, Conwy, while a possible drake was photographed from a moving train at Ffynnongroyw, Conwy, on 1st. Ring-necked Duck were still at four localities and Garganey made their presence felt at three.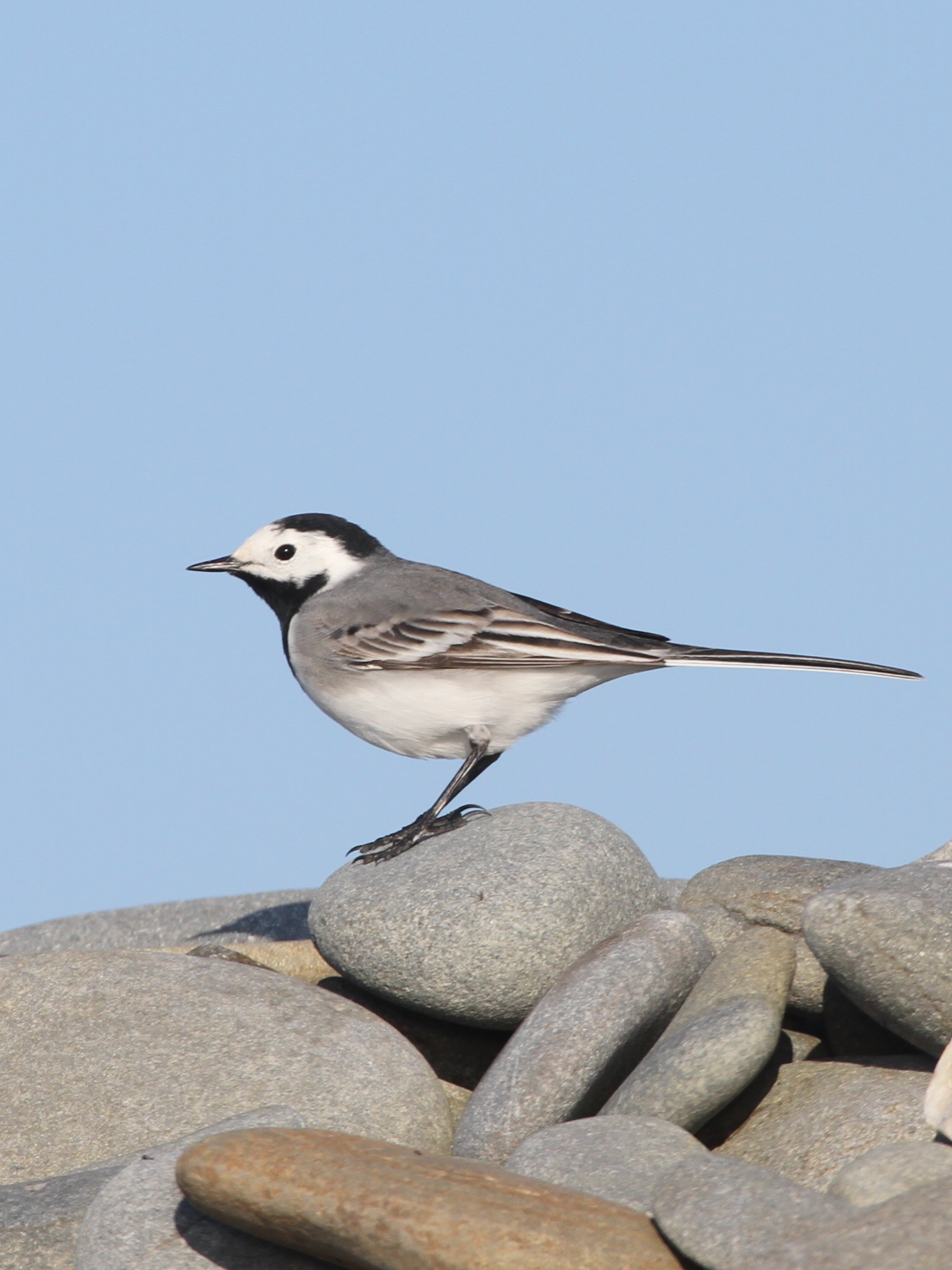 White Wagtail, Llanrhystud, Ceredigion (Waine Foster).
The Gann Estuary, Pembrokeshire, produced the juvenile Glaucous Gull again on 6th and Iceland Gulls were at three sites. An incredible run of noc-mig records emerged: firstly, a Eurasian Stone-curlew wailed over the streets of Penrhyn Bay, Conwy, on the night of 31-1st followed by a Spotted Crake at Tregaron Bog, Ceredigion, on the night of 2-3rd. A Common Crane opted for diurnal movement as it circled over Pembrey CP, Carmarthen, on 3rd. Moving on to slightly larger fauna, an immature White-tailed Eagle was reported from the coast path at Abereiddy, Pembrokeshire, on 1st.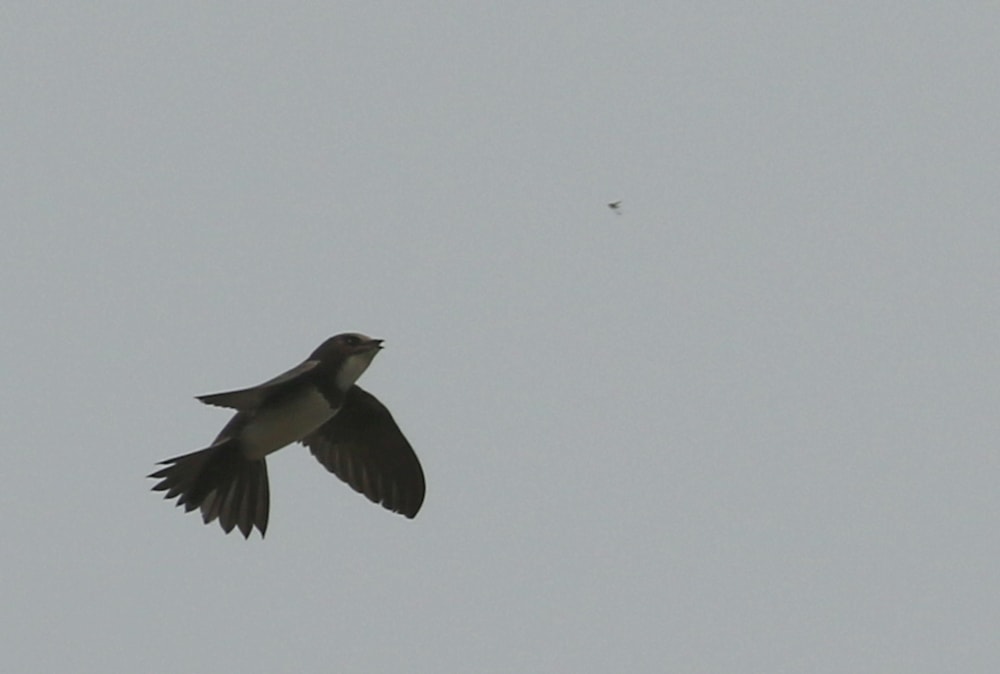 Alpine Swift, Skokholm, Pembrokeshire (Richard Brown / Skokholm Warden).
An Alpine Swift was busy slicing up the skies above Pembrokeshire between 1-2nd, with four sites reporting the bird. Some early migrant passerines also managed to hitch a ride on the earlier southerlies, with no fewer than six localities scoring Pied Flycatchers and two with their first reeling Grasshopper Warblers. A Wryneck graced Skokholm's south cliffs on 6th. However, some signs of winter remained, with the Great Orme's Lapland Buntings lasting until 31st and two Great Grey Shrikes in the country.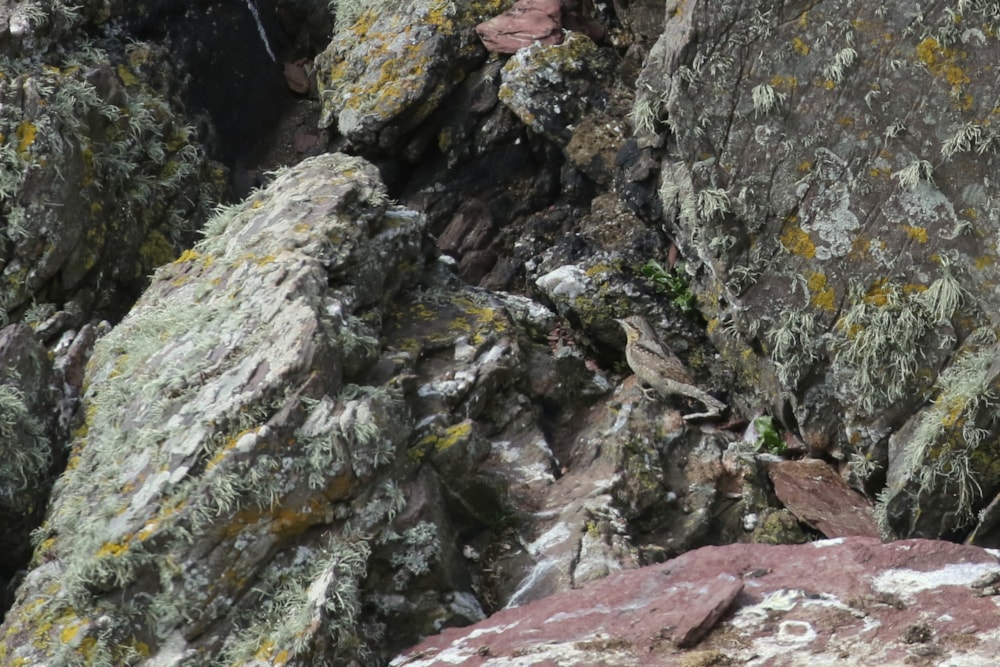 Wryneck, Skokholm, Pembrokeshire (Richard Brown / Skokholm Warden).
Ireland
Migration largely stalled across Ireland, although a Hoopoe did make it to Hook Head, Co Wexford, on 3rd, and a Red-rumped Swallow arrived at Cahore Marsh, Co Wexford, on 1st. A European Turtle Dove in a Wexford garden was a surprise on 4th. Of the common migrants, Sedge Warbler and Common Tern made it north to Cos Tyrone and Armagh respectively.
With that in mind, focus remained on winter visitors. Four Ring-billed Gulls were at three sites, including two at Blennerville, Co Kerry. A handful each of Glaucous and Iceland Gulls were seen.
The Black Brant was still in Co Dublin, popping up in Raheny on 4th. Seven Ring-necked Duck were seen across four sites, with Green-winged Teal in Cos Kerry and Dublin. The Lesser Yellowlegs remained at Killongford, Co Waterford, as did the Glossy Ibis at Pilmore, Co Cork.
Western Palearctic
An adult Black-browed Albatross photographed off Sept-Îles on the French side of the English Channel on 1st was the week's regional highlight, while the same date saw Iceland's Dark-eyed Junco noted again at Helluvatn.
Belgium's fifth Franklin's Gull was at Stavele on 4th and the female Baikal Teal first seen at Wechelderzande on 5 March was still present on 6 April, although Heist-aan-Zee's Oriental Turtle Dove was last reported on 31st. Others were recorded at Sulgen, Switzerland, and Porcia, Italy – the country's fourth.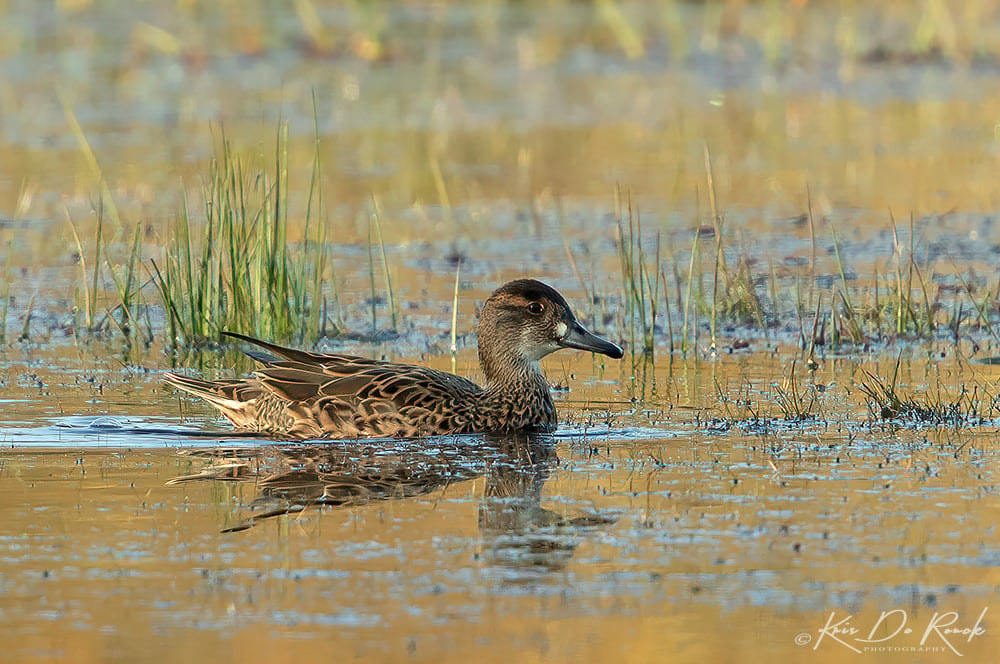 Baikal Teal, Wechelderzande, Antwerp (Kris De Rouck).
A new Great Blue Heron was at Fajã Grande, Flores, on 1st; another was seen again at Praia da Vitória, Terceira, on 4th. The archipelago's ninth Alpine Swift was over Horta, Faial, on 30th
The third Canaries Pallid Harrier was at Los Rodeos, Tenerife, from 30-2nd; Turkey's second Lesser Yellowlegs was belatedly reported from Silifke on 27 March. Denmark's Sandhill Crane continued in fields at Vildmosegård, Dokkedal, and Germany's Pygmy Cormorant and Spotted Sandpiper remained.
Alderney's Eurasian Stone-curlew on 2nd is the island's first record in over 100 years; a drake Green-winged Teal at St Ouen's Pond, Jersey, from 31-2nd is just a second for the Channel Islands.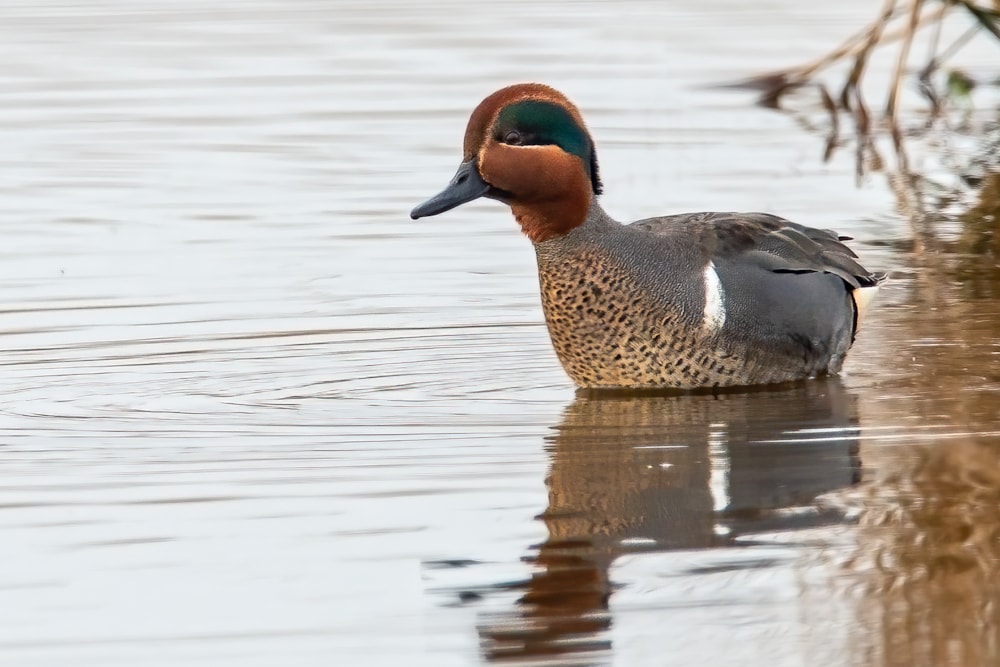 Green-winged Teal, St Ouen's Pond, Jersey (Romano Da Costa).