In a week where most bird news was generated by wader passage, both major rarities were at least assumed to be re-sightings of birds seen earlier in the summer. First up was the adult Sooty Tern. Last recorded melting into the rainy grey skies off Seahouses, Northumberland, on the afternoon of 9 July, it was seen nonchalantly coasting east off the North Norfolk coast, first at Weybourne and latterly Sheringham, early morning on 2nd. Clearly it's been well hidden wherever it's spent the last three-and-a-half weeks, though as a species that has a reputation for long pelagic expeditions, maybe an extended absence is not too unexpected.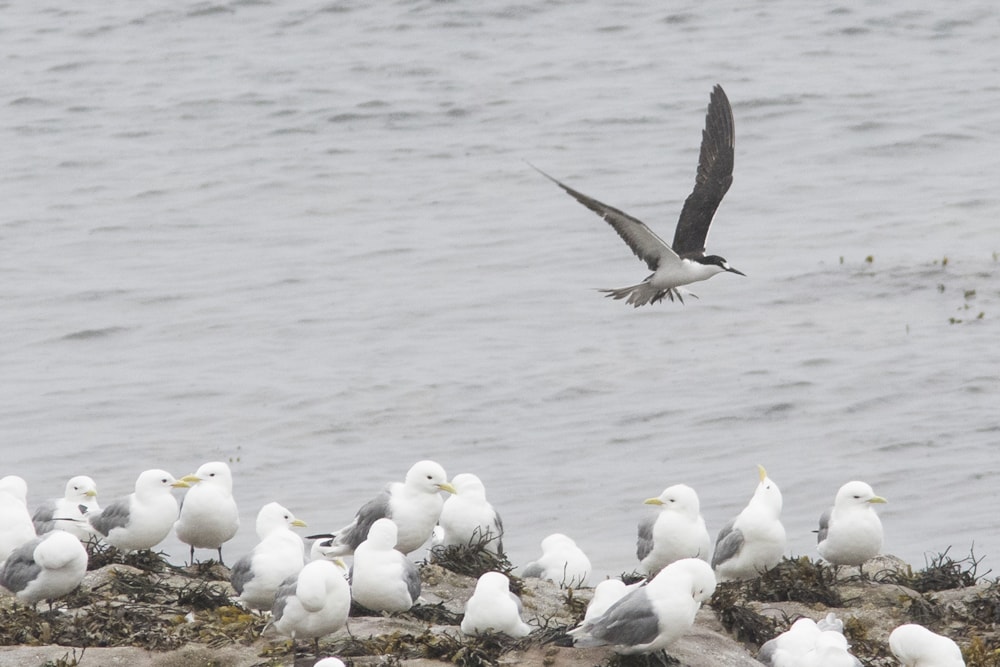 This image of the Sooty Tern was taken at Seahouses, Northumberland, on 9 July (Gary Woodburn).
Perhaps more surprising was the appearance of a male Little Bustard in fields on the outskirts of Methley, West Yorkshire. Presumed to be the same bird that spent four days at Slimbridge at the end of June, the event came about after a slightly bizarre series of cryptic posts on a local Facebook group during the evening of 5th, in which the finder refused to disclose the bird's location describing other birders as 'vultures'. Savvy locals pieced together the few clues that were given and promptly had the bird nailed down by 07:00 the following morning. A first West Yorkshire record since 1842, it was still present as the day ended amid speculation that it may have been on site for some time.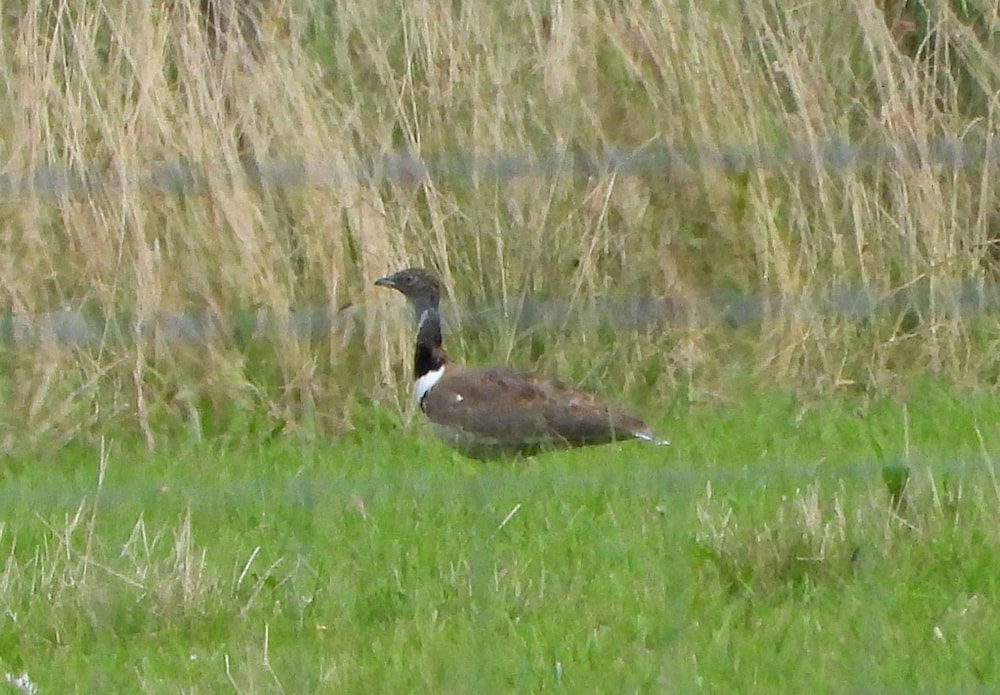 Little Bustard, Methley, West Yorkshire (Dave Ward).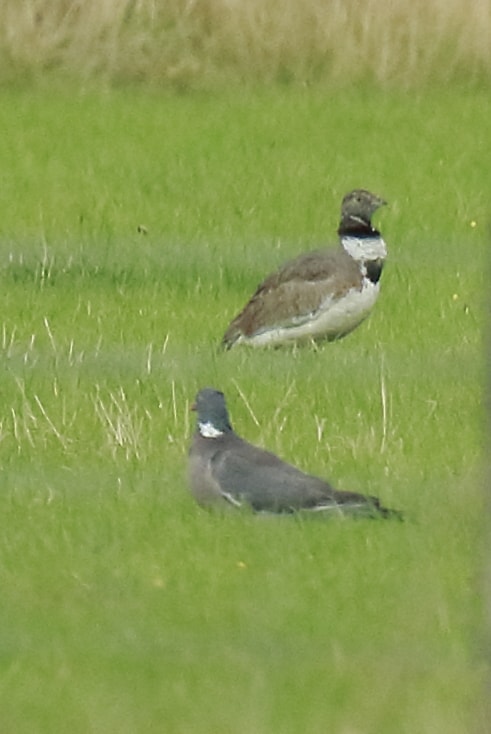 Size comparison with Woodpigeon (Mark Rayment).
New rarities were again almost absent this week, although the previously elusive Squacco Heron in Pagham Harbour reappeared between Sidlesham and North Wall on 2nd and finally settled down, allowing birders to connect. While it remained site-faithful throughout the week, it was still a fairly mobile individual and gave folk the run-around in between bouts of showing well. A male Snowy Owl at Ronas Hill, Shetland, from 3-5th followed the female noted at the same site back in March and is probably the same individual seen on Fetlar in October 2018. The evening of 5th saw the first Fea's-type Petrel of 2019, almost predictably from a pelagic aboard MV Sapphire as it crossed the wake heading south, about 80 metres out.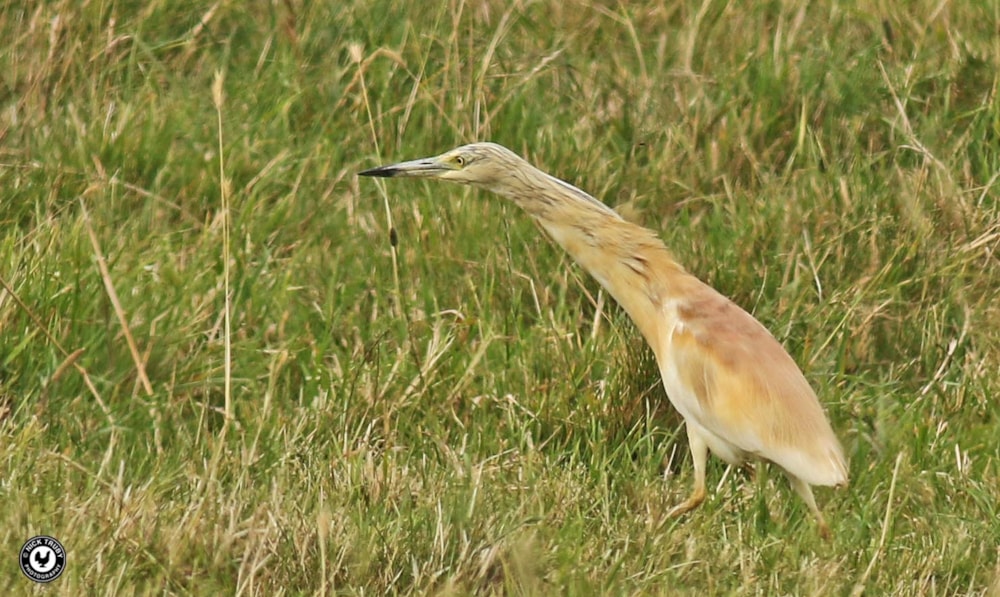 Squacco Heron, Pagham Harbour LNR, West Sussex (Nick Truby).
There was little change in the supporting cast of rarities. Lingering rare ducks included the drake Ferruginous Duck at Pett Level, East Sussex, the drake Blue-winged Teal now in eclipse at Frankfield Loch, Clyde, and the drake King Eider off Nairn. Both the long-staying adult Long-billed Dowitcher at Frampton Marsh RSPB, Lincolnshire, and last week's individual at Lough Beg, Co Derry, remained – though the latter was only seen until 2nd. The adult Forster's Tern continued at Soldier's Point, Co Louth, while the regular adult Bonaparte's Gull remained at Oare Marshes, Kent. As the week ended a Gull-billed Tern made a brief morning appearance on 6th at Sandbach Flashes, Cheshire, presumably the tendency for this species to forage in arable fields explaining its absence later in the day.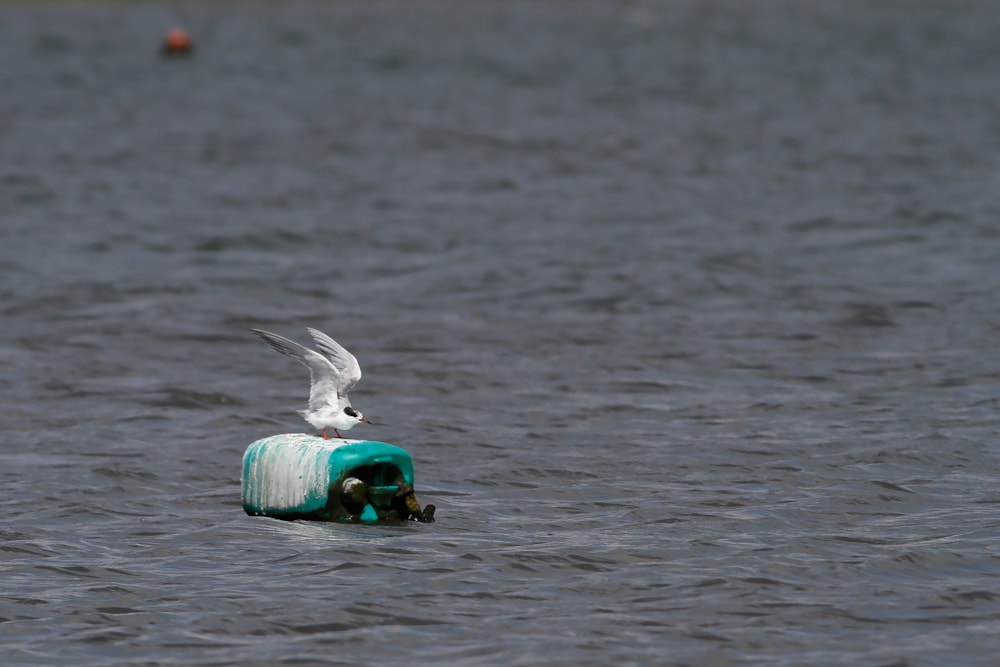 Forster's Tern, Soldier's Point, Louth (Gerry O Neill).
In a poor week for scarce ducks, the continuing drake Surf Scoter on the sea off the regular site of Musselburgh Lagoons, Lothian, and a new bird at Lunan Bay, Angus & Dundee, from 5th were of note.
As we sail into August thoughts inevitably turn to the sea and the annual migration of salt-splashed birders to headlands begins to gather pace. Porthgwarra, Cornwall – one of the favoured destinations of birders with time on their side – provided the occasional Cory's Shearwaters, with two on 31st and singles on 2nd and 4th. Another made a close pass of Bardsey Island, Gwynedd, on 1st. Four Great Shearwaters were in Cornish waters and two passed Toe Head, Co Cork on 3rd. The latter also scored the only 'from land' Wilson's Storm Petrel on 3rd; the two other Wilson's seen on 1st and 5th coming from Scilly Pelagic trips.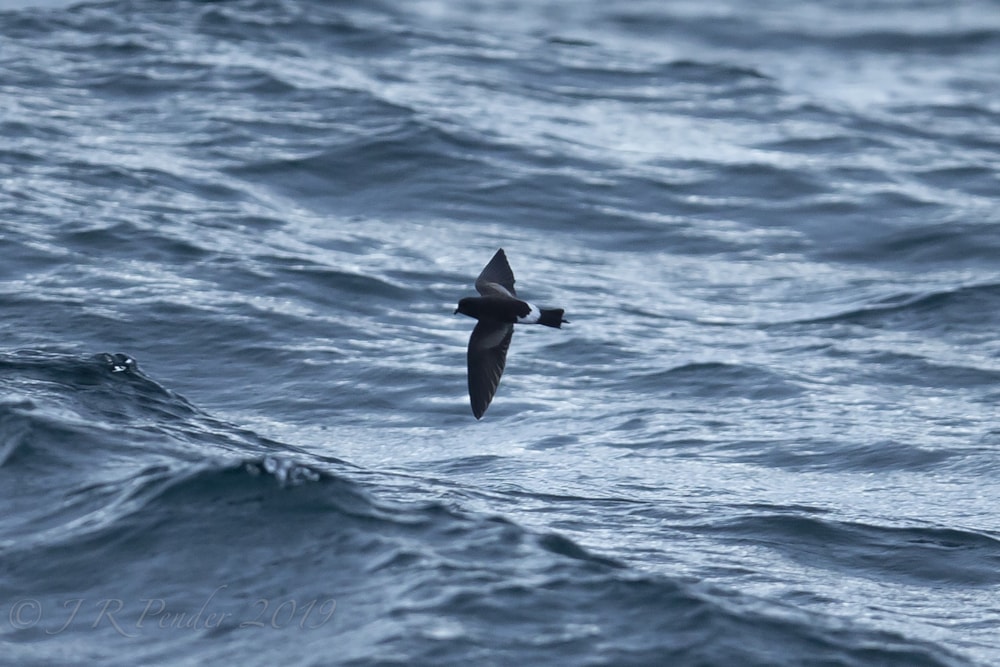 Wilson's Storm Petrel, Scilly pelagic, Isles of Scilly (Joe Pender).
The adult Black-crowned Night Heron extended its summer stay in Cheltenham, Glos, and a first-summer was present across the Irish Sea at Lady's Island Lake, Co Wexford from 1st. One of last week's two juvenile Purple Herons hung on at Manby Flashes, Lincs, to 31st and another juvenile was in Suffolk on 6th. A notable count of 35 Great Egrets was made on a regular roost flight at Little Neston, Cheshire, on 2nd, with 33 there the following evening. With these kinds of numbers, along with the ongoing spread of Western Cattle Egrets this year, how long before they follow the same fate as Little Egret and get consigned to receiving barely a glance from us all?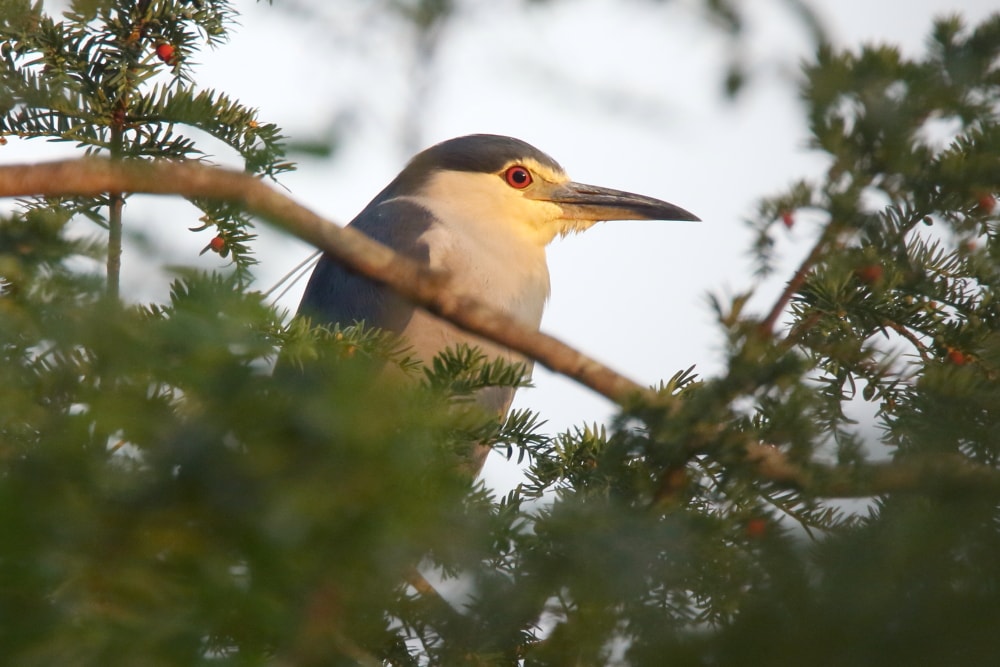 Black-crowned Night Heron, Cheltenham, Gloucestershire (Andrew Jordan).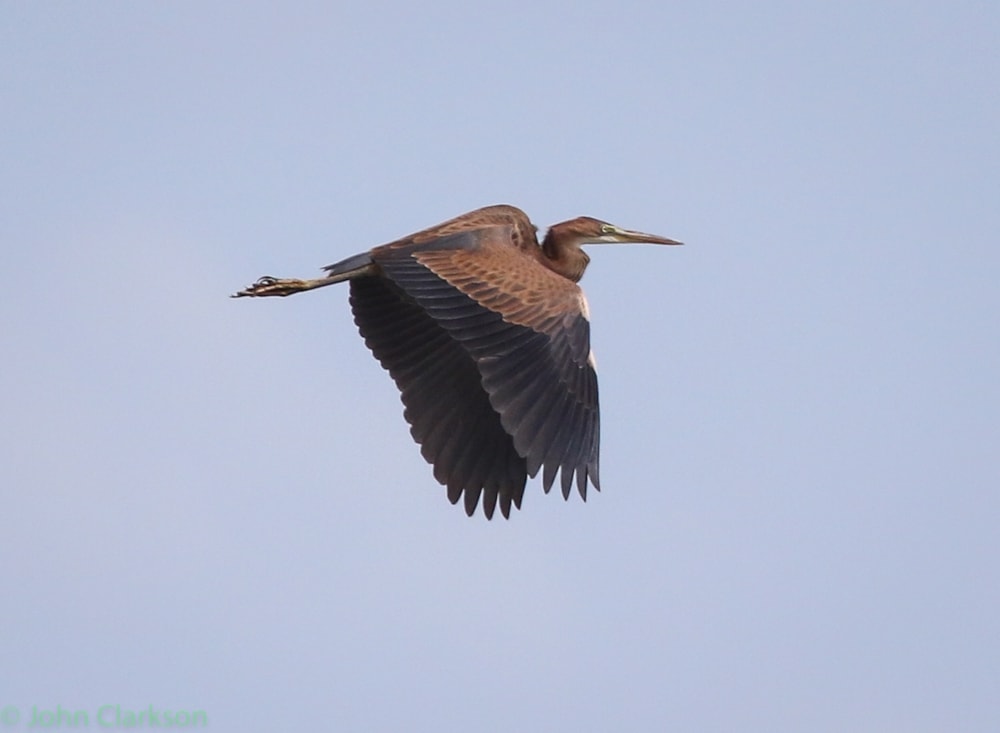 Purple Heron, Manby, Lincolnshire (John Clarkson).
A single report of Black Kite from Nottinghamshire was arguably the only rare large raptor though news that England's woefully small Hen Harrier population has successfully produced 33 fledged young this summer from nine nest sites is worthy of mention. How many will reach the age where they themselves have the opportunity to breed is another question entirely. Meanwhile, European Honey Buzzards were still being seen at publicised watchpoints in Nottinghamshire and North Yorkshire.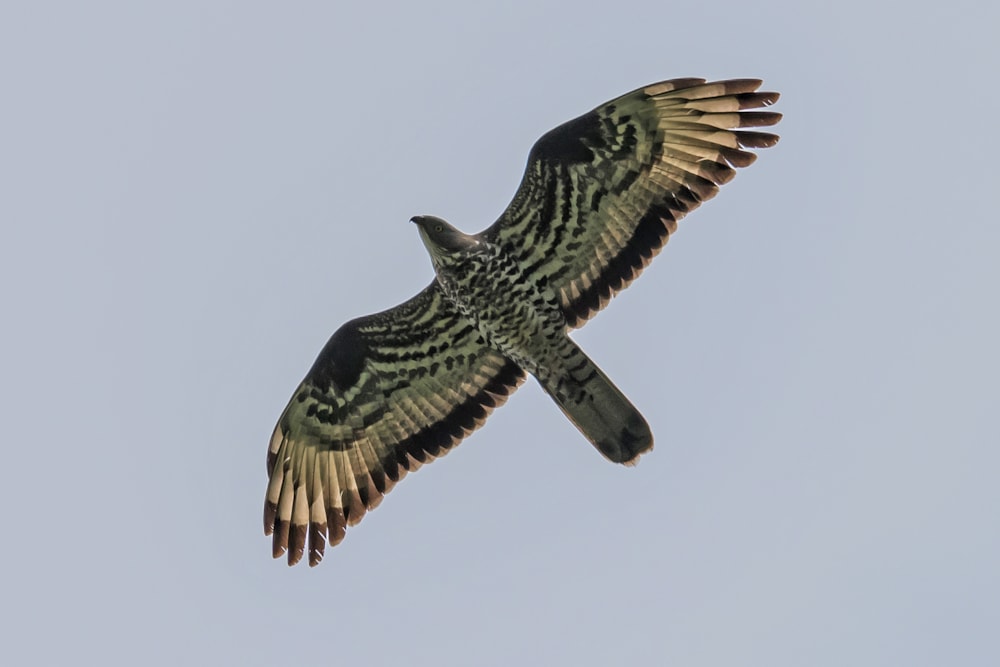 European Honey Buzzard, Wykeham Forest, North Yorkshire (Andy Thompson).
Content continues after advertisements
A female-type Kentish Plover at Gibraltar Point, Lincs, briefly on 5th was just one of several decent waders along the east coast during the week. The Wash held at least two, probably three (and possibly more) adult White-rumped Sandpipers that appeared to alternate between Freiston Shore and Frampton Marsh, Lincs, and Snettisham, Norfolk. At least one adult toured the Kilnsea area in East Yorkshire throughout the week. Further north, presumably one individual was responsible for Lothian sightings at Aberlady Bay on 2nd and Skateraw on 4th. The first-ever White-rumped Sand for Dumfries & Galloway would have no doubt been popular if it had hung about, but sadly was not seen again at Piltanton Burn. Ireland also had presumably a single individual in Co Wexford, at The Cull and Lady's Island Lake.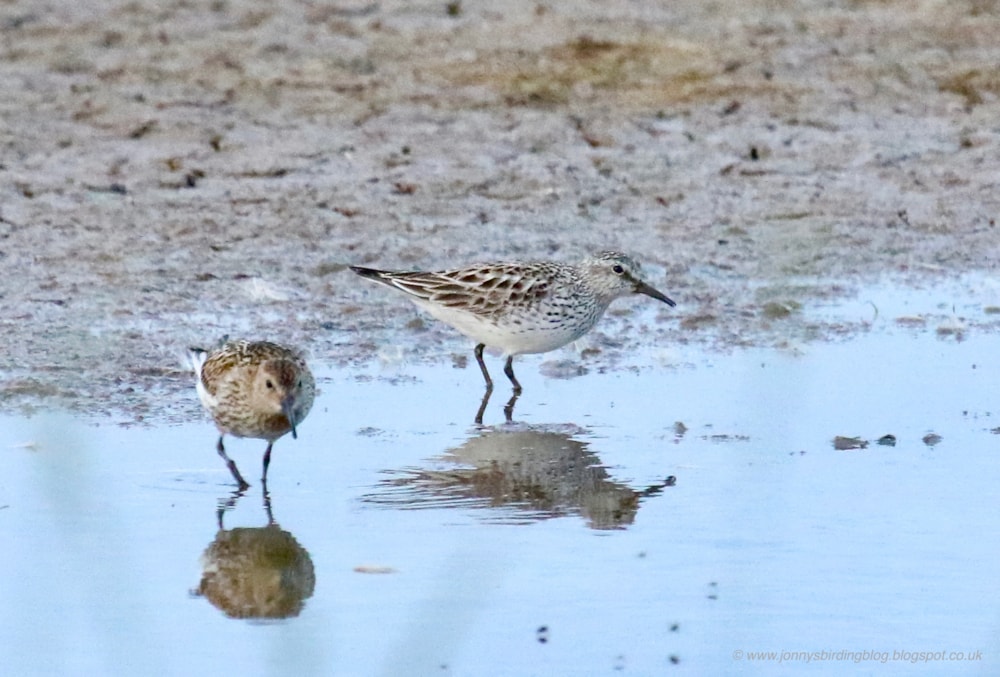 White-rumped Sandpiper, Kilnsea, East Yorkshire (Jonathan Farooqi).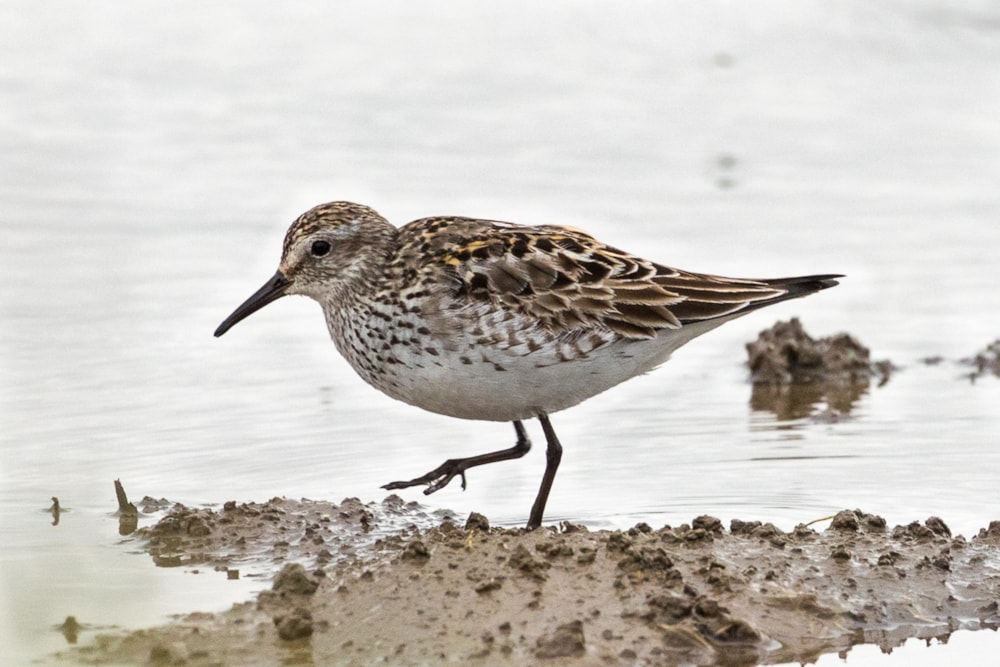 White-rumped Sandpiper, Freiston Shore RSPB, Lincolnshire (Ian Bollen).
In contrast, a measly three Pectoral Sandpipers were picked up in Norfolk, Essex and Co Wexford, with just two Temminck's Stints in Lincolnshire and Fife. A brief Red-necked Phalarope was a nice surprise for one patch birder at Newbiggin, Northumberland, on 3rd.
The Wood Sandpiper influx may have peaked in terms of numbers but it was evident that they were more widespread than last week, with a good proportion of our 400 reports coming from the western half of the country. The lower half of the East Coast still retained some large groups – albeit not of the scale of the initial arrival – with 24 at Cley Marshes, Norfolk, 28 at Freiston Shore, Lincs, and 20 at Wells-next-the-Sea, Norfolk, being the peak counts.
Wood Sandpiper, Staines Moor, London (Shaun Ferguson).
A single Hoopoe was photographed on the Isle of Wight on 2nd in a distinctly quiet week for landbirds. Two early Barred Warblers toured Fair Isle from 1st and represent the joint earliest records for the island. Another was at Bakkasetter, Shetland, on 6th. Fair Isle also held onto a Marsh Warbler on 1st and it was good to hear that a pair had successfully bred at Spurn, East Yorkshire, this year with at least two young fledged. Three Icterine Warblers were at the two extreme ends of the country with singles on Fair Isle, North Ronaldsay and Sandwich Bay, Kent. Two Melodious Warblers included one still on the Isle of May and another at Porthgwarra, Cornwall.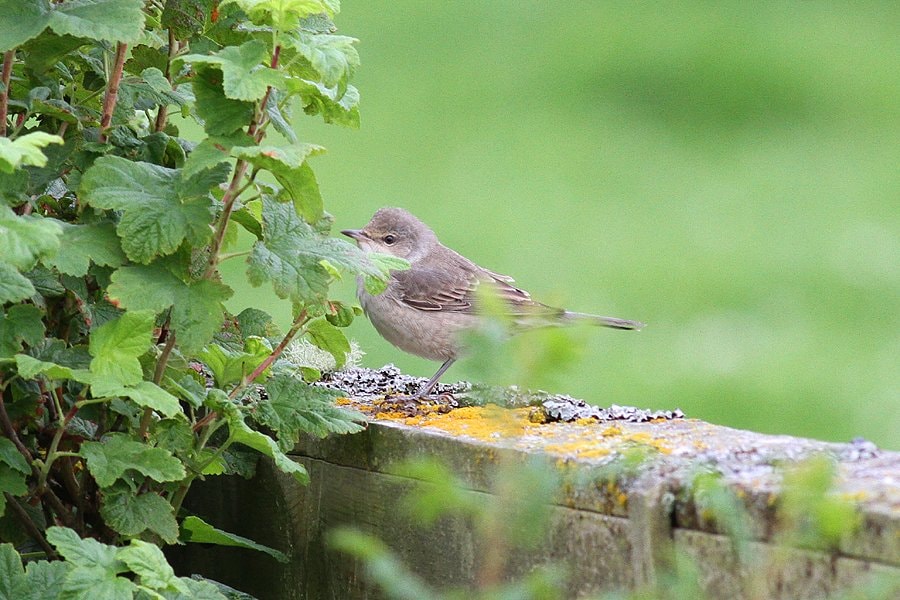 Barred Warbler, Bakkasetter, Mainland, Shetland (Rob Fray).
Last week's inland juvenile Choughs remained on the Worcestershire/Herefordshire border to 2nd when they were seen to fly off to the north-north-east. It didn't take long for one of them to be relocated around 90 miles to the north on 3rd – bizarrely again at a site overlapping the border of two counties, this time Cheshire and Derbyshire.
Just the one Rosy Starling was seen this week in Co Donegal and a male Common Rosefinch was on Fair Isle on 6th. A small number of Two-barred Crossbills continue to trickle in, mainly in Shetland, with parties of three on Unst and Fair Isle constituting the peak counts. Some evidence of movement came in the form of individuals in the Outer Hebrides, with Barra, North Uist and Benbecula all scoring.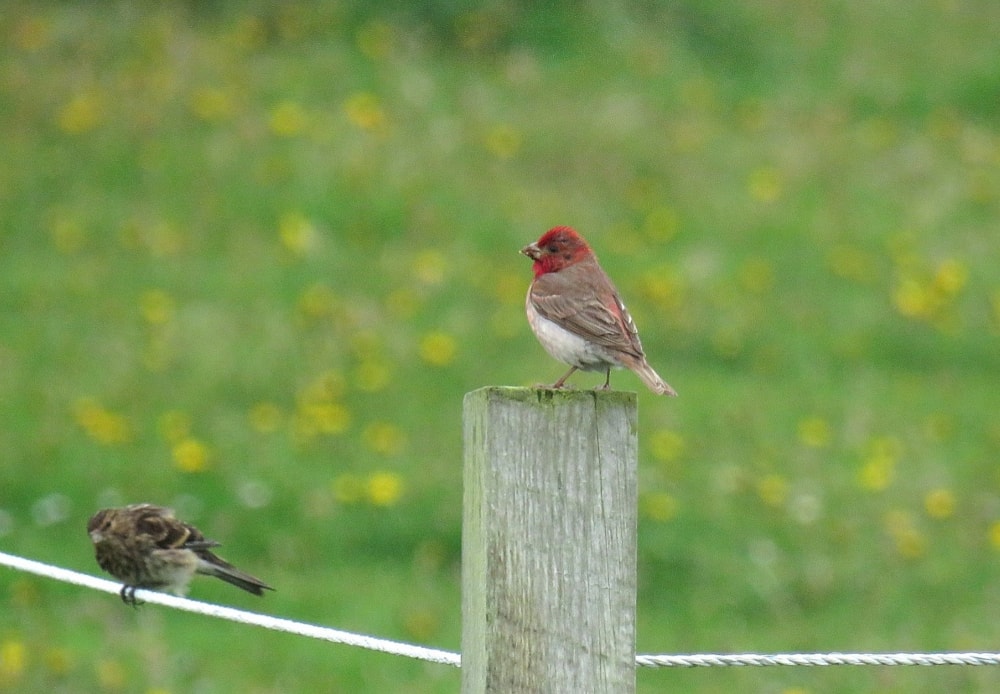 Common Rosefinch, Fair Isle, Shetland (Tom Gale).
Western Palearctic
With westerlies predominating in the North Atlantic, it was no great surprise to see the Azores cash in with three Least Sandpipers (two together on São Miguel and a third found on Faial on 4th). São Miguel also produced a fine Hudsonian Whimbrel at Mosteiros on the evening of 6th.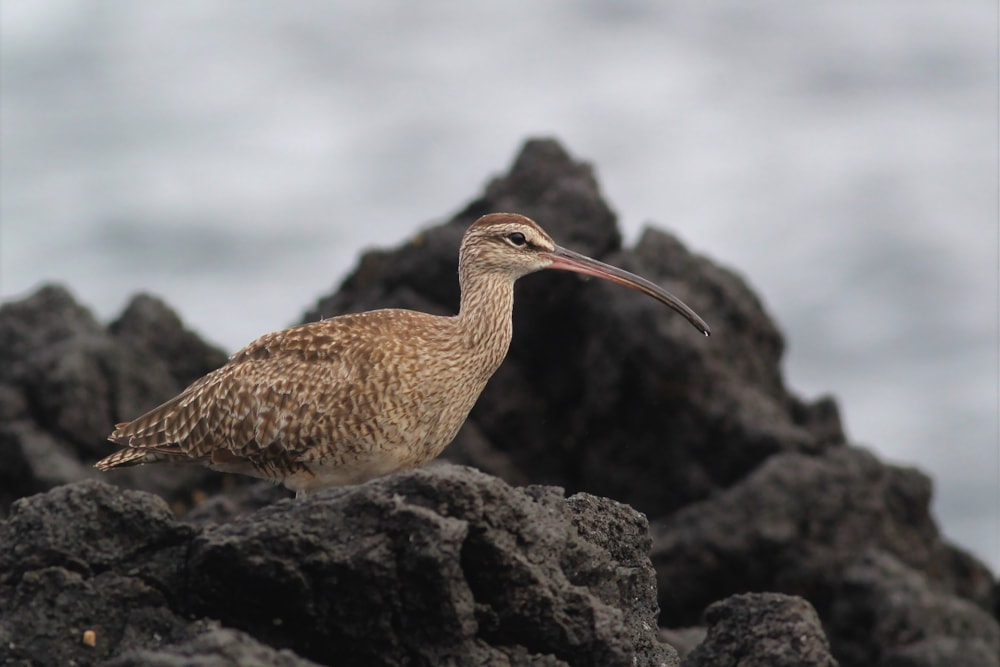 Hudsonian Whimbrel, Mosteiros, São Miguel (Gerbrand Michielsen).
The adult Franklin's Gull continued on the Portuguese mainland near Vila Nova de Milfrontes, while a Laughing Gull was discovered at Île de Ré, France, on 6th. The week's other new find was a European Roller flying through at Skagen, Denmark, on 4th. Meanwhile, in western Norway, good numbers of Two-barred Crossbills remained on the move, suggesting the influx to Shetland may not be done just yet.
Lingering rarities included the Pied Crow in The Netherlands, Great White Pelican in northern Germany and the Red-footed Booby in southern Spain.