A remarkable Wryneck influx provided an enjoyable backdrop to the opening days of September. Birds were spread across 54 sites, with the majority hailing from sites south of the Midlands – one of the biggest influxes for several years. Similarly, Little Stints boasted one of their best weeks in recent memory, with 96 localities across Britain and Ireland boasting sightings, peaking with no fewer than 21 at Frampton Marsh RSPB, Lincolnshire.
The best new bird of the week fell to a one-day Sykes's Warbler at Blakeney Point, Norfolk, on 3rd. Norfolk's second – after one at Sheringham on 23 August 2002 – it proved unfortunately brief, following the typical pattern of one-day visits. It has been 11 years since the last two-day bird on the mainland, making another highly desirable indeed.

Sykes's Warbler, Blakeney Point, Norfolk (Nick Watmough).
Elsewhere in Norfolk, a probable Pechora Pipit at Winterton Dunes, Norfolk, on 1st would've proved a highly notable record if confirmed – a potential Norfolk first, the earliest-ever autumn record and the first mainland record since Pembrokeshire in November 2007 were all in the offing had it been confirmed.
The North Sea Pterodroma season went from strength to strength this week, starting with a Fea's-type petrel tracked past several seawatching sites between Flamborough Head, East Yorkshire, and Snab Point, Northumberland, on 1st – perhaps the same bird that looped back past Whitburn Coastal Park, Durham, and Tynemouth, Northumberland, the next morning.
It was North Ronaldsay, Orkney, however, which takes the plaudits. Birds were sighted on no fewer than three dates (2nd, 3rd and 4th), which included one lingering among a large seabird and cetacean feeding event on 3rd. Girdle Ness, Aberdeenshire, saw lightning strike twice inside a week with one past north on 2nd. Possibles/probables were reported past Portland, Dorset, on 4th and sites in Northumberland and Cleveland the same day.
Like buses these things! 2nd (or the same) Pteradroma sp. past the North end in under 24hrs! This one being heavily pursued by a Bonxie, there is a video, but thats for later, need to stop @tomgale89 from shaking 😅 pic.twitter.com/jtCEmMAhUC

— North Ronaldsay Bird Observatory (@NRonBirdObs) September 3, 2021
The East Yorkshire Black-browed Albatross made it through into September at Bempton Cliffs RSPB, delighting around Staple Newk until 5th at least.

Black-browed Albatross, Bempton Cliffs RSPB, East Yorkshire (Tom Tams).

Black-browed Albatross (bottom right), Bempton Cliffs RSPB, East Yorkshire (Patrick Safford).
St Mary's, Scilly, scored a Western Bonelli's Warbler on 4-5th and a brief Booted Warbler graced Galley Head, Co Cork, on 5th; Fair Isle's Booted lingered until 1st.

Western Bonelli's Warbler, St Mary's, Isles of Scilly (Kris Webb).

Booted Warbler, Fair Isle, Shetland (Daniel Gornall).
In Moray & Nairn, the male Snowy Owl was well-behaved near the summit at Ben Macdui, while the St Kilda female also remained in place.

Snowy Owl, Ben Macdui, Moray & Nairn (Peter Stronach).
Lincolnshire's popular juvenile Black Stork held on at Frampton Marsh RSPB, Lincolnshire, until the week's end. A possible Little Bittern was reported at Lavell's Lake, Berkshire, on 4th too.

Black Stork, Frampton Marsh RSPB, Lincolnshire (Sam Viles).
The first juvenile Baird's Sandpiper of the year graced Clonakilty, Co Cork, on 3rd, with the Nottinghamshire pratincole species again at Idle Washlands on 1st. A new Long-billed Dowitcher was a one-day visitor to Cliff Pools RSPB, Kent, on 1st; the adult remained at Potter Heigham Marshes, Norfolk, until 4th at least. In Pembrokeshire, a probable Kentish Plover was photographed at Sprinkle Pill on 2nd.
The White-tailed Lapwing lingered at Blacktoft Sands RSPB, East Yorkshire, until the end of the week – at 11 days it equals the join longest-staying individual at a single site, at Dungeness, Kent, from 11-21 July 2010.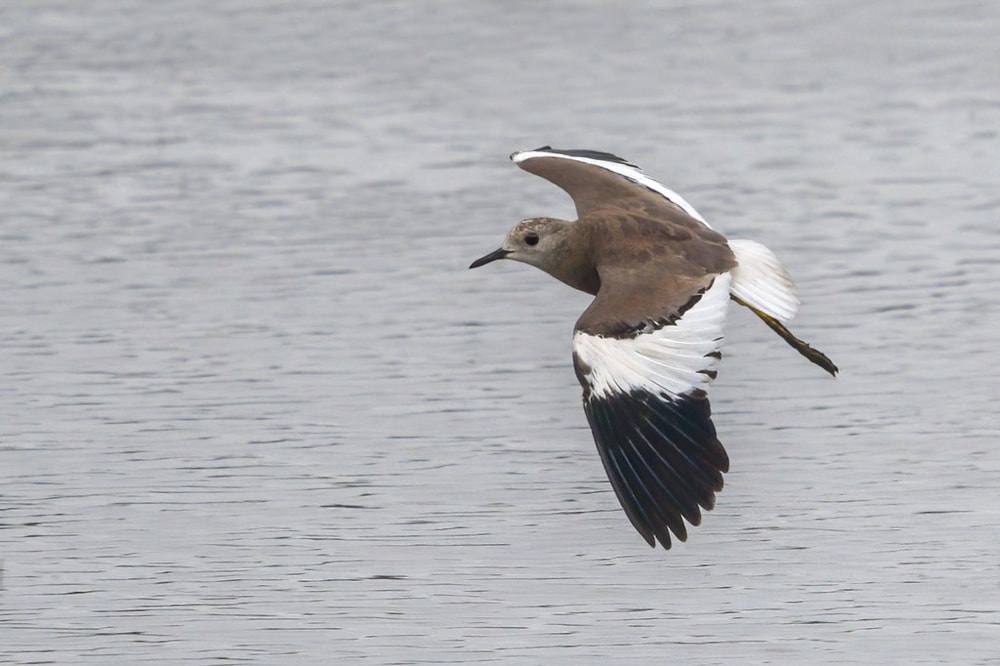 White-tailed Lapwing, Blacktoft Sands RSPB, East Yorkshire (Tim Melling).
In Co Meath, the adult Forster's Tern made a brief visit to Gormanstown on 31st, although was back at Soldier's Point, Co Louth, from the following day. Lancashire's Elegant Tern was last reported at Knott End-on-Sea on 1st. A possible Caspian Tern flew past Dawlish Warren NNR, Devon, on 3rd.
Happy to pick up Forster's Tern in Gormanston today,split record for Dublin/Meath as I saw it at both sides of the river😜

According to Irish Birding, last Co.Dublin record was also mine,October 2016 in Rogerstown,probably the same aul fella moving up and down the east coast😁 pic.twitter.com/jYITiuFOEq

— Jan Rod official (@jan___rod) August 31, 2021
On 4th, a candidate adult Azores Gull roosted at Farmoor Reservoir, Oxfordshire and Bonaparte's Gulls held on at both Kinnegar, Co Down, and Oare Marshes, Kent.

Bonaparte's Gull, Oare Marshes NR, Kent (Ted Smith).
The adult drake Black Scoter remained off Kinnaber Links, Angus & Dundee, on 4th, while the Pied-billed Grebe was noted at Loch Feorlin, Argyll, again. A day later, a new Ferruginous Duck appeared on the Gloucestershire side of Cotswold Water Park.
A Sei Whale moved north off Inverbervie, Aberdeenshire, on 5th, although a possible Southern Small White butterfly at Sidlesham Ferry, West Sussex, would have rather overshadowed it if confirmed – this long-awaited British first will surely occur sooner rather than later.
Scottish mainland
A strong week of seabird action saw nine sites score flypast Long-tailed Skuas, with a peak of nine off Hound Point, Lothian, on 2nd. Balearic Shearwaters flew past Cransdale, Girdle Ness and Muchalls, Aberdeenshire, as well as Fishtown of Usan, Angus & Dundee, while juvenile Sabine's Gulls were off Inverbervie, Aberdeenshire, on 1st and 4th. A smart Surf Scoter was off Kinnaber Links, Angus & Dundee, on 3rd, with a Leach's Storm Petrel from the Uig-Lochmaddy ferry on the same date. Two second-winter Glaucous Gulls were at Lossie Estuary, Moray & Nairn, on 4th.
The famous garden at Balephuil, Tiree, held a Barred Warbler on 2nd, with a juvenile Common Rosefinch on Isle of May, Fife, on 5th. Little Stints and Curlew Sandpipers were widespread, with a lone Wood Sandpiper at Loch of Strathbeg RSPB, Aberdeenshire. A juvenile Pectoral Sandpiper was at Alturlie Point, Highland, on 31st; the two Eurasian Spoonbills at Findhorn Bay, Moray & Nairn, lasted until the end of August.

Pectoral Sandpiper, Alturlie Point, Highland (Colin Leslie).
Northern Isles and the Hebrides
Common Rosefinches trickled into Shetland this week: twos were at Hoswick, Mainland, on 31st, Baltasound, Unst, on 31-1st and nearby Norwick on 4th (a singleton was there throughout). Barred Warblers were at Pool of Virkie, Mainland, on 31st and Hoswick on 3rd, the latter alongside a Siberian Chiffchaff. A European Turtle Dove was at Clingera, Baltasound from 3rd. An adult Long-tailed Skua past Lamba Ness, Unst, on 3rd was the pinnacle of seawatching efforts, Sooty Shearwater passage topped out at 26 the same day. The American Golden Plover was again near Sandwick, Mainland, on 5th.
A delightfully fearless juvenile Buff-breasted Sandpiper kicked off September on Fair Isle – the island's first since 2017. Scarcities from the east were well represented – a further two Melodious Warblers made up for the lack of Icterines so far this autumn; together with last week's bird it is now the best-ever year for this species on Fair Isle. A scattering of Barred Warblers were present throughout, at least one Citrine Wagtail was present on 31-1st and up to seven juvenile Common Rosefinches was a smart count.

Buff-breasted Sandpiper, Fair Isle, Shetland (Alex Penn).
Two Little Stints made it to Orkney, at Loch of Swartmill, Westray, on 2nd, and a Spotted Redshank was at Dingiesshowie, Mainland, the same day. A Common Rosefinch proved restless at Deerness, Mainland, on 5th and quickly moved through. A Western Osprey was on Papa Westray on 2nd.
North Ronaldsay's week was largely focused on the sea, all four species of skua were logged, with an adult Long-tailed past on 2nd and a handful of Poms throughout. A Cory's Shearwater flew past on 4th and Sootys were consistent. A Mediterranean Gull flew past on 5th, when a pod of Killer Whales were showing well just offshore.
It was another quiet week on the Outer Hebrides. A Common Rosefinch made it to Bragar, Lewis, on 2nd and one of the Barred Warblers remained at Nask, Barra, until 2nd. The adult Rosy Starling was again reported at Sgarasta Mhor, Harris, on 31st.

Melodious Warbler, Fair Isle, Shetland (Daniel Gornall).
Dan Owen
North-East England
In Northumberland, Holy Island continued to show some form on the migrant front with a probable Red-breasted Flycatcher, Barred Warbler and Wryneck all seen. The island also produced a Sabine's Gull with others seen passing six different localities. It was another good week for Long-tailed Skuas, with the species sighted from as many as nine seawatching sites. Several Balearic Shearwaters, European Storm Petrels and a couple of Black Guillemots also featured.

Spotted Crake, Newton Pool, Northumberland (Gary Woodburn).
A Spotted Crake was at Newton Pool from 4th, and the Temminck's Stint was still at Monks House Pool on 31st. Hadston Carrs produced a Barred Warbler on 4th.
Whitburn produced a number of Long-tailed Skua reports, with a count of 10 on Wednesday. Sabine's Gulls were seen from there too, as well as past Seaham and Hendon, while small numbers of Pomarine Skuas and Balearic Shearwaters were also seen. Two Wood Sandpipers were at Boldon Flats NR and Bishop Middleham held onto its group of Ruddy Shelduck.

Pied Flycatcher, Redcar, Cleveland (Chris Small).
Three Sabine's Gulls lingering off Cowbar, Cleveland, on 1st was a notable count. Others were noted from Redcar and Marske Stray and small numbers of Long-tailed Skuas were off Hartlepool Headland. Cowbar also produced a European Storm Petrel and a couple of Balearic Shearwaters. It was another good week at Saltholme RSPB, with the reserve producing up to five Little Stints and three Curlew Sandpipers, Wood Sandpiper, Spotted Redshank, Garganey, Great Egret and four Ruddy Shelduck. The juvenile Black Tern remained there.
Jonathan Farooqi
North-West England
Passage waders trickled through in Cumbria; a juvenile Little Stint was alongside a Curlew Sandpiper at South Walney NR with another at Bowness-on-Solway. Up to two Garganey were at Ulpha Meadows CWT until 4th at least, when a Greater Scaup was at Hodbarrow RSPB. Three Long-tailed Ducks were off Silecroft on 3rd. A migrant Wood Warbler was at Kirkhead Point early on 5th.
Another week and another Wryneck in Lancashire, this time one spent the evening of 1st at Garston Coastal Reserve but sadly there was no further sign the next morning. Little Stints had a good showing, with eight coastal localities reporting birds; one at Martin Mere WWT was an outlier. Curlew Sandpipers were reported from six sites in small numbers and Wood Sandpipers from four.

Black-necked Grebe, High Rid Reservoir, Greater Manchester (Geoff Wynn).
In Cheshire, a Black Tern was at Winterley Pool on 2-3rd and another flew east past Hilbre Island on 5th. A moulting adult Black-necked Grebe remained at Woolston Eyes until 3rd at least, when it became the latest record since 2012. Another was on Tatton Mere on 5th. Ruddy Shelduck peaked at four at Burton Mere Wetlands RSPB on 31st and two were at Sandbach Flashes on 1st. A Pied Flycatcher was trapped and ringed on Hilbre Island on 5th, where Little Stint, Curlew and Purple Sandpipers were present. A Little Stint was at Burton Mere Wetlands RSPB on 5th.
The juvenile Black-necked Grebe remained at High Rid Reservoir, Greater Manchester, until 5th at least and another was at Pennington Flash CP the same day. A Little Gull was at Audenshaw Reservoirs on 4th.
Dan Owen
Lincolnshire and Yorkshire
Seawatching wasn't as productive this time out as it was last week, but Long-tailed Skuas were nonetheless reported from four coastal Lincolnshire sites and Sabine's Gulls from two – off Gibraltar Point on 2nd and 3rd and, more significantly, a juvenile off the River Witham mouth at Frampton Marsh RSPB on 2nd. Frampton also claimed a flyover European Honey Buzzard on 4th, with up to 20 Little Stints still on the reserve. 'Gib' also produced two Common Rosefinches, while a Barred Warbler appeared at Huttoft Bank on 31st.

Little Stint, Frampton Marsh RSPB, Lincolnshire (Ian Bollen).
The Spurn area of East Yorkshire proved busy this week, with at least three Common Rosefinches, Wryneck, Barred Warbler and Common Nightingale on the land, with Sabine's Gull and Long-tailed Skuas offshore. The leucistic Arctic Tern continued to draw admirers to Hornsea Mere, with a Sabine's Gull past offshore on 3rd.

Leucistic Arctic Tern, Hornsea Mere, East Yorkshire (Martin Standley).
Ulrome had a decent day on 5th, with Red-backed Shrike, Barred Warbler and two juvenile Common Rosefinches. Also on 5th, Flamborough Head scored a twitchable Ortolan Bunting, with Sabine's Gull and Great Shearwater seen offshore during the week there.

Ortolan Bunting, Flamborough Head, East Yorkshire (Lee Johnson).
Seawatching continued to dominate North Yorkshire news, with an array of Long-tailed Skuas and Sabine's Gulls seen, while a Barred Warbler at Filey on 5th was a re-trap, having first been caught there on 28 August.

Caspian Gull, St Aidan's RSPB (Swillington Ings), West Yorkshire (Steve Cribbin).
A Wryneck was reported from Thornton Moor Reservoir, West Yorkshire, on 5th, while St Aidan's RSPB scored Black Tern and at least three Little Stints. The White-tailed Eagle was still on the South Yorkshire moors, while the Dearne Valley held a decent selection of waders, including multiple Little Stints and Spotted Redshanks. Five Curlew Sandpipers were at Austerfield on 1st.
Josh Jones
Content continues after advertisements
West Midlands
A Red-necked Phalarope was a one-day bird at Branston GPs, Staffordshire, on 3rd. The juvenile Black Tern remained at Blithfield Reservoir until 31st and one was at Belvide Reservoir on 5th, while an Arctic Tern was at Tittesworth Reservoir. Blithfield Reservoir had the lion's share of Little Stints, with a peak of five there on 1st, plus a juvenile at Belvide Reservoir. The former also hosted a Curlew Sandpiper on 5th. A Eurasian Dotterel over Robin Hood's Butts on 2nd was Shropshire's bird of the week.
In West Midlands, Edgbaston Reservoir's Purple Sandpiper lingered into the reporting week although there was no further sign after 31st. Two Sandwich Terns flew north over Marsh Lane NR on 1st. Worcestershire enjoyed a fair showing, with a juvenile Eurasian Dotterel showing nicely at Bredon Hill on 1st and a brief Wryneck in a Worcester garden on 2nd. A juvenile Curlew Sandpiper was at Upton Warren NR on 3rd and two Little Gulls were at Upper Bittell Reservoir on 5th.

Eurasian Dotterel, Bredon Hill, Worcestershire (Martin Flack).
In Warwickshire, a Wryneck was at Ladywalk NR on 4-5th and fortunately proved more twitchable than the Worcs bird. A juvenile Little Stint lingered at Earlswood Lakes throughout as did the Ruddy Shelduck at Draycote Water. The Black Tern was also present until 1st.
Dan Owen
East Midlands
Idle Washlands, Nottinghamshire, continued to put on a show, with up to three juvenile Curlew Sandpipers and five Garganey the highlights. Three Little Stints paid a brief visit to Langford Lowfields RSPB on 3rd and a single was at Collingham Pits on 5th. The former site also hosted a Curlew Sandpiper on 4th and Black Terns were at three sites. A probable Great Skua was reported over St Ann's, Nottingham, on 1st. The Ruddy Shelduck made another appearance at Hoveringham GPs on 3rd.

Little Stint, Pitsford Reservoir, Northamptonshire (Robin Gossage).
Little Stints were at two sites in Northants, with up to three at the DIRFT 3 pools at Lilbourne and a showy juvenile at Pitsford Reservoir. A brief Black Tern was at Stanford Reservoir on 5th. Leicestershire did well for Wrynecks, with one in a Huncote garden on 31st and a more accessible bird at Groby Pool on 4-5th. The Glossy Ibis continued to find Rutland Water to its liking, where up to two Little Stint kept it company.

Wryneck, Groby Pool, Leicestershire and Rutland (Jonathan Theobald).
Wrynecks had a great showing nationally this week, and one made its way to a Ednaston, Derbyshire, garden on 31st. The two female Ruddy Shelduck were still at large at Kedleston Park, while two Black Terns were at Willington GPs (4th) and four were at Carsington Water (5th).
Dan Owen
East of England
The Norfolk coast was surprisingly devoid of scarce migrant landbirds, with the continuing Red-breasted Flycatcher at Trimingham to 2nd, Barred Warbler at Burnham Overy Dunes, Wryneck at Blakeney Point and a Eurasian Dotterel at Snettisham RSPB among the few notable bits on offer. Seawatching was a little more productive, with Long-tailed Skuas off four sites and Sabine's Gulls from two. In the Broads, a Black-crowned Night Heron was at Bure Marshes on 30th and a Purple Heron at Barton Broad on 1st.

Eurasian Dotterel, Snettisham RSPB, Norfolk (Chris Kelly).
Bird of the week in Suffolk was a Greenish Warbler at Thorpeness on 2nd; two Wrynecks were trapped at Hollesley on 4th, with another at Landguard NR on 4-5th. A Cory's Shearwater flew past Minsmere RSPB on 1st, while Long-tailed Skua and/or Sabine's Gull were scored off Lowestoft, Kessingland and Southwold on 3rd. The Glossy Ibis continued at Botany Marsh RSPB.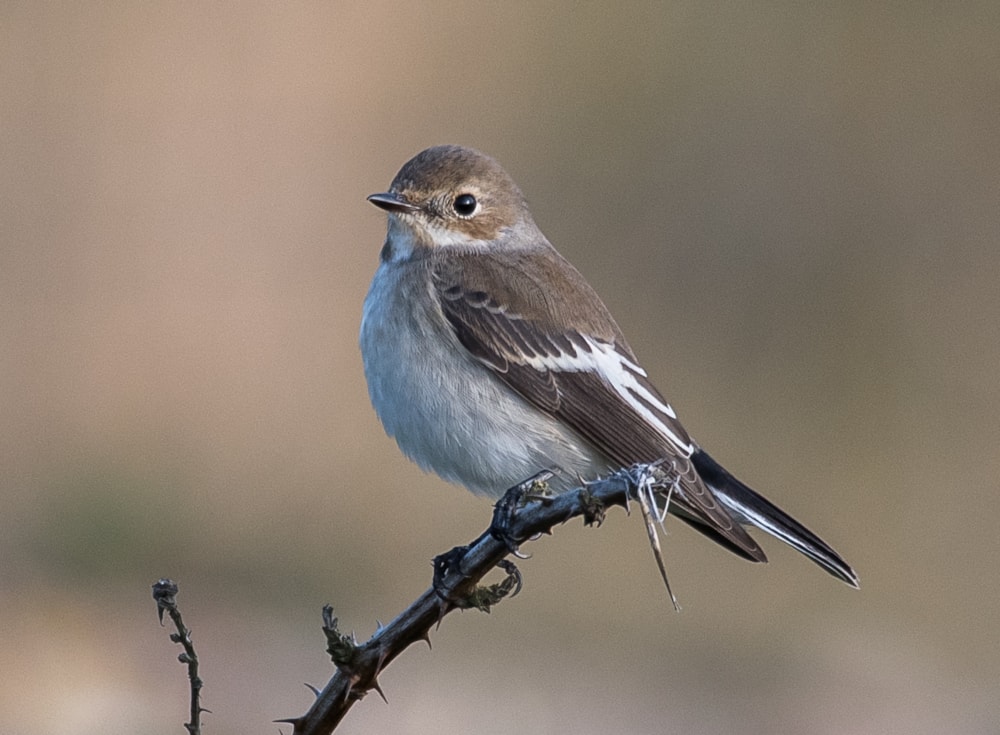 Pied Flycatcher, Landguard NR, Suffolk (Les Cater).
A juvenile Sabine's Gull made it as far up the River Thames as Coalhouse Fort, Essex, on 31st, having earlier lingered off Canvey Island. The male Montagu's Harrier was again at Foulness Island on 4th, while a Wryneck was a brief visitor to Bowers Marsh RSPB on 31st. A juvenile Red-necked Grebe was a new arrival at Abberton Reservoir, where Little Stints, Spotted Redshanks and Black Terns were among the supporting cast.
Hertfordshire's star bird was a Wryneck at Gaddesdon Row on 5th, with Black-necked Grebe and Black Terns at Wilstone Reservoir. Ruddy Shelduck, Black Tern and Pied Flycatcher were visitors to Amwell NR, with another of the latter at Sawbridgeworth on 2nd. Bedfordshire didn't do much better than Caspian Gulls at a couple of sites, with a Sanderling at Grovebury Sand Pit on 3rd.

Black Tern, Dernford Farm Reservoir, Cambridgeshire (Stephen Dutton).
At least 20 Black Terns were at Grafham Water, Cambridgeshire, on 5th, while a Wryneck was trapped at Dunkirk on 3rd. The hot-spot of Smithy Fen held up to five Curlew Sandpipers, as well as Little Stint and Spotted Redshank. The five Glossy Ibises were still kicking about in the Ouse valley.
Josh Jones
South-East England
It was another busy week in the region. The Isle of Wight scored big with a Greenish Warbler at Luccombe from 2-3rd – a fine record for the island. Both Bembridge and Blackgang hosted Wryneck, and Pied Flycatchers were at three sites. In Hampshire, a juvenile White-winged Tern off Hill Head from 3-5th and a Wryneck at Titchfield on 3rd were rewards for one fortunate patch-watcher. Another Wryneck was at Farlington Marshes on 3rd. Elsewhere, Balearic Shearwaters flew east past Gilkicker Point and Hill Head on 4th and a European Honey Buzzard was logged over Keyhaven Marshes on 2nd.

Curlew Sandpiper, Normandy Marsh, Hampshire (Steve Laycock).
It was relatively lively in Sussex, particularly so on 5th when a Red-backed Shrike was found at Sidlesham and a Red-rumped Swallow flew over a Littlehampton garden. It was a particularly good week for Wryneck, with records from Beachy Head from 3-4th, Church Norton (the lingering bird present until 31st), Climping from 2-5th, Cuckmere Haven (up to two from 1-3rd), Sheepcote Valley on 5th and Tide Mills (the lingering bird until 31st). European Honey Buzzards were logged at Beachy Head (two) and High and Over and Balearic Shearwaters flew past Goring-by-Sea (two on 5th) and Selsey Bill (11 on 4th). Pied Flycatchers and Little Stints were at six sites apiece.
An Icterine Warbler at Leysdown-on-Sea, Sheppey, was a nice Kent record on 4th. An impressive three sites scored Eurasian Dotterel on 5th: Oare Marshes, Sandwich Bay and Seasalter. An adult Sabine's Gull was seen at Gravesend and Reculver on 31st, a Long-tailed Skua was seen off Shellness, Sheppey, on the same day and a Grey Phalarope was in Faversham Creek on 4th. The Dungeness Glossy Ibis continued throughout. Five sites recorded European Honey Buzzard, while Abbot's Cliff, Dungeness, Elmley, Langdon Cliffs, Leysdown-on-Sea and North Foreland all hosted Wryneck.

Wryneck, Abbot's Cliff, Kent (Neil Hilton).
In London, a Spotted Crake at Beddington Farmlands was a nice record on 5th and, pleasingly, was twitchable. A European Honey Buzzard was reported over the same site on the same day, with Rainham Marshes also recording the species on 3rd. Harrold Hill and Wanstead held Wrynecks, while Little Stints were recorded at King George V Reservoir and Walthamstow Wetlands. Pied Flycatchers made it to seven locales.

Spotted Crake, Beddington Farmlands, London (Shaun Ferguson).
The Purple Sandpiper continued at Farmoor, Oxfordshire, until 31st, with the same site hosting a Red Knot on 1st. On 4th, a Northern Gannet was a mighty inland occurrence at Standlake – a Little Stint was at Otmoor on the same date. Garsington held the county's only Pied Flycatcher of the week on 31st. In Buckinghamshire, three Common Cranes flew over Waddesdon Manor NT on 1st.

Purple Sandpiper, Farmoor Reservoir, Oxfordshire (David Hastings).
Berkshire enjoyed a decent week with a cracking male Red-backed Shrike at Wokingham from 5th. Greenham Common hosted a Wryneck on 3-4th and a Hen Harrier was at Compton from 31st. In Surrey, the Chobham Common Wryneck lingered until 31st and another was found at Priest Hill, Ewell, on 5th, when a Pied Flycatcher was at Capel.
Ed Stubbs
South-West England
It was a productive week on Scilly. Highlights included an Ortolan Bunting on St Mary's, Golden Oriole and Red-breasted Flycatcher on St Martin's, and a Common Rosefinch on Bryher. Wrynecks featured in good numbers and the Bluethroat was still in place on St Mary's, being joined by a second individual on 3rd. A European Bee-eater was heard over Tresco, where the juvenile Eurasian Dotterel remained. Three Wilson's Storm Petrels were noted from a pelagic on 2nd.

Bluethroat (rear), St Mary's, Isles of Scilly (Liam Langley).
In Cornwall, a Greenish Warbler was at St Levan on 5th and Nanjizal Valley produced Ortolan Buntings on two dates. A Red-backed Shrike was at Nanquidno Valley on 3rd and Wrynecks were at 12 localities. Scarce flyovers consisted of an American Golden Plover at Polggiga and a Glossy Ibis over Tehidy CP – both on 1st. The drake Ring-necked Duck was still at Foxholes until 3rd.
It was a quieter week in Devon. An Icterine Warbler was at Soar on 1st and a Common Rosefinch ended the week on Lundy. The island also produced a Wryneck, with another seen in a Teignmouth garden. A juvenile Long-tailed Skua flew past Berry Head on 31st, with a count of 262 Balearic Shearwaters coming the same day. 300 off Thurlestone was another good count.

Little Stint, Hayle Estuary, Cornwall (Martin Webb).
There was a good arrival of Wrynecks to Dorset, with five sites scoring the species, including six on Portland on 5th. A Rosy Starling and a European Honey Buzzard were also seen on Portland, with another Honey Buzzard over Durlston CP. Some 135 Balearic Shearwaters off Portland was the highest count of the species.

Wryneck, Portland, Dorset (Mark Wright).
In Somerset, the Wryneck was still at Minehead throughout and Glossy Ibis put in an appearance at Weston-super-Mare SW. Twenty Black Terns at Chew Valley Lake was a good autumn count.

Black Terns, Chew Valley Lake, Somerset & Bristol (Brian Thompson).
Gloucestershire's Temminck's Stint was still in place at Cotswold Water Park at the start of the week. A Wryneck was seen in a private Cheltenham garden. Small numbers of Little Stints, Curlew Sandpipers, Spotted Redshanks and Wood Sandpipers were also present in the county.
Jonathan Farooqi
Wales
In Gwynedd, Bardsey Island's strong week peaked with a Blyth's Reed Warbler at Nant on 5th, with the supporting cast including Icterine Warbler, Barred Warbler, Wryneck, and Firecrest. Another Firecrest was at Ynys-Hir RSPB, Ceredigion, the juvenile Black Redstart was back at Llwyn-on Reservoir, Glamorgan, and at least one Hooded Crow remained at South Stack RSPB, Anglesey. The impressive Wryneck influx delivered birds to nine sites. The majority of these were in Pembrokeshire (including no fewer than four on Skokholm), with others at Rhossili and Perthcelyn, Glamorgan.
Still an uncommon site in Wales, juvenile Caspian Gulls were at Llandegfedd Reservoir, Gwent, on 2nd and Cardiff Bay, Glamorgan, on 3rd. Meanwhile, Goldcliff Pools, Gwent, held a Wood Sandpiper and a number of sites hosted Curlew Sandpipers and Little Stints. Garganey were at three locations – Burton Mere Wetlands RSPB, Clwyd, Conwy RSPB, Conwy (two), and Lisvane Reservoir, Glamorgan.

Curlew Sandpiper, Newton, Glamorgan (Tate Lloyd).
Ireland
An astonishing 73+ Wilson's Storm Petrels were counted from a pelagic off south-west Cork on 5th, finishing peak seabird season on a real high.
A productive seven days in southern Ireland for migrant landbirds saw a Greenish Warbler on Cape Clear, Co Cork, on 5th, with Melodious Warblers at Mizen Head on 31st and at Galley Head on 4th. An Ortolan Bunting was at Three Castles Head on 31st, while Co Cork also scored two Wrynecks, with a third at Carne, Co Wexford. Further north, a Barred Warbler was on Inishbofin, Co Galway, on 4th, with an early Redwing reaching Copeland Island, Co Down, that day.
Back in Co Galway, a Eurasian Dotterel flew over Inishmore in the early hours of 4th and a Glossy Ibis was noted near Letterfrack. Four Glossy Ibises were at Kinsale Marsh, Co Cork, on 5th. Another Eurasian Dotterel flew over Blackrock, Co Cork, on 31st, while an Iceland Gull was noted in Cork City.
A good spread of Curlew Sandpipers and, especially, Little Stints was enjoyed by Irish birders, as the influx of the latter really got going in Britain. Pied Flycatchers, Black Terns and Western Ospreys gave a real European flavour to the birding, which isn't always the case in Ireland by this point in September, when westerly winds and American visitors often dominate.
Josh Jones
Western Palearctic
Eilat, Israel, again came up trumps with a presumed Matsudaira's Storm Petrel alongside the now-regular Swinhoe's Storm Petrel on 22nd – a first for both Israel and the Western Palearctic if accepted. A species of the Indian Ocean, it breeds on islands south of Japan and can be common around Seychelles and in the waters of Somalia and Kenya during the winter months.

Presumed Matsudaira's Storm Petrel, Eilat, Southern District (Noam Weiss).
An Icterine Warbler at Santa Maria, Sal, on 4th is the first for Cape Verde; the Azores' autumn rarity season got off to a flying start with an American Cliff Swallow on Corvo on the same date. On Terceira, the long-staying Great Blue Heron was again at Praia da Vitória on 28th.
On 31st, Sweden's first Moustached Warbler – likely of the eastern mimicus subspecies – was a surprise find in mistnets at Skateholm and a Western Bonelli's Warbler was trapped and ringed at Chituc – a Romanian first. Christiansø, Denmark, hosted a young Oriental Turtle Dove from 31st, while the juvenile Pallas's Fish Eagle spent the entire week at Volma, Belarus, and the Sandhill Crane held on at Lakselv, Norway.
The Pygmy Cormorant reached France this month, with two youngsters at Étang d'Astin from 1st, while one was on the Berlin outskirts at Ludwigsfelde on 3rd. Elsewhere in Germany, a juvenile Baird's Sandpiper was a surprise at Illerstausee Kardorf the same day.
In The Netherlands, the Pygmy Cormorant continued near Utrecht, an Elegant Tern lingered at Chipiona, Spain, until 1st and the immature Lesser Spotted Eagle remained near Kinnarp, Sweden. In the Channel Islands, St Ouen's Pond, Jersey, held both Spotted Crake and the Black-winged Stilt.

Spotted Crake, St Ouen's Pond, Jersey (Romano Da Costa).