Beginning up in Shetland, the Tennessee Warbler at Burravoe, Yell, seems as good a place as any to begin this lengthy tome. It was still present until 4th – although proving highly mobile and giving plenty of twitchers the run-around in the process. An island often visited simply as a means to getting to the more famous Unst, another Tennessee was reported from Breckon on 5-6th. A hefty 25 km lies between the two sites as the crow flies, although it looks like perhaps the same greater covert is missing on both birds, suggesting it is probably one and the same.
Across the Irish Sea, another Tennessee on the island of Inishbofin, Co Galway, was a startling find on 6th, although local lockdown restrictions put paid to any would-be twitchers of this Irish first.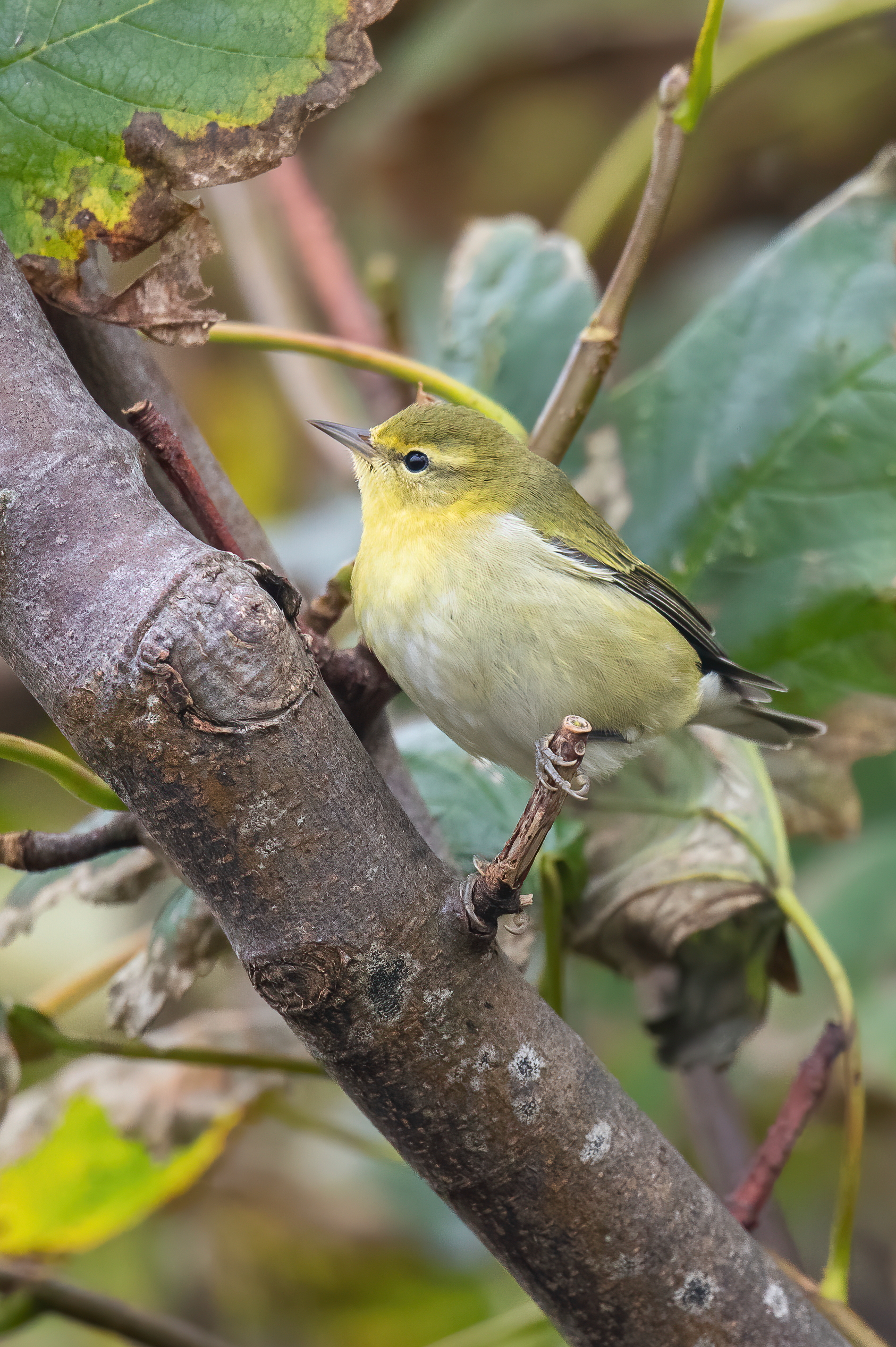 Tennessee Warbler, Burravoe, Yell, Shetland (Mark Rayment).
Also on Inishbofin, an Upland Sandpiper delighted Irish twitchers from 30-4th. Another Nearctic visitor in Ireland was a brief Swainson's Thrush, found sat on a curtain in a house on Dursey Island, Co Cork, on 1st. In Orkney the individual at Viewforth, Birsay – last reported on 18th – made a surprising reappearance on 30th.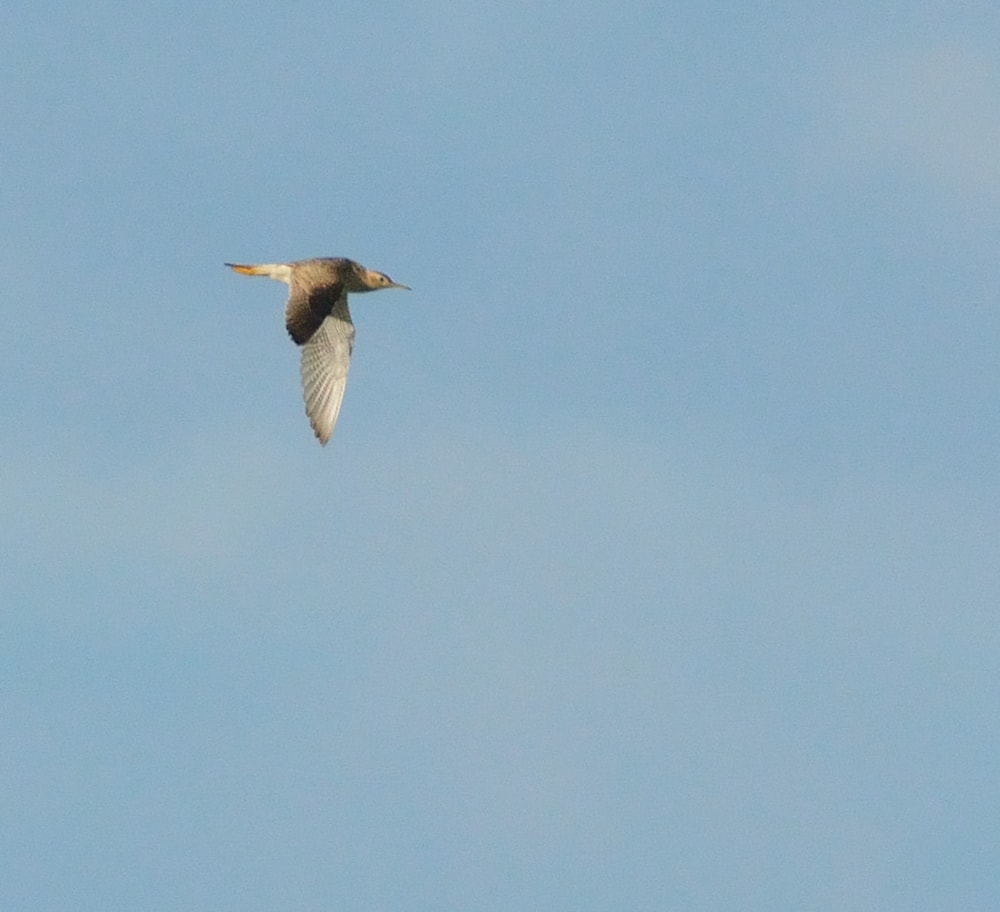 Upland Sandpiper, Inishbofin, Galway (Gerard Murray).
On North Ronaldsay, Orkney, the first British Eyebrowed Thrush since the fabled autumn of 2016 was another storming find for the island's new golden boy on 2nd, remaining there until the end of the week. It is the third record for the famous island, after a two-day bird in October 2009 and a cracking one-day adult male in September 2014.
The 1st saw an altogether more staggering event – the simultaneous arrival of no fewer than three White's Thrushes in the Northern Isles, with North Ronaldsay again lucking in, alongside Fair Isle and Quendale, Shetland – the latter bird remaining into a second day. This enigmatic Zoothera is another Siberian species to have seen a dramatic upturn in recent years, with no fewer than 21 records since 2010.

Eyebrowed Thrush, North Ronaldsay, Orkney (George Gay).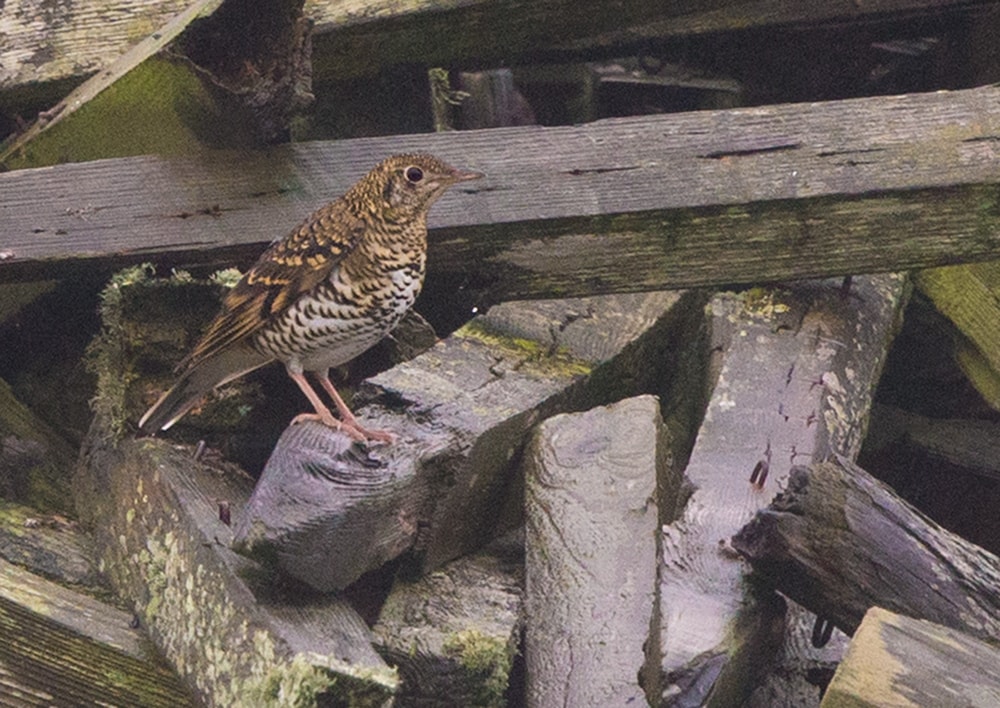 White's Thrush, Quendale, Mainland, Shetland (Will Bowell).
In Fife, a first-winter female Siberian Thrush was a remarkable find at Lower Kilminning on 30th. Remaining in its favoured berry bushes until 5th, although proving elusive throughout, it is just the 15th British and Irish record of this enigmatic thrush. Of these, just nine have occurred away from Shetland, spread between Fife, Orkney (two), Norfolk (two), Scilly, Co Cork and Co Clare. It has only been briefly twitchable on two previous occasions – on North Ronaldsay, Orkney, in October 1992 and Gugh, Scilly, in October 1999 – so the chance of a mainland bird was very well received indeed.

Siberian Thrush, Kilminning, Fife (Lukasz Pulawski).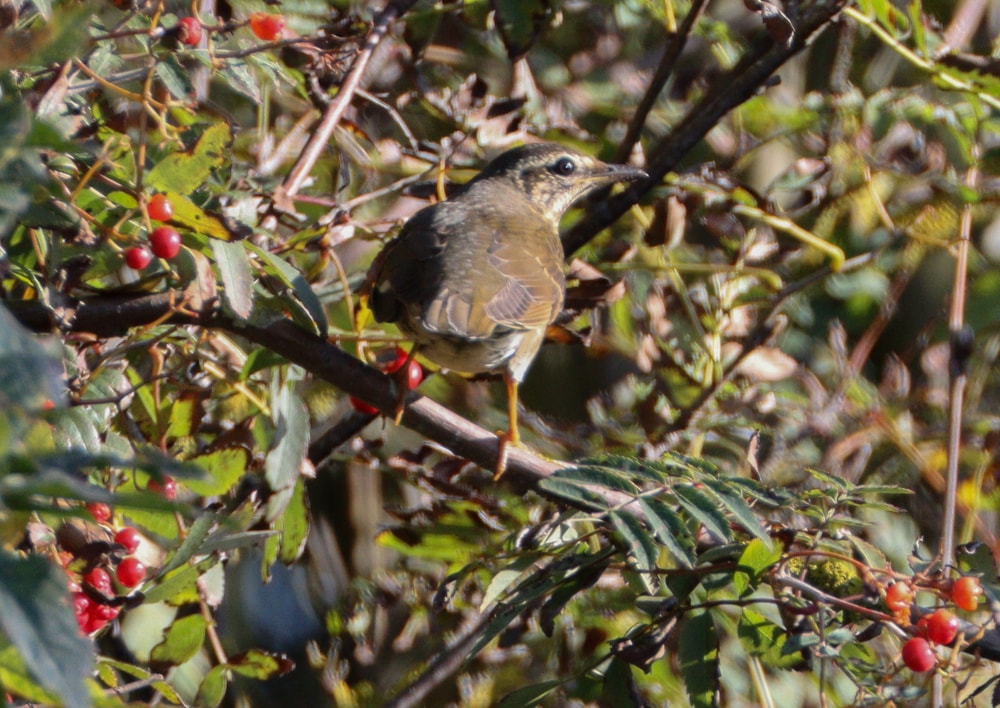 Siberian Thrush, Kilminning, Fife (Lee Fuller).
Early on 3rd, an elusive shrike initially suspected to be a Woodchat at Hartlepool Headland, Cleveland, was subsequently re-found and re-identified as the county's first Masked Shrike. Only the fourth British record, the nation's first came as recently as 2004, when one spent two weeks at Kilrenny, Fife. Since then we have been treated to a one-day wonder on St Mary's, Scilly, in November 2006 and an altogether more popular individual at Spurn, East Yorkshire, in September 2014.
On the same stretch of coast, a Lesser Grey Shrike at Holy Island, Northumberland, on 4-5th proved rather complimentary.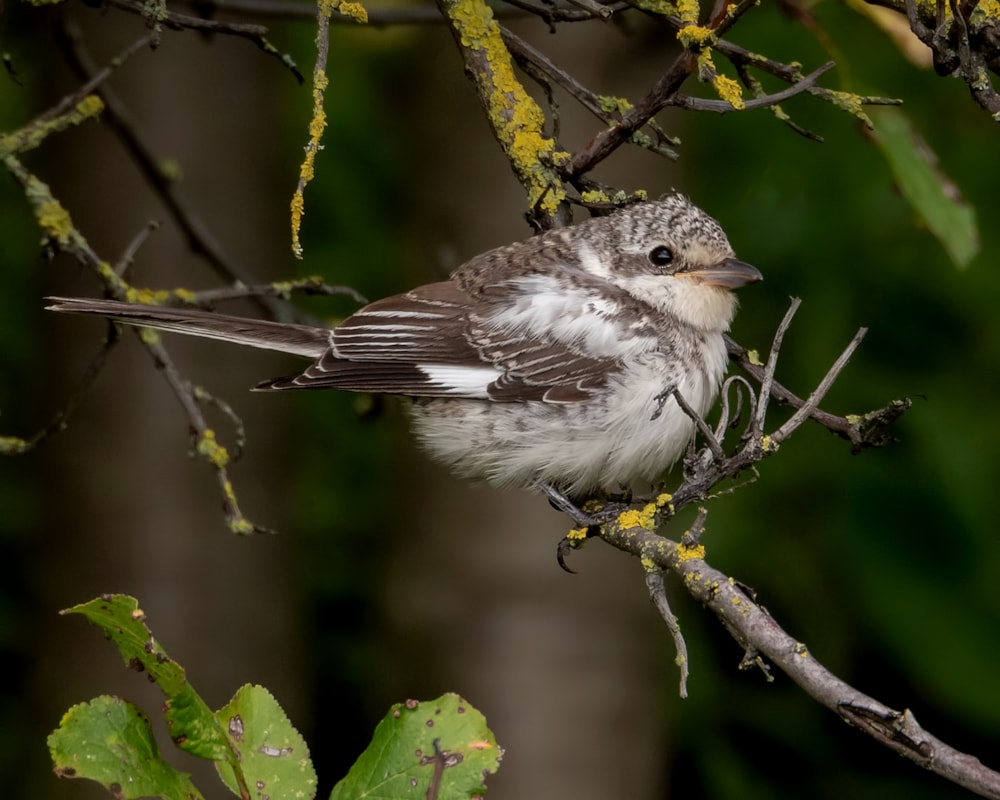 Masked Shrike, Hartlepool Headland, Cleveland (Brian Martin).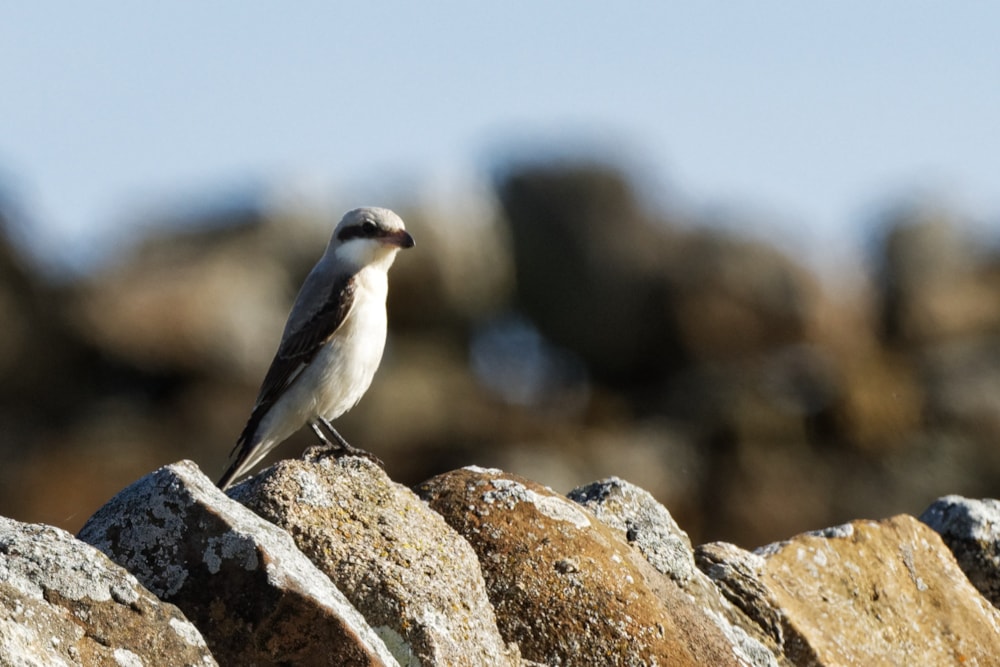 Lesser Grey Shrike, Holy Island, Northumberland (Andrew Jarwick).
In other Lanius news, a 'Great Grey Shrike' at Benacre from 4th was found to belong to a much rare subspecies – Steppe Grey Shrike – remaining there until the end of the week at least. Although recently lumped with Great Grey by the IOC, this was acknowledged as a 'holding category' with the intention of analysing the entire superspecies once more studies have been carried out. While the noughties saw the species become near-annual, it has become rarer again since, with only a singleton on Whalsay, Shetland, in October 2017 since the last mainland record at Burnham Norton, Norfolk, in October 2014.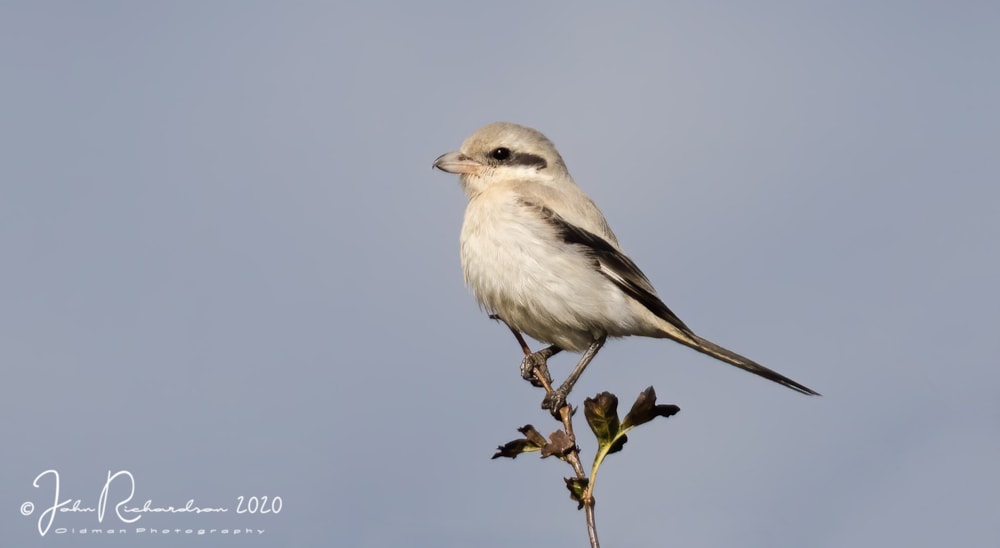 Steppe Grey Shrike, Benacre, Suffolk (John Richardson).
On 6th, a Short-toed Snake Eagle was found on the beach at Hengistbury Head, Dorset, and taken into care. The fourth British record, it is the third in just nine years, following birds in 1999, 2011 and 2014. In Co Cork, photographs of a Circus species at Barrys Head on 2nd transpired to show a delightful juvenile Northern Harrier – the country's sixth and the first for Co Cork – which remained around the lake until 4th at least. The Bearded Vulture was once again reported in Norfolk, over a Snettisham roundabout on 30th. Both long-term Snowy Owls remained present and correct – on St Kilda and at Ronas Hill, Shetland. A new juvenile Pallid Harrier flew south over Wighton, Norfolk, on 5th.
Northern Harrier, Barrys Head, Cork, (Dave McGrath).
In Northumberland, Budle Bay's Two-barred Warbler remained until early morning of 2nd, doing a mid-morning disappearing act. A possible was reported on Shetland at Brough Lodge, Fetlar, on 1st, too.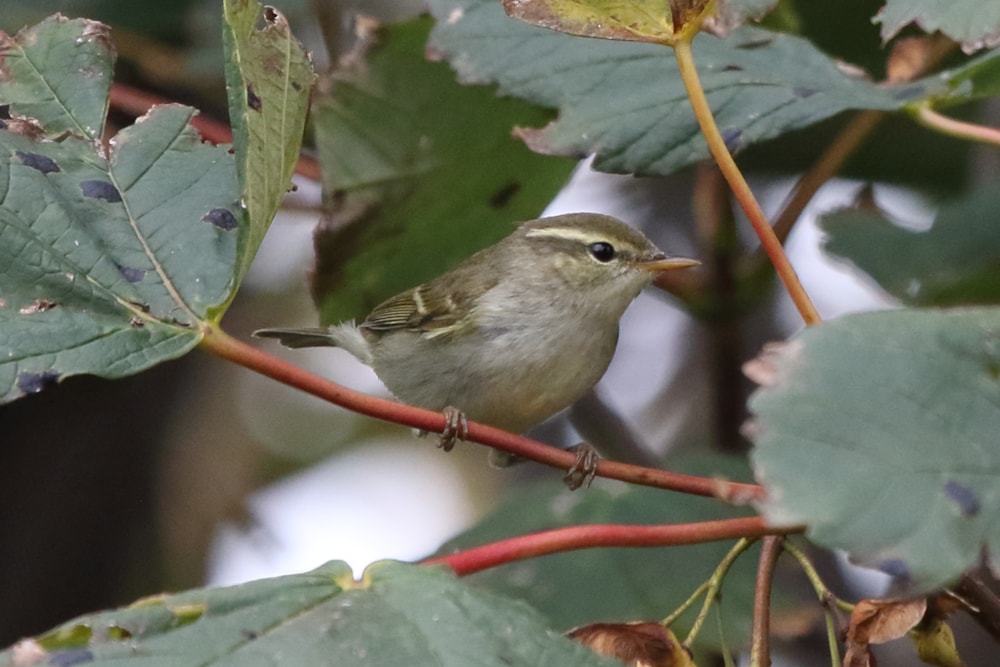 Two-barred Warbler, Budle Bay, Northumberland (Duncan Watson).
A Pallas's Grasshopper Warbler at Skaw, Whalsay, proved surprisingly twitchable from 3-6th, with another proving equally obliging at Burrafirth, Unst, on 1-2nd. Less accessible, a third was on Foula on 1-2nd. On Sumburgh Head, Shetland, a Lanceolated Warbler wandered around at close range on 2-3rd. Another probable was in an iris bed at Ireland on 30th.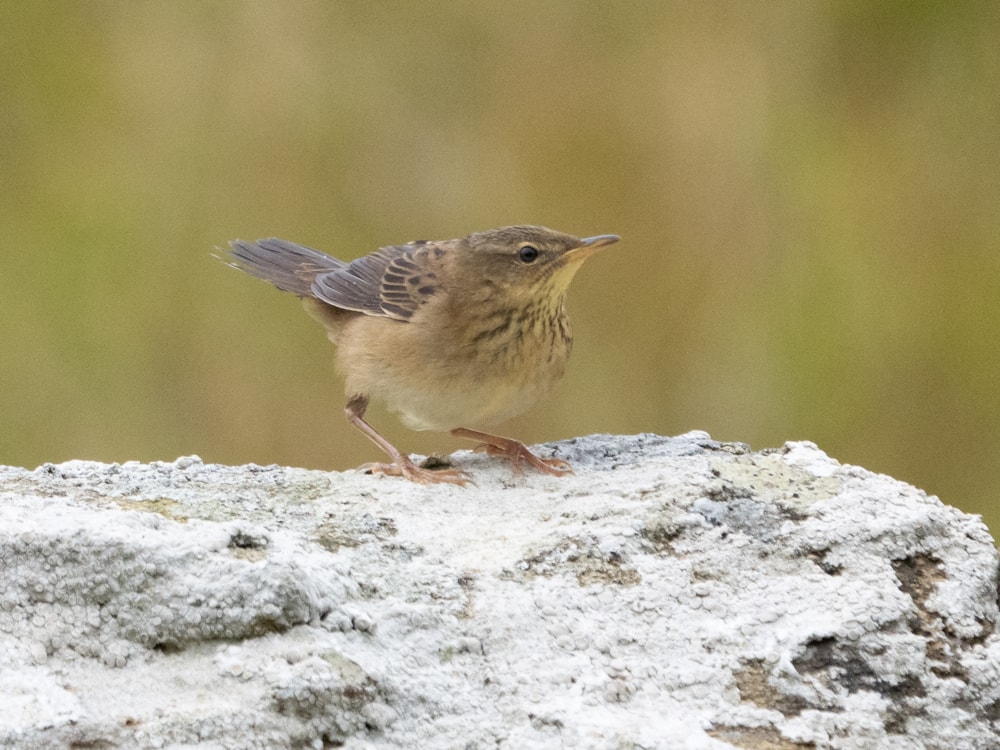 Pallas's Grasshopper Warbler, Burrafirth, Unst, Shetland (Simon Colenutt).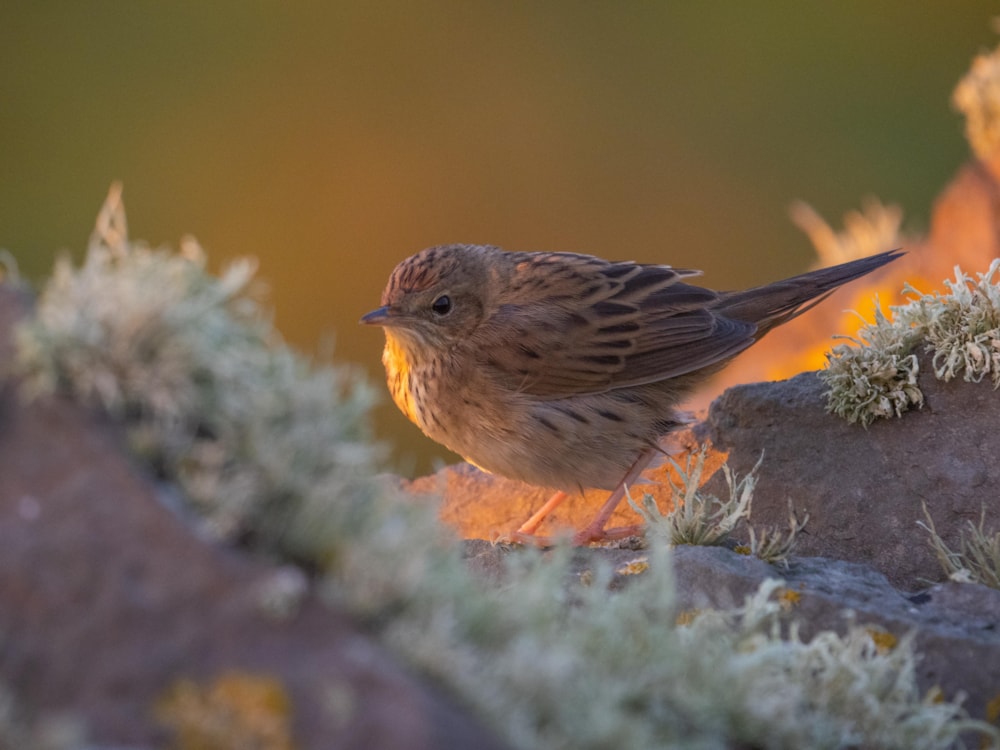 Lanceolated Warbler, Sumburgh, Mainland, Shetland (Simon Colenutt).
A mainland Booted Warbler at Sizewell, Suffolk, was a pleasant surprise on 3rd. Others were at Callernish, N Uist, on 30-1st and on Fair Isle, Shetland, on 2nd, while a probable was reported from Orkney at Burwick, South Ronaldsay. Hornemann's Arctic Redpolls were on Shetland at Burrafirth, Unst, Foula and Fair Isle, Burrafirth also hosting a Coues's Arctic Redpoll on 1st.
The most substantial arrival of the species for several years, Rustic Buntings were at Collieston, Aberdeenshire (two), Out Skerries, Shetland, Sanday, Orkney, Lowestoft, Suffolk, Fair Isle, Shetland (two), and North Ronaldsay, Orkney (two). A probable was at Flamborough Head, East Yorkshire.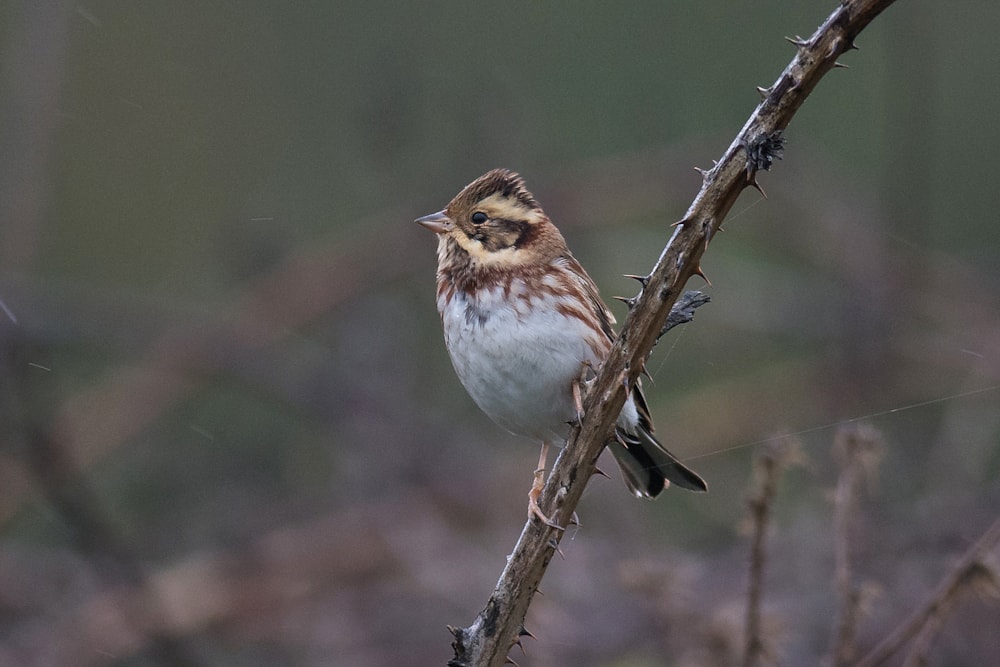 Rustic Bunting, Lowestoft, Suffolk (Keith Bilverstone).
Siberian Stonechats were at Cunningsburgh, Mainland, on 3rd and on the island of Foula on 4th. An individual considered most likely to be a Stejneger's Stonechat was at Happisburgh, Norfolk, from 5th. Other Siberian/Stejneger's Stonechats were at Winterton Dunes NNR, Norfolk (5th), Buckton and Thornwick Bay, East Yorkshire (5-6th), and Fetlar, Shetland (6th).
In Hampshire the main news was, of course, the county's first Eastern Yellow Wagtail at Brownwich Cliff on 5-6th. Equally surprising was two on Inishbofin, Co Galway, on 3rd – the fourth and fifth records for Ireland. Bardsey Island, Gwynedd, hosted its own from 3rd, with another in Shetland at North Roe on 5th. Other probables were on St Mary's, Scilly, and Walberswick NNR, Suffolk, on 30th.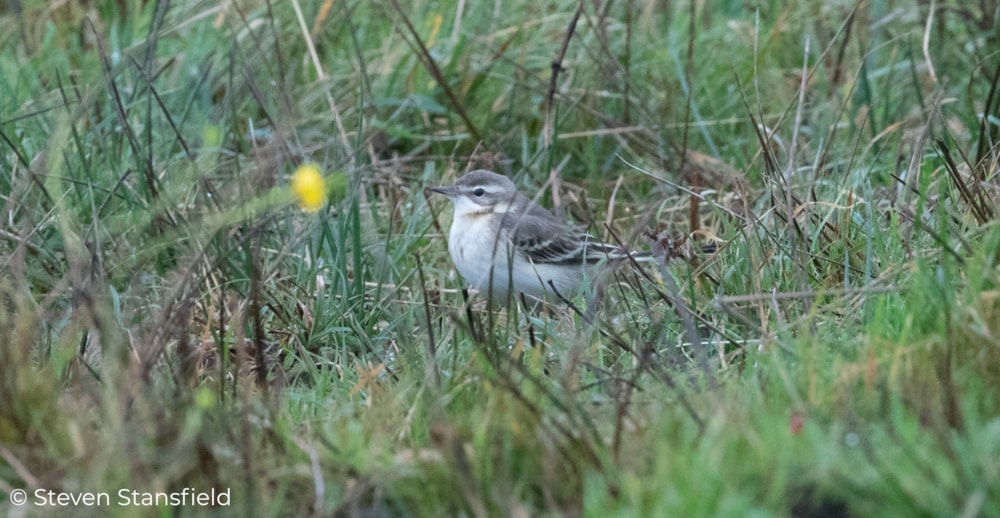 Eastern Yellow Wagtail, Bardsey Island, Gwynedd (Steven Stansfield).
Despite a late run of Common Swifts, just one Pallid Swift was identified – a juvenile at Kingsgate, Kent, on 5th. A Western Bonelli's Warbler was a one-day visitor to Easington, East Yorkshire, on 4th.
No fewer than than 13 Red-throated Pipits were noted this week. In no particular order: Spurn, East Yorkshire; North Ronaldsay, Orkney (two); Tacumshin, Co Wexford; Kelynack Valley, Cornwall; Benacre, Suffolk; Havergate Island, Suffolk; and Sandwich Bay, Kent. The remaining four were in Shetland, at Gulberwick, Quendale and Sumburgh (two).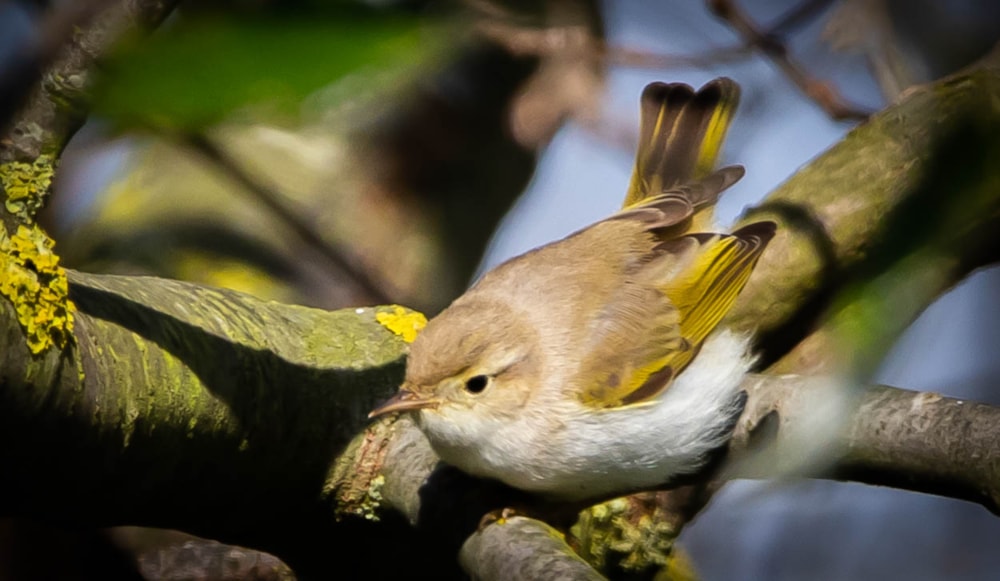 Western Bonelli's Warbler, Easington, East Yorkshire (David John Tucker).
In Argyll, two Cackling Geese were with returning Barnacle Geese at Loch Gruinart RSPB, Islay, from 3rd. An adult Grey-bellied Brant was discovered at Munlochy Bay, Highland, on 6th. Four Blue-winged Teal remain on the Outer Hebs at Baleshare, North Uist, while a single remained at Termoncarragh Lough, Co, Mayo. The deep-seated American Black Duck was still to be found at Strontian, Highland, while the moulting drake King Eider was still off Findhorn, Moray & Nairn, throughout.
A Black-browed Albatross seen from a survey boat off Belmullet, Co Mayo, on 3rd is presumably the one seen off Brandon Point, Co Kerry, later that evening.
A strong run of Great Snipe records includes one in off the sea at Landguard NR, Suffolk, on 3rd, with another at Sandilands, Lincolnshire, on 2nd. Possibles were reported from Burnham Overy, Norfolk, and on St Mary's, Scilly. A Little Bittern on St Mary's at Old Town Bay on 6th was just as exciting.
Lancashire's Wilson's Phalarope remained at Martin Mere WWT until 1st. Long-billed Dowitchers were at Lough Beg, Co Antrim, Tacumshin, Co Wexford, and Lytchett Fields RSPB, Dorset, while a Cornish Semipalmated Sandpiper remained at Godrevy Point until 1st. Kentish Plovers were at Thorney Island, West Sussex, and Ferrybridge, Dorset.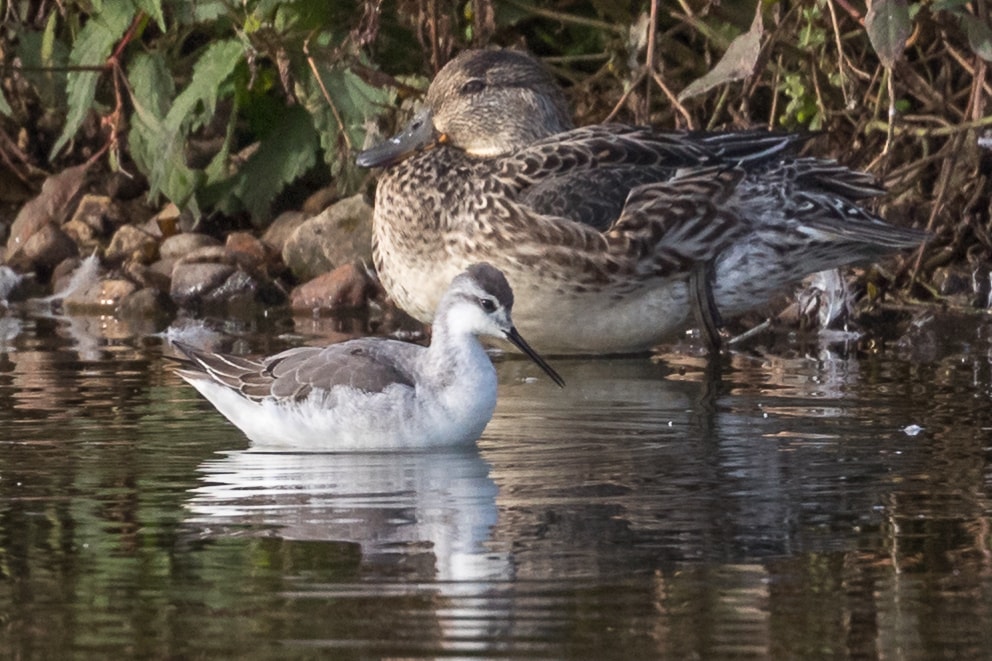 Wilson's Phalarope, Martin Mere WWT, Lancashire (Ian Bollen).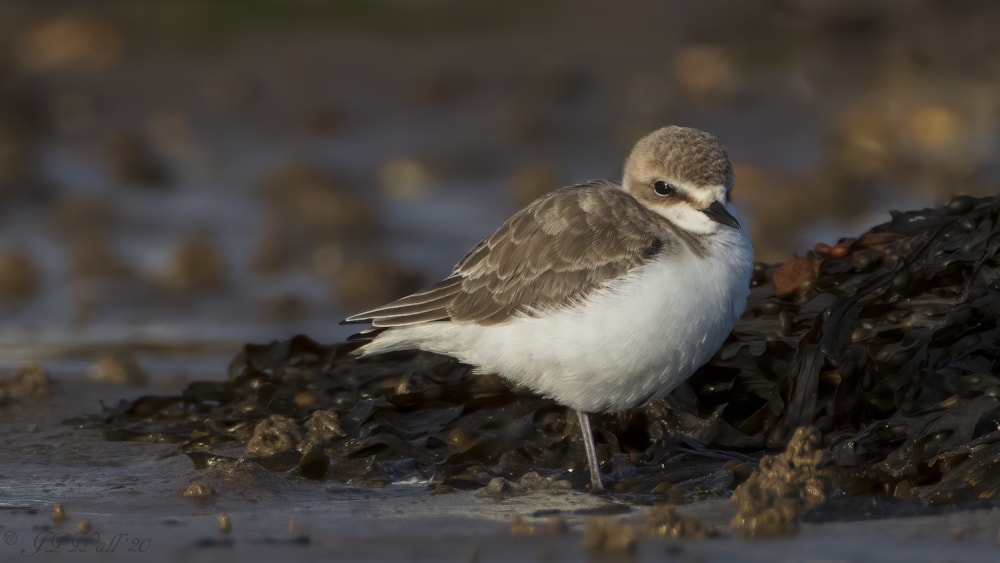 Kentish Plover, Ferrybridge, Dorset (John Wall).
Scottish mainland
Returning Pinkfeet at Findhorn Bay, Moray & Nairn, saw brief visits from a Todd's Canada Goose and intermediate-morph Snow Goose during the week. The adult Sabine's Gull continued its lengthy vigil at Ullapool, Highland.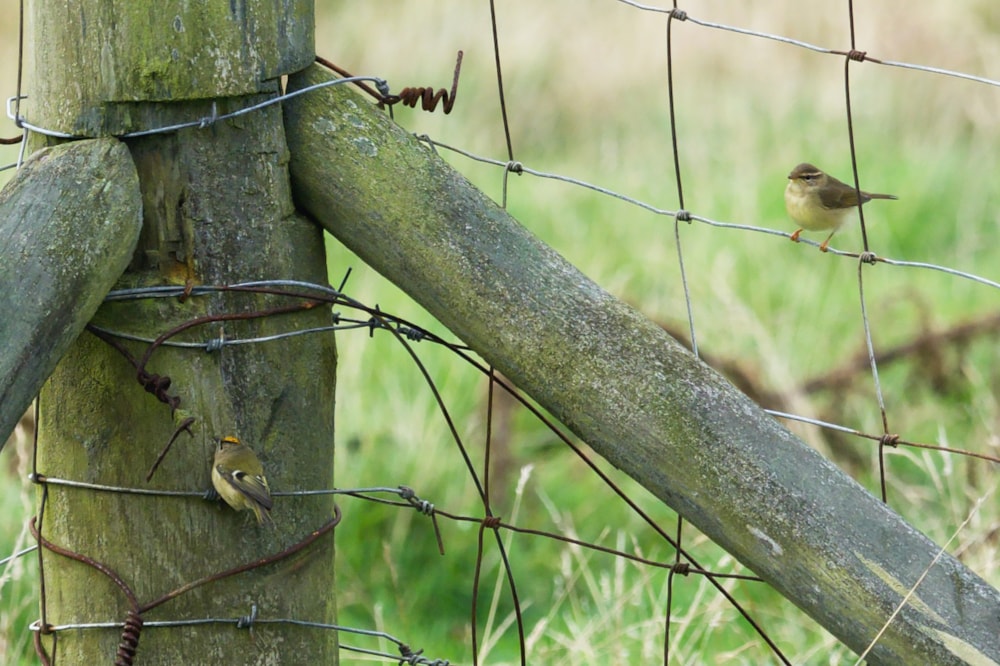 Radde's Warbler, Duncansby Head, Caithness (Dan Brown).
A Radde's Warbler was alongside an Arctic Warbler at Fife Ness on 6th and a Common Rosefinch played second fiddle at Lower Kilminning, Fife, throughout. A Long-tailed Skua flew inland over North Queensferry.
Two Parrot Crossbills at Cotehill Loch, Aberdeenshire, were likely recent arrivals, while a Little Bunting was at Collieston. The county also played host to an Olive-backed Pipit at Rattray Head on 4th and a Citrine Wagtail in Aberdeen on 6th. A Pallas's Warbler was a pleasing sight at Girdle Ness on 6th.
Common Rosefinch, Kilminning, Fife (Mike Alibone).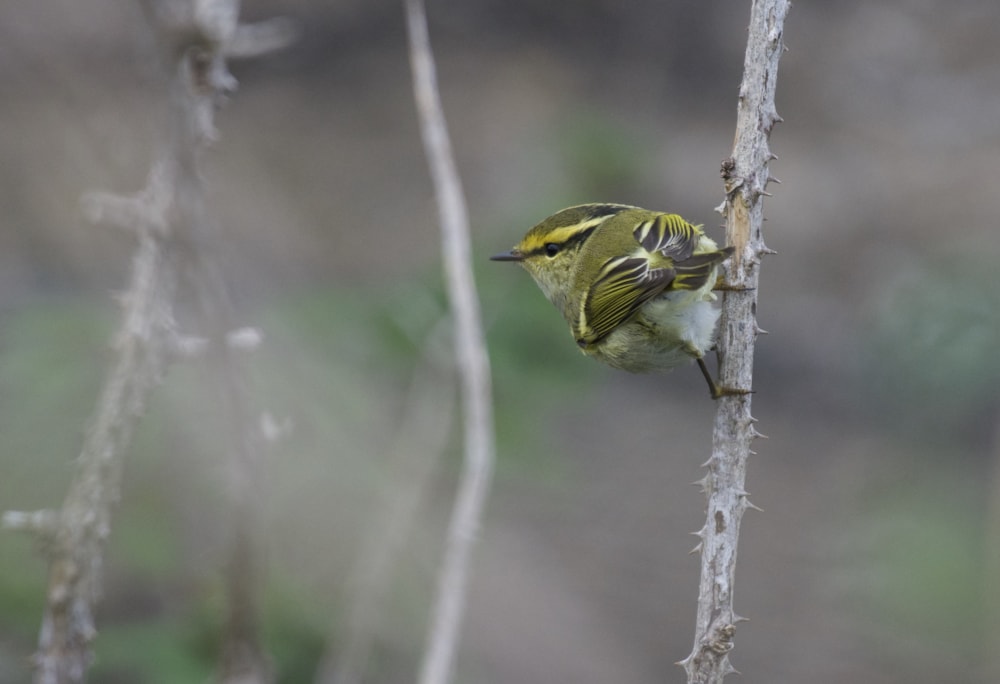 Pallas's Warbler, Girdle Ness, Aberdeenshire (Mark Lewis).
A sound-recorded Eurasian Stone-curlew over Noss Head, Caithness, on 5th was a surprising county first, as was the Radde's Warbler at Duncansby Head the following day. The same site saw a Red-flanked Bluetail on 4th.
Clyde saw the Pectoral Sandpiper remain at South Medwin Pools until 1st. Surf Scoters were at Musselburgh, Lothian, and Lunan Bay, Angus. On the islands, a Hoopoe was still at Bridgend, Islay, while a Ring-necked Duck remained at Loch a' Phuill, Tiree.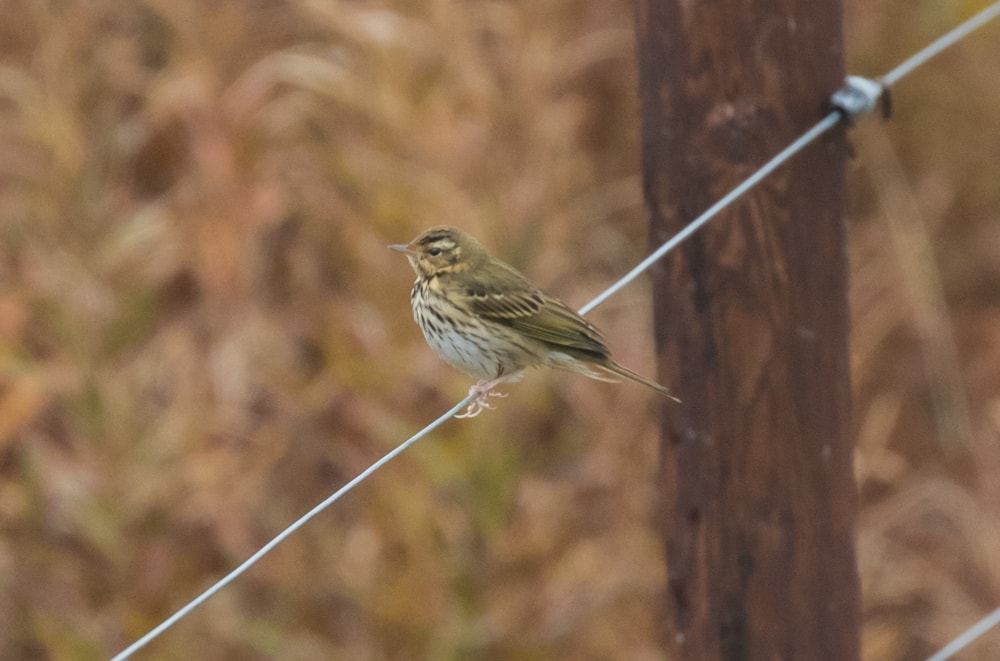 Olive-backed Pipit, Rattray Head, Aberdeenshire (Tim Marshall).
Northern Isles and the Hebrides
Continuing from last week, two white-morph Snow Geese remained on South Ronaldsay, while several Red-breasted Flycatchers were dotted the islands. Sanday hosted a Hoopoe at Loch of Langamay, a Richard's Pipit was on the Mainland at Yesnaby, and both a Buff-breasted Sandpiper and Red-flanked Bluetail were on Papa Westray. Two Blyth's Reed Warblers were noted – St Margaret's Hope, South Ronaldsay, and North Loch, Sanday. North Ronaldsay highlights included a Pallas's Warbler, Spotted Crake, Greater Short-toed Lark, Rosy Starling, Little Bunting and Olive-backed Pipit among the multitude of arriving commoner migrants.
In the Outer Hebrides, a first-winter Woodchat Shrike delighted on Bragar, Lewis, on 2-3rd, while a Little Bunting was at Eoligarry, Barra, on 6th. Nearctic waders included a new juvenile White-rumped Sandpiper at Loch Ordais, Lewis, on 30th, and American Golden Plovers at Baleshare, North Uist, and Loch Bee, South Uist.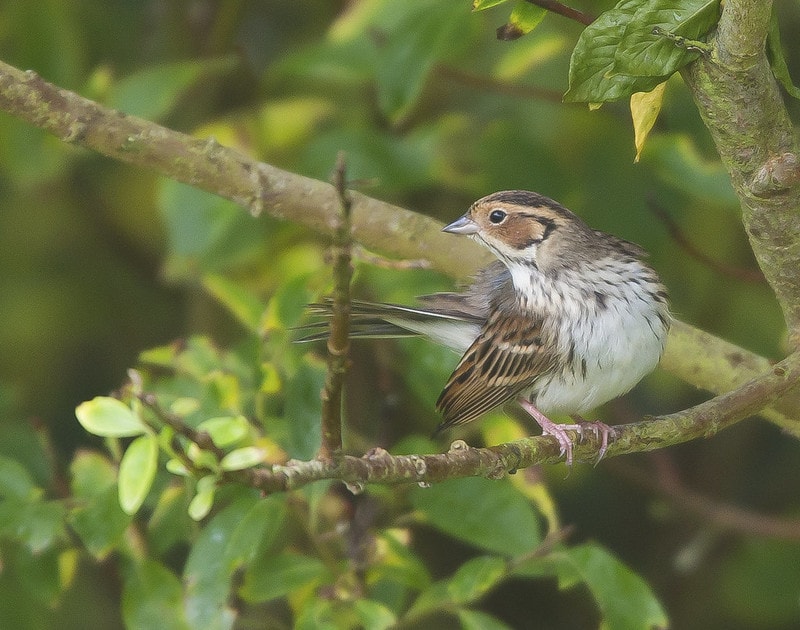 Little Bunting, East Burra, Shetland (Ron Marshall).
In Shetland, Foula hosted a Richard's Pipit and three Olive-backed Pipits, while a Radde's Warbler, Citrine Wagtail and Spotted Crake were the highlights on Fair Isle. An Ortolan Bunting was at Papil Water, Fetlar, from 3-5th. Plentiful Blyth's Reed Warblers included birds at Vaylie, Unst, and North Roe, Ellister, Scousburgh, Hillwell, Swinister and Spiggie, Mainland. Most notable was the irruption of Blue and Great Tits to the islands in record-breaking numbers, alongside Scotland's – and Shetland's – second Lesser Spotted Woodpecker, briefly at Trondra on 5th.
Rosy Starlings were at Breckon, Yell, and Eswick, Mainland, while Marsh Warblers were at Sandwick, Mainland, on 30th and Norwick, Unst, on 5th. Citrine Wagtails were at Easter Skeld and Loch of Norby, Mainland, on 4th, with a Corncrake at nearby Melby on the same date. A European Honey Buzzard flew over Lerwick, Mainland, on 1st. An Arctic Warbler remained at Cullivoe, Yell, until 4th, with a new individual at Voe, Mainland, on 5th.
A lone Red-flanked Bluetail was at Skaw, Whalsay, on 6th, while 11 Bluethroats were reported across the isles. No fewer than 11 Olive-backed Pipits were peppered across the island chain, joined by an impressive influx of five Radde's Warblers – at Skaw, Whalsay, and Rerwick, Virkie, Aith and Hillwell, Mainland. A tricky Melodious Warbler was at Burrastow, Mainland, on 5th with Dusky Warblers up at Aith and Collafirth, Mainland, on the same date.
An American Golden Plover flew east over Vadill of Garth, Mainland, on 3rd, while a juvenile was at Baltasound, Unst, the following day. A Pectoral Sandpiper was at Loch of Benston, Mainland, on 4th – another was at Funzie, Fetlar, on 5th. A drake Surf Scoter was around the salmon cages at Belmont, Unst, from 4th, while a White-billed Diver was at Hestingott, Mainland.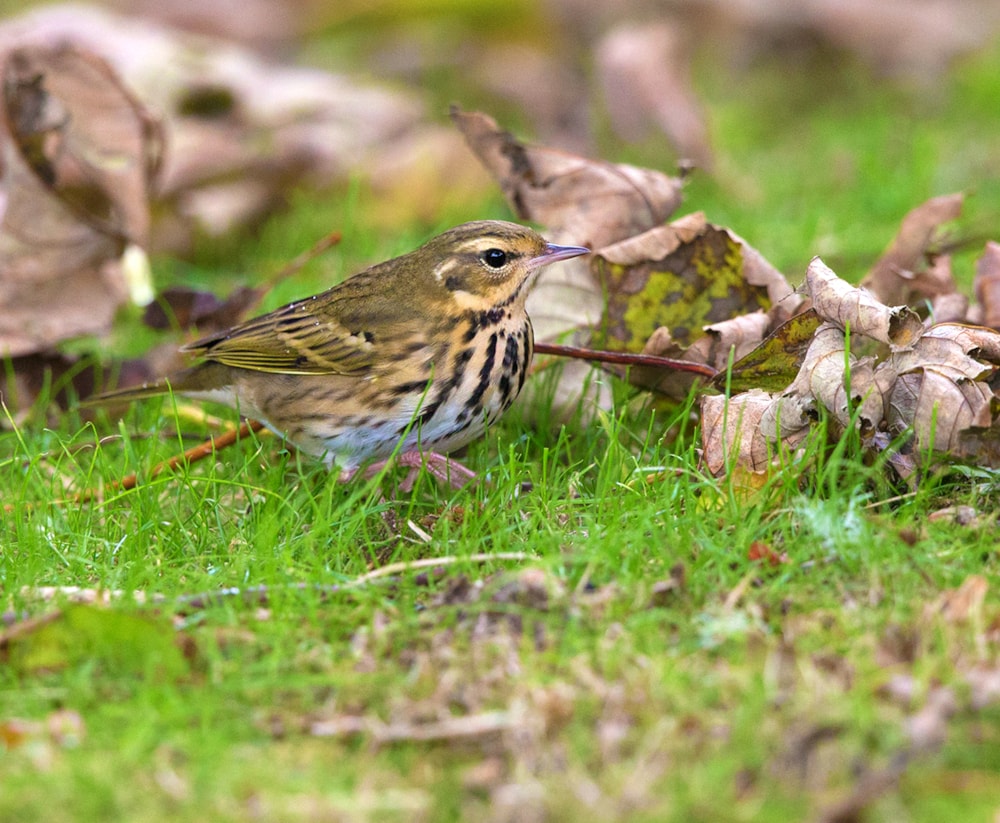 Olive-backed Pipit, Loch of Asta, Mainland, Shetland (Will Bowell).
North-East England
As anticipated, autumn smashed into the Northumberland coast with full force this week and, as is often the case, Holy Island was ground zero. No longer mythical but still one of autumn's most sought after birds, not one but two Red-flanked Bluetails rocked up on Lindisfarne, with individuals on the Straight Lonnen and the Snook from 3-5th. Supporting cast on the isle included three Red-breasted Flycatchers on 3rd (with at least one remaining until 6th), plus singles of Little Bunting and Siberian Chiffchaff. As the week ended a Long-tailed Skua was noted offshore there.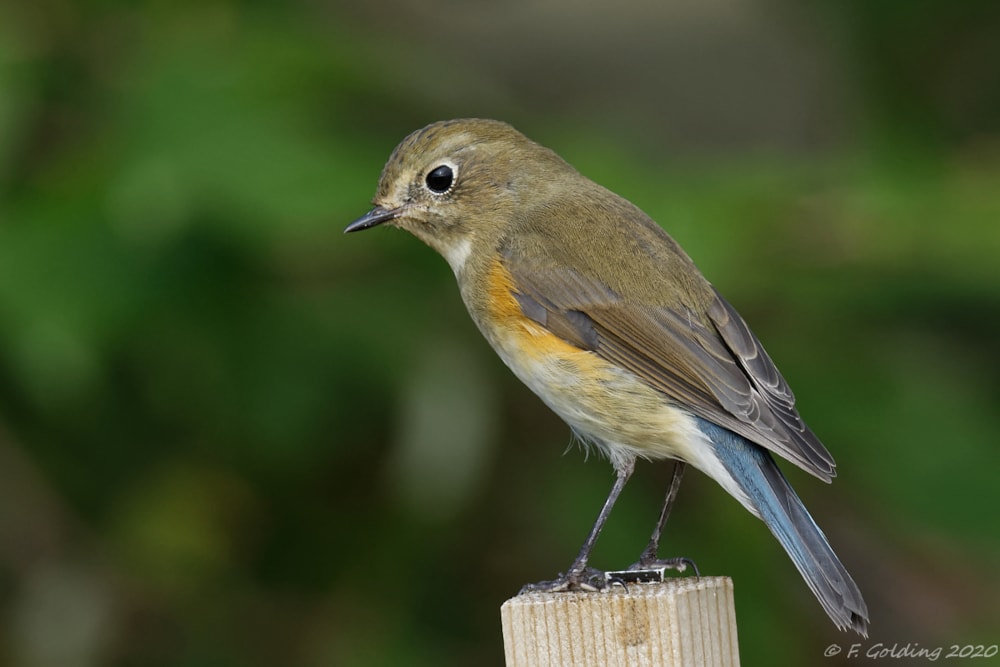 Red-flanked Bluetail, The Snook, Holy Island, Northumberland (Frank Golding).
Further south, the Low Newton area threw a male Red-breasted Flycatcher, Barred Warbler and Siberian Lesser Whitethroat into the mix. A couple of kilometres down the coast at Boulmer a smart-looking first-winter male Bluethroat entertained at Boulmer and a Great Grey Shrike offered some variety. The entrance plantation at Druridge Pools hosted a Blyth's Reed Warbler on 4th and at the extreme southern end of the county an Arctic Warbler was at Prior's Park, Tynemouth, from 3-6th, though often tricky to pin down.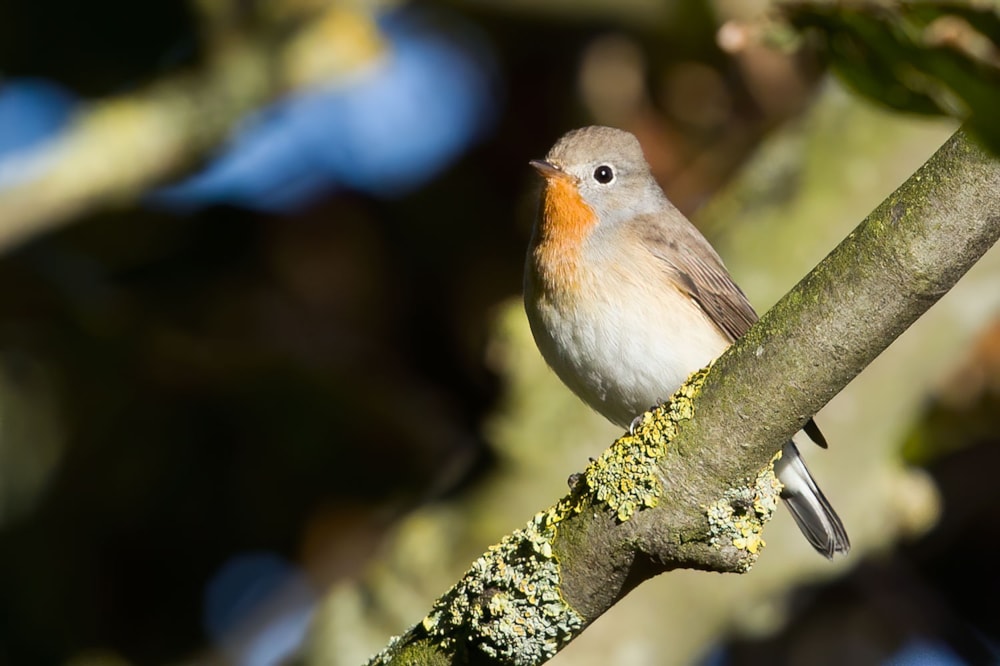 Red-breasted Flycatcher, Newton Pool, Northumberland (Gary Woodburn).
In Cleveland, a particularly showy Radde's Warbler was at Hartlepool Headland from 5th, alongside a Little Bunting and Red-breasted Flycatcher. Adult and juvenile Sabine's Gulls flew past offshore. A Little Bunting was at Cattersty Gill on 3-4th, while two Pectoral Sandpipers remained at Saltholme RSPB until 1st.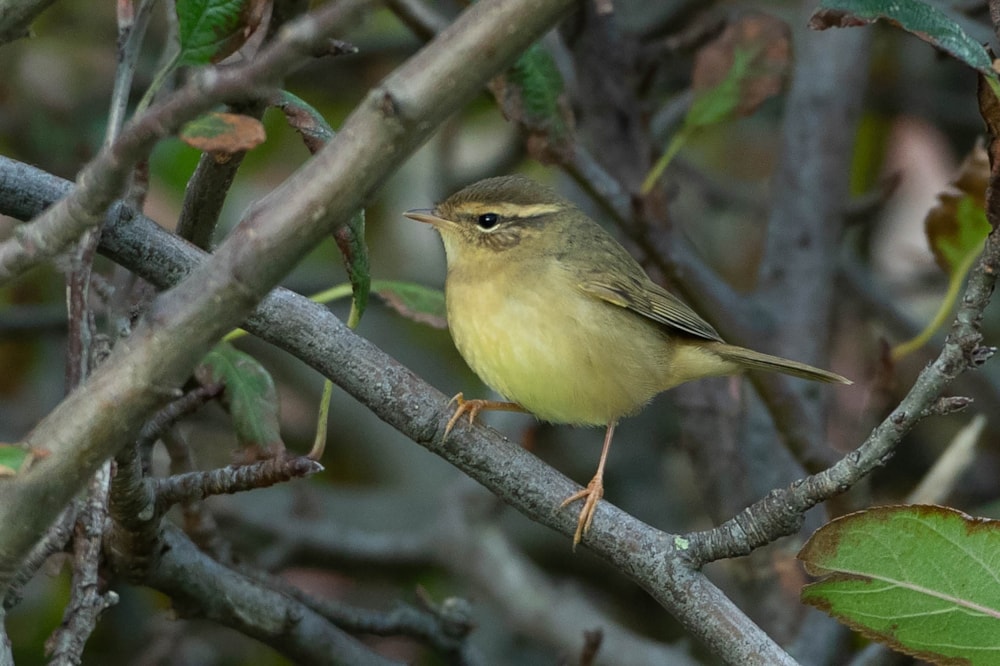 Radde's Warbler, Hartlepool Headland, Cleveland (Martyn Sidwell).
A trio of Radde's Warblers on the Durham coast were the highlights of a busy week; one at Ryhope on 3rd was followed on 4th by individuals at Trow Quarry and Easington Colliery & Coastal Park. A Little Bunting performed well at Whitburn Coastal Park alongside one of two Durham Red-breasted Flycatchers in the week, the second individual was at Blackhall. The county's first autumn Great Grey Shrike was at Ryhope on 4th and three Barred Warblers were discovered at Dawdon Blast Beach, Hawthorn Hive and Whitburn Coastal Park. Early in the week, two Common Cranes flew past Dawdon Blast Beach and a juvenile Long-tailed Skua was noted past Whitburn.
Content continues after advertisements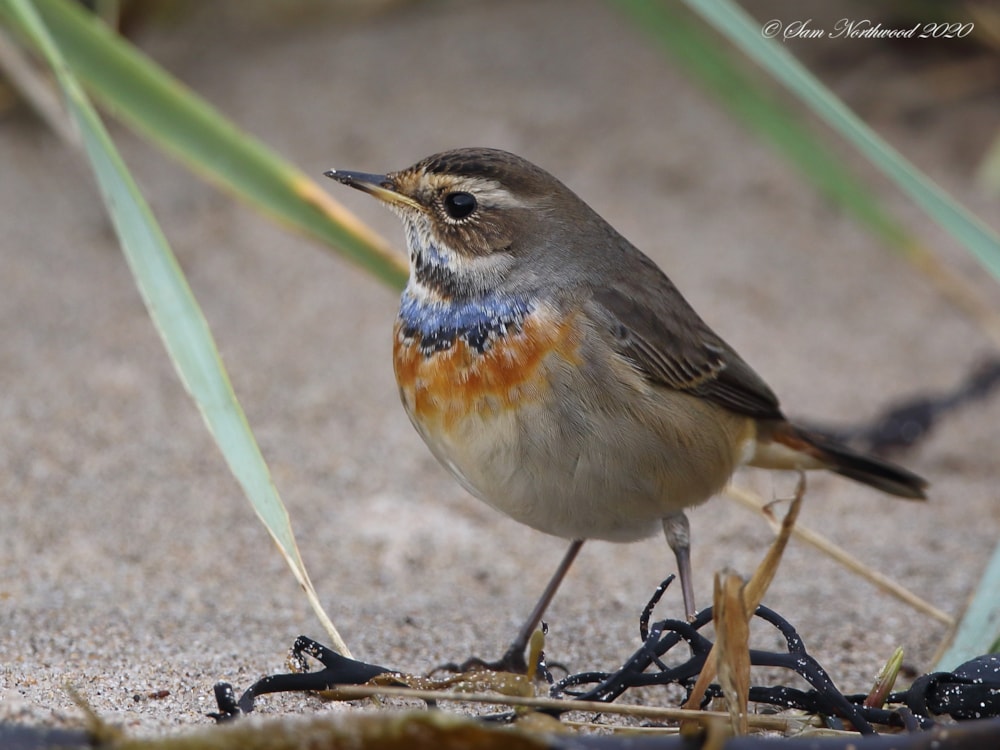 Bluethroat, Boulmer, Northumberland (Sam Northwood).
North-West England
Cumbria hosted a brief Pectoral Sandpiper at Anthorn on 6th. Meanwhile, Yellow-browed Warblers were reported at various sites across Walney Island, where the Hooded Crow remained at South Walney NR.
Lancashire enjoyed the last dregs of Buff-breasted Sandpiper passage with a juvenile at Rainford on 3rd. Up to two Pectoral Sandpipers remained on the flood off Peg's Lane, Lytham St Annes, until 4th and last week's adult drake Ring-necked Duck rocked up at Pine Lake from 1st. The county's fabled injured Tundra Bean Goose is clearly capable of short flights and appeared at Marshside RSPB on 4th. It was a good week for Yellow-browed Warblers, with 7 sites scoring this charismatic Phylloscopus, while belated news of a Wryneck came from the Chorley area.
Over in Cheshire, Burton Mere Wetlands RSPB had another respectable week. The juvenile Pectoral Sandpiper remained until 30th and one of the Spotted Crakes made a reappearance on 6 October, while a bean goose sp was a new arrival on 5th. Juvenile Black-necked Grebes were still at Tatton Park and Neumann's Flash, while Yellow-browed Warblers trickled into the county with three sites connecting. Western Cattle Egrets enjoyed a good week away from their usual haunts with Woolston Eyes NR scoring its first site record, with two overflying on 6th, and the single at Dairy House Meadows still. Greater Manchester endured a quiet week with just a juvenile Kittiwake at Hollingworth Lake CP on 1st the only sighting of note.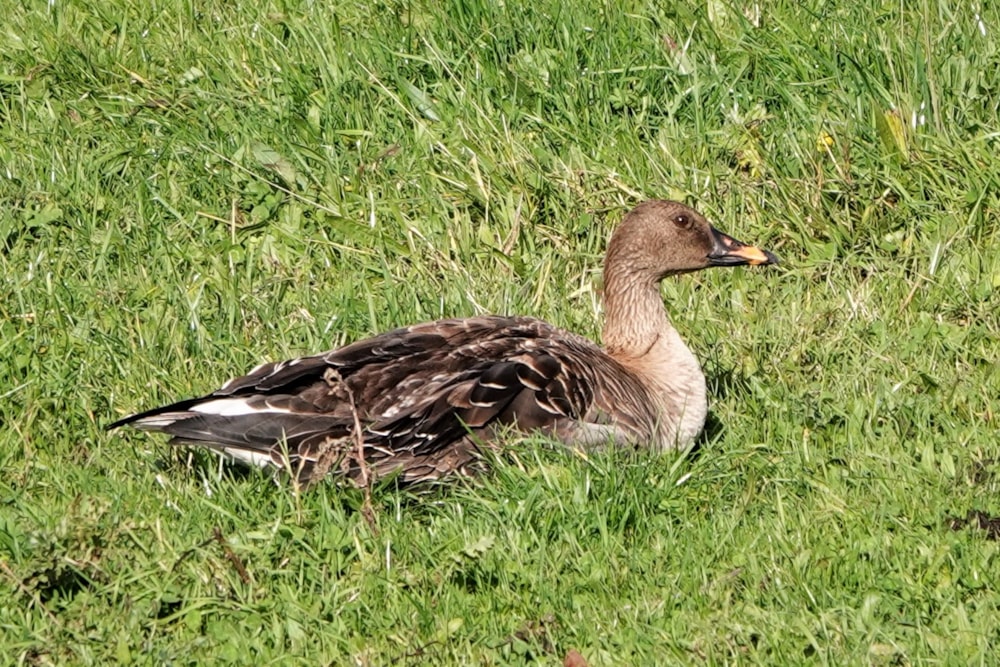 Tundra Bean Goose, Marshside RSPB, Lancashire (Janice Sutton).
Lincolnshire and Yorkshire
Despite the excitement further north, Lincolnshire was somewhat quiet by this week's standards. Two Radde's Warblers and three Red-breasted Flycatchers were at Donna Nook on 4th, with a flyover Richard's Pipit there on 5th. Further south, another Red-breasted Fly was at Wolla Bank Pit on 4th, with a Wryneck at Sandilands on 2nd. Gibraltar Point produced Red-breasted Flycatcher, Barred Warbler and European Honey Buzzard among the arriving migrants, while a multitude of Yellow-browed Warblers were seen. Most interestingly, a yellow-ringed Hawfinch at Saltfleeby NNR on 5th transpired to be a bird ringed in the New Forest, Hants, in 2018 – the first recovery outside Hampshire from this project!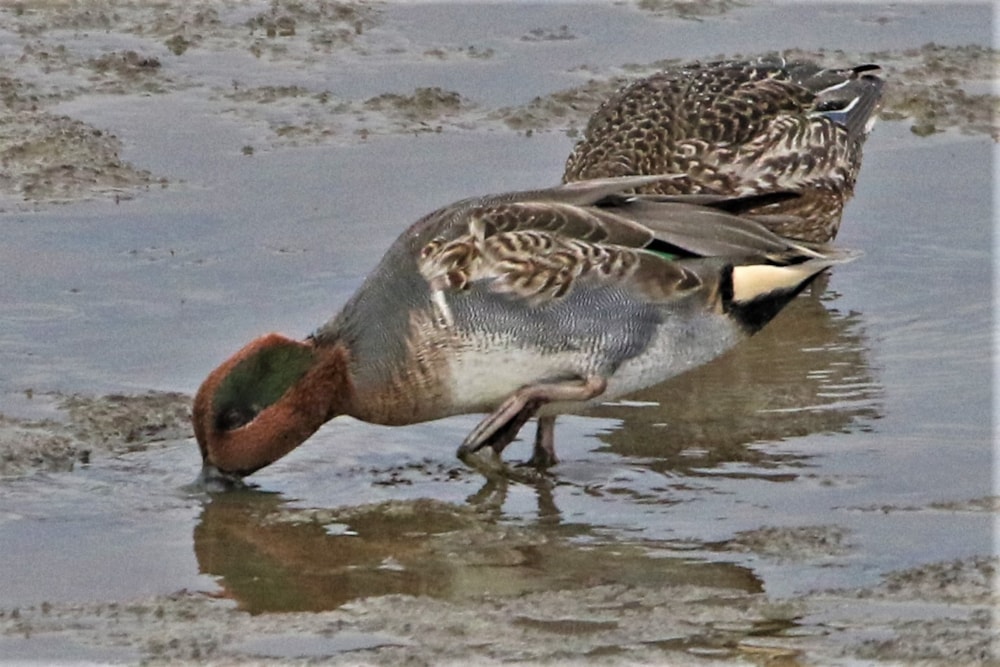 Green-winged Teal, North Cave, East Yorkshire (james simpson).
Before tackling the multitude of coastal records in Yorkshire, a shout out to the presumed returning Green-winged Teal at North Cave Wetlands on 4th, plus a Hoopoe at Scrayingham and a Lesser Yellowlegs at Blacktoft Sands RSPB that day.
The Spurn area produced a long and illustrious list of scarce migrants, including three Red-flanked Bluetails, at least one Olive-backed Pipit, a European Serin on 3rd, plus Red-breasted Flycatcher, Bluethroat, Barred Warbler, Little Bunting and plenty of commoner species. A Buff-breasted Sandpiper over Kilnsea Wetlands on 1st wasn't seen again.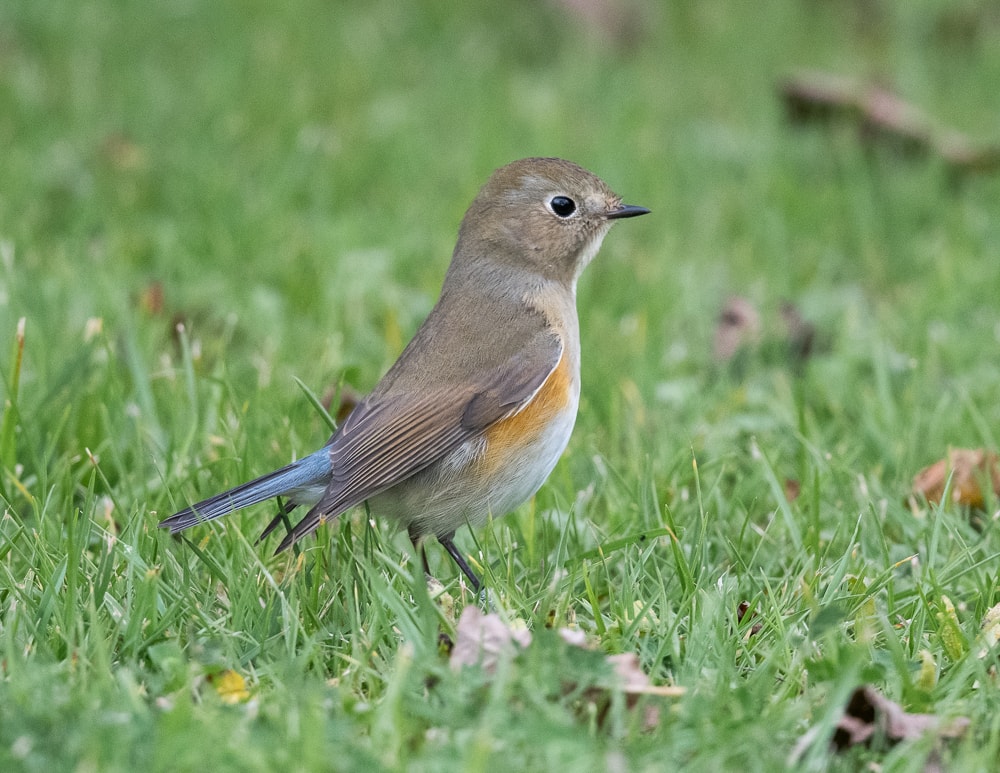 Red-flanked Bluetail, Spurn YWT, East Yorkshire (Tom Hines).
Red-backed Shrike at Hornsea Mere and Little Bunting at Barmston, both on 2nd, were the only birds of note between Spurn and Flamborough. At the latter site, a Red-flanked Bluetail spent the day in Old Fall Plantation on 4th, while other classic scarcities included Great Grey and Red-backed Shrikes, plus multiple Barred Warblers and Red-breasted Flycatchers. Continuing up the coast, Wrynecks were at Filey and Scarborough, with Red-breasted Flycatchers at Hawsker Bottoms and Lythe, plus a Common Rosefinch at Kettleness Point on 3rd.
A Lesser Yellowlegs was at Nosterfield Quarry on 5-6th, having been seen at both Bank Island and Scorton on 1st and then again at the former site on 2-3rd. The Hoopoe at Collingham was one of the week's most popular birds – and deservedly so, being so confiding. Finally for this week, a Yellow-browed Warbler was trapped and ringed inland at Thorpe Marsh YWT on 4th.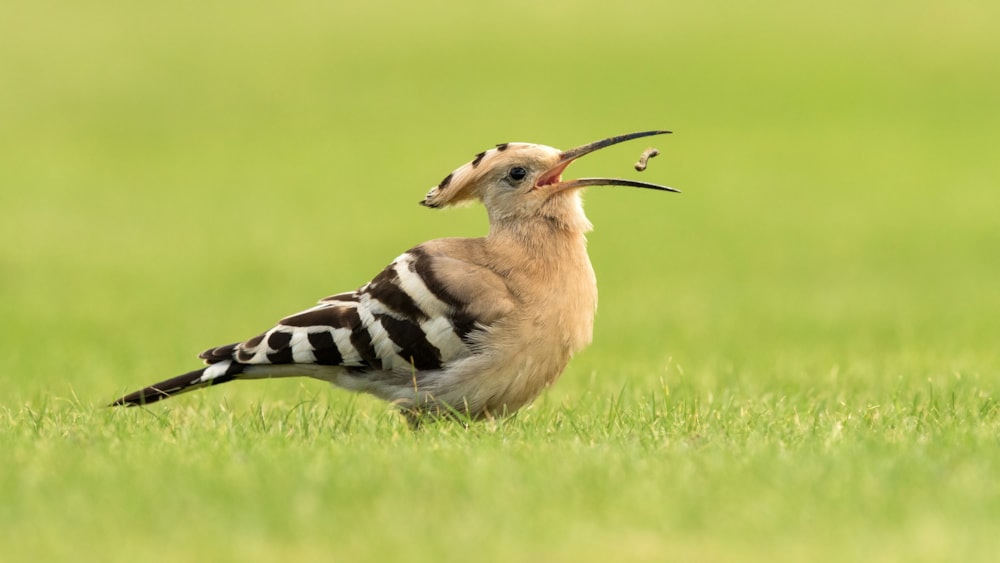 Hoopoe, Collingham, West Yorkshire (Paul Coombes).
West Midlands
A juvenile Purple Heron paid a brief visit to Tittesworth Reservoir, Staffordshire, on 5th. The juvenile Pectoral Sandpiper remained at Rudyard Reservoir until 1st at least, the day after a first-winter Red-necked Phalarope was at Middleton Lakes RSPB. A Ring Ouzel was by the canal at Penkridge on 30th.
Over in Herefordshire, three Sandwich Terns moved through Wellington GPs on 3rd. Moving to West Midlands county, Edgbaston Reservoir had a respectable week, with a local rarity in the form of a Spotted Redshank from 30-5th, accompanied by a juvenile Black Tern on 3rd. A third-winter Caspian Gull roosted at Bartley Reservoir again on 30th.
Five Brent Geese were at Draycote Water, Warwickshire, on 4th, where a juvenile European Shag remained present and correct throughout and a first-winter Caspian Gull was present on 1st. A female Greater Scaup was reported at Shustoke Reservoir on 30th only. The Wood Sandpiper was still at Bodymoor Heath.
In Worcestershire, the North Hill Lapland Buntings were last noted on 30th, where two Ring Ouzels flew south-west on 1st. A juvenile Black Tern flew through Camp Lane Pools on the morning of 3rd.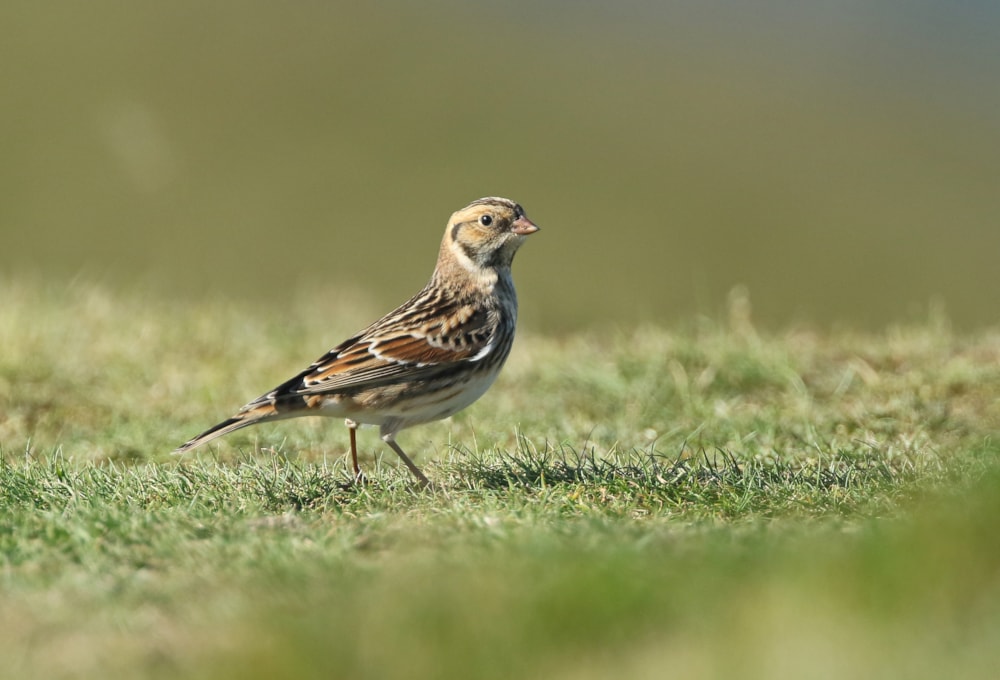 Lapland Bunting, North Hill, Worcestershire (Jon Mercer).
East Midlands
Derbyshire was largely quiet, although a Yellow-browed Warbler photographed at Erewash Meadows on 1st kept things ticking over. Two Western Cattle Egrets were loyal to Long Eaton GPs throughout.
Nottinghamshire was productive this week, with a Pectoral Sandpiper at Idle Valley NR from 2-6th. A brief Spotted Crake was discovered in a car park at Arnold on the morning of 6th, although there was no further sign. Brent Geese headlined Northants' week, with five at Clifford Hill GPs on 4th. The only other species of note was a third-winter Caspian Gull at Stanwick GPs on 3rd.
The ever-faithful Red-necked Grebe was still at Rutland Water, while Whooper Swan, Garganey, Common Scoter, Rock Pipit, two Grey Plovers, two Red-breasted Mergansers and a juvenile European Shag were also had. Elsewhere, a Common Crane was logged south-west over Ulverscroft Priory on 4th and a Yellow-browed Warbler was at Croft Hill from 6th.
East of England
Norfolk cashed in on the early days of this week's great fall, before the weather became more suited to arrivals further north. Arrivals peaked on 3-4th, with no fewer than eight Red-breasted Flycatchers in the county between Hunstanton and Winterton, Olive-backed Pipits at three sites on 3rd, Arctic Warbler in Wells Woods on 4-5th and Little Bunting at Old Hunstanton on 4th. Five Radde's Warblers making a very respectable contribution to the national influx of this species, while the same number of Richard's Pipits included one inland at Ludham Bridge on 5th.
Meanwhile, a long-staying Blyth's Reed Warbler lingered at Holme NOA all week and a Wryneck performed well at Happisburgh from 3rd (where there was also a Shore Lark). A Hoopoe at Wighton was a popular fixture from 4th, as was a Red-necked Phalarope near Salthouse duckpond and a Glossy Ibis at Martham Ferry.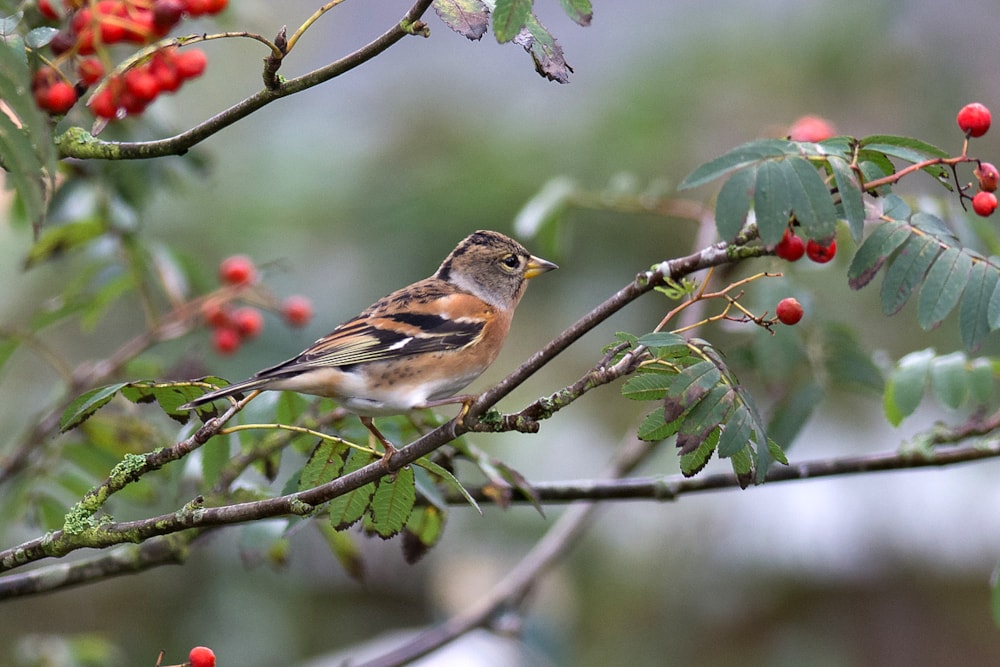 Brambling, Little Plumstead, Norfolk (Keith Bilverstone).
In Suffolk, a brief White-winged Tern was a bit of a surprise at North Warren RSPB on 4th. Radde's Warblers were found at Gunton on 3rd, Southwold on 4th and Minsmere RSPB on 5th, with other standout migrants including Great Grey Shrikes at Southwold and Kessingland, Red-breasted Flycatchers at four sites and a Richard's Pipit over Landguard NR on 3rd. Lapland Buntings were at three localities and a Vagrant Emperor dragonfly reached Pakefield, in what was a generally excellent week for the county.
Essex, always living in the shadow of the previous two counties, could muster little more than a Glossy Ibis at Coalhouse Fort on 30th, plus a Sabine's Gull past Canvey Point on 2nd. Even Yellow-browed Warblers were tricky to come across, with just a handful seen.
In fact, Cambridgeshire rather outdid Essex for Sibes, scoring one of the best finds of the week – its first Radde's Warbler at Peakirk from 4th. Although there is a record from neighbouring Bedfordshire, precious few examples of this species have ever been encountered inland. Three different Yellow-browed Warblers were seen in the county. Another classy bird was the near-full summer-plumaged Great Northern Diver at Grafham Water on 6th.
Best in Bedfordshire was a Yellow-browed Warbler on the outskirts of Bedford on 29th and eight Eurasian Spoonbills at Grovebury Sand Pit on 3rd. Five Common Scoter visited Wilstone Reservoir, Herts, on 4th, while 120 Pink-footed Geese over Harpenden on 29th was a locally significant record.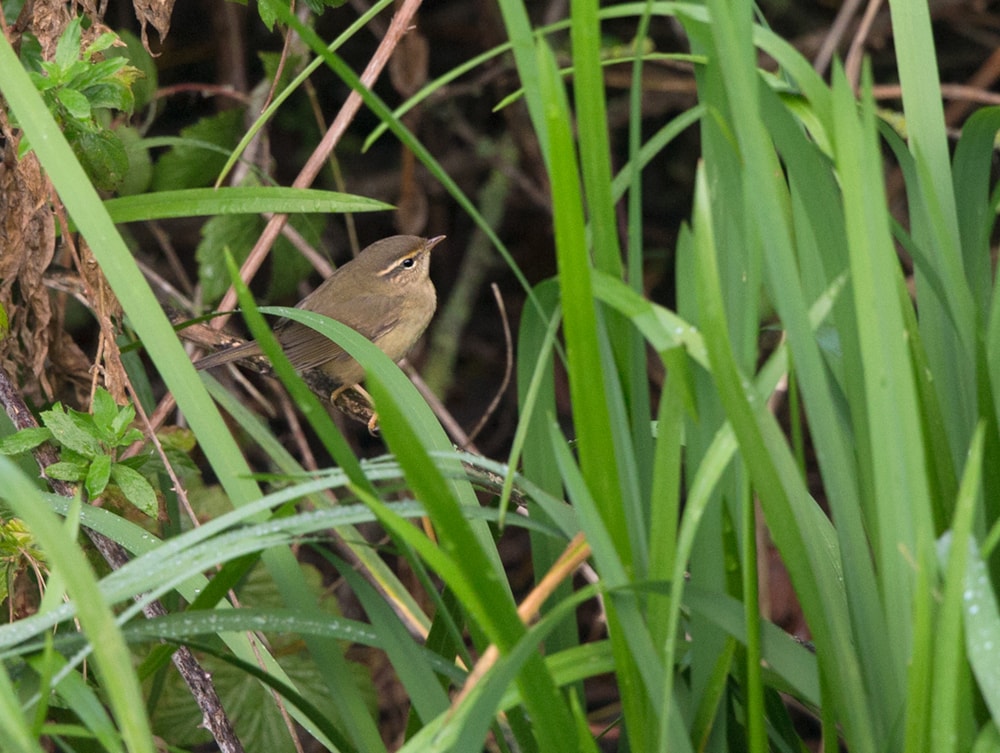 Radde's Warbler, Peakirk, Cambridgeshire (Will Bowell).
South-East England
A first-winter Purple Heron was found at Burton Mill Pond, well inland in West Sussex, on 3rd and was still present on 6th, although it could prove frighteningly elusive for long periods of the day. A Yellow-browed Warbler was at the same site on 6th, part of a solid week for the species in Sussex – 10 others were found at eight different sites. Elsewhere in Sussex, a Common Crane flew over Telscombe Cliffs on 30th, two Lapland Buntings proved popular at Beachy Head (with another flying over Rye Harbour) and four sites scored the same or different Sooty Shearwaters on 2nd.
An early Pallas's Warbler made landfall at Foreness Point, Kent, on 3rd, while Yellow-browed Warblers at 14 sites in the county was rather more seasonal. Dungeness enjoyed the lingering Glossy Ibis, as well as a Eurasian Dotterel. An injured Corncrake was taken into care at Pegwell Bay. Both European Honey Buzzard (Chillenden) and an early Rough-legged Buzzard (Graveney Marshes) were logged, along with an American Golden Plover at St Margaret's at Cliffe and two Wrynecks.
It was quiet in London, although a Northern Gannet and a Kittiwake at Walthamstow Reservoirs was a nice double-act on 3rd. A Great Skua was a top Buckinghamshire record at Nether Winchendon on 3rd; other Bucks highlights included Western Cattle Egret, Little Stint and Brent Goose. Both Oxfordshire and Berkshire also enjoyed Western Cattle Egret, though the latter county's best bird was a drake Common Eider, present at Theale GPs on 2-3rd. On 5th, Surrey enjoyed Yellow-browed Warbler at Ewell and four Western Cattle Egrets at Papercourt Water Meadows, and a European Honey Buzzard flew over Cranleigh on 1st.
Bits in Hampshire included the Farlington Marshes American Golden Plover, which lasted until 30th, while the site's Grey Phalarope did so until 2nd. Another Grey Phal was at Ripley on 5th. Only one Yellow-browed Warbler was reported – at Keyhaven Marshes. Save a late Black Tern, the Isle of Wight too was quiet.
South-West England
A brief American Golden Plover over St Mary's, Scilly, on 4th was identified from a sound recording, before relocating to Tresco the following day. On Tresco, a Greater Short-toed Lark flew over on 30th, while the Spotted Crake remained until 5th. The 6th saw a new juvenile Pectoral Sandpiper on St Mary's.
Pendeen, Cornwall, hosted an adult American Golden Plover on 3-4th, moving to Porthgwarra on 6th. Wrynecks were at Land's End and Botallack, with a European Honey Buzzard overflying St Ives on 1st. A brief Pectoral Sandpiper was at Hayle Estuary on 30th. Offshore highlights included a Sabine's Gull and seven Grey Phalaropes past Pendeen, while another was at inland Stithians Reservoir on 5th.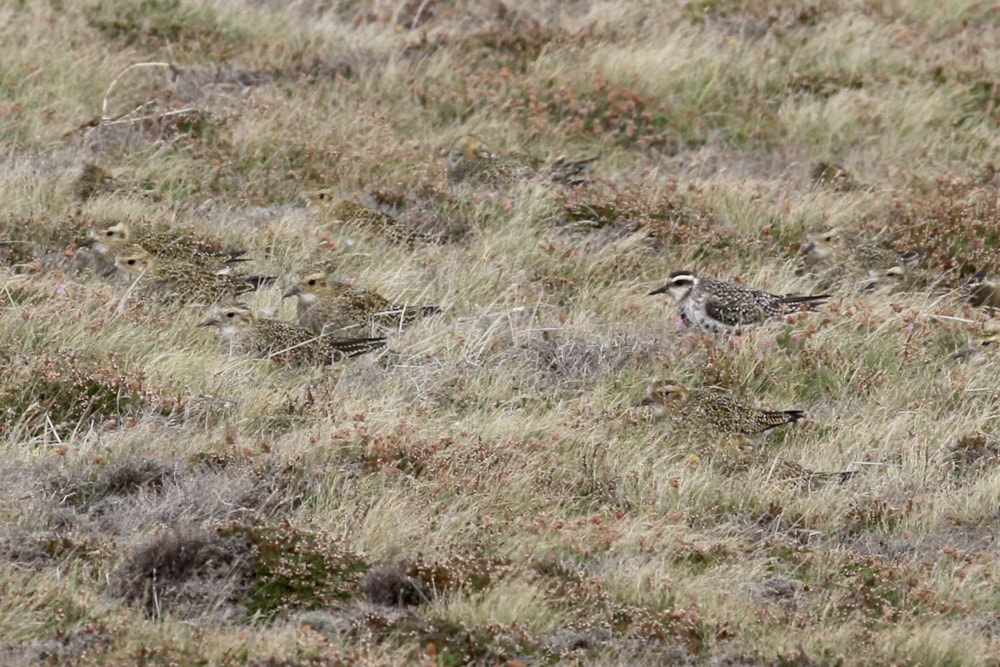 American Golden Plover, Porthgwarra, Cornwall (Trevor Williams).
Wednesday 30th saw some impressive Devonian seawatching – including a Leach's Storm Petrel and Pomarine Skua past Berry Head and Sabine's Gull past Prawle Point, while an Iceland Gull flew past Rillage Point. A Glossy Ibis remained at Fremington Pill, Devon, with Lundy hosting a Eurasian Dotterel and Snow Bunting.
In Dorset, a Bluethroat trapped and ringed at Wyke Regis on 5th was a highlight, while a lingering Rosy Starling remained at Easton, Portland. A Wryneck was at Cogden Beach on 1st. A Long-tailed Skua flew through Poole Harbour on 2nd, while Grey Phalaropes were at Stanpit Marsh and Mudeford, and a Black-necked Grebe was in Studland Bay.
In Somerset, a veritable smorgasbord of waders at Chew Valley Lake included a Lesser Yellowlegs, five Curlew Sandpipers, Spotted Redshank and two Little Stints. Glossy Ibises were at Ham Wall RSPB and Chard Reservoir, while Yellow-browed Warblers were at Weston-super-Mare SW, Yeo Estuary and Bristol. Two Grey Phalaropes were brief visitors to Huntspill on 6th; the Cheddar Reservoir Red-necked Grebe was last reported on 5th.
A Yellow-browed Warbler was the Gloucestershire highlight – near Tetbury on 6th. Four Little Stints were at two sites, while Curlew Sandpipers were at Slimbridge WWT, New Passage and Severn Beach. A Black Tern was at Cotswold Water Park, Wiltshire.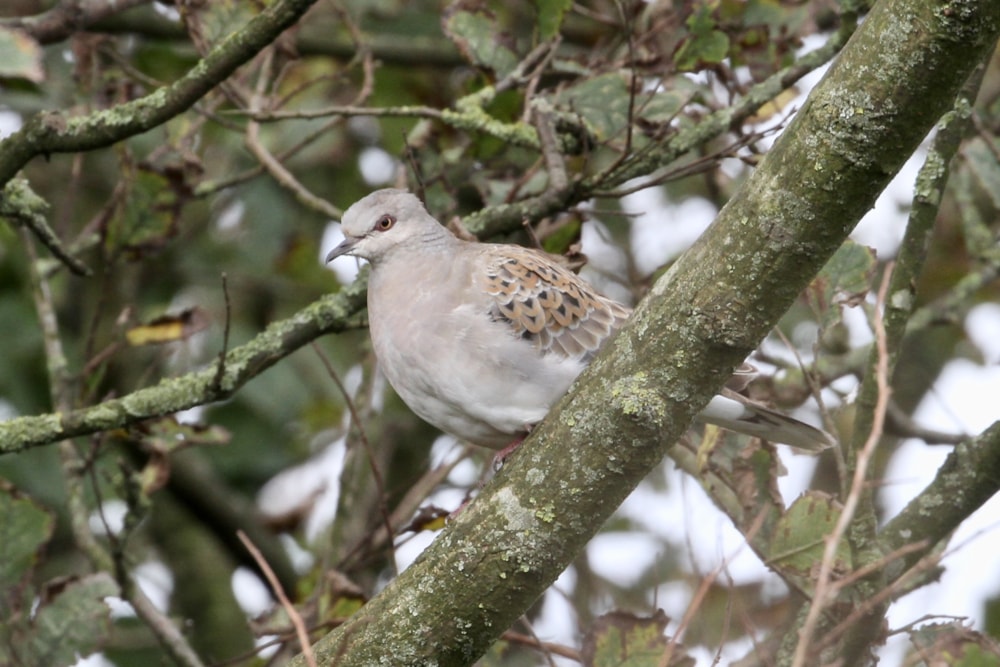 European Turtle Dove, Polgigga, Cornwall (Trevor Williams).
Wales
Bardsey Island scored three Sabine's Gulls in the week and Balearic Shearwaters continued to pass. Yellow-browed Warbler, Black-throated Diver, Siberian Lesser Whitethroat, Firecrest and three Lapland Buntings round off the rest of their week. A Eurasian Dotterel flew south over Skokholm on 1st, where a Pomarine Skua flew past on 4th.
The adult Rosy Starling remained at Bull Bay, Anglesey with the juvenile still on the golf course at Morfa Nefyn, Gwynedd. As autumn continues to progress, Yellow-browed Warblers still trickle into the country, and this week a respectable 11 sites reported birds. Another species enjoying a decent spell of records; Lapland Buntings were present at four sites in the north of the region. A Red-throated Diver was at Llandegfedd Reservoir on 4-5th alongside a Red-breasted Merganser on the former date – both decent inland records.
Ireland
Site of the week was Rahasane Turlough, Co Galway, which attracted a Lesser Yellowlegs on 6th in addition to continuing American Wigeon, American Golden Plover and Pectoral Sandpiper. The only new 'Pec' was at Termoncarragh Lake, Co Mayo, on 6th, where a juvenile Ring-necked Duck also appeared.
Up to two American Golden Plovers and a Buff-breasted Sandpiper hung on at Ballykelly, Co Londonderry, while another AGP was at Lough Beg on 3rd. At Tacumshin, Lesser Yellowlegs and up to three Pectoral Sandpipers remained.
The Ring-billed Gull was seen again at Nimmo's Pier, with another returning to Blackrock, Co Louth. Back in Co Galway a Hoopoe graced a garden in Oughterard on 2nd. Returning Ring-necked Duck were in Cos Mayo and Clare. The Glossy Ibis was still in Co Dublin on 29th, while a Western Cattle Egret was a decent find near Strabane, Co Tyrone, on 2nd.
In Co Kerry, a Red-breasted Flycatcher was reported daily at Dunquin from 3rd, while a Common Rosefinch at Firkeel, Co Cork, was also a regular fixture. Cape Clear held a Red-backed Shrike, with Mizen Head scoring a Subalpine Warbler of sorts on 4th. Yellow-browed Warblers reached 15 sites, with an astonishing 20+ on Tory Island on 5th – an Irish record day count for a single site. In Co Wexford, the Arctic Warbler remained at Churchtown until 1st.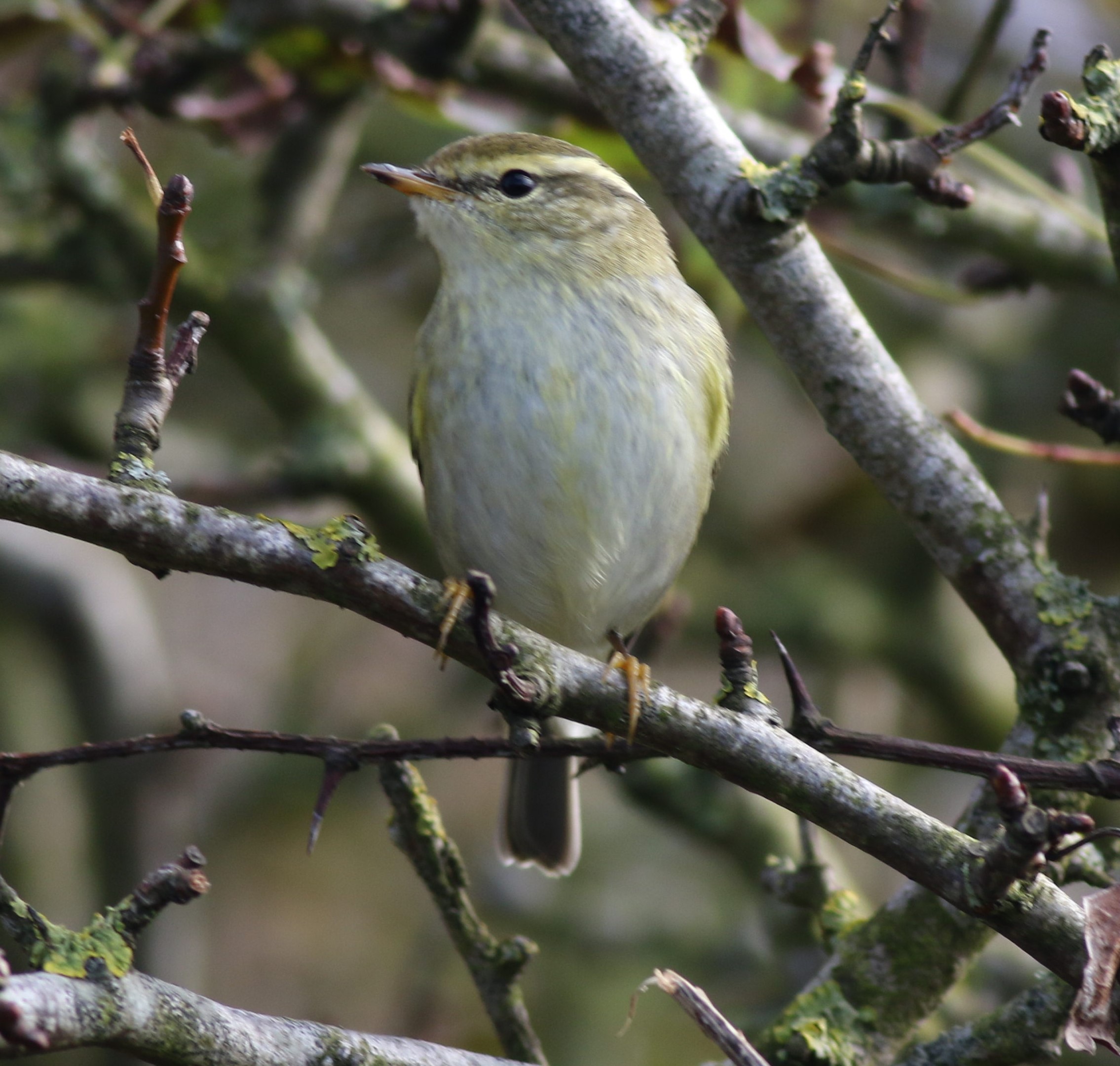 Yellow-browed Warbler, Kearney, Down (Garry Armstrong).
Western Palearctic
In the Azores, Corvo hosted Tennessee Warbler and Northern Parula on 2nd, with a Black-and-white Warbler the previous day. The fourth Eastern Wood Pewee for the WP was there on 4th. A mini-influx of Double-crested Cormorants saw no fewer than five individuals arrive – two on Faial alongside singles on Terceira, Flores and Corvo. A Black-capped Petrel was photographed off Pico on 29th.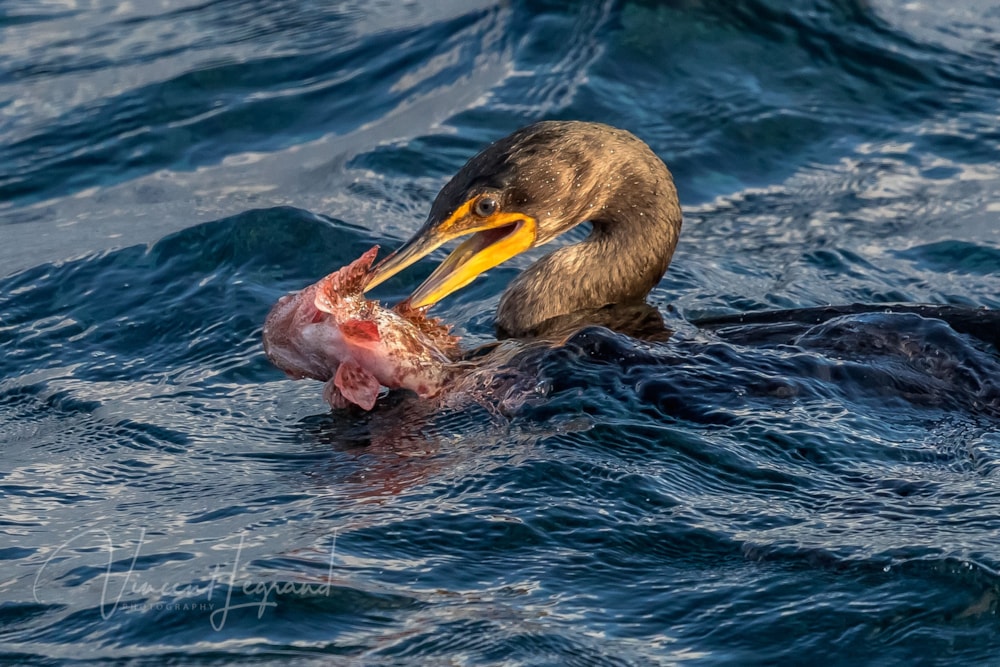 Double-crested Cormorant, Corvo, Corvo (Vincent Legrand).
The Icelandic Alder Flycatcher and Swainson's Thrush duo remained at Hvalsnes and Seltjörn on 2nd respectively, while a Red-eyed Vireo was trapped and ringed at Höfn. From the east, the country's third Paddyfield Warbler was at Suðursveit on 2nd, with a Blyth's Reed Warbler at Brunnhóll the previous day.
Meanwhile, the second Dutch Brown Booby was on a ship off Westkapelle on 29th. A White's Thrush was at Ouddorp on 3rd, while an Oriental Turtle Dove was at Zwaantje on 30th. Across the border, the ninth Belgian Pallas's Grasshopper Warbler was at Heist-aan-Zee on 4th.
The end of the week saw an Asian Desert Warbler at the Finnish Säppi bird observatory. Estonia's first Spotted Sandpiper was at Spithami on 29th, while a Paddyfield Warbler was at Svínoy, Faroe Islands, on 1st. The first Danish Eastern Yellow Wagtail was at Nordhavnstippen on 4th. In Spain, the adult Elegant Tern was still at Cádiz on 29th.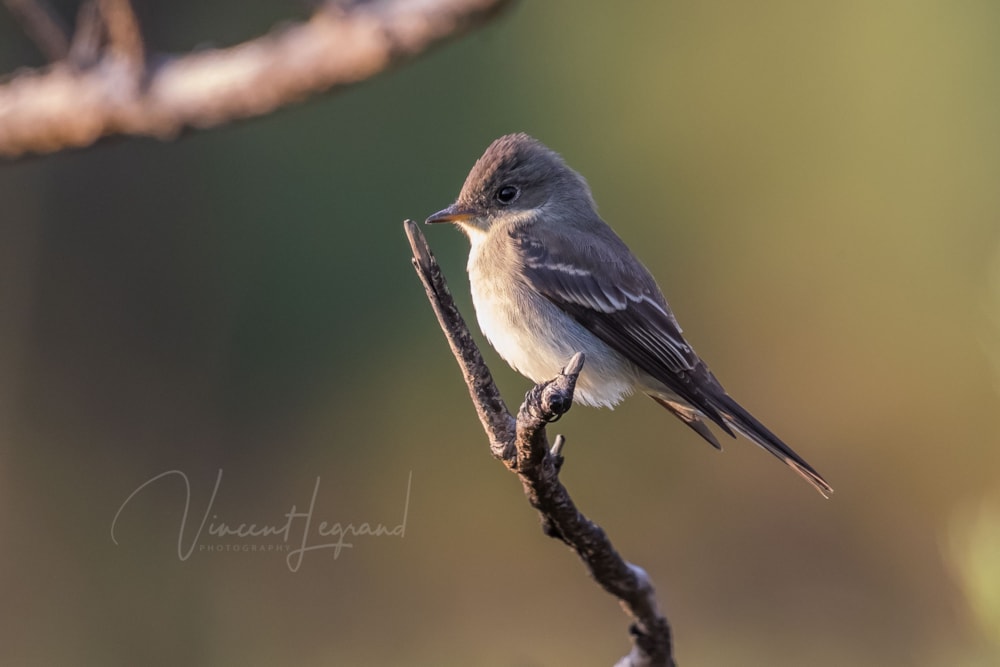 Eastern Wood Pewee, Corvo, Corvo (Vincent Legrand).