After a deathly quiet September for many birders, we can only hope that October makes up for it – and this week gave a few signs that birding might be improving nationwide. And, with periods of south-easterlies forecast for Shetland in the coming week as well as a couple of very promising transatlantic depressions hitting south-westerly areas, is autumn 2018 about to explode into action …?
Bird of the week was the Green Warbler on Lundy, Devon, on 7th. Initially reported as a Greenish Warbler, photographs clearly exhibited a strong lemon-yellow wash to the supercilium, throat and breast, as well as a broad wingbar and generally quite bright green tones to the upperparts, strongly hinting at the rarer alternative. Unfortunately a clear-out overnight saw the bird departed, disappointing a few boat-loads of twitchers who went across on the morning of 8th. With records from Shetland in 2014, 2016 and 2017, this previously ultra-rare Caucasian Phylloscopus seems to be going through one of those peculiar runs of records that extreme vagrants have a strange tendency of doing. Whether it continues or not remains to be seen.
Also of considerable note was a Blackpoll Warbler on Inishbofin, Co Galway, from 7th – this, the island's second after a tick-ridden individual in September 2013, was another hint that 'Yanks' are now firmly on the radar if the weather plays out favourably. If further proof was needed, a Swainson's Thrush was unearthed at Aywick, Yell, late on the evening of 9th.
Two of this week's major rarity finds actually involved returning birds, notably the Pied-billed Grebe at Loch of Spiggie, Shetland, which was picked up again from 4th, and the Pacific Diver off Crookhaven, Co Cork, from 7th – the first time it's been seen since April but, more significantly, it was still in resplendent summer plumage, giving observers a rare chance to see the species in breeding finery in Ireland. Meanwhile, another 'returner', the American White-winged Scoter, continued to float around off Musselburgh, Lothian, all week, and was joined by a drake Surf Scoter.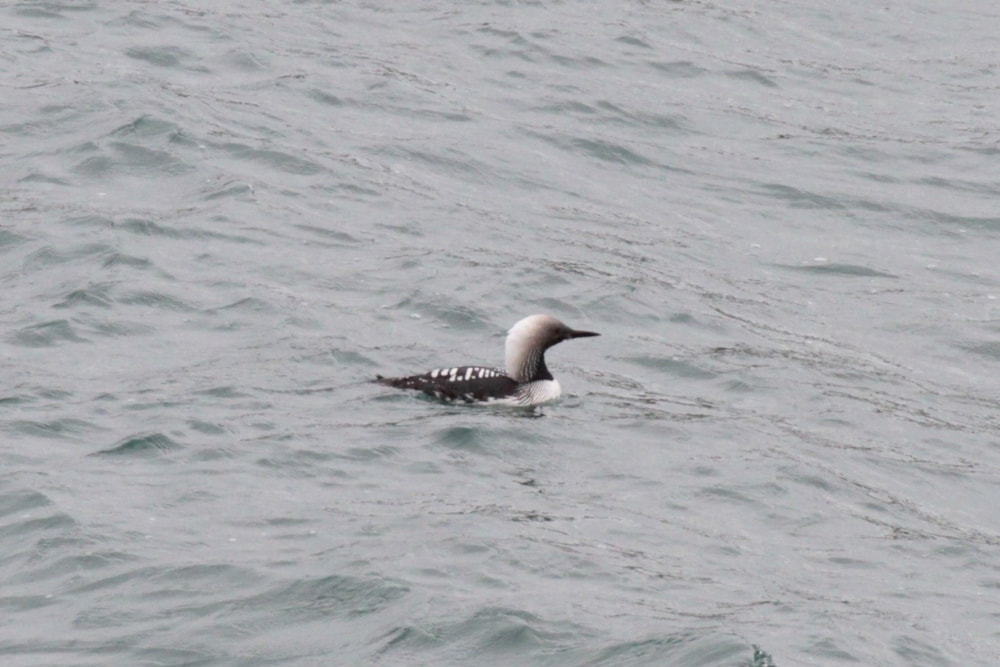 Pacific Diver, Crookhaven, Cork (Paul Connaughton).
Other Surf Scoter were noted off Scurdie Ness, Angus, and flying past Holy Island, Northumberland, the latter county also hosting the returning drake Black Scoter, which was seen off Cocklawburn Beach on 8th. The only King Eider this week was the continuing male at Burghead, Moray, while the American Black Duck at Strontian, Highland, also ploughed a lonely furrow for its species. In Co Kerry, the female-type Blue-winged Teal lengthened its stay at Trabeg to at least 8th, while drake American Wigeon were in Rutland, Lancashire and Highland. The sole Ring-necked Duck, however, was the bird at Abberton Reservoir, Essex, while the continuing female Lesser Scaup at Chew Valley Lake, Somerset, was also the only of its kind. It's nice to see that the drake Ferruginous Duck has again returned to Blashford Lakes, Hants, while the young male also stayed put at Minsmere, Suffolk. One wonders if the drake Hooded Merganser at Kidwelly, Carmarthenshire, on 7th might be the bird recently seen in Co Galway. A couple of presumed returning Snow Geese have been eked out from among the hordes of returning Pink-footed Geese in Scotland, with an intermediate morph at Findhorn Bay, Moray, from 3rd and a white morph at Collieston, Aberdeenshire, that day.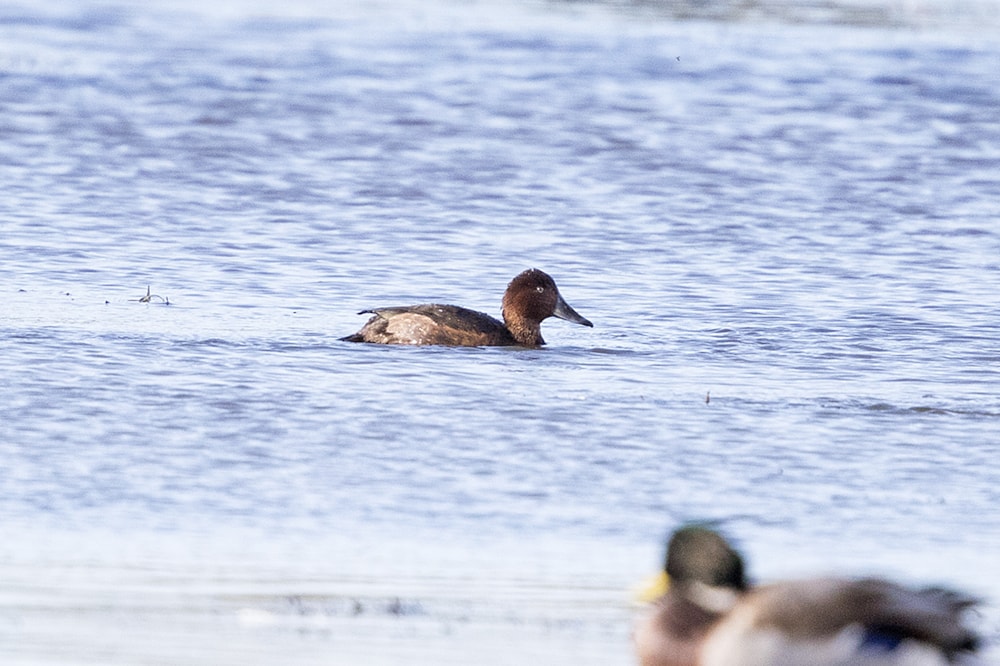 Ferruginous Duck, Minsmere RSPB, Suffolk (Andrew Moon).
Shetland continued to produce the occasional big bird, despite only small windows of suitable weather for arrivals from the east, with Haroldswick, Unst, producing both Eastern Yellow Wagtail and Pechora Pipit on 3rd. The latter was then relocated nearby on 6th and widely twitched. A couple of Citrine Wagtails were seen on Unst and Bressay, with the latter showing particularly well, a female-type Eastern Subalpine Warbler was on Whalsay on 6th, a Lanceolated Warbler was reported from Quendale on 4-5th, the Melodious Warbler continued at Lunna all week, a Marsh Warbler remained at Sumburgh to 6th and as many as three Blyth's Reed Warblers were located, as were a good scattering of Barred Warblers and Common Rosefinches.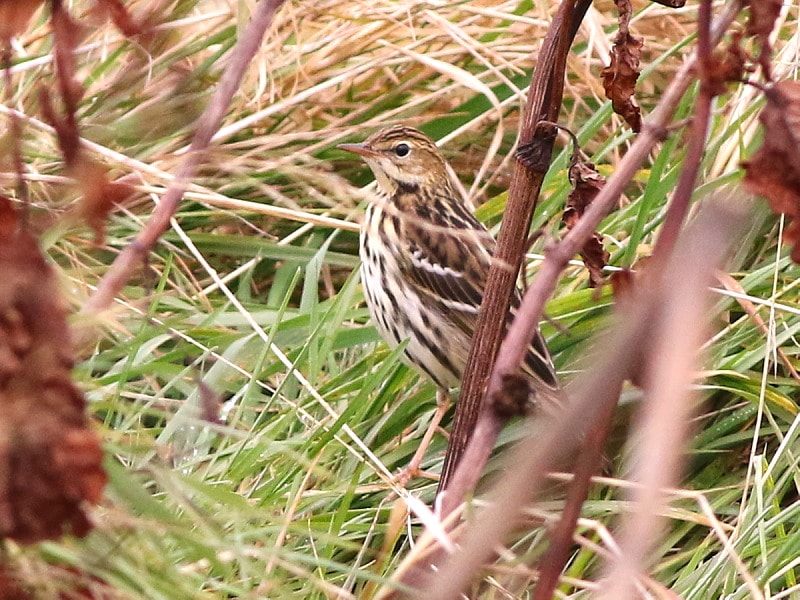 Pechora Pipit, Haroldswick, Unst, Shetland (David Cooper).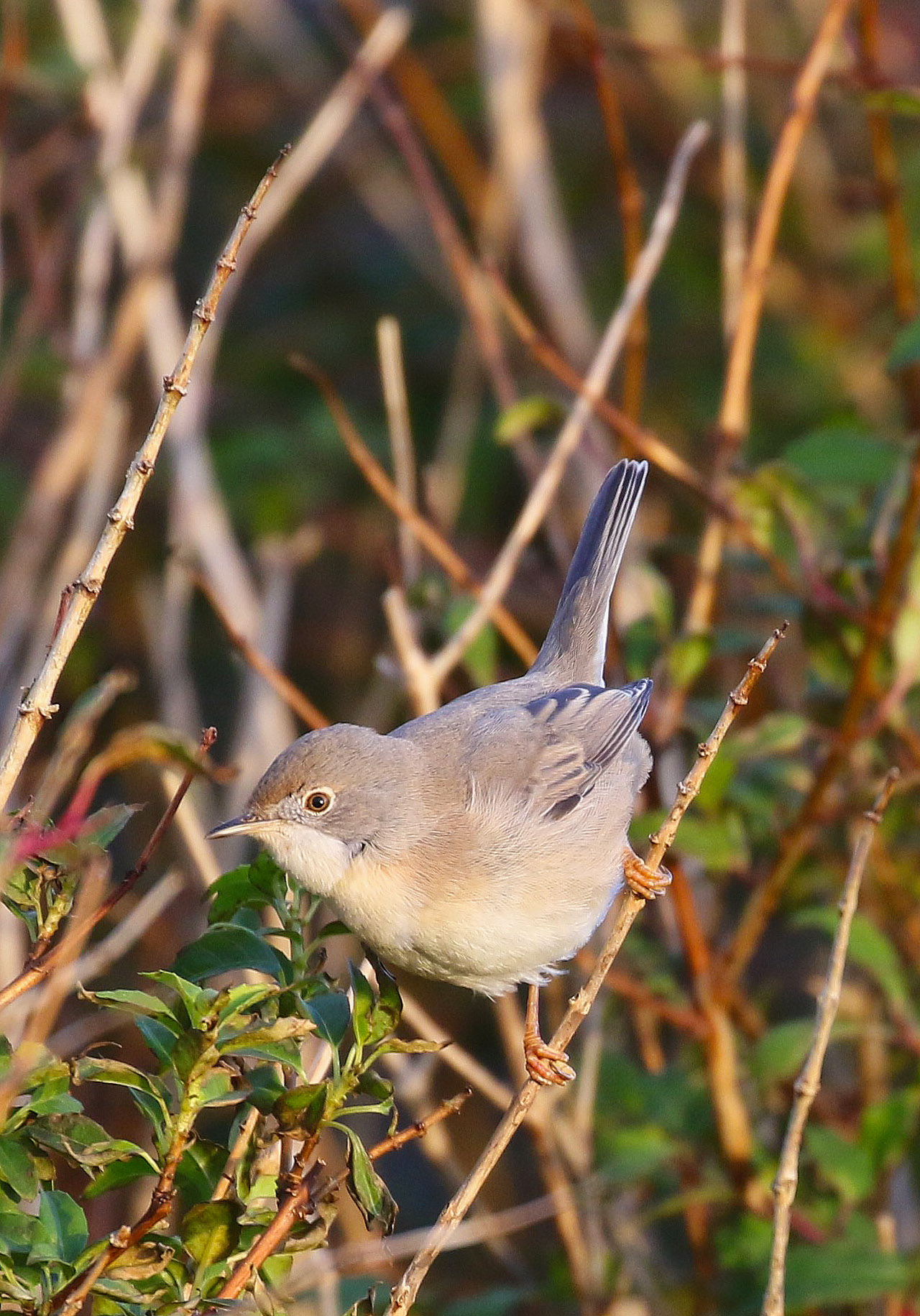 Eastern Subalpine Warbler, Isbister, Whalsay, Shetland (John Irvine).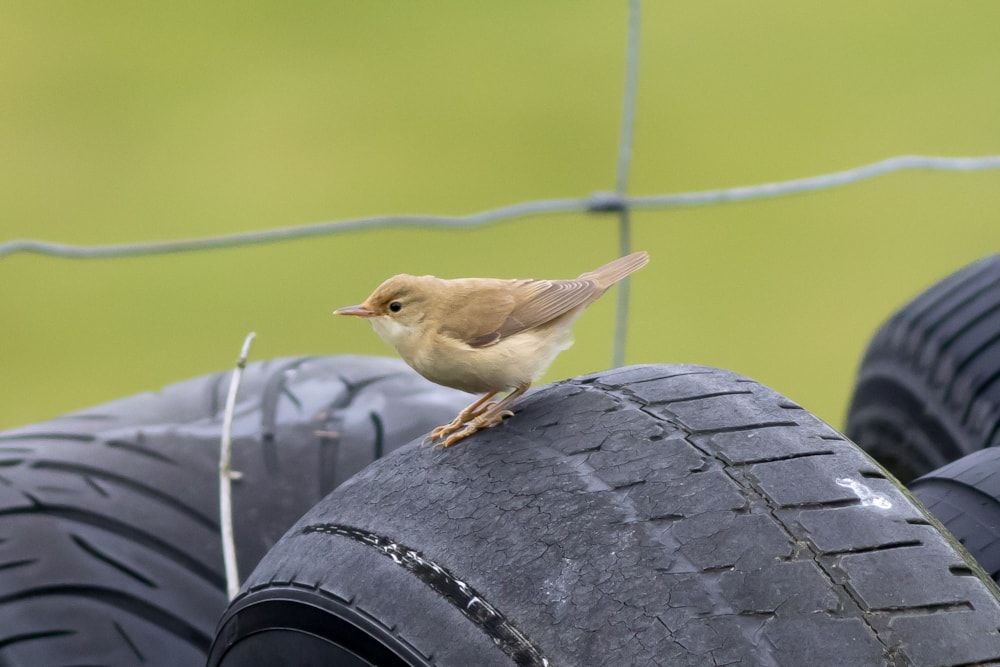 Marsh Warbler, Sumburgh, Mainland, Shetland (Mick Kemp).
Foula's brace of rare American sparrows started the week as still present and the White-throated was still there on 9th, although the White-crowned disappeared on 6th, only to pop up at the opposite end of the island on 9th. Fair Isle remained surprisingly quiet throughout.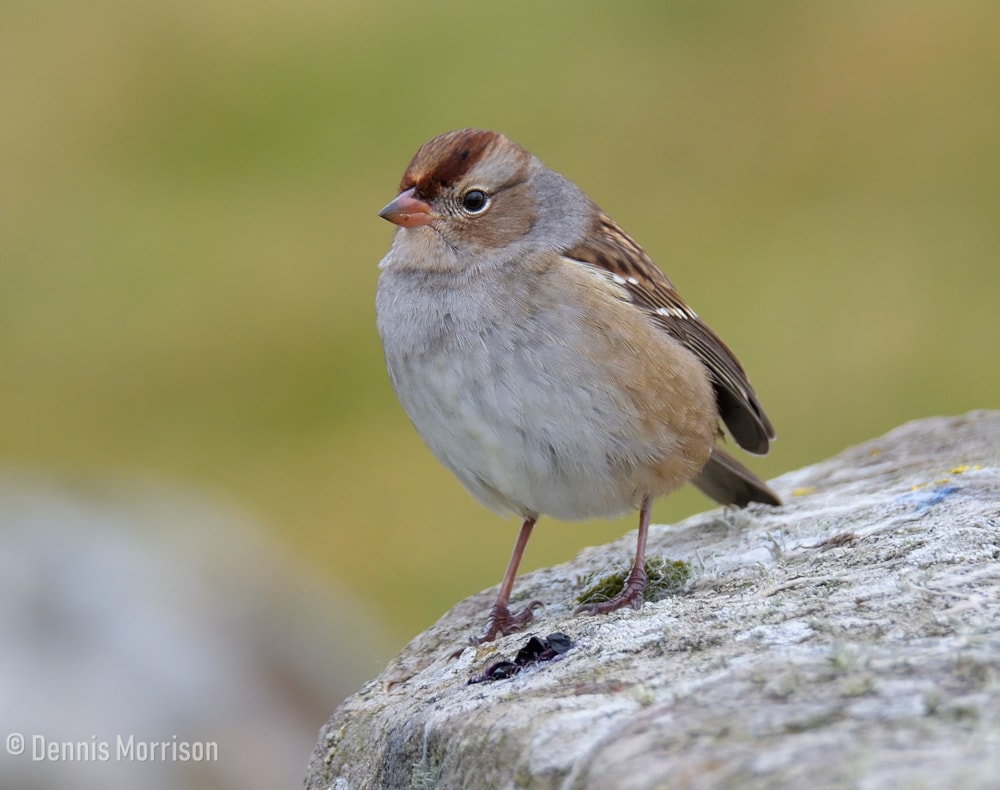 White-crowned Sparrow, Foula, Shetland (Dennis Morrison).
Later in the week, a fine Snowy Owl was discovered on Fetlar on 8th, favouring the very stack where the species bred some years ago – a coincidence perhaps, but one that brought back fond memories for those Shetland birders who remember seeing them there in their heyday of the 1960s and 70s.
One of the big talking points of the week was the major arrival of Yellow-browed Warblers across the southern half of Britain and Ireland, with the greatest numbers appearing along the east coast between Yorkshire and Kent on 7th. In total, we carried over 370 reports of the species during the seven days and figuring out just how many arrived is difficult – however, it must amount to at least 500 birds, if not many more. This was bolstered by some major counts from east coast hot-spots such as a Spurn, which tallied 39 on Sunday, while just about every patch of coastal habitat in East Anglia and Kent seemed to host at least one or two of these delightful Asian sprites.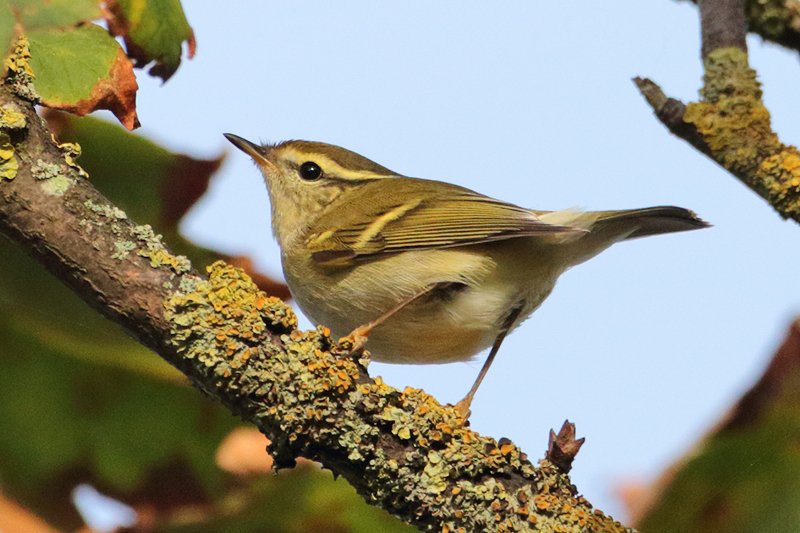 Yellow-browed Warbler, Southwold, Suffolk (Rob Holmes).
Among them came a few scarcities, such as Greenish Warblers at North Foreland, Kent, on 8th and St Agnes, Scilly, on 9th, while the first Radde's Warbler of the autumn appeared at White Cliffs NT, Kent, on 7th.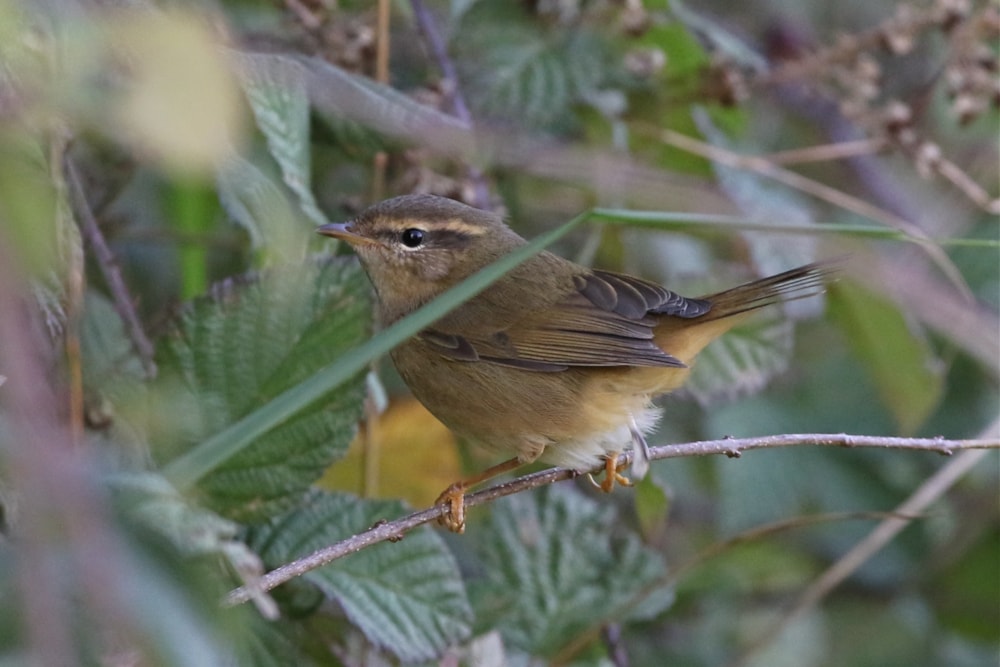 Radde's Warbler, Langdon Cliffs NT, Kent (Richard Bonser).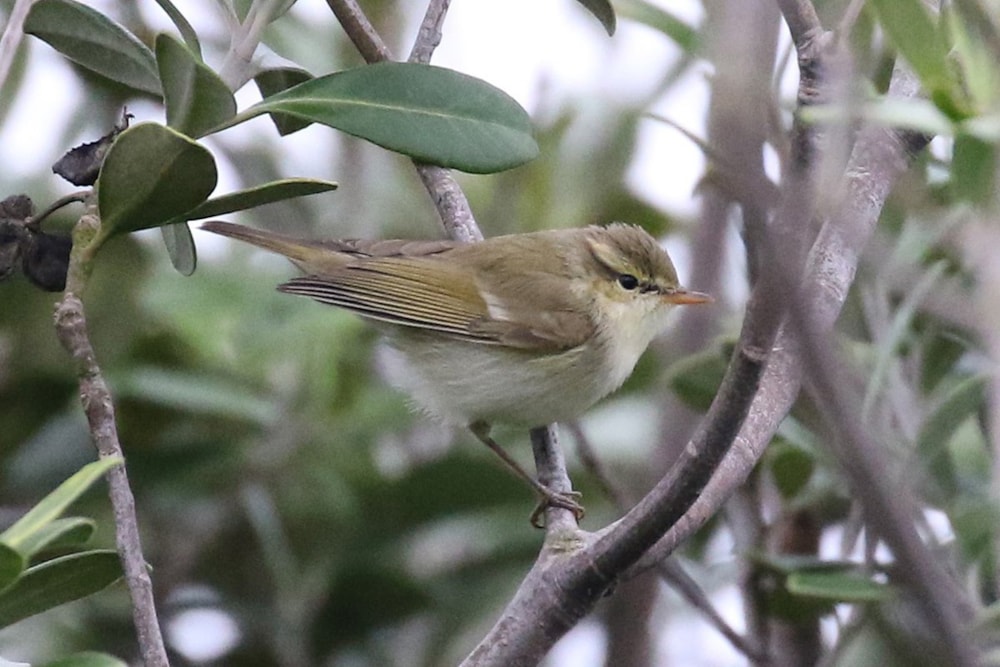 Greenish Warbler, St. Agnes, Isles of Scilly (Beachy Birder).
A Red-flanked Bluetail was found at Spurn Point, East Yorks, on 7th, though only identified from photos after dark – thankfully it lingered to 9th. Meanwhile an Olive-backed Pipit was briefly at Burnham Overy Dunes, Norfolk, that day.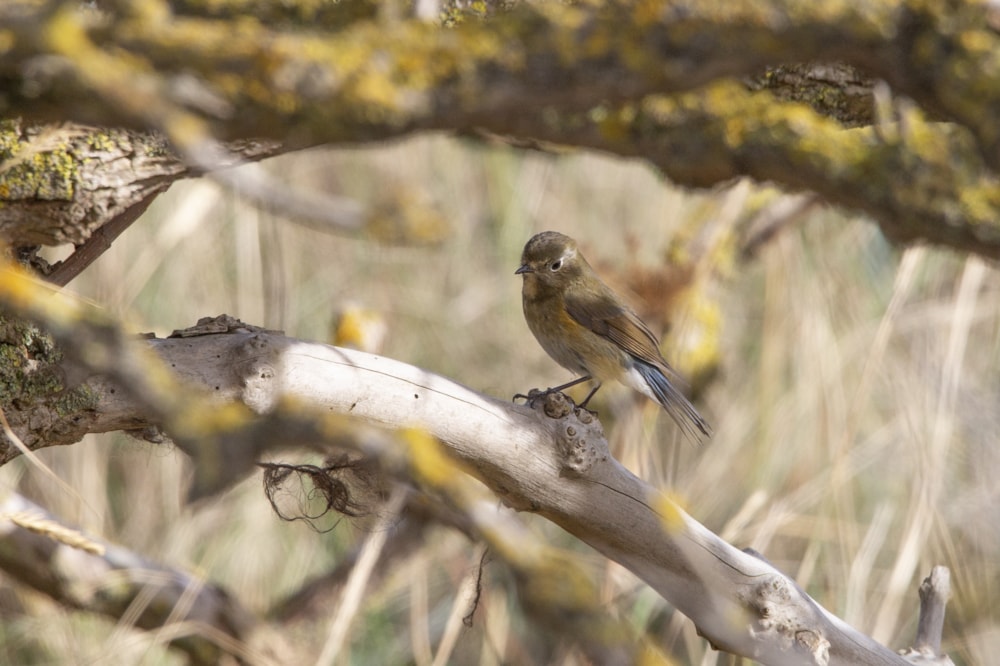 Red-flanked Bluetail, Spurn YWT, East Yorkshire (Matthew Trevillion).
Content continues after advertisements
Red-breasted Flycatchers have been particularly scarce so far this autumn, thus the week's total of 12 was notable. Of these, the most unusual record concerned a bird trapped and ringed well inland at Enfield Lock, London, on 4th, while Shetland managed its first of the autumn at Exnaboe on 9th. Just the four Red-backed Shrikes were seen, those being widely spaced in Hampshire and on Scilly, Tiree and Shetland. Other scarcities included half-a-dozen Rosy Starlings, two of which were on St Martin's, Scilly, and only around 10 Richard's Pipits – though these did include three together at Horsey, Norfolk, on 9th.
A bit of a surprise came in the form of a first-winter European Bee-eater inland at Haltwhistle, Northumberland. Found on 3rd, news came out on 6th and the bird lingered until the end of the review period, often showing well. Around 10 Wrynecks were seen in Cornwall and Scilly, with singles in Suffolk and Kent. A Hoopoe remained at Portland, Dorset, to 6th.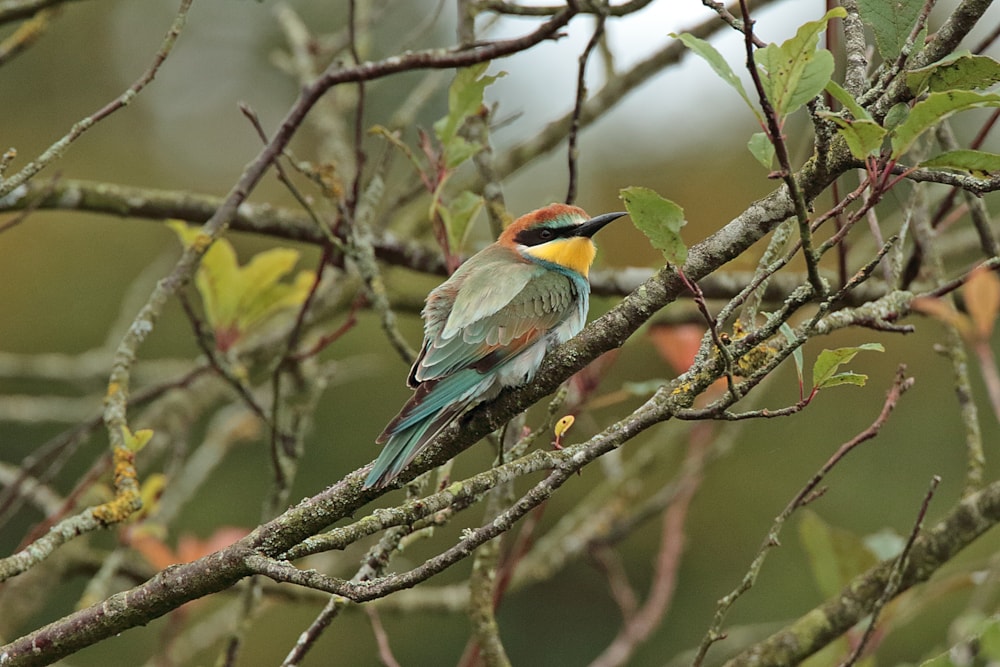 European Bee-eater, Haltwhistle, Northumberland (Tom Tams).
The Isabelline Shrike hung around on Barra, Outer Hebrides, to at least 8th, while the long-staying Tawny Pipit lasted another week on Bryher, Scilly. However, another rare pipit was altogether more fleeting on Scilly – a Red-throated Pipit was watched on St Agnes for just an hour or so on 8th before it was lost. Also on Scilly, a potential Eastern Yellow Wagtail was seen on St Mary's on 9th.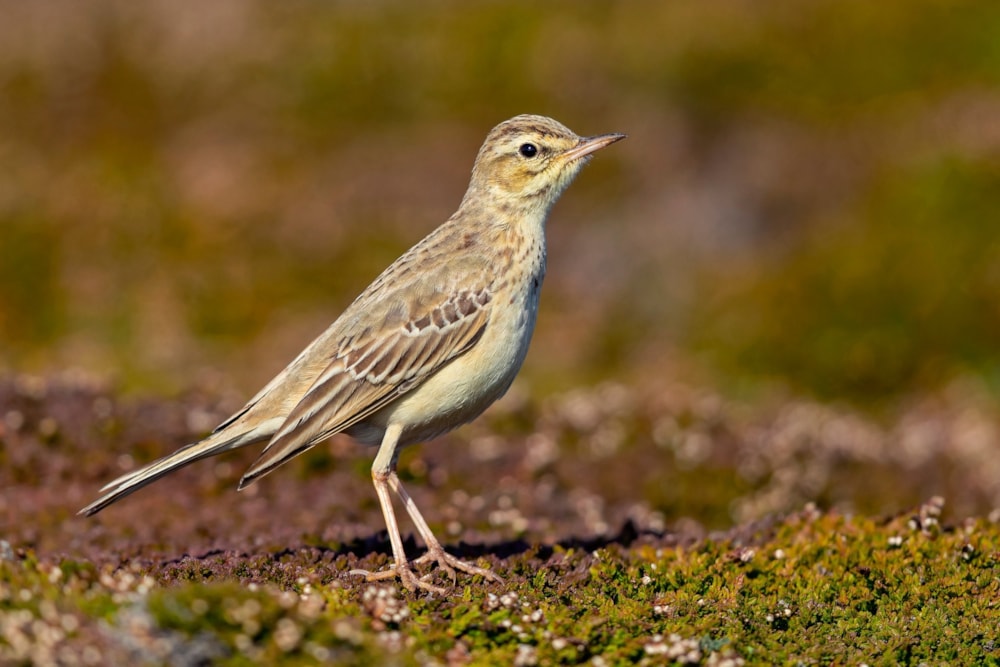 Tawny Pipit, Bryher, Isles of Scilly (Marc Read).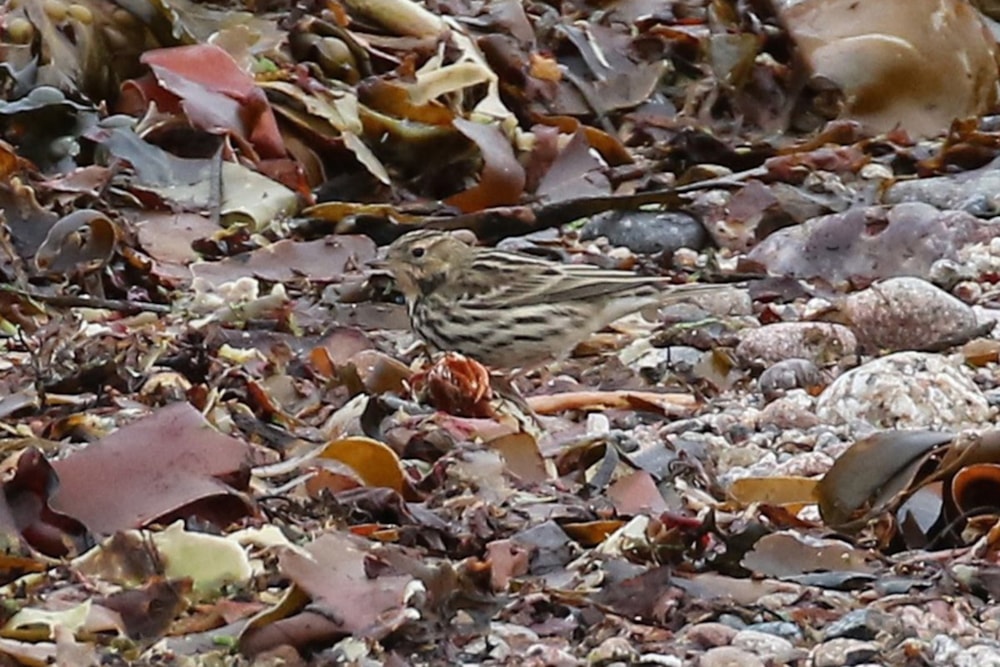 Red-throated Pipit, St. Agnes, Isles of Scilly (Beachy Birder).
As well as the male on Fetlar, Snowy Owls were reported as still on Eday, Orkney, and St Kilda, Outer Hebrides. Meanwhile, the sole remaining Pallid Harrier from September's influx was the juvenile female at Therfield, Herts, which stayed around all week.
Turning to waders and a new Lesser Yellowlegs was found at Shingle Street, Suffolk, on 3rd, before settling down at nearby Hollesley Marshes later in the week. As well as the elusive bird at Askernish, South Uist, one (perhaps the same?) was at Aird an Runair, North Uist, on 8th, while others remained in Cornwall and Devon. A Baird's Sandpiper at Findhorn Bay, Moray, from 3rd is presumed to be a different individual to that seen there in mid-September, while another briefly called in at Kingsmill Lake, Cornwall, on 5th. A juvenile White-rumped Sandpiper graced Inishbofin, Co Galway, on 8th. Around 15 Pectoral Sandpipers were seen, with notable inland British records from Kilvington, Notts, and Vyne Water Meadows, Hants.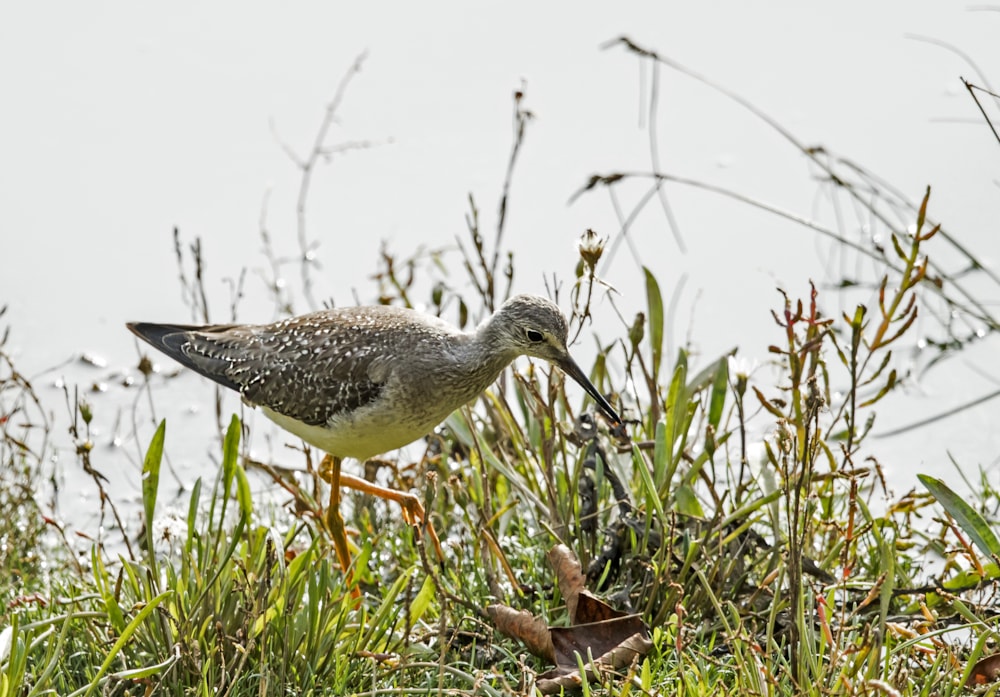 Lesser Yellowlegs, Devoran, Cornwall (Meurig Garbutt).
Once again, Long-billed Dowitchers were limited to the adult at Frampton Marsh, Lincs. Somewhat more significantly, if it is confirmed, was a candidate Wilson's Snipe at the traditional location of Lower Moors on St Mary's, Scilly, on 4th. It was seen intermittently thereafter, although could go missing for long periods. Six American Golden Plovers were seen in Ireland, with British records stemming from East Yorkshire, South Uist, Orkney (two on Sanday) and Shetland (three). Something of a surprise was a smart juvenile Red-necked Phalarope on the boating lake at Wells Woods, Norfolk, for the day on 4th.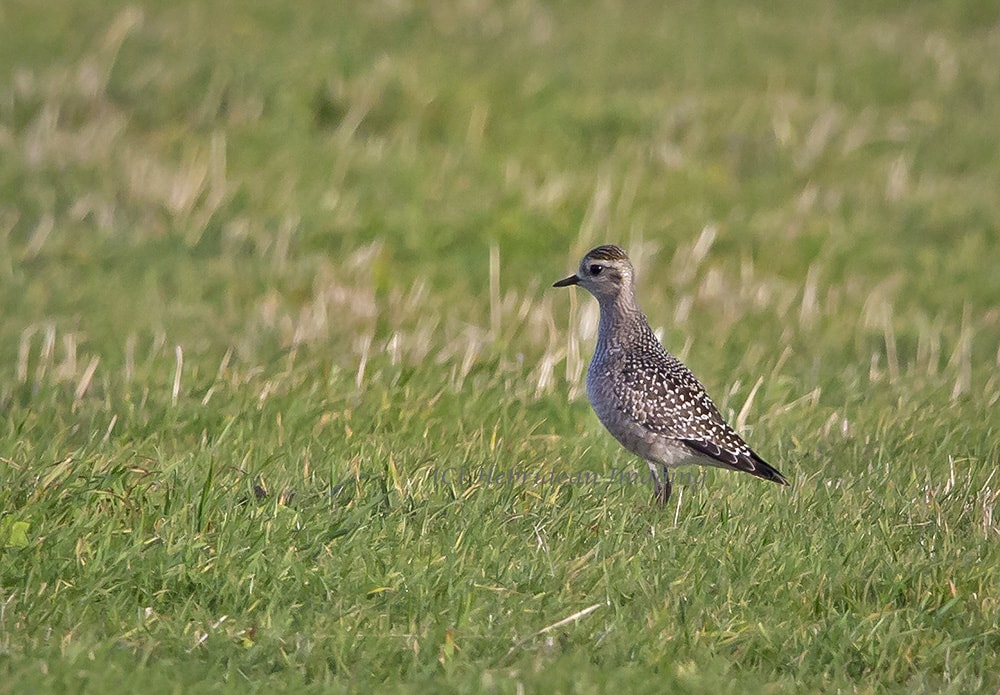 American Golden Plover, Askernish, S. Uist, Outer Hebrides (Ian Thompson).
An adult Bonaparte's Gull was a nice find at Dunmore East, Co Waterford, on 4-5th but larids were otherwise scantily represented, with 15 sites logging Caspian Gulls and just a few Glaucous Gulls noted.
Good numbers of Great Shearwaters lingered in Scillonian waters, with 200 from a pelagic on 4th and 91 past Horse Point, St Agnes, on 5th. Seawatching was otherwise unremarkable, with the usual scattering of Pomarine Skuas from east coast localities, a few Leach's Storm Petrels off north-east Norfolk and just nine widely spread Grey Phalaropes.
In non-bird news, the autumn's influx of Oleander Hawkmoths continued, with one found in the ladies' toilets at a pub in central Workington, Cumbria, at the start of the week, followed by another trapped overnight at Abercregan, Glamorgan, on 4th (the latter shown to twitchers on 5th). Meanwhile, the Beluga Whale continued to be reported from the River Thames at Gravesend, Kent, although it seems a little more mobile now, and there were sporadic reports of Killer Whales from Shetland, which entertained visiting birders up there. Finally, a Long-tailed Blue was seen on St Agnes, Scilly, on 9th.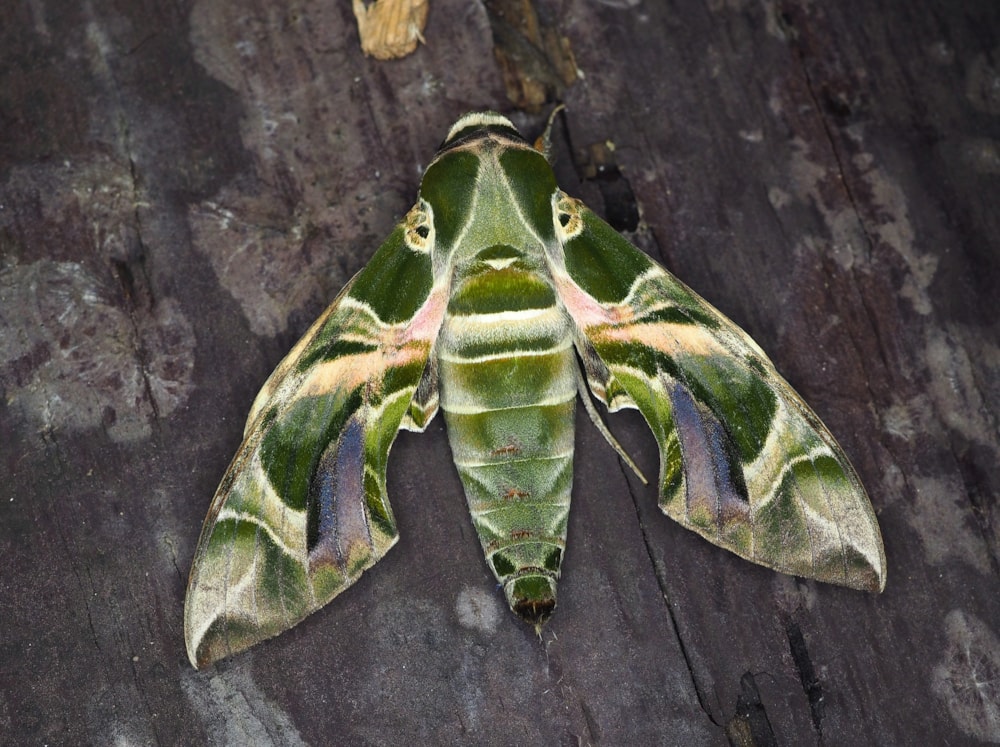 Oleander Hawkmoth, Abercregan, Glamorgan (Paul Parsons).
Western Palearctic
Iceland's good run of Nearctic passerines continued, with a Black-billed Cuckoo found dead in the far east of the country at Fáskrúðsfjörður mid-week, a Swainson's Thrush at Höfn on 5th and then a Hermit Thrush at Eyrarbakki, in the same garden as last week's Blackpoll Warbler, on 9th. The drake American White-winged Scoter was also still off Keflavík.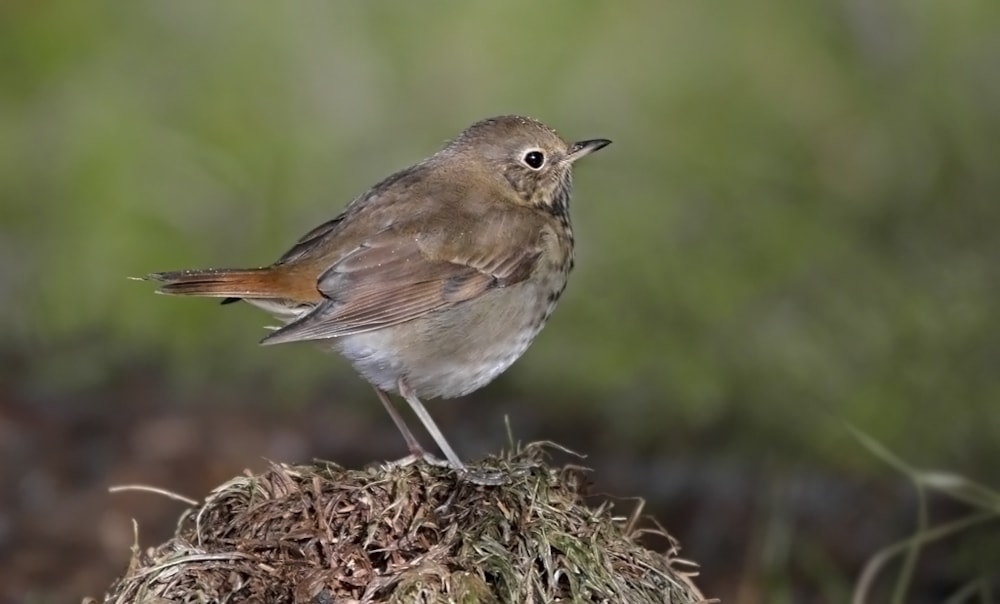 Hermit Thrush, Eyrarbakki, Suðurland (Alex Máni Guðríðarson).
Meanwhile, the Azores' season is yet to really kick into gear, although a Northern Harrier was on Corvo on 4th and the archipelago's fifth Pied Flycatcher was on the same island subsequently. Both Corvo and Flores produced Spotted Flycatchers, another rare immigrant, while an American Great Egret was on the latter island. São Miguel boasted two Hudsonian Whimbrels on the airfield at Ponta Delgada on 9th as well as a lingering Pied-billed Grebe.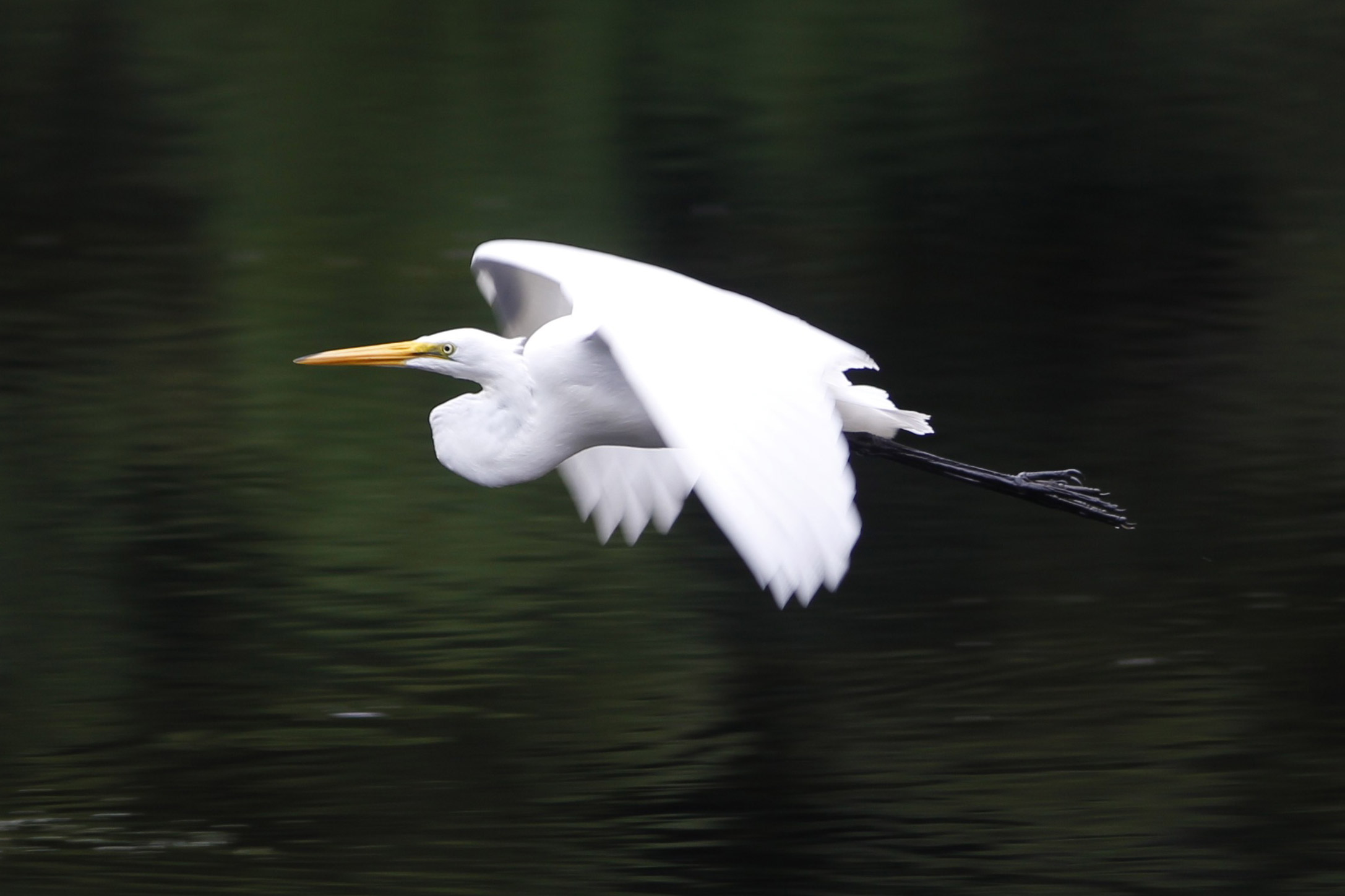 American Great Egret, Fajãzinha, Flores (Karsten Schmale).
In mainland Portugal, a sub-adult Kelp Gull was at Espinho, near Porto, from 5th. Back to the Nearctic theme, a juvenile Solitary Sandpiper was on the Norwegian island of Værlandet on 3rd, while just the third American Golden Plover for Finland was at Björkboda on 4th.