Wednesday morning brought some semblance of calm after the eventful end to last week. Despite extensive searches by the dedicated wardening team on the Farne Islands on the evening of 2nd, the hoped-for appearance of the giant petrel species failed to materialise. The hopes of Scottish sea-watchers were briefly raised on the morning of 4th with news of a distant 'possible' off Dunbar, Lothian, but then nothing – there were no further sightings of this remarkable seabird by the time we went to press.
The week slipped by in fairly unremarkable fashion until Tuesday arrived and east-coast sea-watchers were once again in the money, when news broke that an adult Sooty Tern had slipped south past Flamborough Head and into Bridlington Bay. A little over an hour later and it had evidently changed direction, heading north past Long Nab – and the chase was on. Over the next three hours it was tracked along the east coast at Cowbar, Whitburn, Seaton Sluice and Newbiggin, before nearly taking the heads off observers at Cullernose Point, Northumberland, just before midday.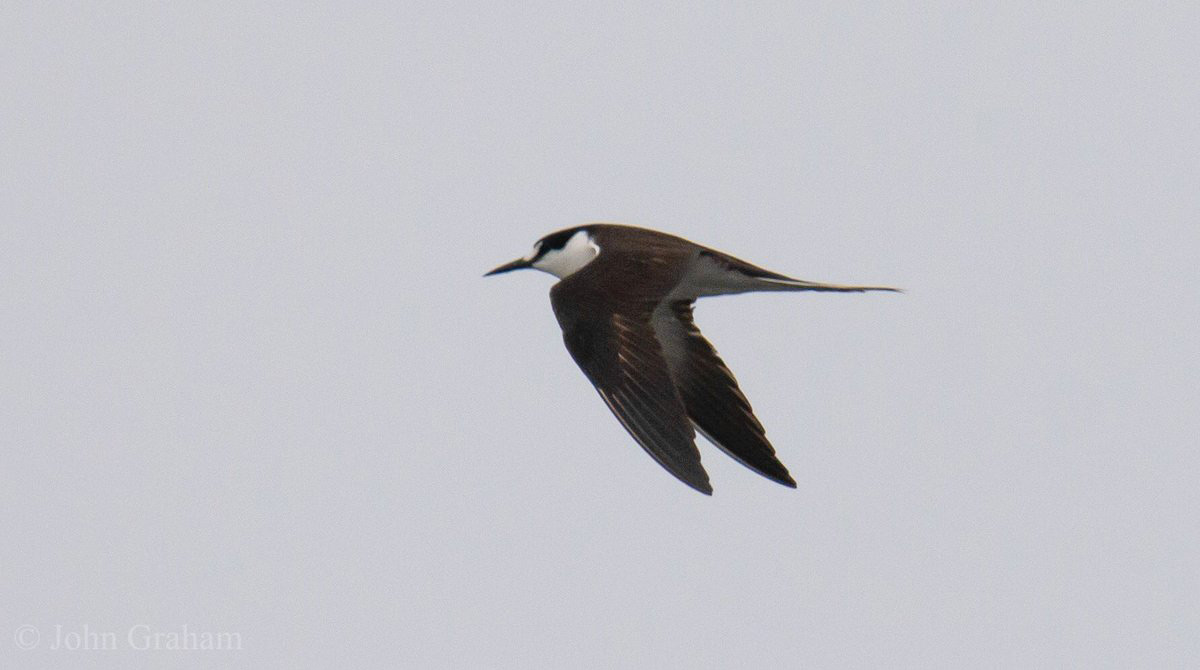 Sooty Tern, Newbiggin-by-the-Sea, Northumberland (John Graham).
Shortly after it was noted at Annstead Point, just south of Seahouses and opposite Farne Islands, where it decided to tease would-be twitchers by lingering for 30 minutes on coastal rocks among the Kittiwakes. But, after this short rest, it headed back out into the gloom and heavy rain once more. Where has it been hiding since its initial appearance at Bempton and Filey on 24 June?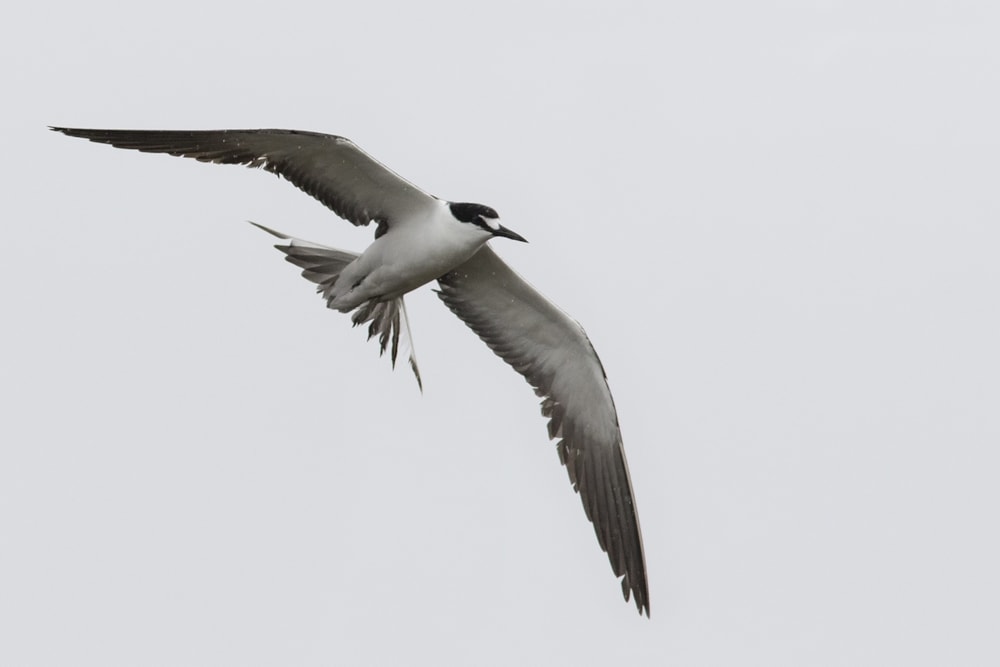 Sooty Tern, Seahouses, Northumberland (Gary Woodburn).
The other emerging story of the week, which appears to be gathering more pace than a Djokovic serve, is a fairly sizeable and determined irruption of Two-barred Crossbills. A female photographed on Out Skerries, Shetland, proved the vanguard, followed by a male on Foula on 7th then another female at Norwick, Unst, on the morning of 8th. Then, that evening, a stunning male showed at point-blank range at Baltasound, Unst. By late morning on Tuesday, Fair Isle raised the stakes with four, including two males.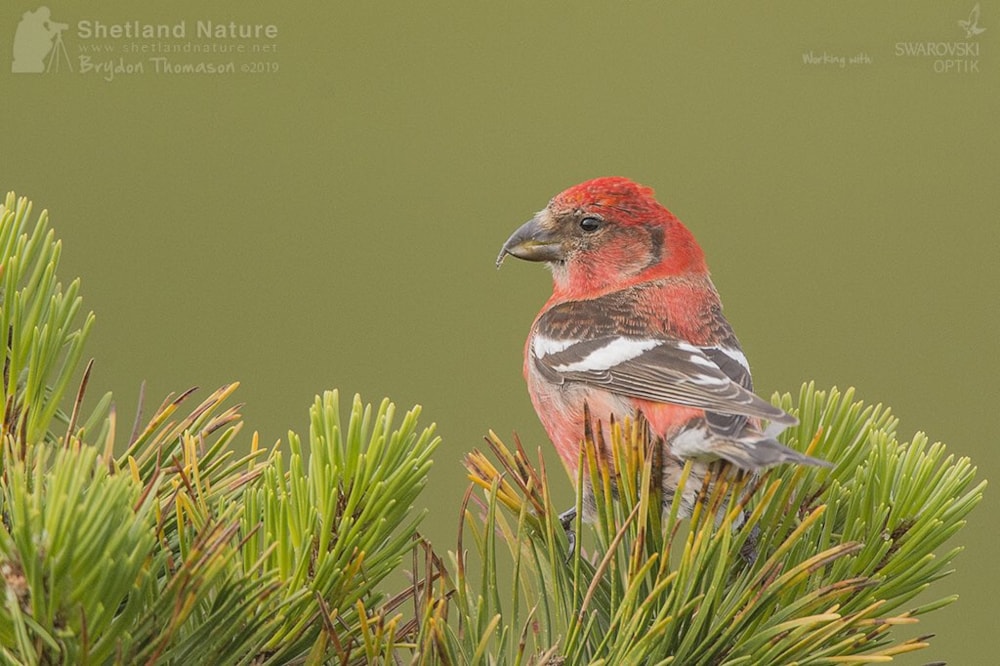 Two-barred Crossbill, Baltasound, Unst, Shetland (Brydon Thomason).
By early evening a minimum of 30 had been located across Shetland, including one hitching a ride on a boat off Lerwick, nine at Sumburgh Head, seven on Fair Isle and five on Fetlar. At least one male hit Highland Scotland, too – after taking time out on a boat bound for Wick, it jumped ship just as its chosen vessel approached the harbour. This movement seems to be a reflection of what's happening on the west Norwegian coast, with a flock of 19 Two-barreds at Svolvær, Lofoten, on 8th, nine on Sklinna, Trøndelag, and two on Utsira, Rogaland, on 9th.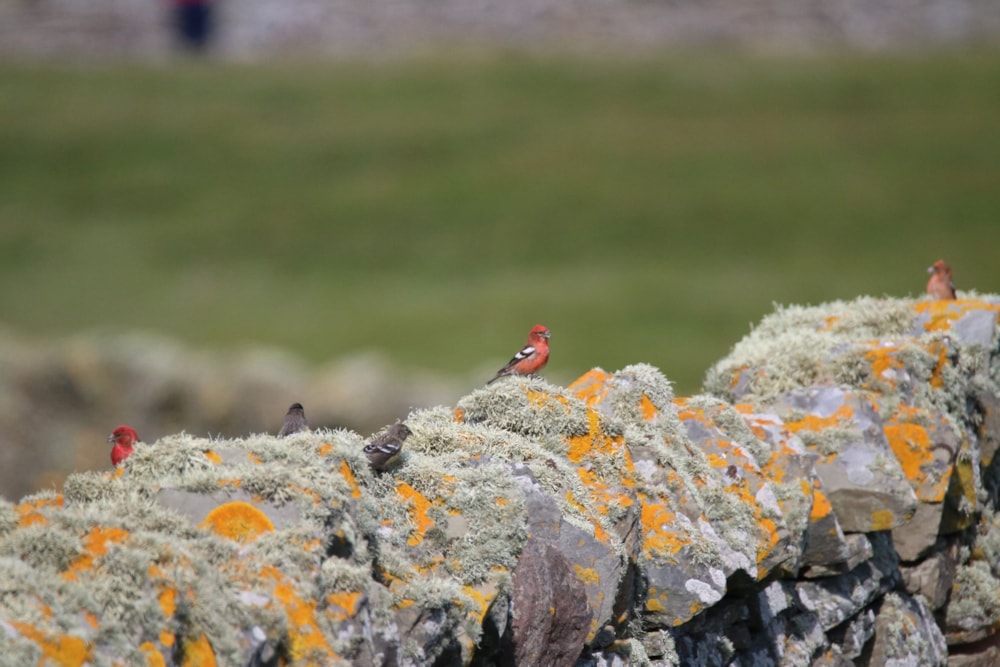 Two-barred Crossbills, Sumburgh, Mainland, Shetland (Donald Robertson).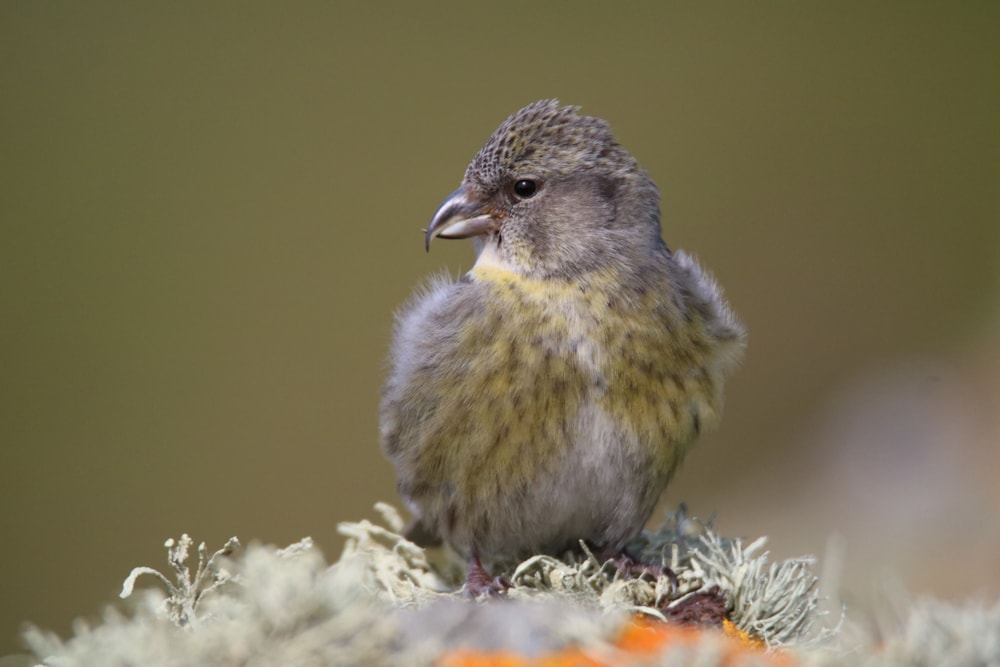 Two-barred Crossbill, Sumburgh, Mainland, Shetland (Donald Robertson).
The drake Baikal Teal remained at Druridge Pools, Northumberland throughout the week, its plumage looking increasingly washed out – much like its reputation among birders as its summer stay lengthens. Both Blue-winged Teal remained rooted to their favoured sites in Clyde, as did the ever-present Strontian American Black Duck. Also in Scotland and now well into its fourth year of residence, the male Pied-billed Grebe remained at Loch Feorlin, Argyll. The drake Green-winged Teal lingered at Cley Marshes, Norfolk until 6th at least. The drake Lesser Scaup at Mire Loch, Borders, was present all week and a single drake Ring-necked Duck was still at Llyn Brenig, Clwyd, on 7th in what was a generally quieter week for ducks.
The Lincolnshire reserves of Frampton Marsh and Freiston Shore offered a temporary home to a Squacco Heron from 5-7th – presumably the Norfolk individual of the previous week making the short hop west. The Gull-billed Tern that lingered on the Wirral coast at Thurstaston and was last seen on 7th. A Savi's Warbler continued to skulk in the reedbed at Cors Ddyga RSPB, Anglesey, throughout the week and one of the Minsmere males started singing again on 9th, just in time to make this week's review. In West Yorkshire, the male Great Reed Warbler briefly sang at Pugney's Country Park again on 5th, perhaps for the final time this year.

Gull-billed Tern, Thurstaston, Cheshire (Andy Ingham).
Putting the Sooty Tern to one side, sea-watching lacked any real quality. North Ronaldsay lighthouse had a fly-by Long-tailed Skua on 5th and four individual Pomarine Skuas were at three Scottish localities and a single Cumbrian site. A Cory's Shearwater passed Spurn, East Yorkshire, on 8th, with another off Porthgwarra, Cornwall, on 9th and just seven Balearic Shearwaters in the week felt like a pitiful return – hopefully better days are ahead.
Three confirmed Black-crowned Night Herons were spread between Scilly, Dorset and Cambridgeshire and a possible was noted in flight in Gloucestershire. Records for Western Cattle Egret included confirmed breeding in Hampshire, Essex and Northamptonshire. In Norfolk, the adult Purple Heron hung on at Titchwell RSPB to 3rd and another was again noted at Shapwick Heath NNR, Somerset, on 5-6th.
Pick of the week's waders was a two-day Collared Pratincole at Llanelli WWT, Camarthen, on 3-4th, continuing the run of summers with single individuals of two different pratincole species in Britain. A pair of Black-winged Stilts popped up again at Potter Heigham Marshes, Norfolk. Single Temminck's Stints scurried around Scaling Dam, Cleveland, Dungeness RSPB, Kent, and Frampton Marsh RSPB, Lincolnshire, while an adult White-rumped Sandpiper visit the hot-spot of Tacumshin, Co Wexford, on 6-7th. A Terek Sandpiper scraped into the week at Burton Mere Wetlands, Cheshire, late on the evening of 9th, representing just the second for The Wirral. A Lesser Yellowlegs remained at Cley Marshes, Norfolk, to 8th at least.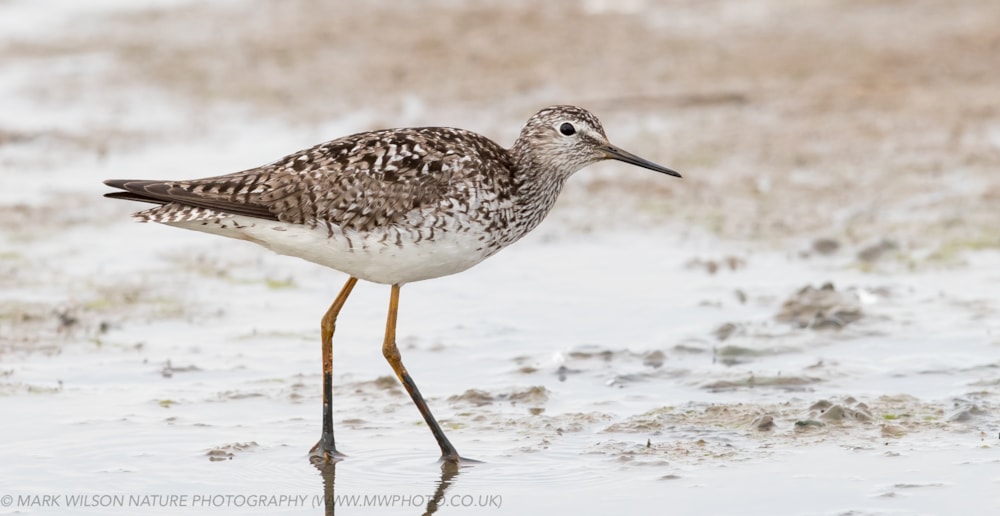 Lesser Yellowlegs, Titchwell RSPB, Norfolk (Mark Wilson).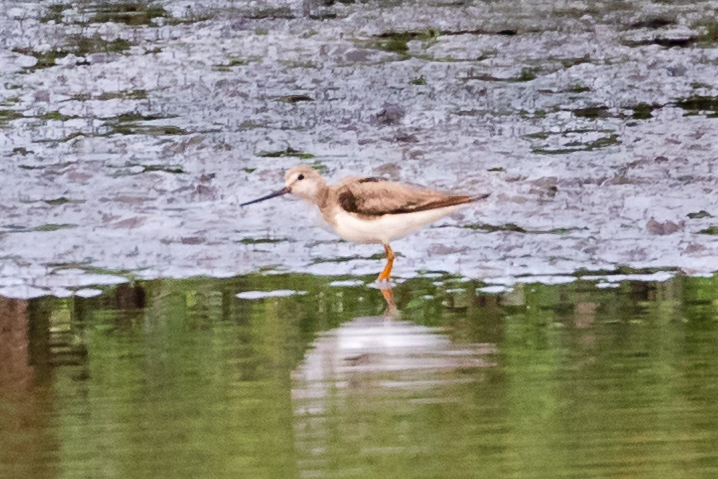 Terek Sandpiper, Burton Mere Wetlands RSPB, Cheshire (Ian Bollen).
Three adult White-winged Terns included a popular individual at Saltholme RSPB, Cleveland, another at Grafham Water, Cambs. More significantly, a lingering adult at Lough Funshinagh, Co Roscommon, was a great record for interior Ireland.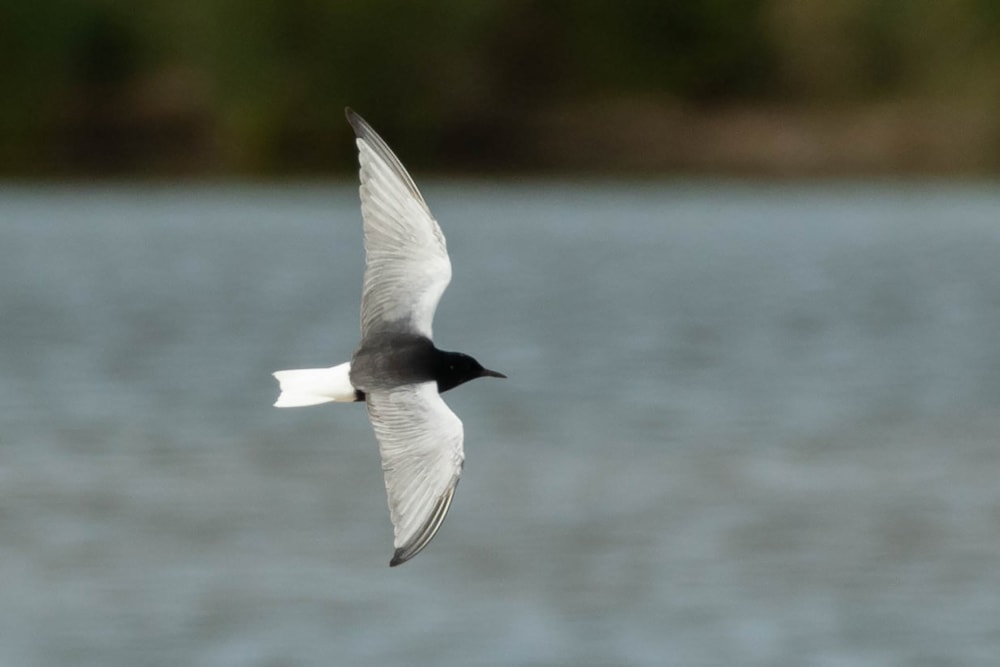 White-winged Tern, Saltholme RSPB, Cleveland (Martyn Sidwell).
Single Snowy Owl reports came from Great Blasket Island, Co Kerry, and a belated report from last week of one in the Ben Macdui area of Moray. Another belated report from last week involved a European Roller taking advantage of a boat off Lundy on 30 June for two hours before flying towards the island (more on that here).
It's to be expected in July, but passerines were as thin on the ground as British players were left in the draw for the second week of Wimbledon. A female Pied or Eastern Black-eared Wheatear visited Shanklin, Isle of Wight, on 5th, but was brief and could not be clinched either way. In the far north, single Marsh Warblers were at Sumburgh, Shetland, and North Ronaldsay, Orkney, and the singing male Blyth's Reed Warbler was still at Halligarth, Unst. A little further south, an Icterine Warbler sang briefly at Baron's Haugh RSPB, Clyde, on 7th. Surprise of the week was the female Red-breasted Flycatcher trapped and ringed at Pitsford Reservoir on 4th – perhaps unsurprisingly a county first. Two individual Red-backed Shrikes were in Suffolk and Hampshire. Rosy Starling numbers were more promising, with up to a dozen widely spread adults – almost all in the north and west. The male European Serin at Littlestone-on-Sea, Kent, jangled on throughout the week and a pair was noted intermittently around Portland Bird Observatory, Dorset.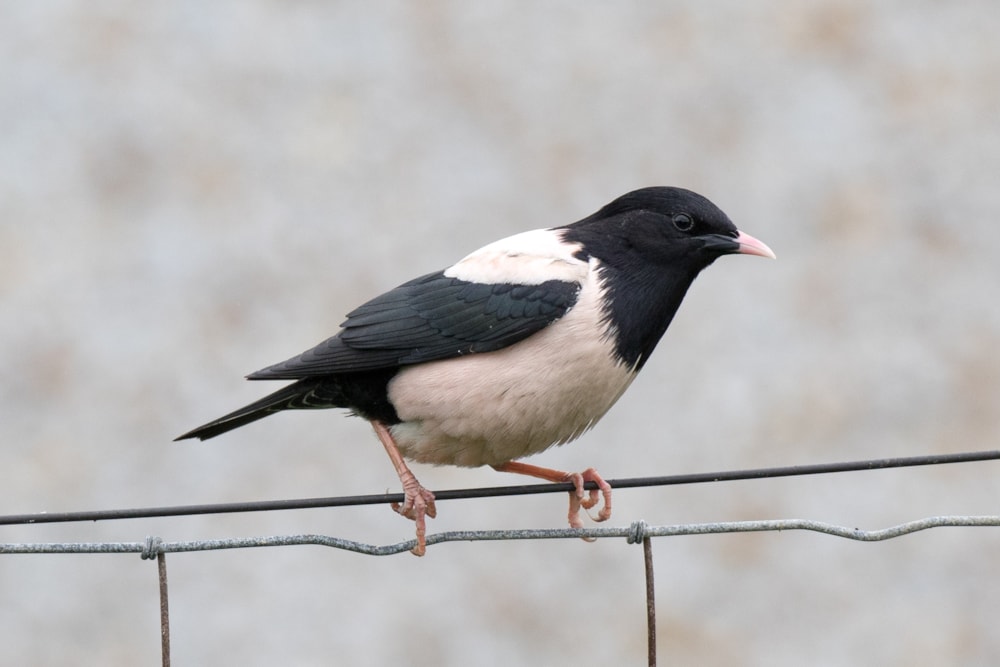 Rosy Starling, Lerwick, Mainland, Shetland (Mick Kemp).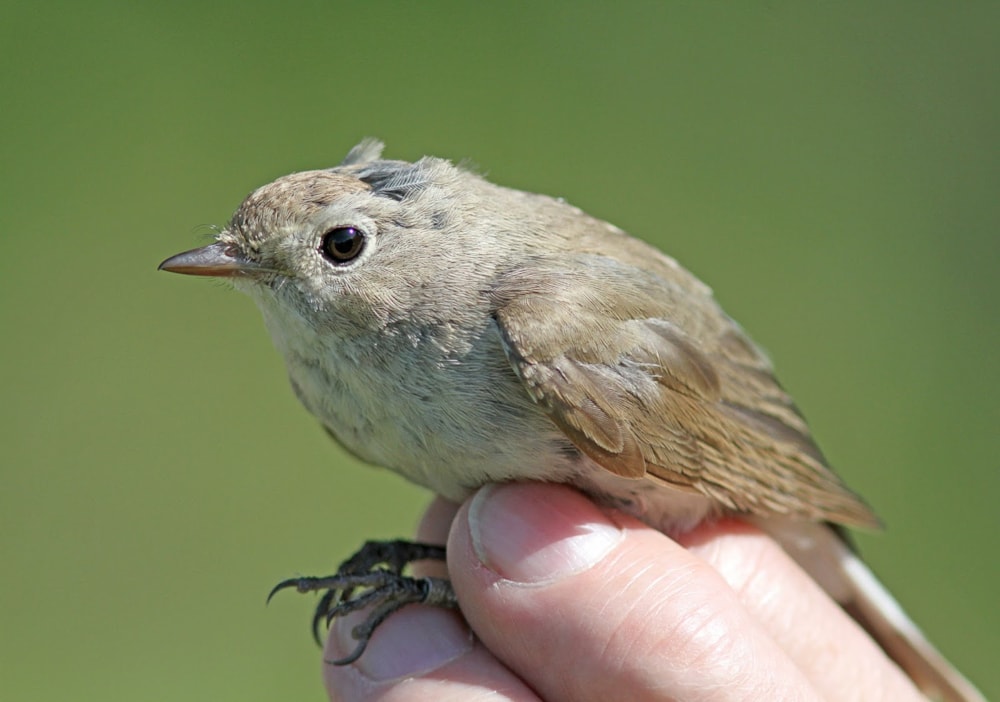 Red-breasted Flycatcher, Pitsford Reservoir, Northamptonshire (Neil McMahon).
Western Palearctic
Nearly 10 years have passed since the last twitchable British record and the male Trumpeter Finch at Morups Tånge, on Sweden's west coast, on 8th would have no doubt stirred considerable interest were it on our shores. Also that day, there was a report of a Pied Wheatear from Klepp, Rogaland, Norway.
A Western Reef Heron found Spain's Ebro Delta National Park to its liking from 4th and the long-staying immature Red-footed Booby extended its stay at the harbour at Caleta de Velez. Additionally, an immature Brown Booby was photographed off the harbour at Chipiona, Andalucia, on 7th.
The three first-summer Great White Pelicans remained in central France and the immature that had previously wandered between Germany and Denmark was again in the former country at Meldorf on 8-9th.
The Sandwich Tern colony at Polder de Sébastopol, France, continued to play home to the ringed Elegant Tern and in Belgium the semi-resident Pygmy Cormorant remained happy to be in Brussels. The Pied Crow was still at Burdaard, The Netherlands, on 5th.