The week at a glance
One word sums up the weather for much of the week: moist. At the weekend a dank, very damp Atlantic low swept across the whole of the country, bringing with it some old-fashioned early-November conditions with gales and flooding across many parts of northern Britain. All in all, it wasn't very nice, although the sun shone as Bonfire Night beckoned. Still, there were a few bits and bobs around to brighten up the greyest of grey days, not least the first Swainson's Thrush of the year, found near the Old Head of Kinsale (Co. Cork) on the morning of 31st. It seems that the bird performed throughout the day and will become the fifth county record. The most recent was just over a year ago, one playing something of a bit part in Ireland's amazing October 2008.
In Essex, a probable Eleonora's Falcon was reported from Southend-on-Sea on 29th and appeared to have firmed up to a definite a day or two later. The Thames basin is plainly the place to be this autumn for this still-to-be-unblocked mega, but Kent was back in the mix with a probable juvenile at Bough Beech Reservoir on 2nd.
Two record-breaking top-drawer birds were still in situ this week. The first-winter Brown Shrike on Staines Moor (Surrey) was still present to 4th and is now, officially, the longest-staying Brown Shrike in Britain or Ireland — 25 days and counting. The Zitting Cisticola at Pegwell Bay (Kent) has clocked up another month on its stay in the Garden of England, November the latest addition, the bird showing from 29th–4th at least.

Brown Shrike, Staines Moor, Surrey (Photo: Dave Hutton)

Zitting Cisticola, Pegwell Bay, Kent (Photo: Martyn Wilson)
This part of the weekly review never seems to be complete without a couple of "possibles", and this week was no different. In Cornwall, a possible Pacific Diver, an adult in summer plumage, was seen distantly off Long Rock beach, Marazion on 2nd. Mount's Bay has hosted the species for a couple of recent winters, so there's every chance that this may be the same returning bird. Across the Western Approaches, a possible Wilson's Snipe was seen on St. Mary's (Scilly), at Lower Moors on 29th.
It was a pretty quiet start to the week in terms of seabirds, but the brisk westerlies over the weekend stirred things up a little. A late (and very northerly) Cory's Shearwater was seen from Marwick Head (Orkney) on 29th. Gales on 1st produced 35 Balearic Shearwaters past Rumps Point (Cornwall) with a further 27 down the coast, at Pendeen, on the same day. Seawatchers at Pendeen also recorded a Long-tailed Skua, three Pomarine Skuas and a couple of Grey Phalaropes. In Mayo, four Great Shearwaters were seen from Downpatrick Head, with another off Kilcummin Head, also on 1st, while another Long-tailed Skua was noted from Strumble Head (Pembrokeshire) on 2nd. Three Grey Phalaropes were seen from Kilcummin, along with three Pomarine Skuas. Six of the latter were off Brandon Point (Co. Kerry), also on 1st (and another half dozen passed Kilcummin Head on 4th). One of the week's two Sabine's Gulls continued to flit between County Durham and Northumberland, as it skipped across the Tyne from North Shields to South Shields and back again, until 4th. The adult in County Cork remained into November. Little Auks struggled to find a way to double figures, but they just about managed it: around a dozen birds were seen this week.

Sabine's Gull, North Shields, Northumberland (Photo: Guy Hamilton)
A couple of Glossy Ibis lingered around Dungeness (Kent) to 31st at least, with two more noted along the coast at Pagham Harbour (West Sussex) from 30th. Three birds were at Westhay (Somerset) on 1st and then Catcott Lows the following day. Singles remained in Warwickshire and Staffordshire, while in Ireland one was still at Tacumshin (Co. Wexford) until 1st at least. A single Cattle Egret remained on Islay during the week, with another single at Kingsmill (Cornwall) on 4th. Two sets of two birds continued to loiter in Hampshire and Gloucestershire this week, with three birds still at Meare Heath (Somerset) on 30th, along with a Great White Egret. The Dungeness Great White Egret was still present for much of the week too, and three were seen again at Leighton Moss (Lancashire) on 31st–4th. Two singles remained in Suffolk during the week (at Minsmere and Lakenheath RSPB reserves, the latter bird again flirting with the Norfolk border from time to time). New birds were seen at Kirkby on Bain (Lincolnshire) and Blaby (Leicestershire) on 29th and Hilbre Island (Cheshire) on 30th (after a probable in the county the previous day). In Essex, the Great White Egret was seen again at Hanningfield Reservoir on 1st and, on 4th, another was at Greenabella Marsh (Cleveland).

Glossy Ibis, Dungeness RSPB, Kent (Photo: Mike Buckland)

Great White Egret, Kirkby on Bain GPs, Lincolnshire (Photo: Trevor Gunby)
Wintering Spoonbill flocks were much as previous weeks: 14 were around Brownsea Island (Dorset), half a dozen were at Isley Marsh (Devon), five were at Dinham Flats (Cornwall) and four were still at Timoleague (Co. Cork). Four birds also remained on Scilly, with a further half a dozen noted around the country, including two at Kingsnorth Power Station (Kent) on 31st. The only Common Cranes reported this week were three birds still at Welney (Norfolk). In Cornwall, single Spotted Crakes were seen in the Nanquidno valley on 30th and at St. Levan on 31st.

Spoonbill, Kirkby on Bain GPs, Lincolnshire (Photo: Stef McElwee)
The white Snow Goose remained around the Docking–Brancaster–Burnham Market triangle for much of the week and the blue bird remained at Loch Fleet (Highland) to 31st. An intermediate morph was reported at Marshside (Lancashire) on 29th, while four birds (of unknown origin) were at Leighton Moss from 29th. Also on 29th a white Snow Goose was seen with Greylag Geese at Seahouses, and then at Budle Bay on 31st. Single Black Brants were in Essex, Dorset and Sligo (one at Rosses Point from 31st) while a Red-breasted Goose flew past Thorpeness (Suffolk) with Dark-bellied Brent Geese on 30th. The two Red-breasted Geese at St. Ouen's Pond (Jersey) were still present to 4th.

Snow Goose, Seahouses, Northumberland (Photo: Colin Pears)
The probable parvipes Lesser Canada Goose was still at Martin Mere (Lancashire) on 31st, and a definite parvipes was still on Islay throughout the week with its two hybrid youngsters. Islay also hosted at least two Richardson's Canada Geese, and one was still at Lissadell (Co. Sligo), with another vagrant, larger Canada Goose sp. on 31st (the same two birds were at Ballintemple the previous day). Across in Scotland, also on 31st, two parvipes or interior — Lesser or Todd's Canada Geese — were seen at Loch of Strathbeg (Aberdeenshire). The third (or fourth) form/race/subspecies/species of Canada Goose of the week was the (presumed) returning Taverner's Canada Goose that was at Loch Gruinart on Islay on 2nd.
Seven (or eight) drake Green-winged Teal were seen this week: at Cley Marshes (Norfolk), Baron's Haugh (Clyde), Kinneil Lagoon (Forth), North Ronaldsay (Orkney) and Holywell Pond (Northumberland) — this bird may well have moved to East Chevington in mid-week, before heading back to Holywell. Irish Green-winged Teal were at Inch Island Lake (Co. Donegal) and Belfast Lough (Co. Antrim) on 3rd. A female or first-winter Blue-winged Teal paid a brief visit to South Nesting (Shetland) on 31st, the first on the islands since one in November 1995 — funnily enough, that one was at South Nesting too. In Dublin, the long-staying female Blue-winged Teal was still on Bull Island to 1st at least.

Blue-winged Teal, Bull Island, Dublin (Photo: Paul Kelly)
The drake Lesser Scaup at Draycote Water (Warwickshire) and Cardiff Bay Wetlands (Glamorgan) both remained into another week, while drake Ring-necked Ducks were again at Blagdon Lake and Chew Valley Lake (Somerset), Foxcote Reservoir (Buckinghamshire), Kirkby on Bain (Lincolnshire) and Westport Lake (Staffordshire). The latter bird was looked for, and not seen, on 1st (having been present the previous day). Interestingly, the arrival of an adult drake at Astbury Mere (Cheshire) on the first day of the new month may well be related to the departed Staffordshire bird: on 2nd there was no bird in Cheshire and one bird back in Staffordshire. A drake Surf Scoter was off Ruddon's Point (Fife) on 30th, while the resident drake Hooded Merganser was still at Radipole Lake (Dorset) to 4th.
The immature female Snowy Owl remaining on Tory Island (Donegal) to 29th and a Rough-legged Buzzard at Rookhope (Co. Durham) on 3rd seemed to be the only birds of prey of any note this week (save for the odd re-introduced White-tailed Eagle in Ireland and Scotland).
Four single American Golden Plovers were seen in Ireland during the week: leftovers from previous weeks remained at Inchydoney Bay (Co. Cork) and Kirkistown (Co. Derry), while new birds were found at Kilcredaun Marsh (Co. Clare) on 29th and Belclare Turlough (Co. Galway) on 4th. The American Goldie site in Derry also kept hold of its Dotterel, that bird still present to 30th. In Cornwall, an adult American Golden Plover was seen at Dozmary Pool on 2nd–4th.
Single juvenile Long-billed Dowitchers remained at Banks Marsh (Lancashire) and Inner Marsh Farm (Cheshire), both still present on 31st, while the Aberlady Bay Lesser Yellowlegs was seen to 4th. Three Pectoral Sandpipers made the news: singles were still being seen at Lound GPs (Nottinghamshire) and around the Saltholme Pools (Cleveland), while one was found at Earsdon (Northumberland) on 29th, staying to 31st. In Norfolk, a potential Great Snipe was seen (and photographed) between Cley and Salthouse on 29th — the image is intriguing, though frustratingly inconclusive.

Lesser Yellowlegs, Aberlady Bay, Lothian (Photo: Mike Thrower)
Content continues after advertisements

Putative Great Snipe, Cley Marshes NWT, Norfolk (Photo: John Murray)
The adult Azorean Yellow-legged Gull (form atlantis) was still being seen on the tip and pits near Appleford (Oxfordshire) on 30th–3rd, along with at least two Caspian Gulls. A further 17 or so Caspian Gulls were noted elsewhere, including two first-winters in London (at either end of the Thames), two single birds in Cambridgeshire, Suffolk, Leicestershire and Northamptonshire, with further loners in Buckinghamshire, Surrey, Kent, West Midlands, Staffordshire and Lincolnshire.
The second-winter Ring-billed Gull was still at Helston Loe Pool (Cornwall) on 30th; the adult was still in Essex on 31st, when another adult was seen at Carsington Water (Derbyshire) — presumably the same adult that has spent a few November days roosting on the same stretch of water in 2003, 2004, 2006, 2007 and 2008. Further Ring-billed Gulls were in Gosport (Hampshire, with new birds at Flaggy Shore (Co. Clare) on 30th and on the Roe Estuary (Co. Derry) on 2nd. There were very few white-winged gulls to report, just two Iceland Gulls (in Northumberland and Waterford) and two Glaucous Gulls (on Shetland and in Aberdeenshire). What was presumably Louth's Forster's Tern was seen at Balbriggan (Co. Dublin) and Gormanstown (Co. Meath) on 1st.

Ring-billed Gull, Westcliff-on-Sea, Essex (Photo: Steve Arlow)
After five last week, four more Red-rumped Swallows appeared this week. On 29th, one was seen at Durlston CP (Dorset) and was followed by two singles on 31st, at Thorpeness (Suffolk) and Helvick Head (Co. Waterford) and another at Aberlady (Lothian) on 3rd–4th. A small white-rumped swift sp. must have been frustrating for observers who saw it at Reskajeage Downs (Cornwall) on 31st — the bird headed northeast, along the coast.

Red-rumped Swallow, Aberlady Bay, Lothian (Photo: Ian Andrews)
The rather handsome first-winter male Pied Wheatear was still at Fife Ness this week, present from 29th–31st, while in East Yorkshire a Short-toed Lark was found at Flamborough Head on 31st. November's debut day saw Short-toed Larks arrive on Unst (Shetland) and North Ronaldsay (Orkney). A Bluethroat was found at Three Castles Head (Co. Cork) on 31st and was followed by two on Shetland the following day, one at Sandgarth on the Mainland, the other appearing on Whalsay. The Bluethroat found last week on St. Mary's was still being seen to 1st. A Waxwing was seen on mainland Orkney, at Stromness, on 31st and a Hoopoe was reported from Holkham (Norfolk) on 2nd.

Pied Wheatear, Fife Ness, Fife (Photo: Keith Hoey)

Bluethroat, St. Mary's, Isles of Scilly (Photo: James Packer)
Back on Scilly, the first-winter Citrine Wagtail was still on Tresco on 29th, and one of the week's five Olive-backed Pipits was on neighbouring St. Mary's on 31st–2nd. Others were seen at St. Levan (Cornwall) on 29th, on saltings near the East Hills (Norfolk) on 30th and on Shetland, at Sandwick on 31st and Grutness on 4th. Over a dozen Richard's Pipits included four birds in Gwynedd: two were on Bardsey Island on 29th, with another at Porth Felen the same day; these were followed by another near Aberdaron on 31st (with the Porth Felen bird seen again as well).
At least 10 Great Grey Shrikes were recorded this week, including two in Highland (at Kincraig and Feshiebridge) and further singles in Surrey, Kent, Norfolk, Shropshire, Powys, Clwyd, Anglesey and Orkney. The first-winter Red-backed Shrike was still at Bempton Cliffs (East Yorkshire) until 31st.

Great Grey Shrike, Neuadd Reservoirs, Powys (Photo: Steve Wilce)
Warbler of the week, and a much talked-about bird, was the puzzling Phylloscopus found at the end of the last review period at Church Cove on the Lizard in Cornwall. Opinion increasingly favoured its tentative identification as Britain's second-ever Green Warbler as the weekend approached. More and more people took out an insurance policy, and on 31st opinion still seemed to be split. Then a few heads popped up over the parapet — words such as "if it was on the east coast in September, it would be a Greenish" were heard. Then came the final clincher: warbler buff Magnus Robb pronounced upon a sound file he'd been sent of the Lizard bird — no doubts for him, Greenish Warbler it was. Still, a cracking record, and an educational bird for all involved.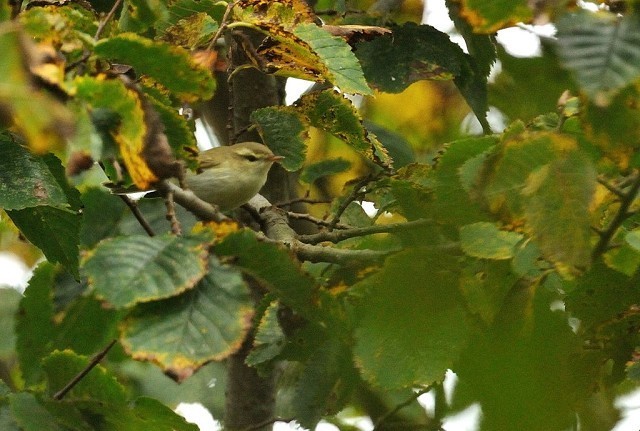 Greenish Warbler, Church Cove, Cornwall (Photo: Steve Rogers)
The Cornish Radde's Warbler at St. Levan was collected by a few nitidus hopefuls and was still present to 3rd at least. Other Radde's were found on 29th at Lowestoft (Suffolk), and on 31st at Abbotsbury (Dorset). On Orkney, a Dusky Warbler was on Stronsay on 30th, having been present "for several days", and another was seen at Gunton Warren in Suffolk on 2nd–4th.

Radde's Warbler, St. Levan, Cornwall (Photo: John Rowe)
Around 25 widely scattered Yellow-browed Warblers were reported, with records from Scilly to Ayrshire and Clare to Norfolk. Five Pallas's Warblers included last week's bird on St. Agnes (Scilly) staying around the Parsonage until 31st. New arrivals were on Cape Clear Island (Co. Cork) on 29th, and three birds appeared on 31st: at Pegwell Bay and Ramsgate (Kent) and Scarborough (North Yorkshire). Two Barred Warblers were on Fair Isle (Shetland) on 31st, with further singles at Rattray Head (Aberdeenshire) on 2nd and Stronsay on 4th. A late Marsh Warbler was on Skomer (Pembrokeshire) on 2nd and a Red-breasted Flycatcher was reported from Selsey Bill (West Sussex) on 29th.

Barred Warbler, Rattray Head, Aberdeenshire (Photo: Tim Marshall)
Four Penduline Tits were trapped and ringed at St. Ouen's Pond (Jersey) on 31st. Two Rose-coloured Starlings were seen in the week, one lingering on St. Agnes (Scilly) and another juvenile seen at Titchwell (Norfolk) on 31st. The Serin remained on Bryher (Scilly) until 30th, when another was seen flying over Durlston CP.

Rose-coloured Starling, St. Agnes, Isles of Scilly (Photo: David Campbell)
A Common Rosefinch was on Fair Isle on 31st and Little Buntings remained on Shetland (at Sandwick) and Orkney (on North Ronaldsay) during the week, with another at Spurn (East Yorkshire) on 31st–4th.
Finally this week, the intriguing story of a possible Black-and-White Warbler in north Norfolk. A non-birder reported seeing a funny, stripy-headed black-and-white bird running along branches of trees in a garden in Cley on 29th. Slightly mystified, the lady concerned took time to check online, found photos of the species in question and was convinced that that was what she saw. Treecreeper and Nuthatch were suggested as more likely, but no, Black-and-white Warbler it was. Sadly, two or three days elapsed before the story filtered through to local birders and quiet checks have yielded nothing. Anything is possible of course: Norfolk already has two records on the books for this gem, and from the spot where this bird was reported to the garden that hosted a White-crowned Sparrow is around 240 paces to the south-southwest.
Photo of the Week

Starling, Marton Mere, Lancashire (Photo: Brian Rafferty)
Some bird images are more about capturing a natural spectacle than about the birds as individuals. Even so, it's an extreme case when the individual birds are reduced to pixel-sized dots. In the UK, despite declining numbers, it's still possible at some locations to witness the incredible sight of tens of thousands of Starlings swarming to roost at the end of the day. As always, witnessing such an event is very different from capturing it in a single image. This week, though, Brian Rafferty has submitted an image that genuinely transports you to the scene as, just after sunset, a huge Starling flock snakes past you, rises into a cloud so dense it literally blocks out the sky, and then plummets towards the ground. The wonderful shapes outlined against the warm sunset colours make this a truly unique image.
Other notable photos

White-tailed Eagle, Norway (Photo: James Wood)

Snow Bunting, Hauxley NR, Northumberland (Photo: Alan Gilbertson)

Common Kestrel, Mizen Head, Cork (Photo: Ronan mclaughlin)

Jackdaw, Mold, Clwyd (Photo: Richard Steel)

Bittern, Leighton Moss RSPB, Lancashire (Photo: Steve Round)

Fieldfare, Elan Valley, Powys (Photo: Steve Wilce)

Black Redstart, Ramsey, Isle of Man (Photo: Pete Hadfield)

Starling, Kessingland, Suffolk (Photo: Chris Darby)

Rock Pipit, Penzance, Cornwall (Photo: Greg Wills)

Common Kingfisher, Tibberton, Worcestershire (Photo: Mark Hancox)

Turnstone, Titchwell RSPB, Norfolk (Photo: Kev Joynes)

Bar-tailed Godwit, Flamborough Head, East Yorkshire (Photo: Marcus Conway - ebirder)