The week at a glance
The third warmest March on record in the UK ended with a bump as the start of April brought proverbially capricious weather, including snow and frost in northern areas. The cold snap seems to have put something of a brake on spring migration, with no new megas to report this week.
The few new arrivals of significance included Eiders of two rare races: a possible American (dresseri) was reported from the mouth of the River Brora (Highland) on 4th, but flew off and has not been seen since; less than ten miles away and on the same day, a drake Northern (borealis) was seen off Embo. A Black-winged Stilt graced Tacumshin (Wexford) from 30th, a Pallid Harrier quartered the 100 Acre field at Slimbridge (Glos) on 3rd and a Red-flanked Bluetail was trapped and ringed on Lewis (Outer Hebrides) on 31st, but there was little else to set the heart racing. That said, three long-staying rarities continued to entertain: the Common Yellowthroat was still frequenting hedges at Rhiwderin (Gwent) until Saturday 31st, but has not been reported since and may have departed or succumbed. The Northern Waterthrush has been on Scilly for over six months now and continues to be reported from Lower Moors on St. Mary's. Rounding up the trio of long-stayers, the Greater Yellowlegs is still putting on a show from the RSPB's visitor centre at Loch of Strathbeg (Aberdeenshire). There were no reports of the Baillon's Crake, Scops Owl or Spanish Sparrow from last week.

Black-winged Stilt, Tacumshin, Wexford (Photo: Ronan McLaughlin)
A pair of Snow Geese that appeared at High Eske (E Yorks) on 1st April are perhaps the feral pair seen earlier in March at Tophill Low, and of similarly questionable origin were the seven at Slimbridge to 3rd and a single at Leighton Moss (Lancs) on 2nd. The blue morph on Tiree to 29th and the white morph at Douglas Water (Clyde) to 3rd have somewhat better credentials. A Ross's Goose at Rattray on 1st April will have provided a welcome sideshow for anyone travelling to see the Yellowlegs at Loch of Strathbeg. A new Red-breasted Goose was found with Pinkfeet at Upper Rhynd (Perth/Kinross) on 31st, and the wintering bird on the northern bank of the Solway Firth was still present with the Barnacle flock at Loaningfoot (Dumf & Gall) until 2nd at least. The Richardson's Canada Goose was still on Tiree to 29th, as was the Cackling Canada Goose at Slimbridge (Glos) to 3rd.
A drake Blue-winged Teal arrived at South Gilmorton Pool (Clyde) on 1st April and stayed until the following day but no longer. Females were on the Amble Marshes (Cornwall) to 3rd and on Kybe Pond (Dublin) to 30th. New Green-winged Teal were on Fair Isle, at Hales (Staffs) and at Caerlaverock (Dumf & Gall) (the latter joined by a second on 4th, possibly the bird from nearby Mersehead), while birds from last week were still present at Farlington Marshes (Hants), Dorman's Pool (Cleveland) and Tacumshin (Wexford) on various dates during the week. The only remaining American Wigeon was on Rahasane Turlough (Galway) to 30th, though an American Wigeon × Wigeon hybrid was near Largs (Ayrshire) on 29th. Remaining Lesser Scaup were represented by the female at Slimbridge (Glos) and the drake at Cosmeston Lakes (Glamorgan), both to 4th; a second drake, at St John's Loch (Highland), was last reported on 29th. Three Ring-necked Ducks lingered, all drakes, two in Cornwall at Par Beach and Stithians Reservoir and the other at Martnaham Loch (Ayrshire); none of last week's three Irish drakes was reported this week. The only Ferruginous Duck of the week was one seen from Tower Hide at Strumpshaw Fen (Norfolk) on 3rd.

Blue-winged Teal, Amble Marshes, Cornwall (Photo: Colin Selway)

Lesser Scaup, Cosmeston Lakes CP, Glamorgan (Photo: Chris Hawes)
Turning to seaduck, the splendid drake King Eider continued to patrol the waters of the Ythan Estuary (Aberdeenshire) imperiously to 4th at least, and Surf Scoters were off the coasts of Conwy, Gwynedd, Fife, Orkney and Cork. There were no reports of White-billed Diver.

King Eider, Ythan Estuary, Aberdeenshire (Photo: Alan Sinclair)
The only new Purple Heron arrived on the Otter Estuary (Devon) on 3rd and is still present at the time of writing. The Irish birds at Seafield (Waterford) and Blackditch (Wicklow) stayed to 1st and 3rd at least, respectively. Great White Egret sightings arrived from (alphabetically) Carmarthenshire, Cumbria, Essex, Glamorgan, Gloucestershire, Lancashire, Louth, Oxfordshire and Somerset. New Cattle Egrets were discovered at Seabank (Louth) on 29th and Powderham (Devon) on 1st; other established birds were at Theale (Berkshire), Lydney (Glos) and Grouville Marsh (Jersey). Night Heron records continued to be clustered around west Cornwall, with birds at St Ives, Kenidjack and Hayle; the only outliers were a new bird flying over Watergate Forest Park on the outskirts of Gateshead on 1st (not subsequently relocated) and an adult on the River Ilen at Skibbereen (Cork) for most of the week. White Stork reports came in from Durham, Glamorgan, Greater Manchester, Northumberland, South and West Yorkshire, and West Sussex; the Northumberland and Durham reports refer to known ringed individuals.

Great White Egret, Shapwick Heath NNR, Somerset & Bristol (Photo: Mickd)

Night Heron, Skibbereen, Cork (Photo: Sean Cronin)

White Stork, Lamesley, Durham (Photo: Steven Fryer)
The only "new" Glossy Ibis was a bird flying over Frinton-on-Sea (Essex) on 1st. Lingering birds, many of them well photographed, remained at Morfa Madryn (Conwy/Gwynedd) and Leighton Moss (Lancs) to 1st; Radipole (Dorset) and Marloes (Pembrokeshire) to 2nd; Saltholme (Cleveland), Timoleague (Cork) and Eastbridge/Minsmere (Suffolk) to 3rd; and Great Baddow (Essex) and Balranald/Aird an Runair (N. Uist) to 4th at least.

Glossy Ibis, Great Baddow, Essex (Photo: Chris Upson)
It's the time of year for the first Black Kite arrivals, and this week brought a typical scattering of possibles and probables, mainly from southeastern counties; the geographical exception was a probable at Greaghnafarna (Leitrim) on 28th. A juvenile White-tailed Eagle appeared out of the blue flying west over Tilbury (Essex) on 30th — could this be the bird that toured various eastern counties in February? In addition to the bird at Slimbridge (Glos), the juvenile Pallid Harrier was reported again at Lough Corrib (Galway) — the break in reports since mid-March probably indicates a lack of observers rather than the bird's absence from the site. Rough-legged Buzzards are hanging on in Kent, West Sussex, South Yorkshire and Shetland, with "new" birds at Burnham Overy (Norfolk) on 30th and 3rd, and one at Trendlebere Down (Devon) on 2nd.

Rough-legged Buzzard, Burnham Overy, Norfolk (Photo: Simon Richardson)
Common Crane reports were mainly distributed within a SW–NE belt across England, from Devon to Northumberland. Multiple sightings were received from Guyhirn (Cambs — six birds), Sherburn Ings (N Yorks — two), Warkworth Lane (Northumberland — a 2nd-summer), and Exminster Marshes (Devon — an adult). Stone Curlews are back and being reported from East Anglian sites.

Common Crane, Sherburn Ings, North Yorkshire (Photo: Mark Coates)
A Kentish Plover was reported from the beach at Slapton Sands on 30th, but subsequent confirmation was not forthcoming. Many of the rarer wintering waders continued into April: in addition to the Greater Yellowlegs in Aberdeenshire, its smaller cousin the Lesser Yellowlegs continued to grace Kingsmill Lake on the Tamar estuary (Cornwall) to 31st. Also in the southwest, the two Spotted Sandpipers were also still present, the adult at Chew Valley Lake (Somerset) to 4th at least, and the 1st-winter at Stanpit Marsh (Dorset) to 31st. Long-billed Dowitchers remained at Meare Heath (Somerset — two) and Kidwelly (Carmarthenshire), but the Irish and Scottish birds from last week were not reported this. The Pectoral Sandpiper continued its lonely stay on the Ayrshire coast at Dundonald Camp to 3rd at least.

Spotted Sandpiper, Stanpit Marsh, Dorset (Photo: Dave C)

Long-billed Dowitcher, Shapwick Heath NNR, Somerset & Bristol (Photo: Mickd)
Also hanging on were Ring-billed Gulls, in Argyll, Ceredigion, Down, Gloucestershire (two birds), Kerry and Lancashire; the only new bird was a 1st-winter at Glynn on the shores of Larne Lough in County Antrim. A possible Thayer's Gull appeared in fields near Elsham (Lincs) on 3rd and 4th, its description morphing from "possible" to "probable" between the two sightings. More confidently identified were the Bonaparte's Gulls at Newnham (Glos) to 4th and Cardiff Bay (Glamorgan) on 31st.

Ring-billed Gull, Cardigan, Ceredigion (Photo: Mark Hipkin)

Bonaparte's Gull, Newnham, Gloucestershire (Photo: Richard Powell)
Last week's glut of Hoopoe reports continued, including 16 new birds, with a strongly southwestern bias evident in both England and Ireland. Notable were inland records from Kilcogy (Cavan), a bird reported on 31st for its third day, and Meysey Hampton (Glos), the most northerly English site, on 2nd. At the other end of the scale, there was just one Wryneck record, a bird in a private garden at Ottery St. Mary (Devon) on 31st–1st representing only the second record of the year following last week's bird on Scilly. Red-rumped Swallows made it as far as Guernsey (seen at Fort Saumarez and L'Eree on 4th) and it's only a matter of time before they reach the mainland. The two Richard's Pipits of the week showed a penchant for military installations, one setting up stall at the Bridging Camp at Wyke Regis (Dorset) from 29th–1st, the other near the MoD radar station at Kelling (Norfolk) to 2nd. Great Grey Shrikes are showing some signs of moving on, with one obvious migrant on Inner Farne (Northumberland) on 3rd, but some birds from previous weeks are still clinging on stubbornly at familiar wintering sites such as Longridge Fell (Lancs), Barbrook Reservoir (Derbyshire) and World's End (Clwyd).

Hoopoe, Little Haldon, Devon (Photo: Charlie Fleming)

Great Grey Shrike, Upper Hollesley Common, Suffolk (Photo: John Richardson)
Wintering Yellow-browed Warblers are also exhibiting a reluctance to move on: birds continued to be reported this week from Exmouth (Devon), Marais Mord (Guernsey) and Warndon (Warks). The Hume's Leaf Warbler was still at Wyke Regis (Dorset) to 4th, and the first Subalpine Warbler of the spring was a male in the unlikely surroundings of the O2 Arena in Greenwich on 1st.

Yellow-browed Warbler, Marais Nord, Guernsey (Photo: Chris Bale)
A Penduline Tit was again reported from Leighton Moss (Lancs) on 31st (one was ringed there in November). The Little Bunting at South Milton Ley (Dorset) was still the only representative of its species, as was the Rose-coloured Starling at Hordle (Hants) — the Ayrshire bird having presumably departed. Last, and probably least, the House Crow featured on our bird news pages after a break of a couple of weeks; it's been loafing around Kennedy Pier in Cobh (Cork) for nearly eighteen months now and shows no sign of going anywhere.

Northern Wheatear, Portland, Dorset (Photo: Tony Hovell)
Photo of the Week: 29th March–4th April

Great Crested Grebe, Arlesey, Bedfordshire (Photo: Ben Andrew)
Some bird images emphasise the bird, while others are all about the image. Most of our Photos of the Week have elements of both, but our selection this week is definitely one for those with an appreciation of imagery. In Ben Andrew's photo of a pair of Great Crested Grebes in the morning mist, the birds themselves are almost invisible. For that matter, there are no clear elements in the rest of the image either. What there is, though, is a gloriously atmospheric scene with warm hues of low altitude sunlight lighting up the mist. The rule of thirds is a well-known compositional device but few people know — or use — the bolder rule of quarters, employed to great effect in Ben's image. Ben explains in his blog how he chose a local subject so that he could capture a wide range of images. The resulting images, especially this one, show the value of this approach.
Other notable photos

Hawfinch, undisclosed site, Gloucestershire (Photo: Lewis Thomson)

Black Kite, France (Photo: Maxwell)

Glossy Ibis, Great Baddow, Essex (Photo: Mark Bicknell)

Ring-necked Parakeet, Regent's Park, Greater London (Photo: Tom Hines)

Garganey, Scarborough, North Yorkshire (Photo: Mick Southcott)

Great Grey Shrike, Upper Hollesley Common, Suffolk (Photo: John Richardson)

Ring Ouzel, Titterstone Clee Hill, Shropshire (Photo: Peter Walkden)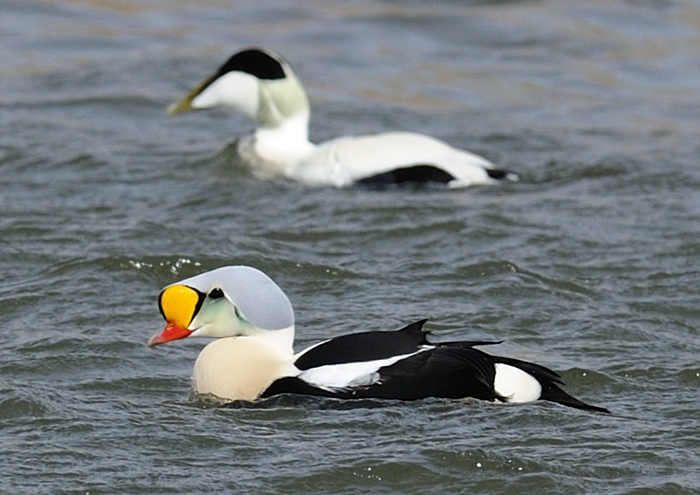 King Eider, Ythan Estuary, Aberdeenshire (Photo: Alan Sinclair)

African Rock Martin, Israel (Photo: Dave Barnes)

Spotted Redshank, Titchwell RSPB, Norfolk (Photo: John Turner)

Tree Sparrow, Bempton Cliffs RSPB, East Yorkshire (Photo: John Dickenson)

Little Grebe, Greylake RSPB, Somerset & Bristol (Photo: Pete Blanchard)