Continuing this summer's astonishing trend for uber-rare seabird action, the Scilly pelagics were always likely to score big. A Zino's Petrel is the ultimate reward for the efforts the team put in year on year, and only the third confirmed record away from Madeira. One of the world's rarest seabirds with a population of around 300 individuals, a probable was recorded off Co Cork last August (more on that bird here), but to confirm the presence of such a beastly Pterodroma in British waters is no mean feat. You can read more about this remarkable find here.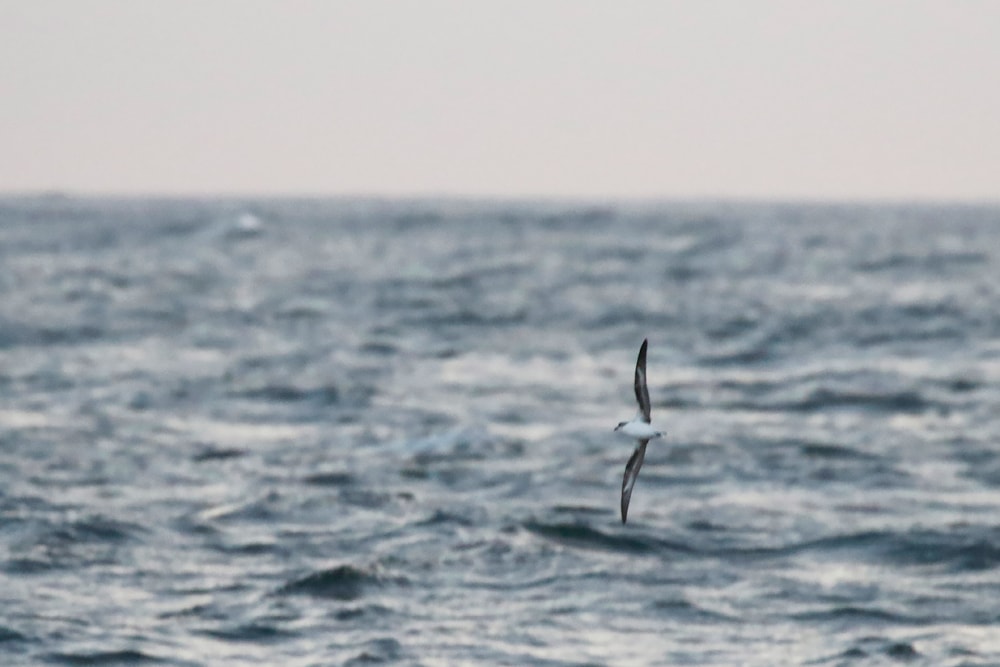 Zino's Petrel, Scilly pelagic, Isles of Scilly (Zac Hinchcliffe).
Two adult Brown Boobies past Cornwall's Porthchapel Beach on the evening of 2nd is quite the record, although unfortunately never settled for all to admire. Who would have expected the species' status to change so rapidly in such a short space of time! An unconfirmed Black-browed Albatross report came from Handa Island SWT, Highland, on 29th.
Derbyshire's Bearded Vulture seems to have settled into a new routine. Another start to the week peppered from unconfirmed reports from across the Peak District suggested it may once again have gone to ground. Thankfully, strong detective work nailed a new roost site in the Woodhead Valley from 1st, in the far north of the county and a place synonymous with railway enthusiasts. With the benefit of being viewable from the local road network, it saved several lucky birders a lengthy hike into the hilltops. It remained in this general area as we went to press, having chosen another new roosting site in the north of the valley along the Pennine Way.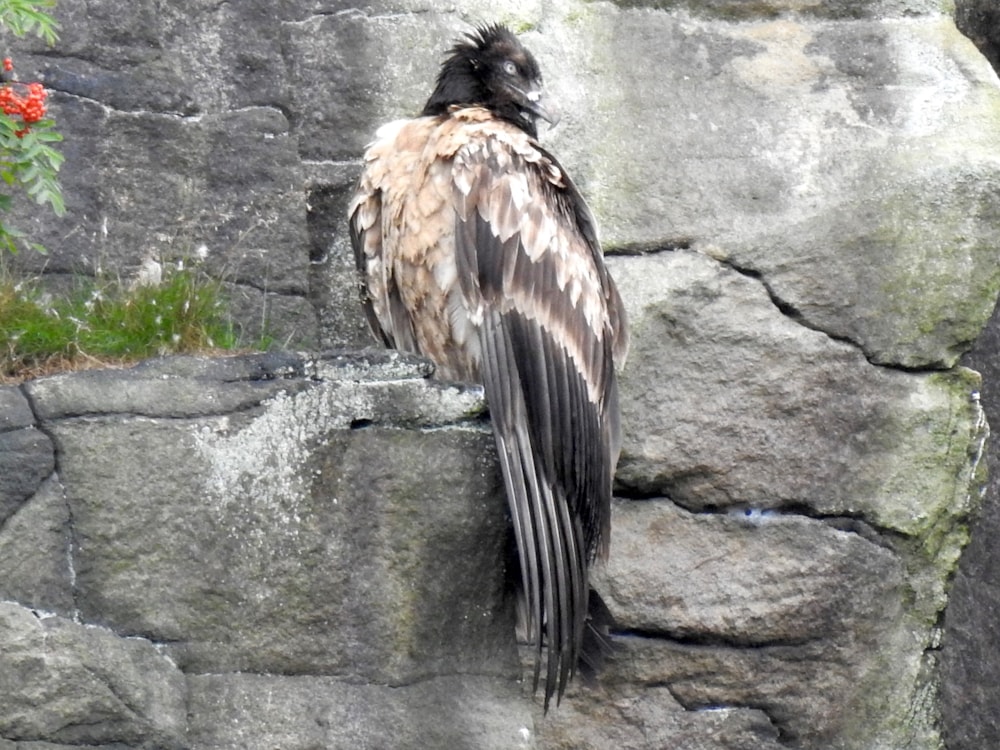 Bearded Vulture, Crowden, Derbyshire (Peter Hines).
Another week for nomadic Sterninae, Northumberland's Sooty Tern finally settled just long enough for county birders to catch a glimpse, returning to the Kittiwake colony near Howick again on 29th. Delighting for several hours cavorting among its dainty associates, it headed off strongly north that evening, not to be heard of again … until next year!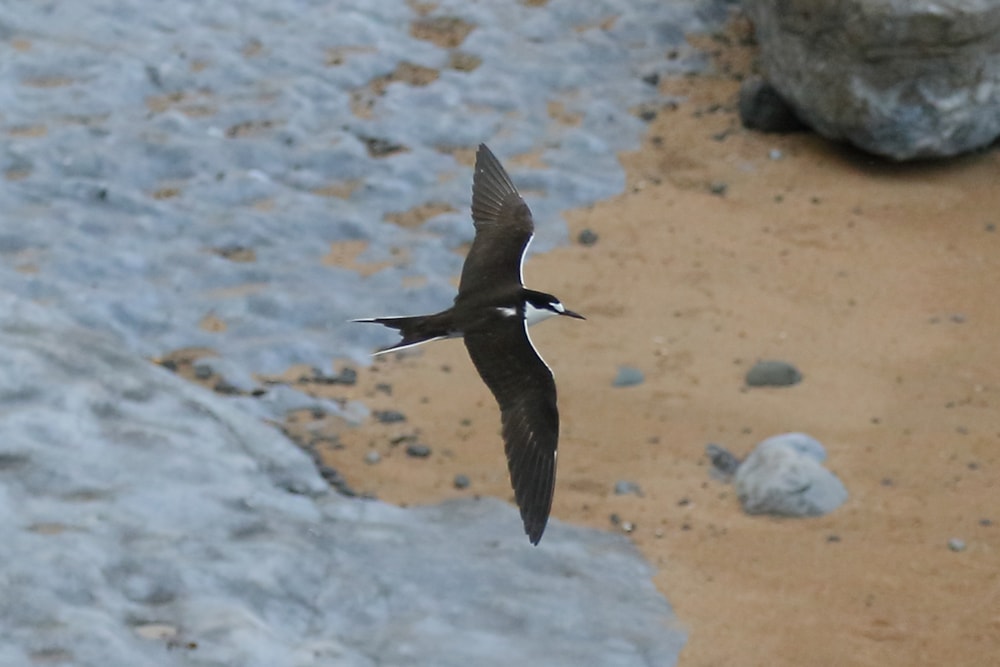 Sooty Tern, Howick, Northumberland (Alan Jack).
Either the east coast of England was hit by an unprecedented influx of Gull-billed Terns, or a lone individual fancied an end-to-end sprint from Suffolk to Cleveland and back. First photographed on railings at Alton Water, Suffolk, on 29th, it was nowhere in sight when news belatedly came to light a couple of days later. Popping up incredibly briefly at Seaton Snook, Cleveland, on the evening of 2nd, it was spied at Norfolk's Snettisham RSPB the following evening, before returning to Alton Water on 4th, where it seemed rather more settled. The Irish individual remained at Lady's Island Lake until 31st.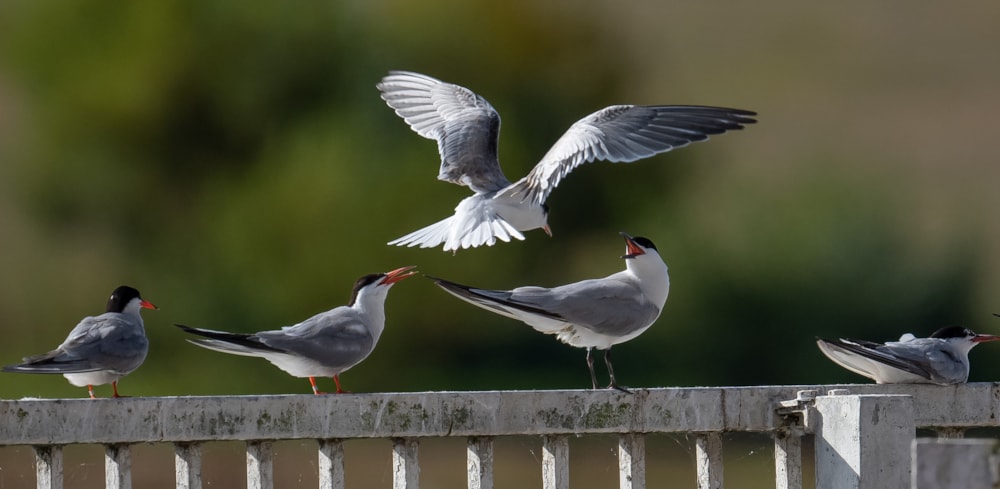 Gull-billed Tern, Alton Water, Suffolk (Brian Small).
Ireland's twelfth Caspian Tern found at Inny Strand, Co Kerry, late on 3rd proved very welcome as it was one of the first of those to actually be twitchable, present from dawn until 07:30 the following morning. Even more incredibly, photo analysis by keen-eyed Irish birders enabled the individual at Gann Estuary, Pembrokeshire, that evening to be confirmed as the very same individual – a 350-km eastward movement in little more than 10 hours! A short stayer was at Lancashire's Lunt Meadows NR on 30th before rocking up at Arnside, on the Cumbria border barely four hours later, briefly relocating to Leighton Moss RSPB later that afternoon – could it even be the same? Belatedly, one was photographed in Dorset at Stanpit Marsh on 28th.
A new adult Bonaparte's Gull was on Berneray, Outer Hebrides, on 31st; unsurprisingly Oare Marshes NR's example remained unwavered. In Co Donegal, Derrybeg's Pacific Golden Plover reportedly briefly increased to two on 1st, while a Long-billed Dowitcher at Martin Mere WWT from 30th is probably the one at nearby Marshside RSPB until late last week.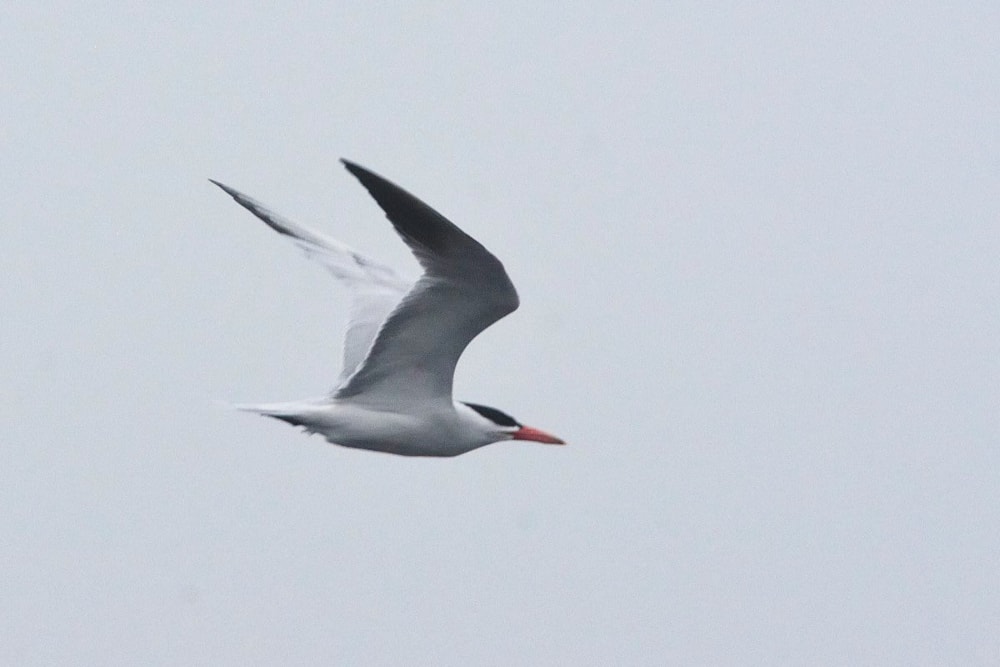 Caspian Tern, Inny Strand, Kerry (Gerard Murray).
Scottish mainland
The week in Scotland started well on 29th with a lingering Cory's Shearwater off Hound Point, Lothian; presumably the same individual then found in Dalgety Bay, Fife, later that day, before being seen by eagle-eyed observers north off the Isle of May early the following morning.
Further north to Aberdeenshire, a European Bee-eater was a cool find at Rattray Head on 3rd, although it moved on rather quickly.
Two Leach's Storm Petrels were trapped at Collieston on 30th, while a Pomarine Skua and two Sooty Shearwaters were noted past both Embo and Brora, Highland, on 2nd. Four Red-necked Grebes had returned to Gosford Bay, Lothian by 31st, with the long-staying adult remained in Clyde at Hogganfield Loch throughout the period. The Smew was still at New Cumnock, Ayrshire. In Highland, the Little Stint was present at Alturlie Point all week. Common Quail remained at Picox, Lothian, and Reston and Whitsome in Borders. A Dark-bellied Brent Goose at Skinflats Lagoon on 1st was a prompt reminder of autumn and 42 Mediterranean Gulls at East Wemyss, Fife, on 2nd was a decent count for Scotland.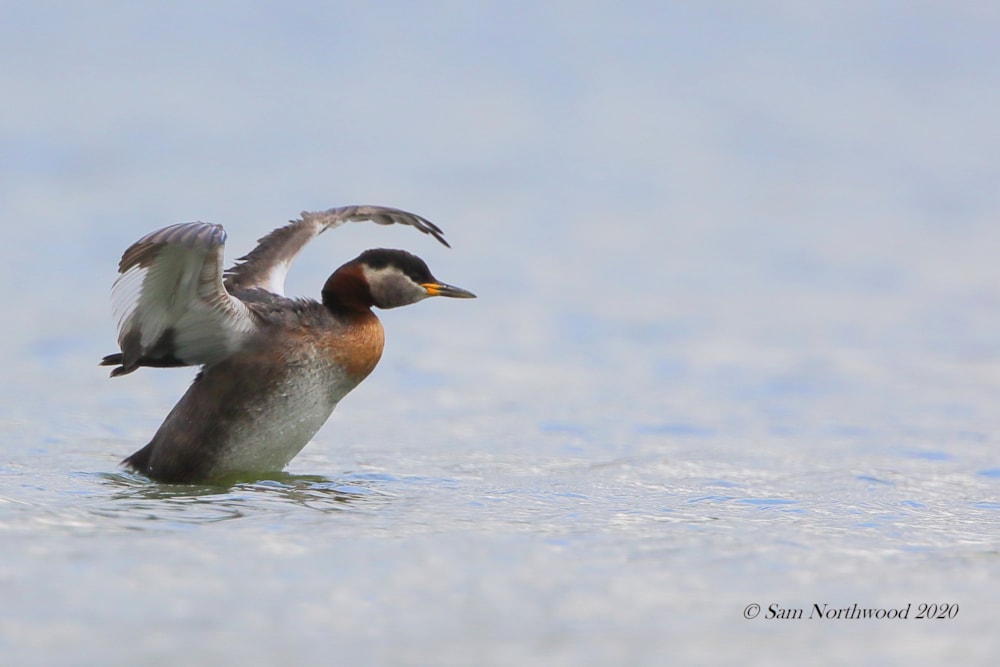 Red-necked Grebe, Hogganfield Loch, Clyde (Sam Northwood).
Northern Isles and the Hebrides
One of Shetland's male Red-necked Phalaropes brought a splash of colour to Fair Isle's Golden Water on 29th, while an adult Glaucous Gull was on the island throughout the week. On the mainland, the popular summering adult Long-tailed Skua continued to entertain around Dalsetter Hill north of Boddam. A Leach's Storm Petrel was noted at Lamba Ness, Unst, on 31st, while a juvenile Hawfinch was on Whalsay on 3rd.
Orkney managed to squeeze one more Rosy Starling out of the summer, with one in a garden in Orphir Bay on 4th. A Hoopoe was on Sanday on the evening of 31st. Three of the summering Long-tailed Skuas were again at Tor Ness, North Ronaldsay, on 31st, with 38 Sooty Shearwaters were noted passing there the previous day.
The summering Eurasian Spoonbill remained at Loch Bee, South Uist, in the week and was the only notable report emanating from the Outer Hebrides in the period.
North-East England
The only Balearic Shearwater in Northumberland waters so far in 2020 flew past Boulmer on 29th, with single Sooty Shearwaters noted off Embleton and Seaton Sluice as the week ended. A juvenile Yellow-legged Gull was at Longhoughton Steel on 3rd and a Black Tern was again in the East Chevington area. Away from the coast, two Common Quail sang at Mickley on 31st and an immature White-tailed Eagle was noted briefly at Derwent Reservoir on 1st.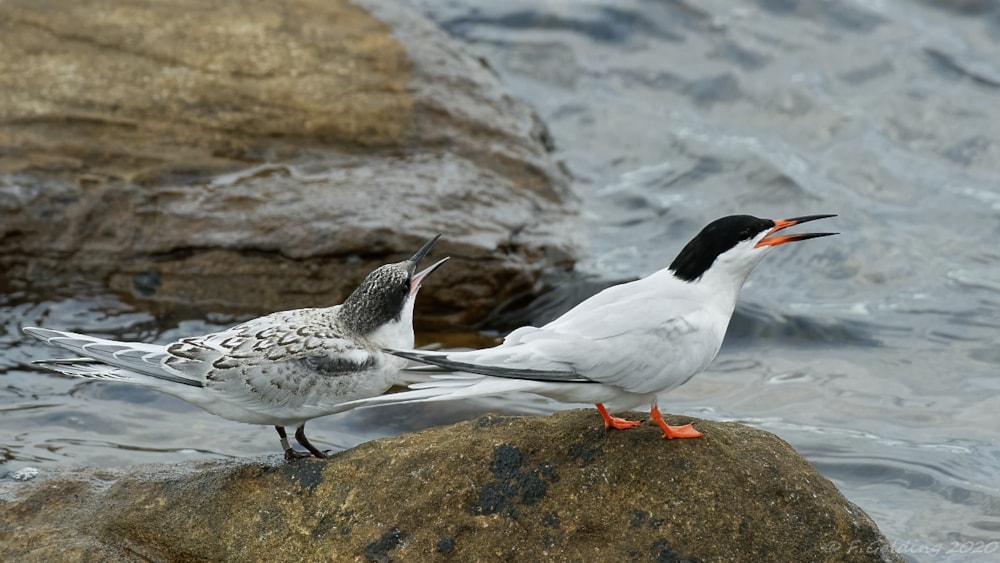 Roseate Tern, St Mary's Island, Northumberland (Frank Golding).
A Eurasian Spoonbill at Low Barns DWT on 2nd was the highlight of an otherwise quiet week in Durham, Other reports included a good count of 24 Roseate Terns at South Shields on 29th and up to five in the Whitburn area in the week.
In Cleveland, the Western Cattle Egret returned to Greatham Creek on 1st and belated news of a Rosy Starling from the previous week emerged from Hartlepool Headland. Seawatching from the latter site on 4th produced a Pomarine Skua and two Roseate Terns. Seal Sands and South Gare also recorded Roseate Terns in the week and a juvenile Black Tern was at Seaton Snook. A Red-necked Grebe was off Marske-by-the-Sea on 1st.
North-West England
Cumbria's sightings of local interest concerned a continuing adult Yellow-legged Gull at Sandside on 30th, Western Ospreys at Anthorn and Mockerkin Tarn, and a Hawfinch at Meathop on 31st.
Midsummer is prone to throwing up a few surprises, and belated news of a male Red-backed Shrike at Prescot Reservoirs, Lancashire, on 29th was exactly that. However, the bird hasn't been seen since. Other Lancashire birds include the Wood Sandpiper still at Conder Green Pool until 1st, and another over Alston Reservoirs on 2nd. Elsewhere a juvenile Spotted Redshank was at Naze Pool, Freckleton.
Autumn is fast approaching, with migrants beginning to pop up. Cheshire had a juvenile Pied Flycatcher at Leasowe on 31st, and the first returning Hen Harrier was back on the Dee Estuary on 29th. Also on the Dee, up to seven Eurasian Spoonbills continued commuting between Parkgate and Burton Mere Wetlands RSPB. A Wood Sandpiper was on Burton Marsh until 3 August, with singles at Hale and Woolston Eyes NR on 1st, the former still being reported on 3rd. Two Yellow-legged Gulls were at Birkenhead Docks.
Audenshaw Reservoirs had Greater Manchester's pick of the bunch, with a Wood Sandpiper and Ruddy Turnstone on 2nd, and two Arctic Terns on 4th. Four Arctic Terns flew west through Pennington Flash CP on 2nd, and a Sandwich Tern flew south through Elton Reservoir on 30th.
Lincolnshire and Yorkshire
Wood Warbler and Caspian Gull were among a nice selection of quality birds encountered at Gibraltar Point, Lincs, this week, while a couple of Little Stints visited Paradise Pool on 2nd. Further south, at least one Common Crane lingered at Willow Tree Fen LWT.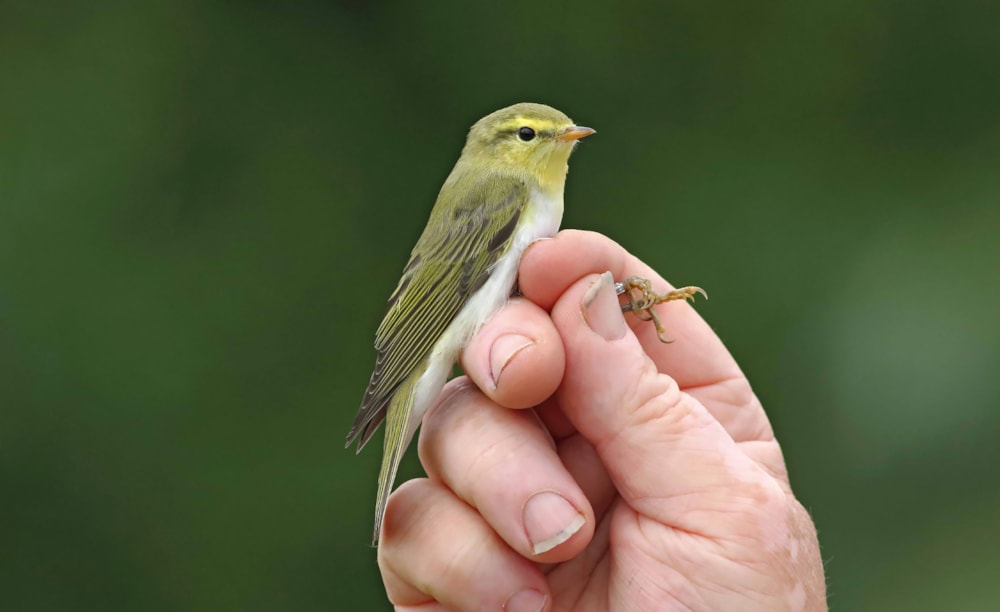 Wood Warbler, Kilnsea, East Yorkshire (John Hewitt).
The impressive sight of more than 100 Common Scoter migrating west over Swinefleet, East Yorkshire, at dusk on 1st was a nice reminder of the large-scale overland movements that were so vividly unearthed during the spring. A Purple Heron visited Hornsea Mere on 4th, a Knepp-ringed White Stork toured the Holderness area and a wide array of highlights in the Spurn area included Pectoral Sandpiper to 31st, Red-necked Phalarope on 1st, Wood Warbler, Roseate Tern and Pomarine Skua.
Both Great and Cory's Shearwaters were seen off Flamborough Head, and a European Honey Buzzard passed over the headland on 1st. Two juvenile Black Kites were seen flying over Wheldrake Ings, North Yorkshire, on 2nd. The last report of a White-tailed Eagle on the North York Moors came on 31st, but the Lesser Yellowlegs at Nosterfield continued to at least 3rd. The Purple Heron reappeared at Wykeham Lakes on 29th.
Further west a Caspian Gull returned to Redcar Tarn, West Yorkshire, on 30th, while the Wintersett Reservoir/Anglers CP area produced some nice records: Red Knot, Ruddy Turnstone and Arctic Tern all featured.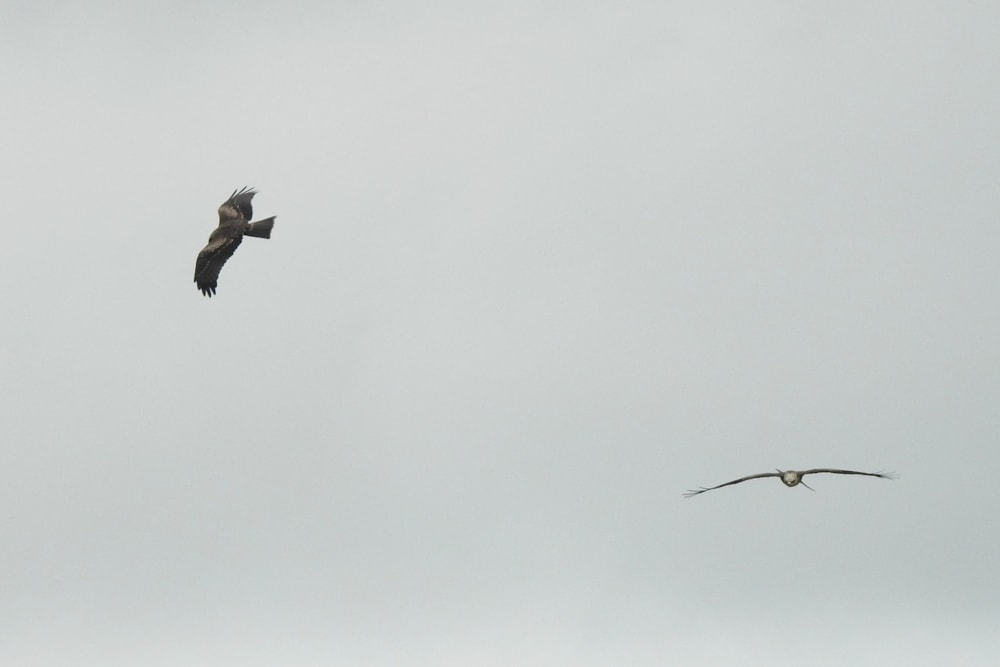 Black Kite, Wheldrake Ings YWT, North Yorkshire (Duncan Bye).
West Midlands
In Staffordshire, the Western Cattle Egret remained at Doxey Marshes on 31st. Wood Sandpipers were at Middleton Lakes RSPB on 1st and another at Radford Meadows SWT 1-2nd. Branston GPs scored a juvenile Black Tern which lingered though the first three days of August, while Belvide Reservoir had two juvenile Arctic Terns and a Pied Flycatcher on 4th.
Shropshire remained largely quiet, with two juvenile Arctic Terns at The Mere on 4th the highlight. Over in the West Midlands, a European Honey Buzzard drifted over Sandwell Valley on 30th and a Pied Flycatcher was a nice find at Park Hall on 1st.
A Western Cattle Egret was keeping Worcestershire birders entertained through the week, with the single still at Stoke Prior. A juvenile Wood Sandpiper was present at Camp Lane Pools, Grimley on 3rd only. Another was present just over the border in Warwickshire, at Middleton Lakes RSPB on 1st, and a probable Black Kite flew east over Earlswood Lakes that morning.
East Midlands
Misson continues to prove Nottinghamshire's birding Mecca, or more precisely, Slaynes Lane. This week, the Western Cattle Egret continued, as did a juvenile Black-necked Grebe, three Garganey and two Great Egrets. Another Western Cattle Egret remained at Newington on 30th; a Eurasian Spoonbill was at Holme Pierrepont briefly the same day. Pied Flycatchers were at Welbeck Abbey and Retford. A second-summer Caspian Gull was at Langford Lowfields RSPB on 2nd.
A possible Black Kite flew over Stanford Reservoir on the morning of 31st; up to three Western Cattle Egrets remained at Stanwick GPs. Eurasian Spoonbill sightings were scattered across various sites throughout the week, with birds at Hollowell Reservoir (29th), Titchmarsh NR (30th), Summer Leys LNR and Earls Barton GPs (4th). An Arctic Tern was at Pitsford Reservoir on 29th, and a second-summer Caspian Gull was at Hollowell reservoir on 4th.
Rutland Water had a moment of excitement when one of the juvenile White-tailed Eagles from the Isle of Wight reintroduction scheme flew over North Arm on 1st. An adult Little Gull was also here on 29th, and two Western Cattle Egrets were present on 2-3rd.
East of England
There have been a fair few Redwing records across the country this summer, with one at Sparham GPs, Norfolk, the latest to be seen. At least four different Caspian Gulls gave unrivalled views along the seafront at Cromer throughout the week, while a Purple Heron in the Holkham area on 30th was presumably that seen at Titchwell RSPB briefly the following morning. A White-rumped Sandpiper was reported "recently" at Snettisham RSPB. A Hoopoe was photographed in Wighton on 2nd, one of the localities that an Isle of Wight White-tailed Eagle was also seen along the north Norfolk coast. Other notable sightings included a Great Shearwater past Sea Palling on 29th.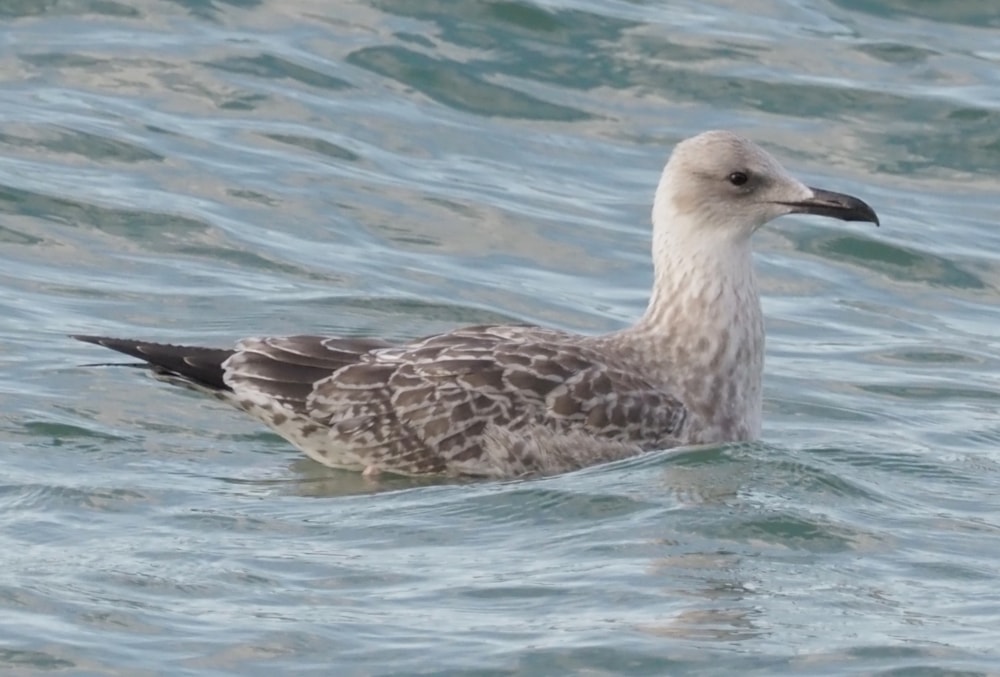 Caspian Gull, Cromer, Norfolk (Andy Hale).
Suffolk had a steadier week, with a male Red-footed Falcon over Bromeswell and a European Honey Buzzard in off the sea at Lowestoft, both on 31st. A hefty count of six Caspian Gulls was noted at Livermere Lake on 2nd, while the coast was awash with the usual waterbirds.
Canvey Point, Essex, is often a good site to see terns moving up the River Thames, and two Black Terns were seen on 31st. Otherwise, the county's best offerings were a Ruddy Shelduck still at Abberton Reservoir and a scattering of the now-familiar waterbirds.
Garganey were at Amwell NR and Tyttenhanger GPs in Hertfordshire, while a Wood Sandpiper brought admirers to Broom GPs, Bedfordshire; the Caspian Gull also continued to roost at Grovebury Sand Pit. Cambridgeshire hosted at least three Western Cattle Egrets, plus the continuing Black-necked Grebe at Grafham Water and the return of Southern Migrant Hawker dragonflies to Quy Fen.
South-East England
Kent was treated to two Red-footed Falcons this week, both on 31st – a female at Grove Ferry and a first-summer male over Kingsdown. Worth Marsh hosted one of the Knepp White Storks, a Marsh Warbler was trapped and ringed at Shuart on 3rd and a European Honey Buzzard flew over Farthingloe on 4th. The fine line-up of waders continued – the Dungeness Black-winged Stilt and Oare Marshes Lesser Yellowlegs highlighting, along with a strong supporting cast that featured Curlew and Wood Sandpipers at three sites apiece.
A Wood Warbler was around the Sandwich Bay area and North Foreland enjoyed a Pied Flycatcher, the latter surprisingly the only one in Kent this week. On 30th, two Balearic Shearwaters flew past Dungeness, with the site hosting a Black-necked Grebe from 1st. The Dartford Marshes Great Egret continued throughout.
In East Sussex, Beachy Head flexed its autumn muscles for the first time this year, with a Pied Flycatcher on 29th. Otherwise it was quiet though, save a smattering of Western Cattle Egrets and two reported Little Stints at Cuckmere Haven, with a gorganus Swallowtail butterfly at Rye Harbour on 3rd worth highlighting.
It was similar in West Sussex, with an insect – Britain's second Boathouse Gem moth, trapped at Littlehampton on 31st, standing out. A bit of Pied Flycatcher passage was noted, with Church Norton, Kingley Vale (two) Middleton-on-Sea and Stansted Forest and scoring, detracting from an otherwise familiar news assortment of Western Cattle Egrets, Spotted Redshanks and so on.

Boathouse Gem, Littlehampton, West Sussex (Ian Barnard).
Hampshire took the biggest slice of south-east England Pied Flycatcher pie – seven birds at five sites between Southsea and Bramshaw. In Fordingbridge on 29th, there was no sign of the Rosy Starling that had been photographed the previous day. A Common Quail sang at Martin Down on the same day. Western Cattle Egrets were at three sites; Great Egrets were at four. The Isle of Wight enjoyed three Pied Flycatchers, as well as records of Great Egret and Western Osprey.
A Western Osprey over Swallowfield on 31st was Berkshire's highlight; Buckinghamshire outdid this impressively when a ringtail Montagu's Harrier flew over a Rowsham garden on the same day – only the seventh county record. The Wantage, Oxfordshire, Rosy Starling pulled a bunk this week, but a male Great Bustard at Letcombe Bassett – from the reintroduction project in Wiltshire – and Little Stint and Common Scoter at Farmoor were decent consolations.
In the capital, a reported juvenile Rosy Starling on feeders at Chiswick remained unconfirmed. A Great Egret flew over Barnes on 4th, two Little Terns dropped by King George V Reservoir on 28th and a Ruddy Turnstone was at Staines Reservoirs. Another Ruddy Turnstone was sound recorded over Ewell, Surrey, on 4th. Elsewhere in the county, Tice's Meadow hosted Little Stint, the two Great Egrets and a Western Osprey, while, at Burgh Heath, a European Honey Buzzard and Pied Flycatcher were both seen at Canons Farm on 29th.
South-West England
A joint-record site count of 11 Whinchats were at Coombe Hill Meadows, Gloucestershire, on 29th. Three Western Cattle Egrets were at Pilning Wetland on 31st. The juvenile was still at Slimbridge WWT on 29th, with Curlew Sandpiper, Wood Sandpiper and Spotted Redshank present throughout the week. A possible Italian Sparrow was in a Yate garden from 3rd, while a Spotted Crake was briefly at Frampton-on-Severn on 3rd.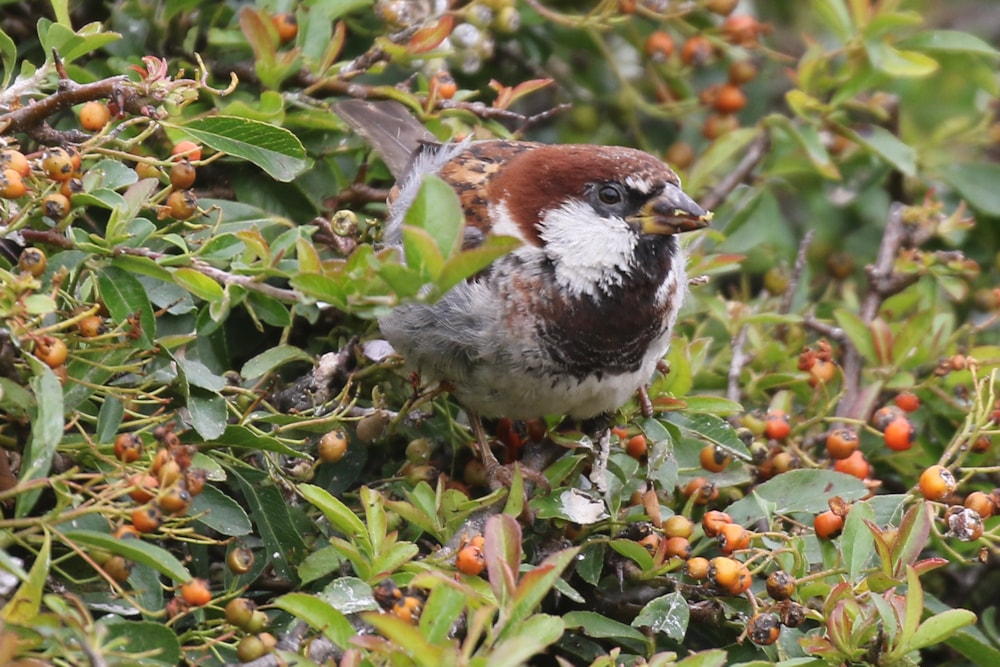 Candidate Italian Sparrow, Yate, Gloucestershire (Chris Teague).
Wiltshire's Corsham scored a Rosy Starling at the end of the week, enjoying gardens along Lypiatt Road. Langford Lakes saw a brief visit from a Wood Sandpiper on 2nd. Common Quail remained at Bratton and Upavon, with the White Stork was still near Amesbury until 29th.
In Somerset, a White Stork over Coleford on 1st relocated to Evercreech from 3rd, with the blue darvic 'GB35' tracing it back to the Knepp reintroduction scheme. Steart WWT's Black-winged Stilt family still enjoyed blissful abandon, while the nine Ruddy Shelducks headed up the River Parrett on 29th, rocking up at Carymarsh on 31st before briefly relocating to Blenheim Park, Oxfordshire, on 3rd. A Hen Harrier was over Merriott on 30th, with a Wood Sandpiper at Ham Wall RSPB on 2nd.
No fewer than two Melodious Warblers were trapped at Portland, Dorset, with singles on 2nd and 4th. Other peninsula highlights include a European Honey Buzzard and Pomarine Skuas. Another Honey flew over Thorncombe on 31st, while a Common Quail was new at Maiden Castle. Wood Sandpipers were at Broadwey, Abbotsbury Swannery, West Knighton and Lodmoor RSPB; a Curlew Sandpiper was also at the latter site. The UK's third Tawny Prominent was trapped in Weymouth overnight on 1st.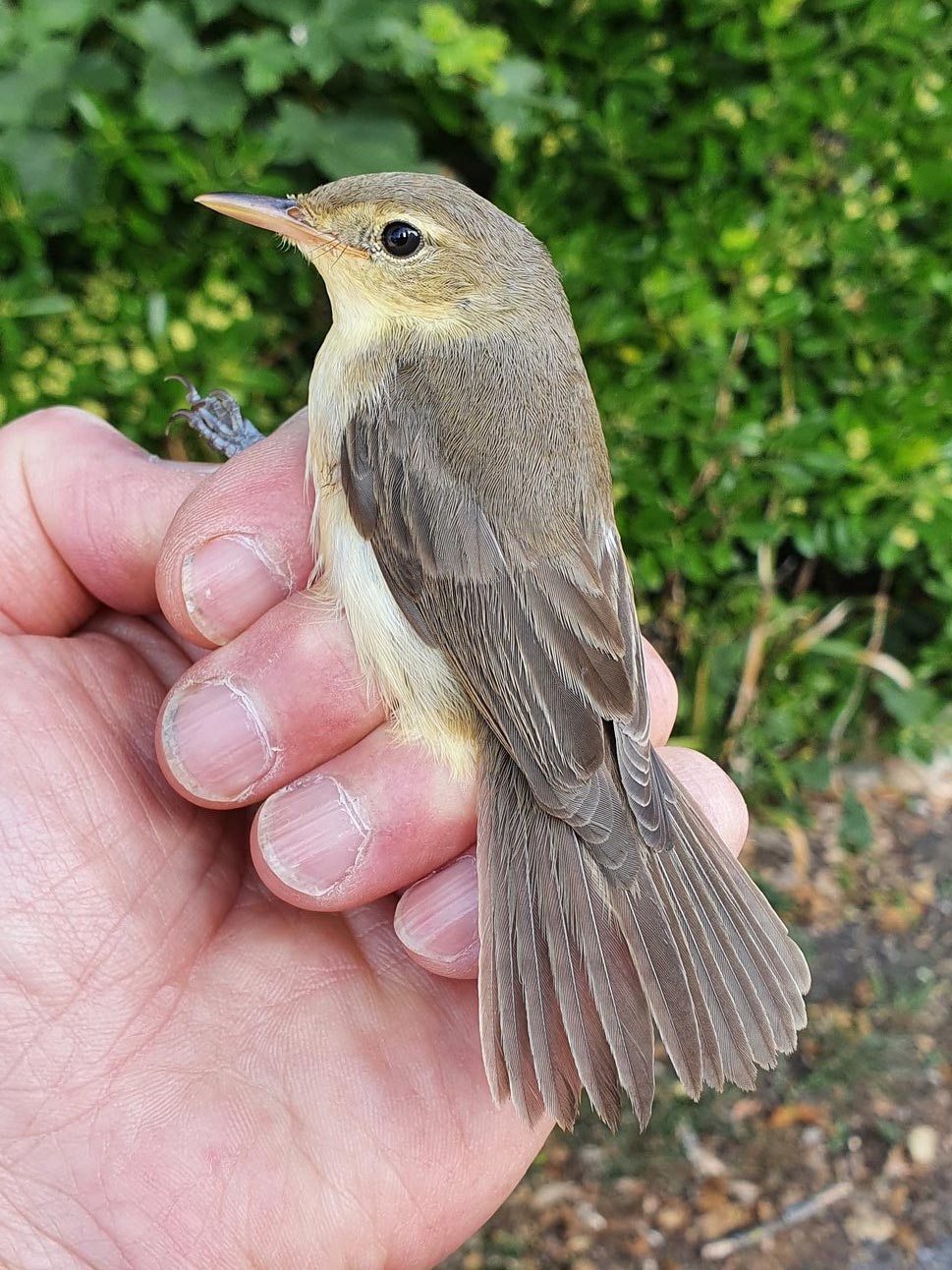 Melodious Warbler, Portland, Dorset (Martin Cade).
A Melodious Warbler trapped and ringed on Lundy, Devon, on 31st was topped by an Icterine Warbler in East Prawle's Pig's Nose Valley on 2-3rd. South Brent's Italian Sparrow candidate made a reappearance on 4th, while an adult Black-crowned Night Heron was belatedly reported on the River Yeo near Barnstaple on 31st. A Pomarine Skua was off Dawlish Warren NNR on 2nd, with two Roseate Terns hanging on until 1st. Elsewhere, a European Honey Buzzard headed over East Portlemouth on 3rd, with juvenile Wood Sandpipers at Seaton Marshes on 29th and 4th. A Long-tailed Blue was at Berry Head on 29th.
A Melodious Warbler was a highlight at Porthgwarra, Cornwall, on 2nd, with another trapped in Nanjizal Valley on 4th. Four Curlew Sandpipers were brief visitors to Hayle Estuary on 31st, with two Wood Sandpipers at Maer Lake on 2nd. Seawatch highlights included Great Shearwaters off Porthgwarra and the Scillonian III, a Pomarine Skua off Sennen Cove on 3rd, and Cory's Shearwaters noted near Wolf Rock, Mount's Bay and off the Scillonian III. Four Roseate Terns were off Porthgwarra on 31st, while a possible Wilson's Storm Petrel was off a Mount's Bay pelagic on 1st. A Black Kite drifted across the north end of St Mary's, Isles of Scilly, on 31st, with a possible Melodious Warbler on St Martin's the previous day.
Wales
Bardsey Island was kept ticking over this week with a few nice sightings. An adult Melodious Warbler put in two brief appearances on 30th. The larger-than-average loafing gull flock at the South End continues to pull in passing juvenile Yellow-legged Gulls with the site now scoring a minimum of 14 birds in the week. However, the top Laridae find goes to an immature Sabine's Gull that joined the Kittiwake flock on 3rd.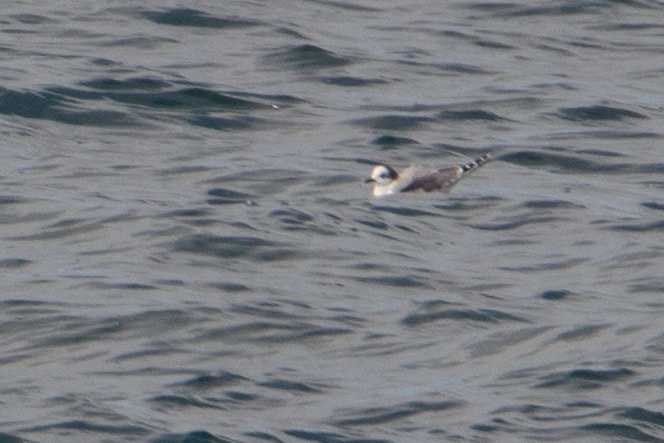 Sabine's Gull, Bardsey Island, Gwynedd (Daniel Owen).
The country saw a small spike in Rosy Starling reports this week, with birds at Cemaes Bay, Anglesey (29-30th), Milford Haven, Pembs (29th), Trawsfynydd, Gwynedd (30-3rd), and in Neath, Glamorgan, during the week. The adult Glossy Ibis continues its long stay at Goldcliff Pools NR, Gwent. with sightings throughout the week. Western Cattle Egrets were in the Newport area, with a high count of seven at Goldcliff Pools NR on 30th.
A Roseate Tern remained at Cemlyn Bay, Anglesey on 29th, with an adult and juvenile showing well at Afon Wen, Gwynedd on 3-4th. A Sooty Shearwater was logged past Skokholm on the evening of 31st. Waders concerned two Curlew Sandpipers at Kidwelly, Carmarthen, on 31st, while two Spotted Redshanks remained at Llanelli Wetland Centre WWT and Wood Sandpipers were spread across four localities.
Ireland
Seawatching picked up a little towards the end of the week in southern areas, with double figures of Cory's Shearwaters passing Galley Head and Seven Heads, Co Cork, on 4th, and one seen as far east as Brownstown Head. A few Great Shearwaters were also seen.
Post-breeding Roseate Terns were spreading out along the coasts, with records from Cos Cork and Kerry. A Glaucous Gull was a bit of a surprise at Tacumshin, Co Wexford, on 30th, but the return of the adult Ring-billed Gull to Nimmo's Pier, Co Galway, was less so on 2nd.
A Wood Sandpiper was at Blanket Nook, Co Donegal, and the Eurasian Spoonbill continued at Bull Island, Co Dublin. Northern Irish highlights included Garganey and Western Osprey at Lough Beg, Co Derry. Finally, a decent description of a Green Woodpecker was received from Lough Fea, Co Monaghan, on 30th, but what would have been a true Irish mega could not be confirmed.
Western Palearctic
The undoubted highlight of the week is the confirmation of the region's first breeding attempt by the pelagic White-tailed Tropicbird, with a pair laying an egg on Ilhéu de Cima, Cape Verde. One of the adults being of the stunning golden morph, this demonstrates a rather significant range expansion; the nearest known breeding colony being over 2,250 kilometres away on Fernando de Noronha, Brazil. A remarkable occurrence for a species with just four previous Western Palearctic records!
France's White-rumped Swift remained at Minerve throughout, sharing its chosen nest with a rather confused Red-rumped Swallow. The Greater Sand Plover was still at Saint-Brevin-les-Pins until 2nd. A Western Swamphen was a long way north near Nantes at Donges on 3rd – could Britain be on track for its second record? Meanwhile, Alderney's first breeding record of Zitting Cisticola was confirmed at Longis NR.
A small influx of Pygmy Cormorants into south and west Germany included three at Kettershausen on 2-3rd and one at Markkleeberg the following day. The Eastern Imperial Eagle was still at Gramzow. A juvenile Pallas's Gull was on the Baltic Coast at Greifswald on 2nd, a search image that should be ingrained into the minds of all British and Irish patch birders. A Polish example – a first-summer – was still at Siemianowka Reservoir. The latter country's eighth Paddyfield Warbler was at Elbląg on 30th.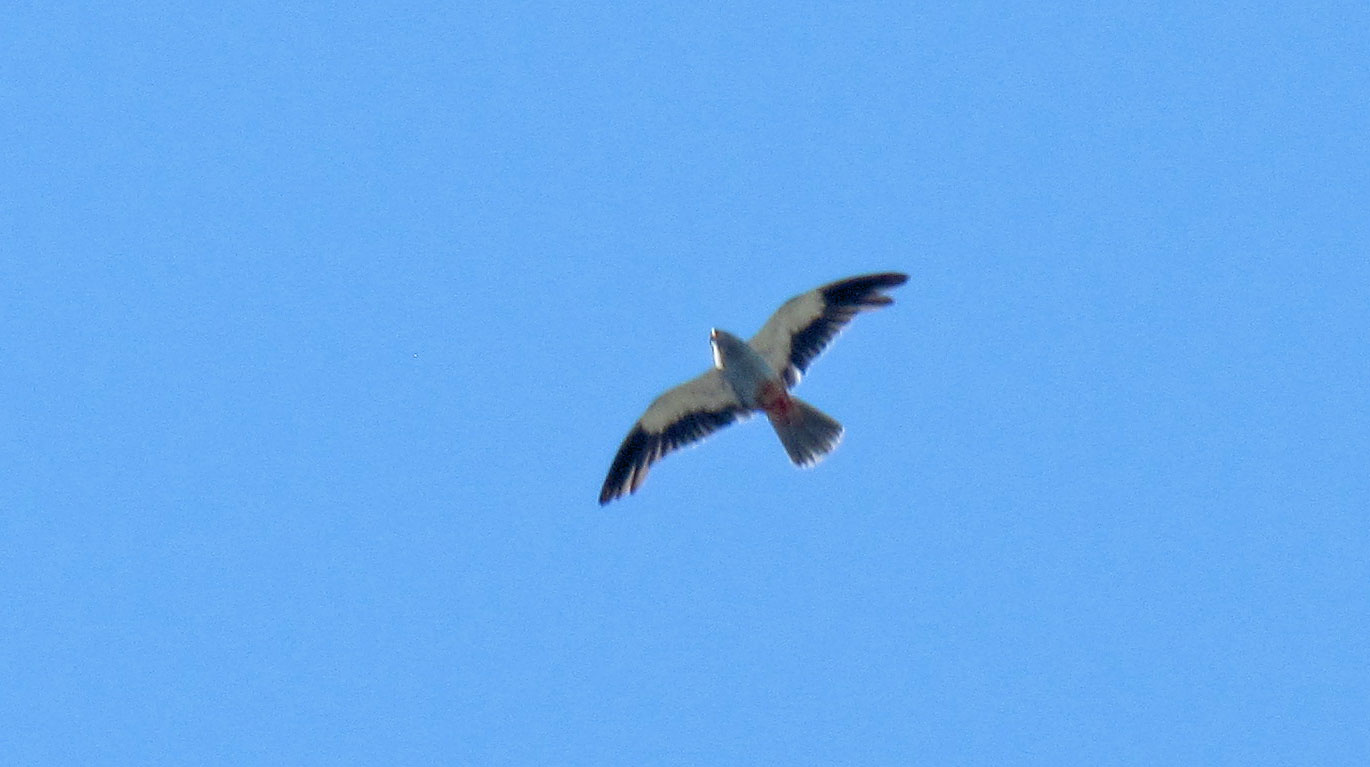 Amur Falcon, Dnipro, Ukraine (Maria-Adel Bradbeer via Tarsiger).
In Spain, a Blue-cheeked Bee-eater was a colourful find at Camarles on 3rd, with the adult Elegant Tern still in the Ebro Delta the previous day. Romania's third Green Warbler was trapped and ringed at Grindul Chituc, while Israel's third record of Senegal Thick-knee concerned a pair at Kfar Ruppin fishponds. An immature Bateleur was in the Golan Heights at the end of the week.
Austria's third Eleonora's Falcon was hawking insects over Styria on 31st; the country's first Demoiselle Crane made a reappearance at Seewinkle NP on 1st. Further east, Ukraine's first Amur Falcon – a male – was photographed at Dnipro on 4th.
In The Netherlands, the Halfweg Great White Pelican made a reappearance, while the female Amur Wagtail was reported again on 3rd. A new Booted Eagle was in Belgium at Baasrode. Gerum, Sweden, held onto its Black-winged Kite.