The week at a glance
For many parts, the Easter week proved a distinctly chilly affair as the recent northeasterly airflow persisted: Braemar (Highland) registered a British record Easter Sunday low of –12.5°C. But, despite spring 2013 looking set to be one of the latest on record and many areas from the Midlands northwards having yet to register their first Chiffchaffs and Sand Martins, migrants did continue to trickle in along the south coast. Furthermore, though there were unsurprisingly no classic early spring overshoots, one or two high-quality rarities enlivened what might otherwise have been another week to forget.
In County Donegal, a British birder searching for gulls around the estuary at Killybegs stumbled across a smart Killdeer during the afternoon of 29th, though it had moved on by the following morning. The last report anywhere in Britain and Ireland concerned a heard-only bird on Sherkin Island (Cork) in November 2011, while it is now five years since the long-staying Shetland bird — the last to be truly twitchable on our shores — and many would welcome another accommodating individual.

Killdeer, Killybegs, Donegal (Photo: Gavin Thomas)
In the continuing easterly blow, it was perhaps no great surprise that a Pallid Harrier was found in Britain — the species has enjoyed a remarkable change in status that has seen it 'devalued' from monster rarity to expected annual visitor over the past decade. What was surprising, perhaps, was the nature of the find: photographed as an unidentified raptor catching and eating an unfortunate Fieldfare in fields near Papercourt Gravel Pits (Surrey) during the afternoon of 31st, the bird proved to be a fine sub-adult male but could not be relocated the following morning.
Proving most popular this week was the south coast's continuing glut of White-spotted Bluethroat records. Portland (Dorset) was the place to be, with a female trapped there on 28th (and again on 2nd), a male at Weston on 30th–31st and another male — the area's fourth of the spring — showing well at Chesil Cove from 1st! Remaining from last week were the male at St. Helens (IoW) and the female at Samphire Hoe (Kent) throughout, with the latter county also claiming males at Dungeness on 31st and St. Margaret's at Cliffe on 1st–2nd. A particularly bright male was also seen briefly at Prawle Point (Devon) on 30th and the week's ninth (!) individual was an inland record from Melksham (Wilts) on 2nd.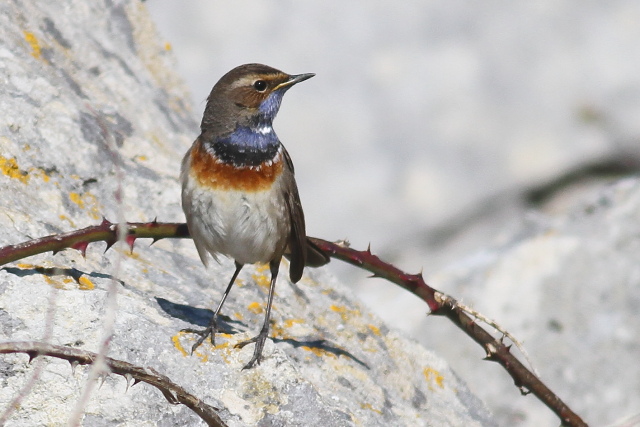 White-spotted Bluethroat, Chesil Cove, Dorset (Photo: Peter Moore)

White-spotted Bluethroat, Prawle Point, Devon (Photo: Patrick Mayer)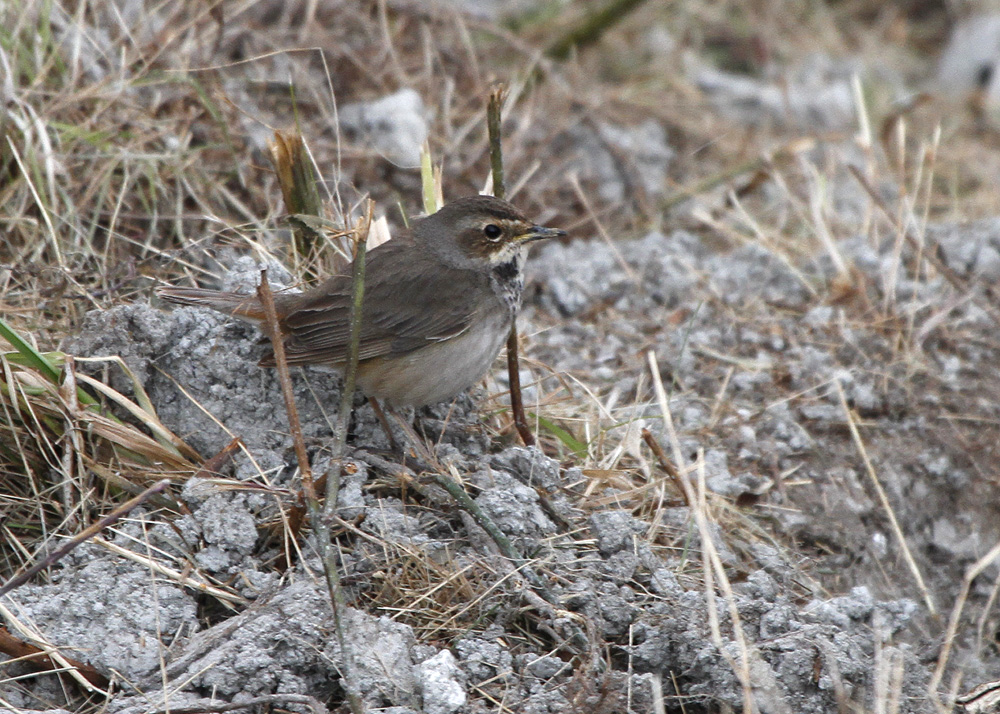 White-spotted Bluethroat, Samphire Hoe CP, Kent (Photo: Mike Buckland)
Scarce migrants were otherwise in shortly supply, with a Hoopoe at Dawlish Warren (Devon) on 1st–2nd the only individual of the week. A male Kentish Plover showed well at Swalecliffe (Kent) on 28th–29th, with up to two males still at Rye Harbour (E Sussex) throughout and the female again at Ferrybridge (Dorset) on 1st. A pulse of around ten migrant Stone Curlew records saw popular individuals at Enfield (London) on 2nd–3rd and at Gallows Bridge Farm (Bucks) on the latter date. Ring Ouzels became more widespread in southern areas, and the first Redstarts, Tree Pipits and Yellow Wagtails all finally arrived on the south coast.

Kentish Plover, Swalecliffe, Kent (Photo: Mike Gould)

Wheatear, Bardsey Island, Gwynedd (Photo: Ben Porter)

Ring Ouzel, Breckles, Norfolk (Photo: Nick Moran)
Drawing crowds over the Easter weekend was the Harlequin on North Uist, which lingered off the Balranald coastline throughout and was backed up by the continuing Ring-necked Duck, and Richardson's Canada and Snow Geese. However, the returning male Snowy Owl timed it badly for many, reappearing on the machair at Solas on Easter Monday. Elsewhere, the male Snowy Owl was seen again on Ben Macdui (Moray/Nairn) on 2nd, and a third individual was reported on Jura (Argyll) on 28th.

Harlequin Duck, Balranald RSPB, N.Uist, Outer Hebrides (Photo: JB Kemp)
Other lingering headline birds included the American Coot still in County Galway, the Pied-billed Grebe still in Somerset and the Pacific Diver again in Mount's Bay on 1st. Meanwhile, the spring White-billed Diver rush continued, with up to three off Portsoy (Aberdeenshire) throughout the week, two off the northeast coast of Lewis and the long-stayer still off South Ronaldsay (Orkney).

White-billed Diver, Herston, S.Ronaldsay, Orkney (Photo: anon)
A single Richardson's Canada Goose remained with Barnacle Geese in County Sligo on 1st, and the Canada Goose — possibly a Todd's — was still in the Cashen Estuary area of County Kerry. The Red-breasted Goose remained put at Farlington Marshes (Hants) throughout the week as did a Black Brant, with other Brants in East Yorkshire, Essex and County Wexford. Two first-winters were reported on Jersey on 28th. A blue-morph Snow Goose was with the Pink-feet near Lochmaben (Dumf & Gall) from 2nd (perhaps the Lancashire bird moving northwards?) and a bird near Glenbarr (Argyll) on 3rd was presumably the recent Westport bird. Elsewhere, the blue morph remained in County Fermanagh and the white morph in County Donegal, both with Greenland White-fronted Geese.
Content continues after advertisements

Richardson's Canada Goose, Ballintemple, Sligo (Photo: Gavin Thomas)

Red-breasted Goose, Farlington Marshes HWT, Hampshire (Photo: Bob Chapman)

Snow Goose, Lower Lough MacNean, Fermanagh (Photo: Gavin Thomas)
The drake Blue-winged Teal was last reported from Threave (Dumf & Gall) on 29th, and the County Kerry bird was still at Ballylongford the following day; just five Green-winged Teal included a new drake at Tophill Low (E Yorks) on 1st, with the Northamptonshire individual relocating to Irthlingborough from 29th in addition to birds still in Hampshire, Cleveland and County Donegal. Drake American Wigeon were found at Quoile Pondage (Down) on 29th and Little Neston (Cheshire) on 31st–2nd, and a probable female was at Bodenham Lake (Herefordshire) on 31st. Other drakes remained in Devon, Lincolnshire, Highland and Orkney.
It was another excellent week for Lesser Scaup, with eight drakes recorded countrywide. The only new individual was a drake at Saltholme (Cleveland) on 3rd, but birds remained at Auchendores/Leperstone Reservoirs (Clyde), Freiston Shore (Lincs), Wellington Pits (Herefordshire), Bryn Bach Country Park (Gwent), Cosmeston Lakes (Glamorgan), Siblyback Reservoir (Cornwall) and Oxford Island (Armagh). A dozen Ring-necked Ducks included three still on Tresco (Scilly) and two at Slapton Ley (Devon), while the drake Ferruginous Duck remained on Otmoor (Oxon) to at least 2nd.

Lesser Scaup, Freiston Shore RSPB, Lincolnshire (Photo: Paul Thomas)

Lesser Scaup, Saltholme RSPB, Cleveland (Photo: Ian Forrest)
In Shetland, the immature drake King Eider remained in Bluemull Sound on 29th, and half a dozen Surf Scoters were reported this week: up to two drakes remained on the border of Counties Meath and Dublin, drakes were off Luskentyre, Harris (Outer Hebrides) on 30th and Seton Sands (Lothian) from 31st, and further Scottish males remained on Loch Ryan (Dumf & Gall) and off Ruddon's Point (Fife).
After recent escapees in Lancashire and Clyde, a White Stork at Sawbridgeworth (Herts) and later over Bishop's Stortford and Braintree (Essex) on 1st could well be the first 'genuine' bird of the year. The Glossy Ibis remained at Marloes Mere (Pembrokeshire), though the Hampshire bird had gone wandering: it was seen at Arundel (Sussex) on 30th–31st and then at nearby Pulborough on 1st. A Cattle Egret was reported at Hoveringham (Notts) on 28th, and the long-stayer was still in County Donegal that day. Up to six Great White Egrets were still at Catcott Lows (Somerset) and a group of three were seen at Summer Leys (Northants) on 28th before relocating to Fen Drayton (Cambs) the following day.

White Stork, Sawbridgeworth, Hertfordshire (Photo: Jay Ward)

Great White Egret, Summer Leys LNR, Northamptonshire (Photo: Douglas McFarlane)
A Black Kite reported over St. Agnes (Cornwall) on 1st may have been the bird later seen over Gwithian. Other raptors included the ever-present juvenile Northern Harrier at Tacumshin (Wexford) and four Rough-legged Buzzards in Suffolk, Norfolk, Orkney and Shetland. What is presumably the same juvenile White-tailed Eagle was seen drifting over Roydon Common (Norfolk) on 2nd and a possible was seen over Howick (Northumberland) on 31st.
Reported for the first time since early February, Lincolnshire's Long-billed Dowitcher was again at Alkborough Flats on 3rd. A new Lesser Yellowlegs was found at Skerries (Dublin) on 2nd, with the Ernesettle (Devon) bird still in residence throughout the week.
An adult Bonaparte's Gull found in Thurso (Highland) on 30th could feasibly be a regularly returning bird, as sporadic reports of an adult have been forthcoming from the harbour since at least 2005. Elsewhere, the adult remained in Cardiff Bay (Glamorgan) to 2nd. Further quality Ring-billed Gull records came this week, with a first-winter in the roost at Farmoor Reservoir (Oxon) on 2nd, a first-winter at Angle Park Pits (Fife) on 29th–30th and another at Loch of Asta (Shetland) on 28th joining remaining birds in Glamorgan, Lancashire and Highland. A dozen Irish birds included triumvirates still in Counties Kerry and Cork, with at least three also scattered around County Dublin. A handful of Kumlien's Gulls included the near-adult at Cuskinny Marsh (Cork), two at Castletown Bearhaven (Cork) and one still at Killybegs (Donegal), where there were still 5 Glaucous and 4 Iceland Gulls on 29th. The Forster's Tern was off Kinvarra (Galway) on 28th.

Ring-billed Gull, Dingwall, Highland (Photo: John Nadin)
The two Black-bellied Dippers remained in Thetford (Norfolk) to 28th with one still there on 30th; elsewhere the Pallas's Warbler continued on the Berkshire/Hampshire border, the Rose-coloured Starling was still in Devon and the Common Rosefinch was still in Dorset. Two Penduline Tits were seen on the RSPB reserve at Dungeness (Kent) on 29th and the Stodmarsh individual reappeared from 30th. Around ten Great Grey Shrikes remained. Good numbers of Hawfinches also remained scattered around the country, with 50+ still at Mickleham (Surrey), 20 at Romsey (Hants) and 17 at Llanbedr-y-cennin (Conwy), in addition to a single Irish bird still at Curraghchase Forest Park (Limerick) on 2nd.

Rose-coloured Starling, Exminster, Devon (Photo: Charlie Fleming)

Penduline Tit, Stodmarsh NNR, Kent (Photo: Steve Ashton)
Photo of the Week 28th March–3rd April

Hawfinch, undisclosed site, Gloucestershire (Photo: Lewis Thomson)
Since moving to the Forest of Dean in Gloucestershire in 2007, wildlife photographer Lewis Thomson has managed to photograph a wide range of scarce species. His signature subject, however, has been the ever-popular Hawfinch, which gave him his first BirdGuides Photo of the Week five years ago and has since given him a number of stunning Notable Images. This week, for the first time, we have selected an image featuring two Hawfinches in extreme close-up. We don't know the full back-story here, but the resulting image has understandably been popular amongst our online community. As well as bringing out the rich colours and striking facial features of these charismatic birds, the high-tension poses and interlocking shapes round off a high impact behavioural shot.

Long-tailed Tit, Wigan, Greater Manchester (Photo: David Cookson)

Common Scoter, Swanpool, Cornwall (Photo: Bobbster)

Woodcock, Titchwell RSPB, Norfolk (Photo: Chris Upson)

Rose-coloured Starling, Exminster, Devon (Photo: Charlie Fleming)

Little Owl, undisclosed site, Leicestershire and Rutland (Photo: Paul Riddle)

Kestrel, undisclosed site, Lancashire (Photo: Austin Thomas)

Sanderling, Cresswell, Northumberland (Photo: Terry Cavner)

Tawny Owl, Llandudno, Conwy (Photo: Dave Williams)