It was a bitter week, particularly for the beginning of March, in which the main talking point was the cold-weather movement associated with widespread sub-zero temperatures, heavy snow and ice.
Such freezing conditions are challenging, often distressing times for birds and birders alike. The week's weather caused the inevitable displacement of a wide range of species, with its effects really kicking in on 1st. Large numbers of Northern Lapwings and European Golden Plovers were seen piling west or south-west, with smaller numbers of scarce coastal species such as Red Knot, Grey Plover and Bar-tailed Godwit being logged at sites. Bar a few Greater Scaup around and a Red-throated Diver in Peterborough, Cambs, waterbirds were disappointingly represented, with just a few Smew, scarce geese and wild swans being noted out of range – perhaps it was just a little late in the season for any big influxes. In contrast, there was an amazing upturn in records of species such as Fieldfare, Redwing and Common Snipe from urban and suburban gardens.

Red-throated Diver, Thorpe Park, Cambridgeshire (Josh Jones).
For birders, footage of exhausted Northern Lapwings and European Golden Plovers feeding on uncovered roads and in public parks, often down to centimetres, was hard to stomach. Countless cases of dead or dying birds were another reminder of just how brutal sustained periods of sub-zero temperatures are for many birds. As harrowing as it may seem at times, it is important to remind yourself that this is nature taking care of itself – it's the survival of the fittest, after all …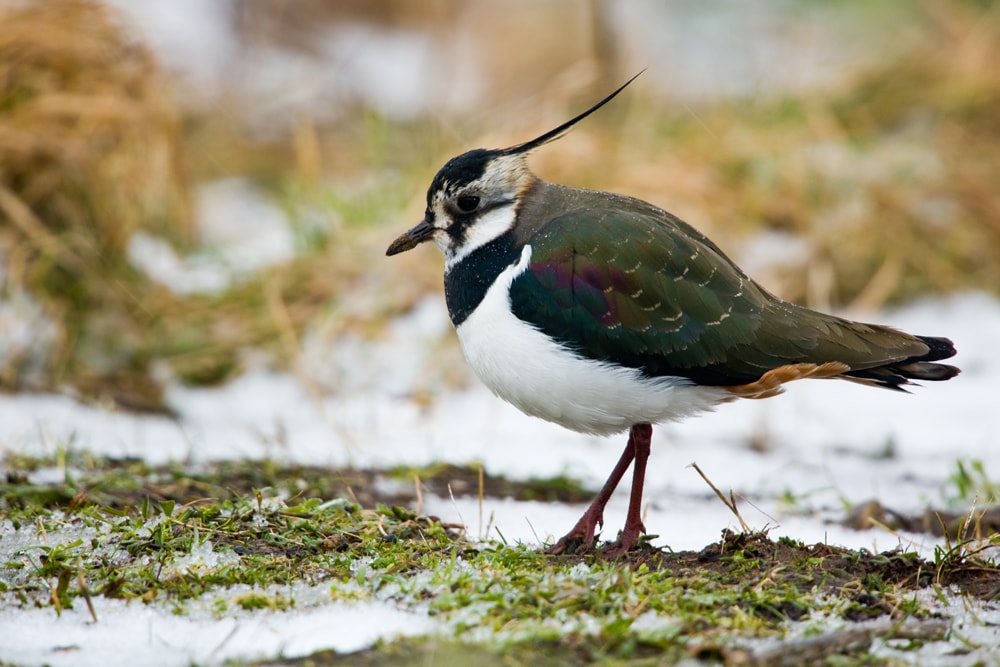 Northern Lapwing, St. Ouen's Pond, Jersey (Romano da Costa).
By the end of the review period, temperatures had rebounded back to more typical early-March figures, at least in the south, where 10 degrees Celsius felt like T-shirt weather after several bitter days, particularly in the raw east wind. For patchers, the good birding continued, as displaced birds began re-orienting back north and east. Spring will hopefully now be allowed to progress without further interruption …
It was ironic that the coldest sustained temperatures for several years across many parts coincided with the arrival of the first spring migrants. Always a seminal moment, the year's first Northern Wheatear was in dunes at Fleetwood, Lancs, on 28th. The first Garganey, a pair, were at Farlington Marshes, Hants, on 28th, with three drakes at two Dorset sites on 1st. Two sites in Devon claimed two apiece on 2nd, with Stanpit Marsh, Dorset, claiming a further pair on 3rd, along with a drake in the county near Winterbourne Herringston; then, on 6th, a drake reached as far north as Snape, Suffolk.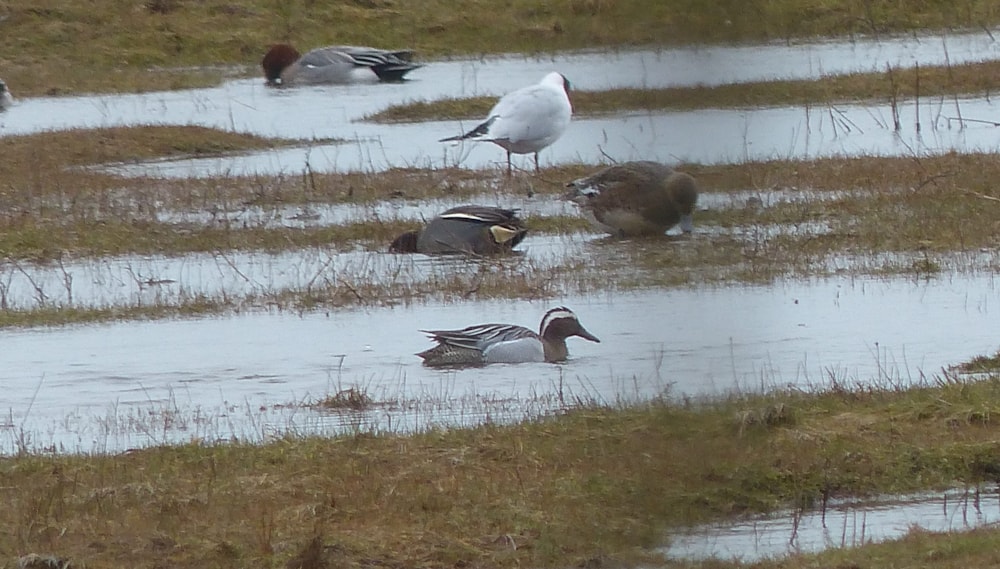 Garganey, Stanpit Marsh, Dorset (Mike Gibbons).
Precious little of great significance was unearthed during the cold weather and so it was down to lingering highlights to provide the headlines once again. The Ross's Gull in Weymouth, Dorset, wasn't seen during the coldest conditions on 1-2nd but reappeared briefly on 3rd before settling back into a routine of commuting between Lodmoor RSPB, Radipole Lake RSPB, Ferrybridge and Chesil Cove from 4th.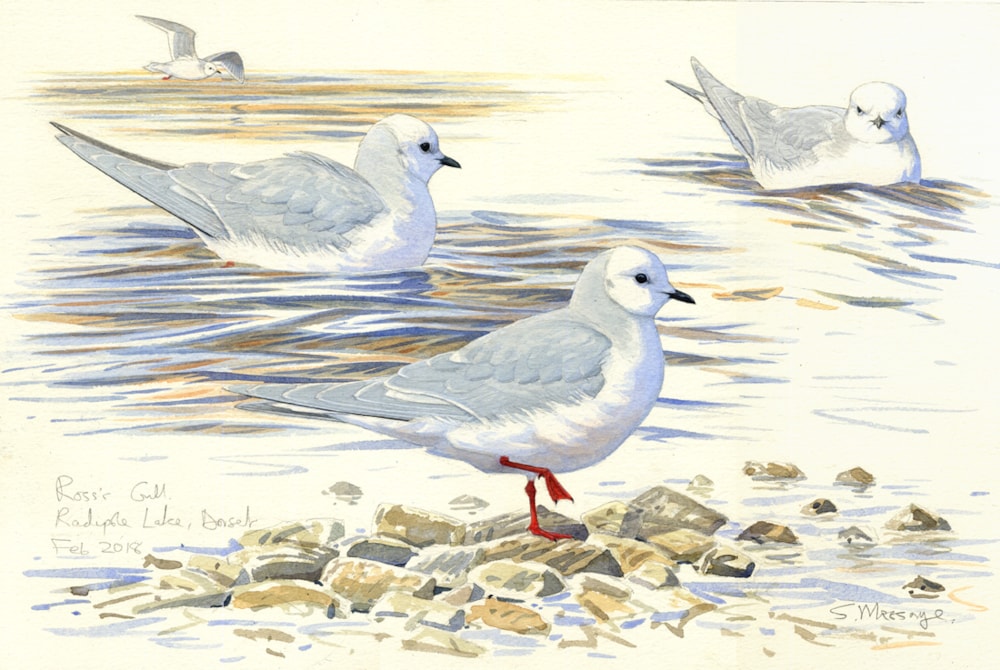 Ross's Gull, Radipole Lake RSPB, Dorset (Stephen Message).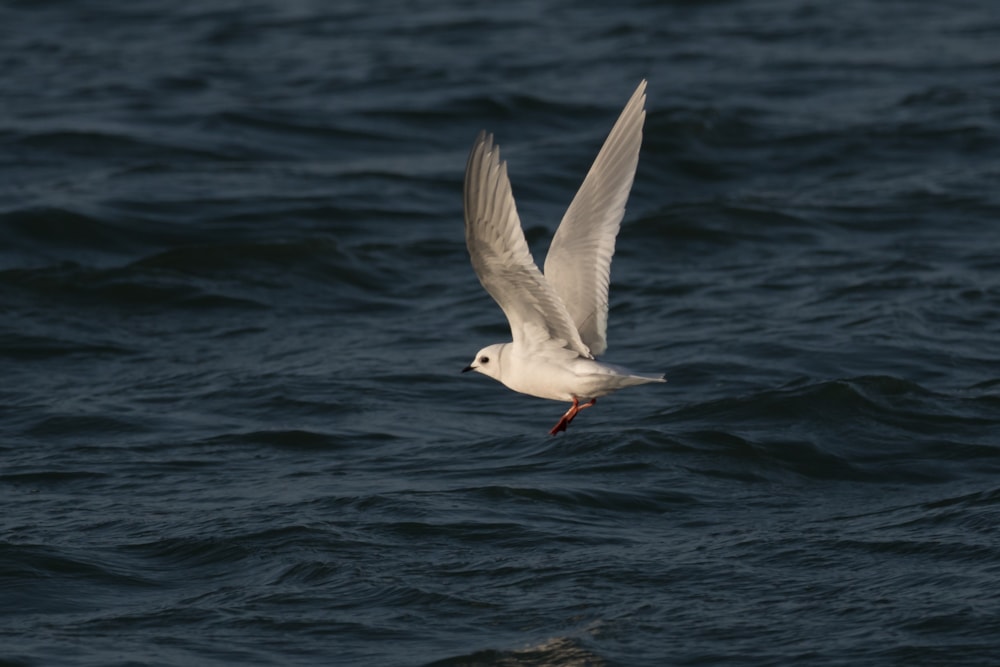 Ross's Gull, Ferrybridge, Dorset (D K Saunders).
The American Horned Lark seemed quite content to sit through the worst of the weather on Staines Reservoirs causeway (it must have been horrendous up there in the easterly!), while other lingering rarities matching our mega-rarity criteria included the putative Italian Sparrow in East Budleigh, Devon, the putative Thayer's Gull (or hybrid or pale European Herring Gull) in Hampshire and the Pied-billed Grebe at Loch of Spiggie, Shetland.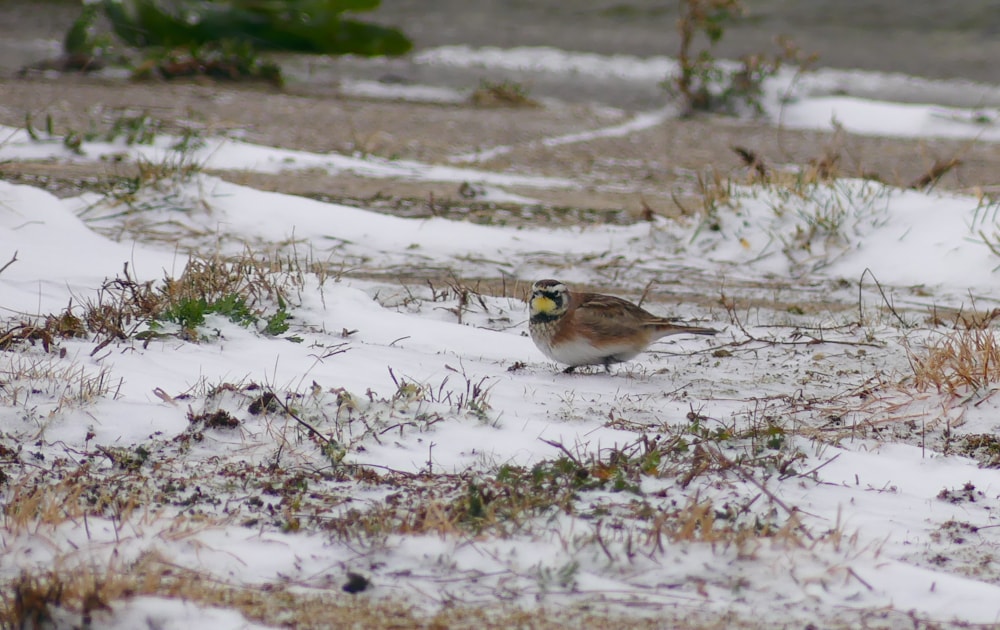 American Horned Lark, Staines Reservoirs, Surrey (Daniel Gornall).
A Cackling Goose was among Barnacle Geese at Ballyconnell, Co Sligo, on 3rd – the first report there this winter. Another was at Balranald, Outer Hebrides, on 5th. The only Todd's Canada Goose was the regular bird on Islay, Argyll.
Surf Scoter records this week concerned regular drakes off Unst, Shetland, and Musselburgh, Lothian, plus a male again off the Conwy coast and two off Rosslare, Co Wexford. The only King Eider report concerned the lingering female off Mid Yell, Shetland.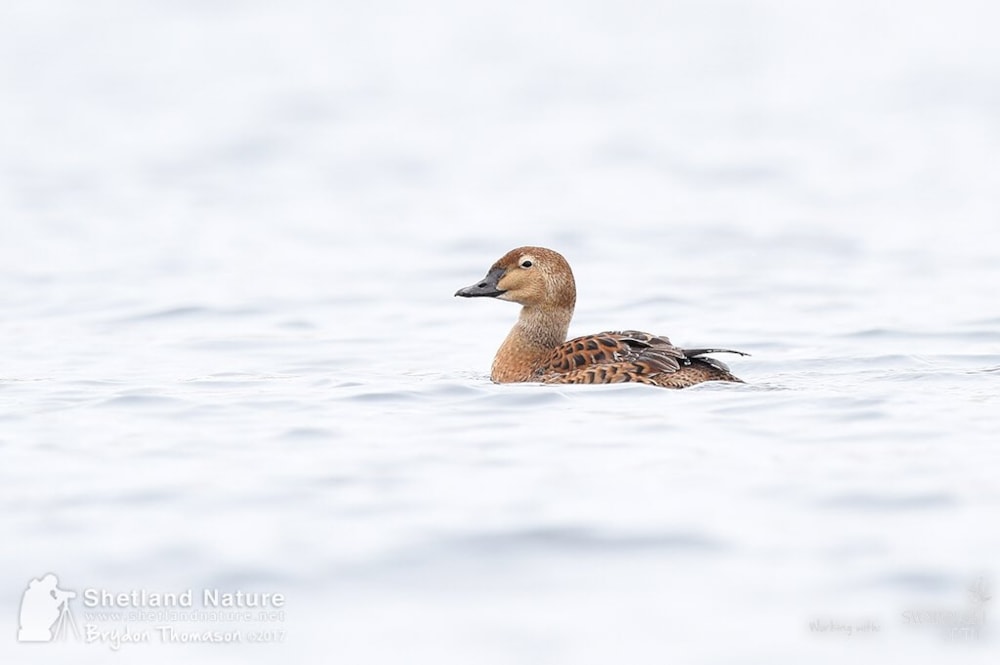 King Eider, Mid Yell, Yell, Shetland (Brydon Thomason).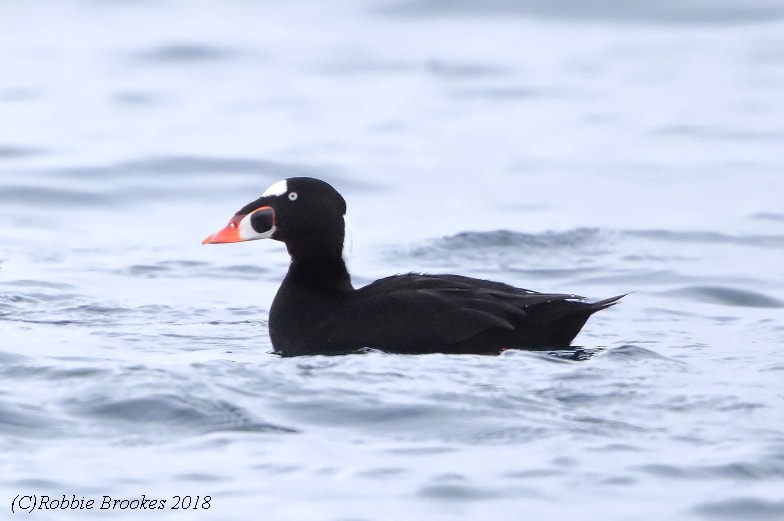 Surf Scoter, Uyeasound, Unst, Shetland (Robbie Brookes).
Cornwall's Lesser Scaup moved to Siblyback Lake this week, being seen there on 5th. All nine of this week's Ring-necked Ducks were long-staying birds – as we head into March, expect to see a few new birds popping up as wildfowl migration progresses. Cold weather was likely to thank for a couple of new Ferruginous Duck: one was near Great Leighs, Essex, on 3rd and another arrived at Cotswold Water Park, Glos, on 6th in addition to a drake still at Ham Wall, Somerset, on 4th. Just the five American Wigeon were seen, with birds still in Devon, north Somerset, Rutland, Lancashire, Ayrshire and two in Highland. Ten Green-winged Teal included a new bird at Marwick, Orkney, on 3-4th.
Seven Glossy Ibises were seen at five sites, including the three still together at East Coast Nature Reserve, Co Wicklow. One was reported as far north as Sheigra, Highland, on 28th with others in Devon, Hampshire and Suffolk. Just 10 sites produced Western Cattle Egrets, this presumably in part due to the snowy conditions, with a peak count of five at Birkdale, Lancs.
Content continues after advertisements
The only Rough-legged Buzzard was the usual male at Haddiscoe Marshes, Norfolk, with the county also producing an unconfirmed report of a Snowy Owl at North Wootton on 5th – no doubt this would have been hugely popular had it firmed up.
Good gull totals from Killybegs, Co Donegal, on 6th concerned the continuing adult Bonaparte's along with 35 Iceland, 25 Glaucous and a single Kumlien's Gull. A fantastic 40 Iceland Gulls were at Rubh' Arnal, North Uist, on 4th, alongside 20 Glaucous Gulls. Kumlien's Gulls totalled around a dozen nationwide. Eastern areas produced numerous Little Gulls, including several inland birds, which are always notable at the beginning of March. The only British Ring-billed Gulls were the Hampshire adult and Cornish first-winter. Seven Irish sites produced eight birds, including two adults at Cashen Estuary, Co Kerry, on 1st and new first-winter in the same county at Lough Gill on 4th.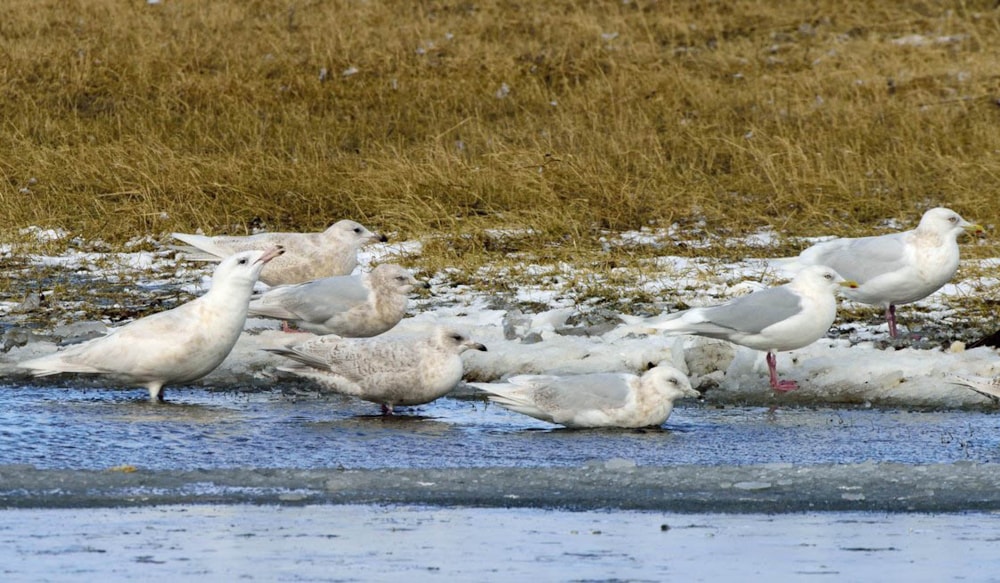 Iceland Gulls, Rubh' Arnal, N.Uist, Outer Hebrides (Steve Duffield).
The Long-billed Dowitcher was still at Lady's Island Lake, Co Wexford, on 28th and another was discovered at Ashton's Callows, Co Tipperary, on 6th, where there was also a Ring-necked Duck. Perhaps unsurprisingly, the Spotted Sandpiper disappeared from Holme Pierrepont, Notts, this week, and the Stilt Sandpiper wasn't seen at Stanpit Marsh, Dorset, past 1st. There were a couple of Grey Phalaropes logged in Northumberland, with a third at South Shields, Co Durham.
The 312 reports received this week would suggest that Hawfinches remain very much prominent across Britain and Ireland, with 325 still holding on near Mickleham, Surrey, on 5th. In contrast, Waxwings were reported from just 13 sites, including a peak count of up to 12 in Elgin, Moray and Nairn.
Despite the snow, the Richard's Pipit hung on at Wombwell Ings, South Yorks, to 2nd, while the Yellow-browed Warbler lingered there all week. Quite impressively, a male White-spotted Bluethroat appears to have survived the Orkney winter – it was still in St Margaret's Hope on 4th, having first been reported there in January. One of the few birds found during the cold conditions was a Rosy Starling at Freystrop Cross, Pembs, on 3rd, with what could have been the same bird seen to the west of there at Robeston West on 5th.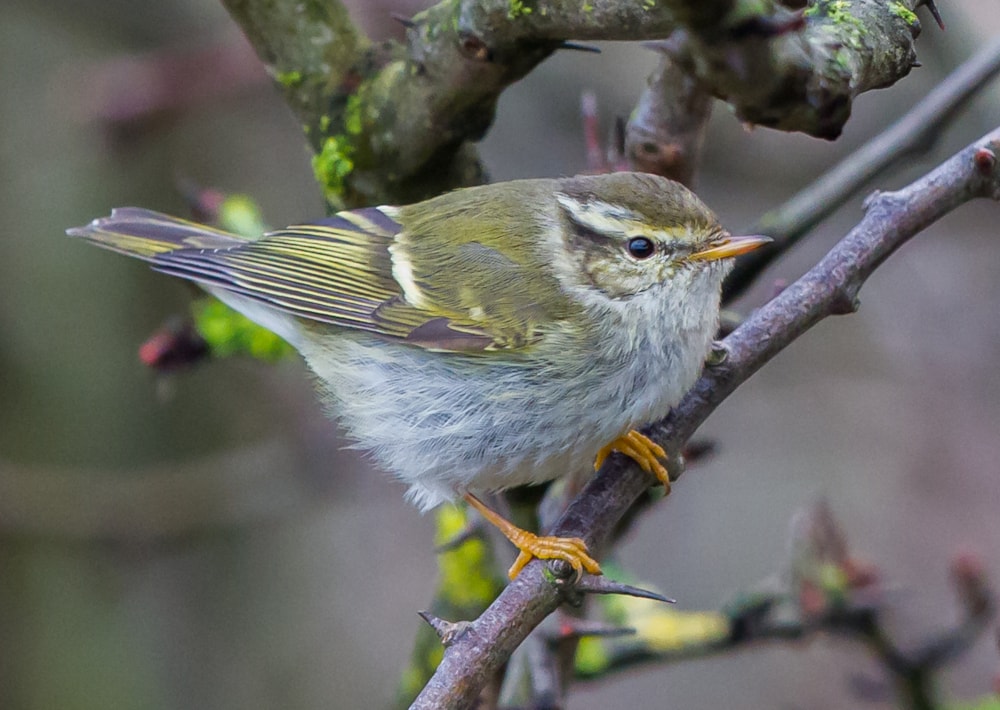 Yellow-browed Warbler, Wombwell Ings RSPB (Dearne Valley), South Yorkshire (Peter Garrity).
Another good week for Coues's Arctic Redpoll reports included a new bird (or two) at Fakenham, Norfolk, from 4th, with another still in the county at Whitlingham Country Park and the long-staying bird Hazlewood Common, Suffolk, seen again this week. A male also remained on Whalsay, Shetland. The only Parrot Crossbill sightings were of three at Wishmoor Bottom, Berks, on 3rd, with just two left on 5th.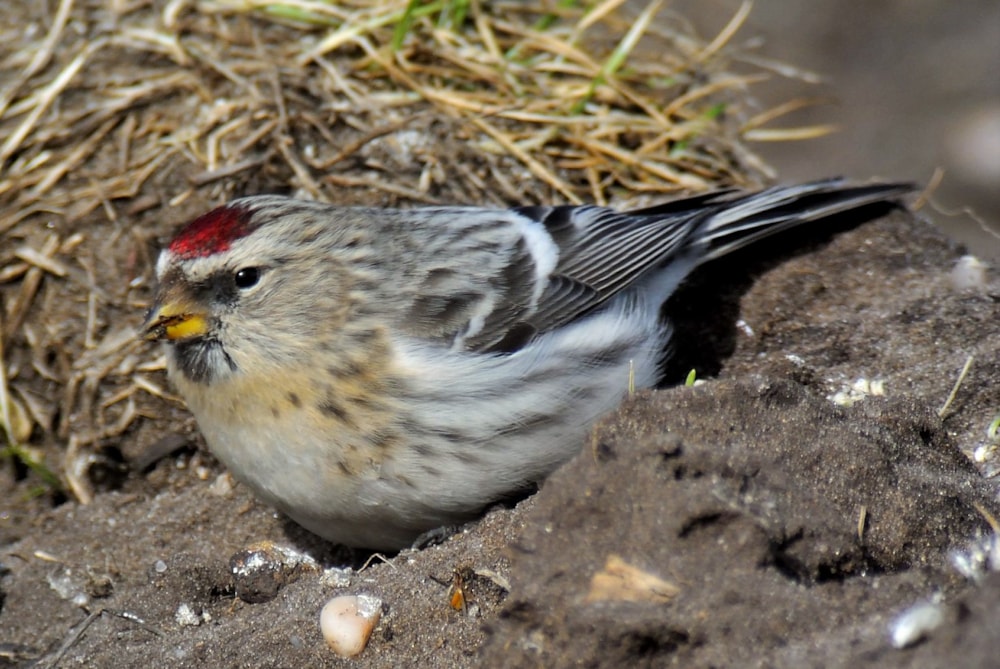 Coues's Arctic Redpoll, Hazlewood Common, Suffolk (Jonathan Theobald).
The male European Serin surprisingly reappeared at Walthamstow Reservoirs, London, on 6th, having last been noted on 10 February. Also still there was the Little Bunting, with another of that species at Brading, Isle of Wight, on 2nd.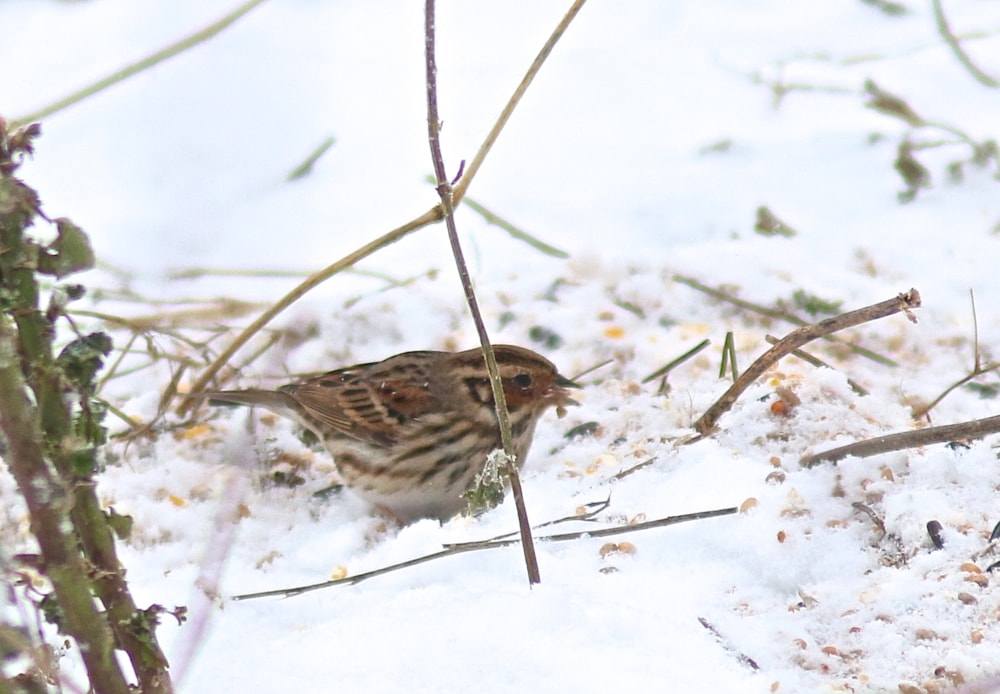 Little Bunting, Walthamstow Reservoirs, London, Greater (John Murray).
Western Palearctic
The Eyebrowed Thrush continued to show well in a suburban park in Cadiz, Spain, all week, where it has developed a taste for olives. In Catalonia, a Steppe Grey Shrike was at Serra de Daro. In neighbouring Portugal, the Sociable Lapwing lingered at Lagoa Salgados, Algarve.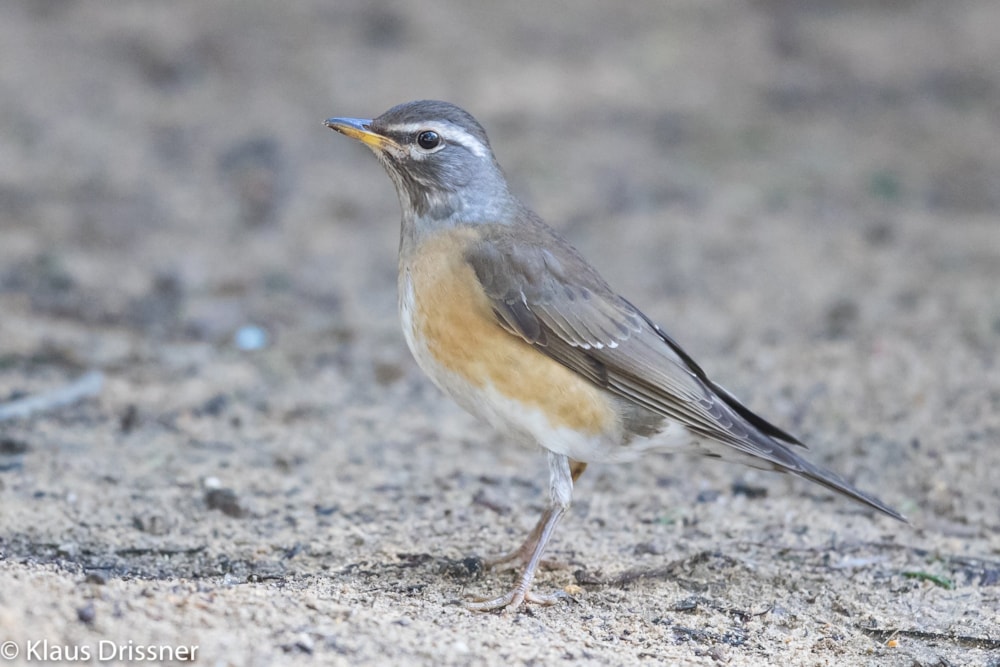 Eyebrowed Thrush, Cádiz, Andalucia (Klaus Drissner).
News from the Atlantic Isles included the Dwarf Bittern still near Llanos Pelados, Fuerteventura, Canary Islands, and the Redhead still on Terceira, Azores, on 28th. The Abyssinian Roller was still at Nouadhibou, Mauritania, on 5th.
A real surprise was the 'rediscovery' of the Grey-headed Gull at Bisceglie, Puglia, Italy, this week. These are the first reports of this famous bird for a couple of years – it has now been in the area almost five years, on and off (the assumption is that it only winters here with Black-headed Gulls). A Pygmy Cormorant was found at Montélimar, Drôme, France, on 4th, with the Belgian bird also still in Brussels on 6th. Meanwhile, in The Netherlands, the Ross's Gull and Pine Bunting remained in South Holland, as did the Black-throated Thrush and Eastern Black Redstart in Groningen, while a dead Brünnich's Guillemot was washed up on Ameland on 4th.
Both the Greater Yellowlegs and American Black Duck remained in southern Sweden. In the Baltic, the drake Stejneger's Scoter was still off Gdansk, Poland.
Late news concerned a Marabou Stork photographed south of Hurghada, Egypt, in July 2017. Somewhat more current was the arrival of Israel's fourth Lesser Flamingo at Eilat on 4th, with a Pacific Swift (a potential Israeli first) also seen migrating northwards on 2nd.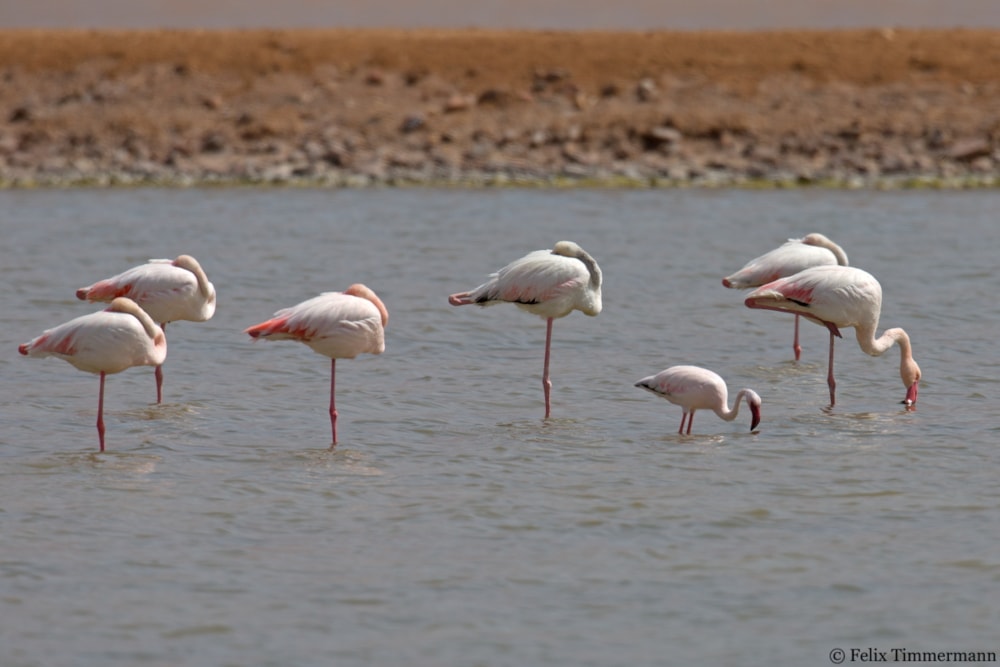 Lesser Flamingo, Eilat, Southern District (Felix Timmermann).