Six weeks ago, this column described the ongoing Two-barred Crossbill invasion to be "one of the headline events of the British birding year", but there can be no doubt that this week's eye-popping developments supersede even that record-breaking influx.
Last Wednesday we reported on the occurrence of two different Brown Boobies in British waters: a fly-by off the north Kent coast, seen tantalisingly briefly but documented by three photographs, and then a lingering bird at St Ives, Cornwall, which was playing tough to see. Though the latter hadn't been mass-observed, it felt like a good showing wasn't far away – and so it proved on the Thursday morning, when it spent almost an hour on view in the bay.

Brown Booby, St Ives, Cornwall (Graham Jepson).
After a blank day on the Friday, the bird went on to show very well again in St Ives Bay from mid-morning on Saturday 31st, even spending almost an hour on rocks just offshore at St Ives itself around midday, where it was well photographed. It then flew past Pendeen not long after that and, to the doom and gloom of the Sunday twitchers' brigade, wasn't seen again that day or early on Monday morning.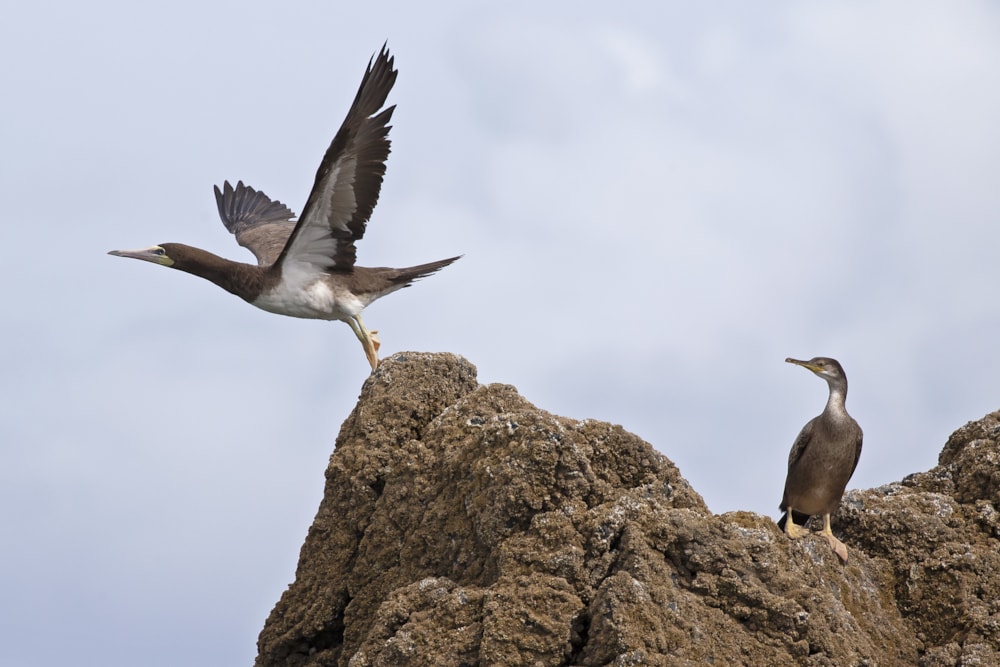 Brown Booby, St Ives, Cornwall (Sam Viles).
At that point it seemed like the trail had gone cold once more, but then, at 10.40 am on Monday, a Brown Booby was located on rocks at Kynance Cove, on the Lizard Peninsula. It soon became apparent that there were differences in the plumage and, sensationally, it was confirmed as yet another new bird – this time a younger individual with extremely tatty flight feathers. After all the travails of the previous week involving its two frustrating predecessors, it was a welcome change to see that this bird – nonchalant, leisurely and settled – was seemingly going nowhere, other than to take the occasional fishing foray around the adjacent bays, but always returning to a favoured rocky perch offshore. If anyone wants to see Brown Booby in Britain, this bird is surely the golden opportunity …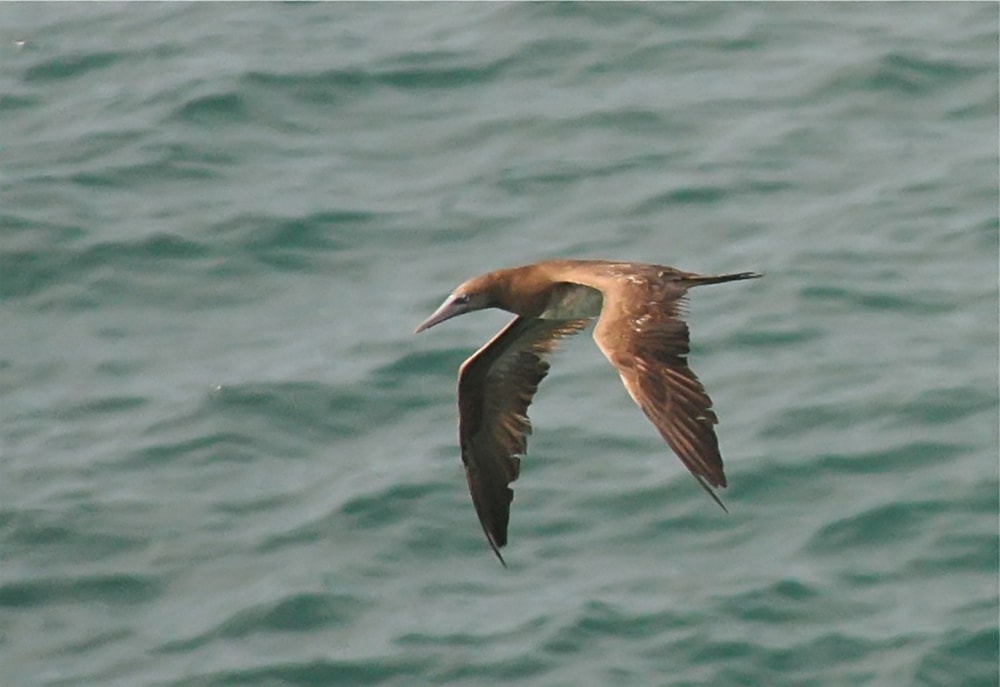 Brown Booby, Kynance Cove, Cornwall (Steve Nuttall).
The other big news of the week was a confusing wheatear along the coast east of Knott-End-on-Sea, Lancs. Found on 1st, the bird – either an Eastern Black-eared or Pied Wheatear (or indeed a mix of the two!) showed very well until the end of the review period. Though initially reported as a likely Eastern Black-eared, the bird is widely considered to look a better candidate for Pied due to features such as the pale-fringed feathering on the mantle. However, the two routinely hybridise and thus mixed origin cannot necessarily be ruled out. Apparently, a DNA sample has been obtained, so let's wait and see what the results of that say … either way, it's an unusually early date in the autumn for a rare wheatear and is a great bird for the county.
Pied Wheatear, Fluke Hall, Lancashire (Peter Hines).
After a week anticipating what the near-continent might throw up, a return to a westerly airflow during saw birders' eyes turn back towards the Atlantic for potential new arrivals. As August turned to September, the appearance of three juvenile Semipalmated Sandpipers felt very much on cue. The harbinger of these was at where else but Tacumshin, Co Wexford, on 31st, before others followed at Rosses Point, Co Sligo, and Newport Wetlands, Gwent, on 1st (the latter stayed to 3rd). As well as the continuing adult Baird's Sandpiper at Tacumshin, a juvenile was fresh in on Tiree, Argyll, on 3rd. An adult White-rumped Sandpiper was at Kilnsea, East Yorkshire, from 29th, with another visiting Saltholme RSPB, Cleveland, that day only.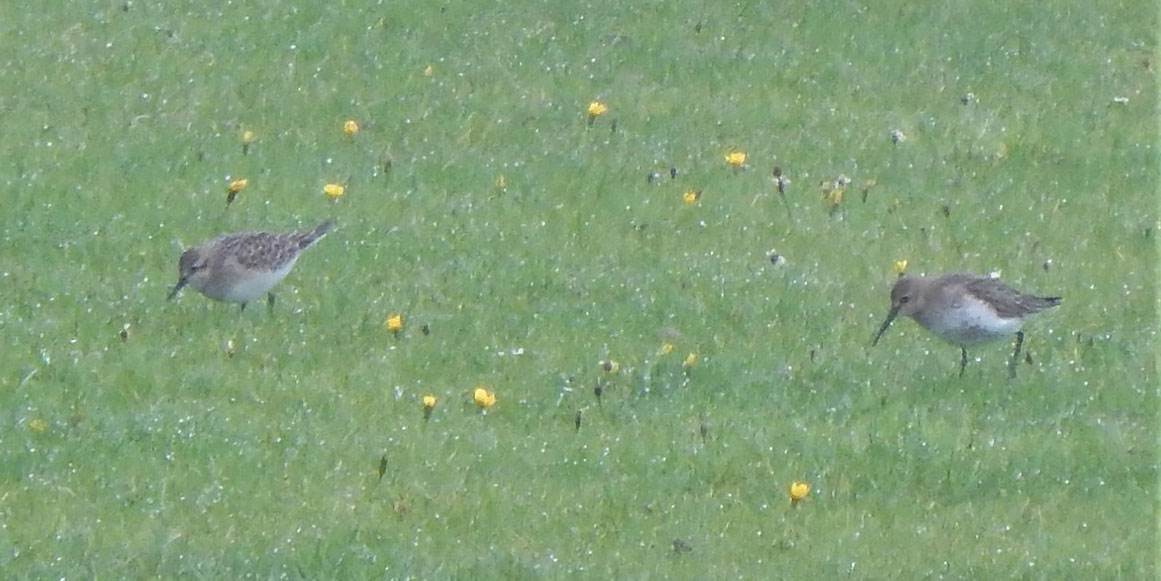 Baird's Sandpiper (left), Tiree, Argyll (John Bowler).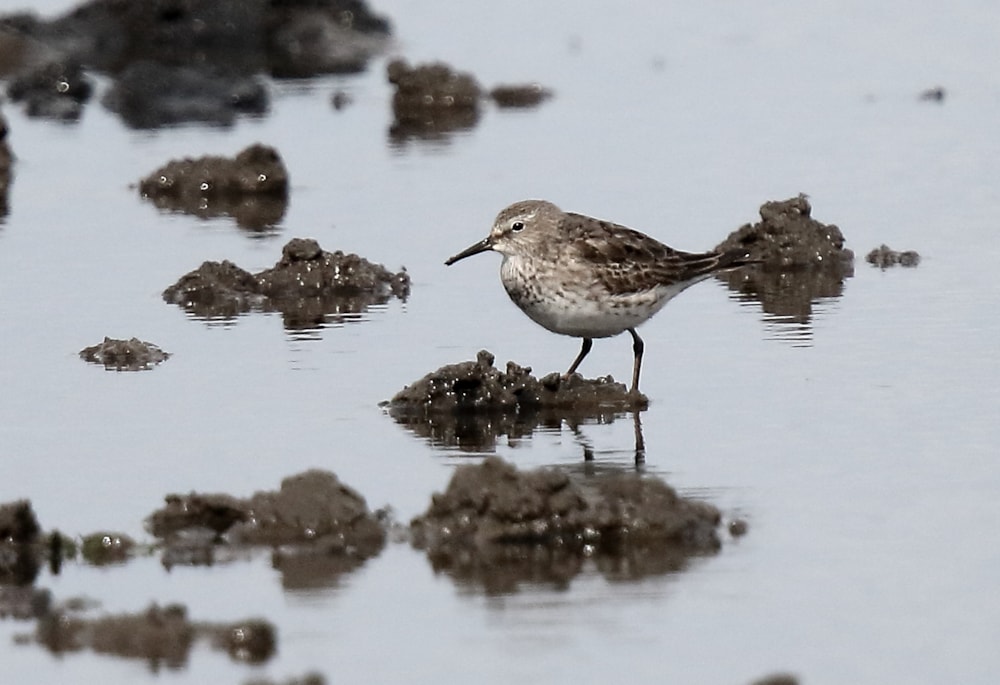 White-rumped Sandpiper, Saltholme RSPB, Cleveland (Chris Downes).
A couple of juvenile Pectoral Sandpipers were found on South Uist, although much more significant was a youngster well inland at Broom Gravel Pits, Beds, from 29th. Buff-breasted Sandpipers were at a premium, with just a single adult new in at the classic site of Davidstow Airfield, Cornwall, on 2nd. An American Golden Plover was on Yell, Shetland, on 1-2nd.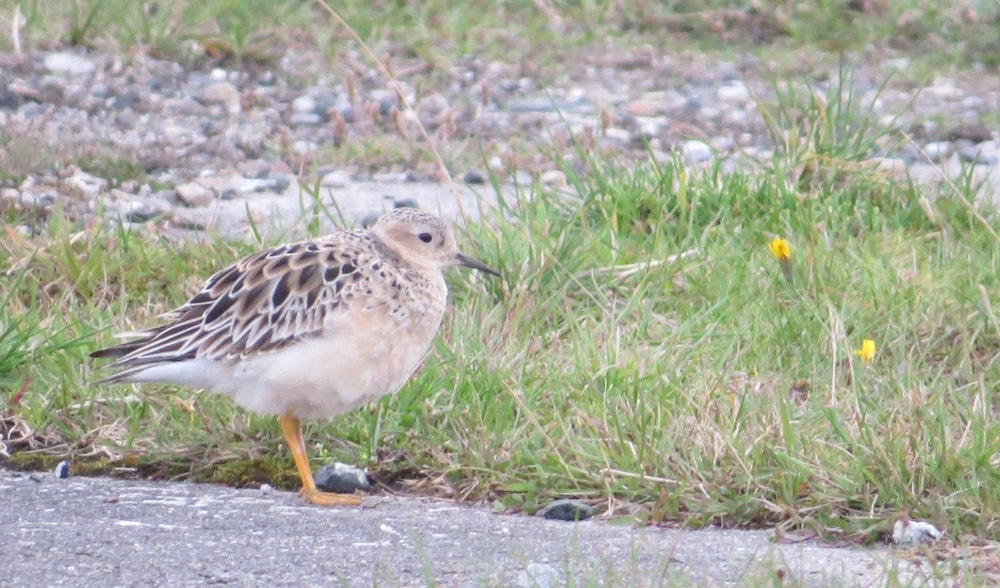 Buff-breasted Sandpiper, Davidstow Airfield, Cornwall (Mark Worden).
Both the Buff-breasted Sandpiper and Long-billed Dowitcher were still at Frampton Marsh, Lincs, early in the week, but it was a juvenile Black-winged Stilt that caused the biggest shorebird-related stir on the British east coast. Making its first appearance at Filey, North Yorkshire, for the day on 28th, it had relocated north to Foulden, Borders, by the following morning, where it again spent just a single day. Although it could not be found anywhere on 30th, it was presumably not far away, for it appeared in Northumberland on 31st, spending much of its time at Druridge Pools but also visiting Cresswell Pond. Almost predictably it had moved on by the morning of 1st and was relocated inland at Idle Valley NR, Notts, where it finally settled and remained to 3rd. Another good wader of Palearctic origin was the juvenile Kentish Plover on the beach at Eastoke, Hants, on 2nd.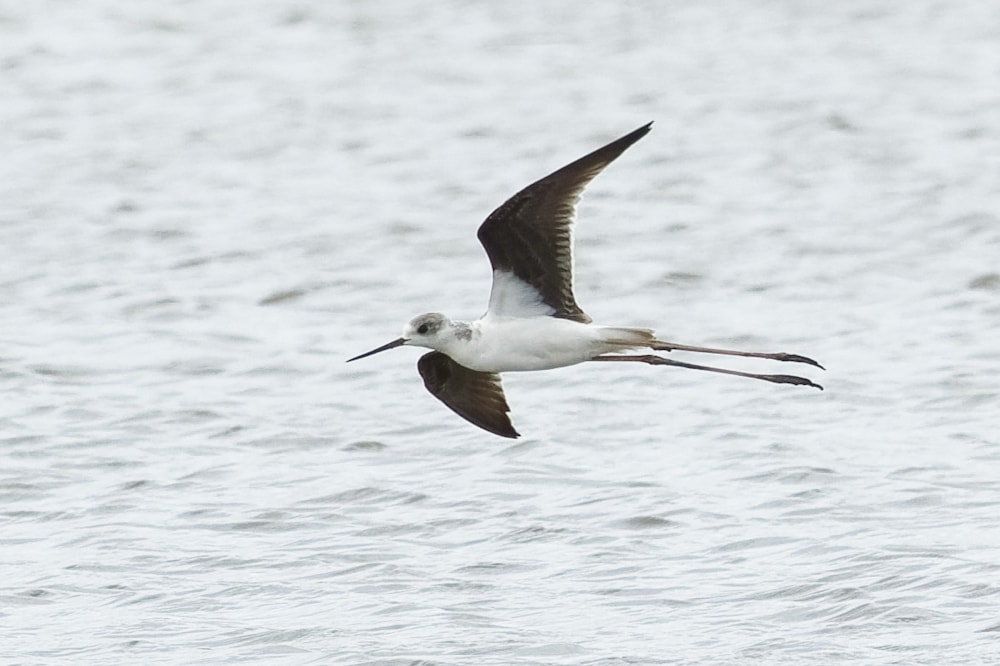 Black-winged Stilt, Druridge Pools, Northumberland (Frank Golding).
Up to a handful of Grey Phalaropes were seen in St Ives Bay, Cornwall, by booby twitchers, while a respectable 23 flew past Bridges of Ross, Co Clare, on 31st (with 12 more on 1st). In fact, seawatching was actually fairly decent on 31-1st, with Bridges of Ross also producing modest totals of Sabine's Gull, Leach's Storm Petrel and Long-tailed Skua during the week. Kilcummin Head, Co Mayo, was also productive on those dates, with 1st producing 14 Sabine's Gulls, 26 Pomarine Skuas and 36 Leach's Storm Petrels. We're starting to move out of peak Wilson's Storm Petrel season now, but two were nonetheless logged on a Scilly pelagic on 28th. A Fea's-type Petrel went past Annagh Head, Co Mayo, on 30th.
The adult Bonaparte's Gull put in another week at Oare Marshes, Kent, while the Co Clare bird was still between Liscannor and Lahinch. A White-winged Tern at Lodmoor RSPB, Dorset, quickly moved west to Abbotsbury on 1st. Caspian Gulls were seen at 24 sites north to Northumberland and west to Cheshire.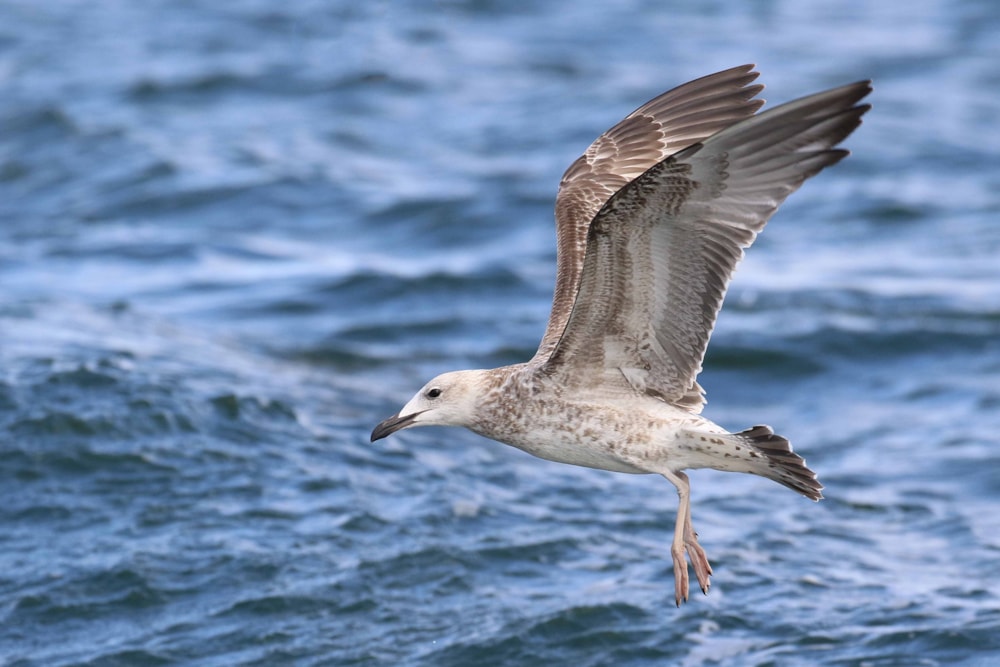 Caspian Gull, Scarborough, North Yorkshire (Christopher Bell).
The Western Bonelli's Warbler at Trevescan, Cornwall, fulfilled its obligations as bonus or consolation bird (depending on whether you saw the booby or not) until 1st, while another was found at Uwchmynydd, Gwynedd, on 31st and lingered to 3rd. Also still around was the Black-headed Bunting on Lundy, Devon – and, judging by the photos, was performing quite well at times. Meanwhile, in Cornwall, a Tawny Pipit was at Pendeen on 28th.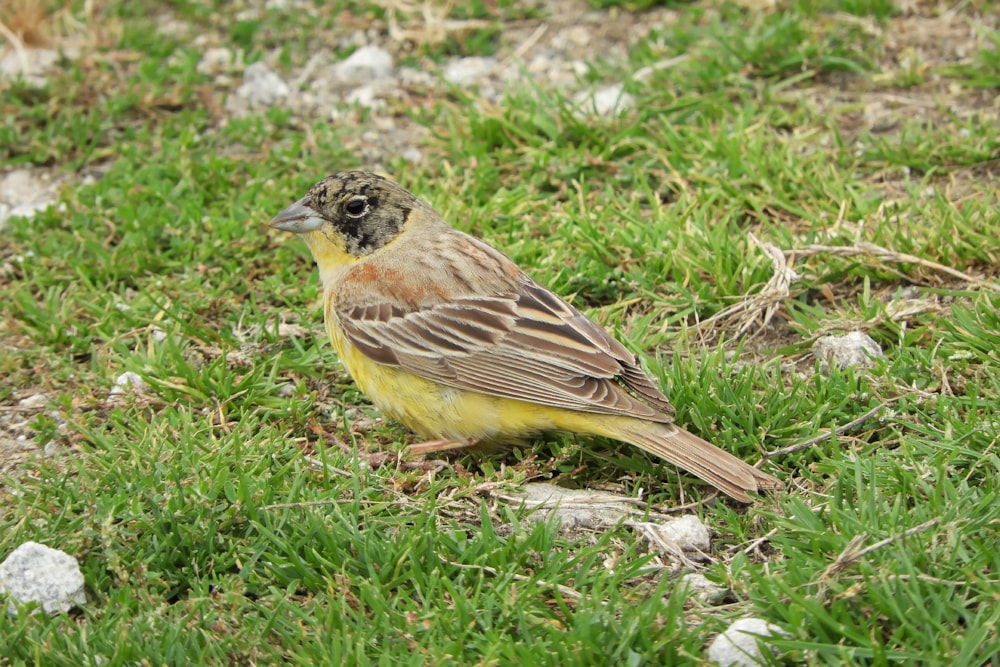 Black-headed Bunting, Lundy, Devon (Dean Jones).
Shetland produced a hat-trick of Citrine Wagtails, with birds on Balta Isle, Unst, on 29th, at Hillswick, Mainland, on 2nd and at Baltasound, Unst, on 3rd. A male Grey-headed Wagtail was photographed at Hesketh Out Marsh, Lancs, on 31st. A European Bee-eater spent the day on Whalsay, Shetland, on 30th, with another flying over Leysdown-on-Sea, Kent, on 1st. A Hoopoe was at Dishforth, North Yorkshire, on 30th, with others at Tamworth, Staffs, on 2nd and at Millbrook, Cornwall, on 2-3rd.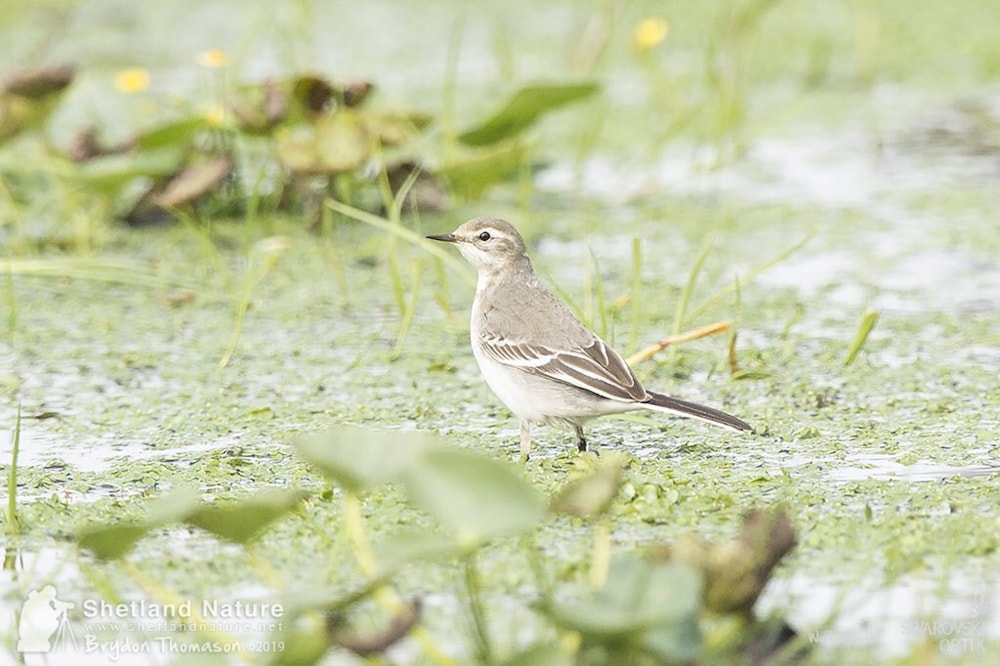 Citrine Wagtail, Baltasound, Unst, Shetland (Brydon Thomason).
Wrynecks were seen in reasonable numbers, with the 45 or so widely spread and including inland birds at several spots, such as one trapped and ringed at Bevercotes, Notts, on 3rd.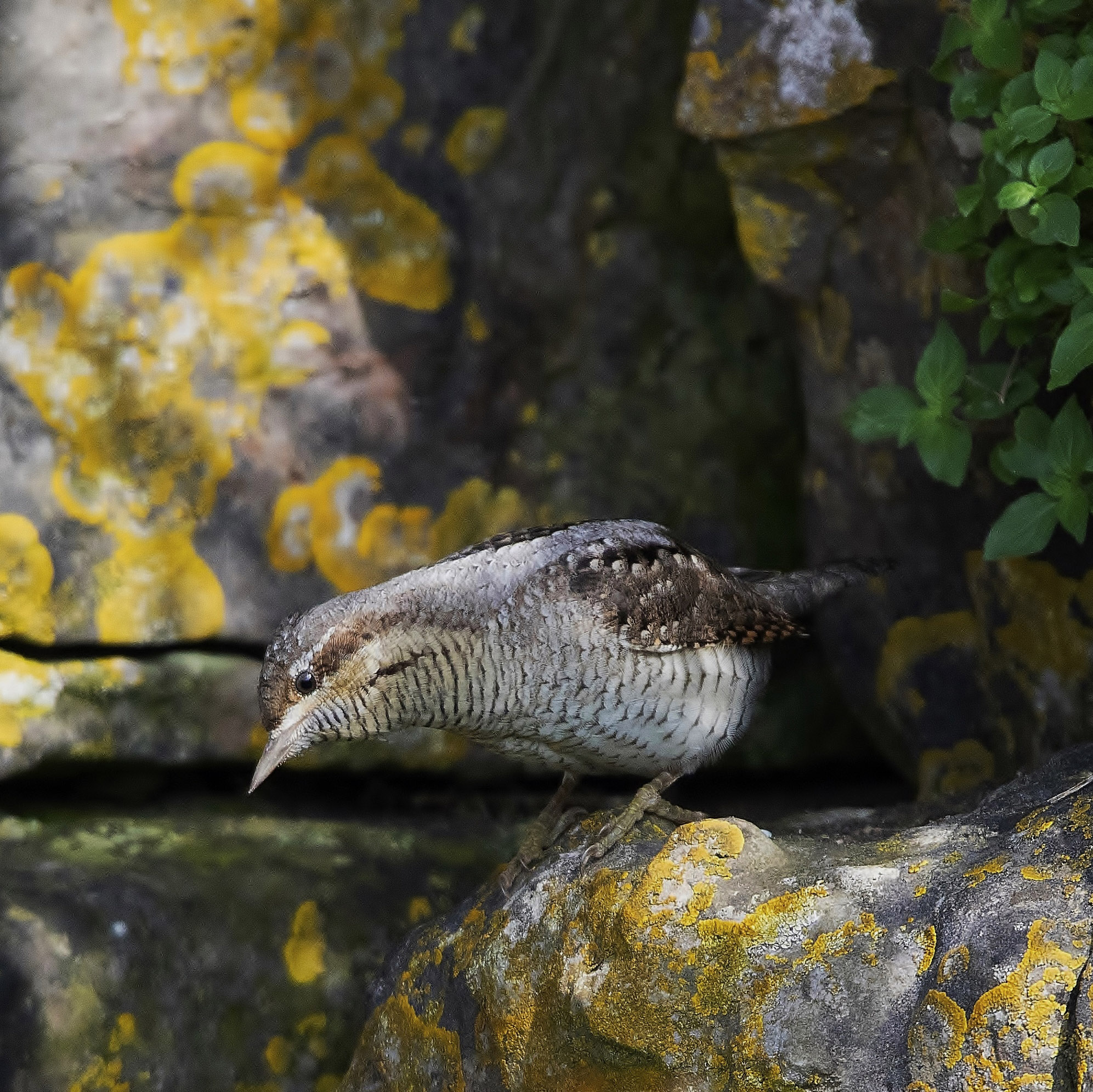 Wryneck, Ogmore-by-Sea, Glamorgan (Clive Daelman).
It was a familiar story for the week's two Aquatic Warblers, which were extracted from mistnets at Llangorse Lake, Powys, on 30th and Titchfield Haven, Hants, on 1st. A single new Greenish Warbler was found at Brotton, Cleveland, on 2-3rd, with birds still in Shetland and Orkney at the beginning of the week. Mainland Shetland also scored a couple of Icterine Warblers, with a third on Fair Isle and another on Cape Clear, Co Cork, on 28th. Both Melodious Warblers were in Cornwall, with one at Porthgwarra on 28-29th and another at Rinsey Head on 3rd. The only Marsh Warbler was on Fair Isle from 30-1st, while seven or eight Barred Warblers were in the Northern Isles and another visited Thurlestone, Devon, on 30th.

Icterine Warbler, Sumburgh, Mainland, Shetland (Rebecca Nason).
A Red-backed Shrike was just a stone's throw from the Kynance Cove booby for a few days from 1st, with another still on Scilly and two in Kent (at Dungeness and Reculver) on 2nd. The juvenile Woodchat Shrike remained on Cape Clear, Co Cork, all week.. The first juvenile Rosy Starling of the autumn was at Aberffraw, Anglesey, on 1st, with the adult still at Boulmer, Northumberland, that day. All four of the week's Common Rosefinches were on Shetland.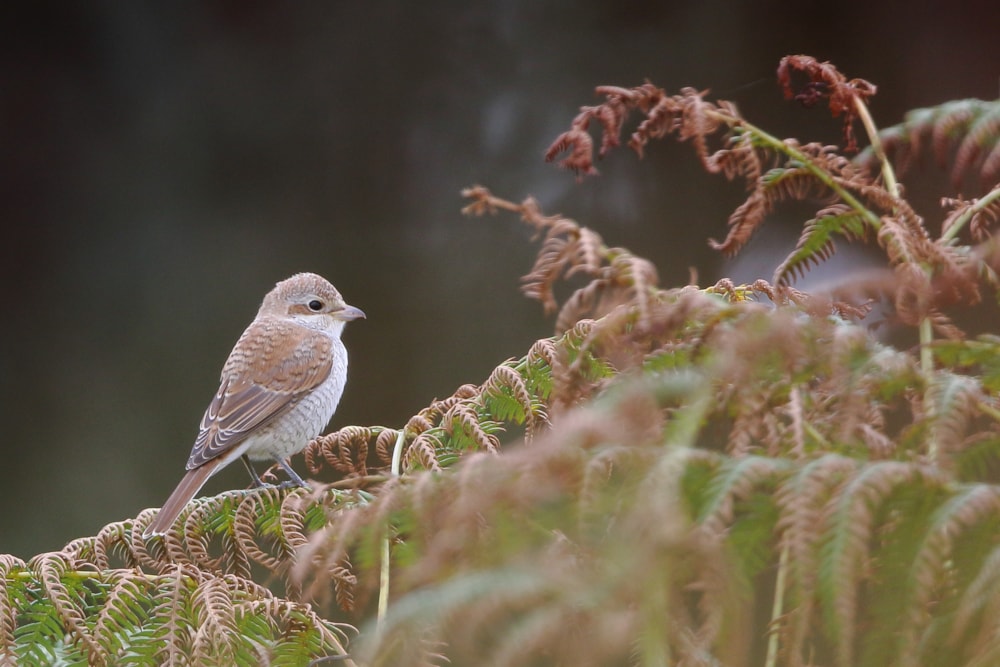 Red-backed Shrike, St Mary's, Isles of Scilly (Sam Northwood).
Four sites produced Two-barred Crossbills, all of which were on Shetland. Two females were at Quendale on 29th, with a male at Kergord on 30th followed by juveniles at Halligarth, Unst, and on Fair Isle on 2nd and 3rd respectively. An Ortolan Bunting was at Mizen Head, Co Cork, on 2nd, while another flew over at Grimsby, Lincs, on 29th. One flew over Charmouth, Dorset, on 2nd, with two in fields at Soar, Devon, that day.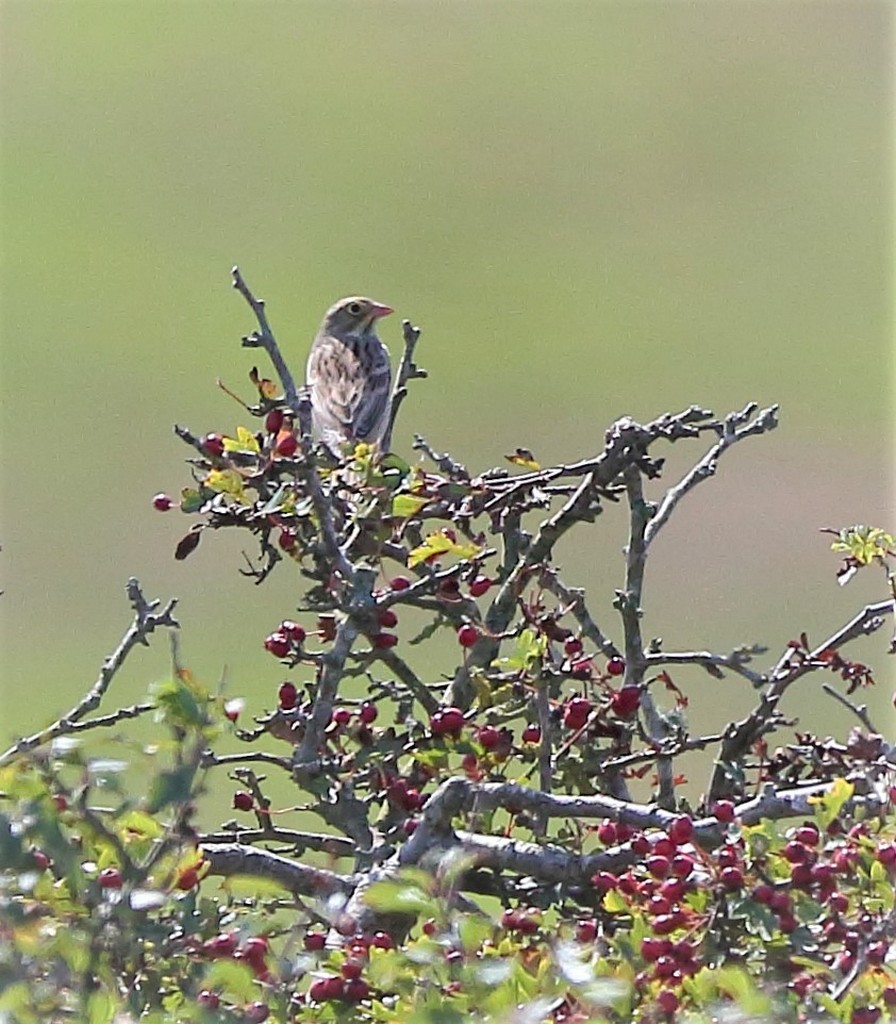 Ortolan Bunting, Soar, Devon (Alan Doidge).
Wildfowl included the American Black Duck reported again from Strontian, Highland, for the first time in almost a month and the continuing Blue-winged Teal in Clyde. A Ring-necked Duck dropped in at Saltholme RSPB, Cleveland, for a day on 2nd, with birds also still in Clwyd and Herefordshire, and a drake Lesser Scaup was found at Carrowmore Lake, Co Mayo, on 1st. A Ferruginous Duck at Orford, Suffolk, could well be the bird recently at Minsmere. Surf Scoter also lingered off Lothian (two) and Angus. Meanwhile, Pink-footed Geese are already on their way back, with no shortage of small flocks being noted as far south as Norfolk in the opening days of September.
The elusive male Snowy Owl was again on Eday, Orkney, on 29th, while the female continued to be seen on St Kilda, Outer Hebrides. The only Black Kite was a bird at Hayle, Cornwall, on 30th, while one of the recently released White-tailed Eagles from the Isle of Wight went on a wander of south-east England.
Western Palearctic
France's first Brown Booby was well photographed on the sea at Sept-Îles, in the far north of France and on the south side of the Channel, on 30th. It appears different to either of the Cornish birds, yet the possibility remains that it could be the bird seen in Kent. An Elegant Tern was at Le Grau-du-Roi, on France's Mediterranean coast, on 29-30th. Not too far away, an adult Least Sandpiper was on saltpans at La Palme, Aude, on 31st. Back on the Atlantic coast, the Laughing Gull returned to Île-d'Aix for its second year. Meanwhile, in Spain, a single Elegant Tern was still in the Cádiz area of Spain to at least 31st.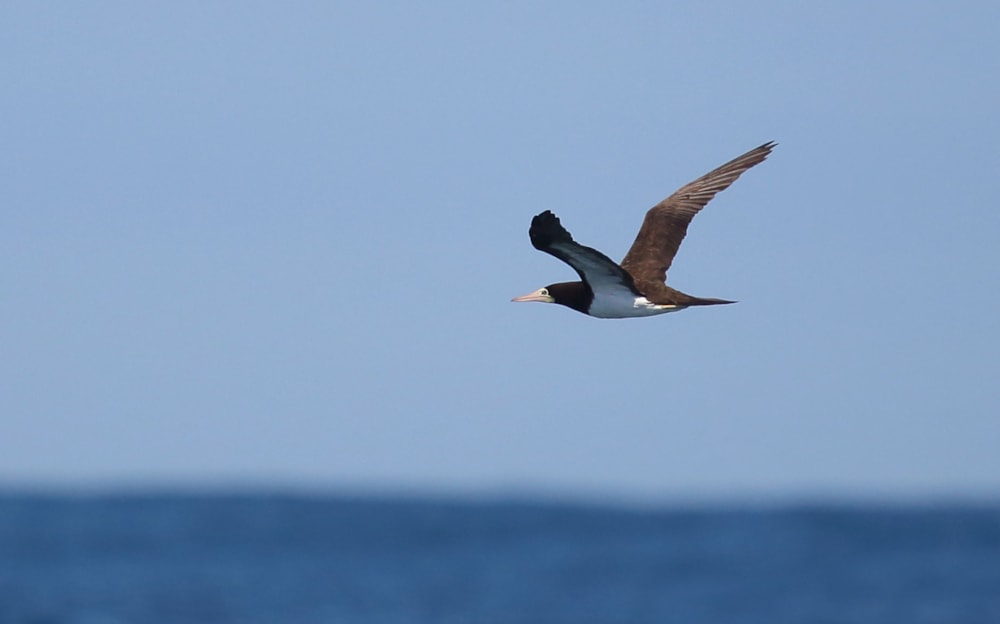 Brown Booby, Sept-Îles, Côtes-d'Armor (Armel Deniau).
Banco de la Concepción off Lanzarote, Canary Islands, once again demonstrated itself as the place to observe Black-bellied Storm Petrel in the WP, with a bird seen well there on 3rd.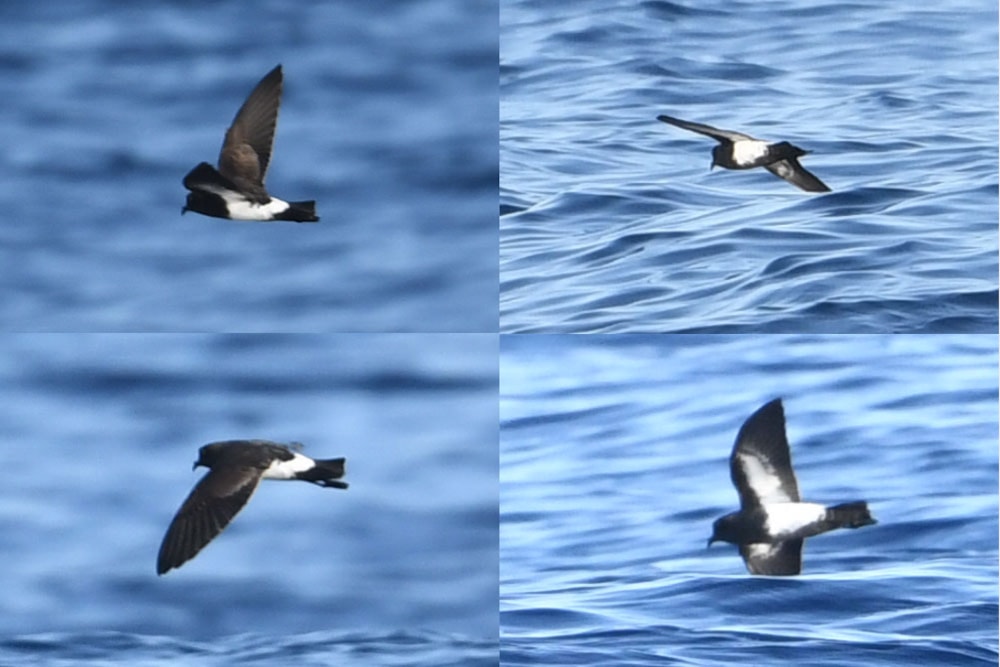 Black-bellied Storm Petrel, Banco de la Concepción, Lanzarote (Marcin Sołowiej).
The largest flock of American Cliff Swallows ever observed in the region was discovered at Cabo da Praia, Terceira, Azores, on 2nd, with six birds there in addition to a few newly arrived American waders, such as a juvenile Pectoral Sandpiper. Another American Cliff Swallow was briefly on Graciosa on 28th, while a juvenile Spotted Sandpiper reached Santa Maria on 2nd.
The Pied Bush Chat remained on show in Kuwait throughout the week, as did the White-throated Bee-eater north of Eilat, Israel.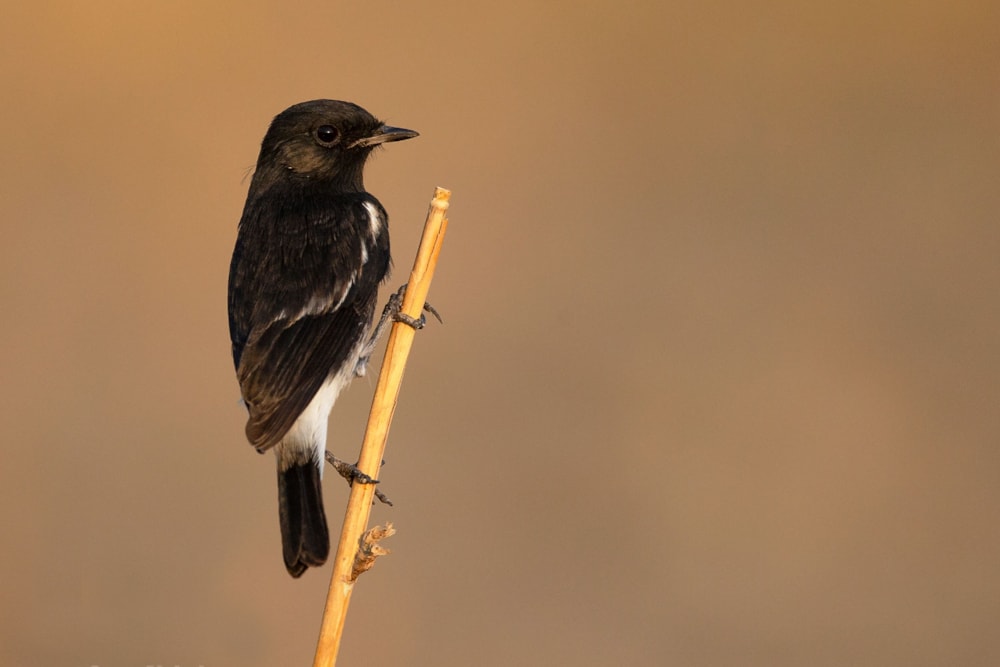 Pied Bush Chat, Al-Nuwaiseeb, Kuwait (Omar Alshaheen).
Norway's fourth Oriental Pratincole was at Hå, Rogaland, on 28th. A peculiar Dutch record concerned a dead Eurasian Pygmy Owl found on a balcony in Lelystad. Both Sociable Lapwing and Pallas's Gull were seen in Poland. Malta's fifth Blyth's Reed Warbler was on Gozo on 1st.