While rarity finding from Scilly to Shetland has been a particularly laborious pursuit so far this autumn, the island of Foula has somehow defied ornithological destitution and now churned out a respectable suit of rarities. With the White-throated Sparrow still very much at home on the island, news of a White-crowned Sparrow on the north side of the island at Ristie on 30th was all the more sensational. An appealing double indeed, with at least the White-throated still pinned down in blustery conditions on 2nd, and the White-crowned still showing well on 3rd. If that wasn't enough, the island also sported a Buff-bellied Pipit on 1st.

White-crowned Sparrow, Foula, Shetland (Chris Turner).
The best find elsewhere on Shetland was a River Warbler, which showed from time to time, and often surprisingly well, in an iris bed at Houlland, Unst, on 1-2nd. Time flies, for this is the first of its kind anywhere in Britain since a bird on Fair Isle in early June 2013.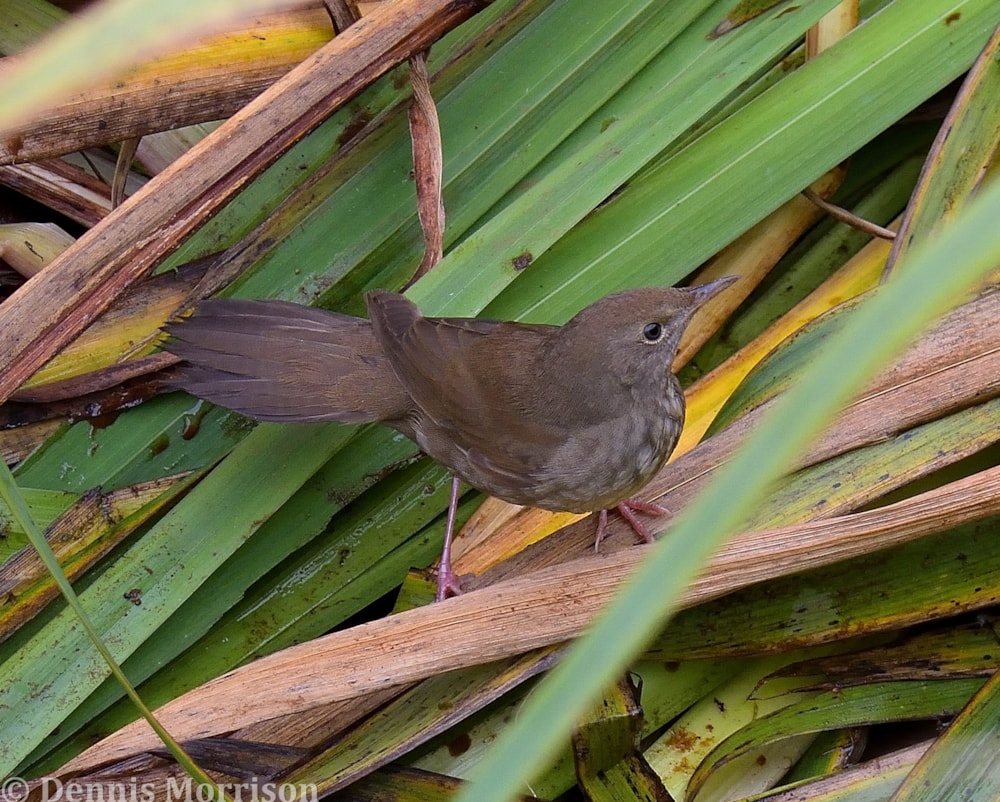 River Warbler, Baliasta, Unst, Shetland (Dennis Morrison).
Being the first available for a couple of years and the fourth record for Cornwall, the first-winter Brown Shrike drew a considerable crowd at Soapy Cove on The Lizard, Cornwall, from 29-2nd. Meanwhile, an Isabelline Shrike on Barra, Outer Hebrides, on 2nd served as a further reminder to keep on looking, despite the testing conditions.

Brown Shrike, The Lizard, Cornwall (Sarah Harris).

Isabelline Shrike, Traigh Sgurabhal, Barra, Outer Hebrides (Ian Ricketts).
A Stilt Sandpiper at Inch Island Lake, Co Donegal, on 27th was the best new wader of the week. Loch Ordais, Lewis, Outer Hebrides, had a brief juvenile Semipalmated Sandpiper on the evening of 28th. The first Baird's Sandpiper for Spurn, East Yorks, was seen on 30th and another was on Myroe Levels, Co Derry, from 27-1st. Also at Myroe, the White-rumped Sandpiper continued its stay to 1st, while a new adult pitched up at Gibraltar Point NNR, Lincs, on 27th.

Stilt Sandpiper, Inch Island Lake, Donegal (Robert Vaughan / www.robertvaughanillustrations.com).
An impressive – this year at least – four Buff-breasted Sandpipers were on the Hook Peninsula, Co Wexford, on 1st. Two still at Loop Head, Co Clare, on 30th was the only other multiple record and these two Irish sites together accounted for over half of the week's Buff-breasts. The bird found on the East Sussex side of Scotney GPs late last week stayed until 1st and offered reasonable views of this county mega. Long-stayers at Carrahane Strand, Co Kerry, and on Foula, Shetland, remained to 28th and 1st, respectively. A new arrival showed nicely in the evening light on Skokholm, Pembs, on 27th and one or two made landfall on the Isles of Scilly on 2nd.

Buff-breasted Sandpiper, Foula, Shetland (Mark Wilkinson).
Most corners of Britain and Ireland had a Pectoral Sandpiper or two, producing a total of 30 for the week. With three each, Cornwall, Co Wexford and Norfolk trumped all other counties. American Golden Plovers haven't been in particularly short supply either, with new birds at Titchwell RSPB, Norfolk, on 27th and on Sanday, Orkney, from 29-1st, while two out of three on Shetland were fresh in. Birds lingering to 26th were on North Ronaldsay, Orkney, at Omey Strand, Co Galway, and Crossens Outer Marsh, Lancs. The bird at Loop Head, Co Clare, hung around to 29th and a fly-through at Tacumshin, Co Wexford, may or may not have been a 'known' individual from recent weeks.

Pectoral Sandpiper, St Ouen's Pond, Jersey (Romano da Costa).

American Golden Plover, Uyeasound, Unst, Shetland (Mark Wilkinson).
Lesser Yellowlegs remained at Devoran, Cornwall, and Lodmoor RSPB, Dorset, to 30th and 2nd respectively, while a new individual stopped off at Askernish, South Uist, Outer Hebrides, from 27th to the week's end. Despite its inclination to vanish into thin air from time to time, the Lincolnshire Long-billed Dowitcher kept returning to Frampton Marsh RSPB to 2nd. The lagoons at Pennington Marshes, Hants, hosted the juvenile Temminck's Stint from last week to 1st, its ninth day. Bridlington harbour, East Yorks, gave shelter to a juvenile Red-necked Phalarope late on 29th, when another was found at Ynys-Hir RSPB, Ceredigion. Tacumshin, Co Wexford, was also graced by a juvenile on 2nd, the same day that Flamborough Head, East Yorks, was treated to a seawatch record (perhaps the Bridlington bird?).
Grey Phalaropes continued to serve local birders well across much of England and Wales, both as a realistic bird-finding focus and something to admire or photograph for a short drive. A healthy scattering were along south-western coasts, and a boat trip 10 km south of Porthgwarra, Cornwall, struck upon 20 or more. Much smaller numbers were picked up in Ireland and along North Sea coasts, while Scotland only received singles on Shetland and the Outer Hebrides. This leaves 11 inland birds, among which popular individuals at Bough Beech Reservoir, Kent, and Old Moor RSPB, South Yorks, were still present at the end of the week.

Grey Phalarope, Clowbridge Reservoir, Lancashire (Paul Samuels).
East coast seawatching was profitable, with a Fea's-type Petrel passing Blakeney Point, Norfolk, on 28th being the cream of the crop, supported by a reasonable offering of Leach's Storm Petrels, Sabine's Gulls, and Long-tailed and Pomarine Skuas. Great Shearwaters were tough from land but were clearly still moving through the South-West Approaches in good numbers, demanding pelagics out from Scilly on 27th and 1st to reveal counts of 700 and 100 respectively.

Great Shearwaters, Scilly pelagic, Isles of Scilly (Beachy Birder).
All this review's Spotted Crakes are hangers-on but for the additional bird at Wilstone Reservoir, Herts, from 30th (with both seeing the week out). Old Moor RSPB, South Yorks, still hosted its individual to 1st and the Gibraltar Point NNR, Lincs, long-stayer was reported to 30th. In Buckinghamshire, the bird at Willen Lake seemed to depart after 27th, while the bird at Lodmoor RSPB, Dorset, was last seen on 26th. Migrant Corncrakes were on Fair Isle on 26th, Foula on 27th and Bardsey Island, Gwynedd, on 29th.
A juvenile Purple Heron revealed itself as it made an evening flight over Lords Holt at Eldernell, Cambs, on 29th. Nine Glossy Ibises included two in Ireland and settled birds at Aldeburgh Marshes, Suffolk, and on the flash between Donisthorpe and Oakthorpe, Leics, to the end of the week. A fly-over at Beddington Farmlands, London, on 28th was the most notable among the other reports. We all know that Western Cattle Egrets are here to stay and are an established part of the scenery on the Somerset Levels, but a roost count of 105 or more at Shapwick Heath NNR on Friday evening was nonetheless astonishing and easily a national record.
The open fields of Therfield, Herts, were quartered by the established juvenile female Pallid Harrier to 2nd, while the bird at Welney WWT, Norfolk, haunted the reserve to 29th. Migrating European Honey Buzzards started with two through Sandwich Bay, Kent, on 26th, followed by singles in Kent, Nottinghamshire, Suffolk and Bedfordshire before September ended, the rough point at which any honey buzzard becomes a little behind time. A Rough-legged Buzzard in off the sea at Cruden Bay, Aberdeens, on 28th, however, was something of a forerunner. On St Kilda, Outer Hebrides, the Snowy Owl was still present to at least 26th.

Pallid Harrier, Therfield Heath, Hertfordshire (Matthew Mellor).
The first-winter Woodchat Shrike proved dependable around the wire dump at Barns Ness, Lothian, to 29th before finally making an exit overnight. Red-backed Shrikes included fresh arrivals at Seacombe Cliff, Dorset, and Lundy, Devon, on 26th, followed by one on Thorney Island, West Sussex, from 30-2nd. In Argyll, the Tiree bird remained all week, and three others were shared 2:1 between Shetland and Orkney. The fearless Ortolan Bunting found late last week afforded terrific views on the west side of Penninis Head on St Mary's, Scilly, to 29th, while another was on St Agnes on 28th. Dale, Pembs, had a fly-over on 30th and one remained on Fair Isle to 28th.

Woodchat Shrike, Barns Ness, Lothian (Tom Tams).
Content continues after advertisements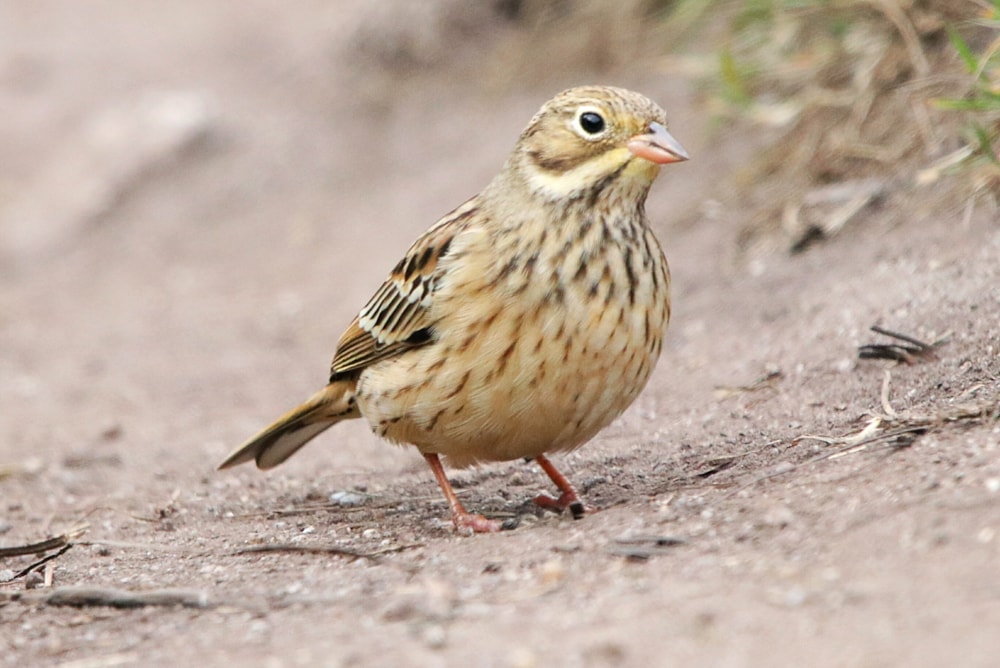 Ortolan Bunting, St. Mary's, Isles of Scilly (Paul Ash).
The sea wall at Huntspill accommodated a showy and locally much appreciated Greater Short-toed Lark on 28th, unblocking a mighty Somerset tick for many county listers (the last record was in 1989). Another was at Helli Ness, Shetland, on 1st. Scilly produced a mobile Tawny Pipit on St Mary's from 26-28th and another on Bryher from 27-2nd. A Richard's Pipit was at Thurlestone Bay, Devon, on 26th and singles flew over Holme, Norfolk, and Porthgwarra, Cornwall, on 29th, the latter seemingly widely knocking around the area the next day, though there may have been two. A skittish Olive-backed Pipit – the first of the autumn – at Wells Woods, Norfolk, gave occasional views on 30-1st.

Greater Short-toed Lark, Huntspill, Somerset & Bristol (Carl Bovis).
Denes Oval in Lowestoft, Suffolk, had a Blyth's Reed Warbler during the late afternoon and evening of 30th, though there was no sign of it the following day. Mainland Barred Warblers were represented only by a one-dayer at Ness Point, Suffolk, on 26th. Scottish islands carried on producing a reasonable number of reports, with four filtering through to the Hebrides, though many of the nine on Shetland and two on Orkney were seemingly layabouts from previous weeks.
A Melodious Warbler went about its business – blissfully unaware of its initial identification as an Icterine Warbler – at Lunna, Shetland, from 29-2nd. Conversely, an Icterine Warbler on Cape Clear, Co Cork, on 26-27th began its visit as a Melodious Warbler before its true identity was sussed. Sumburgh, Shetland, attracted a Marsh Warbler on 1-2nd. Yellow-browed Warbler numbers improved slightly at 50 or so, with a subtle arrival over the weekend, including at several southern sites, but they were still hard to come by, even on Shetland. The best count actually came from The Naze, Essex, where there were four on 30th.

Melodious Warbler, Lunna, Mainland, Shetland (Peter Garrity).
As hirundines streamed out of the country, a Red-rumped Swallow was singled out among migrating Barn Swallows at Hengistbury Head, Dorset, on 26th. Golden Orioles were exclusive to Shetland, with one showing at Voe, Mainland, from 26-27th and the Foula bird still present on 26th. Hoopoes featured well this week but took on a frustratingly ephemeral nature, with one-dayers on 29th at Orford Ness, Suffolk, and Holy Island, Northumberland, then one at Portland, Dorset, on 1st taking similarly rapid leave. The bird at Tregunnel Park in Newquay, Cornwall, was more content in where it had ended up, staying from 28-1st.
Burry Port, Carmarthen, produced a report of a European Bee-eater feeding over the train station early afternoon on 30th, but it soon vanished. This week saw four new Rosy Starlings found. The first was an adult at Bonar Bridge, Highland, on 26th and this was followed by one at Trevescan, Cornwall, on 29-30th and juveniles at Carne, Co Wexford, on 30th and on St Martin's, Scilly, on 1-2nd. In Lothian, the juvenile hung around Barns Ness all week, and last week's juvenile around Polgigga/Porthgwarra, Cornwall, lingered to 2nd.

Rosy Starling, Barns Ness, Lothian (John McHale).
Cornwall did well for Wrynecks as late-ish birds were funnelled south-west, with one at Land's End to 27th and four on The Lizard this week, including three just around Soapy Cove on 30th. Others in south-western areas included two in Pembrokeshire and singles in Dorset and on the Isles of Scilly, as well as on Cape Clear, Co Cork. On 27th, the east coast received individuals at Whitburn, Co Durham, and on the Farne Islands, Northumberland. Others made brief appearances in private gardens in Northamptonshire and Lancashire mid-week.
A first-winter Citrine Wagtail sought out the pool by the brewery at Valsgarth on Unst, Shetland, on 30th. The Isles of Scilly scored the week's only Red-breasted Flycatcher, on Tresco on 1-2nd. On the latter date another visited a garden on Bressay, also Shetland. Of the 26 Common Rosefinches reported during the week, 15 were on Shetland, including four lingering on Out Skerries to 28th. At the opposite end of Britain, five were on Scilly, including two together at Browarth, St Agnes, on 1st. One made it to St Kilda, Outer Hebrides, and other singletons were picked up in Cornwall, Pembrokeshire, Orkney, Co Cork and Dorset, where notably one was caught and ringed at Portland on 28th. The Outer Hebrides and Shetland received a slight arrival of Greenland Redpolls.

Common Rosefinch, Leebitten, Mainland, Shetland (Peter Garrity).
Tricky to encounter in recent years, a first-winter drake Blue-winged Teal on Inishmore, Co Galway, was an enviable find on 29th, staying over at least one night. Another followed at Trabeg, Co Kerry, on 2nd. In Suffolk, the juvenile Ferruginous Duck was easily seen on the South Girder pool at Minsmere RSPB all week; a drake was also on offer on Ibsley Water at Blashford Lakes HWT, Hants, on 1-2nd. A female Lesser Scaup called in at Chew Valley Lake, Somerset, from 28-1st. Three American Wigeon also arrived, with an eclipse drake at Rutland Water from 30-2nd perhaps the return of the individual which resided on site from September 2017 to this April. Other drakes also turned up at Loch Eye, Highland, and on Hesketh Out Marsh RSPB, Lancs, on 30th, the latter seeing the week out.
The Firth of Forth off Musselburgh Lagoons, Lothian, continued to offer reasonable views of the adult drake American White-winged Scoter all week. In Moray, Burghead's King Eider was still at the harbour mouth to 2nd, while the 'Queen' was in residence on the Dyfi Estuary, Gwynedd/Ceredigion, to 27th. Highland's American Black Duck was still at Strontian on 27th. Two drake Surf Scoter were in the Sound of Taransay, Outer Hebrides, on 1st. The drake Hooded Merganser at Streamstown Bay, Co Galway, which remained to 2nd revealed itself to be a fence-hopper when it flashed its collection ring early in the week.
A potential adult Azores Gull – apparently already present for several weeks – roosted off the train station at Glounthaune, Co Cork, on 28th. In Co Sligo, the adult Bonaparte's Gull was confirmed as still at Long Rock on 28th, while a new adult was on the sea off Cloghaun Lough, Co Clare, that day. Ring-billed Gulls were at Blennerville, Co Kerry, and Blackrock, Co Louth, on 27th, with another at Rusheen Bay, Co Galway, on 30th. Glaucous Gulls included the unmoving bird at Llanddulas, Conwy, to 27th at least and others in Lothian, Highland and Moray.

Putative Azores Gull, Glounthaune, Cork (Brian Power).
On the River Thames at Gravesend, the Beluga Whale delighted many birders, naturalists and curious members of the public by hanging around for the weekend. It roamed within a two-mile stretch of the river to 1st but thorough searches drew a blank the next day. Hopefully it's still in good condition and heading the right way.

Beluga Whale, Gravesend, Kent (Roger Hammond).

Western Palearctic
In Iceland, a Blackpoll Warbler was found near Eyrarbakki, Suðurland, on 26th, and there it stuck to 30th. Indeed, Iceland stole the early limelight when it comes to Nearctic passerines, also turning up a Red-eyed Vireo at Kjós on 26th, with news of another trapped and ringed at Höfn, Austurland, on 25th. Late news also confirmed the continued presence of the American White-winged Scoter at Keflavík, Suðurnes, Iceland, on 25th.

Blackpoll Warbler, Hallskot, Flói, Iceland (Alex Máni Guðríðarson).
In France, the juvenile Red-necked Stint was still at Hyères to 26th. The Laughing Gull in Charente-Maritime remained at Île-d'Aix, on 28th.
Poland's first Blyth's Pipit was found at Jastarnia on 29th and stayed overnight. This was followed by potentially the second Eastern Olivaceous Warbler at Krynica Morska, Pomerania, on 1st. The 14th record of Green Heron for the Azores came from Terceira's Lagoa de Ginjal on 27th, while the Greater Yellowlegs remained at Fajã dos Cubres, São Jorge, to 29th. The Faroe Islands enjoyed its first Eurasian Spoonbill for some 122 years at Skopun, Sandoy, on 27th. Malta's first Rustic Bunting for 20 years was trapped at Ghadira Nature Reserve on 29th.

Rustic Bunting, Ghadira Nature Reserve, Malta (Raymond Galea).
Cape Verde boasted two archipelago firsts, starting with an Isabelline Wheatear at Santa Maria, Sal, on 29th and followed by a Bluethroat there on 2nd. Mallorca had a Yellow-breasted Bunting at Playa de Cullerassa on 30th.