In a week where the birds – and the weather – truly began to perform, a Bank Holiday weekend to remember delivered the goods at all corners of Britain and Ireland, with rare and scarce fare aplenty. Red-backed and Woodchat Shrikes were scattered across British and Irish hedgerows, while signs from the Near Continent – and pioneers in southern England – forebode another Rosy Starling summer to come (more here).
A one-day male Black-headed Bunting on feeders in a pub garden at Brynamman, Carmarthen, on 26th was roundly appreciated as quick thinking from the landlady allowed Welsh birders – as well as some from further afield – the chance to catch up with this desirable visitor. Carmarthenshire's second, it was dutifully enjoyed along with a pint or two in the beer garden of the Derlwyn Arms. The county's first – another male – spent seven days at nearby Porthyrhyd in June 2012.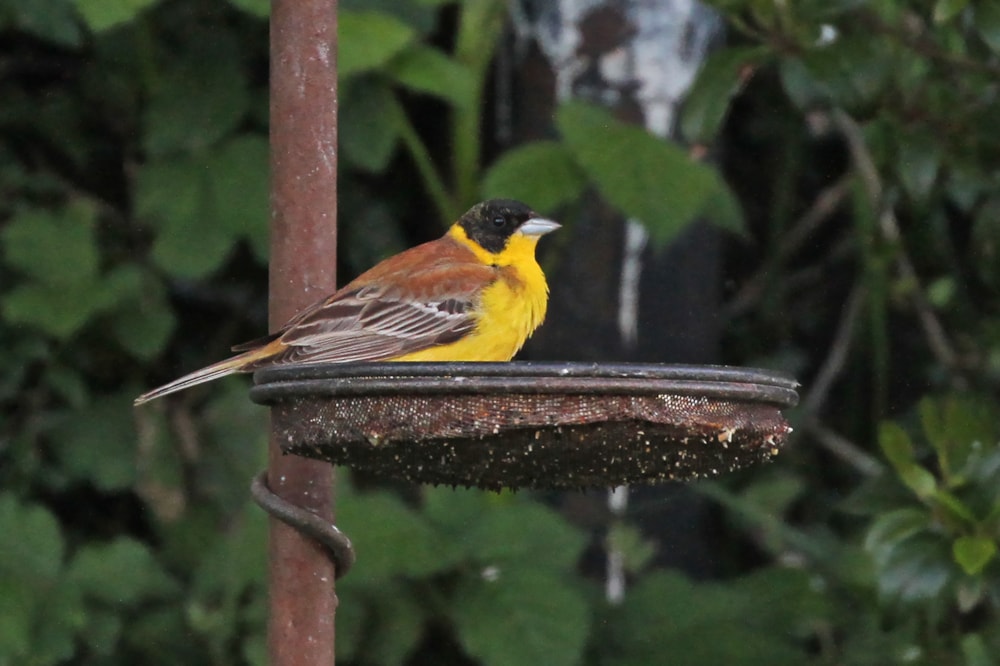 Black-headed Bunting, Brynamman, Carmarthen (Sam Viles).
In Shetland, a delightfully tame first-summer male Sardinian Warbler inhabited the walls around the farm at Sumburgh, Mainland, from 29th. A ninth record for the archipelago, all but one have been found during spring and summer, most recently at Skaw, Whalsay, from 1-5 June 2019.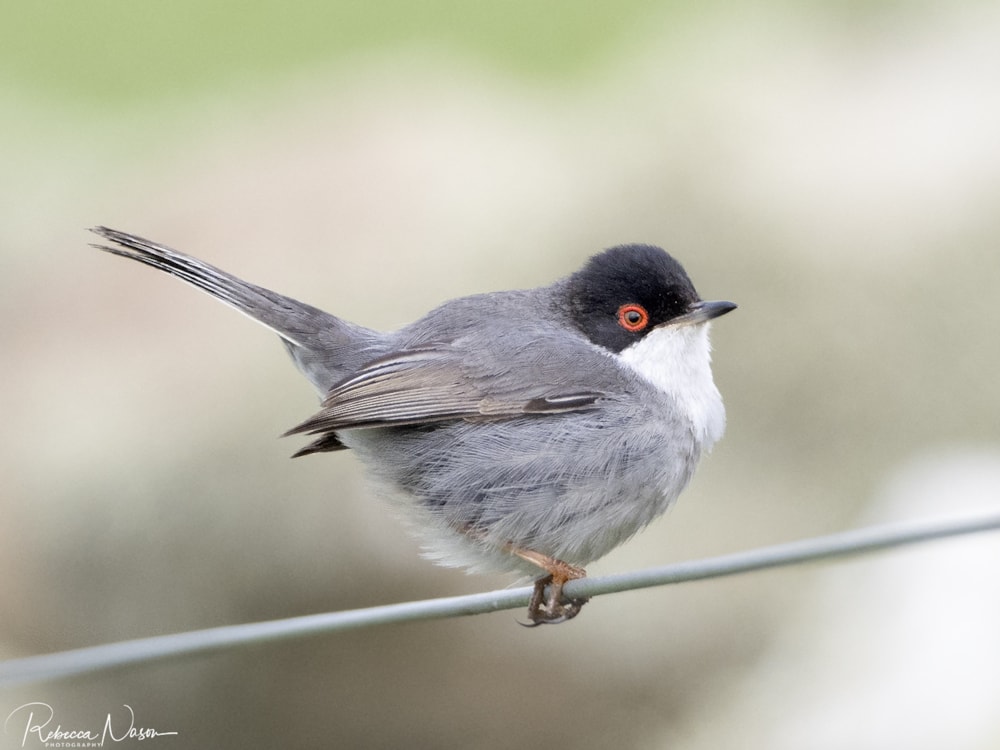 Sardinian Warbler, Sumburgh, Mainland, Shetland (Rebecca Nason).
Astoundingly, Fair Isle's second Calandra Lark of the spring was on the island from 29th. Both were found by volunteer warden Alex Penn, who must be building towards a Bimaculated or White-winged Lark any day now! This is the third occasion on which two Calandras have been recorded in the same calendar year – after 1997 and 1999 – although, unsurprisingly, it is the first time both have made landfall at the same location. A Tawny Pipit was a one-day visitor to the island on 28th.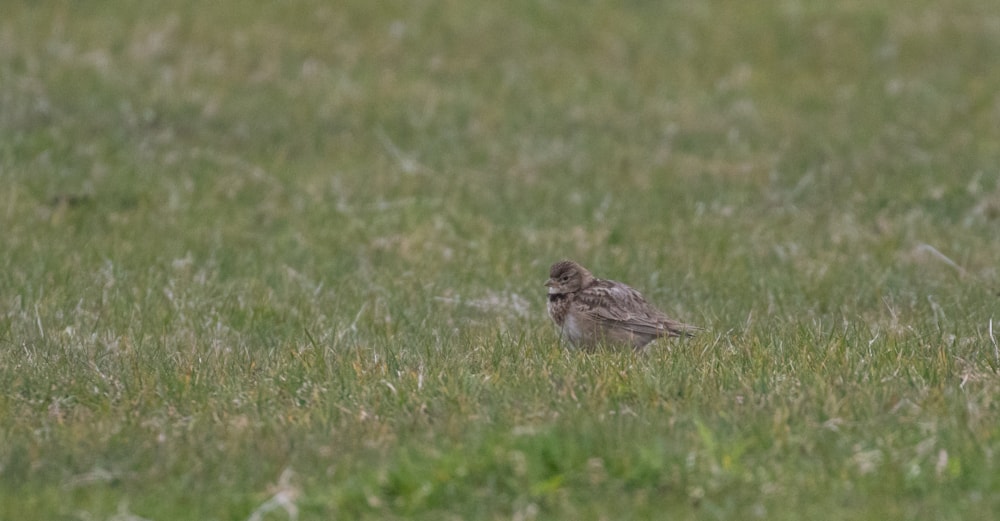 Calandra Lark, Fair Isle, Shetland (Daniel Gornall).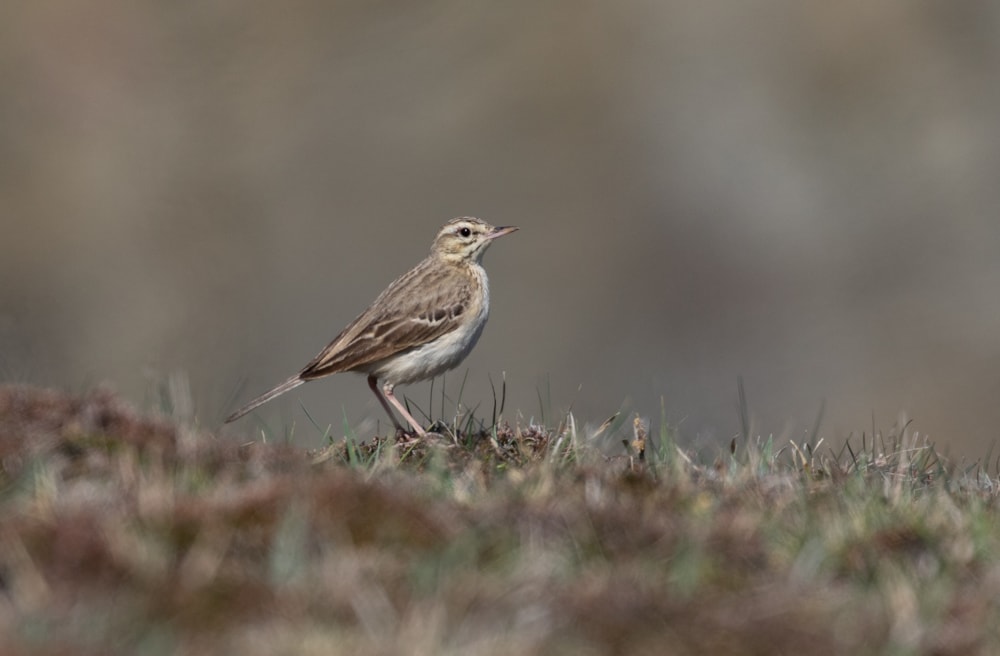 Tawny Pipit, Fair Isle, Shetland (Daniel Gornall).
There was a very strong showing from subalpine warblers of two taxa, with no fewer than 10 different birds discovered during the week. An elusive male Western Subalpine Warbler resided on Skomer, Pembs, on 30th, with a Manx record, trapped and ringed at Calf of Man on 1st. Meanwhile, four male Eastern Subalpine Warblers made themselves known – at Spurn, East Yorks, from 27-29th, Fair Isle on 28th, in the Outer Hebrides at Cuithir, Barra, on 30th, and at Carmel Head, Anglesey, on 1st – the latter a county first. Three others – at Great Saltee Island, Co Wexford, Skokholm, Pembs, and Haroldswick, Unst, Shetland – would evade assignment to species level.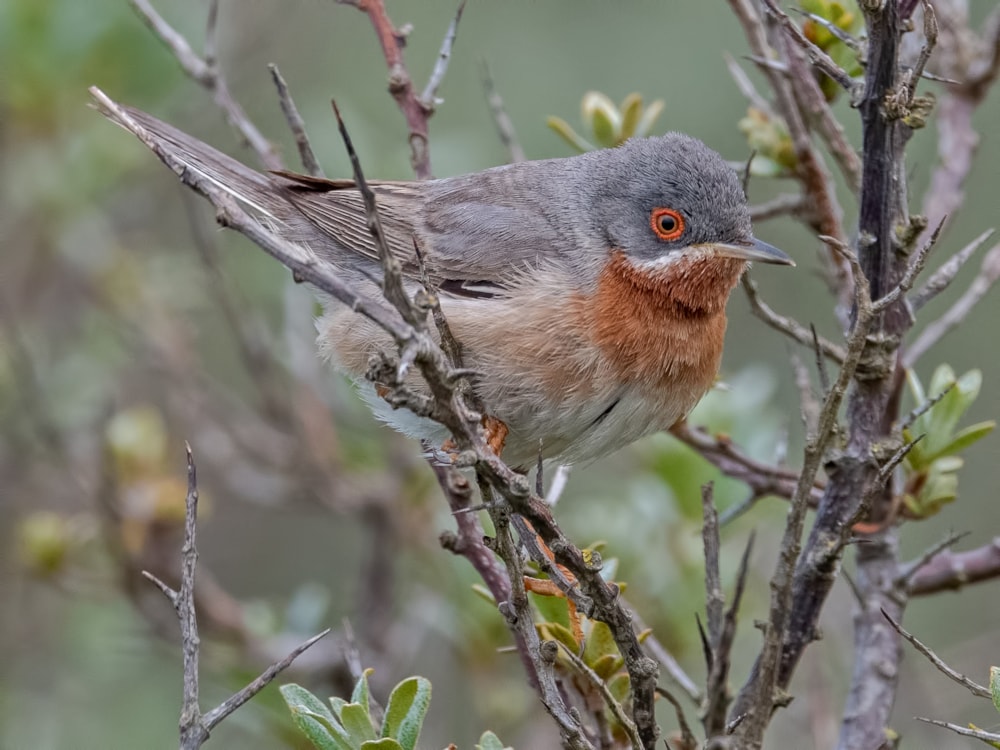 Eastern Subalpine Warbler, Spurn YWT, East Yorkshire (Brian Martin).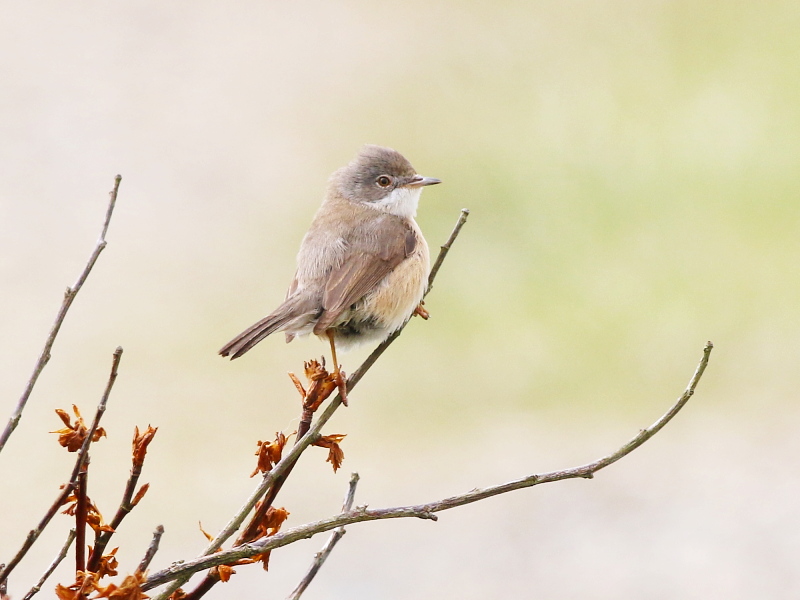 Subalpine warbler sp, Haroldswick, Unst, Shetland (David Cooper).
We were treated to a Lesser Grey Shrike double on 31st, with one on Skomer and another at Saltwick Nab, North Yorks. Impressively, the latter was joined by a flock of 11 European Bee-eaters, one of a number of locations to have scored birds this week.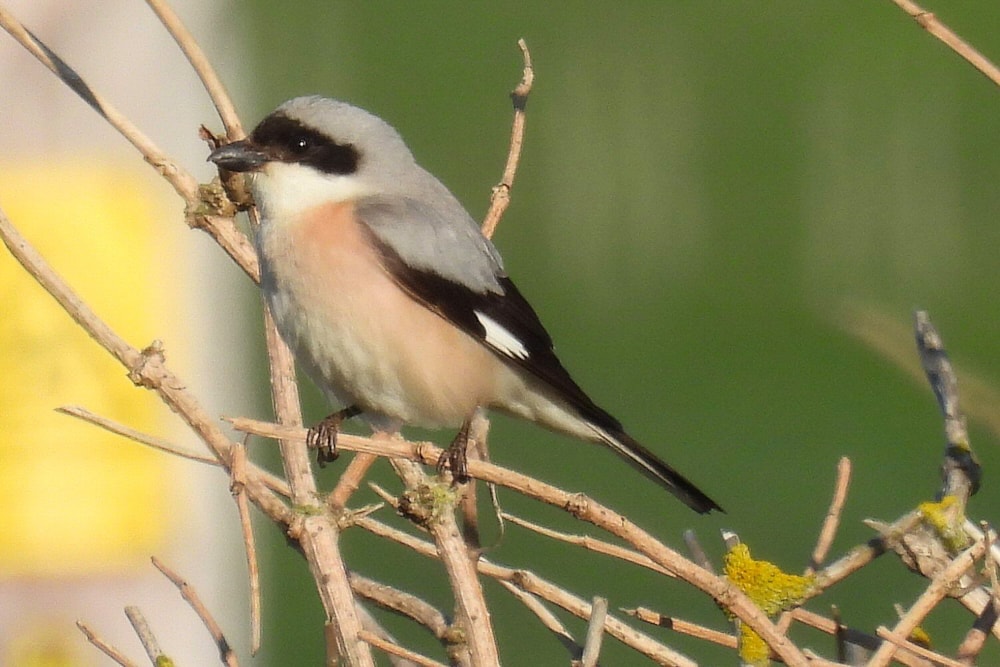 Lesser Grey Shrike, Whitby, North Yorkshire (Tony Dixon).
Just the ninth Great Spotted Cuckoo for Ireland – an adult – was a one-day visitor to Brownstown Head, Co Waterford, on 29th, while a first-summer was recorded at Tehidy, Cornwall.
Shetland continued to host a healthy number of Rustic Buntings, including no fewer than four on Fair Isle throughout the week, with others at Quendale and Melby, Mainland, as well as two on Foula. Devon scored one of its own as the week ended, with an individual on Lundy on 1st.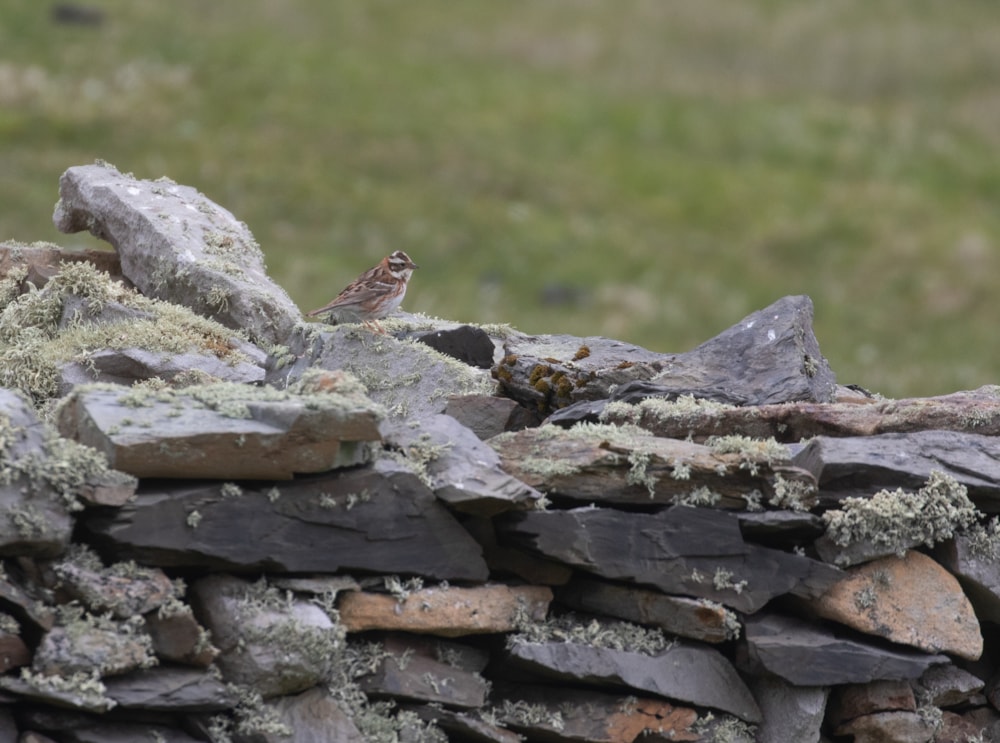 Rustic Bunting, Fair Isle, Shetland (Daniel Gornall).
A Dark-eyed Junco was in an undisclosed East Lothian garden on 31st, a first for the county and Scotland's first since 2017. Elsewhere, a new Great Reed Warbler was enthusiastically holding territory at Besthorpe NWT, Notts, from 30th, while a Savi's Warbler continued reeling at Llanelli Wetland Centre WWT, Carmarthen, until 28th at least.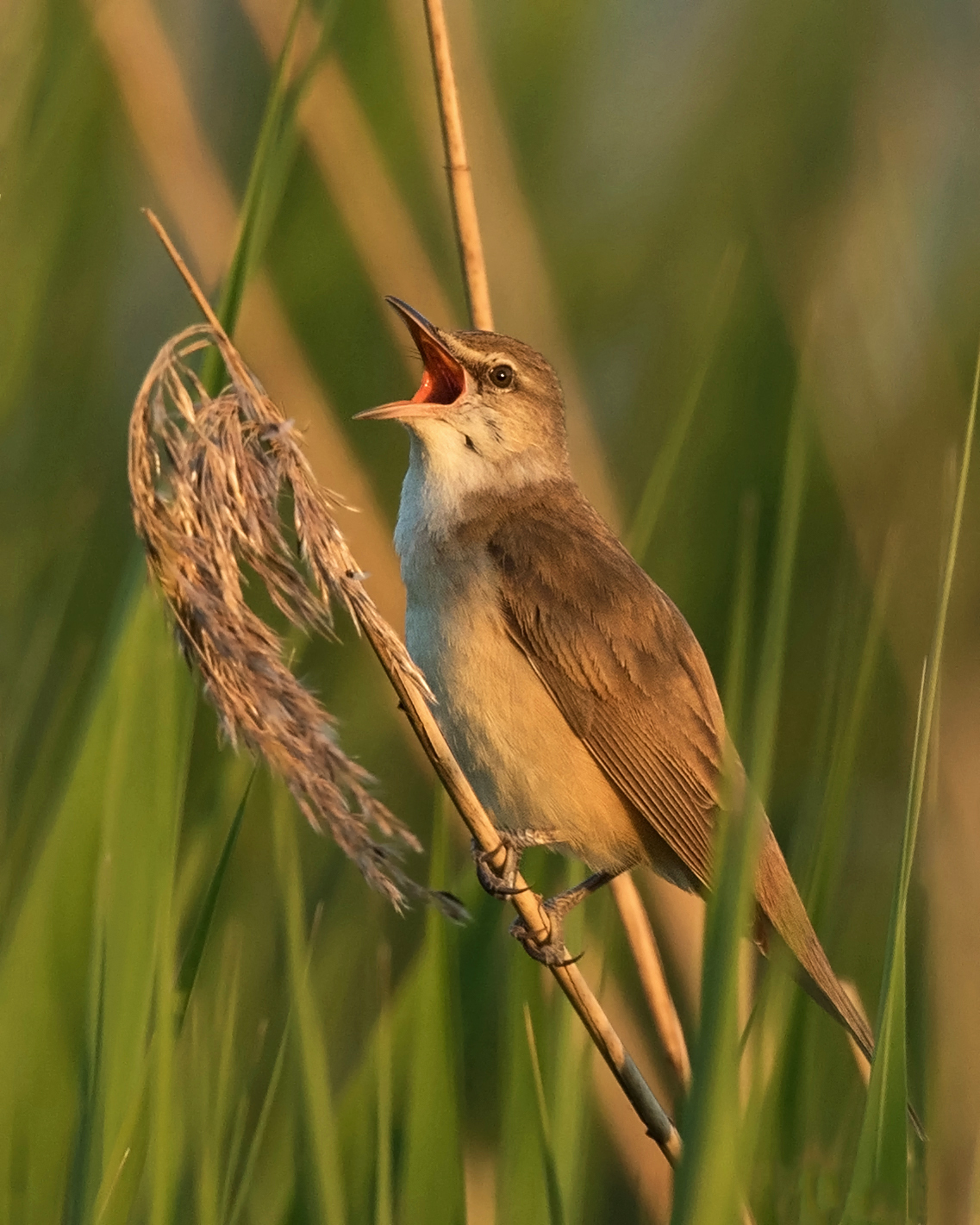 Great Reed Warbler, Besthorpe NWT, Nottinghamshire (Paul Coombes).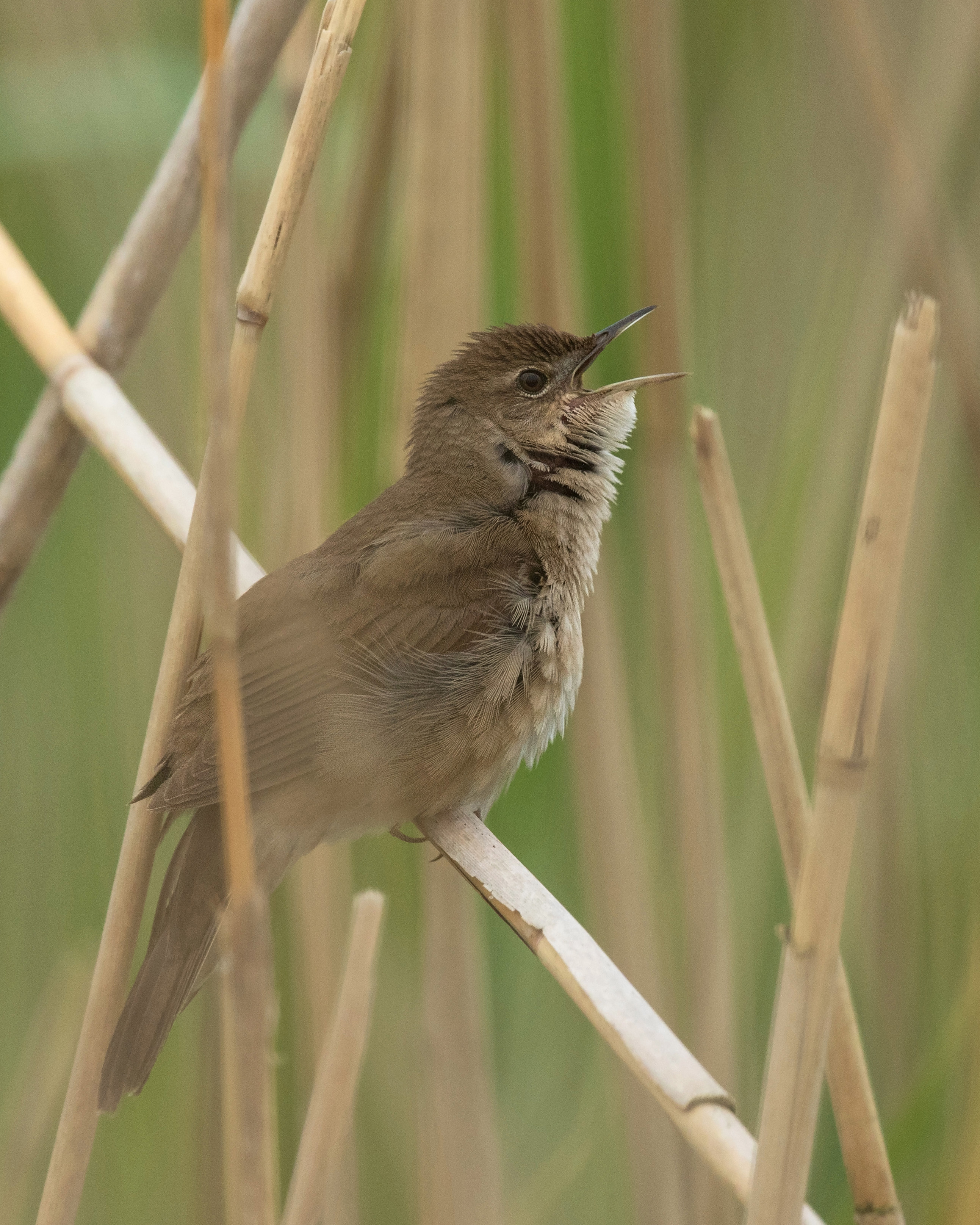 Savi's Warbler, Heslington, North Yorkshire (Paul Coombes).
A rather rare occurrence in Britain nowadays – and recently reassigned British rarity status – a male White-spotted Bluethroat held territory in Norfolk at Strumpshaw Fen RSPB from 23-27th. Suffolk's Iberian Chiffchaff remained at Foxhall, with a possible reported from Fishlake Meadows, Hants, on 29th.
In West Yorkshire, the St Aidan's RSPB Franklin's Gull reappeared for 10 short minutes on 27th. A new first-summer Bonaparte's Gull spent an evening at Carnsore Point, Co Wexford, on 28th, although the first-summer at Lodmoor RSPB, Dorset, was last noted on 26th. A probable adult Laughing Gull paid a brief visit to Paignton, Devon, on 30th and the American Herring Gull was again at Newlyn, Cornwall.

Franklin's Gull, St Aidan's RSPB (Swillington Ings), West Yorkshire (Steve Cribbin).
A possible Lesser Kestrel photographed over Beddington Farmlands, London, on 30th looks destined to remain unconfirmed, while the St Kilda Snowy Owl held on for another week. Kent's Collared Pratincole was still to be found hawking over Cliffe Pools RSPB throughout.
Perhaps on the verge of colonising the country by stealth, a female Little Crake was heard calling on consecutive nights at Wicken Fen NT, Cambs, on 29-30th, although not again subsequently. Ireland's Double-crested Cormorant continued to show well at Carrig Island, Co Kerry, with Argyll's Pied-billed Grebe still at Loch Feorlin.
In Cornwall, a mobile Black Stork flew over a number of sites between St Just and St Ives on 29-30th, before settling at Rosewall Hill from 31st; another flew over Clerkenwater Vean on 1st. Surrey hosted an individual of its own – at Thursley Common on 27th before heading west over Frensham Great Pond on 27th. Elsewhere, a probable flew over Worcestershire's Coombe Abbey on 31st, with a possible belatedly reported from Weir Wood Reservoir, East Sussex, on 26th. Furthermore, a likely Black Stork flew in off the sea over Lulworth, Dorset, on 1st. A possible Squacco Heron flew over Kirkby on Bain GPs, Lincs, on 1st.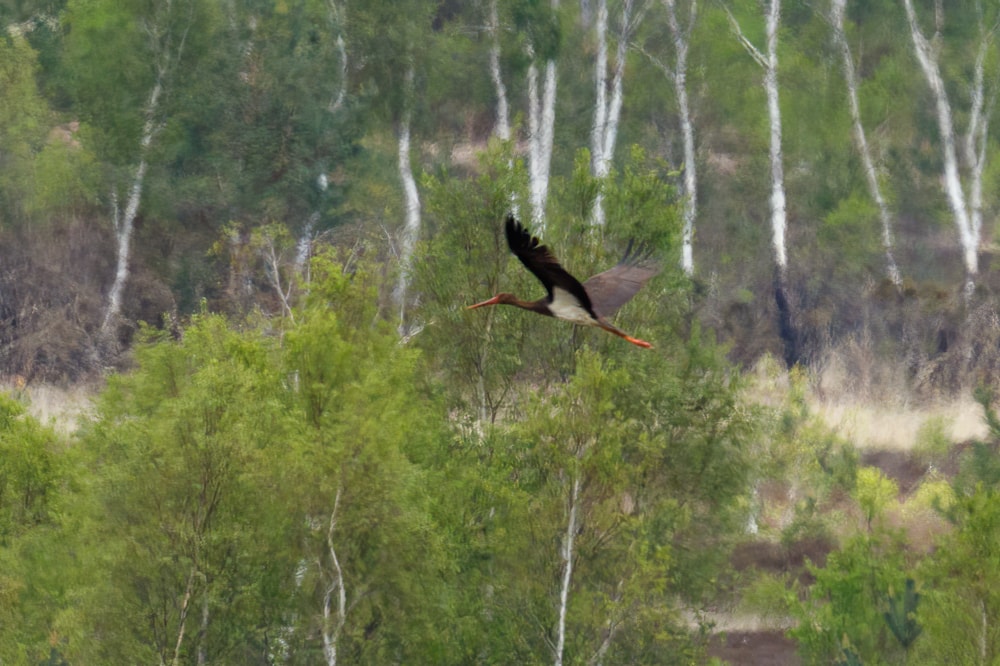 Black Stork, Thursley Common, Surrey (Jon Mullin).
In Fife, the Sei Whale was again off Kirkcaldy on 29th.
Scottish mainland
There was a definite end of spring feel to the Scottish mainland this week; a Black Kite was noted from Torness and Clachnaharry, Highland, between 26th and 28th and a European Bee-eater moved through Faraid Head and Durness on 30th. A singing male Blyth's Reed Warbler on Coll, Argyll, on 31st appeared to move on quickly, while, on the east coast, the ringed Greenish Warbler continued to enjoy its time on the Isle of May, Fife, until 27th at least.
A lone drake Ring-necked Duck remained at Loch Oire, Moray and Nairn, while, further south, an Egyptian Goose at Letham Pools, Fife, offered locals a chance to catch up with a species still scarce in Scotland. Other mainland sightings included a Temminck's Stint at Aberdeenshire's Loch of Strathbeg RSPB as May rolled into June and an adult Little Gull displaying on the cliffs at Isle of May on 27th. Common Quail were heard in the Borders and Ayrshire and what must surely be the final records of two wintering species were noted, with a Waxwing at Durness, Highland, on 30th and a pair of Smew on Tiree, Argyll, on 31st.
Alan Tilmouth
Northern Isles and the Hebrides
In a glorious Shetland week, a Little Tern at Laxfirth, Mainland, on 28th came as a surprise, with the species a rare visitor this far north. A White-billed Diver was there, too. A brief Pectoral Sandpiper visited Baltasound, Unst, on 1st, with a Rough-legged Buzzard also on the island from 30-1st. The European Bee-eater was last noted at Leawart on 31st; another flew high south over Loch of Trondavoe, Mainland, the previous day.
Three Mainland sites held Red-backed Shrikes – Bigton, Channerwick and Lunna – with others at West Sandwick, Yell and on Out Skerries. Kergord, Mainland, Aith, Fetlar, and Baltasound and Norwick, Unst, all hosted Golden Orioles; a Bluethroat on 28th was Foula's best bird. Meanwhile, the drake Ring-necked Duck lingered at Loch of Brow, Mainland and Boddam's adult Long-tailed Skua made a brief appearance on 1st. Icterine Warblers and Common Rosefinches were widespread, while Common Quails were at five locations. Wader action included a Curlew Sandpiper at Grutness, Mainland, and a Wood Sandpiper at Loch of Spiggie.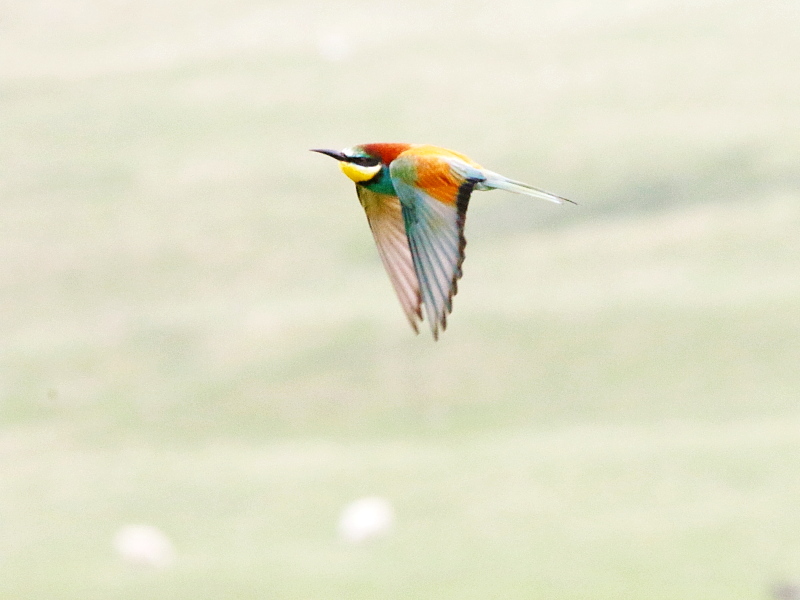 European Bee-eater, Norwick, Unst, Shetland (David Cooper).
A new Blyth's Reed Warbler on 1st was Fair Isle's best scarcity action, with two of last week's Red-spotted Bluethroats remaining until 26th. Other, more expected scarcities included Wryneck, Red-backed Shrike, Marsh Warbler, Icterine Warblers, Common Rosefinches, Mealy Redpolls, Common Quail, Blue-headed Wagtail and a Grey-headed Wagtail.

Common Rosefinch, Fair Isle, Shetland (Alex Penn).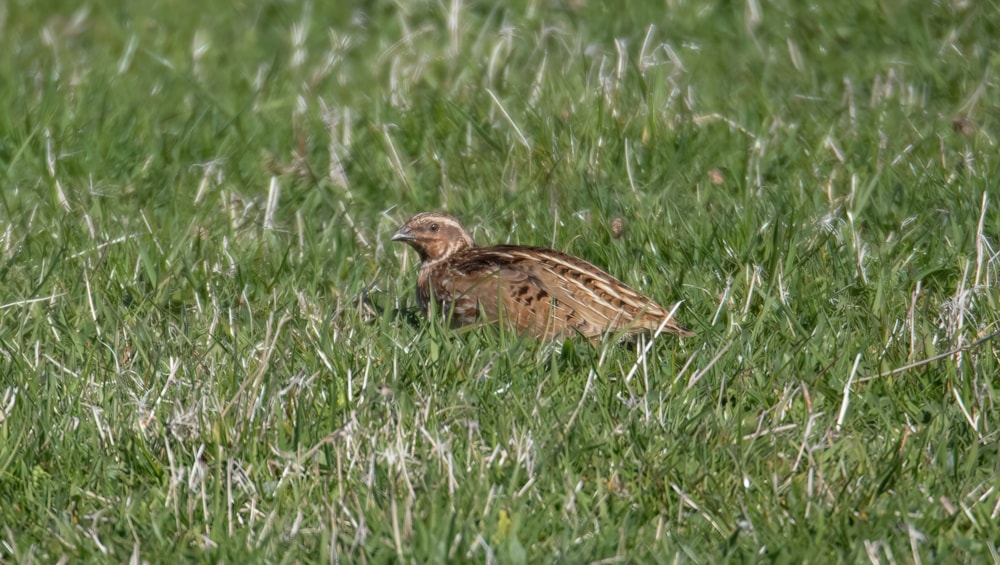 Common Quail, Fair Isle, Shetland (Alex Penn).
In Orkney, a Golden Oriole was at Grindigar, Mainland, with a drake Garganey at Loch of Banks. Westray's Iceland Gull lasted another week; it was joined by a male Red-backed Shrike on 28th. A Eurasian Spoonbill was at Liddel Loch, South Ronaldsay, while a Pomarine Skua headed past Hoxa Head. Icterine Warblers were on Stronsay and Papa Westray, with two Curlew Sandpipers on the latter island.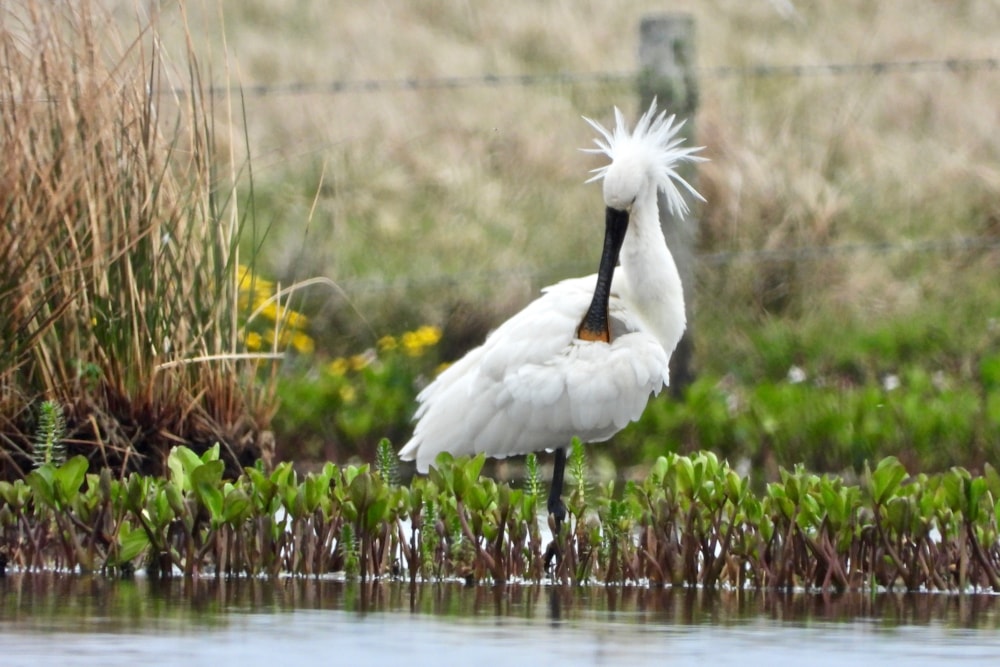 Eurasian Spoonbill, South Ronaldsay, Orkney (Steven J Charlton).
North Ronaldsay's second-ever Red-rumped Swallow – the first was in the early 1990s – was around the observatory on 31-1st, with the island's first Blyth's Reed Warbler of the year by the lighthouse on 28th. A Golden Oriole was a nice treat on 29th, alongside a late Great Grey Shrike. Elsewhere, notable scarcities included an Icterine Warbler, European Nightjar, Little Gull and a pod of Killer Whales, as well as Wood and Curlew Sandpipers.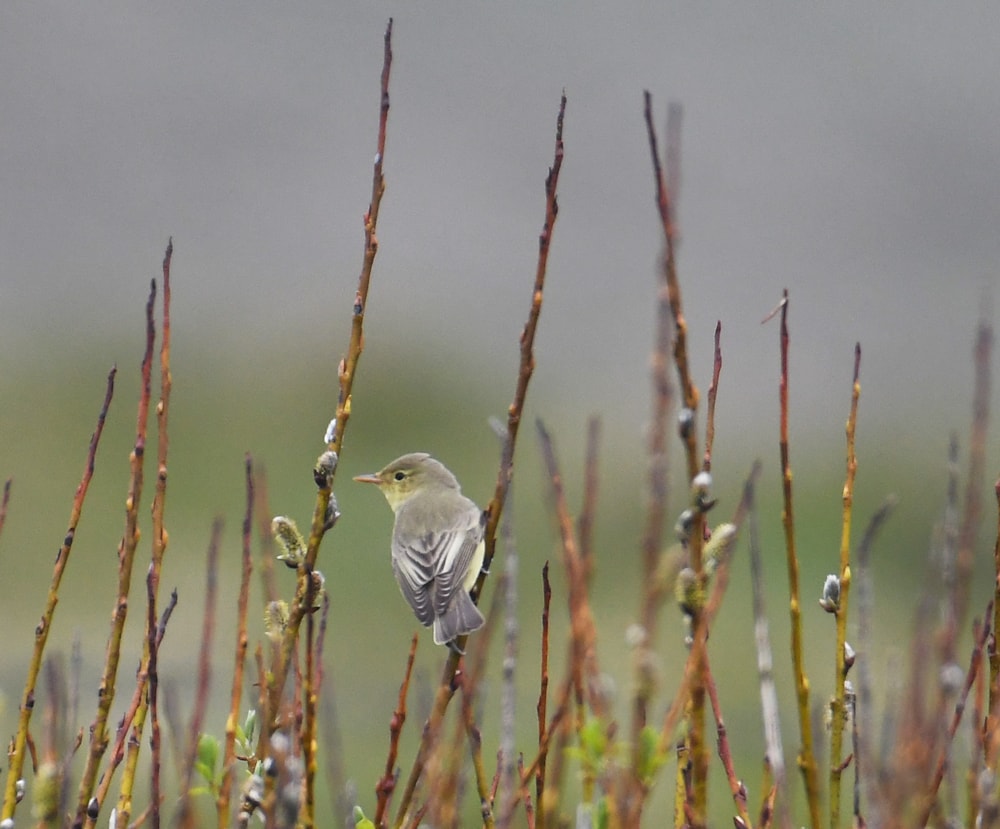 Icterine Warbler, Papa Westray, Orkney (Jonathan Ford).
A female Red-spotted Bluethroat at Ardivachar Point, South Uist, on 26-27th was the pinnacle of Outer Hebridean action, although the pioneering adult Rosy Starling at Northton, Harris, on 1st ran it a close second. Harris also held a Golden Oriole at Lacklee on 28th, with a possible at Loch Druidibeg, South Uist, on 31st; a lost Grey-headed Wagtail was the best on St Kilda. Four Iceland Gulls were spread across three sites, with Glaucous Gulls at four locations. Late spring wader action included three Little Stints, two Curlew Sandpipers and a Wood Sandpiper.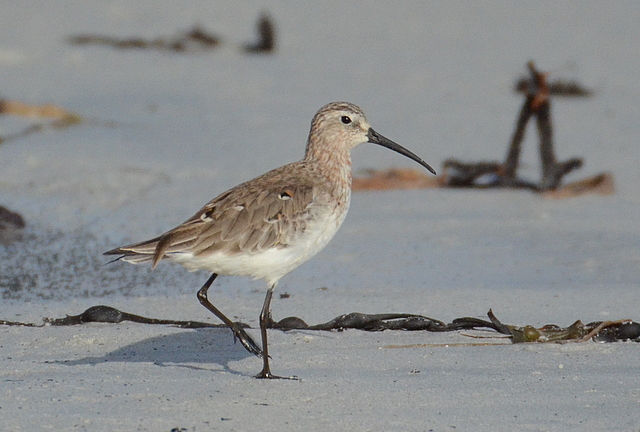 Curlew Sandpiper, South Uist, Outer Hebrides (Joe Graham).
North-east England
Northumberland's week was full of possibility but little of it materialised into anything more substantial. The list of 'possibles' included a Little Bunting on Holy Island and a Red-rumped Swallow near Blyth, while both the singing Marsh and Icterine Warblers reported at Cresswell Pond and Holy Island respectively appeared to move on rapidly. At least the lingering female Red-necked Phalarope at Grindon Lough continued to offer a convenient stop-off for anyone passing inland.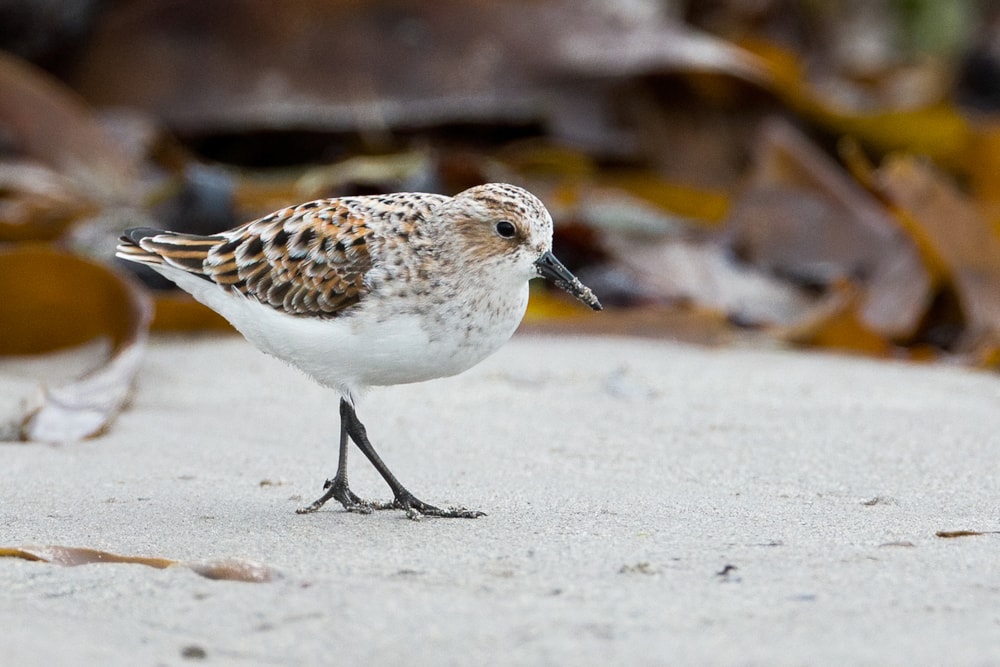 Little Stint, Low Newton-by-the-Sea, Northumberland (Gary Woodburn).
An adult Black Tern at the Long Nanny tern colony is presumably the same individual that summered last year, offering some interest for birders in the north of the county, alongside a Little Stint on the saltmarsh there and a drake Garganey not too far inland at Newham.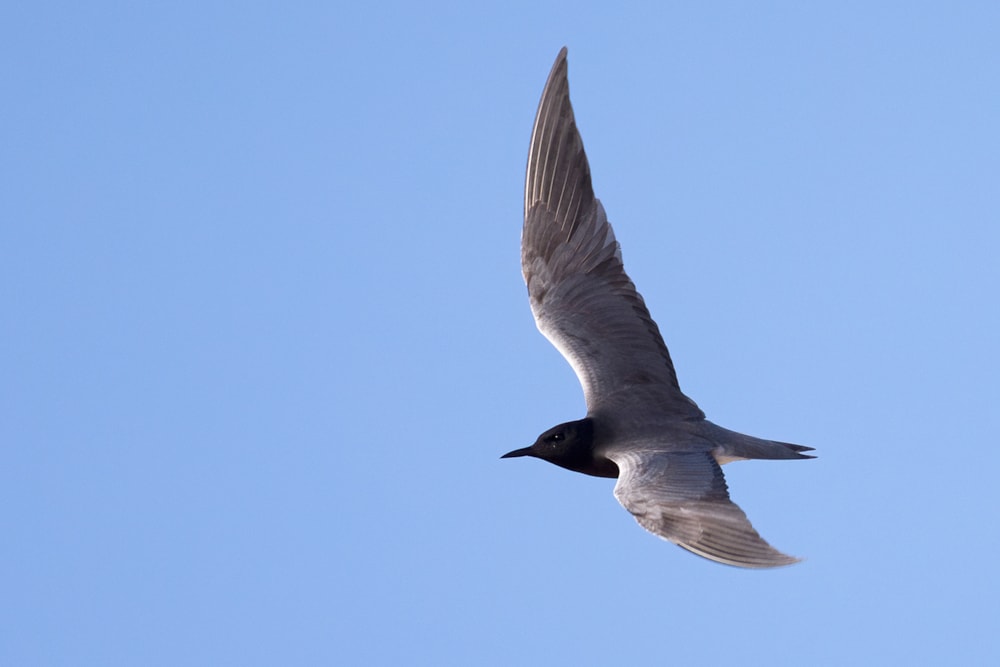 Black Tern, Long Nanny, Northumberland (Gary Woodburn).
A singing male Marsh Warbler at Ryhope, Co Durham, was a fitting end to spring in the Land of the Prince Bishops. Four Eurasian Spoonbills over Cronkley Fell on 28th were perhaps avoiding the sea mist that hung on parts of the Durham coast in the week; another lingered at Bishop Middleham. Common Quail were heard at Whitburn and Hetton-le-Hill.
Cleveland was largely quiet, with up to seven Eurasian Spoonbills in the Saltholme RSPB complex along with a Great Egret the only reports of note in the week.
Alan Tilmouth
North-west England
A report of a male European Serin in a Barrow-in-Furness garden on 30th would have been Cumbria's birding highlight had it been confirmed or twitchable. A Glossy Ibis at South Walney NR on 1st didn't play ball either, although as the first county record since 2014 it was a great record regardless – and could still be easily tucked away behind a tussock. A Black Tern was offshore there on 28th, while an unseasonal female Long-tailed Duck loitered throughout. Longtown hosted a drake Garganey.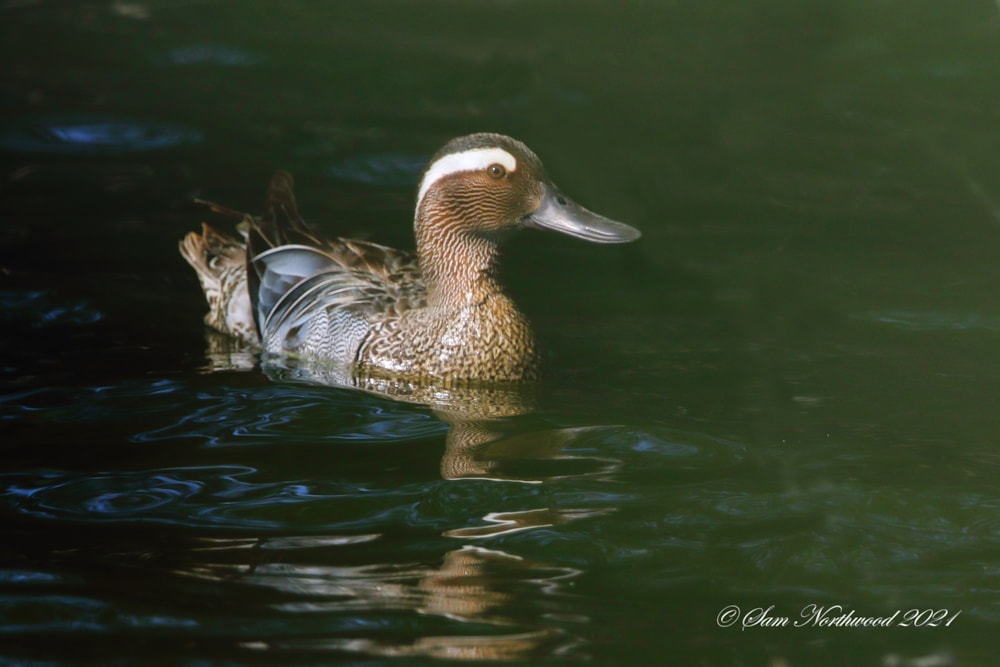 Garganey, Longtown, Cumbria (Sam Northwood).
Over in Lancashire, a male Red-backed Shrike was a great local find at Carr House Green Common on 30th, although, sadly, there was no further sign. A regular spring feature as of late, a Glossy Ibis made an appearance at Rimmer's Marsh, Marshside RSPB, on 28-29th and could potentially be responsible for Cumbria's sighting. Common Quail returned in small numbers, with singing males reported from four localities.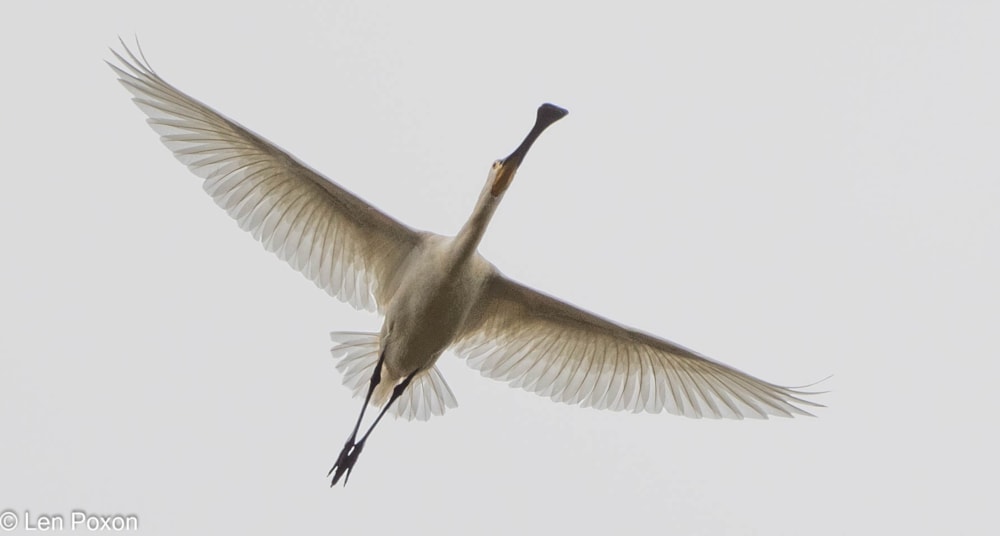 Eurasian Spoonbill, Leighton Moss RSPB, Lancashire (Leonard Poxon).
Cheshire also scored a smart male Red-backed Shrike, with one in the paddocks at Leasowe on 1st – the first county record since 2019. Not to miss out on the action, Glossy Ibis also featured in Cheshire's repertoire, with the bird still reported at Burton Mere Wetlands RSPB on 26th; another (or the same) was at Sandbach Flashes the same day. Common Quail were reported from two sites, notably two separate noc-mig records from Audlem, hinting how many must slip through the country unnoticed in the cover of darkness – as if barley fields weren't tricky enough!
Greater Manchester was largely quiet this reporting week, although an Arctic Tern through Audenshaw Reservoirs on 29th did its best to keep locals entertained.
Dan Owen
Lincolnshire and Yorkshire
Warmer conditions brought much-improved birding across Lincolnshire. The first Rosy Starling of what appears to be shaping up to be another big influx visited a garden in Holbeach Clough on 1st. Two European Bee-eaters overflew Chapel Point on 29th, with four over Normanby on 30th. Rimac had a decent spell, with a Eurasian Stone-curlew on 29th and the Purple Heron again on 27th. A brief Golden Oriole was at Gibraltar Point NNR on 26th, with another at Alkborough Flats (where the Glossy Ibis was also seen when it wasn't at Blacktoft Sands RSPB).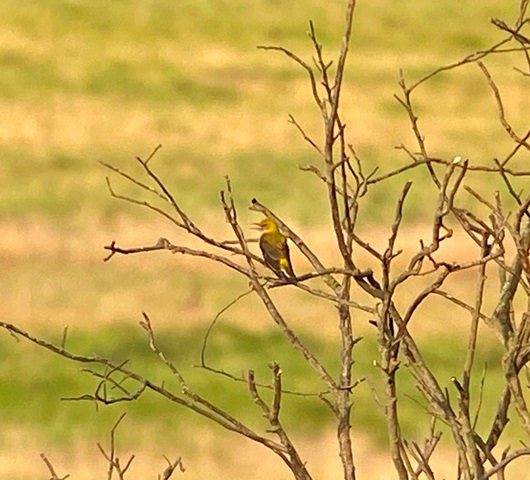 Golden Oriole, Gibraltar Point NNR, Lincolnshire (Nige Lound).
In Yorkshire, the coast was very much the place to be for quality birding. Unsurprisingly given the conditions and time of year, the Spurn area had a busy seven days. Highlights were a Greenish Warbler at Kilnsea on 31st and a Purple Heron on 30th, but a strong supporting cast included several European Bee-eaters, Red-breasted Flycatcher on 1st, Bluethroat and Golden Oriole.
Content continues after advertisements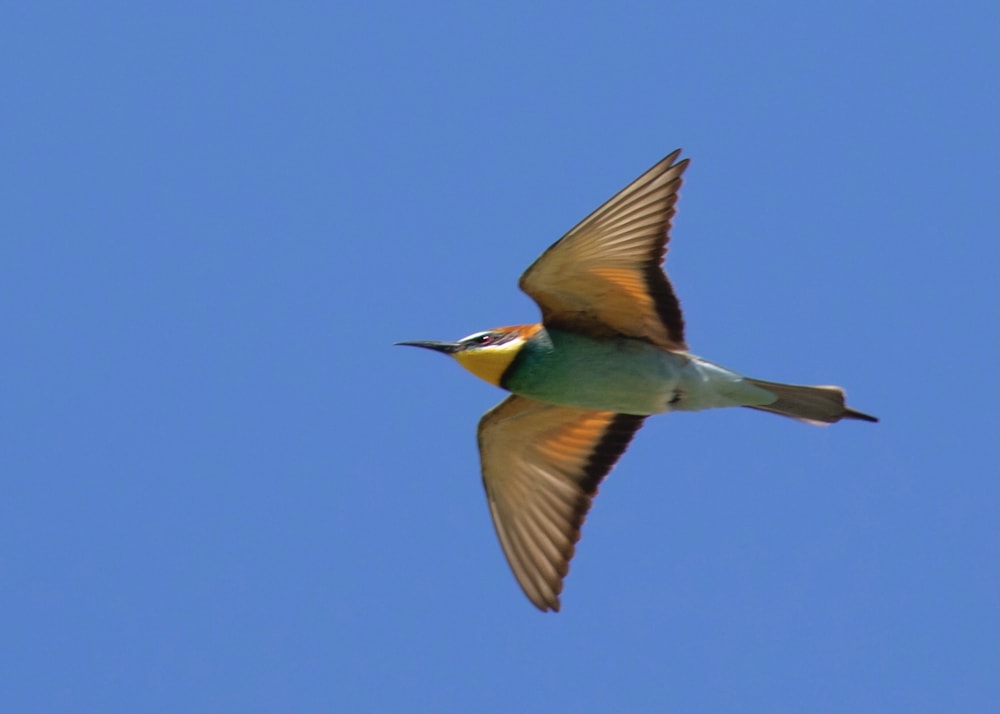 European Bee-eater, Spurn YWT, East Yorkshire (Nathaniel Dargue).
Flamborough Head, meanwhile, had Icterine and Marsh Warblers, with a flock of 10 European Bee-eaters arriving in off the sea at Bempton Cliffs RSPB on 30th (a male Red-backed Shrike was also there from 26-28th). Another male Red-backed was at Dalby Forest, North Yorks, on 30th, with European Honey Buzzards on show at nearby Wykeham watchpoint. Eleven European Bee-eaters at Saltwick Nab on 31st had decreased to nine by 2nd. Seven Spotted Crakes were singing at Wheldrake Ings YWT and a European Honey Buzzard flew over Crofton, West Yorks, on 31st.
Josh Jones
West Midlands
It was again another quiet reporting week for the region, with the midsummer doldrums seemingly hitting early this year. In Staffordshire, a Wood Sandpiper was at Middleton Lakes RSPB from 28-1st. A Sandwich Tern briefly stopped off at Belvide Reservoir on 29th, while Arctic Terns were reported from Chasewater on 26th and Middleton Lakes RSPB on 29th. A Blue-headed Wagtail decorated the shingle banks of the River Wye at Winforton, Herefordshire, on 29th.
Two Wood Sandpipers were at Camp Lane Pools, Worcs, on 26th only, while a possible flyover Western Cattle Egret teased birders at Ryall Pits on 30th. Western Ospreys were at Caunsall on 31st and Upton Warren NR the following day.
Dan Owen
East Midlands
In a quiet birding week for Nottinghamshire, the European Honey Buzzards continued to provide regular entertainment at Welbeck watchpoint. Black Terns were at two sites, although in a quiet spring for this species it could be presumed both reports refer to the same bird relocating. The Glossy Ibis just scraped into the recording week at Carr Vale NR, Derbys, as it wasn't reported again after 26th.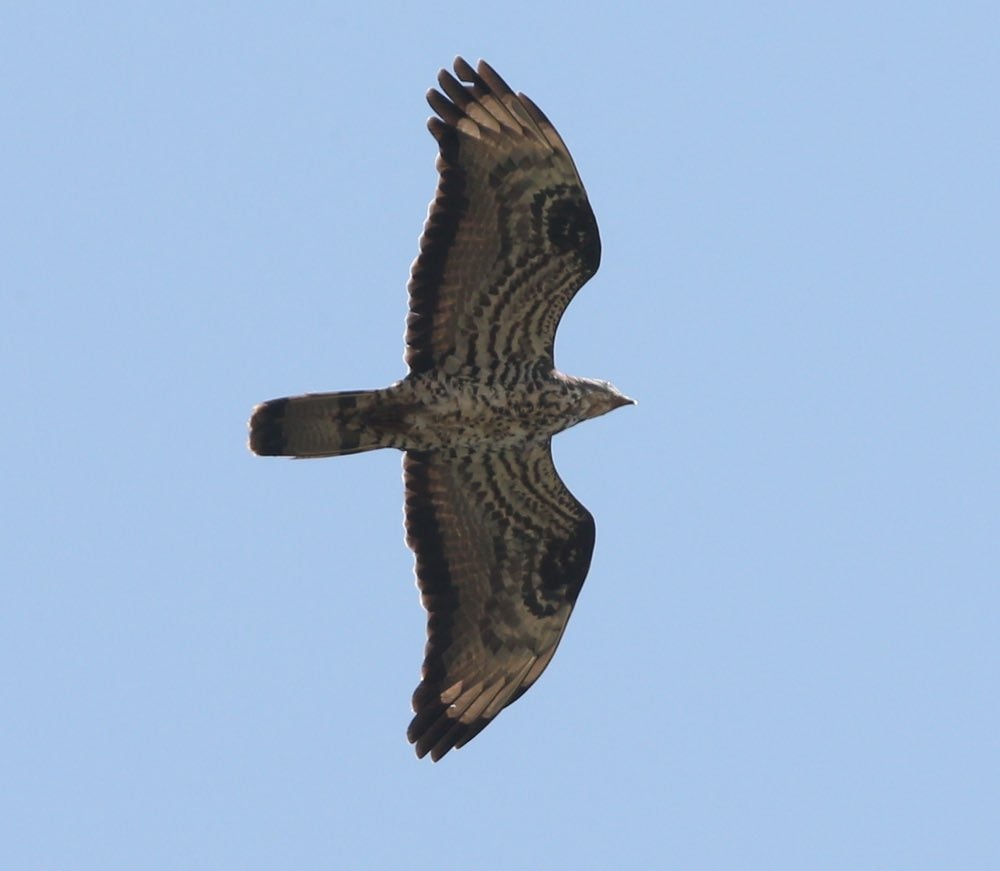 European Honey Buzzard, Welbeck watchpoint, Nottinghamshire (Rob Hoare).
Adult Purple Herons are smart birds and Summer Leys NR's bird was no exception. It was first reported briefly on 27th before proving more reliable on 28-29th. Two days later the same site produced a Red-necked Phalarope, although it ultimately proved a one-day wonder, while a Black Tern lingered throughout the week before being joined by a second on 1st.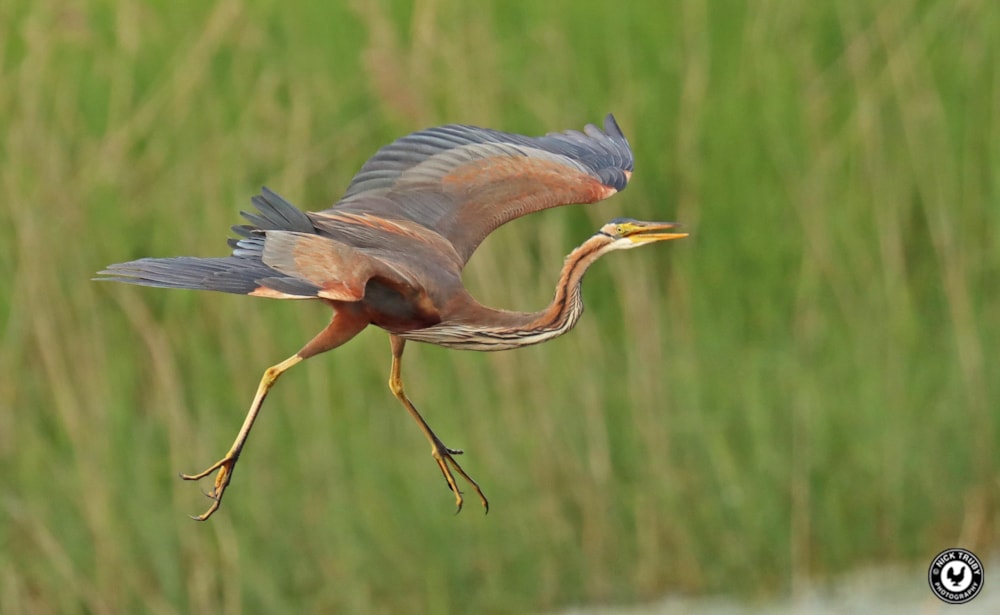 Purple Heron, Summer Leys LNR, Northamptonshire (Nick Truby).
Interestingly, a Temminck's Stint was reported from Lagoon 4 at Rutland Water from 27th – the same site for the previous spring sightings – either an incredible run of records or a rather elusive bird! A White-tailed Eagle loitered around there on 29th, and it later transpired the bird was a released male 'G461' from the Isle of Wight scheme – the same bird responsible for sightings in coastal Lincolnshire a week prior. A singing Golden Oriole at Stanford Reservoir on 29th was in keeping with many eastern counties. Sadly, the bird didn't hang around and wasn't heard the following day.
Dan Owen
East of England
Norfolk had another busy week, with at least four Golden Orioles still at large following the recent influx. Two European Bee-eaters flew west along the north coast on 27th, with a single bird following on 28th. Four Red-backed Shrikes were seen: males at Waxham and Cley Marshes NWT, with females at Winterton Dunes and Blakeney Point. The latter site also produced a Blyth's Reed Warbler on 31st, with a Marsh Warbler at Burnham Overy Dunes that day. Two different Purple Herons were seen in The Broads and a Temminck's Stint remained at North Point Pools.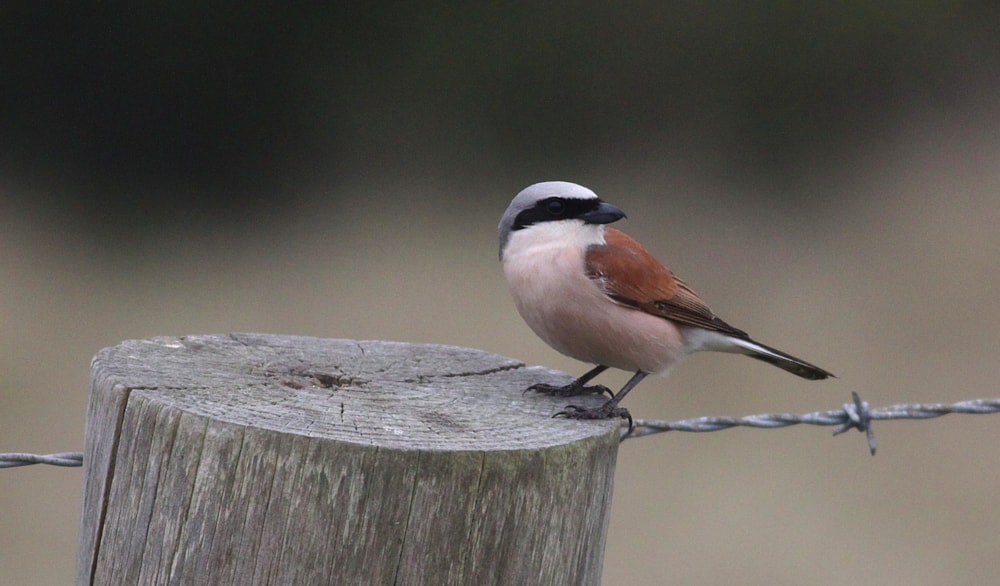 Red-backed Shrike, Waxham, Norfolk (Drew Lyness).
Two Black-winged Stilts lingered at Trimley Marshes SWT, Suffolk, from 28th. Meanwhile, the Woodchat Shrike seen previously in Essex and last week at Bawdsey reappeared once more, this time at Kessingland on 28th. A ringtail Montagu's Harrier was at Tinker's Marshes on 25th and a male Marsh Warbler sang at Southwold on 31st. Further Golden Orioles were at Minsmere RSPB and Trimley Marshes. A European Honey Buzzard flew over North Warren RSPB on 26th.
In Essex, a male Red-backed Shrike was at The Naze on 28th and a Purple Heron visited Stanford Warren EWT on 31st. A European Bee-eater flew over the Blackwater Estuary on 27th and, unusually for late spring, a Hooded Crow was at Shoeburyness on 28th.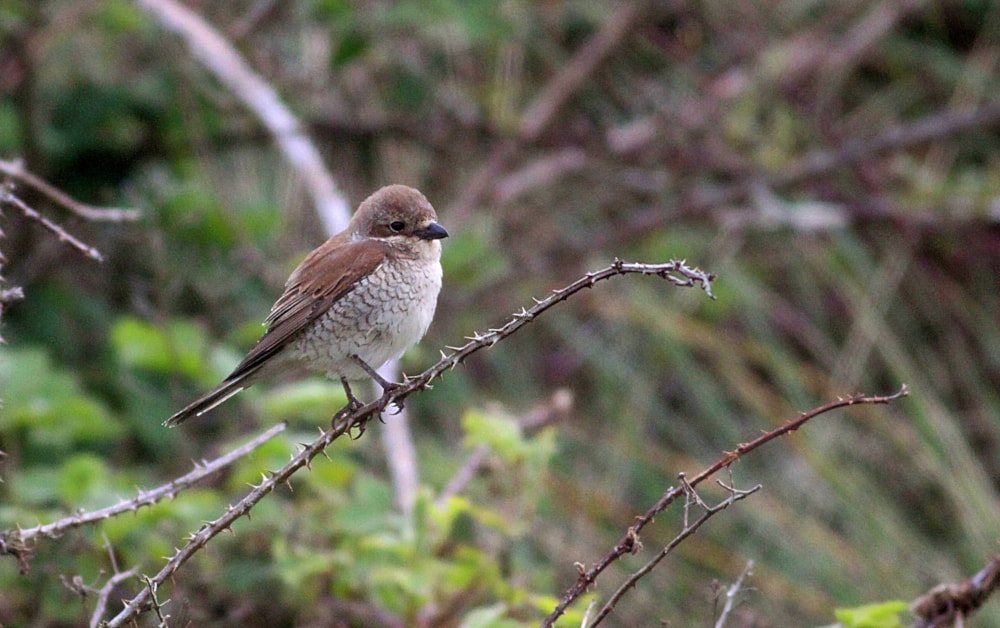 Red-backed Shrike, Winterton Dunes NNR, Norfolk (Drew Lyness).
Three Hertfordshire sites held singing Common Quail, including reliable birds near Wallington, while two Black-necked Grebes visited Tyttenhanger GPs. In Bedfordshire, a Common Quail sang near Southill and a Ruddy Turnstone visited Grovebury Sand Pit on 29th. Eight Black Terns were at Kingfisher's Bridge, Cambridgeshire, on 30th, while a Marsh Warbler sang near Roswell Pits on 1st and two Golden Orioles were heard.
Josh Jones
South-east England
The region was finally treated to warm easterlies from the Bank Holiday weekend onwards and, while no trees were pulled up, there was a decent suite of goodies on offer.
Sussex enjoyed a particularly productive period, with the standout find a singing Blyth's Reed Warbler at the unlikely location of Brighton's Royal Pavilion on the evening of 29th. Beachy Head enjoyed some scarce Acrocephalus action the following day, with a Marsh Warbler in voice – this joined two fly-over European Bee-eaters on the site's day list for 30th. On 26th, a female European Serin was a brief visitor to the same headland. The impending Rosy Starling influx hit the region with one at Roedean on 1st. A Red-backed Shrike was reported at Bexhill on 29th and a Golden Oriole at Ringmer on 1st; an Iceland Gull at Sheepcote Valley the following day was less seasonal. The Church Norton Roseate Tern reappeared on 29th and a European Honey Buzzard flew over Stopham on 26th.
There were similar levels of entertainment in Kent, where European Bee-eaters were detected over the Bank Holiday weekend at Samphire Hoe, Lydd and Dungeness. The last site also recorded a European Serin and the lingering Glossy Ibis. A Black Kite drifted over Cliffe on 27th and a Purple Heron graced Grove Ferry on 30th, though neither lingered particularly long. North Foreland was treated to a Red-rumped Swallow on 27th, a Golden Oriole was singing at Fordwich on 28th and at least three migrant European Honey Buzzards were reported.

Purple Heron, Grove Ferry NNR, Kent (Steven Ashton).
It was rather quiet in London, although a male Golden Oriole at Totteridge Valley on 30th was a smart find. In Surrey, a European Honey Buzzard drifted over Chessington on the same date. Buckinghamshire enjoyed a good spell, with a Golden Oriole at Little Linford Wood from 29-30th, three Common Cranes at Gallows Bridge Farm on 27th and two Curlew Sandpipers at Dorney Common on 31st. The inland gold medal went to Oxfordshire this week, however, with a fine record on 28th: a Melodious Warbler in song at Lollingdon Hill. It may prove to be a county first … elsewhere in Oxfordshire, a Golden Oriole flew over Holton on 1st and the Glossy Ibis lingered at Otmoor.
In Hampshire, there was a surprising report of a female Grey Phalarope at Chichester Harbour on 28th; a male Red-necked Phalarope at Keyhaven Marshes from 31st was slightly more expected (though still a good record). A Purple Heron was photographed at Fishlake Meadows on 30th, though there was no further sign, and two Pale-bellied Brent Geese were at Keyhaven Marshes on 1st. On the Isle of Wight, the Brading Marshes Purple Heron again showed on 29-30th.
Ed Stubbs
South-west England
The week's high-pressure weather system led to a bounty of goodies in Cornwall alongside the first sizeable Red Kite movements of the year, including no fewer than 60 over Porthgwarra and 45 over Sennen Cove on 29th. These were accompanied by a number of Black Kites, with sightings received from six locations.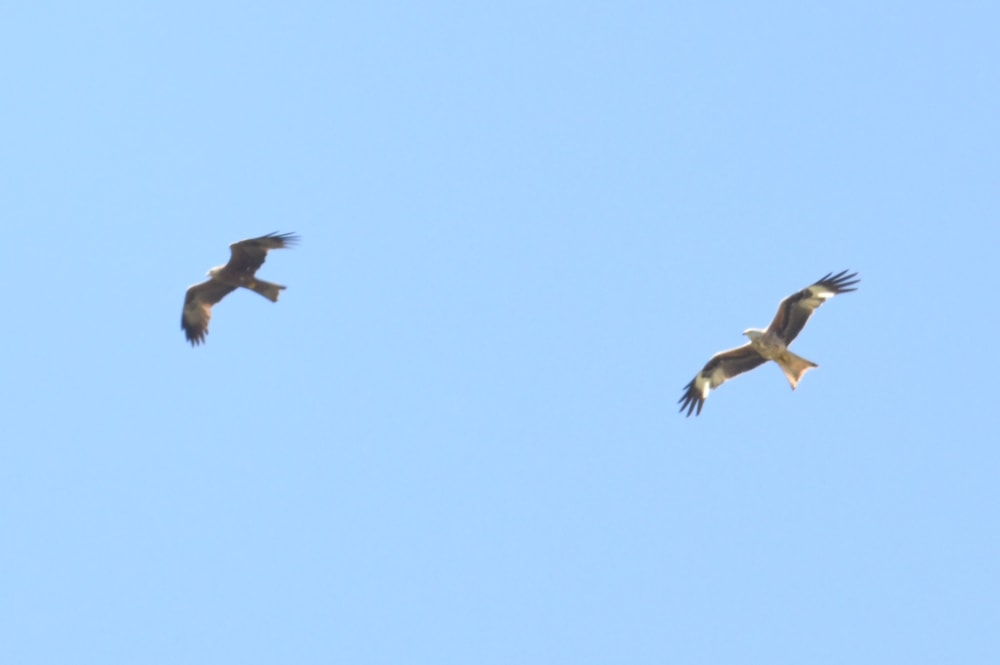 Black Kite (left) and Red Kite, Land's End, Cornwall (Steve Rogers).
A female Woodchat Shrike was around the Land's End complex on 30-31st, with another at Windmill Farm NR on 29-30th. Red-backed Shrikes were at three sites – a male at Grumbla and females at St Agnes and Land's End – with Golden Orioles at five sites, including one trapped and ringed at Nanjizal Valley on 29th. Coverack held a European Bee-eater, a European Serin was at Praa Sands and Hoopoes were at Mullion Cove and Lizard village. Pioneering Rosy Starlings were at St Eval, Housel Bay and Newquay towards the week's end. Meanwhile, both Purple and Black-crowned Night Herons were at Nanjizal Valley during the week and a Pectoral Sandpiper was at Treeve Moor on 28-29th. Foxhole's drake Ring-necked Duck and a Black Guillemot at Housel Bay were reminders of winter.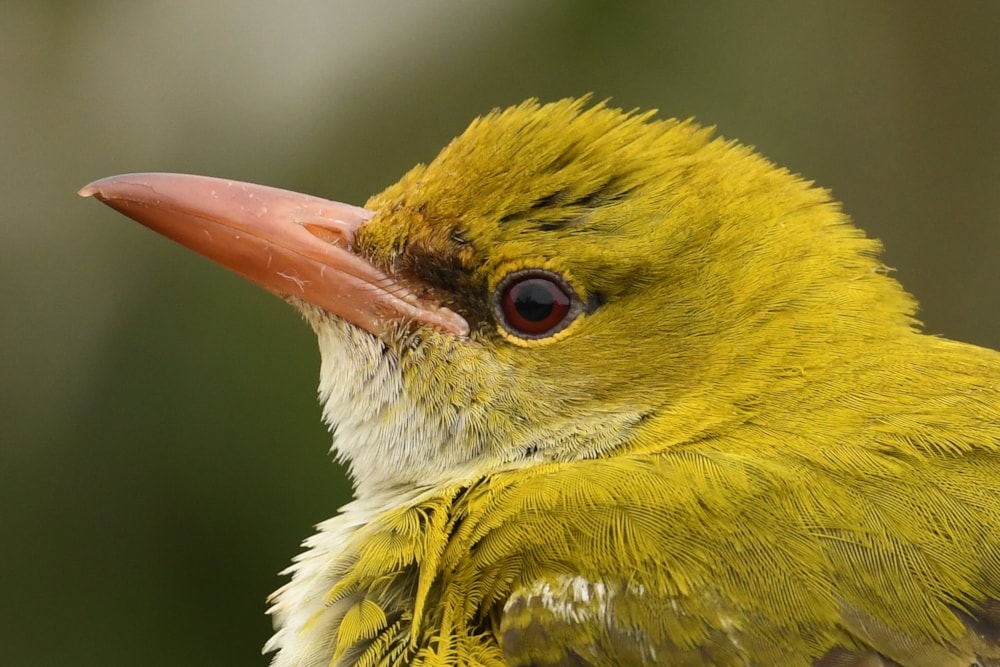 Golden Oriole, Nanjizal Valley, Cornwall (Steve Rogers).
A suitably seasonal week on the Isles of Scilly, European Bee-eaters on St Mary's and St Agnes added colour, as did Golden Orioles on Tresco, St Mary's and St Martin's. A female Red-backed Shrike occupied Samson Hill, Bryher, while early Rosy Starlings were on St Agnes and Bryher (two) on 31st, and an Alpine Swift flew over Star Castle, St Mary's, on 27th. At least two Iceland Gulls remained, St Mary's held a Wood Sandpiper, and a Red-rumped Swallow flew over St Martin's.
An adult male American Golden Plover at Exminster Marshes RSPB from 28th was Devon's star attraction, with the same site also enjoying two Ruddy Shelduck and a Garganey. A female Red-backed Shrike at Plym Estuary on 30th provided further interest, with a young male Common Rosefinch on Lundy on 30th and an Iceland Gull at Aveton Gifford. A flock of 33 Red Kites over Musbury was a notable number.
American Golden Plover, Exminster Marshes RSPB, Devon (David Boult).
Portland, Dorset, had a strong end to the week, with a showy Woodchat Shrike on 29th followed by a Red-backed Shrike the following day and a Rosy Starling-European Serin double act on 31st. Two Pomarine Skuas flew past the isle, too. An impressive five singing Common Quail were at Tarrant Rushton on 31st; meanwhile, a male Golden Oriole was at Rempstone Heath, a Curlew Sandpiper was at Stanpit Marsh and a Black Kite was reported over Burton, with a probable Purple Heron at Lodmoor RSPB alongside the long-staying Iceland Gull. A male Common Rosefinch was trapped and ringed at Durlston CP on 28th, with a singing male European Serin there on 26th.
A European Honey Buzzard flew north-east over Frampton-on-Severn, Gloucestershire, on 31st, while Slimbridge WWT hosted a Garganey and Wood Sandpiper. Common Quail were at two sites.
Ham Wall RSPB, Somerset, was visited by a brief White-tailed Eagle on 31st, while a Black Kite was reported over Bath on 28th. A stunning adult Sabine's Gull was off Burnham-on-Sea on the morning of 29th, with Garganey at Clevedon and Ham Wall RSPB.
A male Red-backed Shrike was a welcome visitor to Salisbury Plain, Wiltshire, on 30th, with other notable county additions including a Wood Warbler at Gutch Common and a Channel Wagtail at Everleigh. Common Quail were at Everleigh and Aldbourne, with a Garganey recorded at Cotswold Water Park and a probable European Honey Buzzard over Britford on 28th.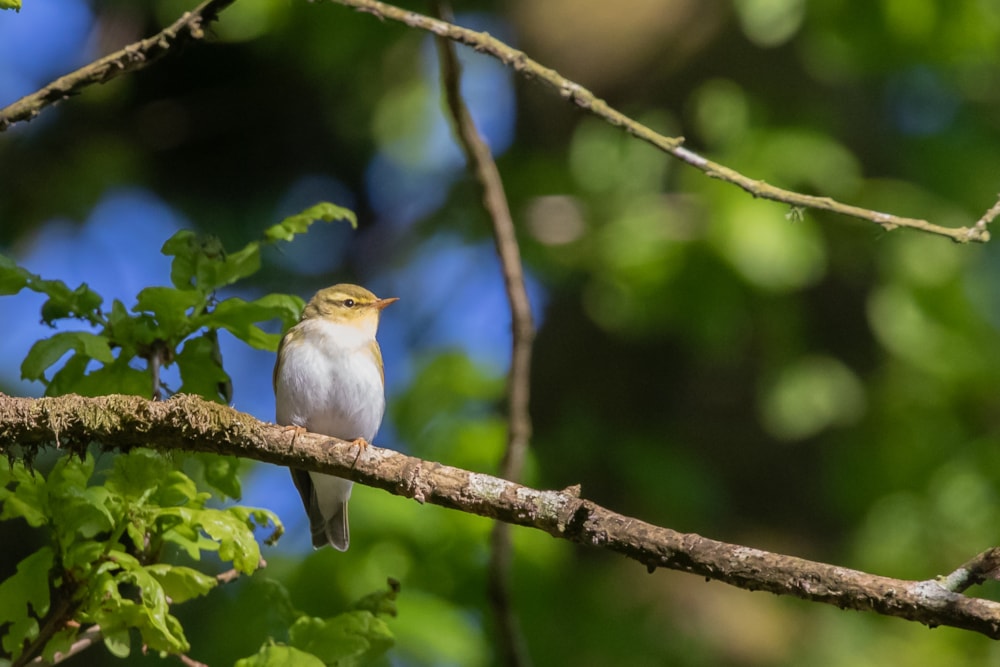 Wood Warbler, Gutch Common, Wiltshire (John Howell).
Wales
Skomer had a great showing this week. A Woodchat Shrike was discovered on 1st, when seven Great Egrets flew south – a record Pembrokeshire count. Skokholm had a singing Common Rosefinch on 29th and a European Turtle Dove on 31st. On Bardsey Island, singing Icterine and Marsh Warblers must have provided a great soundtrack in the observatory garden on 1st.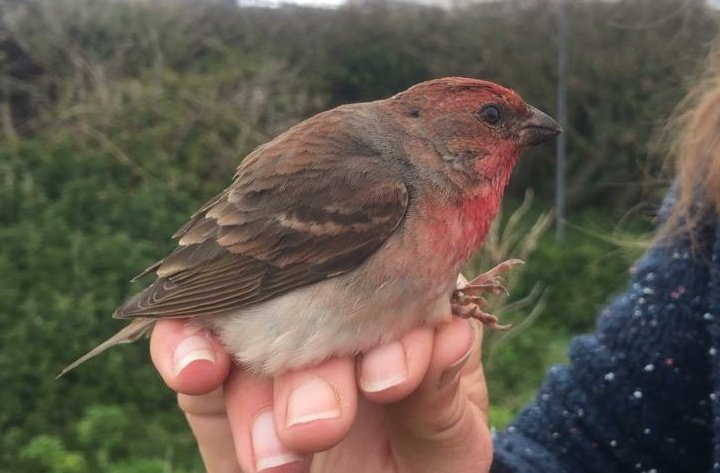 Common Rosefinch, Skokholm, Pembrokeshire (Skokholm Warden).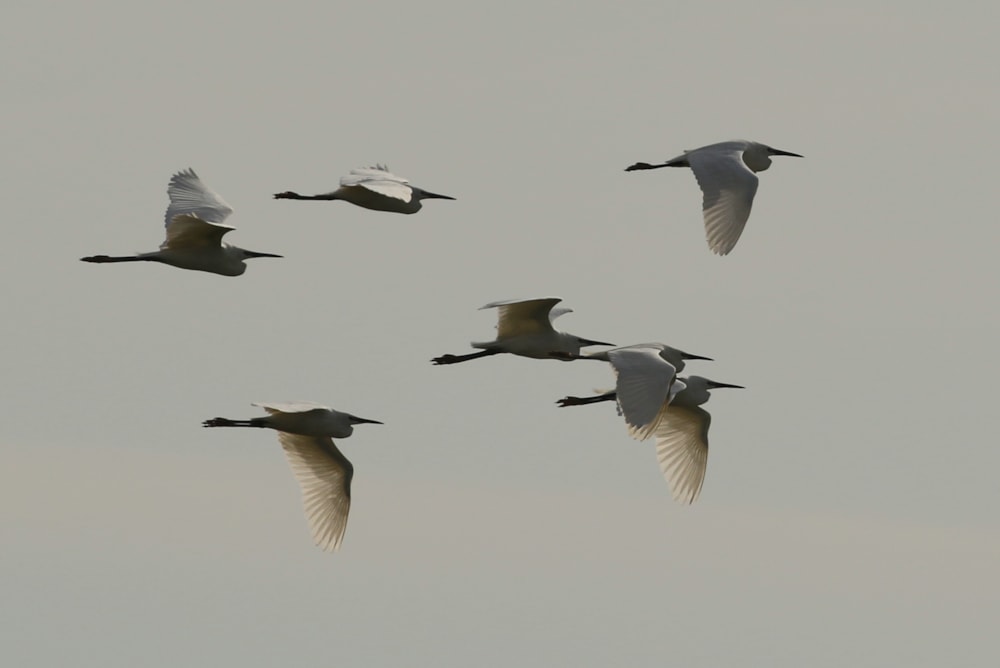 Great Egret, Skokholm, Pembrokeshire (Skokholm Warden).
A probable Common Rosefinch at St Justinian on 30th sadly wasn't clinched. The Rosy Starling movement on the Continent is picking up momentum, so the adult at Trefeiddan Common, Pembs, on 31st hopefully served as a sign of things to come. Speaking of invasions, the Golden Oriole event managed to sneak into Wales this week, with a male briefly at St David's Airfield on 29th. A female Woodchat Shrike at Tregaron Bog, Ceredigion, on 1st further added to the Mediterranean flair.
Dan Owen
Ireland
Two different Marsh Warblers were found in Ireland: at Brownstown Head, Co Waterford, on 28th and Tory Island, Co Donegal, on 31st (a European Turtle Dove was also at the latter locality). A singing male Red-backed Shrike visited Ring Marsh, Co Wexford, on 1st, with another eastern visitor in the form of a male Common Rosefinch on 29th.
A White-winged Tern was an excellent find at Carrig Island, Co Kerry, on 30th, while the Purple Heron lingered at Dunworly, Co Cork. Garganey were at four sites, including two drakes at Portmore Lough RSPB, Co Antrim.
Bizarrely, a pair of Smew lingered at an undisclosed site in Co Clare, while a drake Ring-necked Duck was near Leixlip, Co Clare. Other remnants of winter included a few Glaucous Gulls, notably including an adult at Tralee, Co Kerry.
Josh Jones
Western Palearctic
2021 looks set to be another bumper year for Rosy Starlings across Europe, with several hundred birds recorded across Italy, southern France and north-east Spain alone since the start of the week. In the Channel Islands, early harbingers of the irruption included two on Guernsey and no fewer than five at St Anne, Alderney.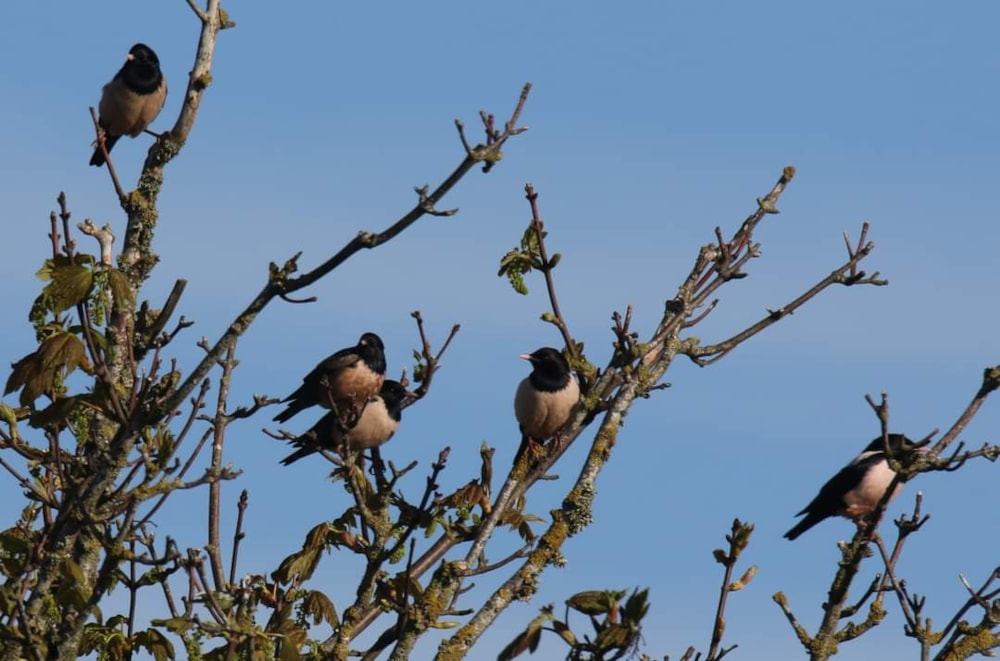 Rosy Starling, St Anne, Alderney (John Horton, Alderney Bird Observatory)
Hot on the heels of the country's first just 15 days previously, Finland's second White-throated Robin – a first-summer male – was trapped and ringed at Korsören on 30th. with the country's fifth Gull-billed Tern at Karvonlahti on 1st. Poland's first Black-faced Bunting was a brief customer at Hel on 29th; the nation's first Baillon's Crake since 1928 was singing at Bagna Przemkowskie the previous day.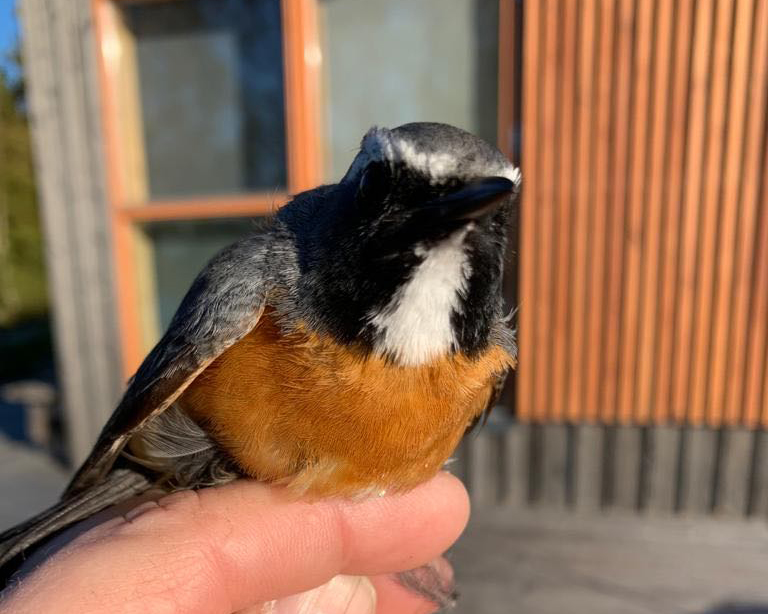 White-throated Robin, Korsören, Ostrobothnia (Pekka Peura).
In Sweden, a Western Bonelli's Warbler was at Ottenby, Öland, while the Caspian Plover remained at Bälinge until 26th. A gorgeous adult drake Harlequin Duck was again at Yttergård, Norway, while in the Faroe Islands, a female Steller's Eider was at Sumba and two white-morph Ross's Geese were at Vatnsoyrar, Vágar.
On the French Biscay coast, two adult Elegant Terns were nestled in the Sandwich Tern colony at Polder de Sébastopol on 1st. Amazingly, the immature male Walrus last seen off Cornwall on 19th spent the first half of the week along the same stretch of coastline from 26-30th, noted at Saint-Gilles-Croix-de-Vie, Les Sables-d'Olonne and La Rochelle before departing south.
The Netherlands played host to a singing male Eurasian Scops Owl at Delft from 25th, with a Black-winged Pratincole at 't Woudt on 29th. Two released Bearded Vultures were recorded: 'Eglazine' was over Holtingerveld on 1st, while 'Angèle' flew over a number of sites from 24th before unfortunately colliding with a wind turbine near Wieringerwerf on 26th, the first documented case of a Bearded Vulture killed by a wind turbine in Europe (see here). Belgium's female Baikal Teal was back at Wechelderzande on 26th.
Kuwait's second-ever Masked Booby was photographed on an offshore buoy on 29th, while Israel's Lappet-faced Vulture reappeared at Hai Bar on 25th.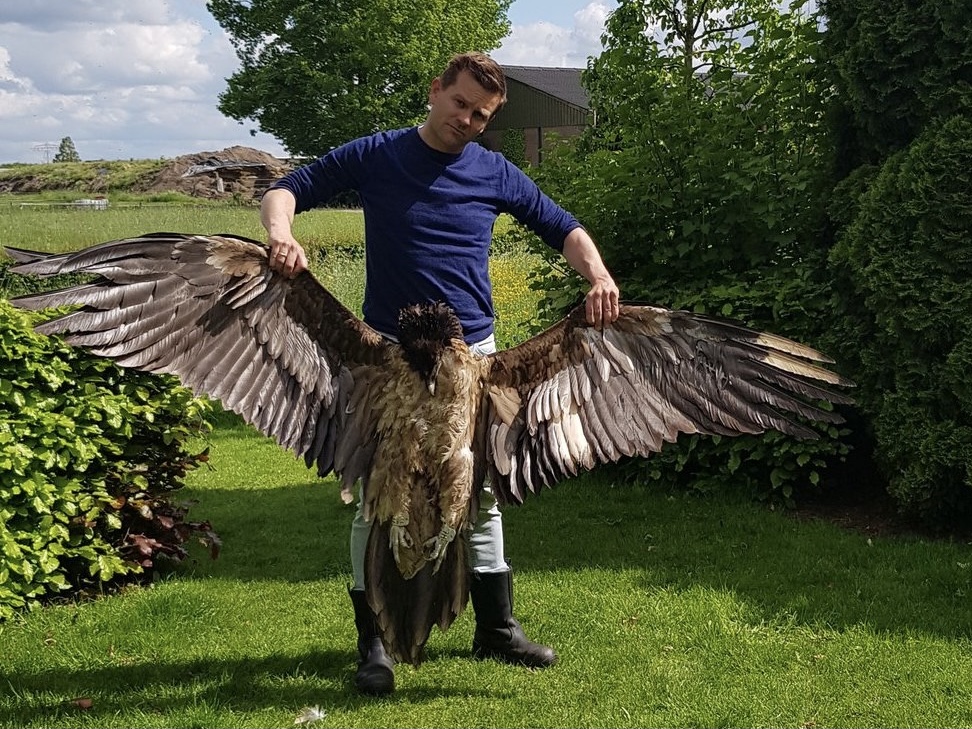 Released Bearded Vulture 'Angèle', Robbenoordbos, North Holland (Vulture Conservation Foundation).