What had been a largely quiet few days was shattered the evening before we went to press with a remarkably calm Twitter message about a Giant Petrel species north past the famous seawatching spot of Whitburn, Co Durham. Described as an individual with a first year type plumage (dark chocolatey brown with a slight sooty tinge), large pale bill, big bowed wings and thick back, it was relocated over two hours later as it sheared past Cullernose Point, Northumberland.
Claims of Giant Petrels off the British coastline aren't unheard of, with individuals reported off Flamborough, East Yorkshire, on 4 July 1988 and Dunwich, Suffolk, on 25 October 2010. Accepted European records from the Adriatic Sea, off Italy, in September 1991 and off Ouessant, France, in November 1967, prove that their occurrence is far from unprecedented.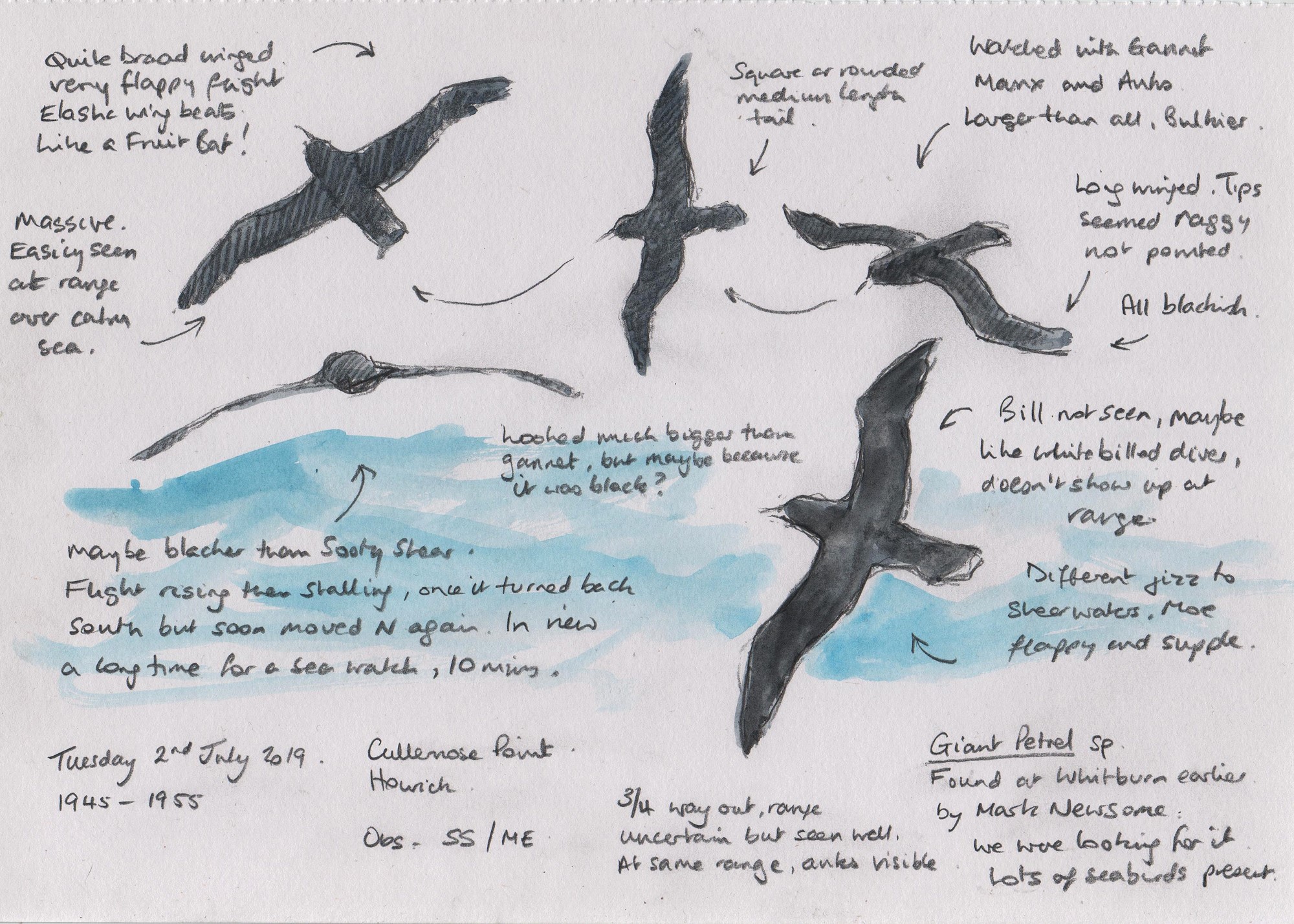 Giant Petrel sp., Cullernose Point, Northumberland (Stewart Sexton – boulmerbirder.blogspot.com).
Identity of this bird, or any other claims, to species level is practically impossible, but this is far from the point. Nothing elicits such a twinkle in the eye of seawatchers everywhere than the wanderlust of waifs (or brutes, in this case!) from faraway shores. Macronectes is an alien genus to the Northern Hemisphere and for good reason. Extremely aggressive predators and scavengers, they are more at home decimating the large seabird colonies of the near-Antarctic. They are also truly gigantic, midway between gannets and albatrosses in size.
In Gloucestershire, the Slimbridge Little Bustard bid his adieu this week, last being sighted in the long, swaying grasses of the Dumbles on 26th. More at home in the Northumberland countryside, the drake Baikal Teal – which is arguably best described as of unknown origin – remained at his favoured marsh at Druridge Pools until the end of the week.
A retrospective record of a singing male Green Warbler trapped at Lizard village, Cornwall, on 10 June was confirmed this week by DNA analysis. Last available to the masses as far back at 1983 (a bird on Unst doesn't really count as an easily accessible bird), it no doubt would have proven incredibly popular had it hung around, and if its true identity had been realised sooner.
Of the new Scottish rarities this week, a Gull-billed Tern discovered on Shetland at Stenness in the evening of 29th was perhaps the most notable. A major rarity for the islands, and Scotland in general, it was relocated at the south of the archipelago on 30th, where it hung around the waterbodies of Ringasta, Spiggie, Virkie and Toab until mid-afternoon of 1st.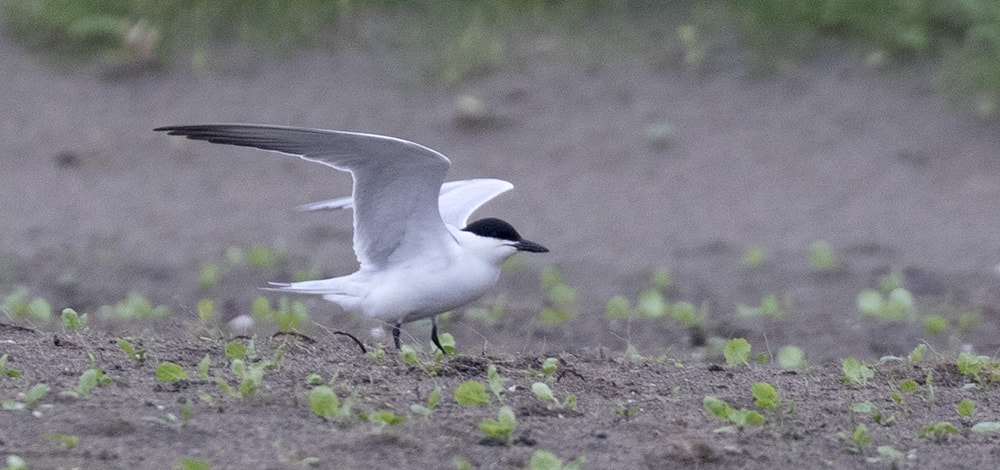 Gull-billed Tern, Pool of Virkie, Mainland, Shetland (Roger Riddington).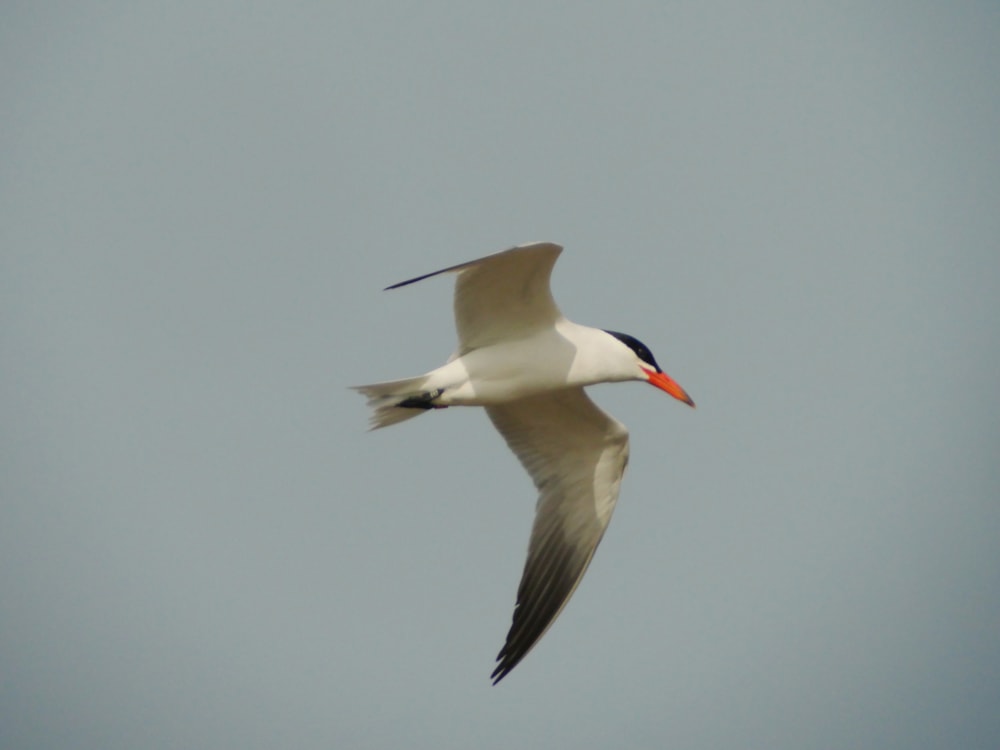 Caspian Tern, Bowling Green Marsh RSPB, Devon (David Boult).
One good tern deserves another, right? An adult Caspian Tern ('K3T', ringed as a chick near Oxelösund, Sweden, in 2016) gave birders the run-around as it darted up and down the Exe Estuary on 27-28th, though there's been no sign since. A characterful and classic early summer rare wader is Terek Sandpiper, and one found at Dornoch, Highland on 28th remained until the end of the month.
Surprisingly, a mobile Squacco Heron detected at Cley Marshes NWT, Norfolk, on 29th was a first for the famous 'Cley Square'. Seemingly unimpressed by its surroundings, it vacated the premises and moved to Stiffkey on 30th, where it remained until the end of the week. More intriguing was a late report of a House Crow on Trevose Head, Cornwall, on 23rd, although this may refer to a long-staying local Hooded Crow. Best of the rest was a Black Stork over the car park of Norfolk's Titchwell RSPB on 30th and a singing male Savi's Warbler at Carlton Marshes, Suffolk, on 29th, which may be the bird last recorded there on 21 May.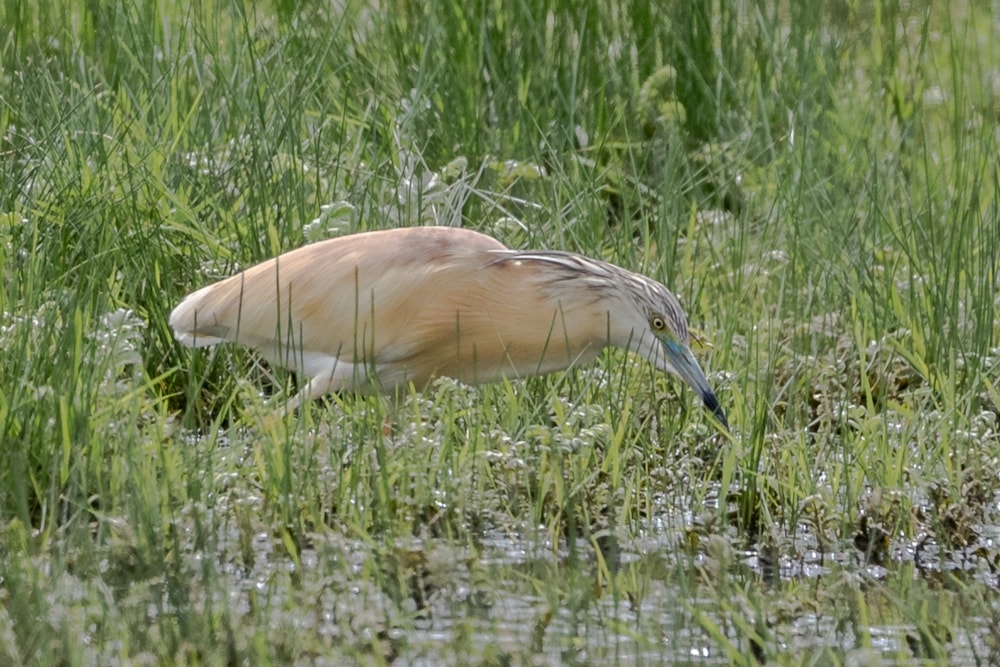 Squacco Heron, Stiffkey, Norfolk (Ian Bollen).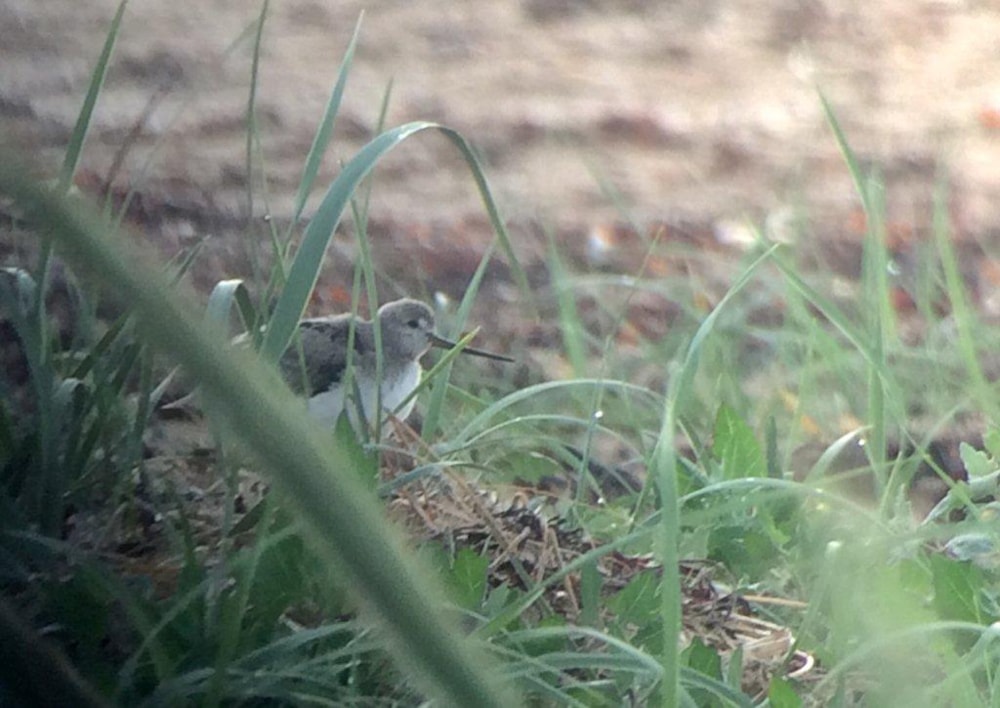 Terek Sandpiper, Dornoch, Highland (Gus Guthrie).
Lingering Savi's included both the Minsmere RSPB, Suffolk, and Cors Ddyga RSPB, Anglesey, birds, while the Blyth's Reed Warbler was still on Unst, Shetland, on Sunday. Remaining on the rare warbler vibe, the Great Reed Warbler at Pugney's CP, West Yorkshire, continued.
The second-summer Laughing Gull again flew past Skokholm on 26th, even dropping into the Lesser Black-backed Gull colony briefly. Other gull news came via two new Bonaparte's Gulls, both flyovers: an adult at Penzance, Cornwall, on 26th and a 1st-summer at Tacumshin, Co Wexford, on 2nd.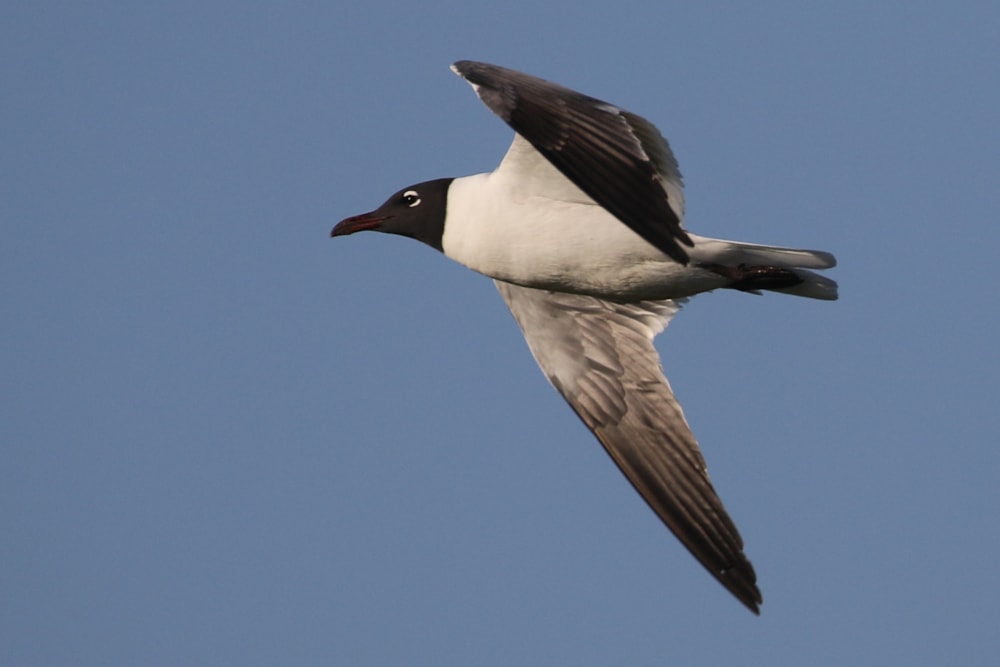 Laughing Gull, Skokholm, Pembrokeshire (Richard Brown).
At Cliffe Pools RSPB, Kent, the Marsh Sandpiper continued to give distant views, while the Long-billed Dowitcher remained in situ in Co Antrim. A Lesser Yellowlegs at Titchwell is presumably last year's bird returning and added to the rarity party in Norfolk, as did the pair of Black-winged Stilts at Wells-next-the-Sea on 1st.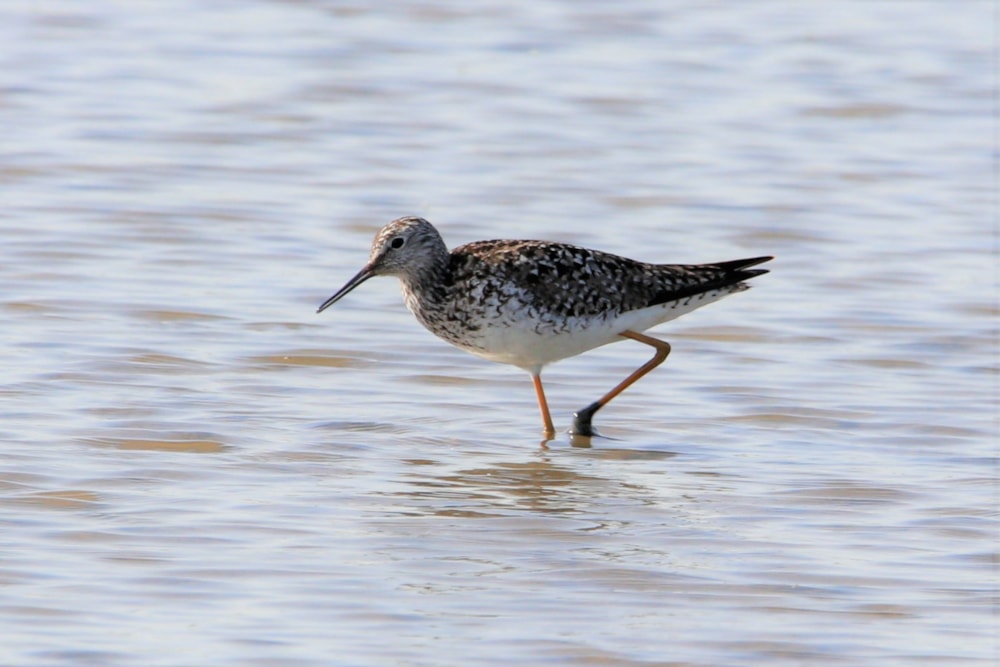 Lesser Yellowlegs, Titchwell RSPB, Norfolk (DAVID Griffiths).
The weird summer of lingering ducks continued: Blue-winged Teal, Ferruginous Duck and American Black Duck all remained at their regular spots. Three Ring-necked Duck were present in Clwyd, Essex and Herefordshire; the drake Green-winged Teal continued at Cley Marshes, Norfolk, and a possible American Wigeon was at Brownsea Island, Dorset, on Sunday. In Highland, two Surf Scoter were logged at Embo on 29th.
The Pied-billed Grebe was recorded at Loch Feorlin on Saturday. Also in Scotland, the surprise adult Great Spotted Cuckoo was still knocking about on 26th but despite an unconfirmed report from the weekend, there has been no further sign.
Delving into scarce and beyond, Fair Isle claimed the only Citrine Wagtail and Common Rosefinch of the week. A decent five sites logged Rosy Starlings, from Cornwall north to Shetland. The Greater Short-toed Lark lingered on Skokholm while, elsewhere in Wales, a Eurasian Hoopoe spent 26th at Mynydd Eilian, Anglesey.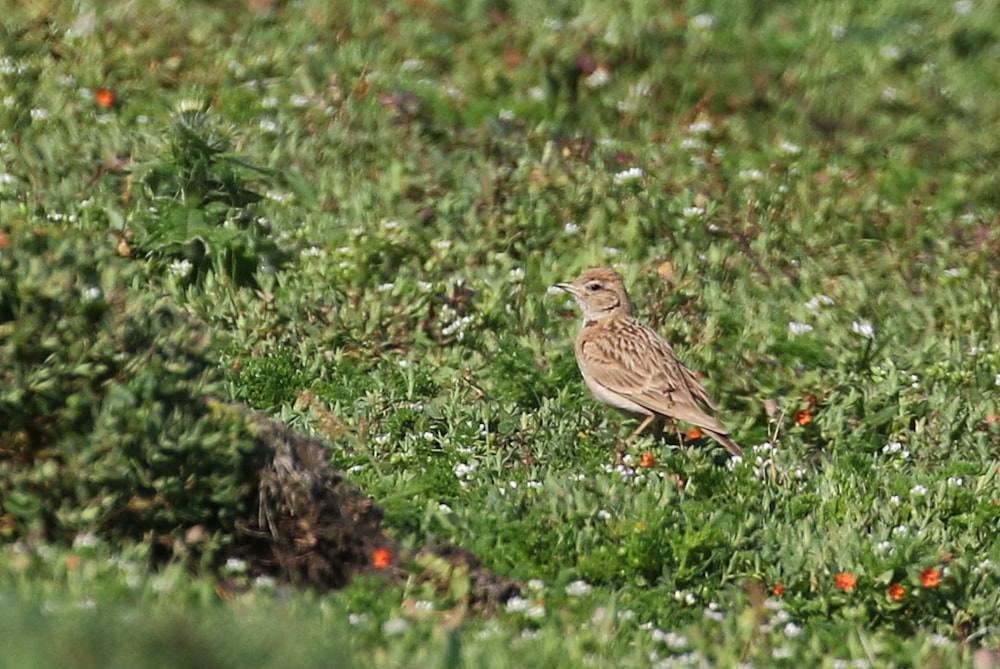 Greater Short-toed Lark, Skokholm, Pembrokeshire (Richard Brown).
Unsurprisingly, given the heatwave from the east that peaked Saturday, no fewer than nine sites logged European Bee-eater this week, five of those on 29th. There were single records of Alpine Swift, Golden Oriole, Red-rumped Swallow and Red-backed Shrike. Cornwall and Kent logged Red-footed Falcon, with the lingering European Serin still at Littlestone-on-Sea in the latter county – another was at Portland, Dorset, on 2nd.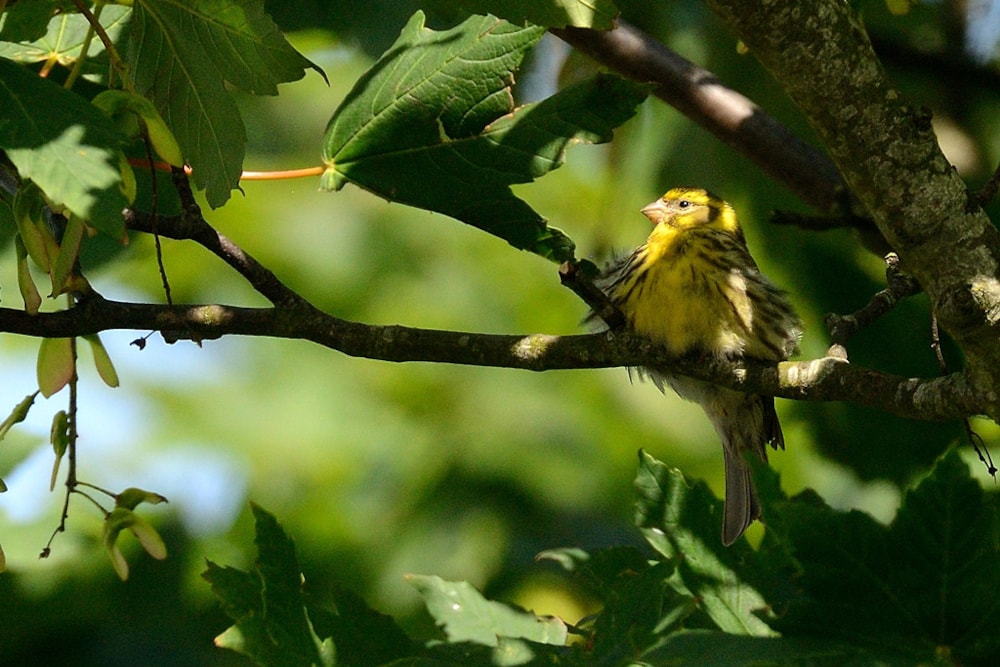 European Serin, Littlestone-on-Sea, Kent (Ian Curran).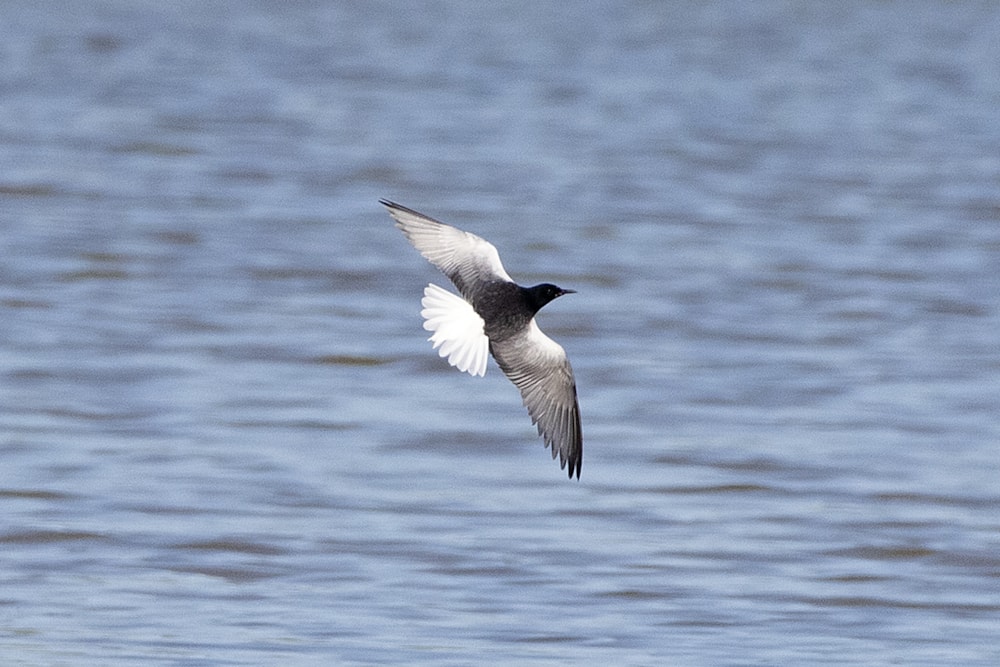 White-winged Tern, Minsmere RSPB, Suffolk (Andrew Moon).
Two Marsh Warblers were recorded, while three White-winged Terns was a decent haul for late June, with one at Floodplain Forest NR, Bucks, particularly noteworthy in that it arrived at the site on the same day as the roving escaped female Bufflehead. A Eurasian Stone-curlew at King George V Reservoir, Greater London, on 28th was a surprising record.
You can normally rely on herons to provide some midsummer entertainment and no fewer than three sites – Stodmarsh, Kent, Shapwick Heath, Somerset and Titchwell, Norfolk – offered Purple Herons during the week. An adult Black-crowned Night Heron at Pittville Park in Cheltenham, Glos, was popular on 30th-1st.
Six sites logged Glossy Ibises, while the Spotted Crake continued to sing at Welney WWT, Norfolk. Two Long-tailed Skuas at Spurn YWT, East Yorks, was notable on 29th, though not as striking as one of the annual big summer movements of mainly first-summer Common Swifts over the same site the following day – 10,094 represented a mighty count.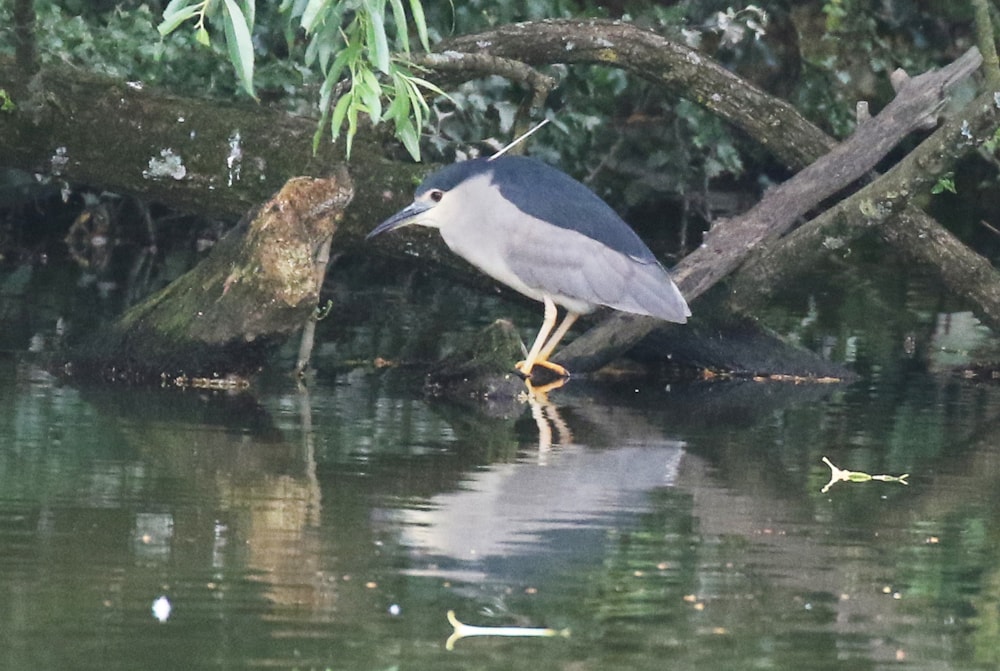 Black-crowned Night Heron, Cheltenham, Gloucestershire (Chris Teague).
Return wader passage seems to be taking place early this year. A sole Temminck's Stint isn't exactly ground-breaking, but 22 sites logging Spotted Redshank is decent, and a count of 33 at Old Hall Marshes, Essex, on 2nd is a record that could've been plucked out of a 1960s bird report from any coastal county. Wood Sandpipers too were found on a broad front, with 47 sites holding a bird or two.
Despite this autumnal wader flavour, the warm and sunny weather, drama of the FIFA Women's World Cup and endless Glastonbury highlights surely indicate it's still summer. Maybe for a bit, but this week the first 'Game of Loaves' of the season showed that winter is coming – the first juvenile Yellow-legged Gull of the year was logged, at Prince's Park in Eastbourne, Sussex, on 1st. Then, on 2nd, an amazingly early juvenile Caspian Gull was at Sidestrand, Norfolk.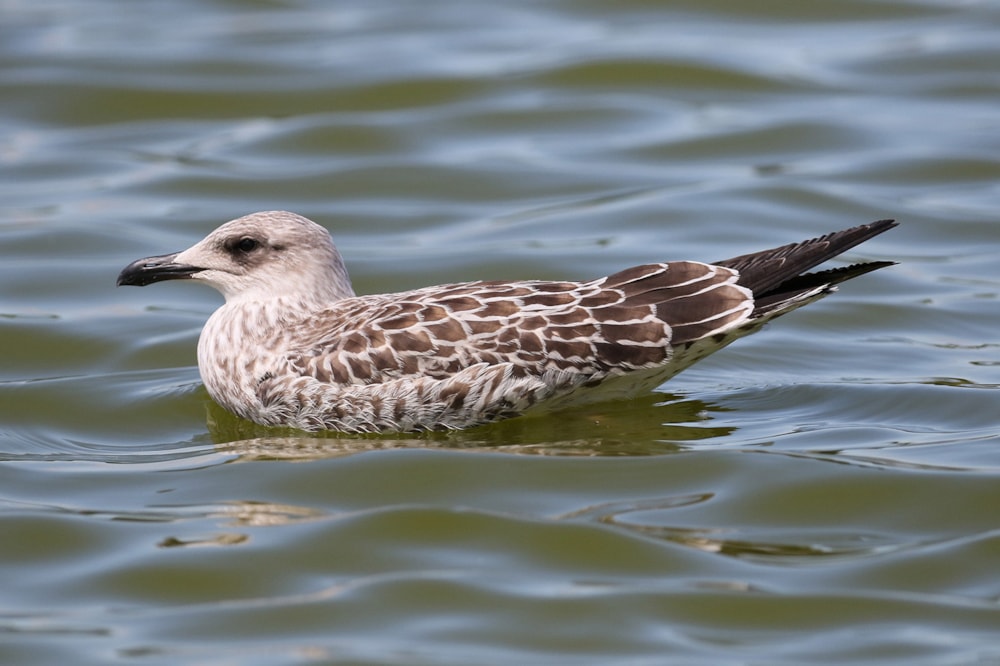 Yellow-legged Gull, Eastbourne, East Sussex (Beachy Birder).
Western Palearctic
Following on from last week's Red-wattled Lapwing, the Netherlands continued its Vanellus purple patch with a Grey-headed Lapwing at Workum on 27th. One that was completely off the radar of Western Palearctic birders until a one-day-wonder in Turkey in 2018, examination of plumage features suggests that this could be a different individual to that in Norway or Sweden earlier this year. A mass escape or genuine multi-bird influx? Certainly the latter seems more likely, given it is a very rare species in captivity in Europe. Last seen flying southwest in the company of three Northern Lapwings on the evening 28th, time will tell if it is to make a reappearance.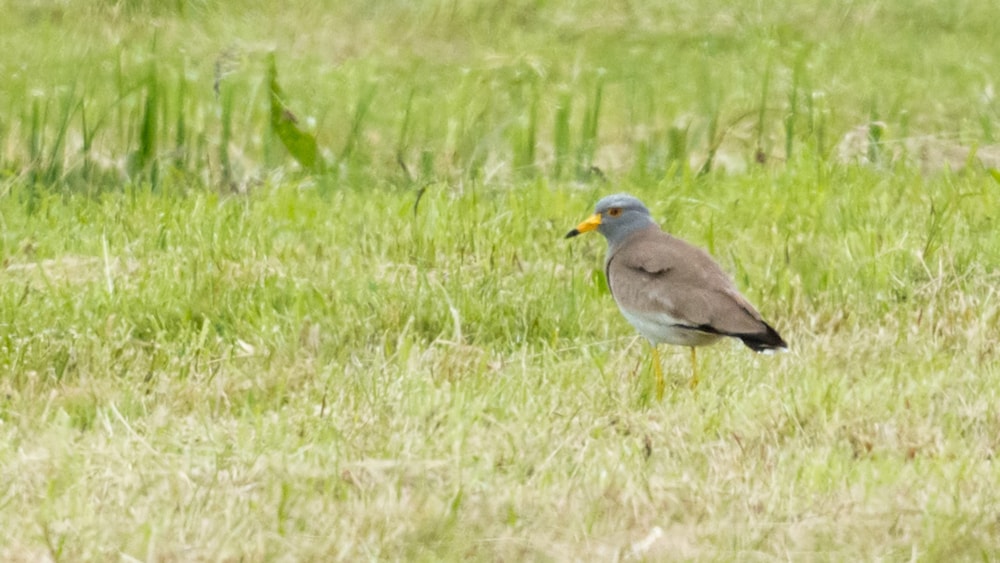 Grey-headed Lapwing, Workum, Friesland (Arnoud B van Berg).
Amazingly, the aforementioned Red-wattled Lapwing appears to have been photographed in the Croatian part of the Adriatic Sea on 14 May, on the island of Pag. A nice line drawn between this and the other four sightings shows a 1,400 km movement to the north-west – continuing this line a little further to the south-east brings you to the species' more regular haunts of Syria and Turkey. Perhaps it was written off rather too soon by some?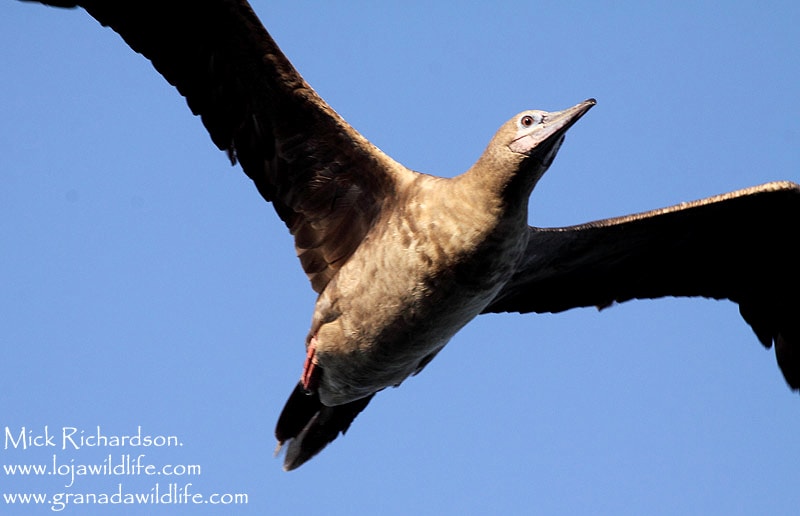 Red-footed Booby, Caleta de Velez, Andalucia (Mick Richardson).
Elsewhere in the Netherlands the Nutcracker remained until the 1st at least, while the enterprising Pied Crow ranged between bins in Burdaard and the island of Ameland throughout. A Spanish Sparrow graced Pianottoli-Caldarello, Corsica until 26th, while in Belgium the long-staying second-summer Pygmy Cormorant remained in Brussels until 27th.
A Rüppell's Vulture overflew El Picacho, Andalucía on 25th; a Cinereous Vulture in the Czech Republic on 24th was the country's third. In Spain, the reliable dark-morph Red-footed Booby continued to loaf around the harbour at Caleta de Velez until 1st.
The three first-summer Great White Pelicans remained in France at Réserve Naturelle de l'Étang des Landes until 2nd, while a Sandwich Tern colony at Polder de Sébastopol hosted a broody Elegant Tern – confirmed by its rings to be the individual that made many British twitchers happy along the south coast back in 2017.