The meteorological spring arrived over the weekend, but the lingering effects of Storm Jorge – the latest bout of wet and windy weather to hit Britain and Ireland – hardly made it feel that way. However, with the new working week came much brighter and more settled conditions, and temperatures cautiously crept up in the sunny spells.
Despite this room for optimism that the worst of this long and dreary winter might now be behind us, there was little to show or it on the bird front – we have had our first White Wagtails of the spring, and a Sand Martin was at Cotswold Water Park on 27th. Still no definitive Northern Wheatear, though … but most likely this weekend.
Indeed, the birding remained quite wintry, with the Tengmalm's Owl once again the big story of the week. News came to light on Monday that the bird had been trapped and ringed at Kergord on 14 February and, despite the suspicions that it was last year's bird returning, transpired to apparently be a first-winter bird on the basis of a lack of moult contrast and its overall fresh plumage.
What was even more bizarre that the bird was relocated at Lea Gardens in Tresta on 1st (and was still there the following day) – this of course the site where most connected and enjoyed crippling views of last winter's bird. That this new bird would show up in the same garden and on the same dates is one of the more rip-roaring coincidences ever seen in British birding – although some have their suspicions that both owls have been independently attracted to the site by the multitude of Common Frogs that have emerged from hibernation in recent days and are now breeding in the garden pond there. Fascinating stuff indeed.

Tengmalm's Owl, Tresta, Mainland, Shetland (Rebecca Nason).
The highlight of Ireland's week was a Two-barred Crossbill near Lough Gay, Co Limerick, on 26th – but alas it couldn't be found there the following day, despite searching. This remains an extremely rare bird in Ireland, with just about everyone still needing it for their lists – there are just a few accepted records, either historical or involving brief birds.
Another great Irish find was an extremely distinctive American Herring Gull at Sligo Town on 27th; it was there again the following day and then seen briefly on 2nd, but appears to be proving generally difficult to pin down.

American Herring Gull, Sligo, Sligo (Seamus Feeney).
No such problems with the Co Cork bird at Castletownbere, which was showing to within a few feet along the pier there on 27-28th. It appears to be a better winter for 'smiths' than we've had in a number of years; the last notable influx of this species was as long ago as 2004 and it remains a prize find for birders anywhere – albeit especially so in Britain, where there have been precious few easily twitchable birds over the years.

American Herring Gull, Castletown Bearhaven, Cork (Dante Shepherd).
A Black-bellied Dipper at Sywell CP on 29th caused a stir in the Northamptonshire birding scene – the first Dipper anywhere in the county since 1996 (and the 17th ever), it naturally drew a crowd and proved typically confiding. However, it was an all-too-brief affair, being last seen on 2nd after reportedly narrowly evading the attentions of a local Eurasian Sparrowhawk and subsequently hiding in a pipe along the stream there for a number of hours.

Black-bellied Dipper, Sywell CP, Northamptonshire (Dave Jackson).

Ferruginous Duck, Wolverhampton, West Midlands (Ivan Sansom).
Otherwise it was a fairly predictable line-up of highlights, with the White-winged Scoter still off the Lothian coast and the Steller's Eider again off Papa Westray on 3rd, Ferruginous Duck on show in Hampshire and West Midlands (the latter presumably being the Warwickshire bird moving to a park lake in Wolverhampton from 27th), Blue-winged Teal in Devon, Grey-bellied Brant in Lancashire, Richardson's Cackling Geese on Lewis and Islay and Pacific Diver in western Co Cork.
Wader-wise, the Long-billed Dowitcher surprisingly reappeared at Martin Mere WWT, Lancs, on 26-27th after its brief trip to Cheshire last week; the Co Wexford bird was also seen at Tacumshin. Also in that county, the Bonaparte's Gull was seen again at Kilmore Quay.

Black-throated Thrush, Grimsby, Lincolnshire (Craig Bell).
A familiar story for passerines saw the Black-throated Thrush in Grimsby, Lincs, and Siberian Stonechat at Ashton's Flash, Cheshire, stick around all week. However, the Eastern Yellow Wagtail wasn't reported from Prestwick Carr, Northumbs, beyond 26th, while the Norfolk bird has also become much more mobile, being seen only a couple of times over the past seven days.
Scottish mainland
A quiet week in Caithness produced little more than the usual white-winged gulls, but a Surf Scoter off Embo was a nice record for Highland – and the Ruddy Shelduck was reported regularly from Udale Bay, too.
Nine Waxwings in Elgin, Moray, were the first reported there in some time – northbound migrants? Nearby, a Rough-legged Buzzard was reported at Nether Dallachy on 3rd. A few Iceland and Glaucous Gulls graced Aberdeenshire, with the Smew still at Loch of Strathbeg and a Tundra Bean Goose near Blairdaff.

Waxwing, Irvine, Ayrshire (David Lynn).
A drake Green-winged Teal was at Rescobie Loch, Angus, on 2nd, with the Great Grey Shrike continuing at Backwater Reservoir and 30 Hawfinches as Scone Palace, Perthshire. Smew remained at Lochore Meadows, Fife, and Lochwinnoch RSPB, Clyde.
One or two Surf Scoter continued off Musselburgh, Lothian, with a Tundra Bean Goose in the Skateraw area. The Snow Goose was still near New Cumnock, Ayrshire, and a scattering of both white-winged gull species were noted in Argyll and western Highland.
Northern Isles and the Hebrides
A Snow Goose was again seen on North Uist this week, with the Green-winged Teal still at Loch Bee, South Uist, and the Ring-necked Duck still on Barra.
Red-necked Grebe is a decent Orkney bird and one off St Mary's, Mainland, all week was notable. A White-billed Diver was off the coast of Papa Westray and the Green-winged Teal loitered on North Ronaldsay, but the isles offered little else other than a light scattering of white-winged gulls.

Iceland Gull, Lerwick, Mainland, Shetland (Rebecca Nason).
Gulls were also the order of the day on Shetland, with precious few birds of note otherwise – save a roaming White-tailed Eagle on Mainland.
North-East England
A Rough-legged Buzzard was near Allendale, Northumberland, on 27th, while a Great Grey Shrike spent a few days near Kirkharle to 1st and the Common Crane was again at Middleton. The Grindon Lough American Wigeon remained. Lingering stalwarts included Iceland Gulls at North Shields and Big Waters NR, Hooded Crow at Linton and Smew at Widdrington Moor Lake.
A possible White-billed Diver flew past Whitburn, Durham, on 26th, where a Water Pipit remained. A couple of flocks of Waxwings were also noted and a juvenile Iceland Gull was a brief visitor to Sunderland.

Greenland White-fronted Goose, Big Waters NR, Northumberland (Edwin Marshall).
Both Black Redstart and Lapland Bunting were among the good birds seen at Skinningrove, Cleveland, this week, while the third-winter Glaucous Gull remained in residence at Saltholme RSPB and the Ruddy Shelduck stuck around at Cowpen Marsh.

North-West England
In Cumbria, a blue-morph Snow Goose turned up at South Walney NR on 29th and a Siberian Chfifchaff was at Longtown on 1st. Further south in Lancashire, the Ring-necked Duck remained at Pine Lake until the morning of the 1st. Little Gulls continue at a selection of coastal locations, and a juvenile Iceland Gull was on the floodplain at Altham on 1st.
The Todd's Canada Goose was reported again at Crossens Outer Marsh on 2nd and could easily be the bird reported at Burscough Moss the day before. The redhead Smew at Brockholes LWT also stayed put.

Siberian Chiffchaff, Longtown, Cumbria (Sam Northwood).
Down in Cheshire the adult Kumlien's Gull made a few appearances at Sandbach Flashes, but there were no further sightings after the 29th. A Great Grey Shrike is a nice county record so that at Wrenbury on 28th could prove popular with locals if refound. There was a Russian White-fronted Goose at Bereton Heath CP on the 28th, and the first White Wagtails of the year touched down at Leasowe and Burton Mere Wetlands RSPB.
The adult Iceland Gull was again reported at several locations in Greater Manchester.
Lincolnshire and Yorkshire
A Hooded Crow at Anderby Creek on 2nd was arguably bird of the week in Lincolnshire, although the huge Water Pipit roost at Gibraltar Point continued – an astonishing 97 were logged on 1st. Two Tundra Bean Geese continued on the adjacent Croft Marsh, while up to three Long-eared Owls were still roosting at Deeping Lakes NR.
Both Green-winged Teal and Tundra Bean Goose were still at North Cave Wetlands, East Yorkshire, while Spurn produced an early migrant Firecrest on 3rd. The Smew stuck around at Hornsea Mere. A Richard's Pipit was at Flamborough Head on 3rd.

Tundra Bean Goose, North Cave Wetlands YWT, East Yorkshire (Steve Cribbin).
Nosterfield retained its Lesser Yellowlegs and Smew, while the Western Cattle Egret festered away at Bolton-on-Swale YWT. A Greenland White-fronted Goose at Staveley YWT was a significant county record.
Redcar Tarn remained the place to be for views of both Caspian and Iceland Gulls, although the latter species was also seen at St Aidan's RSPB, Wintersett Reservoir, Old Moor RSPB and Lakeside, Doncaster. The Ring-necked Duck loitered at Johnny Brown's Common throughout, as were Great Grey Shrike and Siberian Chiffchaff at Hatfield Moors.
Content continues after advertisements
West Midlands
Draycote Water continues to carry the weight of Warwickshire's birds: the Black-necked Grebe and three Greater Scaup remain, and the adult Iceland and first-winter Caspian Gull are still roosting. A third-winter Iceland Gull made a brief visit to Lutley Wedge, West Midlands, early on the 27th.
In Worcesteshire, the loyal juvenile Glaucous Gull returned to roost nightly at Upton Warren NR. The juvenile Iceland Gull was again at Upton-upon-Severn each evening. Other birds included a Waxwing at Blackminster, drake Smew still at Bredon's Hardwick and long-staying Long-tailed Duck at Clifton Pits.

Waxwing, Blackminster, Worcestershire (Nick Truby).
Hawfinches are still at two sites in Shropshire and the Snow Bunting was again seen at Titterstone Clee Hill. A pair of Western Cattle Egrets were along Strine Brook on the 1st. Staffordshire was a repeat of last week, with the Great Grey Shrike still at Cannock Chase and Iceland Gulls at Chasewater and Poplars Landfill, Cannock.
East Midlands
Scarce grebes lingered in Nottinghamshire, with the Red-necked Grebe at Holme Pierrepoint and Slavonian Grebe at Attenborough NR.
Young European Shags were reported at Howard Park, Glossop, and Carsington Water and, with no overlap in reports, both sightings could refer to the same bird. Both Great Northern Divers continued their winter-long stay at the latter site.

European Shag, Glossop, Derbyshire (Paul Greenall).
Rutland Water continues to provide a decent day out; with 10 Smew, Red-necked, Slavonian and two Black-necked Grebes all up for grabs. Three Waxwings graced Harrington Airfield, Northants, on the 26th, and Caspian Gulls were again at Ruston landfill and Stanford Res.

East of England
In Norfolk, the drake Green-winged Teal appeared at Breydon Water for the first time in nearly a month on 1st, though soon vanished again. The Fincham Great Grey Shrike continued to draw a crowd, while a Rough-legged Buzzard flew over Acle on 26th. Nearby, a redhead Smew was a decent record at Filby Broad on 3rd. On the same date, at least two Lapland Buntings were reported as still coming to a feeding station at Winterton Holmes.

Ring-necked Duck, Priory CP, Bedfordshire (Simon Jeffs).
Minsmere's Green-winged Teal was present most days during the review period, along with the redhead Smew at the same site. There were a couple of Waxwing reports in Suffolk, too, as well as the continuing first-winter Black Brant at Falkenham.
A few tentative signs of spring did – or maybe didn't – reveal themselves in Essex: a White Wagtail was on Stow Marsh on 2nd, though a possible Northern Wheatear at The Naze on 29th was unconfirmed. The Black Brant was still on the Blackwater Estuary throughout, too. Cambridgeshire had a relatively quiet week, though a juvenile Iceland Gull at Foxton was a nice find.
In Hertfordshire, a Swallow at Startop's End Reservoir on 28th was yet another sign of the turning seasons. In the same county, a drake Smew was at Lee Valley CP on 1st and a Kittiwake roosted at Wilstone Reservoir on 3rd. In Bedfordshire, the Ring-necked Duck and Great Grey Shrike duo continued throughout.
South-East England
The long-staying Badminston GPs Hoopoe seemingly had enough by 26th, when it was reported for what looks like the last time. In the same county, and in a similar vein to last year, an immature White-tailed Eagle appeared at Blashford Lakes. First seen on 26th, it was spotted again on 1st and is presumably the bird that was wandering around the New Forest last week. Could it be last year's ringed (and wild) bird returning? Elsewhere in Hampshire, the Great Grey Shrike remained at Holm Hill.

White-tailed Eagle, Blashford Lakes HWT, Hampshire (Drew Lyness).
Theale GPs, Berks, enjoyed a Black-necked Grebe, while Oxfordshire held onto its nice collection of wildfowl including Smew, Greater Scaup and Garganey. Buckinghamshire also had some decent ducks – a drake Garganey was at Stowe Park from 1st, while a Red-breasted Merganser was briefly at the same site on the same day. The Pitstone Hill Ring Ouzel was still knocking about throughout.
It wasn't a bad week in the capital. Eight Waxwings at Beckenham on 29th was a brief bolt out of the blue, two Russian White-fronted Geese were at Dagenham Chase on 3rd and House Martin was at Harmondsworth on 1st. Some 16 Jack Snipe was a noteworthy modern-day record at Beddington Farmlands on 26th. The Mitcham Yellow-browed Warbler and two Siberian Chiffchaffs were at Poulter Park throughout.
In Surrey, the first-winter Great Grey Shrike continued to perform fairly well at Frensham Common and the two Great Northern Divers remained at Island Barn Reservoir. West Sussex had a fairly quiet week, though there was entertainment at Pulborough Brooks: a drake Garganey on 26th was a candidate for the first genuine spring migrant of 2020, while a Pale-bellied Brent Goose – notable anywhere in the south-east, let alone inland – spend the entire review period on site.

Great Grey Shrike, Frensham Common, Surrey (Mike Young).
East Sussex too had a quiet time, with a White Stork at Michelham on 2nd of unknown origin. The female Ring Ouzel remained at Cuckmere Haven. Maybe the same White Stork flew over the A21 near Sevenoaks, Kent, on 26th. Also in Kent, both Iceland and Glaucous Gulls were available at Dungeness, where a Red-necked Grebe remained on the RSPB reserve – the Cliffe Pools bird was also still present. On the north coast, two Sibe Chiffs were found at Minster, Sheppey, on 29th and two male White Wagtails were at Binney Marshes on 3rd.
South-West England
On Scilly, the two Choughs were still knocking about. The best bird in Cornwall was a White-billed Diver, found off Cape Cornwall on 27th. Elsewhere in the county, the Ring-billed Gull, assorted white-wingers, Lapland Buntings, Lesser Scaup and Ring-necked Duck remained, while new discoveries included a Kumlien's Gull on the Hayle Estuary on 1st, a Yellow-browed Warbler at Veryan on the same date and a Hooded Crow at Crugmeer on 26th, the latter lingering all week.
Devon delights included the first House Martin of the year at Berry Head on 28th, along with the continuing Glossy Ibis at Fremington Quay and Ring-necked Duck at Tamar Lakes. A juvenile Glaucous Gull was on Lundy on 1st. Things were rather quiet in Dorset, save the Radipole Lake Eurasian Penduline Tit, Wareham Forest Great Grey Shrike and a smattering of Siberian Chiffchaffs.
Somerset and Bristol find of the week came at Wimbleball Lake, when a Ring-necked Duck was discovered with Tufties for one day only on 26th. Elsewhere in the county the Barrow Gurney Reservoirs triumvirate (Long-tailed Duck, Black-throated and Great Northern Diver) were still present, as was the Great Grey Shrike at Croydon Hill.
Over in Gloucestershire, the Snowshill Great Grey Shrike was logged for the first time in a month, while the Crabtree Hill individual was still present. Two Waxwings were in Cirencester on 29th, while a Sand Martin at Cotswold Water Park won the first migrant hirundine of 2020 award on 27th. A juvenile Iceland Gull at Wootton Bassett on 28th and the continuing Yellow-browed Warbler at Westbury highlighted in Wiltshire.
Wales
North Wales is proving to be something of a winter hot-spot for Rosy Starling, with a first-winter found in a garden at Llanfaethlu, Anglesey, on 27th continuing the recent trend. It has apparently been present for some three weeks.
The drake Green-winged Teal was still on the floods at Llanengan, Gwynedd, throughout the week, and the drake Ring-necked Duck was again at Llyn Pendam, Ceredigion. A drake Velvet Scoter was a welcome local sighting just offshore to the north of Benllech, Anglesey, on 3rd.

Rosy Starling, Llanfaethlu, Anglesey (J Martin Jones).
Down in Gwent, the resident Glossy Ibis was still on show at Newport Wetlands, as were the seven Eurasian Spoonbills at Llanelli WWT, Carmarthen. Great Grey Shrikes remained at three localities in the south. The juvenile Kumlien's Gull continued to stick around the river at Aberavon, Glamorgan.
Republic of Ireland
The American Wigeon was once more at Culdaff, Co Donegal, with another drake (and a Green-winged Teal) at East Coast NR, Co Wicklow. The trio of Ring-necked Duck were hit and miss at Lough Atariff, Co Cork, being present again on 1st, while singles were at four other sites.
A Glossy Ibis was a new find at Castledermot, Co Kildare, on 28th, with another still at Pilmore, Co Cork. A Grey Phalarope was on the Co Donegal side of Lough Foyle on 26th.

Iceland Gull, Waterville, Kerry (Dante Shepherd).
Adult Ring-billed Gulls were seen at five localities, including three different birds in Co Kerry. White-winged gull numbers were still low, but better at least than they have been of late – some 15 each of Iceland and Glaucous Gulls were noted, including seven of the former at Killybegs alone.
Northern Ireland
The Lesser Scaup was again at Portmore Lough, Co Antrim, on 26th, with small groups of Waxwings in Belfast and Doagh. A Eurasian Spoonbill was at Castle Espie WWT on 1st, while the Black Redstart hung on at Portstewart, Co Derry.
Western Palearctic
A remarkable story emerged from Azerbaijan this week – 'Omid', the last Siberian Crane from the relic western population, was seen roosting at Shirvan NP on 1st. The incredible story of both this bird and its discovery in the WP can be read here. Sadly for would-be twitchers, it hasn't been seen since.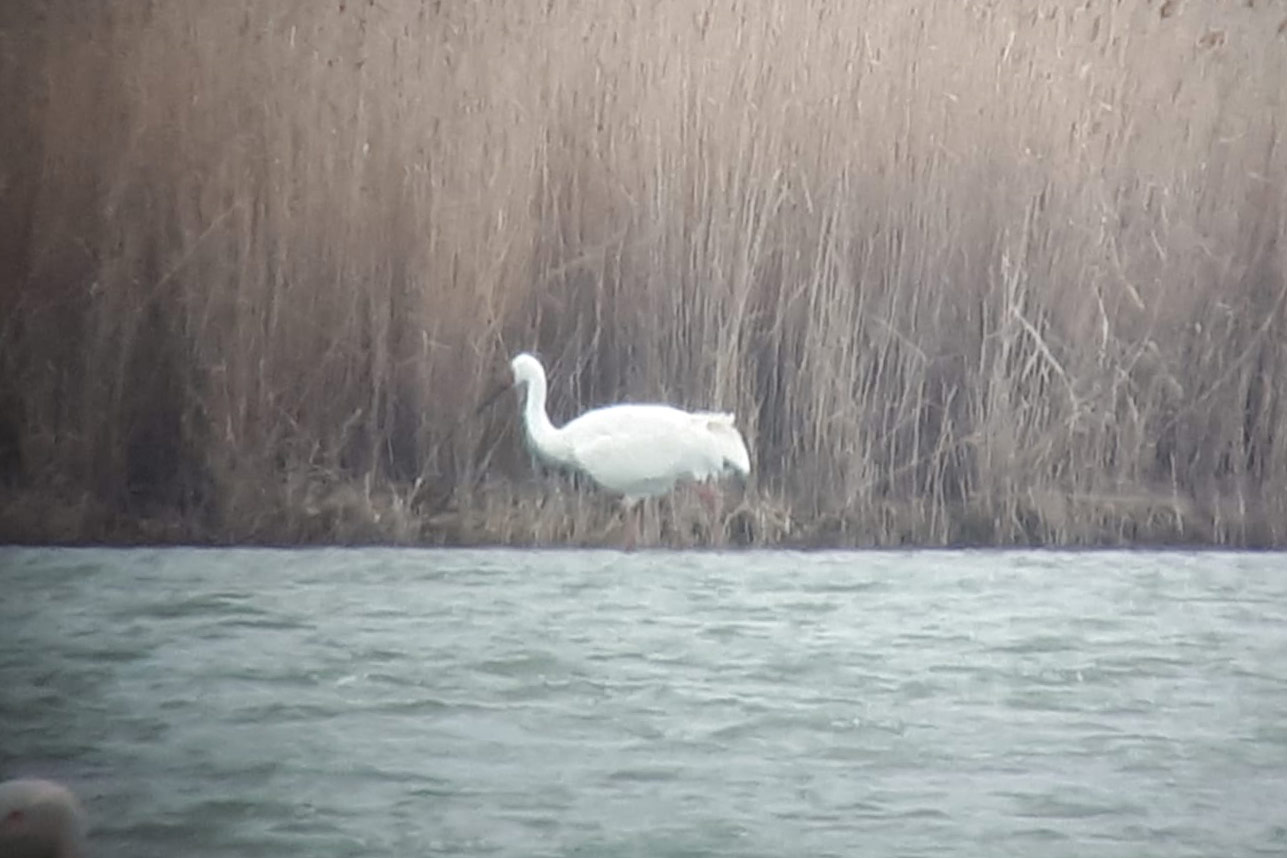 Siberian Crane 'Omid', Shirvan NP, Azerbaijan (Ernst Albegger).
On the Canaries, the post-Saharan sandstorm fallout continued to deliver many unusual North African species for the archipelago, including Seebohm's, White-crowned, Desert and Isabelline Wheatears, Bar-tailed Lark, Tristram's Warbler and Pale Crag Martin. The Abyssinian Roller remained on Gran Canaria, too.

Abyssinian Roller, Las Palmas de Gran Canaria, Gran Canaria (Lee Gregory).
For what is still a WP mega, there have been quite a number of Dwarf Bittern records during the last three years – another was found on Cape Verde, at Tarrafal, Santiago, on 26th. An adult drake Stejneger's Scoter at Sandflugtplantage, Denmark, was a third for the country when found on 27th, and a Pacific Diver was at the same site.
Many of the wintering bits in France and the Low Countries continued, as did both the Masked Wagtail and Green-headed Wagtail in Sweden. On Guernsey, the American Royal Tern lingered. 'Cipriana', the returning adult Thayer's Gull, was back at Lago fish farm in Galicia, on 26th. Elsewhere in Spain, the Lesser Flamingo was still at Laguna de Fuente de Piedra and the Sociable Lapwing remained in Extremadura.
On 28th in Finland, two Azure Tits were at Ruskis, not too far from Helsinki. Despite its geographical position, Iceland receives far too few American Herring Gulls, hence a first-winter at Stykkishólmur on 29th was welcome.