A possible Bermuda Petrel was belatedly reported past Berry Head, Devon, on 27th. Described as a bizarre 'white-headed' Manx Shearwater at the time, in-field views had the observer struggling to match it up to a Black-capped Petrel, or anything else for that matter. It wasn't until the finder had taken stock several days later that the penny dropped that the bird in question was actually a strong match for Bermuda Petrel, with noted features including bow-shaped wings with a striking black and white underwing pattern, a thick, darker leading edge and a black ulnar wing bar, as well as a white face and forehead. The species has only been recorded once in the vicinity of Britain and Ireland before, with a famous 'Cahow' photographed at the Porcupine Bank south-east of Co Cork on 17 May 2014, although geolocator records show the species regularly wintering in waters west of Ireland.
Traditionally a feature of late autumn migration proceedings, this week's Isabelline Wheatear at Carmel Head, Anglesey, proved quite a surprise for the lucky finder and sole observer. The first August bird on record, it was just shy of two weeks earlier than the previous record holder, from Bardsey Island on 10 September 2019.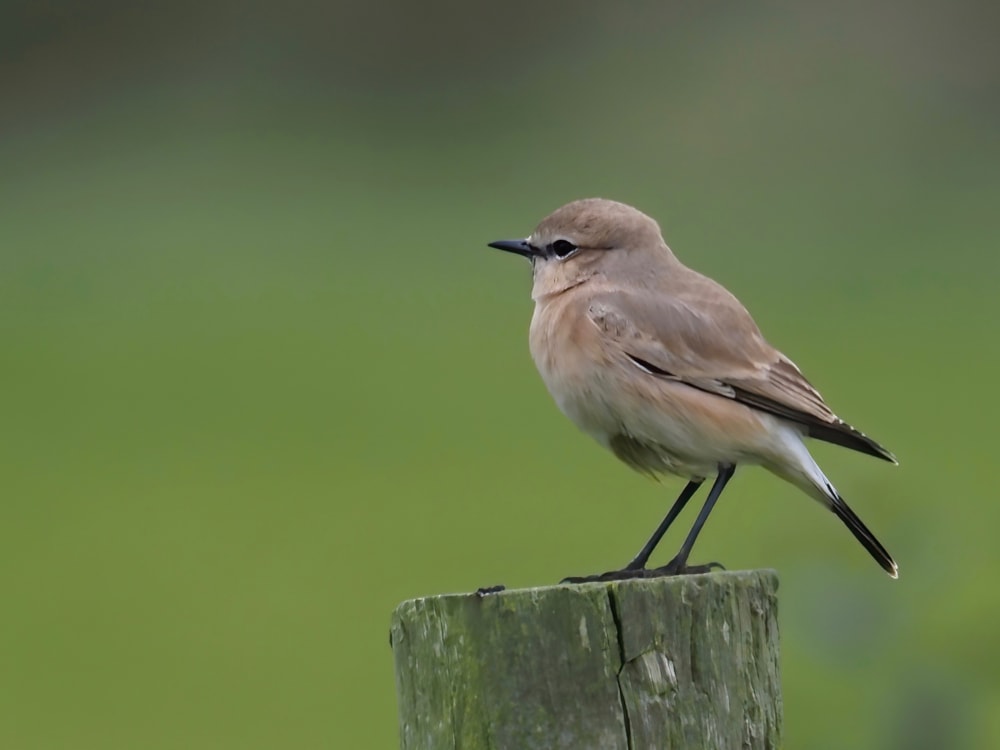 Isabelline Wheatear, Carmel Head, Anglesey (Mark Sutton).
It's always a miraculous day when finding one rare bird can lead to the discovery of something even rarer, but that is exactly the precious birding moment that greeted Lundy warden Dean Jones on 26th, when following an adult Sabine's Gull in a flock of Kittiwakes off Ugly provided the reward of an adult Bridled Tern perched on some floating seaweed. A change from the Sooty Tern that's been a regular feature of the summer months, it was present for all of 30 seconds before flying off south-east. This is Devon's – and Lundy's – first live record of Bridled Tern, the only previous record concerning a specimen found on the island on 22 April 1977.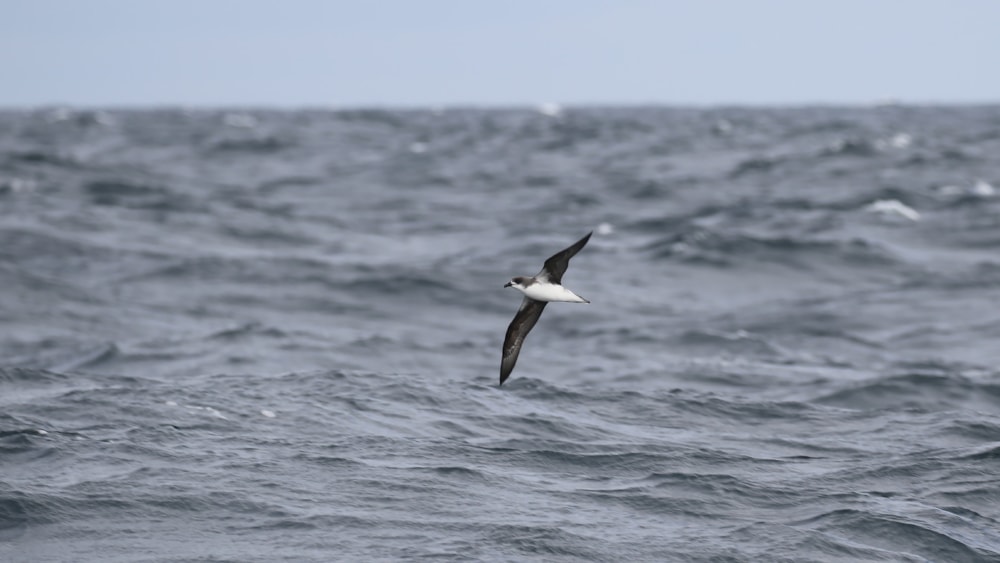 Fea's-type petrel, at sea, Cork (Paul Connaughton).
An adult Brown Booby flew west past Pendeen, Cornwall, on 27th, a year and a day after Britain's second record at St Ives, along the same stretch of coastline. A Fea's-type petrel, safely ruling out Zino's on this occasion, was photographed 64 km WSW of Mizen Head, Co Cork, on 29th. A possible albatross sp was reported distantly north past Hartlepool Headland on 26th.
In Derbyshire, the young Bearded Vulture remained faithful to the Crowden area all week and continued to covet a long list of admirers.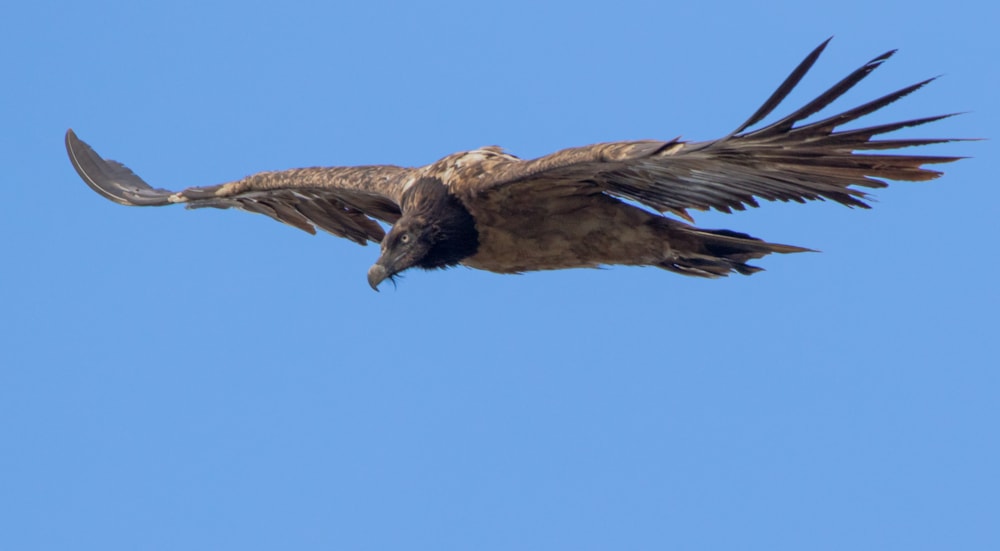 Bearded Vulture, Crowden, Derbyshire (Martin Loftus).
The first of what will hopefully be another impressive autumn for Pallid Harriers concerned an awesome juvenile at Thorney Island, West Sussex, on 31-1st, before flying high SSW towards Hampshire. In the Outer Hebrides, St Kilda's semi-resident Snowy Owl 'Snedge' made a reappearance on 31st.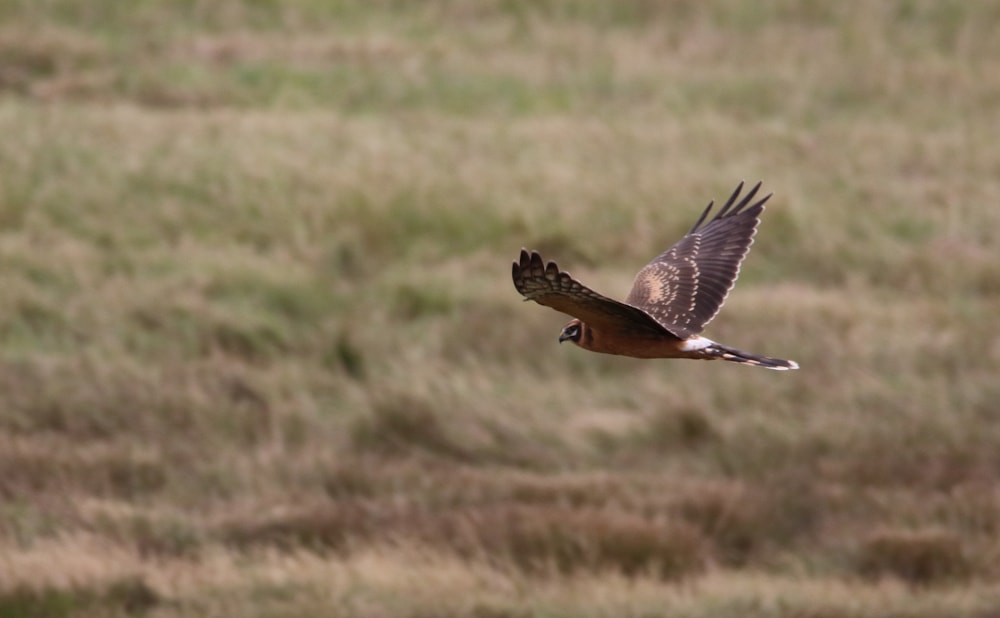 Pallid Harrier, Thorney Island, West Sussex (Paul Evans).
Autumn seems to be getting earlier and earlier every year – August's first-ever Yellow-browed Warbler on North Ronaldsay on 31st certainly helps to whet the appetite for what is bound to be an exciting couple of months. The island had quite the purple patch on 30th, with both a Subalpine Warbler and Fea's-type petrel reported within minutes of each other.
On Mull, Argyll, the crimson-red male Two Barred Crossbill remained on holiday cottage peanut feeders at Dervaig until 28th. Another Two-barred Crossbill, a juvenile this time, was on Fair Isle on 26th, while the island also scored a new Thrush Nightingale on 28th. An unassigned Subalpine Warbler was briefly at Holland Haven CP on 1st, while Whitburn Coastal Park, Durham, scored a Booted Warbler on 29-30th, a rather tricky mainland bird.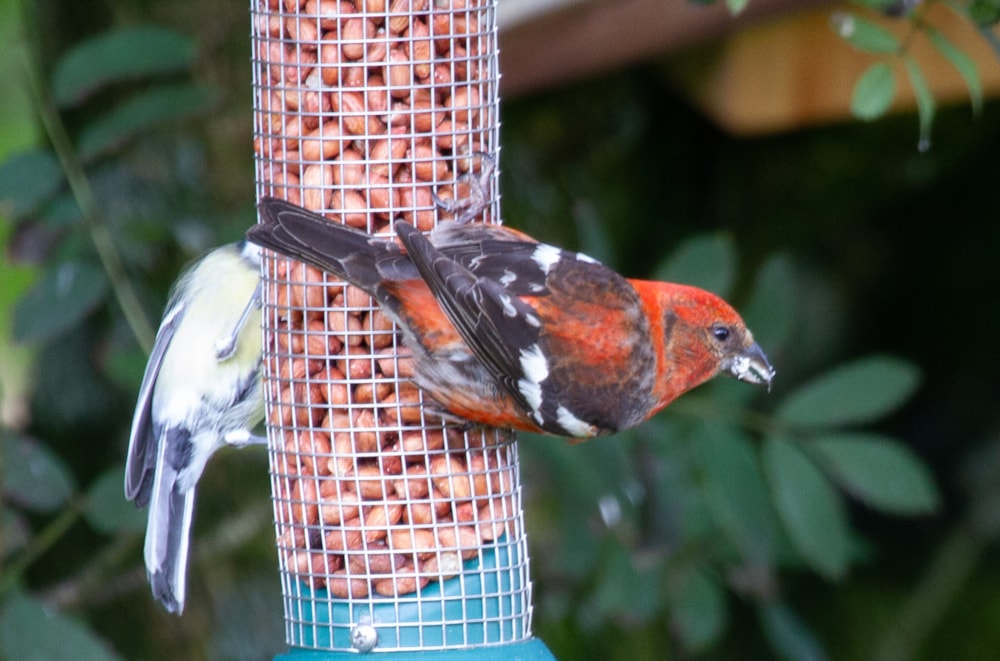 Two-barred Crossbill, Dervaig, Mull, Argyll (Alan Spellman).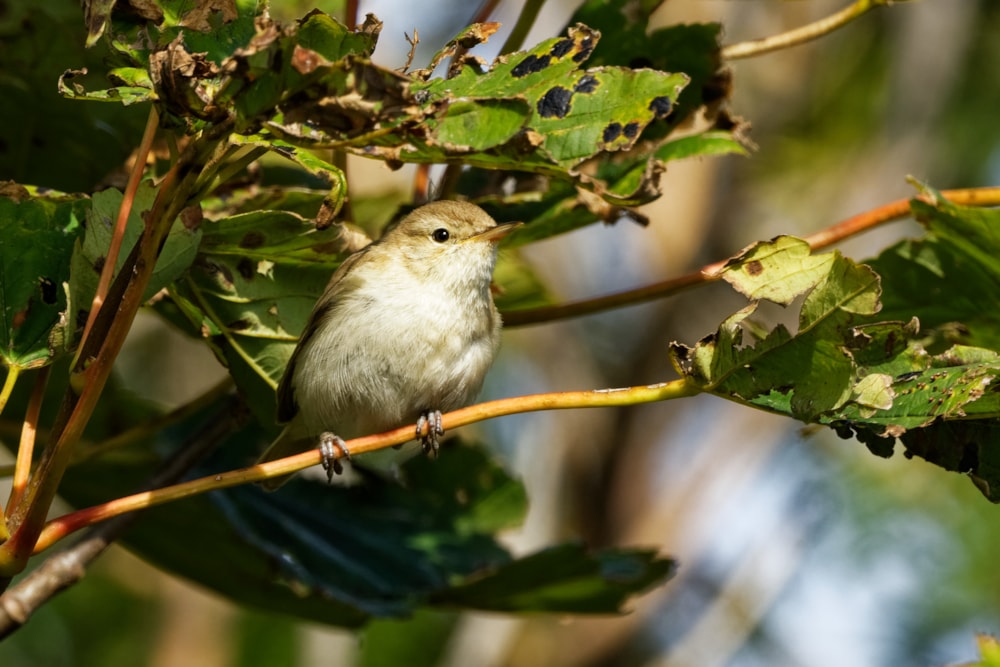 Booted Warbler, Whitburn Coastal Park, Durham (Andrew Jarwick).
Cheshire saw a new Bonaparte's Gull to end the week, with one west of the lighthouse at Hale. In Argyll, Loch Gruinart RSPB, Islay, hosted another new bird – an adult this time – while the Kent adult remained in situ at Oare Marshes NR. Another Gull-billed Tern, potentially the Co Cork bird relocating, was at The Cull, Co Wexford, on 31st. An adult Caspian Tern was reported to the north of Huttoft Bank, Lincolnshire, on 30th.
Scilly scored on 30th, with a Spotted Sandpiper enjoying the environs around Porth Hellick. Elsewhere, Cumbria's adult Long-billed Dowitcher hung on at Old Anthorn through 1st, while the American Black Duck remained in place at Strontian, Highland.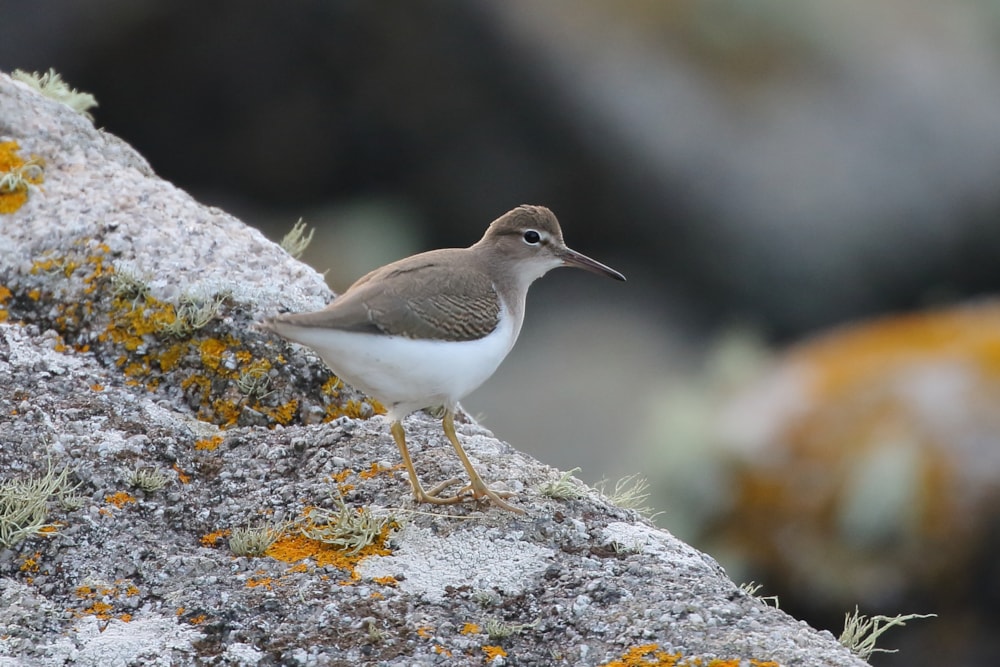 Spotted Sandpiper, St Mary's, Isles of Scilly (Scott Reid).
Scottish mainland
A report of two White Storks south of Fortrose, Highland, on 27th was rather intriguing – less surprising was a European Honey Buzzard south over Udale Bay in classic migration weather on 30th. In Ayrshire, Doonfoot's popular Spotted Crake delighted throughout.
The 26th was the day of Greenish Warblers, with individuals at Mire Loch, Lothian, and Tarbat Ness, Highland; the latter site also host to a Wood Warbler on the same date. Meanwhile, Hoopoes were recorded at Belhaven Bay, Lothian, on 26-27th and Drumoak, Aberdeens, on 30th. A Common Rosefinch was at Cotehill Loch, Aberdeens, on 28th, with a Barred Warbler by the power station at Torness, Lothian, two days later. The lone Wryneck report of the week came from Aberdeens at Inverbervie's Craig David Croft on 26th.
A moulting adult White-billed Diver was in Dunnet Bay, Caithness, while reliable Red-necked Grebes remained at Ferny Ness, Lothian, and Hogganfield Loch, Clyde. Long-tailed Skuas flew past Kinghorn and the Isle of May, Fife, and Noss Head, Caithness, while Sabine's Gulls were at Hilton of Cadboll and Ullapool, Highland.
A rare site anywhere across the Isles, a pair of twitchable Northern Bottlenose Whales in Loch Goil, Argyll, from 25th is more than worthy of a mention.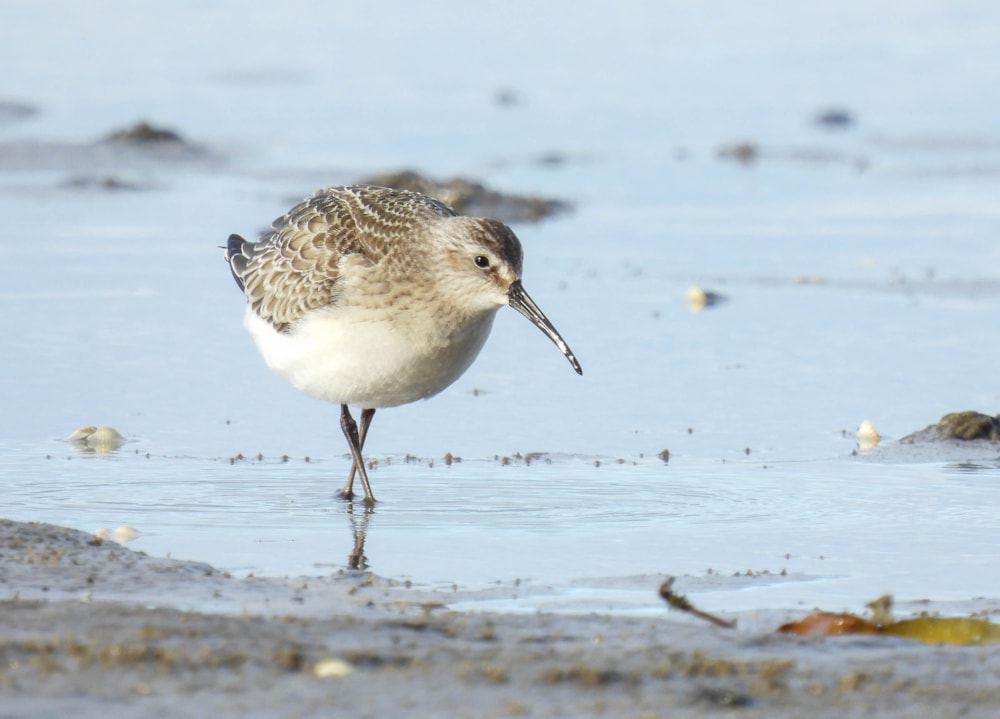 Curlew Sandpiper, Whiteness Bay, Highland (Colin Leslie).
Northern Isles and the Hebrides
A juvenile White-winged Tern at Echna Loch, Burray, from 31st was one of the stars from Orkney this week, darting between the loch and nearby sea. On the Mainland, a Rough-legged Buzzard flew over clifftop fields at Mull Head on 26th. A dapper adult Citrine Wagtail was on Sanday from 26-29th; the island also hosting a Curlew Sandpiper and Wood Warbler. Totals from North Ronaldsay included no fewer than two Barred Warblers, three Common Rosefinches, two Curlew Sandpipers and a Eurasian Hobby, while a Sabine's Gull flew past on 27th. Two Barred Warblers were on Papa Westray.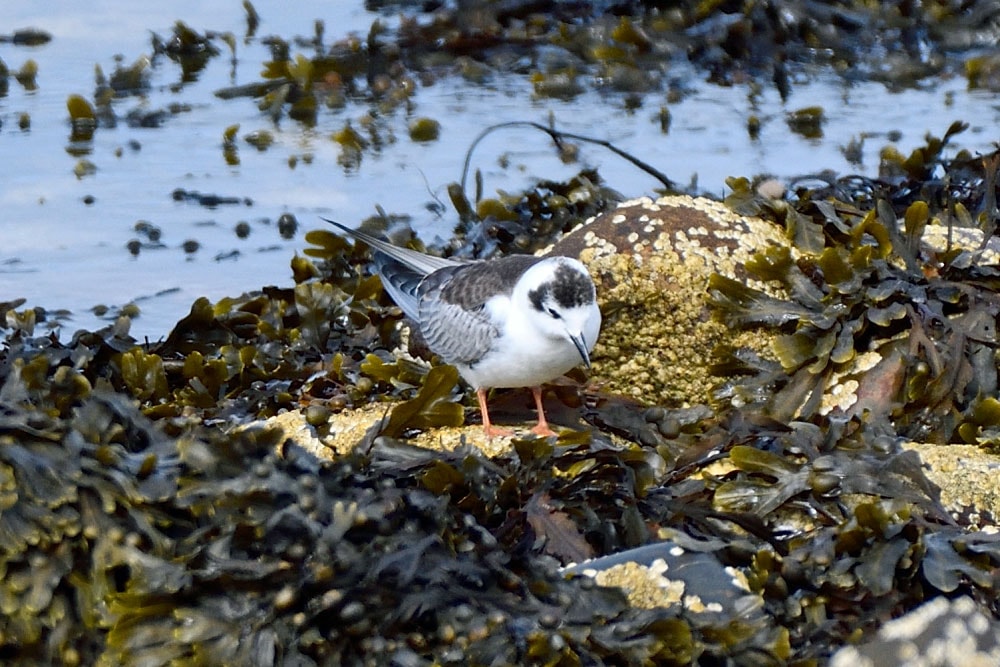 White-winged Tern, Echna Loch, Burray, Orkney (Ian Cunningham).
On Shetland, the 1st saw Arctic Warblers at Skaw, Unst, and Camb, Yell. Greenish Warblers were at Loch of Spiggie, Mainland and Valyie, Unst, while two sites hosted Icterine Warblers – Sandwick, Whalsay, and Hestingott, Mainland. A Blyth's Reed Warbler was at Rerwick, Mainland, on 30th, while a Red-backed Shrike was at Swinister on 26th and a Rosy Starling was at Haroldswick, Unst, on the same date.
A lone Wryneck was at Pool of Virkie, Mainland, on 27th, was replaced by a Citrine Wagtail on 31st. Halligarth, Unst, hosted a Marsh Warbler on 28th, while a likely candidate for a Scandinavian Great Spotted Woodpecker was at Mid Yell from 27th. Wood Warblers were scattered across the islands throughout the week. A Barred Warbler was the Foula highlight on 27th, while the Out Skerries hosted a Common Rosefinch on 30th.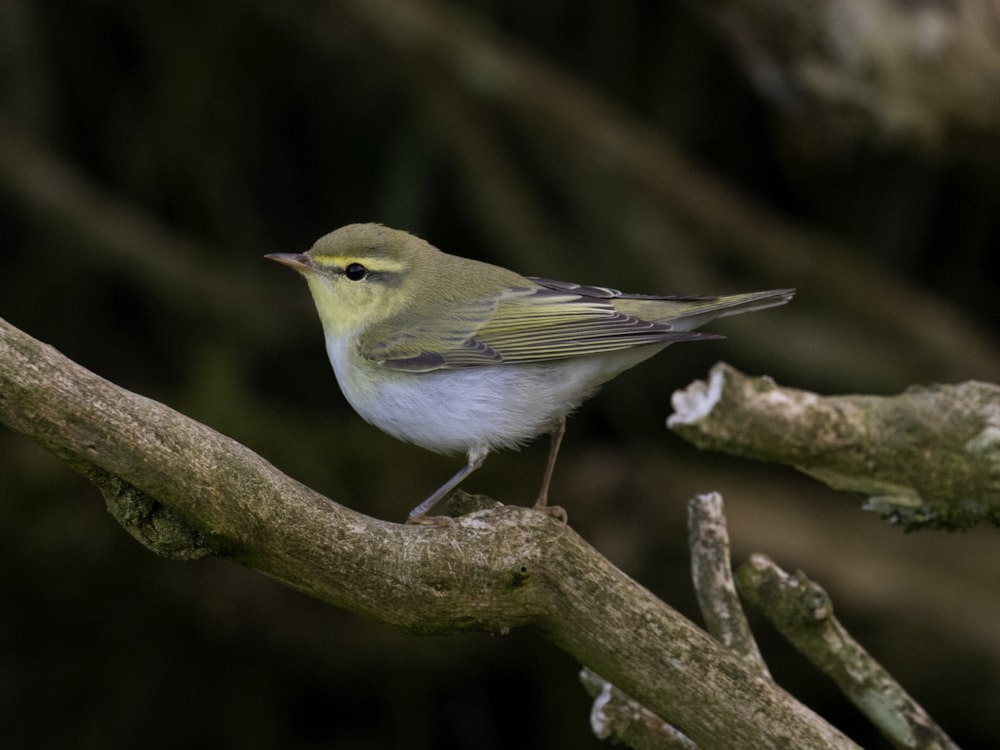 Wood Warbler, Unst, Shetland (Jamie Partridge).
An adult American Golden Plover was on Yell at Loch of Papil from 29th; an adult Long-tailed Skua was on the island the previous day. Arguably the biggest local rarity in this impressive roll-call, a juvenile Black-necked Grebe was at Loch of Urafirth, Mainland, from 31st.
Two different Arctic Warblers were on Fair Isle from 31st, while the week saw multiples of Red-backed Shrike, Barred Warbler and Common Rosefinch, while a Wood Warbler was recorded on 31st. The juvenile Rosy Starling continued exploring the bins at Lower Stonybreck.
It was a quiet week in the Outer Hebrides; a small influx of Curlew Sandpipers saw birds at eight sites, while a Leach's Storm Petrel was off Cleat, Barra, on 1st.

Arctic Warbler, Fair Isle, Shetland (Daniel Gornall).
North-East England
In Northumberland, a Greenish Warbler on 30-31st on the ash lagoon bank at Newbiggin-by-the-Sea. A brief male Blue-headed Wagtail was at St Mary's Island on 1st. Curlew Sandpipers were noted at six sites, with a Little Stint at Cresswell Pond and a Wood Sandpiper at East Chevington. Good numbers of Long-tailed and Pomarine Skuas were offshore, with Newbiggin seeing both species on multiple dates. Also passing the county's seawatching hot-spot during the week were a Leach's Storm Petrel on 28th, adult Sabine's Gull on 29th, and a White-billed Diver on 31st. Great Shearwaters flew past Holy Island on 28th as well as Howick and Annstead on 29th.
Skuas again dominated the Cleveland headlines in the early part of the week, with a notable count of 14 Long-tailed Skuas south past Hartlepool Headland on 28th. Pomarine Skuas were noted at three sites. Other highlights include a Great Shearwater past Cowbar on 30th and a Leach's Storm Petrel at Hartlepool Headland on 28th. Curlew Sandpipers were at Greatham Creek and Saltholme RSPB, while a Wood Sandpiper was at the latter site. A Little Stint was at Greatham Creek on 1st.
Durham hosted a sprightly adult Sabine's Gull past Whitburn Coastal Park on 28th, with Long-tailed Skuas passing the site throughout the week. Curlew Sandpipers enjoyed the habitats of Whitburn Steel and Boldon Flats, with a Wood Sandpiper at the latter site. Two Ruddy Shelducks remained at Bishop Middleham until the end of the week.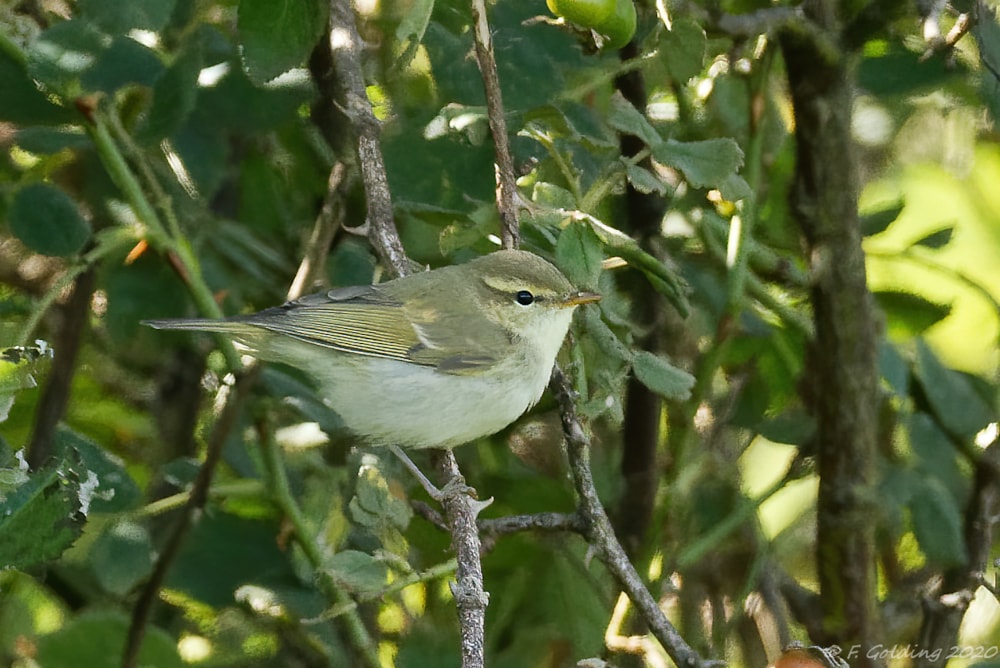 Greenish Warbler, Newbiggin-by-the-Sea, Northumberland (Frank Golding).
North-West England
South Walney NR was largely Cumbria's source of income this week, with six juvenile Curlew Sandpipers on 31st, when a Short-eared Owl was also present. The Hooded Crow has made a reappearance after sloping off to who-knows-where. Another Curlew Sandpiper was at Bowness-on-Solway alongside a Little Stint on 1st.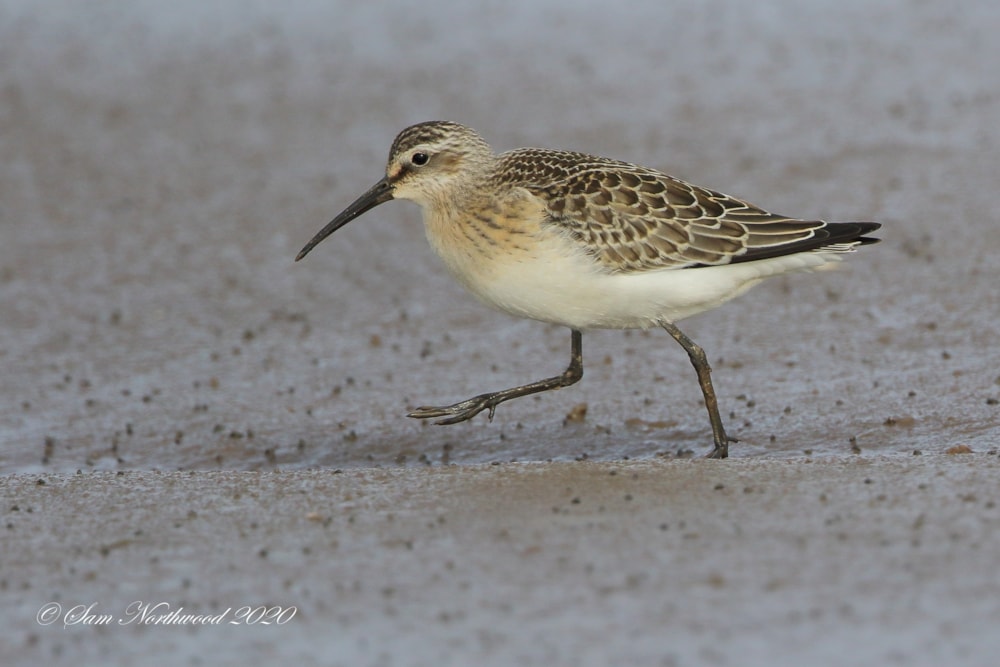 Curlew Sandpiper, Anthorn, Cumbria (Sam Northwood).
Strong onshore winds often lead to good seawatching, and the North-West isn't one to shy away from such an event. The remaining days of August proved fruitful for some Lancashire birders, with adult Sabine's Gull past Starr Gate on 29th, where a juvenile Long-tailed Skua past on 31st (and a probable at Hightown on 27th). A European Storm Petrel flew up the River Mersey past Otterspool on 26th, Black Terns were logged at five sites, and belated news of the first site record of a Northern Gannet came from Brockholes LWT, where it was sadly found deceased. A juvenile European Shag pitched up at Pine Lake from 26th and was still present on 31st at least. A rather unseasonal (or perhaps last winter's injured Martin Mere WWT bird over-summering) adult Tundra Bean Goose was found at Banks Marsh on 31st and was still there the next day; also on the Ribble Estuary, up to 17 Curlew Sandpipers were at Hesketh Out Marsh RSPB with a plethora of other waders, and a single juvenile was showing well at Seaforth LWT on 26th.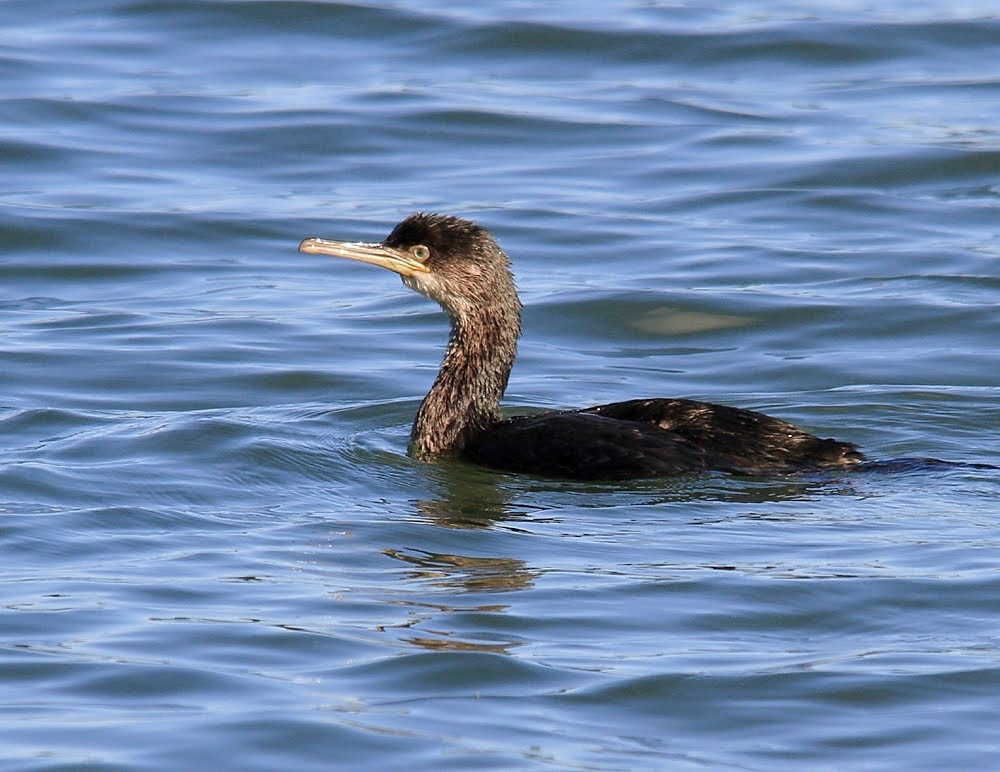 European Shag, Astbury Mere CP, Cheshire (Steven Seal).
A quick border hop to the south and again some seabirds were had. Two Leach's Storm Petrels moved west along the Wirral coast on 26th along with some Kittiwake and skua passage. Also on 26th, a juvenile Black Tern moved past New Brighton, Cheshire, along with two Little Gulls, and a further two Black Terns were off Hale that same evening. A juvenile European Shag turned up at Astbury Mere CP on 30th, the site's first record since 1989, and still present as we moved into September. The Spotted Crakes were still performing at Burton Mere Wetlands RSPB for another week. Curlew Sandpipers were at Heswall on 28th and Hale on 31st, the latter site also hosting a Little Stint. Also of interest, a Death's-head Hawkmoth caterpillar was found on a path along Burton Marsh on 28th.
Greater Manchester had another respectable week, the star bird baton duly handed to a Wryneck, found on the northern outskirts of Horwich on 31st and remaining until the following day at least. Two juvenile Curlew Sandpipers past through Audenshaw Reservoirs on 31st, where a Red Knot has also been present. Arctic Terns flew through Elton Reservoir on 26th and Hollingworth Lake CP on 28th, where the first-summer Caspian Gull remained.

Wryneck, Horwich, Greater Manchester (Martyn Jones).
Lincolnshire and Yorkshire
A good week for Lincolnshire saw Frampton and Freiston RSPB reserves net a couple of adult Sabine's Gulls at the river mouth on 30th, a Wryneck at the latter site the same day, a lingering Temminck's Stint and a long-overdue first for the area – a first-winter Caspian Gull on 29th. Migrant highlight was an Icterine Warbler at Donna Nook on 31-1st. Inland sightings included Sandwich Tern at Toft Newton Reservoir on 28th, Garganey and Arctic Tern at Boultham Mere, Great Egret at Baston Fen and Black-necked Grebe at Baston and Langtoft Pits. Meanwhile, the odd Leach's Storm Petrel, Long-tailed Skua and Sabine's Gull were tracked along the coast by seawatchers.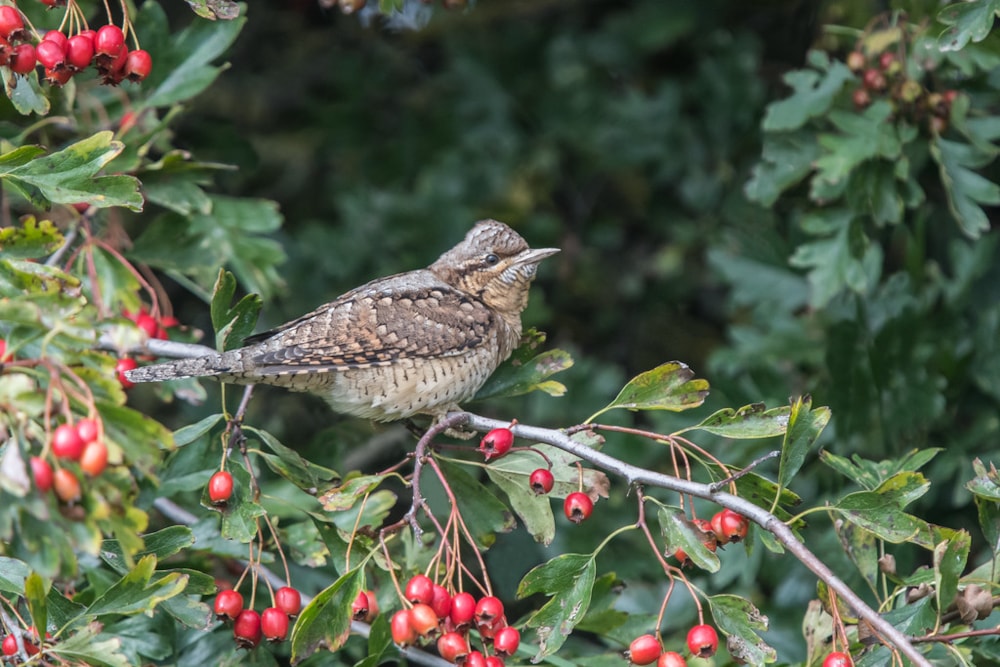 Wryneck, Spurn YWT, East Yorkshire (Tim Melling).
Highlights from the Spurn area included a couple of Barred and single Icterine Warblers, Red-backed Shrike and multiple Wrynecks, plus Long-tailed Skua and Leach's Storm Petrel offshore. A Barred Warbler made it as far up the Humber as Stone Creek on 30th. Further north, singles of Greenish Warbler and Wryneck arrived at Flamborough Head on 31st and an Icterine Warbler was trapped at Buckton on 29th. On 1st, Filey and Scarborough scored Barred Warbler and Wryneck respectively, with Long-tailed Skuas seen off a few North Yorkshire sites.
A routine week in West Yorkshire produced Curlew Sandpipers and Spotted Redshank still at St Aidan's RSPB, Black-necked Grebe at Skelton Lake and a juvenile Caspian Gull at Anglers CP. A Eurasian Dotterel touched down at Hatfield Moors, South Yorkshire, on 31st, an adult Kittiwake visited Broadstone Reservoir on 27th, a Red Knot toured the Dearne Valley and, around Doncaster, a Eurasian Spoonbill flew over iPort Lakes on 27th and four Common Scoter visited Lakeside on 28th.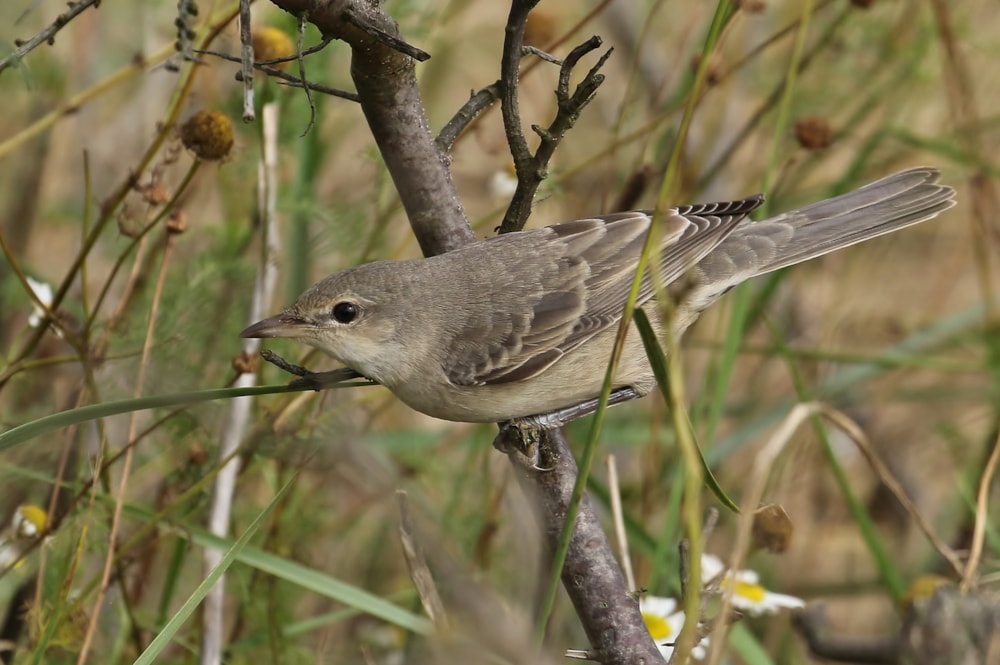 Barred Warbler, Spurn YWT, East Yorkshire (Mark Fullerton).
Content continues after advertisements
West Midlands
In Staffordshire, a Corncrake was at the west end of Belvide Reservoir briefly on the morning of 27th but sadly there was no further sign by the afternoon. A Marsh Warbler was trapped and ringed here on 31st, representing just the third record for Staffordshire and the first since 1996, but again there was no further sign after release. Curlew Sandpipers were more reliable with up to two juveniles present, and a juvenile Arctic Tern flew through on 26th. Elsewhere, two juvenile Curlew Sandpipers were at Blithfield Reservoir on 29th, where two Little Stints were present on 31-1st. Also at Blithfield, a Black Tern was present on the morning of 26th, an Arctic Tern that afternoon and a Little Tern on 1st.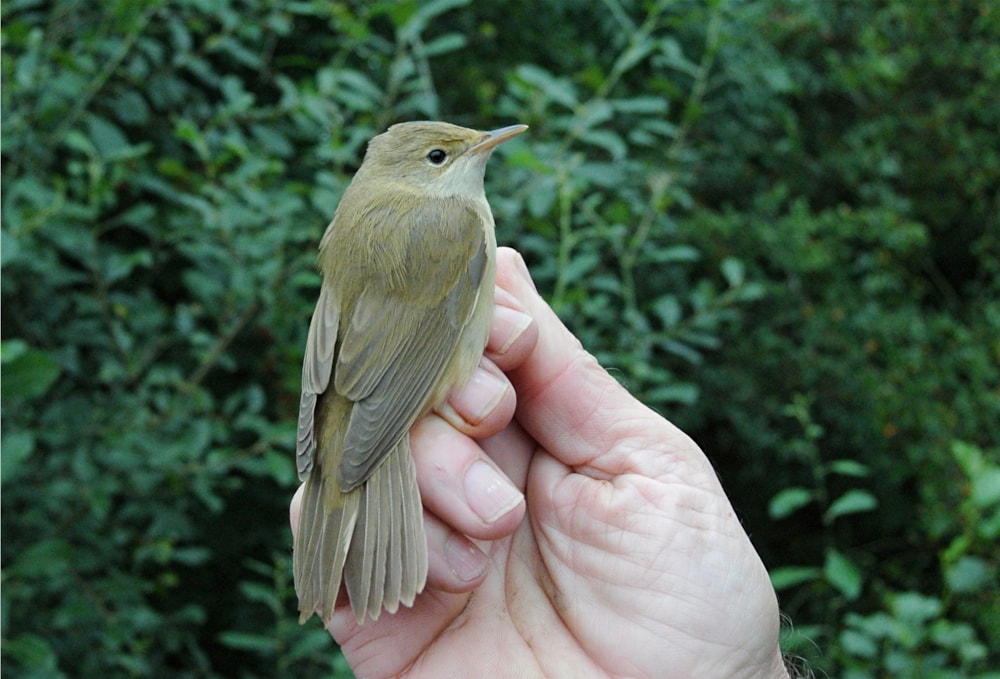 Marsh Warbler, Belvide Reservoir (PERMIT ONLY), Staffordshire (Steve Nuttall).
Shropshire's sole sighting of note was a reported White Stork north-east over Colemore CP on 27th. West Midlands county is hotting up nicely, and an adult male Red-backed Shrike is always a delight, so when one of these masked bandits was reported at Sutton Park NNR on 29th local listers were sure to see it. Fortunately, he remained site faithful and was still being reported into the evening of 1st. A juvenile Wood Sandpiper was at Marsh Lane NR on 27-28th.
Up to two Western Cattle Egrets were again at Gwen Finch NR, Worcestershire, where a Wood Sandpiper was present on 1st. Also in the county, two Curlew Sandpipers were at Upton Warren NR on 30th, where a single remained until 1 September. European Shags stole the show in Warwickshire, with an amazing peak of 28 juveniles at Draycote Water on the evening 27th and up to seven still being reported on 1st. Also at Draycote, the juvenile Caspian Gull remained on 26th and a juvenile Arctic Tern flew through on 28th. The Wood Sandpiper remained by Bodymoor Heath training ground until 26th.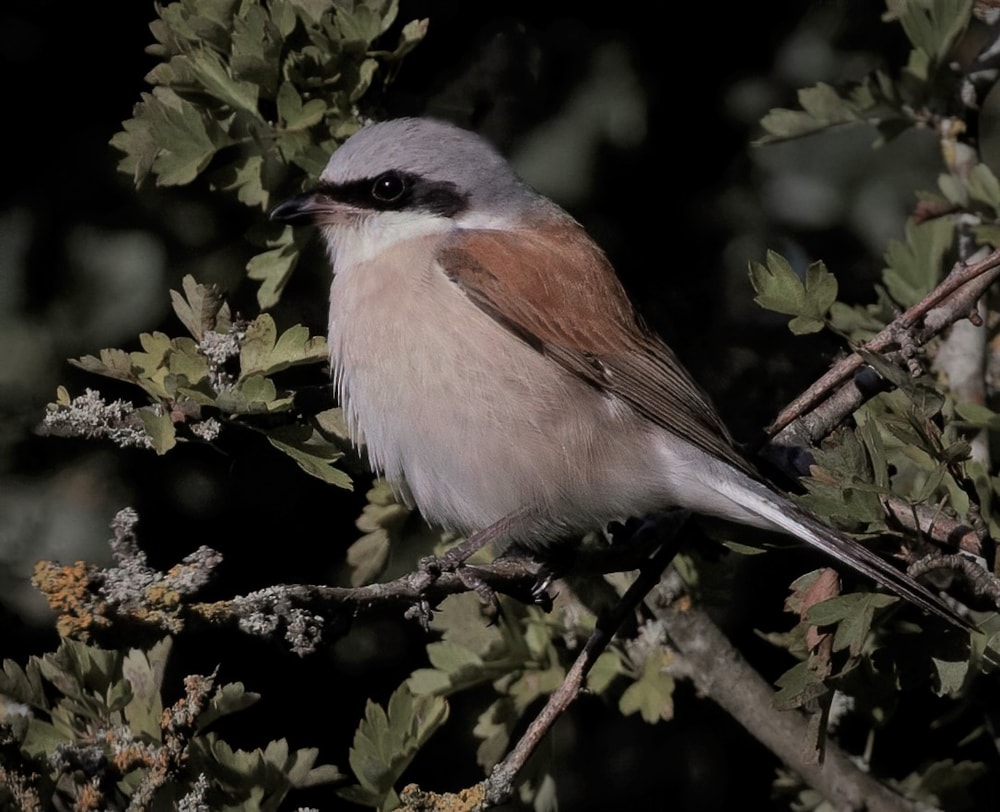 Red-backed Shrike, Sutton Park NNR, West Midlands (Neil Hilton).
East Midlands
A Wryneck was trapped and ringed at Markham Vale, Derbyshire, on 31st, a very nice local record. Other sightings in the county included the juvenile Little Gull at Long Eaton GPs until 27th, and a Northern Gannet at Avenue Washlands NR on 30th.
Over in Nottinghamshire, Slaynes Lane, Misson, continues to throw up good birds and this week up to three Little Stints were present from 29-31st. A Red Knot and four Great Egrets were there on 26th, as was a Wood Sandpiper, which was joined by a second the following day. A juvenile Arctic Tern was at Netherfield Lagoons on 27th, and another Little Stint was present at Langford Lowfields RSPB on 30-31st. Another regional Wryneck, this time in Northants, was trapped and ringed at Stanford Reservoir on 27th. Up to six Western Cattle Egrets were again at Stanwick GPs, where a juvenile Caspian Gull has also been frequenting, with others at Pitsford Reservoir and Crick. Pitsford Reservoir again played home to three juvenile European Shags through the week, while two were at Stanford Reservoir.
You'd have been forgiven for thinking this summer's influx of Rosy Starlings was done and dusted, but seemingly not … an adult was in gardens at Measham, Leicestershire, from 28th. It did the honourable thing of sticking around until 30th, allowing county birders plenty of chance to connect. European Shag records came from Eyebrook Reservoir, where a juvenile remained on the dam, and Rutland Water, which netted no fewer than 24 – a dreamy total for any inland waterbody and, fortunately, they stuck around all week. Other great birds included two Eurasian Spoonbills, juvenile Curlew Sandpiper, two Wood Sandpipers, Spotted Redshank, Little Stint, Sanderling, two Black and two Arctic Terns, Eurasian Bittern and Caspian Gull. Notably, 15 Red Knot circled Lagoon 4 on 30th and two juvenile Northern Gannets flew west on 1st.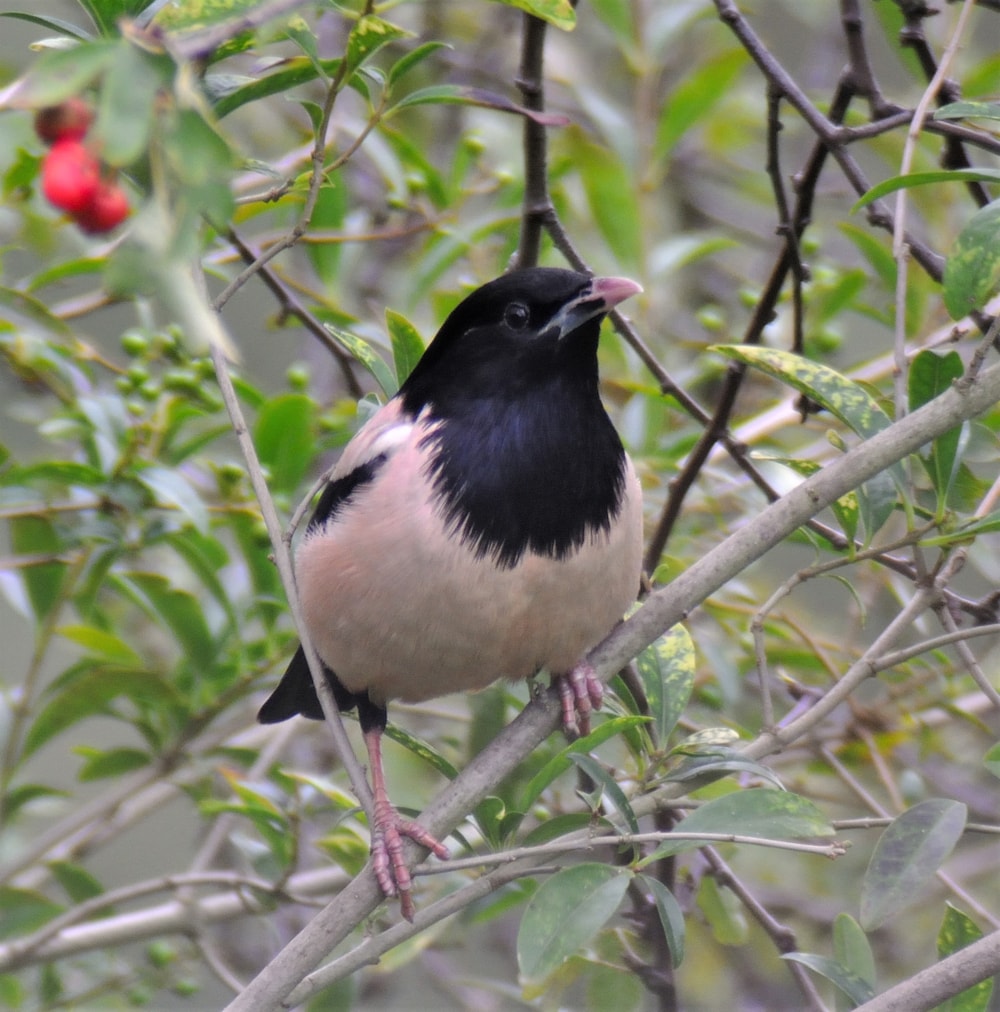 Rosy Starling, Measham, Leicestershire and Rutland (Jonathan Theobald).
East of England
Norfolk's run of Greenish Warblers continued, with a further four seen this week: East Hills, Wells, on 30th, Horsey and Thornham on 31st and Holme NOA on 1st. Wood Warbler is a rarer bird in the county these days so it seems, so four birds at three localities – including two at Eccles on Sea – was notable. At least six Wrynecks and three Barred Warblers were seen in the county, with two Red-backed Shrikes at Waxham on 1st and a Bluethroat at Blakeney Point on 31st. The Purple Heron was back at Ormesby Little Broad on 1st, with a Temminck's Stint at Cantley Beet Factory on 31st and a White-tailed Eagle over Hunstanton on 1st.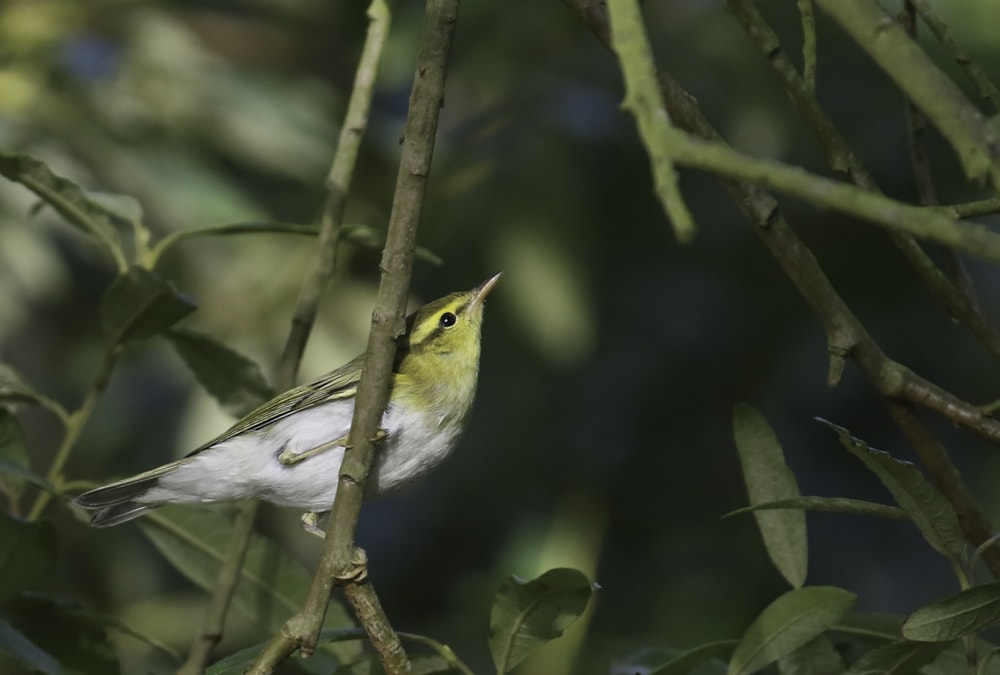 Wood Warbler, Eccles on Sea, Norfolk (Alex J Berryman).
In Suffolk, a handful of sites produced Long-tailed Skuas, with Ness Point and Corton scoring a Sabine's Gull on 30th. A Spotted Crake was a popular hit at Botany Marsh RSPB from 28th, with a European Honey Buzzard passing over Ipswich the same day. A Long-tailed Skua past Holland Haven CP, Essex, on 29th, but the county endured a pretty quiet week. Curlew Sandpipers and Little Stints were at several sites, but highlights were otherwise few and far between.
Aside a scattering of migrant Whinchats, Hertfordshire's most significant offerings were a Wood Sandpiper at Rye Meads RSPB and a juvenile Caspian Gull at Amwell NR. Best from Bedfordshire were a Red Knot at Grovebury Sand Pit on 29th and Spotted Redshank at Broom GPs on 30th. A brief phalarope sp was at Grafham Water, Cambs, on 30th, with a couple of European Shags, Sandwich and Black Terns, Ruddy Turnstone and Caspian Gull all providing a good cast. Other bits included Sandwich Tern at Fen Drayton Lakes RSPB, a beautiful male Common Redstart at Eldernell and Pied Flycatcher at Cambridge Research Park.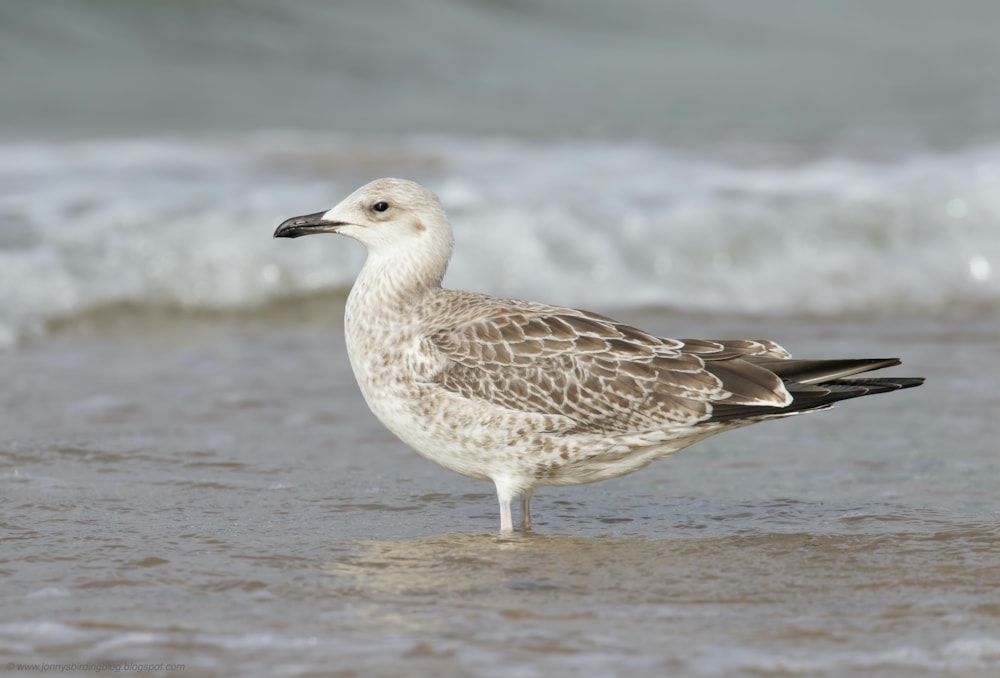 Caspian Gull, Cromer, Norfolk (Jonathan Farooqi).
South-East England
Icterine Warbler is a rare bird in Hampshire, so the discovery of one in coastal scrub at Barton on Sea on 1st inevitably caused a twitch, especially as it lingered throughout the day. A European Honey Buzzard was a nice record at Titchfield Haven on 27th, as was a Eurasian Dotterel at Black Gutter Bottom on 29th.
There was a scattering of Pied Flycatchers and Curlew Sandpipers throughout and a Common Quail continued to sing at Martin Down. On the Isle of Wight, 28th produced a Eurasian Dotterel at Ventnor Downs and a European Honey Buzzard at two sites. The Hoopoe was still at Niton early in the review period.
In West Sussex, some 22 White Storks from Knepp were seen flying over various sites. Otherwise it was quiet, with the usual early autumn bits and pieces. In East Sussex, Ditchling Beacon produced three Eurasian Dotterel from 1st and a Wryneck was at Tide Mills on 31st.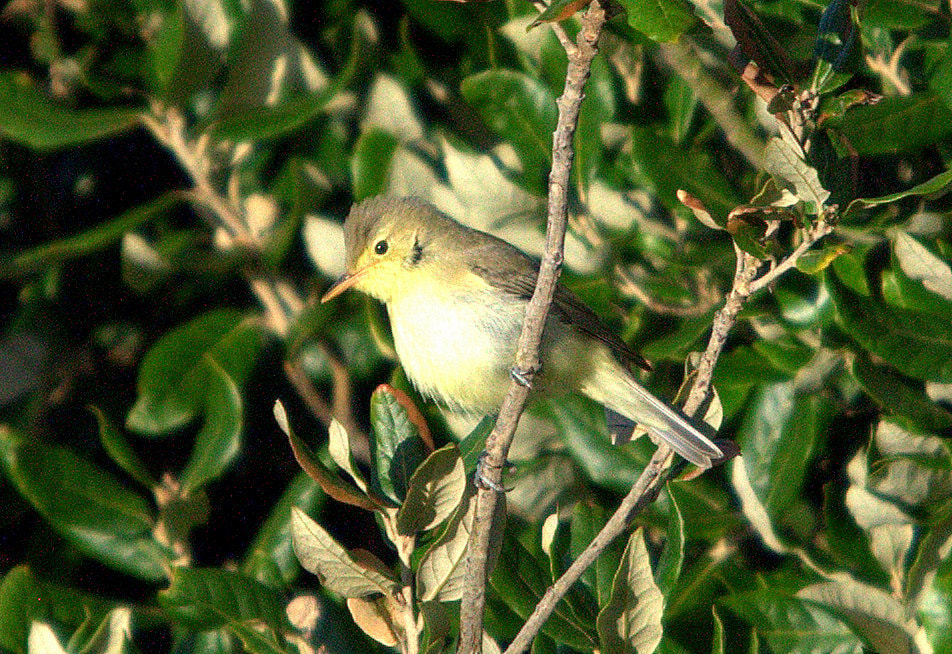 Icterine Warbler, Barton on Sea, Hampshire (Matt Phelps).
Another Icterine Warbler was found in the South-East, with Kent scoring: one was at Leysdown-on-Sea, Sheppey, on 31st. A remarkable skua passage along the north Kent coast on 29-30th included some 500 Arctics past Oare on the latter date. Invariably a decent, double-figure total of Long-tailed Skuas was tallied and at least two Sabine's Gulls were seen, including a surprise record of one at Cliffe Pools. The juvenile Purple Heron remained at Shellness, Sheppey, until 26th.
Dungeness hosted Wryneck, European Honey Buzzard and Glossy Ibis, while a Wryneck was found at Langdon Cliffs and a Red-backed Shrike at Abbot's Cliff. Possibly the same American Golden Plover as seen in 2019 was at Oare Marshes from 1st.
In London, a Curlew Sandpiper was at Staines Reservoirs, along with Sanderling and Ruddy Turnstone. Another Ruddy Turnstone was at King George V Reservoir, where a Little Tern dropped in on 31st. A Kittiwake was noted from Erith Pier. Surrey was quiet, though the Badshot Lea Great Egret was still about.
The Black-crowned Night Heron was still in Berkshire on 26th, seen in flight over Lea Farm GPs. Common Quail and Wood Sandpiper were logged in Buckinghamshire. In Oxfordshire, Farmoor scored a brief Pectoral Sandpiper on 30th, as well as fly-through Sandwich and Arctic Terns. A Common Quail sang at Letcombe Bassett.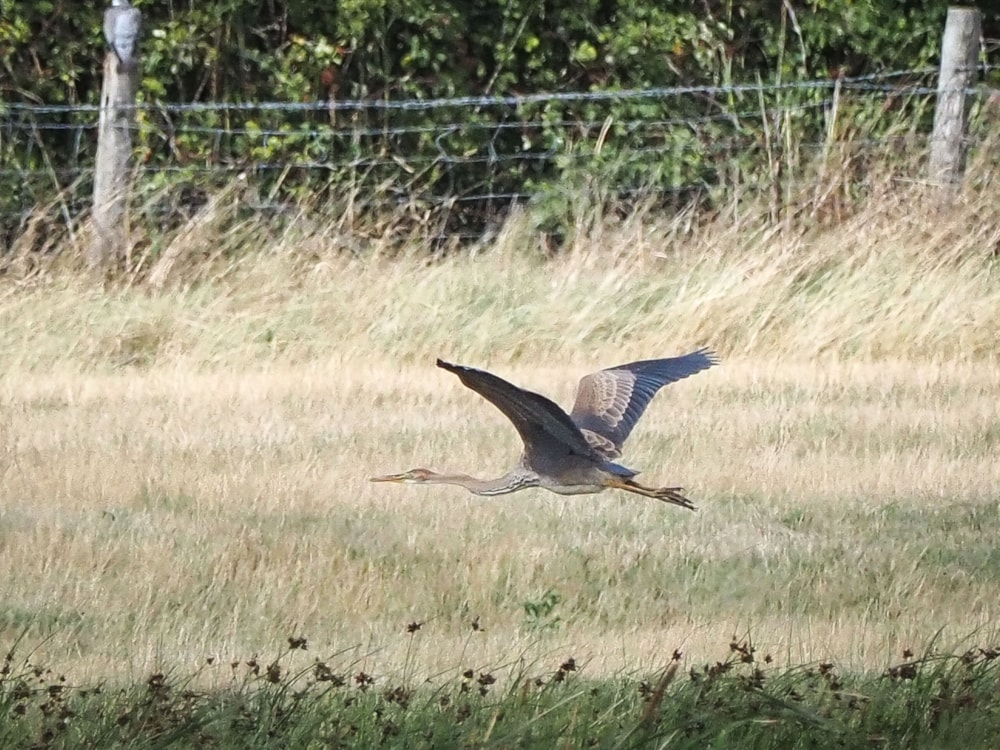 Purple Heron, Shellness/Swale NNR, Sheppey, Kent (Terry Laws).
South-West England
The Scilly pelagics continue to turn up Wilson's Storm Petrels with impressive regularity; birds were seen on 26th, 27th, 29th and 31st. The supporting cast included Sabine's Gull (28th), Black Tern (28th and 30th), Long-tailed Skua and Grey Phalarope (both 30th), Cory's Shearwaters (16 on 27th) and varying numbers of Great and Sooty Shearwaters throughout, plus a couple of Humpback Whales on 31st. A Buff-breasted Sandpiper was on Peninnis Head, St Mary's, on 27th and remained until late morning of 28th, while a pair of Black Kites were doing laps on 31st, with a single still on 1st. Other birds on St Mary's include a female Woodchat Shrike at Carn Friars on 28th, with a Wryneck there on 1st and a Curlew Sandpiper on Porthloo beach throughout. Over on Tresco, all eyes were on Great Pool, with a first-winter Citrine Wagtail from 26-30th, and a Temminck's Stint alongside three Curlew Sandpipers on 31-1st. Meanwhile, a Lapland Bunting flew over the helipad on 31st. A Little Stint was briefly on St Agnes on 31st.
Pendeen again had the lion's share of Cornish Wilson's Storm Petrels with four past on 26th, and another past Porthgwarra on 27th. Seawatching remained fruitful with Great, Cory's, Sooty and Balearic Shearwaters logged past multiple locations, along with Sabine's Gulls (high count of nine past Pendeen on 26th), Long-tailed Skuas and Leach's and European Storm Petrels. A Black Kite flew north over Nanjizal on 30th, with one over Trevean the following day. A Citrine Wagtail also flew over the former site the same day, an Ortolan Bunting headed over Coverack also on 30th, while up to 22 Knepp White Storks have been keeping some locals entertained ranging over five sites through the week. A Wryneck was at Porthgwarra (28-1st) with another two at Soapy Cove (31-1st), two at Predannack Head (30th), and a single at Polcoverack (1st). A Melodious Warbler was at Lizard Point on 28-29th and a first-winter Red-backed Shrike was at Porth Joke on 31st. Eurasian Dotterel were logged at three locations, with a juvenile on the deck by Sancreed on 30-31st. Other waders consisted of Wood Sandpipers (four localities), Little Stints (two localities) and Curlew Sandpipers (seven localities).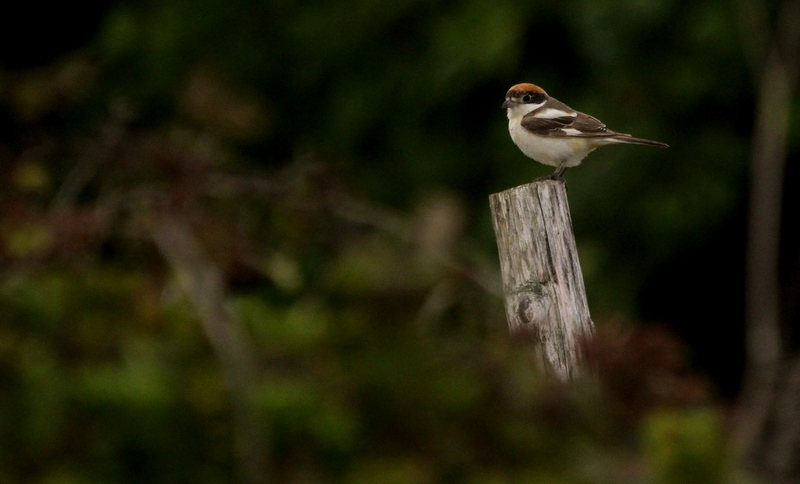 Woodchat Shrike, Tresco, Isles of Scilly (Kris Webb).
Casting our eyes again to the sea, this time to the waters off Devon. An adult Sabine's Gull was off Lundy on 26th, a juvenile Long-tailed Skua flew past Watermouth on 26th (with another possible on 29th), a Grey Phalarope was off South Huish on 30th. Berry Head produced the expected Balearic and Sooty Shearwaters, alongside with European Storm Petrels with perhaps a more unexpected sight of two Eurasian Spoonbills south on 28th. An adult Black-crowned Night Heron was on the River Yeo at Barnstaple on 27th, a first-winter Woodchat Shrike at Seasons Point, Wembury, on 29-30th was just a stone's throw away from the spring bird! A Melodious Warbler was on Lundy on 31st, a Glossy Ibis was at Isley Marsh RSPB on 1st, when the Fremington Pill individual made a re-appearance. Curlew Sandpipers were at seven localities along the south coast, while two Greater Scaup at Bowling Green Marsh RSPB on 27th were a little unexpected.
Ortolan Bunting season is upon us, with two records for Dorset this week with birds over Stoborough (27th) and Stanpit (29th). A Eurasian Dotterel flew over Portland on 26th, a European Honey Buzzard on 28th, Wood Sandpiper on 1st and Balearic Shearwaters still moving past throughout. Wood Warblers have started their southerly journey and birds were at Hengistbury Head on 26th and Stanpit Marsh 27th. Roseate Terns were at the former site on 28th and the latter on 29th. Wood Sandpipers were at five locations, Curlew Sandpipers at three and Little Stints at four.
All eyes to the Bristol Channel, where a Balearic Shearwater moved west past Culvercliffe on 26th; a nice Somerset bird. Two juvenile Long-tailed Skuas also flew west, and European Storm Petrels were recorded at three locations. The Black-winged Stilt family was still present correct at Steart WWT until 1st and the juvenile Purple Heron remained at Durleigh Reservoir. Catcott Lows NR produced a different juvenile Purple Heron in flight on 1st, and a brief Glossy Ibis on 31st. There was a juvenile European Shag at Cheddar Reservoir from 28th, and Chew Valley Lake had Black Terns throughout, with two Black-necked Grebes on 1st. Another Black-necked Grebe remained at Shapwick Heath NNR, Curlew Sandpipers were at Steart WWT and Wall Common, and Little Stints also at Steart WWT and Clevedon.
Over in Gloucestershire, a Melodious Warbler was reported at Barnwood, Gloucester, on 1st but proved all too brief and there was no further sign by 8 am. The juvenile Rosy Starling remained at New Passage on 26th. Slimbridge WWT continues to draw attention; this week a probable Velvet Scoter was seen briefly on the Severn on 28th, as well as Western Cattle Egret (31st) and Spotted Redshank and multiple Garganey throughout. Curlew Sandpipers were logged at four locations (highest count goes to Lydney harbour with of 12 on 1st). A Wood Sandpiper was at Pilning Wetland on 29th and two Little Stints were at Saul Warth on 31st.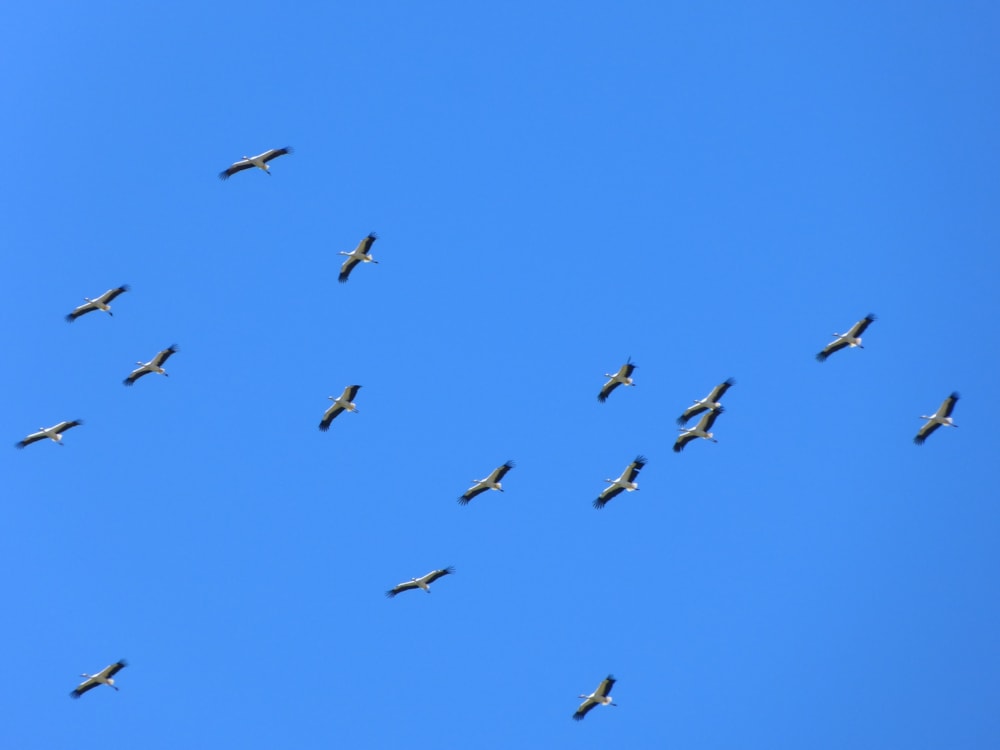 White Storks, Carnyorth Common, Cornwall (John Swann).
Wales
Bardsey Island had a steady week, the first-winter Citrine Wagtail remained, although fleeting at times. An autumn week seldom goes by where a Wryneck isn't reported, along with a scattering of Pied Flycatchers and with a few other regular migrants, terrestrial birding was good, although all eyes were cast to the sea. Highlights include Pomarine and Long-tailed Skuas, Sooty Shearwater, Roseate and Black Terns as well as high numbers of Arctic Terns.
Skokholm had a decent week, with a first-winter Citrine Wagtail also present on here from 27th, the first August record of Sabine's Gull on 30th when the island's third August record of Great Northern Diver was below the lighthouse. Skomer shared similar success, with juvenile Sabine's Gull, Pomarine Skua and Leach's Storm Petrel logged past on 26th. A Eurasian Dotterel flew south-west on 30th.
Elsewhere in the country seawatching was of equal success. In total, Sabine's Gulls were logged at seven sites, with a high count of 10 past Strumble Head, Pembrokeshire on 26th, and the same site struck gold again the same day, with a Great Shearwater passing. Balearic Shearwaters moved past two locations, as did Long-tailed Skuas, meanwhile European Storm Petrels escaped the Bristol Channel past three localities in Glamorgan on 26th.
A notable count of 1,089 Mediterranean Gulls was made at Llanrhystud, Ceredigion, on 30th, and the first two Pale-bellied Brent Geese had returned to Foryd Bay, Gwynedd, by 29th. The adult Glossy Ibis remained at Goldcliff Pools, Gwent, for yet another week – presumably someone has seen this bird move as opposed to it being a statue! Curlew Sandpipers were well represented, with 13 sites spread across the coastline reporting birds. Wood Sandpipers less so, with an individual at Dale Airfield, Pembs, on 30th, while single Eurasian Dotterel were on Rhos Dirion, Powys, on 29th and another over Garreg Lwyf, Carmarthen, on 31st.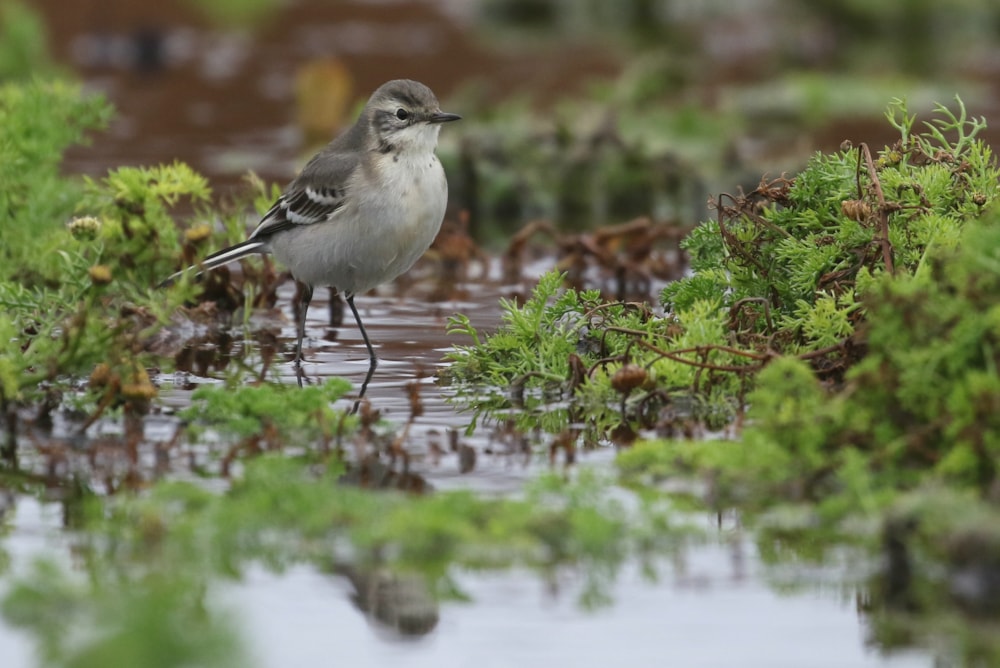 Citrine Wagtail, Skokholm, Pembrokeshire (Richard Brown).
Ireland
The first Nearctic waders involved Buff-breasted Sandpipers at The Cull and Tacumshin, Co Wexford, and Ballycotton, Co Cork, with Tacumshin also netting a pristine juvenile Lesser Yellowlegs. An American Golden Plover was at Mizen Head, Co Cork, on 29th, with a Pectoral Sandpiper at Carrahane Strand, Co Kerry, on 1st.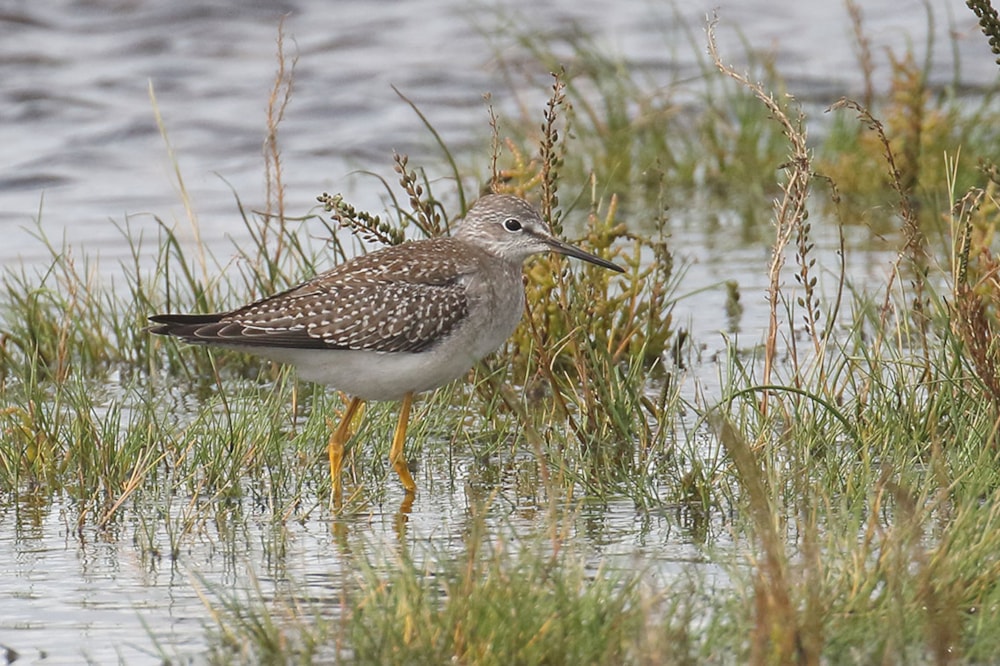 Lesser Yellowlegs, Tacumshin, Wexford (Tom Shevlin).
Pick of the eastern migrants was an Icterine Warbler near Clonakilty, Co Cork, on 1st, although a Common Rosefinch did reach Great Saltee Island, Co Wexford.
A Wilson's Storm Petrel past Bridges of Ross, Co Clare, highlighted a quieter week of seawatching, although east-coast records included a Cory's Shearwater past Howth Head, Co Dublin, on 27th and Sabine's Gull past Wicklow Head, Co Wicklow.
Several Curlew Sandpipers were seen in Northern Ireland, and a Eurasian Spoonbill toured Lough Foyle. A juvenile Long-tailed Skua was seen flying inland at Grey Point in Belfast Harbour on 28th. In the far south, the Glossy Ibis remained at Youghal.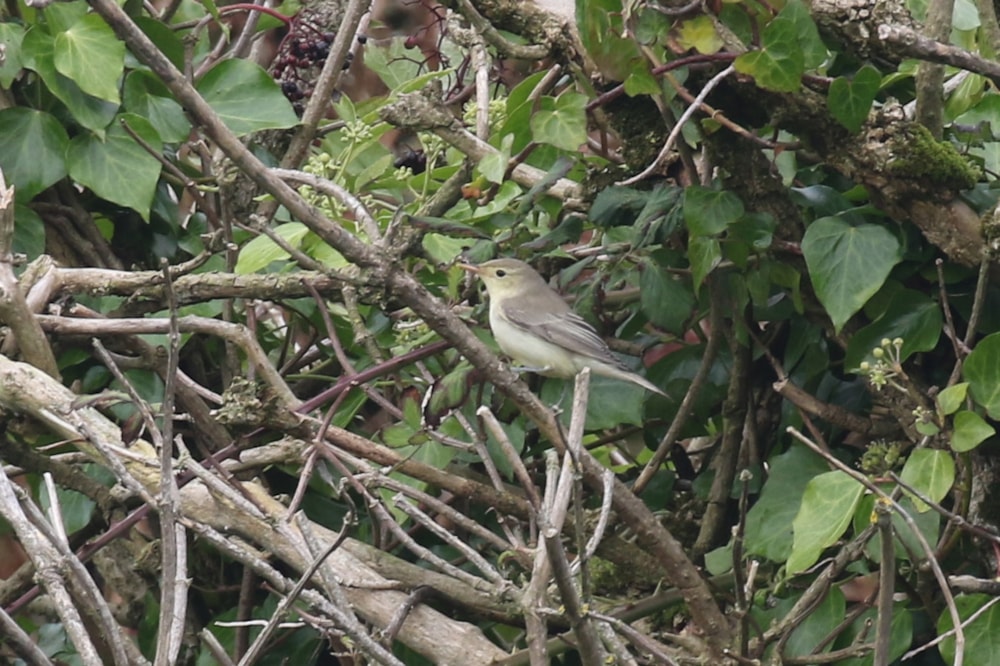 Icterine Warbler, Clonakilty, Cork (Paul Connaughton).
Western Palearctic
Another record-breaking week for seabirds in the region, the renowned seawatching hot-spot of Estaca de Bares in Galicia well and truly took the biscuit, with a Great-winged Petrel – the first Western Palearctic record – and two South Polar Skuas past on 29th, followed up by an Atlantic Yellow-nosed Albatross the next day.
A Brown Booby fest began in earnest on 29th, with one past Burela, Spain. The Canary Islands' fourth was on Gran Canaria on 30th, with two noted the next day: one at sea west of Cape Corrubdeo, Spain, and one past Pontevedra, Portugal. Another flew past Portugal's Cabo São Vicente – mainland Europe's south-westernmost point – on 1st.
Elsewhere in Spain, a rather lost Long-legged Buzzard was in the north-eastern province of Aragón at Agón from 29th. Further news concerned the lingering Amur Wagtail, Great White Pelican and Black-winged Kite in the Netherlands, plus a Pied-billed Grebe and Pygmy Cormorant in France. Sweden's first Dalmatian Pelican was reported at Hjälmaren on 29th, while a candidate second-winter American Herring Gull was at the Icelandic locale of Þorlákshöfn on 28th. Further afield, Turkey's fourth Crested Honey Buzzard was recorded from Subaşı on 27th.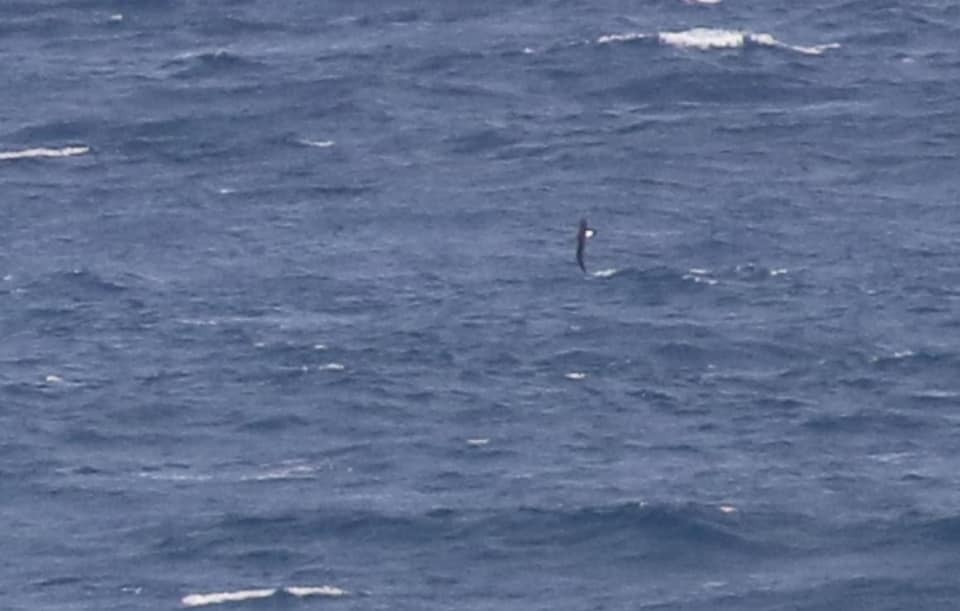 Atlantic Yellow-nosed Albatross, Estaca de Bares, Galicia (Guillermo Rodríguez).