It really felt like peak autumn this week, with some classy finds from both west and east – though having said that, the dates alone dictate that autumn birding should be in full flow by default.
The week commenced with an Eastern Yellow Wagtail in fields near the famous Cemlyn Lagoon, Anglesey. Found on 25th, it lingered until Friday and was widely twitched, despite the at times dreary weather conditions. As is so often the case, though, Saturday morning twitchers were left high and dry following the wagtail's overnight departure.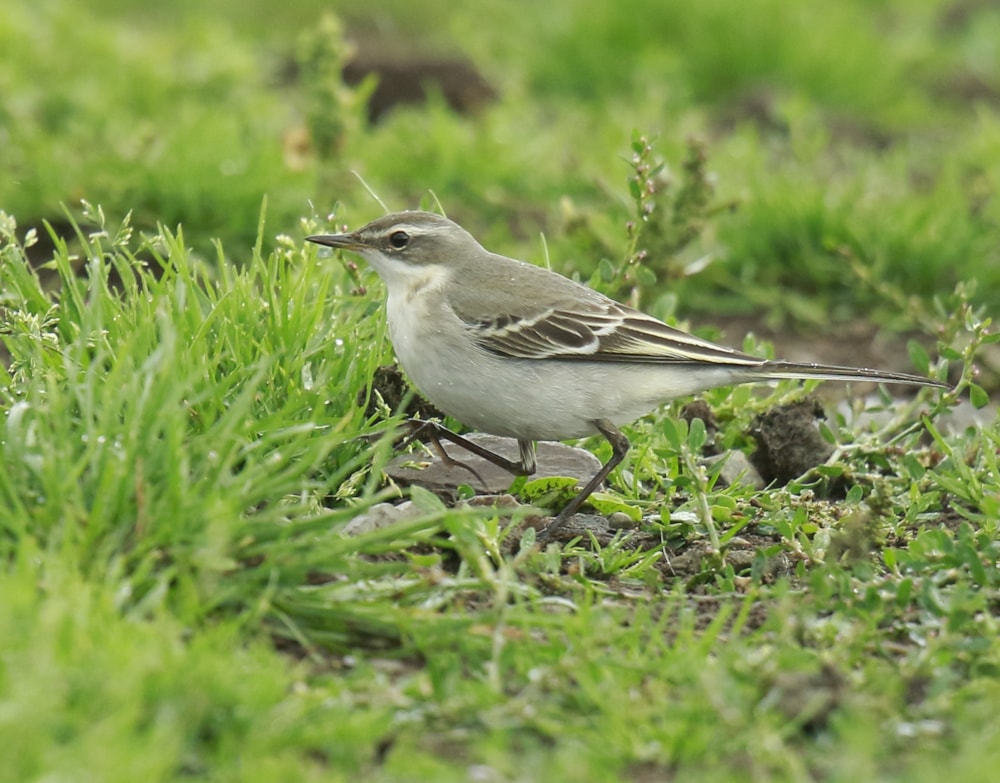 Eastern Yellow Wagtail, Cemlyn Bay, Anglesey (Mark Rayment).
Conditions looked very promising for the Northern Isles over the weekend and Shetland quickly began to produce on Saturday. Though its frequency here has increased exponentially over the past decade, Brown Shrike remains a much-wanted find anywhere in Britain and the arrival of a first-winter on Out Skerries was not to be sniffed at. Sadly, it proved a one-day fixture, with no sign on the Sunday.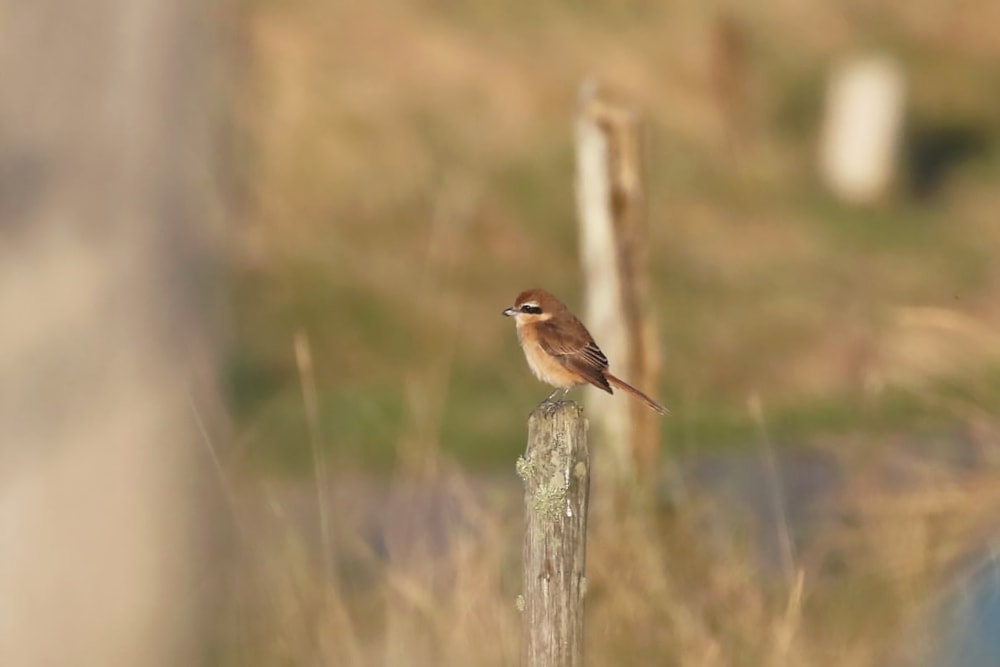 Brown Shrike, Out Skerries, Shetland (Dave Bywater).
Another rare shrike attracted greater attention, though. Also found on Saturday, a male Isabelline Shrike at Levenwick was enjoyed by most visiting birders on the archipelago during that day and the next. Initially touted as a likely Turkestan Shrike on the basis of images showing a contrasting bird with seemingly mid-brown upperparts and clean underparts, subsequent analysis of better photos seems to suggest that this is more likely a relatively washed out Isabelline (Daurian) Shrike, with (among other features) the indistinct supercilium not extending to the fore of the eye and the relatively weak bill favouring isabellinus over phoenicuroides.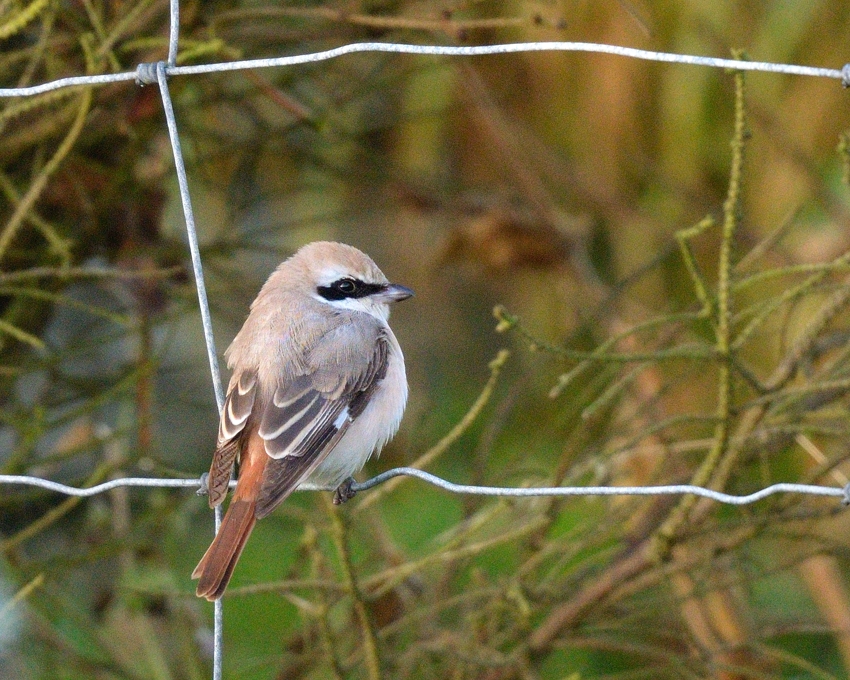 Presumed Isabelline Shrike, Levenwick, Mainland, Shetland (Tom Hines).
While Shetland and Orkney enjoyed a fruitful arrival of Palearctic rarities and scarcities, westerly sites were beginning to produce transatlantic vagrants. The first American passerine of the autumn is always a hotly anticipated event and, while we may have been treated to an American Cliff Swallow on Skye back in late August, there's no denying that the first Red-eyed Vireo of the year – at the classic locality of Mizen Head, Co Cork – got the juices flowing on the morning of 29th.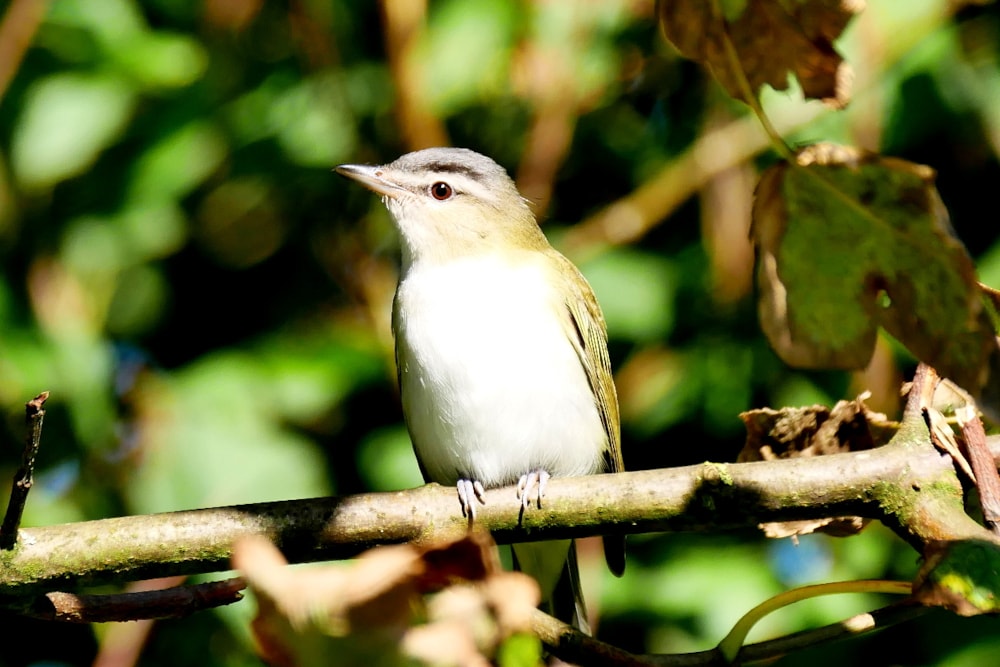 Red-eyed Vireo, Mizen Head, Cork (Rachel Hynes).
Just minutes after, a second was found – this time on Rathlin Island, Co Antrim. Remarkably, given the species' regularity in the south-west of Ireland, this North American wanderer unwittingly represented a first for Northern Ireland. It was still around on 1st, as was the Mizen bird. Two further individuals were uncovered on 30th, both in Co Cork at Galley Head and Ballynacarriga, themselves both textbook locations for North American landbirds and making for a memorable quartet of vireos.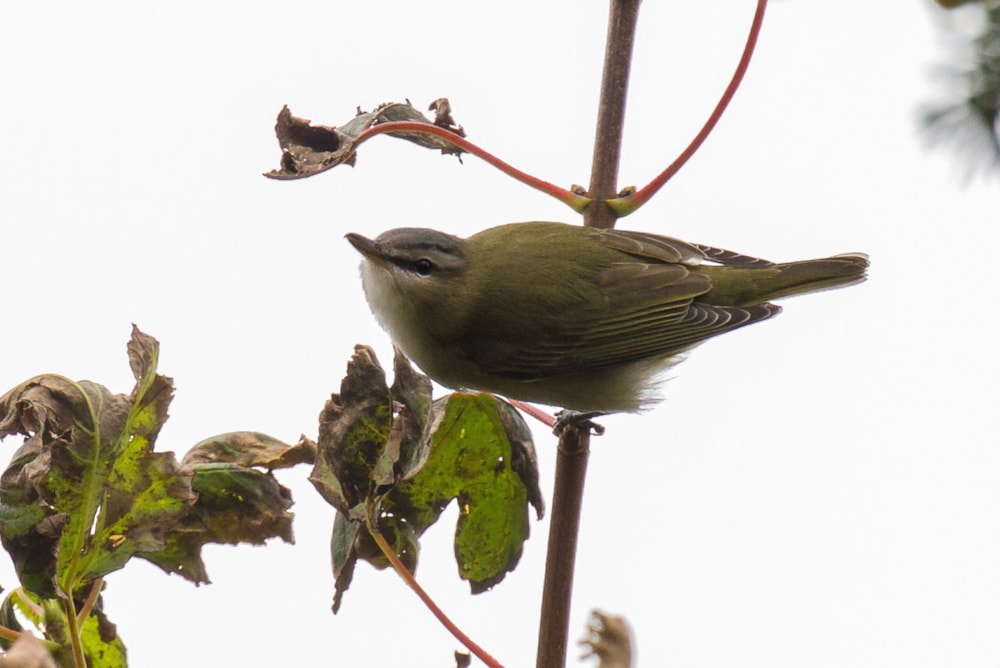 Red-eyed Vireo, Rathlin Island, Antrim (Richard Else).
Saturday also produced a first for Wales in the form of an American Buff-bellied Pipit on the west coast of Bardsey Island, Gwynedd. While again not the rarest of Nearctic passerines on our shores, a national first is always significant and nobody can deny this was a classy find.

American Buff-bellied Pipit, Bardsey Island, Gwynedd (Lewis Hooper).
The second American Black Tern of the month was also found on Saturday, although news didn't break until the following afternoon. The bird, a juvenile, intermittently visited the River Corrib just upriver from Nimmo's Pier in Galway city and was still there for its third day on 30th, generally appearing in the afternoons and often approaching gawping admirers to within a metre or two.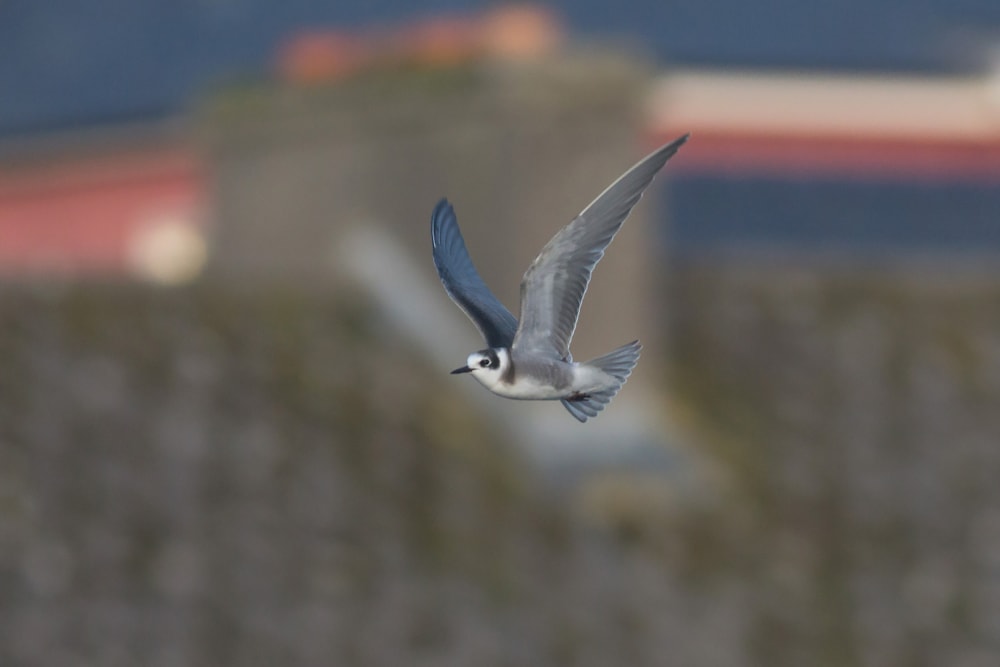 American Black Tern, Nimmo's Pier, Galway (Cathal Forkan).
Last week's lingering highlight, the Blue Rock Thrush on St Mary's, Scilly, continued to work its way restlessly around The Garrison, generally proving mobile and even disappearing for a full day on 30th.
A European Bee-eater proved confiding at Ollaberry, Shetland, from 29th onward. An Alpine Swift was over Skaw, Unst, for a brief period on 27th, with another at Seaham, Co Durham, later that day. As is to be expected by mid-autumn, the majority of the week's 20-odd Wrynecks were in south-westerly areas. Two Hoopoes were on Scilly, with others in Buckinghamshire, Co Durham and Orkney. On Scilly, Greater Short-toed Larks visited Tresco from 27th and St Mary's from 29th, with the Unst bird still at Lamba Ness.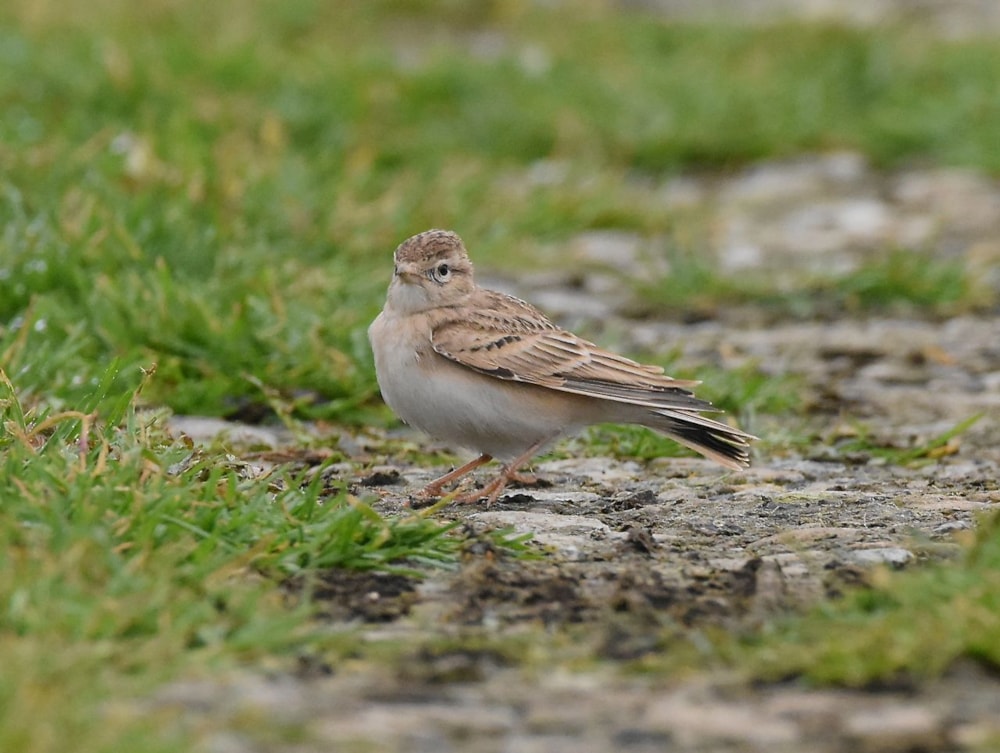 Greater Short-toed Lark, Lamba Ness, Unst, Shetland (Roger Ridley).
After a Red-rumped Swallow left Bardsey Island, Gwynedd, on 25th and was apparently located on the nearby mainland at Aberdaron a little later that day, a second flew through at Spurn, East Yorks, on 27th during a fantastic morning's visible migration which also produced 8,113 Meadow Pipits and 2,433 Common Linnets.
In fact, Meadow Pipit proved one of the species of the week, with numerous coastal and inland migration watchpoints registering huge counts of the species moving into the often brisk south-westerly breeze. An astonishing 12,004 were logged over Wintersett Res, West Yorks, on 28th, while 2,285 went over Berry Hill Fields, Staffs, on 30th. Several other counts into the low thousands were noted.
No fewer than five Olive-backed Pipits appeared on Shetland, with the first at Burravoe, Yell, on 25-26th and others following on Mainland at Cunningsburgh, Voe, Sandwick and Quendale. A sixth was on Sanday, Orkney, on 28th. Curiously, the species outnumbered Richard's Pipit, with the four seen comprising singles on Scilly, Orkney, Shetland and in Dorset. Three Red-throated Pipits included two on Shetland (birds on Whalsay and Foula on 27th and 29th respectively) and a third at Carrahane Strand, Co Kerry. Brief Citrine Wagtails were on Shetland on 25th and Orkney on 29th.
Last week's Red-flanked Bluetail lingered on Foula to 27th, with another discovered at Valyie, Unst, on 1st. Also in Shetland, a smart Siberian Stonechat set up shop in an oat field at Brake on 28-29th alongside a Bluethroat. A rare bird on Shetland, the Common Nightingale at Geosetter from 25-27th is well worthy of a mention here. Meanwhile, far to the south, the Hampshire Bluethroat reappeared at Titchfield Haven on 27-28th.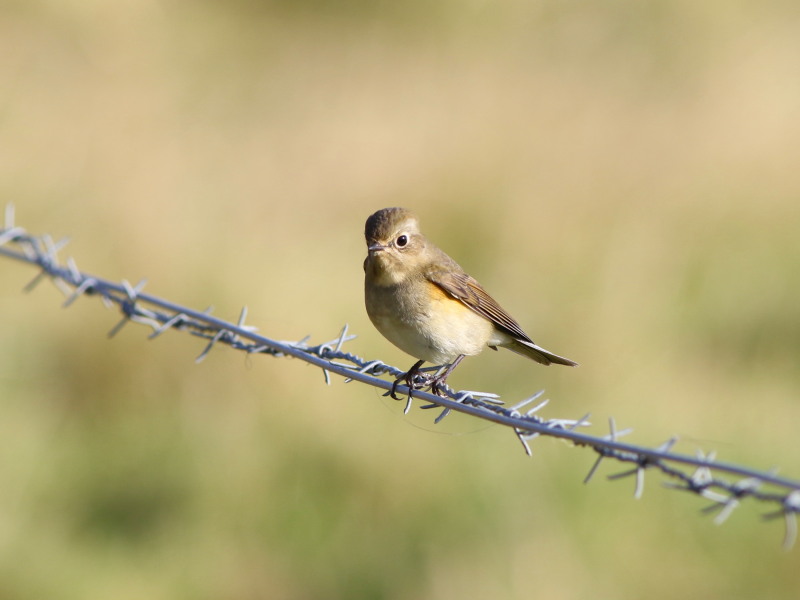 Red-flanked Bluetail, Valyie, Unst, Shetland (David Cooper).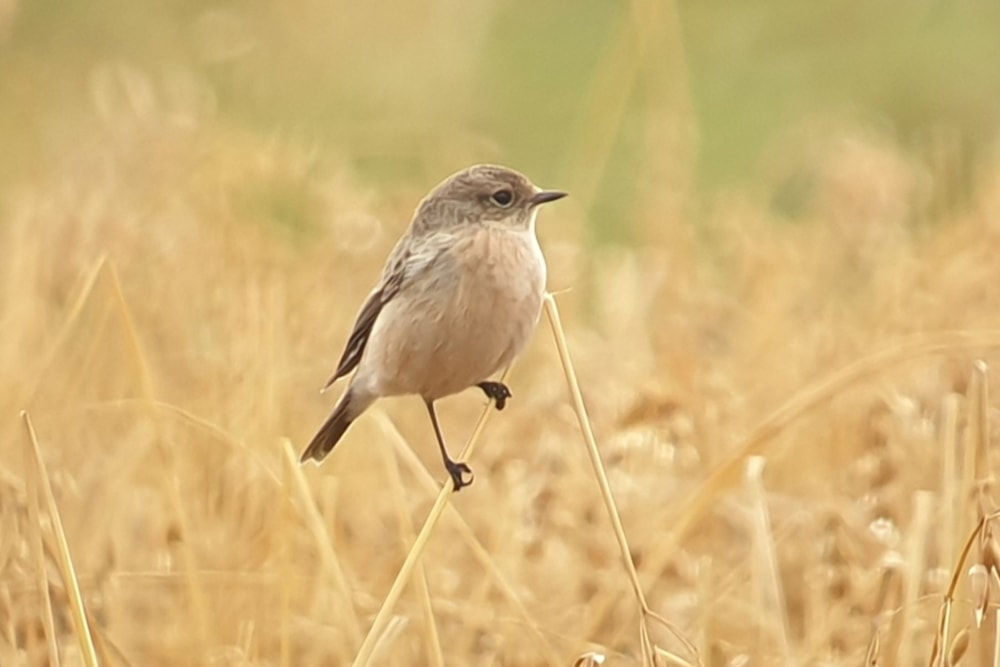 Siberian Stonechat, Hillwell, Mainland, Shetland (Paul Baker).
Up to 40 Red-breasted Flycatchers were seen, the vast majority of which were on Shetland. However, Orkney notched up eight, a few made it to the coast of the Scottish mainland and one managed to penetrate as far south-west as Scilly.
The male subalpine warbler sp – probably Western – was still at Bornish, South Uist, to 27th. Bizarrely, the Great Reed Warbler reappeared in the observatory garden at Portland Bill, Dorset, on 28th, a full 10 days after it was ringed. A Booted Warbler at Spurn on 1st was the first confirmed individual in Britain this autumn, underlining the persistent westerly airflow endured across many areas throughout September.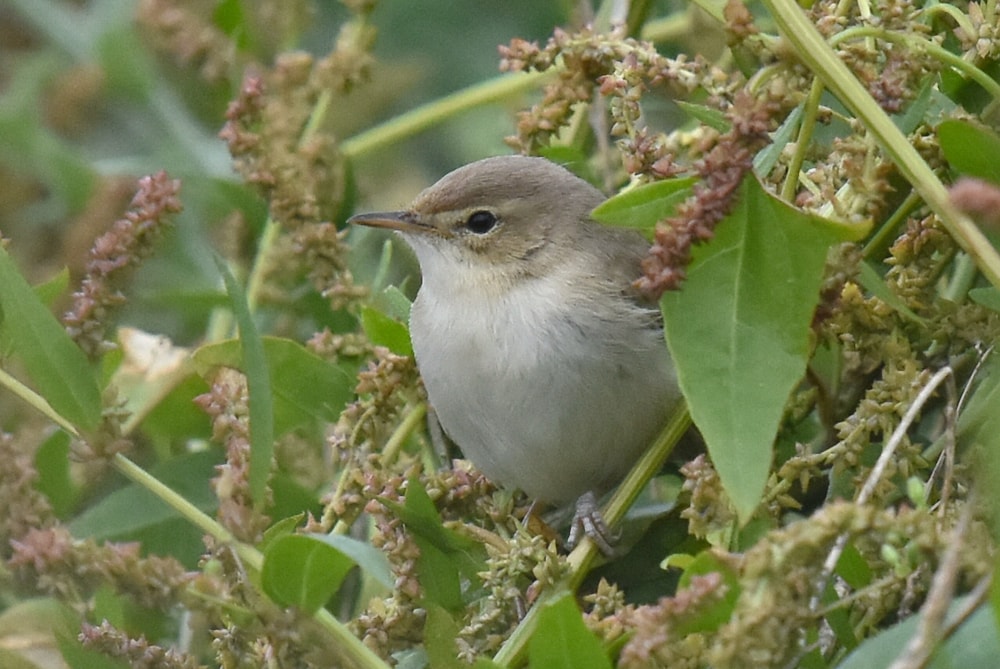 Booted Warbler, Spurn YWT, East Yorkshire (Andy Hood).
Barred Warblers barely scraped into double figures, with the most notable sighting being one at Hook Head, Co Wexford. A couple of late Greenish Warblers were at Levenwick, Shetland, and Holy Island, Northumberland, on 27th and 30-1st respectively. An elusive Hippolais warbler on Rathlin Island, Co Antrim, from 29th transpired to be the first Melodious Warbler for Northern Ireland in more than 40 years. Other Melodious were on Out Skerries, Shetland, and St Mary's, Scilly.
Yellow-browed Warblers began their gradual spread south-west, but numbers were pretty unexceptional by recent standards. The species was reported as a main news item a total of 287 times, but the number of birds was more likely double that, if not more.

Yellow-browed Warbler, North Ronaldsay, Orkney (Dante Shepherd).
What must be the best seven days for Rustic Buntings in Britain for many a year materialised this week, with no fewer than five birds seen. The first was a brief visitor to The Leas, South Shields, Co Durham, on 25th and was followed by birds on North Ronaldsay on 28th and Foula on 29th. Two more were found on 30th, with both lingering to 1st: a first-winter at Spurn and a male on St Mary's. The only Little Bunting away from Shetland was a bird on Isle of May, Fife, on 28th; the famous archipelago somewhat dominated for the diminutive bunting, with at least a dozen seen across Mainland and its outlying isles.
Content continues after advertisements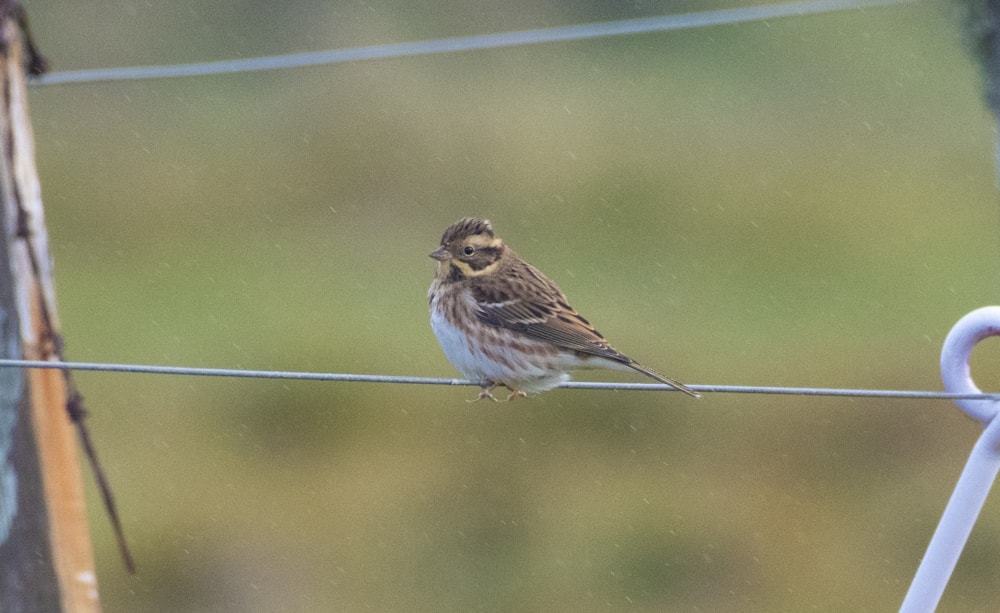 Rustic Bunting, North Ronaldsay, Orkney (Edward Stubbs).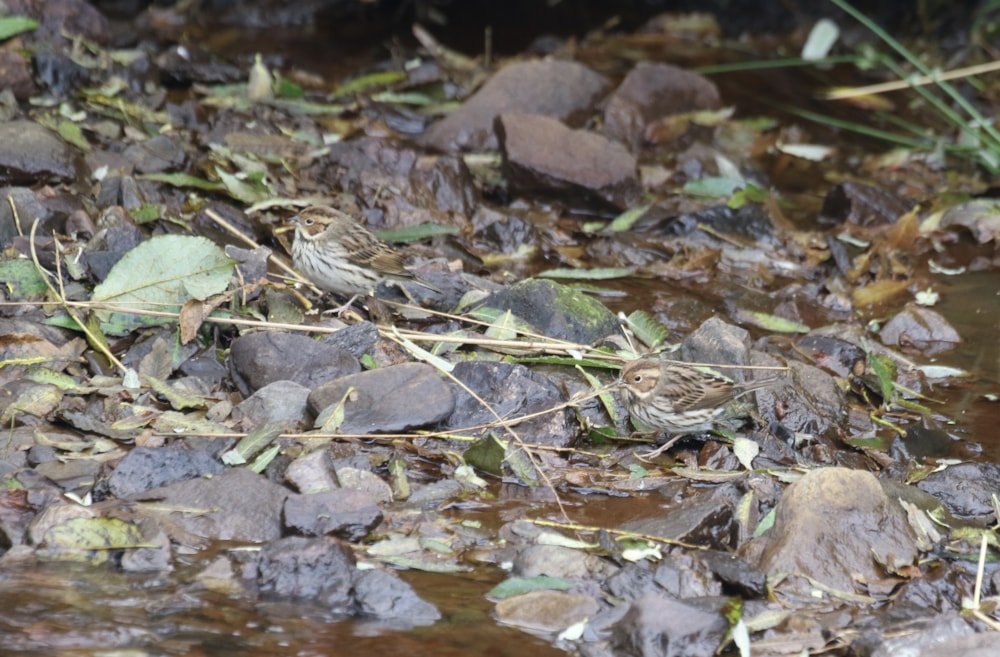 Little Buntings, Swinister nr Sandwick, Mainland, Shetland (Andy Hale).
Common Rosefinches were conspicuous by their absence, with just five seen: three on Shetland and singles on Skokholm, Pembs, and Lundy, Devon. The first Hornemann's Arctic Redpoll of the autumn was enjoyed on North Ronaldsay from 30th. Two Ortolan Buntings were at opposite ends of the country: on Tresco, Scilly, from 26th and at Duncansby Head, Highland, on 28th. Rosy Starlings numbered just four, with the adult remaining on North Uist and juveniles still in West Sussex, Cornwall and Anglesey.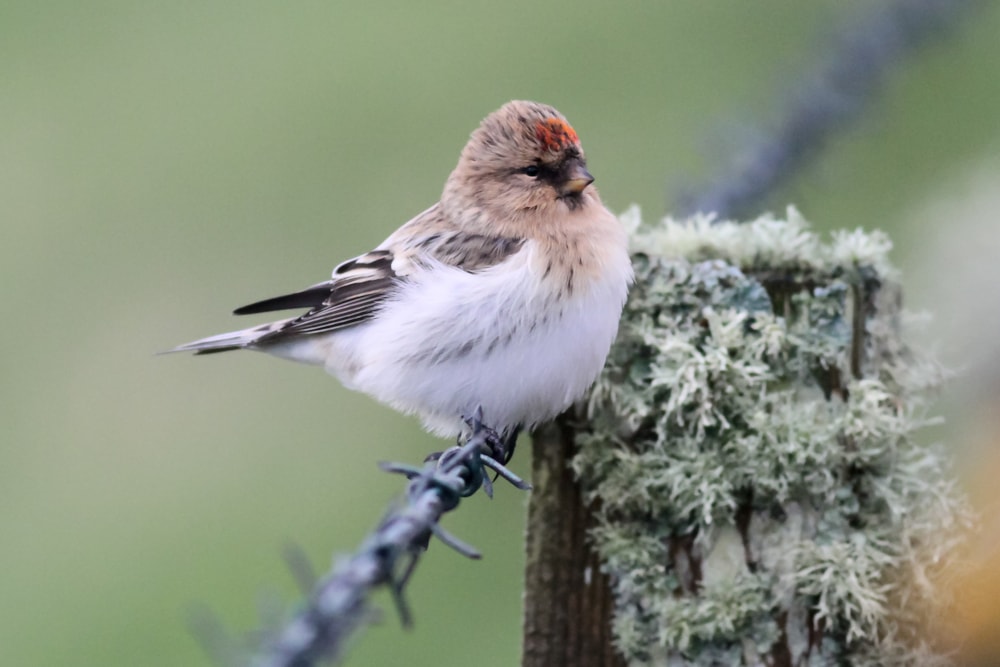 Hornemann's Arctic Redpoll, North Ronaldsay, Orkney (Dante Shepherd).
Pick of the bunch from the week's seawatching records was a fly-by Barolo Shearwater at Pendeen, Cornwall, on the afternoon of 29th. The North Sea produced some good tallies on 1st, with Whitburn noting 17 Long-tailed and 16 Pomarine Skuas that day. Sabine's Gulls were widely scattered, although never in totals more than a handful. Leach's Storm Petrels were a little better, at least off western Ireland, where 20 passed Bridges of Ross, Co Clare, on 27th.
An adult Gull-billed Tern passed Cullernose Point, Northumberland, on 29th, while a candidate longipennis Common Tern was a regular on the pits at Dungeness RSPB, Kent, from that day onward. An adult Whiskered Tern, still largely in summer plumage, was a surprise visitor to Baleshare, North Uist, on 29-30th. In Co Galway, an adult Ring-billed Gull was back at Nimmo's Pier on 1st.
The good autumn for Long-billed Dowitchers continued, with a new juvenile arriving at Bowling Green Marsh, Devon, on 25th and lingering around the Exe Estuary thereafter. Another called in at Ham Wall, Somerset, on 26th and, given the mid-morning arrival of a juvenile at Coombe Hill Meadows, Glos, that day – a bird which it has transpired is the Lodmoor individual of last week relocating – perhaps the Ham Wall record also refers to this individual. Rather more settled was the West Yorkshire bird, which lingered at St Aidan's RSPB throughout.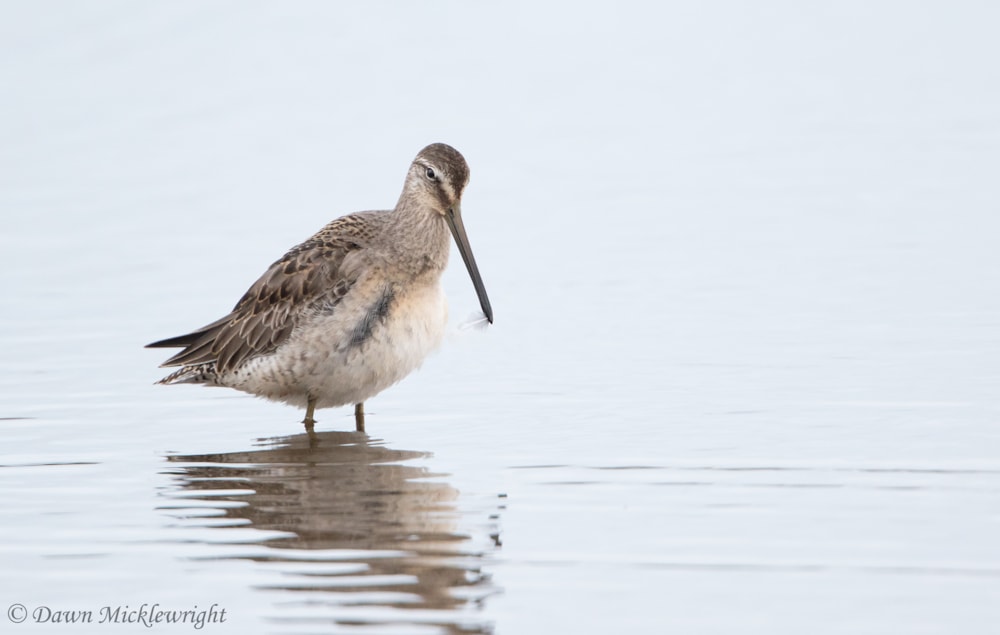 Long-billed Dowitcher, Lodmoor RSPB, Dorset (Dawn Micklewright).
A total of six White-rumped Sandpipers included the first juveniles of the autumn: youngsters were at Idle Valley, Notts, and Skinflats Lagoons, Forth, on 29-30th. All seven of this week's Buff-breasted Sandpipers were new birds, occurring over a wide geographical area from Dorset to Co Donegal and Scilly to Highland. Pectoral Sandpipers also numbered seven, with the two at Clifton Pits, Worcs, being the most widely observed. The sole Baird's Sandpiper was the lingering bird on Foula, Shetland.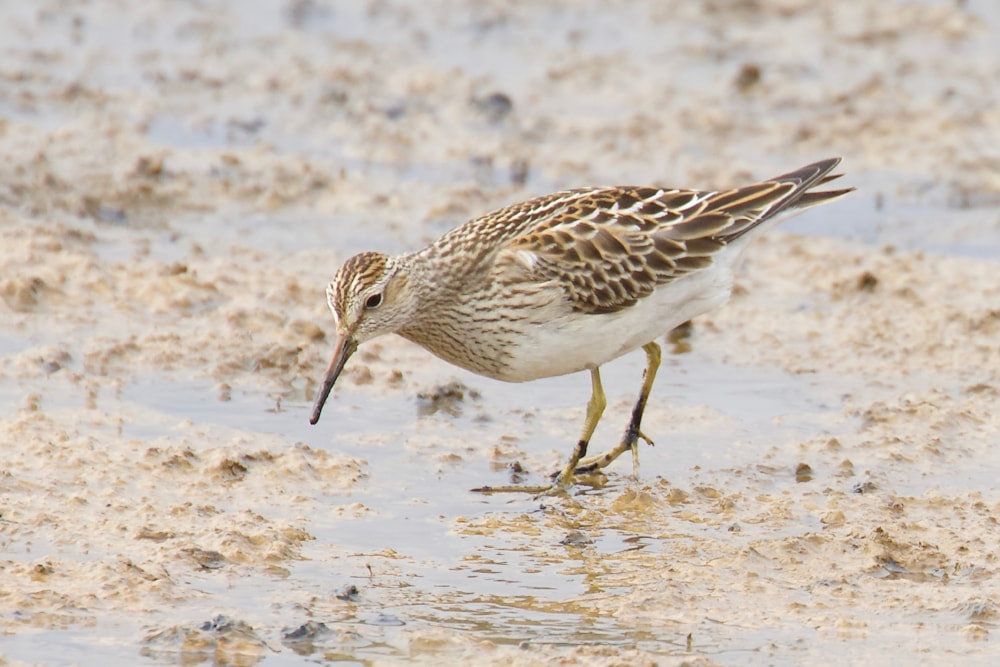 Pectoral Sandpiper, Frampton Marsh RSPB, Lincolnshire (Dave Jackson).
Just about everyone birding on Shetland this week connected with the accommodating juvenile Semipalmated Sandpiper found at Grutness on 28th and commuting between there and nearby Pool of Virkie to 1st. Although a strikingly long-billed individual, there was little else to stir suspicion that it could have been a Western. Elsewhere, two juveniles were found at Derrymore, Co Kerry, on 29th and a third not too far away at Smerwick Harbour on 30th, with one also still around Tacumshin, Co Wexford.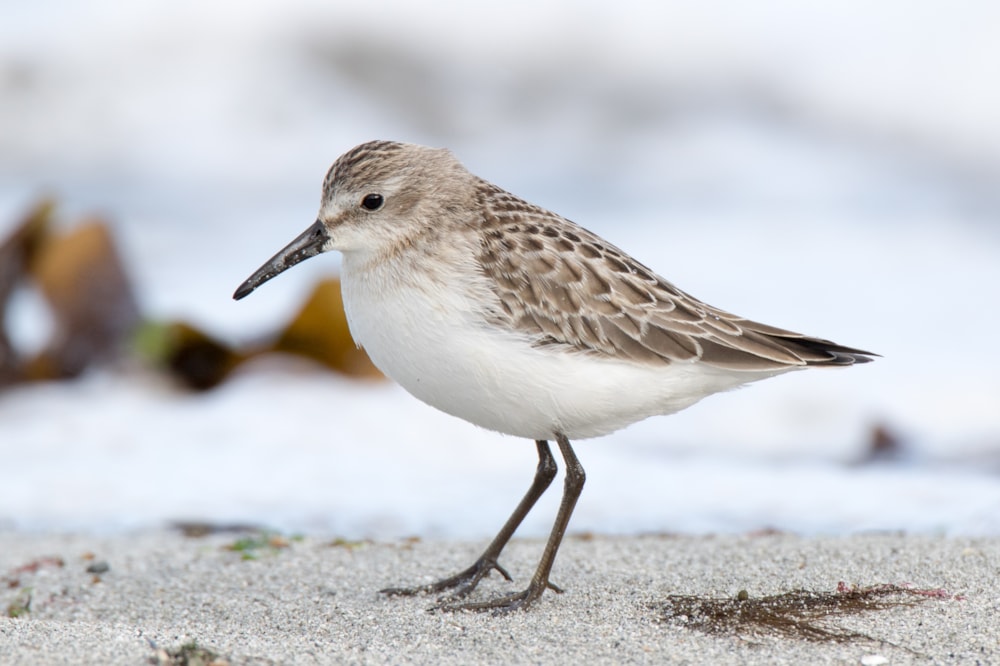 Semipalmated Sandpiper, Grutness, Mainland, Shetland (Mick Kemp).
American Golden Plover numbers just about remained in double figures, with a juvenile at Steart WWT, Somerset, from 28th and an adult on Tiree, Argyll, among the four or five new individuals seen. Despite it being almost two months since the last sighting of it, there must be a chance that the adult Pacific Golden Plover at Holy Island, Northumberland, from 26th is the same bird bird as that observed in July. The Lesser Yellowlegs was still on Tresco early in the week, while a juvenile arrived at Capringstone Flash, Ayrshire, on 1st.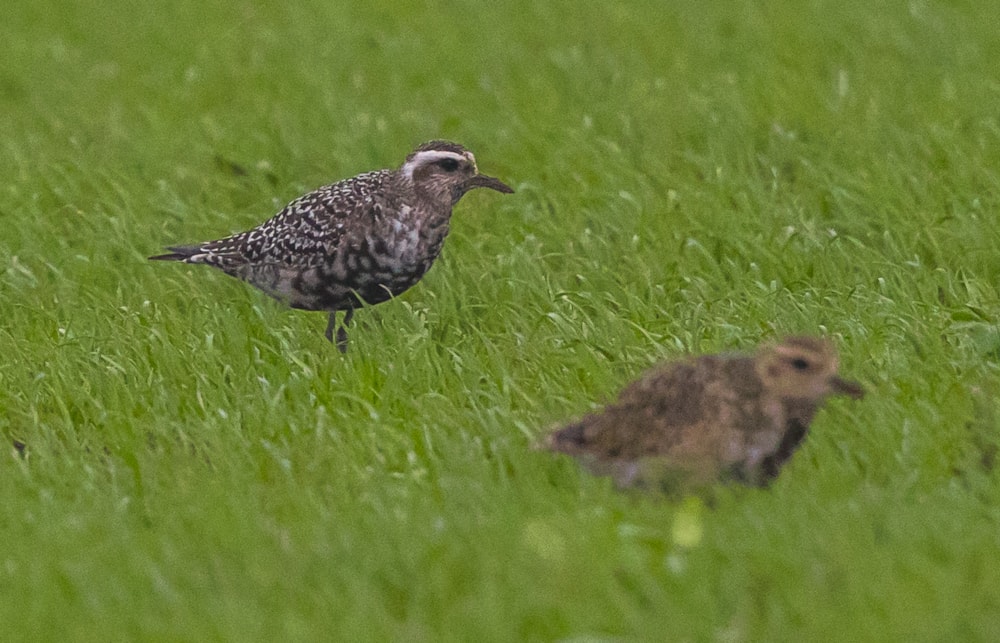 American Golden Plover, Porthgwarra, Cornwall (Peter Garrity).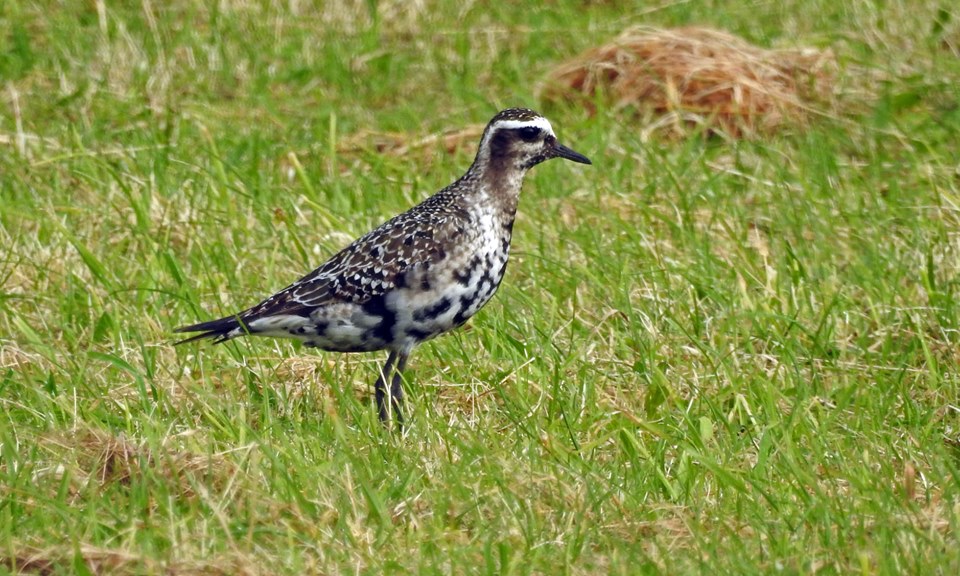 American Golden Plover, Tiree, Argyll (Jim Dickson).
The juvenile Black-winged Stilt hung on at Moor Green Lakes, Berks, all week, but the Somerset bird wasn't seen at Ham Wall beyond 26th. The peculiar sight of one flying over Binley, West Mids, on 29th may well explain the disappearance of the Ham Wall bird. A juvenile Red-necked Phalarope spent a couple of days at Goldcliff Pools, Gwent, from 29th, with the Lancashire bird last seen at Marshside early in the week. Perhaps 30 Grey Phalaropes were noted, many as fly-by sightings on seawatches.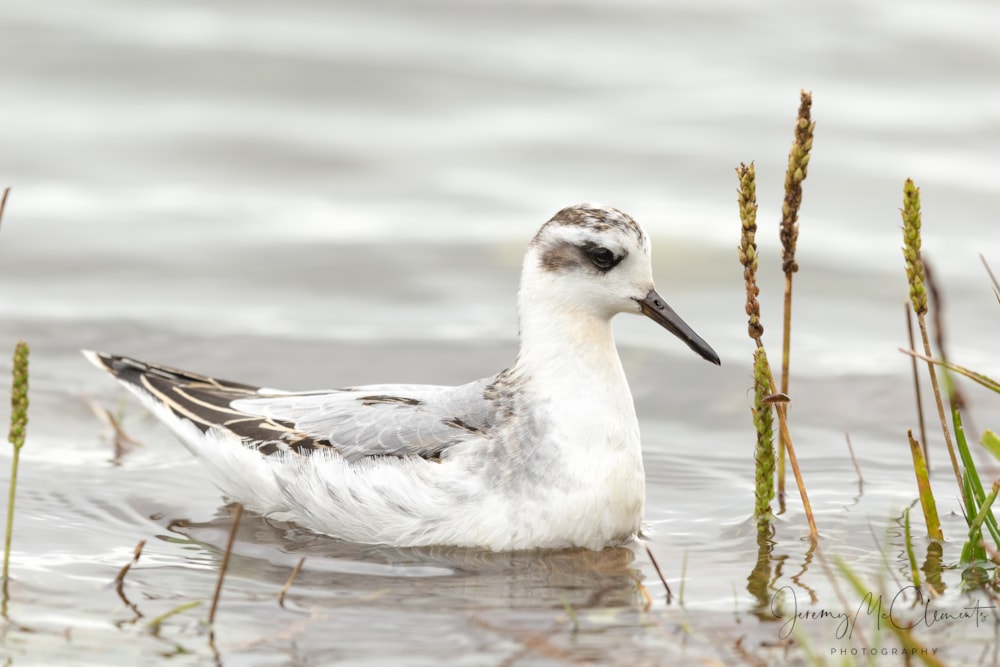 Grey Phalarope, Stanpit Marsh, Dorset (Jeremy Mcclements).
A Spotted Crake was on show at Greylake RSPB, Somerset, throughout the week, with records also stemming from Essex and Shetland. A Purple Heron overflying Limpenhoe Marshes, Norfolk, on 26th is presumed to be the same juvenile last seen there on 21 August. Two Glossy Ibises involved the long stayers in Gwent and Devon.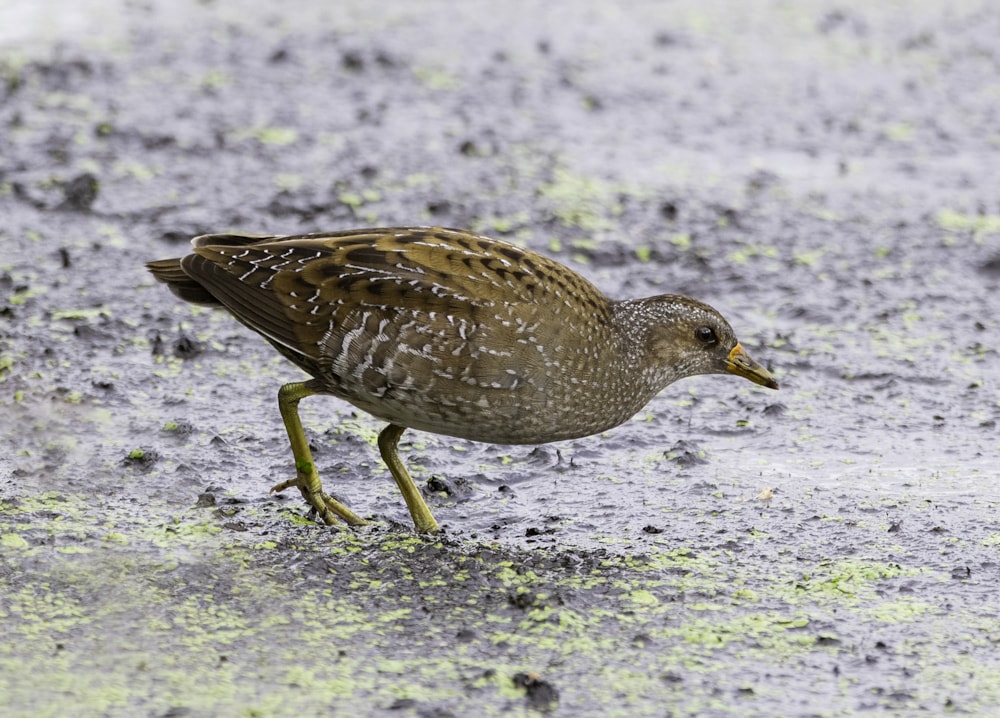 Spotted Crake, Greylake RSPB, Somerset & Bristol (Geoff Dicker).
The Blue-winged Teal was reported again a couple of times from Frankfield Loch, Clyde, this week – the first sightings since the beginning of September. Familiar Ring-necked Duck were again at Abberton Res, Essex, and Radipole Lake, Dorset, with two new birds in Co Galway. The pair of white-morph Snow Geese lingered at Balranald, North Uist, to at least 28th, while a likely blue morph was among Pink-feet at Vane Farm, Perth & Kinross, on 1st.
The Snowy Owl remained on St Kilda, Outer Hebrides, throughout, while the influx of birders to Shetland saw an upturn in reports of the male at Ronas Hill; it was still there on 1st, providing a spectacular bonus bird when the going got tough while searching for migrants. A juvenile Red-footed Falcon was seen a couple of times at Northward Hill, Kent, on 27th, with another arriving in off the sea at Gibraltar Point, Lincs, on 30th.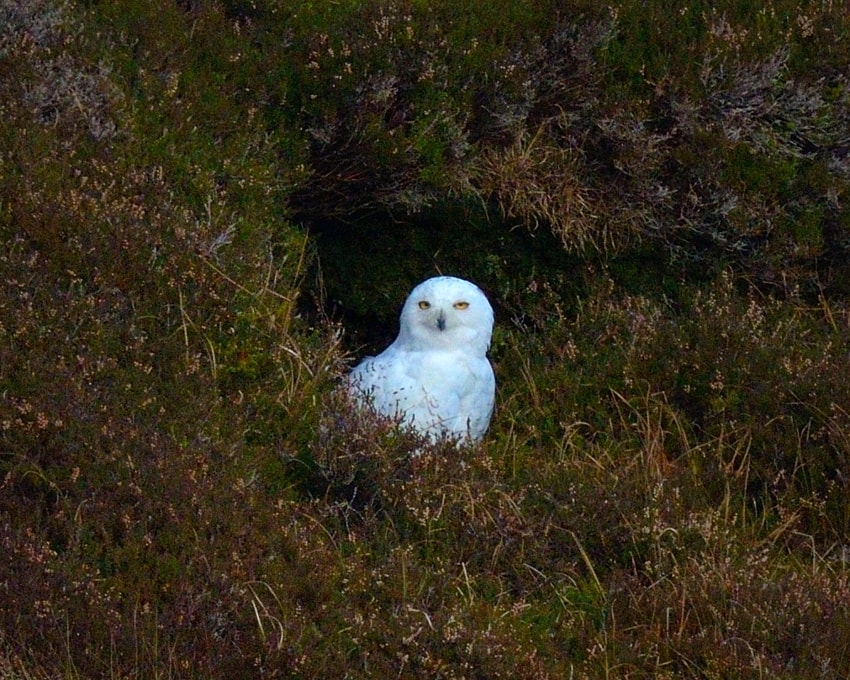 Snowy Owl, Ronas Hill, Mainland, Shetland (Tom Hines).
Western Palearctic
The first Cape May Warbler for the Azores (and third for the WP) continued the strong start to the autumn on Corvo on 27th, while the Chestnut-sided and Canada Warblers remained early in the week. Two Northern Waterthrushes were also found, with the landbird roll-call also including a Black-and-white Warbler and a handful of Red-eyed Vireos.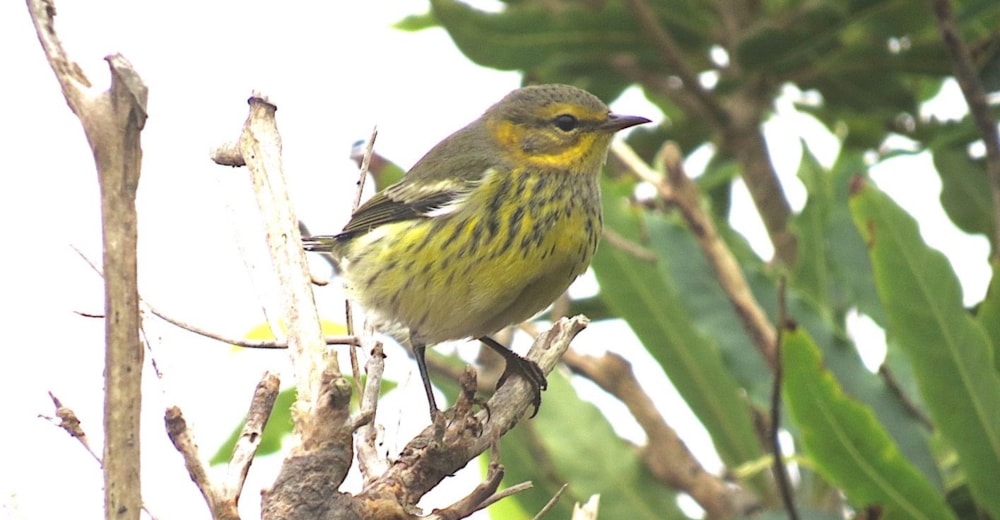 Cape May Warbler, Corvo, Azores (Peter Stronach).
Elsewhere in the Azores, singles of Solitary and Least Sandpipers were on Faial on 30th, with two American Buff-bellied Pipits on the island on 25th. A juvenile Semipalmated Plover was on Pico, while the selection of shorebirds at Cabo da Praia, Terceira, included a Long-billed Dowitcher.
The biggest news of the week, however, was France's first Ovenbird, discovered on Molène Island on 27th and lingering thereafter (read the finder's account here). Looking at a map, it's understandable why birders working Scilly might have felt aggrieved … Other news from France concerned a Eurasian Pygmy Owl found during daylight hours in a suburb of Paris on 30th – it represents a first for capital area.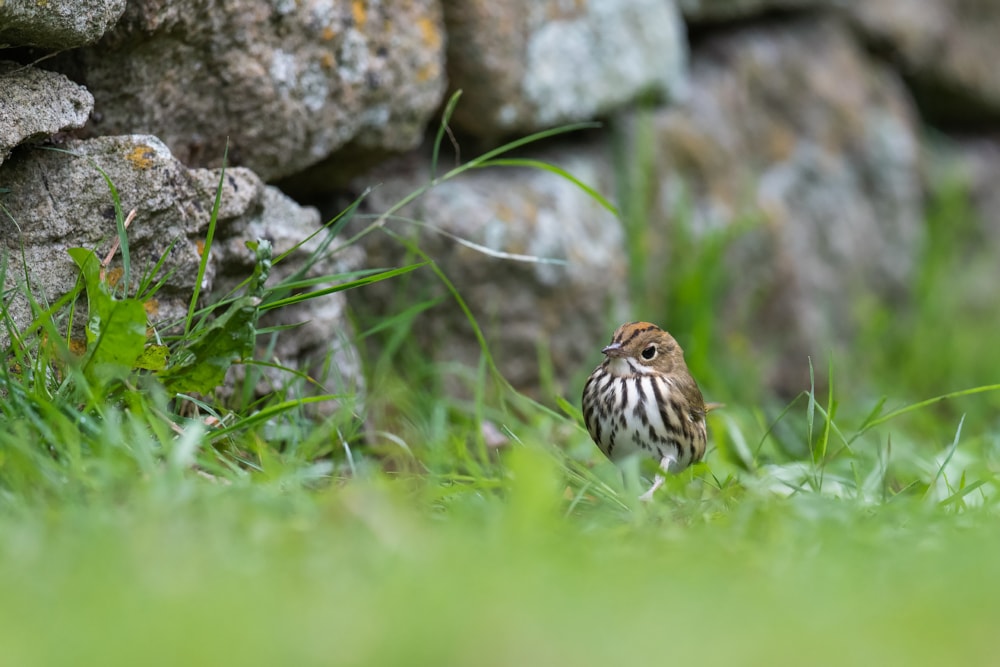 Ovenbird, Île-Molène, Finistère (Eric Sansault).
Another South Polar Skua was seen at sea in Galician waters on 26th, while late news concerned Portugal's second Booted Warbler near Setúbal on 24th. Further south in Spain, an Elegant Tern was at Chipiona, Andalucia, and, continuing further south, both American Golden Plover and Pectoral Sandpiper were seen south-west of Casablanca, Morocco. The Dwarf Bittern remained on Fuerteventura.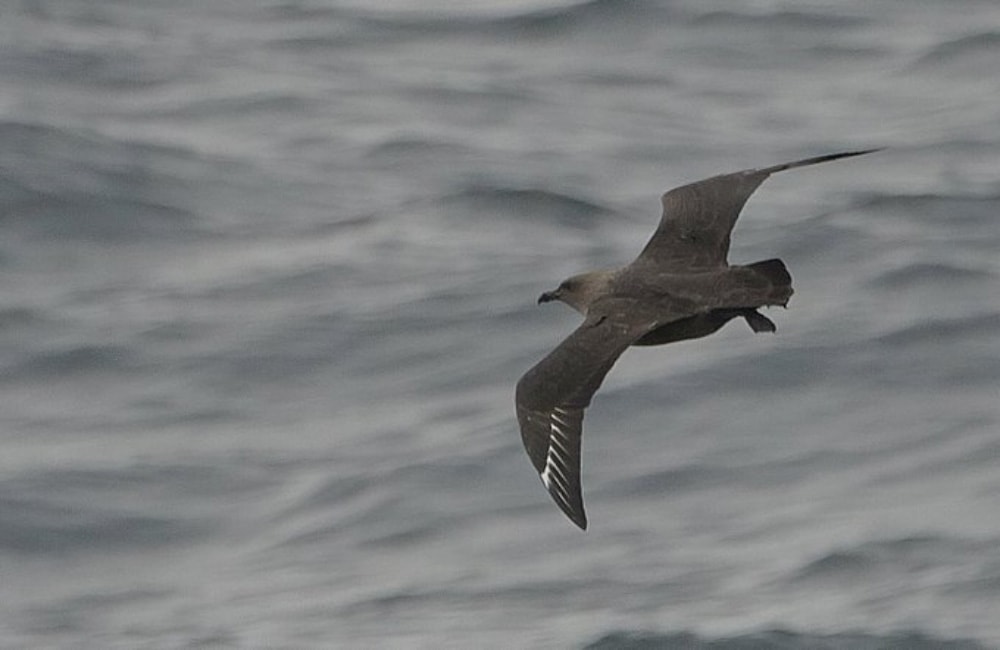 South Polar Skua, at sea, Galicia (Marcel Gil Velasco).
Dutch birders were left perplexed by a white-rumped swift species on Schiermonnikoog, Friesland, on 26-27th. Identification moved from Little to White-rumped Swift, before African Horus Swift was touted. Finally, opinion seemed to settle on either a hybrid or aberrant Pallid Swift.
Other records included two drake Stejneger's Scoter passing Cape Põõsaspea, Estonia, on 28th, the second Rustic Bunting for Belarus at Sasnovy on 25th, a few Crested Honey Buzzards in Israel and the second Common Whitethroat for Cape Verde on Sal.