The largest influx of Double-crested Cormorants to the Western Palearctic since 2002 delivered on 25th, when a juvenile was found near Ballylongford, Co Kerry. Last conclusively reported on 28th (the following two days saw the site doused in heavy fog), it follows hot on the heels of another immature recorded in Irish territorial waters on 29 September (see here). The only other Irish record concerns one at Nimmo's Pier in Galway in 1995-96, while Britain has just one – at Billingham, Cleveland, in early 1989.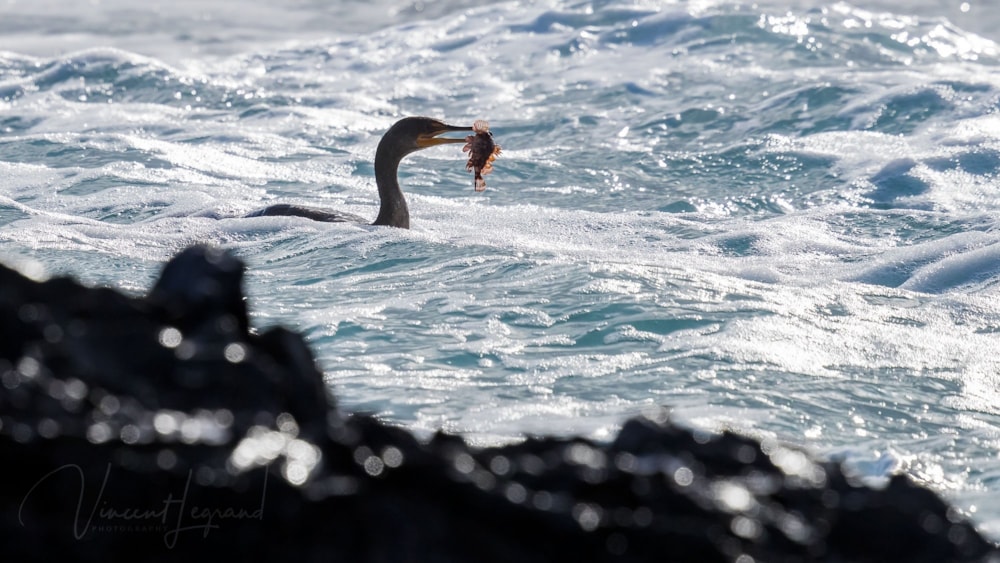 Double-crested Cormorant, Corvo, Azores (Vincent Legrand).
A first-winter female Bufflehead at an undisclosed site in Co Clare on 29th is just the fourth for Ireland and the second county record, with the first for that county seen at Lough Atedaun in early 2007. Meanwhile, the Belted Kingfisher lingered at Dunboy, Co Cork, until 1st – the end of the national Irish lockdown. The country is now set for county-level restrictions until 18 December.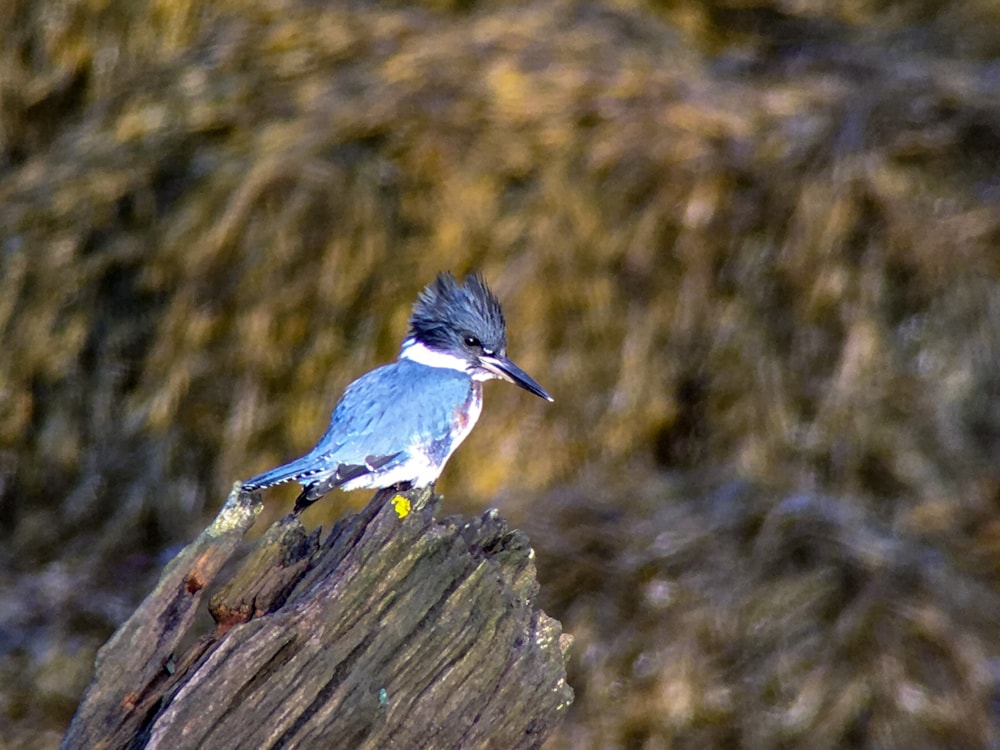 Belted Kingfisher, Castletown Bearhaven, Cork (Brian McCloskey).
Britain's first Sociable Lapwing for 12 years provided quite the shock mid-week, found among healthy numbers of Northern Lapwings and European Golden Plovers at Crows-an-Wra, Cornwall, from 27th. Once a near-annual vagrant to British shores, there have been as many as 46 previous records for Britain and Ireland, while it is a Cornish third – after first-winters at Hayle Estuary in October 1978 and Davidstow Airfield in October 1987.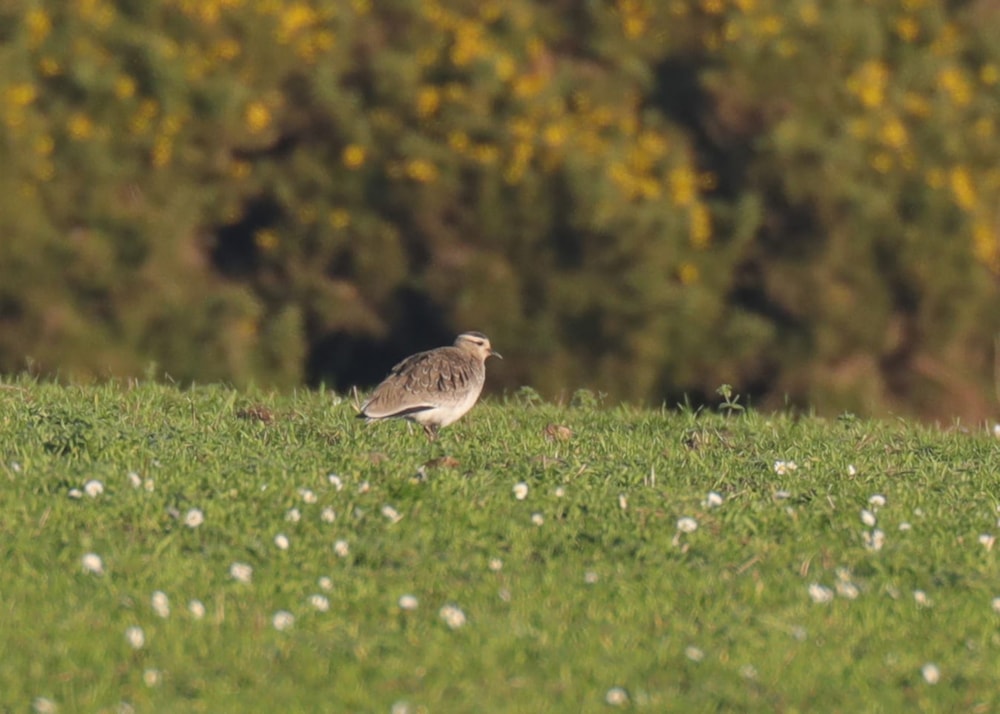 Sociable Lapwing, Crows-an-Wra, Cornwall (anon).
On 1st, the BirdGuides mailbox was enlivened with photos of a gorgeous male Dark-eyed Junco present that morning in suburban London, with the news that it had been visiting a garden in Chiswick since the start of the week. Following a bumper autumn for Nearctic vagrants, it may prove to be the tip of the iceberg when it comes to transatlantic garden visitors this winter. The species has wintered in Britain on several previous occasions, including a well twitched first-winter male at Hawkhill Inclosure, Hampshire, in 2011-12.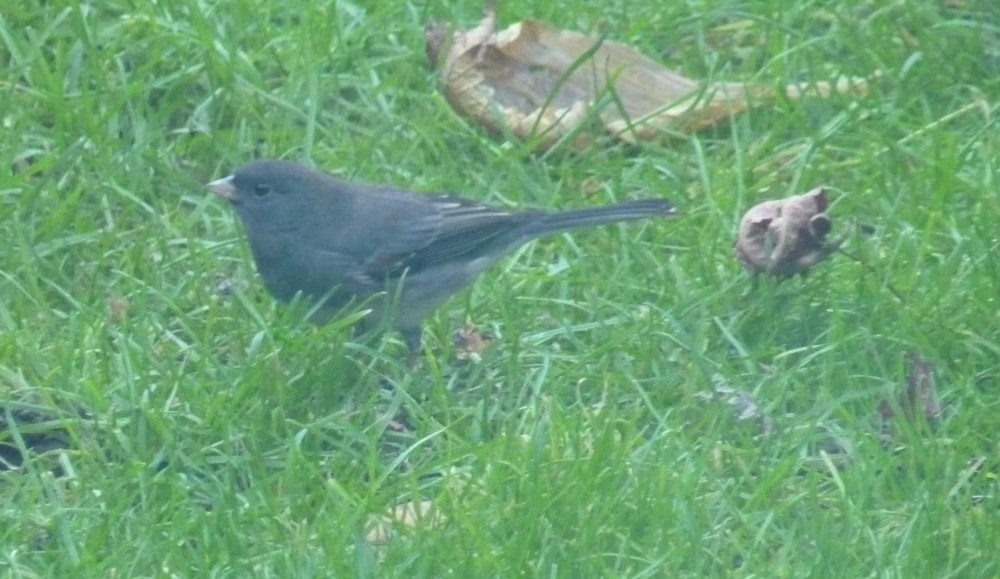 Dark-eyed Junco, Hammersmith, London.
Tiree, Argyll, entertained a first-winter male Pine Bunting for 30 minutes on 29th, in the famous garden at Balephuil, before it headed off high north-east. Staggeringly, it is the fourth county first seen in said garden this autumn, following on from Yellow-bellied Flycatcher, Hume's Leaf Warbler and Dusky Warbler. Remarkably, it was found to be fitted with a European-style metal ring on its right leg – there can't have been that many Pine Buntings ringed in the region this year!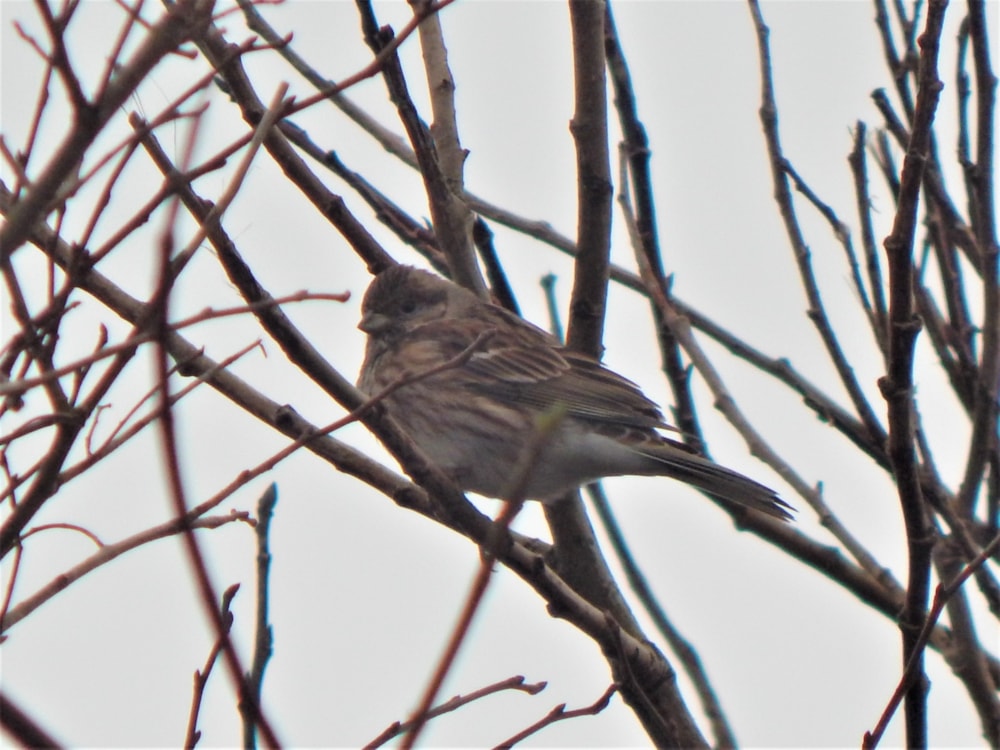 Pine Bunting, Balephuil, Tiree, Argyll (John Bowler).
Eastern Yellow Wagtails have very much been a feature of the last two British winters, and this week proved no exception. Avon got its first-ever record at Steart WWT from 26th, remaining until the end of the week. An adult male at Carlton Marshes, Suffolk, from 24th was initially thought to be a Siberian Yellow Wagtail – never before recorded in Britain and Ireland – but better photos later showed it to be the Alaskan Yellow Wagtail from Dunwich Pools earlier in the month. Kent's first-winter was last recorded at Worth Marsh on 25th.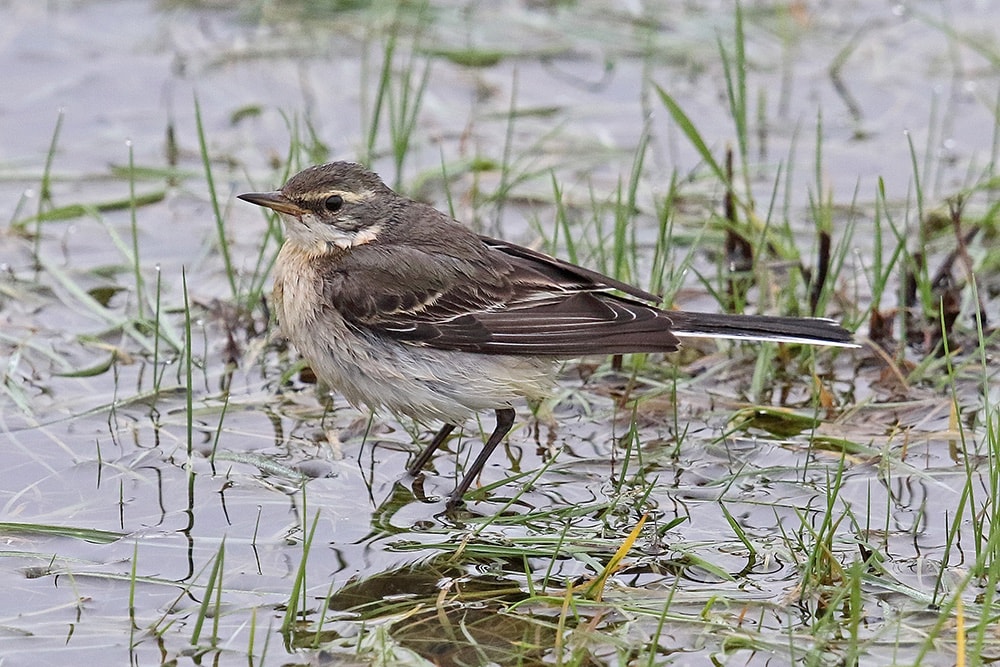 Eastern Yellow Wagtail, Steart WWT, Somerset & Bristol (Gary Thoburn).
The Kent Eurasian Crag Martin continued roosting on chalk cliffs at Kingsdown throughout, while on 28th its day haunt was discovered – it was making the daily commute to Samphire Hoe CP, 12 km south-west as the martin flies. Belated news was received of a Snowy Owl on the sea wall of Aghada ESB Power Station, Co Cork, on 21st, while on St Kilda, Outer Hebrides, the female also made it into December.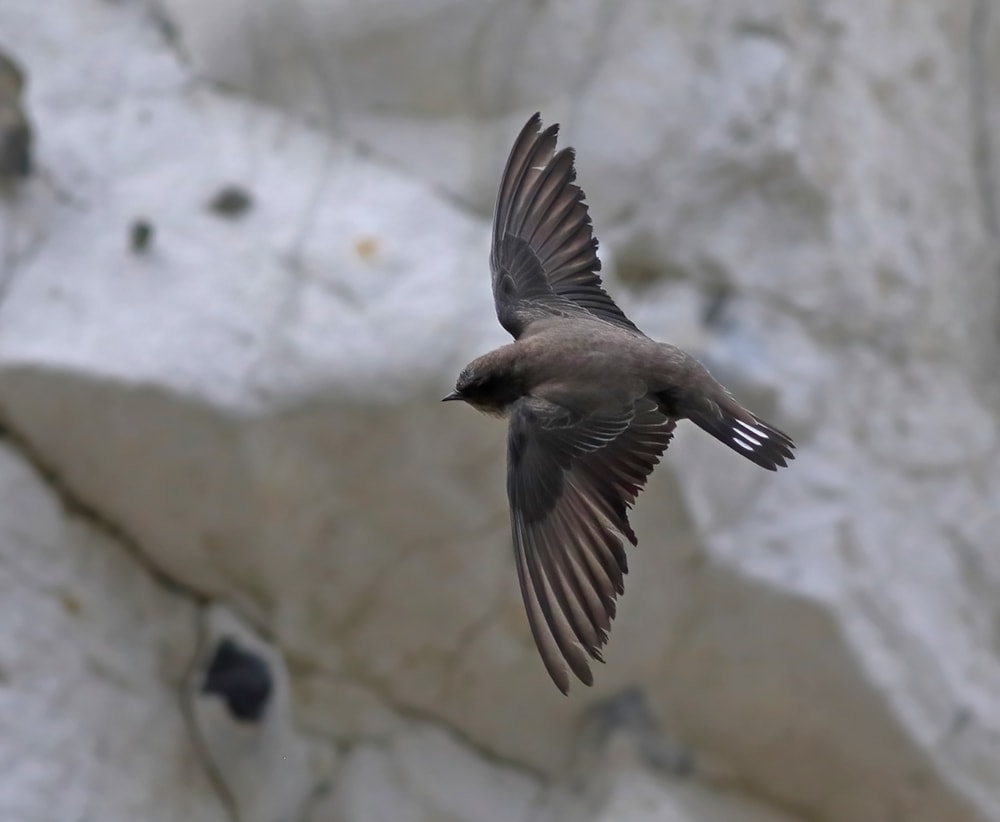 Eurasian Crag Martin, Kingsdown, Kent (Stephen Ray).
Thursley Common, Surrey, sustained a sensational bunting double-act this week, when a fine Rustic Bunting was found on Friday and observed daily afterwards, often alongside the Little Bunting that has been present there since October. In Norfolk, a female Black-throated Thrush briefly visited a Weybourne garden on 25th, with the male Parrot Crossbill reported again from Wakerley Great Wood, Northamptonshire, on 1st, and a probable Hume's Leaf Warbler at Broad Haven, Pembrokeshire, from 27-29th. Two Black-bellied Dippers bobbed along Kirkhouse Burn at Voe, Mainland, Shetland, from 26th.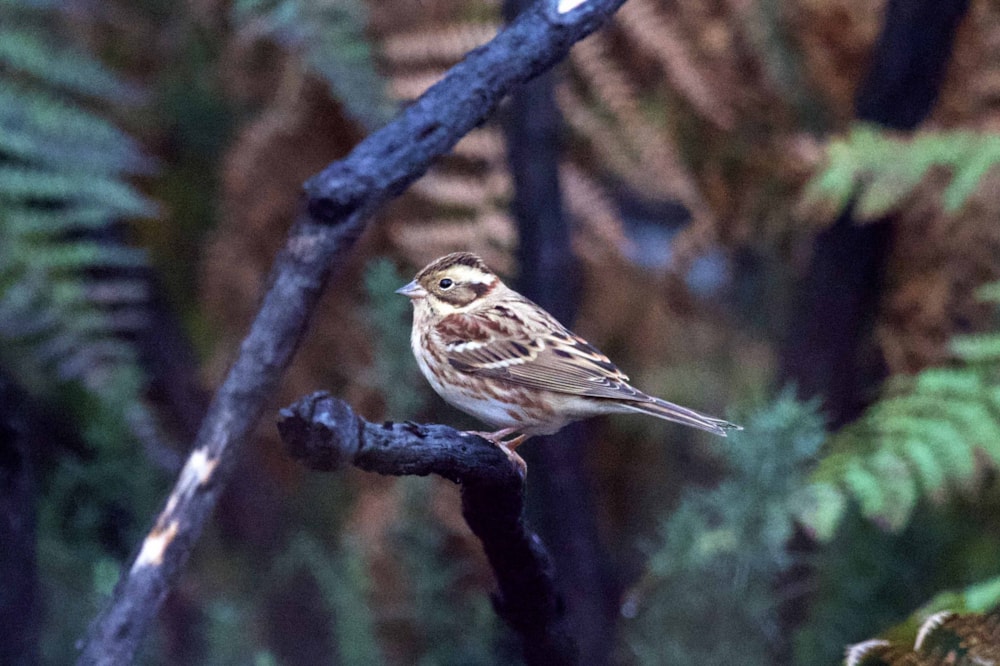 Rustic Bunting, Thursley Common, Surrey (David Brassington).
Shropshire's first Pied-billed Grebe was a smart find at Chelmarsh Reservoir from 26th, and is perhaps the bird recorded at South Walney NR, Cumbria, earlier in the month. A run of north-easterlies from the Near Continent across the North Sea during the latter part of the week saw a remarkable influx of scarce geese into South-East England, including a number of London parks. Russian White-fronted Geese were at no fewer than 110 sites, while 20 locations recorded Tundra Bean Geese.
Two new 'queen' King Eiders were in Co Donegal at St John's Point from 25th and the young drake made a reappearance at Little Haven, Pembrokeshire, on 26th, moving to Stack Rocks on 1st. Off Penzance, Cornwall, the Pacific Diver was back for its 15th winter from 25th, with the drake White-winged Scoter reported from Eastfield, Lothian, on 1st. An adult Bonaparte's Gull was a brief visitor to Northumberland's Budle Bay on 27th, with a probable first-winter at Brockhall GPs, Herefordshire, on the final day of November.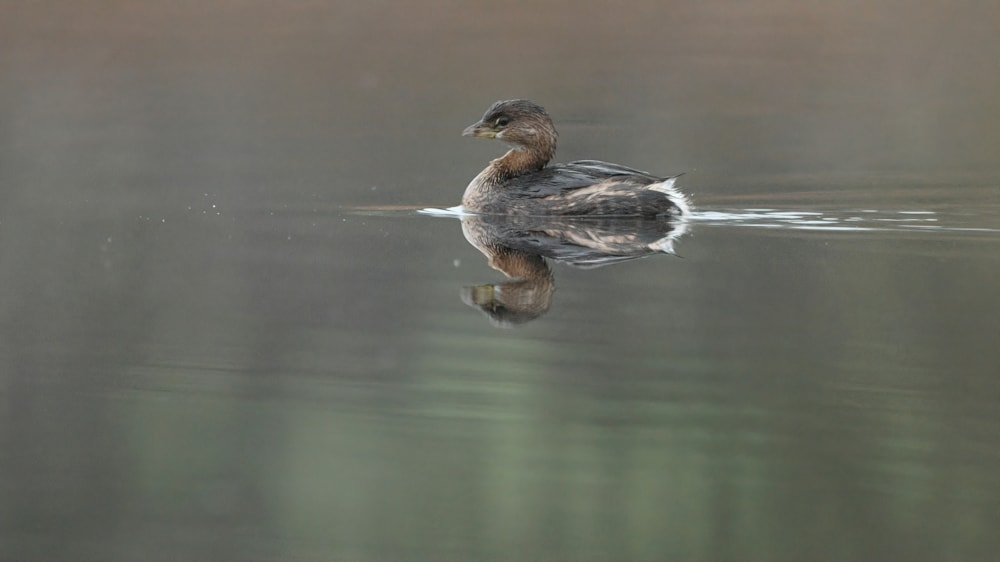 Pied-billed Grebe, Chelmarsh Reservoir, Shropshire (David Chapman).
Fife's young Hudsonian Godwit continued to be sporadically reported on the Eden Estuary until 28th, while Long-billed Dowitchers lingered at Campfield Marsh RSPB, Cumbria, until 28th and Scorton, North Yorkshire, throughout. A possible Wilson's Phalarope was on a roadside lagoon near Filey, North Yorkshire, on 30th, although wasn't to be found there the following day. In Somerset, Stert Island's Kentish Plover was last noted on 26th, while the juvenile Pacific Golden Plover was still at Findhorn Bay, Moray & Nairn, on 28th.
Finally, a Bearded Seal on the River Thurso in the middle of Thurso, Caithness, on 25th is more than worthy of an honourable mention.
Northern Isles and the Hebrides
Shetland's Glossy Ibis was present and correct at Haroldswick, Unst, until 1st. Meanwhile, Siberian Chiffchaffs were plentiful across the Mainland, recorded at Hoswick, Quendale and Scatsta Farm, and a young male Waxwing continued to gorge on apples in a Lerwick garden. A White-billed Diver was still to be found in South Nesting Bay, Mainland, too, although, unfortunately, continued moulting of the recent Green-winged Teal at Scatness, Mainland, showed it to be a Green-winged Teal × Eurasian Teal hybrid.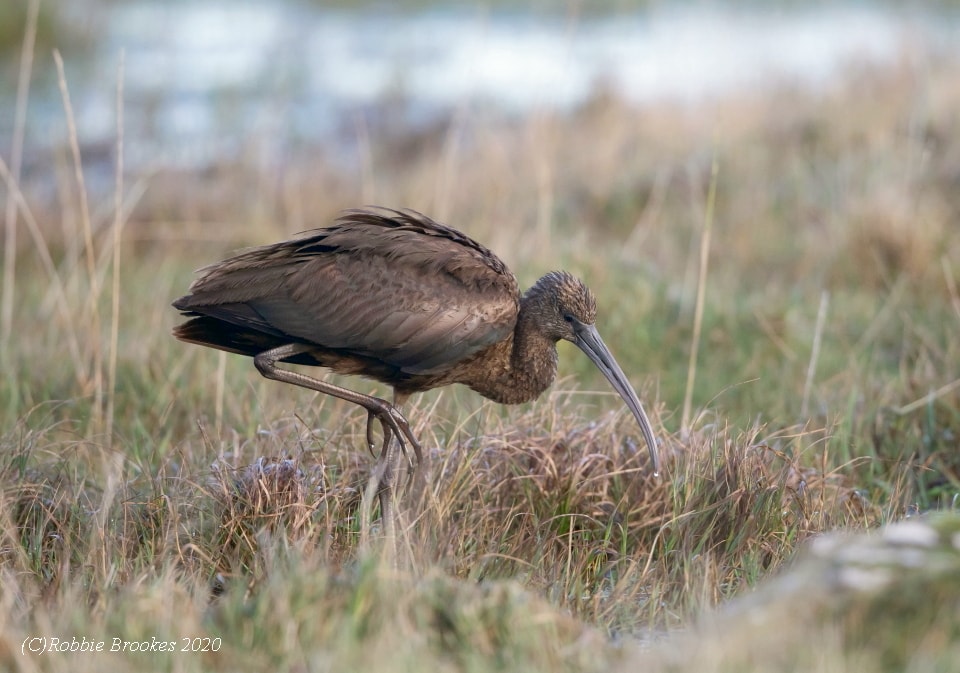 Glossy Ibis, Haroldswick, Unst, Shetland (Robbie Brookes).
Four White-billed Divers were again off Papa Westray, Orkney, on 26th. Elsewhere, a Siberian Chiffchaff was at Stromness, Mainland, the drake Surf Scoter remained in the Bay of Kirkwall off Hatston Pier, Mainland, and the North Ronaldsay Green-winged Teal lasted until 25th. In the Outer Hebrides, two Siberian Chiffchaffs were at Castlebay, Barra.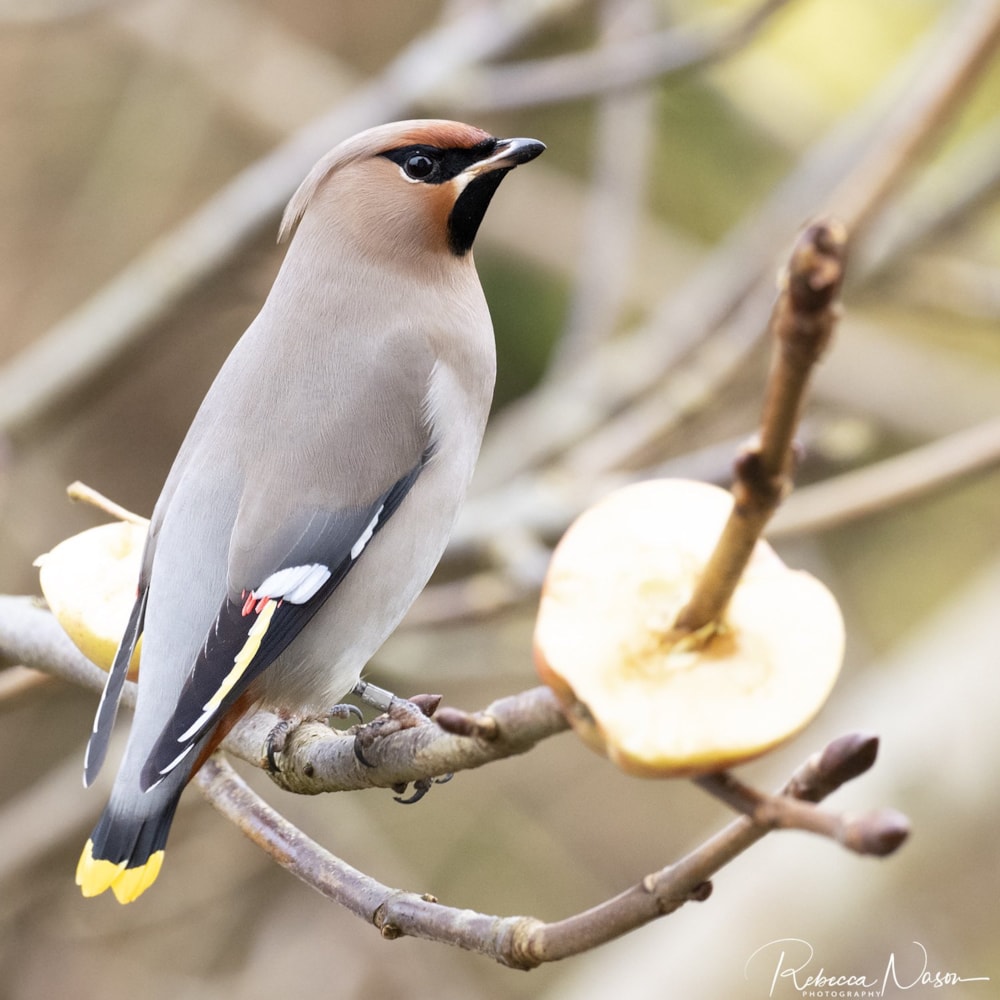 Waxwing, Lerwick, Mainland, Shetland (Rebecca Nason).
Scottish mainland
On 28-29th, a Richard's Pipit at Ruddon's Point was a smart Fife find, while in Angus, a Great Grey Shrike was at the reliable site of Backwater Reservoir on the same two dates. No fewer than three Ring-necked Ducks graced the Scottish mainland – at Bearsden, Clyde, Cameron Reservoir, Fife, and Loch na Bo, Moray & Nairn. Meanwhile, a drake American Wigeon was at Loch Oire, Moray & Nairn, on 28th, redhead Smew were at both Rae Loch, Perth & Kinross, and Hogganfield Loch, Clyde, and the drake Surf Scoter was back off Joppa, Lothian, from 29th, with a Todd's Canada Goose at Loch of Skene, Aberdeenshire, on the same date. On Tiree, Argyll, Loch Bhasapol's Ring-necked Duck count increased to three – a drake and two females.
Smew, Hogganfield Loch, Clyde (Jim Coyle).
North-East England
As autumn took its last breaths, belated news emerged of Northumberland's first-ever inland Red-flanked Bluetail that had been trapped and ringed at a ringing site close to Airy Holm Reservoir, in the south-west of the county, on 6th November. At Budle Bay, the long-staying drake Green-winged Teal was picked out again on 28th and the mystery surrounding the whereabouts of the Big Waters American Wigeon on its days off was solved when a drake was found at the Blagdon Estate, a little to the north. A redhead Smew was at East Chevington NWT on 27th and a juvenile Glaucous Gull there on 30th. A likely juvenile Kumlien's Gull was at North Shields on 1st, with two Red-necked Grebes at the traditional Holy Island harbour site on the same date. A Lapland Bunting was near New Hartley and up to eight Hawfinches remained west of Morpeth.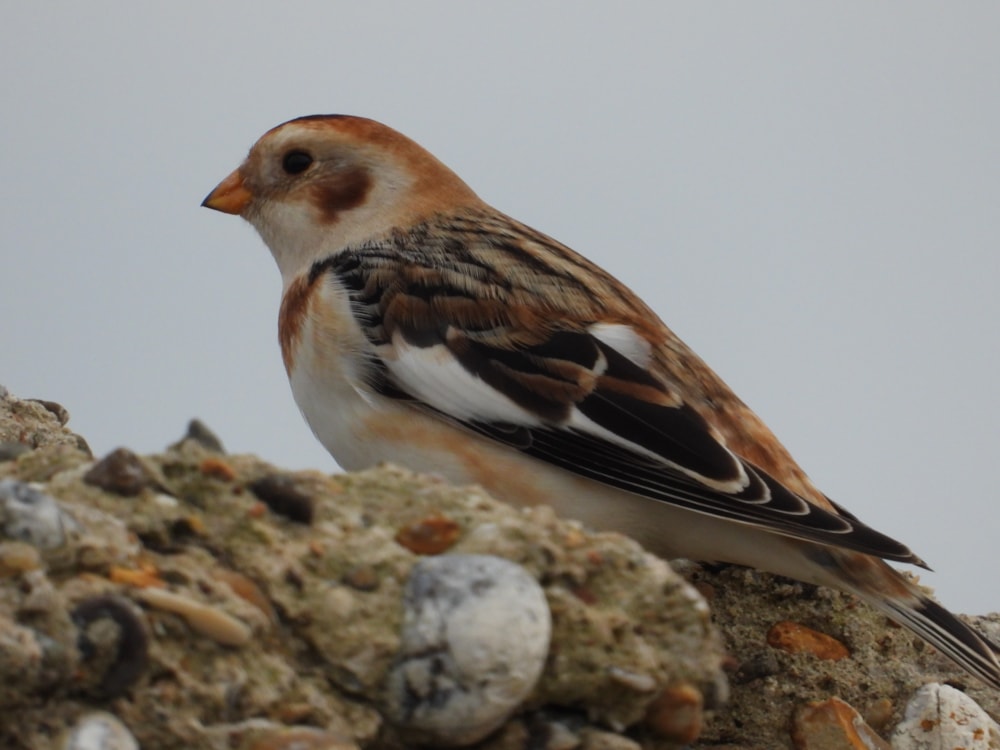 Snow Bunting, North Blyth, Northumberland (Alan Tilmouth).
Durham's autumn also had a late reprise with a Barred Warbler found north of Blackhall Rocks on 25th, remaining until 28th at least. A Ring Ouzel was logged at Whitburn on 27th. Inland, a Great Egret and Long-tailed Duck pairing provided interest at Bishop Middleham, while on the coast an Iceland Gull was noted at Souter Lighthouse and a Lapland Bunting flew over Whitburn Coastal Park.
In Cleveland, an adult Iceland Gull decorated the rocks at Hartlepool Headland from 27-29th, a young Pomarine Skua flew past on 1st, and a pair of Ruddy Shelducks adorned the Tees Marshes, favouring Back Saltholme Pool at Saltholme RSPB. At least 20 Snow Buntings were again at South Gare on 1st and smaller numbers remained at Seaton Snook, with the healthy Twite flock there numbering no fewer than 150.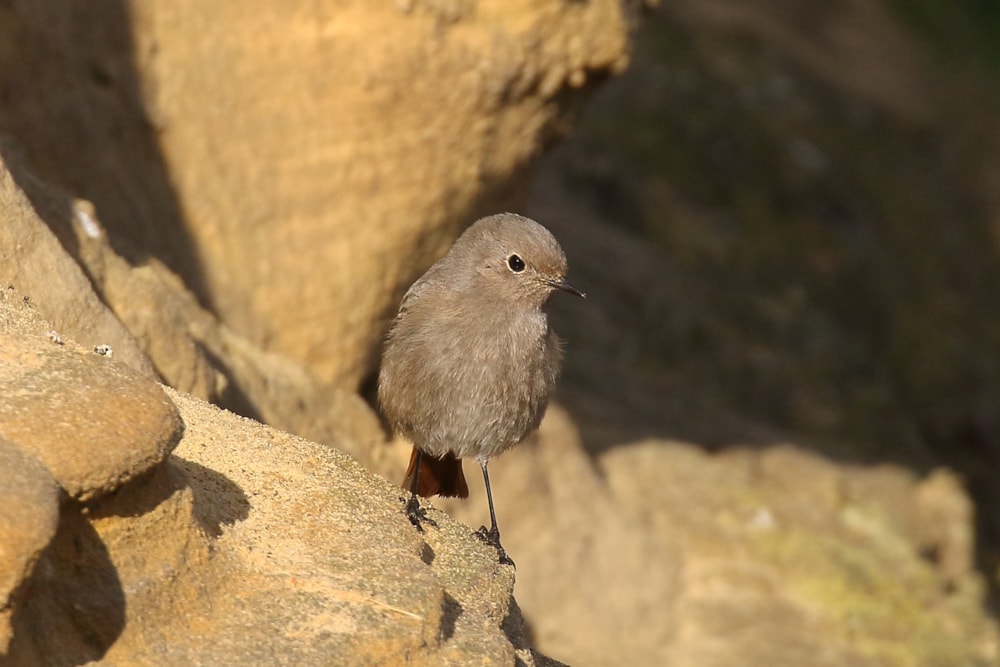 Black Redstart, Tynemouth, Northumberland (Alan Jack).
North-West England
Winter's grasp tightened on Cumbria this week, keeping new birds limited to Siberian Chiffchaffs at Harrington NR on 28th and Longtown from 30th. Elsewhere, the juvenile Great Northern Diver remained showy at Urswick Tarn and up to four Long-tailed Ducks remained at Longtown Pools.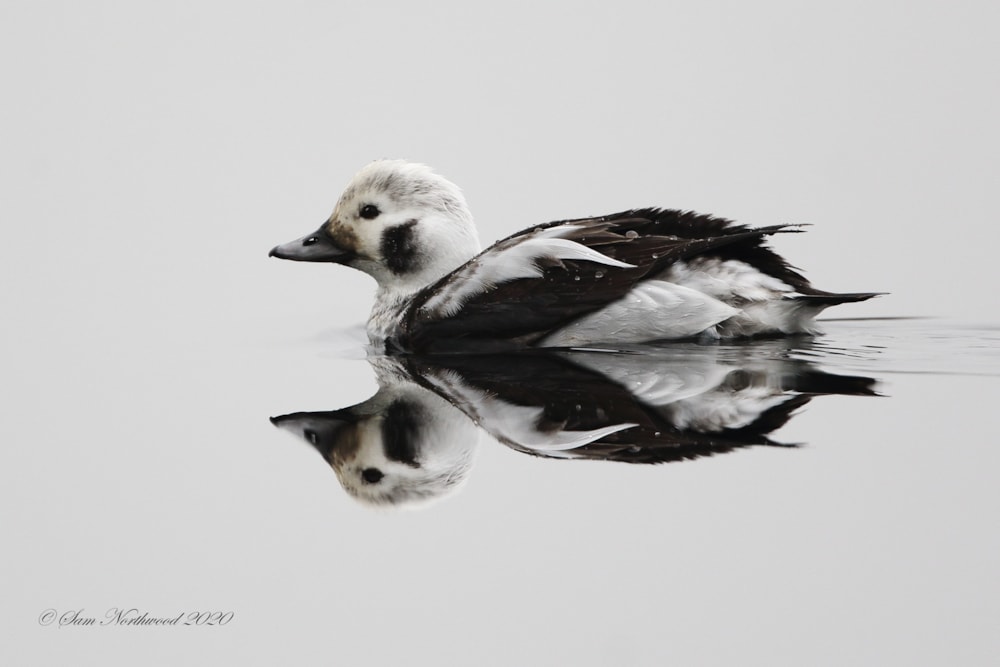 Long-tailed Duck, Longtown, Cumbria (Sam Northwood).
Over in Lancashire, a new American duck was in town. A drake Green-winged Teal had set up shop on a flooded field by Inskip from 27th, while the drake Ring-necked Duck remained at Pine Lake. Goosing was limited this week, although the mobile Todd's Canada Goose made a brief reappearance at Banks on 25th. Also in the area, the first-winter Grey Phalarope was still at Marshside RSPB and a Lapland Bunting flew north over Ainsdale on 27th. The second-winter Caspian Gull again roosted at Fishmoor Reservoir on 24th.
Grey Phalarope, Marshside, Lancashire (Steve Laycock).
Cheshire too was quiet this week, although Woolston Eyes NR had a red-letter morning on 30th with three unassigned bean geese sp making a brief pit-stop among the loafing feral geese flock and six probable Bewick's Swans overhead. A probable Siberian Lesser Whitethroat was photographed in a private garden in Widnes on 1st. A Firecrest at Platt Fields Park, Greater Manchester, was a respectable county find from 26-28th. Two Snow Buntings were at Dean Ditch, Horwich, on 1st. Meanwhile, in what is shaping up to be a great start to the gulling season, a second juvenile Iceland Gull roosted at Pennington Flash CP on 30th and up to three Caspian Gulls were at Audenshaw Reservoirs.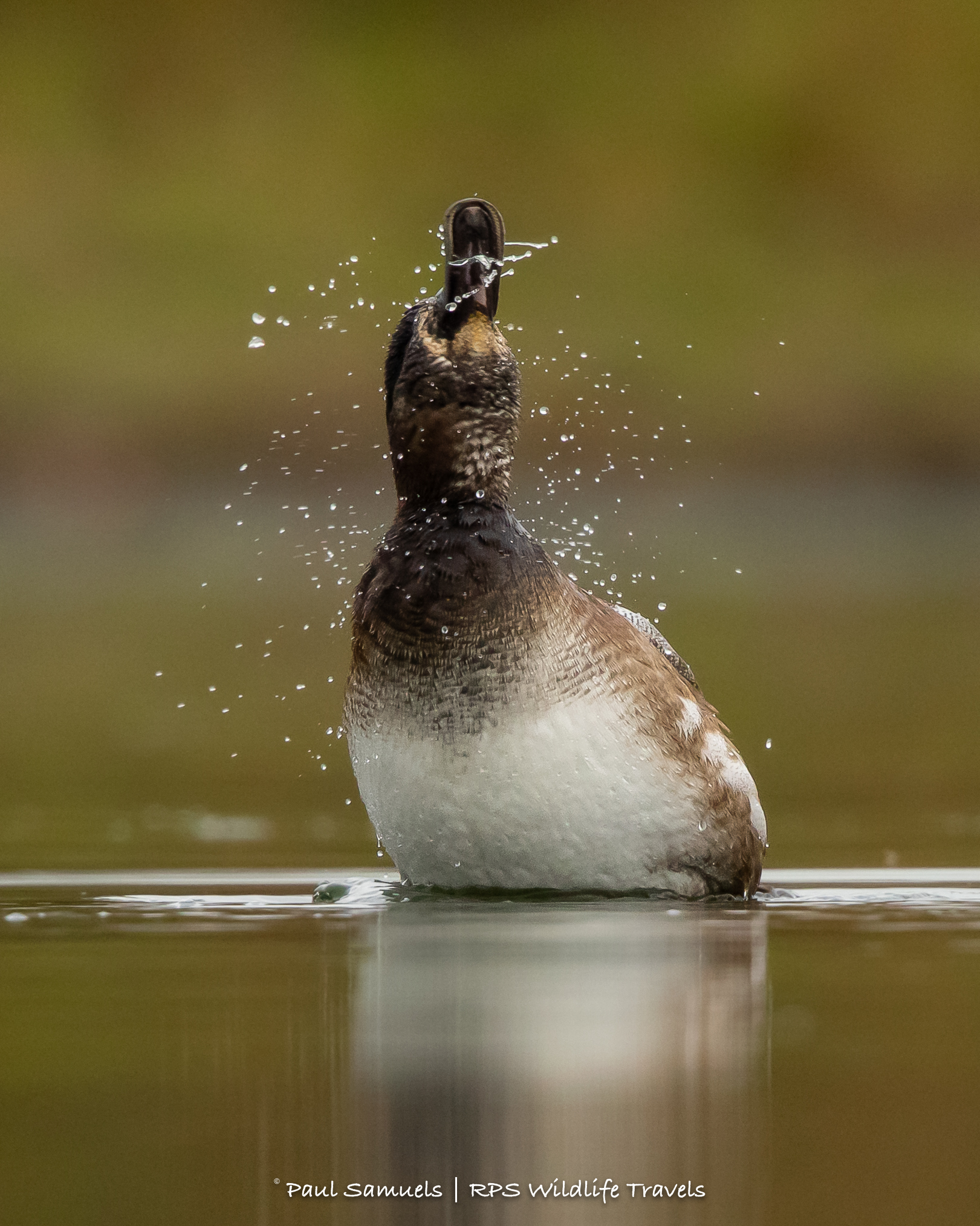 Greater Scaup, Elton, Greater Manchester (Paul Samuels).
Lincolnshire and Yorkshire
A late Radde's Warbler appeared at Easington, East Yorkshire, on 27th among a big fall of Blackbirds. Other records from the Spurn area included Smew and Sooty Shearwater offshore, plus Tundra Bean and Russian White-fronted Geese on the land. A drake Smew visited Hornsea Mere on 1st, where up to 17 Tundra Bean Geese remained. Flamborough Head recorded both Glaucous and Iceland Gulls. Glaucous Gulls were also seen at Filey and Scarborough.
Moving inland, the Lesser Yellowlegs and Slavonian Grebe remained at Nosterfield LNR. There were a couple of Lapland Bunting records from the West Yorkshire moors and Common Scoters were noted at Wintersett Reservoir, Skelton Lake and Old Moor RSPB. Several sites registered Caspian Gulls, while a Siberian Chiffchaff was at Potteric Carr, South Yorkshire. Unusually for the end of November, a Curlew Sandpiper was at Austerfield on 29th.
Although Lincolnshire largely missed out on the major influx of grey geese, two Russian White-fronts were found at Baston Fen on 30th and a Tundra Bean was at Toft Newton Reservoir on 1st, while Gibraltar Point NNR recorded both species. A redhead Smew was an unusual visitor to a park lake in Lincoln on 30th, and another pitched up at Frampton Marsh NR. A beautiful adult Iceland Gull was at Saltfleet Haven on 1st, with a juvenile Glaucous Gull at Chapel St Leonards on 28th. A Siberian Chiffchaff was at Baston Fen and up to six Long-eared Owls could be observed roosting at Deeping Lakes.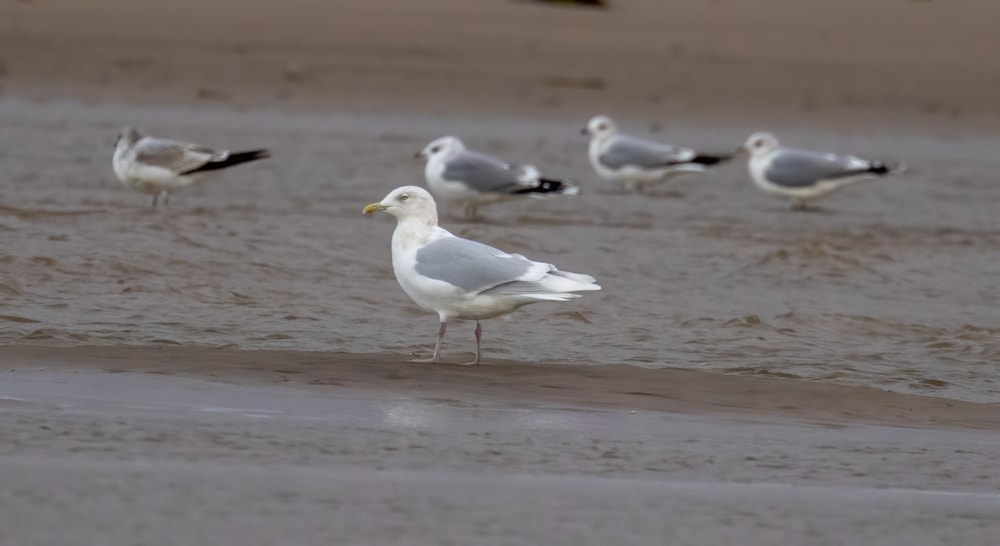 Iceland Gull, Saltfleet, Lincolnshire (Graham Catley).
West Midlands
A Bewick's Swan touched down at Blithfield Reservoir, Staffordshire, on 27th before continuing north – part of an arrival on the east coast. The juvenile Great Northern Diver was again reported at Chasewater on 29th and the first-winter Little Stint still showed steadfast loyalty to Belvide Reservoir. The Great Grey Shrike continued its stay at Hanchurch Woods throughout. Caspian Gulls were picked out among gull roosts at four sites across the county, while the returning adult Ring-billed × Lesser Black-backed Gull hybrid was back at Belvide Reservoir on 27th. In Shropshire, the Great Northern Diver remained at Chelmarsh Reservoir, where it was joined by three Common Scoter on 29th.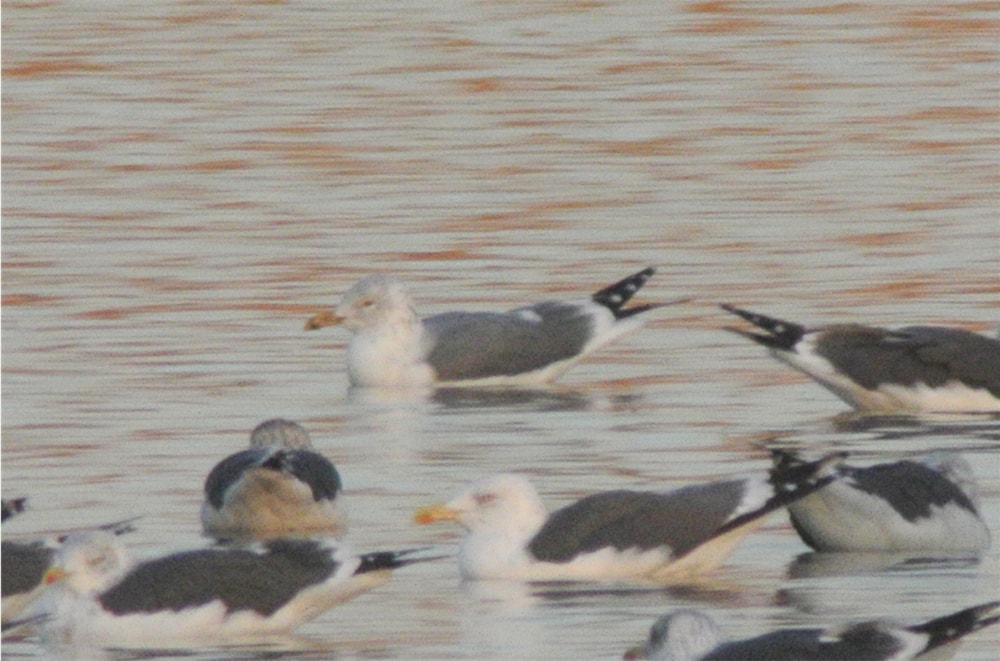 Ring-billed × Lesser Black-backed Gull (rear), Belvide Reservoir, Staffordshire (Steve Nuttall).
Two first-winter Caspian Gulls attended the evening roost at Bartley Reservoir, West Midlands, on 26th. More Great Northern Diver action was to be had in Worcestershire, with the juvenile still at Ripple GPs until at least 28th. Elsewhere, the Siberian Chiffchaff at Kempsey sewage works was joined by a second bird on 29th, while eight Russian White-fronted Geese were a great local find over at Salford Priors GPs, Warwickshire, on 29th. Draycote Water continued to boast two Great Northern Divers, four European Shags and three Common Scoter, plus an adult Glaucous Gull roosted on 27th.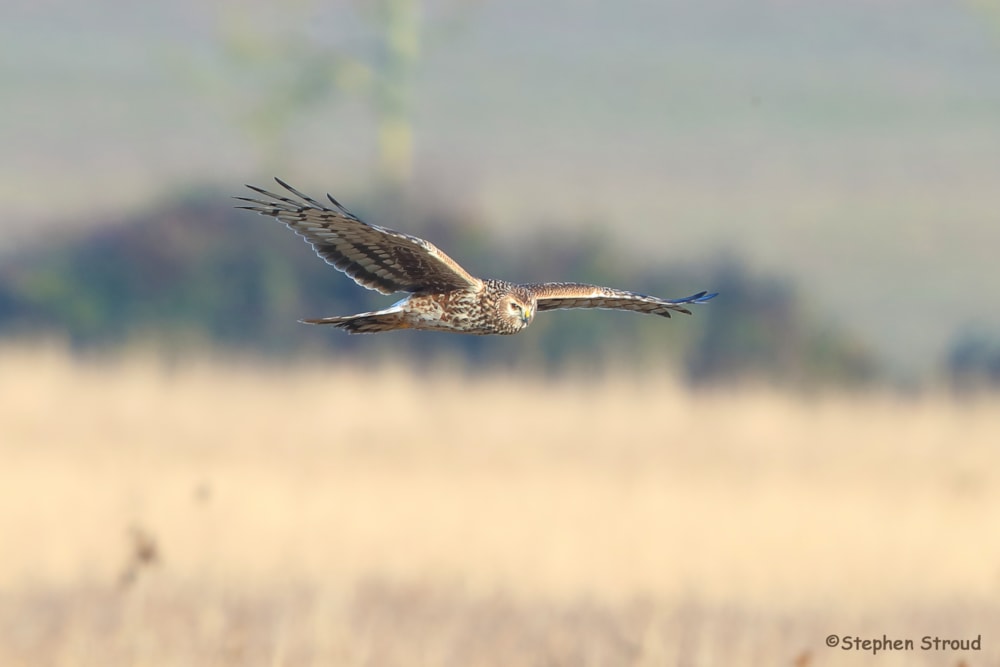 Hen Harrier, Snitterfield Bushes WWT, Warwickshire (Stephen Stroud).
East Midlands
Two Glossy Ibises were photographed by Longford Hall, Derbyshire, on 26th, although there were no follow-up reports. The Great Grey Shrike remained at Matlock Moor, a female Greater Scaup was at Barrow upon Trent GPs on 28th and five Greater White-fronted Geese were at Kedleston Park on 1st. Caspian Gulls roosted at Ogston and Foremark Reservoirs.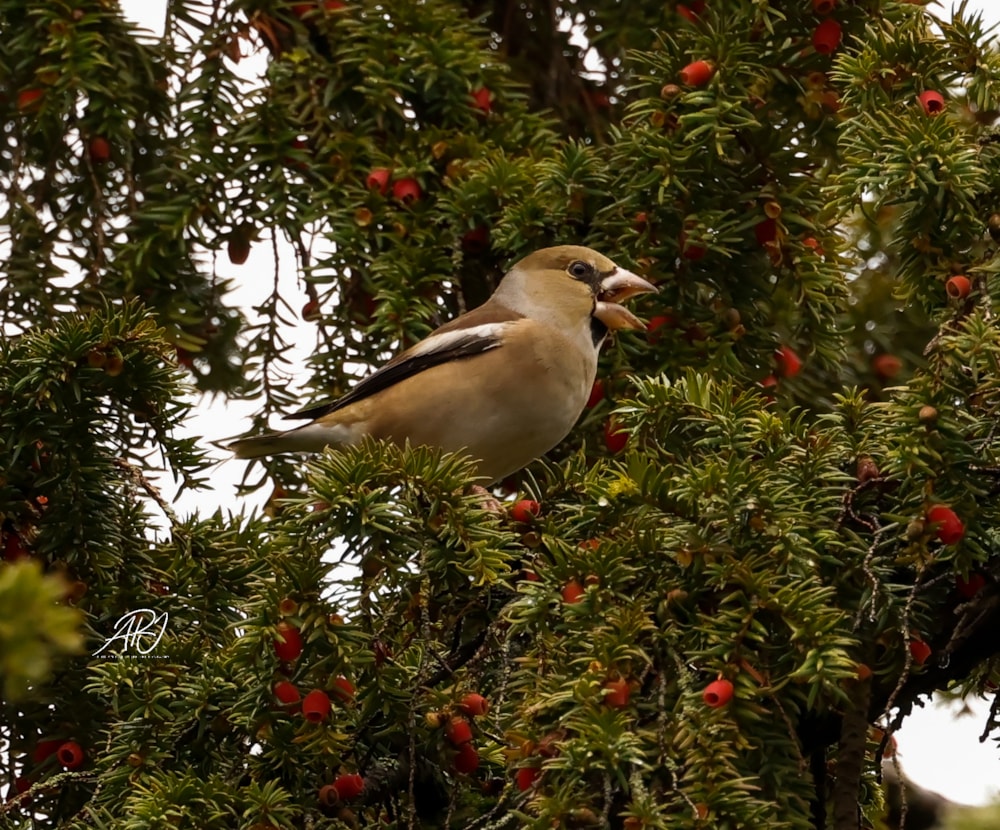 Hawfinch, Brackenfield, Derbyshire (Alan Johnson).
Content continues after advertisements
The Little Bunting continued to adorn the car park hedge at Langford Lowfields RSPB, Nottinghamshire, and was still present on 1st. Three Russian White-fronted Geese were on Clifton Pit, Attenborough NR, on 30th. Over in Northants, locals' prayers had been anser-ed when a juvenile Russian White-fronted Goose was among the Greylag Geese at Stanwick GPs on 28th. The Great Northern Diver lingered at Hollowell Reservoir and up to four Black-necked Grebes were at Stanford Reservoir.
A pair of Smew were at Eyebrook Reservoir, Leicestershire, while the redhead was still present and correct at Swithland Reservoir. Eyebrook also played host to eight Bewick's Swans on 28th, with 17 Russian White-fronts on 1st. The Wood Sandpiper was reported again at Kegworth on 28th. At Rutland Water the Great Northern Diver roost strengthened to eight on 1st, creating a new county record in the process. Other highlights included Black-necked Grebe, two Smew, 10 Common Scoter and two Greater Scaup.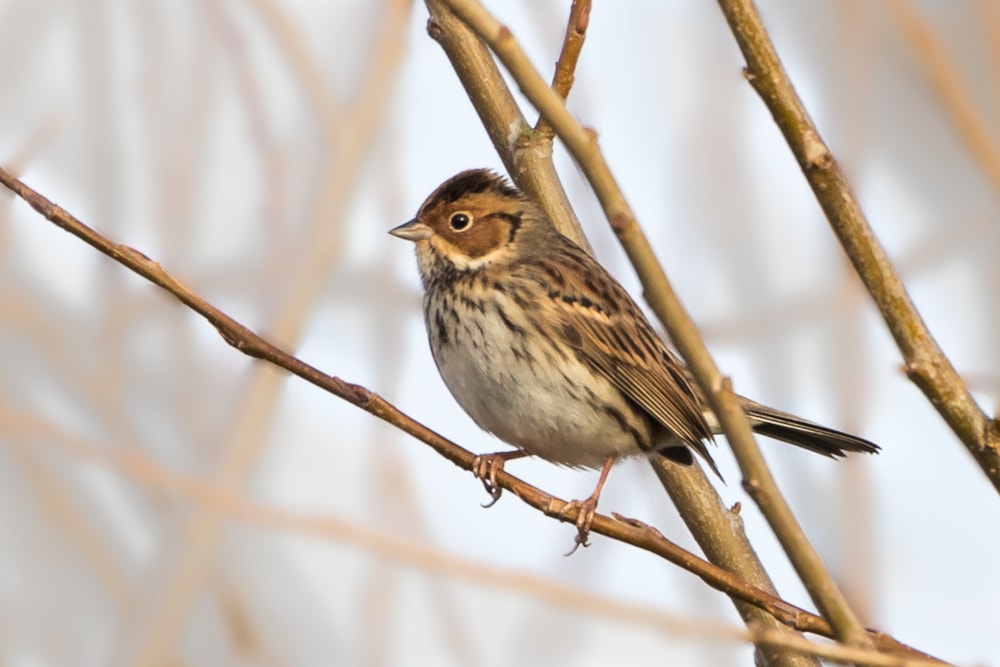 Little Bunting, Langford Lowfields RSPB, Nottinghamshire (Ian Bollen).
East of England
The last dregs of autumn delivered both Red-flanked Bluetail and Pallas's Warbler to Norfolk – the former was photographed at an undisclosed site on 27th, while the latter was at Wells Woods on 28th. Black Brants were picked out at Salthouse and Cley Marshes, with the Lesser Yellowlegs around the latter area present throughout. Siberian Chiffchaffs were at Cantley Marshes and Hassingham, and a Glossy Ibis visited Welney.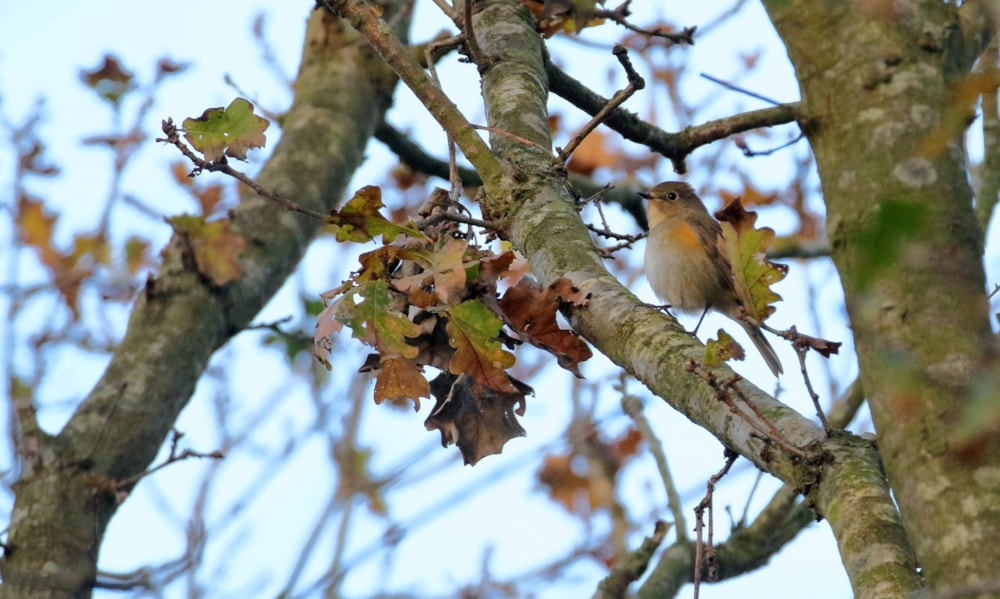 Red-flanked Bluetail, undisclosed site, Norfolk (Keith Salmon).
In Suffolk, a Richard's Pipit was found at Hollesey Marshes on 25th. Nearby, at Upper Hollesley Common, the Great Grey Shrike was present throughout the week. The Carlton Marshes Glossy Ibis duo remained in situ as well, and a Rough-legged Buzzard was reported at King's Fleet on 29th. A seriously impressive movement of Greater Scaup on 29th included 56 south past Lowestoft and no fewer than 81 past Southwold in the same direction.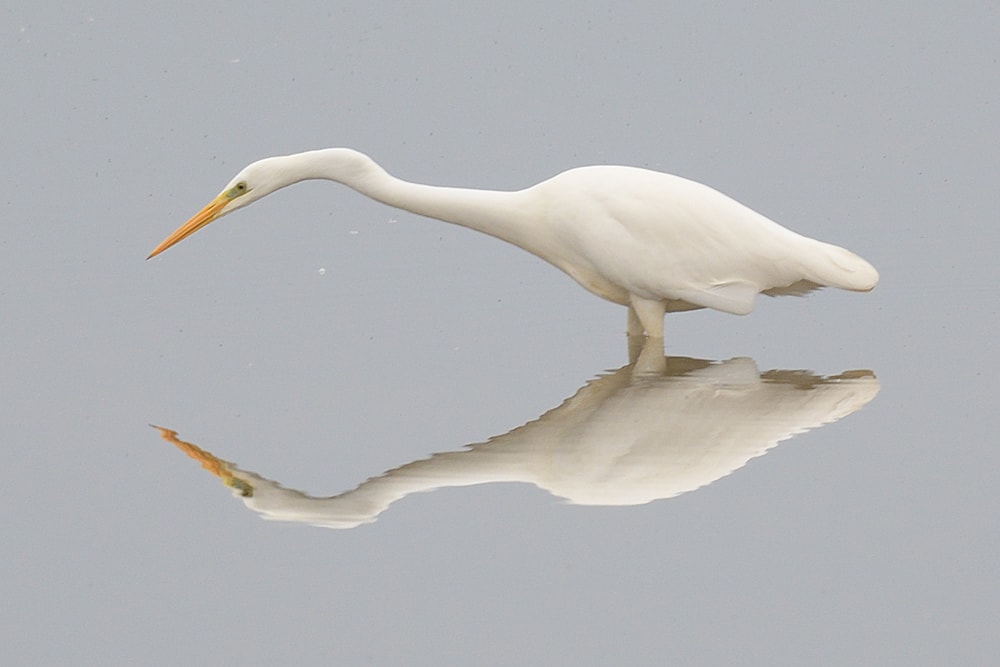 Great Egret, Carlton Marshes, Suffolk (Rob Holmes).
Up to three Black Brant were in Essex: at Goldhanger, Salcott-cum-Virley and South Woodham Ferrers. A Dusky Warbler was at The Naze on 26th. The three Ring-necked Duck were at Startop's End Reservoir, Hertfordshire, until 25th. In Bedfordshire, a flock of 10 Russian White-fronted Geese graced Priory CP from 30th and a Slavonian Grebe was at Harrold and Odell CP on 25-26th.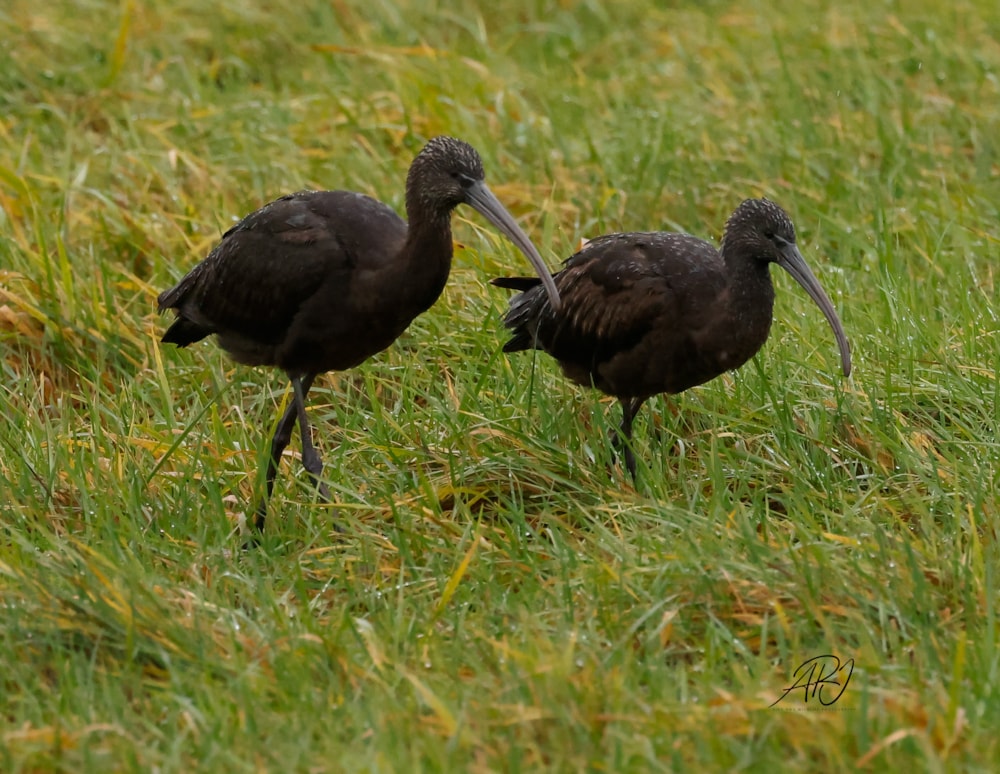 Glossy Ibis, Fen Drayton, Cambridgeshire (Alan Johnson).
Five Cambridgeshire sites hosted Glossy Ibis, with the species likely to become more regular in the fenlands. This included up to three at Fen Drayton Lakes. Grafham Water hosted two Great Northern Divers. Both Kumlien's Gull and Eurasian Spoonbill were logged at Dernford Farm Reservoir, a Smew was at Bluntisham and seven Tundra Bean Geese were at Haslingfield.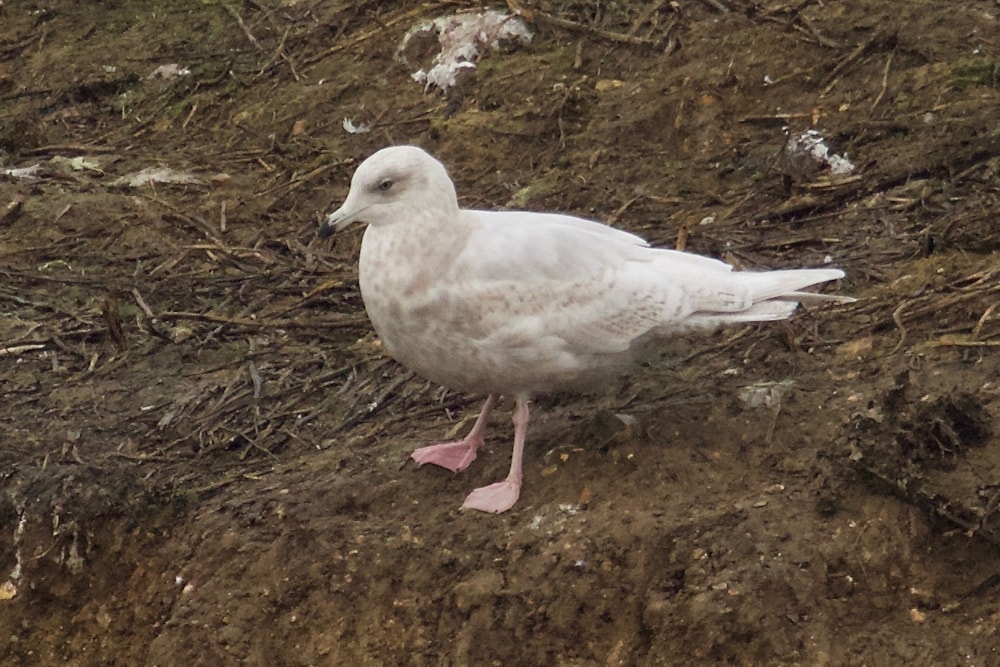 Kumlien's Gull, Dernford Farm Reservoir, Cambridgeshire (Paul Chamberlain).
South-East England
The main talking point in the region was the remarkable influx of Russian White-fronted Geese (see here). This reached as far west as the Hampshire border with Dorset, with a juvenile at Normandy Marsh from 29th. A flock of up to 16 were at Farlington Marshes from the same date and, on the 30th, a flock of 30 flew over the Yar Estuary on the Isle of Wight. Elsewhere in Hants, the Bransbury Common Great Grey Shrike was still present, and a Great Bustard flew over Pennington Marshes on 28th.
Sussex cashed in on the white-front influx, too, with 22 sites logging the species. Some 100 were recorded on 30th alone, but the biggest counts were on 1st: 60 at Warningcamp and 68 at West Langley Levels. Seven Tundra Bean Geese arrived on the back of the influx, present at Cuckmere Haven on 30th. The Rye Harbour Shore Lark was present until 27th, while the Glossy Ibis remained at Sidlesham throughout. Two Snow Buntings were at East Head from 25th and another was at Arlington Reservoir from 29th.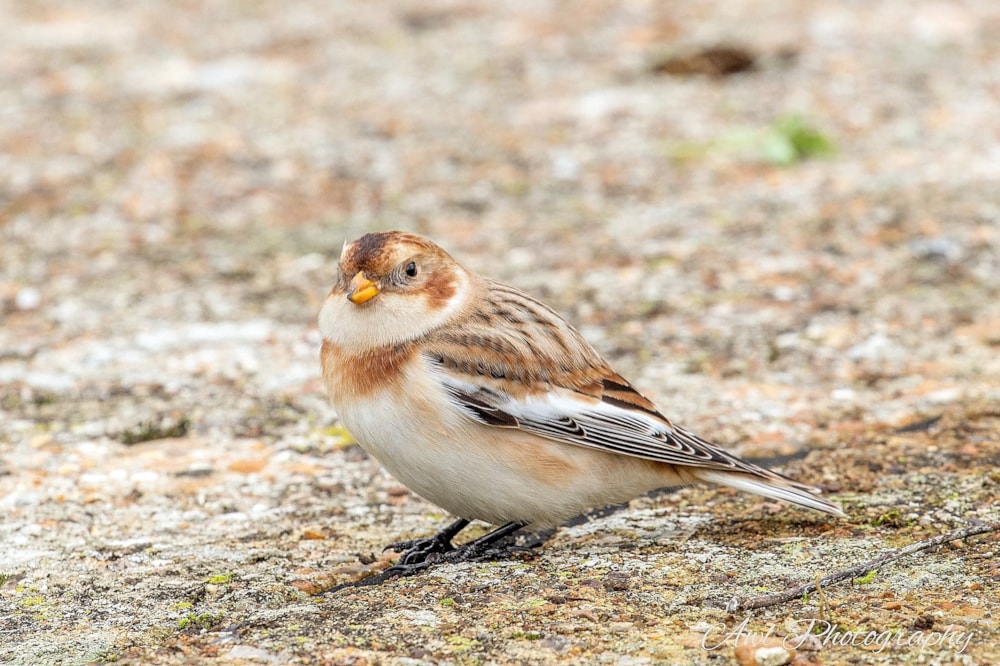 Snow Bunting, Arlington Reservoir, East Sussex (Aaron Lillycrop).
Inevitably, Kent saw the biggest numbers of Russian White-fronts, with a bumper 425 at Sandwich Bay and a similarly impressive 160 on Sheppey on 1st. In all, more than 30 sites scored records, but perhaps more impressive – especially for late November and early December – was that Tundra Bean Geese were present at six locales, including highly notable inland records at Sevenoaks and Godmersham. Five sites logged Bewick's Swan, too.
The busy week in Kent suggests it may be a productive winter in the county. Other notable records include a Dusky Warbler at North Foreland on 30th, Sabine's Gulls at Kingdown and St Margaret's at Cliffe, a Waxwing at Stroud, Lapland Buntings at Egypt Bay (two) and Reculver, a Red-necked Phalarope at Folkestone, a Twite at Seasalter and Snow Buntings at four sites. The Glossy Ibis was still at Dungeness, and the same site had two fly-by Little Auks on 26th.
London wasn't to be denied a slice of Russian White-front action and, on 30th, five locations hosted the species, including rather incongruous spots such as Regent's Park and some playing fields at Wanstead. A further bird flew over Primrose Hill on 1st. The Yellow-browed Warbler at Walthamstow Wetlands continued, while a Snow Bunting was sound-recorded over Wallington on 28th. A few Brent Geese were noted, including three at Rainham Marshes.
Some 18 Russian White-fronts at Betchworth, Surrey, on 30th were already of note for a county that does poorly for grey geese, so when the flock swelled to 47 the following morning it was particularly exciting. A singleton was seen at Horley on 30th too. A Snow Bunting was an all too brief visitor to Island Barn Reservoir on 28th, the site also hosting Great Northern Diver, Greater Scaup and Common Scoter.
Russian White-fronted Goose, Betchworth, Surrey (Shaun Ferguson).
Berkshire and Buckinghamshire were the only two south-east counties to miss out on the geese, and the former continued its quiet run with just the usual Great and Western Cattle Egrets present. Bucks held onto its Great Northern Diver at Caldecotte Lake and two warblers were of note: a Dartford Warbler at Hyde Heath from 27th and a Siberian Chiffchaff at Bletchley from 29th.
A flock of 19 Russian White-fronts flew over Farmoor Reservoir on 30th, which was the only Oxfordshire record, albeit a notably westerly one in the wider context of the influx. The Great Northern Diver and up to three Greater Scaup were present at the same site throughout. Seven Whooper Swans were at Otmoor from 30th, and the Iceland Gull was again seen at Sutton Courtenay/Appleford GPs.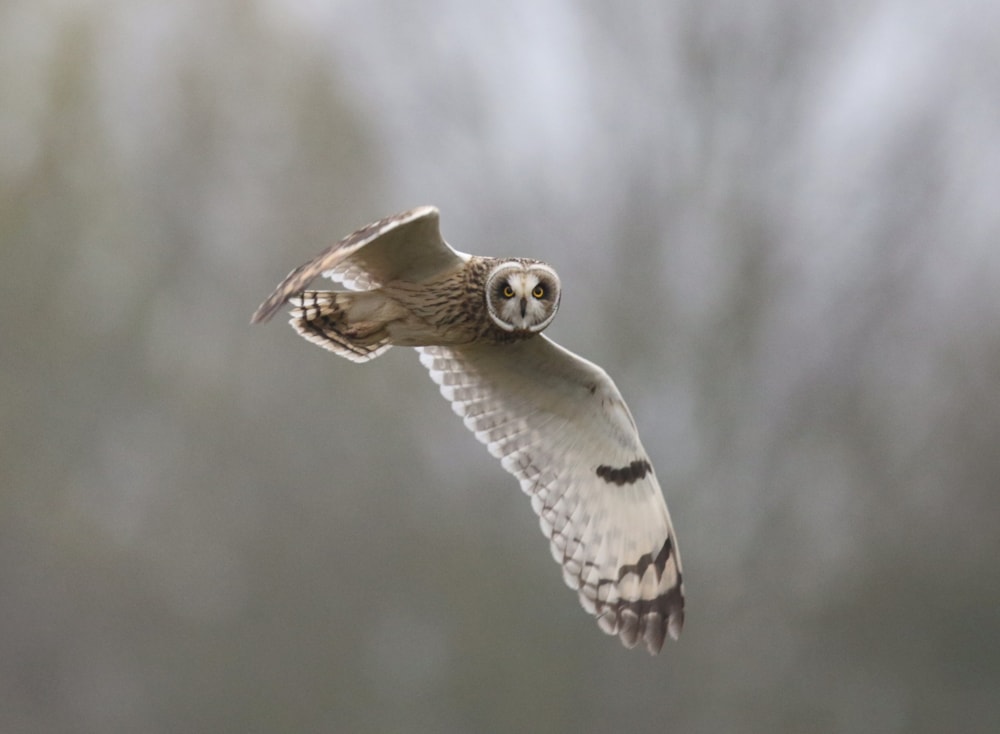 Short-eared Owl, Farmoor Reservoir, Oxfordshire (Ian Stewart).
South-West England
In Dorset, a tricky, distant 'white-winger' around Weymouth and Portland Harbours finally gave itself up on 27th – a juvenile Iceland Gull. At least two Black Brant were on The Fleet and a Glossy Ibis flew over Middlebere on 1st, while the youngster hung out at Stanpit Marsh throughout the week. Elswhere, the drake Green-winged Teal was still at Longham Lakes until 29th, a Barred Warbler was in Langton Matravers on 29th, and a possible Marsh Warbler was at Durlston CP on 1st – a remarkably late record. On Portland, two Pallas's Warblers were still at Weston and a Rosy Starling continued at Easton.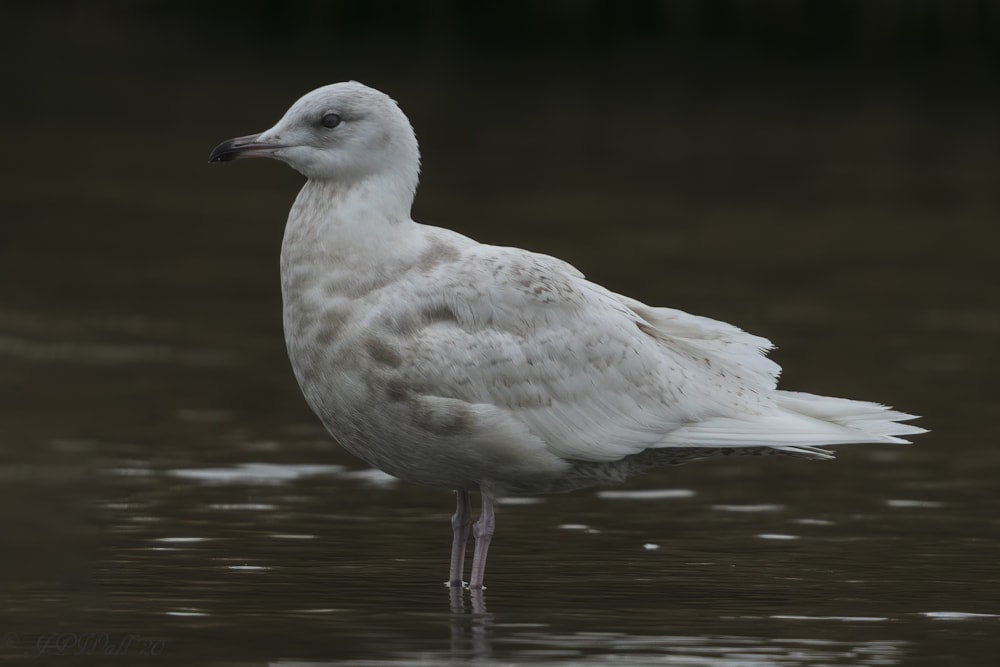 Iceland Gull, Radipole Lake RSPB, Dorset (John Wall).
A Whooper Swan was a surprise at Slimbridge WWT, Gloucestershire, the generally scarcer Bewick's Swan more expected there. Some 114 Russian White-fronted Geese were there, too. In the central Gloucester, a smart male Black Redstart surveyed the cathedral walls, with three others still at Oldbury Power Station. At least one Hawfinch was at Parkend, with a brief Snow Bunting at Aust Warth on 1st. A Hawfinch at Fonthill Lake, Wiltshire, on 1st was the lone county highlight.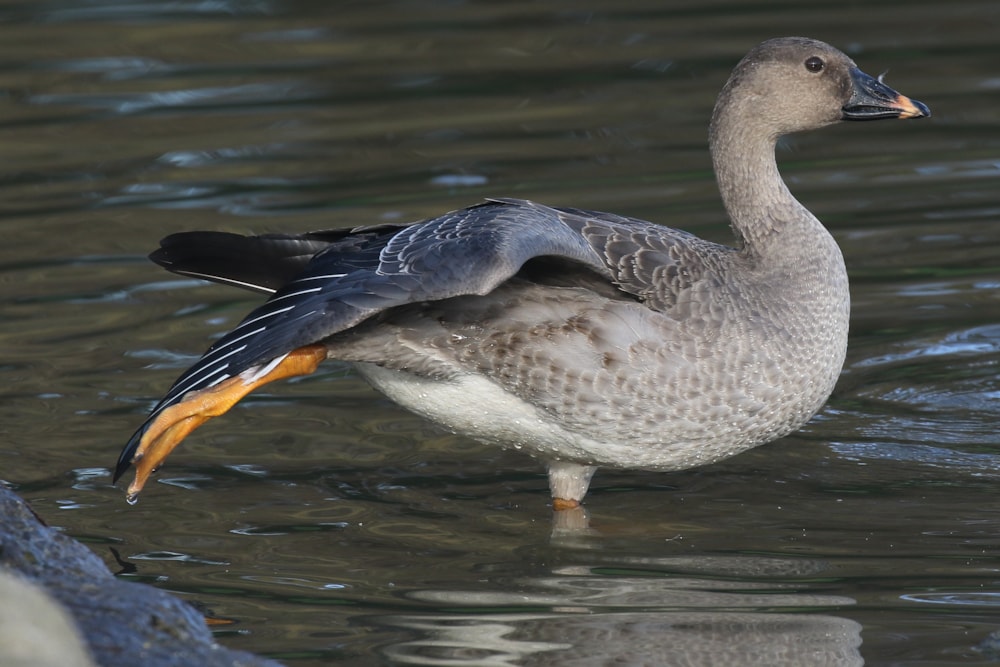 Tundra Bean Goose, Apex Leisure Park, Somerset & Bristol (Chris Teague).
The very start of the week in Somerset & Bristol saw a Pallas's Warbler headline at Sand Point, present until 27th, while the drake Long-tailed Duck and Great Northern Diver duo continued at Barrow Gurney Reservoirs and the Tundra Bean Goose remained at Apex Leisure Park. A Dusky Warbler was trapped at Chew Valley Lake on 28-29th, followed by a drake Ring-necked Duck from the latter date, with a juvenile Iceland Gull also noted there during the week. Two Bewick's Swans were at Blagdon Lake from 27th.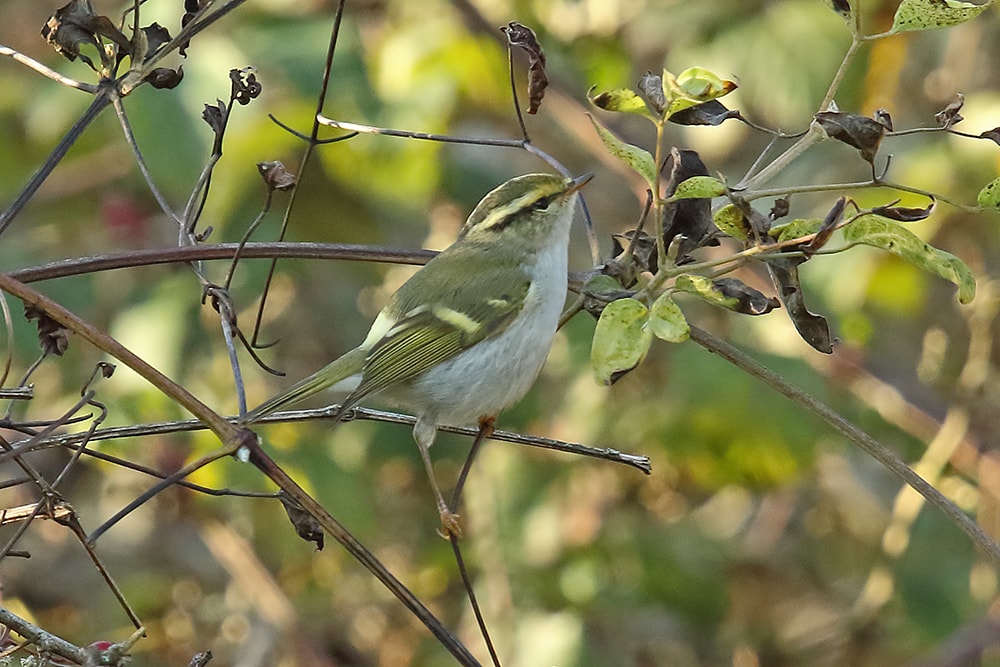 Pallas's Warbler, Sand Point, Somerset & Bristol (Gary Thoburn).
Soussons Down, Devon, retained its Great Grey Shrike until 27th at least, while the Lesser Yellowlegs was recorded again at South Efford Marsh on 30th. A Red-necked Grebe was in Broadsands Bay and four Glossy Ibises remained at Fremington Pill. Four sites hosted Siberian Chiffchaffs – Lundy (four), Dawlish Warren NNR, Broadsands and South Milton Ley – the latter alongside a Yellow-browed Warbler.
In the Isles of Scilly, at least four Dusky Warblers headlined – two each at both Tresco and Lower Moors, St Mary's – while a lingering Siberian Chiffchaff was at the latter site. Mobile juvenile Iceland Gulls made it difficult to estimate numbers but at least two were on St Mary's, with another on St Martin's on 29th. The Russian White-fronted-Greylag Goose pairing was still to be found on St Mary's.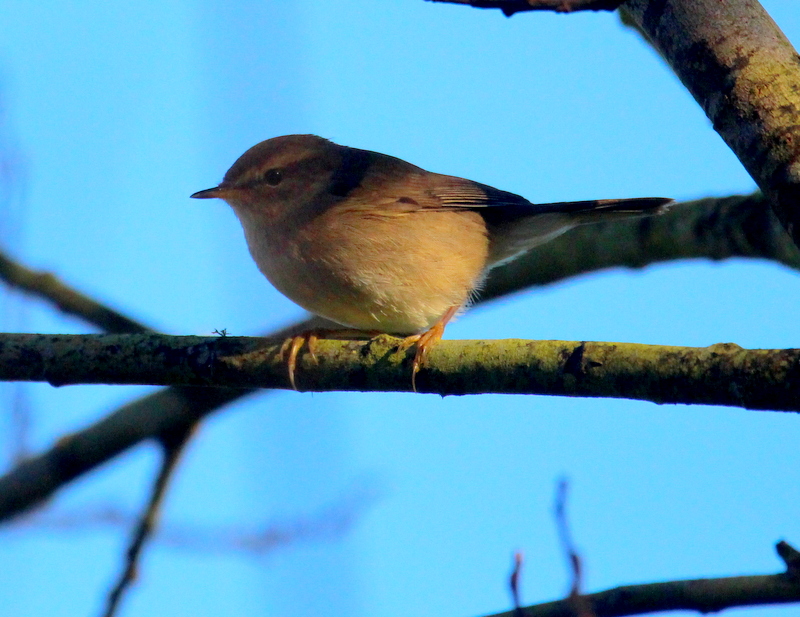 Dusky Warbler, St Mary's, Isles of Scilly (Kris Webb).
Fifteen Siberian Chiffchaffs were spread across no fewer than 12 Cornish sites, while College Reservoir's drake Green-winged Teal and Pallas's Warbler were still present on 25th. The delightful adult male Red-breasted Flycatcher at Church Cove was joined by a youngster on 26th. Grade, Lizard, hosted a Richard's Pipit on 29th and two Dusky Warblers were at Nanjizal Valley on 25th. A red-letter day at Porthgwarra brought both a Dusky Warbler and Little Bunting, with the Rosy Starling still at St Buryan. At close of play on 1st, an adult Ring-billed Gull was reported from the Hayle Estuary.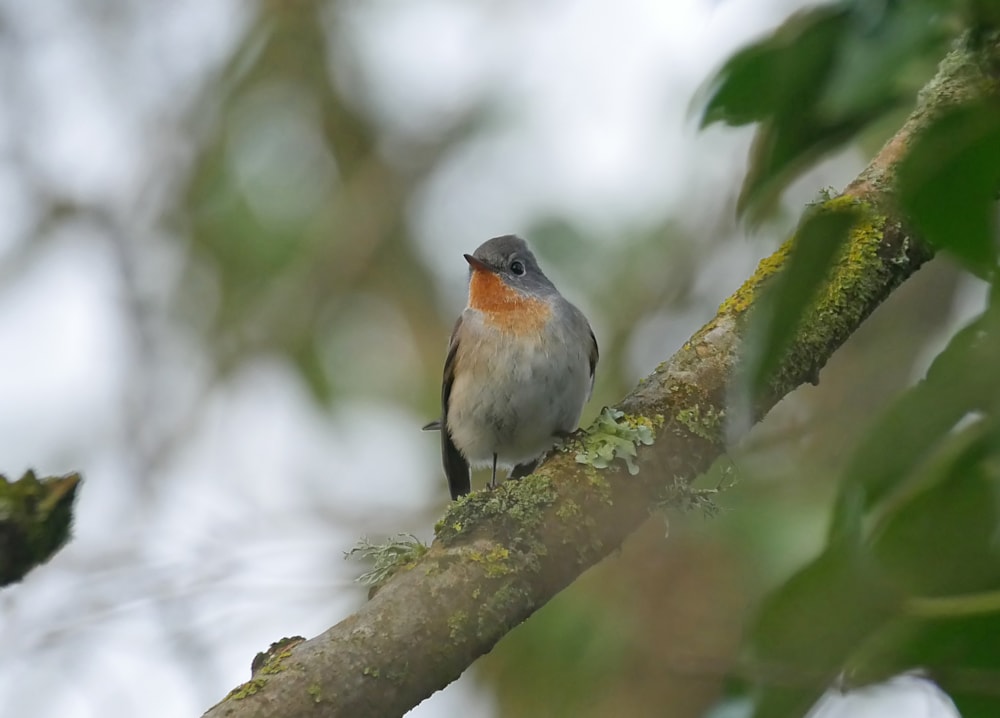 Red-breasted Flycatcher, Church Cove, Cornwall (Steve M R Young).
Wales
The juvenile Tundra Bean Goose was still at Nedern Brook all week, constituting the first record of this taxon for Gwent. More eastern flare was provided by a juvenile Russian White-fronted Goose at Llandegfedd Reservoir, Gwent, and another at Cilsan Bridge, Carmarthen, while four Greenland White-fronted Geese were at Red Wharf Bay, Anglesey. The female Ring-necked Duck continued to reside at Cosmeston Lakes CP, Glamorgan, with further females at Bute Town on 26th and Tallet Lakes, Carmarthen, on 1st. The Red-throated Diver was again at Llandegfedd Reservoir, Gwent, on 28th.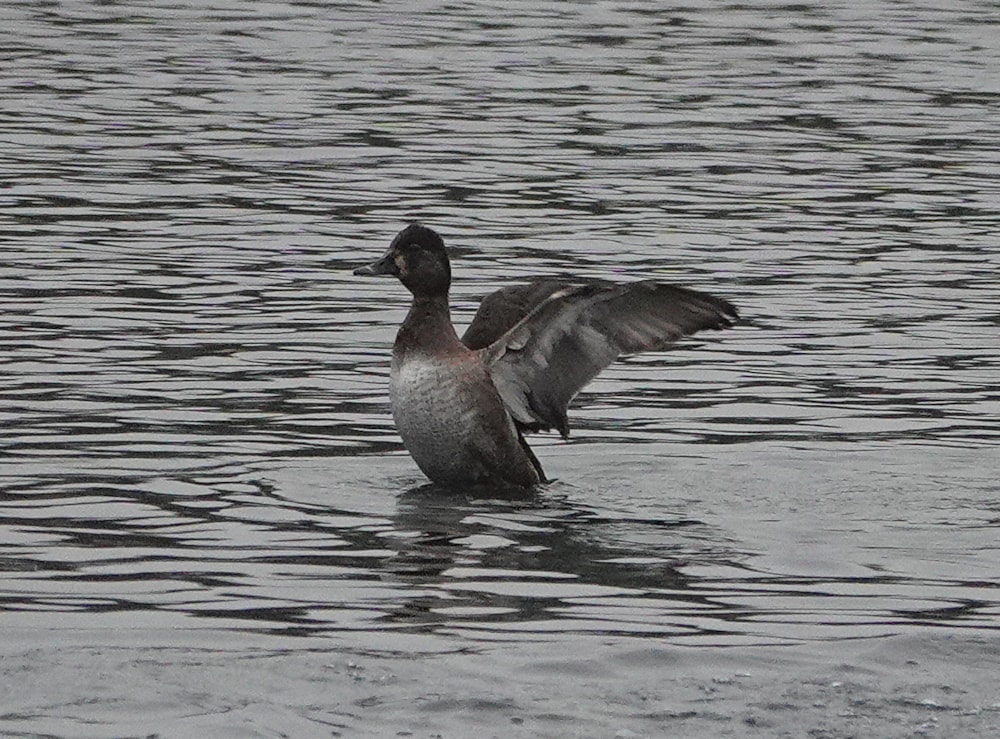 Ring-necked Duck, Cosmeston Lakes CP, Glamorgan (John Wilson).
Another Caspian Gull was uncovered in the country this week, this time concerning a first-winter at Cardiff Bay, Glamorgan, where it roosted on four consecutive evenings from 28th. Elsewhere, a juvenile Iceland Gull flew over Bangor, Gwynedd, on 27th and another was at Black Pill, Glamorgan, on 28th. A juvenile Glaucous Gull roosted at Llys-y-Fran Reservoir, Pembrokeshire, on 29th.
Up on Anglesey, the adult Rosy Starling continued to gorge itself on generous offerings at Amlwch Port. The Great Grey Shrike was a fixed feature at Brechfa Forest, Carmarthen, for another week and a Yellow-browed Warbler was along the cycle track at Ffrwd Fen from 27th.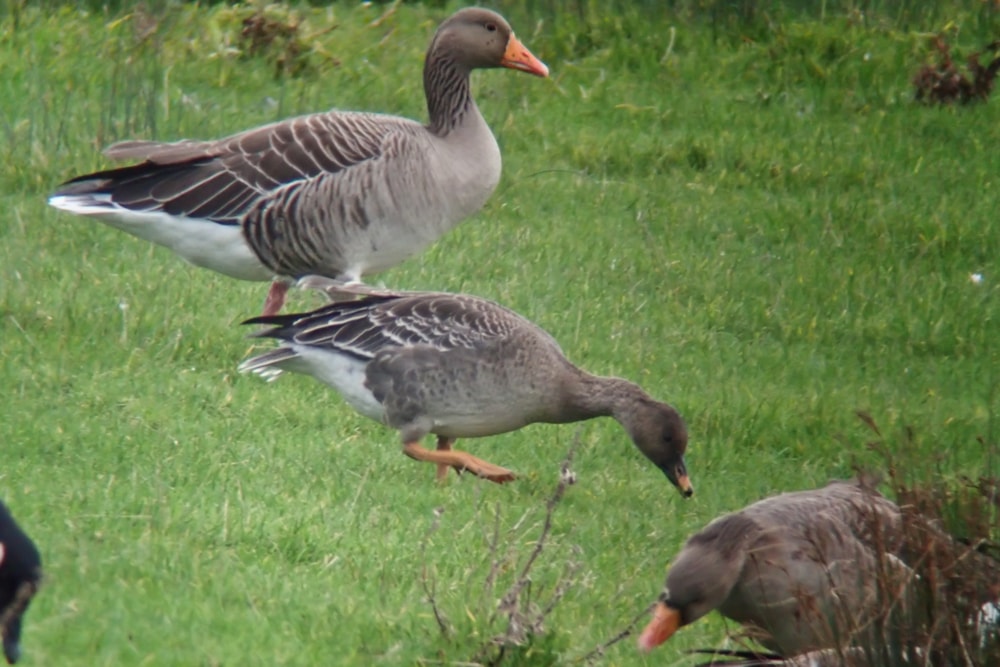 Tundra Bean Goose, Goldcliff Pools NR, Gwent (Lee Gregory).
Ireland
A Black Brant with Pale-bellied Brent Geese at Myroe Levels, Co Derry, from 29th was a nice record. Four Ring-necked Duck were at Ardcloony, Co Clare, with two at Moylan Lough, Co Monaghan, and two sites in Co Clare and one in Co Wexford netting singles. Green-winged Teal were at Courtmacsherry, Co Cork, and Blennerville, Co Kerry. Two Surf Scoter were off the Co Meath coast.
A decent early arrival of white-winged gulls saw Glaucous noted at six sites and Iceland at 12, the latter including six at Duncannon, Co Wexford, and three at Killybegs, Co Donegal.
As many as 10 Great Egrets were at large across the island of Ireland. The Lesser Yellowlegs was still at Killongford, Co Waterford. A Siberian Chiffchaff was new at Shannon Airport Lagoon, Co Clare, on 29th. Finally, a tally of 516 Black Guillemots off Inishmore, Co Galway, on 1st may constitute a new Irish record count.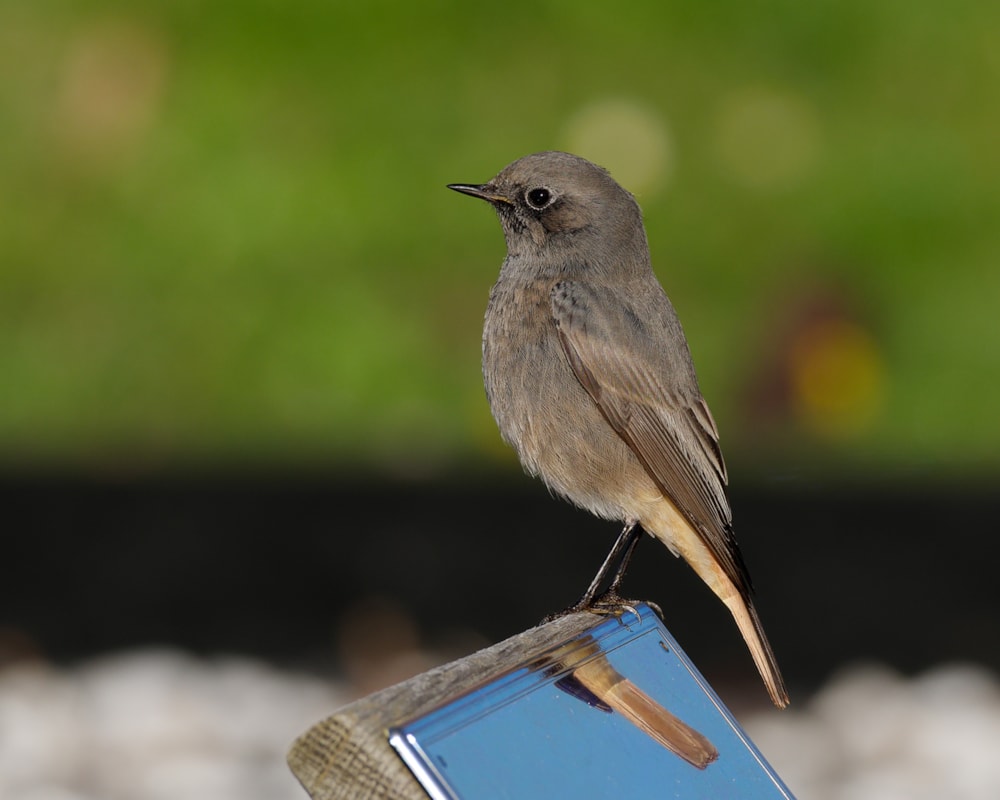 Black Redstart, Dungarvan, Waterford (Tom Murphy).
Western Palearctic
The remarkable webcam find of a Dark-eyed Junco at Helluvatn, on the outskirts of Reykjavik, Iceland, on 27th was one of this week's regional highlights, and was still present – and seen in the flesh – until 29th at least. It is just the second Icelandic record, the first dating from as far back as 1955.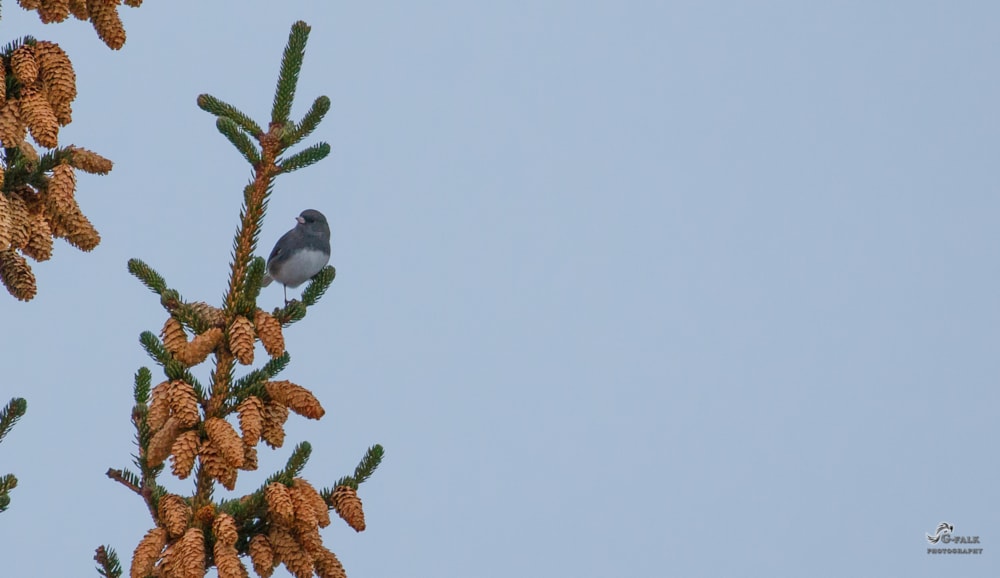 Dark-eyed Junco, Reykjavík, Höfuðborgarsvæði (Gudmundur Johannesson).
Kuwait had another fine week, peaking with the White-breasted Waterhen at Jahra Pools on 25th – both the second national and regional record, with the first occurring in the country during December 2019 (see here). For the second year in a row an immature Purple Sunbird was in gardens at Abdullah Al-Salem on 25th, while at least one Indian Roller continued at Sulaibiya Pivot Fields.
Dinant, Belgium, played host to a Wallcreeper from 29th – possibly the returning individual from last winter – with the Eurasian Crag Martin first seen over Ghent on 22nd was relocated roosting on the hospital at Sint-Denijs-Westrem from 27-29th. Equally impressive was the country's second-ever twitchable Black Guillemot, found in Ostend harbour on 23rd. Another Wallcreeper was still present in France, too, at Nantes on 1st.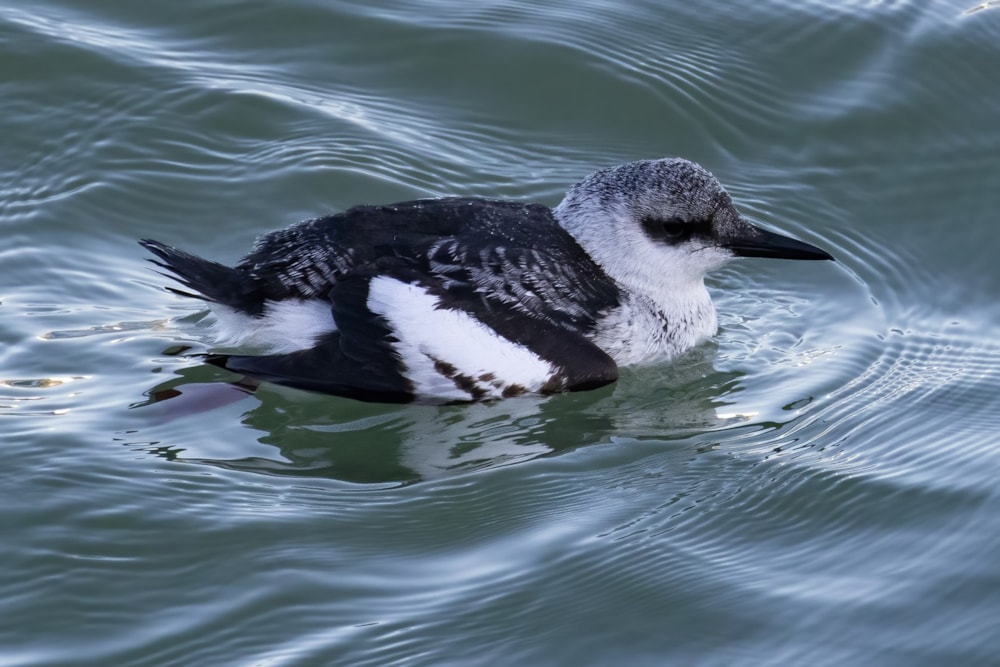 Black Guillemot, Ostend, West Flanders (Patrick Keirsebilck).
A male Alaskan Yellow Wagtail was Trelleborg, Sweden, in the latter part of the week; another first-winter male Eastern Yellow Wagtail was on Jomfruland, Norway, on 24th. Elsewhere in the country, a Black-throated Thrush was at Savar, on the outskirts of Umeå. In Poland, a single White-headed Duck lingered at Zbiornik Jutrosin until 29th, while an impressive flock of four – three males and a female – Pine Buntings were at Riazzino, Switzerland. In Sweden, an Asian Desert Warbler was at Torngård, Öland, to end the week.
In the Azores, a lone Green Heron still at Povoação, São Miguel, was a highlight and belated news was received of two Double-crested Cormorants at Baia dos Anjos, Santa Maria, in late October, while on Tenerife, the young Kelp Gull was again at San Miguel de Tajao on 24th.