It's been a funny old spring, and the oddities kept turning up as we moved into May. The week's major find was a rather smashing Green Heron frequenting a garden pond at Llan-mill, Pembrokeshire, from 28th (read the finder's account here). This represents the second record for Wales, following a well-watched bird on Anglesey in November 2005.

Green Heron, Llan-mill, Pembrokeshire (Sam Viles).

Green Heron, Llan-mill, Pembrokeshire (Lee Gregory).
Meanwhile, that other rare Nearctic heron, the American Bittern at Carlton Marshes, Suffolk, showed well until 28th, but then wasn't reported for a couple of days. Its elusiveness, combined with a dwindling audience, is likely to mean there may be gaps between reports going forward and it was no real surprise to learn it was still there on the evening of 1 May.

American Bittern, Carlton Marshes, Suffolk (Jon Evans).
Another 'Yank' came in the form of a smart Killdeer on Foula, Shetland, on 25th, although it seems to have proven a one-day wonder. Mega news otherwise exclusively concerned long-staying transatlantic wanderers, which is always curious for the end of April: the American White-winged Scoter was still off Musselburgh, Lothian, and both Pied-billed Grebes were present and correct in Argyll and on Shetland respectively.
A glance seaward from Tory Island, Co Donegal, produced a single White-billed Diver on 28th, the bird still there the following day. Another remained off Barra, Outer Hebrides, and a new bird was found off the west side of Unst, Shetland, on 30th. Multiple birds remained in the Moray Firth between Burghead, Moray, and Portsoy, Aberdeenshire, with 14 from a boat off the latter location on 28th.

White-billed Diver, Portsoy, Aberdeenshire (Tim Marshall).
The week's only American Wigeon was a drake on Shetland's South Mainland, seen at Scatness on 25th and Toab on 28th. A drake Green-winged Teal was at Land's End, Cornwall, on 25th, with others at Frampton Marsh, Lincs, on 27th and Oronsay, Argyll, on 28th. Ring-necked Duck remained in Lincolnshire, Cleveland and Cos Kerry and Down, while the Ferruginous Duck was still at Llan Bwch-llyn Lake, Powys, on 27th. Surf Scoter were off Musselburgh, Lothian, and Ballyvaughan, Co Clare, while the drake King Eider lazed around at Ythan Estuary, Aberdeenshire, throughout.
The Snow Goose seen recently in Cheshire relocated north to Marshside and Banks Marsh, Lancashire, during the week, showing distantly alongside its Pink-footed congeners and a sole Taiga Bean Goose.
A first-summer Purple Heron arrived at Tophill Low, East Yorkshire, on 25th and was seen daily thereafter. Another was at Tacumshin, Co Wexford, on 28th, although the recent Cornish bird at Marazion wasn't seen past 25th. Glossy Ibises were seen at eight sites as far north as Holy Island, Northumberland, where a bird early on 28th then relocated south to the Druridge Bay area thereafter. Western Cattle Egrets were reported in Kent, East Sussex, Dorset, Cheshire and Lancashire. A glut of White Stork records from Hampshire and Dorset presumably related to the same wandering Dutch-ringed bird, which was seen well when it was at Bartley on 29-30th. Another flew over Slimbridge, Gloucestershire, on 1st and a presumed escape was at Fen Drayton Lakes, Cambridgeshire, on 25th and 30th.

White Stork, Bartley, Hampshire (Lee Fuller).
After the recent mini-influx, a few Black Kite reports continued to be reported: birds flew over Abbotsley, Cambridgeshire, and Copford, Essex, on 25th and South Norwood, London, and Tehidy, Cornwall, on 26th. The Pallid Harrier was still at Horsey, Norfolk, on 25th, with presumably the same bird inland at Barton Broad, Norfolk, on 26th.
Despite the arrival of May, Snowy Owls remain prominent on our news page. The Orkney bird was at Birsay Moors, Mainland, on 27th, with another female found on St Kilda, Outer Hebrides, on 29th. Surprisingly, the Lincolnshire bird reappeared for the day on 1st, at Tabb's Head near Frampton Marsh. Where has it been for the past six weeks?

Snowy Owl, St. Kilda, Outer Hebrides (Ciaran Hatsell).
In fact Frampton, the productive south Lincolnshire reserve, enjoyed another great week in its relatively short history. Highlights included up to two Red-rumped Swallows from 27-30th, a single Eurasian Dotterel, male Black-winged Stilt on 1st and the aforementioned Green-winged Teal.
Further Black-winged Stilt records came from Eldernell, Cambridgeshire, on 28-29th, Exminster Marshes, Devon, on 30th in addition to the continuing bird at Potter Heigham, Norfolk. A Pectoral Sandpiper was at South Huish Marsh, Devon, on 30th, while northbound Curlew Sandpipers are also beginning to pop up around Britain and Ireland. Eurasian Dotterel passage is a bit sluggish to get off the mark this spring, though a pair were at Myroe Levels, Co Derry, on 29-30th, three graced The Range, Anglesey, on 30th and a nice flock of 16 were near Swinefleet, East Yorkshire, on 1st. An American Golden Plover called in briefly at Cley Marshes, Norfolk, on 26th.
Content continues after advertisements

Pectoral Sandpiper, South Huish Marsh, Devon (Alan Doidge).
Scilly's Laughing Gull remained on St Martin's to at least 30th. A smart adult Bonaparte's Gull arrived at Bowling Green Marsh, Devon, on 27th, lingering there to 1st, while the adult was still at Longham Lakes, Dorset, on 1st. The only Ring-billed Gull was a first-summer at Ullapool, Highland, on 30th. Despite it being May, white-winged gulls remain attainable targets, with northbound birds still popping up widely across our isles: for example, two Iceland and a Glaucous Gull were at Crayford, London, on 29th and up to three Glaucous and a single Iceland were near Wootton Bassett, Wiltshire. The American Royal Tern remains frustratingly (at least for British birders) loyal to Guernsey, where it was still at Jaonneuse Bay on 28th.
A gorgeous male Golden Oriole was at Carnsore Point, Co Wexford, on 26th, with up to two at Portland Bill, Dorset, from 27th. Further records came from West Sussex and Cornwall. Six Hoopoes were along the English south coast with an impressive five sites in Pembrokeshire hosting birds. There were a couple of reports from Lancashire, one at Maughold Head, Isle of Man, on 27th and a final individual as far north as Foula, Shetland, on 26th. Three sites in north Norfolk produced Wrynecks, while at least three were seen in the Spurn recording area from 28th. A European Bee-eater flew over Fairlight Cove, East Sussex, on 1st.
Two Red-rumped Swallows remained at Gibraltar Point, Lincolnshire, to 29th, with one at Nazeing Gravel Pits, Essex, from 28-30th, another at Belvide Reservoir, Staffordshire, on 29-30th and a further lingering bird on St Mary's, Scilly. One reached Foula, Shetland, on 1st, while there were also records from Norfolk and Northumberland. The only Alpine Swift was a bird flying north-east over Compton, Staffordshire, on 1st.

Red-rumped Swallow, Gibraltar Point NNR, Lincolnshire (Russell Hayes).
Bird observatories did well for Iberian Chiffchaffs: birds were trapped and ringed at Calf of Man and North Ronaldsay on 25th and Skokholm on 26th. Further 'Ibe Chiffs' sang at Chapel Porth, Cornwall, from 29-1st and Thurstaston, Cheshire, on 1st. A male subalpine warbler species was at Mizen Head, Co Cork, on 30th. The Savi's Warbler was last heard at Brockholes, Lancashire, on 25th, although birds at Farlington Marshes, Hampshire, and Minsmere, Suffolk, continued to advertise themselves until the end of April.

Iberian Chiffchaff, Thurstaston Common/Royden Park, Cheshire (John Gilbody).
European Serins flew over North Foreland, Kent, and Waxham, Norfolk, on 26th. An Olive-backed Pipit was in gardens at Flamborough, East Yorkshire, on 28th.

Olive-backed Pipit, Flamborough (village), East Yorkshire (Craig Thomas).
Western Palearctic
Last week's mega, the Eastern Cattle Egret at Jahra Pools, Kuwait, was still present to 27th. A Pied Crow continued at Las Palmas, Gran Canaria, while the Dwarf Bittern was again noted on Fuerteventura and the Semipalmated Plover was on Tenerife. In Cape Verde, the Reed Cormorant was still on Santiago on 1st.

Eastern Cattle Egret, Jahra Pools, Kuwait (Markus Craig).
Denmark's first Yellow-browed Bunting was found at Skagen on 28th, although only showed briefly a few times that day and not at all on 29th. Then, on 30th, it was relocated and showed well to 1st.

Yellow-browed Bunting, Skagen, North Denmark (Morten Christensen).
Meanwhile, just across the border in Germany, the Black-browed Albatross continued at Sylt, Schleswig-Holstein, showing there on a near-daily basis but also visiting Heligoland again on 30th. In Lower Saxony, a Cretzschmar's Bunting was at Geeste on 30th.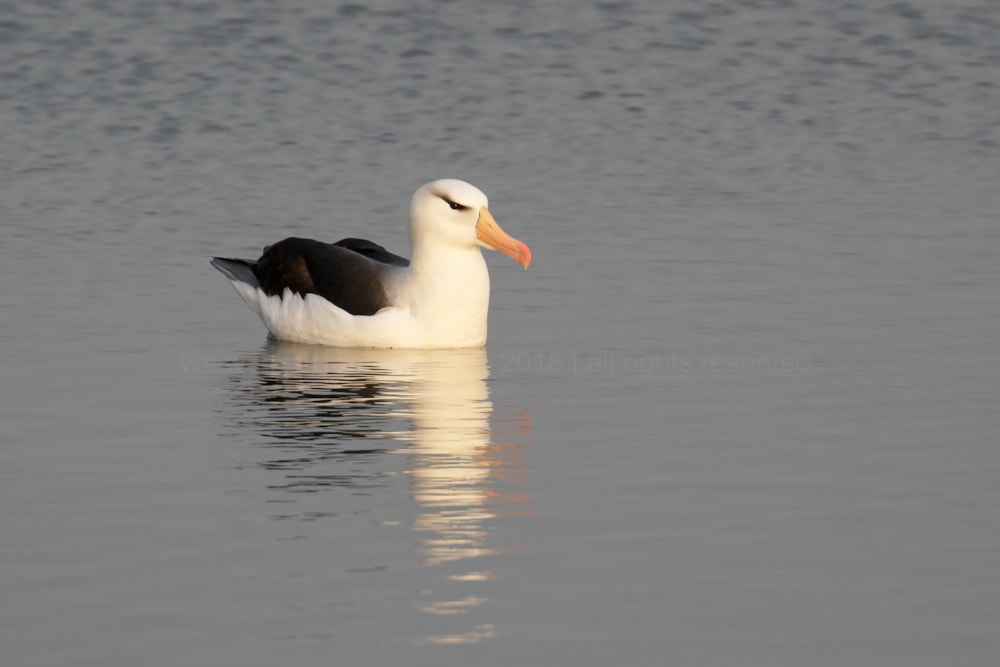 Black-browed Albatross, Sylt, Schleswig-Holstein (Josh Jones).
In Sweden, a Black Scoter was at Påarp on 29th, while the Stejneger's Scoter returned to Frosta, Nord-Trøndelag, Norway, on 27th. Belgium's fourth Calandra Lark was at Outgaarden on 25-26th and the Pygmy Cormorant remained in Brussels. A Hudsonian Whimbrel was at Óbidos, Portugal, on 26th, while the Redhead (and two Ring-necked Duck) were still on Terceira, Azores, on 23rd.