It's fair to say that autumn seems to be winding down now. The clocks have changed, the evenings are darker (meaning the opportunity for post-work birding is over again until February) and, for some, there was a distinct chill in the air towards the end of the week. And, while it would be unfair to say that October went out with a whimper, proceedings were undeniably a little sluggish around Britain and Ireland – and even Corvo seems to have finally quietened down.
Most of the week's excitement – and indeed head scratching – surrounded a late 'Spotted' Flycatcher at Cloughton Wyke, North Yorks. Online musings about the possibility of Mediterranean Flycatcher, a taxon recently upgraded to full specific status by IOC, due to the bird's overall paleness and relative lack of streaking. The bird was seen throughout Saturday by a small stream of birders but had gone by Sunday. DNA has apparently been collected for analysis. Whether or not this bird turns out to be Mediterranean, the species must surely be a likely candidate for vagrancy here, even if identifying one in the field might cause a few problems.
A little more straightforward was Ireland's second Common Yellowthroat, which was found in bracken at Toe Head, Co Cork, late on 28th. Unfortunately it wasn't seen the following morning, rendering it a little less confiding than Ireland's first, which spent its second day hopping round birders' feet on Loop Head, Co Clare, back in October 2003.
Otherwise, major news was restricted to the lingering Common Rock Thrush, which seems to have become so accustomed to people that it now feeds confidently to within a few metres of the assembled crowd, and the Steppe Grey Shrike, which was still on Whalsay, Shetland, throughout. The Wilson's Snipe (and possibly another) was also reported back on St Mary's, Scilly, from 28th.

Common Rock Thrush, Pwll-du, Gwent (David Aitken).
It's fair to say that by far and away the most significant ornithological story of this October has been the extraordinary arrival of Hawfinches, which was discussed in this column last week. The influx seemed to intensify this week, with birds noted flying over just about everywhere in England (except the northernmost counties), and increasingly in Wales and the Republic of Ireland too. In terms of reports, this week's 630+ made last week's 323 look insignificant. Again, the map of this week's sightings is well worth a look, even if just for appreciating the chaotic beauty of it! It's quite interesting to note where the greatest density occurs, in a dense band running north-west through the Midlands, from Kent and Sussex to Lancashire. The sparse scattering of pins along the east coast makes for a stark contrast.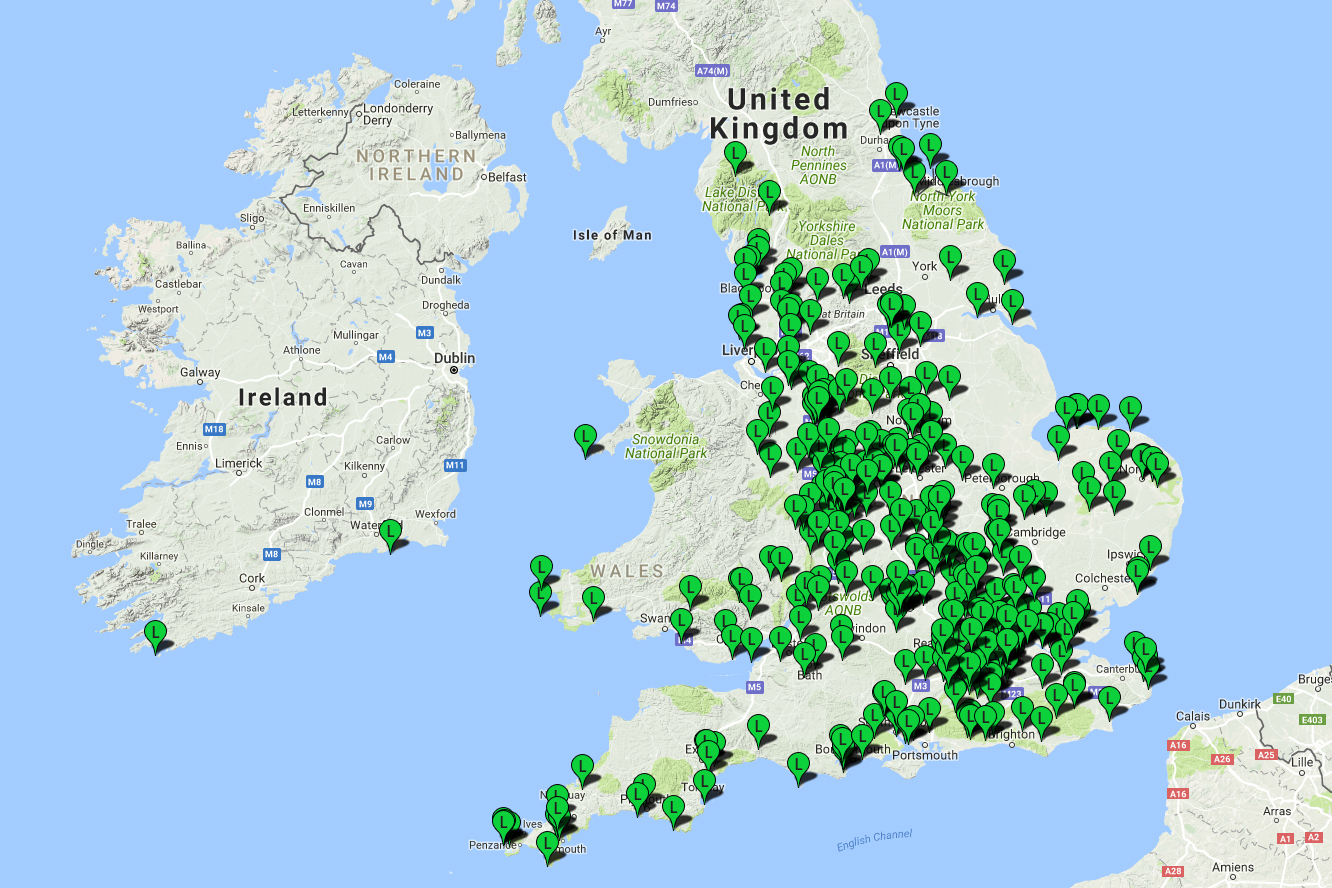 Hawfinch records from southern England, Wales and the Republic of Ireland, 25-31 October 2017. There was just a single report from mainland Scotland (BirdGuides.com data).
The third Grey-cheeked Thrush to be found in Co Cork this October was unearthed at Red Strand on 26th, and was still there the following day. Apparently, it is a different individual to that present at the adjacent Dirk Bay the previous week (lacking the growths on its feet that the Dirk Bay bird possessed), all three have been within six miles of each other – a fascinating concentration which makes one wonder just how many more must have been lurking along the Cork coastline. Another Grey-cheeked was on St Martin's, Scilly, on 26th but was seen only by the finders.
A northerly airflow took hold over the weekend, with winds gusting down from the Arctic Circle and into the North Sea. Highlights were one each of two highly desired Arctic gull species, although neither lingered. First up was an adult Ross's Gull, fittingly found by a local birder named Ross (Ahmed), at Fenham Flats, Northumberland, for just a few minutes on the afternoon of 29th. Then, on 30th, a juvenile Ivory Gull flew past Papa Westray, Orkney, in the company of Kittiwakes. Here's hoping both are the start of a productive winter for these ever-popular visitors. Papa Westray also produced a run of White-billed Diver records from 26th, with a peak of four on 30th – though the total individuals involved could feasibly be much higher than that. There was also a series of 'banana bills' recorded in north-east England on 29th, during the brunt of the month's blow, which started with a bird north past Whitburn, Co Durham, mid-morning. Presumably this bird (and at least one other) were then seen past several sites in Northumberland; one was also off Walcott, Norfolk, on 28th.

White-billed Diver, Newbiggin-by-the-Sea, Northumberland (Chris Barlow).
Given the good showing of Arctic scarcities, one might have expected Little Auks to be moving in big numbers. Surprisingly, it wasn't the case, although plenty of sites on the east coast did at least manage ones and twos. Spurn registered the highest tally with 30 north on 29th. General seawatching was quite spectacular in places, particularly Norfolk, where many thousands of Northern Gannets, auks and Kittiwakes were on the move. Decent numbers of Pomarine Skuas were seen among the more numerous Great Skuas. The odd scarcity, including Leach's Storm Petrel, Grey Phalarope, Sabine's Gull and Long-tailed Skua, was also noted.

Little Auk, Thorpeness, Suffolk (John Davies).
Despite the northerly blast, there appears to still be some life in the autumn – a Siberian Stonechat arrived on St Agnes, Scilly, on 31st, with another still at Hoswick, Shetland, to 27th. Also in Shetland, a male Pied Wheatear spent the day on Out Skerries on 26th. A report of a Black-bellied Dipper on the Humber shore at Sammy's Point, East Yorks, on 30th was an impressive record. Two Eurasian Penduline Tits were at Minsmere, Suffolk, on 26th but quickly disappeared.
A good run of Red-throated Pipits included one over Shurdington, Glos, on 25th, with further birds on Lundy, Devon, on 26-27th, St Mary's, Scilly, on 27th, Cape Clear, Co Cork, and Polgigga, Cornwall, on 28th and Tacumshin, Co Wexford, on 29th. The Olive-backed Pipit remained at St Brides, Pembs, to 25th, with 26th producing birds on both Foula and Fair Isle, plus one at Lizard Point, Cornwall, on 27th and another on St Mary's, Scilly, on 30-31st. A possible Blyth's Pipit flew over Nanjizal, Cornwall, on 26th and Richard's Pipits were logged at 10 sites between Scilly and Shetland.
Portland's second Radde's Warbler of the month was at Easton on 25th, with others on Skokholm, Pembs, and at Nanjizal, Cornwall, on 26th. Most significantly, though, was the first Radde's for Co Clare at Loop Head on 30th. Four Dusky Warblers were seen on mainland Shetland, while Scilly scored three (with one on St Agnes and two within a few hundred metres of each other on St Mary's) and a fifth at Yarmouth, Isle of Wight, on 26th.

Radde's Warbler, Loop Head, Clare (John N Murphy).

Dusky Warbler, Melby, Mainland, Shetland (Roger Riddington).
A European Bee-eater was seen on the outskirts of Peterborough, Cambs, on 27th while the Northumberland bird was again at East Chevington on 29th, before presumably relocating south to Whitburn, Co Durham, on 30th. Wrynecks were in Cornwall and Co Cork, and a Hoopoe was on Skokholm, Pembs, on 31st. The productive season for Hornemann's Arctic Redpolls on Shetland continued, with up to three still at Baltasound, Unst, two at Uyeasound on 28th and one still on Fair Isle. European Serins were at Hengistbury Head, Dorset, on 27th and Lizard, Cornwall, on 30th. A total of 16 Great Grey Shrikes included at least four on Shetland and a few on the east coast.

Hornemann's Arctic Redpoll, Baltasound, Unst, Shetland (Allan Conlin).
Content continues after advertisements

Great Grey Shrike, Owthorpe, Nottinghamshire (Graeham Mounteney).
The Red-backed Shrike remained near Gillingham, Kent, to 28th with another at Mizen Head, Co Cork, on 27th. Aside a bird at Kergord, Shetland, on 27th, Red-breasted Flycatchers were restricted to south-western areas, with Scilly, Cornwall, Devon and Pembrokeshire hosting birds. Barred Warblers were in Co Durham and Dorset. A late Melodious Warbler was at the unusual location of Moreton, Cheshire, from 28th.

Melodious Warbler, Moreton, Cheshire (Jeremy Bradshaw).
The Stilt Sandpiper was still at Middlebere, Dorset, on 26th, but there was negative news on 28th. Two juvenile Long-billed Dowitchers, a Lesser Yellowlegs and at least two White-rumped Sandpipers were all noted at Tacumshin, Co Wexford. Further 'LBDs' continued their stays at Saltfleet, Lincs, and Marshside, Lancs, and the Lesser Yellowlegs stayed all week at Lodmoor, Dorset. At least six White-rumped Sandpipers in Ireland perhaps deserves to be called a mini influx, being backed up by British records from East Yorkshire (Blacktoft Sands on 30-31st) and Cornwall (Gwithian from 26th). A total of four Pectoral Sandpipers were seen and there was scattering of Grey Phalaropes.

White-rumped Sandpiper, Gwithian, Cornwall (Graham Watson).
Last week's Pacific Golden Plover was still at Bannow Bay, Co Wexford, to 31st, with up to two juvenile American Golden Plovers also still there. These were but two of the eight 'AGPs' seen in Ireland during the week, while others were on Barra and North Uist, and at Dumfries and Galloway, Cumbria, Scilly, Cornwall (where there were two) and Cambridgeshire, the latter being the only 'eastern' record of the week, at Ouse Fen from 26-28th.
Once again, the sole Bonaparte's Gull was the regular Devon bird, while the Forster's Tern returned to Galway Bay on 26th. Caspian Gull numbers remain rather low and were noted at just 15 sites, showing the usual eastern bias, with the most northerly sighting being at Flamborough Head, East Yorks, on 25th. Just five Iceland Gulls were seen, but the northerly winds at least produced the first influx of Glaucous Gulls to North Sea coasts, with double figures being logged. The American Royal Tern was still on Herm, Guernsey, on 31st.

Caspian Gull, Cromer, Norfolk (Josh Jones).
The Purple Heron remained at Leighton Moss, Lancs, to 29th, when it was apparently seen to migrate south. There appeared to be a notable influx of Glossy Ibises this week, with evidence of arrivals including five over Abbotsbury, Dorset, on 27th, four in the Galley Head area, Co Cork, two at Ballinskelligs, Co Kerry, on 29th, one in Co Cork and two in Devon, as well as 10 on Guernsey. Western Cattle Egrets were widely spread across England as far north as Cleveland, where one took up residence at Saltholme from 27th. The only bird reported elsewhere was one at Tacumshin, Co Wexford. Meanwhile the spread of Great Egret continues unabated, with 10 recorded at Rutland Water this week being a notable milestone both for the Midlands reserve and the species' overall march northwards.
The Pied-billed Grebe was again reported from Loch Feorlin, Argyll, for the first time in a few weeks. An overdue county list addition came in the form of Hampshire's first Lesser Scaup, an adult drake at Blashford Lakes from 28th, which is presumably the bird seen just over the border in Dorset last week. A total of nine Ring-necked Ducks was decent for late October, with new arrivals including at least two at Lough Gara, Co Sligo, on 28th, a drake in the Wiltshire section of Cotswold Water Park from 29th and a young female at Lough Baun, Co Mayo, on 29th.

Lesser Scaup, Blashford Lakes HWT, Hampshire (Lee Fuller).
Five American Wigeon remained on show, with the female still at Grimley, Worcs, all week and drakes still at Rutland Water and in Argyll, Highland and North Uist. With teal starting to come out of eclipse plumage, it was no great surprise that the first couple of Green-winged Teal of the autumn were identified, with drakes at Frodsham Marsh, Cheshire, from 28th and on North Ronaldsay. A Surf Scoter toured the Isles of Scilly from 26th, often showing very well. Others were off Inishmore, Co Galway, from 25th, Broadsands, Devon, on 26th, past three Norfolk sites between Overstrand and Cley on 30th, Mullaghglass, Co Galway, from 29th, and still in Lothian and Shetland.

Surf Scoter, Isles of Scilly, Isles of Scilly (Joe Pender).

Western Palearctic news
Corvo finally calmed down this week, although the male Hooded Warbler was still on show there on 26th, along with a new American Robin, Indigo Bunting and Black-and-white Warbler, plus the long-staying Upland Sandpiper. Both Green Heron and Snowy Egret were present and showing well within the town boundaries of Horta, Faial, while the Redhead and another Snowy Egret continued on Terceira, where the Myrtle Warbler was still at Cabo da Praia on 26th.

Hooded Warbler, Corvo, Azores (Zbigniew Kajzer).
Italy's Pied Bush Chat was last seen near Vecchiano on 25th, with the Oriental Turtle Dove still at Trentino that day. A Blyth's Pipit was the latest vagrant to grace Linosa, Sicily, on 26th. A Wilson's Snipe was photographed on Île de Sein, France, on 27th and the Caspian Plover remained at Jeziorsko, Poland. A beautiful first-winter sibiricus Northern Shrike (recently split from Great Grey Shrike) was on Öland, Sweden, on 30-31st and Denmark's first Stejneger's Stonechat was trapped and ringed at Gedser on 31st. It seemed too good to be true when news broke of an Azure Tit in Liège, Belgium, on 31st – although it was nevertheless disappointing to later find it bore an orange ring, thus rendering it an undoubted escapee.

Escaped Azure Tit, Liège, Belgium (Vincent Legrand).