It's been a curiously exciting week, with arrivals from just about all points of the compass ensuring that birders across Britain and Ireland were left with plenty to enjoy. We had multiple American landbirds arrive, keeping west-coast birders on their toes, a memorable 'fall' of late autumn species on the east coast and, thanks to an icy blast of northerlies, great seawatching from Kent north to Aberdeenshire.
To the seawatching first, then, and it was all about two seasonal specialities this week: Pomarine Skua and Little Auk. The former was noted in some genuinely spectacular counts, particularly in East Yorkshire, where 515 passed Hornsea on 27th, with other three-figure counts from other sites in Lincolnshire and East Yorkshire. Little Auks weren't quite as exceptional in their quantity, peaking on 28th, when counts included 158 past Flamborough Head. Nonetheless, small numbers sought refuge in harbours, where they showed well and entertained birders – though, sadly but inevitably, some were also lost as sizeable snacks to opportunistic local gulls.

Little Auk, Scarborough, North Yorkshire (Steve Race).
A great variety of other seabirds added to the general spectacle of staring at a bustling and fizzing North Sea throughout the weekend, with plenty of Leach's Storm Petrels, Grey Phalaropes, various divers, auks, Northern Gannets and a few late Long-tailed Skuas also thrown into the mix for good measure.

Pomarine Skua, Redcar, Cleveland (Chris Small).
Amid these came several highlights, including a King Eider in Norfolk, which was first seen at Sea Palling on 28th and later tracked flying around the coast to Salthouse; then, on 30th, presumably the same bird was off Sheringham. Another, an immature male, flew past Hornsea, East Yorks, on 28th (and the long-staying female lingered in Ceredigion). No fewer than seven sites reported White-billed Divers between 26th and 29th, with two past Collieston, Aberdeenshire, on 27th and singles noted off Cley, Norfolk, on 28th and 29th.
Then came strong easterlies, bringing with them a sudden and noticeable influx of two tundra specialists among the arriving migrants: Coues's Arctic Redpoll and Rough-legged Buzzard. At least three Coues's were seen in the Spurn area, with two on 28th and a third arriving on 29th. These were part of a wider arrival that also saw brought one to Bempton Cliffs, East Yorks, on 29th, with another trapped at nearby Filey, North Yorks, that morning. At least one (but probably more) toured Wells Woods, Norfolk, with a redpoll flock on 29th, that day also producing one or two along Blakeney Point. Shetland produced singles among Mealy Redpolls on Unst on 29th and Fair Isle and Dale of Walls, Mainland, on 30th. Two exceptions to the rule were Hornemann's Arctic Redpolls at Lamba Ness, Unst, and on North Ronaldsay, Orkney, both fresh in from Greenland.

Coues's Arctic Redpoll, Bempton Cliffs RSPB, East Yorkshire (Mark Pearson).

Coues's Arctic Redpoll, Blakeney Point, Norfolk (David Griffiths).
Rough-legged Buzzards totalled a dozen, following the arrival of the first at Wells, Norfolk, on 25th. Birds typically showed a strong bias to the east coast and south-east England, although one was on Foula, Shetland, on 29th and there were also two London records: one actively migrating south-west over Primrose Hill on 29th and another at Rainham Marshes (and latterly Dartford Marshes) on 30th. Further south, one migrated over Farlington Marshes, Hants, on 29th. It could be a big winter for these dashing, popular Buteos. Seemingly associated with this movement was a White-tailed Eagle, first seen pottering around offshore at Weybourne, Norfolk, on the morning of 29th, before heading inland over Salthouse Heath, then latterly reported over eastern Norwich and (probably) Strumpshaw Fen.
Meanwhile, before the week's major arrival of birds on the east coast, a fascinating story had evolved surrounding a bird actually found mid-way through the last review period. The bird in question transpired to be Ireland's first Taiga Flycatcher, which was identified on 25th but had apparently been at Galley Head, Co Cork, since 21st, masquerading as a Red-breasted Flycatcher. Typically, no sooner had it been diagnosed as the rarer option, it decided to do a bunk – it couldn't be found anywhere on 26th.

Taiga Flycatcher, Galley Head, Cork (Gerard Murray).
While it's not been a vintage autumn anywhere in the Northern Isles, it's reasonable to say that Fair Isle has suffered a wretched season by its own lofty standards. Bar a White's Thrush earlier in the month, it's been very lean pickings for the famous isle, so the appearance of a male Siberian Rubythroat on 28th was welcome to say the least. Despite Fair Isle now having hosted eight different individuals over the years, including five since 2010, photos of them always hold a powerful aura and still knock the viewer for six when they first emerge – they're such classy birds.

Siberian Rubythroat, Fair Isle, Shetland (David Parnaby).
Star bird from the west was an American Robin on Lundy, Devon, for a mere 15 minutes on the afternoon of 26th. This is the first of its kind anywhere in Britain since two in late autumn 2013, when birds graced Scilly and North Uist. This was followed by an equally brief American Buff-bellied Pipit at Nanjizal, Cornwall, on 29th, which also proved entirely untwitchable. Just down the road from Nanjizal, the Grey Catbird continued to perform well, if intermittently, in its chosen hedgerows at Treeve Common until 29th – just when it seemed like it might be settling in for an extended stay into the winter, negative news by early afternoon on 30th seemed to suggest that it's departed for pastures new.

Grey Catbird, Trevescan, Cornwall (David King).
The Grey-cheeked Thrush was last seen on St Agnes, Scilly, on 24th but, as it transpired a few days later, it hadn't gone very far … the same individual was happily hopping around the beach and adjacent gardens at Little Porth, St Mary's, from 29th onwards. Meanwhile, far to the north, another Grey-cheeked arrived at Rendall, Orkney, on 28th. Back on Scilly, Bryher's Red-eyed Vireo was last logged on 24th.

Grey-cheeked Thrush, St. Mary's, Isles of Scilly (Scott Reid).
Despite the adverse conditions, Salthouse's apparent Stejneger's Stonechat lingered until at least 29th – with hundreds of twitchers having now seen it, many will be waiting for the green light from a DNA test, which will surely show it to be a bona fide stejnegeri. Meanwhile, up in Shetland, a rather more typical maurus Siberian Stonechat performed from 24-27th.

Stejneger's Stonechat, Salthouse, Norfolk (Will Bowell).
Just a single Red-flanked Bluetail was unearthed, in suaeda at Titchwell RSPB, Norfolk, on 29th. An Olive-backed Pipit was at Blakeney Point that day, while another was found on St Mary's, Scilly. St Mary's also held onto its two Dusky Warblers early in the week, with a third found on the island on 30th, while further birds were found at Weybourne, Norfolk, on 29th and Spurn, East Yorks, on 30th.

Olive-backed Pipit, St. Mary's, Isles of Scilly (Kris Webb).
Another nice bird for Norfolk, if frighteningly brief, was a male Black-throated Thrush at Burnham Overy Dunes for 10 minutes on the morning of 27th. A female Pied Wheatear was on Foula, Shetland, on 29-30th. A Rustic Bunting continued to entertain birders on St Mary's, Scilly, to 27th, although it could be very elusive. A late Tawny Pipit was clocked over Portland Bill, Dorset, on 24th. Last week's Booted Warbler departed Bolus Head, Co Kerry, after its final showing on 24th. In a generally poor autumn for the species, just the three Pallas's Warblers were seen: one was trapped on Lundy, Devon, on 25th, followed by birds at Easington, East Yorks, on 29-30th and St Cyrus, Aberdeenshire, on 30th.

Pallas's Warbler, Easington, East Yorkshire (Martin Standley).
A respectable 15+ Barred Warblers included no fewer than three at Bempton Cliffs, East Yorks, and a fourth just up the coast at Buckton. The late Melodious Warbler continued at Porth Meudwy, Gwynedd, to 28th. Five Red-breasted Flycatchers included a fine male alongside the Taiga Fly at Galley Head, Co Cork, while another showed extremely well at Southwold, Suffolk, from 28th – as did another at Seaton Carew, Cleveland, from 29th. The week's only Bluethroat was a bird on North Ronaldsay on 28th.

Red-breasted Flycatcher, Southwold, Suffolk (Andrew Moon).
Aside a couple lingering on Tresco, Scilly, only Little Bunting was a bird at Ballynacarriga, Co Cork, on 30th. Common Rosefinches were noted on Scilly and in Orkney, the former also laying claim to a European Serin on St Mary's. Three Hoopoes were seen, most notably one near Dungannon, Co Tyrone, on 25th. A Red-backed Shrike was on Inishmore, Co Galway, on 24th, with Brightlingsea, Essex, claiming its second of the autumn from 24-27th. Around 15 Great Grey Shrikes were seen, these a mix of coastal migrants and returning winterers. The Eurasian Penduline Tit at Pleinmont on 25th represented the first Guernsey record for 25 years.
Content continues after advertisements
A handful of Rosy Starlings were seen in Cornwall and on Scilly, with another in Pembrokeshire and new birds at Douglas, IoM, on 25th and Llandudno, Conwy, on 30th. In addition, the long stayer remained popular in St Helen's, Lancs. At least 15 Richard's Pipits were spread widely. There appeared to be an influx of Hooded Crows, with an amazing flock of 10 logged at Flamborough Head, East Yorks, on 27th, with two more there on 29th, two at Gibraltar Point, Lincs, on 29th and a few at inland sites in Yorkshire, Nottinghamshire and Cambridgeshire.

Rosy Starling, St. Helens, Lancashire (Steve Young).
As much to the chagrin of bird news operators as to the delight of just about everyone else, it looks like it might be a busy winter for Waxwings around Britain and Ireland. The ones and twos of last week increased exponentially as the days passed, with a count of 55 in Stornoway, Lewis, on 30th the highest of the week. In total, we received 88 reports of the species over the seven days – no doubt that figure will be somewhat higher by this time next week.

Distribution of Waxwing records, 24-30 October 2018 (BirdGuides.com data).
The confiding Spotted Sandpiper remained on show at Jarrow, Durham, to 28th. A late Baird's Sandpiper was found at Goldcliff Pools, Gwent, on 24th, lingering to 28th, while a Lesser Yellowlegs was discovered at Broadford Bay, Skye, on 25th – could it be one of the recent birds from the Outer Hebrides relocating? Another was at Rogerstown Estuary, Co Dublin, on 27th, before presumably relocating south to Sandymount and Booterstown Marsh on 29th. Elsewhere, the Cornish bird remained on show at Devoran to at least 28th and the Dorset bird lingered around Weymouth throughout. The week's only Pectoral Sandpiper remained at South Huish Marsh, Devon, throughout. Both Roe Estuary, Co Derry, and Tacumshin, Co Wexford, laid claim to braces of juvenile White-rumped Sandpipers, while a lone bird was at Booterstown Marsh, Co Dublin. The Long-billed Dowitcher was still in residence at Frampton Marsh, Lincs, on 29th.

Spotted Sandpiper, Jarrow, Durham (Tom Tams).

Lesser Yellowlegs, Broadford Bay, Skye, Highland (Martin Benson).
Late autumn Pacific Golden Plovers are never easy to come across and the juvenile at Bann Estuary, Co Derry, on 28th was a skilful find. The adult American Golden Plover was still at Oare Marshes, Kent, to 26th, the day another was found at Carrahane Strand, Co Kerry. Two juveniles were at The Range, South Uist, on 27th, with another still on Benbecula that day, while one was reported at Pickerings Pasture, Cheshire, on 25th.
Both Gull-billed Terns lingered at Haughton Stother, Northumberland, to 26th, but no sign throughout 27th suggested that they thought better of lingering through the biting northerly of the weekend.

Gull-billed Tern, Haughton Strother GP, Northumberland (Tom Tams).
Little Bitterns are few and far between at this time of year, so a juvenile showing well at Minsmere, Suffolk, for the day on 24th was of particular note. A Purple Heron was at Brading Marshes RSPB, IoW, on 24th, while Glossy Ibises were in Suffolk, Devon and Co Wexford.

Little Bittern, Minsmere RSPB, Suffolk (Andrew Moon).
A welcome return came in the form of the Black Scoter off Rossbeigh, Co Kerry, on 24th – now present for its fifth winter. Elsewhere, the Northumberland bird continued to commute between Cocklawburn Beach and Cheswick Sands to at least 28th. Two Surf Scoter were in St Andrews Bay, Fife, on 29th, with lingering birds in Lothian, Scilly and the Outer Hebrides. New birds were off Inch, Co Kerry, on 28th and Girdle Ness, Aberdeenshire, on 27th.

Black Scoter, Cocklawburn Beach, Northumberland (Graham Jepson).
The Blue-winged Teal was still on Whalsay, Shetland, on 28th. Female American Wigeon were identified at Clachan, North Uist, on 24th and Chew Valley Lake, Somerset, on 25th (lingering to 27th). Drakes were at Walney Island, Cumbria, and Hesketh Out Marsh, Lancs. Green-winged Teal were in Highland, Orkney, Outer Hebrides and East Yorkshire, the latter concerning a presumed returning drake at Blacktoft Sands RSPB on 29th.
The Ferruginous Duck was still at Skinflats Lagoons, Forth, on 24th. A couple of Ring-necked Duck were new in at Lough Fern, Co Donegal, on 29th, with others found on Fetlar, Shetland, on 25th and at Lough Morne, Co Monaghan, on 27th in addition to five others still dotted around various parts of the country. The female Lesser Scaup lingered on at Llyn Llygeirian, Anglesey, while a drake was at Lough Gara, Co Sligo, on 28th. Shetland's Pied-billed Grebe lengthened its second winter shift at Loch of Spiggie by another week.
Western Palearctic
The Azores's bountiful autumn continued, with a fine Tricoloured Heron showing well at Ribeira Quente, São Miguel, from 27-29th and a Solitary Sandpiper at Lagoa de Ginjal, Terceira, on 27th. Flores held onto its Black-throated Blue Warbler at Fajãzinha to 26th, while the Blue Grosbeak surprisingly reappeared on Corvo on 24th.

Tricolored Heron, Ribeira Quente, São Miguel (David Monticelli).
Other new Nearctic finds on the legendary isle included Magnolia Warbler from 24th, a confiding Sora from 26th and singles of Ovenbird and Swainson's Thrush, as well as continuing Yellow-throated Vireo, American Redstart (trapped and ringed) and Dickcissel. However, it was the Sibes that stole the show: as well as up to four Yellow-browed Warblers on the island, highlights were a juvenile Pallid Harrier and, on 30th, a Red-breasted Flycatcher – the island never ceases to amaze.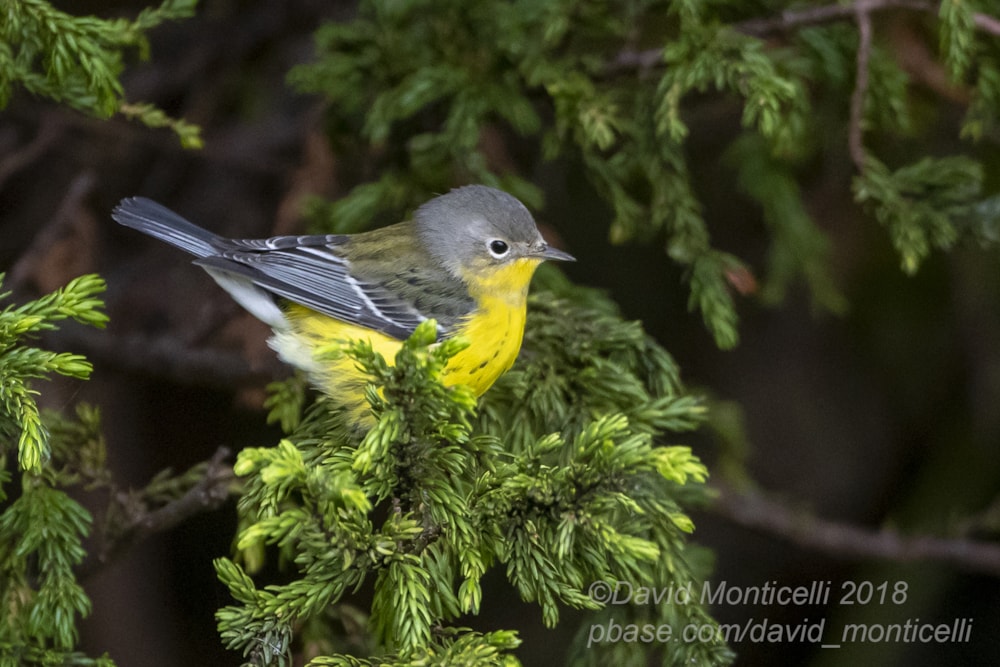 Magnolia Warbler, Corvo, Azores (David Monticelli).
Iceland produced a nice American Robin at Seltjörn on 29th, with a Grey-cheeked Thrush at Ölfus on 24th and the Pied-billed Grebe still at Sandgerði. Another excellent 'Yank' was the Red-eyed Vireo that took up residence on Texel, The Netherlands, from 27th – this represents the third Dutch record. Unfortunately, Belgium's third Yellow-billed Cuckoo flew into a window at Mortsel on 22nd and died in care a few days later. Israel's first-ever Buff-breasted Sandpiper was at Ga'ash from 24th.

American Robin, Seltjörn, Suðurnes (Gudmundur Falk).

Red-eyed Vireo, Texel, The Netherlands (Arne Torkler).
From the east came a fine Chestnut Bunting to Säppi, Finland, on 24th, when it was trapped and ringed. It lingered into the next day. A male Siberian Rubythroat was photographed on private land at Skoghall, Sweden, on 26th, while last week's Asian Desert Warbler was still on Heligoland, Germany, on 27th. Turkey's first Red-flanked Bluetail was photographed near Kulu Lake on 28th. Perhaps of interest to British birders, a Siberian Tit seems to have taken up residence well out of range near Oslo, Norway – perhaps one to take in on a weekend break this winter. Also in Norway, an American Buff-bellied Pipit was at Brusand, Rogaland, on 29th. A candidate first-winter Slaty-backed Gull was seen at Simrishamn, Sweden, on 28th – if confirmed and accepted, it'd be a national first.

Siberian Tit, Oslo, Norway (Simon Rix).
Finally, the Dwarf Bittern was again reported from Llanos Pelados, Fuerteventura, a few times this week, while the Green Heron was still at Quinta do Lago, Portugal, early on.