It felt like the relaxation of coronavirus restrictions were timed perfectly with the first big push of spring migrations and warm weather. And, with a number of the winter megas continuing to star, it proved a busy and eventful week for birding across Britain and Ireland.
In Devon, the Northern Mockingbird first reported back in February continued in gardens on the north side of Exmouth until the week's end. Just the third British record, it represents the first anywhere in Britain in more than 30 years. The first was a brief one-day bird at Saltash, Cornwall, on 30 August 1982, with the second at Horsey Island, Essex, from 17-23 May 1988.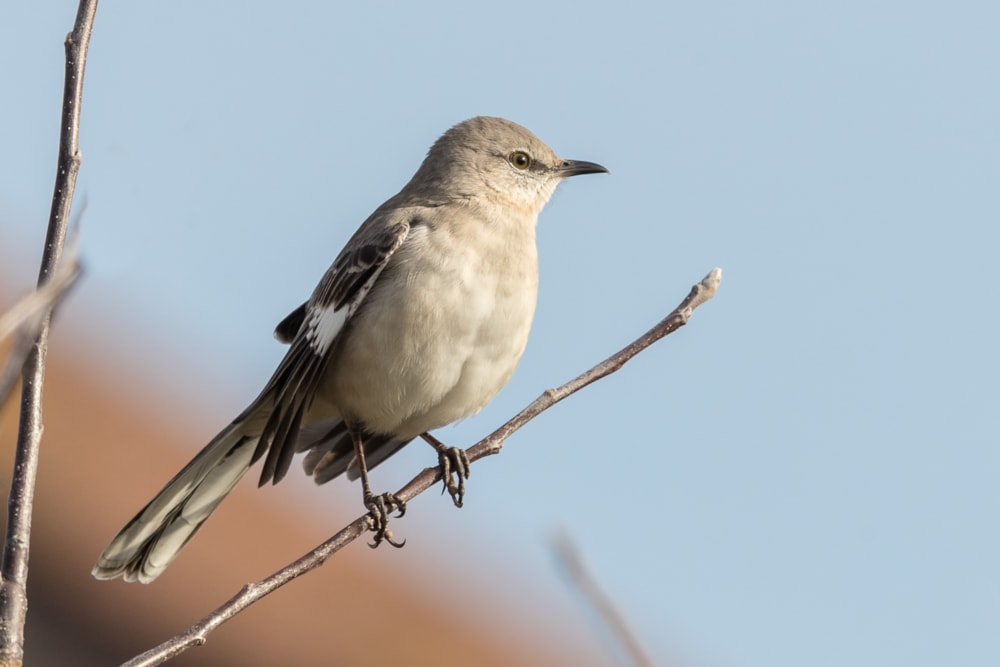 Northern Mockingbird, Exmouth, Devon (Ian Bollen).
First noted at Newlyn's diminutive fishing port on 17th, a tame first-winter American Herring Gull provided remarkable views at times throughout the week, providing a unique viewing experience of this surprisingly rare Nearctic vagrant. The town has hosted two American Herring Gulls during the last 12 months, with another present on 2-3 April 2020 during the first national lockdown. A likely second-winter was on North Ronaldsay, Orkney, on 26th, too.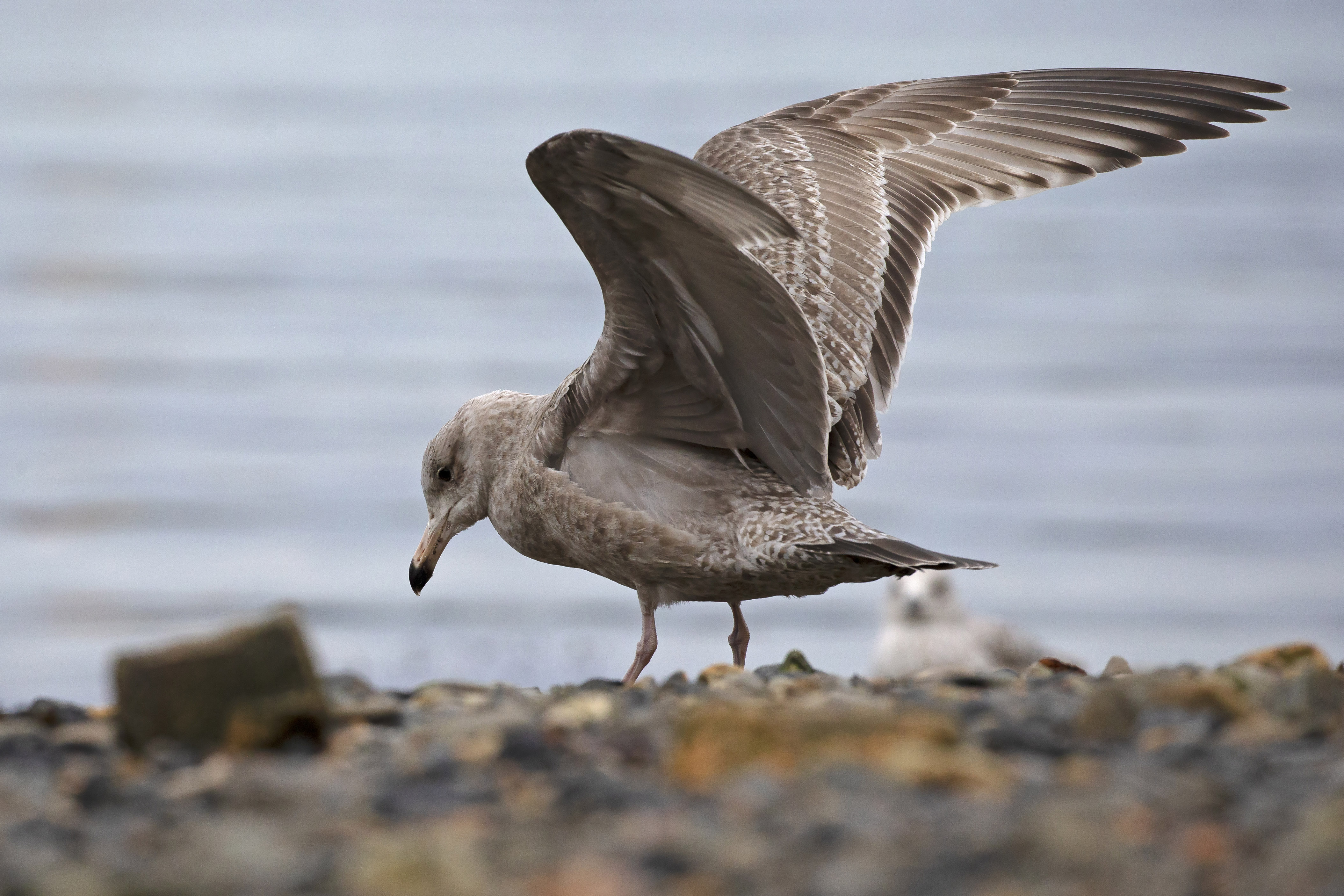 American Herring Gull, Newlyn, Cornwall.
Tenby, Pembrokeshire, played host to a Walrus from 27th. First reported from Valentia Island, Co Kerry, on 14th, it resurfaced in Pembrokeshire at St Govan's Head on 20th before relocating once again to Monkstone Point on 22nd, a mere stone's throw from its now favoured lifeboat slipway. As mammal twitches go, they don't get much bigger than this – quite literally – and the species has proved tough to catch up with historically, often present for just a few hours before moving on.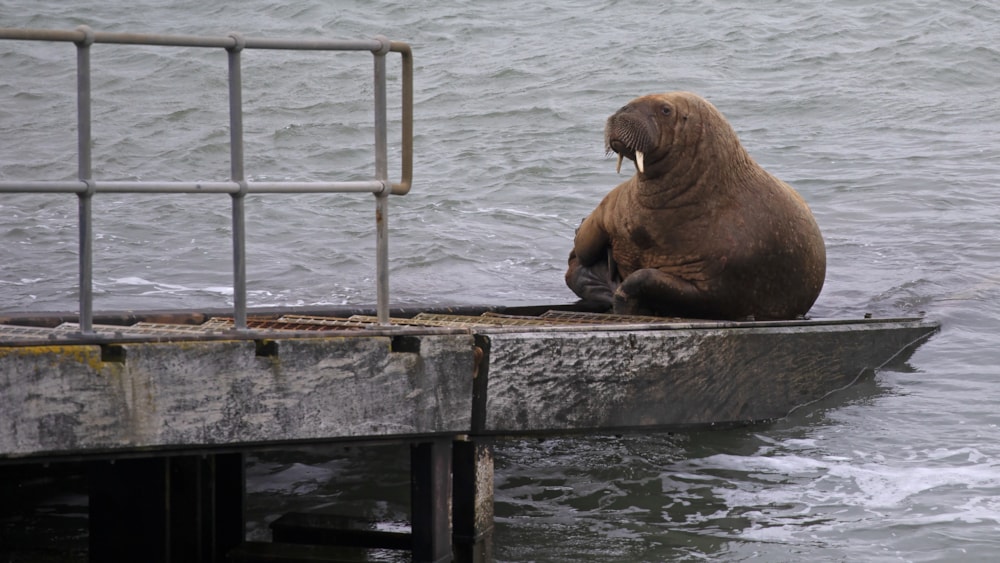 Walrus, Tenby, Pembrokeshire (Sam Viles).
Monday's southerly blast saw a female Desert Wheatear deposited at Lodmoor RSPB, Dorset; nearby The Fleet hosted a roaming second-winter Laughing Gull, reported intermittently between Abbotsbury Swannery and Lodmoor RSPB since 11th. Further larid action was provided at Frampton-on-Severn, Gloucestershire, where a Bonaparte's Gull was present from 26th; another was at Portavogie, Co Down, on 30th.

Desert Wheatear, Lodmoor RSPB, Dorset (John Wall).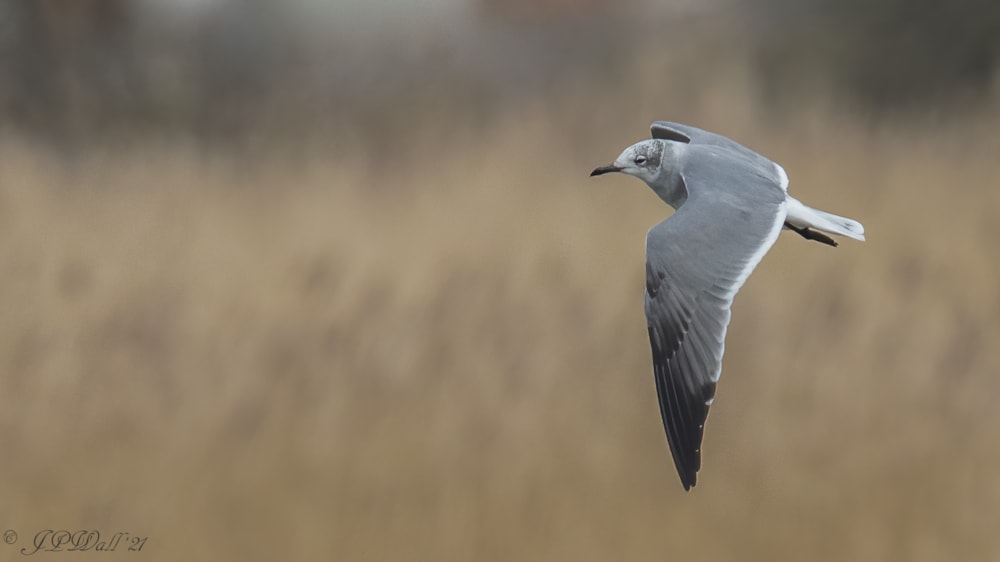 Laughing Gull, Lodmoor RSPB, Dorset (John Wall).
In Ireland, the young Double-crested Cormorant lingered at Carrig Island, Co Kerry, until 25th at least, with the Belted Kingfisher last reported at Castletownbere, Co Cork, on 23rd. Not too far away, the female Bufflehead held on at Nohoval Pond.
An adult drake Hooded Merganser at East Yorkshire's Hornsea Mere from 25th is unfortunately marred by the presence of a ringed escape at the same site last spring. A one-day drake Blue-winged Teal at Steart WWT, Somerset, on 29th had no such concerns, likewise the Pied-billed Grebe at Dolphinholme, Lancashire, first noted on 5th.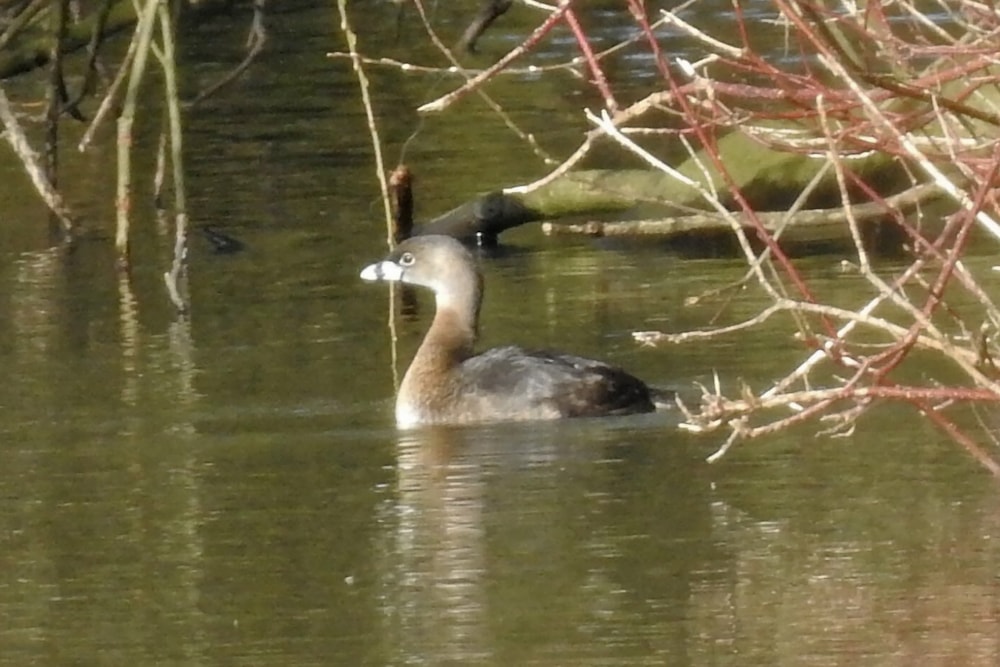 Pied-billed Grebe, Dolphinholme, Lancashire (Patrick Earith).
The strong winter showing by King Eiders continued, with two still at St John's Point, Co Donegal. Lothian's White-winged Scoter lasted throughout lockdown, most recently off Eastfield on 28th; Highland's Black Scoter was still off Embo until 27th.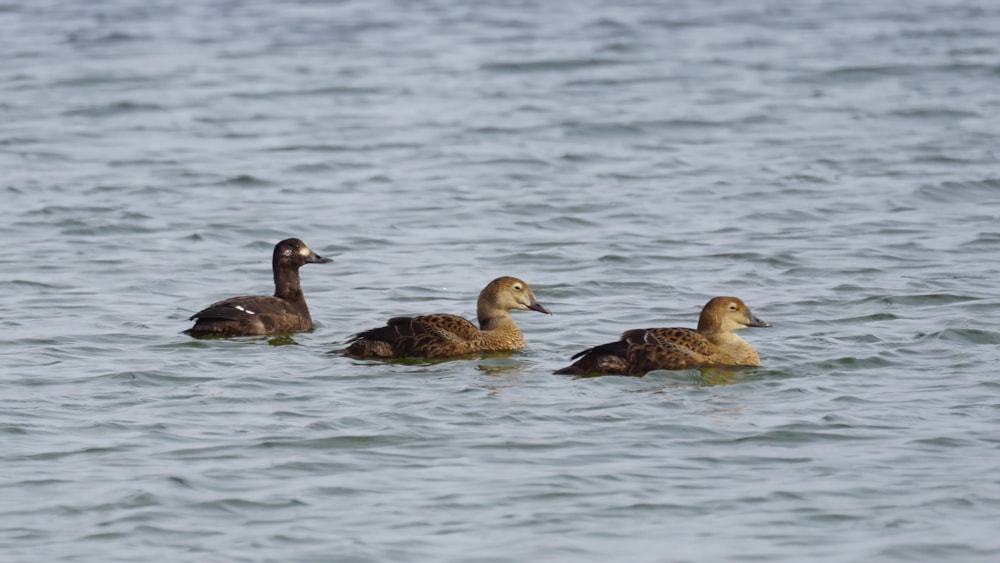 King Eider (and Velvet Scoter), St John's Point, Donegal (Kim Pereira).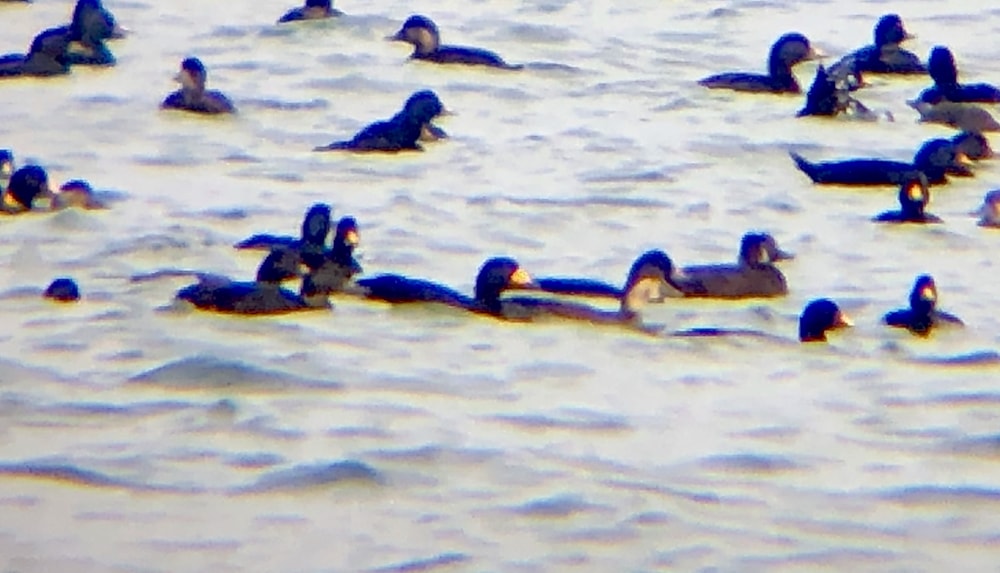 Black Scoter, Embo, Highland (Robert McMillan).
On North Uist, Outer Hebrides, the pair of wintering Richardson's Cackling Geese were again at Knockintorran on 27th. Lurgan Green, Co Louth, played host to no fewer than four Grey-bellied Brant from 21st. Another five were reported from Bull Island, Co Dublin, on 30th, the family party first seen back at Kilbogget Park in December.

Grey-bellied Brant, Lurgan Green, Louth (Brian McCloskey).
The Spotted Sandpiper at Croy, Ayrshire, was beginning to look rather spotty by the week's end, with two Long-billed Dowitchers present sporadically at Tacumshin, Co Wexford, after their initial discovery on 6th.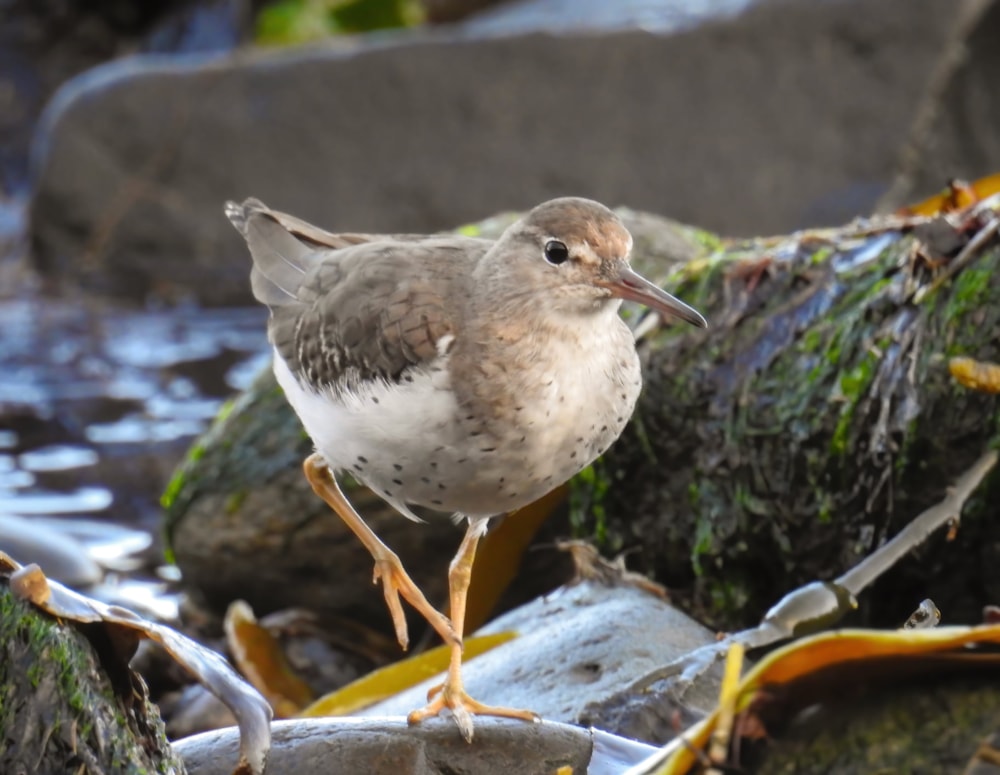 Spotted Sandpiper, Croy, Ayrshire (David Lynn).
Bringing some real Scandinavian flair to the Home Counties, Surrey's star at Thursley Common was starting to look really quite gorgeous. The first-summer male Rustic Bunting continued singing and making himself at home alongside the two wintering Little Buntings until 29th, when, disappointingly, he appeared to have moved on.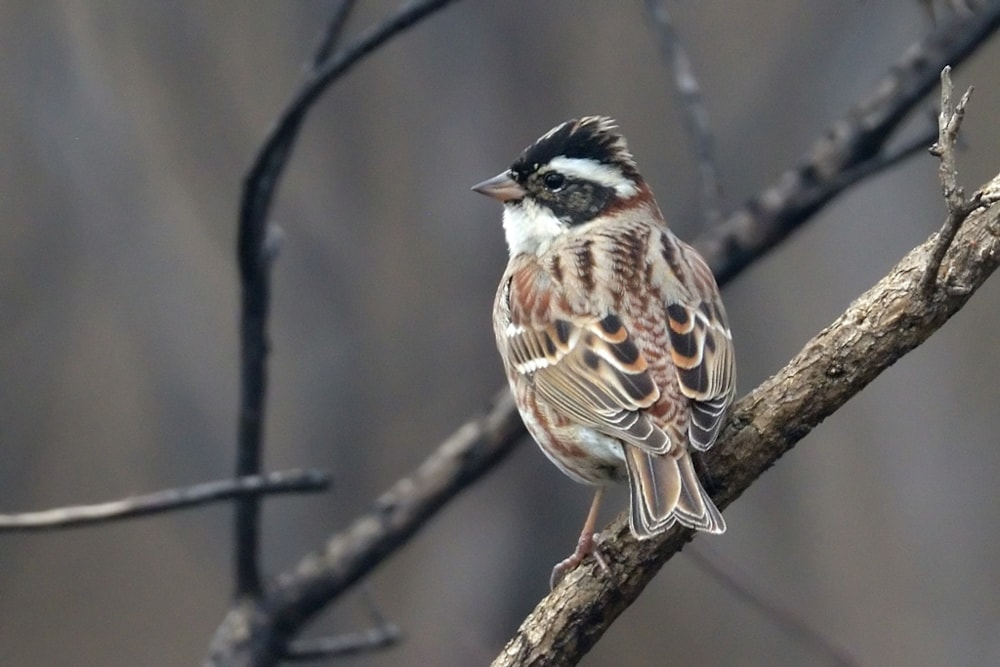 Rustic Bunting, Thursley Common, Surrey (Ian Curran).
After going unreported for more than a month, Northumberland's Eastern Yellow Wagtail was back at Prestwick Carr on 28th; a possible was at Frodsham Marsh, Cheshire, until 24th. Elsewhere, an Iberian Chiffchaff was reported at Manor Farm CP, Hampshire, on 25th.
While our Review of the Week segment underwent a temporary pause throughout the nationwide lockdown in the first quarter of 2021, a number of new rarities were discovered across Britain and Ireland.
Top billing goes to Kent's first-ever Eyebrowed Thrush, present at an undisclosed site for six weeks from 14 January (more on that here), while a Dusky Thrush was present in a Fraserburgh, Aberdeenshire, garden during the cold snap on 13-14 February.

Eyebrowed Thrush, undisclosed site, Kent (Alison Watkin).
No fewer than two White-throated Sparrows were discovered in gardens in South-East England, with one near Orlestone, Kent, in early January complemented by one at Barcombe, East Sussex, during February.
A drake Baikal Teal at Ripley, Hampshire, from 14-16 March was a well-received county first, as was Northumberland's first Bufflehead – an adult drake – at Cresswell Pond on 26 February, having been present at Coton Lakes, Warwickshire, from 27 January-25 February.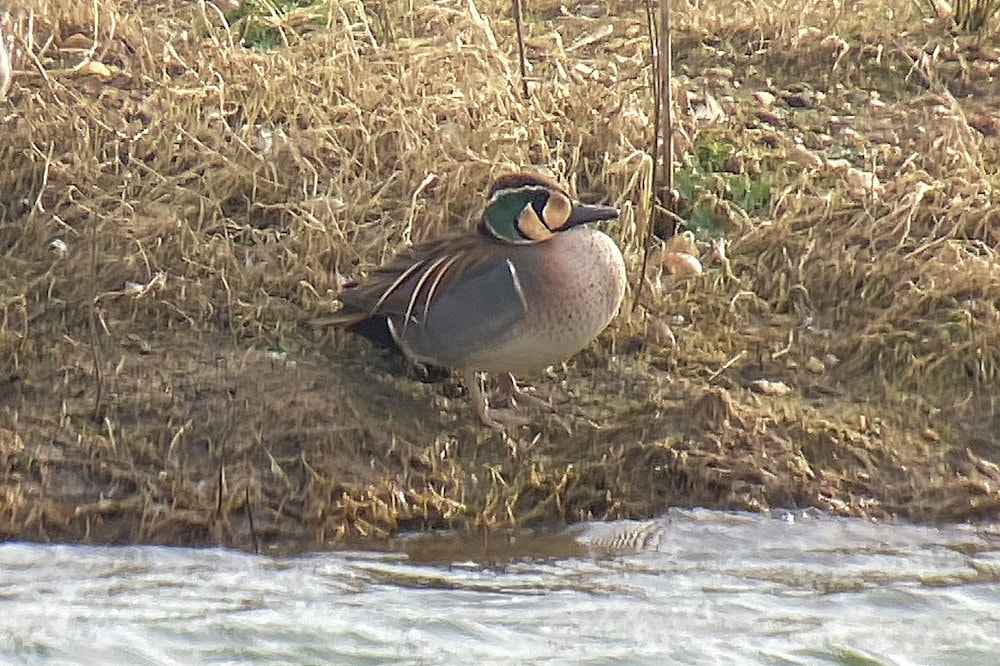 Baikal Teal, Ripley, Hampshire (Olly Frampton).

Bufflehead, Cresswell Pond NWT, Northumberland (Jonathan Farooqi).
In Ireland, a first-winter Rustic Bunting was at Bunmahon, Co Waterford, from 21 January-19 February, with an adult Pacific Diver at Elly Bay, Co Mayo, from 17-22 March.
Scottish mainland
An early Alpine Swift photographed over Fife Ness, Fife, on 25th was one of the main highlights from anywhere across Britain this week. Present since 31 January, the first-winter male Rosy Starling at Eyemouth began to colour up rather nicely and started to release its singing voice over the Borders town by late March. The adult Ring-billed Gull first reported around Musselburgh, Lothian, in mid-January resurfaced in the pre-roost at Seton Sands on 26th.
Ring-necked Duck lingered at four sites – Kinghorn Loch, Fife, Loch Oire, Moray & Nairn, Martnaham Loch, Ayrshire, and Bingham's Pond, Clyde – with three also in Argyll at Loch Bhasapol, Tiree, on 24th. Meanwhile, Green-winged Teal were at Tain, Highland, and Loch of Kinnordy RSPB, Angus & Dundee.
No fewer than four Surf Scoter were off Embo, Highland, with another drake off Eastfield, Lothian. Two Snow Geese were around Inverallochy, Aberdeenshire, from 21st.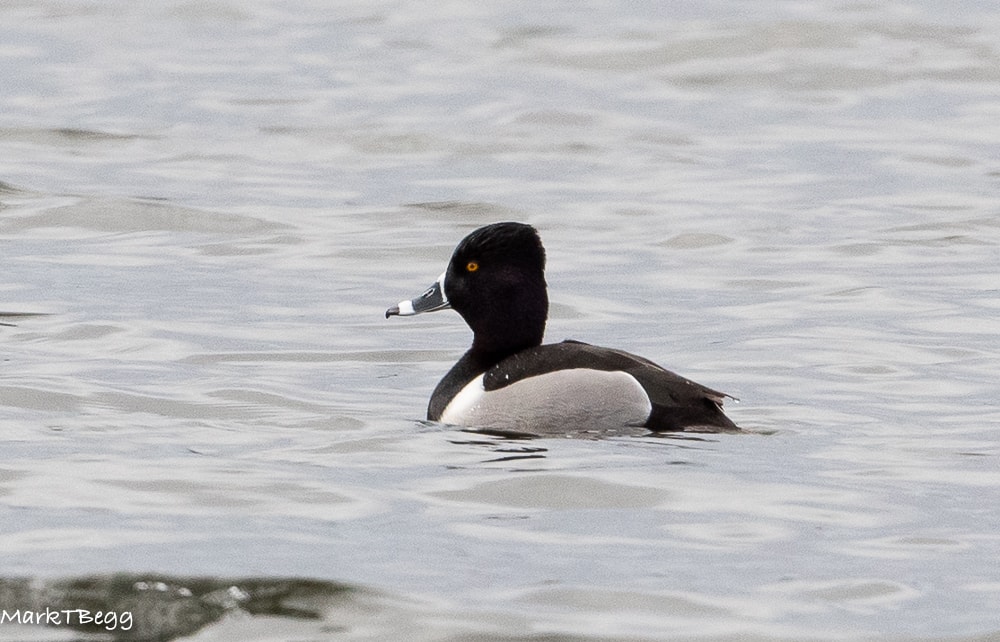 Ring-necked Duck, Hogganfield Loch, Clyde (Mark Begg).
Northern Isles and the Hebrides
In a quiet week for Orkney, a White-billed Diver was off South Wick, Papa Westray, where an immature White-tailed Eagle flew south on 28th. North Ronaldsay's Green-winged Teal was still present and correct until 27th, with a male Lapland Bunting best of the rest.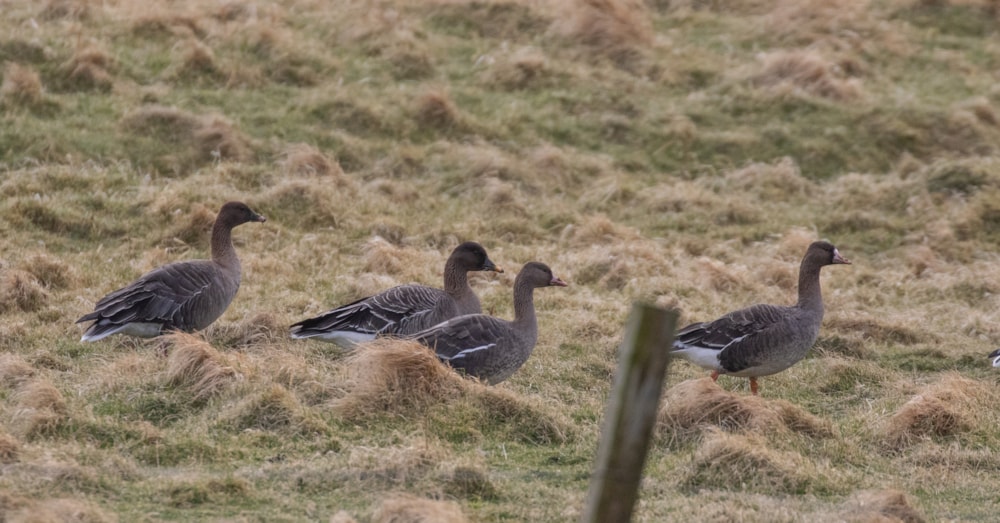 Tundra Bean Goose, Fair Isle, Shetland (Daniel Gornall).
A drake American Wigeon at Loch of Spiggie, Mainland, from 27th was a warmly appreciated Shetland record. Elsewhere in the islands, a drake Green-winged Teal was at Swining, Mainland, while Fair Isle's Tundra Bean Goose remained. The best passerine action involved a Firecrest at Mid Yell, Yell, and a Siberian Chiffchaff at Quendale, Mainland.
The Outer Hebrides was aflush with Green-winged Teal. After an impressive count of three drakes at Aird Mhor, Barra, on 4th, two remained until 28th at least. Another was at Loch Hallan, South Uist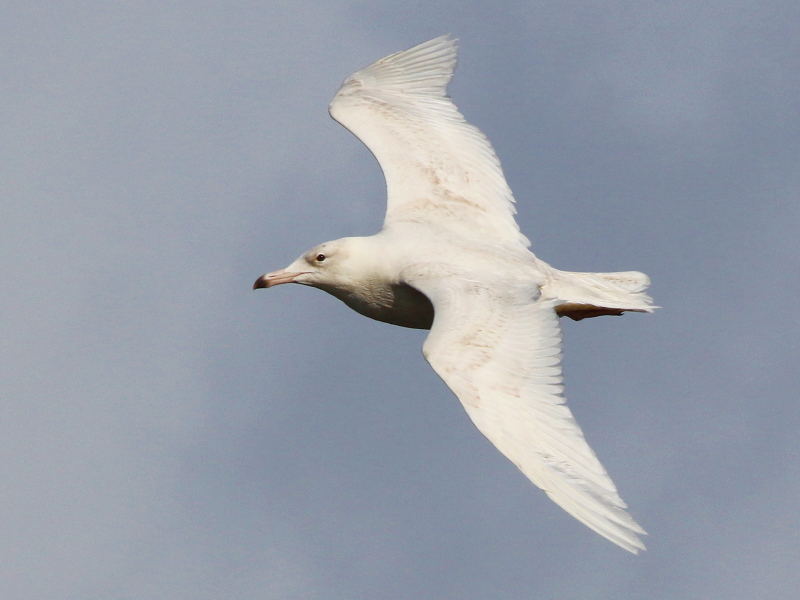 Glaucous Gull, Westing, Unst, Shetland (David Cooper).
North-East England
A plethora of White-tailed Eagle reports dominated Northumberland's week, including an adult over Slaley on 28th and an immature photographed over Coquet Island on 29th and later seen over Cambois, with others reported from Wooler and Grindon Lough. A gorgeous male Lapland Bunting graced Low Newton-by-the-Sea on 24th, with a sprightly Red-necked Grebe at Arcot Ponds. Garganey were at Cresswell and Holywell Ponds and a Greenland White-fronted Goose was at Budle Bay. Laridae action at North Shields Fish Quay included a juvenile Glaucous Gull and three Iceland Gulls.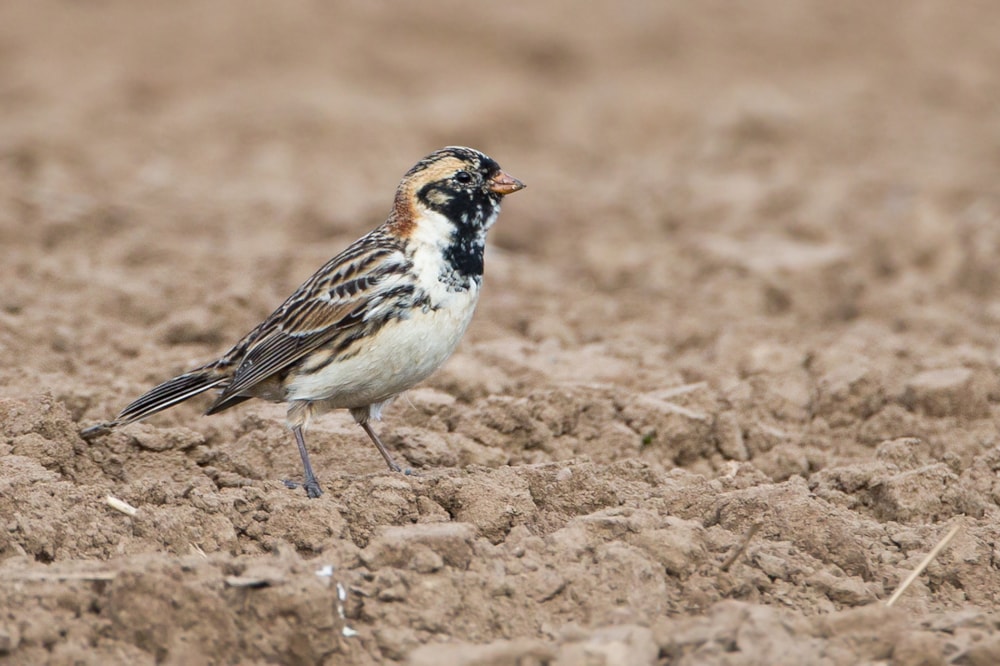 Lapland Bunting, Low Newton-by-the-Sea, Northumberland (Gary Woodburn).
Washington WWT, Durham, held a Ruddy Shelduck, plus a Common Crane flew north over Cleadon on 30th. A Snow Bunting was sound-recorded over Jarrow on 24th, while a probable White-tailed Eagle flew south over Whitburn on 29th. Iceland Gulls were at Whitburn Steel and Lamesley Water Meadows.
In Cleveland, the Saltholme area had a good week. A drake American Wigeon was on floodwaters at Port Clarence while a drake Green-winged Teal was on the reserve. At least seven Snow Buntings remained around South Gare.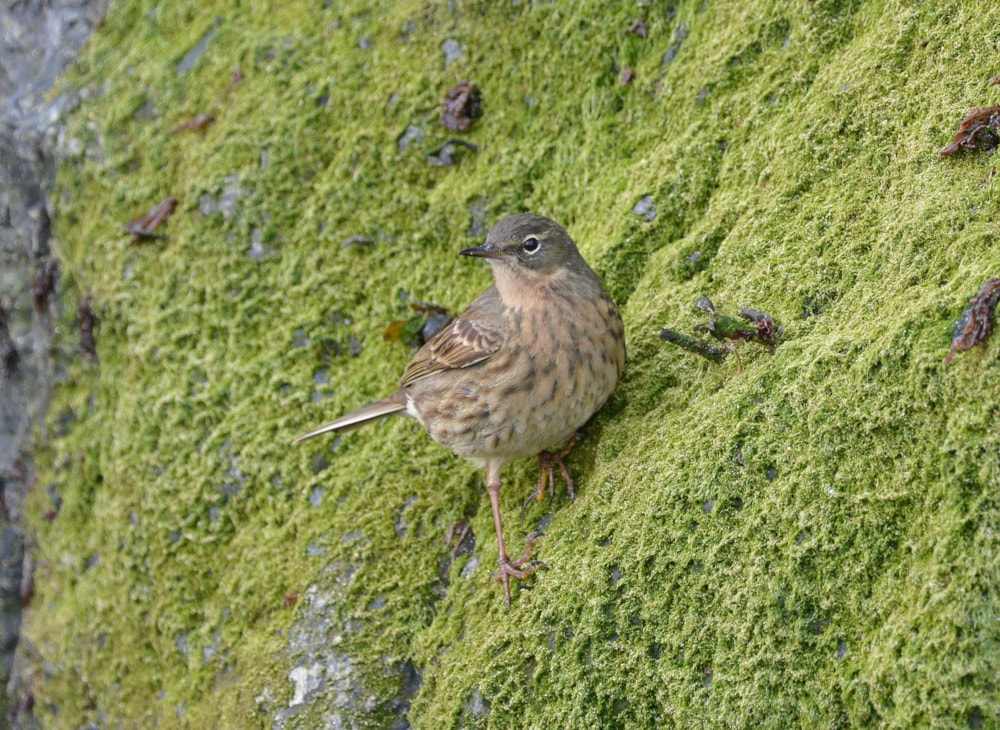 Scandinavian Rock Pipit, Skinningrove, Cleveland (Damian Money).
North-West England
In Cumbria, a Slavonian Grebe on Windermere proved a one-day wonder. Signs of spring began trickling north, with four Garganey at Brigsteer Wetland on 30th and a Ring Ouzel at South Walney NR on 30th, while Western Ospreys were reported from five sites.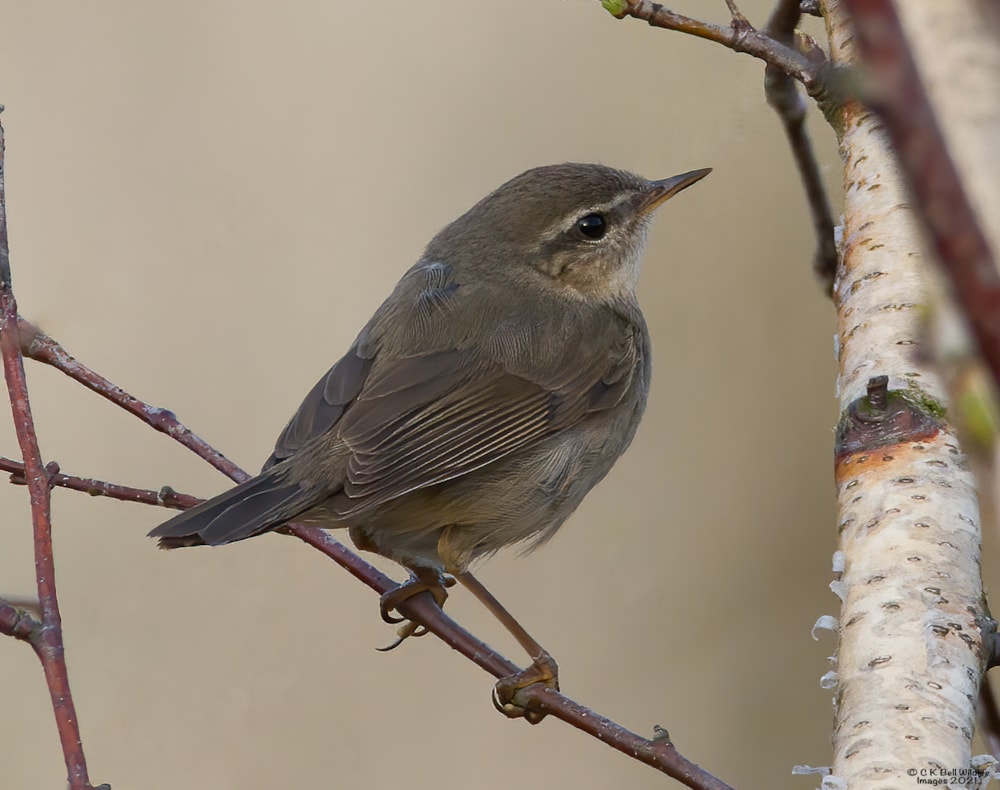 Dusky Warbler, Ainsdale, Lancashire (Craig Bell).
Lancashire was much the same as we left off and at least one Dusky Warbler continued to play hard-to-get in Ainsdale's hawthorns but was still present on 30th. The Todd's Canada Goose re-appeared at Banks Marsh with the departing Pink-feet flock on 27th. The Ribble continued to prove best for goosing and Russian White-fronts were logged at three sites. In a pretty poor year for Glaucous Gulls, a brief juvenile at Skippool Creek on the evening of 27th was not to be scoffed at.
Todd's Canada Goose, Banks Marsh, Lancashire (Ron Jackson).
Cheshire too proved quiet. The overwintering probable Siberian Lesser Whitethroat continued to find one Widnes garden to its liking. Six Twite on the Dee Estuary at Parkgate is a decent local record. Meanwhile, Western Osprey season is upon us and four birds passing through the county on 30th alone was a great start. A first-winter Caspian Gull was at Winsford Flash on the afternoon of 28th.
A showy Ring-necked Duck is always a local attraction and the female at Alexandra Park/Platt Fields Park, Greater Manchester, is no exception. Elsewhere, a pair of Garganey hanging around Pennington Flash CP were a sign of the coming spring.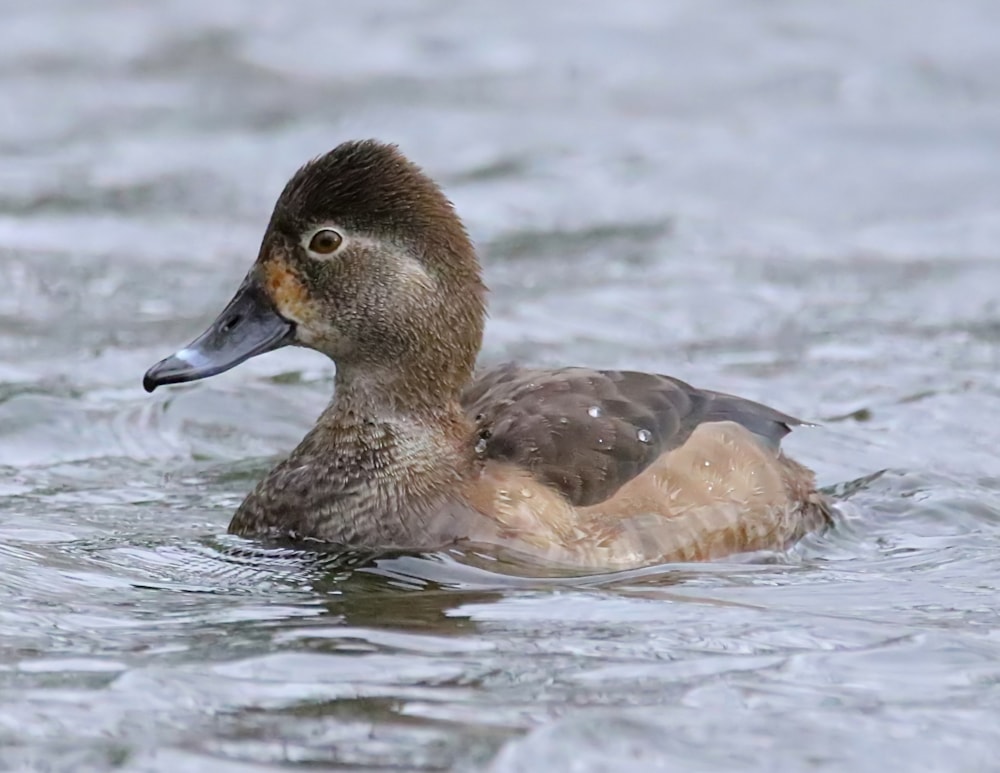 Ring-necked Duck, Alexandra Park, Greater Manchester (Jaz Hughes).
Lincolnshire and Yorkshire
Lincolnshire had a steady week, with a few Western Osprey reports among the early migrants, which also included a pair of Garganey at Willow Tree Fen, a House Martin over Swanpool on 26th and Yellow Wagtail at Baston & Langtoft Pits on 27th. A Lapland Bunting at Saltfleetby NNR on 29th was among the most notable sightings, with a few Black Redstarts and Water Pipits also seen. A White Stork that flew over Middlemarsh Farm early on 27th passed over Sudbrooke later that day; two then flew over Far Ings NR on 29th.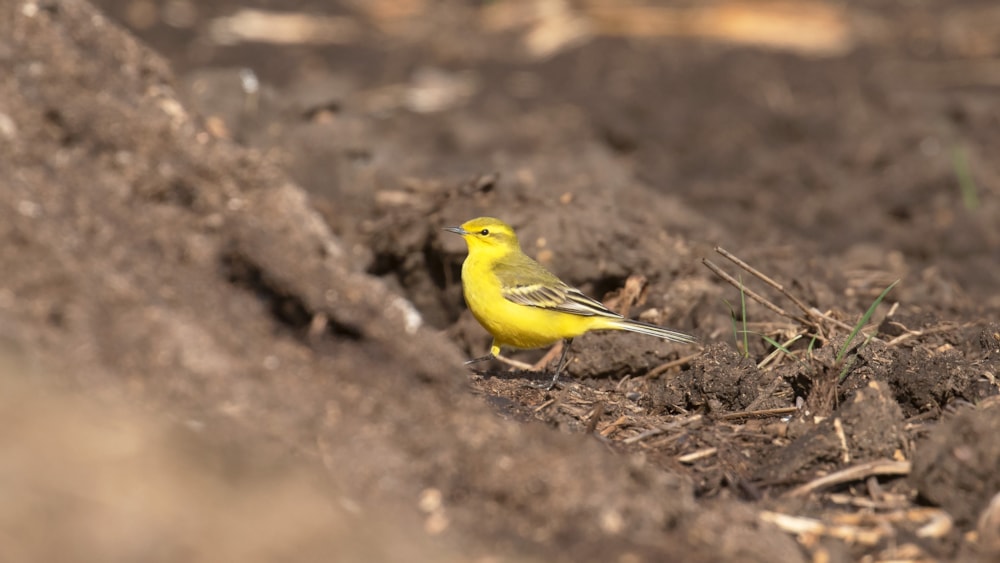 Yellow Wagtail, Baston & Langtoft Pits, Lincolnshire (Josh Jones).
A glut of migrants arrived across Yorkshire in the latter part of the week, including the first Common Redstart at Rod Moor, South Yorkshire, on 30th and double figures of Western Osprey. An Iceland Gull flew over Potteric Carr and Doncaster on 28th.
The Green-winged Teal reappeared at North Cave Wetlands, East Yorkshire, from 28th and a White Stork flew over Allerthorpe Common on 30th. At least two White-tailed Eagles were knocking around, with two past Burniston, south to Bempton Cliffs RSPB and past Flamborough Head on 30th, with both making it to Hornsea Mere; a single bird went over Leven Carrs on 25th. On the subject of big birds, two Common Cranes passed north over Hutton Rudby on 25th.
Other bits of interest included Black-necked Grebe at North Duffield Carrs, Iceland Gulls at Bolton-on-Swale Lake YWT on 28th and Eccup Reservoir, plus the Ring-necked Duck still at Hellifield Flash to 25th.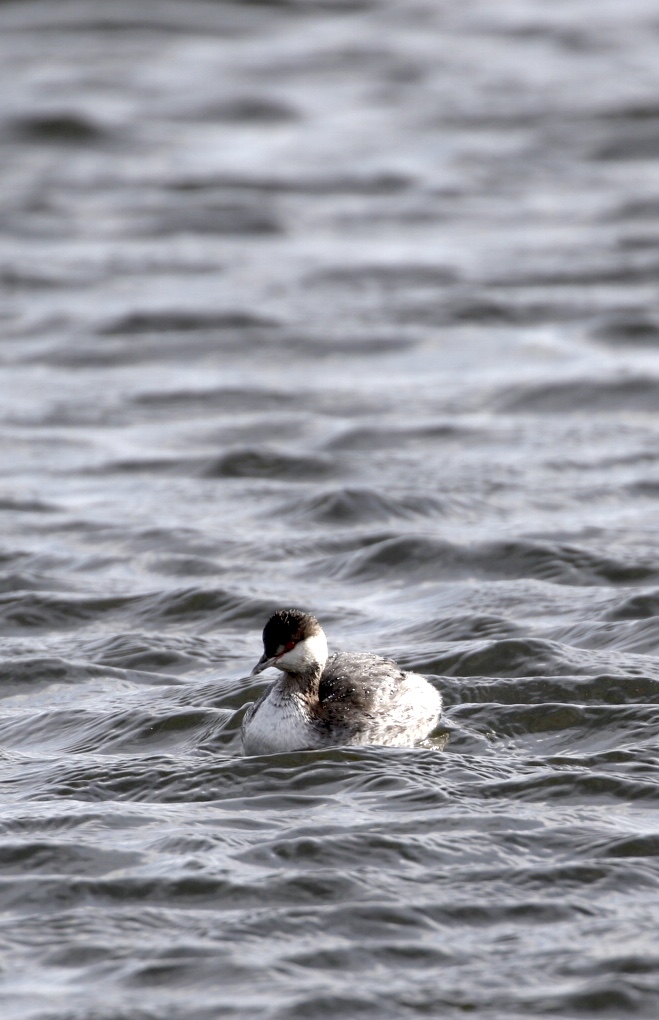 Slavonian Grebe, St Aidan's RSPB (Swillington Ings), West Yorkshire (Darrell Prest).
West Midlands
Unsettled weather on 28th brought some good birds to Staffordshire: an adult Kittiwake at Belvide Reservoir and two Sandwich Terns passed through Blithfield Reservoir; a single flew through Branston GPs the same day.
An adult Bewick's Swan lingered at Venus Pool NR, Shropshire, and served as a solemn reminder of wintering herds of the past. A Great Grey Shrike was uncovered at the summit of Abdon Burf on 30th.
Spring managed to get its foot in the door at Herefordshire with two Garganey on the River Lugg at Bodenham Lake on 27th.
Content continues after advertisements
A White Stork of unknown origin flew over Sutton Coldfield, West Midlands, on 25th but sadly wasn't re-sighted elsewhere on its journey. Marsh Lane NR managed two separate Sandwich Tern sightings through the week and the 1st-winter Russian White-fronted Goose lengthened its stay.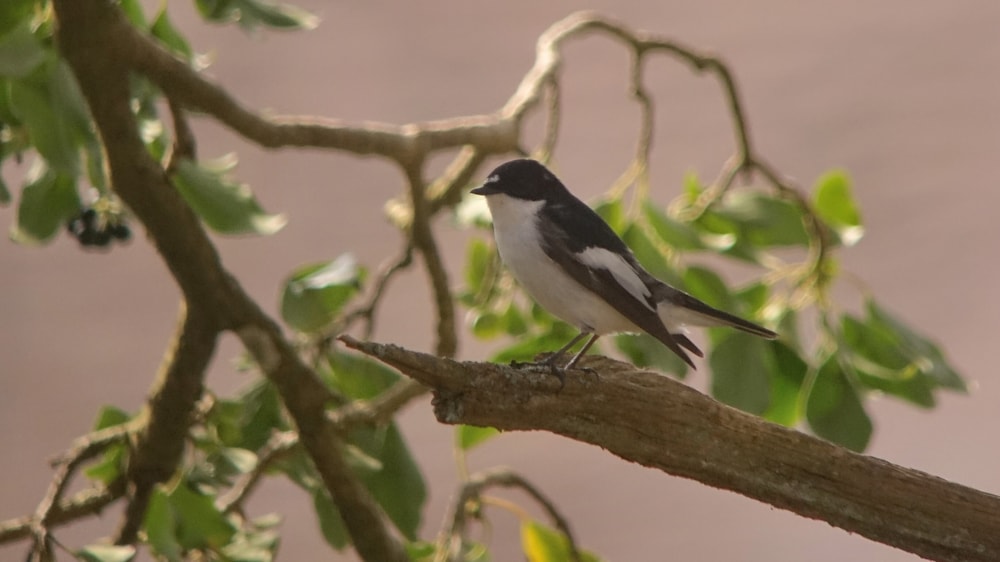 Pied Flycatcher, Wyre Forest, Worcestershire (Craig Reed).
Spring migrants really do bring joy to a lot of birders, with the southerly airflow getting most patchers champing at the bit. However, a spanking male Pied Flycatcher at Wyre Forest, Worcestershire on 30th was most unexpected and also the earliest-ever record for the West Midlands Bird Club region. Other migrants included a Tree Pipit at the same site and three sites reporting Garganey, including up to four at Sling Pool, Holt, and a particularly showy drake at Stourvale Marsh, Kidderminster.
A Slavonian Grebe was showing well at Draycote Water, Warwickshire, from 29th, where two European Shags, a Yellow Wagtail and Western Osprey were also reported. More Sandwich Tern action was to be had with one at Shustoke Reservoir on 28th.
East Midlands
Derbyshire's reports page was well-populated; an adult Red-necked Grebe remained at Carsington Water all week with a Glaucous Gull (on 24th) and Great Northern Diver for company, while the Slavonian Grebe continued to put on a show at Kirk Hallam Lake. Not to be overlooked, the first-winter Ring-necked Duck flirted with various waterbodies south of Derby but settled on The Pool, Melbourne.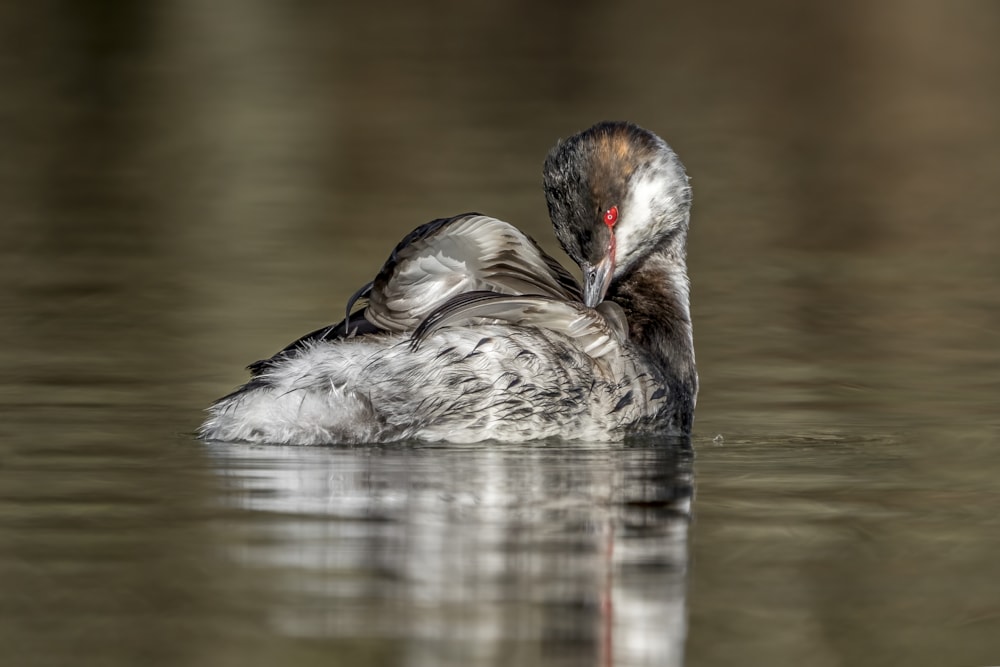 Slavonian Grebe, Straw's Bridge NR, Derbyshire (Robert Booth).
In Nottinghamshire, the Little Bunting resurfaced in its favoured hedge at Langford Lowfields RSPB where he treated some observers to some song on 29-30th. Two Common Cranes flew south over Idle Valley NR on 24th and a single flew south-east over Daneshill Lakes on 28th. A Glossy Ibis flew over South Muskham GPs on 29th. Two Smew were still at Holme Pierrepont on 25th and the redhead remained in place at Idle Valley NR; an early Common Tern was at Holme Pierrepont on 24th.
Lumbering flyovers spilled into Northants, with a Common Crane north over Titchmarsh NR on 24th and the first-winter Glossy Ibis there throughout. A drake Ring-necked Duck favoured the Main Lake at Stanwick GPs with another reported at Ditchford GPs. A drake Smew was reported from both sites on differing days, too. An adult Dark-bellied Brent Goose paid a visit to Irthlingborough Lakes from 24-26th.
A White Stork flew west over Newbold Verdon, Leicestershire, on 25th. Rutland Water enjoyed a smattering of records with Grey Plover and a Sandwich Tern through to the south-west on 29th and six Great Northern Divers still in the evening roost. A Dark-bellied Brent Goose was decorating the inflow at Eyebrook Reservoir on 29-30th.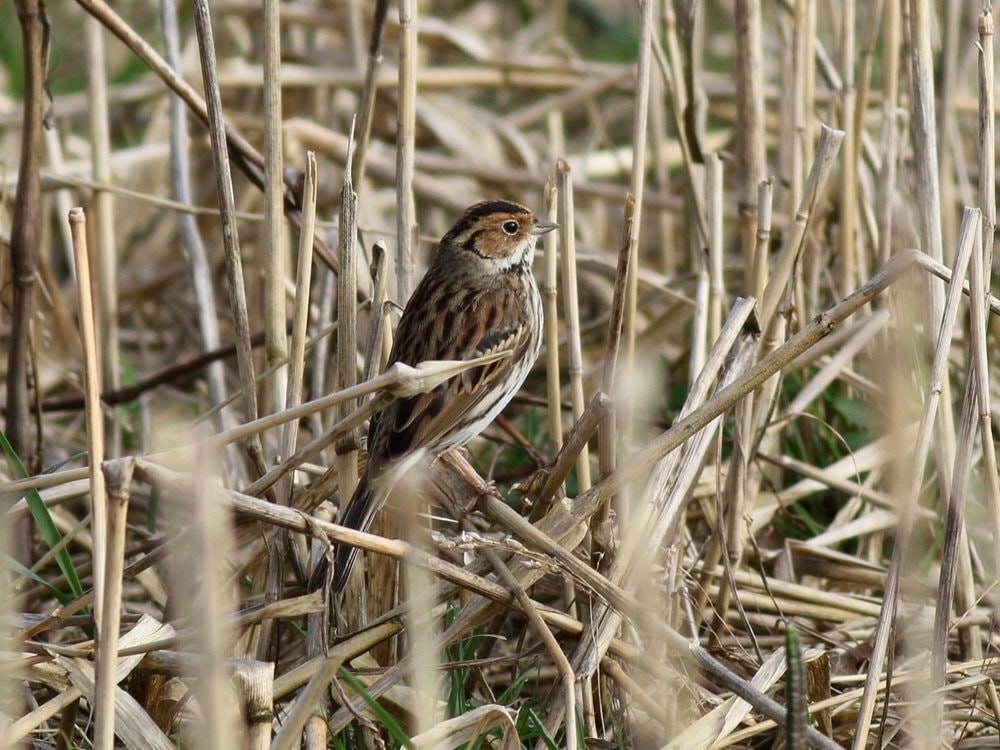 Little Bunting, Langford Lowfields RSPB, Nottinghamshire (Alan Clewes).
East of England
White-tailed Eagle sightings were plentiful across the region and particularly so in Norfolk, where G471 from the Isle of Wight reintroduction scheme toured the north coast between Cley and Titchwell, while two more were mobile around the east of the county. Common Cranes were also conspicuous in the Norfolk skies, with several records of roving birds along the north coast.
Early Sedge Warblers sang at Blakeney and Snettisham on 30th, up to three Ring Ouzels were at Felbrigg Hall and five sites held Garganey. The Nunnery Lakes Dusky Warbler was last seen on 29th. Of interest, a Large Tortoiseshell butterfly was at Kelling Heath on 25th at least.
White-tailed Eagle and Common Crane were reported from five coastal sites apiece in Suffolk. One of this winter's few Great Grey Shrikes remained near Capel St Mary, while the only Taiga Bean Goose left in East Anglia stuck around on the north side of the Blyth Estuary. Suffolk could muster only a single Western Osprey, but five sites held Garganey. The first Tree Pipit was back in the Brecklands on 29th.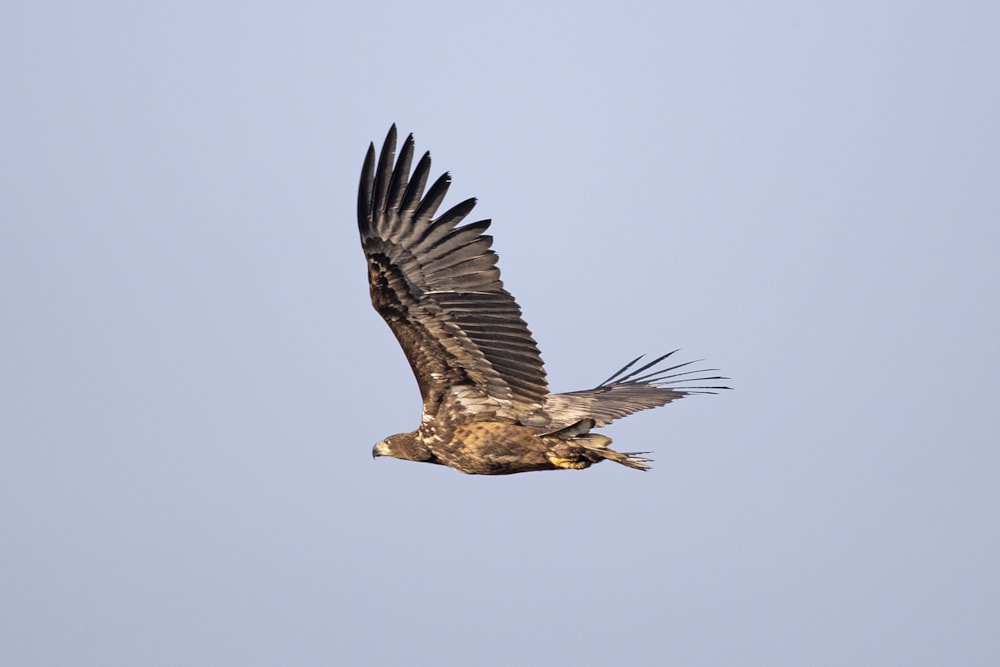 White-tailed Eagle, Hinton, Suffolk (Andrew Moon).
A Siberian Chiffchaff sang at Broom GPs, Bedfordshire, while six sites in the county produced Western Osprey. Blow's Downs had its first Ring Ouzel on 28th, a pair of Garganey were near Kempston on 29th and three Sandwich Terns visited Stewartby Lake on 30th. A similar smattering of spring graced Cambridgeshire, although the Tundra Bean Goose hung on at Wimpole Hall; two White Storks flew south over Woodhurst on 25th.
Essex produced its first Ring Ouzel at North Ockendon on 29th; two sites held Garganey and a Common Tern was at Ardleigh Reservoir on 30th. An Avocet at Hilfield Park Reservoir, Herts, on 30th was an unusual record and one of three in the county this week; other sightings included a Western Osprey over Tewin on 28th and an early Sedge Warbler at Amwell NR on 30th.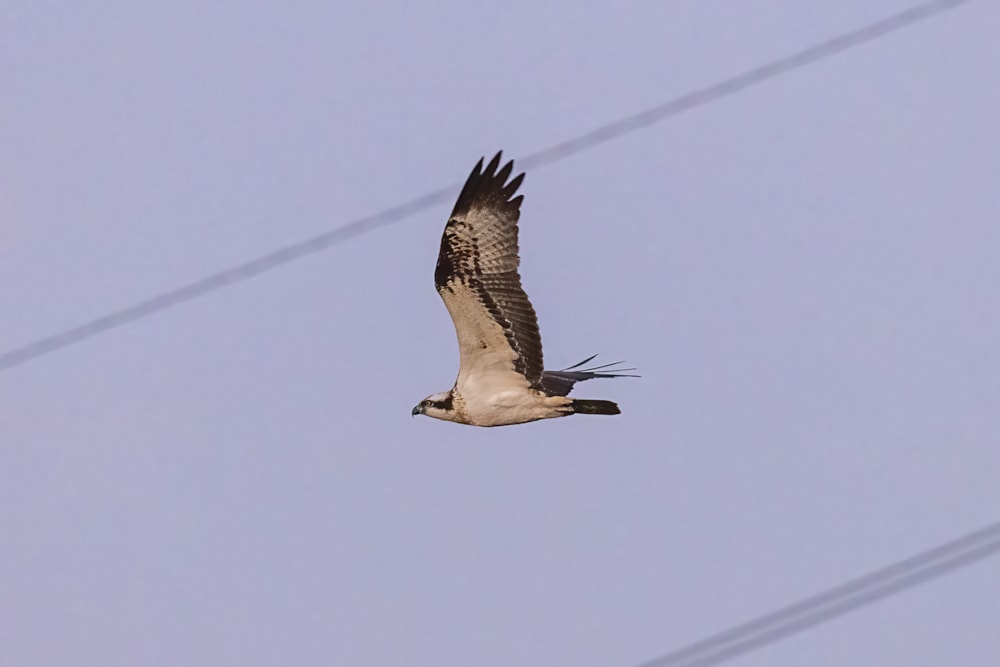 Western Osprey, Fisher's Green NR, Essex (Paul Abrahams).
South-East England
Kent scored a singing male Siberian Chiffchaff at Worth Marsh throughout the month. A White Stork flew north-east over Horsmonden on 30th, while Dungeness RSPB's Glossy Ibis remained in-situ and a Blue-headed Wagtail was at Worth Marsh. White-tailed Eagles were reported from Dungeness, Reculver and Grove Ferry NNR, with an early Common Cuckoo singing at Swanscombe Marshes on 30th.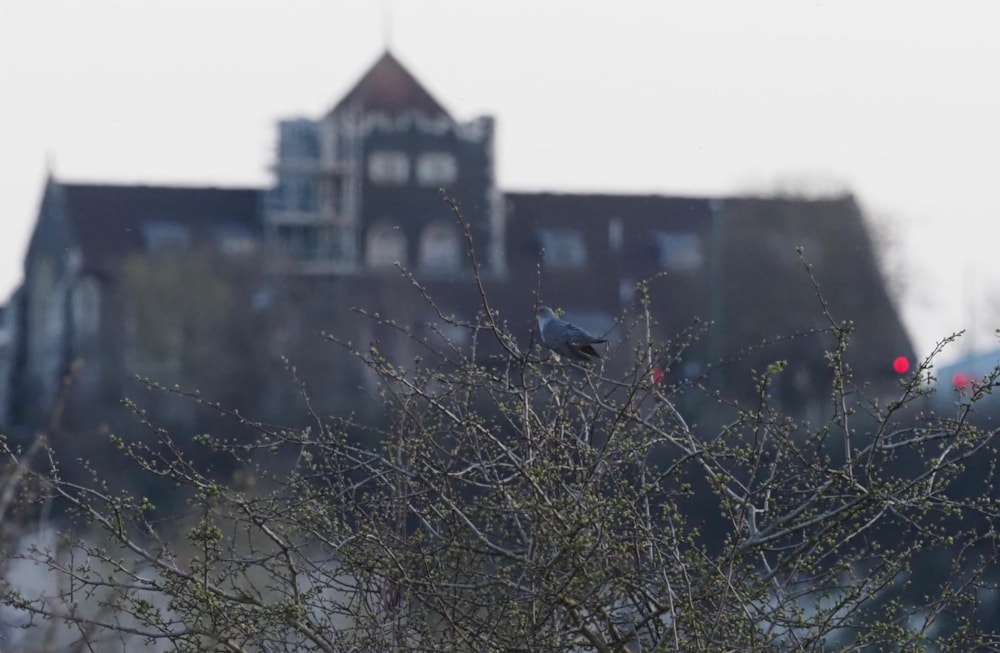 Common Cuckoo, Swanscombe Marshes, Kent (Barry Wright).
In Hampshire, a European Serin flew north over Whitewater Meadows, Hook, on 27th, with the first Garganey reports of the spring also received. Early migrants included Sedge Warblers at Titchfield Haven NNR and Fishlake Meadows.
Southease, East Sussex, hosted the first Blue-headed Wagtail of 2021 on 29th, with a White-tailed Eagle reported over Lewes on 25th – wandering birds from the Isle of Wight were reported from several West Sussex sites throughout the week too. Warnham LNR hosted a smart Little Bunting, while a Yellow-browed Warbler and Siberian Chiffchaff were at Patching's Water Lane sewage works.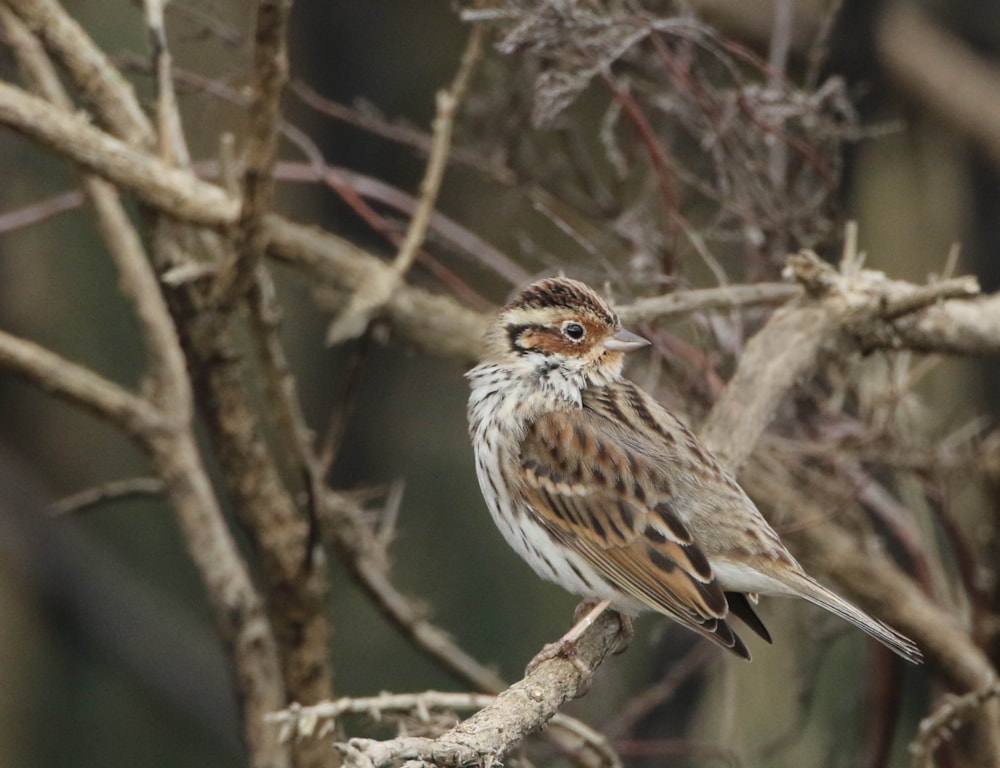 Little Bunting, Thursley Common, Surrey (Mark Leitch).
A drake Garganey was at Staines Moor, London, on 29th; a juvenile Iceland Gull visited Wanstead Flats. Elsewhere, the first Common Redstart of the year – an adult male – was at Dagenham Chase LNR on 27-28th. In Surrey, a female Ring-necked Duck was at Holmethorpe Sand Pits with a Russian White-fronted Goose, while Tice's Meadow played host to a Black-necked Grebe and Dark-bellied Brent Goose double act. The Little Bunting duo was at Thursley Common throughout.
The two Ring-necked Duck at Oxfordshire's Radley GPs still look settled. A Glossy Ibis graced Otmoor RSPB alongside a Spotted Redshank, while a Sandwich Tern was at Farmoor Reservoir on 28th.
Three Water Pipits at Fobney Island and a Ruddy Shelduck at Pangbourne were the highlights in Berkshire. Watermead Lake, Buckinghamshire, continued to host a wintering Yellow-browed Warbler, with four Sandwich Terns at Little Marlow GPs on 28th.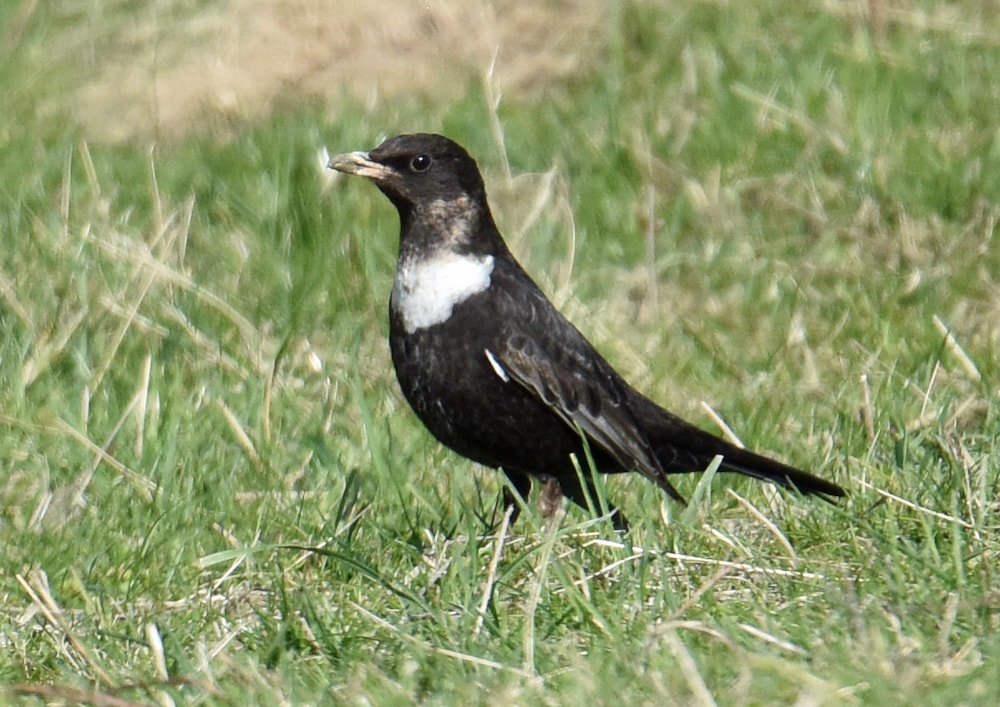 Ring Ouzel, Pitstone Hill, Buckinghamshire (Tony Hovell).
South-West England
A Hoopoe was on St Martin's, Scilly, on 29th, while at least two Iceland Gulls continued to roam the islands. A Cornish Little Bunting was at Trevilley, Sennen, from 22nd, with up to four Ring-necked Duck at Dozmary Pool. St Gothian LNR's adult Glaucous Gull remained, while nine Iceland Gulls were spread across the county.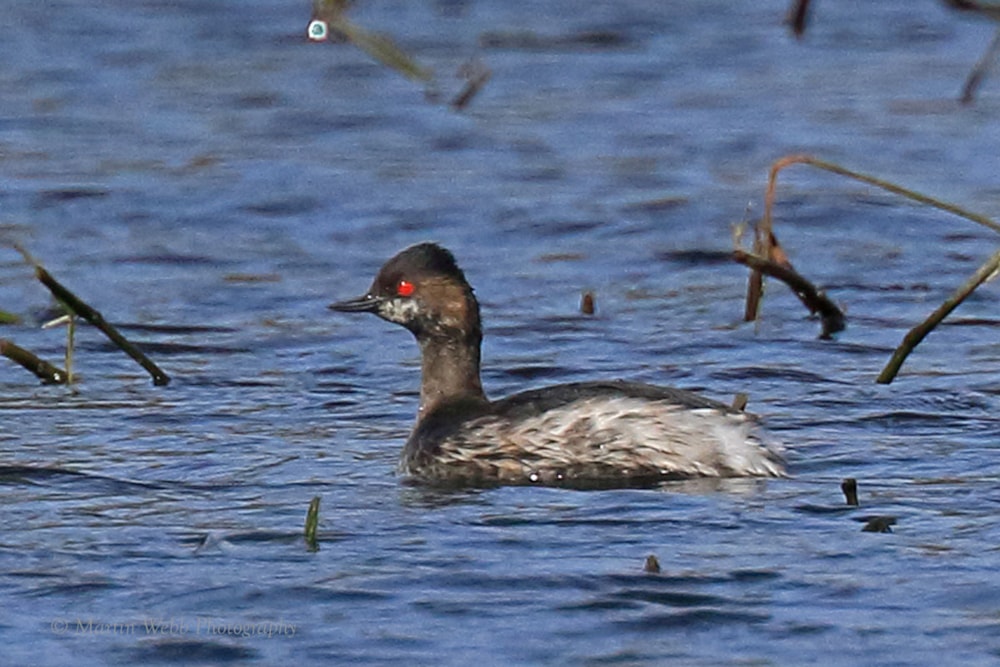 Black-necked Grebe, Drift Reservoir, Cornwall (Martin Webb).
Devon's highlight (away from Exmouth, naturally) falls to the first-winter Long-tailed Skua present near Halsinger recently. An unfamiliar plumage in Britain, it was first reported near Ashford on 14th and formed part of a remarkable run of March records. Elsewhere, Slapton Ley's Ring-necked Duck continued, a Siberian Chiffchaff was at South Milton Ley, four Glossy Ibises continued at Fremington Pill, and the Lesser Yellowlegs remained at Aveton Gifford.
In Dorset, a Little Bunting was in a Portland garden on 27th, while the isle looks set for another strong showing of Large Tortoiseshell butterflies this year. Early migrants there included Common Redstart and Tree Pipit, with a Eurasian Hobby at Hartland Moor. Elsewhere three Ring-necked Duck were reported – females at both Longham Lakes and Buddens Farm Lake, Wareham, and a drake at Radipole Lake RSPB – while the Glossy Ibis continued at Stanpit Marsh.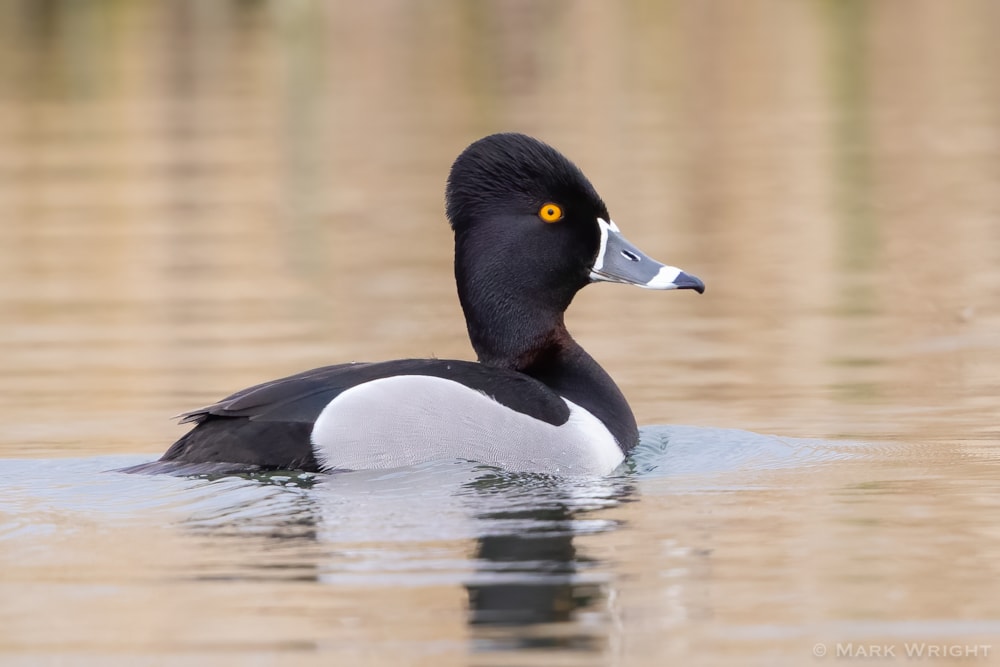 Ring-necked Duck, Radipole Lake RSPB, Dorset (Mark Wright).
An early Eurasian Hobby was reported from Ham Wall RSPB, Somerset, with a singing male Common Cuckoo reported on 25th. Three Penduline Tits at Weston Airfield from 6th are the only record of 2021 so far and possibly relate to the trio from Steart WWT back in December. A Siberian Chiffchaff was also present, while the first Reed Warbler of the year was at Westhay Moor NNR on 30th.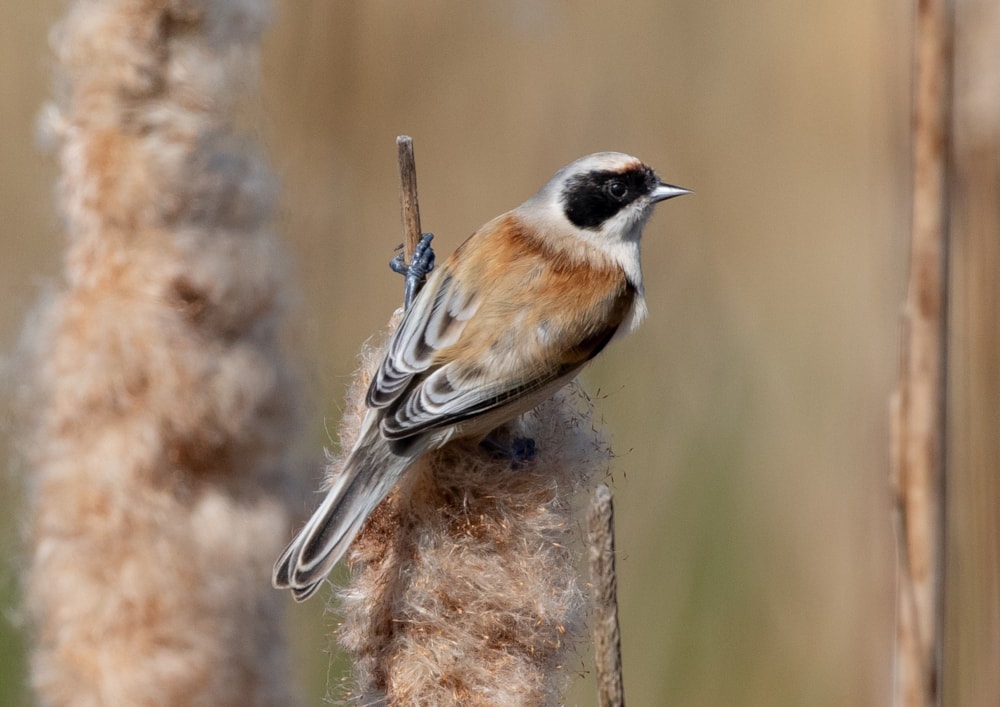 Eurasian Penduline Tit, Weston-super-Mare, Somerset & Bristol (Neil Hilton).
A belatedly reported Dusky Warbler was at Cleveland Lakes, Wiltshire, in early March, having been present since 17 January. Crabtree Hill's reliable Great Grey Shrike was reported again on 30th, while a young drake Ring-necked Duck still on Pit 132 at Cotswold Water Park was Gloucestershire's other highlight.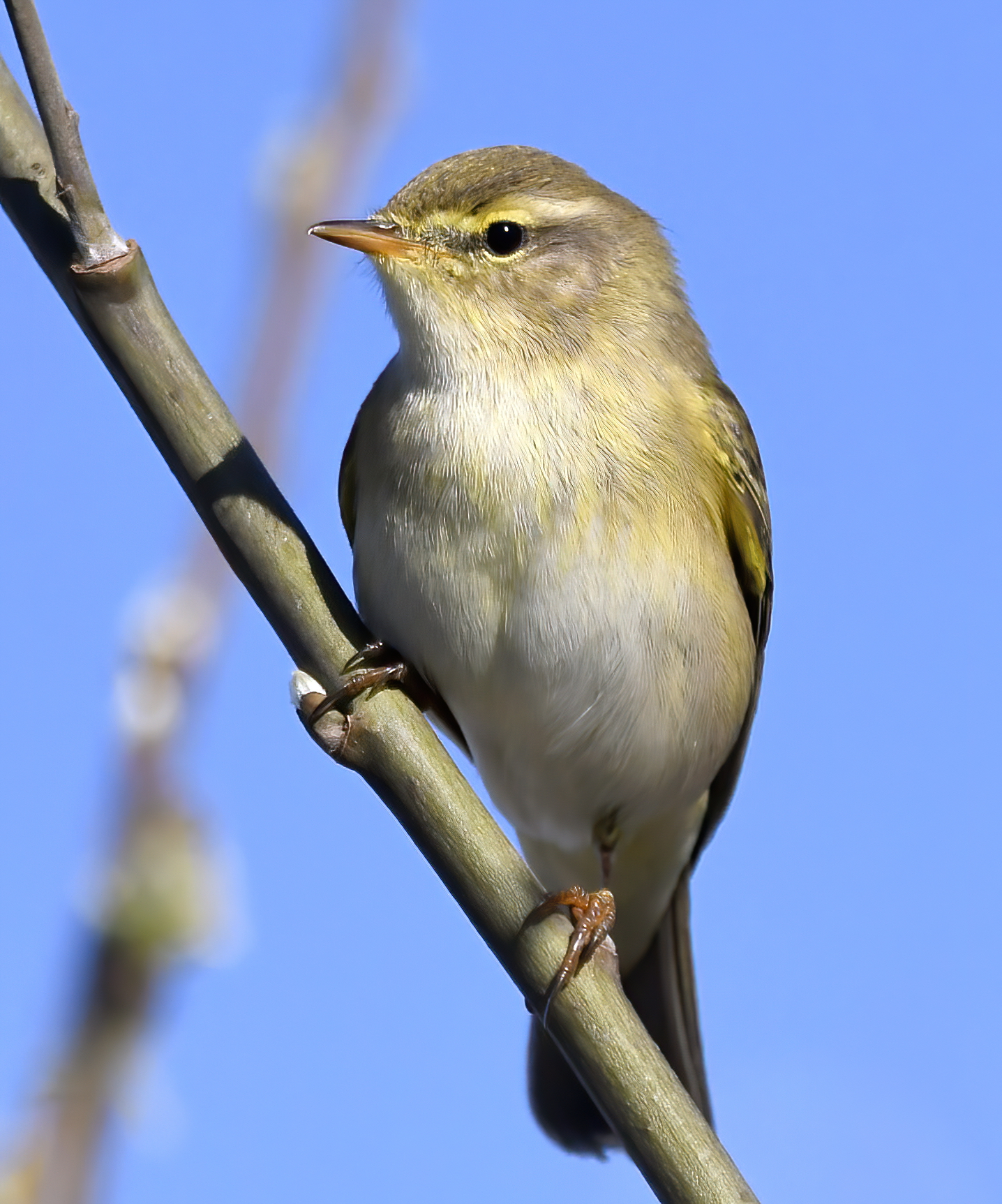 Willow Warbler, Greylake RSPB, Somerset & Bristol (Carl Bovis).
Wales
A Tundra Bean Goose and Greater White-fronted Goose have set up shop at Goldcliff Pools NR, Gwent, and were still present on 29th. Four localities reported Ring-necked Duck, with four at Llyn Pencarreg, Carmarthen, on 26th proving the largest flock. Other scarce wildfowl concerned a pair of Surf Scoter again off Llanddulas, Conwy, with the large Common Scoter flock. Two sites reported Garganey.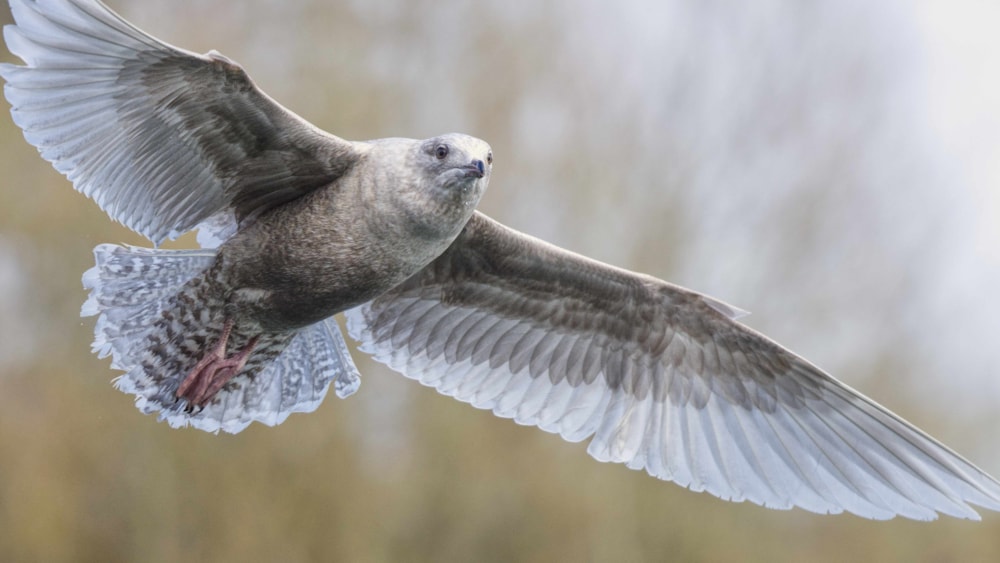 Iceland Gull, Rhyl, Clwyd (Jonathan Bull).
Glaucous Gulls were at three sites along the west coast, with a juvenile Glaucous × Herring Gull hybrid on Bardsey Island. Iceland Gulls were more readily available with reports from nine, although all with a coastal proximity.
An intriguing report of a possible White-tailed Eagle at Haverfordwest, Pembrokeshire, sadly went without verification. Western Ospreys were at four sites.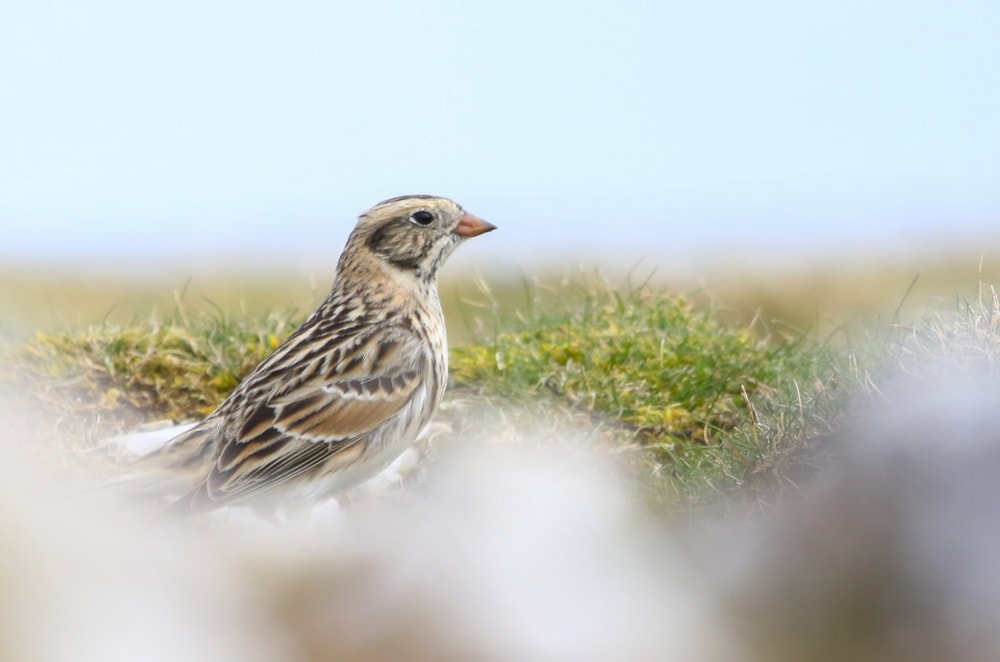 Lapland Bunting, Great Orme, Conwy (Dan Gorton).
The new working week started with a whiff of the Mediterranean, when a Hoopoe pitched up in a private garden near Crymych, Pembrokeshire. An early male Pied Flycatcher was back on territory by Llanidloes, Powys, on 30th. Signs of winter persisted in Glamorgan, with Siberian Chiffchaffs at Kenfig NNR on 23rd and two at Cardiff Bay Wetlands NR. Up to four Lapland Bunting and two Snow Buntings have been favouring the cairn at Great Orme, Conwy. Further Snow Buntings were scattered along the north coast.

Water Pipit, Ogmore Estuary, Glamorgan (Tom Wright).
Ireland
Four Garganey were at Smerwick Harbour, Co Kerry, on 24th, with a drake at Kilcoole, Co Wicklow. Two drake Ring-necked Duck were at Cloonfinnan Lake, Co Leitrim, and another was at Monalty Lough, Co Monaghan, on 30th.
The wintering Lesser Yellowlegs was still at Killongford, Co Waterford. Ring-billed Gulls were in Cos Kerry, Limerick and Louth. Adult Kumlien's Gulls were in Cos Kerry and Galway. A Caspian Gull was an excellent record from Courtown, Co Wexford, on 30th. An unseasonal Great Shearwater was seen from the RV Celtic Explorer at Porcupine Bank on 25th.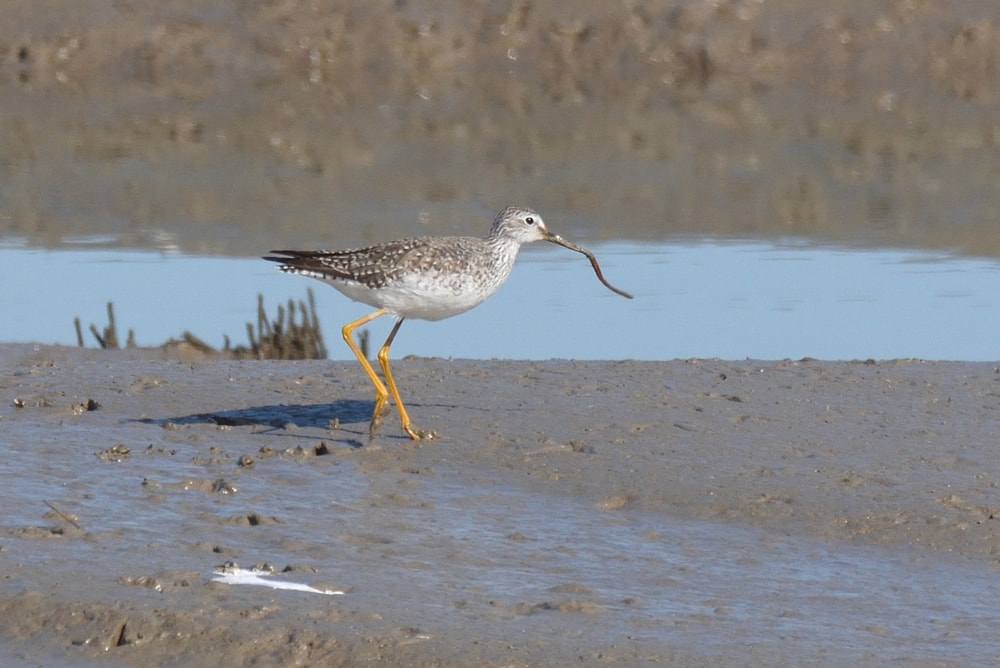 Lesser Yellowlegs, Dungarvan, Waterford (Andrew Malcolm).
Co Fermanagh's first Ring-billed Gull hung on at Enniskillen (another remained at Carrickfergus), while an adult Long-tailed Skua took up residence at Belfast International Airport on 24-25th. Up to four Garganey were seen at Lough Shark, Co Down. Long stayers included the Ring-necked Duck at Lough Beg and American Wigeon at Glynn.
A good spread of summer migrants arrived right across Ireland, with Willow Warblers reaching Northern Ireland by 30th and Swallows also widespread; a Common Redstart at Greenhills, Co Dublin, on 30th was a first of the year.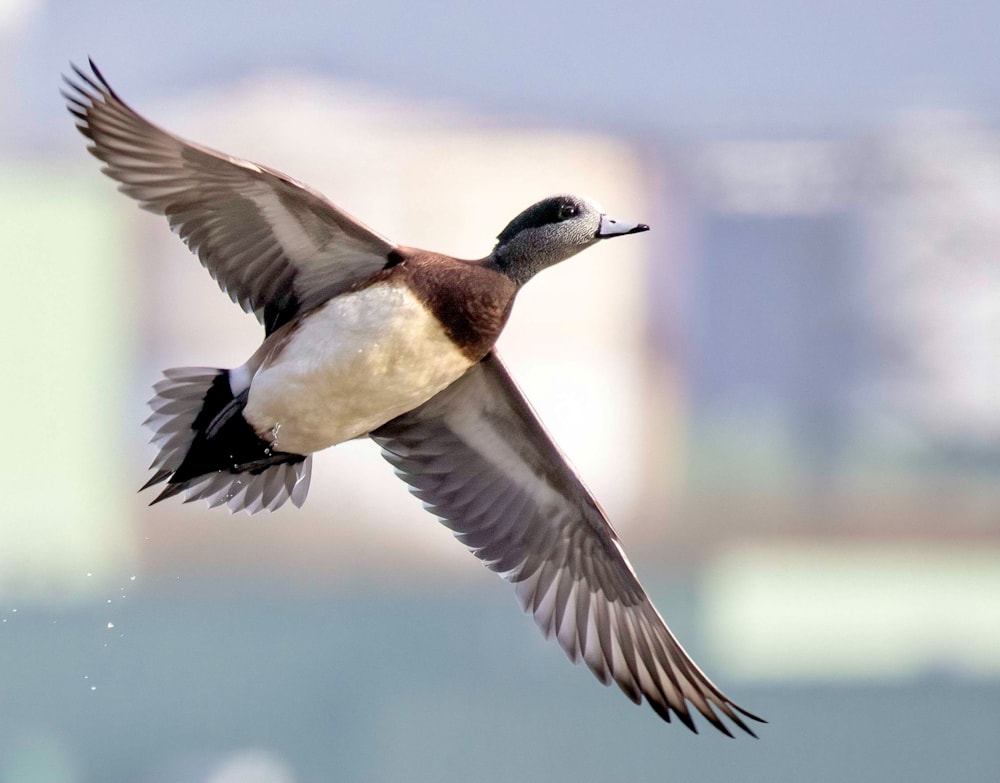 American Wigeon, Glynn, Antrim (Ian Dickey).
Western Palearctic
In the Azores, a Swallow-tailed Kite at Urzelina, São Jorge, from 13-25th at least must surely be one of the most attractive Nearctic vagrants ever recorded in the region. A fourth for the Western Palearctic (see here), it is the third record for the archipelago, with others in March 2005 and August-September 2008. At least two Double-crested Cormorants remained in the Azores in recent days – at Mosteiros, São Miguel, and Madalena, Pico.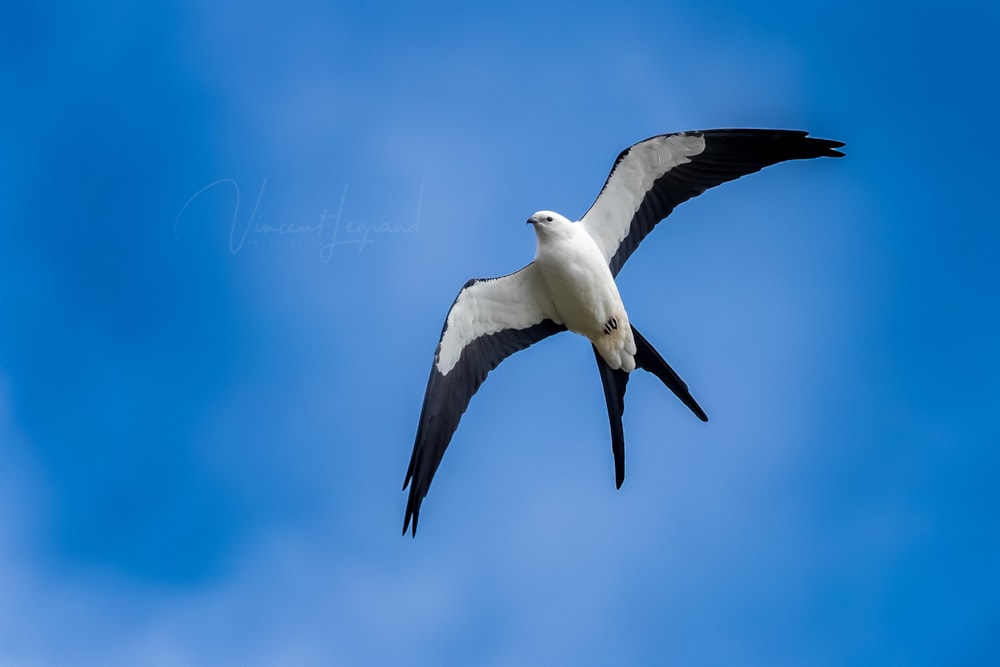 Swallow-tailed Kite, Urzelina, São Jorge (Vincent Legrand).
A red-letter day at Milleyha, Turkey, on 26th saw no fewer than three national megas. The site on the Mediterranean coast hosted the country's first Dunn's Lark alongside a Greater Hoopoe-lark – a national second – and a Spotted Sandgrouse – a national third.
In the Netherlands, a first-winter Ross's Gull was a brief visitor to Scheveningen on 25th before relocating up the coast to IJmuiden the next day. A meena Oriental Turtle Dove belatedly photographed in Belgium at Heist-aan-Zee on 14th proved a popular customer when it was relocated from the following week.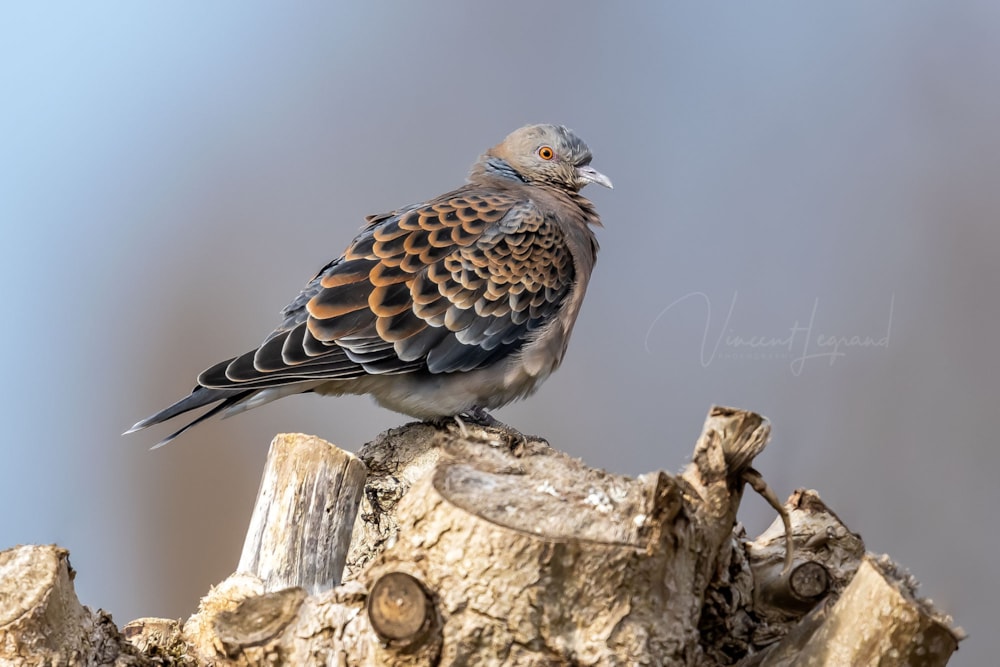 Oriental Turtle Dove, Heist-aan-Zee, West Flanders (Vincent Legrand).
Poland's first Black-throated Accentor was photographed at Miączyn on 25th. Thankfully present early the next morning for any would-be twitchers, it was promptly caught by a cat before its timely rescue – although disappeared on release, never to be seen again! A drake Baikal Teal was at Popowo Kościelne.
In Denmark, the Sandhill Crane reappeared at Høstemark Skov, Dokkedal, on 27th, with the Stejneger's Scoter still off Rørvig. In Germany, a Little Bustard was at Thür. The country's other winter delights remained in-situ; the Spotted Sandpiper at Kitzeberg, Pygmy Cormorant at Alfhausen and White-headed Duck at Tübingen. Another Pygmy Cormorant was at Vauvert, France, with a Sociable Lapwing at La Bûchetière on 26th.
Romania's first Armenian Gull – an adult – was at Mamaia on 25th, with Kuwait's second Pectoral Sandpiper at Jahra Pools. Israel's second-ever European Shag, an immature of the Mediterranean sub-species desmarestii, was at Ashkelon on 22-23rd.
A Sociable Lapwing was at El Oso, Spain, while at least three Lesser Flamingos have returned to their only regional breeding site at Laguna de Fuente de Piedra. Maderia's first-ever Pallid Harrier – a ghostly male – was on Porto Santo on 28th.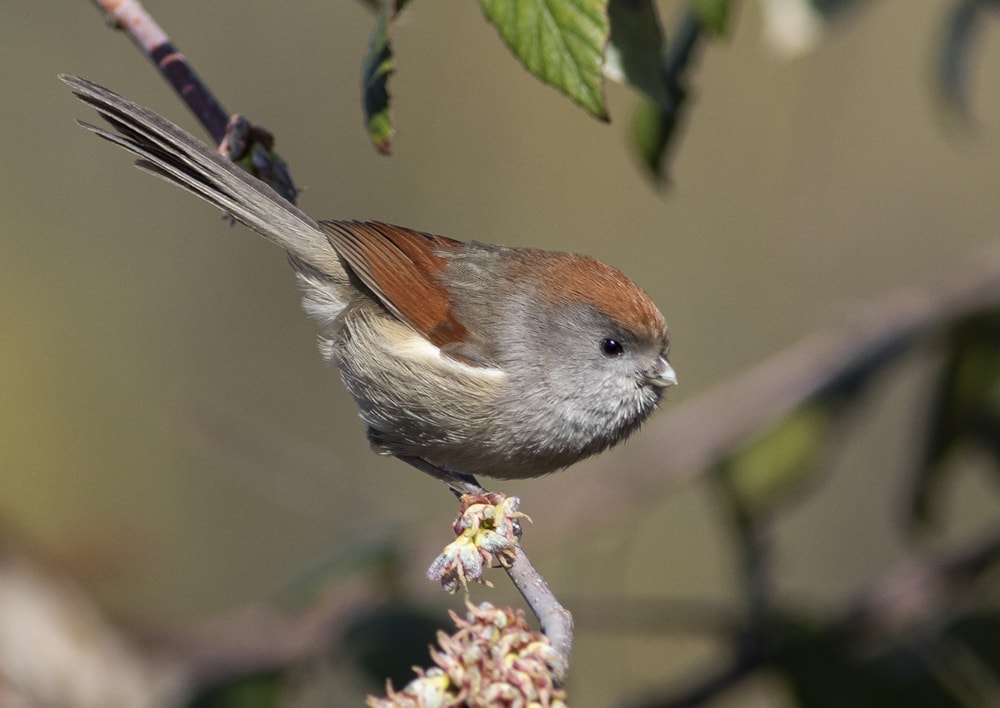 Ashy-throated Parrotbill, Ternate, Italy (Luca Giussani).