It's been a curious week, to say the least. Wednesday and Thursday were dominated by blue skies and oppressive heat – particularly across south-eastern areas, where the UK's highest-ever temperature was recorded in Cambridge, at a casual 38.7°C, on Thursday afternoon.
Heatwaves rarely last long in this part of the world, of course, and a rapid breakdown in weather over the weekend produced thunderstorms followed by much fresher conditions and plenty of heavy rain across the centre of Britain. As it transpired, this persistent band produced both a meteorological and avian deluge as the rainfall combined with a conveyor belt of strong easterly winds whipping out of Scandinavia to deliver one of the most bountiful Wood Sandpiper influxes on record.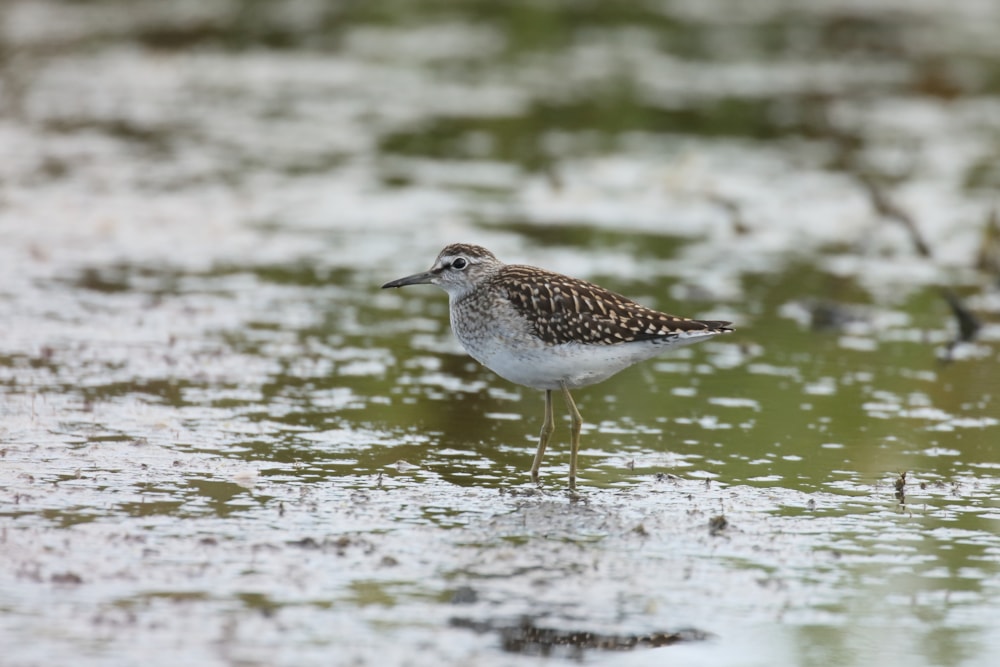 Wood Sandpiper, Letham Pools, Fife (Douglas Dickson).
Many hundreds descended upon sites, both coastal and inland, albeit showing the distinct eastern bias you'd expect for birds arriving from across the North Sea. Although a good influx took place on Saturday, it was Sunday that produced the bulk of the birds – one can only imagine what the scrapes at Cley Marshes, Norfolk, must have looked like awash with the 110+ tallied there that afternoon.
Monday and Tuesday kept on giving as birds continued to either make landfall or move south following the rain abating on Sunday evening. Monday saw 30+ recorded at Gibraltar Point, Lincs, while nearby Freiston Shore bagged 40 on Tuesday, with Boldon Flats, Durham, hosting around 35 that day. Plenty of smaller double-figure counts were made, generally from established wetland sites, although ones and twos did make it into more unusual locations, such as farm ponds or temporary floods in otherwise unsuspecting tracts of English countryside. All in all, some 400 reports of the species were put out on our sightings service over the seven days, representing a huge spike in occurrences that may not be matched for many years to come. It'll be interesting to see how long they stay around, or whether they will leave as quickly as they arrived …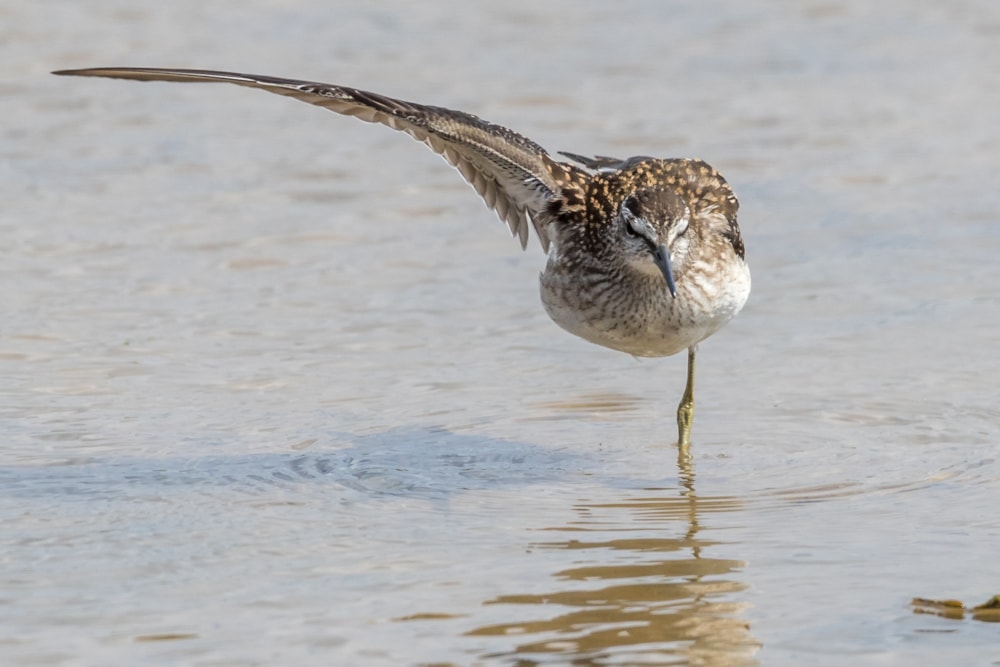 Wood Sandpiper, Freiston Shore RSPB, Lincolnshire (Ian Bollen).
Associated with this major push were generally high numbers of other expected July shorebirds, with many localities registering excellent counts of Common and Green Sandpipers, while returning adult Curlew Sandpipers and Little Stints also showed up in better-than-average numbers for late July – for example, 30 Curlew Sands were at Hamford Water, Essex, and 33 at Oare Marshes, Kent, on the evening of 28th. Both Spotted Redshank and Greenshank too were numerous, with 150 of the latter at Oare Marshes on 24th.
The same weather also produced a scattering of early autumn passerine migrants, with the star find most definitely being the Aquatic Warbler on Isle of May, Fife, for three days from 27th. This species has been so remarkably difficult to connect with in Britain over the past decade, so for a Scottish locality to enjoy a lingering individual was most impressive. If that wasn't enough, another Scottish rarity – Melodious Warbler – was trapped there on 30th, with a Common Rosefinch also dropping in on 27th.

Aquatic Warbler, Isle of May, Fife (Samuel Langlois).
Four Icterine Warblers included a couple at Filey, North Yorkshire, on 29th, with one on Fair Isle on 28th and Kilnsea, East Yorkshire, also attracting one late on 29th. Fair Isle also scored a Marsh Warbler on 29th, while an altogether more sizeable Acrocephalus – a Great Reed Warbler – visited Burrafirth, Unst, on 27th.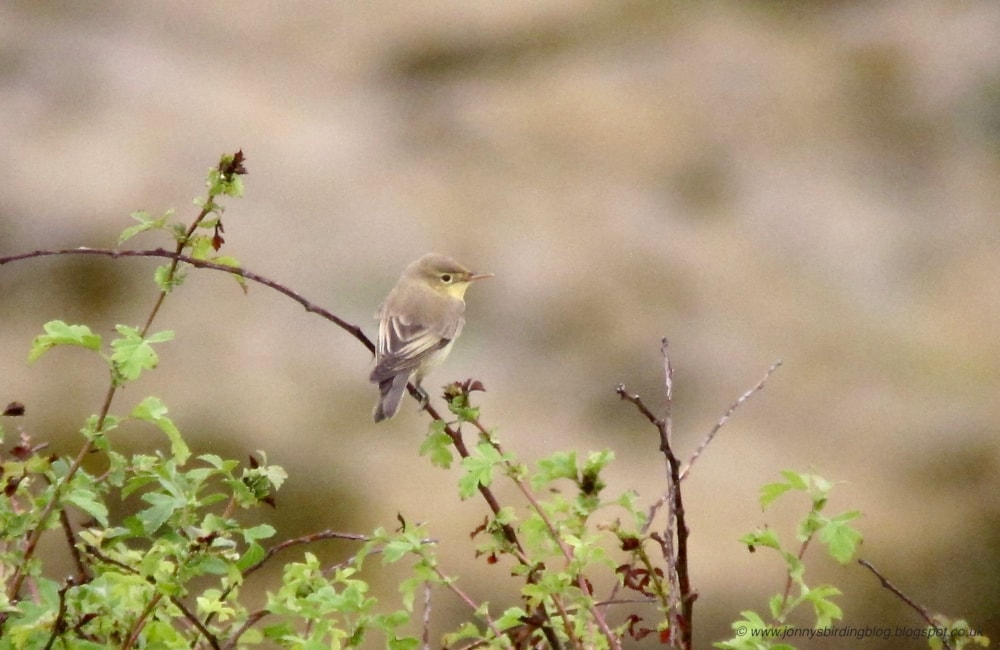 Icterine Warbler, Filey, North Yorkshire (Jonathan Farooqi).
However, bird of the week was the Blue-cheeked Bee-eater seen and heard flying south over the A858 west of Stornoway, Lewis, mid-morning on 25th. Unfortunately, the bird failed to linger and continued southwards out of sight. Presumably this is the bird seen on the nearby Scottish mainland back on 23 June and, in all probability, it's been hiding out in the Outer Hebrides ever since.
New rarities were otherwise in short supply, although a Long-billed Dowitcher was found at Lough Beg, Co Derry, on 30th. Another lingered at Frampton Marsh, Lincs, and the Pacific Golden Plover at Holy Island, Northumberland, was still around to 29th. Another Pacific (although looking unusually dark and swarthy in images) was on Westray, Orkney, on 28th. The White-rumped Sandpipers, previously seen at Frampton Marsh, made the short hope northwards to Freiston Shore, Lincs, where one was seen on 28th and two on 30th. A third was an intermittent visitor to Kilnsea Wetlands, East Yorkshire, on 29-30th. It's feasible that brief Pectoral Sandpipers at Hanningfield Reservoir on 28th and Old Hall Marshes on 29th concerned the same individual; last week's adult at Leighton Moss, Lancs, was not seen beyond 25th. Temminck's Stints were in Kent, Lincolnshire and Durham and the Lesser Yellowlegs hung on at Oare Marshes.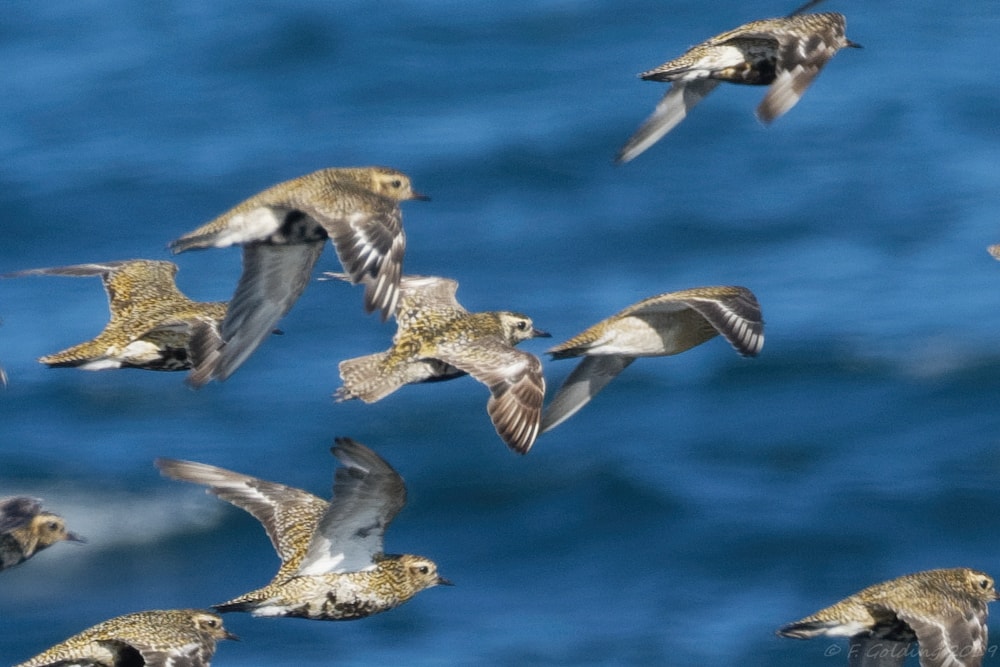 Pacific Golden Plover, Holy Island, Northumberland (Frank Golding).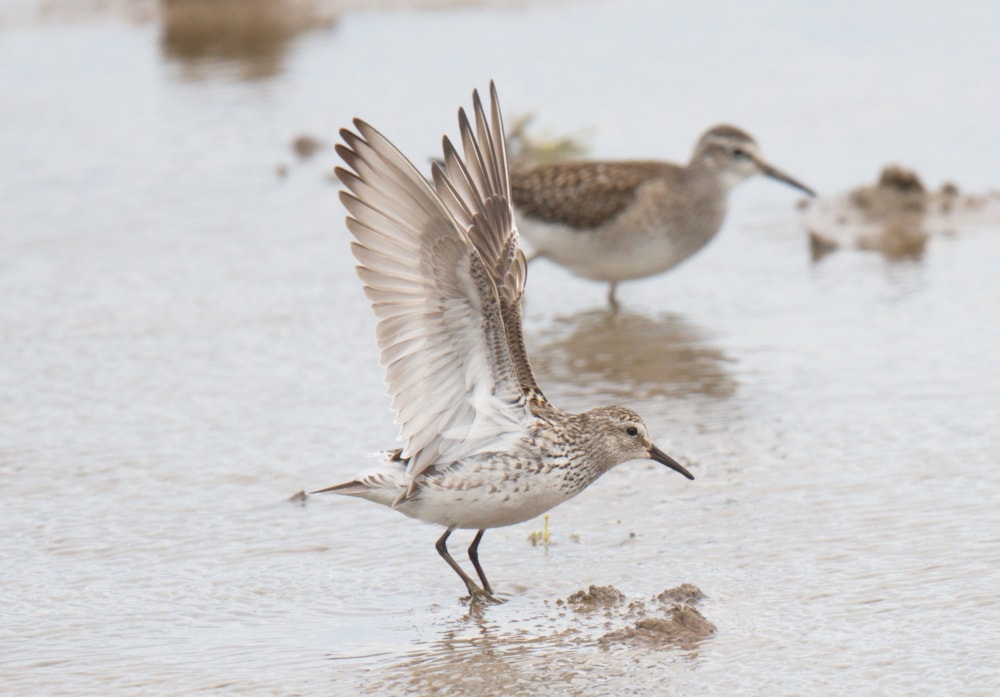 White-rumped Sandpiper, Freiston Shore RSPB, Lincolnshire (Robin Johnson).
The Forster's Tern lingered along the Co Louth coastline, as it will likely do so until October, while a first-summer Bonaparte's Gull was reported from Tralee, Co Kerry. The adult Bonaparte's continued at Oare Marshes. Among a reasonable passage of Black Terns, White-winged Terns were found at Ythan Estuary, Aberdeenshire, on 28th and East Chevington, Northumberland, on 28-29th. A Gull-billed Tern past Inverbervie, Aberdeenshire, on 25th was presumably also responsible for reports further north along the coast at Cruden Bay and Peterhead on 30th.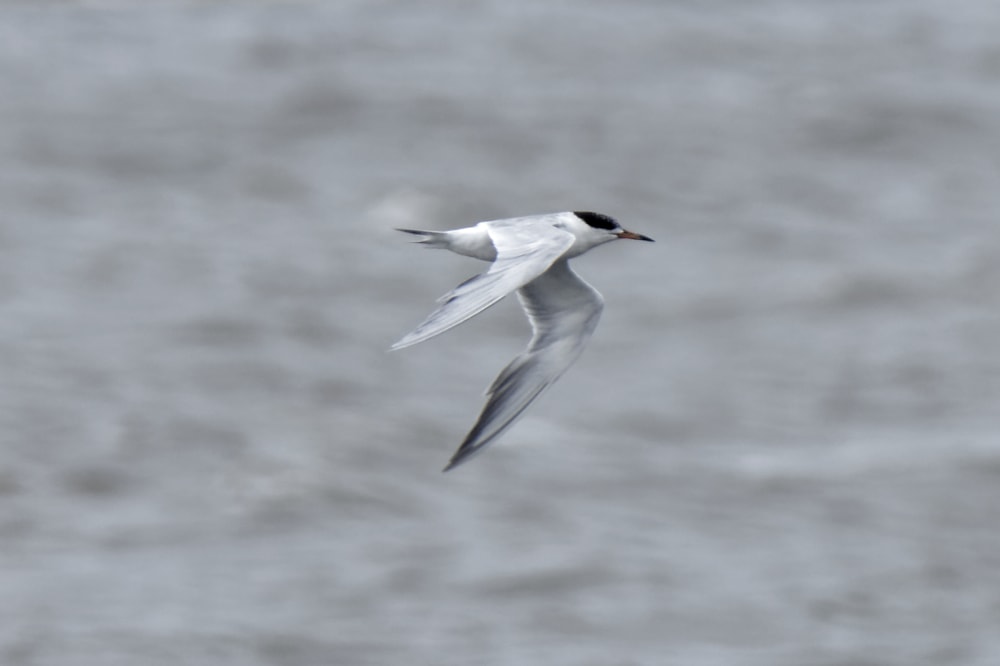 Forster's Tern, Soldier's Point, Louth (Fergal Stanley).
Up to 2,400 Little Gulls at the classic site of Hornsea Mere, East Yorkshire, included a Swedish-ringed bird from the Umeå River Delta. A couple of possible Baltic Gulls were reported from Cley, Norfolk, while both Caspian and Yellow-legged Gull numbers continued to steadily build – for the latter, an estimate of in excess of 110, and more likely close to 200, were along the Thames Estuary at Rainham Marshes, London, on 30th.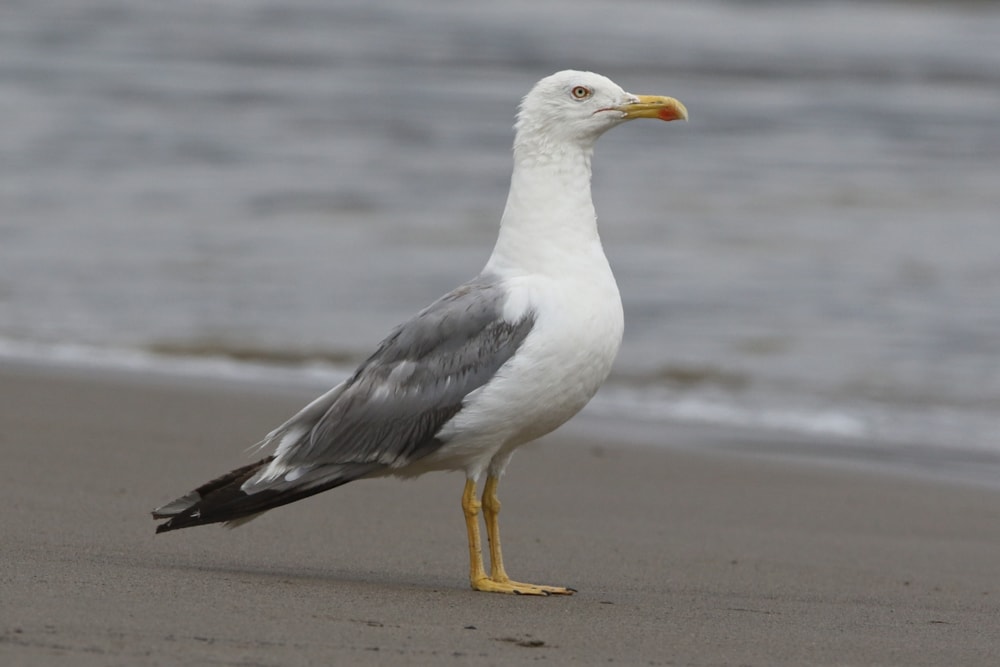 Yellow-legged Gull, Rotherhithe, London (Richard Bonser).
Content continues after advertisements
In East Sussex, the moulting Ferruginous Duck extended its stay at Pett Level for another week, as did the American Black Duck in Highland and the Blue-winged Teal in Clyde. The Ring-necked Duck was again seen at Abberton Reservoir, Essex. The drake Surf Scoter lingered off Musselburgh, Lothian, while two probables were at Sullom Voe, Shetland, late on 30th.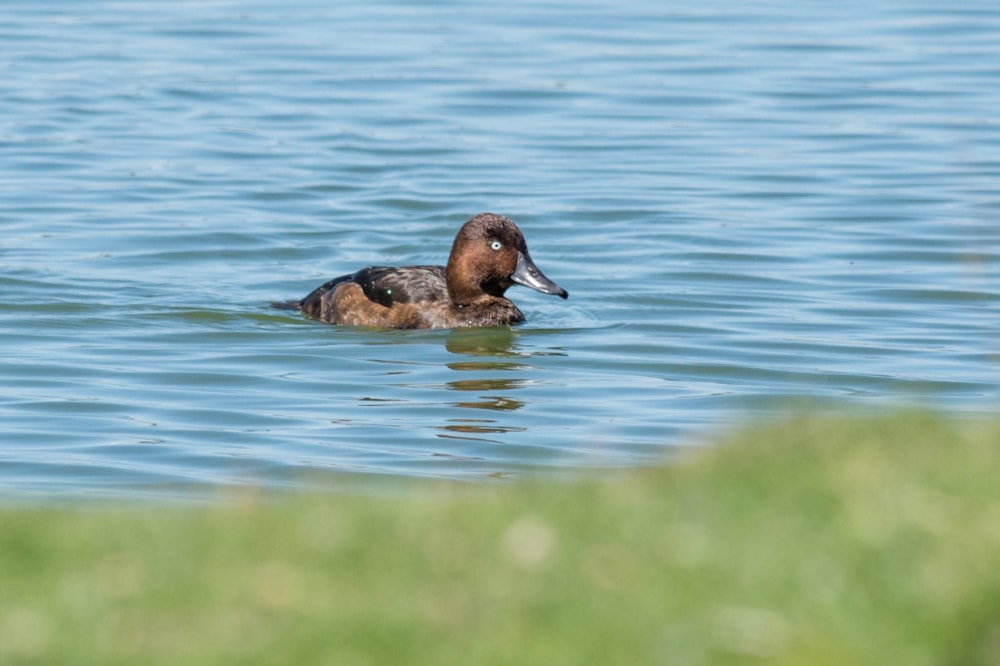 Ferruginous Duck, Pett Level, East Sussex (Barry Wright).
Significantly more interesting – primarily because it involves a species which clearly should be on Category C5 of the BOU's British list, yet isn't – was an arrival of Ruddy Shelduck. It seems only a matter of time before a banded bird arrives and gives the organisation the hard evidence it needs to admit the species to the aforementioned category, rendering it tickable for British birders, as there seems little doubt that those birds arriving emanate from the ever-increasing moulting flocks of self-sustaining (yet originally introduced) birds which gather in the Low Countries each summer to complete post-breeding moult.
A group of up to eight was seen at Bowesfield Marsh and Brotton, Cleveland, throughout the week, while six flying north past Frinton-on-Sea, Essex, on 26th were presumably to involve the five tracked along the North Norfolk coast early on the morning of 29th and then ultimately ending up at Kilnsea Wetlands, East Yorkshire, by mid-morning. There were also records from Northumberland, Northamptonshire and Wiltshire. These birds coincide with the discovery of up to eight well within the Arctic Circle on Svalbard.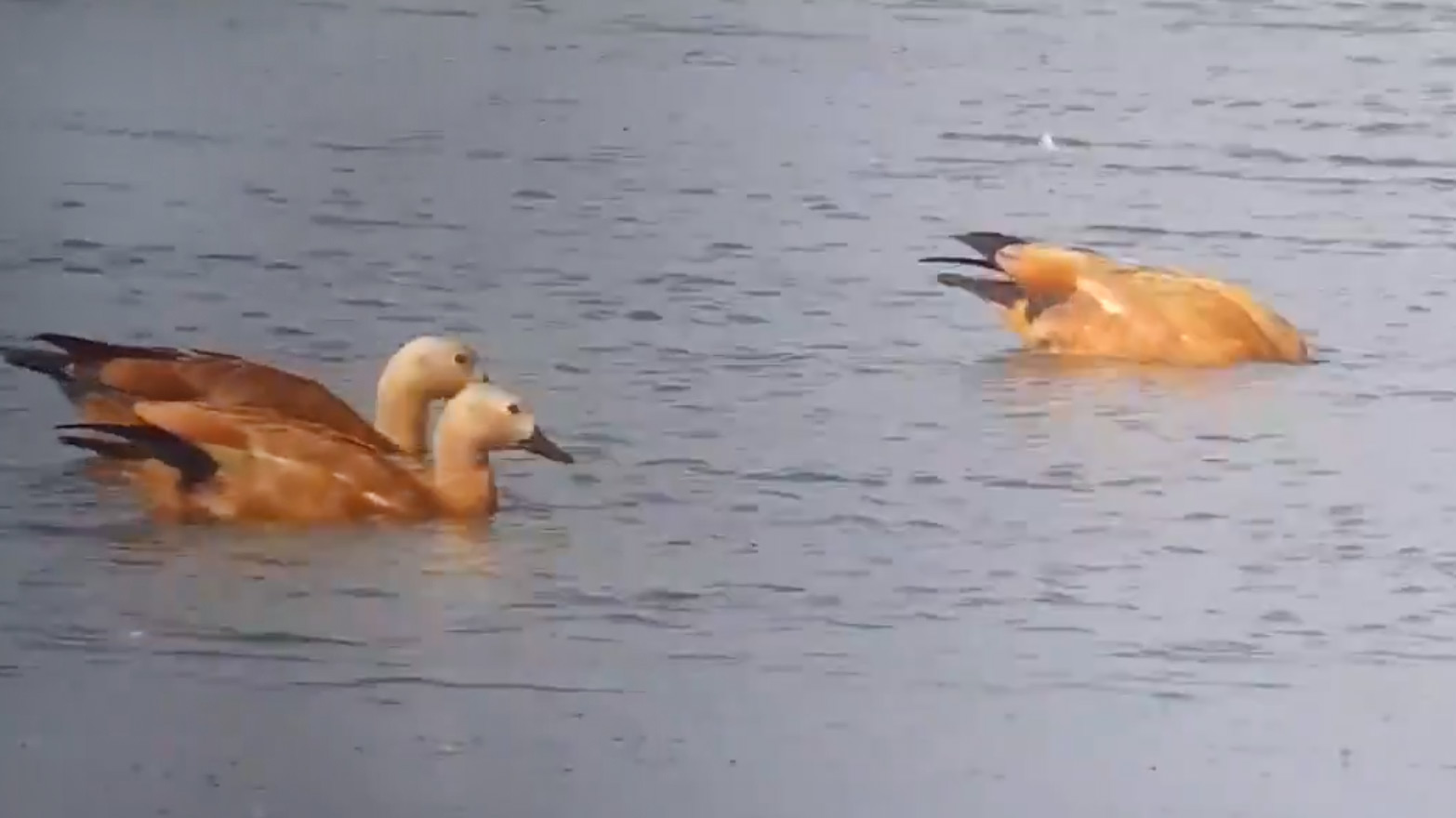 Ruddy Shelduck, Kilnsea Wetlands, East Yorkshire (John Hewitt).
Have Purple Herons bred somewhere in East Anglia, or is this week's arrival of youngsters weather-related? That is the question on many birders' lips as a juvenile lingered at Titchwell RSPB, Norfolk, from 24-26th before relocating to Holme-next-the-Sea – remember there was a long-staying adult in this area earlier in the summer – and another flew over Gibraltar Point, Lincs, on 24th. Then, on 30th, two juveniles were discovered together at Manby Flashes, Lincs. The Glossy Ibis situation was more or less status quo, with semi-resident birds still in Gwent and Devon, although a flyover was noted at Crawshawbooth, Lancs, on 25th.


Two Purple Herons, Manby Flashes, Lincolnshire (Phil Hyde).
Seabirding was reasonable if not exceptional, with four Wilson's Storm Petrels from a Scilly pelagic on 30th and another at sea off Galley Head, Co Cork, on 28th. Large shearwaters were virtually absent, though, with just ones and twos seen. However, the impressive 654 Balearic Shearwaters seen passing Berry Head, Devon, in stormy weather on 30th suggested that the recent mega-flock off Guernsey has dispersed.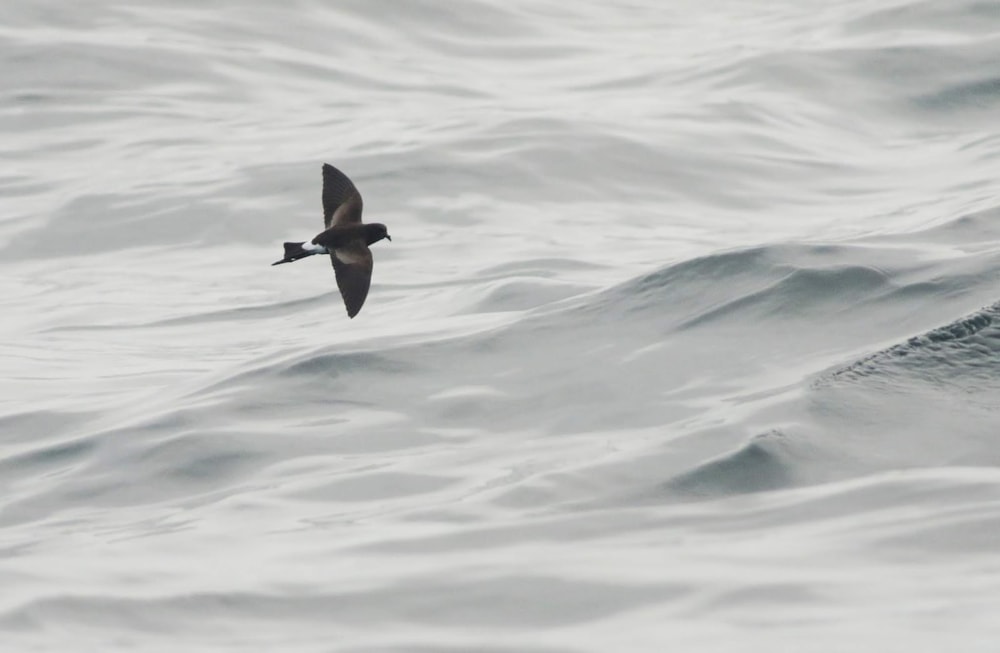 Wilson's Storm Petrel, Cork pelagic, Cork (Mark Pearson / northernrustic.blogspot.com).
The Two-barred Crossbill invasion hasn't quite run completely out of steam yet, as evidenced by the arrival of a new juvenile at Virkie, Shetland, on 28th and a male at Aith Voe on 30th. Further south, one flew over Titchwell RSPB, Norfolk, on 28th. Other bits included the singing Savi's Warbler still plugging away at Cors Ddyga, Anglesey, on 25th, and Rosy Starlings in Clwyd, Highland and Shetland (two).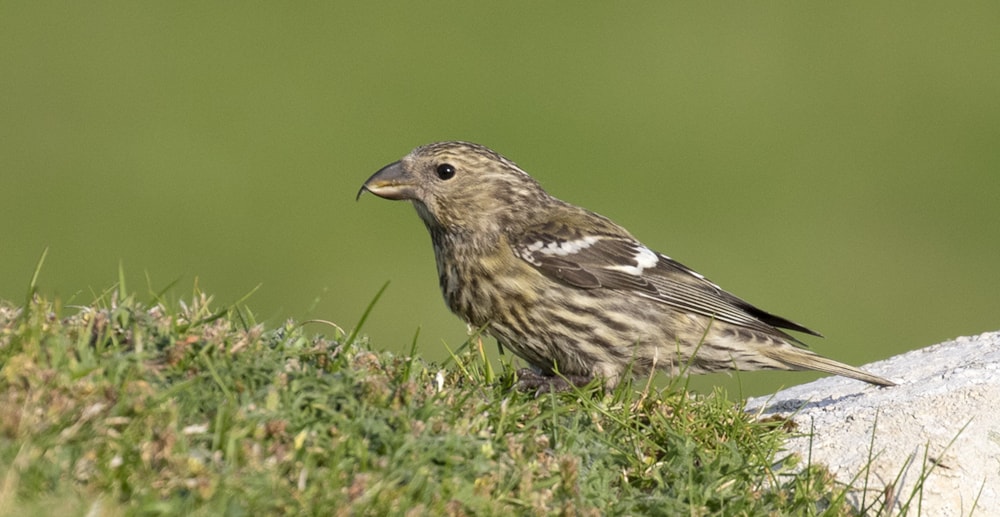 Two-barred Crossbill, Pool of Virkie, Mainland, Shetland (Roger Riddington).
Finally, on a local scale, the appearance of two Chough on the Herefordshire-Worcestershire border at British Camp, in the Malvern Hills, from 28th, was an exceptional occurrence. These birds represented the first in Worcs since 1826 and give hope that this species may well recolonise counties in which it has been absent for decades or even hundreds of years.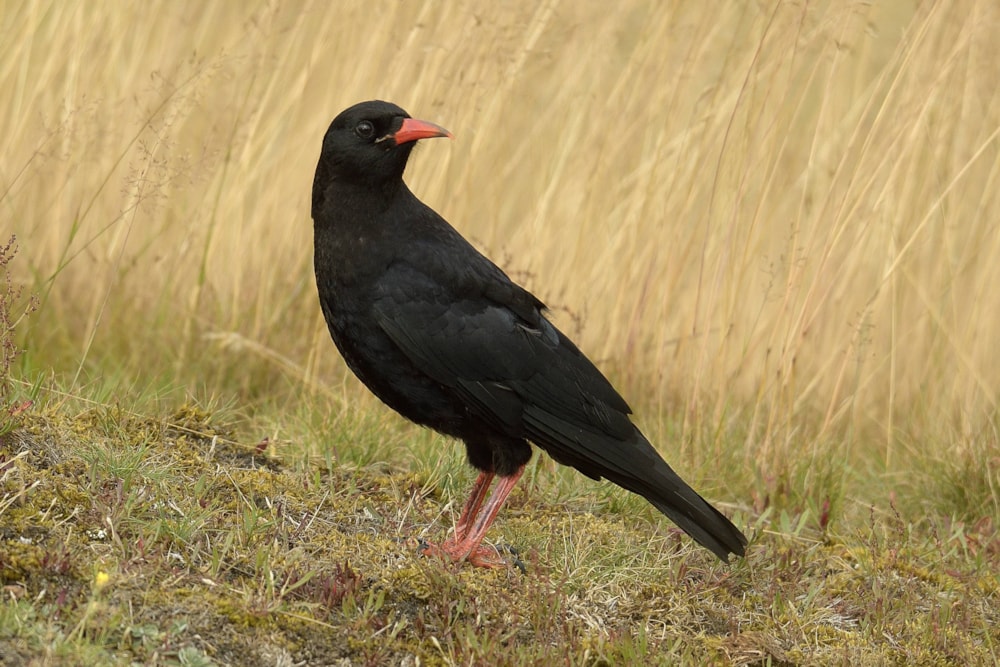 Chough, British Camp, Herefordshire (Mick Colquhoun).
Western Palearctic
A couple of juvenile Pallas's Gulls in Poland, including a Ukranian-ringed bird very close to the source of many of Britain's Polish-ringed Caspian Gulls in the south of the country, once again brought the usual optimism that one may find its way westwards to British shores in the coming weeks.
Iceland got in on the Two-barred Crossbill influx, with eight birds in flocks of three (at Skaftártunga) and five (at Höfn). However, the Greater Sand Plover wasn't reported beyond 24th. An Alpine Accentor at Hoburgen, Gotland, Sweden, from 25th was a peculiar record for the time of year, while late news concerned a Black-browed Albatross at Mykines, Faroe Islands, on 25 June.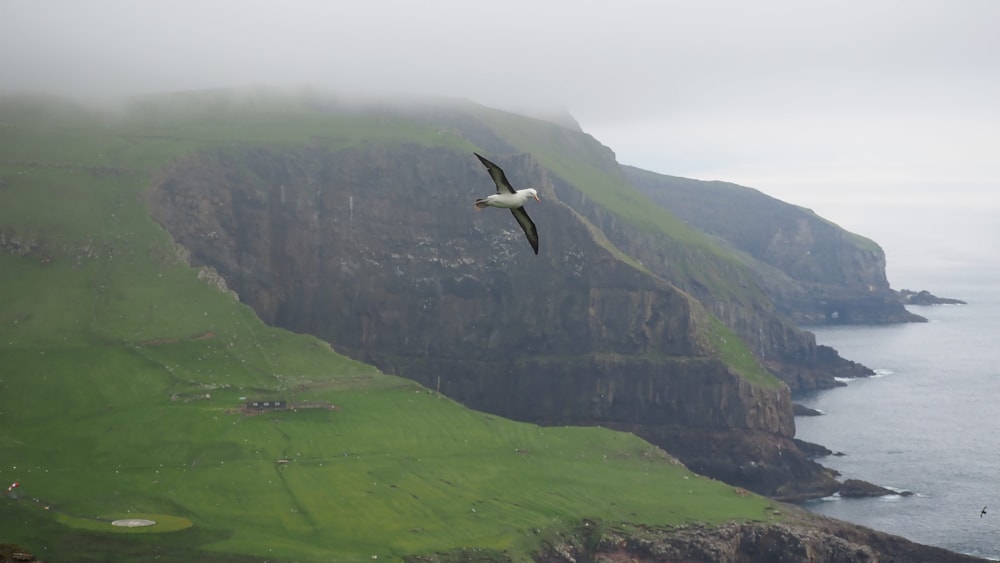 Black-browed Albatross, Mykines, Faroe Islands (Magnus H Matras).
Last week's Stilt Sandpiper lingered near Varel, Germany, to 25th, with the Great White Pelican still at Meldorf. The Elegant Tern was back in the tern colony near Barbâtre, France, on 28th, with the Western Reef Heron still at Hyères that day.
Also on 28th, an adult Franklin's Gull was photographed at Vila Nova de Milfrontes, Portugal, while the Azores produced no fewer than three Least Sandpipers – two together at the legendary Cabo da Praia quarry, Terceira, and a single bird on a farm pond at Fajã de Cima, São Miguel.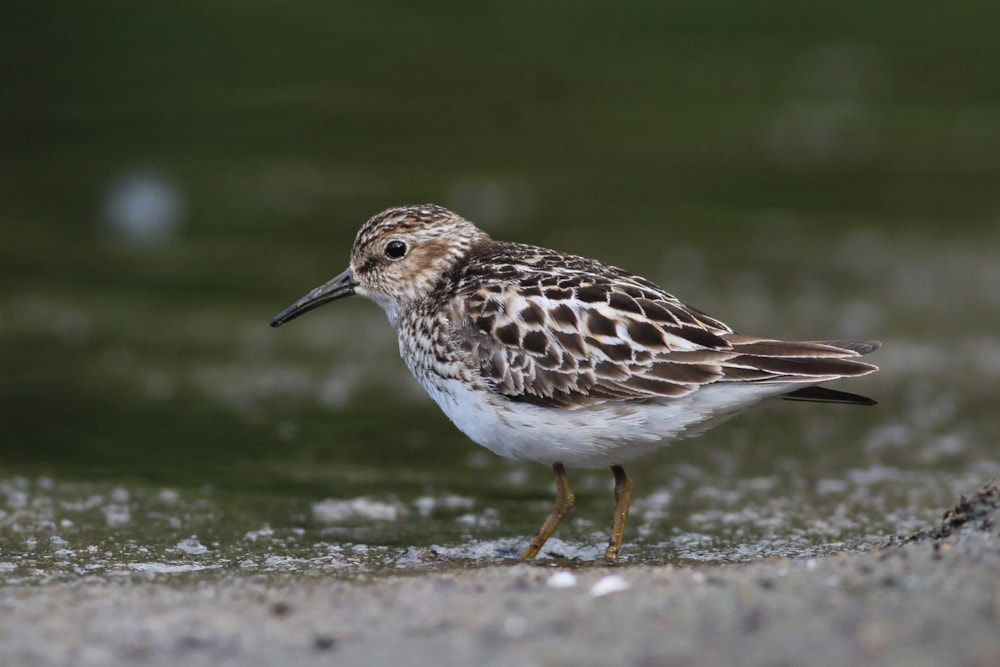 Least Sandpiper, Fajã de Cima, São Miguel (Gerbrand Michielsen).