An entertaining seven days rounded off a very reasonable April and the mega alert sounded several times during the week, albeit not always with a desirable outcome. It was, on paper, the best week of the year so far – hopefully the good run of vagrants continues into May.
News of a Rock Bunting on St Mary's, Scilly, late morning on 28th was momentous to say the least. A species that has never previously been twitchable on British shores, this would be a tick for pretty much everyone, including the keenest of the keen. However, something didn't seem right – the bird exhibited a curiously weak facial pattern, quite unlike typical male Rock, and one or two sharp-eyed birders were quick to suggest the possibility of the Far Eastern Godlewski's Bunting.
A couple of back-of-camera images posted on Twitter also suggested the presence of a ring on the bird's right leg, something confirmed shortly after when better images emerged. One has to feel for the finders, who must have thought their years were well and truly made. Birding can be a cruel game sometimes. The bird was still on The Garrison on 30th, although by that point any excitement about its arrival had been well and truly extinguished.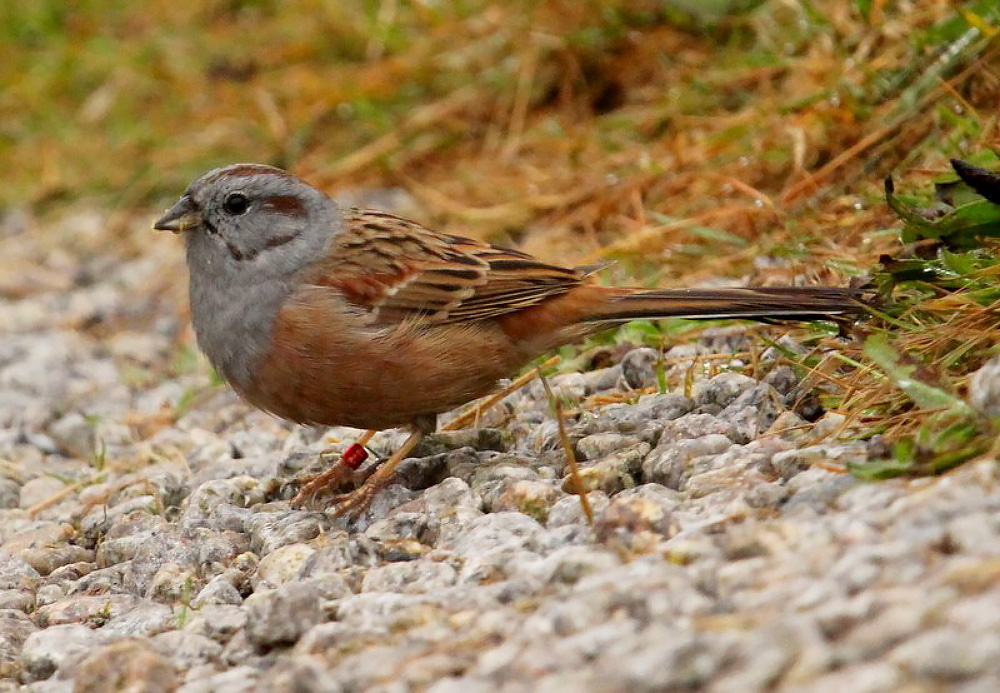 Godlewski's Bunting, St. Mary's, Isles of Scilly (Kris Webb).
Therefore, the Mourning Dove by the lighthouse at North Ronaldsay, Orkney, on the evening of 29th takes the 'bird of the week' spot. This represents just the fifth for Britain, with a further three having been recorded in Ireland and a single on the Isle of Man. Despite this extreme rarity there has been something of a recent upturn in records, with all but two of these occurring since 2007. This is, however, the first spring record anywhere in Britain or Ireland. In such exposed habitat and at peak time for a spring migrant to be on the move, it was no great surprise to learn that it had gone by the following morning.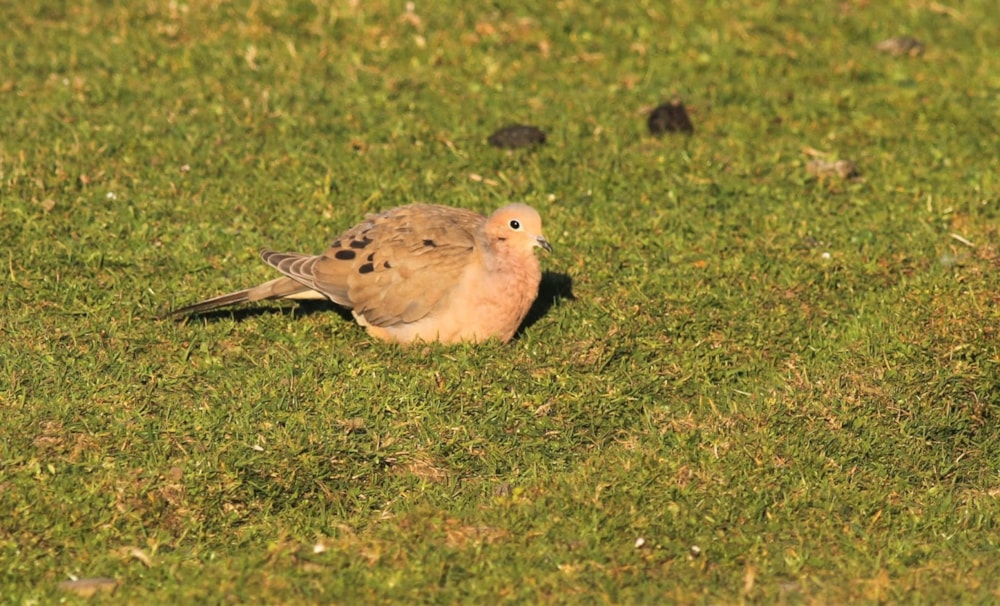 Mourning Dove, North Ronaldsay, Orkney (Simon Davies).
It's feasible that the male Dark-eyed Junco in a garden at Westward Ho!, Devon, from 25-27th could be the same bird photographed on the Isle of Wight last week. Whether or not that is the case will remain unknown, but at least this week's bird proved twitchable, attracting reasonable numbers of birders to this picturesque stretch of the north Devon coastline. Not far away, the Pied Crow returned from its sojourn to Lundy and was seen at Morte Point on 25th and Woolacombe on 28-29th.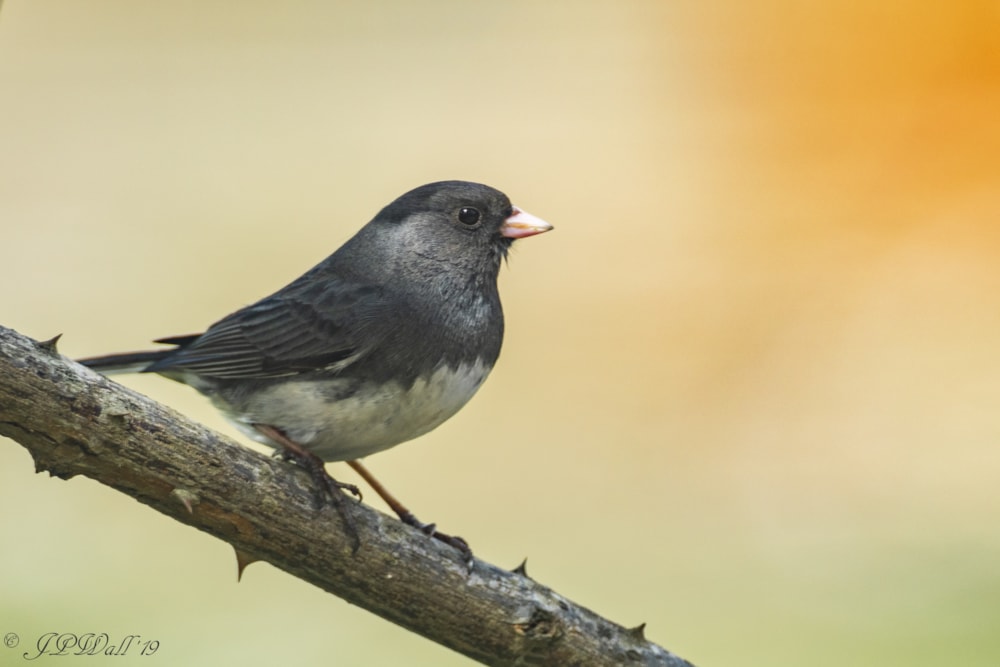 Dark-eyed Junco, Westward Ho!, Devon (John Wall).
What is presumably the same Baikal Teal as that seen at Welney WWT on 21 March reappeared across the Cambridgeshire border at Ouse Washes RSPB this week. First seen on 28th, it was a little restless and at times elusive, but ultimately showed well throughout that and the following day, although there was no sign of it again on 30th. Given that it's managed to successfully hide itself for over a month, the likelihood must be that it's still around, rather than having genuinely departed.

Baikal Teal, Ouse Washes RSPB, Cambridgeshire (Erik Ansell).
Wildfowl was quite prominent on the airwaves this week, with Cambridgeshire also snaring a new drake American Wigeon at Paxton Pits from 28th as well as one of the seven Green-winged Teal seen across Britain. The drake Blue-winged Teal was also still at Mellon Charles, Highland, to at least 28th and the American Black Duck lasted another week further down the Scottish west coast at Strontian.
Both the American Eider at Skerries, Co Dublin, and the American White-winged Scoter at Musselburgh, Lothian, were reported regularly this week. The King Eider was also still in the Moray Firth off Nairn on 28th. Surf Scoter were seen at two sites in Co Clare, while a drake lingered briefly off Selsey Bill, West Sussex, on 30th before continuing off east among Common Scoter and another male was seen off Llanfairfechan, Conwy. Up to four lingered off the Lothian coastline at Musselburgh, where a pair was even seen copulating on 29th. A dozen Ring-necked Duck were seen across Britain, though none were reported in Ireland, while the Lesser Scaup lingered at Blagdon Lake, Somerset. A drake Ferruginous Duck called in for the day at South Kirby, West Yorkshire, on 29th. In other news, the escaped female Bufflehead is now in West Yorkshire.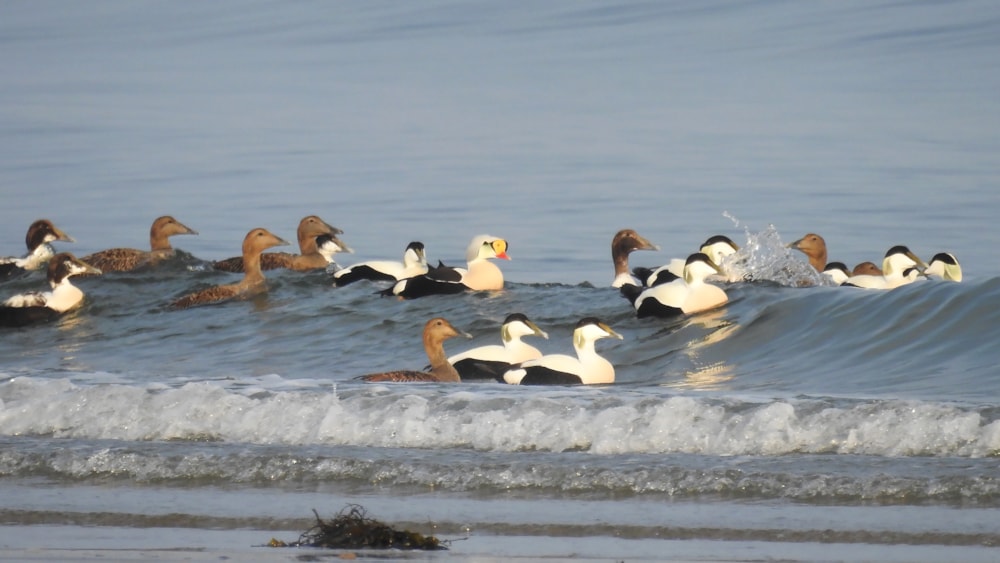 King Eider, Nairn, Moray & Nairn (Mark Eaton).
White-billed Diver numbers increased to nine off Portsoy, Aberdeenshire, on 29th, while up to three were in the Burghead area, Moray. In Orkney, two were off Papa Westay and a single was seen off the north coast of North Ronaldsay. The Pied-billed Grebe hung on at Loch Feorlin, Argyll, for another week.
With the 'German' Black-browed Albatross having not been seen for several days, there is perhaps some mileage in suggesting that the fly-by at St Michael's Mount, Cornwall, on the morning of 25th could be the same bird. Seawatching was otherwise fairly mundane despite the weekend's blowy conditions, although a European Storm Petrel flying around at a small fishery not far from Gatwick Airport near Newchapel, Surrey, on Saturday morning was evidently 'storm driven'. Small numbers of Pomarine Skuas were reported from the English south coast, including 10 past Folkestone, Kent, on 25th. Numbers also started to build further north and west, with Bowness-on-Solway, Cumbria, claiming 19 on 26th and Mutton Island, Co Galway, registering 48 on 27th. Several were also seen well up the Bristol Channel, with four watched overflying the M4 bridge on 27th. A Sabine's Gull off Colonsay, Argyll, on 26th was a good April record.
It was a bit of a surprise to see the first White-winged Tern of the year appear at Cheddar Reservoir, Somerset, on 28th, during a week which produced far fewer Black Terns and Little Gulls compared to the two previous. A first-summer Bonaparte's Gull was found at Blashford Lakes, Hants, on 24th and lingered thereafter, while another first-summer – Cardiff Bay's second in a week after the recent adult – appeared on the evening of 24th and was seen intermittently to 29th. The American Royal Tern, still in winter plumage, was again noted on the Guernsey coastline this week.
With the Dorset bird departed it was the responsibility of the Cornish Lesser Yellowlegs, still at Devoran on 25th, to fly the flag for its species. However, considerably more exciting news came from Tiree, where a Greater Yellowlegs was seen at Loch a'Phuill a few times on 28th before it flew off, not to return. A Marsh Sandpiper visited Vange Marsh, Essex, on 25th, with what was perhaps the same bird then at Blue House Farm EWT on 26th.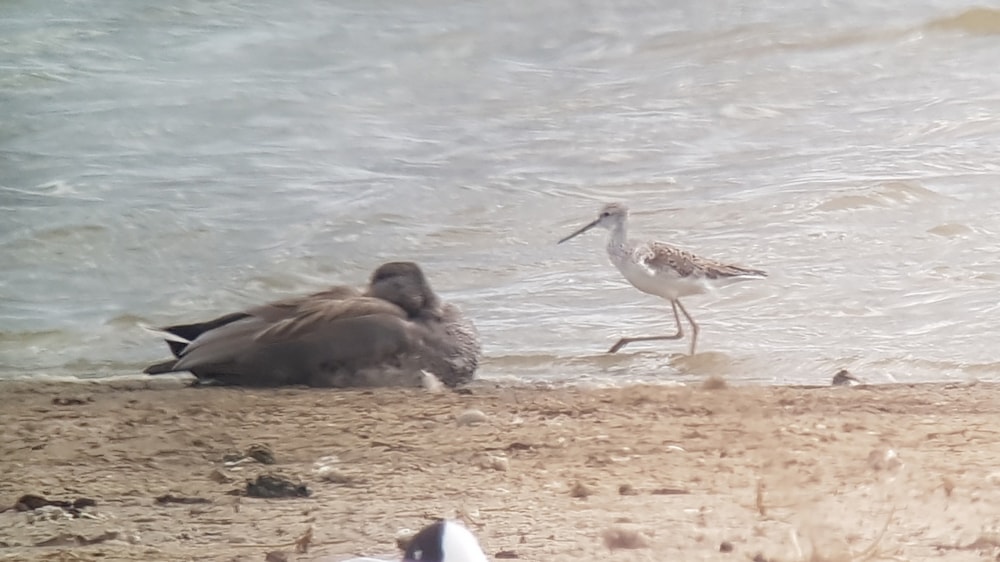 Marsh Sandpiper, Vange Marsh RSPB, Essex (Paul Baker).
Two Pectoral Sandpipers appeared on 29th, at Martin Mere WWT, Lancs, and Tucklesholme Quarry, Staffs. The latter was still there on 30th. A Temminck's Stint remained at Bishop Middleham, Durham, to 24th, with another at Hatfield Moors, South Yorkshire, on 28-29th. The only Red-necked Phalarope was that at Newport Wetlands, Gwent, to 25th. A Kentish Plover visited Ferrybridge, Dorset, on 28th. Two Black-winged Stilts stayed at Dungeness, Kent, to 24th, with the male still at Potter Heigham Marshes, Norfolk, all week and another at Ouse Washes, Cambs, on 30th. The Long-billed Dowitcher was still at Frampton Marsh, Lincs, throughout, as did the Spotted Sandpiper in Wexford Town.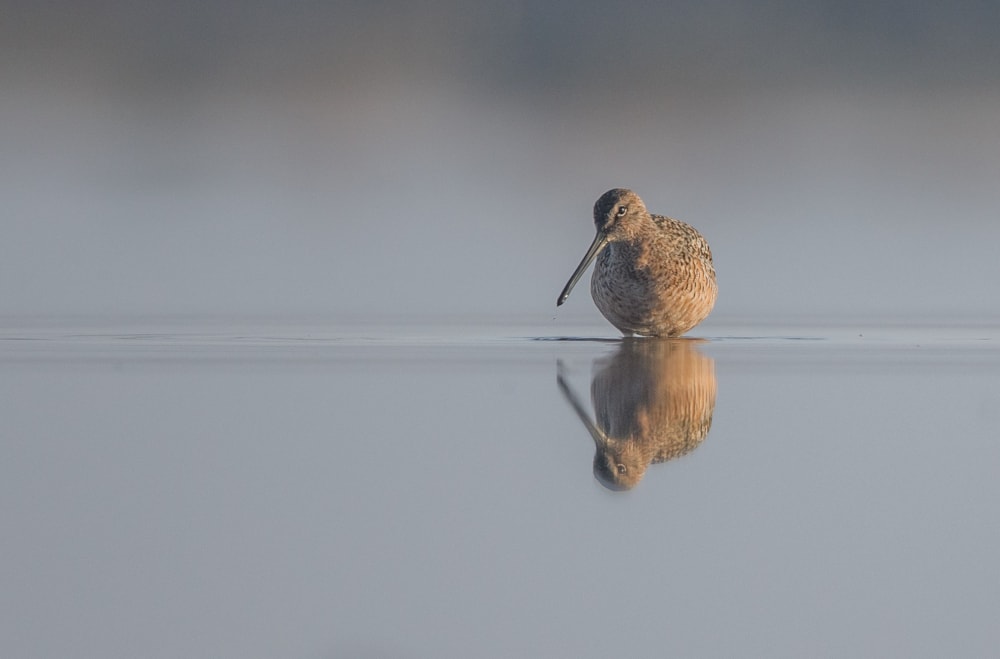 Long-billed Dowitcher, Frampton Marsh RSPB, Lincolnshire (Oliver Woodman).
The first-summer Purple Heron proved confiding at times on the marshes at Burnham Overy, Norfolk, lingering the entire week. Another was seen in flight over St Mary's, Scilly, on 29th. An adult Black-crowned Night Heron was seen a couple of times at Conningbrook Lakes, Kent, on 28th, while a likely first-summer flew around the bay at Crookhaven, Co Cork, on 30th. White Storks were seen in Kent (a green-ringed bird), Lincolnshire and West Yorkshire, while a probable Black Stork flew over Southampton, Hants, on 27th. Glossy Ibises were at six sites as far north as Co Armagh, where one was at Reedy Flats, Lough Neagh, on 25th.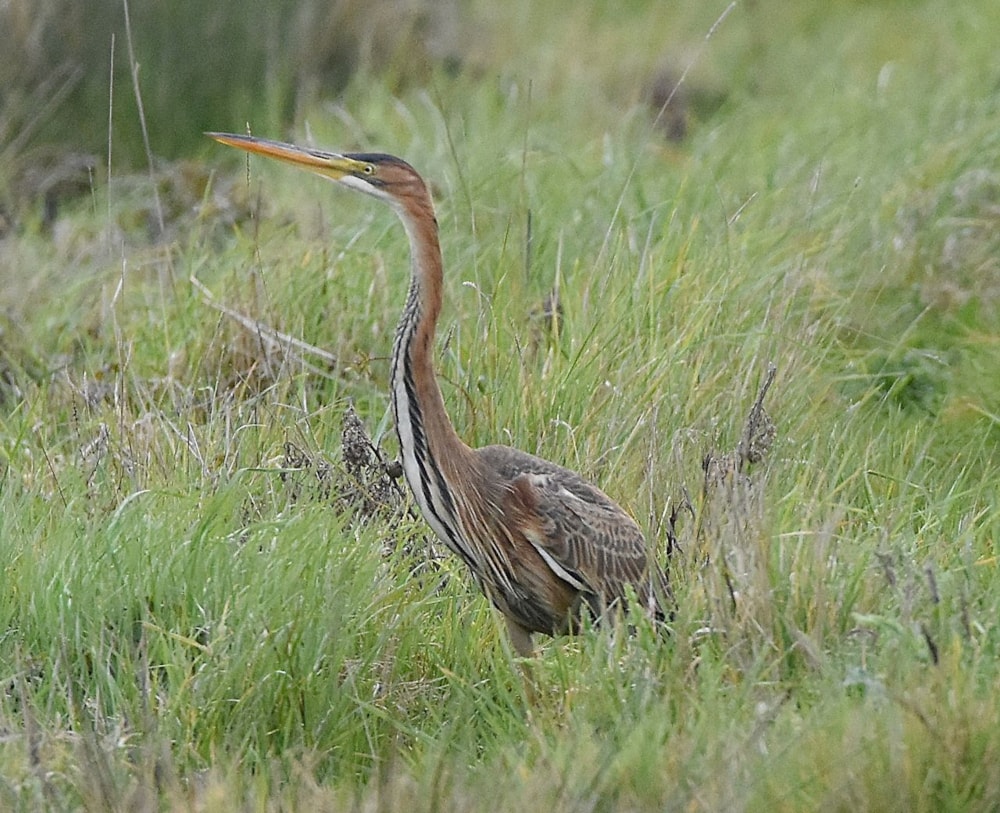 Purple Heron, Burnham Overy, Norfolk (Roger Ridley).
The adult White-tailed Eagle over Cayton and Scarborough, North Yorkshire, on 29th was presumably that tracked between Egmere, Norfolk, and Benacre, Suffolk, on 30th; could this be the bird seen in Kent and Hertfordshire back in late March? A ringtail Montagu's Harrier toured the Isles of Scilly from 29th, while the female returned again to Blacktoft Sands, East Yorkshire, on 30th, with a male recorded over Rampton, Cambs, that day. A couple of Black Kites were on Shetland, including one on Fair Isle from 28th, while there were also records from Hampshire, West Sussex and East Yorkshire. The first Red-footed Falcon of 2019 – a superb male – was on show at Rendlesham Forest, Suffolk, from 27th, with another male at Thorne Moors, South Yorkshire, on 30th. Rough-legged Buzzards were seen in Kent, Norfolk, North Yorkshire and Orkney.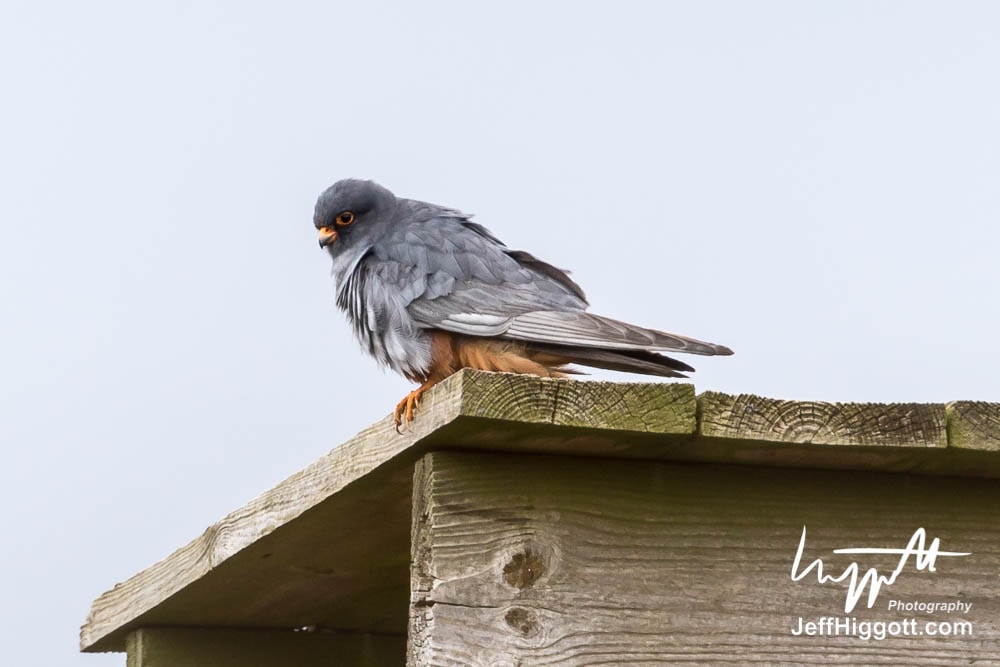 Red-footed Falcon, Rendlesham Forest, Suffolk (Jeff Higgott).
As identification awareness grows, the transition of Moltoni's Warbler from barely recorded ultra-rarity to expected annual vagrant (which, on the basis of its distribution, it is more likely to be) continues. A 'subalpine warbler' at Sands of Forvie, Aberdeenshire, on 28th was eventually identified as Moltoni's on the basis of its rolling, Eurasian Wren-like call, which it was heard to utter a few times in the evening. With hindsight, it's easy to suggest that the pale salmon-pink wash to the plumage is also an indicator of the species, but the call remains the sole determining feature when faced with subtle birds like this one – how many will have been passed off in years gone by?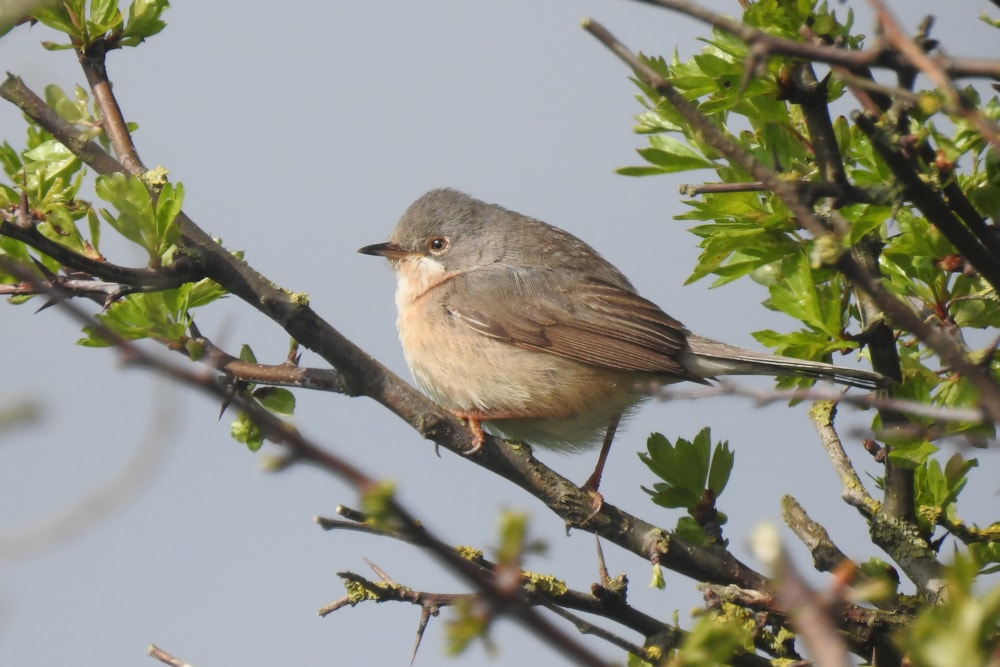 Moltoni's Warbler, Sands of Forvie NNR, Aberdeenshire (Ian Broadbent).
Two different Eastern Subalpine Warblers were seen this week: a male was at Gibraltar Point, Lincs, on 29-30th and was ringed on the former date, while a female was trapped and ringed on Lundy, Devon, on 30th, hot on the heels of last week's male there. A male Western Subalpine Warbler was on Cape Clear, Co Cork, on 25th, while unidentified 'subalpine warbler sp' (ie Moltoni's or Subalpine Warblers) were at Beachy Head, East Sussex, on 26th, Holy Island, Northumberland, on 26th and 28th and at Loweswater, Cumbria, on 29th.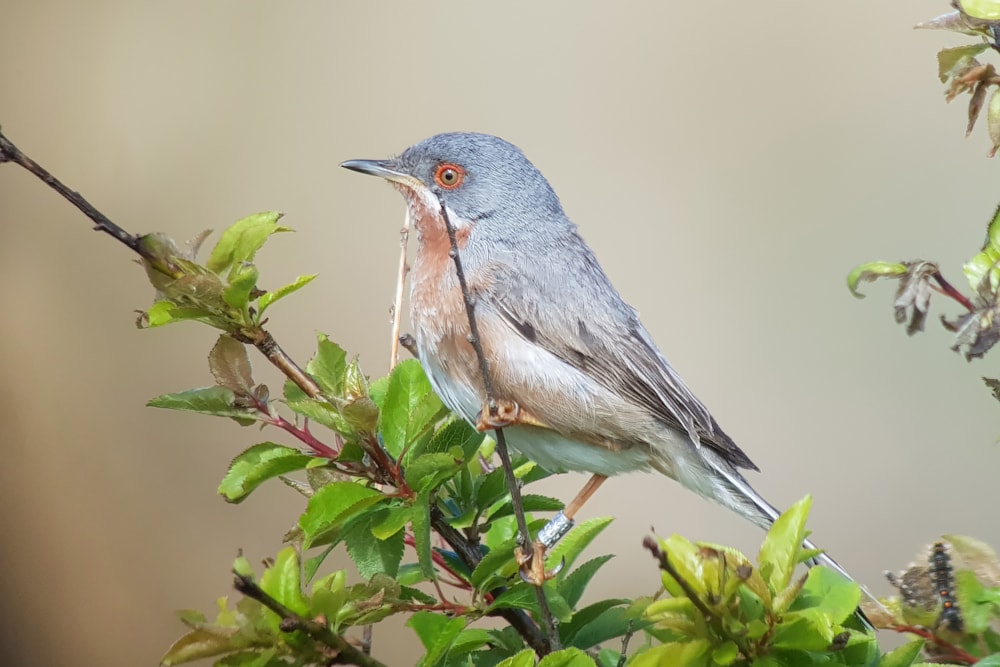 Eastern Subalpine Warbler, Gibraltar Point NNR, Lincolnshire (Owen Beaumont).
Five Alpine Swifts included a bird tracked between Walsey Hills, Norfolk, and Lowestoft, Suffolk, on 26-27th as well as a confiding bird lingering at Ham Wall, Somerset, on 25th; others were in Worcestershire, Kent and East Yorkshire. Red-rumped Swallows have been pretty scarce so far this spring, with four noted this week in Devon, East Sussex, Suffolk and Co Wexford.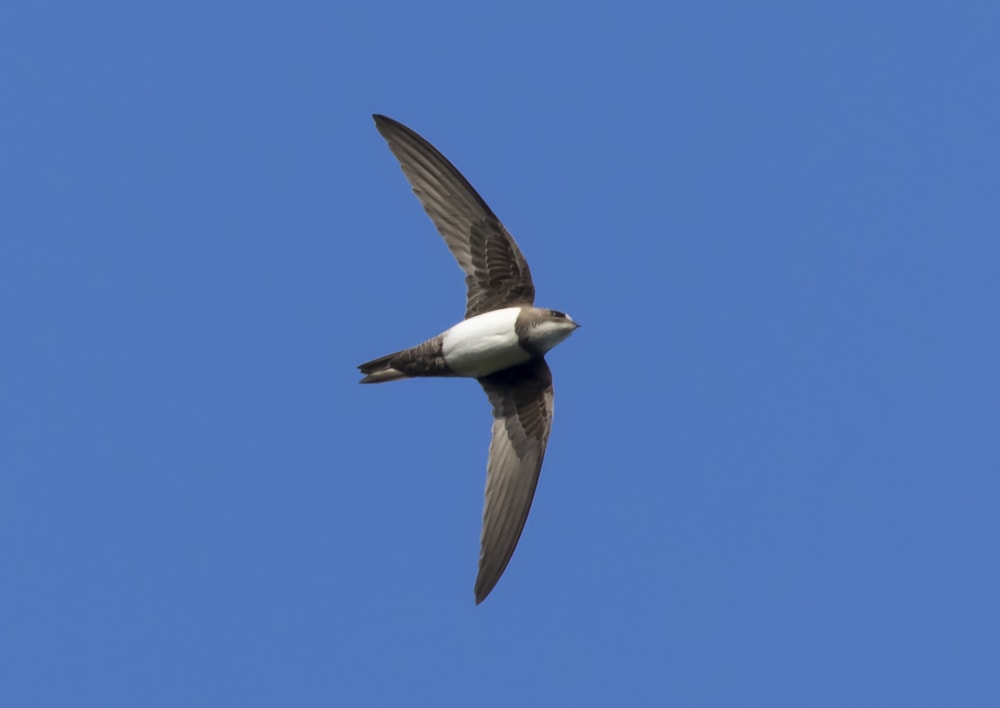 Alpine Swift, Ham Wall RSPB, Somerset & Bristol (Brian Gibbs).
A dozen sites recorded Hoopoe, while six of the week's nine Wrynecks were on Shetland; in contrast, one or two Golden Orioles were restricted to Scilly. Two Greater Short-toed Larks were found on 27th, although on St Mary's, Scilly, and Noss, Shetland, respectively, they couldn't have been much further apart. Four Woodchat Shrikes were in Co Cork, Scilly, Norfolk and Alderney, the latter the first on the island since 1996.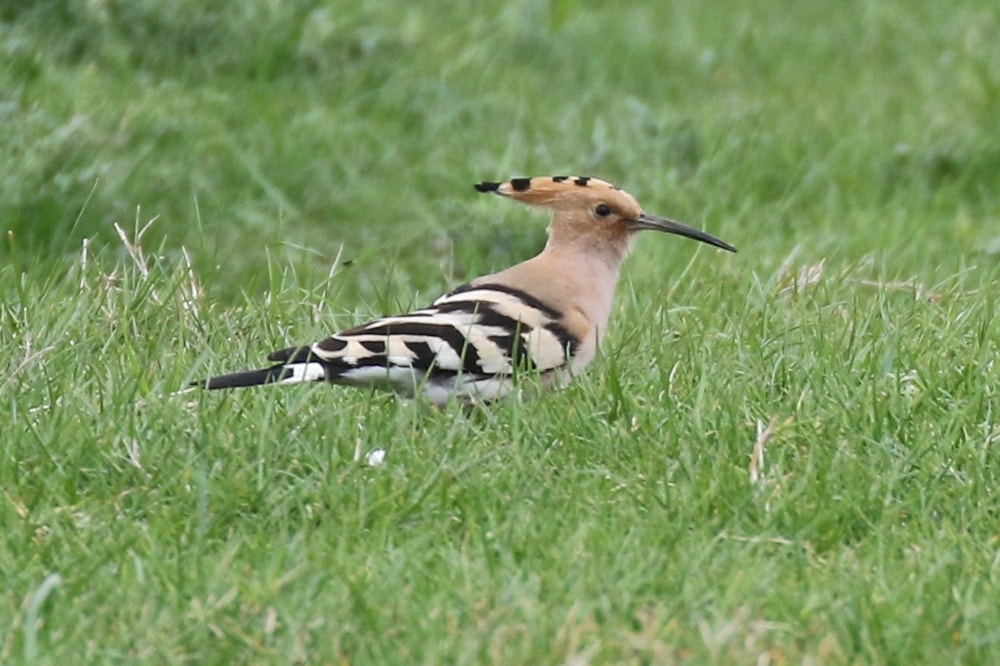 Hoopoe, Charnock Richard, Lancashire (Chris Teague).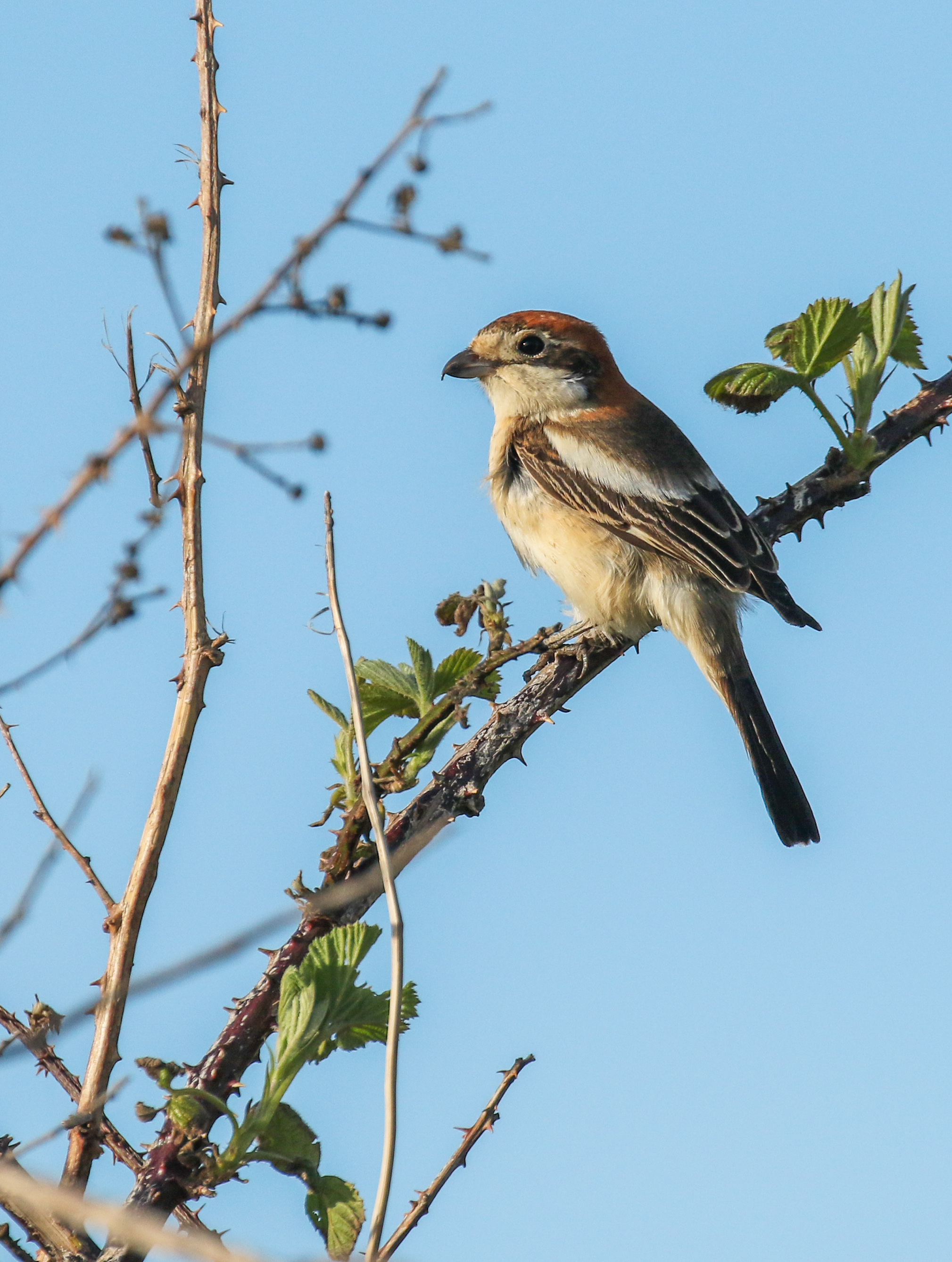 Woodchat Shrike, Winterton Dunes NNR, Norfolk (Alex Berryman).
One of the stories of the week was the discovery of a female Citrine Wagtail at Pilning Wetland, Glos, on 25th, which lingered for four days and, on the evening of 25th, was astonishingly joined by a male – marking an exceptional multi-occurrence at a single site in spring. Another male, this time a jaw-dropping adult, was found at Llwyn-on Reservoir, Glamorgan, on the afternoon of 27th, but departed overnight.
Citrine Wagtail, Northwick Warth, Gloucestershire (Neil Duggan).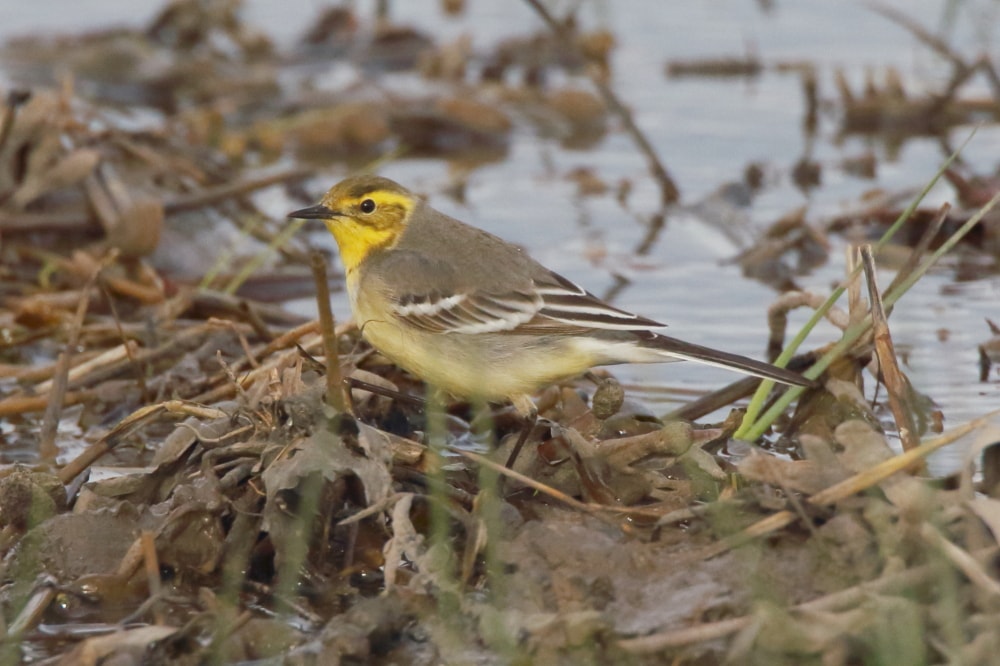 Citrine Wagtail, Northwick Warth, Gloucestershire (Andrew Jordan).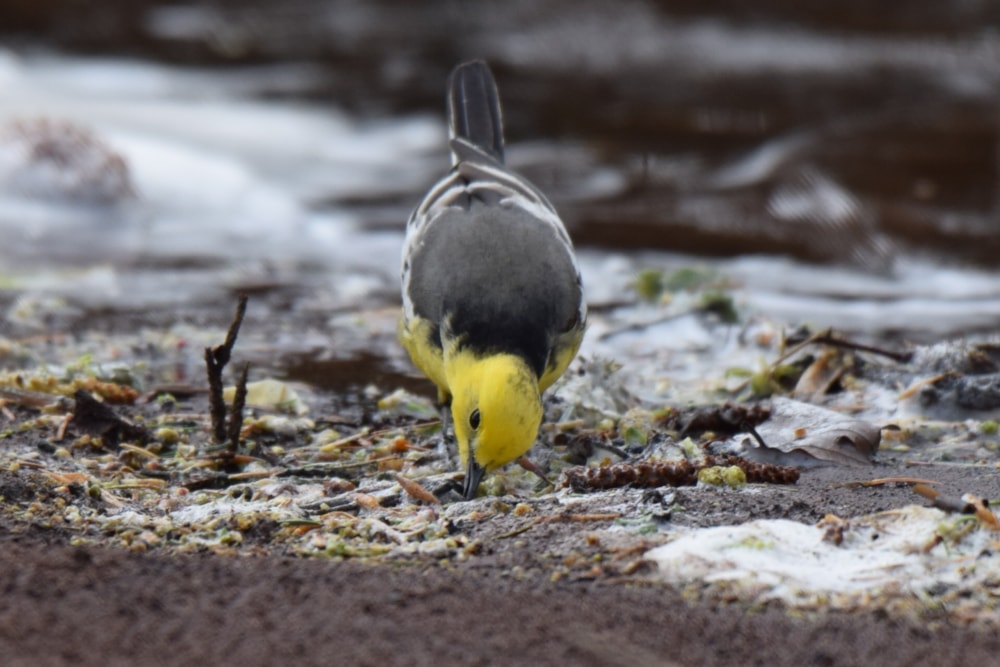 Citrine Wagtail, Llwyn-on Reservoir, Glamorgan (Kerry Thomas).
What appears to be (and sounds like) a classic Iberian Wagtail (ssp iberiae) was at Leasowe, Cheshire, on 26th and 28-29th. If accepted, this would be just the second national record (see more here). Elsewhere, a Black-headed Wagtail reached Trumpan, Skye, Highland, on 26th. A Tawny Pipit was a brief visitor to Southwold, Suffolk, on 26th.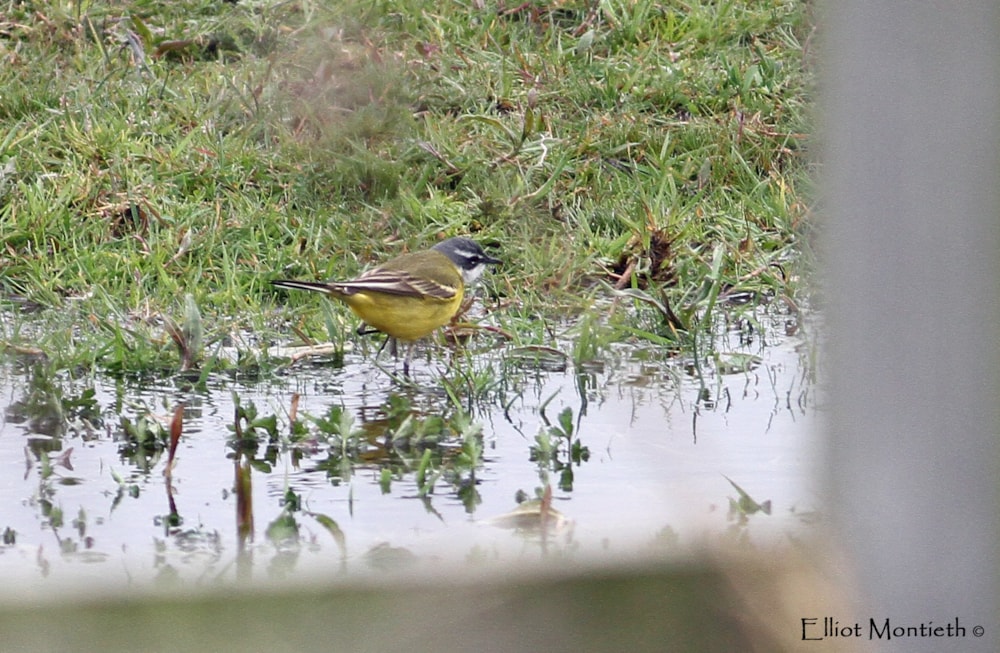 Iberian Wagtail, Leasowe, Cheshire (Elliot Montieth).
The first Melodious Warbler of the year was typically trapped at Portland Bird Observatory, Dorset, on 25th and was still at nearby Culverwell on 28th. A total of four Iberian Chiffchaffs were advertising themselves around England this week, with records from Essex on 25th, Devon on 26th, Cheshire on 29th and – the only to linger – at South Kirby, West Yorkshire, from 27th. Up to two Savi's Warblers 'buzzed' at Minsmere RSPB, Suffolk, with a third still in song at Attenborough NR, Notts. On the English coast, Yellow-browed Warblers were seen in Kent, Suffolk, Norfolk and Cleveland, with a fifth reaching North Ronaldsay, Orkney, on 25th.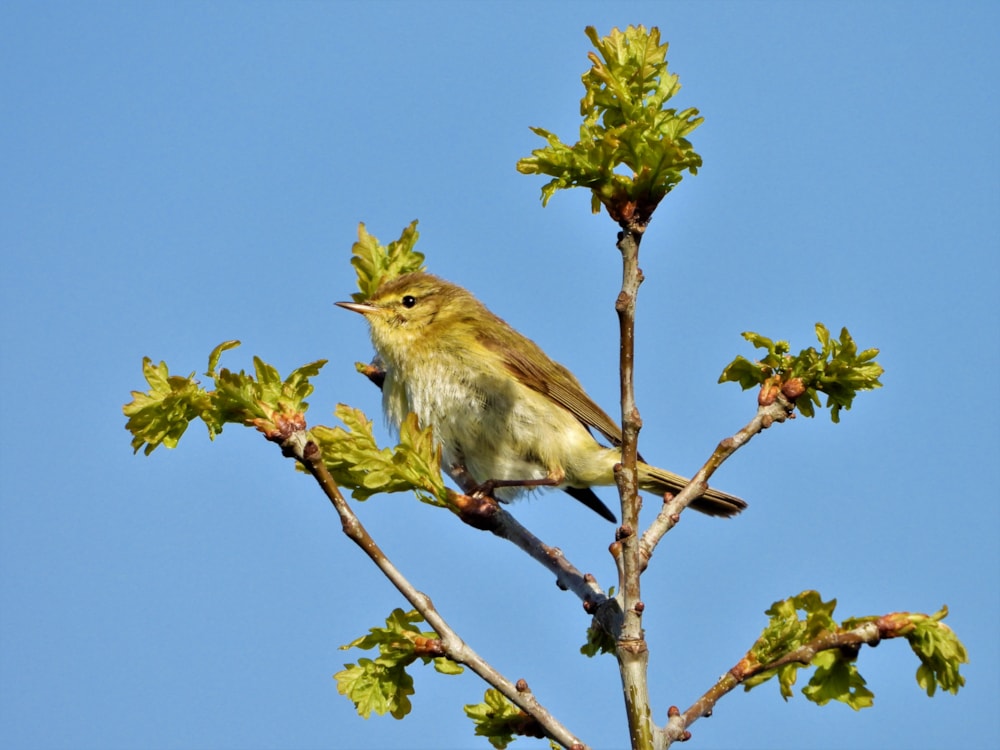 Iberian Chiffchaff, South Kirkby, West Yorkshire (Colin Bradford).
Five European Serins were seen in the southern half of England, although much more significant were records from Barra, Outer Hebrides, on 29-30th and Whalsay, Shetland, on 26-27th. A Little Bunting graced an Easington, East Yorkshire, garden on the evening of 30th. Finally, the Ortolan Bunting was last seen at Abberton Reservoir, Essex, on 25th.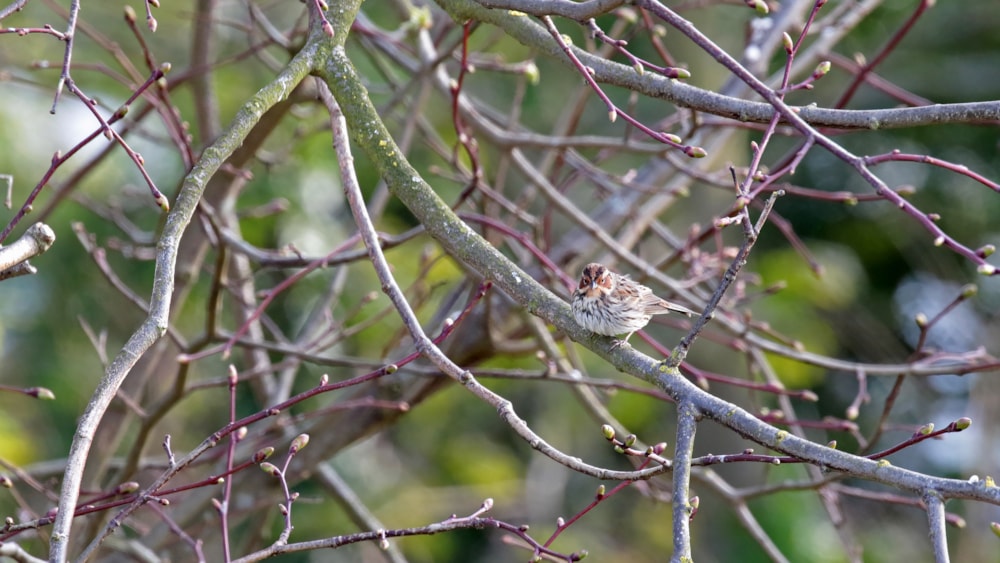 Little Bunting, Easington, East Yorkshire (Paul French).
Western Palearctic
A Black-capped Petrel was photographed at sea off Fogo, Cape Verde, on 28th, while single Intermediate Egret and three Black Herons were seen on Santiago. Also in the far south-west of the WP region, the Dwarf Bittern remained on Fuerteventura and Blue-naped Mousebirds were again recorded south of Choum, Mauritania.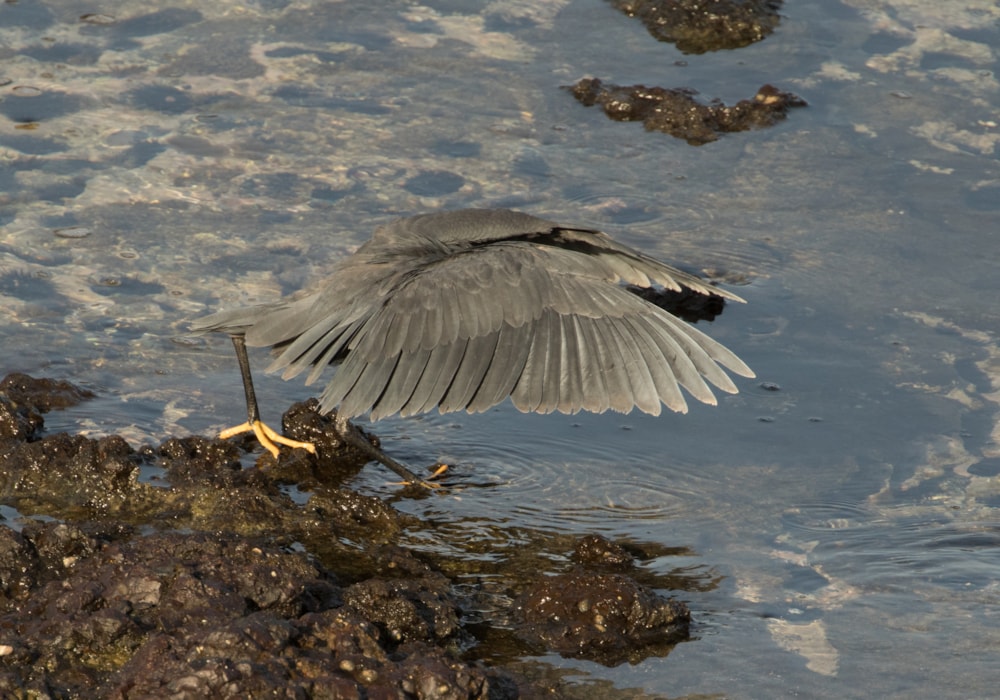 Black Heron, Praia, Santiago (Nigel Jones).
A Lesser Flamingo was at Spain's Coto Doñana NP this week. Exhibiting just how close they are getting now, a Black-winged Kite reached Calais, France, on 24th; the Sociable Lapwing was also seen again at Onnaing on 26th. A new Pygmy Cormorant was at Zedelgem, Belgium, on 28th, while the Nutcracker soldiered on at Wageningen, The Netherlands, to 28th; the country's sixth Calandra Lark was at Goedereede on 25-26th.
A White's Thrush was trapped on the Norwegian island of Utsira on 27th, while another Black-winged Kite passed through Skagen, Denmark, on 29th and an Alpine Accentor was near Åstol, Sweden, on 28th. The Wilson's Snipe was still at Vendel to 26th. Notable Finnish records concerned Black Scoter and Cretzschmar's Bunting at Uusikaupunki and Säkylä respectively, although both of these were upstaged by the White-throated Sparrow photographed at Suomussalmi on 25th – a national fourth.
Both Amur Falcon and Cinereous Bunting were great records for Georgia this week, while the Lesser Flamingo returned to Kulu Lake, Turkey, and a single Crested Honey Buzzard lingered on in Eilat, Israel.