Perhaps the highlight of the Christmas period, a female-type Bufflehead on a small roadside pool at Oysterhaven, Co Cork on 2-3rd is almost certainly the one seen flying past Aghada pier on 20th. Meanwhile, the adult drake remained at Quoile Pondage, Co Down, until 3rd at least; the Co Cork Belted Kingfisher was at Puxley Castle throughout.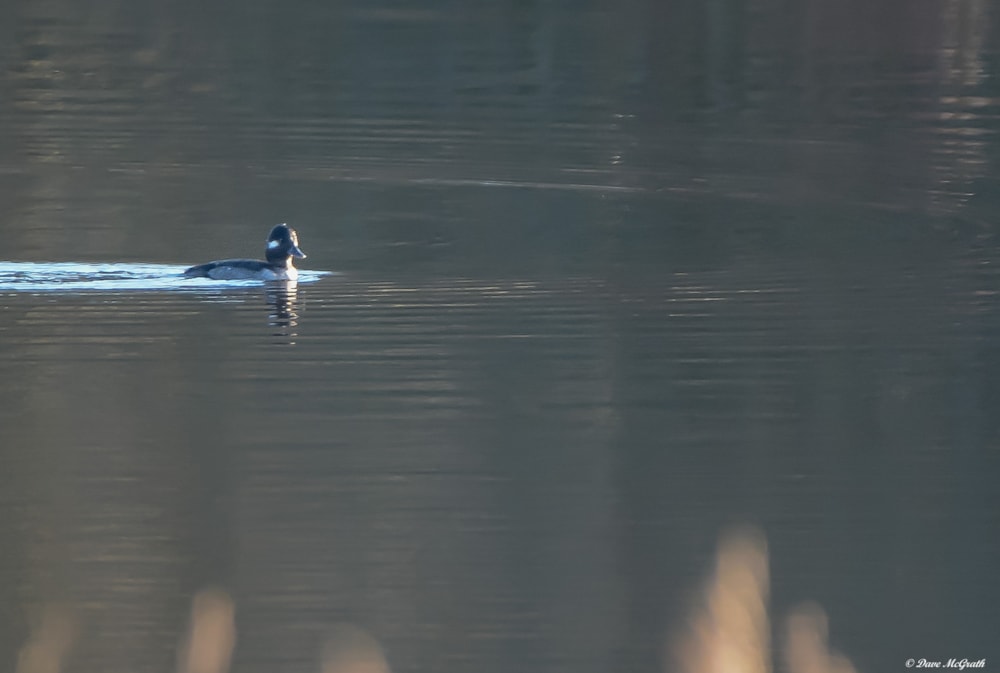 Bufflehead, Oysterhaven, Cork (Dave McGrath).
In Suffolk, a female Hooded Merganser at Staverton Park, Butley, since 26th might have been worthy of more acclaim if the escaped female 'Priscilla' hadn't departed the nearby Christchurch Park, Ipswich, in recent weeks. She was released by park staff in early 2020 in a bid to keep 'Elvis', the park's resident drake, company – the individual famous for taking a tour of the town's cosmetics stores in early 2020.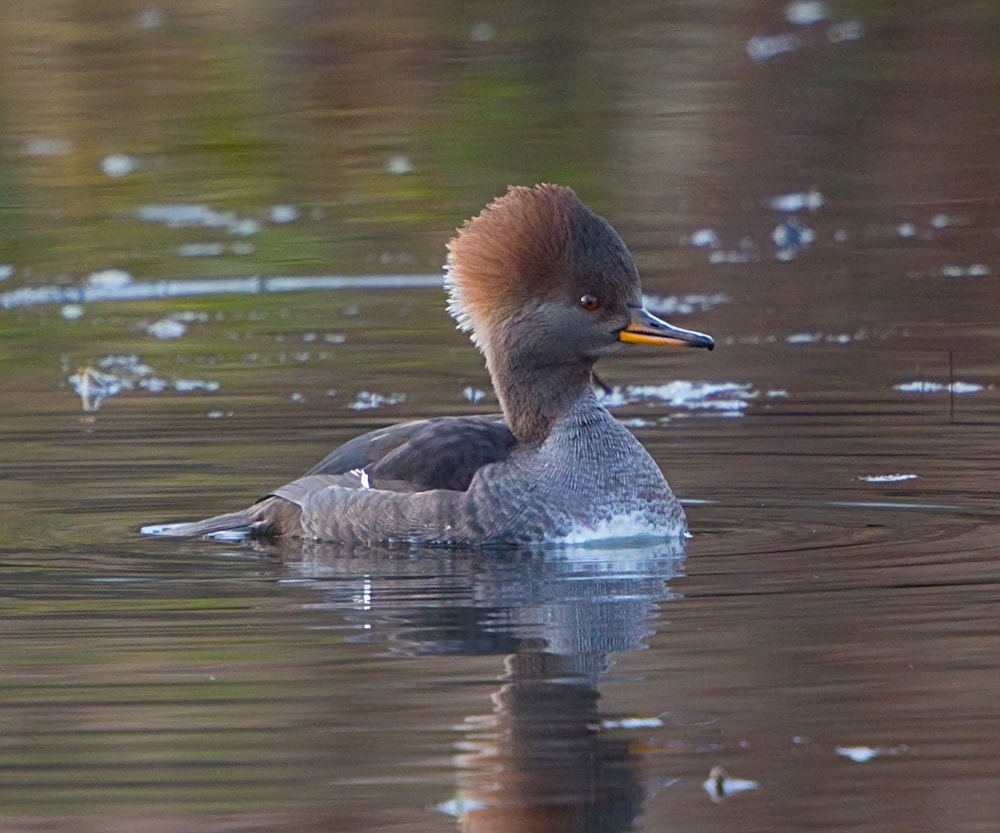 Hooded Merganser, Butley, Suffolk (Nick Brown).
Cornwall's Sociable Lapwing made a reappearance in the north-east of the county from Boxing Day – at Maer Lake NR, Bude. In Somerset & Bristol, the adult Kentish Plover proved much more accommodating on the beach at Burnham-on-Sea from 29th. A probable Spotted Sandpiper was noted at Argyll's Add Estuary on 4th. Cumbria's Long-billed Dowitcher was last noted at Campfield Marsh RSPB on 28th, while the juvenile Pacific Golden Plover held out at Findhorn Bay, Moray & Nairn, until 28th.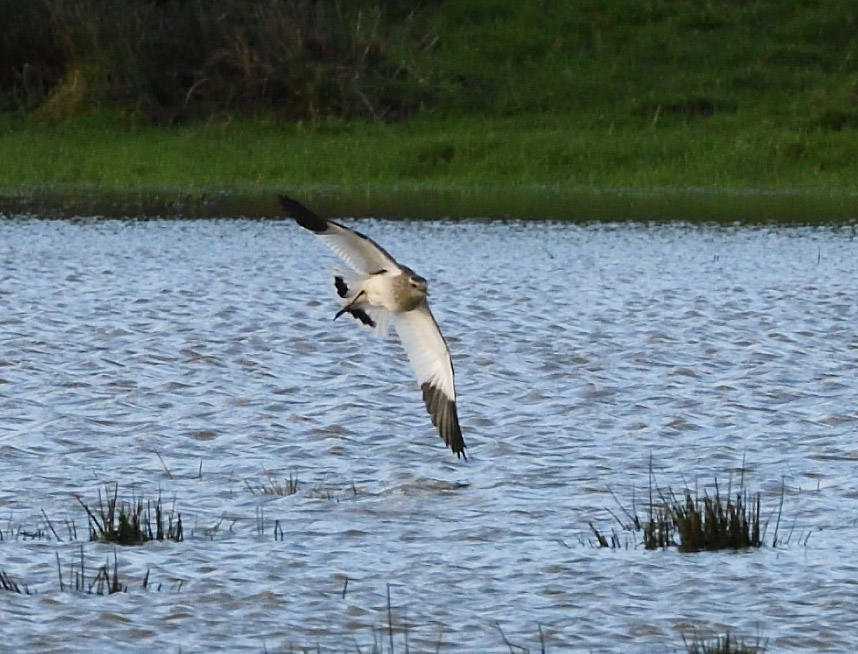 Sociable Lapwing, Bude, Cornwall (Stephanie Murphy).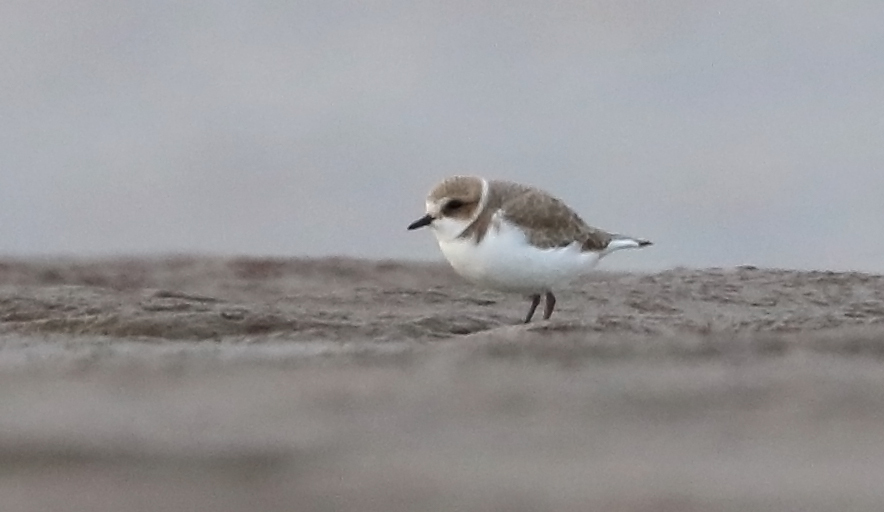 Kentish Plover, Burnham-on-Sea, Somerset & Bristol (James Packer).
An Eastern Yellow Wagtail popped back up at Prestwick Carr, Northumberland, on 5th – now the third consecutive year one has made the site home – while the male Alaskan Yellow Wagtail continued at Carlton Marshes, Suffolk. In Norfolk, a young male Eastern Black Redstart was a New Year's Eve treat at Snettisham RSPB, Norfolk, remaining until 4th at least.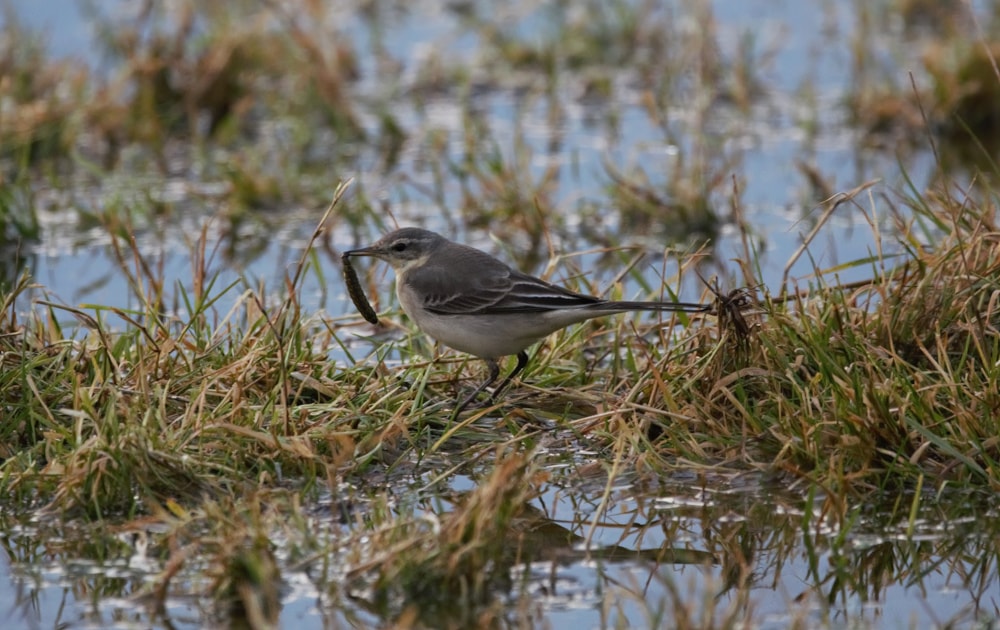 Eastern Yellow Wagtail, Prestwick Carr, Northumberland (Matthew Naylor).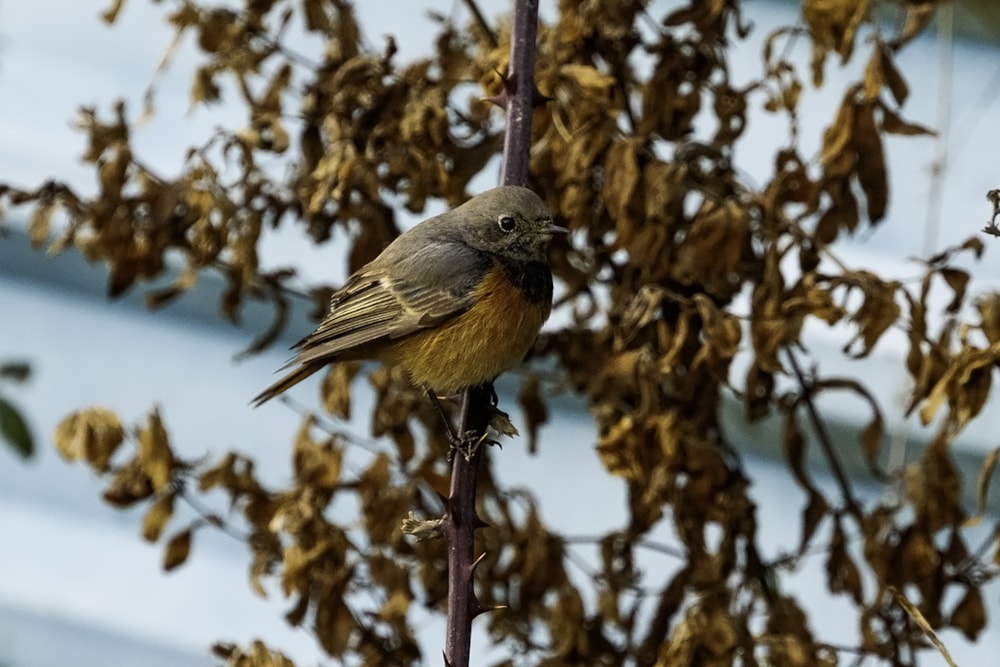 Eastern Black Redstart, Snettisham RSPB, Norfolk (Rod Gray).
Surrey's Siberian squad – consisting of a first-winter male Rustic Bunting and two Little Buntings – remained at Thursley Common throughout. In Shetland, a Black-bellied Dipper was noted at Ronas Hill, Mainland, on 3rd.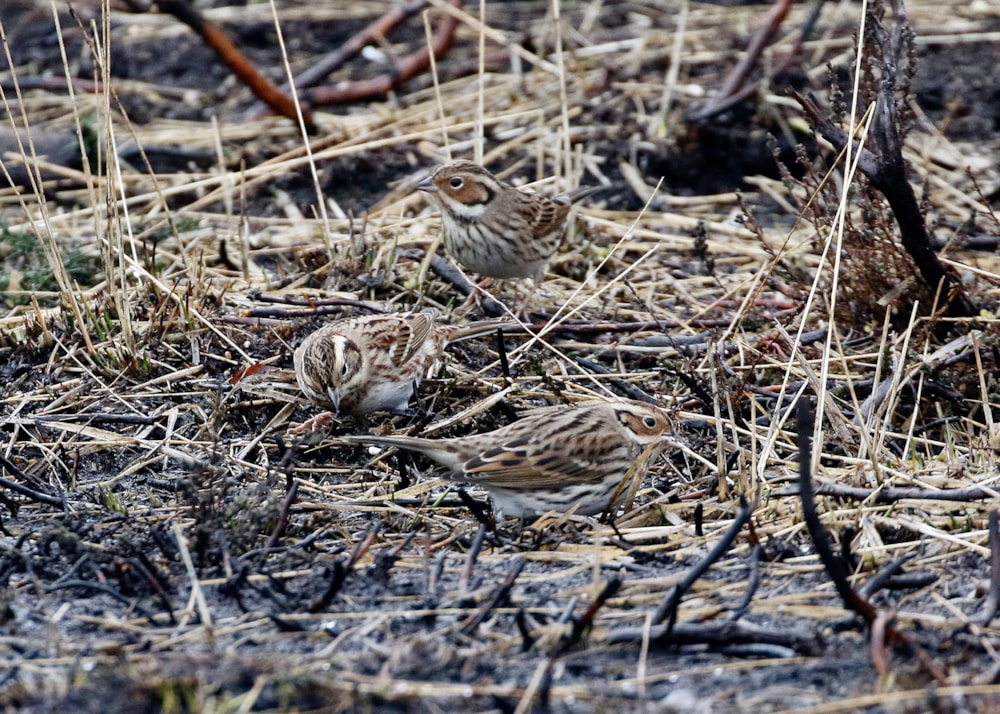 Rustic and Little Buntings, Thursley Common, Surrey (Mike Buckland).
A possible first-winter male Two-barred Crossbill was photographed near Jockey End, Hertfordshire, on 2nd, having been present since 29th, while a probable male Black-throated Thrush was reported in London at Beddington on 25th.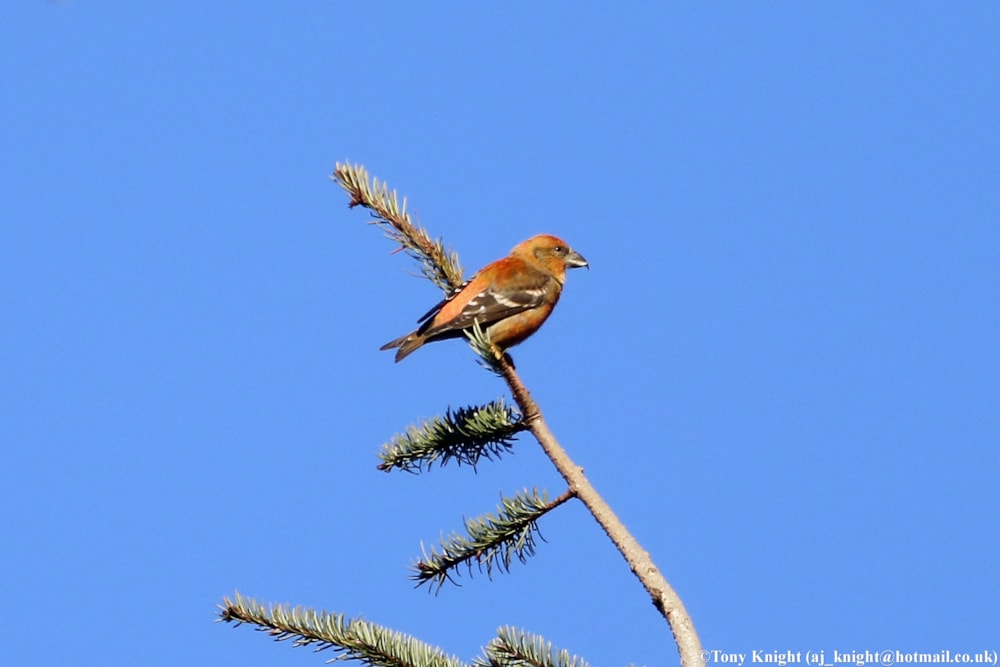 Possible Two-barred Crossbill, Jockey End, Hertfordshire (Tony Knight).
An adult Bonaparte's Gull at Rosslare, Co Wexford, and a possible first-winter Azores Gull at Penzance, Cornwall, on Christmas Day were nice presents for someone. Co Galway's long-staying Forster's Tern was back at Oranmore on 3rd.
The first-winter drake American Black Duck and Richardson's Cackling Goose remained on the Mullet at Cross Lough, Co Mayo. Two more Richardson's lingered with Barnacle Geese in the Outer Hebrides at Balranald RSPB, North Uist, on 4th, with the regular adult Grey-bellied Brant again with Pink-feet at Castle Stuart, Highland, from 23rd.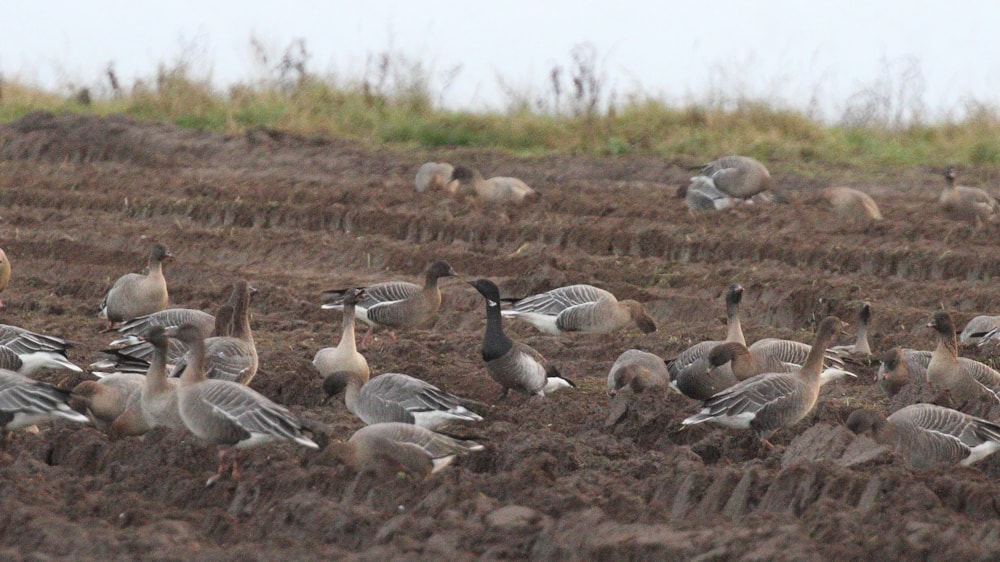 Grey-bellied Brant (centre), Castle Stuart, Highland (Peter Stronach).
Highland's resident American Black Duck made it into another year, reported from Strontian on 5th. Hampshire's Ferruginous Duck at Blashford Lakes HWT did likewise, reported on the same date. Lothian's dapper White-winged Scoter was again off Musselburgh Lagoons on 27th, while Christmas Eve saw the most recent report of the drake Black Scoter off Goswick, Northumberland.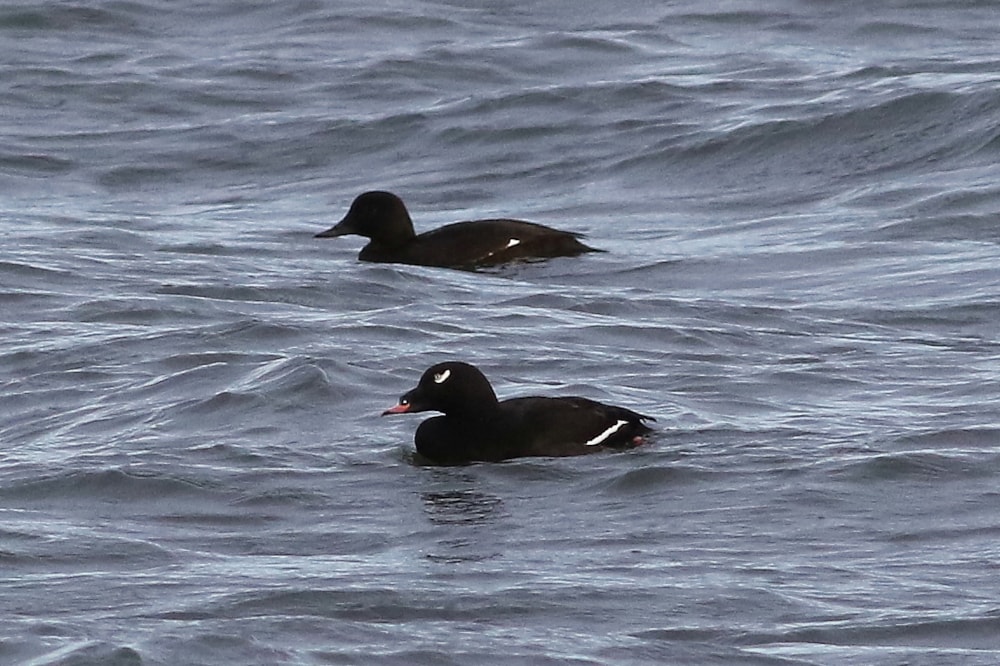 White-winged Scoter (front), Musselburgh Lagoons, Lothian (Ian Andrews).
No fewer than five King Eider were reported at the year's end – two first-winter females still at St John's Point, Co Donegal, another young female on Shetland at Bay of Kirkwall, Mainland, on 31st, and a female on Shetland at Ham, Foula, from 1st. Elsewhere, the first-winter drake remained at Stack Rocks, Pembrokeshire, with another drake still at Findhorn, Moray & Nairn.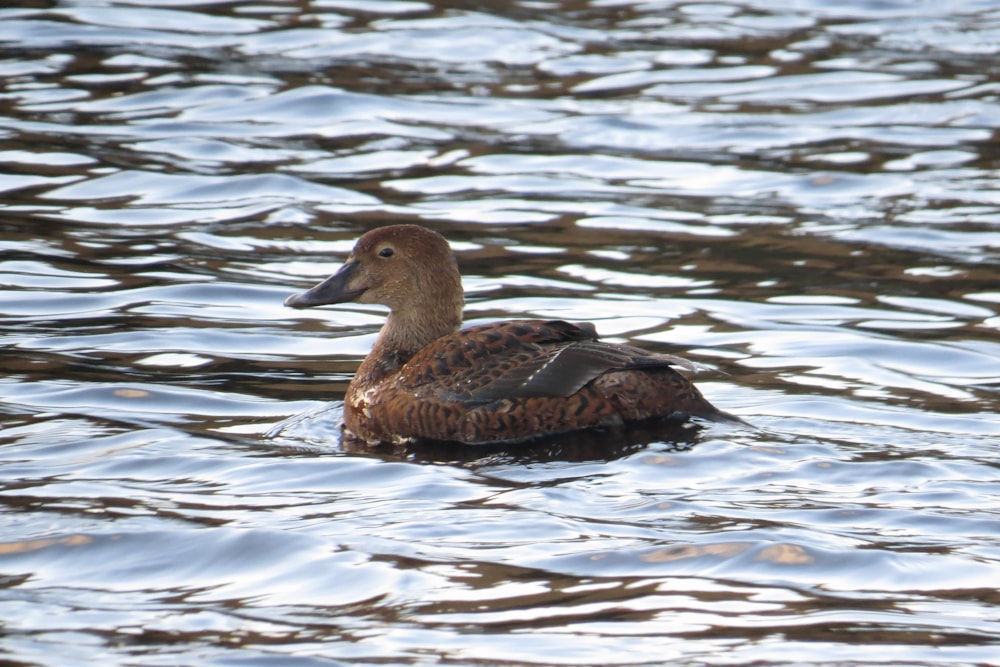 King Eider, Foula, Shetland (Donna Atherton).
Northern Isles and the Hebrides
Shetland's second-ever Egyptian Goose starred at Fleck, Mainland, from 23-29th, remarkably the equal- rarest bird of the year for the archipelago (tying with May's Black-and-white Warbler!). White-billed Divers were split between three sites – South Nesting Bay, Mainland (two), Bluemull Sound and Ramnageo, Unst – and a Black-throated Diver held out at Gossabrough, Yell. Unst's Little Gull remained at Easter Loch, while no fewer than three drake Northern Eider were off Uyea on 30th. The island's Little Bunting also continued near Baltasound throughout, while at least two Siberian Chiffchaffs lingered at Swinster Burn, Mainland.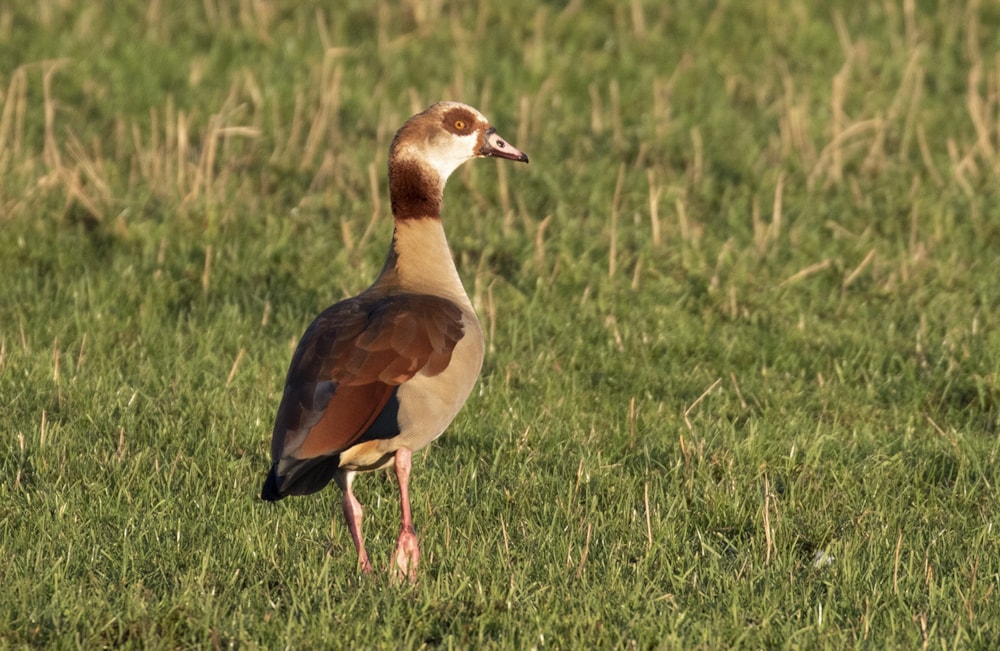 Egyptian Goose, Fleck, Mainland, Shetland (Roger Riddington).
In Orkney, Papa Westray's first Black-necked Grebe from 28th was a highlight, while the Mainland's drake Surf Scoter made the New Year in the Bay of Kirkwall and a White-billed Diver was at Cara, South Ronaldsay. An influx of Green-winged Teal included two drakes at Loch of Skaill, Mainland, on 30th and another at Stove, Sanday, on 3rd; the North Ronaldsay drake continued, too. The best Anser action consisted of a belated bean goose sp on North Ronaldsay on 16th and a Russian White-fronted Goose on Shapinsay on 3rd.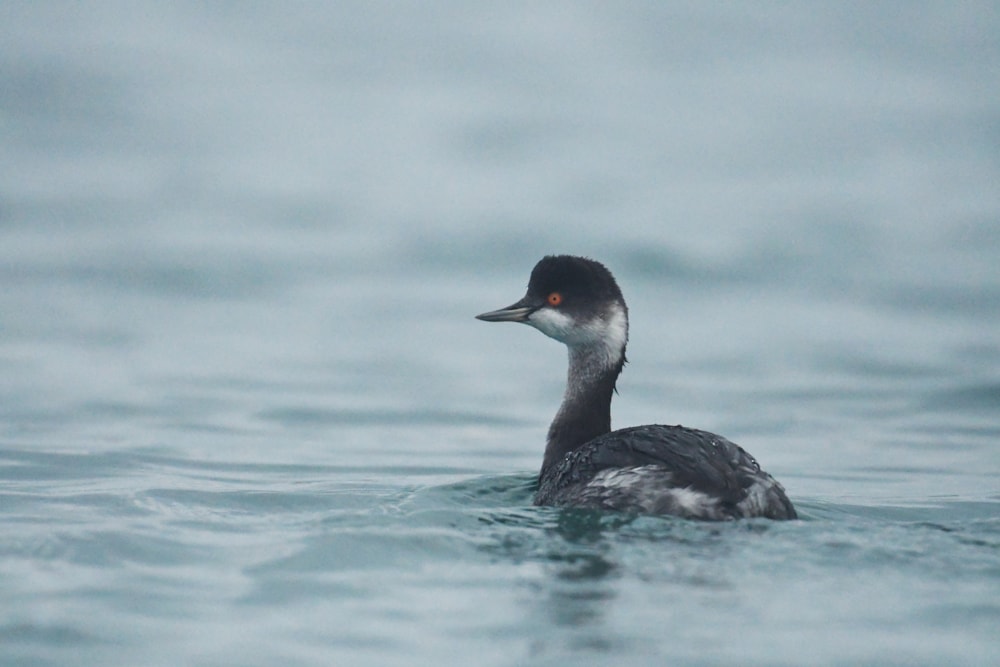 Black-necked Grebe, Papa Westray, Orkney (Jonathan Ford).
The wintering white-morph Snow Goose cropped up again in the Outer Hebrides at Balemore, North Uist, at the start of 2021. South Uist hosted a new American Golden Plover at Baile Gharbhaidh from 29th, although the Eochar Lesser Yellowlegs was last recorded on 23rd. A drake American Wigeon was at Loch Aileodair, North Uist, on 23rd, with a Green-winged Teal still at Loch Sandary. On the passerine front, at least two Lapland Buntings remained at Eochar, South Uist, and a Hawfinch was still in a Stornoway, Lewis, garden, while the islands were treated to a healthy number of Glaucous and Iceland Gulls.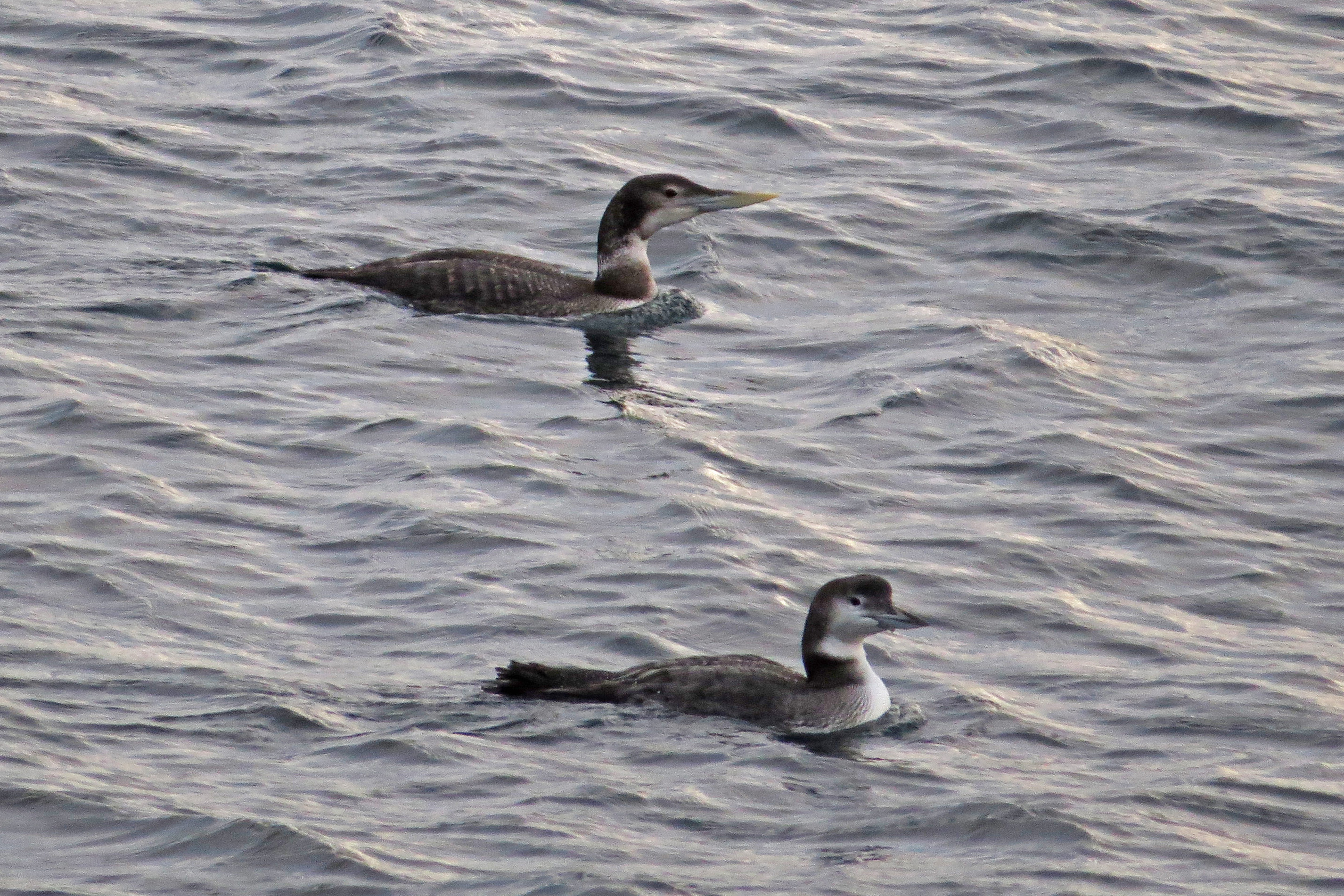 White-billed Diver (rear), South Nesting Bay, Mainland, Shetland (Adrian Kettle).
Scottish mainland
A steady stream of mainland news filtered through over the period, although many of the birds proved old acquaintances, with wildfowl again playing a significant role. Seven mainland Ring-necked Duck extended the good spell for the species; four remained in Fife – including the two females at Cameron Reservoir – and singles were noted in Highland and Ayrshire, with a new drake at Linlithgow Loch, Lothian, on 5th. Two drake Green-winged Teal were noted; the long-staying individual at Tain and another at Kinneil Lagoon, Forth, on New Year's Day. An American Wigeon was again at Loch Watten, Caithness, as 2020 drew to a close.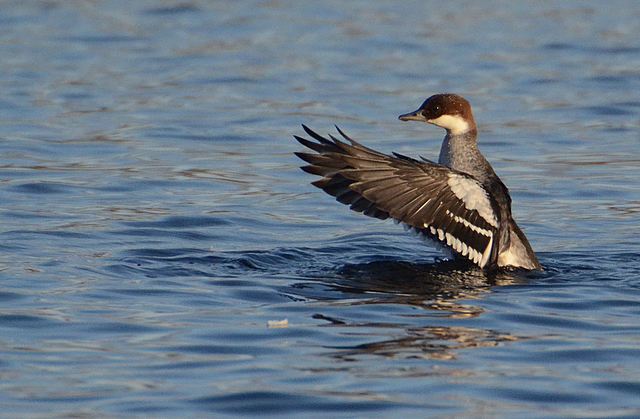 Smew, Hogganfield Loch, Clyde (Joe Graham).
Surf Scoter were in the favoured areas of Portobello, Lothian, and Dornoch/Embo, Highland, in the period. Perhaps more unusual was an Egyptian Goose at Loch of the Lowes, Perth & Kinross, on 23rd, while a Taiga Bean Goose was reported at Skinflats Lagoons, Forth, on 2nd.
The hardy Western Cattle Egret was at Loch of Strathbeg, Aberdeenshire, until 23rd. Rough-legged Buzzards appear scarce on the ground this year so a report from Cabrach, Moray & Nairn, on 23rd was of note. Two Siberian Chiffchaffs were recorded in Lothian at Liberton and Seafield.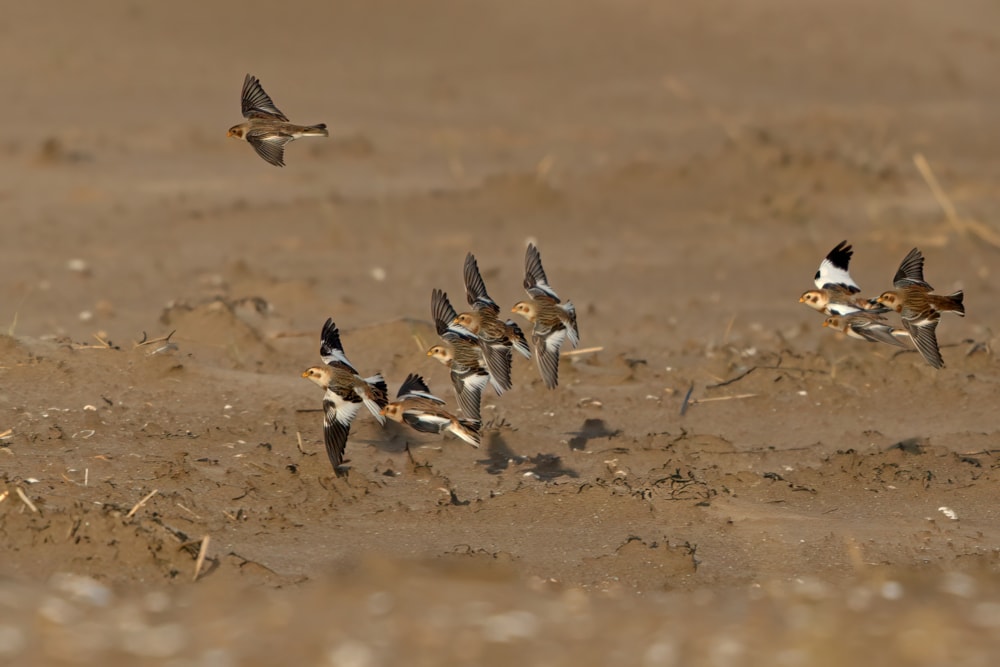 Snow Bunting, Tentsmuir, Fife (Nigel Voaden).
Single Grey Phalaropes were offshore at Burghead, Moray & Nairn, on 27th and Cramond, Lothian, on 4th. The wintering Great Grey Shrike was noted again at Backwater Reservoir, Angus & Dundee.
The returning adult Ring-billed Gull at Strathclyde Loch, Clyde, appears to have left it late this winter but kicked off 2021 around its favoured car park from 3rd onwards. Around 25 Iceland Gulls and nine Glaucous Gulls were noted from mainland areas; all but one of the latter were juveniles.
In the Argyll islands, a drake Ring-necked Duck was again at Tiree's Loch a' Phuill, with two females still at Loch Bhasapol. A Willow Warbler was reported on 30th, a Todd's Canada Goose was again at Kinovay, and two Glaucous Gulls were on the island. Juvenile Iceland and Glaucous Gulls were a Christmas Eve treat on Islay, while another Iceland was at Tobermory, Mull.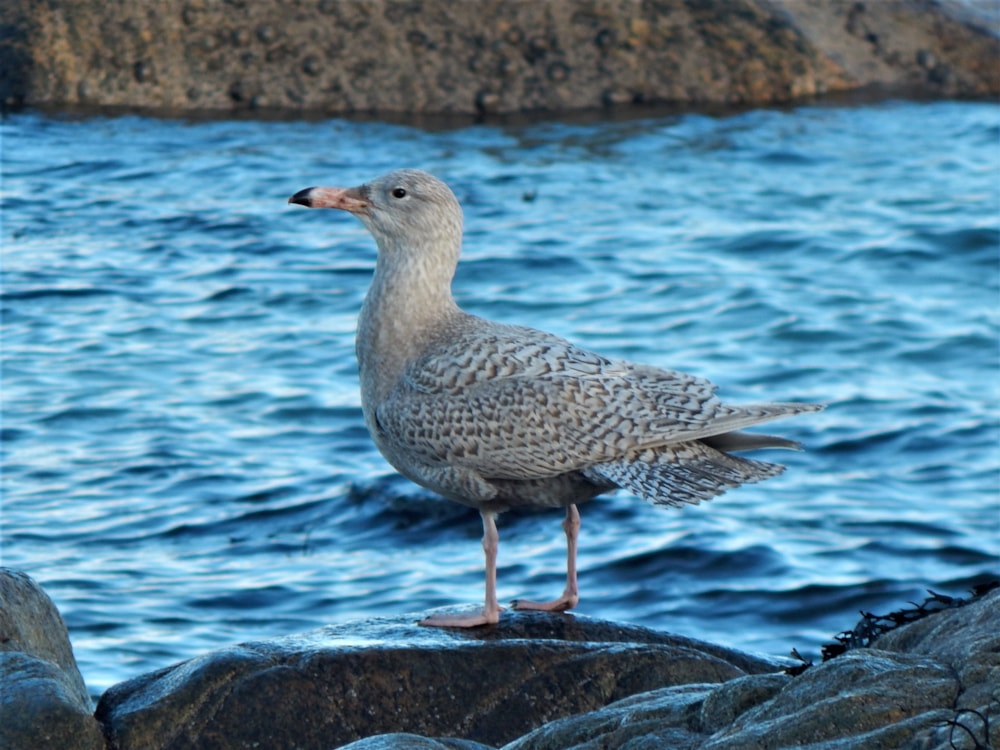 Glaucous Gull, Balemartine, Tiree, Argyll (John Bowler).
North-East England
Northumberland sea-watchers hoping for an early Christmas present were content with a Grey Phalarope moving north off Newbiggin and Druridge Bay on Christmas Eve. At Big Waters NR the drake American Wigeon deployed Santa Claus levels of stealth over the period, only appearing intermittently on 31st and again on 5th.
New Year's Day brought a redhead Smew back to Widdrington Moor Lake. Three Iceland Gulls were available intermittently at Seahouses, Big Waters NR and North Shields. Relatively mild conditions also ensured three Black Redstarts continued to entertain – at Tynemouth, Newbiggin and Annstead. A Shore Lark was a good find with Eurasian Skylarks in coastal fields at Hemscott Hill on 2nd.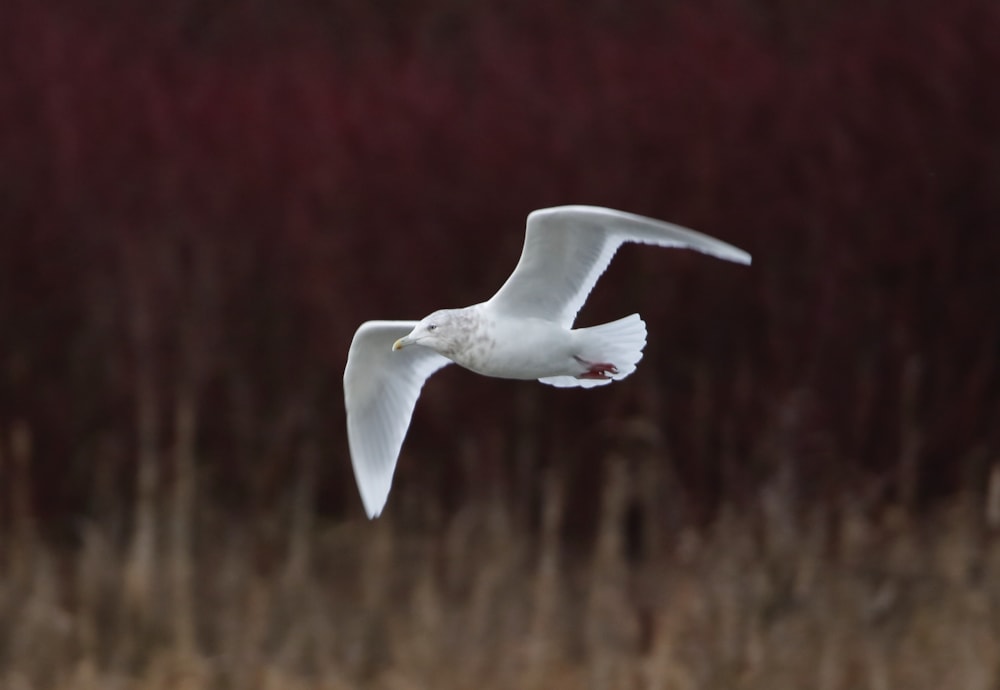 Iceland Gull, Big Waters NR, Northumberland (Chris Barlow).
Durham was all about the gulls over the Christmas and New Year period. Whitburn Coastal Park chipped in two 'white-wingers', with both Glaucous and Iceland Gulls moving past. Another Iceland Gull offered more reasons to visit Morrisons in Silksworth from New Year's Eve. A Grey Phalarope spent the 4th happily feeding close inshore at Blackhall Rocks and a blue-morph Northern Fulmar entertained on the cliffs at Marsden on 5th.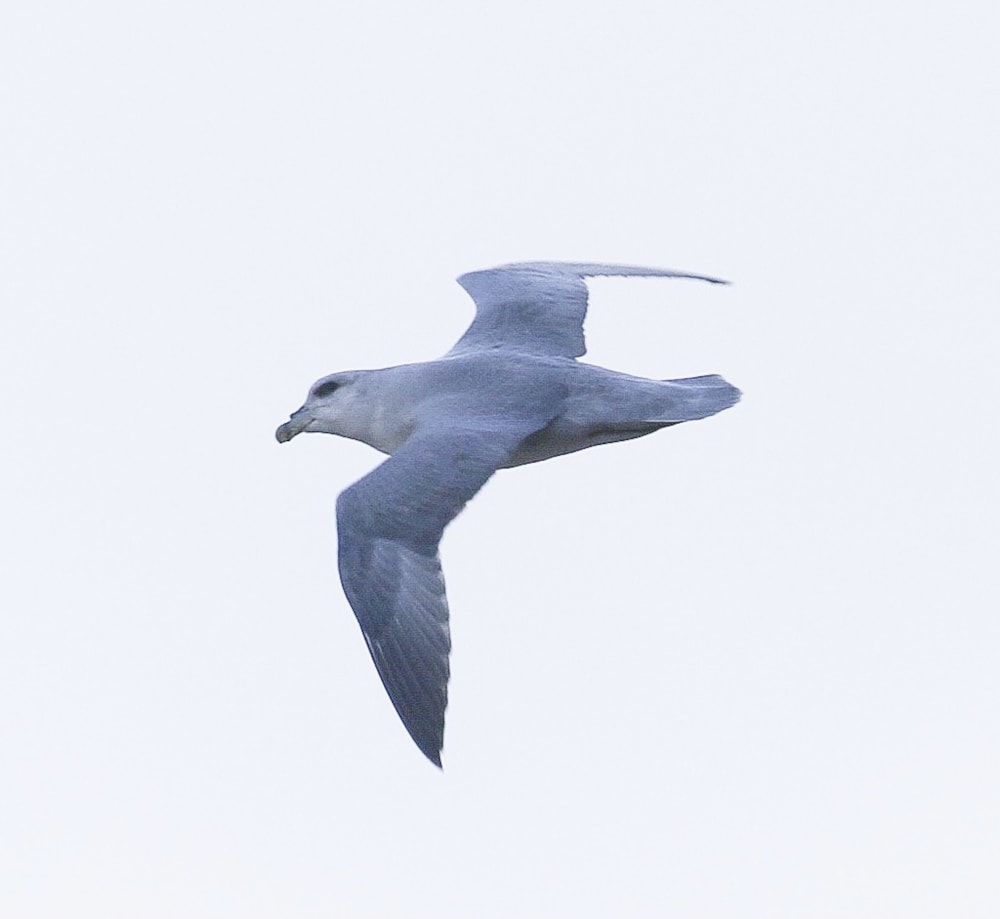 Blue-morph Northern Fulmar, Marsden Bay, Durham (Ian Mills).
Cleveland's drake Northern Eider continued to consort with Common Eiders off the Redcar coast throughout the period and the showy Black-throated Diver at Hartlepool's Jackson's Landing made it through the Christmas shopping period into the new year.
Nationally scarce this winter, a single Waxwing for two days at Skelton was a good record. Aside from that the supporting cast was a fairly settled one, 80 Snow Buntings remained around South Gare, a juvenile Iceland Gull slipped past Hartlepool Headland and Saltholme's long-staying Great Egret shrugged off the BirdGuides downgrade as if it didn't exist (see here).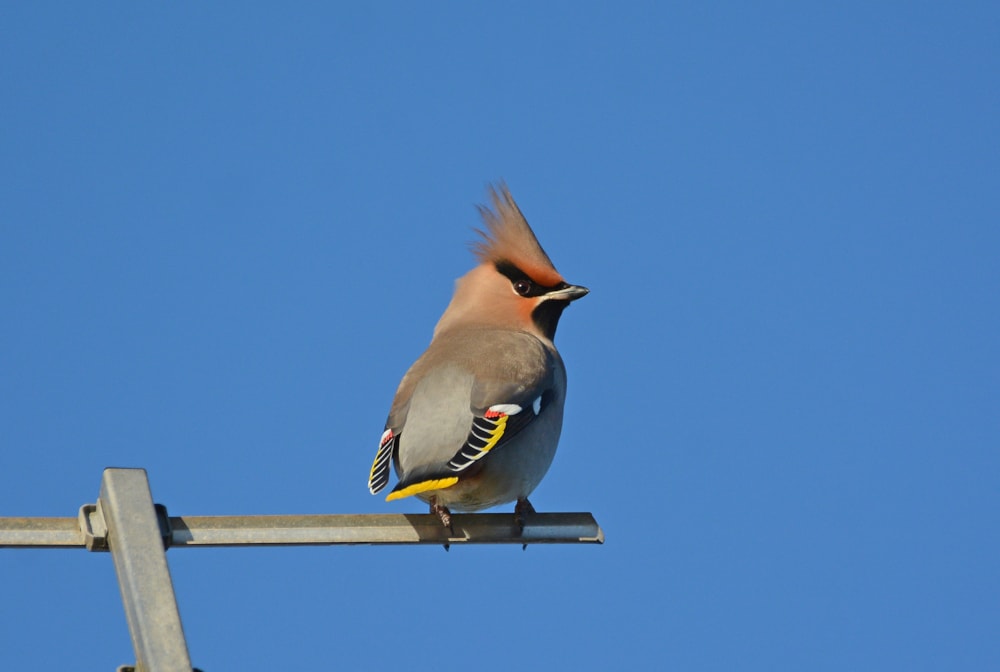 Waxwing, Skelton, Cleveland (Damian Money).
North-West England
The juvenile Iceland Gull at Rockcliffe, Cumbria, lingered into the new year and could still be found by the River Eden on 3rd. Interestingly, two Chough were reported from Spadeadam Forest on 25th and again on 28th, while, in the south of the county, two flew over Helsington Barrows on 30th. Seven Russian White-fronted Geese at Shap on 1st was a decent county record, while a Little Stint was at Port Carlisle on 3-4th and a first-winter Caspian Gull was at Ullswater on 5th.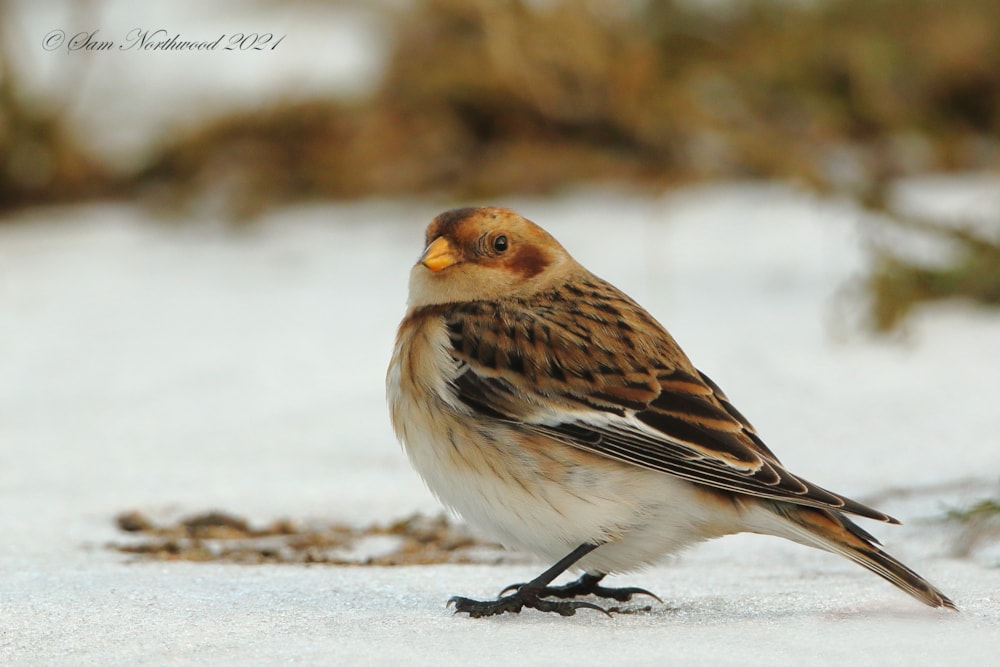 Snow Bunting, Grune Point, Cumbria (Sam Northwood).
Local year lists were off to a flying start in Lancashire; continuing scarcities included the Dusky Warbler at Ainsdale on 2nd and the drake Ring-necked Duck at Pine Lake on 3rd. Bewick's Swans were still at two sites, while a minimum of four different Tundra Bean Geese using the Burcough Mosses, a single was at Birkdale on 31st and one at Banks Marsh on 2nd. Russian White-fronted Geese were on offer too, with the juvenile again at Burscough Moss on 26th and singles at Cockerham Moss, Banks Marsh, Elswick and Singleton. The good gulling continued; a juvenile Iceland Gull roosted at Lower Rivington Reservoir sporadically between 26-30th and two came roosted on 5th. Meanwhile, a juvenile roosted at Fishmoor Reservoir on 28th. Caspian Gulls were at three sites, including a second-winter at the Forster Street recycling centre, Liverpool, on 30th. A juvenile Glaucous Gull was a nice find at Altham on 29th.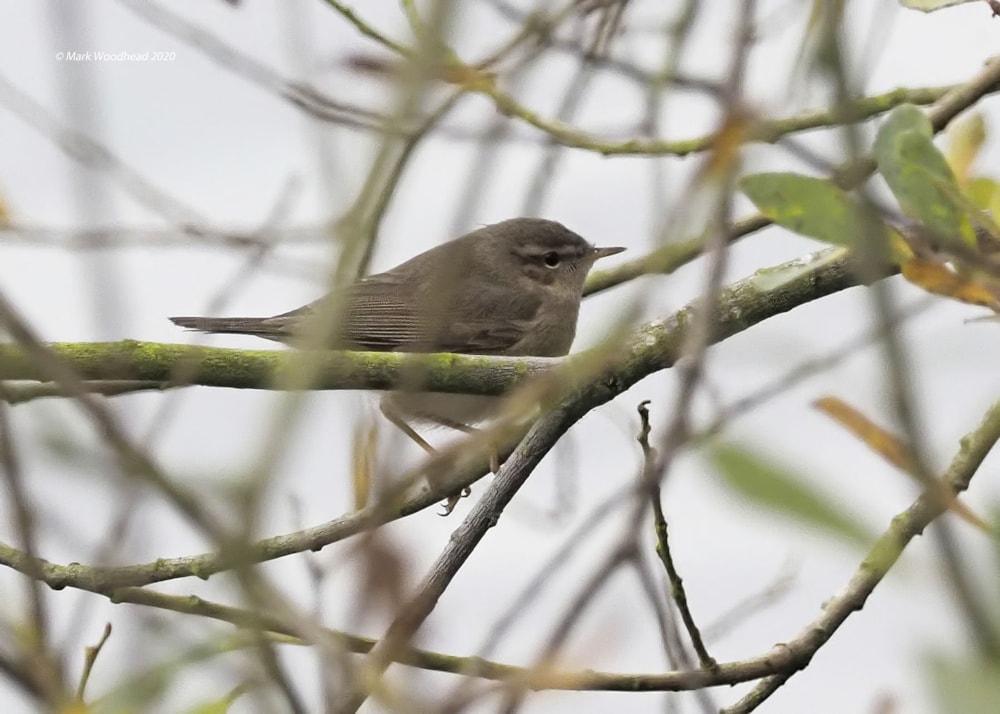 Dusky Warbler, Astbury Mere CP, Cheshire (Mark Woodhead).
Cheshire too held its own, with Astbury Mere CP playing host a Dusky Warbler until 3rd at least, remaining elusive at times. Wildfowl had a great showing; a Russian White-fronted Goose mingled with Pink-feet at Puddington on 27-28th, where two Bewick's Swans could be found on 5th, a drake Garganey put a brief stint in at Frodsham Marsh on 31st, Velvet Scoter were off Hilbre (29th) and Hoylake (three on 2-3rd). Redhead Smew were still at Lapwing Hall Pool and Newchurch Common. Passerines concerned a probable Siberian Lesser Whitethroat in attendance at a Widnes garden, while a flurry of Snow Buntings graced the Wirral coast, including eight seemingly settled on the Hoylake shore into the New Year.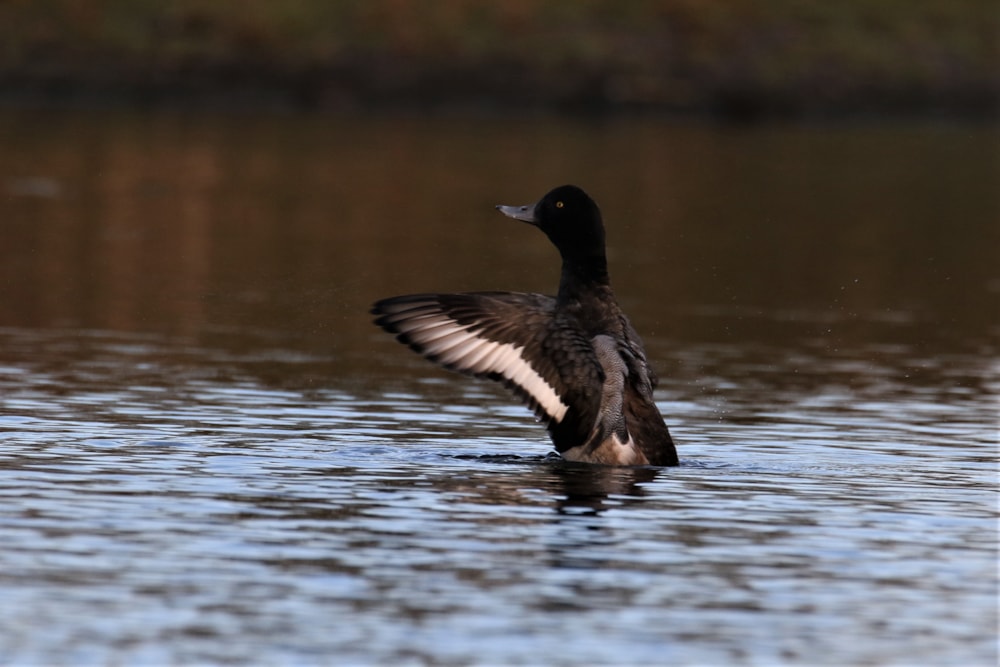 Greater Scaup, Elton Reservoir, Greater Manchester (Steven Higginbottom).
A Rough-legged Buzzard was a one-day wonder at Hazel Grove, Greater Manchester, on 30th and was perhaps the county's star bird. However, a showy third-winter Kumlien's Gull could challenge this claim. Originally reported as a second-winter Iceland Gull, pictures revealed its true identity, and it was showing well off the sailing club at Gorton Lower Reservoir before roosting at Audenshaw Reservoirs. Alongside their Canadian counterpart, single adult and juvenile Iceland Gulls roosted at Audenshaw the same evening, with the adult also present on 4th. Pennington Flash CP held its own, with an adult roosting sporadically between 31st and 4th and a juvenile on 3-4th. Further juveniles could be found at Cutacre CP and Hollingworth Lake CP, both on 2nd only.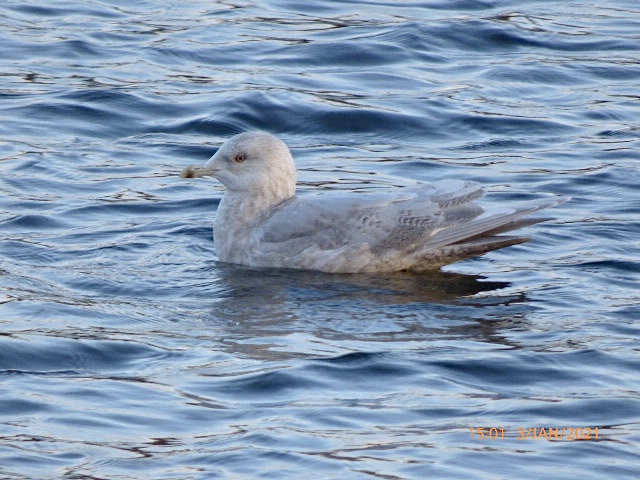 Kumlien's Gull, Gorton, Greater Manchester (Rob Creek).
Lincolnshire and Yorkshire
A drake Green-winged Teal was on the River Trent near Alkborough Flats, Lincolnshire, on 2nd, while the county's sole Waxwing record concerned a flyover at Easton Halton Skitter on Christmas Eve. The Red-necked Grebe continued at Covenham Reservoir, as did the adult Iceland Gull around Saltfleet.
A Tundra Bean Goose was at Huttoft Bank Pit on New Year's Day; a Grey Phalarope was off Huttoft Bank in the final days of 2020 and another spent four days at Freiston Shore RSPB from 27th. Reports from the Deepings area included Great Northern Diver, Greater Scaup and several roosting Long-eared Owls at Deeping Lakes LWT, another Greater Scaup at Tallington and two drake Smew at Baston & Langtoft Pits.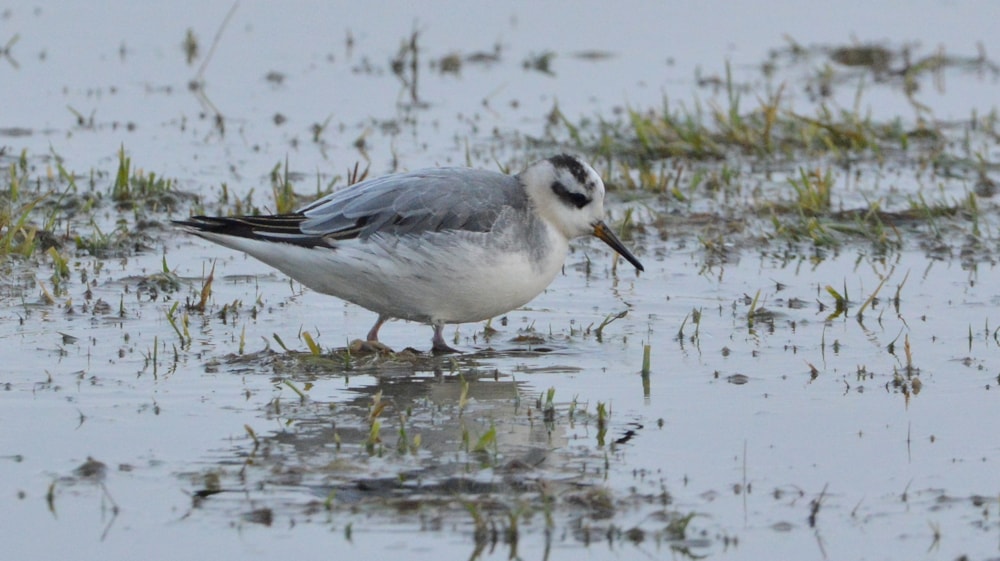 Grey Phalarope, Freiston Shore RSPB, Lincolnshire (Jeremy Eyeons).
The Black Brant was regular in the Spurn area over the festive fortnight, with up to two Hooded Crows at Sammy's Point in the days after Christmas and both white-winged gulls seen passing by. Shore Larks are a rare commodity this winter, so three at Holmpton was noteworthy. In the Flamborough Head area, both white-winged gulls, Grey Phalarope, Hooded Crow and Black Redstarts made up the roll-call, with the wintering Ring Ouzel still at nearby Bempton Cliffs RSPB.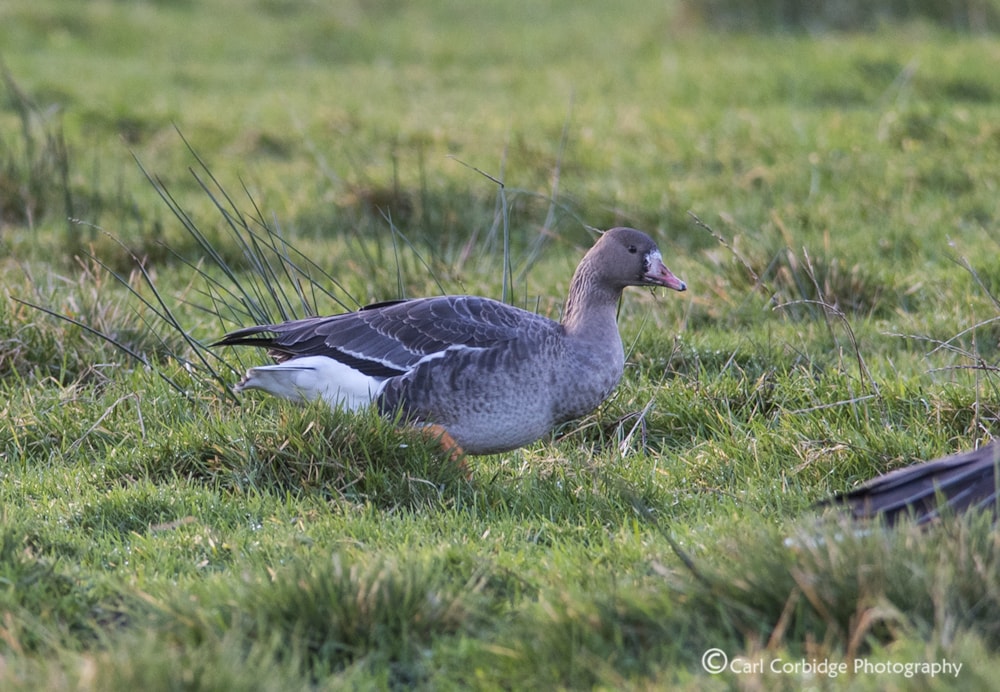 Russian White-fronted Goose, Redmires Reservoirs, South Yorkshire (Carl Corbidge).
Further Grey Phalaropes remained off Filey and several sites noted Iceland and Glaucous Gulls north to Scarborough. A drake Green-winged Teal was at North Duffield Carrs on 3rd, and the Lesser Yellowlegs and Greater Scaup remained at Nosterfield LNR.
Bizarrely, a Willow Warbler was reported from a garden in Collingham on Christmas Eve, with a Yellow-browed Warbler at Horbury Wyke a Christmas Day find (and lingering into the New Year). A Great Northern Diver was a daily fixture at Pugney's CP from 30th, while Iceland Gulls roosted at Blackmoorfoot Reservoir and Anglers CP over the Christmas period and a Glaucous Gull was at Skelton Lake on 3rd.
A Great Grey Shrike was brief at Midhope Reservoir on 30th. Four Yorkshire sites held Smew, including up to three at Hornsea Mere.

Water Pipit, Wilthorpe Marsh, South Yorkshire (Tim Melling).
West Midlands
As we moved into a new year, Russian White-fronted Geese remained a feature in Staffordshire. Up to 12 were at Blithfield Reservoir between 30th and 4th; a max count of 20 was still to be had at Radford Meadows, too. A Glossy Ibis was reported from Alrewas GPs on 4-5th. Belvide Reservoir enjoyed a great spell of birds: a redhead Smew was there on 26th and the long-staying Little Stint remained until 3rd. Interestingly, a new adult Ring-billed × Lesser Black-backed Gull hybrid roosted on 23rd and 25th. Caspian Gulls were at four sites.
Russian White-fronts headlined Shropshire news, too, with a locally impressive flock of 59 at Allerbury on 4th. One was at Adderley on 31st and two were at Polemere on 2nd, while the Chelmarsh Reservoir bird was reported twice during the period. The latter site also held two Smew on 1st and the Great Northern Diver continued to delight. An overflying Brent Goose was picked out among the hordes of Pink-footed Geese over Melverley on 3rd and Caspian Gulls were enjoyed at multiple sites.
Herefordshire fared well, with a Bewick's Swan showing at Sutton St Nicholas between 1st and 3rd. A Caspian Gull was at Lugg Meadows on 23rd. Sticking with Caspian Gulls and at least three individuals roosted at Bartley Reservoir, West Midlands. Three immature European Shags were at Edgbaston Reservoir on 2nd and a Mealy Redpoll mingled with the Lessers at the University of Warwick, Coventry, on 1st.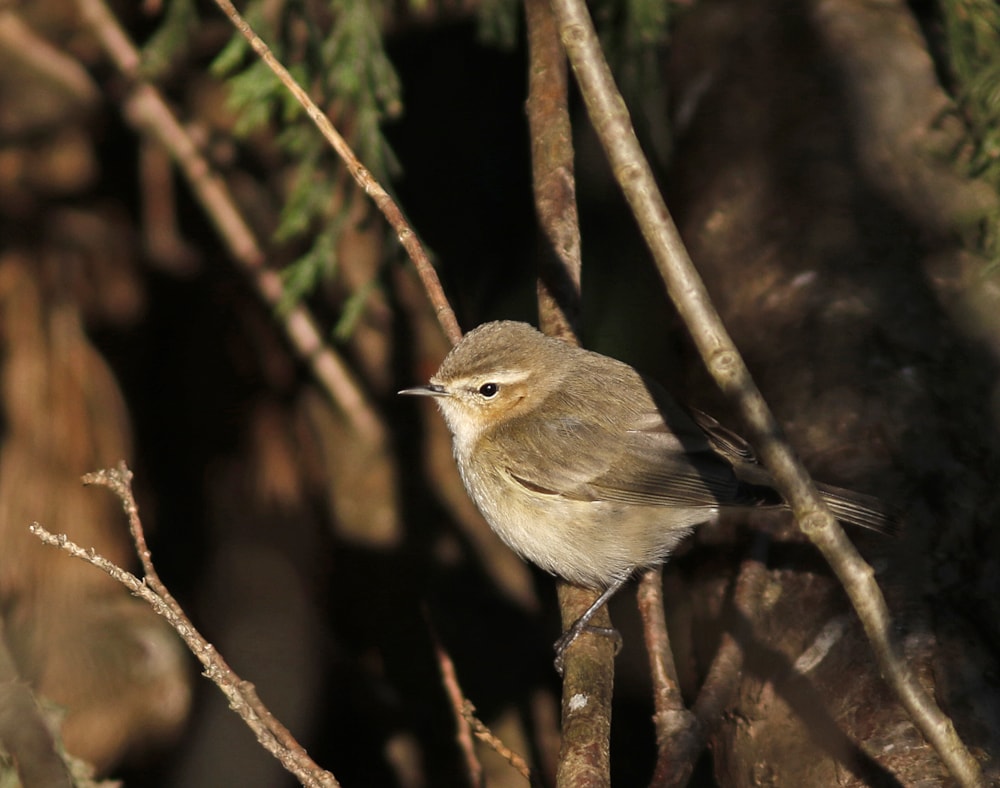 Siberian Chiffchaff, Kempsey, Worcestershire (Andrew Warr).
Content continues after advertisements
Worcestershire too enjoyed a period of geese and gulls, with a Dark-bellied Brent Goose briefly at Lower Moor on 24th and a juvenile at Clifton Pits on 30th. Up to 15 Russian White-fronted Geese were at Pershore and a single was at Lower Moor on 1st. An impressive 30 flew north-east over Fladbury on 29th. A juvenile Iceland Gull was at Wyre Piddle on 26th and one was sporadically at Hill and Moor Landfill from 28-4th, alongside an adult Caspian Gull on 30th.
Draycote Water had the lion's share of Warwickshire's birds. The Red-necked Grebe, both juvenile Great Northern Divers and up to three European Shags remained until 4th. Multiple Caspian Gulls roosted alongside the adult Glaucous Gull, which roosted on 1st, 3rd and 4th. Three Slavonian Grebes on 4th made for a great inland count and two were still present the following day, while two Brent Geese were also present on 5th. Caspian Gulls were at three further sites. A Russian White-fronted Goose set up shop at Seeswood Pool on 2-3rd, while 11 were at Salford Priors GPs on 3-4th. A Mealy Redpoll was at Ladywalk NR on 4th.
East Midlands
The first-winter drake Ring-necked Duck made a reappearance at Staunton Harold Reservoir on 1-2nd; presumably the same individual popped up at Foremark Reservoir on 3rd. Sticking with the former site, an adult Caspian Gull was present on 25th and the juvenile Great Northern Diver was still being reported on 4th. Ogston Reservoir had a respectable winter spell, with juvenile Iceland Gull on 24th, multiple Caspian Gulls and Glaucous Gull and Brent Goose on 4th. Meanwhile, Carsington Water held onto the adult Great Northern Diver, joined by a female-type Common Scoter on 30th. A report of four Waxwings at Belper at the turn of the New Year was a welcome report; however no further news was received. Hawfinches continued their presence at Brackenfield throughout. In keeping with recent times, a Russian White-fronted Goose was at Shipley CP on 28th with another Greater White-front at Ingleby on 24th. Caspian Gulls were at an additional four sites.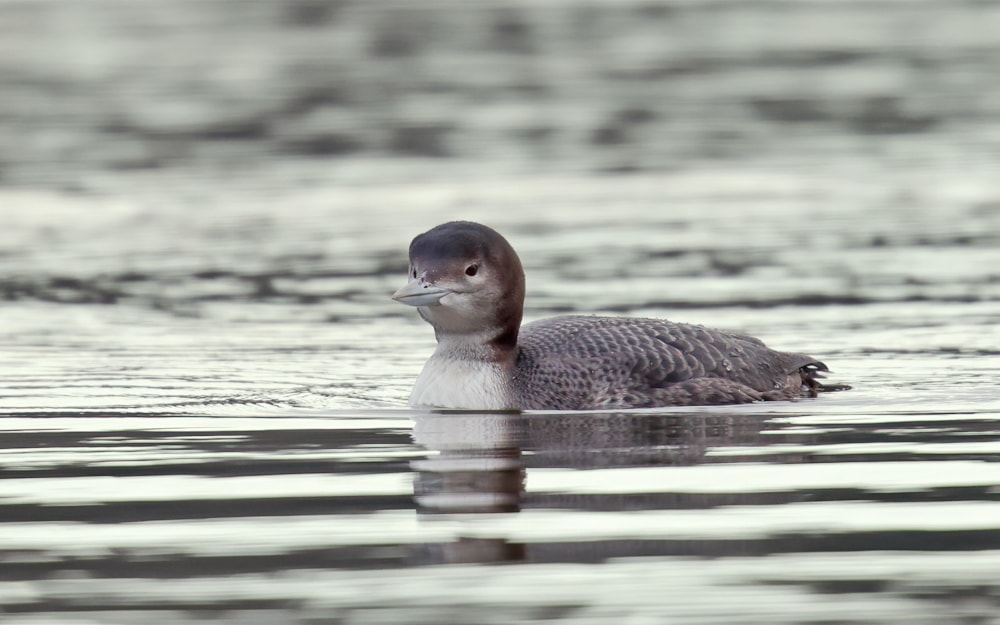 Great Northern Diver, Staunton Harold Reservoir, Derbyshire (Tony Davison).
Nottinghamshire's sightings had a fair spread across the county this reporting period. Both Red-necked Grebes remained present and correct at Attenborough NR and Colwick CP. The regular adult Caspian Gull was a near-permanent fixture at Attenborough NR throughout. Five more sites connected with this eastern larid, including the German-ringed 'X34E' again at Langford Lowfields RSPB on 1st. The Little Bunting was still at Langford Lowfields RSPB until 23rd. Four Smew were at Holme Pierrepont, with a redhead at Colwick CP on 31st. Russian White-fronts were at an impressive seven sites and Bewick's Swans were at four, including a high count of seven at Idle Valley NR. Colwick CP again made headlines on 4th when a Black-throated Diver flew east; the juvenile Great Northern Diver remained at Hoveringham GPs until 5th at least.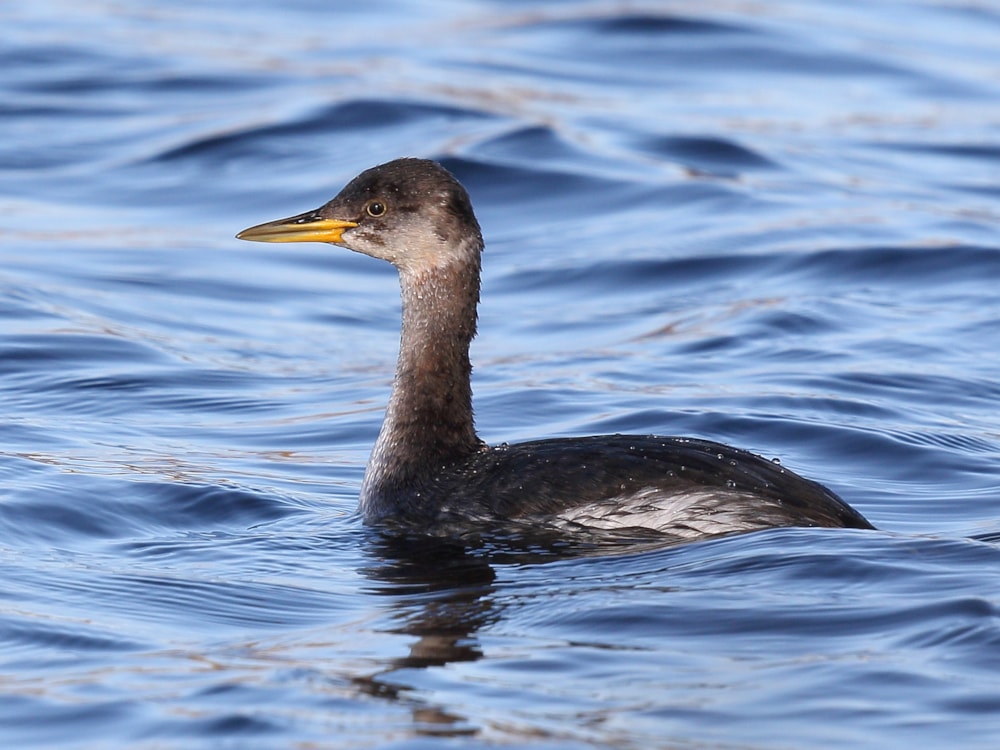 Red-necked Grebe, Colwick CP, Nottinghamshire (David Carr).
Moving to Northamptonshire, Pitsford Reservoir fared well, with highlights including Great Northern Diver, up to five Smew, three Bewick's and six Whooper Swans. The Whooper flock relocated to Hollowell Reservoir before continuing on their way, while two more Bewick's Swans were at Gretton on 27th. The quartet of Black-necked Grebes were at Stanford Reservoir until 28th. Russian White-fronted Geese again had a strong presence at three sites, with a high count of 30 at Stanwick GPs, although 26 at Summer Leys LNR and 22 south-west over Bulwick shouldn't be sniffed at. A third-winter Iceland Gull was at Rushton Landfill on 5th, where multiple Caspian Gulls staked their claim on the scraps on offer. Caspian Gulls were reported across a further three sites.

Great Northern Diver, Pitsford Reservoir, Northamptonshire (Bethan Clyne).
Rutland Water scored its first Black-throated Diver since 2014 on 3rd, although a only a flyover. The site typically fared well with up to 10 Smew, five Greater Scaup, first-winter Kittiwake, nine Great Northern Divers and a Black-necked Grebe to name a few. The recent cold weather has seemingly brought more Smew to our shores with a further seven at Eyebrook Reservoir and the redhead still at Swithland Reservoir. A Russian White-fronted Goose was at Blakeshay Wood until 4th and an adult briefly pitched down at Groby Pool on 1st. Speaking of influxes, a small movement of Red-necked Grebes inland saw one at Cropston Reservoir until at least 3rd. A juvenile Iceland Gull was logged over Grimston on 30th and one flirted with Watermead CP between 31st and 5th, the latter joined by a juvenile Glaucous Gull. An adult Kittiwake was at Stanford Reservoir on 28th, with Caspian Gulls at two sites.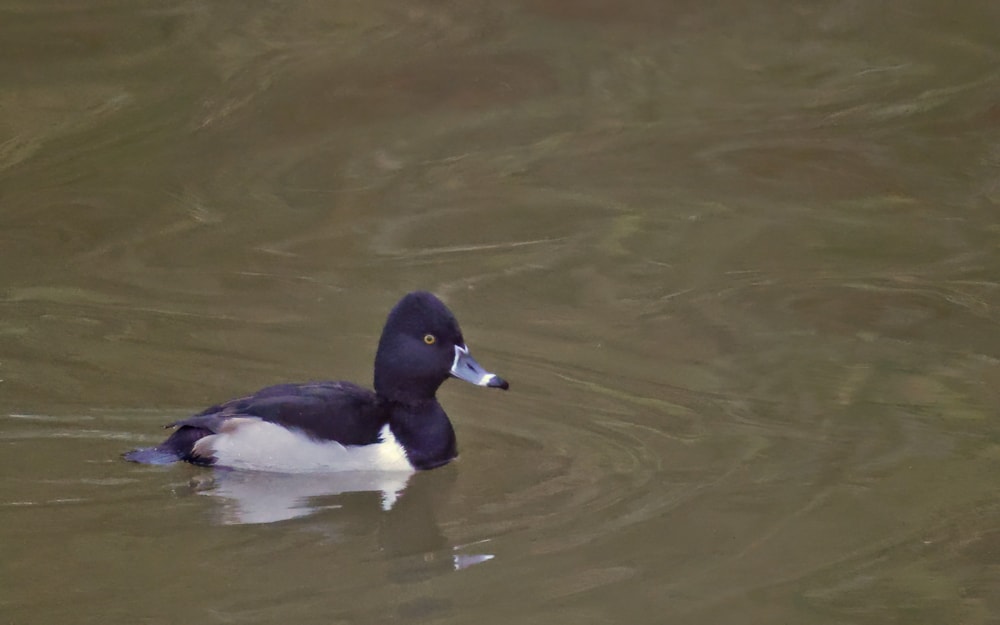 Ring-necked Duck, Staunton Harold Reservoir, Derbyshire (Tony Davison).
East of England
In Cambridgeshire, the second-winter Kumlien's Gull toured sites south of Cambridge, appearing at Dernford Farm Reservoir, Foxton and Heydon from 30-3rd. Flag Fen and Tanholt GPs shared up to three Iceland Gulls. Chesterton, Earith and Fen Drayton Lakes all hosted Glossy Ibises, with a maximum count of four made at the latter site. A Siberian Chiffchaff was discovered at Ely sewage works. An impressive six sites hosted Smew, including up to six at Paxton Pits. A Garganey was found wintering at Needingworth Quarry Lakes and the Greater Scaup lingered at Grafham Water, where two Great Northern Divers and two Brent Geese were present. Tundra Bean Geese were reported from five sites and included up to 13 commuting between Ouse Washes and Pymoor; Russian White-fronts were at six sites.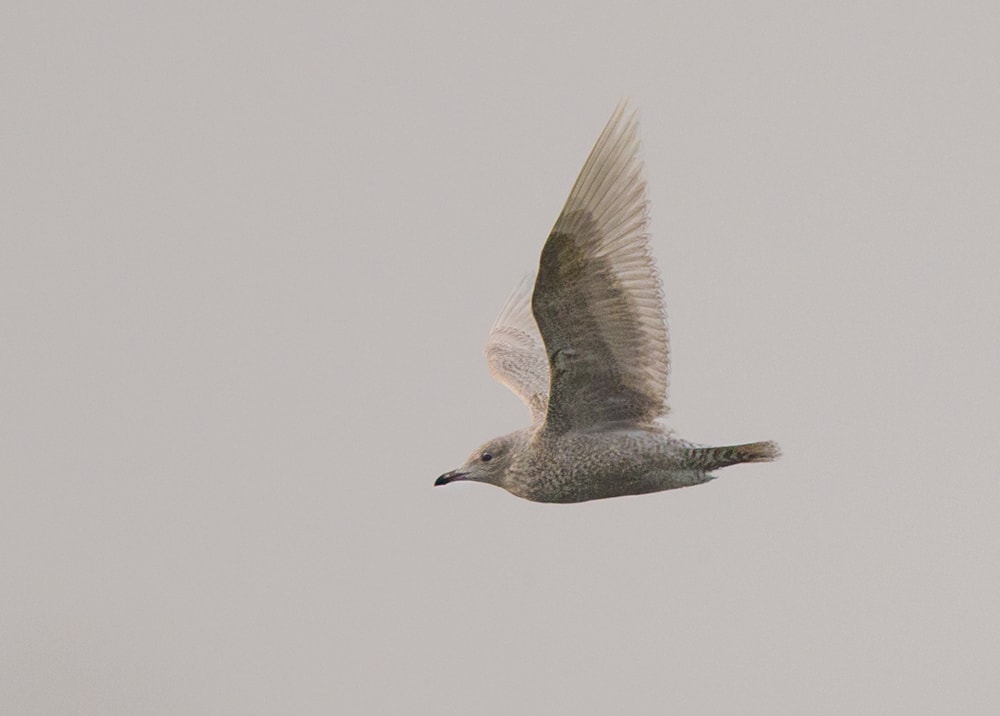 Iceland Gull, Tanholt GPs, Cambridgeshire (Will Bowell).
Both the Black Brant and Todd's Canada Goose continued along the north Norfolk coast and, nearby, a reintroduced White-tailed Eagle toured several sites. A Grey Phalarope was at Eccles on Sea on 25th. At least two Iceland Gulls were in the county, with the lingering juvenile around the Cley area and, on the east coast, Winterton Dunes and Gorleston-on-Sea scoring juveniles between 1st and 5th. The Kelling area hosted a Waxwing from 30th, while the Lapland Bunting continued at Weybourne. Snow Buntings were reported from six sites. Five Smew flew past Cley on 31st, with a single redhead present at Filby Broad from 28th. Tundra Bean Geese were at nine sites and up to six Taiga Bean Geese were back at Buckenham and Cantley Marshes from 25th; another was with Pink-feet on Blakeney Freshmarsh on 2nd.
In what's turned into a wretched winter for Rough-legged Buzzard, Suffolk hosted the only bird in East of England: a juvenile at Orford and Lantern Marshes from 30th. The Great Grey Shrike remained at Upper Hollesley Common. Lowestoft, Oulton Broad and Trimley Marshes each hosted three different ages of Iceland Gull. Six sites hosted Tundra Bean Goose, including the flock of 25 around Blackheath and Southwold. The Snow Bunting flock continued at Dingle Marshes, and a Lapland Bunting was well inland at King's Forest on 1st. Dingle and Hazelwood Marshes both scored small groups of Twite. Two Little Auks flew past Southwold on 24th. A Greater Scaup was inland at Barham pits.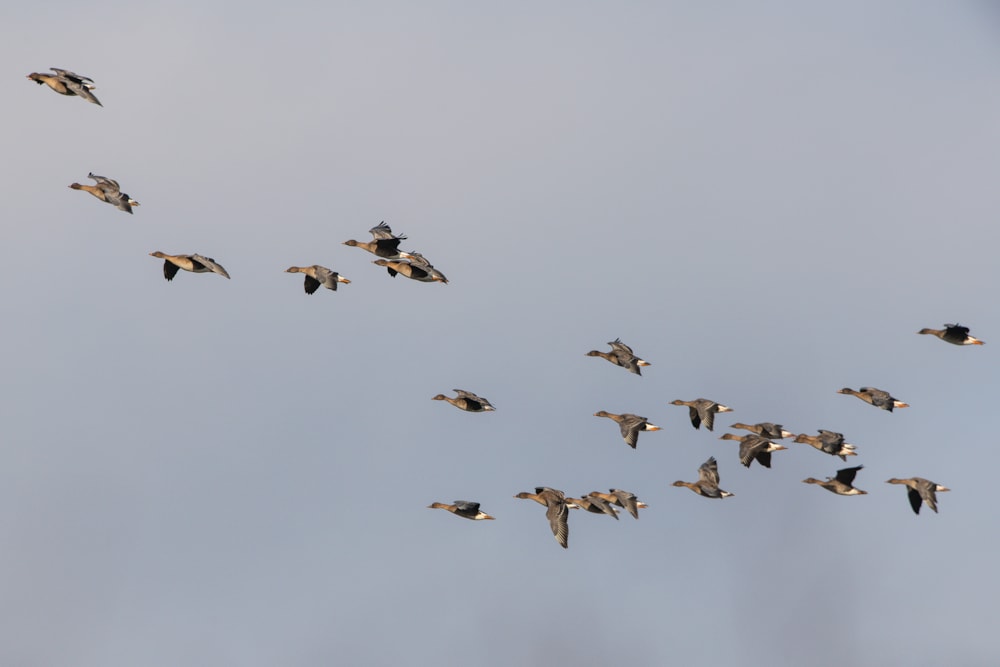 Tundra Bean Goose, Blackheath, Suffolk (Jim Mountain).
In Essex, the Black Brant pitched at a few sites in and around the Blackwater Estuary. Tundra Beans were at four sites, while an impressive 442 Russian White-fronted Geese were counted at Paglesham Eastend. Abberton Reservoir's line-up was typically impressive and included Red-necked Grebes, Greater Scaup, Long-tailed Duck and Smew; Orsett Fen and Lee Valley CP also hosted this popular sawbill, with a pair at the latter site. The Black-throated Diver lingered at Hanningfield Reservoir and Snow Buntings were at three sites.
The drake Ring-necked Duck remained at Marsworth Reservoir, Hertfordshire, until 24th. The Lee Valley drake Smew crossed the border into Herts several times, too. A juvenile Russian White-fronted Goose was a bizarre record in gardens in Stevenage on 23rd. Six sites in Bedfordshire hosted Russian White-fronts, and a Pink-footed Goose was at Priory CP on 1st. The same site also hosted three Smew on 31st; a further two were at Brogborough Lake on the same day. Priory CP also scored a Siberian Chiffchaff.
South-East England
Incredibly, only one Ring-billed Gull was reported in South-East England in 2020. So, it was something of a surprise when the Hampshire adult, last seen in 2019, pitched up in the Blashford Lakes roost from 2nd, also being seen in the day at nearby Tidpit. Also at Blashford, the Yellow-browed Warbler was present throughout. On 5th, a Black Brant at Tipner Lake and a Siberian Chiffchaff was at Bishop's Waltham. Avon Valley and Pennington Marshes held onto their Tundra Bean Goose groups; Russian White-fronts were at three sites. Woolmer Forest and Ocknell Plain each scored one or the same Great Grey Shrike and notable seawatching records included a Leach's Storm Petrel, seen at Langstone Harbour and Weston on 27th, and an Iceland Gull past Eastney the following day.

Black Redstart, Splash Point, East Sussex (Aaron Lillycrop).
In Sussex, both the Richard's Pipit and Glossy Ibis remained near Sidlesham and a Black Brant was present on a few dates in the Dell Quay area. A Yellow-browed Warbler was at Polegate on 4th and three sites hosted Siberian Chiffchaff. Brighton Marina scored a Grey Phalarope on 27th, the Rye Harbour Shore Lark continued and Arlington Reservoir hosted both a roosting juvenile Iceland Gull and the lingering Black-throated Diver. Some 16 sites hosted Russian White-fronted Geese, while the Arun Valley Bewick's Swan herd reached double figures for the first time in a couple of years.
Kent continued to host hundreds of Russian White-fronted Geese with 25 sites recording birds, including flocks of well over 200 at Dungeness and Sandwich Bay. Tundra Beans were down to just three sites, though. The wintering Richard's Pipit was still at Egypt Bay, while Dungeness and Margate held onto their Dusky Warblers. A Grey Phalarope was seen offshore at the latter town on 24th. Glossy Ibises were at Dunge and Haysden CP. Up to five Iceland Gulls and one Glaucous Gull were at Dungeness. Snow Buntings were at five sites and four Little Auks flew past Foreness Point on 24th.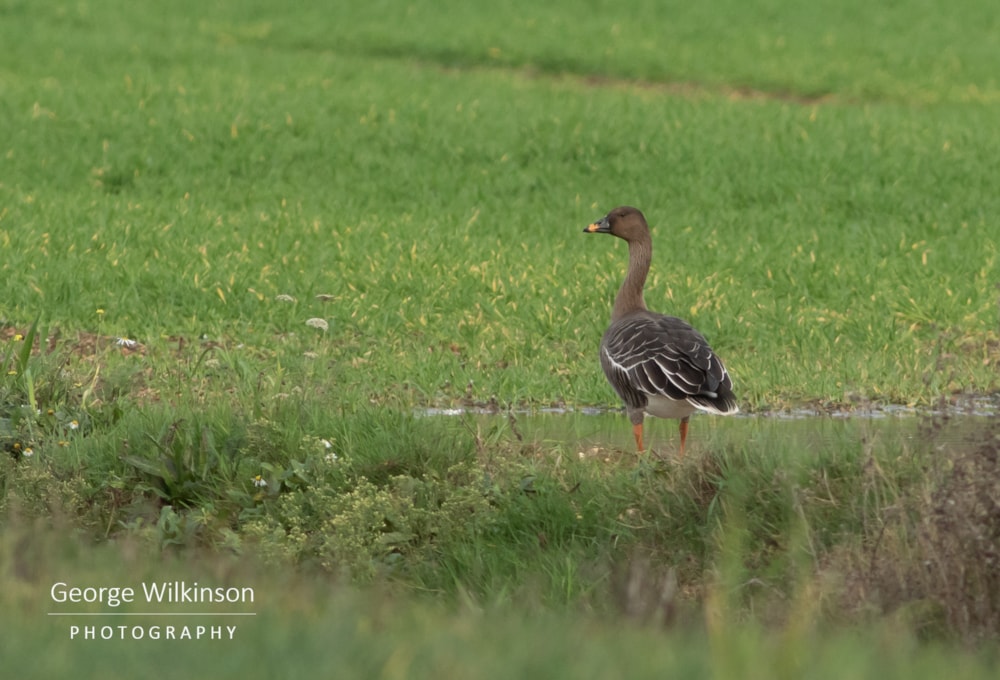 Tundra Bean Goose, Laleham GP, London (George Wilkinson).
Two Yellow-browed Warblers were wintering in the capital: at Beddington Farmlands and Tottenham Marshes. Siberian Chiffchaffs were at three sites. A Common Crane flew over Rainham on 23rd and the three Tundra Bean Geese continued in their field at Laleham GP. Russian White-fronted Geese were at four sites.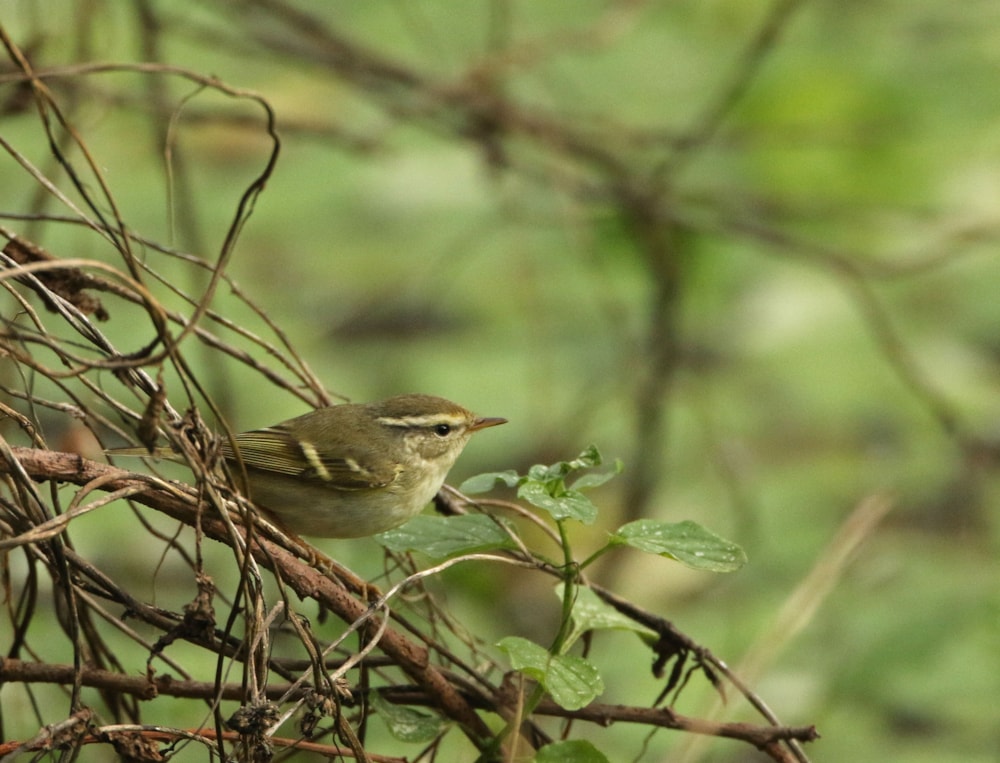 Yellow-browed Warbler, Molesey Heath, Surrey (Mark Leitch).
In Surrey, the female Ring-necked Duck continued at Reigate but went AWOL a few times. A Yellow-browed Warbler was found wintering at Molesey Heath and, nearby, the Great Northern Diver continued at Island Barn Reservoir. Ash Ranges hosted a Great Grey Shrike from 26-29th and Russian White-fronted Geese were at eight sites.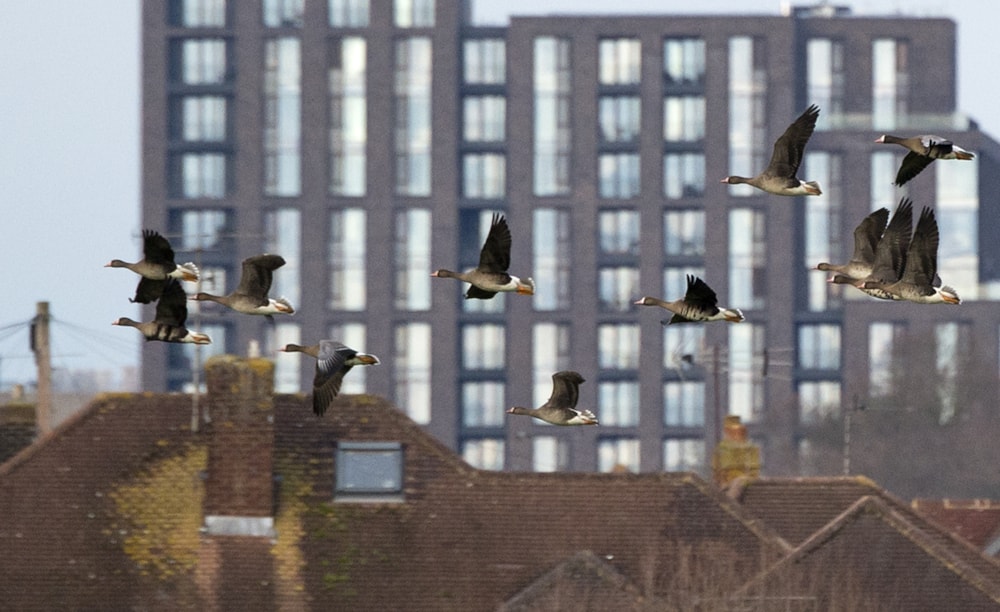 Russian White-fronted Goose, Westfield, Surrey (James Sellen).
Notable wildfowl species in Berkshire included an all-too-brief drake Ring-necked Duck at Theale on 2nd and a report of a Green-winged Teal at Eton Wick on 29th. Russian White-fronted Geese were at two sites. Foul weather on 5th brought a Red Knot to Moor Green Lakes. A Siberian Chiffchaff as at Eton Wick on 1st.
The Marsworth Reservoir Ring-necked Duck showed on the Buckinghamshire side a few times and an adult Greenland White-fronted Goose at Watermead Lake was a bizarre record. The Yellow-browed Warbler continued at the same site. Great Northern Divers and Russian White-fronted Geese were at three sites respectively; a Pink-footed Goose graced Addington and Watermead. A Siberian Chiffchaff was found near Dorney.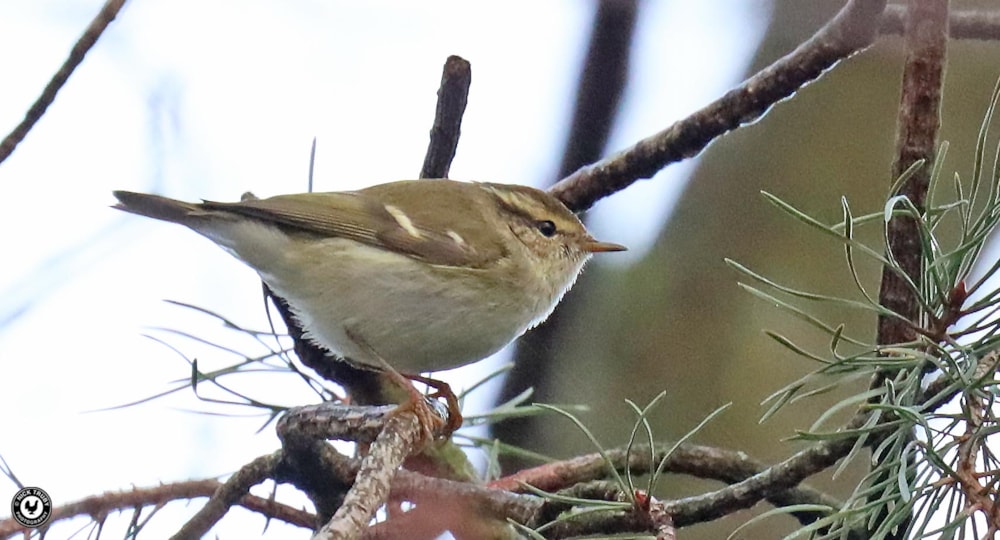 Yellow-browed Warbler, Watermead Lake, Buckinghamshire (Nick Truby).
The Ring-necked Duck pair were present throughout at Radley GPs, Oxfordshire, as was the friendly released Great Bustard near Letcombe Regis. Up to 47 Russian White-fronted Geese were at Otmoor, while the Great Northern Diver and three Greater Scaup could still be found at Farmoor.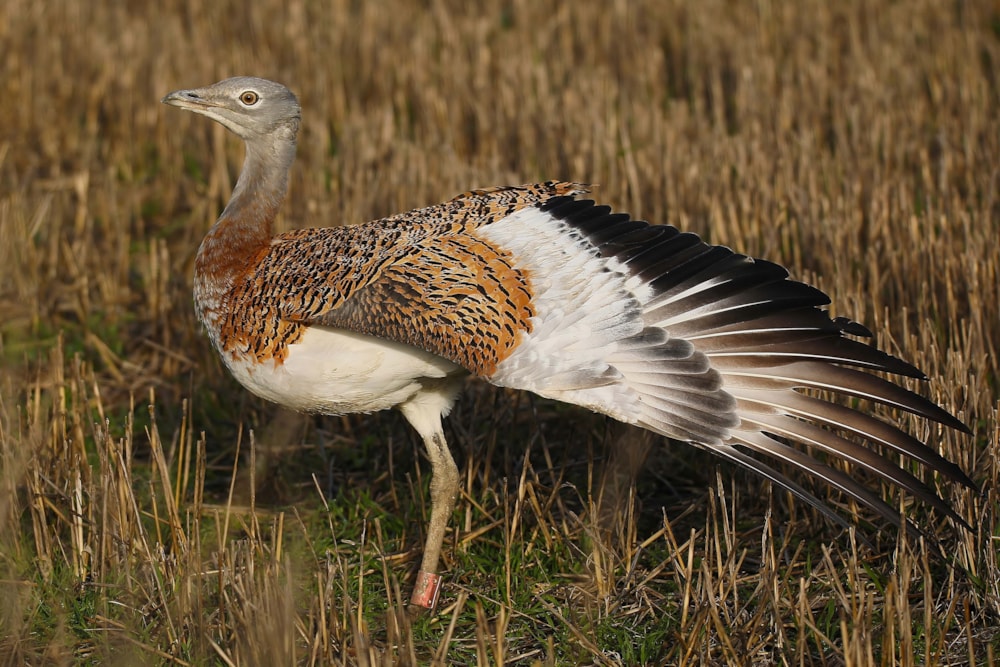 Great Bustard, Letcombe Regis, Oxfordshire (Clive Daelman).
South-West England
In Dorset, an adult Ring-billed Gull spent two nights (26-27th) at Lytchett Bay, while a female Cirl Bunting at West Bexington from 1st was a notable county find – a juvenile Iceland Gull was also there on 23rd. Another remained at Weymouth throughout. Stanpit Marsh's Glossy Ibis remained, as did the first-winter drake Long-tailed Duck at Silverlake, while no fewer than three Black Brants were at Langton Herring. Four sites held Siberian Chiffchaffs, with the Rosy Starling still at Easton, Portland.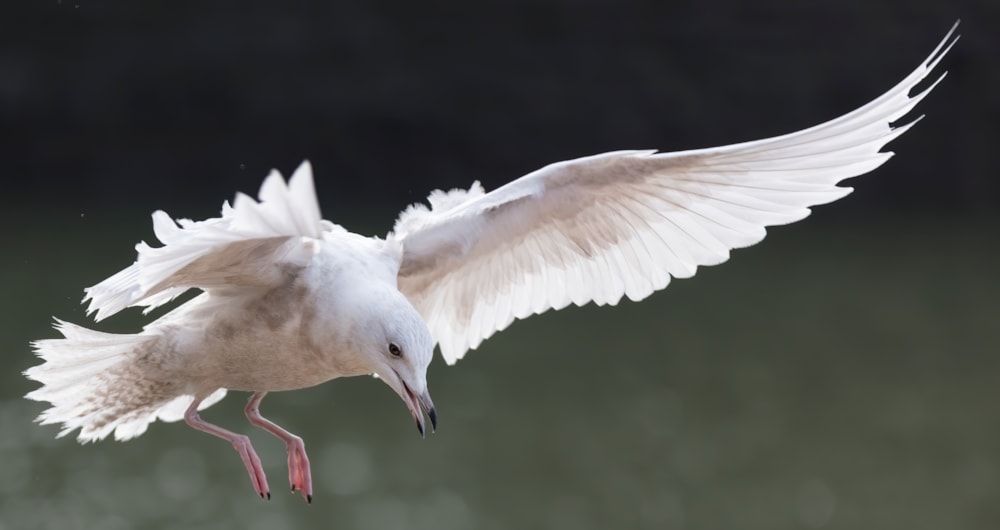 Iceland Gull, Weymouth, Dorset (John Wall).
A Glaucous Gull briefly fed on a dead seal at Steart, Somerset & Bristol, on 4th, while three Bewick's Swans returned to Wet Moor the following day. A drake Long-tailed Duck and Great Northern Diver continued at Barrow Gurney Reservoirs and two Slavonian Grebes were at Chew Valley Lake. Siberian Chiffchaffs were new at Charlton and Bruton sewage works. Another two Sibe Chiffs held on at Westbury sewage works, Wiltshire, and an adult Russian White-front was at Cotswold Water Park on 3rd.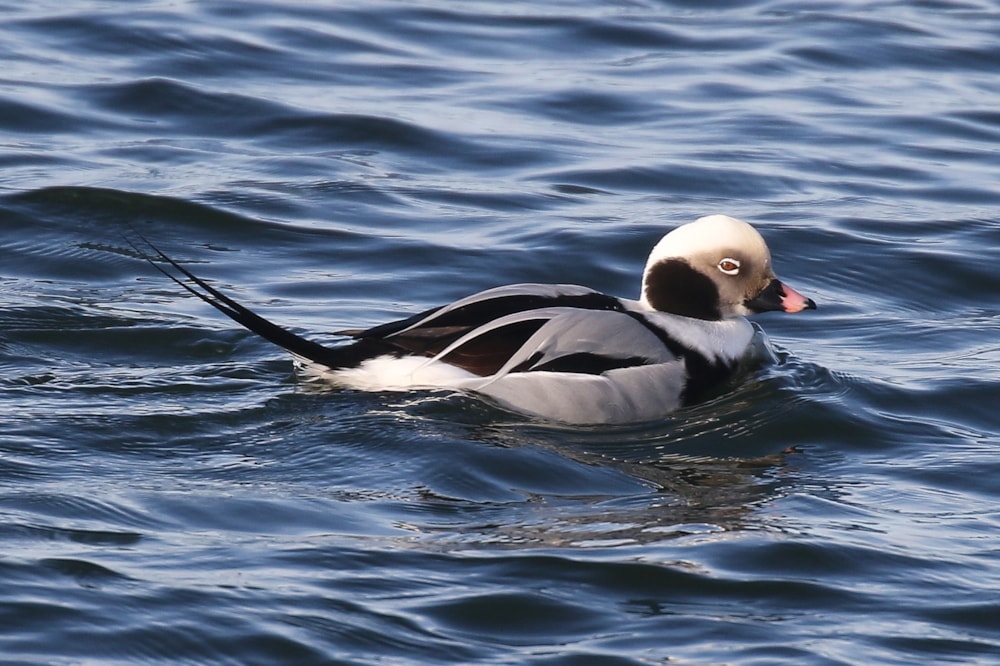 Long-tailed Duck, Barrow Gurney Reservoirs, Somerset & Bristol (Chris Teague).
The Cotswold Water Park Ring-necked Duck was the fortnight's Gloucestershire highlight. Siberian Chiffchaffs were at Stonehouse and Port Ham, Gloucester, while the Aust Warth Snow Bunting made a reappearance and Crabtree Hill's Great Grey Shrike continued. A Yellow-browed Warbler was in a Bradley Stoke garden on 30th. A Little Stint was at Slimbridge WWT again on 23rd, with a juvenile Tundra Bean Goose there on 27th.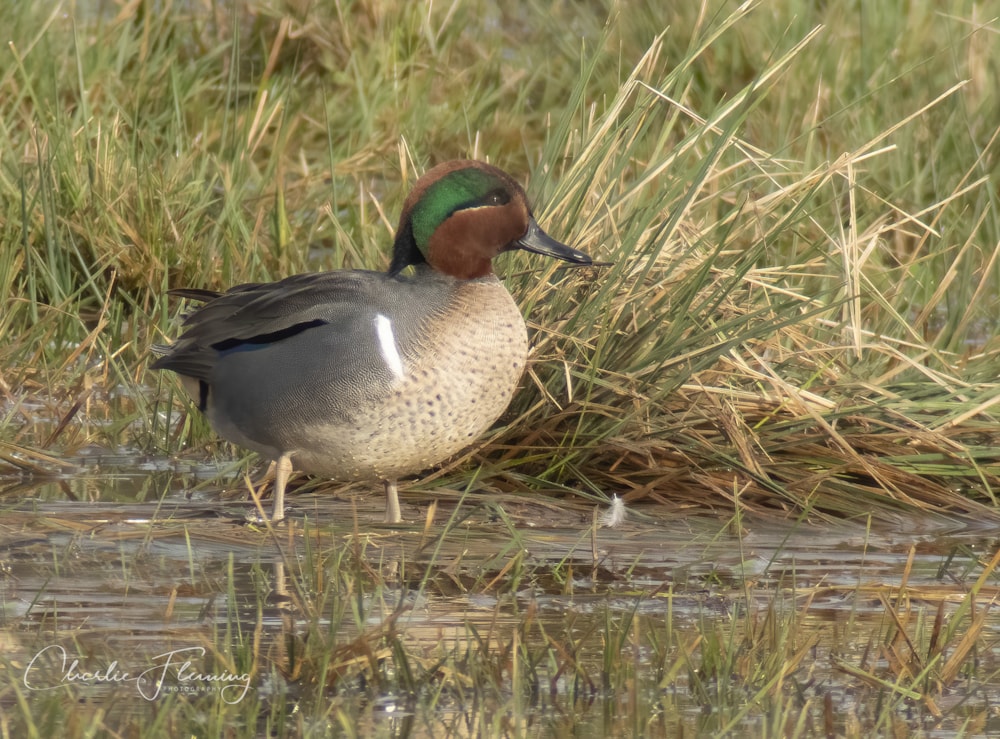 Green-winged Teal, Matford Marsh RSPB, Devon (Charlie Fleming).
Paying a short visit to South Huish Marsh, Devon, on 23rd, the Lesser Yellowlegs was back at South Efford Marsh from 29th. A female Ring-necked Duck joined the drake at Slapton Ley from 1st, the Exwick Dusky Warbler continued, and at least one Glossy Ibis made it into the New Year at Fremington Pill. A drake Green-winged Teal again at Matford Marsh RSPB from 1st was a New Year's treat, as was the continuing leucistic Great Northern Diver off Salcombe. Brixham held a trio of Glaucous Gull, Black Guillemot and Pomarine Skua. Other Glaucs were at Stoke Point and Prawle Point, with Iceland Gulls at four sites. Siberian Chiffchaffs at Broadsands and Dawlish Warren NNR. The Soussons Down Great Grey Shrike remained in place and a new Yellow-browed Warbler was at Budleigh Salterton; another held out at Clennon Valley Lakes. Nine Russian White-fronted Geese flew over Dawlish Warren NNR on 2nd.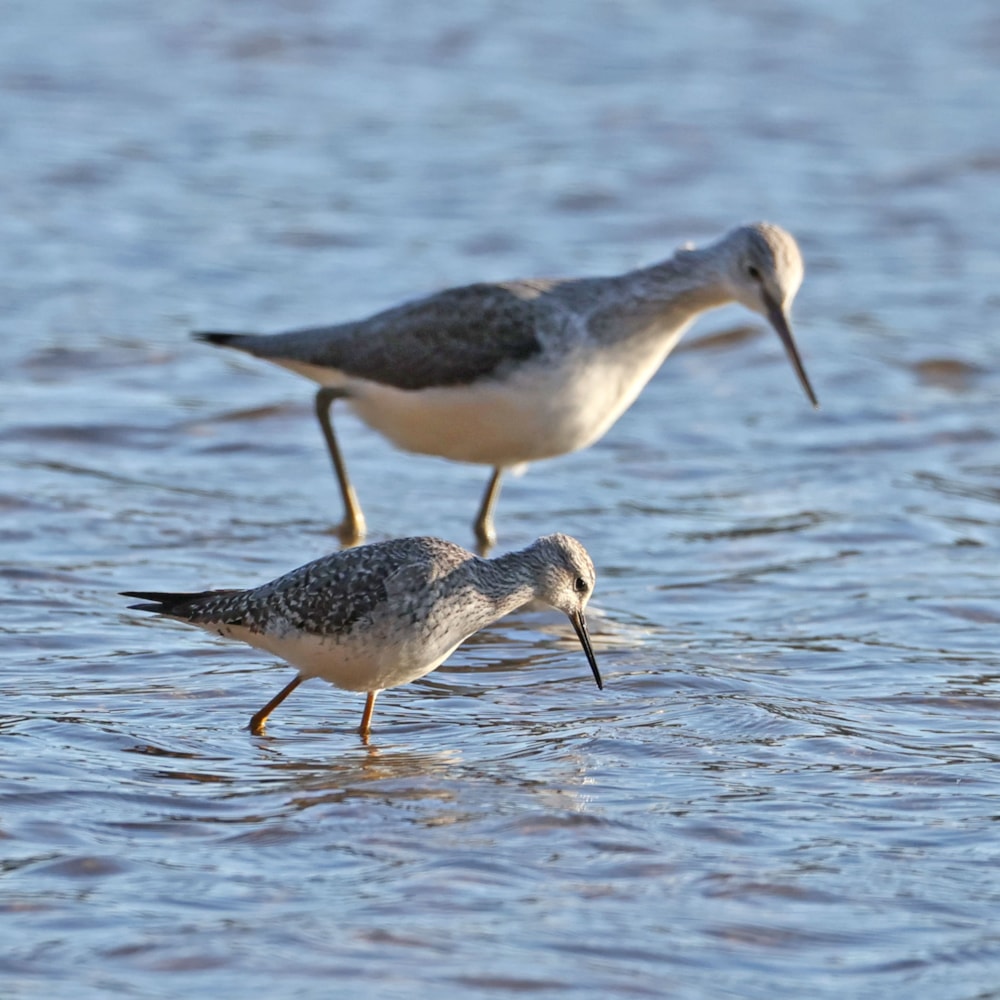 Lesser Yellowlegs (front), Aveton Gifford, Devon (Steve Hopper).
In Cornwall, Ring-billed Gulls included a new second-winter at Millbrook on 1st and the regular adult on the Hayle Estuary, the latter alongside a juvenile Iceland Gulls and a number of Caspian Gulls. A surprising White Stork in-off the sea at Par Sands on 3rd is perhaps the one at Sithney on 5th; an immature White-tailed Eagle flew over Bude on 26th and Ring-necked Ducks included individuals at Siblyback Reservoir (two) and Drift Reservoir. St Erth's Dusky Warbler was reported again on 1st, with Siberian Chiffchaffs at three sites. A Leach's Storm Petrel flew past St Ives on the morning of 28th.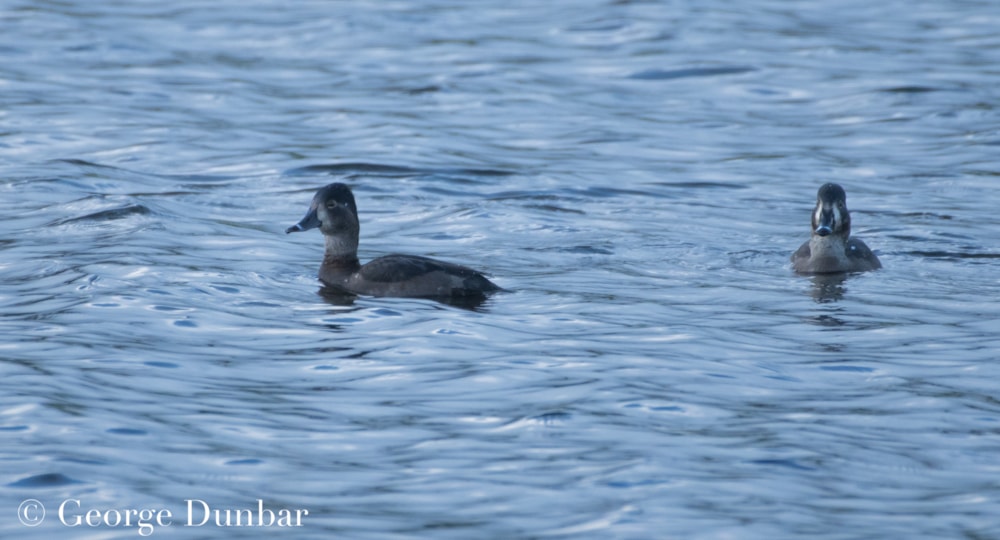 Ring-necked Duck, Siblyback Reservoir, Cornwall (George Dunbar).
A smorgasbord of cetacean action attracted plenty of attention in the Isles of Scilly, including at least four Fin Whales and no fewer than seven Humpback Whales. A Little Bunting remained on St Mary's, along with two Siberian Chiffchaffs, two Yellow-browed Warblers, four Western Cattle Egrets and the juvenile Russian White-front still. A hefty helping of 'white wingers' included no fewer than three Glaucous Gulls – an adult and two juveniles – and at least four Iceland Gulls – adult, third-winter and two juveniles. Away from St Mary's, a Yellow-browed Warbler was on Tresco and a Siberian Chiffchaff was at Covean, St Agnes, on 31st.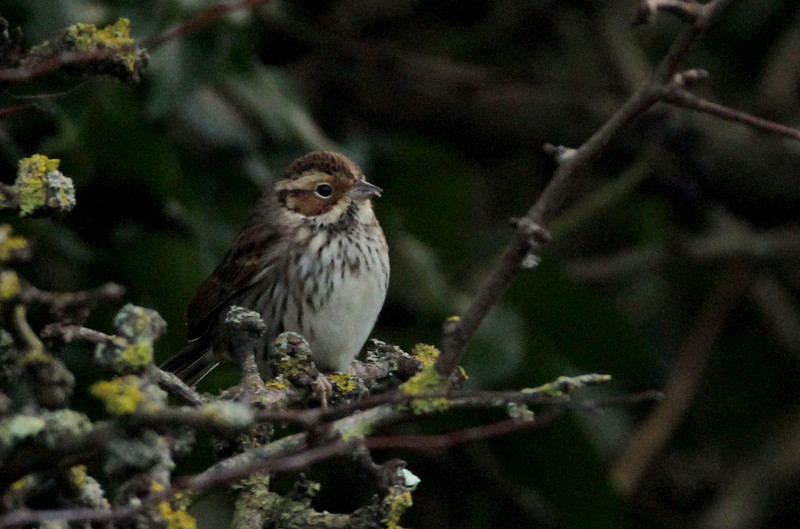 Little Bunting, St Mary's, Isles of Scilly (Kris Webb).
Wales
The Russian White-fronted Goose remained at Kenfig Pool, Glamorgan until 2nd, while one was at Druslwyn, Carmarthen, on 5th. Another Greater White-front was in fields upstream of Cilsan on 2-3rd. Two Tundra Bean Geese flew over Cemlyn Bay, Anglesey, on 1st. Surf Scoter were well-represented, with a drake off Ragwen Point on 24th and a minimum of two drakes among the Common Scoter flock off Llanddulas, Conwy, on 5th. Ring-necked Duck enjoyed a great Christmas period too, with the regular female still at Cardiff Bay, Glamorgan, into the new year, up to four at Lower Talley Lake, Carmarthen, and one at Dalton's Point, Gower, Glamorgan, on 3rd. A brief Garganey made a surprise appearance at Cardiff Bay, Glamorgan, on 28th.
As night follows day, the two Glossy Ibis could still be found at Goldcliff Pools NR, Gwent, throughout. A Red-necked Grebe was off Llandudno, Conwy, on 3rd, while three Little Auks past Little Orme, Conwy, on 27th was a respectable movement for the Irish Sea. A Grey Phalarope was on the River Dee by Flint, Clwyd, on 3rd.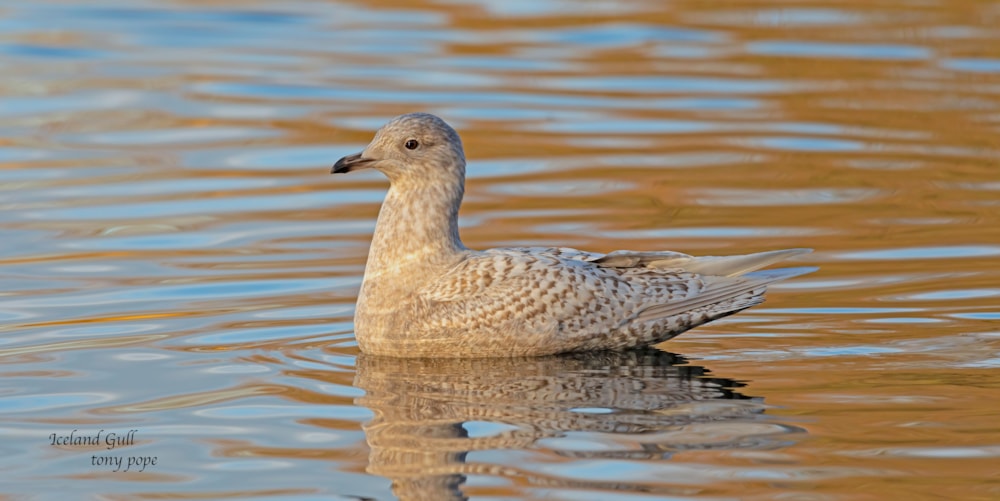 Iceland Gull, Rhyl, Clwyd (Tony Pope).
A possible juvenile Kumlien's Gull headlined the larid news, with one seen briefly twice on the Ogmore Estuary, Glamorgan, on 4-5th. Juvenile Iceland Gulls were at Penrhyn Bay, Conwy, on 30th and Rhyl's Brickfields Ponds from 1-5th. Juvenile Glaucous Gulls were spread across four sites, with Glamorgan, Gwynedd and Ceredigion scoring birds. The first-winter Caspian Gull remained faithful to the Cardiff Bay evening roost.
The adult Rosy Starling saw in the new year at Amlwch Port, Anglesey and was still being reported on 4th. Sticking with Anglesey, a Yellow-browed Warbler was at Llyn Llwenan on 2nd and a probable Siberian Lesser Whitethroat was in a private garden at Carreglefn on 4th. A Dartford Warbler at Newport, Gwent, on 30th was a great local find, however wasn't present the next day. Snow Buntings were reported from seven localities.
Ireland
Up to three Surf Scoter were off Mornington, Co Meath, with three also off Reenroe, Co Kerry, on New Year's Day. A new Lesser Scaup is something of a rarity these days, so a bird at Knockaderry Lake, Co Waterford, from 30th was welcome. Eight Ring-necked Duck were seen, including two drakes at Upper Lough Erne, Co Fermanagh, from 4th, while four American Wigeon included new drakes at Shannon Harbour, Co Offaly, on 25-26th and Drumgay Lough, Co Fermanagh, on 31st. Four sites produced Green-winged Teal.
The Black Brant was last reported from Myroe Levels, Co Derry, on 23rd – could it be the same bird seen in Co Dublin from 27th? The Russian White-fronted Goose also stuck around near The Gearagh, Co Cork.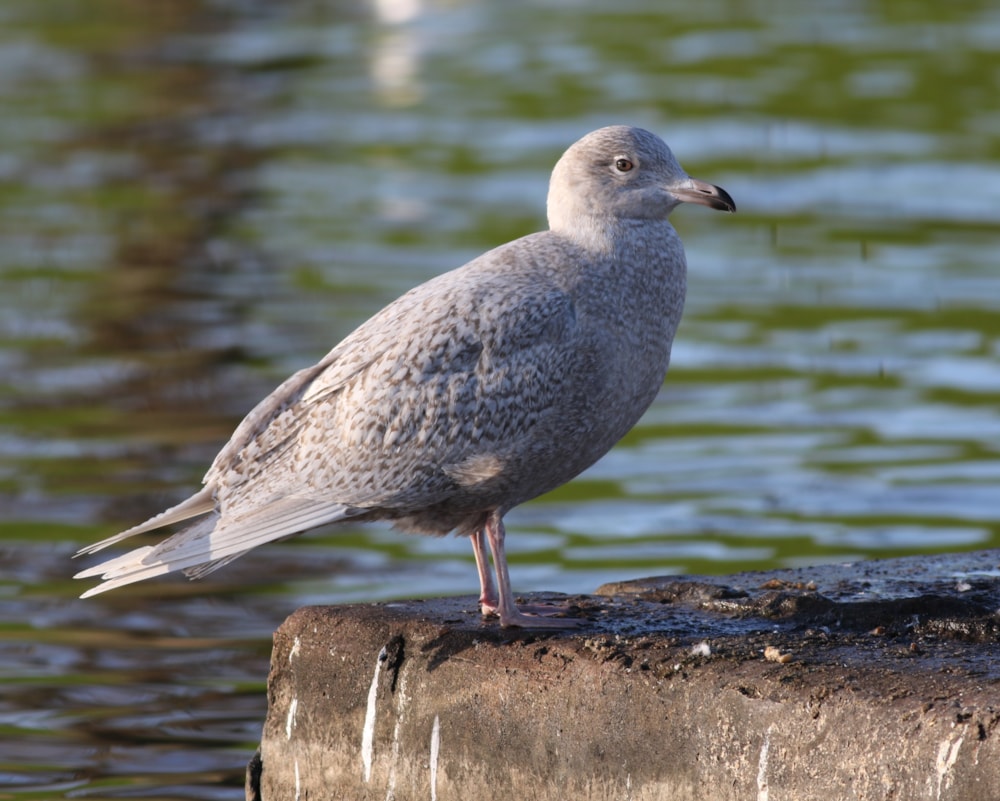 Iceland Gull, Belfast, Antrim (Garry Armstrong).
A total of nine sites held Ring-billed Gulls over the fortnight, all adults bar a first-winter at Ennis, Co Clare, on 2nd. At least 30 Iceland and 20 Glaucous Gulls were seen, the latter including the adult back at Crookhaven, Co Cork, for another winter. The adult Kumlien's Gull returned to Blennerville, Co Kerry, with another at Omey Island, Co Galway.
A Glossy Ibis remained on the Co Cork coast, while at least one was at Termoncarragh Lough, Co Mayo. At least seven Great Egrets were dotted around. In Co Waterford, the wintering Lesser Yellowlegs hung on at Killongford Pools. Passerine action was at a minimum, although eight sites held Siberian Chiffchaffs – including two at Tacumshin, Co Wexford. Always uncommon on the west side of the Irish Sea, a Mealy Redpoll was in an Ellis, Co Clare, garden on 26th.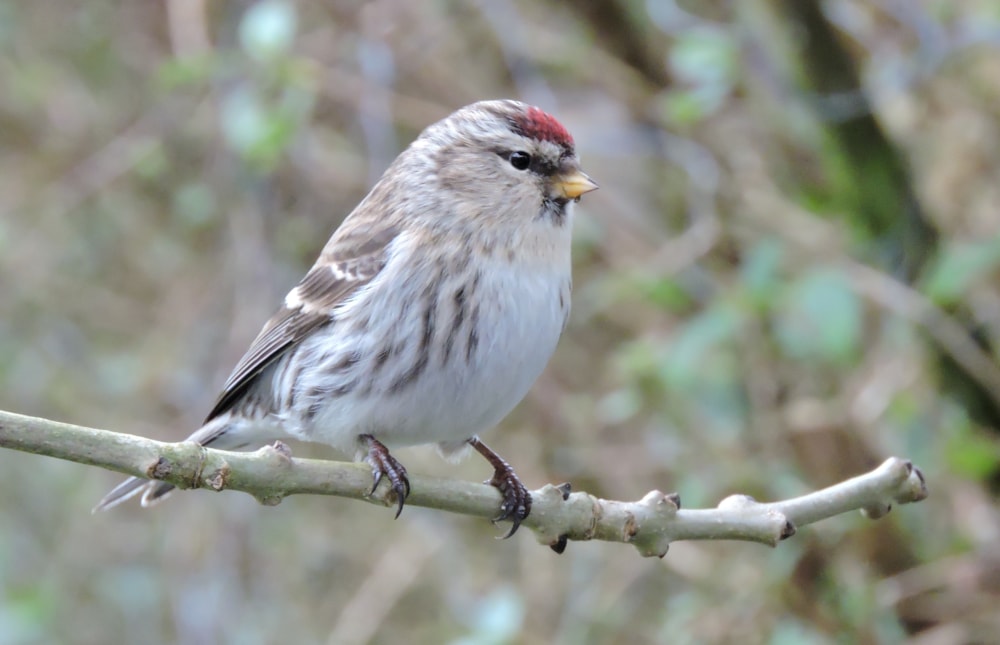 Mealy Redpoll, Ennis, Clare (Barry Howell).
Western Palearctic
Denmark's second Sandhill Crane photographed at Vordingborg on 2nd started the year with a bang, having also been belatedly reported from Basnæs on 27th. The story didn't end there – a Swedish newspaper cutting revealed that the "odd crane" had first appeared in a shed at Åsele, Västerbotten, on 12 October, lingering until 19 November.
A male Eastern Black Redstart was a Christmas Day treat on Gotland, Sweden, with an adult male Black-throated Thrush at Klusån. In neighbouring Norway, what is perhaps the country's first Bufflehead – a first-winter female – at Harvalandsvatnet from 4th, while the drake Stejneger's Scoter was still off Høve Strand, Denmark.
The Balearic Islands scored big with the first Bimaculated Lark for Spain – at Sa Barrala, Mallorca, on 31st – and a Great Bustard at Caló de Sant Agustí, Formentera, from 21st – the first modern-day record for the Balearics. Elsewhere in Spain, a Red-flanked Bluetail at La Guingueta d'Àneu was a smart New Year's find and an Eastern Yellow Wagtail was at Ebro Delta NP on 29th. A Sociable Lapwing was at Fraga from 1-3rd; another was still at Cabeza del Buey until 29th, with the adult American Herring Gull again at Muxía. Depressingly, the country's third White's Thrush was shot near Mallabia on Christmas Day.
Some rare Lanius action made the airwaves: the first Brown Shrike for Cyprus was at Lana Bay from 31st and Algeria's first Red-tailed Shrike was at Skikda on 9 October.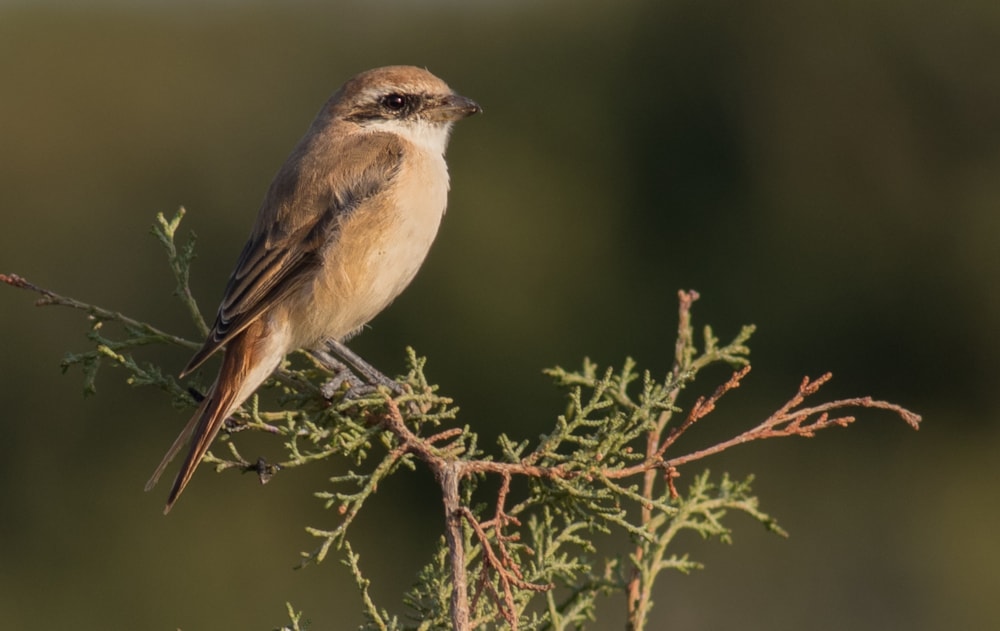 Brown Shrike, Agios Georgios Pegeias, Paphos (Matthew Smith).
In the Azores, a Northern Parula was at Madalena, Pico, from 29-31st, with a female Wood Duck at Calheta de Nesquim, Pico, on 25th, and the Great Blue Heron again at Praia da Vitória, Terceira. Pico's Belted Kingfisher was last noted at Lajes do Pico on 23rd.
Israel's third and fourth Eastern Red-rumped Swallows were at Eilat and Atlit, the latter alongside a Grey Hypocolius. Meanwhile, Sde Eliyahu's Wilson's Phalarope remained, with an American Golden Plover again at Eilat on 23rd, a Lesser White-fronted Goose at Meitsar and a Greater Painted-snipe again at Gan Shmu'el fishponds.
Kuwait's first-winter Brown-headed Gull was again at Jahra Pools on 23rd. The Netherlands's third twitchable Brünnich's Guillemot was at Vrouwenpolder from 30th, while an Azure Tit showed well at Pruszków, Poland, from 27th. A Pygmy Cormorant was still at Alfhausen, Germany, with Bavaria's White-headed Duck relocating to Moosburg from 2nd.