The week at a glance
By and large, this week was a re-run of the last, albeit with a few minor changes in the line-up. Indeed, Ireland once again boasted the lion's share of the top rarities on offer: the Pacific Diver notched up another week well inland at Lough Fea (Tyrone) and, given the photos that have been appearing, it had clearly been showing rather well. Furthermore, the Ivory Gull was still at Tacumshin (Wexford) to 24th, the apparent Azorean Gull was nearby in Wexford Harbour, the Laughing Gull remained at Ballycotton (Cork) throughout the week and the Ross's Gull reappeared at Bull Island (Dublin) after a week's absence.

Pacific Diver, Lough Fea, Tyrone (Photo: Ed O'Hara)
In the Outer Hebrides, the Pied-billed Grebe was seen again around Balranald, North Uist, on 22nd and the American Coot was a consistent feature at Loch Flemington (Highland) throughout.

American Coot, Loch Flemington, Highland (Photo: Mark Ranner)
Snow Geese were all familiar birds: white morphs were still at Rattray Head (Aberdeenshire), Carrahane Strand (Kerry) and on South Uist (Outer Hebrides; two); two remained in the Tayinloan area of Argyll on 23rd, and two blue morphs were again seen near Forth (Clyde) on 28th. A Red-breasted Goose was again on Jersey, where there were also two Black Brants; two Brants were also at Kilnsea (E Yorks) and at least two were scattered around both Hampshire and Norfolk. Other singles were in Cumbria, Glamorgan and Devon.

Black Brant, Roa Island, Cumbria (Photo: Lou Cross)
The drake Ferruginous Duck remained at Blashford Lakes (Hants) throughout the week, as did Lesser Scaup in Staffordshire, Glamorgan and Cornwall. Drake Ring-necked Ducks were in Somerset, Ayrshire and Counties Waterford and Mayo, with females still at Burrator Reservoir (Devon) and Eyebrook Reservoir (Leics). The drake Black Duck — first found last week — was seen again at Termoncarragh Lough (Mayo) alongside a Green-winged Teal; the teal was one of 11 seen, including new birds at Port Allen (Perth/Kinross) on 23rd, and at Cotswold Water Park (Wilts) and Ham Wall (Somerset) on 25th. American Wigeon remained in Highland and County Leitrim.

Lesser Scaup, Tittesworth Reservoir, Staffordshire (Photo: Jim Almond)

Ring-necked Duck, Trabboch, Ayrshire (Photo: Joe Graham)
Two drake King Eiders off Hopeman (Moray/Nairn) on 28th were presumably different birds to the drake off Nairn, which was still there on 27th. Females remained off the Lothian coastline and Blacksod (Mayo), while drake Northern Eiders were seen in Moray/Nairn and Lothian. Surf Scoters included three (2 drakes) still off Pensarn (Conwy) and two in County Cork, with others still on South Uist, and in Lothian and Fife.
The Cattle Egret was still at Steeple Claydon (Bucks) on 24th, while 48 reports of Great White Egrets during the week included a number of twos, three roosting at Llanrhidian Marsh, Gower (Glamorgan) on 25th and several still scattered between Dungeness (Kent) and Rye Harbour (E Sussex). At least 20 Glossy Ibis included twos in Norfolk, Durham and County Wexford, and birds were also still in County Down and on Orkney.

Great White Egret, Tarland, Aberdeenshire (Photo: Alan Sinclair)

Glossy Ibis, Brownhills, West Midlands (Photo: Derek Lees)

Glossy Ibis, Brownhills, West Midlands (Photo: Dave Hutton)
A white Gyr flew over the road at Reiss (Highland) on 22nd but was not seen again; Rough-legged Buzzards this week included twos at Holkham/Burnham Overy and Haddiscoe Marshes (Norfolk) as well as singles at Sudbourne Marshes (Suffolk), Wallasea Island (Essex) and Eastry (Kent).
Save a number of lingering Grey Phalaropes around our coasts, the only significant wader was the wintering Lesser Yellowlegs still at Lepe (Hants) — the Pennington Long-billed Dowitcher, however, wasn't seen.

Grey Phalarope, Filey, North Yorkshire (Photo: Mark Pearson)
Content continues after advertisements
An adult Bonaparte's Gull was briefly at Cosmeston Lakes (Glamorgan) on 25th and the Dawlish (Devon) bird was knocking around all week. Just under 20 Ring-billed Gulls were reported: in Britain, adults remained at Gosport (Hants), Chew Valley Lake (Somerset) and Llys-y-Fran Reservoir (Pembrokeshire), with two on the beach at Crosby (Lancs) on 27th and the second-winter still at Newgale (Pembrokeshire). Ireland attracted plenty more, as usual, with at least three still around Tralee (Kerry), twos in Cork City and at White's Marsh, Clonakilty (both Cork) and plenty of singles including a first-winter in County Dublin.

Ring-billed Gull, Gosport, Hampshire (Photo: Peter Gasson)
A good tally of around 20 Kumlien's Gulls included twos in Highland and in Counties Sligo and Kerry, with notable inland birds involving the continuing adult in South Yorkshire, a third-winter at Rufford (N Yorks) and a juvenile at Calvert Lakes (Bucks). Iceland Gulls were seen in reasonable numbers but it was again Glaucous Gulls that prospered best, with three-figure numbers including a wide scattering of birds around west-facing coasts in particular, including an impressive seven at Cahermore Strand (Cork) on 23rd.

Kumlien's Gull, Scrabster, Highland (Photo: Chris Griffin)

Kumlien's Gull, Machrihanish (village), Argyll (Photo: Eddie Maguire)

Glaucous Gull, Castletown Bearhaven, Cork (Photo: Fionn Moore)

Glaucous Gull, West Bexington, Dorset (Photo: Steven Carey)
Passerine-wise, the continuing Buff-bellied Pipit in Cheshire was again the week's highlight, though another new Hume's Leaf Warbler was found, this time inland at Hams Hall (Warks) from 25th onwards. Kent's two humei lingered on in Ramsgate cemetery and at Dungeness, while the Central Asian Lesser Whitethroat continued throughout the week in Tynemouth (Northumberland); others were still at Ventnor (IoW) and in Northampton. More bizarre, though, were reports of Common Whitethroats: a lingering bird still at Ouse Fen (Cambs) on 23rd and others at King's Meads (Herts) on 24th and Cuckmere Haven (E Sussex) on 25th. A Pallas's Warbler was in Folkestone (Kent) on 24th–27th, while the pick of the week's Yellow-browed Warblers was a bird in Uffmoor Wood (Worcs) on 27th.

Buff-bellied Pipit, Burton Marsh, Cheshire (Photo: Ivan Ellison)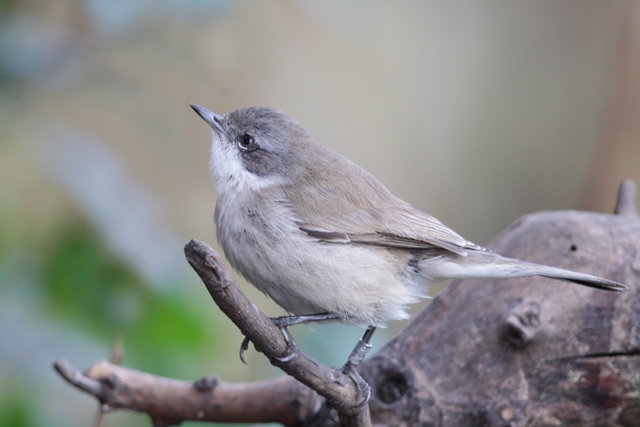 Central Asian Lesser Whitethroat, Tynemouth, Northumberland (Photo: Colin Bradshaw)

Hume's Leaf Warbler, Hams Hall, Warwickshire (Photo: Gordon Wright)

Hume's Leaf Warbler, Ramsgate, Kent (Photo: Ian Curran)

Siberian Chiffchaff, Burton Marsh, Cheshire (Photo: Ivan Ellison)
The Rose-coloured Starling remained on St Mary's (Scilly) to at least 26th, as did the Serin there, and around 15 Great Grey Shrikes were reported. Parrot Crossbills consisted of 14 still at Budby Common (Notts), eight still at Edgefield Woods (Norfolk) and six still at Mayday Farm (Suffolk), while lingering Two-barred Crossbills involved 15 still in the Forest of Dean (Glos), seven still at Broomhead Reservoir (S Yorks) and three still in the Wyre Forest (Shropshire).

Great Grey Shrike, Aisby, Lincolnshire (Photo: Dave Goddard)

Two-barred Crossbill, Forest of Dean, Gloucestershire (Photo: Cliff Woodhead)
Photo of the Week

Bullfinch, Redditch, Worcestershire (Photo: Mr Clive Daelman)
Worcestershire-based bird photographer Clive Daelman has submitted 1,800 images to BirdGuides over the last four years. Most of his images were taken in the land-locked counties of the English Midlands, which are not the easiest locations from which to capture bird photos that stand out from the crowd. However, Clive has consistently demonstrated that, with patience, any bird species can be 'worked' to create a great portrait shot. His recent studies of Bullfinches have been an excellent case in point, with continual tweaks in perches, background and lighting being used to refine the results over successive weeks. With such a painstaking approach, those ideal captures — such as this week's 'over the shoulder' shot — become ever more achievable. Diffuse lighting, natural perch and background, great colours and composition (good use of a square crop, with the bird's eye on the centre-line) all add to the image. Most of all though, that wonderful pose and eye contact from an obviously relaxed subject make this a delightful portrait. After 22 Notable Image selections, we're very happy to award Clive his first BirdGuides Photo of the Week.
Other notable images

Pheasant, Potteric Carr YWT, South Yorkshire (Photo: Vernon Barker)

Chiloe Wigeon, Falkland Islands (Photo: John Anderson)

Jay, Wigan, Greater Manchester (Photo: Roy)

Red Kite, Gigrin Farm, Powys (Photo: Lee Amery)

Nuthatch, Cannock Chase, Staffordshire (Photo: Derek Lees)

Red Grouse, undisclosed site, Highland (Photo: Marcus Conway - ebirder)

Dartford Warbler, Lee-on-the-Solent, Hampshire (Photo: Craig Richardson)

Wren, Tunstall Forest, Suffolk (Photo: John Richardson)

Waxwing, Martlesham Heath, Suffolk (Photo: Jon Evans)

Hawk Owl, Netherlands (Photo: Baz Scampion)

Buff-bellied Pipit, Burton Mere Wetlands RSPB, Cheshire (Photo: Mike McKenzie)

Little Auk, St. Martin's, Isles of Scilly (Photo: Joe Pender)