It's been an eventful fourth week of November, with a very reasonable selection of early winter highlights on offer for birders around Britain and Ireland, including a new pulse of Parrot Crossbills and small numbers of arriving Waxwings.
The undoubted highlight, though, was an interesting 'Shore' Lark just a stone's throw from Heathrow Airport. First reported at Staines Reservoirs on 19th, albeit all too briefly, it was back on the causeway there on 24th, and performed daily until 28th. Although it was often very distant along the reservoirs' west bank, it performed very well along the causeway on 24-25th and was well photographed. A combination of features gave for a subtly striking appearance, most noticeably the warm, rufous flanks, vinous wing coverts, dark upperparts and whitish supercilium, quickly leading to suspicions that it was Nearctic in origin.

American Horned Lark, Staines Reservoirs, Surrey (Drew Lyness).

American Horned Lark, Staines, Surrey (Chris Turner).
Indeed, the identification gradually shored up as the week progressed, with the bird widely acknowledged as a member of the Nearctic clade of Horned Lark subspecies by the end of the review period. This is perhaps just the third for Britain, following birds on Scilly in October 2001 and South Uist in October 2014 (the latter particularly similar in appearance to the Staines bird), though no Nearctic taxon of this species has been formally admitted to the BOU's British list. It later transpired that the bird had been seen at nearby Queen Mary Reservoir for some weeks and, as its brief trip to King George VI Reservoir on 25th further suggests, it may be that the bird continues to commute between the west London reservoirs as we head into December – but for now it remains faithful to Staines.

American Horned Lark, Askernish, S Uist, Outer Hebrides, October 2014 (Andrew Stevenson).
Six or seven Parrot Crossbills reported at Santon Warren, Norfolk, on 23rd proved to be the precursors to a quite impressive series of occurrences over the following days. One again there on 25th quickly increased to 16 that day, then 32 on 27th and then, amazingly, 42 on 28th. Elsewhere, six were at Upper Hollesley Common, Suffolk, on 25-26th and up to 16 were at Wishmoor Bottom, Berks, from 25th. One would imagine that there are plenty more flocks out there to be found, particularly in parts of East Anglia and the South-East.

Parrot Crossbill, Upper Hollesley Common, Suffolk (John Richardson).

Parrot Crossbills, Santon Warren, Norfolk (Gillian Thompson).
It was interesting to hear that the second Cornish Pacific Diver had returned to Pendower Beach, Cornwall, on 26th – the first time it has been reported here since February 2015. Meanwhile, the Mount's Bay bird was still around to 25th. Up in Shetland, the Pied-billed Grebe was still at Loch of Spiggie on 28th. A young Surf Scoter was showing very well at Killala, Co Mayo, on 26th, with another off Ballinskelligs, Co Kerry, two still off Porthpean, Cornwall, and males in Conwy and Lothian. Drake King Eider lingered off Whiteness Head, Highland, and Wester Quarff, Shetland, with the female again in Ceredigion.
Six American Wigeon were all familiar birds, with drakes in Devon, Rutland, Highland, North Uist and Co Donegal and the female still in Worcestershire. Green-winged Teal were reported from eight sites and included two drakes at Oare Marshes, Kent, on 26th plus a new bird on the shore of Lough Foyle, Co Derry, on 27th. What is presumably the returning drake Lesser Scaup was back at Dozmary Pool, Cornwall, from 26th, and the drake also continued at Rahasane Turlough, Co Galway. The Dozmary bird was alongside one of the week's six Ring-necked Ducks, with new females found at Blarney, Co Cork, on 24th and North Slob, Co Wexford, on 26th. The drake Ferruginous Duck remained on show at Eyebrook Reservoir, Leics, with the two reintroduced males from Germany also still at Dinton Pastures, Berks.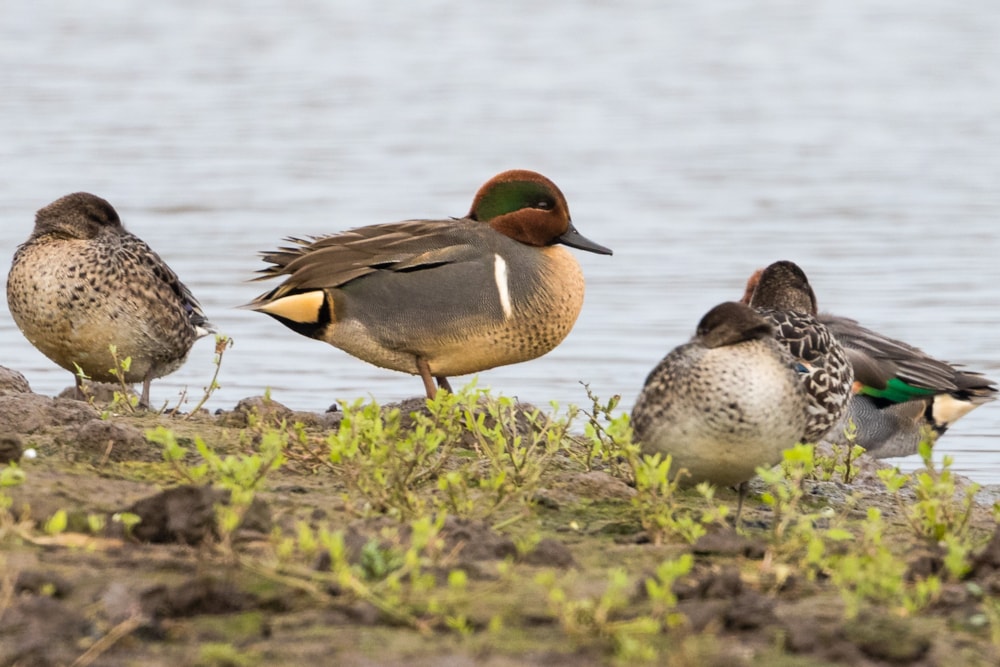 Green-winged Teal, Blacktoft Sands RSPB, East Yorkshire (Ian Bollen).
A Richardson's Cackling Goose was showing well at the southernmost tip of Islay, Argyll, during the week, with a Todd's Canada Goose nearby being one of two on the island. A third Todd's was at Tarbat Ness, Highland, on 24th. Snow Goose records included single blue and white morphs among Pink-feet in Aberdeenshire and the white morph still on Berneray, Outer Hebrides. Black Brants remained in the Cley area of Norfolk, at The Naze, Essex, and at Ferrybridge, Dorset.
A light scattering of Glossy Ibises included one as far north as Lough Beg, Co Antrim; others were on the Isle of Wight and in West Sussex, Leicestershire, Nottinghamshire and Cornwall. While no exceptional counts were made this week, a good spread of Western Cattle Egrets continued to be enjoyed across the southern half of Britain and Ireland, although birds were logged as far north as Morpeth, Northumberland, and Sandhead, Dumfries & Galloway. Unfortunate news from Shrewsbury was that the long-staying Black-crowned Night Heron was taken in to care on 25th, after its condition had apparently worsened markedly.
A Rough-legged Buzzard was reported from the traditional location of Capel Fleet, Sheppey, Kent, on 25th, with another flying over Woodwalton Fen, Cambs, the previous day. One also remained at Buckton, East Yorks, throughout the week and a fourth was at Loch of Strathbeg, Aberdeenshire, on 26th.
The Bonaparte's Gull was back at Largs, Ayrshire, on 26-27th; another was at Lodmoor, Dorset, on 24th, continuing Weymouth's good run of gulls. Meanwhile the long-stayer was again seen off Exmouth and Dawlish Warren, Devon. Ring-billed Gulls remained at a premium, with just two recorded – an adult still at Blackrock, Co Louth, and a third-winter in Sligo Town. Cold northerlies brought a fresh influx of Glaucous Gulls in the far north, with an impressive 22 on Fair Isle on 22nd. However, numbers remained fairly steady further south, as did Iceland Gull totals – three of the latter were in Mallaig, Highland, on 25th and a juvenile proved popular around Felixstowe, Suffolk. A rather dark Kumlien's Gull on North Ronaldsay from 22nd drew scrutiny. The Forster's Tern was still at Kinvarra, Co Galway, on 22nd.

Ring-billed Gull, Sligo, Sligo (Seamus Feeney).

Glaucous Gull, Filey, North Yorkshire (Trevor Walton).
The American Golden Plover continued at Hayle Estuary, Cornwall, to 25th and the South Uist bird remained at Boisdale to 22nd. The Oare Marshes Long-billed Dowitcher was joined by a second bird from 27th, the Lesser Yellowlegs continued at Lodmoor, Dorset, and the Red-necked Phalarope lingered at Covenham Reservoir, Lincs, all week. Something more of a surprise was the reappearance of the Stilt Sandpiper in Dorset, this time on the lagoon at Brownsea Island from 25th onwards.
Seabirds were few and far between this week, although a brief Leach's Storm Petrel graced William Girling Reservoir, Greater London, on the morning of 25th.
Small numbers of Waxwings arrived during the week, with ones and twos in Shetland and across the towns of northern and eastern Scotland. Peak counts included threes in Aberdeen and Montrose, and several around Lerwick. Perhaps more will arrive as we head towards Christmas.
The wind has left the sails of the Hawfinch invasion of recent weeks, although a total of 327 reports of the species this week suggests that plenty remain at large around the country. And, as birders get their fill of these hefty finches, it seems likely that interest is on the wane and the reporting rate will have decreased slightly on a fortnight or so ago – watch that climb again as year listing restarts in the opening days of January!
A Siberian Stonechat remained on private land at Halstow Marshes, Kent, this week. Dusky Warblers were still on show at Sennen, Cornwall, to 25th and on St Mary's, Scilly, to 24th, while a Radde's Warbler was reported fleetingly at Wat Tyler Country Park, Essex, on 24th. The Pallas's Warbler was last seen at Sandwich Bay, Kent, on 25th, with another at Landguard, Suffolk, on 24th. The Barred Warbler was reported again at Titchfield Haven, Hants, on 22nd.
A Richard's Pipit showed well at Chelmondiston, Suffolk, from 25th, with two still at Thornwick, East Yorks, on 22nd, one over Sandwich Bay, Kent, on 25th and, most significantly, an inland record from Mancetter, Warks, on 26th.

Richard's Pipit, Chelmondiston, Suffolk (Paul Chamberlain).
With decent numbers being found on the near-continent, it seems inevitable that a few Coues's Arctic Redpolls will be found this winter. This week, one was at Norwick, Unst, Shetland, on 23rd and another was found among Lesser Redpolls at Hazlewood Common, Suffolk, on 28th.

Coues's Arctic Redpoll, Skaw, Unst, Shetland (Brydon Thomason).

Coues's Arctic Redpoll, Hazlewood Marshes SWT, Suffolk (John Richardson).
Western Palearctic news
Up to four interesting Riparia martins were recorded at Jahra Pools, Kuwait, this week, with at least one (probably two) looking good for Grey-throated Martin – a potential new species for the Western Palearctic. Furthermore, at least a couple of birds there appeared to be Pale Martins, this in itself a species that was only recorded within the region for the first time last winter – and at the same site in Kuwait.

Apparent Grey-throated Martin, Jahra Pools Reserve, Kuwait (Abdulrahman Alsirhan).

Pale Martin, Jahra Pools Reserve, Kuwait (Abdulrahman Alsirhan).
The male White-winged Crossbill remained at Seltjörn, Iceland, to 24th but not subsequently. Nearby, the American White-winged Scoter continued off Keflavík. The Faroe Islands' first Mourning Dove was unfortunately found deceased on 23rd, but had apparently been there since 14th.

White-winged Crossbill, Seltjörn, Iceland (Gudmundur Falk).

American White-winged Scoter, Keflavík, Iceland (Baz Scampion).
An Oriental Turtle Dove was at Tószeg, Hungary, on 23rd and the fifth Asian Desert Warbler for Denmark was on Rømø on 25th. A Red-flanked Bluetail was on the outskirts of Groningen, Netherlands, on 25th, with the Black-winged Kite still at Lauwersmeer.
A Sociable Lapwing was at Lagoa dos Salgados, Algarve, Portugal, from 23rd, while news from the Azores included the continuing Redhead on Terceira and the Snowy Egret at Horta, Faial.