The wandering Sooty Tern cropped up no fewer than three times during the week, continuing to cross the length and breadth of the British mainland (assuming only one bird is involved, of course). It was Ayrshire's turn to score what was a county first on 23rd, in Maidenhead Bay for all of four minutes before heading off north. It only took just over 49 hours for it to traverse the vast northern Scottish coast, heading south past St Mary's Island, Northumberland, on the afternoon of 25th.
It must have found somewhere off-piste along the Northumberland coast to its fancy for a brief jaunt, before amazingly perching up with Kittiwakes on cliffs near Howick mid-afternoon on 28th. It was later noted off Dunstanburgh Castle a couple of times into the evening.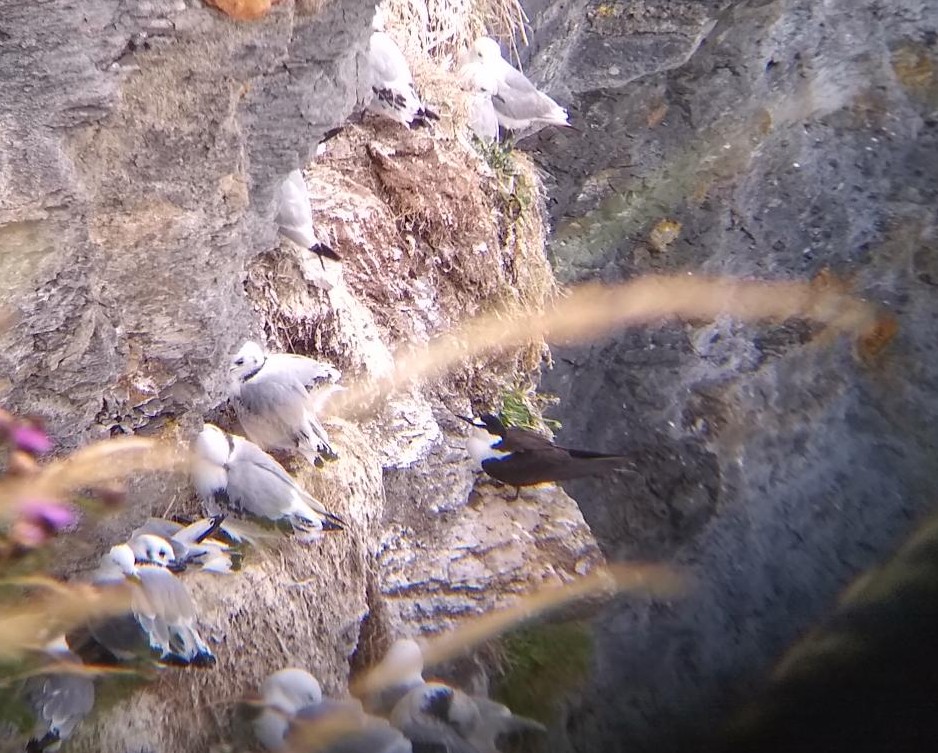 Sooty Tern, Howick, Northumberland (Phil Waite).
A brief, funny-sounding "dowitcher species" in Orkney at Cleat, Sanday, at the start of the week was thankfully relocated the next morning – a sprightly adult Stilt Sandpiper morphed into view, representing a delightful Orkney first. It remained on the island until the following afternoon but was not seen thereafter.
This week saw the Bearded Vulture become harder to pin down once again, last reliably seen over Cutthroat Bridge on 25th. A dearth of sightings from birders on 26th saw clay pigeon shooters jam in on it over Woodhead that afternoon (it was also retrospectively photographed near Back Tor around midday), before heading back to its old haunts down south near Froggatt on 28th.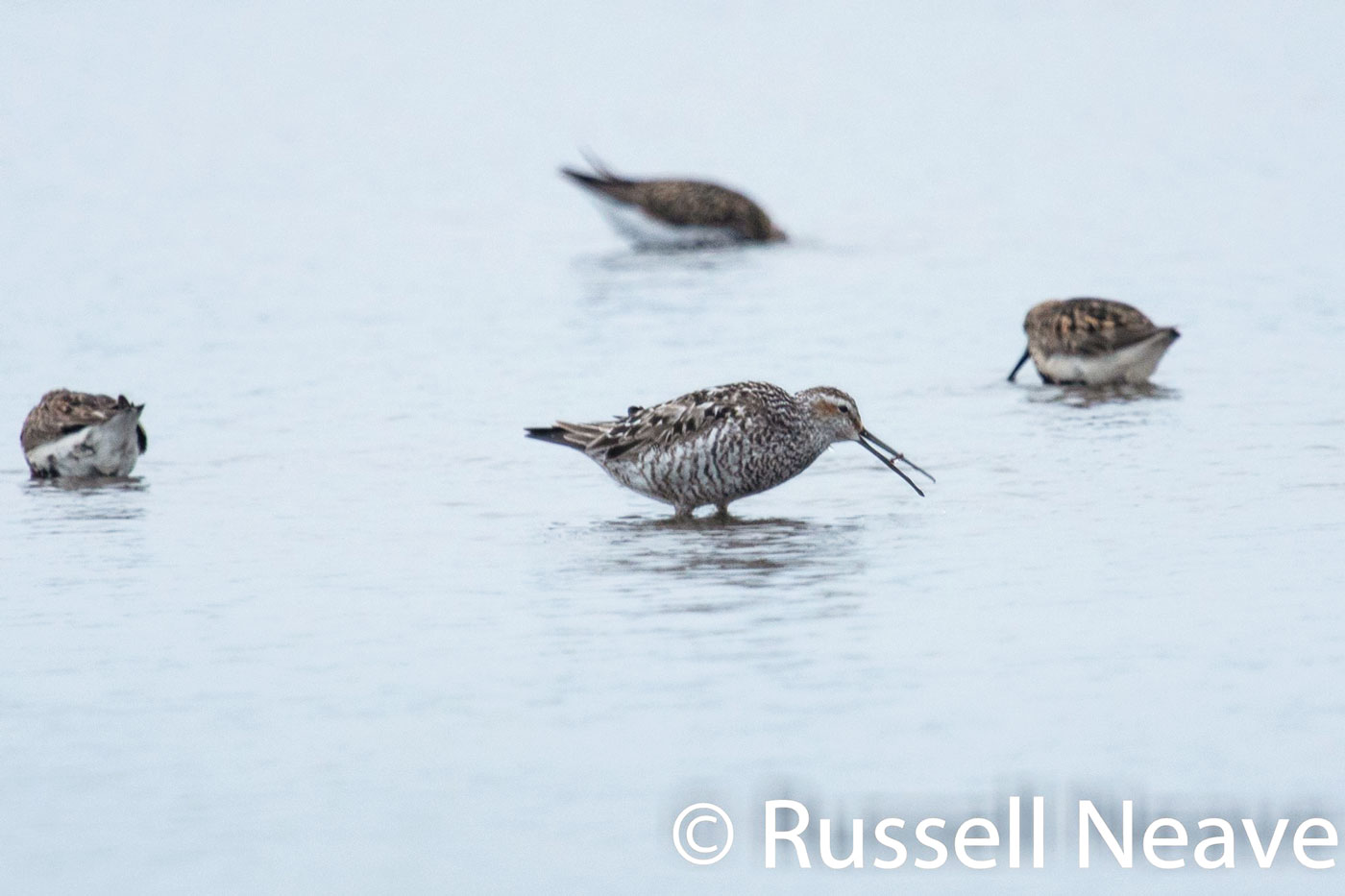 Stilt Sandpiper, Sanday, Orkney (Russell Neave).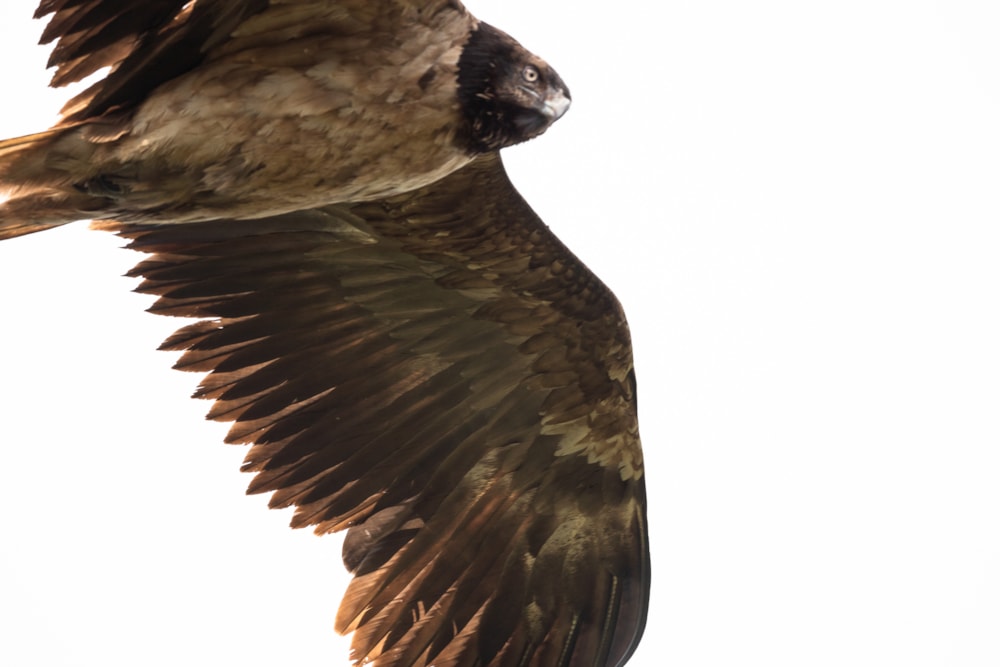 Bearded Vulture, Derwent Edge, Derbyshire (Tim Smith).
Returning to the subject of wandering terns, a brief Caspian Tern graced Gloucestershire's Slimbridge WWT on 25th. It or another headed strongly east through Stanford Reservoir, on the Leicestershire-Northamptonshire border, early on 26th, before it was located briefly at Summer Leys LNR, Northants, later that morning. Perhaps the same appeared on the south coast at Fishlake Meadows, Hampshire, on 27th, remaining into the next day at least. Meanwhile, the Gull-billed Tern was still at Tacumshin, Co Wexford, until the end of the week.
The adult Bonaparte's Gull was still Oare Marshes, Kent, until 28th, while first-summers remained at Salterstown Pier, Co Louth, and Add Estuary, Argyll, until 23rd. Elsewhere, the first-summer Laughing Gull remained by the wooden bridge at Bull Island, Co Dublin, until 26th. The first Fea's-type Petrel of the year flew past Polperro, Cornwall, on 27th.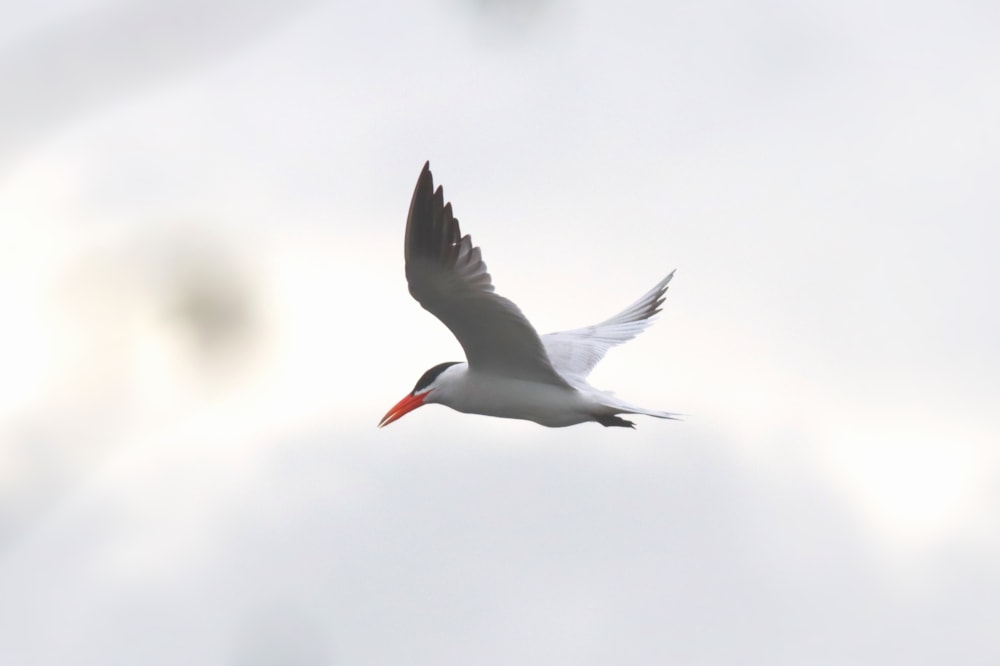 Caspian Tern, Fishlake Meadows HIWWT, Hampshire (Mark Francis).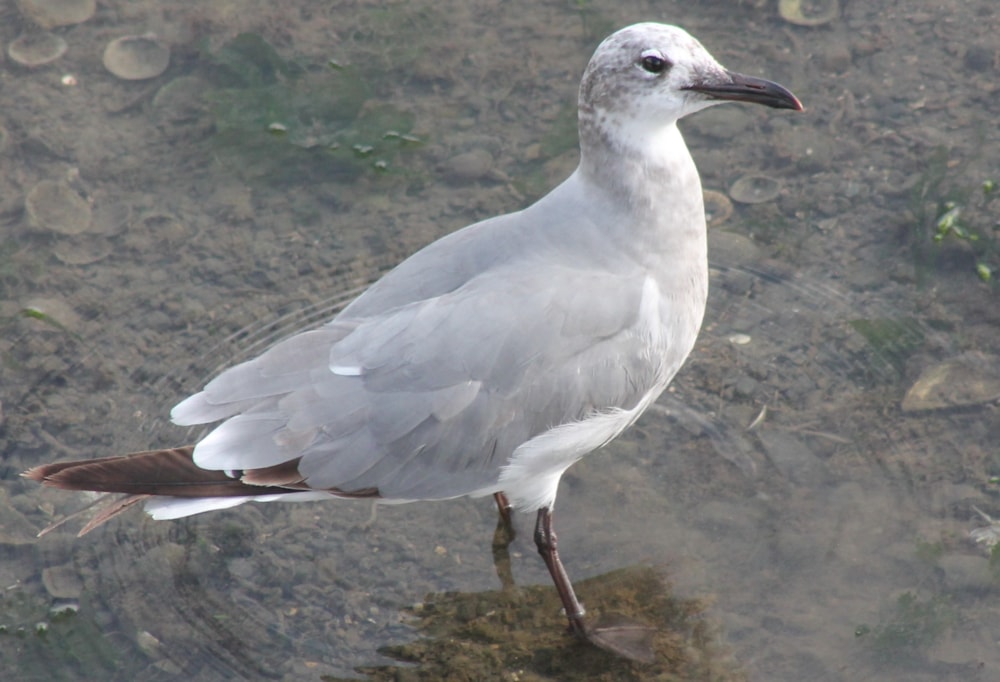 Laughing Gull, Bull Island, Dublin (Ian Stevenson).
The two Long-billed Dowitchers were both present and correct, remaining at Port Carlisle, Cumbria, until 23rd and at Marshside RSPB, Lancashire, until the end of the week. A possible Solitary Sandpiper was reported late on 28th from Lodmoor RSPB, Dorset. An adult Pacific Golden Plover was at Derrybeg, Co Donegal, on 28th.
In Cambridgeshire, a possible Parrot Crossbill was part of an extensive county-wide irruption of Crossbills at Southey Wood on 24th. A possible Eurasian Scops Owl at the start of the week would have been an incredibly popular Irish bird, had it been confirmed on Great Blasket Island, Co Kerry.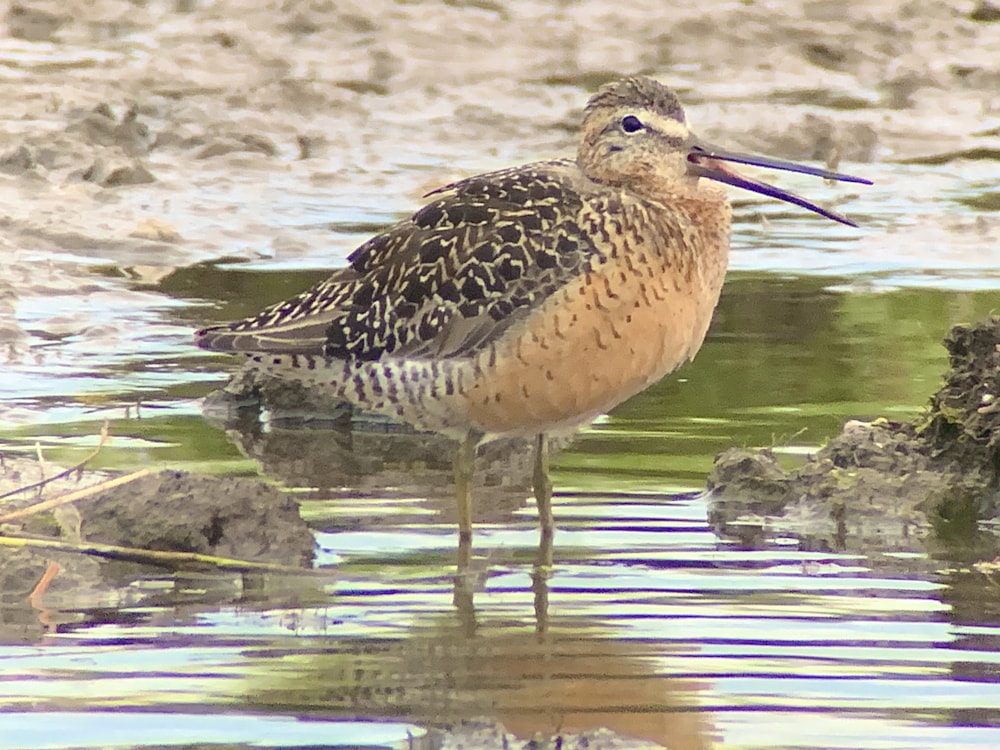 Long-billed Dowitcher, Marshside RSPB, Lancashire (Stuart Darbyshire).
Scottish mainland
Two Wood Sandpipers were at Loch of Strathbeg RSPB, Aberdeenshire, from 22nd, along with a juvenile Little Ringed Plover – a rare bird that far north. An adult Little Gull was there on 24th, while, in the same county, the Ythan Estuary held onto the two Eurasian Spoonbills.
Two Common Cranes were at Slains Pools on 25th and two Ring-necked Parakeets flew north-west over Westhill the following day, continuing their march northwards. Leach's Storm Petrels were banded by ringers at Inverbervie and Collieston, Aberdeenshire, and Gills Bay, Caithness. A handful of Little Stints were logged at different sites.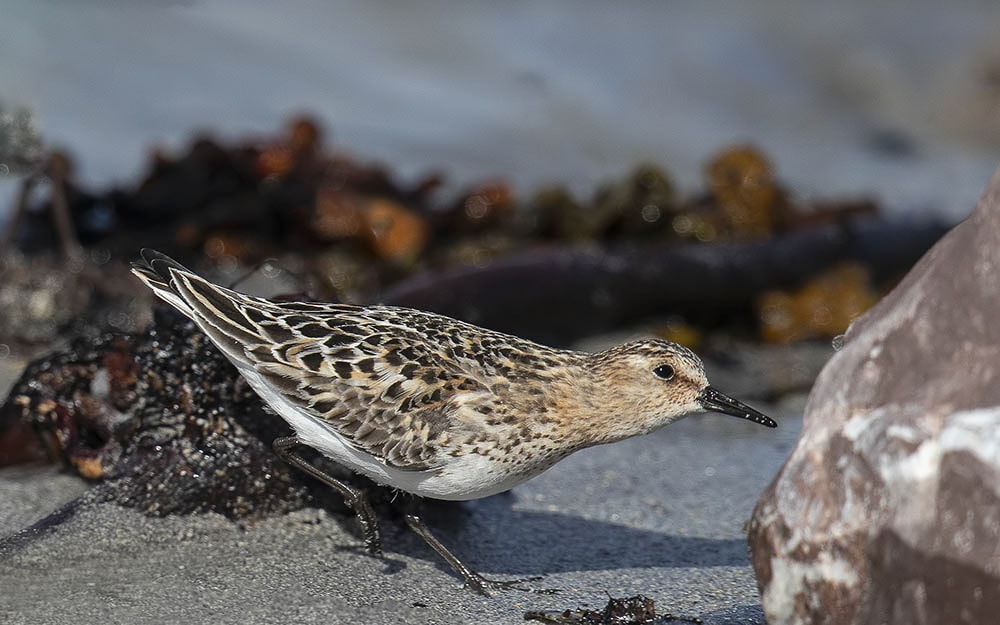 Little Stint, Balcomie, Fife (John Anderson).
The dapper summer-plumaged Great Northern Diver remained on Loch Insh, Highland, with another at Loch Loyal on 26th. The Rosy Starling invasion continued, with one at Inver on 21st and an adult at Thurso, Caithness, from 22nd. The first-summer Glaucous Gull was still on Lossie Estuary, Moray and Nairn, until 22nd.
A Balearic Shearwater lingered off Corsewall Point, Dumfries and Galloway, on 22nd, while the New Cumnock Smew was still present in Ayrshire on 24th. European Honey Buzzards were seen over St Andrews and Anstruther, Fife, while two dispersing Roseate Terns were at Dalgety Bay on 23rd.
In Clyde, Hogganfield Loch's Red-necked Grebe remained; others were off Cockenzie and Musselburgh, Lothian. On the Isle of Arran, a Wood Sandpiper flew over Benncarrigan and Sliddery on 24th.
Northern Isles and the Hebrides
North Ronaldsay, Orkney, held onto impressive collection of at least eight Long-tailed Skuas on 23rd, with four still present there on 27th. Other island highlights included an adult Roseate Tern on 25-26th – a fine North Ron record – and a Carrion Crow on 27th.
In Shetland, two Common Cranes were on Unst at Loch of Stourhoull on 22nd. A Rosy Starling was on the mainland at Walls from 24th, while Dalsetter Hill's lonely Long-tailed Skua was still in place. A mobile White-tailed Eagle was around Ronas Hill on 24-25th, with European Honey Buzzards seen flying south over Brae and Loch of Spiggie on 28th. An adult Glaucous Gull was on Fair Isle.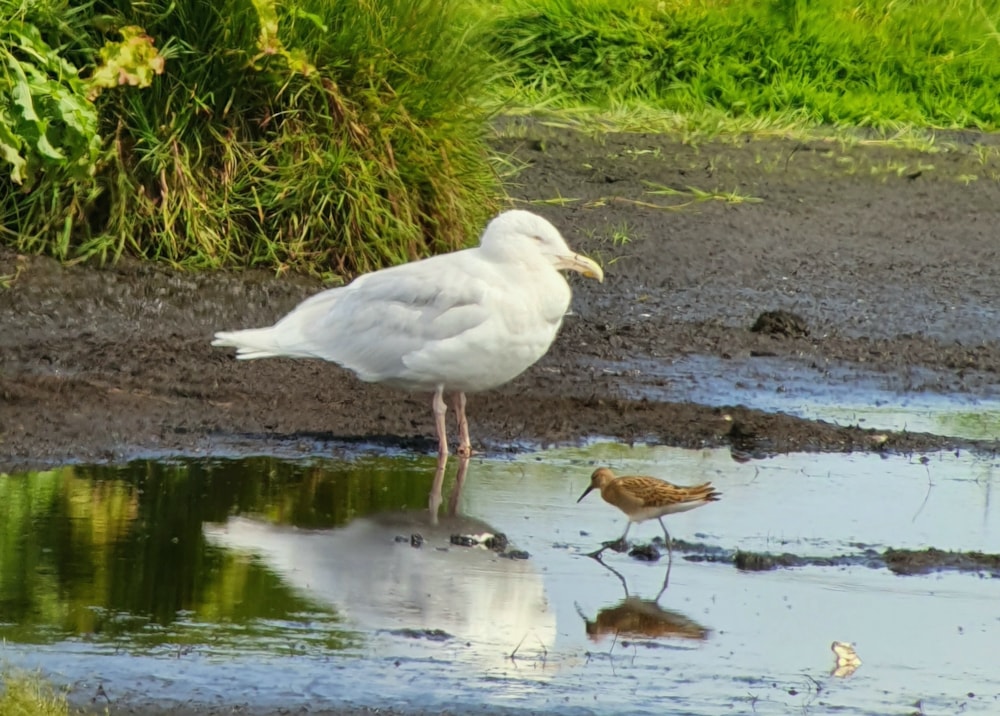 Glaucous Gull, Fair Isle, Shetland (Daniel Gornall).
The Outer Hebrides wasn't to miss out on the Rosy Starling action, with one at Claddach Vallay, North Uist. South Uist's Eurasian Spoonbill remained at Loch Bee, while an adult Glaucous Gull was at Rubha Ardvule on 26th.
North-East England
Still a rare bird this far north, a Western Cattle Egret in Northumberland, at Cresswell Pond on 25th, proved to be a popular draw. It lingered along that stretch of coast all week, pitching up at Druridge Pools and Hemscott Hill. A Pectoral Sandpiper joined it at Druridge on 27th, present on Budge Fields. The reliable Polish-ringed Caspian Gull was back for its ninth year atop its favoured lamppost at Amble harbour from 23rd.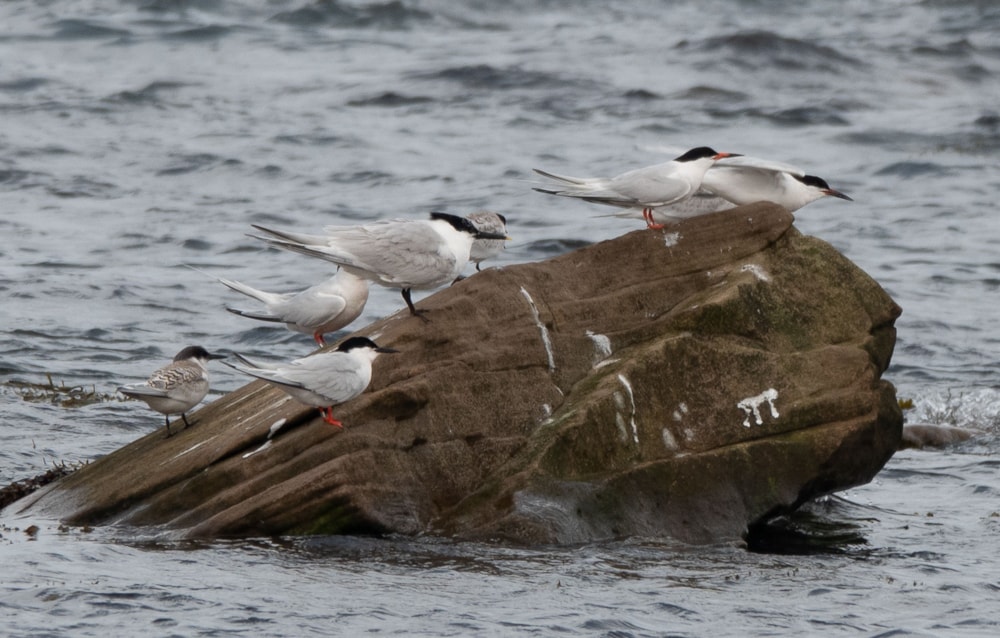 Roseate Tern, Newbiggin-by-the-Sea, Northumberland (Andy Hall).
The previous day, a Hooded Crow was at Longhoughton. The summering Black Tern was still at East Chevington NWT early on 23rd, with another off Newbiggin-by-the-Sea that afternoon. At Boulmer, the male Channel Wagtail was still present on 25th.
Cleveland saw a first-summer Little Gull at Seaton Snook on 26th, while Wood Sandpipers were at Scaling Dam Reservoir on 24th and at Saltholme RSPB on 28th. A Rosy Starling at Billingham on 22-23rd was the county's first this year. In a quiet week for the Durham, a Wood Sandpiper was at Bishop Middleham on 27th.
North-West England
There were a few bits and pieces keeping Lancashire ticking over this week. News of another (or the same) regional Black-crowned Night Heron came from a bird being photographed 'recently' at Halton, although there was no further sign during several vigils that were made during the week. Adding further southern flare, three Eurasian Spoonbills were at Hesketh Out Marsh RSPB on 22nd and two Western Cattle Egrets remained at Marshside RSPB through the week.
A Curlew Sandpiper flew past Glasson on 24th, a Wood Sandpiper was showing well at Conder Green from 26-28th and the Spotted Redshank remained at Seaforth LWT on 28th. A second-summer Caspian Gull was at Crosby Marine Park on 22nd and a Velvet Scoter flew south past Starr Gate, Blackpool, on 26th.
A Rosy Starling made a brief visit to Cheshire this week, with an adult rather mobile around Winsford on 24th. There was no further sign on following days. The quartet of Eurasian Spoonbills were still largely snoozing at Parkgate Marsh, at least one Channel Wagtail remained at Hale and a scattering of Wood Sandpipers were around the county, with singles at Burton Mere Wetlands RSPB, Ashton's Flash and Burton Marsh.
Pennington Flash CP, Greater Manchester, had up to two adult Arctic Terns from 24-26th and a first-summer Little Gull roosted on the evening of 24th. Cumbria had a quiet week, with two Pomarine Skuas past South Walney NR on 26th the only sighting of real note.
Lincolnshire and Yorkshire
Lincolnshire's highlight was the announcement that Common Cranes had bred in the county for the first time in more than 400 years, with a pair and well-grown chick on show at Willow Tree Fen LWT. You can read more about this here. Frampton Marsh RSPB held the usual assortment of summer waterbirds, while four Western Cattle Egrets at Gibraltar Point on 26th was a good tally for the county.
A European Bee-eater visited Stallingborough on 25th, but sadly didn't choose to hang around for long. An eye-watering 6,650 Common Shelduck on the Humber at Pyewipe represented an estimated 10% of the British population.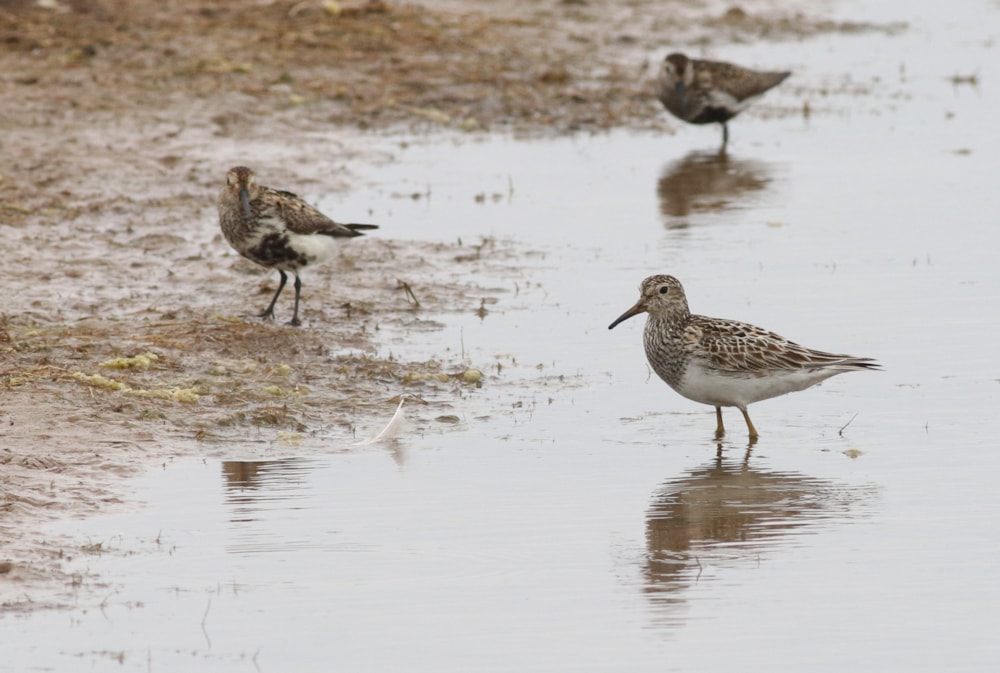 Pectoral Sandpiper, Kilnsea, East Yorkshire (Bethan Clyne).
A candidate Baltic Gull and adult Pectoral Sandpiper were the best returns from Kilnsea Wetlands, East Yorkshire, this week, although several Caspian Gulls included German-ringed juvenile 'XJNL', which was seen in Norfolk last week. A European Honey Buzzard floated over Flamborough on 24th, while nearby Bempton Cliffs RSPB scored a migrant Wood Warbler on 27th.
A White-tailed Eagle remained on the North York Moors, while a Purple Heron flew over Crossgates on 22nd. Inland at Nosterfield, highlights included Common Scoter and Black-necked Grebe, with a Wood Sandpiper at Ripon City Wetlands. As well as a scattering of Common Scoter in South and West Yorkshire, waders included a Wood Sandpiper at St Aidan's RSPB, with a Ruddy Shelduck at Anglers CP and a Western Cattle Egret at Austerfield. A Great Egret was at Old Moor RSPB.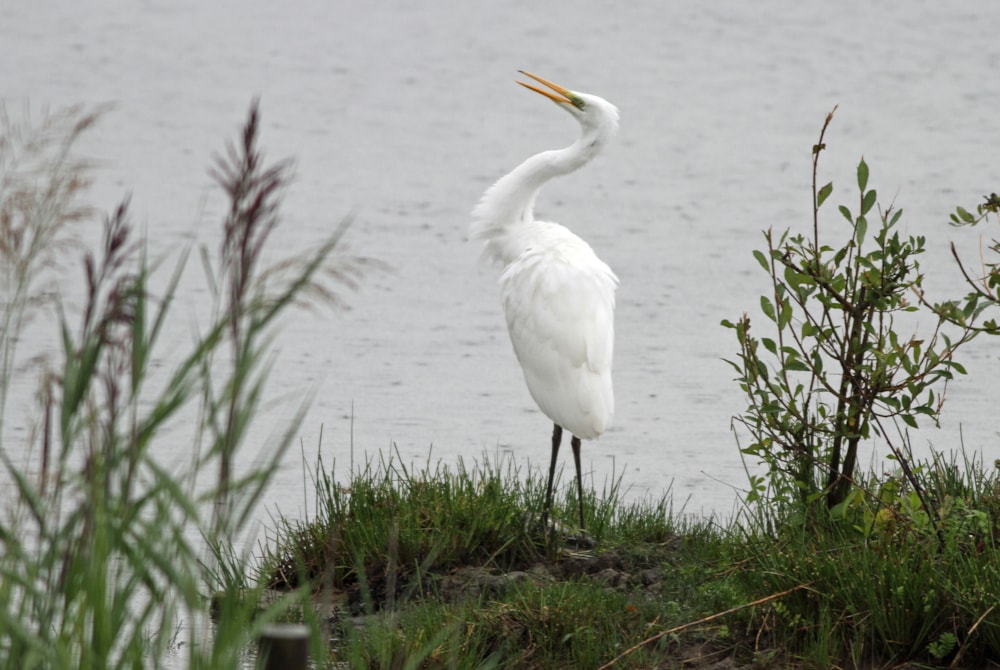 Great Egret, Old Moor RSPB (Dearne Valley), South Yorkshire (Keith Pickering).
West Midlands
A few Western Cattle Egrets were dotted around Staffordshire this week, with singletons at Branston GPs, Blithfield Reservoir and Middleton Lakes RSPB. Arctic Terns were evidently on the move, with eight through Blithfield Reservoir on 22nd, where six were present on 26th and a single on 28th. Three flew through Belvide Reservoir on 26th, too, the same day the site hosted a Pied Flycatcher.
A first-summer Caspian Gull was at the latter site on the afternoon of 26th – a second-summer roosting at Chelmarsh Reservoir that the same evening was Shropshire's only sighting of note. Warwickshire was quiet this week as well, with a Firecrest at Ladywalk NR on 28th.
Worcestershire hosted a few Western Cattle Egrets, with three among cows at Stoke Prior from 26th and an adult at Camp Lane Pools, Grimley, on 27th only. The Lesser Emperor remained at Ripple GPs.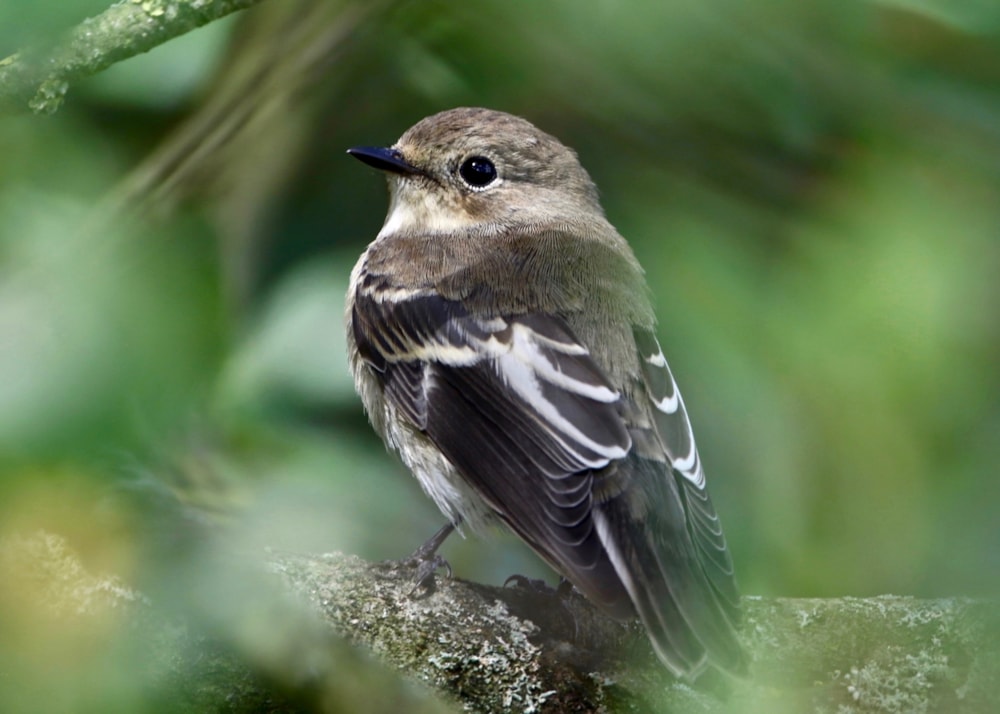 Pied Flycatcher, Belvide Reservoir (PERMIT ONLY), Staffordshire (Andy Payne).
East Midlands
In Derbyshire, a third-summer Caspian Gull at Staunton Harold Reservoir on 24th and an Arctic Tern at Carsington Water on 26th highlighted. Rutland Water enjoyed two of the smaller scarcities going, with a Little Stint on 25th and a Little Tern on 26th.
Notts birders were kept enthused with two Caspian Gulls at Langford Lowfields RSPB, a Western Cattle Egret off Slaynes Lane, Misson, from 23-28th, Greater Scaup at Idle Valley NR on 25th and at least one European Honey Buzzard performing for admirers from the Welbeck watchpoint throughout.
Content continues after advertisements
Keeping in trend with the aforementioned counties, Northamptonshire too had a Caspian Gull – a third-summer at Stanwick GPs from 23-24th, where three Western Cattle Egrets were still present during the week. A Eurasian Spoonbill flew north-west high over Pitsford Reservoir on 23rd.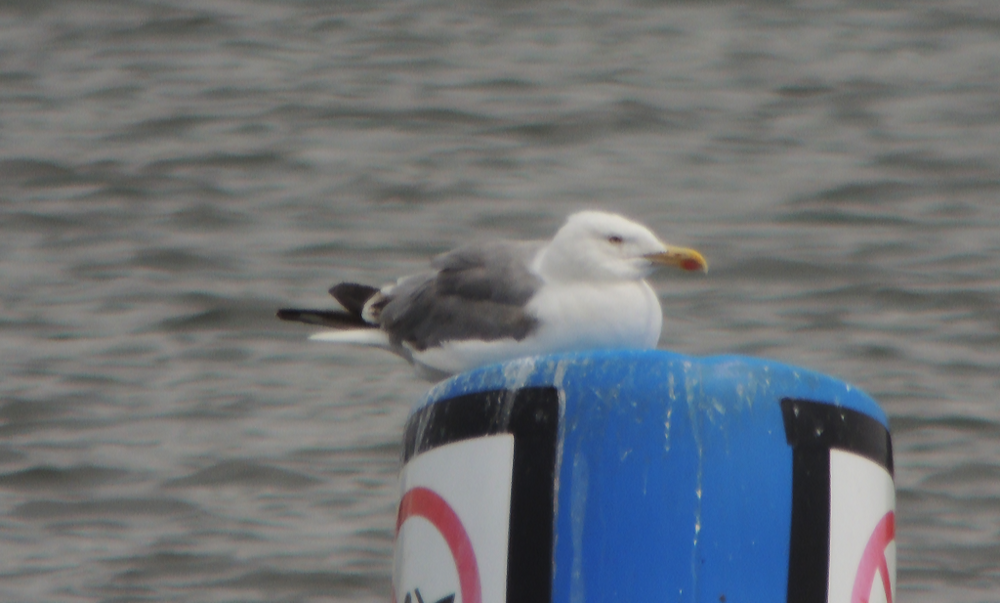 Yellow-legged Gull, Pitsford Reservoir, Northamptonshire (Mike Alibone).
East of England
In Norfolk, an immature White-tailed Eagle was seen over Hickling Broad, Runham and Winterton on 23rd, with presumably the same bird over Dickleburgh on 26th. The European Honey Buzzard continued to be seen in the Cley area. At least three Caspian Gulls at the county hot-spot of Cromer included a couple of juveniles, and a single Roseate Tern continued at Snettisham RSPB. Unusual for July was a drake Greater Scaup at Holkham on 23rd.
Six Caspian and 57 Yellow-legged Gulls comprised a fine haul at Livermere Lake, Suffolk, on 23rd. A juvenile Caspian, bearing a Dutch ring, was at Southwold on 27th and was significant in that it was the first reported example of a Dutch-born bird in Britain. A Wood Warbler was trapped at Landguard on 26th; otherwise it was the usual scattering of Eurasian Spoonbills and Western Cattle Egrets making up the numbers.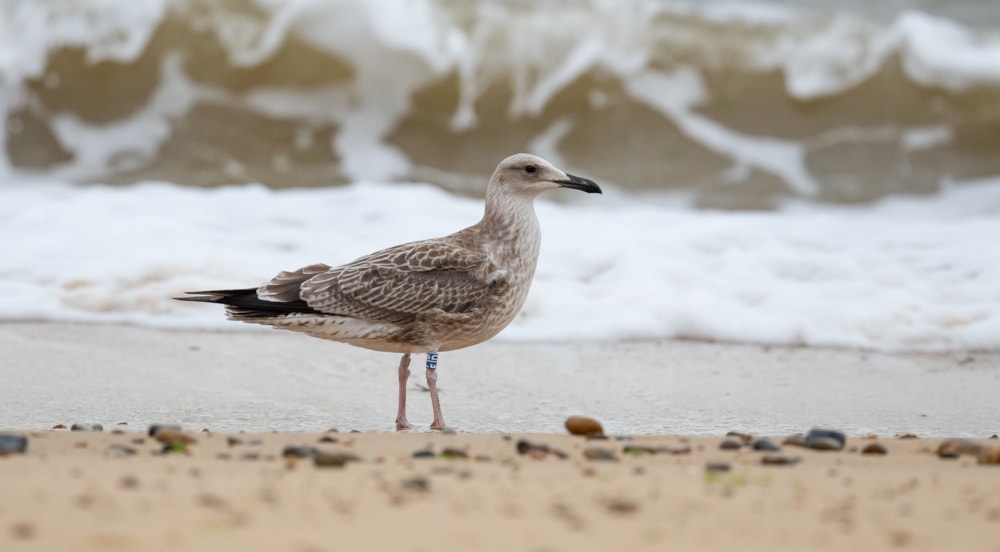 Caspian Gull, Southwold, Suffolk (Brian Small).
Three White Storks, two of which bore rings from the White Stork Project, roosted on pylons at Bowers Marsh, Essex, on 22nd, with one (unringed) returning there the following evening. Aside 81 Yellow-legged Gulls counted at East Tilbury and a Wood Sandpiper at Holland Haven, it was otherwise a quiet week in the county.
A single report from Hertfordshire concerned at Eurasian Bittern at Amwell NR, while Bedfordshire produced a Western Cattle Egret in the Leighton Buzzard area, the regular adult Caspian Gull at Grovebury Sand Pit and a singing Common Quail near Broom.
Grafham Water was the hub of activity in Cambridgeshire, with Black-necked Grebe, Western Osprey, and Little and Caspian Gulls all on offer. Wicken Fen, meanwhile produced Western Cattle Egret, Wood Sandpiper and Garganey.
South-East England
We'll start in Oxfordshire, for a change, where the county enjoyed a last-gasp cashing in on the Rosy Starling influx – a mobile bird on 27-28th in the small village of East Challow, just west of Wantage, was only the third for the county during the past decade and proved popular when it was pinned down. Other Oxon highlights included five Common Quail at three locations, Ruddy Turnstones at Sutton Courteney GPs and Farmoor (two smart Sanderlings were at the latter site as well) and a couple of Common Scoter flocks heard by late-night moth trap attendees.
Things weren't so lively in neighbouring Buckinghamshire, though the Little Marlow GPs Western Cattle Egrets lingered until 23rd and a Great Egret was a Floodplain Forest the previous day. Black Redstarts at Ivinghoe Beacon and a Whinchat at Pitstone Hill confirmed for inland birders that we're approaching the time of year when effort can be rewarded. In Berkshire, the Ruddy Shelduck continued at Theale GPs.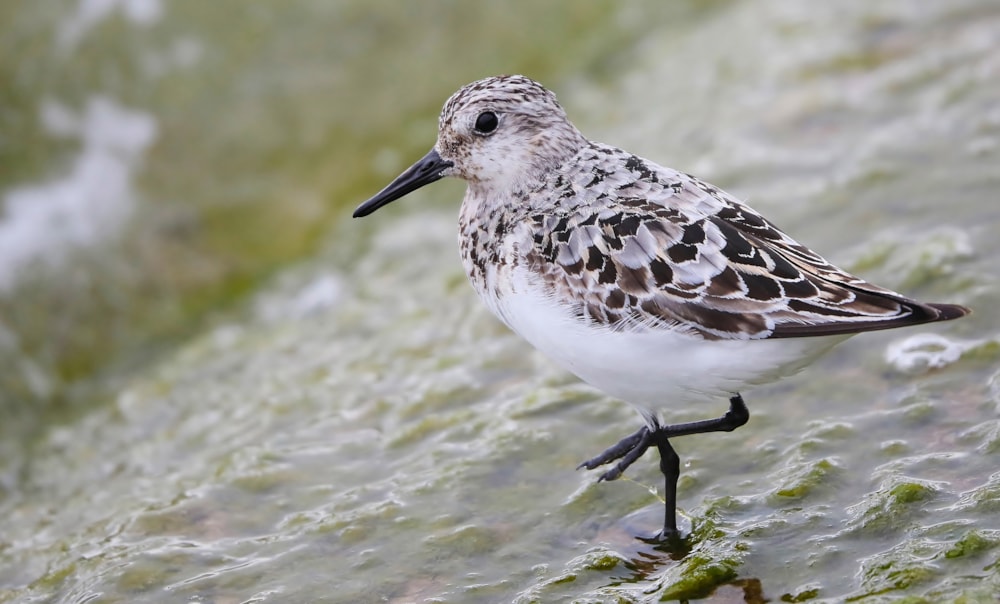 Sanderling, Farmoor Reservoir, Oxfordshire (Clive Daelman).
A White Stork was over the Rainham and Crayford Marshes area of London on 23rd, entertaining gullers who dug out the capital's first juvenile Caspian Gull of the season at Erith Pier on 23rd. A couple of others were noted, while Yellow-legged Gull numbers steadily built to still fairly modest totals – some 55+ at Rainham on 23rd the biggest haul. At Walthamstow Wetlands, two Western Cattle Egrets were present on 23rd with a Ruddy Turnstone dropping in the following day. Arctic and Little Terns graced KGV Reservoir on 27th; two Sandwich Terns were at Woodberry Wetlands on 22nd.
The standout record from Kent was a summer-plumaged Black Guillemot that flew east past St Margaret's at Cliffe on 27th – a fine county record at any time of year, let alone July. The Lesser Yellowlegs at Oare and Black-winged Stilt continued, backed up by a suite of decent waders at both and other sites throughout the county, perhaps most notably two Little Stints at Cliffe Pools. On 22nd, a European Honey Buzzard flew over Sandwich towards Worth where, on 27th, a Wood Warbler was present. Three sites scored Balearic Shearwater on 27th including Dungeness, where two juvenile Black Terns were at the RSPB reserve on 23rd. The Dartford Marshes Great Egret was still present on 22nd.
There were some good birds in East Sussex, most notable of which were two Red-rumped Swallows with House Martins at Rye Harbour mouth during the early afternoon of 22nd. The two Garganey at the same site remained. Cuckmere Haven scored a nice shorebird double-act, with a confiding Little Stint and juvenile Wood Sandpiper performing for onlookers over the weekend. A possible European Storm Petrel off Hove on 27th is worth a mention – a surprisingly hard bird to connect with in the south-east.
West Sussex had a somewhat quieter week, with two separate flocks of 15+ Western Cattle Egrets – at Henfield Levels and Pagham Harbour – a sign of the times. Wood Sandpipers were at Storrington (heard at night) and Pulborough Brooks; the latter site also had Great Egret on 24th. Pied Flycatchers were recorded at Church Norton and Climping, with the former site hosting a Curlew Sandpiper amid the Dunlin from 28th. A Balearic Shearwater flew past Selsey Bill on 27th.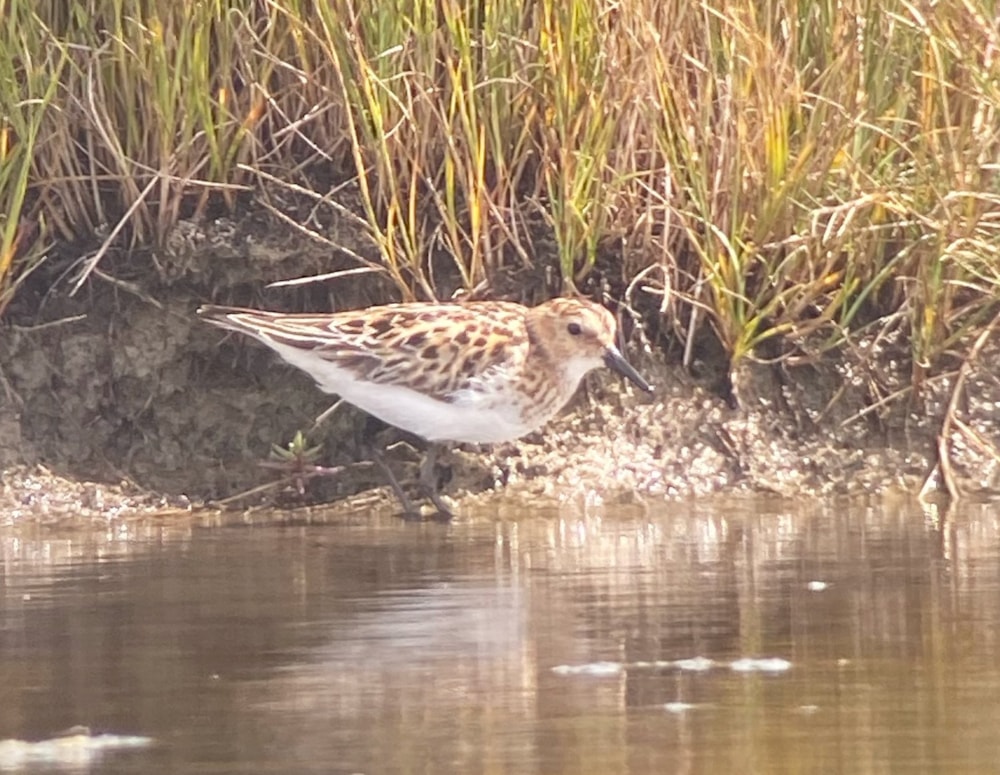 Little Stint, Cuckmere Haven, East Sussex (Gareth James).
In Surrey, a juvenile male Hen Harrier pitched up at Canons Farm, Burgh Heath, from 24th – remarkable due to the age of the bird. An early continental fledgling, or had it come from somewhere closer? Up to two Great Egrets were somewhat sporadic in their appearances at Tice's Meadow. A possible juvenile Black-crowned Night-Heron over Guildford on 28th will prove popular if it's pinned down.
On 23rd, a Rosy Starling was found at Ryde, Isle of Wight, late in the afternoon but had gone by the following day. Two Great Egrets were a Bembridge and a Pied Flycatcher was at Shanklin on 26th. Across the Solent, in Hampshire, the good summer for south coast Roseate Terns continued with an adult at Hythe/Weston Shore from 27-28th. Fishlake Meadows hosted Great Egrets and Garganey, and the Little Stint was still at Keyhaven.
Some 20 Western Cattle Egrets were counted flying to roost at Langstone Harbour on 22nd – it's probably not long until this species is not worth mentioning in coastal south-east county round-ups. Inland, the Great Egret was back at Woolmer Pond on 26th.
South-West England
In Dorset, a crisp juvenile Wood Sandpiper delighted at close range at Broadwey from 23rd, a Western Cattle Egret was at Swineham GPs midweek and a juvenile Long-eared Owl was ringed on Portland on 23rd. A probable Great Shearwater flew past Chesil Cove on 27th, with a Cory's Shearwater reported past Durlston CP on 28th.
Two Little Stints enjoyed the environs of Slimbridge WWT, Gloucestershire, throughout the week. They were joined at various times by a decent cast of other bits, including a juvenile Western Cattle Egret from 23rd, Curlew Sandpiper on 25th and Wood Sandpiper from 26th.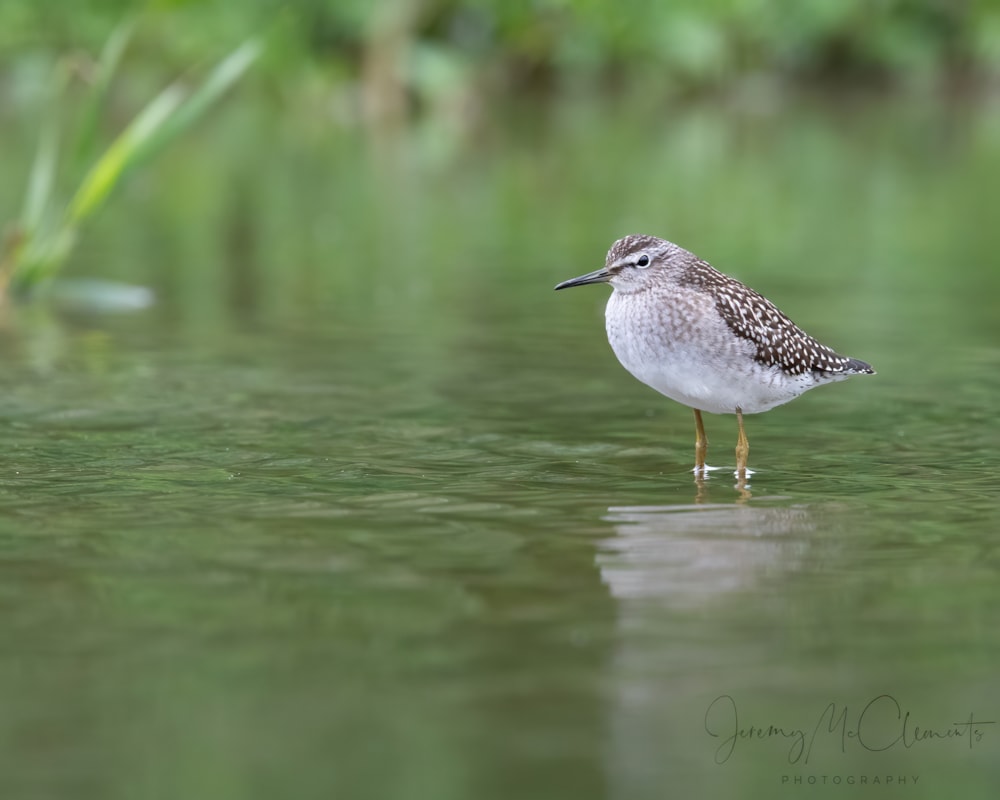 Wood Sandpiper, Weymouth, Dorset (Jeremy McClements).
In Wiltshire, a White Stork at Amesbury on 23rd was a highlight, regardless of its questionable origins. Common Quails were still at Downton and Pertwood, while more than 200 Yellow Wagtails at Pewsey Downs NNR on 22nd was a rather impressive count for modern-day agricultural England.
Steart WWT's Black-winged Stilt pair remained healthy in Somerset, along with a least two chicks. Nine Ruddy Shelduck, seemingly a family group, rocked up at the site from 27th. There seem few other conclusions to draw on this species other than these late summer birds being visitors from the burgeoning Category C population in Germany and Switzerland.
An adult Purple Heron graced Ham Wall on 22nd, along with an immature Black-crowned Night Heron on 25th. A European Honey Buzzard flew across the site later that afternoon. A Great Peacock caterpillar was at Minehead on 23rd – a major rarity in the moth world, if not found to be a deliberate release.
Coverack became a Cornish haven for Roseate Terns from midweek, with as many as four from 24-27th – two others were at Chapel Point on 24th. A new adult Rosy Starling was at Trevescan on 24th, while a Wood Sandpiper was at Stithians Reservoir the previous day.
The weather forecast for the latter half of the week paid off in style, dropping a decent haul of Cory's and Great Shearwaters into the South-West Approaches. It peaked on 27th, when singles were noted from Rame Head and Mousehole, two flew past from Pendeen, Chapel Point and Cape Cornwall scored three each, with high counts of 20 off Lizard Point and 48 from Porthgwarra.

Cory's Shearwater, Scilly pelagic, Isles of Scilly (Joe Pender).
Some 13 Great Shearwaters headed past Porthgwarra on 26th, with three more past Melmore Head. Totals on 27th included 45 at Porthgwarra, 40 off The Lizard, seven past Chapel Point and three off Pendeen, with singletons off St Ives and the undoubtedly choppy Scillonian III. Pomarine Skuas flew past Downderry, Trevose Head, Porthgwarra, Chapel Point and Lizard Point.
The 27th saw a strong showing for the Scilly pelagics, with no less than four Wilson's Storm Petrels, three Great Shearwaters and nine Cory's Shearwaters. A further three Cory's flew past Peninnis Head on St Mary's. An adult Roseate Tern was a brief visitor to Green Island on 26th; a Hooded Crow was on Tresco on the same date.

Wilson's Storm Petrel, Scilly pelagic, Isles of Scilly (Scott Reid).
In Devon, five Great Shearwaters passed Berry Head on 27th, with four off Prawle Point, and two past Froward Point. A single Cory's Shearwater was off Prawle Point on the same date. Dawlish Warren NNR held up to two Roseate Terns and the resident Slavonian Grebe, while a Pomarine Skua flew past on 27th. Another Roseate Tern was off Slapton Ley on 27th, with two Poms off Thurlestone that afternoon. The Wood Sandpiper remained at Powderham Marsh throughout.
Wales
Windy weather in the summer leads to Welsh eyes gazing longingly at the sea in the hope of stray shearwaters and persistence paid off for some this week – while not the same level as the South-West, two Cory's Shearwaters past Strumble Head on 28th was a nice record, along with a supporting cast of Grey Phalarope and Pomarine Skua.
As July progresses, it has become tradition for some birders to stare eagerly at their local gull flocks in the hope of a juvenile Yellow-legged Gull and, although still a relatively scarce bird for the country, a pleasing four were reported this week. Firstly, an adult and juvenile were at Llyn Clywedog, Powys, on 24th, followed by two juveniles on Bardsey Island on 28th (the seventh and eighth records for the island).
A Western Cattle Egret was at Llanelli WWT on 22nd, where a Eurasian Spoonbill has been reported in recent days. The Glossy Ibis remained at Goldcliff Pools NR, Gwent, throughout the week. Both Roseate Terns stayed put at Cemlyn Bay and an adult Whooper Swan was seen along the Menai Straits, to the east of Bangor, from 25-26th.
Turning to waders, a Curlew Sandpiper flew over Skomer on 24th and a Wood Sandpiper was present at Gann Estuary, Pembs, on 27th.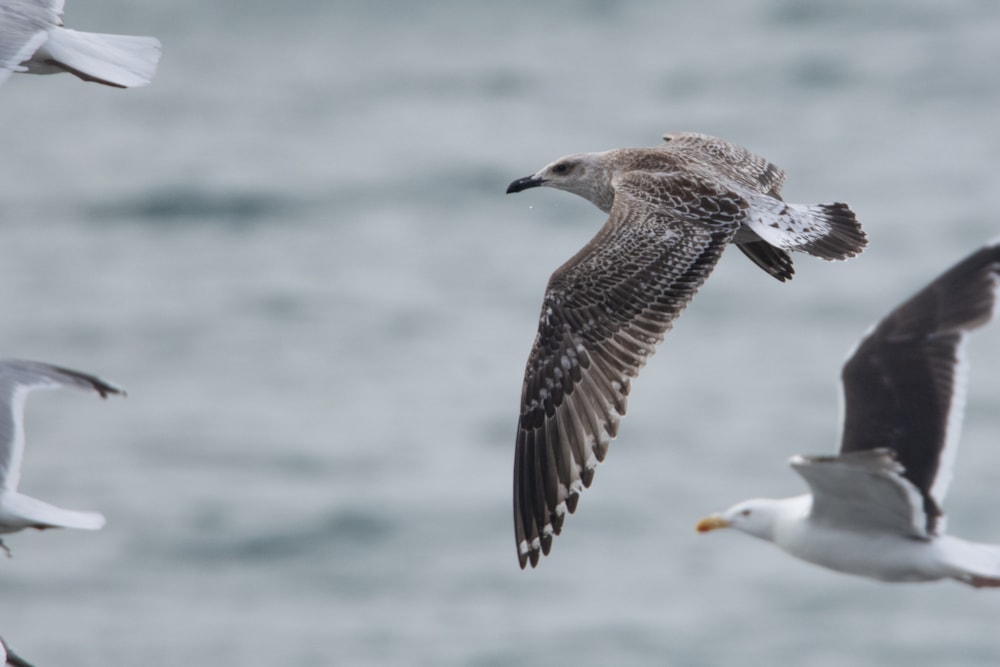 Yellow-legged Gull, Bardsey Island, Gwynedd (Dan Owen).
Ireland
Seawatching picked up slightly, with a Wilson's Storm Petrel and a couple of Great Shearwaters past Deelick Point, Co Kerry, on 27th, while Co Cork headlands produced a handful of both large shearwater species. More significantly, a single Cory's passed Bloody Foreland, Co Donegal, on 28th – a good record so far north.
Wood Sandpipers – always notable out west – were in Co Donegal and Co Cork, while the adult Pectoral Sandpiper lingered at Tacumshin. A Little Stint was at Kilcoole, Co Wicklow. Small numbers of Yellow-legged Gulls were seen between Cos Cork and Louth. Garganey and a couple of Little Gull records were the best from Northern Irish counties.
Western Palearctic
A diminutive West African Crested Tern was the pick of the bunch on the Spanish south coast at Barra del Trabucador, Ebro Delta, on 25th. This is an eagerly awaited taxon in Britain and Ireland, following its recent rise to species status, and it almost certainly accounts for some past 'Royal Tern' records – the bird of June 2009, perhaps? Impressively, an adult Elegant Tern was at the same site on 27th.
France's 10th Greater Sand Plover was a stellar find at Saint-Brevin-les-Pins on 26th, followed by a Trumpeter Finch at La Salle-les-Alpes the following day. An adult Egyptian Vulture found itself rather far north at Joux-la-Ville on 21-22nd, while the White-rumped Swift remained at Minerve.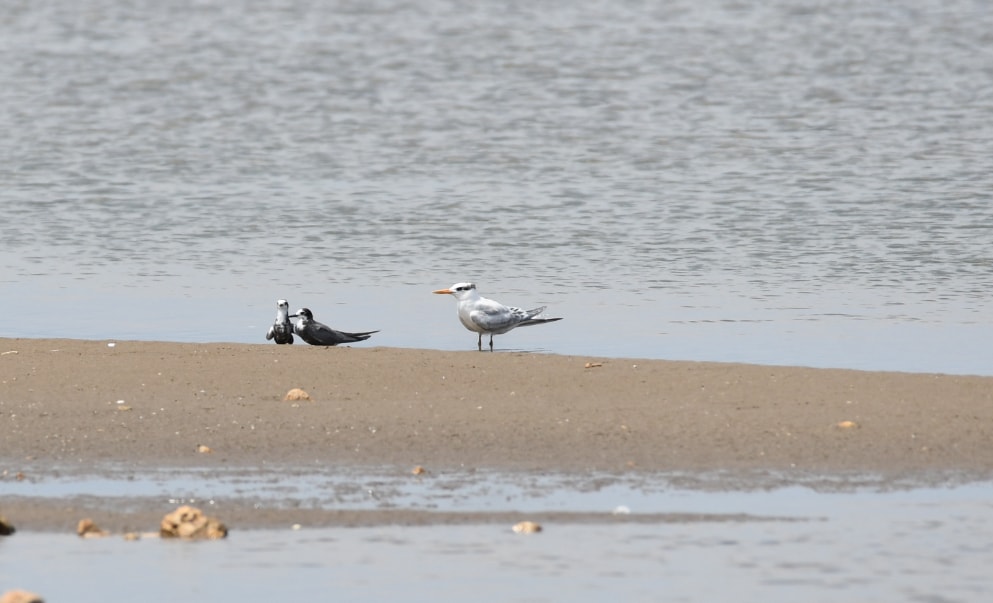 West African Crested Tern, Ebro Delta NP, Catalonia (RICARD GUTIERREZ).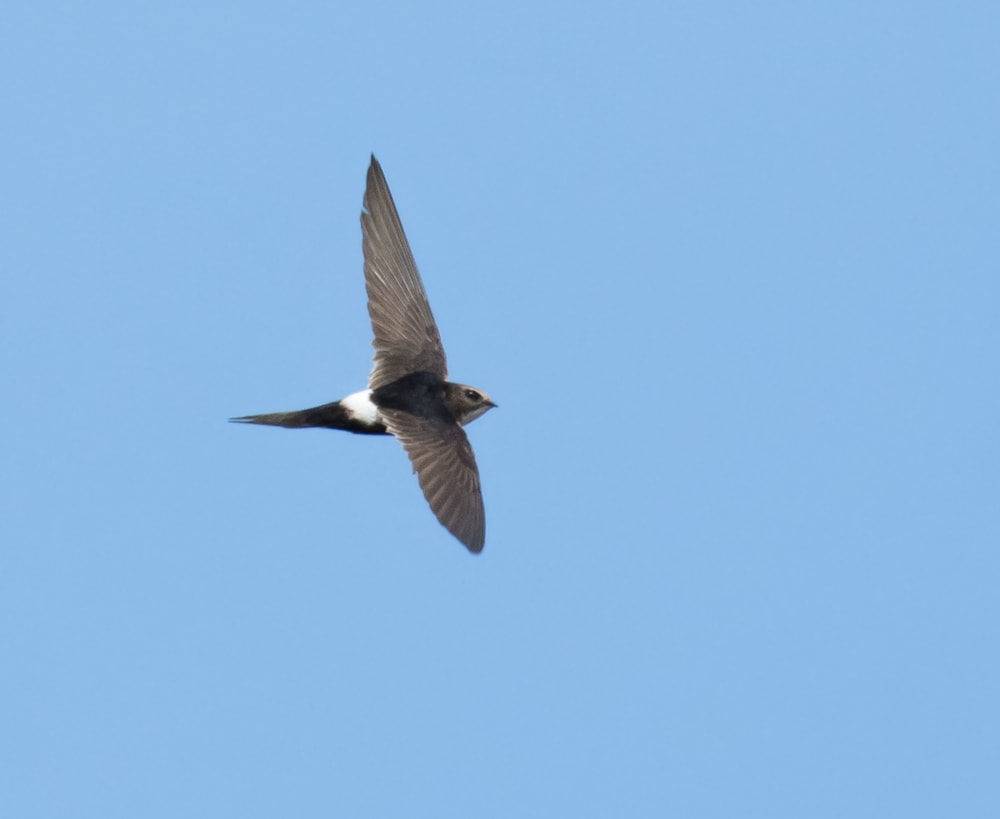 White-rumped Swift, Minerve, Hérault (Gert Vandezande).
Germany's Eastern Imperial Eagle was still in place on 26th and a delightful adult Greater Sand Plover, the country's second this year, was at Beltringharder Koog on 25th. The first-summer Pallas's Gull was still at Siemianowka Reservoir, Poland, on 27th.
A Lesser Spotted Eagle was at Björkvik, Sweden, on 23rd, with the Black-winged Kite still hanging around at Gerum throughout. The Canaries' first Pacific Golden Plover was at Maspalomas, Gran Canaria, from 26th.
Guernsey birders couldn't believe their luck when the first Egyptian Goose for the Channel Islands was at St Saviour's Reservoir from 24th. Also, a special mention goes to the Mute Swan off L'Eree on 22nd – the island's first record for more than three years.