The week was largely one of reappearances rather than new finds, although a first-winter American Herring Gull at West Bexington, Dorset, on 25th was a welcome addition. It was seen again on the morning of 26th, but no further sign left twitchers champing at the bit over a species which has become extremely rare in recent times.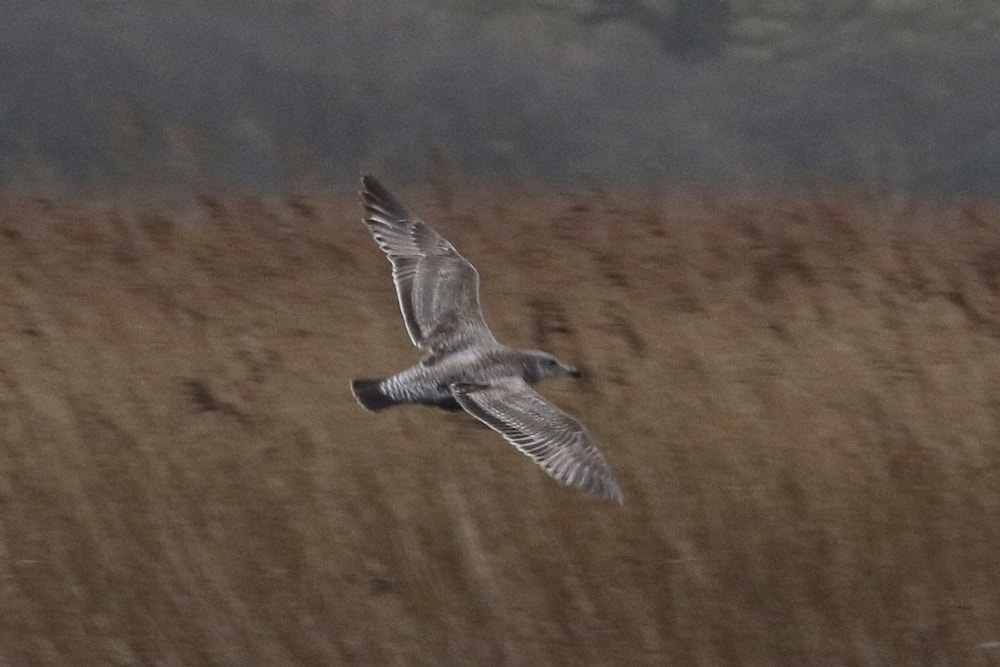 American Herring Gull, West Bexington, Dorset (Mike Morse).
Staying with gulls, the adult Bonaparte's Gull showed well as it fed off the old pier at Kilmore Quay, Co Wexford, throughout the week. A candidate second-winter Azores Gull graced the roost at Blashford Lakes HWT, Hants, on the night of 25th and again briefly on 28th, but didn't settle this time and flew off.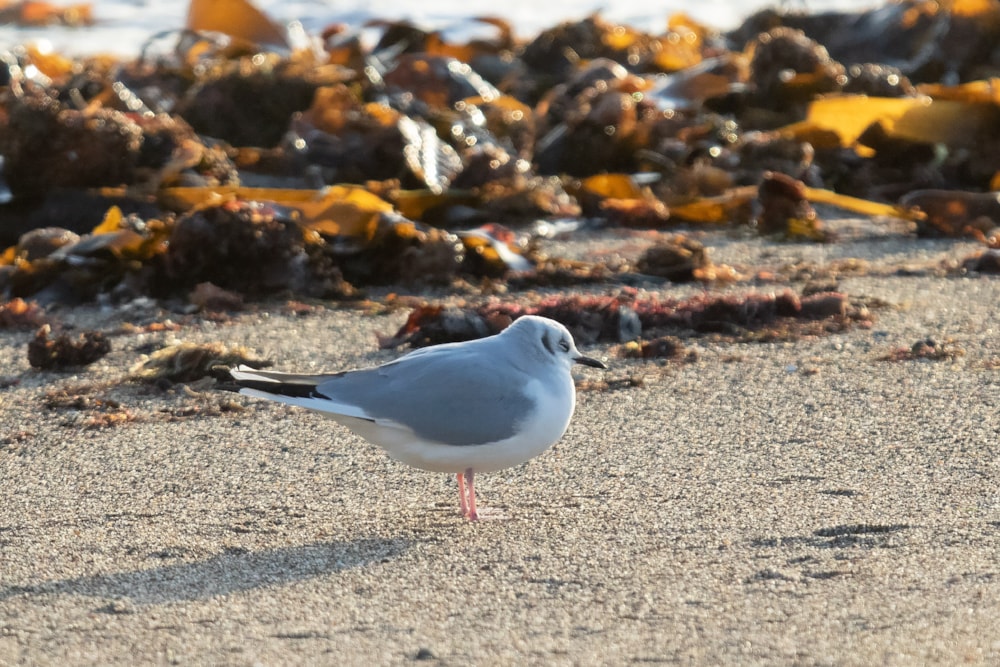 Bonaparte's Gull, Kilmore Quay, Wexford (Paul Smith).
The young drake Steller's Eider resurfaced at Backaskaill Loch on Papa Westray, Orkney, on 24-25th only. However, weather conditions haven't been ideal and the bird is likely to still be lurking.
What is surely last November's Richardson's Cackling Goose was picked up among the Barnacle Geese at Caerlaverock WWT, Dumfries and Galloway, on 27th and was seen again along the entrance road on 28th. If this bird proves loyal it would make a nice year tick for those keen. Further north, two were still with Barnacle Geese at Balranald RSPB on North Uist.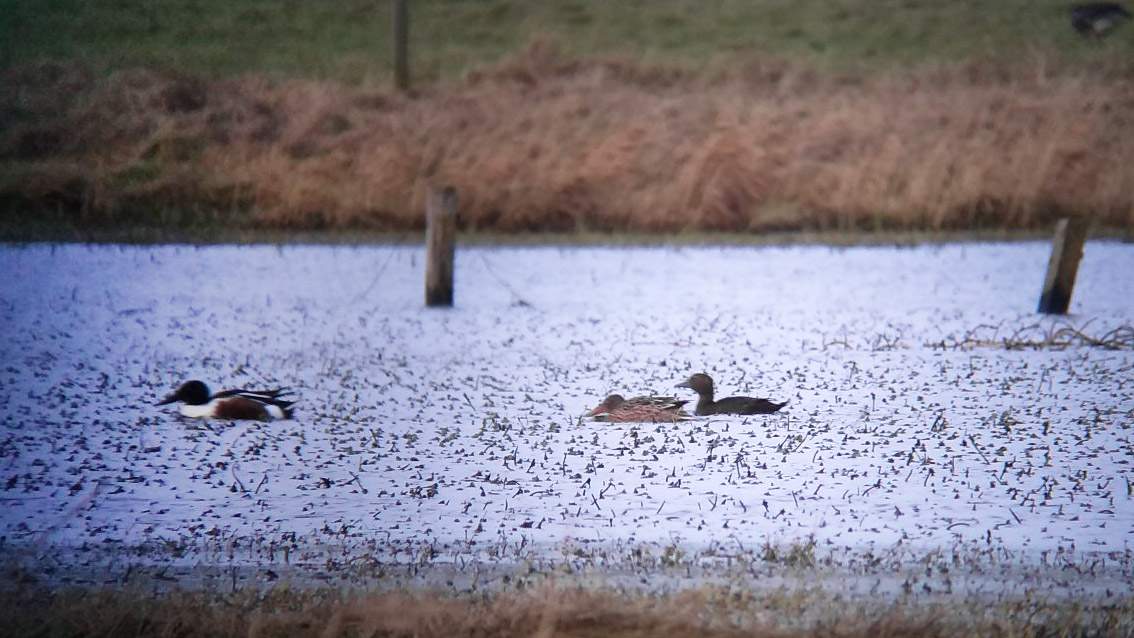 Steller's Eider, Papa Westray, Orkney (David Roche).
The drake Ferruginous Duck was still at Blashford Lakes and a new female-type caused brief excitement at Stanwick GPs, Northants, before ultimately proving to be another hybrid. Both drake Black Scoter were still available off Angus and Northumberland and the drake White-winged Scoter hung on in Lothian, with appearances at Musselburgh and Fisherrow before moving slightly further west to Joppa. The first-winter drake Blue-winged Teal is colouring up nicely at Man Sands, Devon, but has been proving more elusive as of late. That old stalwart, the American Black Duck, was still at Strontian, Highland, on 28th.
Long-billed Dowitchers were well represented this week, with the showy individual still at Marshside RSPB, Lancs, and further birds again in Cumbria, Devon and Co Wicklow – though the last may have moved south to Tacumshin, Co Wexford, from 25th.
Northumberland's Eastern Yellow Wagtail made a surprise reappearance on 24th, having moved just to the west of its favoured field. Meanwhile, the Sedgeford, Norfolk, bird lengthened its stay. Continuing the theme, the American Buff-bellied Pipit was again seen in the maize field at Sennen, Cornwall, on 23rd.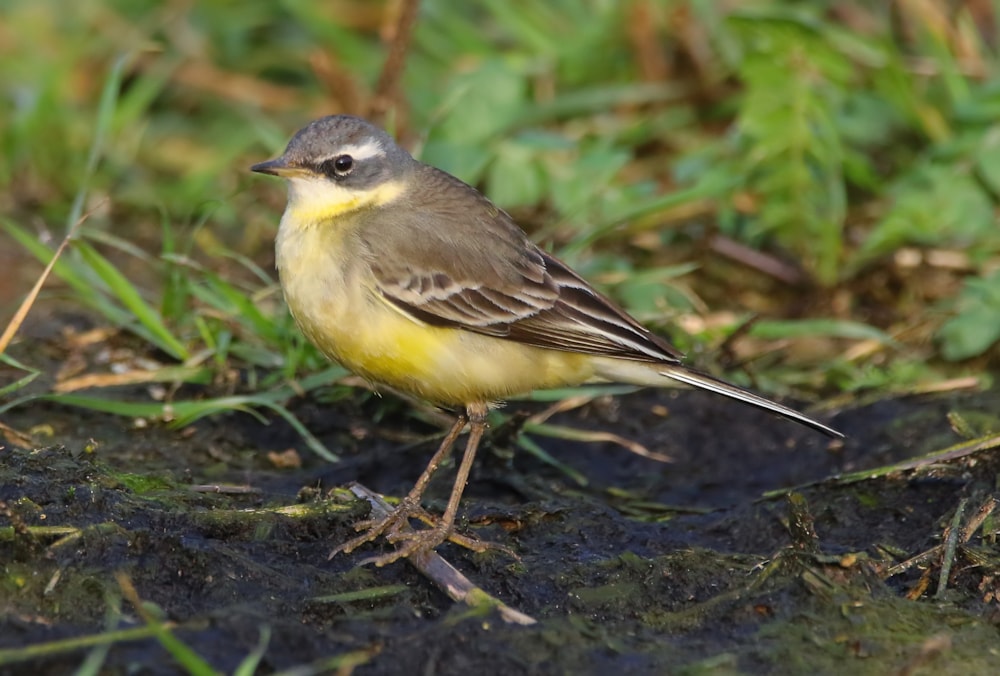 Alaskan Yellow Wagtail, Sedgeford, Norfolk (Jaz Hughes).
Finally, the male Black-throated Thrush was still snaffling up the remaining cotoneaster berries at Whipsnade Zoo, Beds, and the Siberian Stonechat was still at Ashton's Flash, Cheshire, where it occasionally showed well to patient admirers.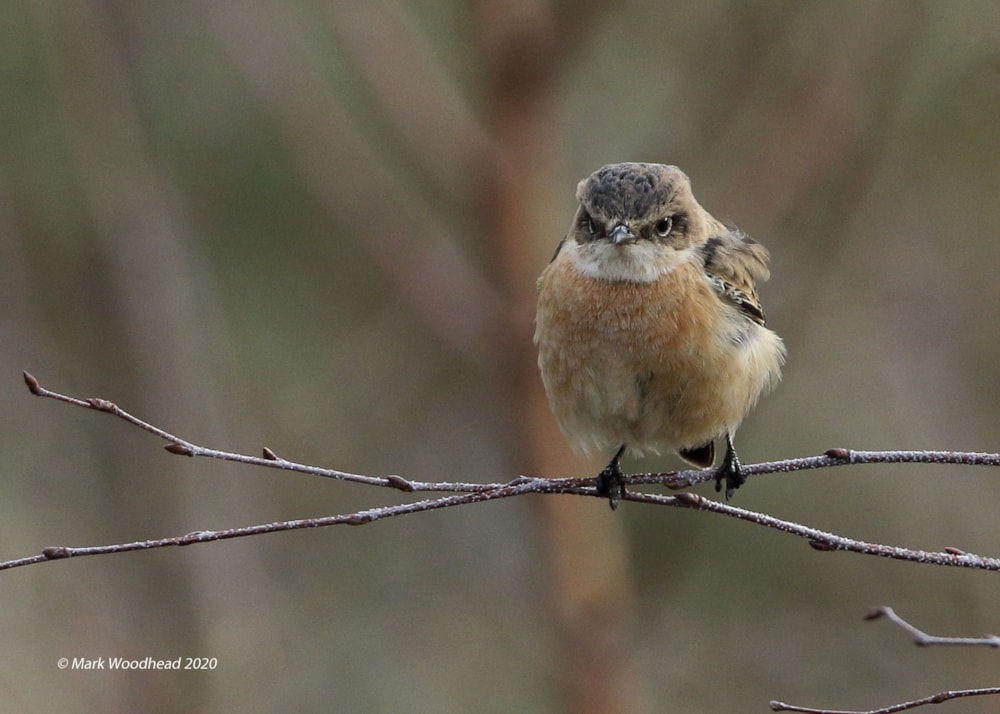 Siberian Stonechat, Ashton's Flash, Cheshire (Mark Woodhead).
Scottish mainland
In Argyll, two Ruddy Shelduck were notable at Machrihanish and are presumably the birds seen recently on Islay.
The American Wigeon was still at Fedderate Res, Aberdeens, until Sunday at least. Loch of Strathbeg RSPB was something of a mini hot-spot with redhead Smew, Tundra Bean Goose and an unseasonable Great Egret still lingering. Glaucous Gulls were at Fraserburgh and Alford. Strachan held a decent Waxwing flock, with up to 98 counted.
The drake Green-winged Teal at Murton GPs and the Great Grey Shrike at Backwater Res ensured Angus birders had reason to get out and about in the week. Two Great Egrets at Forfar Loch offered a little white in this mild winter.
Fife was quiet, but at least the drake Smew was still at Cameron Res. Further south in Forth, 40-50 Waxwings in Dunblane may well have been the same birds seen on a shopping expedition at Matalan in Falkirk at the end of the week.
Strathclyde Loch continued to offer a home to one of precious few wintering Ring-billed Gulls in Britain. The drake Ring-necked Duck at Mugdock Loch also held firm in the period. Up to 350 Waxwings continued to enjoy Glasgow's berries.
Musselburgh's drake Surf Scoter continued to lurk offshore. Further south, up to three Glaucous Gulls and two Black Redstarts frequented the Dunbar area. A Tundra Bean Goose was at Torness and the wintering Water Pipit remained in the Skateraw area.
Northern Isles and the Hebrides
After a fairly quiet winter for white-winged gulls, there was a flurry of activity on Unst, Shetland, at the weekend – a stunning count of 67 Glaucous Gulls was amassed arriving in off the sea at Burrafirth in just three hours on the morning of 25th, with 56 in a similar timeframe the following morning. However, Iceland Gulls remained largely absent, with singles at just four sites around Shetland.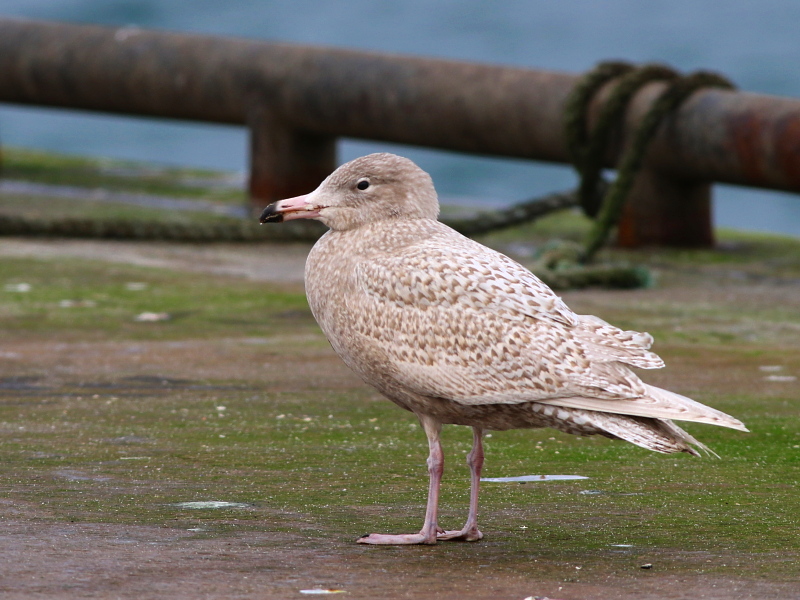 Glaucous Gull, Uyeasound, Unst, Shetland (David Cooper).
A White-billed Diver flew past Mull Head, Papa Westray, on Saturday and an adult was reported as seen from a plane flying over Shapinsay on Sunday.
The two Green-winged Teal in the Outer Hebrides were a drake at Airdmor, Barra – remarkably a first for the island – as well as last week's drake on Benbecula. The Ring-necked Duck on Barra remained at Loch Tangasdail. Glaucous Gulls were at seven sites, including five at Baleshare, North Uist, but Iceland Gulls were noted at only four.
A Todd's Canada Goose was still on Tiree, Argyll, as were the two Ring-necked Duck. On Islay, the drake Green-winged Teal was still at Loch Gruinart RSPB.
North-East England
The adult Common Crane continued to hang out in the upper Wansbeck Valley, Northumberland, some distance from a main road and often dropping into the riverside vegetation, where it could be very elusive. At least two juvenile Iceland Gulls continued to call North Shields home in a week where both weather and birds appeared settled. A new Water Pipit was noted at Newbiggin and the wintering individual remained at Boulmer, where both Black Redstart and Hooded Crow also stayed put.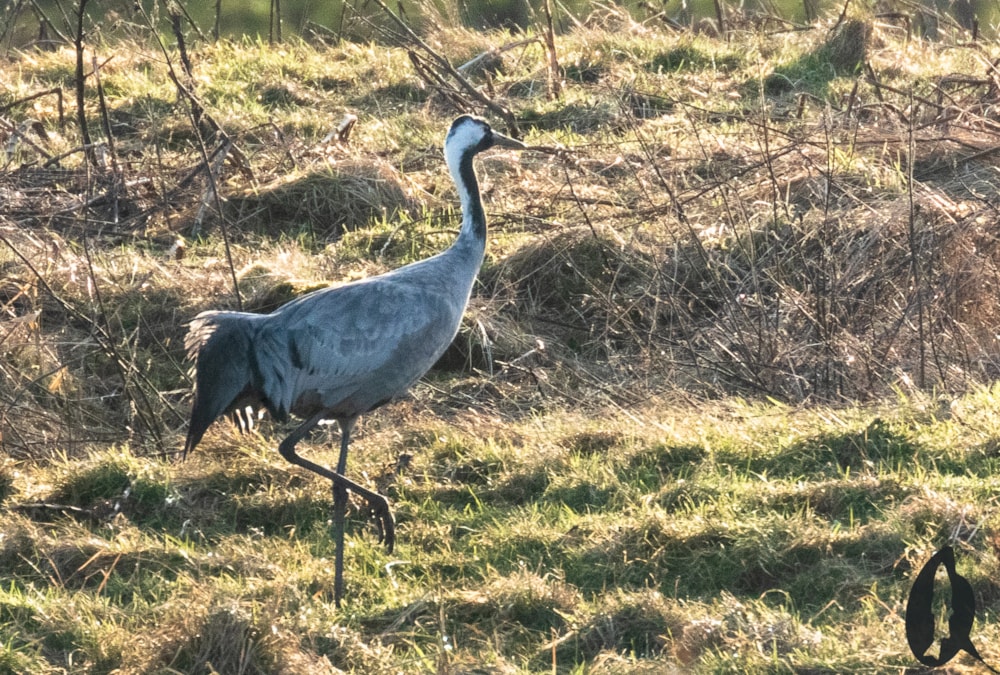 Common Crane, Middleton, Northumberland (Tom Quenet).
Co Durham's Great Grey Shrike was still at Hamsterley Forest as the week started and both Siberian Chiffchaffs at Seaburn and Far Pasture NR were present throughout. An adult Iceland Gull flew south past Whitburn Coastal Park and nearby a Tundra Bean Goose was a one-day affair at Boldon Flats on 27th. The wintering Water Pipit at Whitburn Steel and Snow Buntings at South Shields retained their popularity.
In Cleveland, a Hooded Crow at Dorman's Pool and a Water Pipit at Scaling Dam were both new and both fleeting.
North-West England
Cumbria hung on to its wintering Firecrest at Longtown and a pair of Great Egrets continued by the Lancaster Canal at Holme.
The Purple Heron remained at Eagland Hill, Lancs; however, the bracing weather meant sightings of it were more hit and miss. Not that temperature affected the Pine Lake Ring-necked Duck, which showed well throughout.
Good goosing was to be had in the region this week: the Tundra Bean Goose was still at Martin Mere WWT, up to six were on Crossens Outer Marsh on 27th and one was at Eagland Hill on 28th. Tundra Beans are a rare commodity in Cheshire, so one dropping in at Woolston Eyes NR on the morning of 23rd for a quick swim was notable.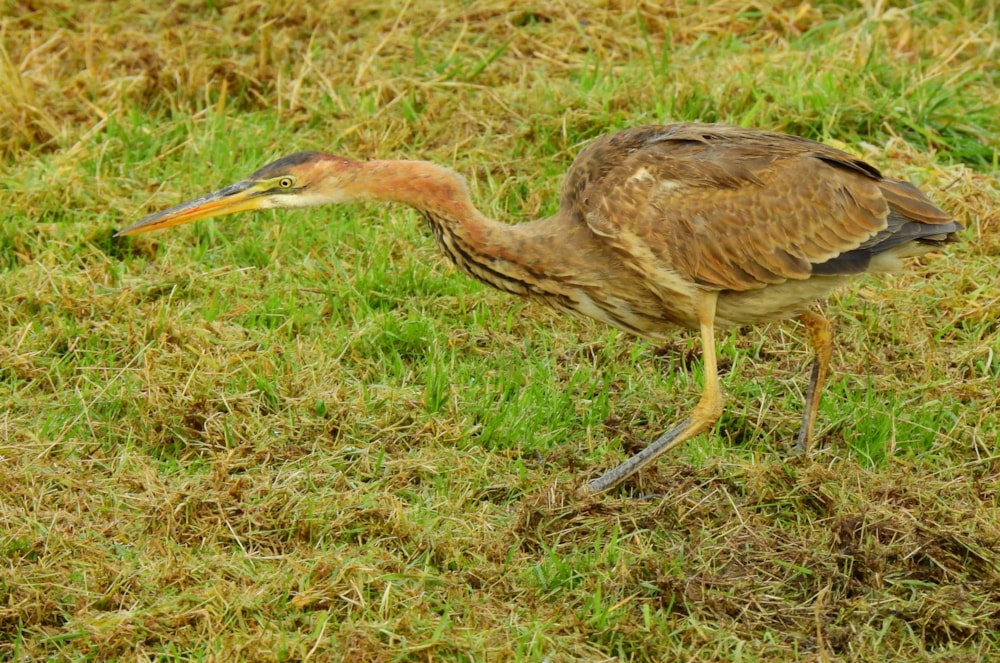 Purple Heron, Eagland Hill, Lancashire (Mark Fanshawe).
Slavonian Grebe is also a scarce species in Cheshire, so one off Hilbre Island on 23rd was of note. The wintering Little Stint was still at Hale and a juvenile Iceland Gull was at Pickerings Pasture on 25th. A belated report of a fly-over Rough-legged Buzzard at Gowy Meadows CWT on 27th caused a local stir, for a mid-winter bird could easily still be in the area.
What is presumably the returning adult Iceland Gull was picked up at Tyldesley, Gtr Manchester, on 23rd and could be the adult roosting at Pennington Flash CP most nights.
Lincolnshire and Yorkshire
A drake Green-winged Teal was new at Wheldrake Ings in what was an otherwise settled period in the two east coast counties. The drake Ring-necked Duck was still on offer near Catterick, North Yorks, as was the Black Brant and its hybrid offspring in the Spurn area. Another of the latter was again at Donna Nook, Lincs, on 24th.
In South Yorkshire, the young Rough-legged Buzzard continued to favour the bleak pit tops near Stainforth and a Great Grey Shrike remained at Hatfield Moors. Further north, the popular Lesser Yellowlegs eased into the third month of its stay at Nosterfield and a Western Cattle Egret was intermittent at Bolton-on-Swale.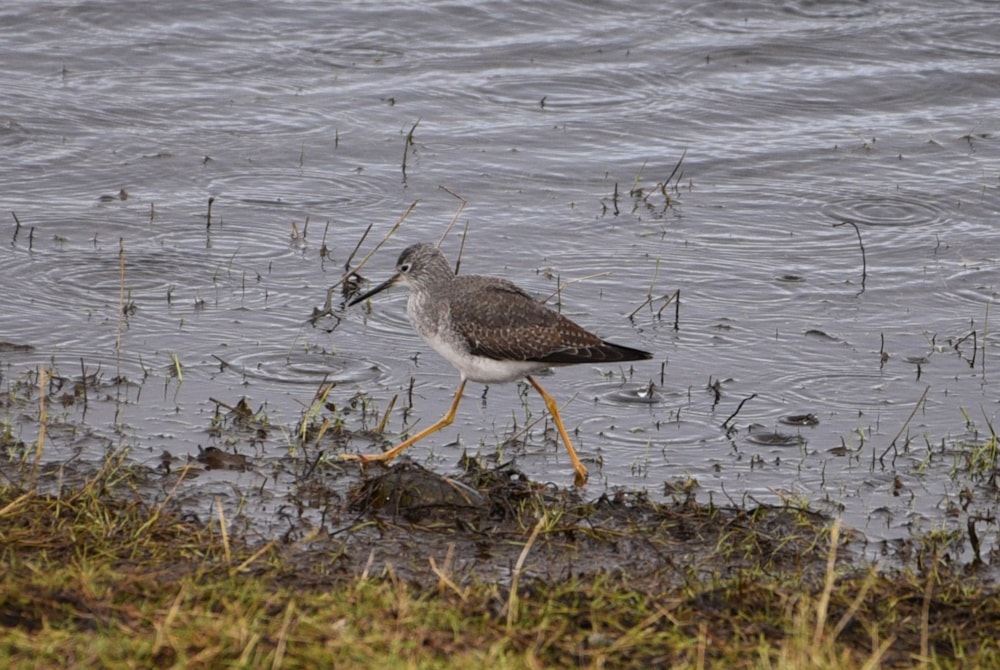 Lesser Yellowlegs, Nosterfield, North Yorkshire (Philip Robinson).
Several evening roosts held Iceland Gulls and a small number of Caspian Gulls were noted too; Redcar Tarn, West Yorks, was notable for offering fine views of both species during the week.
Three Lapland Buntings at Rimac, Lincs, may well be among the largest groups of the species seen anywhere in Britain this week. What is perhaps England's most northerly wintering Yellow-browed Warbler continued to find the play area at East Lea, Filey, to its liking.
West Midlands
The adult Bewick's Swan made two further appearances at Venus Pool NR, Shrops, and the Yellow-browed Warbler was still at Shifnal. Elsewhere in the county, a second-winter Caspian Gull dropped in at Priorslee Lake on the afternoon of 28th.
Longton, Staffs, played host to four Waxwings, which naturally proved popular. A Great Grey Shrike was again seen at Cannock Chase on 27th.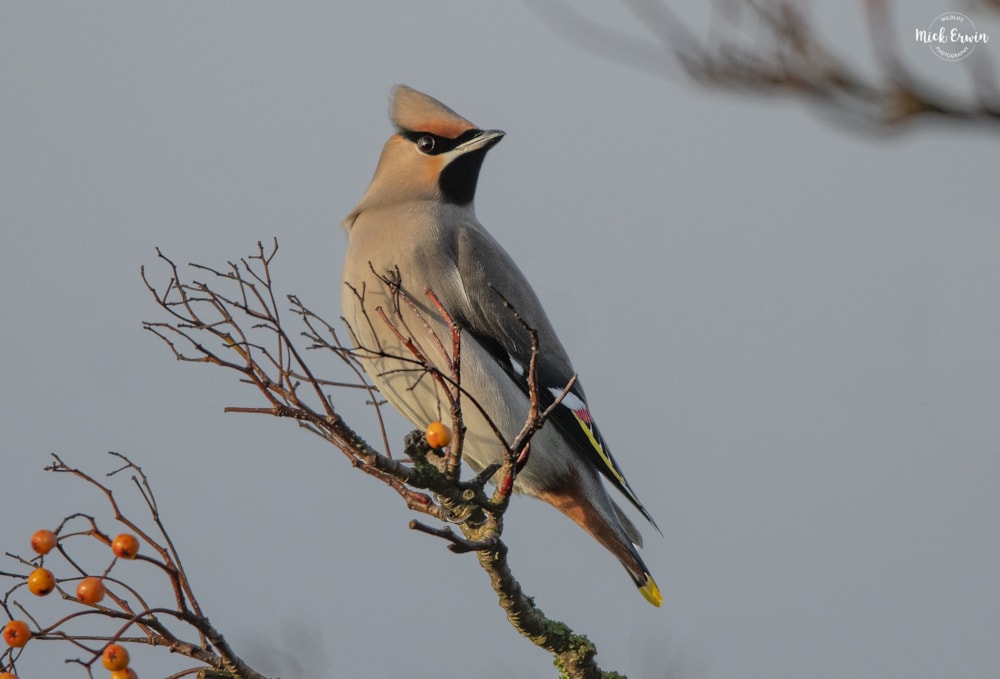 Waxwing, Stoke-on-Trent, Staffordshire (Michael Erwin).
Warwickshire's wintering Great Northern Diver was still at Draycote Water, along with up to three Greater Scaup. The gull roost here continues to deliver, with regular adult and juvenile Glaucous Gulls being pick of the bunch, along with a selection of Caspian and Yellow-legged Gulls.
East Midlands
Shawell dominated Leicestershire's news again, with the third-winter Kumlien's, juvenile Glaucous and a good selection of Caspian Gulls still. Smew remained at all the usual spots in the region, peaking at 11 at Rutland Water on 27th. Also there, 10 Greater Scaup were counted on 26th and the typical assortment of scarce grebes and ducks remained.
Four Waxwings pleased the crowds all week at Retford, Notts. Two sites supported Smew in the county, and Attenborough NR held onto the Slavonian Grebe. The Thoresby Park Hawfinch count rose to 15 on the 24th, with a further three seen at Clumber Park.
It was much of a muchness in Derbyshire, with both Great Northern Divers still finding Carsington Water to their liking. Two Smew were recorded at Aston-on-Trent GPs on 26th, but there have been no further reports since.
East Anglia
Despite it being a relatively quiet week nationwide, Norfolk nonetheless conjured well in excess of 200 reports over the seven days. A typical scattering of wintering fare was noted, with the Rough-legged Buzzard at Wells-next-the-Sea and a fine adult Black Brant at nearby Holkham among the highlights.
Sheringham, Cley and Earlham (near Norwich) were the places to enjoy good views of Caspian Gull, while other notable bits and bobs included a Hooded Crow near Waxham and a Red-necked Grebe at Filby Broad. Tundra Bean Geese remained prominent, with up 24 at East Somerton the top count.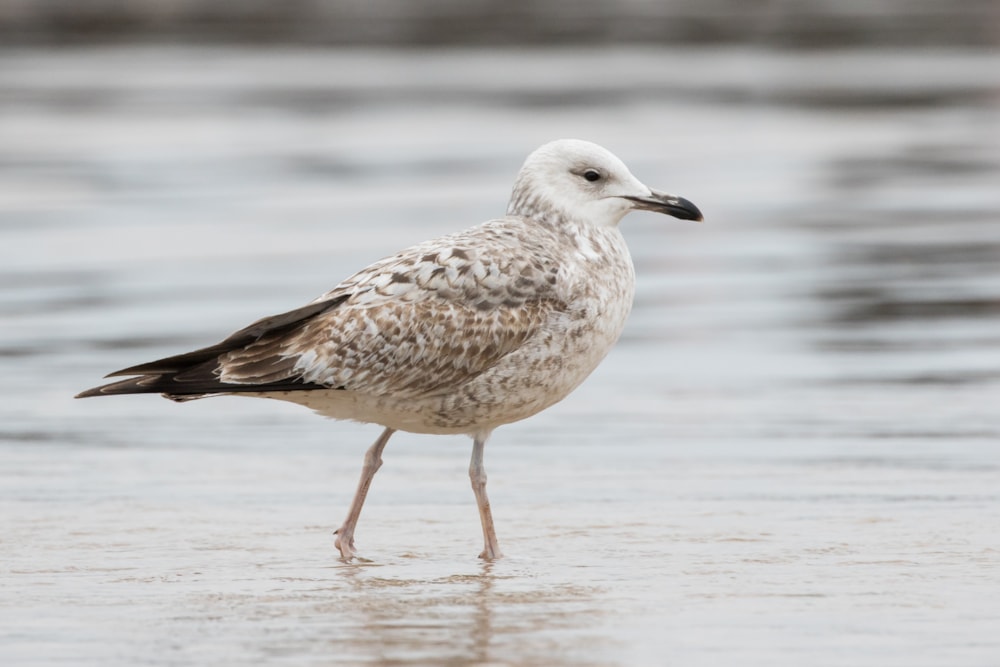 Caspian Gull, Sheringham, Norfolk (Jack Morris).
Notable Suffolk news was again almost totally confined to the coast, with the Green-winged Teal at Minsmere and Rough-legged Buzzard at Bawdsey again the standout birds. Other bits included a few flocks of Tundra Bean Geese (up to 17 at Gedgrave, for example) and the Shore Lark still at Kessingland to 27th.
The Big Garden Birdwatch produced a candidate Siberian Lesser Whitethroat in a garden in Rayleigh, Essex. Ring-necked Duck, Bewick's Swan and Smew were among the lingering birds at Abberton Res, with a couple of Smew also still in the Lee Valley. An impressive 10 Hawfinches were counted in Hatfield Forest on 25th.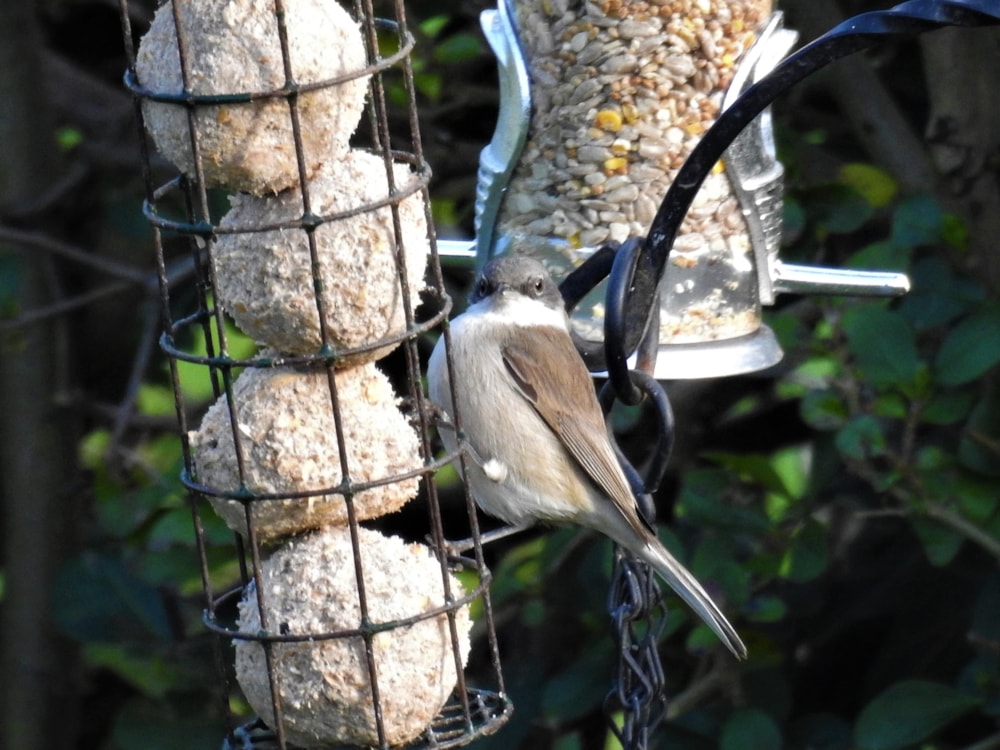 Siberian Lesser Whitethroat, Rayleigh, Essex (Andrew Lantaff).
CTRL+C on the keyboard would have sufficed for Bedfordshire's highlights, with the Great Grey Shrike at Brogborough, Ring-necked Duck and Black-necked Grebe at Priory CP and Waxwings in Sandy all still around.
The same could be said for Cambridgeshire: up to six Tundra Bean Geese and several Common Cranes were popular at Thorney, while several Smew frequented Needingworth Quarry Lakes and Paxton Pits. A third-winter Iceland Gull at Long Drove, Cottenham, on 25th was presumably the bird which then roosted at Grafham Water that evening.
South-East England
In Kent, a Black Brant was at Harty Marshes, Sheppey, on 26th, while the Richard's Pipit and Rough-legged Buzzard hung on at Halstow and Chetney Marshes respectively. A Eurasian Penduline Tit was a brief visitor to Stodmarsh NNR on 24th, where there were also a couple of Tundra Bean Geese. A Pomarine Skua was off Dungeness on 24th, where a Glaucous Gull was also seen on 25th and the drake Smew remained. A Ruddy Turnstone at Sevenoaks WR on 26th was an unusual January record.
Sussex produced a typical array of Siberian Chiffchaffs, Hawfinches and other wintering species, with Smew at Rye Harbour and Pulborough Brooks. A Little Bunting reported at Ashdown Forest on 28th would arguably have been the region's bird of the week, had it been confirmed.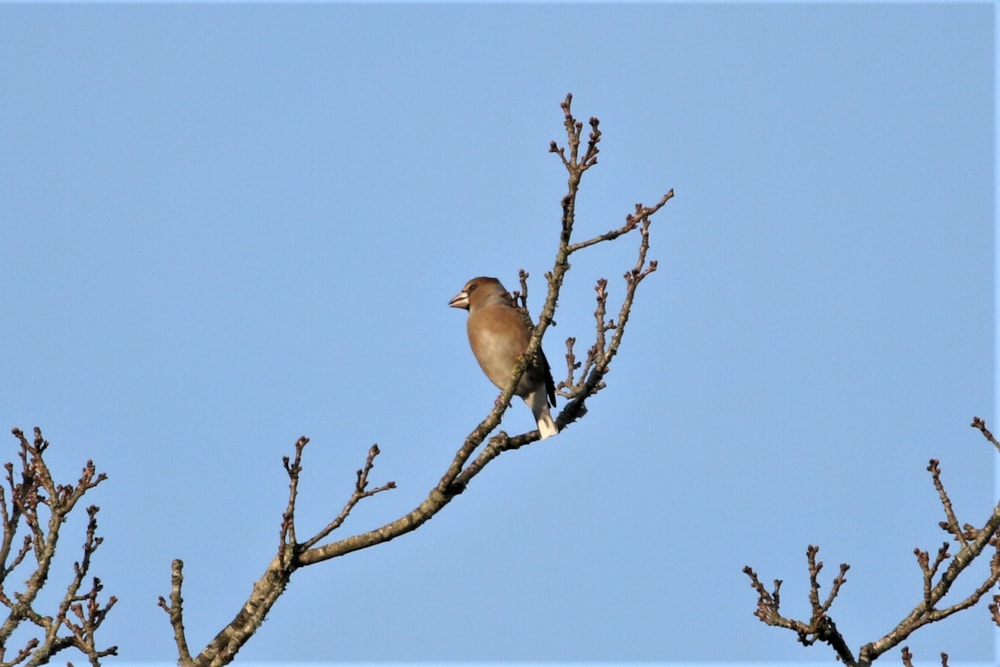 Hawfinch, Ardingly, West Sussex (Mark Mallalieu).
A European Turtle Dove in an Ilford park was well within the Greater London area and represented a fine record, although it would have caused more of a stir had it been Oriental. A couple of Siberian Chiffchaffs were seen, one of which was at Beckton, where the juvenile Iceland Gull continued to show well. Another Iceland, an adult and presumably the returning bird seen annually since it arrived as a juvenile in late 2016, was back at the London Wetland Centre on 26th. Bizarrely, a Swallow passed over Rotherhithe on 25th.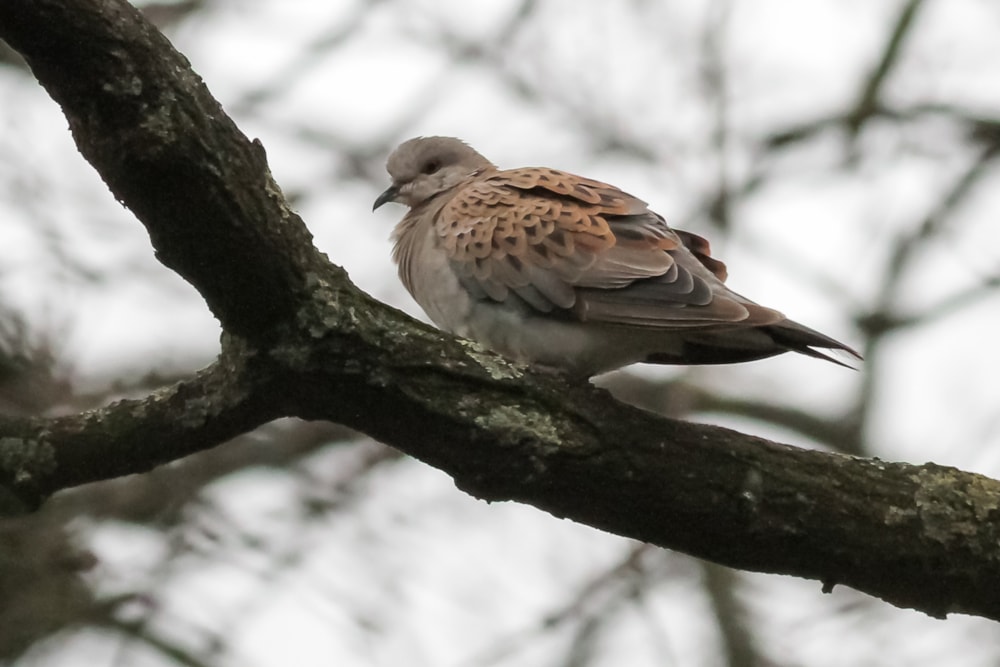 European Turtle Dove, Valentine's Park, London (Dante Shepherd).
A quiet seven days for Surrey saw the two Great Northern Divers hang on at Island Barn Res, where six Brent Geese flew over on 23rd. Hampshire produced a couple of Great Grey Shrikes in the New Forest, while a tally of 54 Hawfinches at Fairley Mount CP on 28th was notable – though the Southsea Purple Sandpiper roost declined to just a single bird.
Dix Pit was the place to be in Oxfordshire, with Garganey, Smew and a trio of Greater Scaup all on offer. Port Meadow produced multiple roosting Caspian Gulls. Buckinghamshire's best bird was again the Ring Ouzel at Pitstone Hill, while three Hertfordshire sites produced Hawfinches.
South-West England
Cornwall's duck bonanza continued, with Lesser Scaup, Green-winged Teal and Ring-necked Duck all represented. The adult Ring-billed Gull could still be found at Hayle Estuary, with the usual Caspian Gulls present and correct. Up to three Lapland Buntings happily fed away among the Eurasian Skylarks at Trevose Head, where a Snow Bunting also joined them.
In Devon, Fremington's Glossy Ibis remained loyal throughout the week, while three sites recorded Ring-necked Duck. A new first-winter Caspian Gull was found on the Axe Estuary on 28th.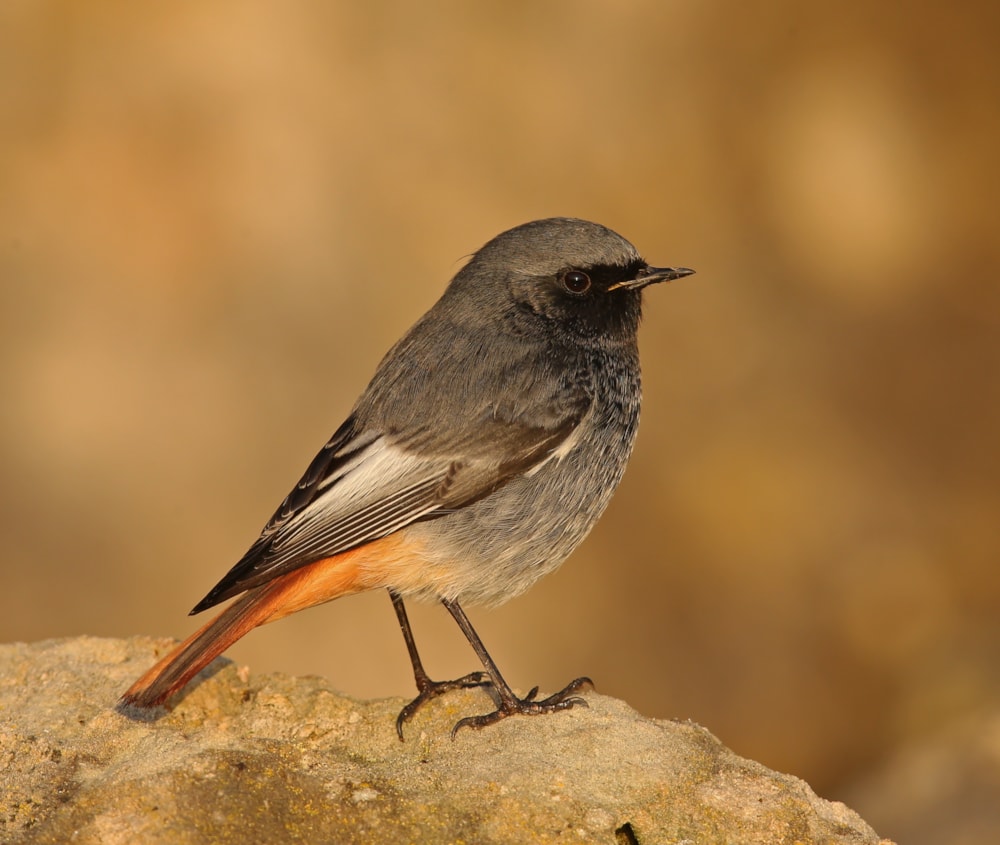 Black Redstart, Seaton, Devon (Mark Chivers).
The drake American Wigeon at Shapwick Heath, Somerset, was less reliable and was only seen again on 27th before disappearing. Steart WWT retained its Richard's Pipit, and the Yellow-browed Warbler lingered at Ham Wall RSPB.
Dorset arguably claimed the region's bird of the week, with a showy male Eurasian Penduline Tit at Lodmoor RSPB on 28th – a returning bird? However, by late morning it had gone missing. The Great Grey Shrike persisted at Morden Bog NNR, as did the Black Brant at Ower Bay. The Yellow-browed Warbler made another appearance at Stour Valley LNR on 26th.
A drake Green-winged Teal was found at Slimbridge WWT on 23rd, where the pair of Greenland White-fronted Geese were still mingling with their Russian counterparts. Both Great Grey Shrikes remained in the county, with the Stratton bird being particularly showy, where it was seen snatching voles for its larder. Wiltshire's most notable bird was a Siberian Chiffchaff in Swindon.
Wales
In a poor year for the species, three Waxwings were welcome at Old Colwyn on the morning of 23rd.
Ring-necked Duck remained at Llyn Blaenmelindwr, Ceredigion, and Marloes Mere, Pembs, throughout the week. Velvet Scoter were seen at a few coastal sites, and a count of 27 off Wiseman's Bridge, Pembs, was very respectable.
The Glossy Ibis and Black-necked Grebe both stayed put at Newport Wetlands, and a pair of Siberian Chiffchaffs performed wonderfully at Cardiff Bay. The usual smattering of Eurasian Spoonbills were on the south coast. The continuing Great Grey Shrike remained at Afan Forest Park, Glamorgan. Five sites produced Hawfinch, with peak counts of nine at Maentwrog, Gwynedd, and eight at Forest Ganol, Glamorgan.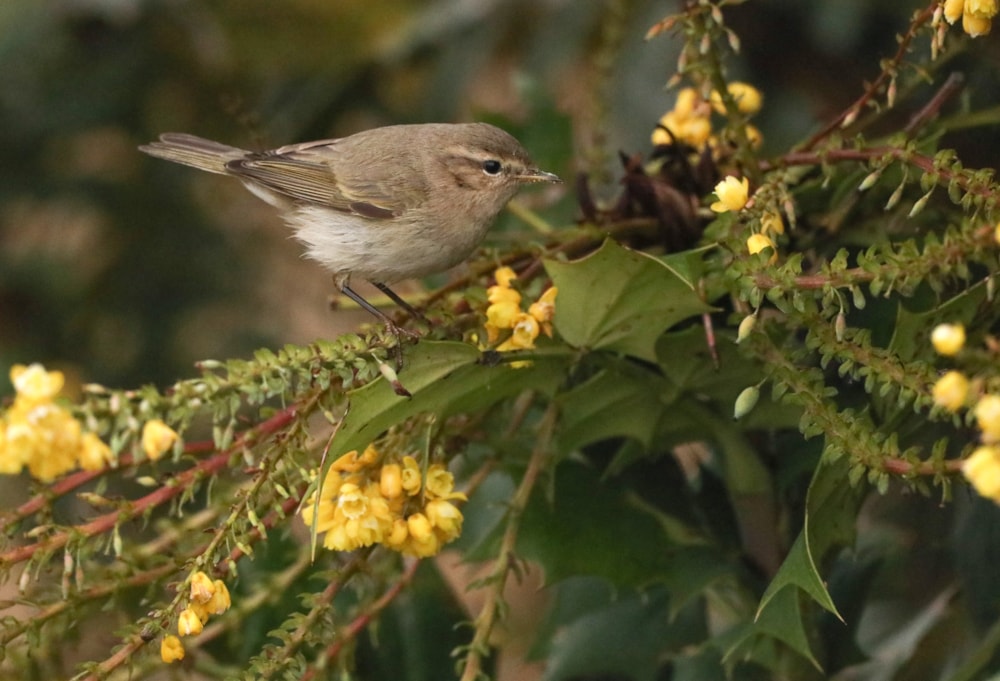 Siberian Chiffchaff, Cardiff Bay, Glamorgan (Tate Lloyd).
Republic of Ireland
Six sites produced Ring-billed Gull, including a welcome first-winter at Omey Island, Co Galway, on 27th and two at Clonakilty, Co Cork.
Four Ring-necked Duck were at three sites in Counties Donegal, Sligo and Cork; the American Wigeon was still at Culdaff, Co Donegal, and Green-winged Teal were in Counties Wicklow and Kerry. A Red-necked Grebe off Owenahincha, Co Cork, on 27th was very notable. The Bewick's Swan was again seen near Brideswell, Co Roscommon, on 26th.
Glossy Ibises were in Counties Wexford and Waterford. An impressive count of six Siberian Chiffchaffs was noted near Killarney, Co Kerry, on 23rd, while a great west-coast bird concerned the Water Pipit at Oranmore, Co Galway, on 25th.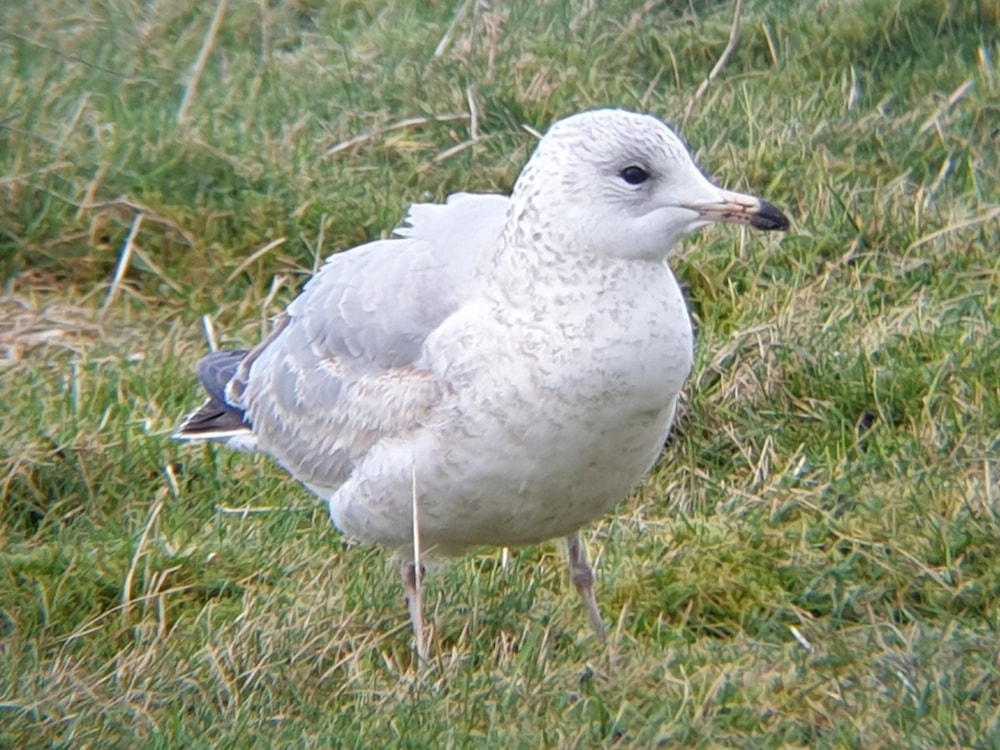 Ring-billed Gull, Omey Island/Strand, Galway (Dermot Breen).
Northern Ireland
A Lesser Yellowlegs was a great discovery on the shores of Lough Beg, Co Antrim, on 28th; a Eurasian Spoonbill was also seen there. A returning adult Ring-billed Gull was seen at Belfast Waterworks on 25th, with a drake Ring-necked Duck at Oxford Island, Co Armagh, that day.
Western Palearctic
It was an entertaining week regionwide, with Mauritania treated to its first Eurasian Siskin in Nouadhibou on 22nd, closely followed by a first-winter Dwarf Bittern the following day. An eclectic mix indeed ...
In fact it was a super week for Afrotropical vagrants, with the Abyssinian Roller refound at Las Palmas, Gran Canaria, on 24th and reported regularly thereafter. Not one but two Lesser Moorhens included a bird taken into care on Lanzarote on 22nd, having flown into a building and stunned itself. The second, more sensationally, was on the Spanish mainland at Olot, Catalonia, on 23rd, but it quickly disappeared after discovery.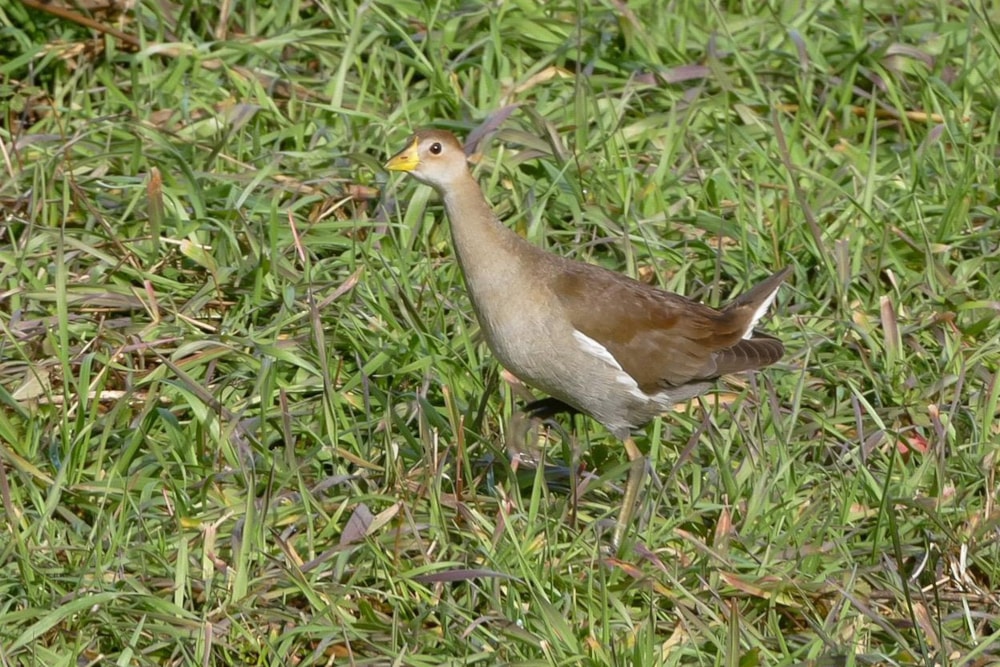 Lesser Moorhen, Olot, Catalonia (Pere Baucells Colomer).
The American Buff-bellied Pipit was still on show in Galicia this week, while in north-west France, a White-billed Diver off Gâvres on 24th was just the 16th national record.
Italian listers were no doubt interested to hear that the Rüppell's Vulture was still in the Alcara li Fusi area of Sicily on 24th, while a White-tailed Lapwing was found at Foce del Fortore, Puglia, that day and was only a national sixth.
Njarðvík in south-west Iceland produced a White-billed Diver – amazingly just a national third – as well as the long-staying White-winged Scoter. Meanwhile, quite sensationally, a Tufted Puffin was shot in the Faroe Islands this week. In Sweden, the Eastern Yellow Wagtail was relocated at Trelleborg (it hadn't been reported since mid-December) and, just up the coast, the Masked Wagtail hung on at Falkenburg.
Belgium's Dusky Thrush continued to draw admirers to Turnhout, as did the resident Pygmy Cormorant on the outskirts of Brussels. Dutch news included the continuing Great White Pelican and Pied Crow.
Remarkable developments in Kuwait concerned the presence of up to four Purple Sunbirds at two different sites in the city, with at least one of these couples exhibiting signs of breeding. Is colonisation on the cards? Other sightings included the lingering Eversmann's Redstart (and a Black-throated Thrush) at Al-Abraq, the Brown Shrike at Jahra Pools and another Black-throated Thrush at Mutla'a Ranch.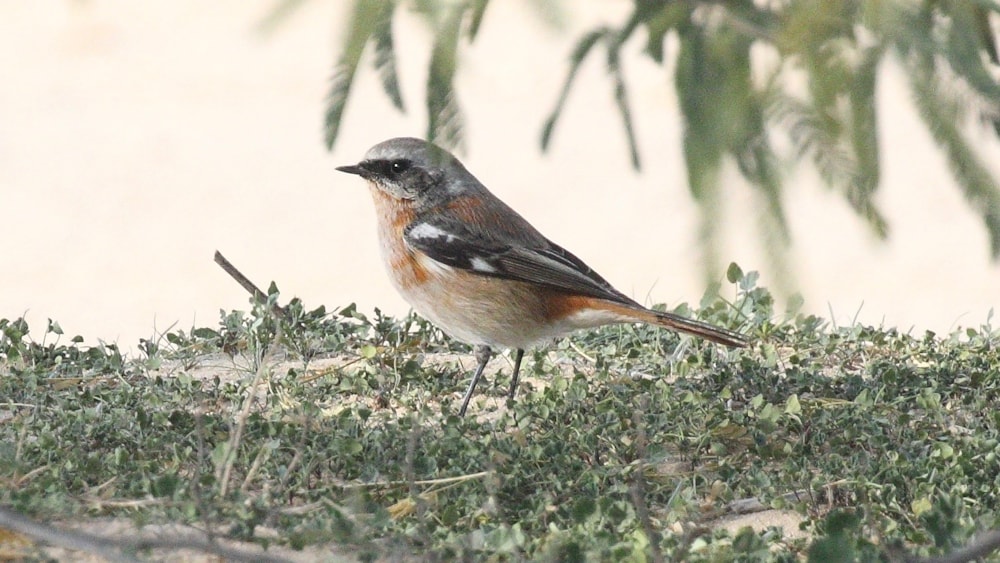 Eversmann's Redstart, Al-Abraq, Kuwait (Peter Stronach).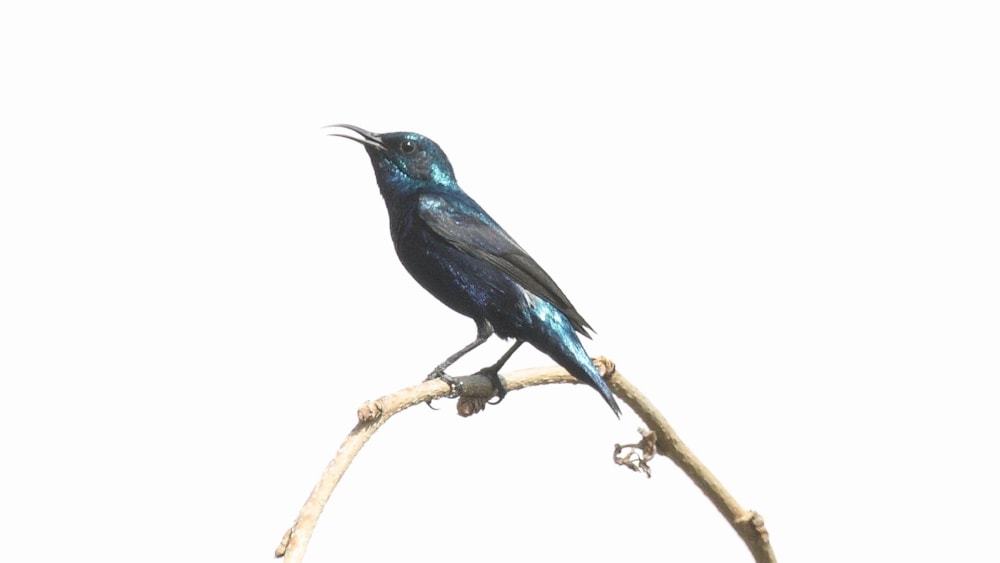 Purple Sunbird, Kuwait City, Kuwait (Peter Stronach).
Finally, in Israel, the resident Lesser White-fronted Goose was seen again at Eilat, as were at least two Crested Honey Buzzards.