Autumn continued to gather pace, with migration increasingly evident across the isles as new rarities and scarcities were found. That said, star bird of the week was probably the American Black Tern at Dungeness RSPB, Kent, which we reported on in last week's review.
Remaining for the entirety of the week, the bird was generally present among up to 80 nominate Black Terns, allowing for side-by-side comparisons to be made. Late August and early September seems prime time for juveniles of this striking subspecies to appear on this side of the Atlantic, with several previous occurrences at this time – not least the well-watched birds in Lancashire in 2012 and Oxfordshire in 2009. Read an account of the discovery of the Dungeness bird by finder Stephen Message here.

American Black Tern, Dungeness RSPB, Kent (David Walker).
A smart find for Frampton Marsh, Lincs, was an adult Stilt Sandpiper on 22nd, lingering until the end of the week. It was often seen alongside a juvenile Red-necked Phalarope, which also lingered there, and an adult Long-billed Dowitcher also called in on 24th, remaining to the week's end and making for another memorable week for this terrific reserve.

Stilt Sandpiper, Frampton Marsh RSPB, Lincolnshire (Paul Coombes).
Meanwhile, on the Isles of Scilly, the Solitary Sandpiper remained on Tresco to 25th and the Spotted Sandpiper was last noted on St Mary's, on 24th. At the opposite end of our isles, an adult Buff-breasted Sandpiper touched down on North Ronaldsay, Orkney, on 28th, but the White-rumped Sandpiper wasn't seen at Pool of Virkie, Shetland, past 23rd, the same day Minsmere's Semipalmated Sandpiper was last seen. Remarkably, just a single Pectoral Sandpiper was seen – at Lough Swilly, Co Donegal, on 24th.

White-rumped Sandpiper, Pool of Virkie, Mainland, Shetland (Roger Riddington).
An adult American Golden Plover flew over Tacumshin, Co Wexford, on 25th, while the Pacific Golden Plover spontaneously reappeared at Findhorn Bay, Moray, on 22nd. Juvenile Red-necked Phalaropes were at Scatness, Shetland, and Halvergate Marshes, Suffolk. A Kentish Plover visited the typical locality of Pegwell Bay, Kent, on 26th.
Seabirds remain prominent on the airwaves, with yet another claim of Barolo Shearwater from Bridges of Ross, Co Clare, this week – there have been no fewer than seven reports of the species from this seawatching hot-spot since 2010. Of the four Fea's-type Petrels seen this week, a bird passing Whitburn, Durham, and later Cullercoats, Northumberland, on the evening of 25th was the stand-out record in terms of location. However, one photographed from a pelagic off Cape Clear, Co Cork, on 26th was definitely the most gripping. Two fly-bys were also noted at Porthgwarra, Cornwall, on 26th and 28th, making it four records from the hot-spot so far this summer. Porthgwarra also logged a reported Yelkouan Shearwater on 28th.

Fea's-type petrel, Cork pelagic, Cork (John Coveney).
Great Shearwaters remained prominent in south-western areas, with a peak of 80+ from a Scilly pelagic on 25th. Cory's Shearwater numbers are now dwindling, although 20 were seen off Bryher, Scilly, on 23rd, while September staples such as Sabine's Gull, Leach's Storm Petrel, Grey Phalarope and Long-tailed Skua all started to show up in greater numbers. Three Wilson's Storm Petrels were seen from a Scilly pelagic on 23rd, with two on 24th and one on 26th. Two were also seen from the Scillonian crossing on 24th while a couple of fly-bys were noted at Bridges of Ross, Co Clare.

Great Shearwater, Scilly pelagic, Isles of Scilly (Joe Pender).
There are certain species of wildfowl that have traditionally attracted controversy, with Marbled Duck being prominent among them. Do they turn up here as wild birds, or are they all escapes from captivity? Certainly, a lot of birders favour the former and it may well be that this species one day makes it on to the British list – particularly given the recent admission of Western Swamphen, a species that occupies a similar niche and overlaps in range. An unringed bird at Grimley, Worcs, from 26th pricked ears and, having turned up a what we'd perceive to be a 'good' time of year, could it be the bird that finally makes the grade…? [UPDATE: apparently not, as another extremely confiding bird was found down the road on 29th and it would appear a 'batch' of these birds may have escaped from somewhere ...]

Marbled Duck, Camp Lane Pools, Grimley, Worcestershire (Andrew Warr).
Elsewhere, the legendary American Black Duck continued at Strontian, Highland, this week, alongside a flotilla of hybrid offspring – this bird, at least 11 years old now, must surely be well into the autumn of its life as such a ripe old age. The Ferruginous Duck was still at Abberton Reservoir, Essex, while a drake American Wigeon arrived at Lough Beg, Co Derry, on 25th and the female Hooded Merganser lingered near Lerwick, Shetland, for another week. Meanwhile, a drake Surf Scoter remained in the Sound of Taransay, Outer Hebrides.

Hooded Merganser, Lerwick, Mainland, Shetland (Roger Riddington).
An outrageous flock of 51 Western Cattle Egrets was logged at South Huish Marsh, Devon, which must surely be a new British record count, while up to 16 were at Catcott Lows, Somerset. After disappearing for the entirety of Birdfair weekend, the Purple Heron was back at Rutland Water from 21-23rd. Elsewhere, the juvenile continued to roost occasionally at Studland, Dorset, and a first-summer was at How Hill, Norfolk. Glossy Ibises were in Suffolk, Essex, Devon (three birds at two sites) and Cornwall.
Content continues after advertisements

Western Cattle Egrets, South Huish Marsh, Devon (Paul Roberts).
The good run of Spotted Crakes continued, with at least 11 sites in Britain hosting the species, plus an additional bird on Jersey. Of these, notable new records came from Willen Lake, Bucks, from 27th, Eton Wick, Berks, from 27th and Otter Estuary, Devon, throughout the week.
Adult Bonaparte's Gulls lingered around Hilbre Island, Cheshire, and at Oare Marshes, Kent, throughout the week, while the Forster's Tern was still at Soldier's Point, Co Louth, on 27th. A candidate adult Baltic Gull was seen near Spalford, Notts, on 23rd, while Caspian Gulls were reported from over 25 sites, with Cromer seafront, Norfolk, hosting up to four juveniles.
Migrant passerines continued to arrive, albeit it as more of a conserved flow rather than a flood. An Arctic Warbler was bang on cue at Hestingott, Shetland, on 27th, while an influx of Barred Warblers to the Northern Isles brought at least 11 to Shetland that day, including three on Fair Isle. The only exception was one at The Naze, Essex, on 28th. In Norfolk, Icterine Warblers were at Winterton Dunes on 22nd and East Hills, Wells, on 23rd, while there was a curious report from Mancetter, Warks, on 26th. A Melodious Warbler showed well at Beachy Head, East Sussex, from 22-26th, with another at St Catherine's Point, IOW, on 24th.

Arctic Warbler, Hestingott, Mainland, Shetland (Roger Riddington).

Melodious Warbler, Beachy Head, East Sussex (Drew Lyness).
Aquatic Warblers continue to tantalise birders, with 22nd producing two: one was trapped and ringed at St Ouen's Pond, Jersey, and another briefly glimpsed in the field at Lytchett Bay, Dorset. Several Marsh Warblers ween seen across Shetland.

Aquatic Warbler (left) with Sedge Warbler, St. Ouen's Pond, Jersey (Romano da Costa).
Around a dozen Wrynecks were seen, most of which were in the south of England, but one reached Trondra, Shetland, on 28th. Meanwhile a Hoopoe was at Falmer, East Sussex, on 23rd. No fewer than five Common Rosefinches were seen across Shetland, with a juvenile Rosy Starling also arriving at Skaw, Unst, on 27-28th. Another juvenile was at Beesands Ley, Devon, from 27th, while an adult was at Valley, Anglesey, on 24th and a lingering bird remained on Tiree, Argyll. Last week's Citrine Wagtail showed well on St Mary's, Scilly, to 25th. A Red-backed Shrike at Wanstead Flats, London, on 28th was a fantastic local record, with others at Dungeness, Kent, on 26th and Hook-with-Warsash reserve, Hants, on 27th.

Citrine Wagtail, Isles of Scilly, Isles of Scilly (Mark Leitch).
An Ortolan Bunting was trapped and ringed at Cuckmere Haven, East Sussex, on 28th, with another plucked from a mist net at Hollesley, Suffolk, on 22nd. Brief birds were also at Bempton Cliffs, East Yorks, Abbotsbury, Dorset, Sand Point, Somerset, and Beachy Head, East Sussex, while two were sound recorded nocturnally in Dorset.
Western Palearctic
The circumstances surrounding the discovery of the Yellow-bellied Sapsucker at Apavatn, Iceland, must be one of the stories of the year. Tell-tale boreholes, where the bird had been feeding, were found on over 10 different trees in early August, but it wasn't until 25th that the perpetrator was finally seen. Since then it's been reported near daily, and often shows stunningly well, as the photo below shows …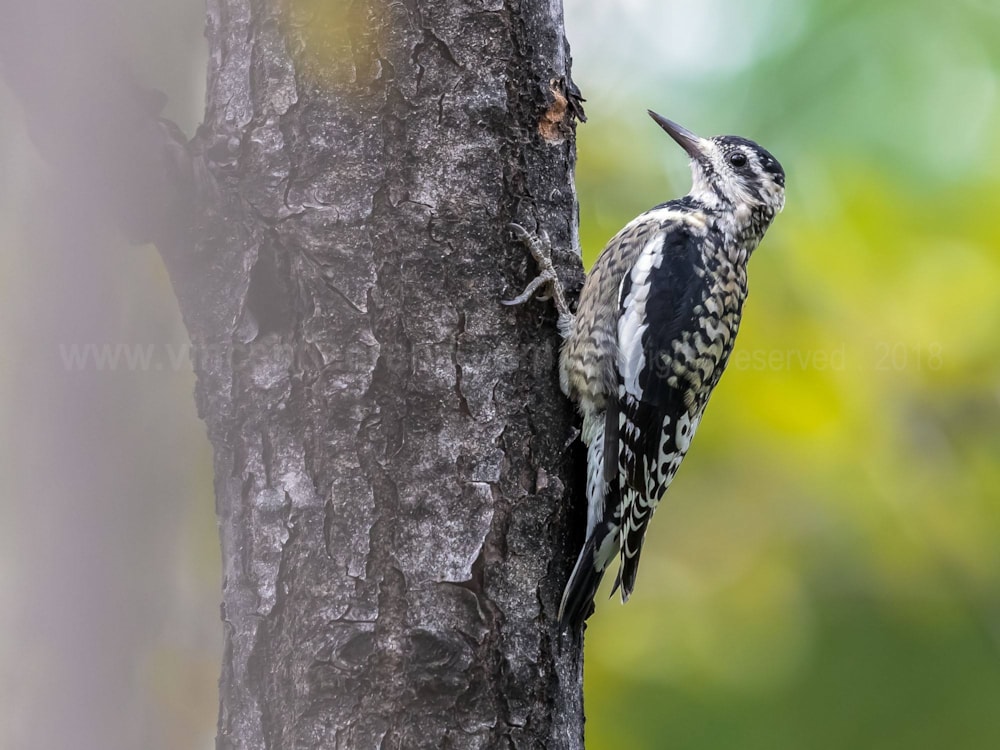 Yellow-bellied Sapsucker, Apavatn, Suðurland (Vincent Legrand).
Other news included the American Royal Tern back at Chouet, Guernsey, on 24th and the Pacific Diver still floating around off Skagen, Denmark, while the Dwarf Bittern also remained in residence on Fuerteventura. A Dutch Black-winged Kite was in Friesland this week and, yet again, pelagics off Graciosa, Azores, produced a Swinhoe's Storm Petrel on 28th.