The week at a glance
In rather stark contrast to that preceding, many areas suffered Bank Holiday weekend weather that might be described as changeable at best. There were pleasant spells, but almost everywhere got a soaking at some point, with the south and east suffering a particularly miserable Tuesday that saw almost the entirety of May's rain fall in little more than 24 hours...
Miserable the weather might have been, but it did nothing to dampen the birding with an excellent selection of rarities on offer nationwide at various points over the seven days. Purely in terms of rarity — at least in contemporary times — a fine adult Slender-billed Gull at Titchwell RSPB (Norfolk) for an hour or so on Bank Holiday Monday afternoon was the 'biggest' bird of the week. Seemingly forming part of a northward influx with birds at IJsselmeer, Netherlands, on 25th and Filsø in western Denmark on 28th (the latter a national first), this is the first confirmed British record since 2000, when two adults at Cley on 5th May preceded a further record from Dungeness on 30–31st of that month. May is the classic month for Slender-billed Gulls and they have a habit for being tricky to pin down — indeed, this latest individual conformed to the trend and, after flying off east from Titchwell not long after 4pm, was not seen again. Finder Andrew Maddocks described the afternoon:
"A quiet but pleasant four day birding trip to north Norfolk with friends Jeff Stenning, Steven Cooper and Dave Percival was turned on its head with an afternoon visit to Titchwell on Bank Holiday Monday, 26th May. We had been in the Parrinder South Hide for twenty minutes when at c.14:25 when looking through some Herring Gulls, I spotted a small gull on the end of one of the islands. I called out "What's this gull? It's got a black bill!" After a brief look, Jeff replied, "It's a Slender-billed Gull!" We all had good views of the bird for two minutes before it swam out of sight behind the island.

"Fortunately after around 45 minutes and after much searching from other vantage points, the bird was seen again standing on mud about forty to fifty metres away in front of the hide. We were able to get some photos and video and very good telescope views. The excellent light revealed the bird was in full breeding plumage with a pinkish wash on the underparts and the long sloping forehead and long dark reddish bill were very distinctive. Standing with two Black-headed Gulls, the slightly larger size and longer legs were apparent. Depending on the light, the eye occasionally appeared pale.

"A further half hour or more gave everyone in the hide plenty of opportunity to discuss and check all the salient identification features with the Collins Field Guide. Initially we weren't certain how rare Slender-billed Gull is in the UK, until we received an email back from BirdGuides, informing us to say that there had beeen no records confirmed for many years. We were all very excited and there was quite a buzz in the hide.

Unfortunately the bird then flew off to the south-eastern corner of the fresh marsh where it was briefly seen by an RSPB warden. It then flew over the East Bank and out of sight."

Slender-billed Gull, Titchwell RSPB, Norfolk (Photo: Andrew Maddocks)

Slender-billed Gull, Titchwell RSPB, Norfolk (Photo: Steven Cooper)

Slender-billed Gull, Titchwell RSPB, Norfolk (Video: Steven Cooper)
Following the remarkable revelations of summer 2012, Baillon's Crake has undergone a dramatic change in status as a British species. Though there were no records in 2013, a welcome return to form was provided by a singing male at Oare Marshes (Kent) on 22nd. Although showing well when initially found, it soon became much more elusive and was last heard early the following morning. How many more are out there?
Content continues after advertisements

Baillon's Crake, Oare Marshes NR, Kent (Photo: Rob Rackliffe)
Thursday 22nd also provided the first Calandra Lark in a couple of years, present for the day on Fair Isle. Also still present there all week was the male Caspian Stonechat, which seems to have no intention of leaving in a hurry, and a couple of Western Subalpine Warblers, while a scattering of Bluethroat, Red-backed Shrike and Common Rosefinch plus the island's first Icterine Warbler of 2013 reflected the light arrivals seen elsewhere around Britain.
A report of a pale morph Booted Eagle came from Worth Marsh (Kent) on 25th, with several reports of at least one bird then in Norfolk on 26th — sightings came from Norwich (twice), North Walsham, Hickling Broad, Northrepps and Cromer, though all successfully avoided the attentions of a camera.
Stealing in at the eleventh hour was a stunning male Collared Flycatcher around John Bowler's Tiree patch at Balephuil. The bird, present at Carnan Mor (site of the Northern Parula in autumn 2010), had moved on by the following morning.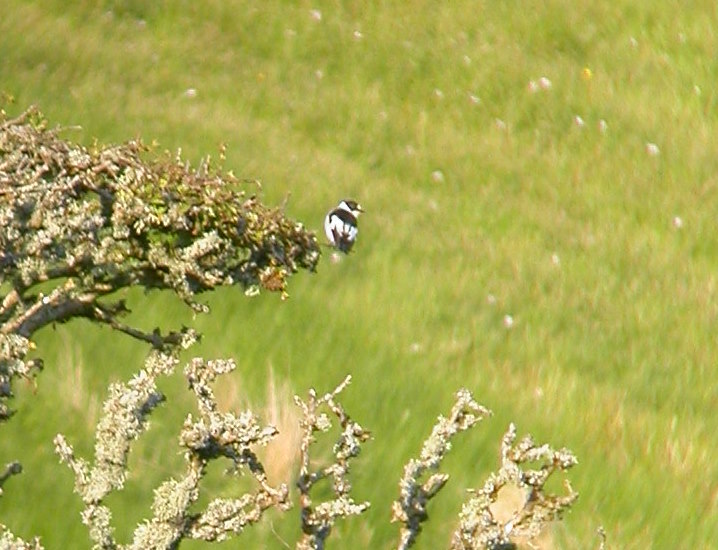 Collared Flycatcher, Tiree, Argyll (Photo: John Bowler)

Collared Flycatcher, Tiree, Argyll (Photo: John Bowler)
Plenty of other high quality passerines also arrived, with an easterly airflow enticing birds across the North Sea. It's a sign of the times when Blyth's Reed Warblers appear to almost outnumber their commoner Marsh cousins, but there was a genuine threat of that this week. Once a mega rarity — especially in spring — no less than half a dozen appeared in a four-day spell. The first birds were on 24th — at Writtle (Essex) and on Foula (Shetland), though the former was reported a day later. Another was trapped and ringed at Long Nab (N Yorks) on 25th, followed by a singing bird on Skomer (Pembrokeshire) on 27th. Two more came on 27th — at Solas, North Uist (Outer Hebs) and on Fair Isle. There were in fact seven Marsh Warblers this week, with two on Orkney (Papa Westray and North Ronaldsay), three on Shetland and mainland birds at Long Nab (N Yorks) and in Lincolnshire.

Marsh Warbler, Lincolnshire, 21st May 2014 (Recording: Graham Catley).
The year's first Greenish Warbler was in song at Landguard (Suffolk) on 27th, while a male Western Subalpine Warbler was at Esha Ness (Shetland) on 25th. Icterine Warblers were relatively thin on the ground, with numbers failing to rise out of single figures and only one away from Shetland — at Skinningrove (Cleveland) on 24th. In contrast, it looks a good year for Great Reed Warblers already, with four found this week. One chose the slightly bizarre location of a man-made pond on Green Park Business Park in Reading (Berks) to sing on 22nd, but was unsurprisingly gone by the following morning. Another was singing at Chew Valley Lake (Somerset) on 24–25th, while Lincolnshire grabbed two brief records — trapped and ringed at Gibraltar Point on 23rd and another briefly in song at Saltfleetby on 25th. Altogether more confiding was a Savi's Warbler at the ever-improving Newport Wetlands (Gwent) — it could be heard singing there, and often showing well, from 24th onwards.

Savi's Warbler, Newport Wetlands, Gwent (Photo: Brian Thompson)

Savi's Warbler, Newport Wetlands, Gwent (Recording: Darryl Spittle)

Icterine Warbler, Skinningrove, Cleveland (Photo: Martyn Sidwell)

Great Reed Warbler, Chew Valley Lake, Somerset & Bristol (Photo: Mike Trew)

Great Reed Warbler, Reading, Berkshire (Photo: Mark Leitch)
It's been a poor spring for Alpine Swift records, so birds on Jersey on 23rd, at Hermaness, Unst (Shetland) on 24th and at Marwick and Birsay (Orkney) on 26–27th were notable. Among a very light scattering of Grey-headed Wagtails in eastern areas, the year's first Black-headed Wagtail was at Funzie, Fetlar (Shetland), on 25th. A couple of Citrine Wagtails were found, with a male at Haroldswick, Unst, on 23rd and a female on Bardsey Island (Gwynedd) on 25–26th. A Red-rumped Swallow flew south at Felixstowe (Suffolk) on 23rd, with the Shetland bird still at Loch of Hillwell on 22nd and it or another at Boddam on 25th. A Short-toed Lark remained on Fair Isle.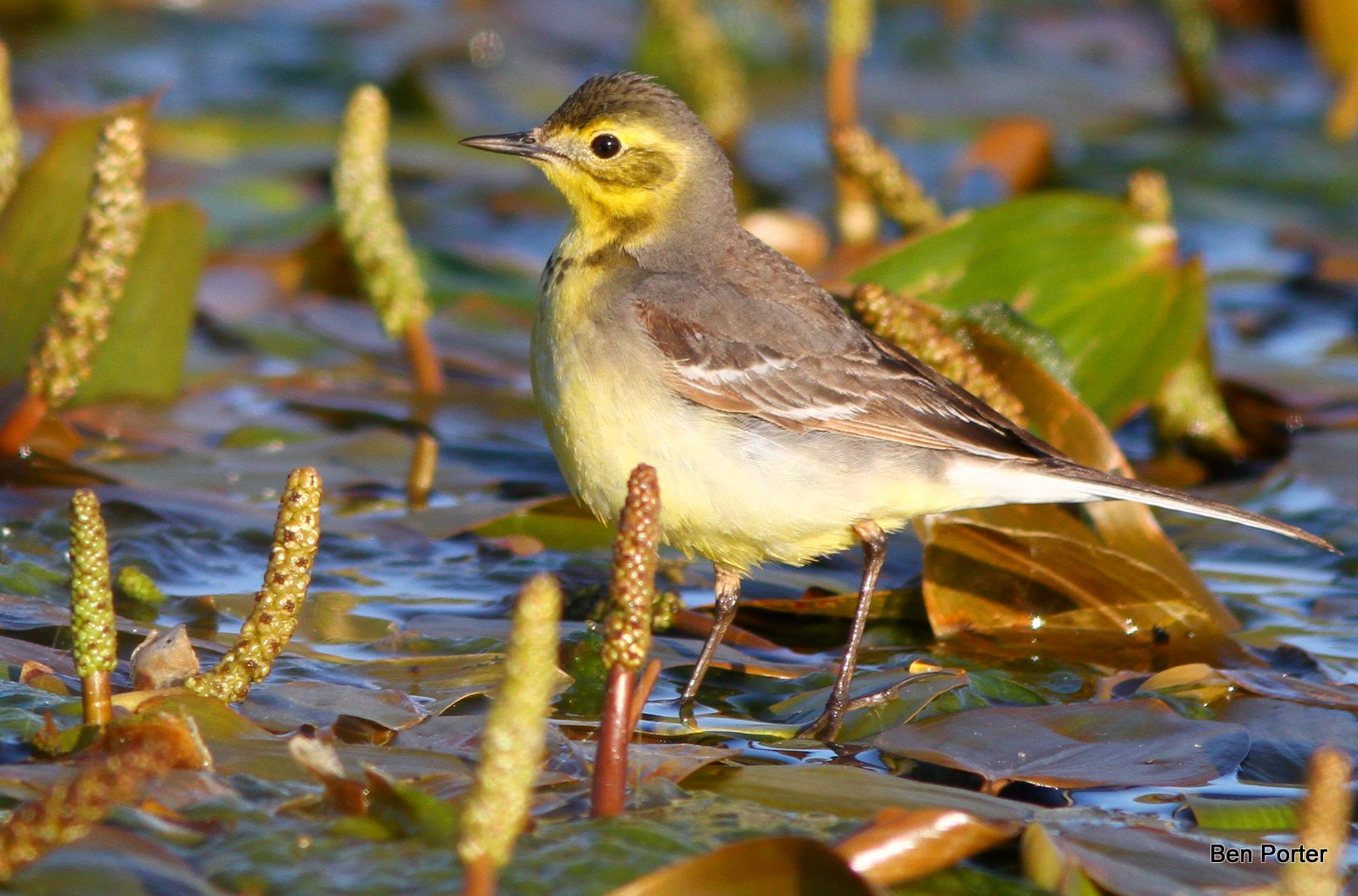 Citrine Wagtail, Bardsey Island, Gwynedd (Photo: Ben Porter)

Citrine Wagtail, Haroldswick, Unst, Shetland (Photo: Robbie Brookes)
Other typical drift migrants included decent numbers of Red-backed Shrikes and Common Rosefinches. The former were relatively well spread with at least four in the Spurn area (E Yorks) on 23rd; rosefinches typically showed a greater bias towards the Northern Isles — two were on the Out Skerries on 23rd while red males were pleasant on the eye at Toab and Virkie. On the mainland there was a brief record from Spurn Point, while Portland (Dorset) held one on 26–27th, as did Landguard on the latter date.

Red-backed Shrike, The Gloup, Mainland, Orkney (Photo: Ian Cunningham)

Red-backed Shrike, Bothal Pond, Northumberland (Photo: Hector Galley)

Red-backed Shrike, Pontefract, West Yorkshire (Photo: Michael Hemingway)

Common Rosefinch, Toab, Mainland, Shetland (Photo: Roger Riddington)

Common Rosefinch, Landguard NR, Suffolk (Photo: Chris Mayne)
Red-breasted Flycatchers were widely spread from Housel Bay (Cornwall) on 22nd right up to Shetland, where one was on the Out Skerries. Others were at Kilnsea (E Yorks) on 23–24th, Long Nab (N Yorks) on 24th, on the Farne Islands (Northumberland) on 27th and the Isle of May (Fife) on 26–27th. A handful of Bluethroats were seen, including a couple on Fair Isle; the only mainland record came from Flamborough Head on 23rd.

Red-breasted Flycatcher, Kilnsea, East Yorkshire (Photo: Jon Lowes)

Red-breasted Flycatcher, Housel Bay, Cornwall (Photo: Brian Mellow)

Red-spotted Bluethroat, Sumburgh, Mainland, Shetland (Photo: Hugh Harrop)
As it transpired, it was probably one of the best weeks for Rustic Buntings in years, with six reported. Birds were on Tiree (Argyll), North Ronaldsay and at Skaw, Unst on 21st, with three more on 27th: at Virkie and Out Skerries (both Shetland), and on Iona (Argyll). A couple of Black-headed Buntings were also pleasant finds, with a female on Skomer (Pembrokeshire) on 21st–24th and a male briefly visiting a feeding station in Cromer (Norfolk) on 26th.
Woodchats included a significant record from Skinningrove (Cleveland) from 24–27th, with at least one — probably two — on St Mary's (Scilly) during the week. Serins were at Portland on 26th and Ventnor (IoW) the following day, while male Two-barred Crossbills were again reported at Lynford Arboretum (Norfolk) and Hemsted Forest (Kent) — this is the first report of the latter since mid-April.

Woodchat Shrike, St. Mary's, Isles of Scilly (Photo: Robin Mawer)
Several Hoopoes were reported, although the only one to linger was at Ravenscar (N Yorks) on 24–25th; Scottish records came from Dundonald (Ayrshire), Innerleithen (Borders) and the Isle of Skye, while there were further records from Teigngrace (Devon) on 23rd and Westwood Pool (Worcs) on 26th. New Wrynecks were at Newbiggin (Northumberland) on 21st and Withernsea (E Yorks) on 24th, while the long-stayer remained near Boddam (Shetand) on 27th.

Wryneck, Boddam, Mainland, Shetland (Photo: Willie)
A productive week for Bee-eater sightings saw a group of five entertain many in the Flamborough area on 22–23rd, before the same flock flew south over Tunstal on 24th and then Spurn on 25th, last seen heading south into Lincolnshire. Four at New Romney (Kent) on 23rd were later seen around Dungeness on 24th–25th, with three flying out to sea up the coast at Bockhill on the latter date. At least five over Helpston (Cambs) on 25th was an excellent inland record, though it was not isolated with a single over Otmoor (Oxon) on 24th. Four lingered around Portland (Dorset) on 27th, with other records coming from Corton (Suffolk) on 22nd, Winterton (Norfolk) and Tralee (Kerry) on 23rd, and St Martin's (Scilly) on 26th.

Bee-eater, Flamborough (village), East Yorkshire (Photo: Tony Dixon)

Bee-eater, Flamborough (village), East Yorkshire (Photo: Lee Johnson)
A Black Kite over Longframlington (Northumberland) on 21st was presumably the one seen later over Jedburgh (Borders); other records came from Nettlecombe (Devon) on 26th and Eastbourne (E Sussex) on 27th. A Red-footed Falcon was brief at Portland on 27th, while Guernsey's fourth Rough-legged Buzzard was at Rue des Hougues on 25–26th, with another in Ingram Valley (Northumbs) on 26th. A (the) male Snowy Owl was on Benbecula on 23rd.

Rough-legged Buzzard, Rue des Hougues, Guernsey (Photo: Wayne Turner)
Lincolnshire's Terek Sandpiper was last seen early on 21st at Covenham Reservoir before it flew off; a Broad-billed Sandpiper inland at Nosterfield NR (N Yorks) on 25–26th was significant not only for its location but decision to linger a second day. A Kentish Plover was a great record at Pool Roag, Skye (Highland), on 23rd.Red-necked Phalaropes — possibly one and the same — were at Old Wolverton (Beds) on 22nd and March Farmers (Cambs) on 23rd, while a Grey Phalarope was a brief visitor to Sanday (Orkney) and must have looked rather splendid. Pectoral Sandpipers were at Gibraltar Point (Lincs) from 21–23rd, Swine Moor (E Yorks) from 22–24th and Newport Wetlands (Gwent) on 27th, but the exciting news of the week concerned the announcement of two pairs of breeding Black-winged Stilts, now under 24-hour surveillance, in West Sussex and Kent respectively. Another bird was at Meare Heath (Somerset) from 23–25th.

Terek Sandpiper, Covenham Reservoir, Lincolnshire (Photo: Dean Eades)

Broad-billed Sandpiper, Nosterfield LNR, North Yorkshire (Photo: David Aitken)

Black-winged Stilt, Meare Heath, Somerset & Bristol (Photo: Gregor Tims)
We've not had the weather for the remarkable numbers of passage Long-tailed Skuas as witnessed last year, so 48 past Westray on 21st was notable. More significant, though, was an inland record from Hatfield Moors (S Yorks) from 25–27th. At least one immature Ring-billed Gull remained around Dublin Bay, while White-winged Black Terns included the triumvirate still at Balranald, North Uist, to 24th, and a lingering adult at Inch Island Lake (Donegal) on 24–25th in addition to briefer birds past Walney Island (Cumbria) on 25th, Stronsay (Orkney) on 26th and Long Nanny (Northumberland) on 27th.

Long-tailed Skua, Hatfield Moors, South Yorkshire (Photo: Colin Neale)

White-winged Black Tern, Balranald RSPB, N.Uist, Outer Hebrides (Photo: David Aitken)
Black Storks were over Horncastle (Lincs) and Heald Green (Gtr Man) during the afternoon of 21st, following a report of a possible over Holmes Chapel (Cheshire) on 21st. Then, on 26th, a bird overflew Wintersett Reservoir (W Yorks) and was later tracked from Southfield Reservoir (S Yorks) over Goole and Thorne Moors and into Lincolnshire. Presumably the same individual later flew north over East Cottingwith (E Yorks) and then Malton (N Yorks). A further report came from Alfriston (E Sussex) on 27th. An adult Night Heron was at Filey Dams (N Yorks) on 25th, with a male Little Bittern at Elton Reservoir (Gtr Man) for two days from 25th. Two Cattle Egrets remained at Tacumshin (Wexford), while Purple Heron records came from Minsmere (Suffolk) on 21–22nd, Marazion (Cornwall) on 22–23rd, St Martin's (Scilly) on 23rd and Dewsbury (W Yorks) on 26th.

Night Heron, Filey Dams YWT, North Yorkshire (Photo: Graham Holgate)

Little Bittern, Elton Reservoir, Greater Manchester (Photo: Ivan Ellison)

Little Bittern, Elton Reservoir, Greater Manchester (Photo: rezMole)

Purple Heron, Dewsbury, West Yorkshire (Photo: John Hamilton)
Finally, a mention for the week's wildfowl, of which there was a good selection. A drake Blue-winged Teal was at Clonakilty (Cork) on 27th, with Green-winged Teal in the county at The Gearagh on 22nd and Clogheen Marsh on 27th. Other 'GWT' were at Ynys-hir (Ceredigion) on 23rd and Loch Gruinart, Islay, on 22–23rd, while a pair of American Wigeon was at Caerlaverock (Dumfries & Galloway) on 24th in addition to remaining drakes on Lewis (Outer Hebrides) and in Aberdeenshire. A drake Ring-necked Duck was at Barns Ness (Lothian) from 24th and is presumably a returning bird, while a drake Lesser Scaup was at Frodsham Marsh (Cheshire) on 26–27th. The familiar feel along the Aberdeenshire coastline continued with the drake King Eider on the Ythan Estuary and two drake Surf Scoters off Blackdog; another Surfer — a female — was off Castletown (Highland) on 25th–26th, where there was also a White-billed Diver on the former date (another White-billed Diver was off Lossiemouth on 25th).
Photo of the Week

Little Owl, undisclosed site, Buckinghamshire (Photo: Rob Cross)
Owls are a favourite subject with photographers, and every week sees a fresh collection of images of various species uploaded to our Iris galleries. There are not many, though, that can match this superb portrait of a Little Owl by Rob Cross. Taken as the bird arrived at a favoured perch, Rob managed to capture that perfect moment with wings open and legs stretched; probably 1/10th second later and the opportunity would have been missed, and the photo relegated to that dreaded 'nearly but …' shot.

Just to make it even better there is a lovely plain, nicely lit background that doesn't distract from the bird but adds to the overall image. Congratulations, Rob — it must have been a great feeling to look at the camera screen and realise you'd got the shot.
Other notable images

Turtle Dove, Portland, Dorset (Photo: Joe Stockwell)

Mute Swan, Fleetwood, Lancashire (Photo: Gordon Speirs)

Long-tailed Tit, undisclosed site, Staffordshire (Photo: Pau Davison)

Common Tern, Kirkby on Bain GPs, Lincolnshire (Photo: Trevor Gunby)

Avocet, undisclosed site, Shropshire (Photo: Bill Nevett)

Sedge Warbler, Cley Marshes NWT, Norfolk (Photo: Carl Wright)

Sand Martin, Phurt, Isle of Man (Photo: CJWormwell)

Cuckoo, undisclosed site, North Yorkshire (Photo: Ivan Ellison)

Cuckoo, Malta (Photo: Natalino Fenech)

Prothonotary Warbler, United States (Photo: Graham Clarke)

Short-eared Owl, undisclosed site, Outer Hebrides (Photo: David Shallcross)

Spotted Flycatcher, undisclosed site, Shropshire (Photo: John Fielding)