The fortnight at a glance
First of all, a Happy New Year to all BirdGuides readers! We hope that the festive season brought you seasonal cheer and, of course, plenty of great birds besides.
Late 2016's healthy run of exciting vagrants continued over the festive fortnight as further major rarities were unearthed, ensuring there was little rest for birders over Christmas and into 2017. Helpfully, the headliners were at easily accessible locations — rather unlike many of the autumn's top birds, which chose to appear on offshore islands.
First up was the surprise discovery of a male Blue Rock Thrush in the picturesque Gloucestershire village of Stow-on-the-Wold. First reported via Twitter on 27th via a classic 'what's this bird in my garden?' query, the bird was tentatively identified and soon confirmed later that afternoon. It had apparently been present for over a week and so the odds were always on it staying — and so it proved. Drawing hundreds of admirers to Stow, it's been showing well on roofs and in gardens ever since.
Content continues after advertisements

Blue Rock Thrush, Stow-on-the-Wold, Gloucestershire (Photo: Tom Hines)
As you'd perhaps anticipate, its origins have been the cause of speculation. A drooping wing and a peculiar 'cough' (some have suggested gapeworm as a cause), as well as the potentially odd time of year (all six previous records have come in spring or autumn), were enough to prompt reservations in some quarters. But without any obvious signs of captivity (e.g. heavy feather wear or damaged feet), one suspects this bird will be deemed innocent until proven guilty. And, after all, is a winter record all that unlikely, particularly after such an extraordinary autumn for eastern vagrants?

Blue Rock Thrush, Stow-on-the-Wold, Gloucestershire (Photo: Alex Barclay)
The other standout highlight was altogether more predictable, being a case of 'when' rather than 'if' after autumn 2016's record influx. Birders have been patiently waiting for someone to dig out a Pine Bunting from amid their local wintering bunting flocks and finally, on New Year's Day, it happened at Venus Pool, Shropshire. A subtle female, the bird showed no signs of hybridisation (with pure white underwing coverts and primary shafts) and performed on and off into the following day. Hopefully this serves as inspiration to birders, as there must surely be more out there to be found this winter!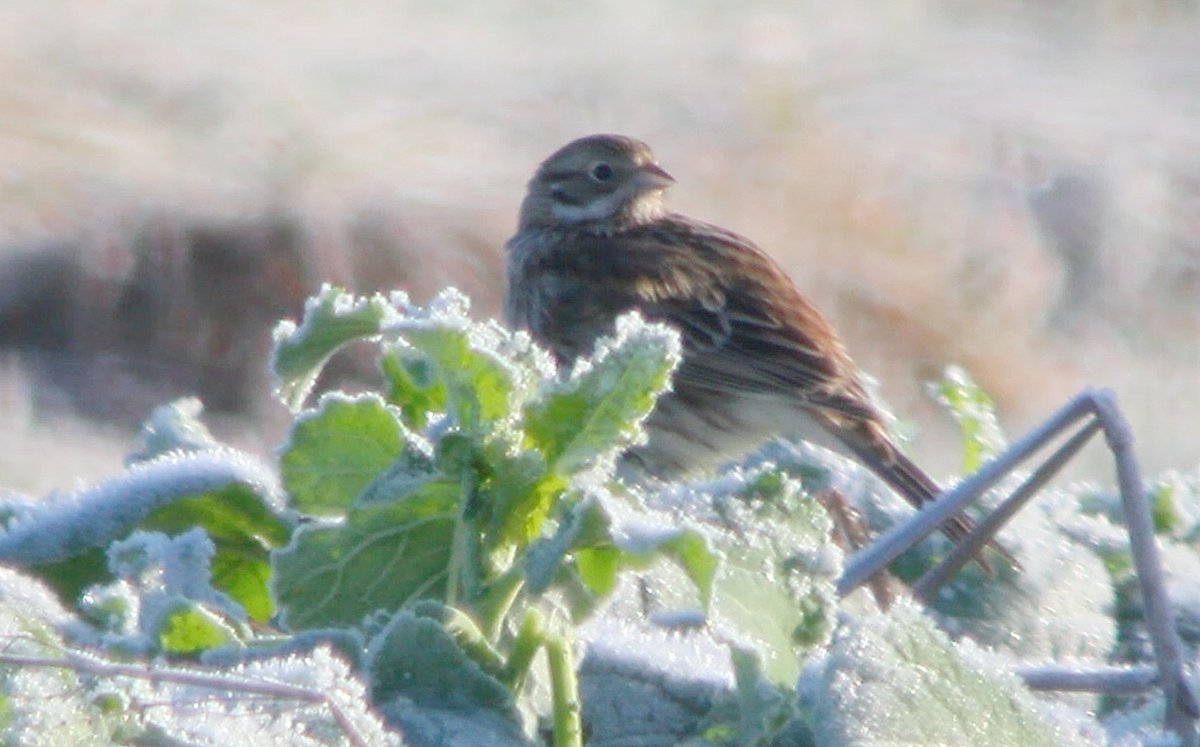 Pine Bunting, Venus Pool NR, Shropshire (Photo: Steve Clifton)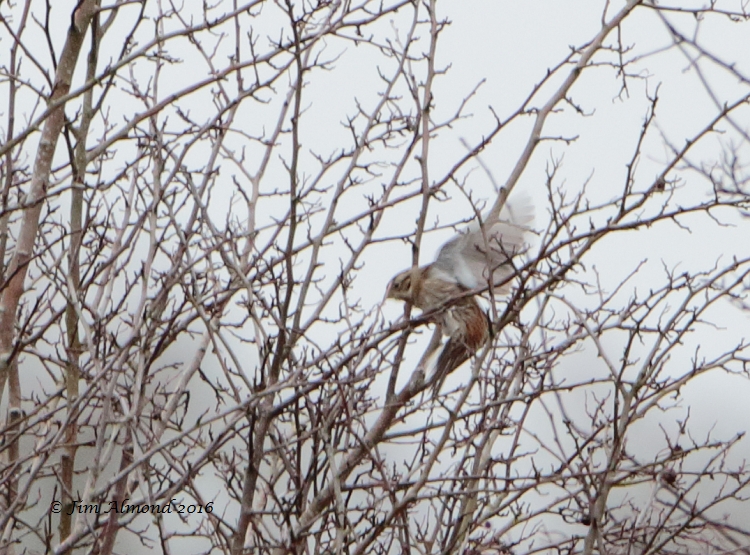 Pine Bunting, Venus Pool NR, Shropshire (Photo: Jim Almond)
The Dusky Thrush at Beeley, Derbyshire, remained in situ for the entirety of the fortnight and now looks to have settled in the surrounding fields — presumably its favoured apple supply has dwindled sufficiently to force it to search elsewhere for sustenance. The female Black-throated Thrush eventually showed quite well at St Asaph, Clwyd, over Christmas but timed its departure to perfection, disappointing gathered 2017 year listers with no sign from 1st onwards. Another female Black-throated was recorded at Whittle Dene Reservoirs, Northumberland, on 2nd.

Black-throated Thrush, St Asaph, Clwyd (Photo: John Tymon)
Both the Masked Wagtail and Blyth's Pipit remained at their chosen abodes in Pembrokeshire and Somerset at the start of the review period but neither made it into 2017. The wagtail was last seen in Camrose on Boxing Day, followed by two days of negative news. The pipit lasted a few more days and was reported from the shores of Blagdon Lake for a final time on 30th. One wonders whether the unexpected disappearances of these apparently wintering passerines (particularly the wagtail, which was so faithful to its territory) indicate a premature end to their respective existences — whether succumbing to the cold or, perhaps more likely, a marauding predator.

Masked Wagtail, Camrose, Pembrokeshire (Photo: Andy Hood)

Blyth's Pipit (right) with Meadow Pipit, Blagdon Lake, Somerset & Bristol (Photo: Chris Teague)
Similarly, the Eastern Black Redstart at Torness Power Station, Lothian, failed to last past 22nd but seemingly more assured were the males at Skinningrove, Cleveland, and Mousehole, Cornwall, both of which were still happily in residence as 2017 arrived. A report of a 'redstart' on roofs at Hartland Quay, Devon, on 28th certainly had a whiff of phoenicuroides about it, but further reports weren't forthcoming.

Eastern Black Redstart, Skinningrove, Cleveland (Photo: Stephen Mulligan)
Something of a surprise (to say the least) was the news that DNA had confirmed the identification of a monochrome stonechat, present at Dungeness from early November and into December, as a Stejneger's Stonechat. It was also refound on 28th and, although mobile, has been twitched by a large number of birders since. A near-identical bird present in London's Richmond Park is now also being touted as a Siberian/Stejneger's-type and apparently a faecal sample has been collected. If that too proves to be stejnegeri then stonechat identification will surely have to be rewritten, for the phenotype of these birds (colour aside) looks most similar to female European Stonechat.

The 'Dungeness stonechat', Dungeness NNR, Kent (Photo: Mark Tomlins)

Stonechat sp, Richmond Park, Greater London (Photo: Dominic Mitchell)
In the Outer Hebrides the American Coot continued throughout the fortnight in low-key fashion — had it been five or so years ago no doubt many more would have travelled north-west to see it. The Killdeer also remained at Sandwick, Shetland, throughout, as did the Hudsonian Whimbrel in Cornwall, but there was no sign whatsoever of mid-December's Greater Yellowlegs in Co Wexford.

Killdeer, Sandwick, Mainland, Shetland (Photo: Steve Minton)
The drake Hooded Merganser spent the entirety of the fortnight at Barr Loch, Clyde, and there was a definite upturn in Lesser Scaup records, with half a dozen recorded. These included two (drake and female) at Loch Ryan, Dumfries & Galloway, and the returning bird again at Dozmary Pool and Siblyback Reservoir, Cornwall. Lough Gara, Co Sligo, and Lough Rea, Co Galway, boasted both Lesser Scaup and Ring-necked Duck. The latter species numbered 18 over the review period, with two drakes together at sites in Co Mayo and Co Waterford and a handful of new birds including a female at Tregaron Bog, Ceredigion, on 1st. Apart from an escaped drake in Berkshire and the continuing bird of suspect origin in Durham, the only Ferruginous Duck was the male in north-west Norfolk; last seen at Titchwell on 23rd, it was relocated at nearby Holme NOA on 2nd.

Ferruginous Duck, Titchwell RSPB, Norfolk (Photo: Chris Mayne)
A return of seven American Wigeon was perhaps a little on the low side given recent numbers; these included new drakes found at Kingsmill Lake, Cornwall, on Christmas Day and at Littleton-upon-Severn, Glos, on 2nd. A total of 15 Green-winged Teal were noted.

American Wigeon, Clachnaharry, Highland (Photo: Sam Northwood)
Arguably the wildfowl highlight of the two weeks was the occurrence of a first-winter Surf Scoter at Rutland Water. Found among Tufted Ducks off the dam on 27th, it remained there to 3rd and represents a brilliant inland discovery and, unsurprisingly, a county first. Altogether more expected were the two drakes off Llanddulas, Conwy, and single males still in Co Donegal and Lothian, though a female in the latter county off Eastfield was new on 27th. The return of the Black Scoter to Goswick, Northumberland, on 29th was welcome; presumably the same bird was last reported off Bamburgh back in February. Elsewhere the drake was back off Rossbeigh, Co Kerry, on 3rd. King Eiders remained off Mullaghmore and in Ballysadare Bay (both Co Sligo). The Pacific Diver continued in Mount's Bay, Cornwall, into 2017, and up to five White-billed Divers remained off the coast of Papa Westray, Orkney.

Surf Scoter, Rutland Water, Leicestershire and Rutland (Photo: Marian)
The gorgeous adult Red-breasted Goose remained north of Docking, Norfolk, to 30th but wasn't seen thereafter; presumably it has simply moved to another field in north-west Norfolk rather than leaving altogether. The Todd's Canada Goose was still in the vicinity of the Red-breasted to 29th, while another continued at Wexford Wildfowl Reserve and two remained alongside the Richardson's Cackling Goose in Co Sligo. Another Richardson's was seen on Islay over New Year. Black Brants were noted at six sites. A white-morph Snow Goose was with Greylags at Loch Ashie, Highland, on 30th, and the blue morph alternated between Marshside and Martin Mere, Lancs, throughout.

Red-breasted Goose, Docking, Norfolk (Photo: Chris Mayne)

Todd's Canada Goose, Docking, Norfolk (Photo: Jim P)

Snow Goose, Marshside RSPB, Lancashire (Photo: Daniel Gornall)
The male Northern Harrier was still on North Ronaldsay, Orkney, on New Year's Eve, while the Pallid Harrier continues to be seen daily at Welwick Saltmarsh, E Yorks. A Gyr Falcon was seen on Islay on 22nd. The female Snowy Owl was noted again near Spiddal, Co Galway, on 26–27th, while just across Galway Bay, a male was seen at Doolin, Co Clare, on 28th — reports in this area of north-west Clare area stretch back to May 2009, when one was seen between Doolin and Lahinch, and one wonders if the same bird is involved in all sightings.
The winter becomes ever better for Cattle Egrets: birds were logged at 45 sites during the two weeks. Not only were birds widespread, but also numerous. Eight at Fauxquets Valley on 22nd was a record count for Guernsey, only for the number to increase to 15 by 28th. Nine were at Helston Loe Pool, Cornwall, on 30th, eight at Tomhaggard, Co Wexford, and up to seven at Teigngrace, Devon, in addition to several twos, threes and fours. Two Glossy Ibises were still at Ham Wall, Somerset, with further reports from Surrey, London, Devon, Leicestershire and two sites in Essex.

Cattle Egret, Jersey (Photo: Romano da Costa)

Glossy Ibis, Fremington Quay, Devon (Photo: Nigel Bastin)
A Lesser Yellowlegs was found with wintering Green Sandpipers at Adare, Co Limerick, on 29th, while the Dorset bird remained at Lytchett Bay throughout. The Long-billed Dowitcher at Tacumshin, Co Wexford, also made it into the New Year — it was still there on 2nd. Apart from one seen on Islay on Christmas Day, the only Grey Phalarope of the fortnight was at Belvide Reservoir, Staffs, on 27th. A Temminck's Stint was a bit of surprise at Branston Gravel Pits, Staffs, on 2–3rd.
The only Bonaparte's Gull was the long-stayer commuting between Exmouth and Dawlish Warren, Devon, while the Forster's Tern was off Barna, Co Galway, on 22nd. After a severe paucity of the species in the opening weeks of the winter it was pleasing to see Ring-billed Gull numbers improve considerably. Though peak counts of two in Hampshire and Co Cork were hardly ground-breaking, a total of 24 sites recorded the species, this including several new first-winter birds. Glaucous Gull numbers increased somewhat, with 69 sites producing the species; typically most of those logged were juveniles. Iceland Gulls were slightly less widespread, with reports from 47 sites; Kumlien's Gulls were in Counties Kerry and Antrim and on Barra.

Ring-billed Gull, Strathclyde Loch, Clyde (Photo: Norman Milligan)

Ring-billed Gull, Enniskillen, Fermanagh (Photo: Gavin Thomas)
Two Pallas's Warblers were found during the fortnight: one was at The Naze, Essex, from 22–24th and another was at the surprising location of Dursey Island, Co Cork, on 30th. Yellow-browed Warblers were noted at an impressive 26 sites, including four in Nanjizal Valley, Cornwall, on 2nd. Birds were as far north as Anglesey (2), Staffordshire and East Yorkshire, this last bird at Flamborough Head on 22nd. The Dusky Warbler, ringed but of unknown origin, was last seen at Coombe Hill Meadows, Glos, on 22nd.

Dusky Warbler, Coombe Hill Meadows, Gloucestershire (Photo: Jon Mercer)
The Desert Wheatear stayed on the beach at Thurlestone, Devon, into 2017, as did the Rose-coloured Starling in Crawley, W Sussex. News broke of another Rosy in Dorchester, Dorset, on 28th; it had apparently been present for several weeks and also lingered into the New Year. A Little Bunting remained at Nanjizal Valley on 31st, with two there on 3rd. Two Richard's Pipits continued at Abbotsbury, Dorset, throughout, and a third was still at Arlingham, Glos. A male European Serin showed well at times at Tide Mills, E Sussex, from 24–29th.

Rose-coloured Starling, Dorchester, Dorset (Photo: Allan Reese)

Richard's Pipit, Arlingham, Gloucestershire (Photo: Alex Barclay)

Serin, Tide Mills, East Sussex (Photo: Graham Nichols)
A fairly routine spread of 30 Great Grey Shrikes included three in Scotland and two in Wales. The two main flocks of wintering Shore Larks are the 30 or so still at Holkham Gap, Norfolk, and up to 20 at John Muir Country Park, Lothian, with further reports from Fife, Northumberland, Cleveland and Lincolnshire.
Well over 1,000 reports of Waxwings during the fortnight revealed that birds are now on the move south. Evidence for this included 345 flying over Redmires Reservoirs, S Yorks, on 2nd and 400+ in Sheffield that day.
Western Palearctic news
Long-staying vagrants included the Siberian Accentor at Hirtshals, Denmark, and the Red-necked Stint at Vejbystrand, Sweden, although the Asian House Martin at Ma'agan Michael, Israel, did a bunk before Christmas.
A Common Yellowthroat at Lagoa Azul, São Miguel, on Christmas Eve could be the bird seen nearby in October. The White Stork on the same island at Ribeira Grande represents just the third for the Azores, while two Wood Ducks were at Sete Cidades on 27th.
The Killdeer in Nord-Trøndelag, Norway, on 24th was just the second national record, while a Cattle Egret in Hordaland on 27th was a national seventh. Franklin's Gulls were logged in Romania, Denmark and Belgium, and a stunning adult Ivory Gull delighted birders at Hallig Hooge, Schleswig-Holstein, from 30th into the New Year.

Ivory Gull, Germany (Photo: Armin Kreusel)
Male Pine Buntings showed well in the Netherlands and Belgium. A Sociable Lapwing was similarly co-operative at the Ebro Delta, Catalonia, Spain, while a Pacific Golden Plover was among European Golden Plovers at Oostdijk, Netherlands. A male Sudan Golden Sparrow was at Pajara, Fuerteventura, from 27th and is considered a good candidate for a wild bird.

Sociable Lapwing, Spain (Photo: Rafael Armada)

Pacific Golden Plover, Netherlands (Photo: Kris De Rouck)
Cyprus's first Oriental Turtle Dove was unfortunately shot at Larnaca. Records from Kuwait included Indian Roller and the wintering Oriental Honey Buzzard plus of a flock of 10+ Black-throated Thrushes. A Basalt Wheatear was at Amram's Pillars, Israel, from 1st.

Oriental Honey Buzzard, Kuwait (Photo: Joachim Bertrands)

Black-throated Thrush, Kuwait (Photo: Joachim Bertrands)