Excitement spread like wildfire among the British birding community on the afternoon of Sunday 25th when a photograph of what could only be a first-winter Indigo Bunting appeared on the Isles of Scilly grapevine. The bird had been photographed by Big Pool on St Agnes, prompting many to attempt a twitch over the next two days. Just the third British record after in two Welsh records at Ramsey Island, Pembrokeshire, in October 1996 and a spring male at Menai Bridge, Anglesey, in May 2013, they are complemented by a single Irish occurrence – on Cape Clear, Co Cork, in October 1985. Only present until mid-afternoon on 26th, it didn't look to be in the rudest of health, with the oceanic crossing seemingly proving too much for this subtle Nearctic passerine – notably the species has been recorded on over 60 occasions in the Azores, but just four times elsewhere in the Western Palearctic.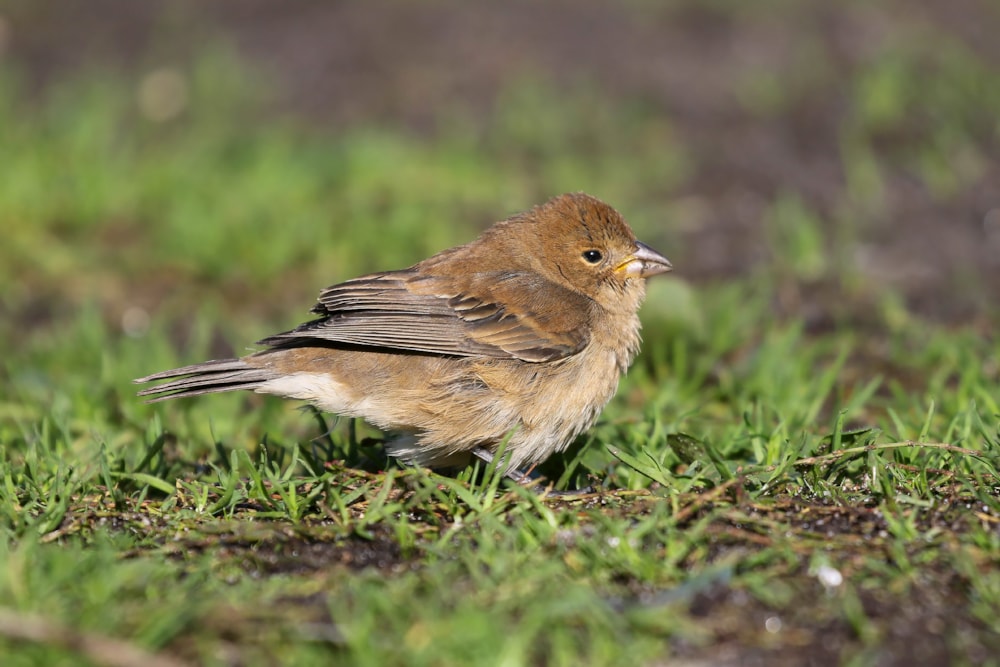 Indigo Bunting, St Agnes, Isles of Scilly (Ashley Howe).
The same transatlantic weather system deposited a first-winter male Rose-breasted Grosbeak onto nearby Gugh on 24th, although this wasn't seen subsequently, and two Red-eyed Vireos were also found – one keeping the Indigo Bunting company at Lower Town, St Agnes, from 25th and another on Bryher on the same date.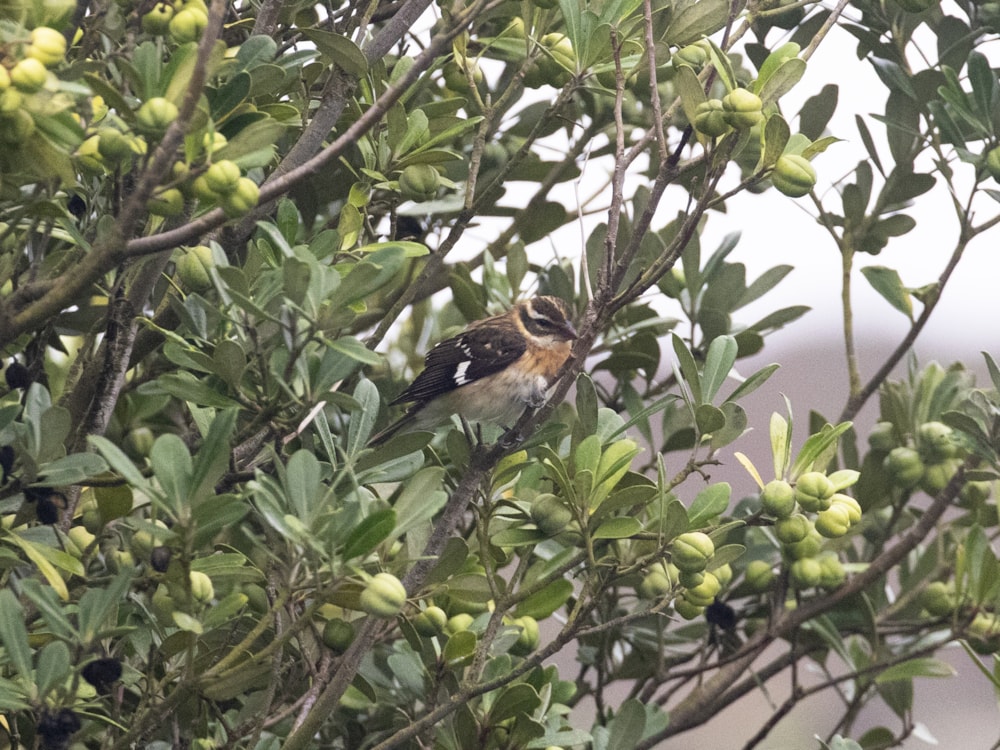 Rose-breasted Grosbeak, Gugh, Isles of Scilly (Jamie Partridge).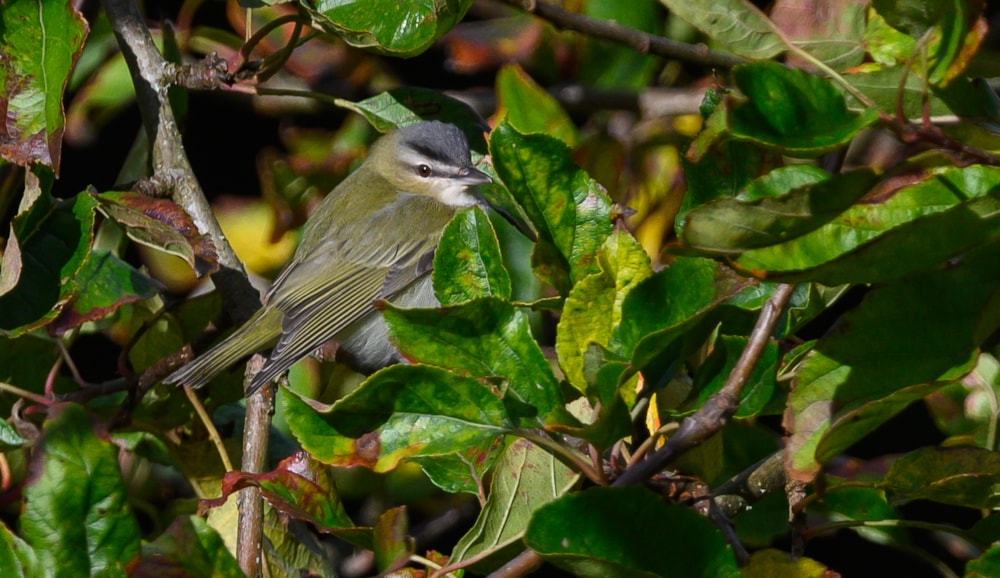 Red-eyed Vireo, St Agnes, Isles of Scilly (Mike Young-Powell).
Never one to be left out of proceedings, Shetland scored Britain's first East Siberian Wagtail at Westing, Unst, on 25th. The attractive subspecies spent five short minutes on the beach mid-morning before a Rock Pipit chased it off south-west. A remarkable find on the finder's last morning in the isles, it follows hot on the heels of the first two records for the Western Palearctic – at Akrotiri, Cyprus, in March 2018 and Gotland, Sweden, the following November – while the first for the 'Greater' Western Palearctic was recorded in Abu Dhabi in November 2017 (more here). The distinctive subspecies is one of only two of the White Wagtails to show a thin black eyestripe (along with Black-backed Wagtail of far-eastern Russia and Japan), with the bird's pale grey rump ruling out the latter subspecies.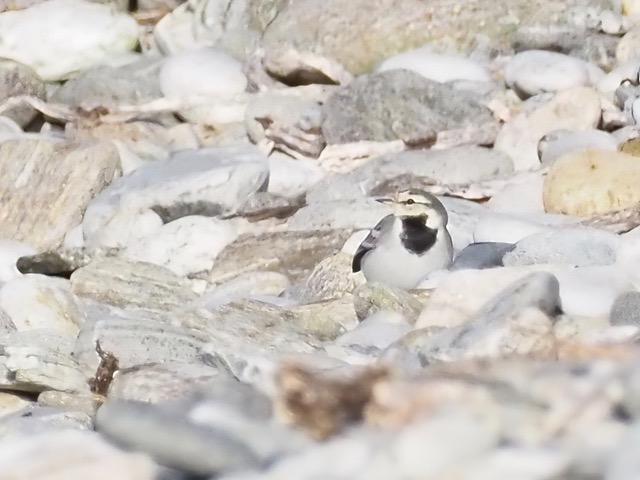 East Siberian Wagtail, Westing, Unst, Shetland (Mark Sutton).
A belated Double-crested Cormorant was noted on a survey vessel c 240 km west of Valentia Island, Co Kerry, on 29 September. Feeding on offcuts from the boat's kitchen and staying on board for two days (read more about the find here), it follows a notable influx of birds to the Azores, with no fewer than nine individuals involved. With only one previous record apiece for Britain and Ireland, the most recent as long ago as January 1996, another individual somewhere more accessible in the coming months would prove very popular indeed.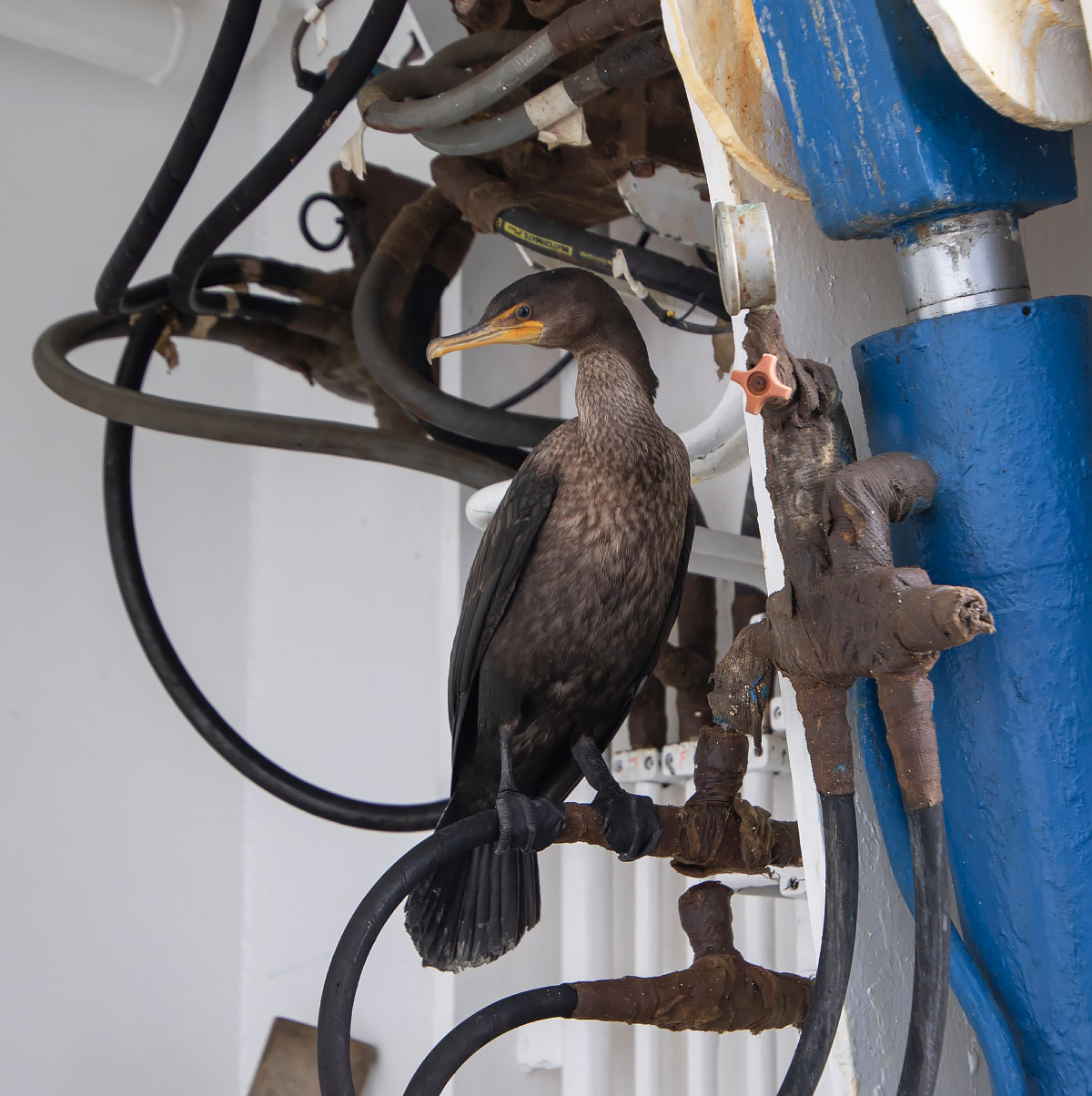 Double-crested Cormorant, at sea, Kerry (Salva Garcia / IEO).
A new White's Thrush was found in Shetland at Gulberwick, Mainland, on 25th, although wasn't seen since. The long-stayer on Lundy, Devon, was still in Millcombe Valley all week. Also in Shetland, the first-winter Blackpoll Warbler remained at East Burrafirth, Mainland, until 26th at least, while the female Pine Bunting remained at Skaw, Unst, until 22nd.

Blackpoll Warbler, East Burrafirth, Mainland, Shetland (Rebecca Nason).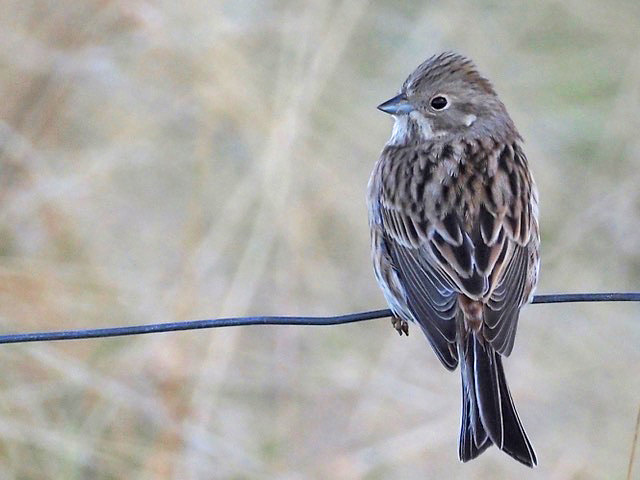 Pine Bunting, Skaw, Unst, Shetland (Mark Sutton).
In Norfolk, the astoundingly popular Rufous-tailed Scrub Robin at Stiffkey just made it into this week's summary, departing after 21st.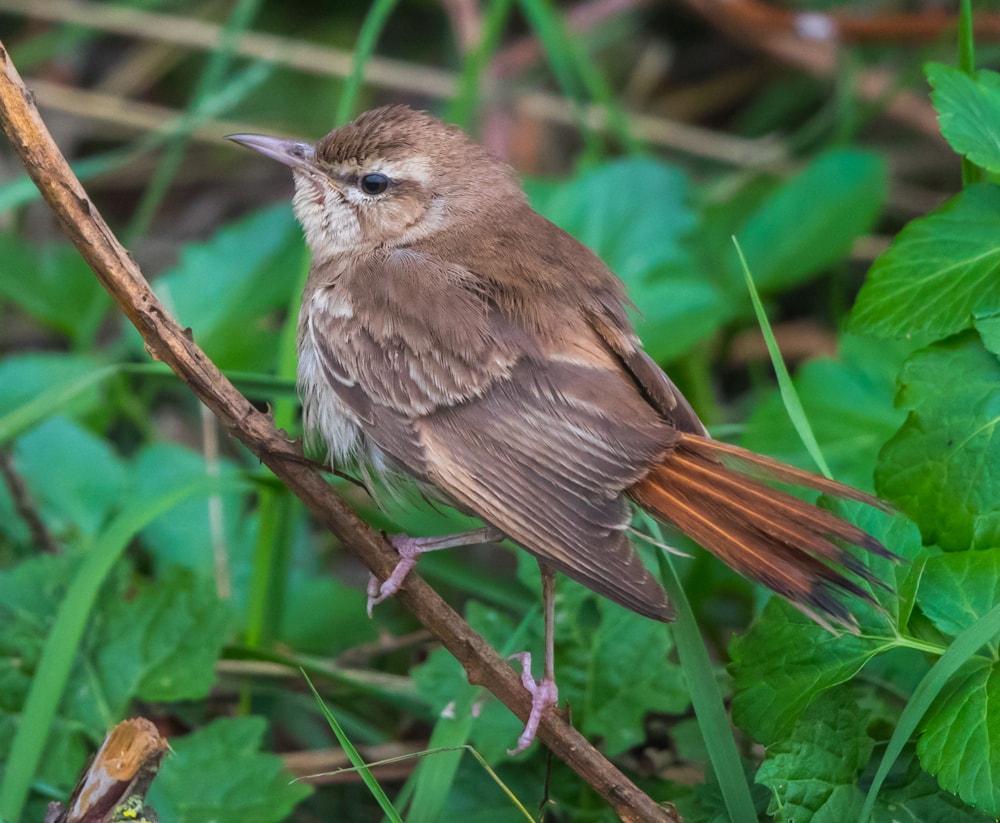 Rufous-tailed Scrub Robin, Stiffkey, Norfolk (Peter Garrity).
Both of last week's Brown Shrikes remained in situ: the first-winter at Holy Island, Northumberland, was there all week, while the adult at Johnny Brown's Common, West Yorkshire, was last noted on 22nd.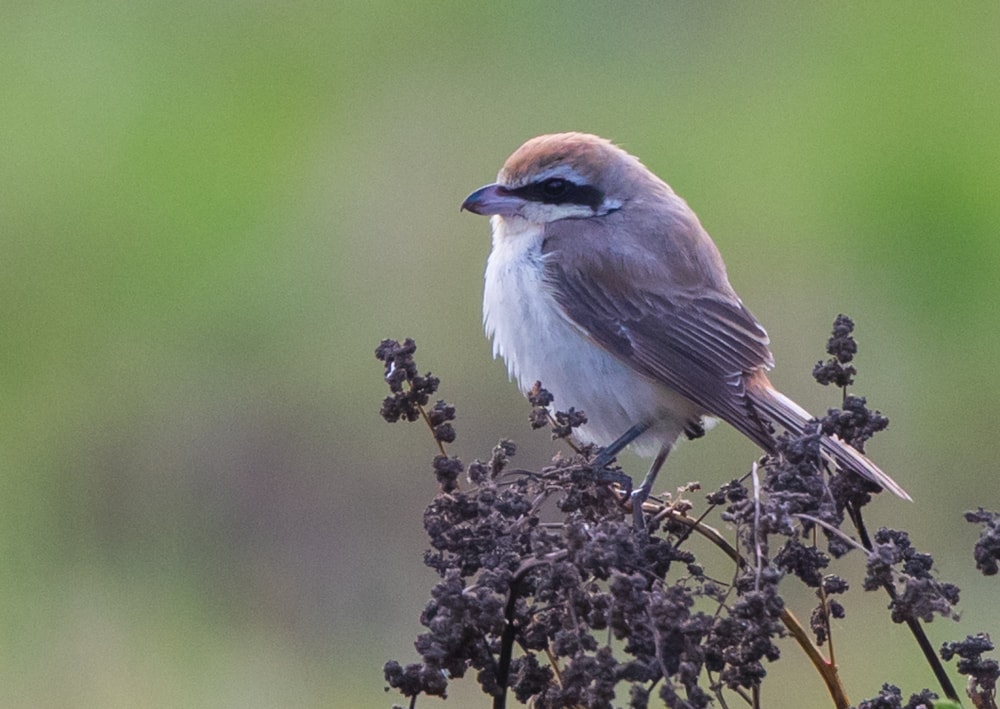 Brown Shrike, Johnny Brown's Common, West Yorkshire (Peter Garrity).
A probable Central Asian Lesser Whitethroat was at Ravenscar, North Yorkshire, on 22-23rd, while the only Red-throated Pipit of the week was on Fair Isle, Shetland, until 22nd. A Rustic Bunting was in Cornwall's Nanjizal Valley on 22nd, possible Eastern Yellow Wagtails were at both Lizard Point, Cornwall, on 21st and Dungeness RSPB, Kent, on 26-27th, and a Hume's Leaf Warbler was trapped and ringed at Deerness, Mainland Orkney, on 26th. Northumberland's female Desert Wheatear was last noted on 23rd.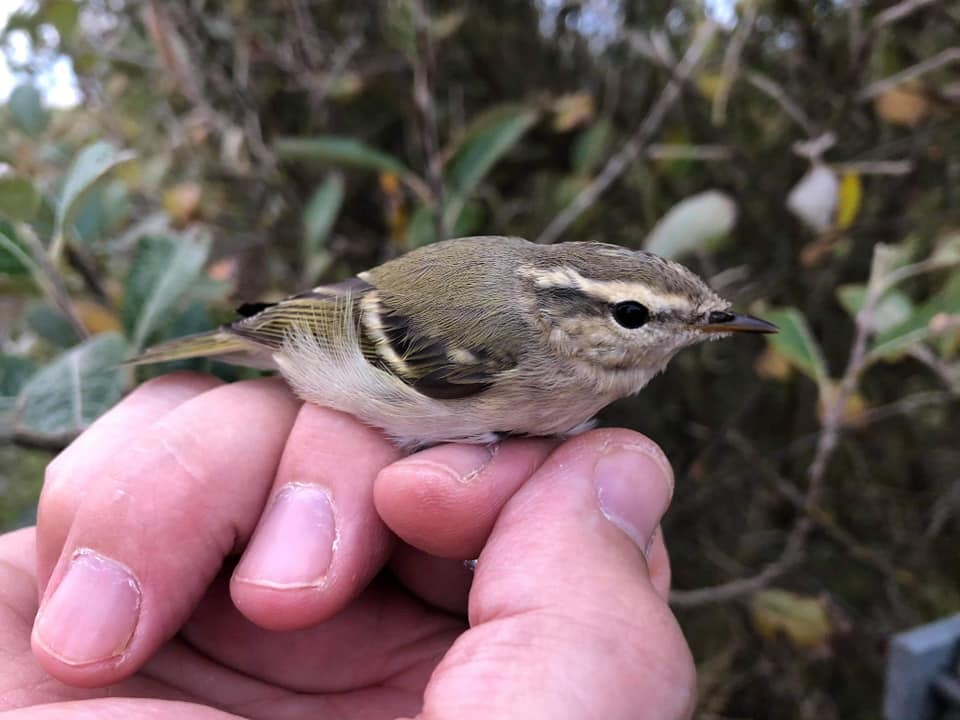 Hume's Leaf Warbler, Deerness, Mainland, Orkney (Alan Leitch).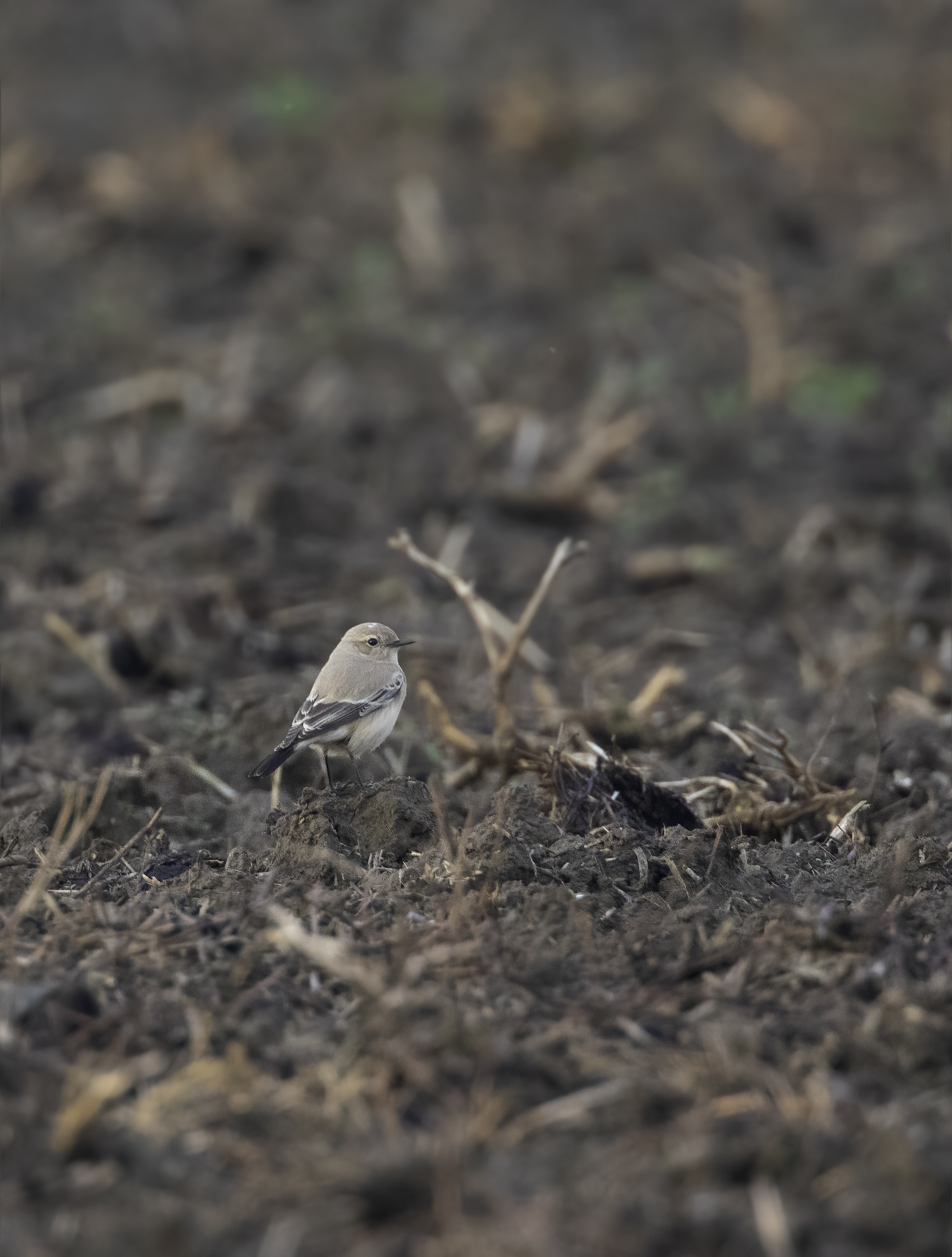 Desert Wheatear, Boulmer, Northumberland (John Malloy).
Along with a number of Common/Pallid Swifts spread throughout the country, a confirmed Pallid Swift was over Titchfield Haven NNR, Hampshire, on 22nd, moving to Oxey Marsh the next day. A very probable Pallid was over Holy Island, Northumberland, on 23rd, too.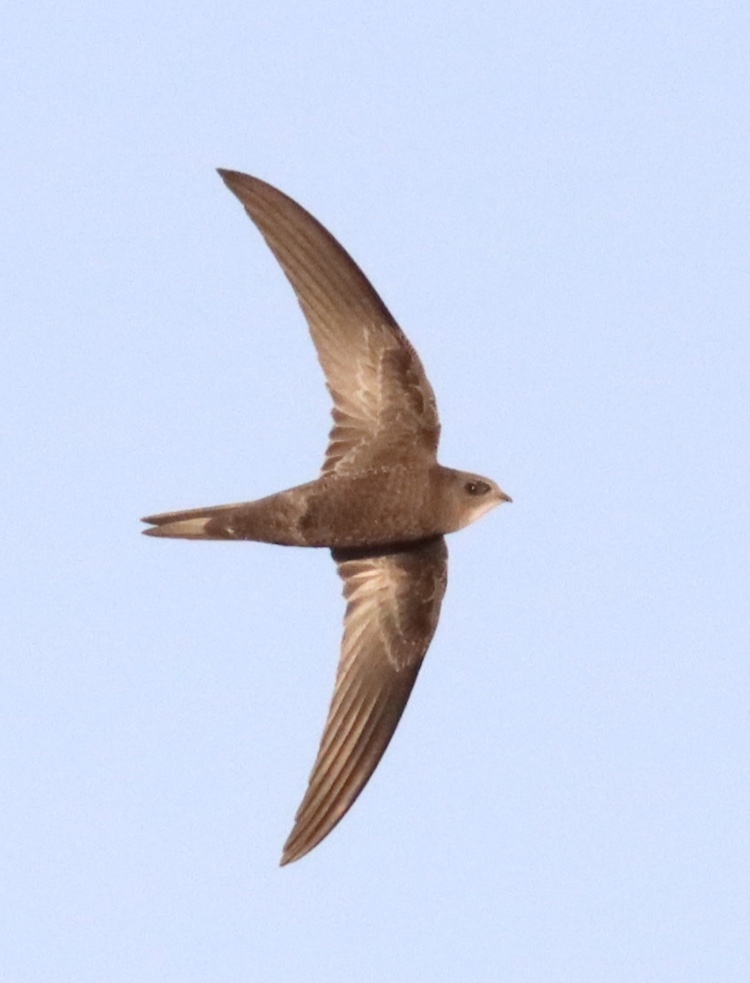 Pallid Swift, Titchfield Haven NNR, Hampshire (Mark Francis).
All three Stejneger's Stonechats remained at their respective locations – at Medmerry RSPB, West Sussex, until 22nd, Holkham Freshmarsh, Norfolk, until 25th, and South Gare, Cleveland, throughout. On Shetland, wagtail dippers discovered a Siberian/Stejneger's Stonechat at Westing, Unst, on 25th.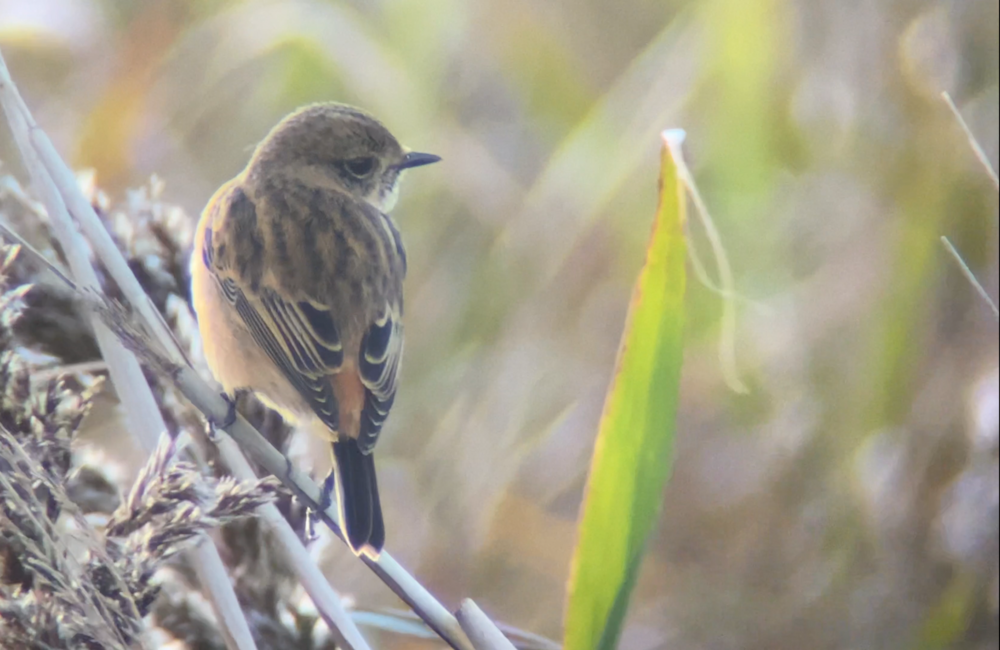 Stejneger's Stonechat, South Gare, Cleveland (John Malloy).
Also on Unst, a plethora of redpoll varieties included Coues's Arctic Redpolls at Valyie (until 22nd) and Baltasound (23rd) and Hornemann's Arctic Redpolls at Valyie (22nd) and Baltasound (two on 22nd), alongside a number of Mealy and Greenland Redpolls. Another Coues's was on the Mainland at Brae on 22nd, with another Hornemann's at Loch of Norby on the same date.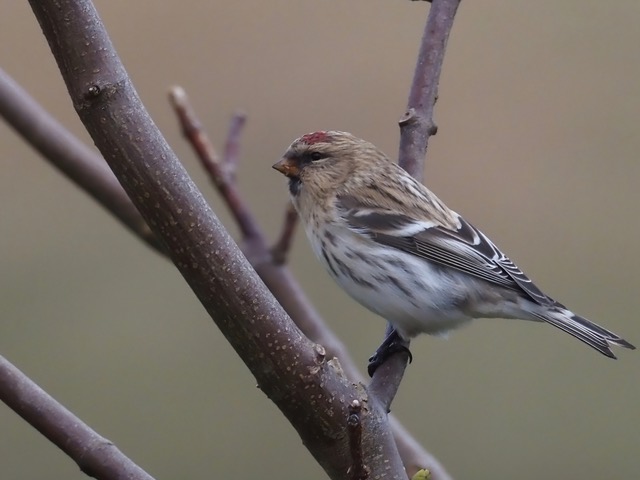 Hornemann's Arctic Redpoll, Norwick, Unst, Shetland (Mark Sutton).
A probable first-winter Caspian Tern flew distantly west past Gun Hill, Norfolk, on 22nd, while the only Fea's-type Petrel of the month flew past Pendeen, Cornwall, on 26th.
A Richardson's Cackling Goose with Pink-feet near Throsk, Forth, is likely to prove as popular as mainland birds always are during the winter – especially if it joins them as they head further south towards the English border. Others were at Termoncarragh Lough, Co Mayo, on 22nd and two at Loch Paible, North Uist, until 23rd, as well as two sites on Islay, Argyll – Eorrabus on 22nd and Grainel on 27th.
The drake White-winged Scoter was back off the Musselburgh seawall, Lothian, for its fourth winter in a row from 27th – two days later than last year. It has lingered among the throngs of Velvet Scoter here until 20 May in previous years. Meanwhile, a returning drake Lesser Scaup was back at Chew Valley Lake, Somerset, from 23rd and the female Blue-winged Teal remained at Annagh Marsh, Co Mayo, until 22nd at least.
The private site of Woodbridge Airfield, Suffolk, was briefly visited by a probable Upland Sandpiper on 23rd, while the juvenile Pacific Golden Plover remained at Findhorn Bay, Moray & Nairn, too. A WeBS count at Horsey Island, Devon, lucked out with a juvenile Spotted Sandpiper, while a possible was heard in Argyll at Bridgend, Islay, on 22nd. A juvenile Baird's Sandpiper was a brief visitor to Dawlish Warren NNR, Devon, on 27th, with Co Kerry's juvenile Semipalmated Sandpiper last reported on 22nd. A new Long-billed Dowitcher was at Bolton-on-Swale Lake YWT, North Yorkshire, from 24th, with the long-staying adult at Old Anthorn, Cumbria, throughout.
Scottish mainland
Plentiful Snow Geese were seen among returning Pink-feet in Scotland through the week, including an intermediate morph at Findhorn Bay, Moray & Nairn, on 21st, and another intermediate morph still in the Nigg Bay area at Arabella, Highland, on 27th. Two Todd's Canada Geese remained near Inverness Airport, Highland, on 21st, with another at Munlochy Bay on the same date.
A young Red-backed Shrike continued the autumn purple patch at Kilminning, Fife, from 25th, while a Pectoral Sandpiper was at Montrose Basin, Angus, on 24th and Clyde's second Western Cattle Egret was at the same site as the first – at Carbarns Pool on 25th. Hoopoes were at Dornoch, Highland (until 24th), Clatt, Aberdeenshire (25th), and Gilston, Moray & Nairn (25th).
Red-backed Shrike, Kilminning, Fife (Simon Pinder).
A Leach's Storm Petrel flew past Troon, Ayrshire, on 24th, followed by a Grey Phalarope the next day. Another Leach's was off Uisaed Point, Argyll, on 26th. Surf Scoters were at three sites – Kinshaldy, Fife, Musselburgh Lagoons, Lothian, and Dornoch, Highland.
A new drake American Wigeon was at Loch Skerrols, Islay, on 27th. Elsewhere, the island hosted a drake Green-winged Teal and Todd's Canada Goose at Loch Gruinart RSPB from 25th, plus other Todd's at Loch Gorm and the Rosy Starling at Bowmore still. A Hoopoe remained at Bridgend until 23rd, too.
Northern Isles and the Hebrides
Out Skerries, Shetland, hosted a Richard's Pipit, with another at Loch of Norby, Mainland, on 22nd. A Dusky Warbler at Mid Yell, Yell, on 21-22nd complemented a Radde's Warbler at Culswick, Mainland, on 26th, with a sprinkling of Siberian Chiffchaffs littered across the islands. Two White-billed Divers were in South Nesting Bay, Mainland, on 27th, while an American Golden Plover was at Uyeasound, Unst, on the same date. A brief spell of easterlies saw Fair Isle score an Olive-backed Pipit, Dusky Warbler, Red-breasted Flycatcher, Bluethroat, Little Bunting and Waxwing.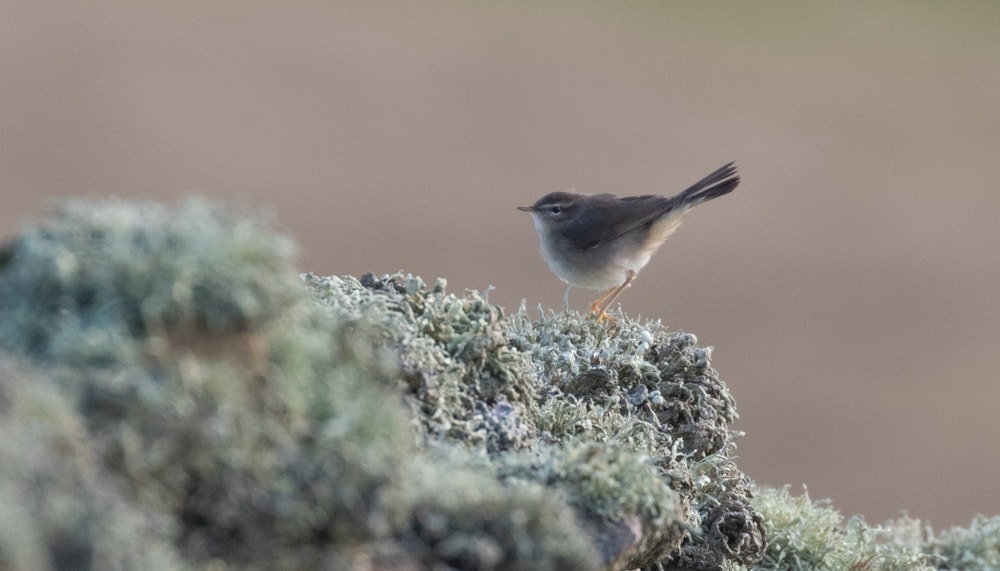 Dusky Warbler, Fair Isle, Shetland (Daniel Gornall).
In Orkney, a Buff-breasted Sandpiper was a smart find at Deerness, Mainland, on 25th, with highlights elsewhere including a Coal Tit at Deerness, Mainland, a couple of Waxwings at Finstown, Mainland, and a Northern Bullfinch on Stronsay. A Little Auk was in Echna Bay, Burray. North Ronaldsay scored riches including the returning drake Green-winged Teal, Iceland Gull, Little Bunting, Common Rosefinch and Bluethroat, while a Greater Short-toed Lark was belatedly reported from 20th.
A new Lesser Yellowlegs was in the Outer Hebrides at Hougharry, North Uist, on 27th and a Pectoral Sandpiper was at Ormiclate, South Uist, on 24th, while American Golden Plovers were at both Eochar and West Gerinish, South Uist. The lingering Red-flanked Bluetail at Creachan, Barra, is just the second record for the Outer Hebrides, after a spring individual in March 2012. Elsewhere, a Bluethroat was on St Kilda on 22nd, with a Barred Warbler at Greinetobht, North Uist, on 26th.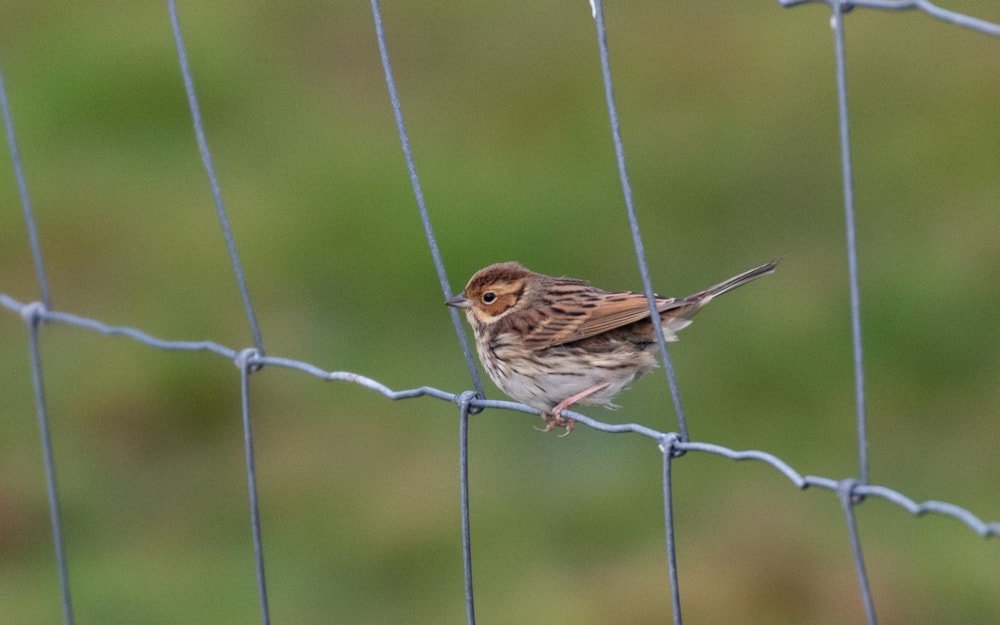 Little Bunting, Fair Isle, Shetland (Daniel Gornall).
North-East England
Northumberland was once again the epicentre of the action in the North-East, with highlights including a first-winter Red-necked Phalarope at Hagg Bank on 25th and a popular Hoopoe around the Lynemouth power station from 21st. Holy Island continued to host a single Red-flanked Bluetail until 21st, alongside a juvenile Rosy Starling, two Dusky Warblers, Yellow-browed Warbler, Barred Warbler, two Long-tailed Skuas and a possible Northern Treecreeper. Another Dusky was at Hauxley NR on 21st. The adult drake American Wigeon returned to Grindon Lough from 24th, while another (or the same?) drake was at Big Waters NR on 27th. An eclipse drake Green-winged Teal was at Budle Bay from 22nd, while six Tundra Bean Geese were at Longhirst Flash from 25th.
In Cleveland, a Pallas's Warbler was at Saltburn on 23rd, with a Yellow-browed Warbler there on 25th. Three Lapland Buntings were in fields at Marske-by-the-Sea, a Snow Bunting was at Redcar and the Great Grey Shrike remained at South Gare. Pink-feet on Cowpen Marsh were joined by a Greater White-fronted Goose on 25th, with an inland Long-tailed Duck at Scaling Dam Reservoir from 23rd. Two Water Pipits were at Saltholme RSPB on 27th.
A Water Pipit was at Boldon Flats NR, Durham. Two Yellow-browed Warblers were recorded in the county – at Newbottle and Silksworth – while a Mealy Redpoll was at Burdon Moor.
North-West England
In Cumbria, the Pectoral Sandpiper hung around Anthorn until 23rd at least, although began to prove more elusive. Great Egrets continue to have a great autumn in the county, with five sites reporting birds.
The wildfowl tap has been turned on in Lancashire, with the focus largely on geese. A Todd's Canada Goose was at Banks Marsh on 23rd before being re-located at Peel on 25th. Elsewhere, both flavours of Greater White-fronted Goose were on offer, and Tundra Bean Geese were at Crossens Outer Marsh and Pilling Lane Ends. The adult drake Ring-necked Duck remained mobile between Leighton Moss RSPB, Pine Lake and a smaller pool just north of here. A Great Grey Shrike put in a brief appearance at Brockholes LWT on 23rd and Yellow-browed Warblers had a quieter week than of late, with just two sites scoring.

Todd's Canada Goose, Banks Marsh, Lancashire (Stuart Darbyshire).
Belated news of a Little Bunting came from Gowy Meadows CWT, Cheshire, this week and there have been no follow-up sightings since the initial report. A Richard's Pipit flew over to the south-west of Crewe on 22nd. Two Snow Buntings were by the golf club car park at Leasowe on 26-27th and Yellow-browed Warblers were at two sites. Greater Manchester produced a single Yellow-browed Warbler, while a crisp first-winter Caspian Gull joined the gull roost at Pennington Flash CP.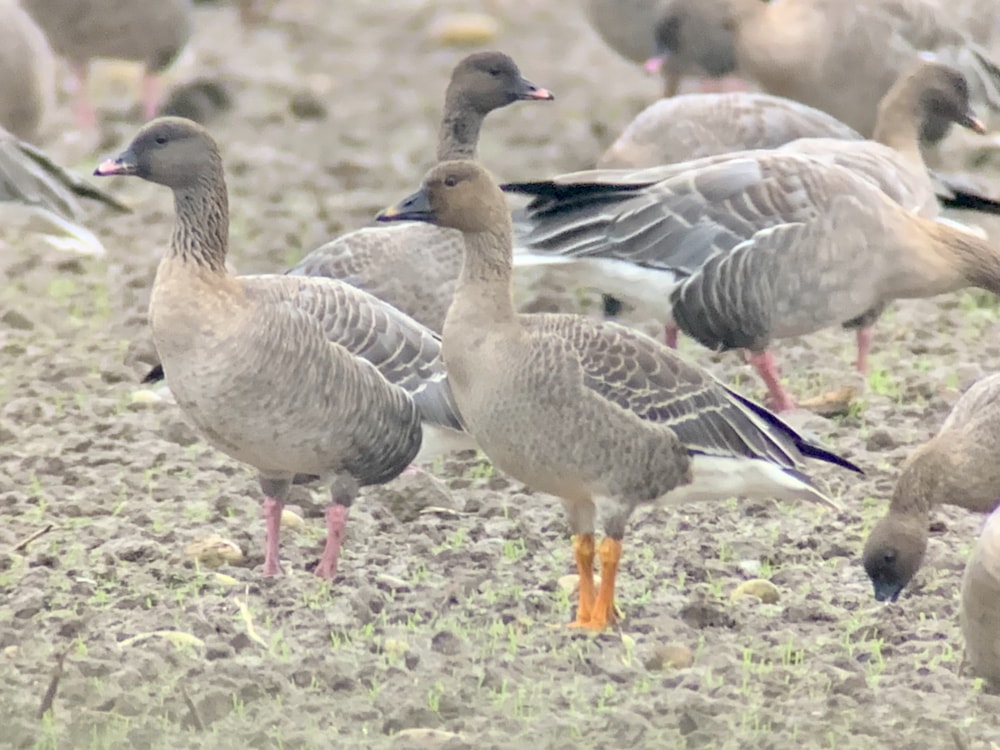 Tundra Bean Goose, Crossens Outer Marsh, Lancashire (Stuart Darbyshire).
Lincolnshire and Yorkshire
Richard's Pipit and Glossy Ibis at Donna Nook were the highlights of a significantly quieter week in Lincolnshire, although the wider arrival of Tundra Bean Geese in eastern areas saw five sites in the county score – including inland birds at Baston & Langtoft Pits (two) and Deeping Lakes NR. A Slavonian Grebe stuck around at Covenham Reservoir.
A brief Greater Short-toed Lark on 26th was the highlight of a much steadier week in the Spurn area, while a Great Grey Shrike lingered at Skeffling to 25th. Late news concerned a moulting drake American Wigeon at Hornsea Mere on 19th, this bird relocating to Tophill Low NR on 22nd. The Green-winged Teal also lingered at North Cave Wetlands.
A Dusky Warbler resolutely hung on at Buckton throughout the week, but Flamborough area highlights were otherwise limited to Tundra Bean Goose, Lapland Bunting and a flock of Twite – all of a sudden, very wintery! Further north on the coast, a Pallas's Warbler was at Filey and two Richard's Pipits flew over Scarborough on 23rd.
Moving inland, a Great Grey Shrike was at Langdale Forest on 26th, while a juvenile Rosy Starling in Harrogate on 25th had been present several days. The Lesser Yellowlegs stuck around at Nosterfield LNR. Up to two Black Redstarts were west of Leeds at Soil Hill, with Water Pipits back at St Aidan's RSPB and Wilthorpe Marsh. A late Garganey hung on at Potteric Carr.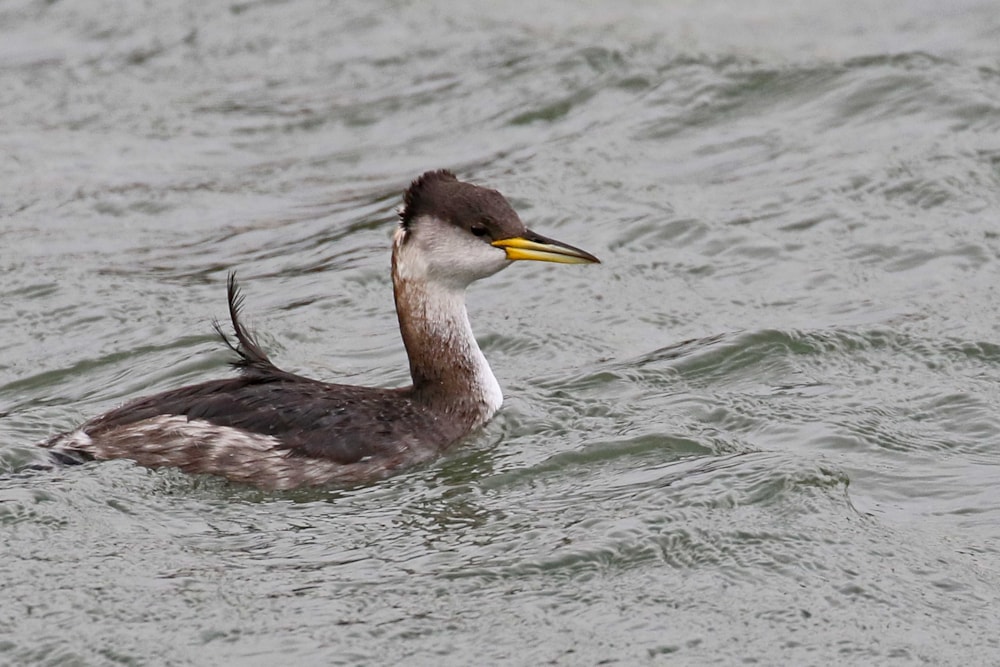 Red-necked Grebe, Scarborough, North Yorkshire (Christopher Bell).
West Midlands
In Staffordshire, Water Pipits were at Doxey Marshes and Branston GPs, with a Greater Scaup at Belvide Reservoir on 26th and the juvenile Little Stint there for yet another week. The juvenile Rosy Starling remained at Whitchurch, Shropshire for another week, meanwhile a juvenile European Shag briefly pitched down at Priorslee Lake on 25th and a Lapland Bunting was at Titterstone Clee Hill on 25-26th.
In the West Midlands, the Yellow-browed Warbler remained at Stivichall Common, while another turned up in Birmingham city centre. Yellow-broweds were also the talk of Worcestershire's week, with one lingering by The Birder's Store, Worcester, and another possible at North Hill on 22nd. Warwickshire had a few bits of interest: a pair of Common Cranes were in a field by Grove Hill dew pond on 24th, a Common Quail was flushed near Morton Bagot on 25th and the European Shag continued at Draycote Water.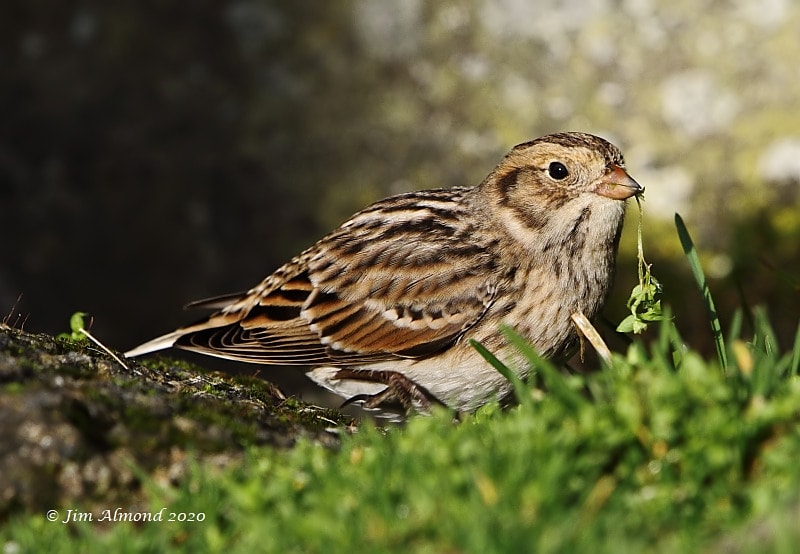 Lapland Bunting, Titterstone Clee Hill, Shropshire (Jim Almond).
East Midlands
A typically confiding Grey Phalarope on the River Wye at Bakewell, Derbyshire, on 25th proved the epitome for "anything can turn up anywhere". Other seafarers included a brief Arctic Tern at Willington GPs on 23rd and a Kittiwake through Carsington Water on 24th.
A juvenile Arctic Tern flew through Colwick CP, Nottinghamshire, on 23rd and up to three juvenile Black-necked Grebes were at Hoveringham GPs. Northants was also quieter this week, with a brief Dartford Warbler in a garden at Blakesley the sole sighting of note. One-day birds spilled into Leicestershire this week, with a drake Green-winged Teal at Eyebrook Reservoir on 21st only and Yellow-browed Warblers at two sites. Rutland Water mopped up the best of the rest with both Slavonian and Red-necked Grebes still, alongside a drake Common Scoter on 23rd and a barmy count of 32 Great Egrets on 24th.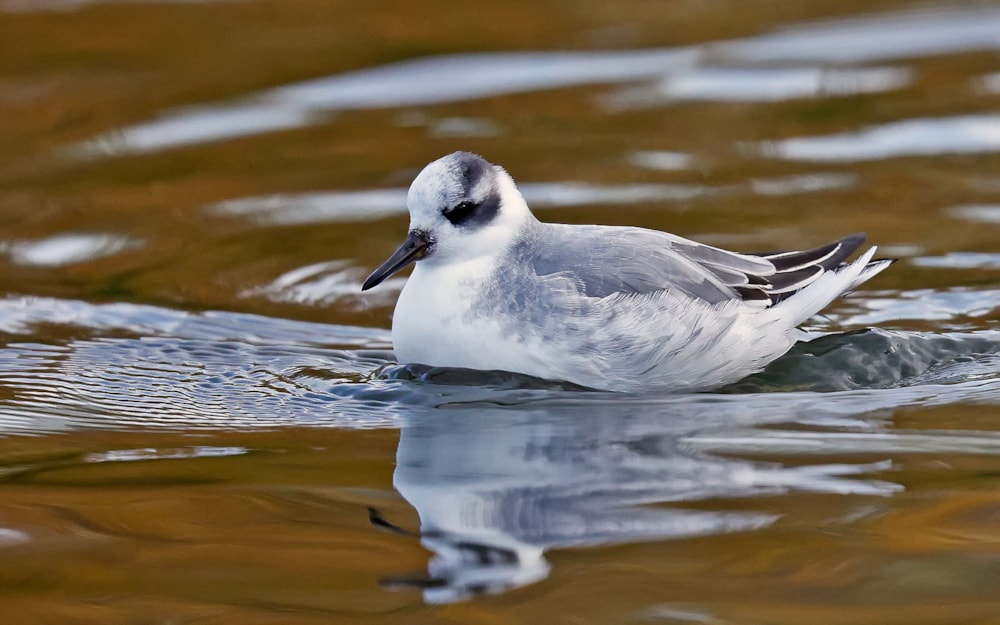 Grey Phalarope, Bakewell, Derbyshire (Tony Davison).
East of England
Despite the wind veering to a westerly, Norfolk remained plenty busy enough to keep birders entertained. A Lesser Yellowlegs was new at Welney WWT from 22-25th and a drake Ring-necked Duck was on Holkham Park Lake from 22nd, while the park held a group of Hawfinches for the first time in many a winter.
A decent array of scarce migrants continued after the previous week's major arrival: two Olive-backed Pipits were at Stiffkey on 24th, a Red-flanked Bluetail remained at Holme Dunes till 24th (a Little Bunting also there on 24th) and a Barred Warbler was at Winterton Dunes. Three each of Dusky and Pallas's Warblers were noted, while no fewer than five Richard's Pipits included one inland at Cranwich Heath on 23rd. Amusingly, news also came to light of a Red-flanked Bluetail filmed by a camera trap at Pensthorpe on 11 October (more on that occurrence here).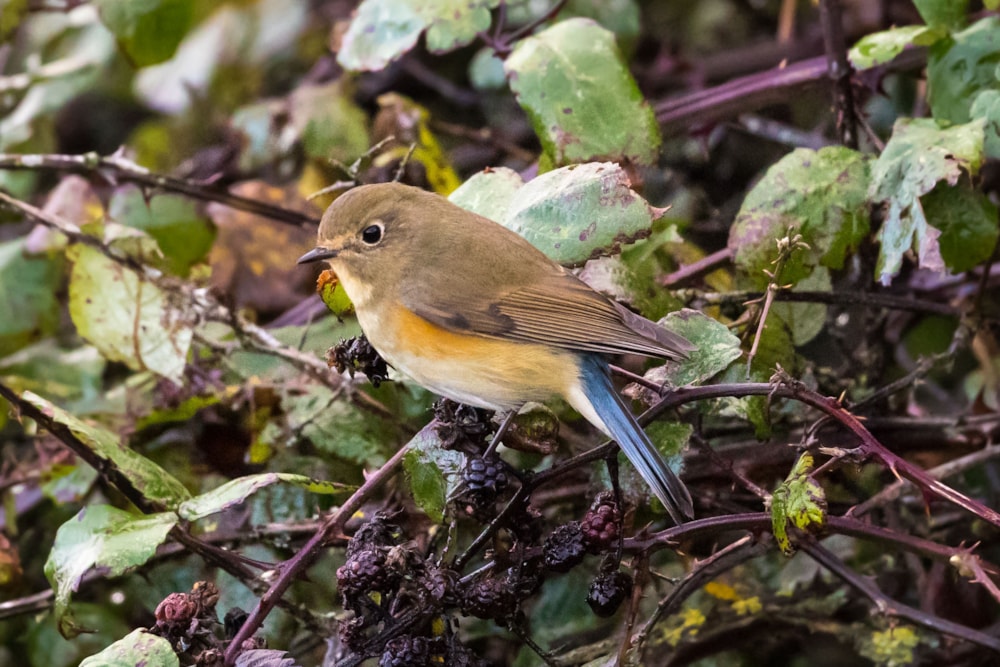 Red-flanked Bluetail, Holme next the Sea, Norfolk (Ian Bollen).
In Suffolk, a couple of Pallas's Warblers remained in the Lowestoft area, while Great Grey Shrikes were seen at three sites. Up to 11 Caspian Gulls roosted at Minsmere RSPB, and a Red-throated Diver gave fantastic views at Neptune Marina, Ipswich, on 27th.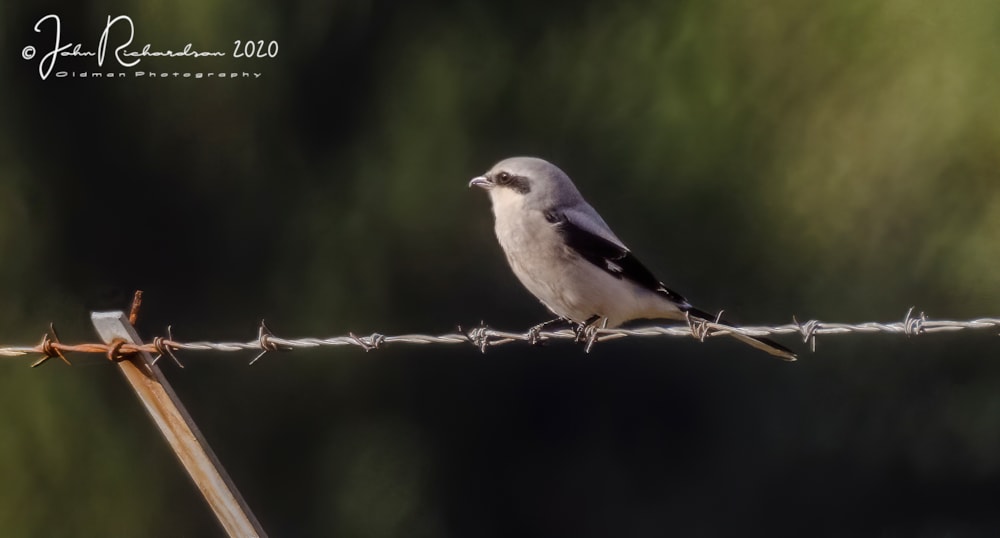 Great Grey Shrike, Upper Hollesley Common, Suffolk (John Richardson).
A Pallas's Warbler was at The Naze, Essex, on 23rd, while an elusive Great Grey Shrike was seen at Coryton on 22nd and 26th. Long-tailed Duck and Little Stint were among the best Abberton Reservoir had to offer. Meanwhile, the Eurasian Spoonbill continued in the East Tilbury area.
A Snow Bunting visited Wilstone Reservoir, Herts, on 25th, while Yellow-browed Warblers were at Frogmore and Lee Valley CP. What is presumably the returning Ring-necked Duck was back in Bedfordshire, at Willington GPs from 24th. Yellow-browed Warblers were at Brogborough Hill and Upper Caldecote. Top finds in Cambridgeshire were a Great Grey Shrike at Yelling on 23rd and a Glossy Ibis at Nene Washes RSPB on 27th, although the 78 Common Cranes roosting at Nene Washes RSPB on 22nd represents a new British record single-site count.

Hawfinch, Hardley Street, Norfolk (Nick Appleton).
South-East England
Sussex's first Dusky Warbler since 2015 was a splendid find on the edge of a recreation ground in Crawley on 25th, where it lingered until Tuesday. As well as serving hope for all inland patchwatchers, it also showed how many Sibes must be filtering down through the English countryside at present. Elsewhere in Sussex, a Pallas's Warbler was at Seaford Head on 26th, while Yellow-browed Warblers were at Black Down, Findon and Ashburnham Forge. Seaford hosted a brief Glossy Ibis on 26th.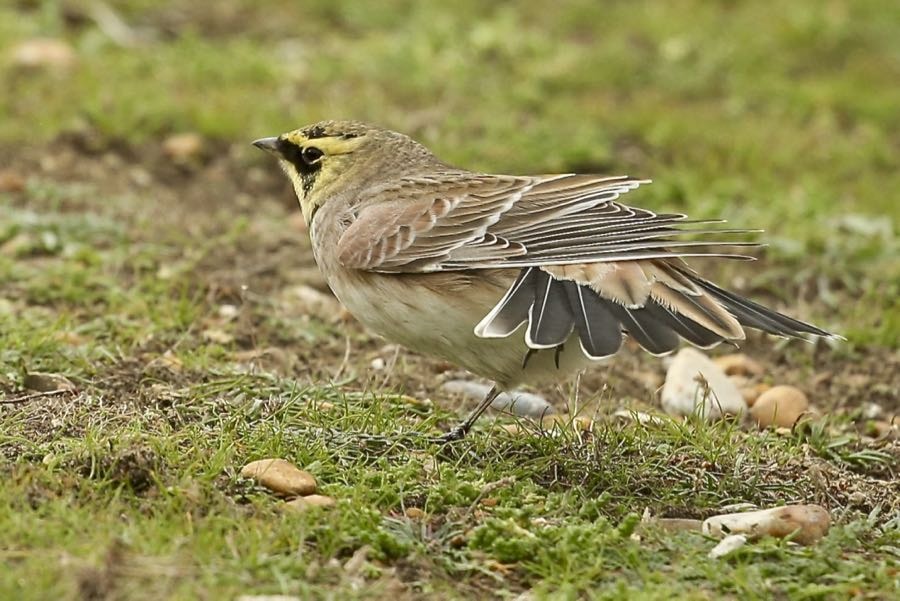 Shore Lark, Littlestone-on-Sea, Kent (Chris Bond).
In Kent, Seasalter enjoyed a decent week with records of Black Brant on 22nd and Richard's Pipit on 26th. Another Richard's Pipit was reported over Sandwich Bay the following day, where four Glossy Ibises were at large in the wider area from 23rd. The two Dungeness Glossy Ibises were still about, along with the nearby Red-backed Shrike at St Mary's Bay. Two Dusky Warblers were at Shuart, including a bird trapped and ringed on 23rd. Littlestone-on-Sea hosted a popular Shore Lark from 23rd and a juvenile Rosy Starling was photographed in the Thanet area on an unspecified date. Other records included a Grey Phalarope at Grove Ferry on 26th and the American Golden Plover at Oare Marshes on a couple of dates. Two each of Great Grey Shrike and Yellow-browed Warbler were logged.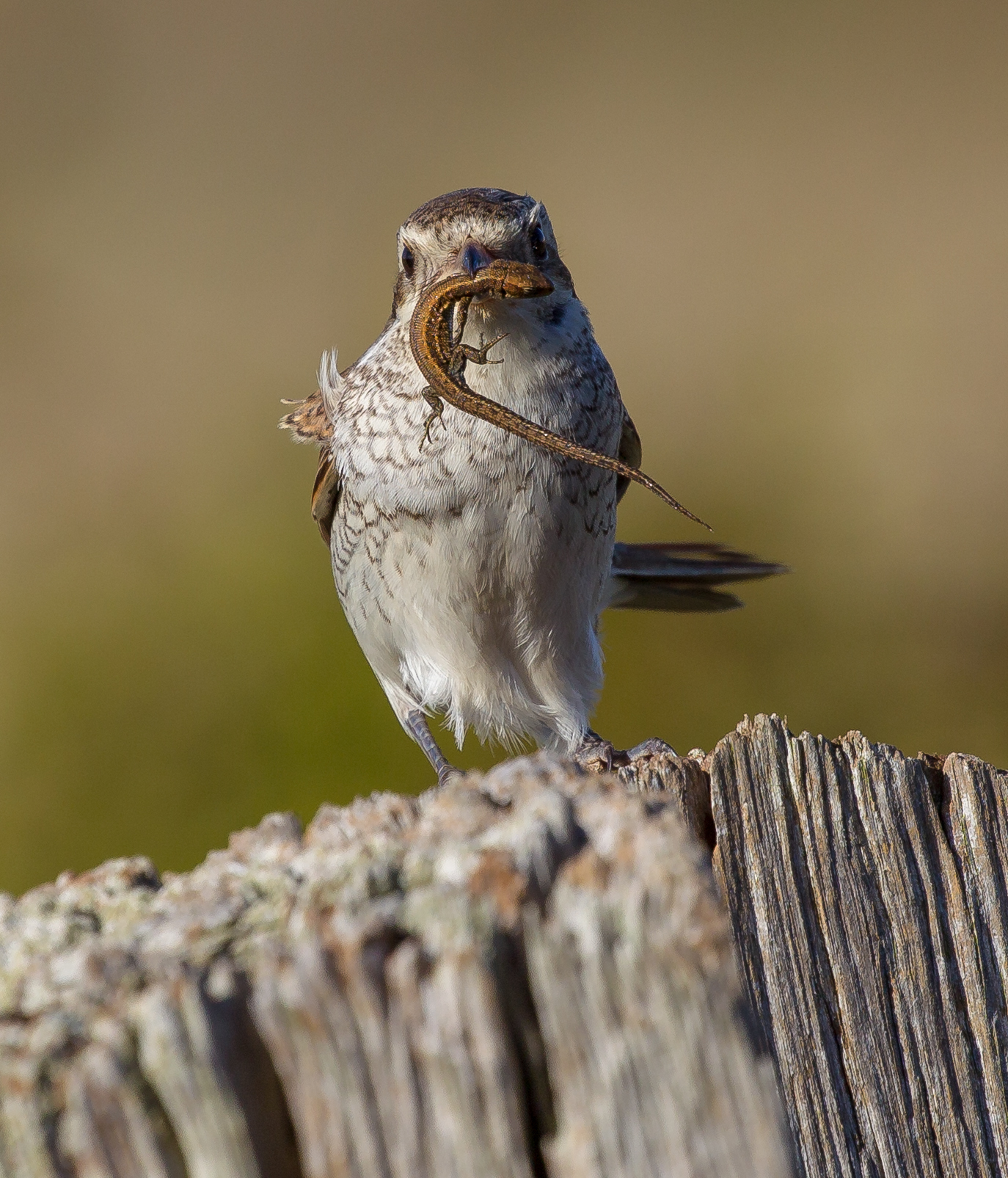 Red-backed Shrike, St Mary's Bay, Kent (Steve Reynaert).
It was rather quiet in London, though a Siberian Lesser Whitethroat at Wanstead Flats was a good find on 25th, as was a Yellow-browed Warbler at Eltham the following day. Buckinghamshire too scored a Yellow-browed Warbler, with one at Bletchley on 27th. A Glossy Ibis toured three sites in Oxfordshire on 25th. Berkshire and Surrey had uneventful weeks, with Great and Western Cattle Egrets highlighting.
Hampshire didn't exactly set the world on fire either, though a Sabine's Gull west past Milford-on-Sea on 25th was notable and a Grey Phalarope visited Pennington Marshes on 26th. Up to three Glossy Ibises were on the Isle of Wight on 21-22nd. Indeed, the spate of records in the region this week suggest it might be a good winter for the species.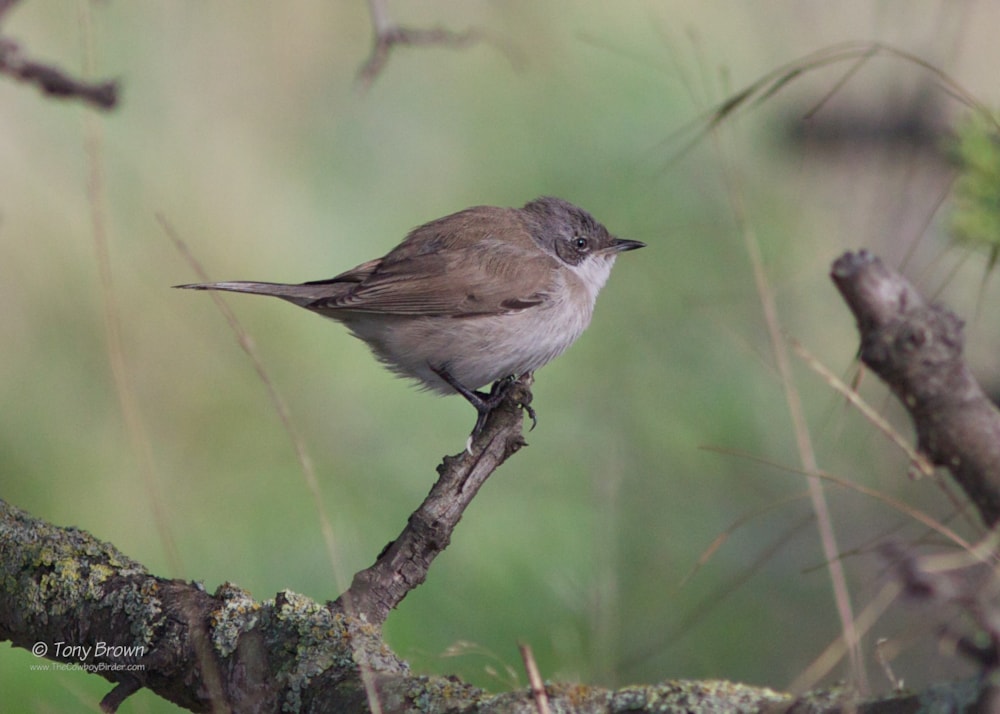 Siberian Lesser Whitethroat, Wanstead, London (Tony Brown).
South-West England
The Isles of Scilly continued its late-season flourish, with Lesser Yellowlegs and Little Bunting new on Tresco. A Pallas's Warbler brightened up St Agnes, where a Red-breasted Flycatcher and Dusky Warbler were also on offer. St Mary's had Red-breasted Flycatcher, Dusky Warbler, Greater Short-toed Lark, Red-backed Shrike, Little Bunting and Olive-backed Pipit, to name a few. Another Dusky Warbler remained on St Martin's and a Wryneck was on Bryher. A Glossy Ibis toured the isles. An excellent 140 Great Shearwaters were logged from a pelagic off Scilly on 22nd, alongside 130 Sooty Shearwaters.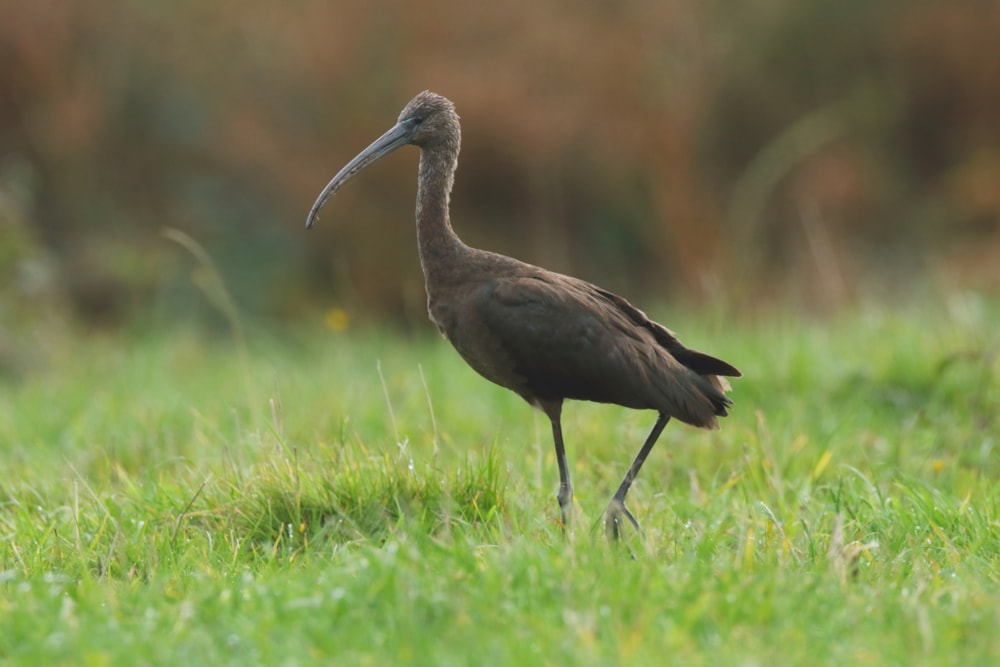 Glossy Ibis, St Mary's, Isles of Scilly (Andrew Jordan).
Cornwall wasn't quite so lively, with a Pallas's Warbler at Lamorna Cove on 23rd. Dusky Warblers were at three sites, as were Richard's Pipits. Offshore, Grey Phalaropes moved past several localities. Lingering Devon scarcities included Lesser Yellowlegs at South Efford Marsh, drake Ring-necked Duck at Slapton Ley and four Glossy Ibis at Fremington Pill. The seawatching scene was represented by a juvenile Sabine's Gull past Prawle Point on 24th.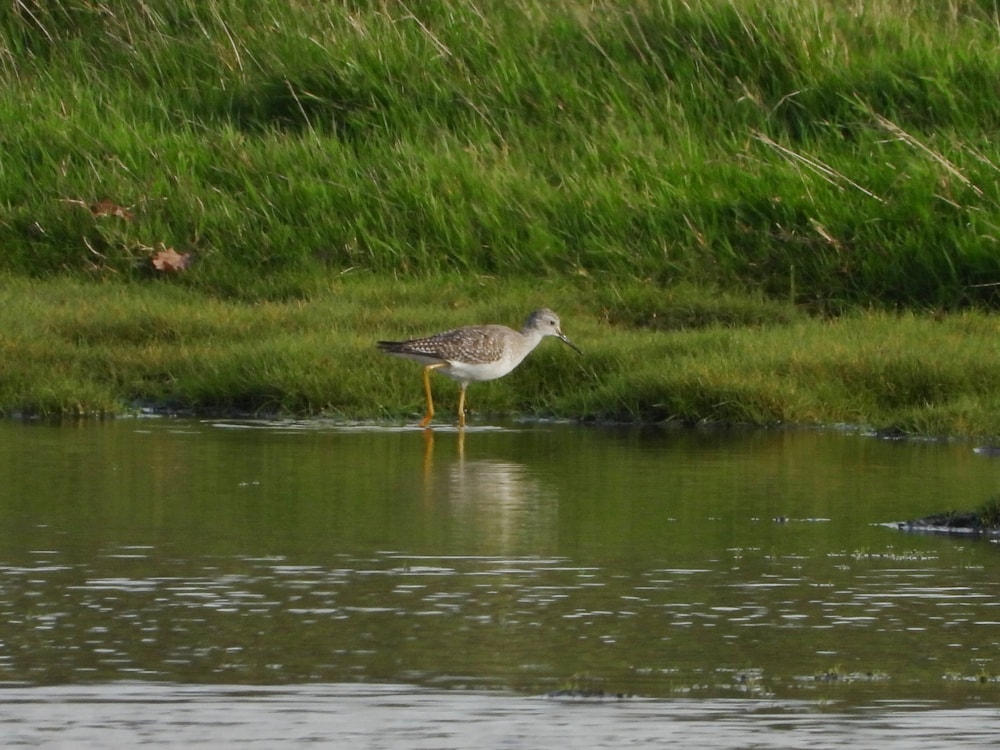 Lesser Yellowlegs, Aveton Gifford, Devon (David Boult).
A brief Olive-backed Pipit was at Portland, Dorset, on 21st, where the juvenile Rosy Starling stayed put. One of the adult Black Brant was again reported at Ferrybridge although note that the Dark-bellied Brent flock tends to disperse over high tides. A report of two Grey Phalaropes at Bride Valley fish farm on 24th was quickly followed up and a single bird remained until 27th. Other highlights included a fly-by Glossy Ibis at Swanage on 21st and a drake Green-winged Teal at Longham Lakes on 27th.
Somerset enjoyed more Nearctic waders, with a juvenile Pectoral Sandpiper at Steart on 22-23rd and the juvenile Lesser Yellowlegs still at Chew Valley Lake throughout. A now-expected species, a Glossy Ibis was at Westhay Moor NNR. Two Great Grey Shrikes had found their way to Gloucestershire, with birds at Woorgreens Lake GWT and Crabtree Hill both on 26th. Elsewhere, the Siberian Chiffchaff remained at Slimbridge WWT and was even reported singing on multiple occasions! Two Greater Scaup were at Cleveland Lakes NR, Wiltshire, on 26th.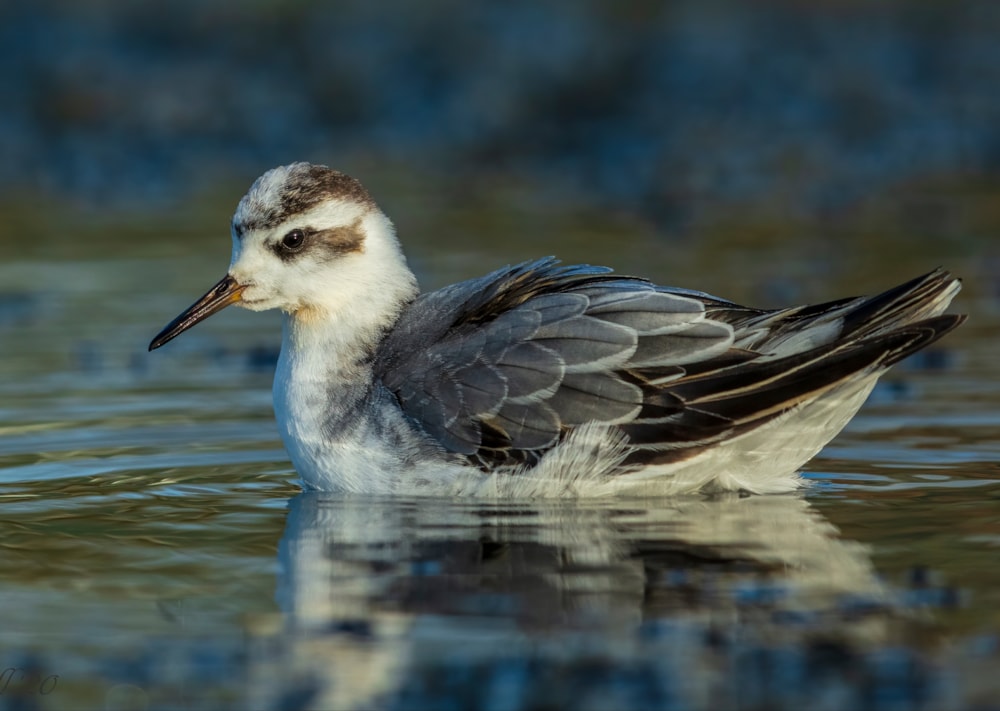 Grey Phalarope, Chilcombe, Dorset (John Wall).
Wales
Bardsey Island had a steady week; a Richard's Pipit was present on 22nd with Leach's Storm Petrel, Balearic and Sooty Shearwaters logged as they passed offshore. Black Redstart, Ring Ouzel and Hooded Crow round up the rest.
Another brief Richard's Pipit was at Aberystwyth, Ceredigion on 21st. Two Red-breasted Flycatchers were uncovered in Pembrokeshire this week, with singles at Skomer and Trefeiddan Common, a Pallas's Warbler was at Great Orme, Conwy, on 25th, and a Dusky Warbler was at Wylfa Head, Anglesey, on 25-26th. The Ring-necked Duck remained at Cosmeston Lakes CP, Glamorgan, for another week, and was joined by a second from 25th. Great Grey Shrikes were at three localities and a Glossy Ibis flew over Ynyslas on 22nd.
Sadly a very decent local bird nowadays, a European Turtle Dove was photographed in a garden at Bala, Gwynedd, on 25th. The juvenile Russian White-fronted Goose remained at Llanrhystud, Ceredigion, and four Greenland White-fronted Geese were at Trefin, Pembrokeshire, on 23rd. Snow Buntings were at three localities while Yellow-browed Warblers continue to be uncovered, and 10 sites produced birds.
Ireland
A nationwide lockdown in the Republic of Ireland unsurprisingly meant a reduction in birder coverage, although late news filtering out of Radde's Warbler and two Little Buntings from Inishmore was notable (another Little Bunt was on Inishbofin on 22nd). An amazing inland record of a Bluethroat near The Gearagh, Co Cork, on 21st was not to be sniffed at, while a Siberian Chiffchaff was at Oxford Island NNR, Co Armagh, on 23rd.
Two Ring-necked Duck were at Lough Gara, Co Sligo, while two also remained at Moylan Lough, Co Monaghan, and two sites in Co Clare hosted singletons. A Surf Scoter was off Bremore, Co Dublin, on 25th. The only Ring-billed Gull reported was the regular adult at Blackrock, Co Louth.
The Lesser Yellowlegs remained at Tacumshin, Co Wexford, to 21st, with another at Killongford, Co Waterford, from 24th. An American Golden Plover was near Portrush, Co Antrim, on 27th, while at least two remained in the Ballykelly area of Co Derry. A Western Cattle Egret at Castle Espie WWT, Co Down, was notable.
Western Palearctic
Comfortably the most eye-opening record of the week concerned a male Mongolian Finch found well inland in central Sweden, close to the Norwegian border at Venjan. Discovered on 25th, it was still there two days later. There is just a single previous European record, involving a first-winter male trapped on Malta in November 2013 and kept in captivity until its death some 18 months later. As scarcely believable as it may initially sound, might this Central Asian speciality one day make it to Britain as a late-autumn vagrant? Perhaps so.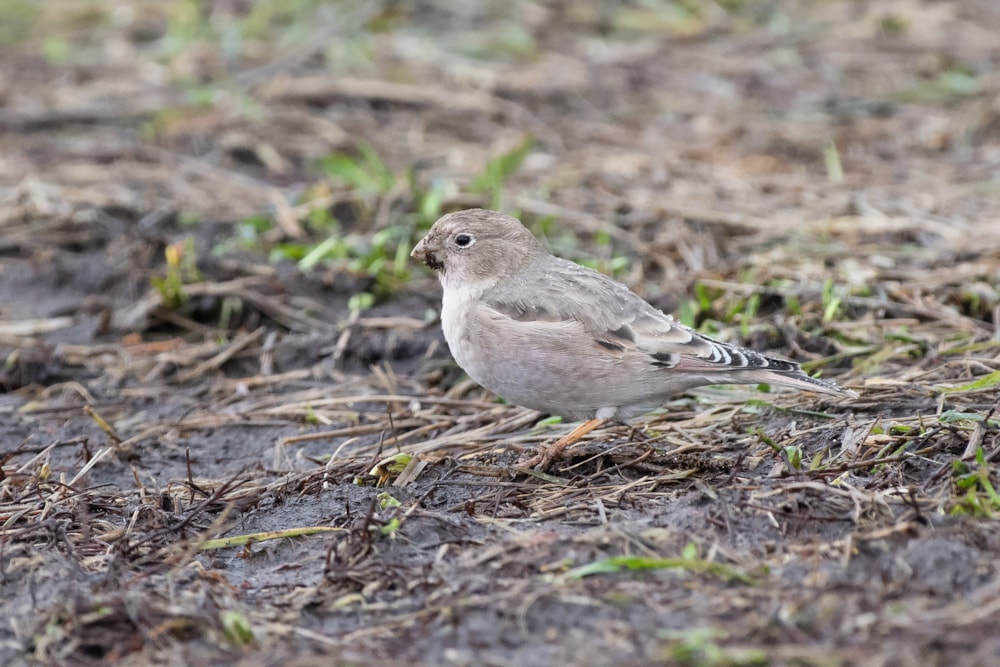 Mongolian Finch, Venjan, Dalarnas län (Håkan Johansson).
Meanwhile, Denmark recorded its first White-rumped Swift on 27th, when one appeared at Vejby Strand. As with other recent northern European records of this regional scarcity, it's come during an October influx of Pallid Swifts, itself caused by strong southerly emanating winds from lower latitudes. In Norway, an Eastern Yellow Wagtail was at Klepp, Rogaland, on 24th, the same day that Finland scored its 13th Black-throated Accentor – the bird, at Hanko, lingered until at least the following day.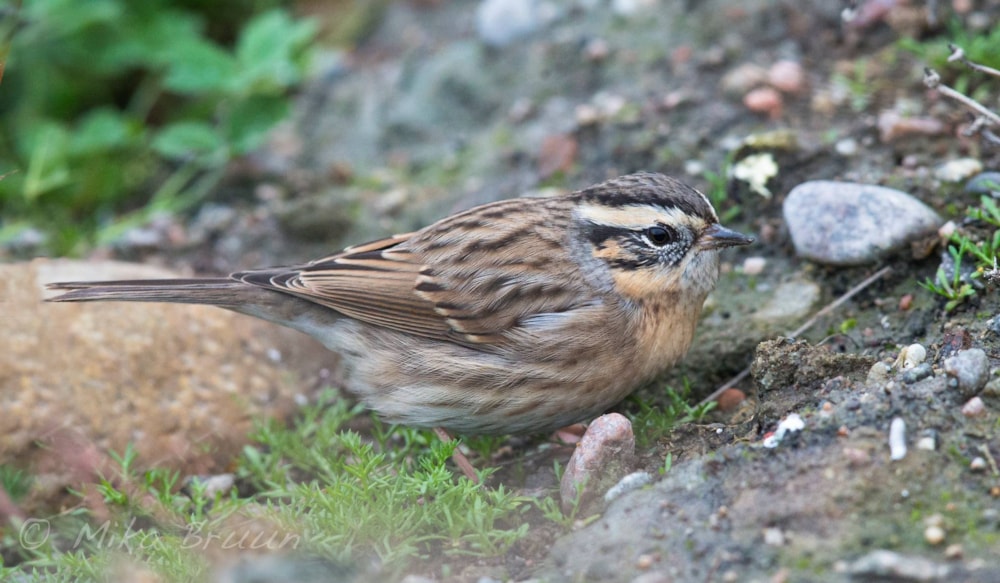 Black-throated Accentor, Hanko, Uusimaa (Mika Bruun).
The Netherlands was treated to its first-ever Blackpoll Warbler on 25th. Found on Texel, it hung around until the following day, while at least four Pallid Swifts wheeled overhead. Also on 25th, a lost-looking Brown Booby appeared on a ship at the port of Maasvlakte, while the nation's third Little Swift was on Vlieland on 27th. Neighbouring Belgium also scored a Little Swift – this national first was at Zeebrugge on 26th.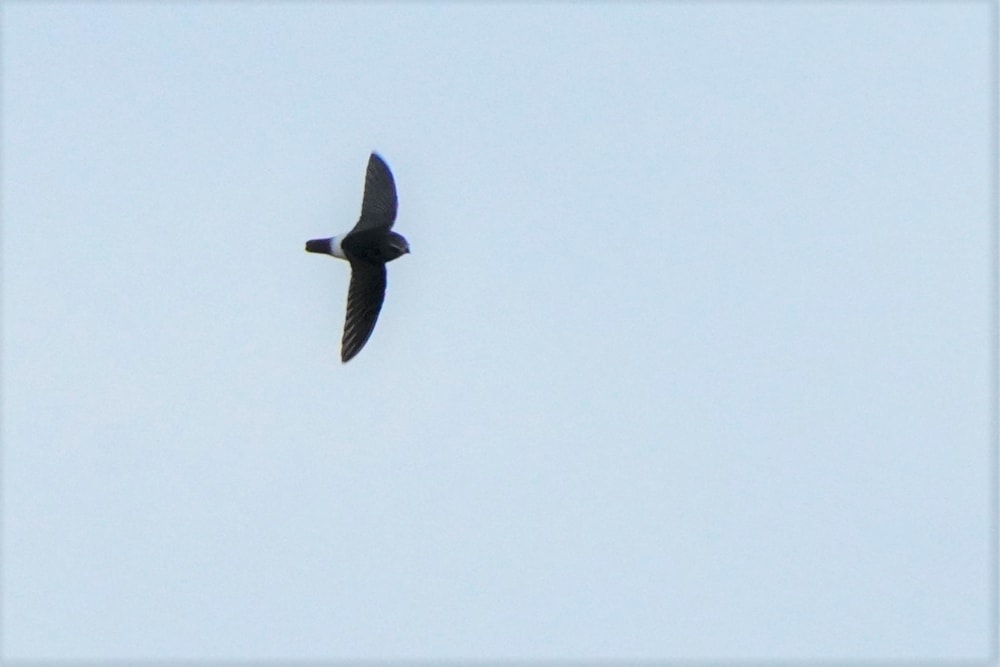 Little Swift, Zeebrugge, West Flanders (Johannes Jansen).
Standout record from France was a Hornemann's Arctic Redpoll on Ouessant Island on 25-26th, although a Sociable Lapwing east of Troyes on 26th was another tantalising record for British birders. A Little Swift was on the west coast at Châtelaillon-Plage on 25th.
Thrilling news from Israel concerned the country's second Persian Shearwater off Eilat. Found on 20th, the identification had been firmed up by 22nd, and it was still lingering offshore there on 27th. Meanwhile, a Greater Painted-snipe continued at HaMa'apil. In Kuwait, the Indian Roller was still at Sulaibiya Pivot Fields.
Finally, to the Azores. The autumn's second Bay-breasted Warbler was on Corvo on 22nd, with a Philadelphia Vireo on 25th and Northern Parula on 27th, plus lingering Blackpoll Warbler and Double-crested Cormorant. Two of the latter species also remained on both Flores and São Miguel, while the resident Pied-billed Grebe was reported again for the first time in months at Lagoa das Furnas, São Miguel.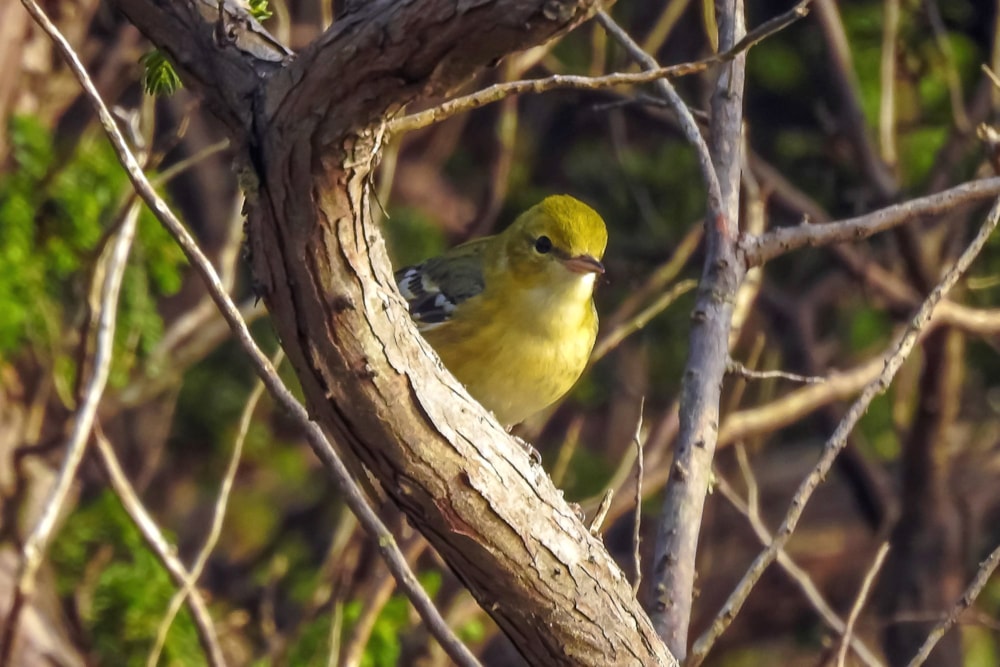 Bay-breasted Warbler, Corvo, Azores (‪Pierre-André Crochet).