In a strong end to the month, a remarkable influx of Caspian Terns starred, while a number of new rare and scarce additions provided plenty to keep birders entertained across Britain and Ireland.
Fair Isle's third Green Warbler in just five years was trapped and ringed on 23rd, although there was no sign on subsequent days. A species with just nine previous British records to date, all but one of these have occurred since 2014, a remarkable upturn in fortunes. This included two in June 2020 – on North Ronaldsay, Orkney, and Fair Isle – with Fair Isle's first occurring in July 2017. Surely one will appear at an accessible mainland location at some point soon?

Green Warbler, Fair Isle, Shetland (Alex Penn).
Ireland's first Red-winged Blackbird relocated to Annagh Marsh, Co Mayo, on 21-22nd, allowing a few twitchers to connect that evening before reappearing for three lucky observers the next day. It was first photographed in a Castleconor garden, Co Sligo, on 11th, approximately 65 km east of Annagh Marsh, as reported in last week's column.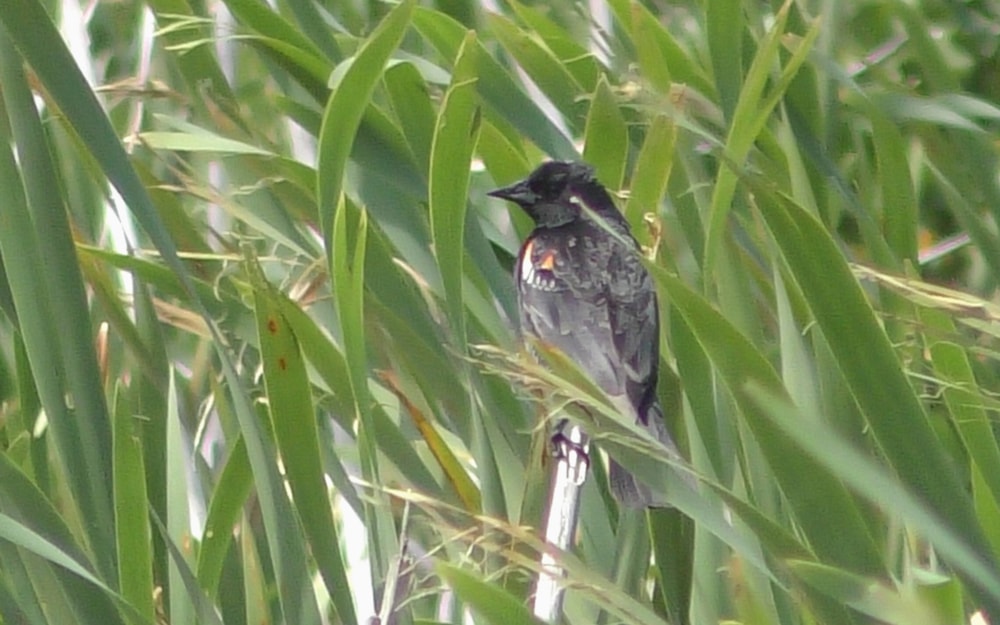 Red-winged Blackbird, Annagh Marsh, Mayo (Dave Suddaby).
In Co Dublin, the male Least Tern spent the week attempting to court the female Little Terns at the Portrane colony, complete with a fish offering or two.

Least Tern (right), Portrane Point, Dublin (Fergal Stanley).
What appears to be Wales' first Pacific Swift breathed life into the summer birding scene on the Gower, Glamorgan. Present around the Common Swift colony at Fall Bay on 27th, it wasn't long before it circled off out of view. The widely twitched bird of 2013 spent time in three different counties during its wide-ranging one-month stay. Might this latest bird do the same?

Pacific Swift, Mewslade Bay, Gower, Glamorgan (Cath Hammond).
Caspian Terns dominated the weekly news cycle, with no fewer than six sites jamming in on this commanding tern. One reappeared at Southfield Reservoir, East Yorkshire, from 22nd, with a particularly popular individual at Llanelli Wetland Centre WWT from 24th – Carmarthenshire's second – complete with a yellow Darvic ring on its right leg identifying it as a Finnish bird.
One was still at Baston and Langtoft Pits, Lincolnshire, early on 21st. One at Barton-upon-Humber Pits, Lincolnshire, from 25th was a different individual to that there on 19th. Both could be told apart through differing plumage features, especially the pattern of the black cap, and, tellingly, red Darvic rings on opposing legs. The assumption is that these birds relate to the two seen together for a time at Southfield Reservoir last week, with this latter individual presumably also behind a brief appearance at Idle Valley, Nottinghamshire, on 26th. Meanwhile, also on 26th, a possible flew west past Hoylake, Cheshire.

Caspian Tern, Llanelli Wetland Centre WWT, Carmarthen (Mike Trew).
Suffolk's European Roller was arguably the week's most popular bird, providing excellent viewing opportunities over fields between Icklingham and Lackford from 23rd. There were also two separate reports from sites 45 km apart in Cambridgeshire, although neither was seen again subsequently.

European Roller, Icklingham, Suffolk (Ian Curran).

European Roller, Icklingham, Suffolk (Brian Martin).
The Great Reed Warbler remained at Besthorpe, Nottinghamshire, throughout, with the one at Idle Washlands not reported after 22nd. In Gloucestershire, the male White-spotted Bluethroat was still holding territory at Slimbridge WWT, as was the Iberian Chiffchaff at Foxhall, Suffolk.
Great Reed Warbler singing along Slaynes Ln this morning pic.twitter.com/vIPoznTkK0

— Steve Furber (@DonnyBirder1) June 20, 2021

Iberian Chiffchaff, Foxhall, Suffolk (Chris Mayne).
A first-summer Pallid Harrier flew through at Southfield Reservoir and Stainforth, South Yorkshire, on 26th. In Shetland, the male Snowy Owl was back at Ronas Hill, Mainland, on 22nd.
In Shetland, a first-summer Bonaparte's Gull loafed around the Black-headed Gull colony at Norwick, Unst, from 23rd, with another at Lough Beg, Co Antrim, on 26th. Co Galway's reliable Forster's Tern returned to Newtownlynch and Inishroo during the week

Bonaparte's Gull, Norwick, Unst, Shetland (Robbie Brookes).
In a purple patch for the site, a drake Black Scoter was off Murcar Golf Course from 26th, alongside 'Elvis' the King Eider, which was also seen at Ythan Estuary this week. Another bird, an immature drake, was off Bressay, Shetland, on 23rd. The drake Lesser Scaup was back at Mire Loch, Borders, with the Co Mayo American Black Duck again at Cross Lough, Mullet.
In Norfolk, a Collared Pratincole returned to Hickling Broad from 24-26th, creating a real Mediterranean feel alongside a pair of Black-winged Stilts.

Collared Pratincole, Hickling Broad, Norfolk (Jonathan Farooqi).
The immature male Walrus remained between St Martin's and St Mary's, Scilly, throughout, with the Sei Whale still in place off Dalgety Bay, Fife. In Lepidoptera news, a Queen of Spain Fritillary was photographed near Sole Street, Kent, on 24th, with a Scarce Tortoiseshell in a South Devon garden the previous day.

Walrus, St Mary's, Isles of Scilly (Kris Webb).
Scottish mainland
In another strong showing of Rosy Starlings, no fewer than six new birds were recorded – at Fort William, Highland, Tranent, Lothian, and in Argyll at Port Charlotte, Islay, with a further three in Moray and Nairn at Buckpool, Findhorn and Lossiemouth. Happily, one taken into care at Ardgay, Highland, on 12th made a full recovery and was released at Brora on 21st; another lingering individual was at Killimster, Caithness.
A first-summer male Common Rosefinch sang at Kilmarie, Skye, on 22-23rd; another was belatedly reported from Helensburgh, Clyde, on 16th. A Black Kite overflew Caerlaverock Castle, Dumfries and Galloway, on 23rd, while, in Fife, a singing Corncrake at Gallowridge Hill, Dunfermline, on 25th was a notable record. Common Quail were at five localities.
Iceland Gulls resided at Boddam, Aberdeenshire, and Loch of Wester, Caithness, while Glaucous Gulls were at three sites, including two second-summers at Lossiemouth, Moray and Nairn. An adult Roseate Tern was on the beach at Newburgh, Aberdeenshire, on 20th – a rare bird that far north – with three Eurasian Spoonbills still at Loch of Strathbeg RSPB.
A White-billed Diver off Embo, Highland, on 25th was a rare late June record, while two Red-necked Grebes were back off Seton Sands, Lothian and the female Long-tailed Duck held on at Drumpellier CP, Clyde, throughout.
Northern Isles and the Hebrides
A Greater Short-toed Lark at Lamba Ness, Unst, was new-in from 22-26th. The singing Marsh Warbler was still at Valyie, Unst, until 22nd while another, skulking individual, was at nearby Skaw on 23rd. An Icterine Warbler sang at Swinister Burn, Mainland, on 26th only, while the only Rosy Starling to report was a mobile bird around Brough, Whalsay, on 24th. The adult Long-tailed Skua made its regular forays to Loch of Clumlie, Mainland, and was also seen off Boddam, Mainland, on 22nd. An Iceland Gull was at Esha Ness, Mainland, on 25th.

Greater Short-toed Lark, Lamba Ness, Unst, Shetland (David Cooper).
Fair Isle had limited scarcities to report this week, although a female Red-backed Shrike was a fresh arrival on 21st, as was a Marsh Warbler the following day.
In Orkney, the White-billed Diver continued its stay off Brough of Birsay, Mainland, until 22nd at least, while a Long-tailed Skua was off Cantick Head on 26th. Two Rosy Starlings were on Mainland, with singles at Evie and Toab.
North Ronaldsay held onto its adult Rosy Starling until 25th, with other avian highlights including Curlew Sandpiper, Little Gull and Red-necked Phalarope. Killer Whales were off the north end of the isle on 25th.

Ruff, North Uist, Outer Hebrides (Ron Marshall).
An adult Sabine's Gull was logged past Port Skigersta, Lewis, on 25th, when two Leach's Storm Petrels also flew past. First-summer Glaucous Gulls were at Cleat, Barra, and Loch Sandary, North Uist, this week. A European Turtle Dove was at Cross, Lewis, on 23rd only and three Rosy Starlings were scattered between Mingulay, Brevig, Barra, and Clachan, North Uist.
Dan Owen
North-East England
The long-staying female Red-necked Phalarope at Grindon Lough was the only scarcity seen in Northumberland during the week. The Eurasian Spoonbill commuting between Druridge Pools and Cresswell Pond was joined by a second bird from 25th, and up to two Spotted Redshanks visited both localities, while Hedgeley GPs produced a Wood Sandpiper on 27th. Long Nanny's Black Tern remained.

Black Tern, Long Nanny, Northumberland (Frank Golding).
Great Egrets were recorded at Big Waters NR and East Chevington NWT. A single Pomarine Skua flew past Seaton Sluice on 21st and an Iceland Gull was reported at Boulmer on 25th. A male Blue-headed Wagtail put in an appearance at Druridge Pools on 24th. Common Quail sang at three sites and Western Ospreys were seen at five localities during the week.
A Pomarine Skua past Whitburn Coastal Park, Durham, on 21st was likely the same bird as seen in Northumberland later the same day, while a European Storm Petrel flew past Blackhall Rocks on 26th. Washington WWT produced an appreciated Eurasian Spoonbill on 25-26th. Common Scoter were seen at two inland locations on 27th – a group of nine at Balderhead Reservoir and a female at Hury Reservoir.
In Cleveland, a Eurasian Spoonbill lingered at Saltholme RSPB being joined by a second bird towards the end of the week with further sightings coming from Dorman's Pool and Cowpen Marsh. Saltholme RSPB also played host to a Little Gull and Roseate Tern on 26th, with another Roseate at South Gare that morning. Two Ruddy Shelduck arrived at Cowpen Marsh on 27th and three Little Gulls flew past Hartlepool Headland the same day.
Jonathan Farooqi
North-West England
Eurasian Spoonbills were still on hand to provide a Mediterranean feel to Cumbria's week, with two at Haverigg on 20th and three at Hodbarrow RSPB on 21st.
Lancashire's American Golden Plover remained at Hesketh Out Marsh RSPB throughout, although had a quick deviation over to Warton Marsh on 23rd. An adult Purple Heron was noted over the A6 at Fulwood on 24th. Drizzle downed decent flocks of Common Scoter across the county on 24th, with Lower Rivington Reservoir sporting no fewer than 70.

American Golden Plover, Hesketh Out Marsh RSPB, Lancashire (Stuart Darbyshire).
A Wood Sandpiper at Ashton's Flash, Cheshire, quickly transpired to be a male ringed as a nesting adult in northern Scotland in June 2016. The bird is known to winter in West Africa, and was last reported at his breeding site in June 2019. Six Eurasian Spoonbills were still blogging around Burton Mere Wetlands RSPB on 21st. An influx of Common Scoter on 24th was in keeping with other northern and Midlands counties; 16 were at Marbury CP, 17 were at Bosley Reservoir and 34 were at Lapwing Hall Pool.
Common Scoter highlighted Greater Manchester's week too, with an incredible 77 at Audenshaw Reservoirs on 24th. Seven were also at Elton Reservoir and Watergrove Reservoir respectively, with 10 at Pennington Flash CP the following day.
Dan Owen
Lincolnshire and Yorkshire
In Lincolnshire, late news of a European Serin in gardens at North Hykeham on 25th was received. Two European Bee-eaters were brief visitors to Tetney Lock on 27th, while a male Red-footed Falcon arrived in off the sea at Huttoft Bank on 23rd – a Rosy Starling was in a Long Sutton garden the same day. The Glossy Ibis was still at Bardney Island to 25th, although seemed to pay a visit to Kirkby on Bain GPs on 24th.
A European Honey Buzzard flew over Stocksbridge, South Yorkshire, on 26th, with seven Common Scoter at Orgreave Lagoons the same day. Three further sites in West Yorkshire hosted scoter, while news of successful breeding of Eurasian Spoonbill at Fairburn Ings RSPB was welcome.
A Red Knot inland at Nosterfield LNR, North Yorkshire, on 27th was unusual for late June. News from Filey concerned a Black-crowned Night Heron sound-recorded over North Cliff in the early hours of 23rd. A Eurasian Nuthatch was at Flamborough Head on 27th, with at least one Rosy Starling still in the Spurn area, where a Grey-headed Wagtail was at Kilnsea on 22nd.
Josh Jones
West Midlands
The male Blyth's Reed Warbler remained in song at Middleton Lakes RSPB, Staffordshire, until 24th, where a Sandwich Tern overflew on 19th. A Wood Sandpiper was also present there on 23rd. A Western Osprey flew over Venus Pool NR, Shropshire, on 26th, and two singing Common Quail were at Sutton Coldfield, West Midlands, on 23rd. An influx of Common Scoter on 24th included three showy drakes at Stowe Pool, Lichfield, plus high counts of 35 at Tittesworth Reservoir and 32 at Rudyard Reservoir.
Blyth's Reed Warbler, Middleton Lakes RSPB, Staffordshire (Brian Stretch).
A Western Osprey at Seeswood Pool on 25th was Warwickshire's bird of note. The male Melodious Warbler remained in tune at Lickey Hills CP, Worcestershire, until the morning of 23rd. A Wood Sandpiper was at Camp Lane Pools, Grimley, on 26th and although there was no further sign the following day, one was at Upton Warren NR.
Melodious Warbler, Lickey Hills CP, Worcestershire (Brian Stretch).
Dan Owen
East Midlands
Derbyshire birders were on high alert for any overflying raptors this week. A probable Black Kite hung around Carsington Water's airspace on the morning of 22nd although remained frustratingly distant. Another possible flew over Ashbourne on 27th. A White-tailed Eagle flew over Harlesthorpe Dam on the evening of 24th.
In Nottinghamshire, a Little Gull was at Idle Washlands between 21st and 24th, where a Eurasian Spoonbill was present briefly on 27th. A Eurasian Spoonbill was also at Idle Valley NR that same day, where a Western Cattle Egret has been lingering. It was a quiet week in Northamptonshire, although up to two first-summer Caspian Gulls were using the pools at the DIRFT 3 development site at Lilbourne.
A possible adult Baltic Gull was on Lagoon 4 at Rutland Water on 26th, although with no rings were seen its conclusive identity will remain unproven. The first-summer Black Tern continued there throughout.
Dan Owen
East of England
A group of nine European Bee-eaters were very popular near Great Yarmouth for a couple of days from 22nd; they were later seen at Bradwell on 24th before reappearing in Essex later in the week. Others flew over Sidestrand on 23rd and Cley Marshes NWT on 24th.
Three Norfolk Rosy Starlings included a twitchable bird at Runhall on 25th. Quite remarkably, a male Red-flanked Bluetail was photographed at an undisclosed location on the north coast on 21st. The Siberian Chiffchaff was still singing at East Hills, Wells, and a White-tailed Eagle flew over Titchwell and Holme on 23rd. Two Black-winged Stilts were at Hickling Broad from 22nd, alongside Wood and Curlew Sandpipers.

Red-flanked Bluetail, undisclosed site, Norfolk (Jess Tutt).
The nine European Bee-eaters, tracked between The Naze and Colne Point on the morning of 26th, were Essex's highlight. Similarly brief was a Black-crowned Night Heron at a lake near Hatfield Peverel on 24th. A Hoopoe was reported from Ashridge Golf Club, Hertfordshire, on 24th, while Bedfordshire's only sighting of note was a Caspian Gull at Grovebury Sand Pit.
An elusive Purple Heron was at Minsmere RSPB, Suffolk, this week, with at least one Roseate Tern still calling in regularly there. The Glossy Ibis was still at Lackford Lakes SWT and a Marsh Tit was an unusual record for Landguard NR on 22nd.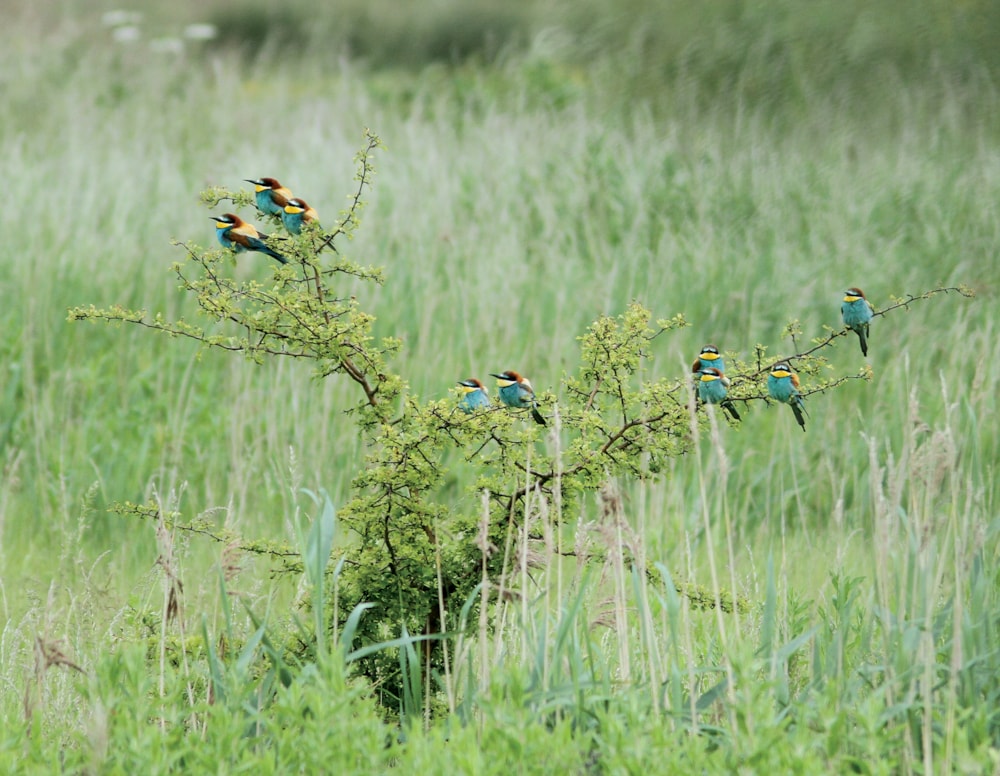 European Bee-eater, Great Yarmouth, Norfolk (Penny Clarke).
A drake American Wigeon was at Ouse Washes, Cambridgeshire, on 22nd, with a Purple Heron on the washes at Witcham Gravel on 24th. A European Bee-eater was heard over Wimblington on 21st and Glossy Ibises were at two sites in the county.
Josh Jones
South-East England
Langdon Hole, Kent, hosted a female Red-backed Shrike on 23rd. Worth Marsh scored a female Red-footed Falcon on 26th and Black-winged Stilt on 22nd, while nearby Pegwell Bay hosted a Eurasian Stone-curlew on 25th. The Hooded Crow was still knocking about the Lydd area and the Dungeness Glossy Ibis was present throughout.

Red-backed Shrike, Langdon Cliffs NT, Kent (Jamie Partridge).
Sussex had the feel of a midsummer lull, though three Common Quail – at Amberley Wildbrooks, Steep Down and Truleigh Hill – were of note. The Rye Harbour Black-necked Grebe continued, as did up to two Roseate Terns at Church Norton.
Perhaps the same two Roseate Terns were in Hampshire roving around the Solent, between Southampton and Hill Head, during the week. An adult American Golden Plover at Langstone Harbour was viewable from Farlington Marshes from 23rd but proved elusive and distant, even though it was still present on 27th. Perhaps this is the same bird that graced the site in September and October last year … inland, Liphook scored a Golden Oriole on 23rd.
Two Common Quail were sound-recorded over a garden in Ewell, Surrey, and a Little Tern flew down the Thames at Beckon, London, on 21st. Up to three Western Cattle Egrets were in Oxfordshire, where a Sandwich Tern flew over Farmoor on 27th, a Common Quail sang at Kingston Warren Down on 25th and the Otmoor Glossy Ibis remained all week.
Ed Stubbs
South-West England
In the Isles of Scilly, an elusive Marsh Warbler sang on St Mary's on 22-23rd, while the island continued to play host to the first-summer male Red-footed Falcon, Rosy Starling and Iceland Gull throughout the week too. New arrivals there included a Wood Sandpiper on 27th and an unseasonal Redwing on 21st. A Wilson's Storm Petrel was seen from a Scilly pelagic to the south-west of the island on 24th.

Wilson's Storm Petrel, Scilly pelagic, Isles of Scilly (Joe Pender).
Several new scarcities were found in Cornwall during the week, including a male Black-winged Stilt at Marazion Marsh RSPB on 21-22nd, a Black Kite at Mullion Cove on 22nd and a brief Alpine Swift at Torpoint on 23rd. Rosy Starlings were at Fowey and Marazion, and the lingering first-summer Black-crowned Night Heron at Nanjizal Valley was joined by a second individual. The drake Ring-necked Duck remained at Foxhole until at least 26th.

Black-winged Stilt, Marazion Marsh RSPB, Cornwall (Martin Webb).
Three Black-winged Stilts in Devon included the Cornish male at Velator NR, Wrafton, from 24th and two at Isley Marsh RSPB on the same date. A possible Alpine Swift was seen from a train in Teignmouth on 25th.
A singing male Melodious Warbler showed well at Middlebere, Dorset, from 22nd. A possible Black Kite flew over Spetisbury on 27th, with Eurasian Spoonbills noted at four localities in the county. A first-summer male Cirl Bunting was trapped and ringed on Portland on 23rd, with two European Turtle Doves and a Black Redstart also there. A Common Quail sang at Hartland Moor on 26th.

Melodious Warbler, Middlebere, Dorset (Jeremy Mcclements).
Two Black-winged Stilts at Pilning Wetland, Northwick Warth, from 25th were a highlight of Gloucestershire's week. Slimbridge WWT played host to three Garganey, two Wood Sandpipers, a Eurasian Spoonbill and a juvenile Black-necked Grebe. Another Wood Sandpiper was seen at Coombe Hill Meadows on 27th along with two Common Quail. Marshfield's Common Quail was still singing until at least 25th.

Black-winged Stilt, Northwick Warth, Gloucestershire (Chris Teague).
There were two sightings of European Honey Buzzard at Steart WWT, Somerset, during the week – on 22nd and 27th. The two Long-tailed Duck remained at Portbury Wharf on 23rd, as did the Garganey at Chew Valley Lake at the start of the week. The latter locality also produced a couple of Wood Sandpipers on 27th. Up to three Ruddy Shelduck were at Steart WWT and a Spotted Redshank was noted at Burnham-on-Sea.
In Wiltshire, a Ruddy Shelduck was seen at Cotswold Water Park on 24th. Three Common Quail sang at Everleigh on 26th and a Black Redstart was noted at Wroughton on Monday.
Jonathan Farooqi
Wales
A male Red-necked Phalarope from a pelagic trip around Small's Lighthouse to the west of Skomer, Pembrokeshire, was a smart find on 23rd. Meanwhile, a Wood Sandpiper was at Goldcliff Pools, Gwent, alongside a drake Garganey and Eurasian Spoonbill. Another three spoonbills were at Cors Ddyga RSPB, Anglesey from 21-23rd, with three Roseate Terns still at nearby Cemlyn Bay.

Wood Sandpiper, Goldcliff Pools NR, Gwent (Terry Winter).
In the Gower, a gorgeous male Hawfinch was trapped and ringed at Oxwich, Glamorgan, while a Black Redstart was on Skokholm, Pembrokeshire, on 22-23rd. A Hooded Crow was at Rhyl, Clwyd, from 24th. Sudbrook, Gwent, hosted a first-summer Rosy Starling on 21st, with a Sandwich Tern belatedly reported from Llandegfedd Reservoir on 19th. Four Welsh sites held Common Quail.

Rosy Starling, Sudbrook, Gwent (Hugh Gregory).
Ireland
A total of seven Rosy Starlings were seen: three in Co Kerry, plus singles in Cos Galway, Mayo, Donegal and Antrim. All too rare in Ireland these days, a European Turtle Dove was in a Skerries garden on 25th.
An unusual June record of Green-winged Teal came from Kinsale Marsh, Co Cork, on 25th; more expected was the Wilson's Storm Petrel seen from RV Celtic Explorer in Cork waters on 26th.
The Lesser Yellowlegs was noted again at Tacumshin, Co Wexford, on 24th, but waders were otherwise in short supply – a Curlew Sandpiper at Blanket Nook, Co Donegal, on 27th was noteworthy.
Josh Jones
Western Palearctic
A White-throated Swallow photographed at Sakaka on 26th was a rather unexpected first for both Saudi Arabia and the Western Palearctic. An intra-African migrant, the species moves north from its summer (our winter) breeding areas in South Africa and Zambia to winter north to southernmost Tanzania – an incredible 4,500 km from Sakaka and a record which once again questions the widely accepted limitations to vagrancy in the region.
In another impressive week in Iceland, the nation's first White-throated Needletail was hawking over the seabird cliffs at Látrabjarg on 20th, with a Mediterranean Gull at Höfn the following day – the country's fourth. Meanwhile, the Black-and-white Warbler continued at Syðra Lágafell until 20th at least.
Just outside Helsinki, Finland, an Eastern Imperial Eagle flew east over Laajalahti, Espoo, on 26th, while a Bimaculated Lark was on Morgonlandet on 21-22nd – the country's fifth.
Denmark's fourth Roseate Tern loafed on the beach at Skagen towards the week's end, with Reve, Norway, scoring a Greater Sand Plover on 26th.
In Portugal, a Kelp Gull was photographed at Praia de Monte Gordo on 18th, while Mandelsloh, Germany, hosted a Little Swift. A Cinereous Vulture was near Warsaw, Poland, while two Pallid Swifts were the nation's first-ever spring records.
The Netherlands' sixth Stilt Sandpiper – a first-summer – accompanied Ruff at Twisk on 27th; Retentiegebied Kristalbad, Enschede, held a new Pygmy Cormorant from 23rd and a young Bearded Vulture was again near Ede.
In France, two Lesser Flamingos were at Les Cayrelles, Camargue, while Alderney scored its fifth-ever Hooded Crow on 27th.
A juvenile White-backed Vulture was filmed on a webcam on a vulture feeding station at Mitzpe Ramon on 24th, just the second Israeli record and hot on the heels of the country's first in late April.

Bimaculated Lark, Morgonlandet, Southwest Finland (Mika Bruun).