An adult Ross's Gull in the Weymouth area of Dorset predictably took the honours as this week's most popular bird – and deservedly so, for it was a pristine adult. Somewhat mobile around the town's two RSPB reserves (Lodmoor and Radipole Lake), it also visited Ferrybridge and headed out into the bay, presumably to feed. For those who also made the trip to The Netherlands for the recent fine first-winter at Vlissingen, this beautiful adult completed a very satisfying 'set' of plumages for the year.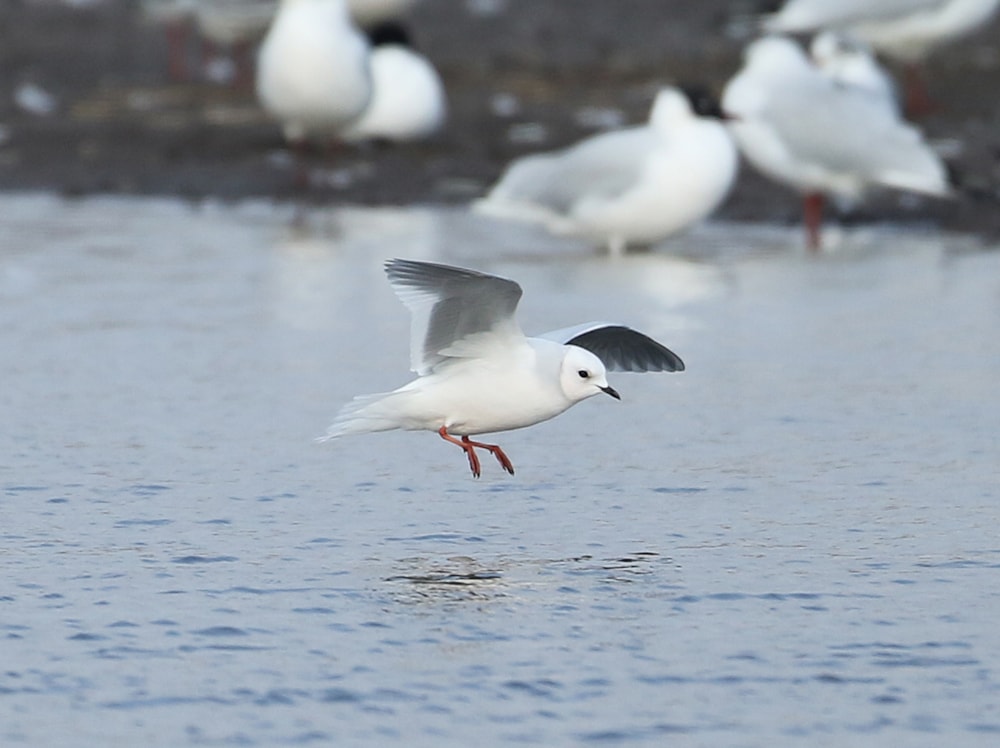 Ross's Gull, Lodmoor RSPB, Dorset (Jon Mercer).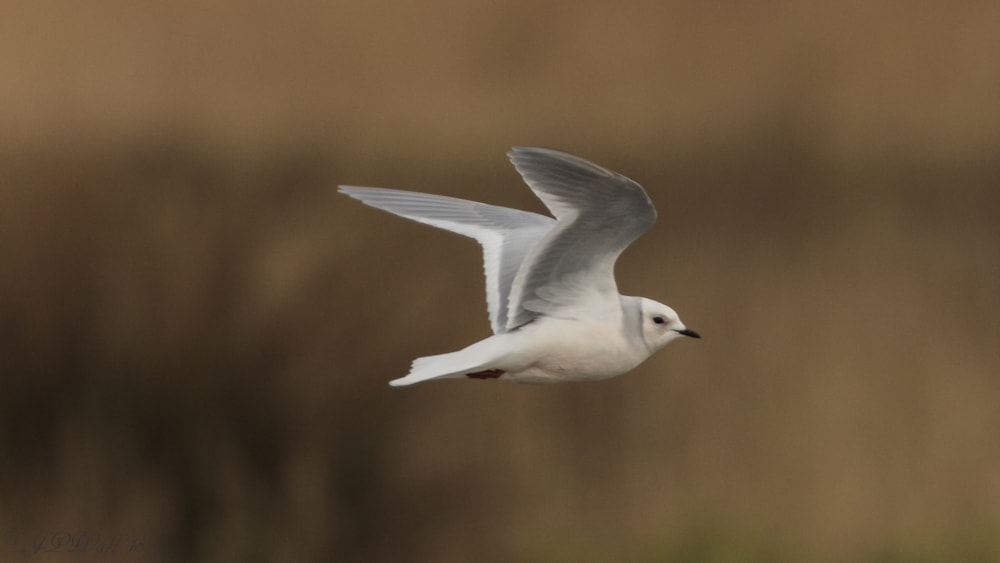 Ross's Gull, Lodmoor RSPB, Dorset (John Wall).
Gulls continued to provide many of the headlines, with the putative juvenile Thayer's Gull in Hampshire commuting between pig fields at Tidpit and the roost at Ibsley Water throughout the week, although both its bulk and plumage are perhaps a little unnerving for a sure-fire, acceptable example of this taxon. Up to four Bonaparte's Gulls were logged, with regular birds still in Devon, Clyde and Co Donegal, plus a report from Teifi Estuary, Ceredigion, on 23rd.
The American Horned Lark continued to shuffle around the margins of Staines Reservoirs, Surrey, throughout the week, while both the Pacific Diver off Mousehole, Cornwall, and the Pied-billed Grebe at Loch of Spiggie, Shetland, remained in residence. A White-billed Diver was also off Mousehole on 21st.
A Todd's Canada Goose was again reported from Islay, Argyll, on 24th, with the Snow Goose still on Benerary, Outer Hebrides, and two of presumed suspected origin in Devon. A good week for Black Brant saw new birds reported in Counties Dublin and Wicklow, plus others in Cumbria, Norfolk (two), Essex, Dorset and Jersey. Two Ferruginous Ducks were again at Ham Wall, Somerset, on 25th, while the only Lesser Scaup was the regular drake at Dozmary Pool, Cornwall. Ring-necked Ducks were at eight sites, with the wildfowl roll-call also including six American Wigeon and 12 Green-winged Teal, plus the Black Scoter in Co Kerry, two King Eider and up to 10 Surf Scoter.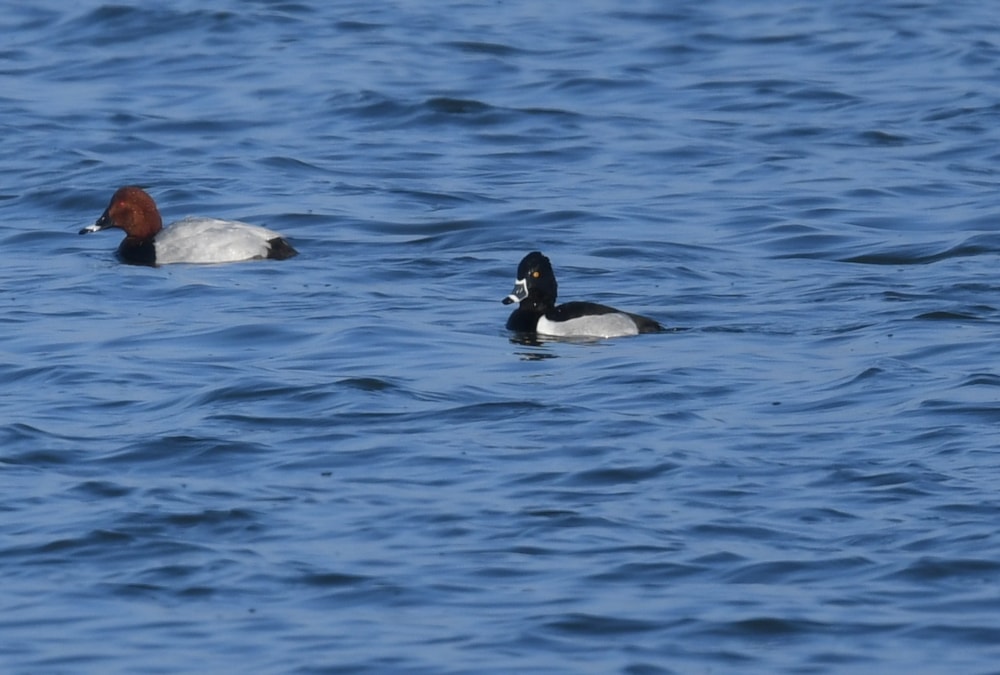 Ring-necked Duck, Chain Corner, Cambridgeshire (David Ball).
Nine sites held Glossy Ibises, including new birds at Sturt Pond, Hants, on 27th and Kilmaluag, Skye, Highland, to 23rd. The peak Western Cattle Egret count was 17 at St Clement, Cornwall, on 22nd, with flocks of six and seven in Devon.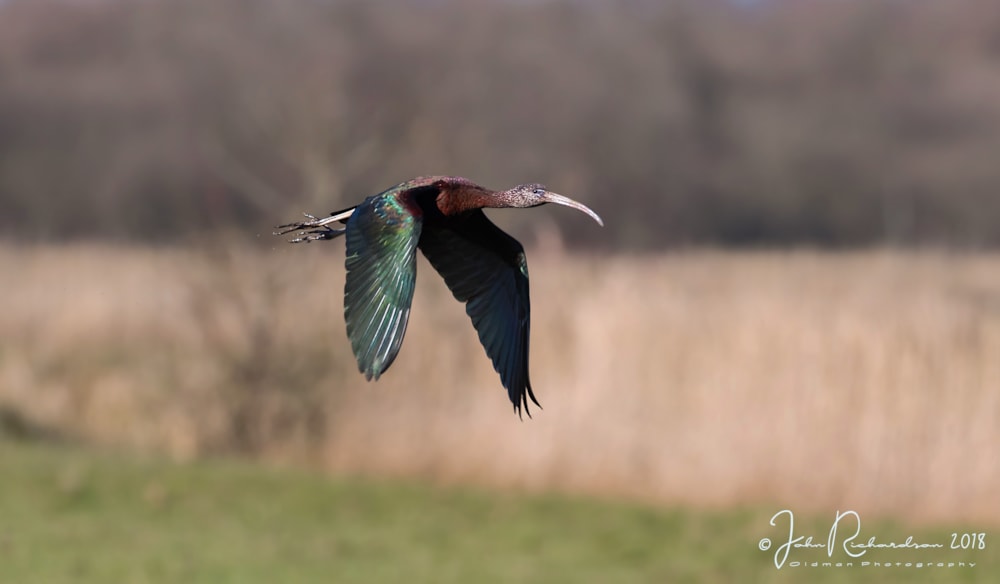 Glossy Ibis, Eastbridge, Suffolk (John Richardson).
Regular male Rough-legged Buzzards lingered near Thorney, Cambs, and Haddiscoe Island, Norfolk. There was no news of the Snowy Owl on Scilly this week.
In Cornwall, adult and first-winter Ring-billed Gulls remained at Hayle Estuary and Newquay respectively. Hampshire's adult was also still in situ and the Pembrokeshire adult was at Llys-y-Fran Reservoir again on 25th; a second-winter roosted at The Mere, Shrops, on 21-22nd. In Ireland, a new second-winter was at Rossbeigh, Co Kerry, on 25th, with a couple still in the Tralee area; a new adult was at Hook Head, Co Wexford, on 24th and further lingering birds were at Rosslare, Co Wexford, Bray, Co Wicklow, and Blackrock, Co Louth.
Half-a-dozen Kumlien's Gulls were seen in the Outer Hebrides, with others in Highland, Orkney, Cheshire, West Yorkshire, Nottinghamshire, Gloucestershire and Counties Louth and Kerry. We carried 179 reports of Iceland and 168 of Glaucous Gull this week, with numbers perhaps slightly down in recent weeks.

Kumlien's Gull, Kilvington, Nottinghamshire (Rob Hoare).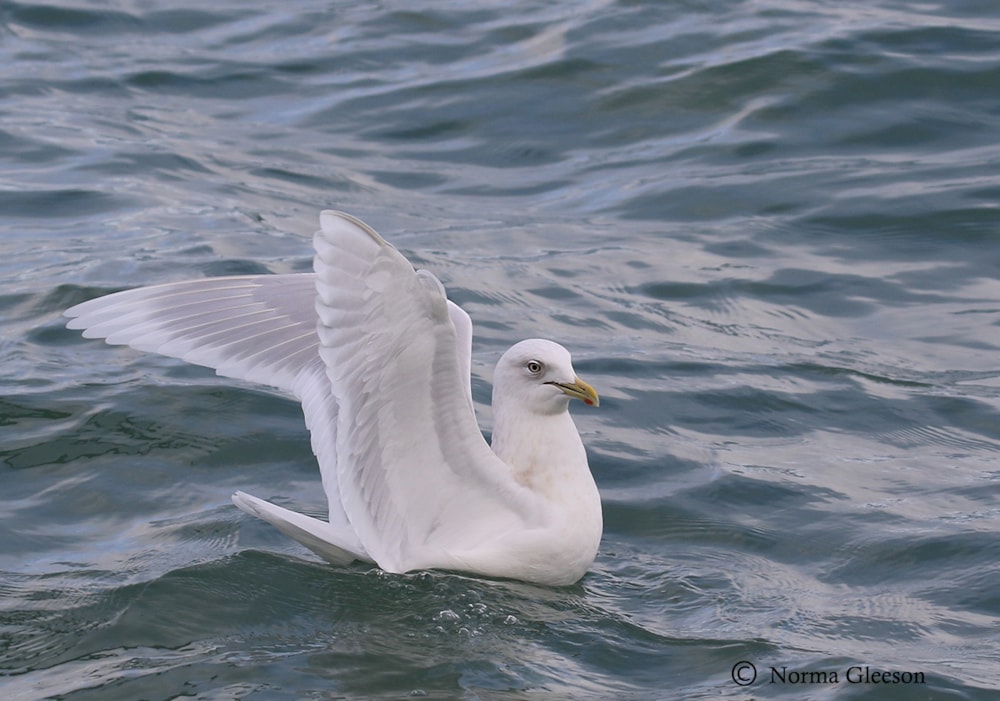 Iceland Gull, Ballycotton, Cork (Norma Gleeson).
With no news on the Forster's Tern in Galway Bay, the only tern of interest was the American Royal, which was seen again at Belle Greve Bay, Guernsey, on 27th.
Dorset's Stilt Sandpiper was the subject of renewed interest this week as many diverted there on the way back from a successful Ross's Gull twitch – it was usually to be found at Stanpit Marsh, although it did visit Coward's Marsh again on 26th. In western Ireland, the Semipalmated Plover seems happy to power through what is presumably its second full winter on Achill Island, Co Mayo; it was still showing on Keel Golf Course on 24th. Also lingering were the Spotted Sandpiper in Nottinghamshire, Long-billed Dowitchers in Co Wexford and Kent, and the Temminck's Stint in West Sussex.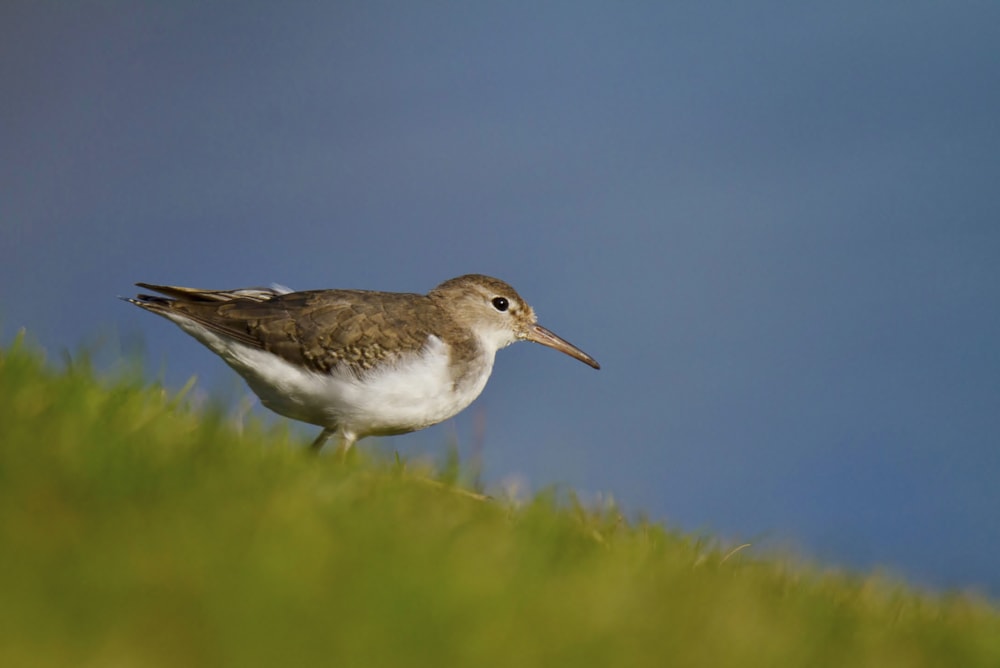 Spotted Sandpiper, Holme Pierrepont, Nottinghamshire (Clive Daelman).
It must be irking Norfolk birders a little that the Pine and Little Buntings were apparently both still at a private site near Holt on 22nd, having first been reported at the start of February. However, access is apparently not possible.
A flock of 12 likely Parrot Crossbills was seen near Horsford, Norfolk, on 23rd. Meanwhile a dozen remained at Howden Reservoir, Derbyshire, and up to 20 were at Santon Warren, Norfolk. There were reports of single Coues's Arctic Redpolls in Norfolk at Choseley Drying Barns and Kelling, with another still on Whalsay, Shetland, and a possible at Covehithe, Suffolk, on 21st.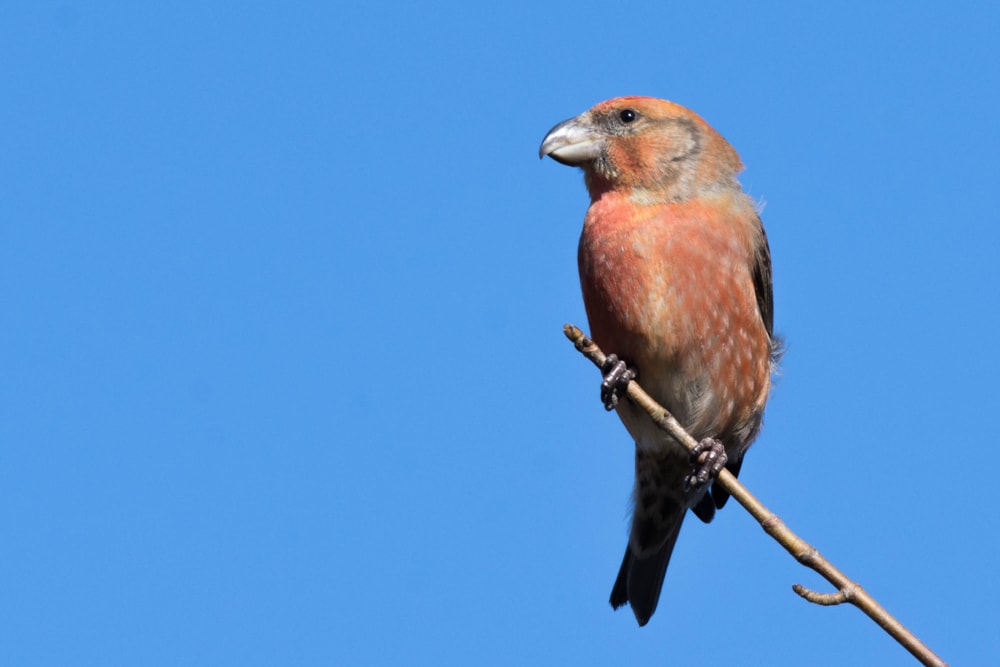 Parrot Crossbill, Howden Reservoir, Derbyshire (Colin O'Neil).
Further long-stayers included the lingering Rosy Starling in Easington, East Yorks, the Richard's Pipit and Yellow-browed Warbler at Wombwell Ings, South Yorks, and the Eurasian Penduline Tit at Longford, Glos, though the last wasn't reported past 23rd. The White-spotted Bluethroat was still at Eastbourne, East Sussex, on 26th and the Little Bunting lingered at Walthamstow Reservoirs, London, throughout, with another of the latter at Grouville Marsh, Jersey.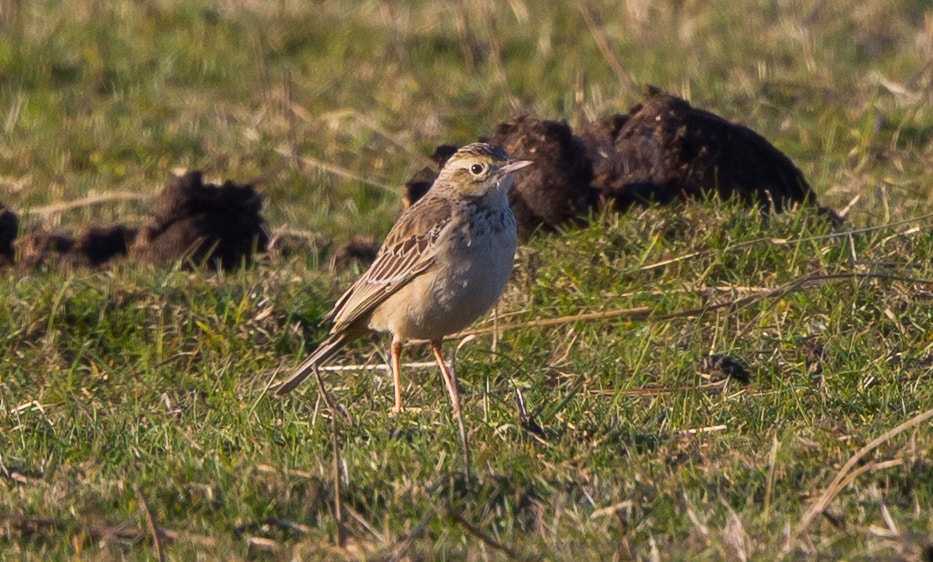 Richard's Pipit, Wombwell Ings RSPB (Dearne Valley), South Yorkshire (Peter Garrity).
Western Palearctic
A sub-adult Kelp Gull (presumably a 'Cape Gull') was an extraordinary find at a landfill site near Le Mesnil-Aubry on the northern outskirts of Paris on 21st. Lingering to the following day, it represents the second national record following a bird bizarrely seen at Paris Zoo in January 1995 – a record that, until recently, seemed quite absurd.
A beautiful drake Stejneger's Scoter showed very well offshore at Gdansk, Poland, on 26th. Meanwhile, in Iceland, a couple of American White-winged Scoters were seen – the usual adult drake at Keflavik plus a new first-winter male at Þorlákshöfn. Another good bird for south-west Iceland was an adult Thayer's Gull at Njarðvík harbour for a few minutes on the afternoon of 23rd – there are, perhaps surprisingly, just three previous accepted records.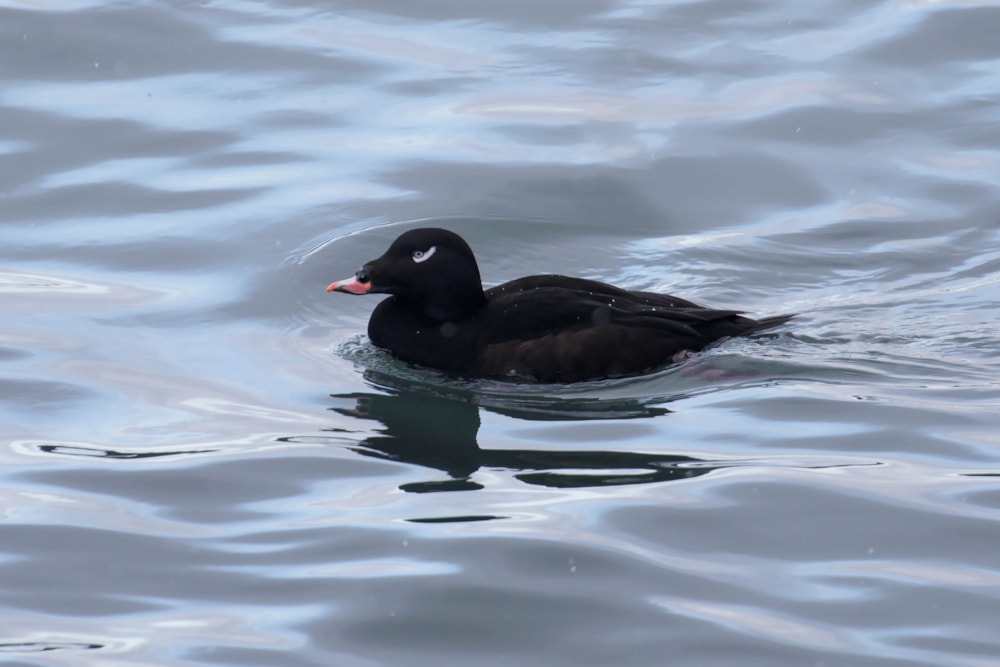 American White-winged Scoter, Keflavík, Suðurnes (Josh Jones).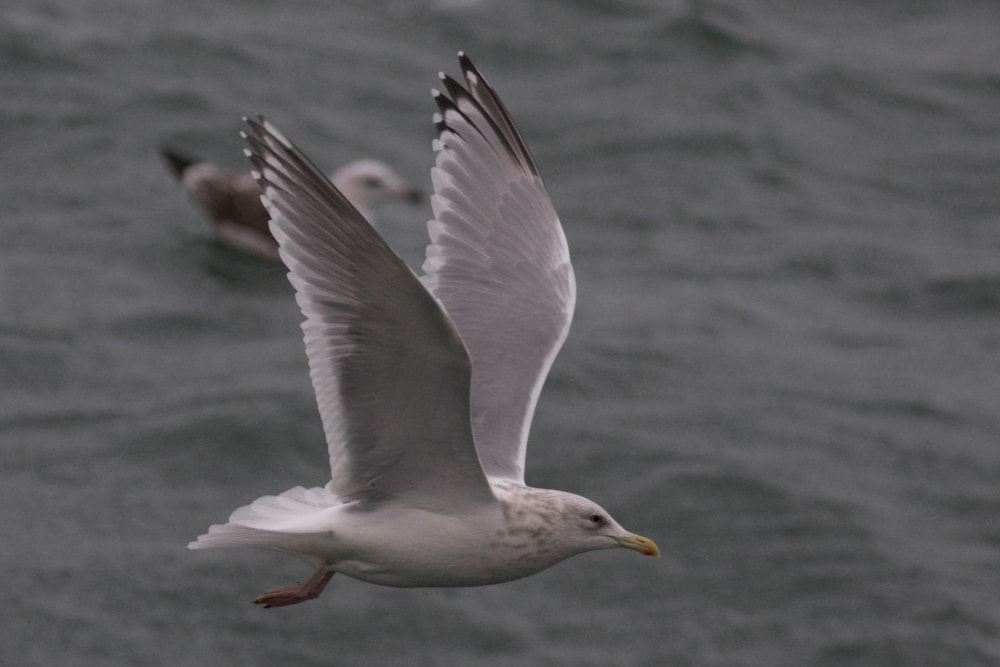 Thayer's Gull, Keflavík, Suðurnes (Josh Jones).
Another highlight of the week was a fine Eyebrowed Thrush in downtown Cádiz, Spain, from 22nd onwards. Just the fourth national record and the first to be twitchable, it's already been very well received by birders from Spain and further afield (including a few Brits).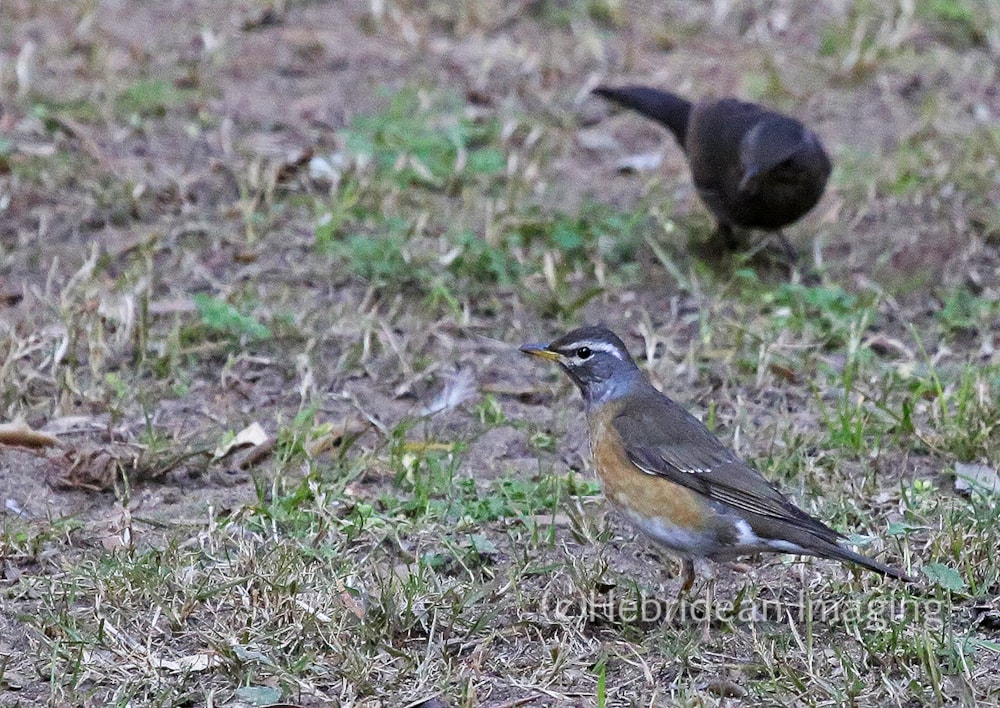 Eyebrowed Thrush, Cádiz, Andalucia (Yvonne Benting).
A Long-toed Stint was at Eilat, Israel, on 25th, while the recent Lesser White-fronted Goose there crossed the border into Jordan, becoming the first national record.
Other lingering highlights included the Dwarf Bittern on Fuerteventura, Eastern Black Redstart in The Netherlands and Pygmy Cormorant in Belgium.