While the sultry conditions of the Bank Holiday weekend might have suggested otherwise, this week seemed to mark a watershed moment in the transition between summer and autumn. Temperatures may have exceeded 30°C in many parts, but the manifestation of a light easterly airflow off the Continent and into areas of east and south-east England brought a significant improvement in passerine migration. In fact, labelling it a mere 'improvement' would be underselling the weekend's action somewhat, which was excellent for patch birders, both coastal and inland.
But, without wanting to ignore the elephant in the room any longer, the biggest news of the week undoubtedly concerned Britain's first (and very possibly second) Brown Booby. On 25th, photos emerged of a bird that looks a very strong shout for this species, seen for less than a minute as it flew east past Swalecliffe, Kent, on 19th. The finders at the time suspected it could have been a Brown Booby but, understandably, considered it such an inconceivable possibility that they didn't follow it up straight away, even if their evidence – a series of record shots – does seem to suggest the subject as a wayward tropical wanderer.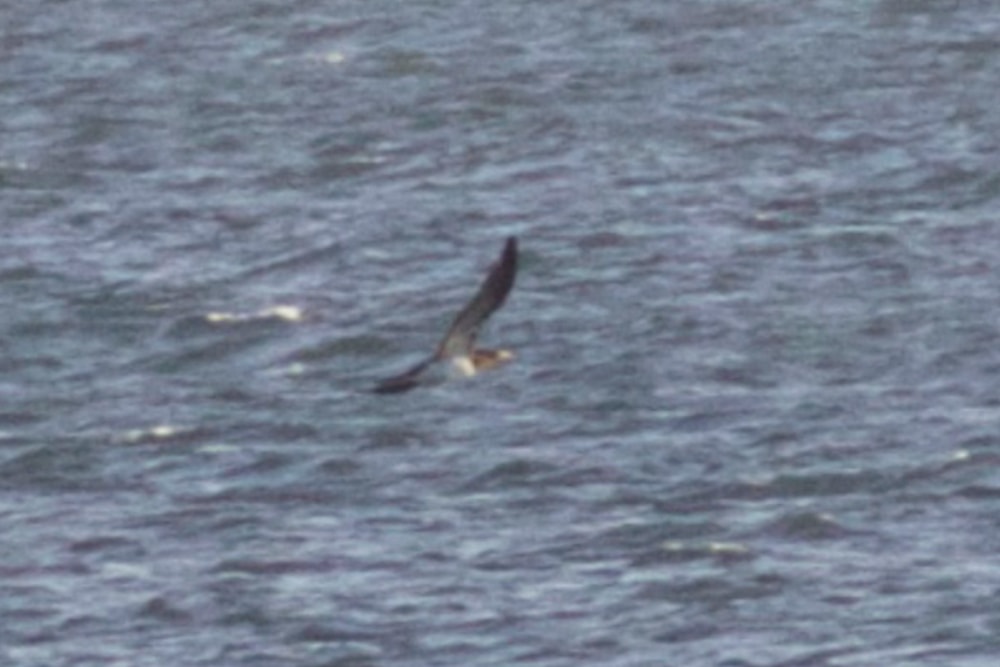 Brown Booby, Swalecliffe, Kent (Andy Taylor).
For a time it looked like this might be the one that got away, adding to a short but growing line of tantalising Sula records in Britain and Ireland, three of which came in 2016 – the Red-footed Booby taken into care from an East Sussex beach, the young Brown Booby sat on a ship off the Co Kerry coastline and the tideline corpse of another Brown Booby the winter prior to that.
However, news from Cornwall on the morning of 26th progressed the state of play somewhat – a possible Brown Booby was twice seen close inshore off St Ives by two independent observers. Alas, it wasn't seen again for the rest of the day, and the trail was feared cold once more. The following morning, however, it was back again, fishing just offshore from 07:45 or so before disappearing into Carbis Bay, this time photographed and the identification quickly confirmed, so that BirdGuides was able to release news at 07:55. Alas it only stuck around for 20 minutes or so before disappearing, and only gave a couple of brief showings for the rest of the day. Despite its apparent trickiness, a mass observation in the coming days certainly appears a realistic scenario as things stand.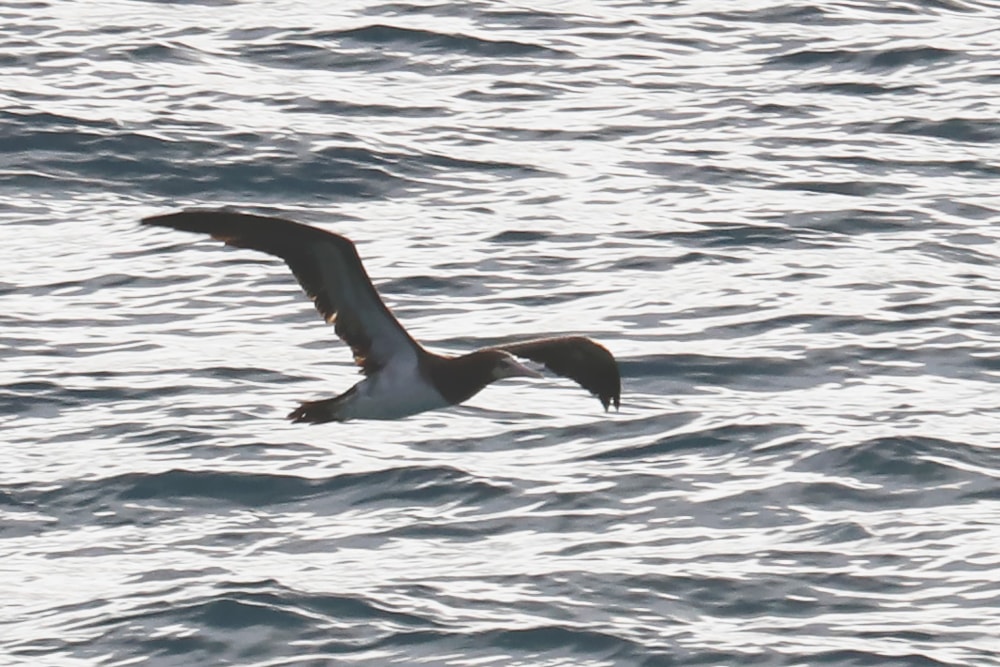 Brown Booby, St Ives, Cornwall (Keith Jennings).
Logic would suggest that this is the Kent bird relocating but, on the evidence presented, it seems probable that the two are different and, sensationally, Britain has been treated to its first two records of this species within a matter of days. The plumage of Cornish bird is in a tired state, with plenty of damage and wear to both the tail and flight feathers, while the Kent individual looks much less blemished, even accounting for the lack of pixels in the distant images. However, this notion was confirmed by the observers, who suggested the Kent bird looked quite pristine and tidy in appearance. One would have been astonishing, but two ... surely the rare bird 'event' of the year in Britain?
What appeared to be another bolt from the blue was the adult American Cliff Swallow, found at the pier in Milovaig on the Isle of Skye, Highland, on the evening of 27th. However, given that there were also two in Iceland that day (more on those later), it's perhaps not as shocking as it first seemed. What else might be out there from across the Atlantic? This is only the 13th British record, although the species has now been seen in three of the four years up to and including 2019.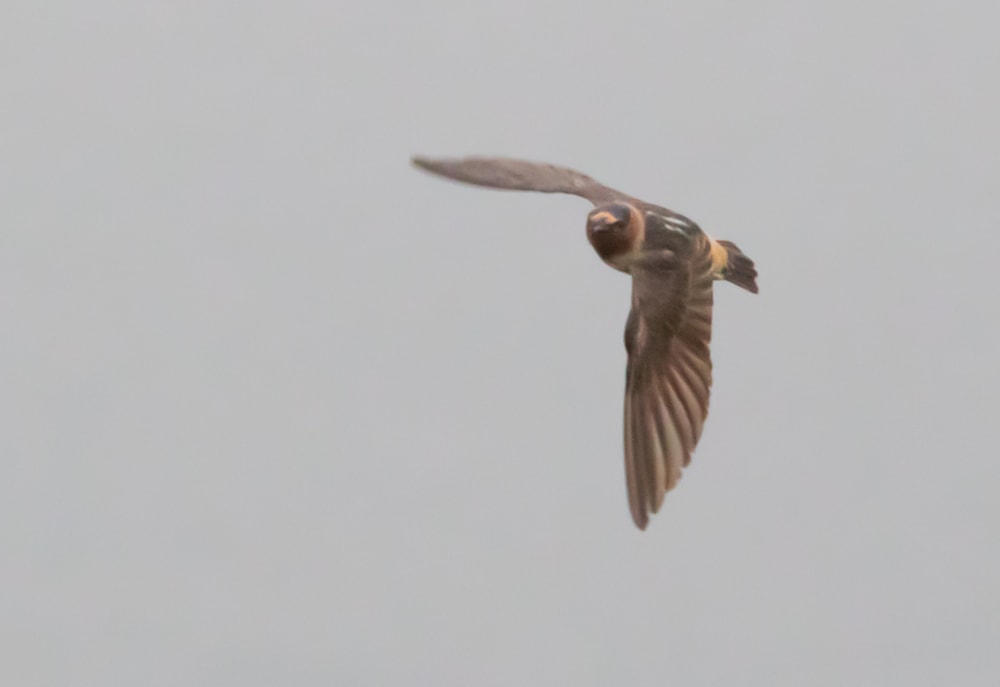 American Cliff Swallow, Milovaig, Skye, Highland (Samuel Langlois).
Back to more expected migrant passerines, and the most prominent species of the review period was unquestionably Pied Flycatcher. Many hundreds arrived once the easterly airflow took hold, with the vanguards springing up on Friday ahead of a much more voluminous influx on Saturday, when peak counts included 37 around the Spurn recording area and 28 at Flamborough Head. Birds continued to arrive on Sunday, but many also filtered south and westwards, producing plenty along the south coast – such as 27 at Portland, Dorset. Another arrival seemed to take place on Tuesday 27th, with Flamborough Head notching the highest count of the week when 42 were totalled.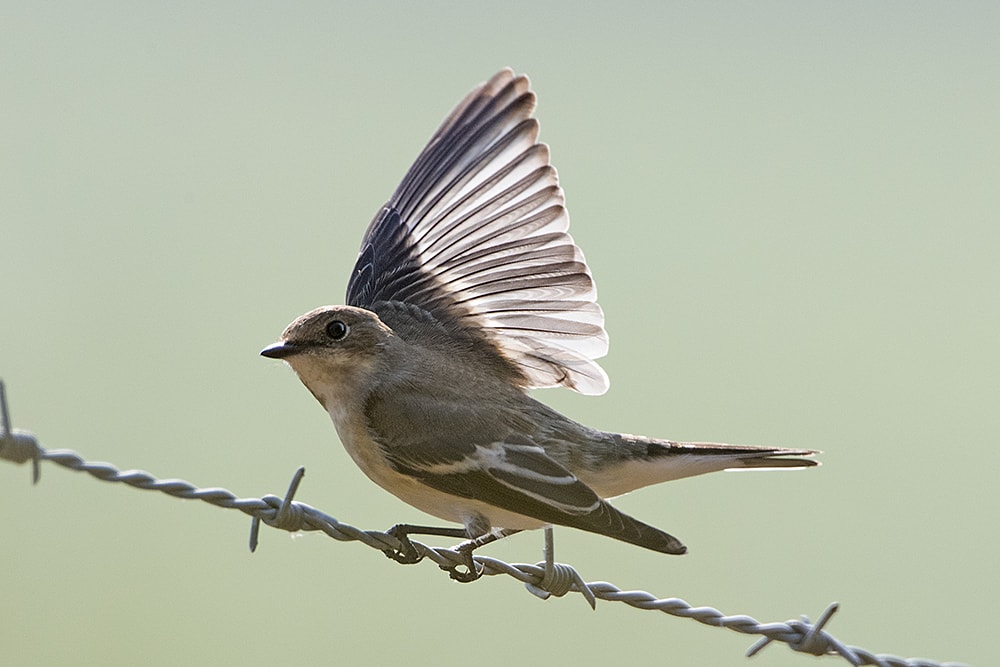 Pied Flycatcher, Southwold, Suffolk (Andrew Moon).
Whinchats were also on the move in a big way, too, with a count of 66 at Flamborough Head on Saturday and many migrant groups, sometimes numbering into double figures, dotted across the southern half of our isles at sites both coastal and inland.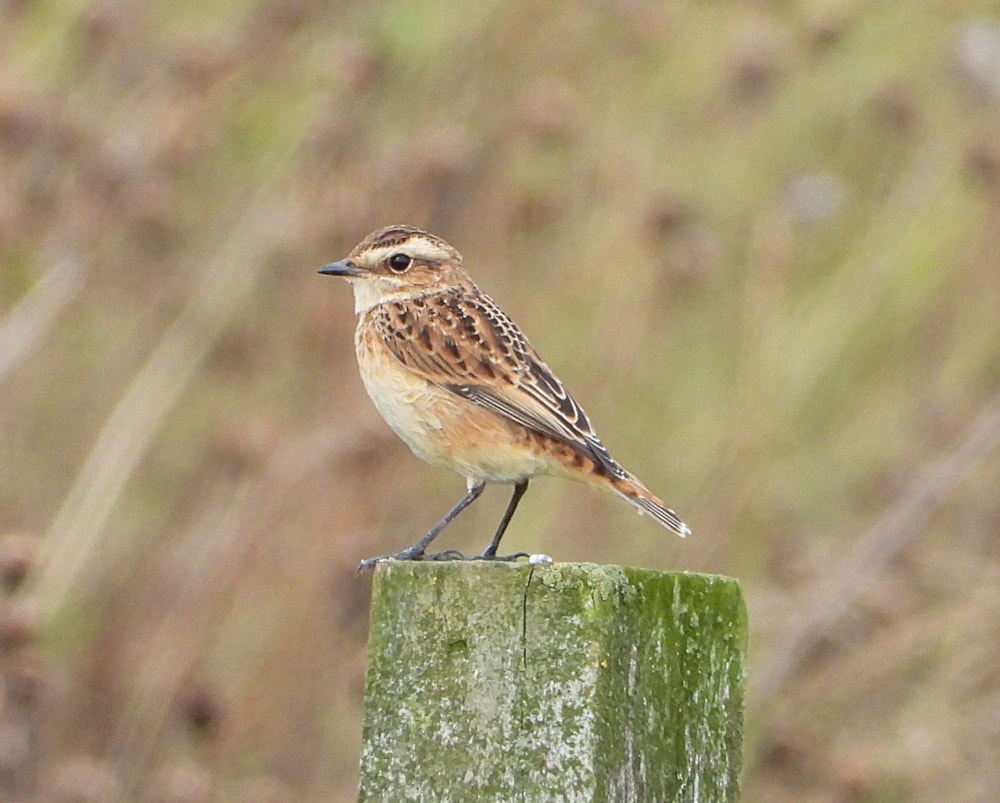 Whinchat, St Aidan's RSPB (Swillington Ings), West Yorkshire (Dave Ward).
It was no great surprise that many birds continued into the country's interior in the fine conditions, with inland migrant hotspots producing some excellent tallies – well-watched sites, including suburban localities such as Wanstead Flats, London, proved that there is plenty of joy to be had at this time of year for the dedicated patch-worker. With the odd Wood Warbler, Common Redstart, Pied or Spotted Flycatcher to eke out, while overhead glances produced passing raptors such as Western Osprey, it was a fine weekend to have spent time out in the field, no matter where you were.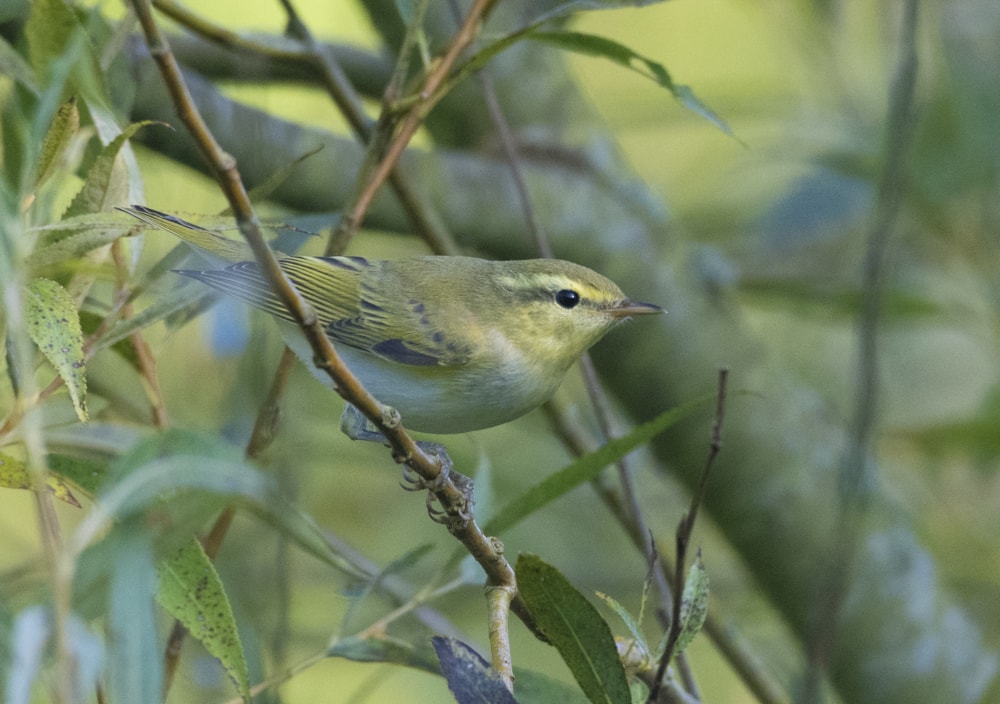 Wood Warbler, Hascombe, Surrey (Ed Stubbs).
Although common migrants were numerous, their scarcer counterparts took a little while to get going – which, these days, is unusual, given species such as Wryneck sometimes give the perceived 'commoner' birds a run for their money in terms of abundance. However, a noticeable arrival of this charismatic species took place from Monday onward, bringing the week's total to at least 45 – most of which were in the south and south-west of England, albeit with several seen in Wales too. Just one was reported from Ireland (in Co Cork on 25th), while none made landfall in Scotland.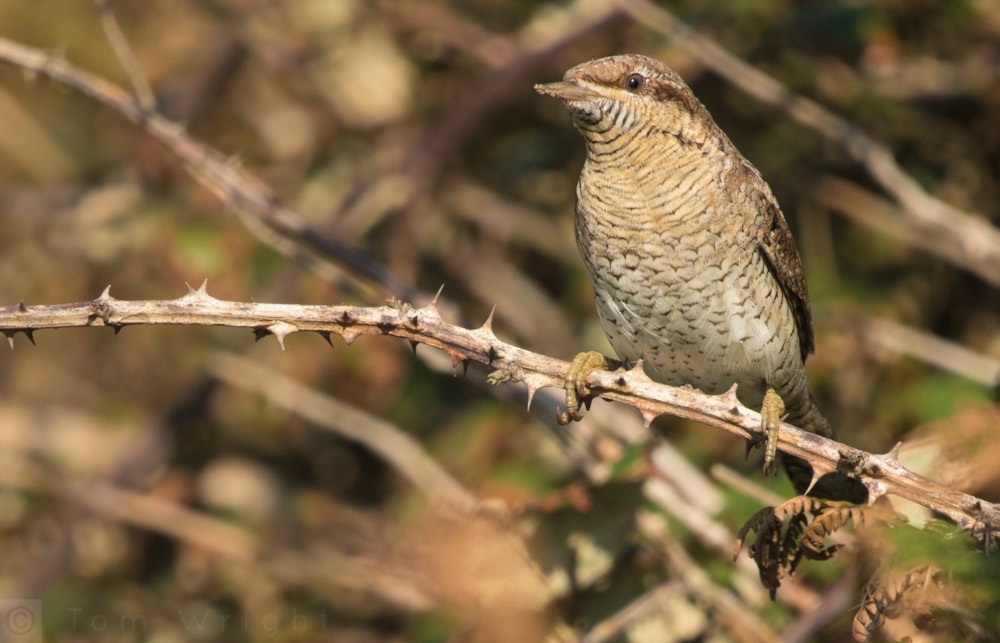 Wryneck, Ogmore Estuary, Glamorgan (Tom Wright).
However, other typical early-autumn scarcities remained somewhat, well … scarce. Just the three Icterine Warblers included birds at Spurn and Flamborough Head and a third on Lundy, Devon. A female Red-backed Shrike remained on Fair Isle to 23rd, with another there on 25th one of three new arrivals that day – the others being on Unst and at Dover, Kent. A further bird followed on St Mary's, Scilly, on 26th. Up to 15 Barred Warblers were spread across Shetland and Orkney, with almost half of these on Fair Isle, but the only away from the Northern Isles was a bird on Blakeney Point, Norfolk, on 25th.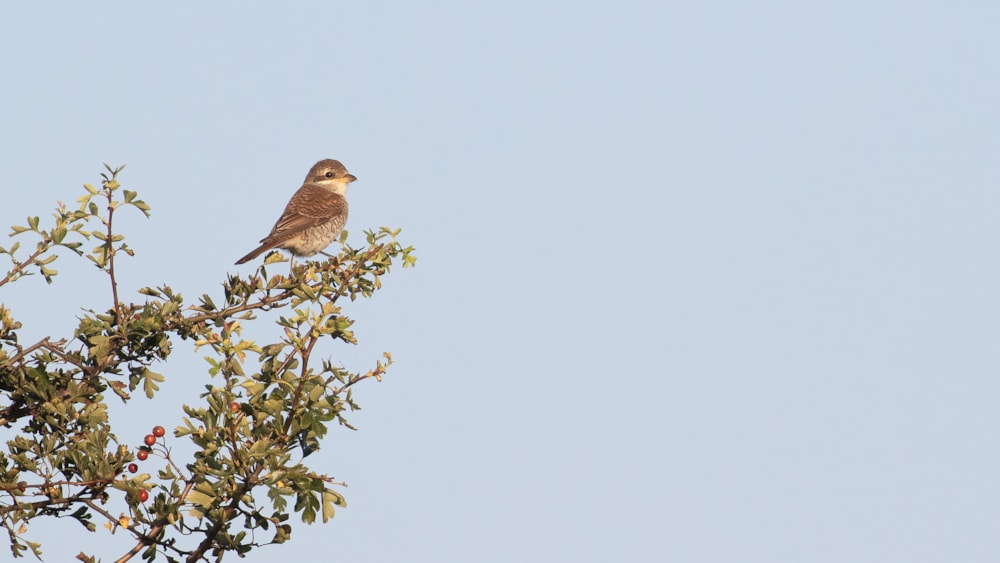 Red-backed Shrike, Langdon Cliffs NT, Kent (Josh Jones).
An apparent Western Subalpine Warbler was found on North Ronaldsay, Orkney, on 24th, although the rather dire state of its plumage suggested it had been around a while. Also at the Orcadian hotspot was a Melodious Warbler from 25th and a Greenish Warbler on 26th. Another Greenish was found at Frakkafield, Shetland, on 25th with a third on Fair Isle on 27th, while the week's other Melodious was a more typical occurrence at St Aldhelm's Head, Dorset, on 26th.

Icterine Warbler, Flamborough Head, East Yorkshire (Andy Hood).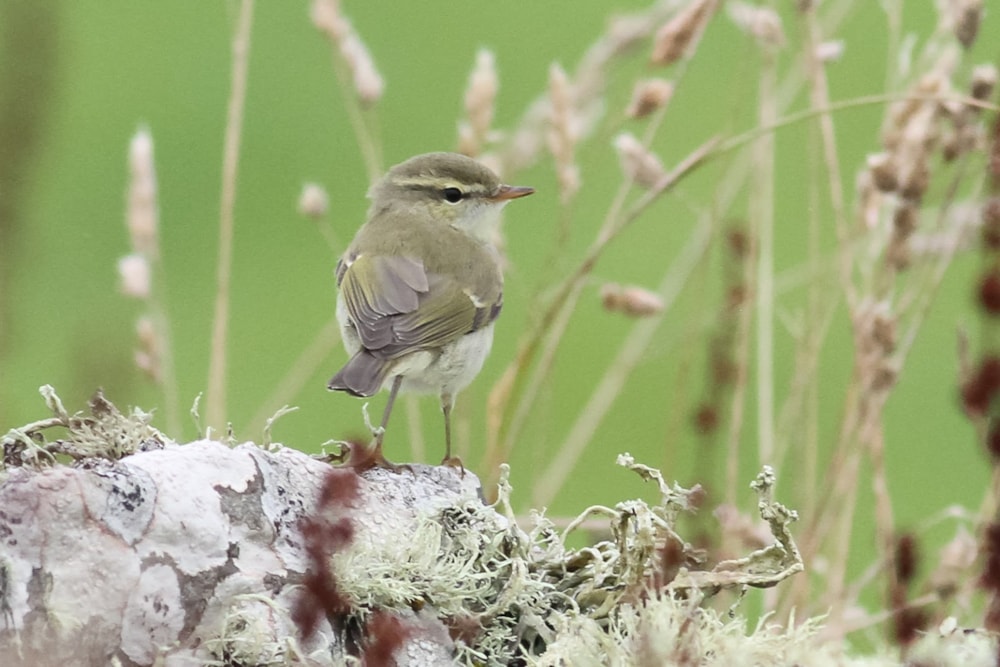 Greenish Warbler, North Ronaldsay, Orkney (Dante Shepherd).
A Blyth's Reed Warbler was trapped and ringed at Nanjizal, Cornwall, on the morning of 27th. Up to two Marsh Warblers were still at Kilnsea, East Yorkshire, early in the week, with one trapped and ringed at private site near Hillesden, Bucks, on 27th.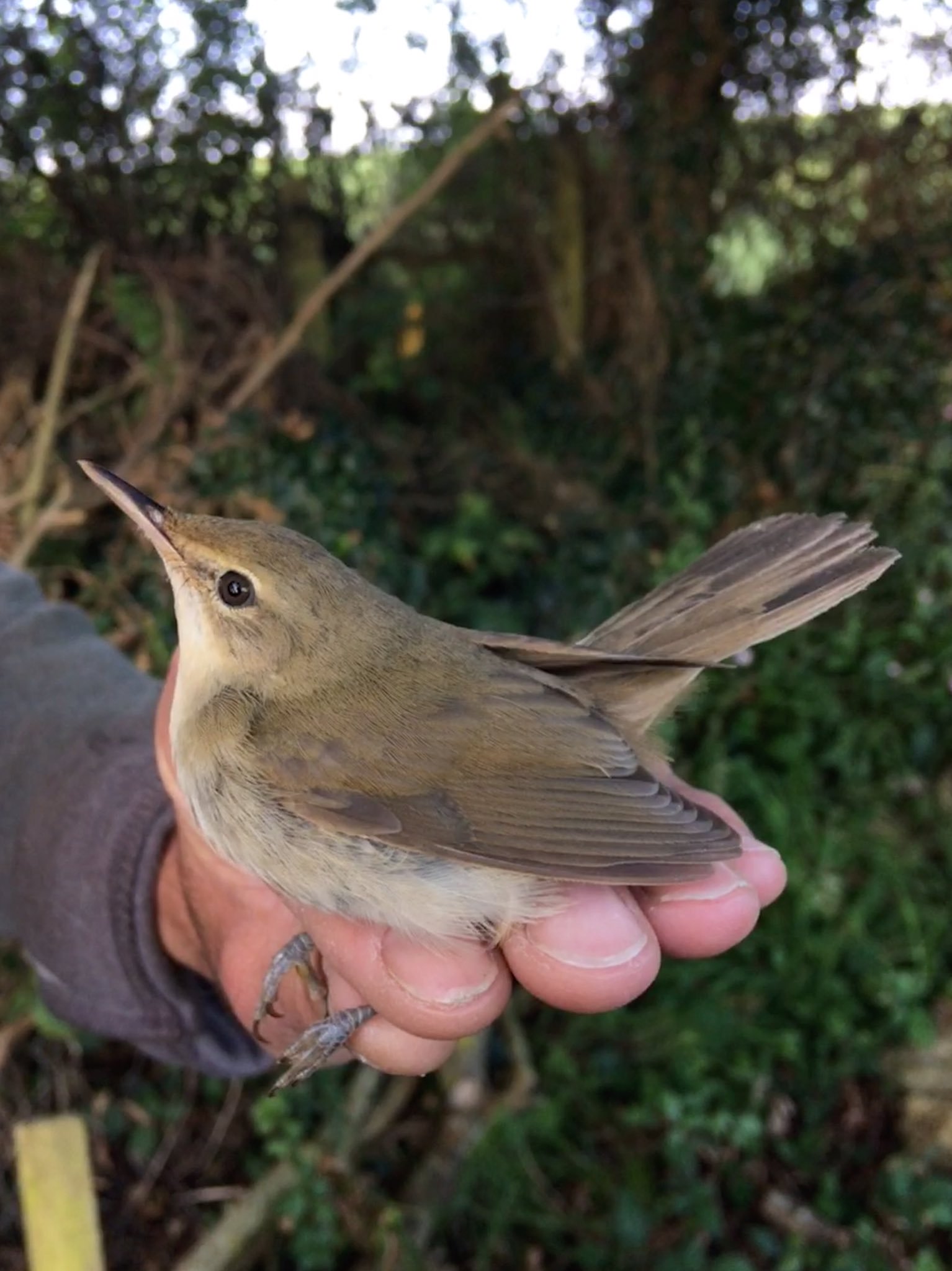 Blyth's Reed Warbler, Nanjizal Valley, Cornwall (Bob Bosisto).
A Citrine Wagtail was confirmed on Fair Isle, Shetland, during the afternoon of 26th, with another at Dale of Walls, Shetland, on 27th. In ideal conditions for overflying migrants in the south, no fewer than five Tawny Pipits were noted. One lingered at Nanjizal, Cornwall, from 21-24th, while three on 25th included flyovers at Seven Sisters Country Park, East Sussex, and Orcombe Point, Devon, and a third briefly on the deck at Hartland Moor, Devon. Another flew out to sea at Rhossili Bay, Glamorgan, on the morning of 27th. The first sound-recorded Ortolan Bunting of the autumn was tracked over Corfe Castle, Dorset, in the early hours of 21st, followed by a settled bird seen during the day at Buckton, East Yorkshire, on 23rd. Further birds were seen in East Sussex, Dorset and Glamorgan, but all proved frustratingly brief affairs. Single individuals were also picked up on successive nights of noc-migging at the Mecca that is Thorncombe Street, Surrey, on 25th and 26th, with another over Stonar Lake, Kent, in the early hours of 27th, and a final bird over Corfe Castle late at night on 27th.
Content continues after advertisements
Three Common Rosefinches involved birds in Lincolnshire, Norfolk and Shetland. An adult Rosy Starling was found at Boulmer, Northumberland, on 23rd and showed daily thereafter, but another adult at Flamborough Head on 25th was altogether briefer. Elsewhere, one remained on North Uist to 26th. An Alpine Swift spent some time in the skies over St Mary's, Scilly, on 24th, while a male Grey-headed Wagtail called in at Arlington Reservoir, East Sussex, on the evening of 27th. Hoopoes were seen in Essex, Shropshire, Anglesey and Northumberland.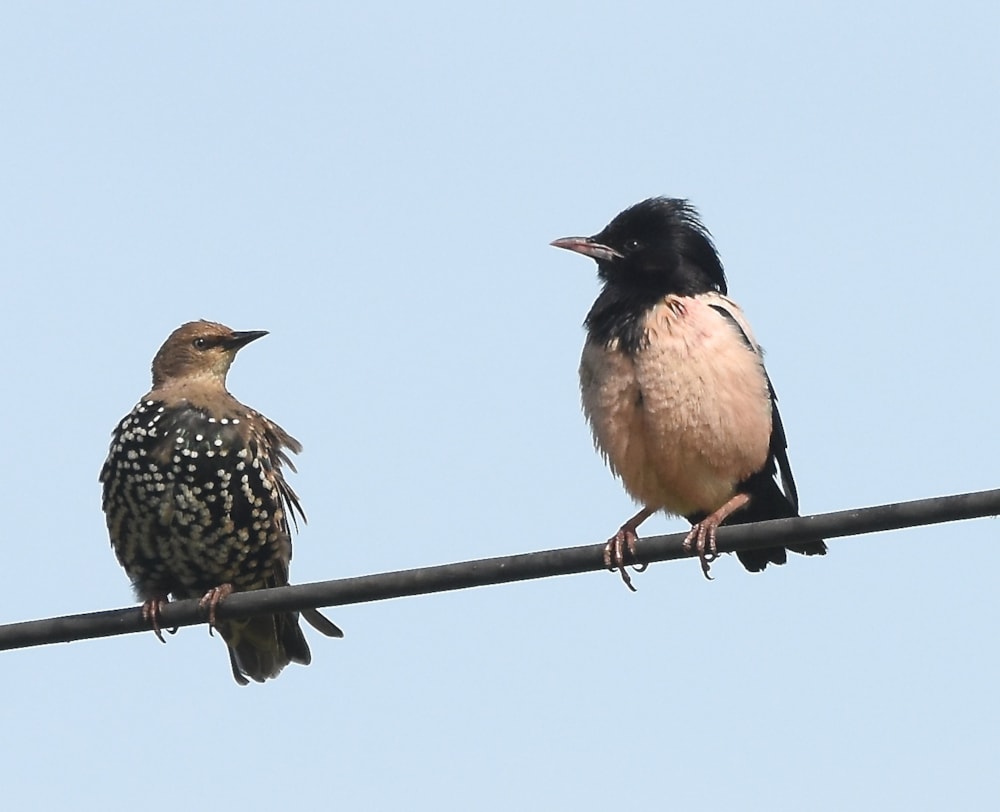 Rosy Starling, Boulmer, Northumberland (Roger Ridley).
Rarities included a fine male Black-headed Bunting on Lundy, Devon, on 26th and Western Bonelli's Warblers at Spurn, East Yorkshire, on 21st and Trevescan, Cornwall, from 26th. An Aquatic Warbler was trapped at Bridgwater Bay, Somerset, early on 26th, with another at St Hilary, Cornwall, later that day. The first confirmed juvenile Pallid Harrier of the autumn flew through at Dale of Walls, Shetland, on 27th. A female Two-barred Crossbill at Catfirth, Shetland, on 21st gave hope that the summer's influx isn't yet completely extinguished, but there presumably isn't much scope for many more new arrivals in Shetland as we head rapidly towards September.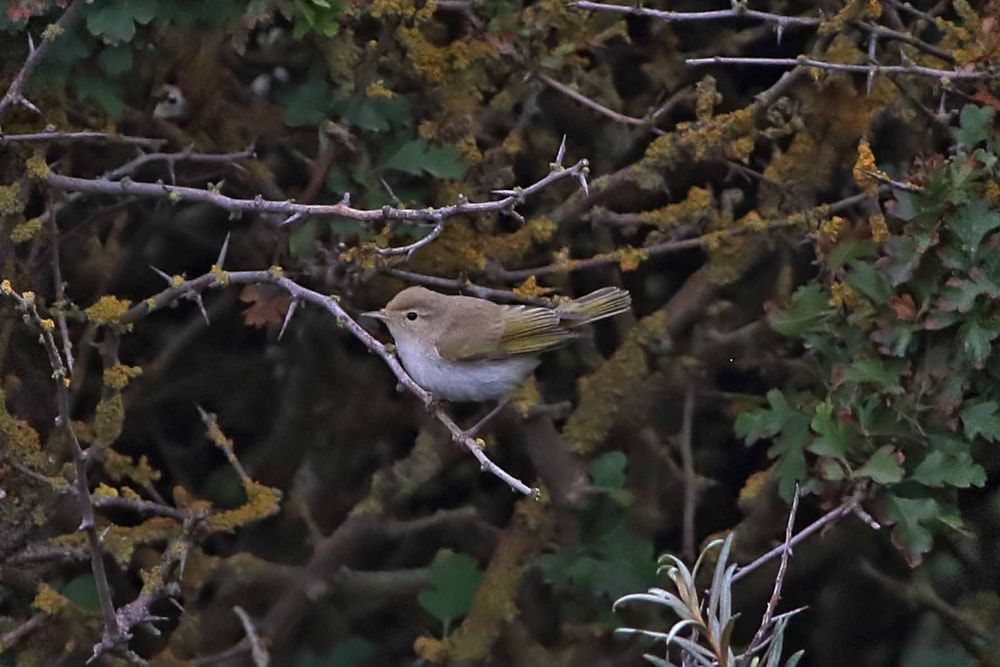 Western Bonelli's Warbler, Spurn YWT, East Yorkshire (John Hewitt).
Conditions were, on paper, great for European Honey Buzzards to pass through – and the species didn't fail to deliver, especially in more south-easterly areas as birds drifted across from the Continent. A glut of coastal records between north-east Kent and West Sussex included no fewer than five over Beachy Head during the week, with at least three in the Dungeness area of Kent. Most involved adults, although a few juveniles also began to appear. Either way, east-coast birders will be hoping that it's an indication of a productive autumn for this always-popular species. Migrant Montagu's Harriers were also seen in Kent and Essex, with the East Yorkshire female again on show at Blacktoft Sands.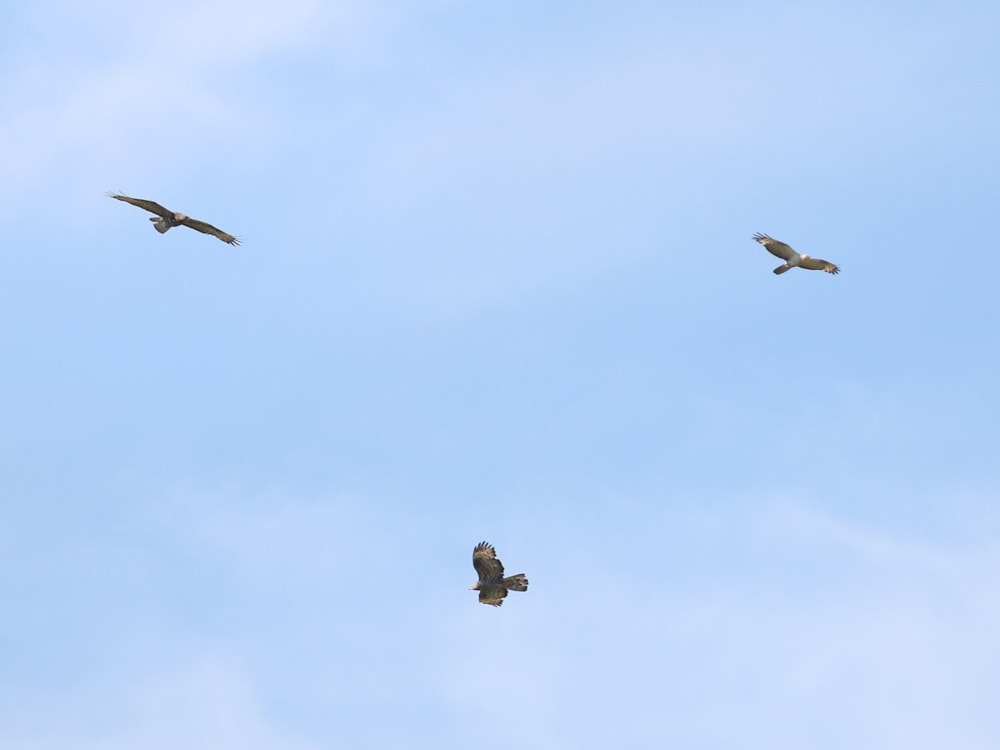 Three European Honey Buzzards, Beachy Head, East Sussex (Beachy Birder).
Following last week's candidate Zino's Petrel in Co Cork, it was the Scilly's turn to hog the Pterodroma limelight this week, with two different Fea's-type Petrels seen from pelagic trips out of St Mary's on 23rd and 27th respectively, the former of which looks particularly hefty and may well constitute an acceptable Desertas Petrel. There was a report of a Black-browed Albatross from the ferry between Rum and Mallaig late afternoon on 23rd. Co Cork pelagics produced Wilson's Storm Petrels on 23rd (two) and 26th (one), while a significant Scottish sighting of a Wilson's was made off the Mallaig-Lochboisdale ferry on the evening of 25th. It's been a damp squib of a summer for Great Shearwaters, though, as evidence by no more than a handful seen across Britain and Ireland this week. There were barely any Cory's Shearwaters either, but a significant record involved a showy bird from a pelagic off Staithes, North Yorkshire, on 23rd – perhaps this bird was also responsible for a sighting off Cley Marshes, Norfolk, on 27th.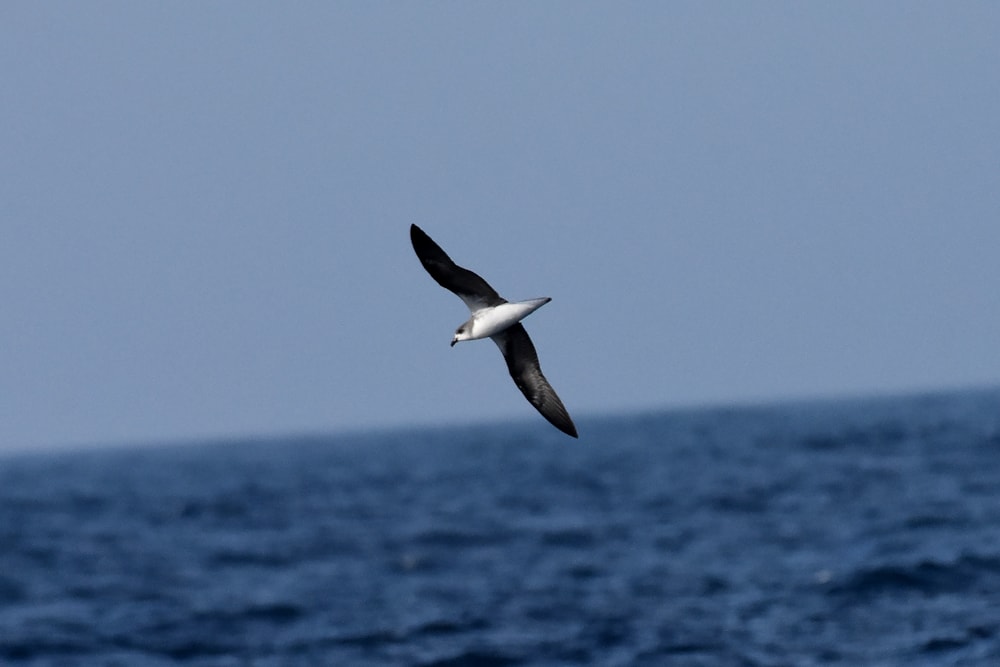 Fea's-type petrel, Scilly pelagic, 23 August 2019 (Andy Frost).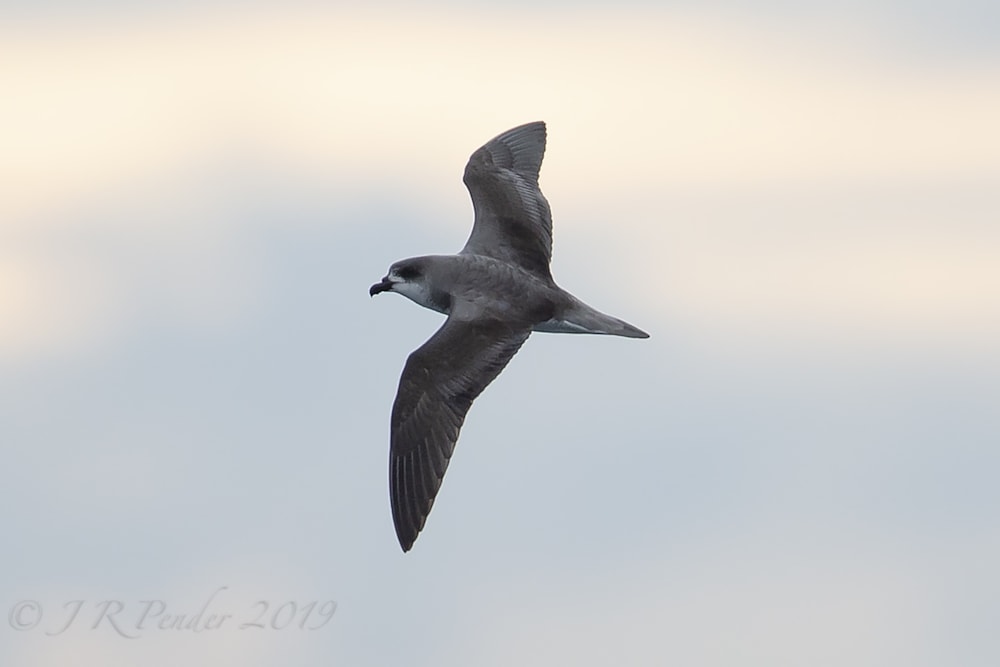 Fea's-type petrel, Scilly pelagic, 27 August 2019 (Joe Pender).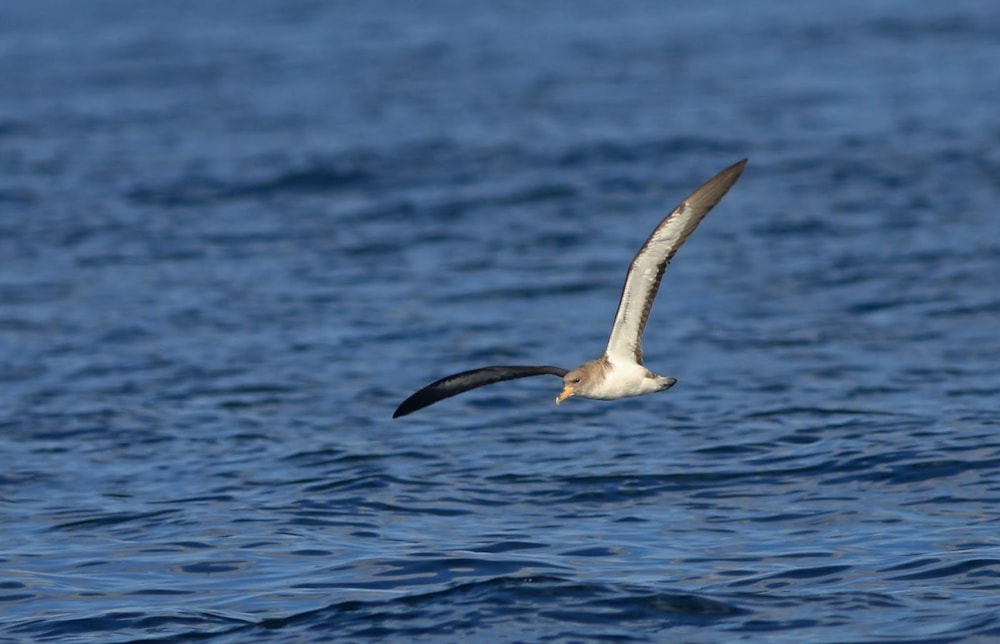 Cory's Shearwater, Staithes pelagic, North Yorkshire (Mark Pearson / northernrustic.blogspot.com).
Three Long-billed Dowitchers remained in residence in Lincolnshire, Lancashire and Co Antrim respectively, while the Buff-breasted Sandpiper also remained at Frampton Marsh all week, and a Pectoral Sandpiper was reported briefly there on 24th. The only other 'Pec' was the bird at Musselburgh Lagoons, Lothian, throughout. A White-rumped Sandpiper was a brief visitor to Greatham Creek, Cleveland, on 26th. An adult Baird's Sandpiper touched down at Tacumshin, Co Wexford, from 23-25th. An elusive American Golden Plover was seen in the Polgigga area of Cornwall on 22nd and 25th, while another – an adult – was on South Ronaldsay on 22nd. Migrant Eurasian Dotterel included birds in Kent, Essex, the Isle of Wight, Cornwall, Lincolnshire and East Yorkshire, although most were either brief or simply flyovers.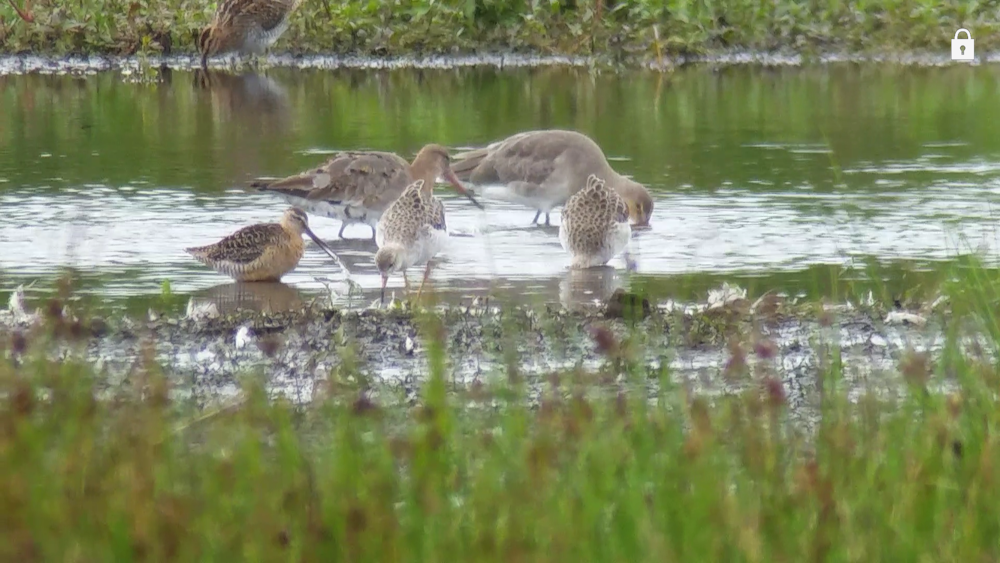 Long-billed Dowitcher, Martin Mere WWT, Lancashire (Jim Bevin).
It was a little too sunny for Black Terns to be forced down right across Britain and Ireland, but some of the bigger waterbodies which traditionally attract concentrations of the species really prospered on Saturday especially, hinting that very large numbers were passing overland unseen in many areas. The headline count was an extraordinary 200+ at Chew Valley Lake, Somerset, during the afternoon, with a further 62 at nearby Blagdon Lake. A terrific 96 were tallied at Farmoor Reservoir, Oxon, that day, with 41 at Theale Gravel Pits, Berkshire. However, numbers dropped off quickly from Sunday and only small passing flocks were noted into the new working week.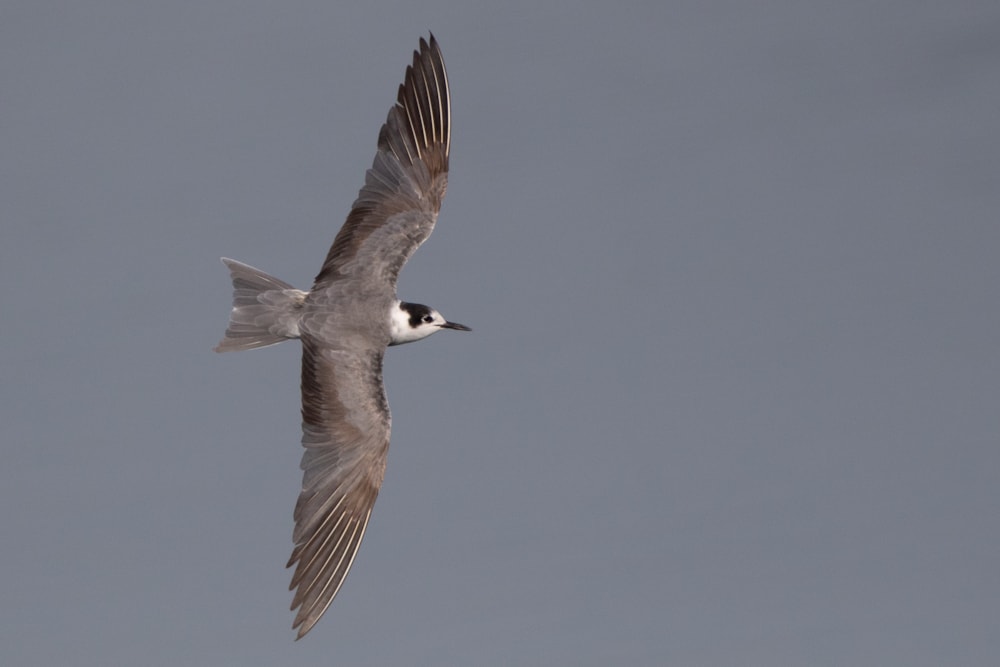 Black Tern, Farmoor Reservoir, Oxfordshire (Jean Duval).
Little Gulls also reached their highest counts of the year at Hornsea Mere, East Yorkshire, where a magnificent 8,120 were estimated on the evening of 26th, following 7,200 there the evening previous. The Bonaparte's Gull was still at Oare Marshes, Kent, on 26th, while the Co Clare bird was seen at Liscannor to 27th. An adult Ring-billed Gull was back in Sligo Town on 25th. Cromer remained the place to observe Caspian Gulls, with up to four juveniles showing well there on a daily basis.
The Purple Heron was last seen at Cantley Beet Factory, Norfolk, on 21st, while two new juveniles were found at Pett Level, East Sussex, on 26th but soon flew out to sea. The only Glossy Ibis was the continuing bird at Goldcliff Pools, Gwent. Meanwhile, following their recent release in West Sussex, a flock of up to 27 White Storks went on a tour of south-west England. On 23rd they were in Hampshire, before reaching Dorset on 24th and then Lizard, Cornwall, on 25th. Here they threatened to head out to sea (no doubt causing a few heart-in-mouth moments at Knepp), before spending the rest of the week touring the westernmost reaches of the county, with individuals peeling off to do their own thing and reducing the main group to 20.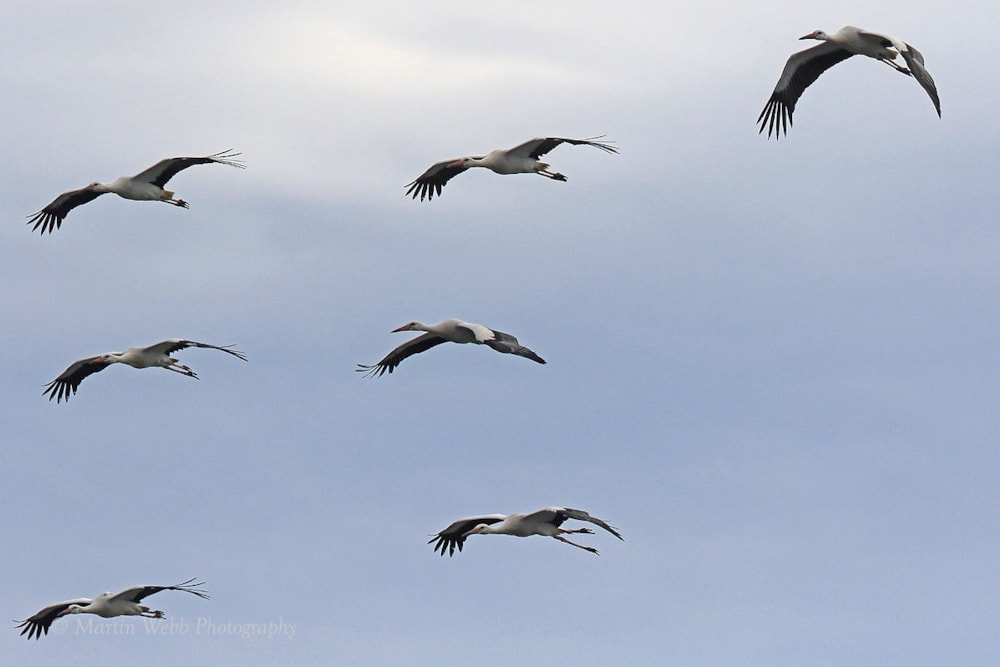 White Storks, Drift Reservoir, Cornwall (Martin Webb).
Finally, to wildfowl. The Blue-winged Teal lengthened its already-extended stay in Clyde and drake Ring-necked Duck did the same in Herefordshire and Essex. The Ferruginous Duck lingered at Minsmere RSPB, Suffolk. Drake and female Surf Scoter were seen off Musselburgh, Lothian, with two drakes still at Lunan Bay, Angus, on 22nd and a drake off Colwyn Bay, Conwy, on 27th.
Western Palearctic
Iceland produced an early American Cliff Swallow near Garður on 26th following strong south-westerly winds, with a second bird remarkably joining it on 27th – these are just the fourth and fifth individuals ever seen there and they continue a fantastic run of rare birds in the country. Also in the general area, the adult Pacific Golden Plover remained, while the Common Kingfisher lingered at Mógilsá.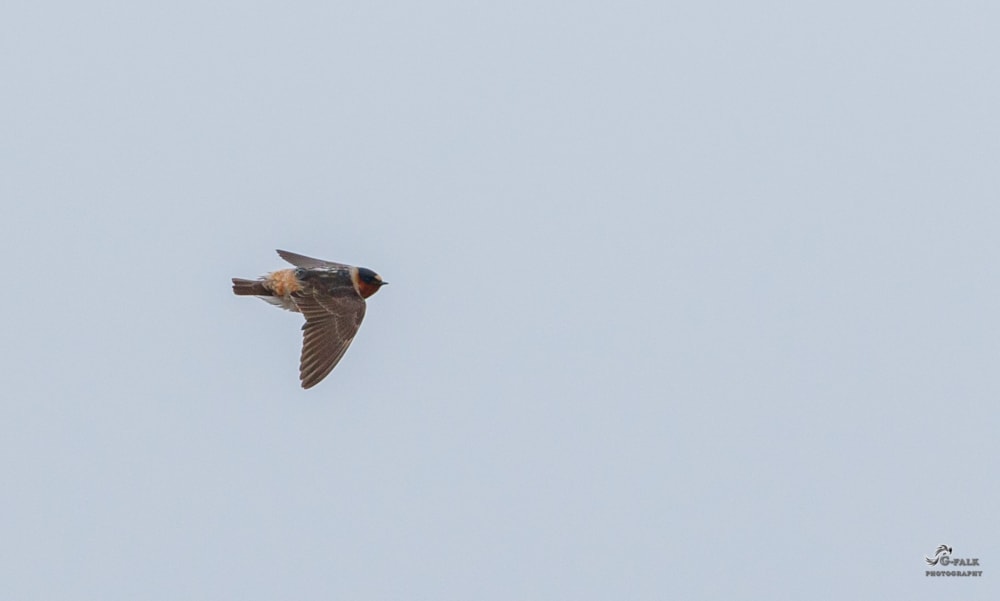 American Cliff Swallow, Garðskagi, Suðurnes (Gudmundur Falk).
Kuwait scored with a male Pied Bush Chat at Al-Nuwaiseeb from 22nd, while in Israel both the White-throated Bee-eater and Grey Hypocolius were still just north of Eilat to 26th at least.
A fantastic record from the seas off Malta concerned a Swinhoe's Storm Petrel, photographed on 25th. Given the British records this week, it was notable to hear that a Brown Booby passed Estaca de Bares, Galicia, Spain, on 24th. Meanwhile, in Cadiz, an Elegant Tern remained, with another Elegant seen in the Camargue, France (along with a White-rumped Sandpiper).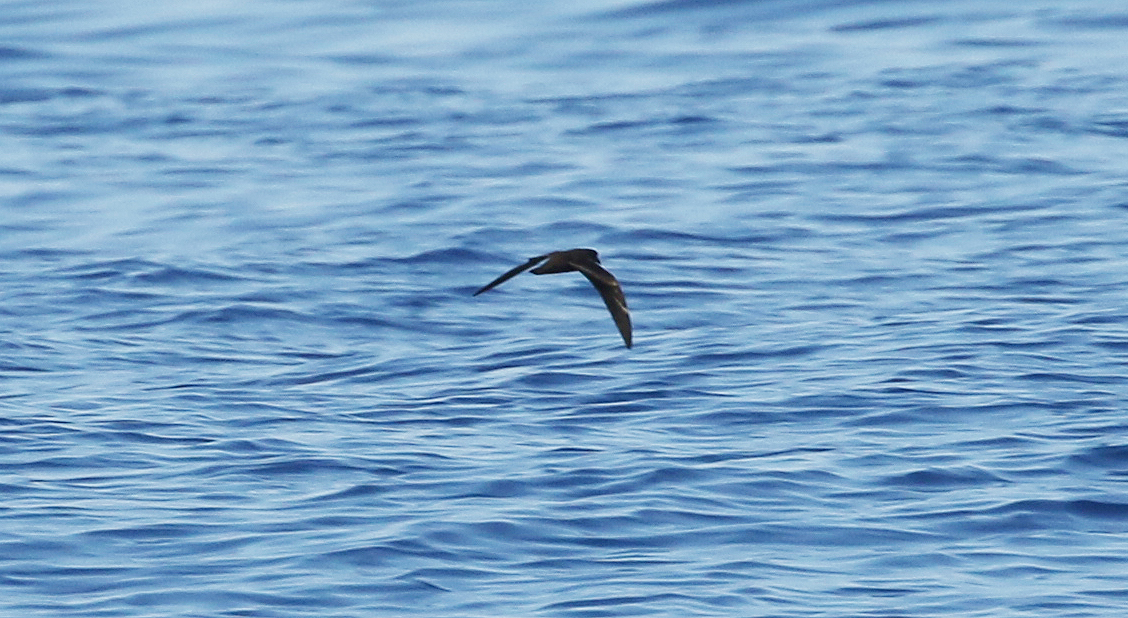 Swinhoe's Storm Petrel, at sea, Malta (Kimberey Gauci).
News from the Atlantic isles included the Hudsonian Whimbrel still on Sal, Cape Verde, and a Least Sandpiper still in Pico, Azores. Finland's third Sharp-tailed Sandpiper gave fine views near Pori from 25th. A Sociable Lapwing was seen at Głubczyce, Poland, on 26th.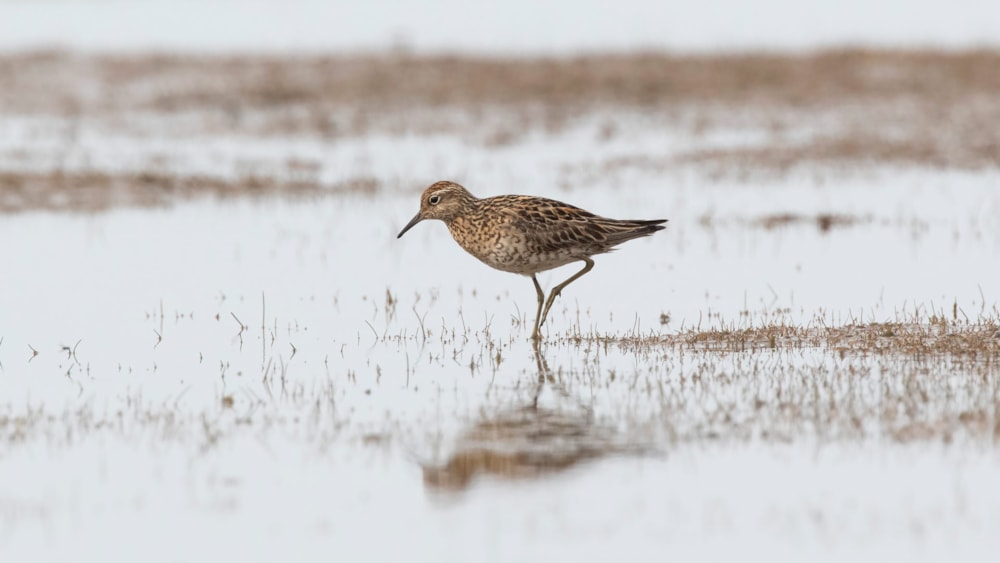 Sharp-tailed Sandpiper, Mäntyluoto, Southwest Finland (Juha Sjöholm).