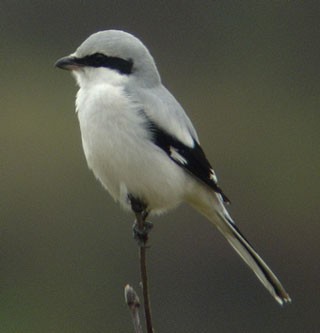 Great Grey Shrike: Stocks Reservoir, Lancs. Obliging wintering birds always prove deservedly popular (Photo: Mark Breaks)
A Desert Warbler was seen briefly at Sandwich Bay (Kent) mid-morning on 20th, but could not subsequently be relocated. This will be the second for Kent, if accepted, following one in November 1991. It will also be the 12th British record and the first since one at Spurn (E. Yorks) in May 2000.
| | |
| --- | --- |
| | |
| Little Bunting: Walsey Hills, Norfolk. Present since the 15th October; will this bird over-winter? (Photo: Kevin Elsby) | Little Bunting: Walsey Hills, Norfolk. (Photo: Kevin Elsby) |
| | |
| --- | --- |
| | |
| Great Grey Shrike: Tuddenham Heath, Suffolk. (Photo: Bruce Martin) | Waxwing: Blaydon, Durham. Still present in reasonably good numbers in the north and northeast. (Photo: John Malloy) |
Another Hume's Warbler was found, this time at Portland (Dorset) from 21st-22nd, with birds on Shetland still at Bressay on 23rd and Fair Isle on 22nd. A Dusky Warbler was at Clennon Valley (Devon) from 21st, with one remaining on St. Mary's (Scilly). The Red-throated Pipit remained at Tacumshin (present since 1st Nov) and another was reported at East Ruston (Norfolk) on 21st. A Barred Warbler at Aberlady Bay (Lothian) on 20th was late, as was a Common Rosefinch at Rendall (Orkney) on 23rd. Other late autumn fare included a Bluethroat at Parkhurst (Isle of Wight) from 20th-21st, whilst in Cornwall a Short-toed Lark was at Camborne and a Hoopoe at Newquay, and a Serin was on Skokholm (Pembrokeshire) on 23rd. Four Richard's Pipits included the two long-stayers at Easington (Co. Durham), there were 3 Pallas's Warblers on Portland during the week and around 17 Yellow-browed Warblers, mostly in southern counties, including 3 on Tresco (Scilly) on 20th. Around 20 Great Grey Shrikes were reported, and a Rose-coloured Starling remained at Lisburn (Co. Antrim). Long-stayers included male and female Sardinian Warbler at Skegness (Lincs), Pied Wheatear on North Ronaldsay (Orkney), Little Bunting at Walsey Hills (Norfolk), plus Lesser Whitethroats considered to be of the form minula at Filey (N. Yorks) and halimodendri at Portland.
| | |
| --- | --- |
| | |
| Surf Scoter: Eglwys Nunydd Reservoir, Glamorgan. Birds on inland waters are always good finds for inland patch-watchers. (Photo: Barry Stewart) | American Wigeon: Rogerstown, Dublin. Drakes are smart birds, but how many females are overlooked? (Photo: Paul and Andrea Kelly) |
A Pied-billed Grebe was at Tacumshin (Co. Wexford) from 22nd onwards and was the first record in either Britain or Ireland since early 2001. On the Outer Hebrides, the site of the autumn, Barra, has a presumed Redhead on Loch Tangasdail. The bird in question has been present since late September, and if confirmed will represent another superb bird for the island. An adult Forster's Tern was at Nimmo's pier, Galway (Co. Galway) on 26th. Other rare ducks included perhaps up to 3 Lesser Scaups, 2 Ring-necked Ducks, 3 Ferruginous Ducks, 4 American Wigeons, 5 Green-winged Teals and the Black Scoter at Llanfairfechan (Conwy). An 'inland' Surf Scoter on Eglwys Nunydd Reservoir (Glamorgan) was a great find, and was the only report of the species during the week.
| | |
| --- | --- |
| | |
| Iceland Gull: Lowestoft, Suffolk. white-wingers have been a bit thin on the ground so far; 4 were reported this week. (Photo: Andrew Easton) | Ring-billed Gull: Westcliffe-on-Sea, Essex. Wintering birds always prove popular, and such events are still notable enough away from the southwest. (Photo: Pete Merchant) |
In Co. Donegal the grey Gyr Falcon was again seen at Blanket Nook, Rough-legged Buzzards remained at Capel Fleet (Kent) and Massingham Heath (Norfolk) with another reported near Great Yarmouth (Norfolk). The long-staying Great White Egret remained at Ivy Lake (Hants), with others at Grove Ferry (Kent) and Wells (Norfolk). Rare waders were represented by the long-staying Lesser Yellowlegs on the Hayle Estuary (Cornwall) and the American Golden Plover was again at Marshside RSPB (Lancs). There were 4 Grey Phalaropes, including the two long-staying inland birds at Chasewater (Staffs) and Queen Mother Reservoir (Berks). Scarce gulls have been, well scarce! Just 4 Iceland Gulls were reported, along with half-a-dozen Glaucous Gulls, Caspian Gulls were nearly into double-figures and there were 4 Ring-billed Gulls. A Long-tailed Skua was a late record at Landguard NR (Suffolk) on 20th.
| | |
| --- | --- |
| | |
| Blackcap: Auchnasaul, Argyll. Guaranteed to brighten up a garden watch, they're commoner than we think, with a wintering population probably in excess of 10,000 birds. (Photo: Bill Jackson) | Hen Harrier: Parkgate, Cheshire. Winter birds on a saltmarsh, a truly magnificent sight. (Photo: Steve Round) |