The excitement continued unabated throughout the week as top-quality find followed top-quality find. Shetland quickly awoke from its slumber on 20th with two classic Northern Isles rarities, albeit with contrasting statuses in Britain & Ireland (and indeed the Western Palearctic).
With an ever-increasing number of observers on Shetland in late September and early October, Siberian Thrush is seemingly in the process of being downgraded from extreme vagrant to almost expected near-annual fixture. This year's bird, a female at Baltasound, Unst, closely follows a male on the same island in 2016, a male on Fair Isle in 2015 and a female at Scousburgh in 2014. Despite its increasing regularity, it remains an extremely difficult bird to twitch, with Shetland birds notorious for their short stays. This week's bird was no different – having been found late in the morning, it was seen intermittently for the rest of the day but had cleared out overnight, despite fog and driving rain!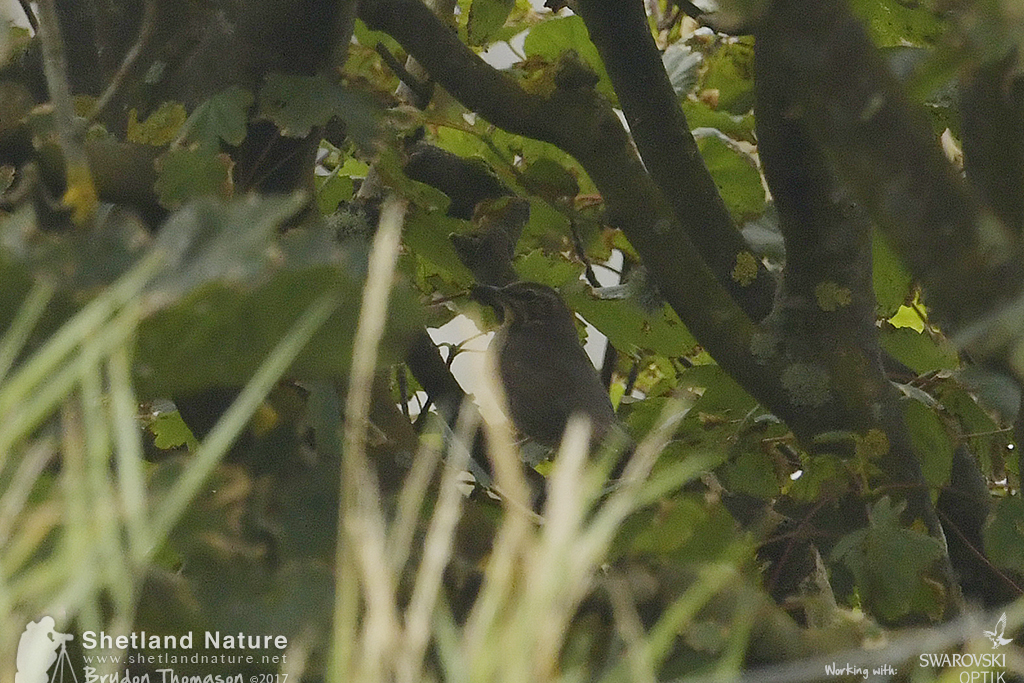 Siberian Thrush, Baltasound, Unst, Shetland (Brydon Thomason)
A short while before the thrush broke, what may well prove one of the autumn's biggest birds had been found on Out Skerries. The older birders among us will remember the days when Yellow-breasted Bunting was merely a 'padder' in the notebook for a day's birding on the Northern Isles, and in particular Fair Isle, where it was sometimes possible to encounter multiple birds together in the heady days of the Seventies and Eighties. Since then, though, the species' fortunes have nose-dived from super-abundant Siberian passerine to genuine scarcity, almost solely due to industrial-scale trapping in China for food. Though this has been recently outlawed, the practice still continues and the future currently looks quite bleak for this beautiful bunting, which has become ever-rarer in Britain since the Nineties. Indeed the Skerries bird is the first on Shetland since 2011, and the first anywhere in Britain since an untwitchable bird on the Farne Islands in early September 2013. At present, it is difficult to imagine this species becoming any more regular on our shores in the future and the opportunity to see one is not to be sniffed at. Fortunately the Skerries bird remained to 22nd and allowed a decent contingent to make it northwards in time to marvel at this rapidly diminishing Siberian favourite, which now barely clings on as a breeder in the Western Palearctic.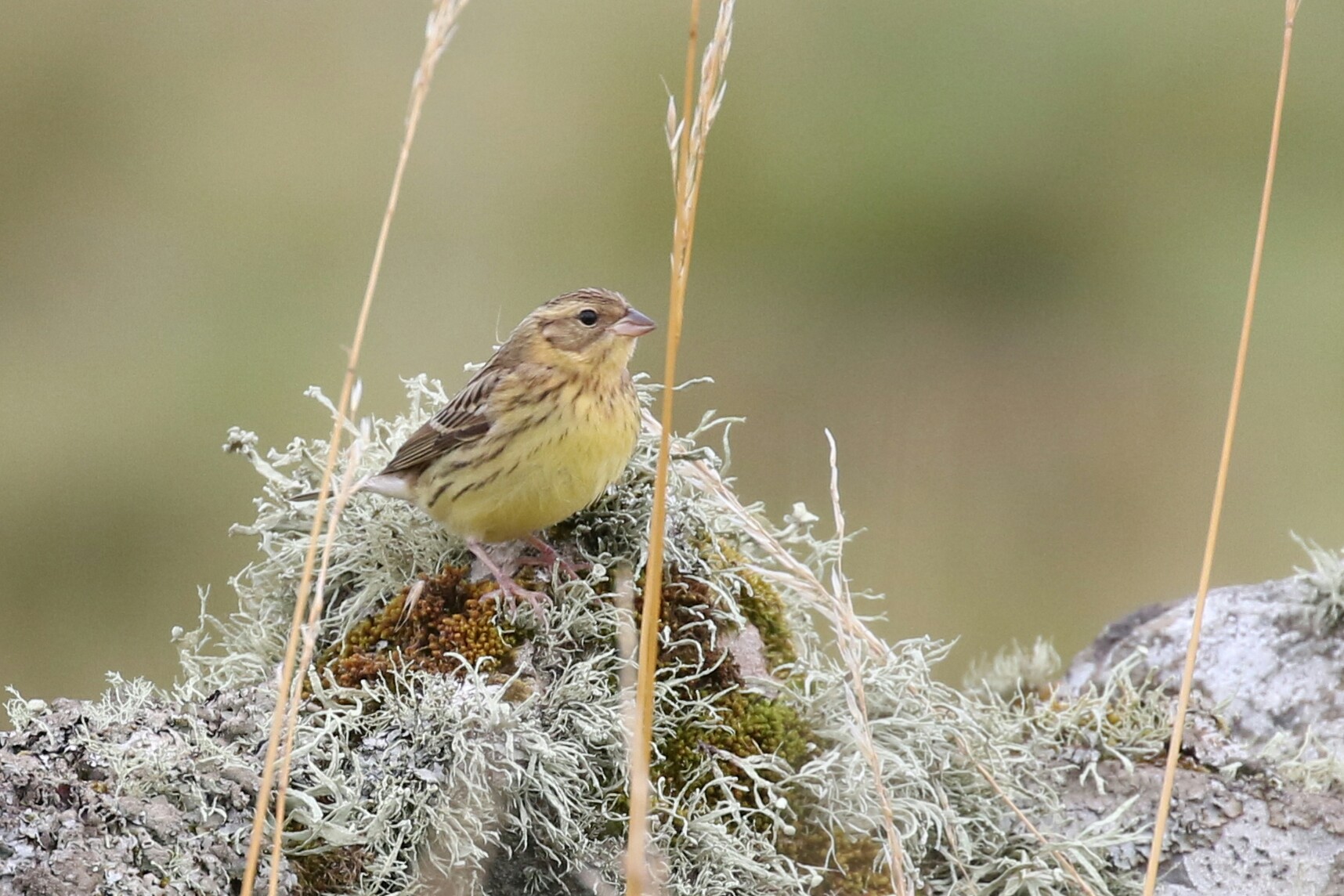 Yellow-breasted Bunting, Out Skerries, Shetland (Dave Bywater)
Quite surprisingly, last week's Pallas's Grasshopper Warbler hung on at Burnham Overy, Norfolk. It was photographed in the early part of the review period and was last noted on 24th. Another graced Fair Isle on 22nd and a possible was reported on Holy Island, Northumberland, on 26th.
The bulk of the week's Barred Warblers were, as is to be expected, on Shetland. It's getting late for Icterine Warblers, so the four reported was a reasonable count, even if the autumn has been a poor one for them. One was at Sumburgh, Shetland, on 26th and others were in Cornwall, Scilly and Co Cork. Melodious Warblers were recorded in Cornwall and Co Cork (2). A Western Bonelli's Warbler was trapped and ringed on Skokholm, Pembs, on 24th, and last week's Mire Loch bird was also present to 24th.
<

Barred Warbler, Kilminning, Fife (Barry Farquharson)

Western Bonelli's Warbler, Skokholm, Pembrokeshire (Richard Brown)
Greenish Warblers were well spaced, with birds at Sheringham, Norfolk, on 20th, Ryhope, Durham, on 21st, Martin's Haven, Pembs, on 24th and Portland, Dorset, from 24–26th. An Arctic Warbler was on Isle of May, Fife, on 25–26th and another was reported at Whitburn, Durham, on 26th. It's hard to know what to say about Yellow-browed Warblers, other than they were absolutely everywhere – sample counts from Shetland included 39 on Bressay on 26th and 36 on Fetlar/Yell on 22nd.

Greenish Warbler, Portland, Dorset (Simon Colenutt)
Marsh Warblers were on Fair Isle and at Kilnsea, East Yorks. Fair Isle also produced a Blyth's Reed Warbler on 25th, with North Ronaldsay collecting one the following day. The two islands also scored Olive-backed Pipits (Fair Isle on 26th, North Ronaldsay on 24th).
A scattering of Red-backed Shrikes included a female at Wormwood Scrubs, London, on 23–24th and a curious record of a juvenile on rocks at Barassie, Ayrshire, on 25th. The first Great Grey Shrike of the autumn arrived on Fair Isle on 25th. Around 20 Red-breasted Flycatchers were seen, a good proportion of which were on Shetland. A similar number of Wrynecks were logged, although their distribution was somewhat opposite to the flycatchers, with most in south-western localities. The most north-easterly individual was one at Adwick Washlands, South Yorks, on 26th. Hoopoes were in Kent, East Yorkshire, North Yorkshire and on Papa Westray, Orkney.
<

Red-backed Shrike, Dungeness NNR, Kent (Richard Bonser)
<

Red-breasted Flycatcher, Spurn YWT, East Yorkshire (Chris Cox)
A Siberian Stonechat arrived on North Ronaldsay, Orkney, on 26th. Little Buntings reached well into double figures across Shetland but only one was seen away from the isles – at Whitburn, Durham, on 25th. The ratio wasn't quite as extreme for Common Rosefinches, although the Northern Isles again boasted the vast majority, with upwards of 15 compared to just five elsewhere in the country.
<

Common Rosefinch, Long Nab, Burniston, North Yorkshire (Christopher Bell)
Content continues after advertisements
In western Ireland, two mega shorebirds remained: the adult Semipalmated Plover at Keel, Achill Island, Co Mayo, and the juvenile Hudsonian Whimbrel at Easkey, Co Sligo. What was presumably the Weymouth Stilt Sandpiper reappeared in Dorset at Lytchett Bay on 21st and was still at Middlebere on 26th. The county's great run continued with yet another Nearctic wader – a Lesser Yellowlegs at Stanpit Marsh from 23rd, one of five recorded around the country, with two at different sites on the Mullet, Co Mayo, and further birds in Carmathernshire and Angus. Two Spotted Sandpipers were on show in south-west England: the continuing bird at Abbotsbury, Dorset, and a new bird in at Crowdy Reservoir, Cornwall. The Baird's Sandpiper continued at Wyke Regis, Dorset, to 22nd with another at The Cull, Co Wexford, on 24th but the only White-rumped Sandpiper was at Black Rock Strand, Co Kerry. The juvenile Semipalmated Sandpiper was last seen on St Mary's, Scilly, on 21st. Half-a-dozen American Golden Plovers were noted around Britain and Ireland with up to 20 Buff-breasted Sandpipers including the five on Baleshare, North Uist, and two showing well at Davidstow Airfield, Cornwall. Long-billed Dowitchers remained on show in Kent, Co Kerry and Lincolnshire.
<

Semipalmated Plover (left, with Turnstone, centre, and Ringed Plover, right), Achill Island, Mayo (Tim Jones)

Baird's Sandpiper, Wyke Regis, Dorset (Brendan Sheils)
There was an intriguing report of a probable Swinhoe's Storm Petrel from a boat off Staffin Bay, Skye, on 25th. Seawatching was otherwise fairly quiet; a Fea's-type Petrel was off Toe Head, Co Cork, on the afternoon of 23rd and light scattering of Sabine's Gulls included an inland bird at Wintersett Reservoir, West Yorks, on 21st. There were a few Long-tailed Skuas seen on the English east coast.

Sabine's Gull, Wintersett Reservoir, West Yorks (Ron Marshall)
The Bonaparte's Gull was again seen in the Dawlish area of Devon on 23rd and 26th but, much more excitingly, a juvenile was found at Tolsta, Lewis, on 21st and was still there two days later. Young birds are extremely rare this early in the autumn, and a bird in such plumage is a sight to savour on our shores. The only Ring-billed Gull this week was in Sligo Town. An adult White-winged Tern commuted between Bamburgh and Budle Bay, Northumberland, from 24–26th and the Forster's Tern remained at Soldier's Point, Co Louth, on 20th.

Juvenile Bonaparte's Gull, Tolsta Head, Lewis, Outer Hebrides (Mick Temple)
Pallid Harriers have so far proved scarce this autumn and news of a juvenile over Apsley, Herts, on 24th was welcome, with another probable over Brotton, Cleveland, on 21st. The female Snowy Owl continued its stay at Tarmon Hill, Co Mayo, in to the week.
The drake Ferruginous Duck was back at Blashford Lakes, Hants, for at least its sixth winter from 24th. No fewer than seven American Wigeon included two drakes back on North Uist on 26th and other new birds at Uyeasound, Unst, Loch of Swannay, Orkney, Loch Gilp, Argyll, and South Walney, Cumbria, in addition to the bird at Rutland Water. Meanwhile the drake American Black Duck hung on at Strontian, Highland, and a female Surf Scoter was off Rossbeigh, Co Kerry; the female King Eider also hung on in Ceredigion.
Western Palearctic news
The autumn season kicked off in style on Corvo, Azores, with a Magnolia Warbler found on the island on 23rd alongside upwards of eight Red-eyed Vireos. At least three Black-and-white Warblers were also found on the island during the week. Meanwhile on Terceira, the Grey-tailed Tattler and Redhead remained.

Black-and-white (top) and Magnolia Warblers, Corvo, Azores (Peter Stronach)
A Siberian Thrush was trapped on Værøy, Norway, on 25th while Finnmark's third Black-throated Thrush graced Vardø on 21st. Belgium's fourth Black-eared Wheatear was at Koolkerke on 26th, with the country's fourth Pallas's Grasshopper Warbler trapped at a private site near Hamme on 21st. Denmark's fourth Baird's Sandpiper was at Bredebro on 23rd.
A potential national first, a Spur-winged Lapwing was at Strzelno, Poland, on 24th.