When our Review of the Week kicks off with a goose it's probably fairly safe to suggest autumn is over and we're into winter territory. Despite a short spell of easterly winds this week, the adult Lesser White-fronted Goose found at Field Dalling, Norfolk, on Friday was the only new mega of the week. Hanging out with 20 of its Eurasian cousins and a couple of Tundra Bean Geese in a flock of Pink-feet, it at least has the whiff of a Continental origin rather than one of the escapees that occasionally surface around Britain.
As The Netherlands is the main wintering site for reintroduction-bolstered Swedish Lesser White-fronted Geese, it's difficult not to see that as the most likely source of any on the east coast at this time of year. Surprisingly, it hadn't been relocated by the time we published, or at least if it had no subsequent reports had emerged.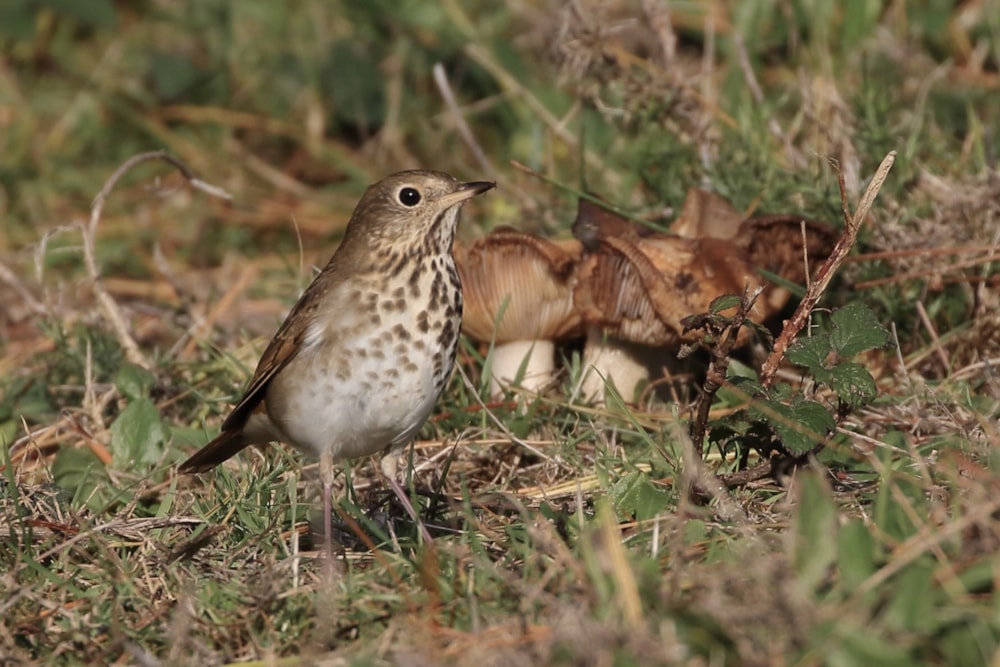 Hermit Thrush, St Mary's, Isles of Scilly (Scott Reid).
After a day's rest and recuperation, last week's Hermit Thrush on St Mary's, Scilly, reappeared on 20th and, despite a few blank days, was still fit and well on 25th, allowing many more to connect with this first 21st century record for the archipelago. Meanwhile, the first-winter drake Steller's Eider remained reassuringly site faithful on Papa Westray, nudging more birders into making the journey as the week progressed.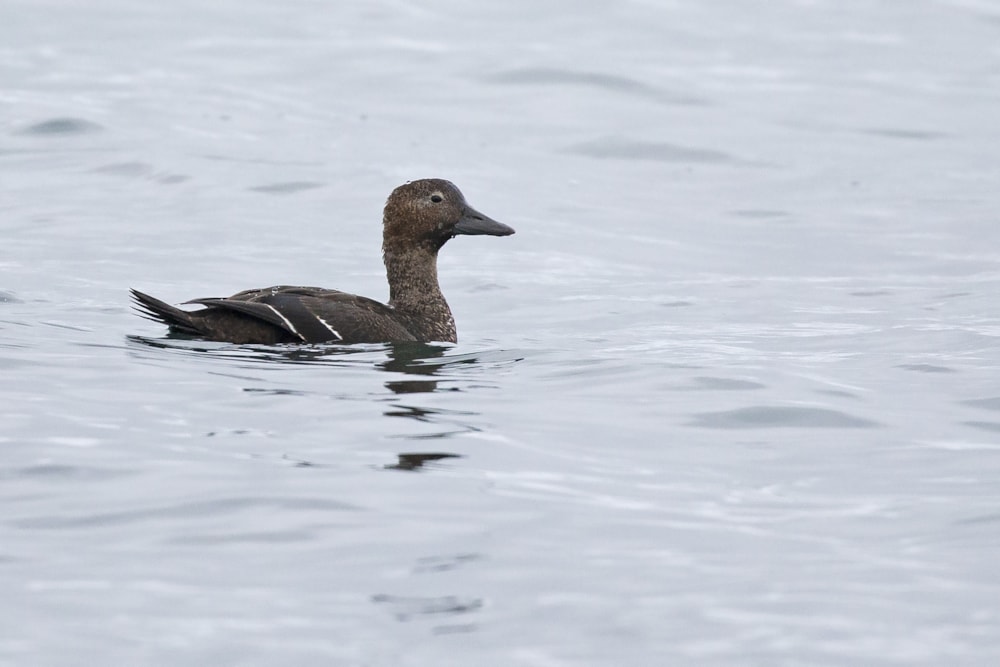 Steller's Eider, Papa Westray, Orkney (Sam Viles).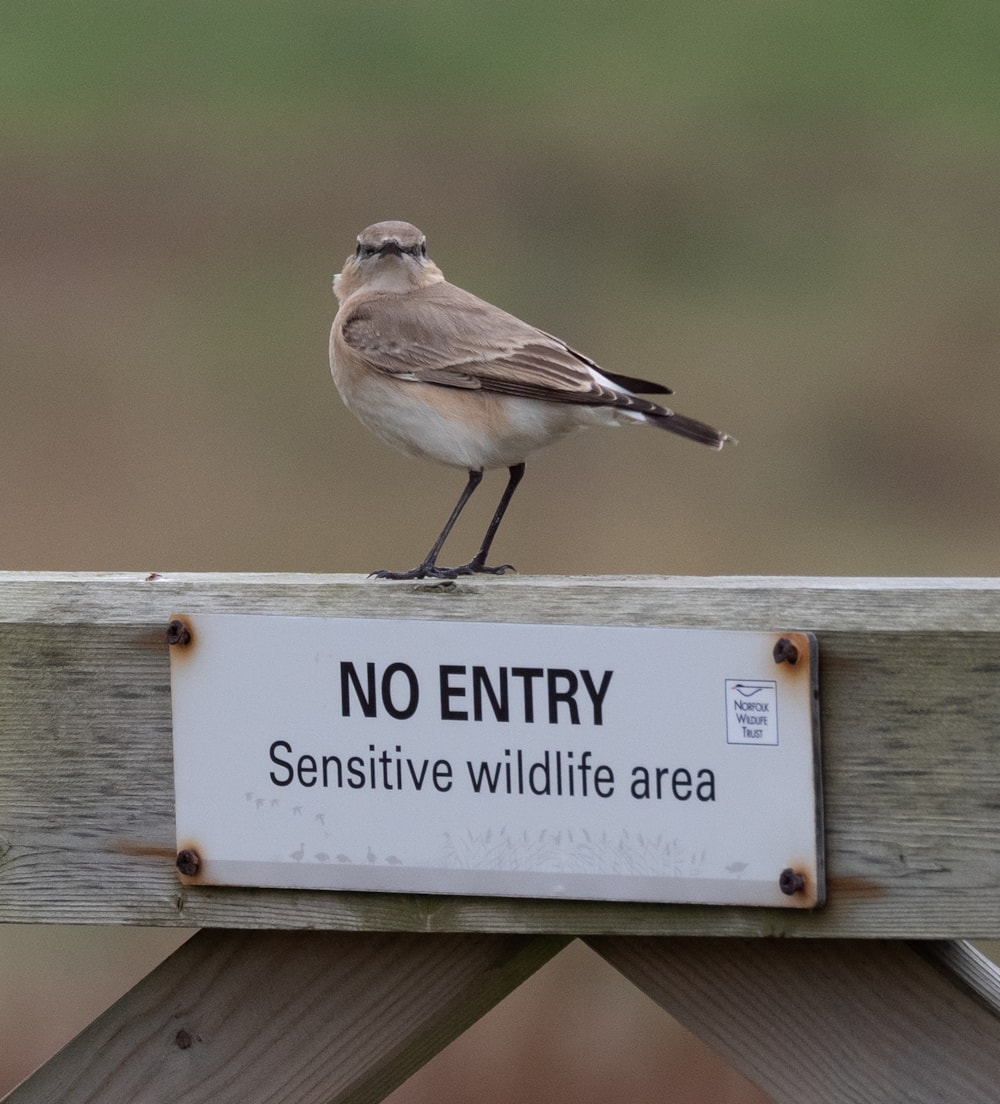 Isabelline Wheatear, Cley Marshes NWT, Norfolk (Mick Green).
A new Desert Wheatear at Sumburgh, Shetland, found on 25th was perhaps a bit too showy for its own good and may have met its end at the talons of a passing Merlin. In Norfolk, the popular Isabelline Wheatear that only last week was looking on its last legs appears to have undergone something of a revival thanks to the generous provision of mealworms by local birders – it was still posing splendidly as the week ended.
An apparent adult Azores Gull crisscrossed the Co Carlow/Co Wexford border on 24th; it may well winter in the area, though its chosen roost site at Kildavin, Co Carlow, frustratingly has no general access. On the same day, there was a first-winter Laughing Gull record from Mizen Head, Co Cork.
Scotland continued to offer two seductive scoters, with both the Musselburgh, Lothian, American White-winged Scoter and the Lunan Bay, Angus, Black Scoter seeing out another week in their respective locations. The Blue-winged Teal at Man Sands, Devon, was noted intermittently and over at Tacumshin, Co Wexford, the female first found in October reappeared on 22nd.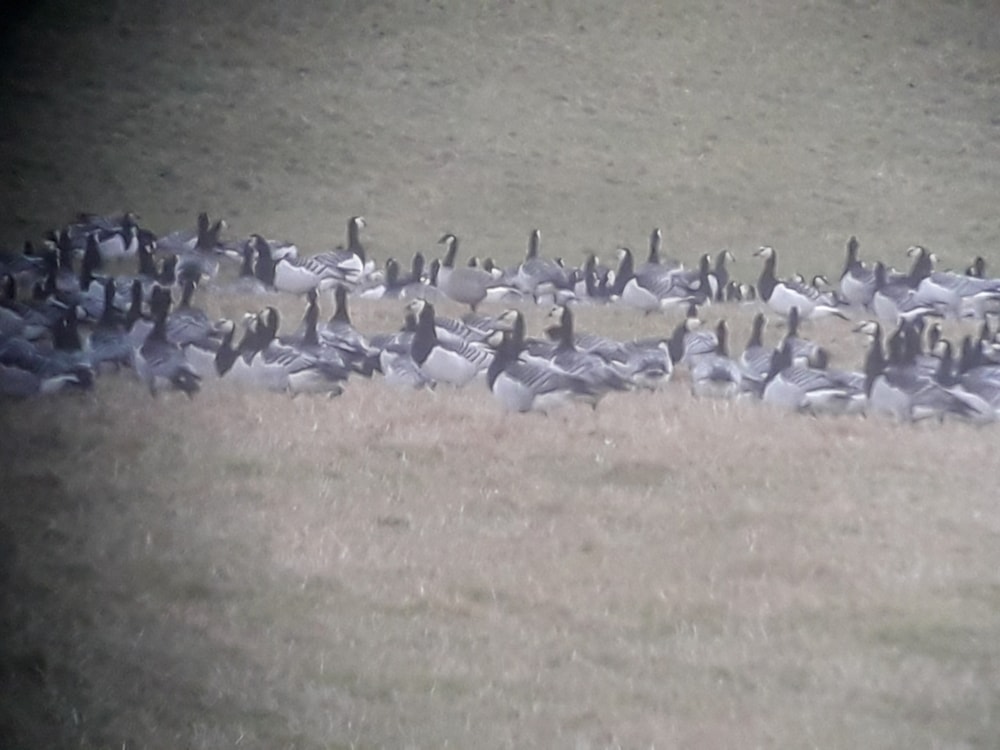 Richardson's Cackling Goose, Loaningfoot, Dumfries & Galloway (Paul R Massey).
The two Richardson's Cackling Geese remained in situ: one at Knockintorran, North Uist, until 23rd at least and, presumably, the October individual that was in Dumfries and Galloway reappeared at Loaningfoot on 22nd, then Mersehead RSPB from 24-25th. The apparent adult Grey-bellied Brant (presumably the returning bird) was at Castle Stuart, Highland, from 24th.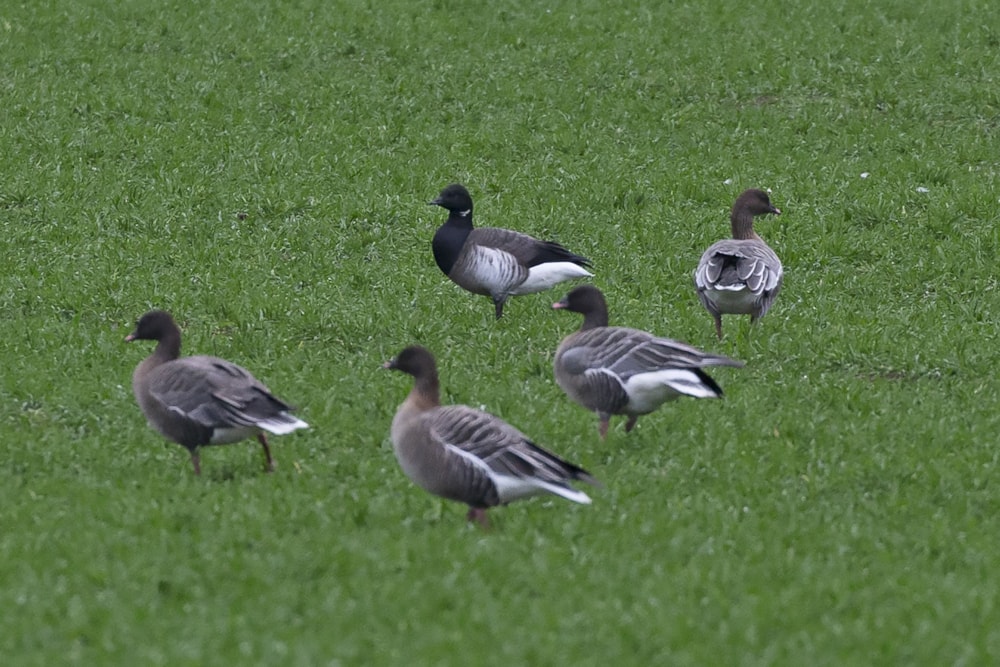 Grey-bellied Brant, Castle Stuart, Highland (Sam Viles).
Both the wintering Pacific Divers in Crookhaven, Co Cork, and Penzance, Cornwall, were recorded in the week. In contrast, none of last week's Bonaparte's Gulls were seen and a probable observed in fading light at Cockwood, Devon, on 25th was the only report of this species.

The Hampshire Semipalmated Sandpiper stuck it out until at least 25th at Oxey Marsh. Three Long-billed Dowitchers also remained site-faithful at Campfield Marsh, Cumbria (until 23rd at least), Cresswell Pond NWT, Northumberland, and Bowling Green Marsh RSPB, Devon, throughout.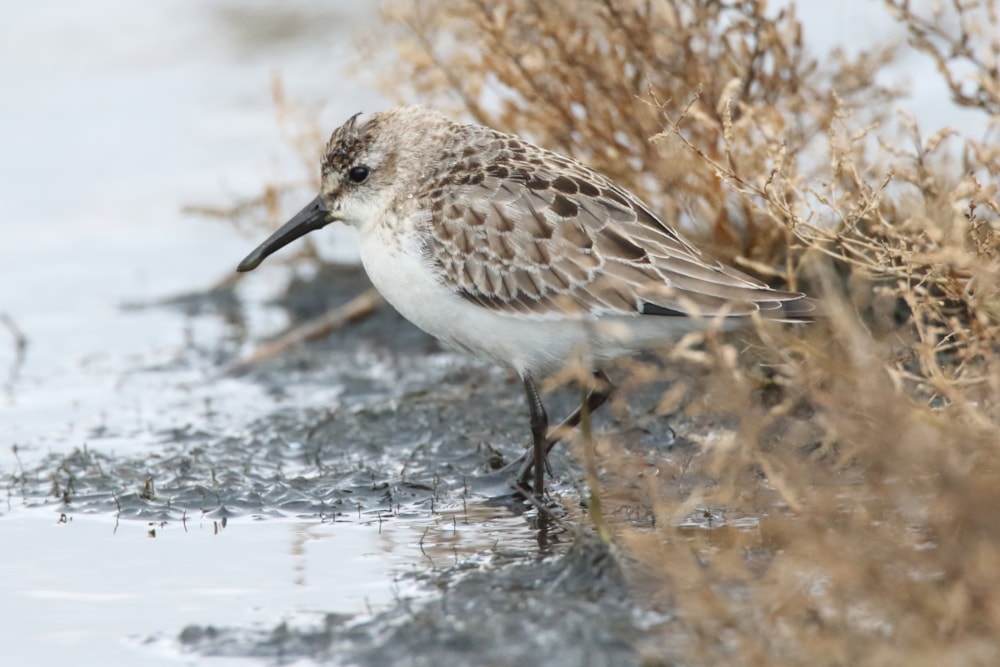 Semipalmated Sandpiper, Oxey Marsh, Hampshire (Andrew Jordan).
In East Yorkshire the Hume's Leaf Warbler at Bempton Cliffs RSPB scraped into the week on 20th, but no other reports of any of the recent influx were received. The presumed first-winter male Siberian Stonechat at Langford Lowfields RSPB, Notts, just slipped into the recording period on Wednesday, but was not seen subsequently.
Also on 20th, on St Mary's presumably last week's Red-throated Pipit was noted again in flight. Another reappearance (though it's likely they never left) came from the seven Two-barred Crossbills at Langais Woods, North Uist. Last seen 12 days previously, they were noted again on 24th.
Numbers of wintering Caspian Gull were boosted with an apparent arrival from the east at several south and east coast sites. Dungeness RSPB, Kent, hosted 11 individuals on 23rd, while five were at Cuckmere Haven, East Sussex, and several sites in Suffolk – including the Blyth Estuary, Minsmere RSPB and Southwold – held three or four individuals. The north/south divide of this species' winter distribution was starkly evident with a total absence of any birds north of Manchester.
White-winged gull counts remained low, with just seven Glaucous Gulls and Iceland Gull numbers not much better at 10. All five Ring-billed Gulls in the week were adults and, apart from the individual on St Mary's, all were in Ireland.

Ring-billed Gull, St Mary's, Isles of Scilly (Kris Webb).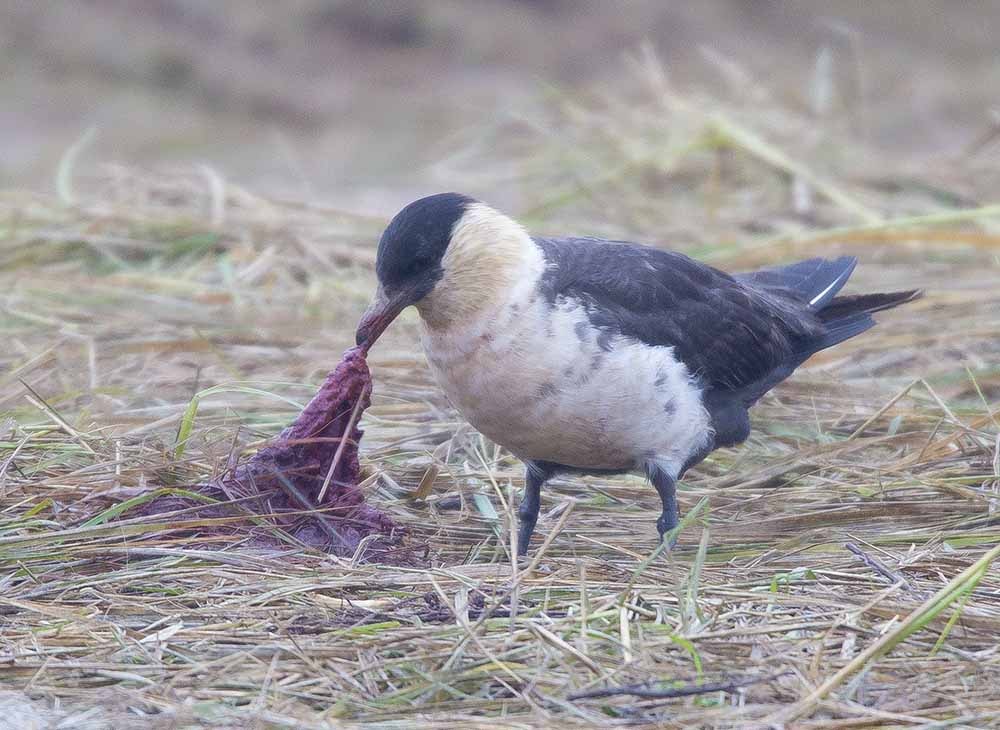 Pomarine Skua, Donna Nook, Lincolnshire (Ron Marshall).
Of the 11 Pomarine Skuas noted around Britain's coast this week 10 were flybys, though all were eclipsed by the adult now seemingly resident behind the warden's hut feasting on seal placenta with relish (as only skuas can do) at Donna Nook, Lincs.
Content continues after advertisements
Snow Geese were exclusively Scottish this week, with five individuals scattered across Aberdeenshire, Ayrshire, Clyde, Highland and the Outer Hebrides. Single Todd's Canada Geese were in Norfolk and the Outer Hebrides, four Black Brant were in Dorset, Essex, Norfolk and Suffolk.
Drake American Wigeon remained at Loch Eye and Clachnaharry, Highland. Seven drake Green-winged Teal were well spread. The first-winter female Lesser Scaup held fast at Stithians Res, Cornwall. Ten sites held Ring-necked Duck, including a notable four at Tamar Lakes, Devon. Nine Surf Scoter included a first record for Arran, North Ayrshire, on 24th.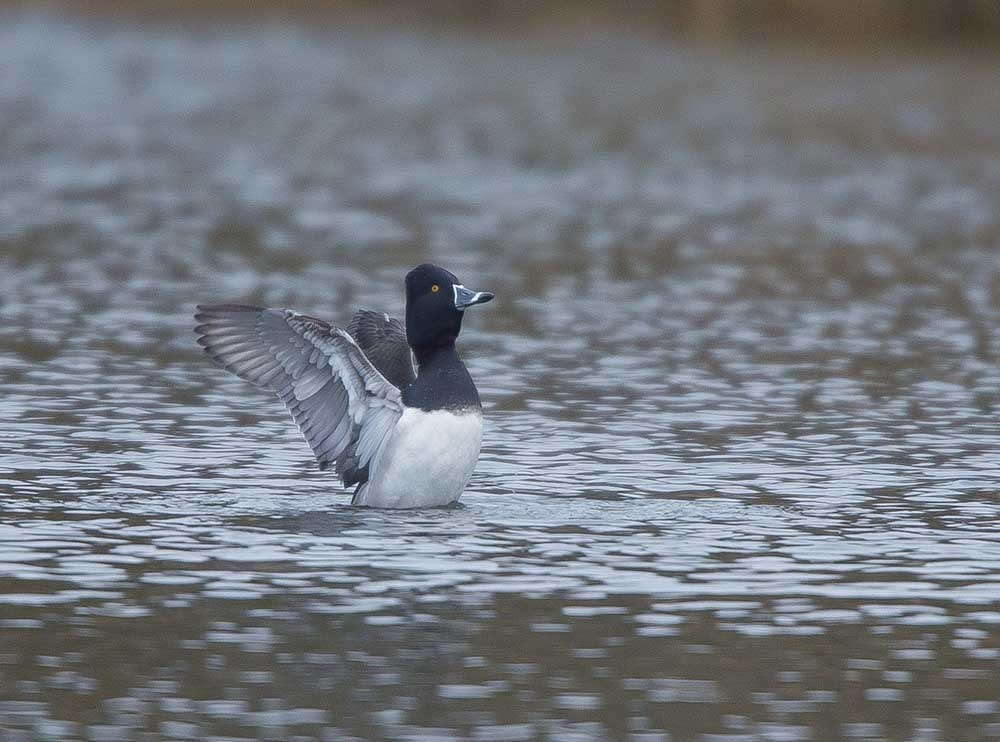 Ring-necked Duck, South Kirkby, West Yorkshire (Ron Marshall).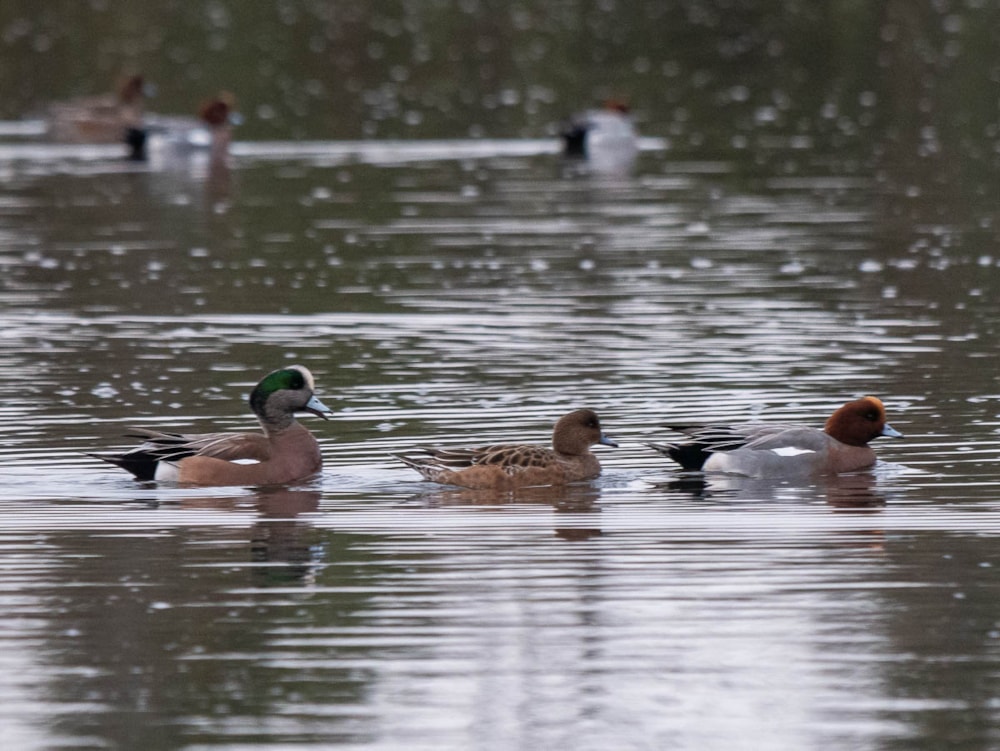 American Wigeon, Clachnaharry, Highland (Colin Leslie).
Single Glossy Ibis were still in Gwent, Kent and Norfolk in the period. Western Cattle Egret numbers remained in three figures in the southern half of Britain, with 50 in Somerset, 29 in both Cornwall and Devon, 25 in West Sussex and 23 in Dorset notable counts.
A late juvenile Western Osprey was at North Duffield Carrs, North Yorks, on 21st. Only two juvenile Rough-legged Buzzards were noted, in the Wells/Holkham area of Norfolk and Chain Corner, Cambs.
A smattering of Little Auks were all singles off the coasts of Cornwall, Essex, Lincolnshire and Cleveland, aside from a decent count of 33 at Sumburgh Head, Shetland, on 23rd and a moribund bird found in Bognor Regis, West Sussex.
The European Turtle Dove in Hampshire remained throughout the week and another in North Roe, Shetland, was remarkable for choosing the same garden as the 2016 Oriental Turtle Dove.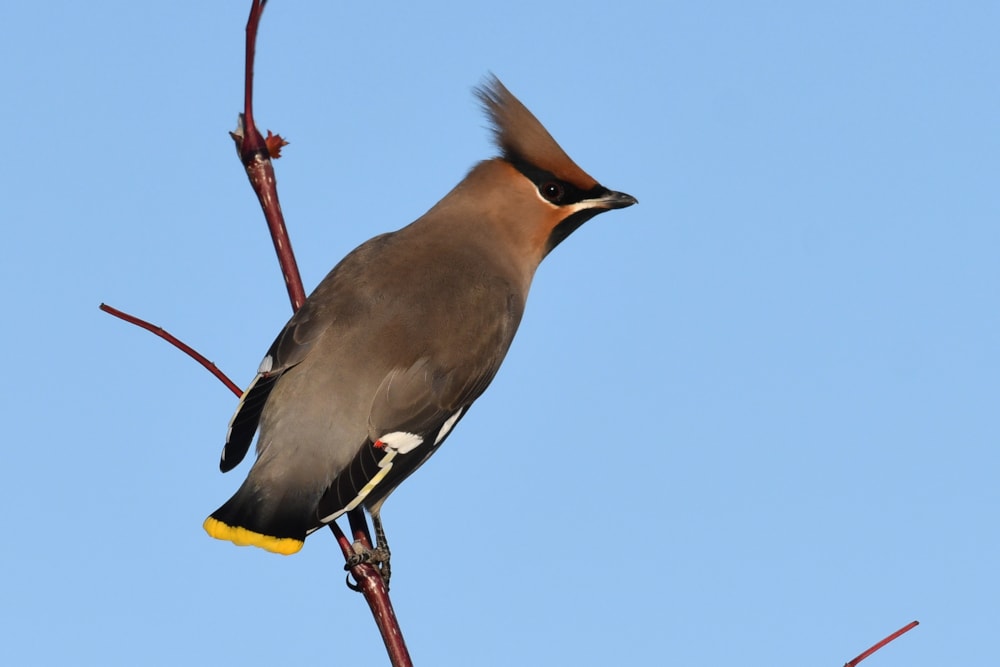 Waxwing, Beccles, Suffolk (Nick Appleton).
Shore Lark numbers remained low, with four at Holkham the peak. Elsewhere, two were in Essex and singles were in Suffolk and Highland. A Richard's Pipit was noted briefly at Medmerry RSPB, West Sussex, on 20th. An exceptionally late Whinchat was in the Nanjizal Valley, Cornwall, on 23rd.
Waxwing numbers remained relatively modest, though some large flocks were evident, with some 300 at Kincorth, Aberdeens, on 23rd, 130 at Forres, Moray and Nairn, and 110 commuting through the fog on the Tyne between North and South Shields, Northumberland.
In Cleveland, the first-winter Barred Warbler continued to entertain on Hartlepool Headland until 24th. Dusky Warblers were discovered at St Levan, Cornwall, on 24th and in a Sandown garden on the Isle of Wight on 25th.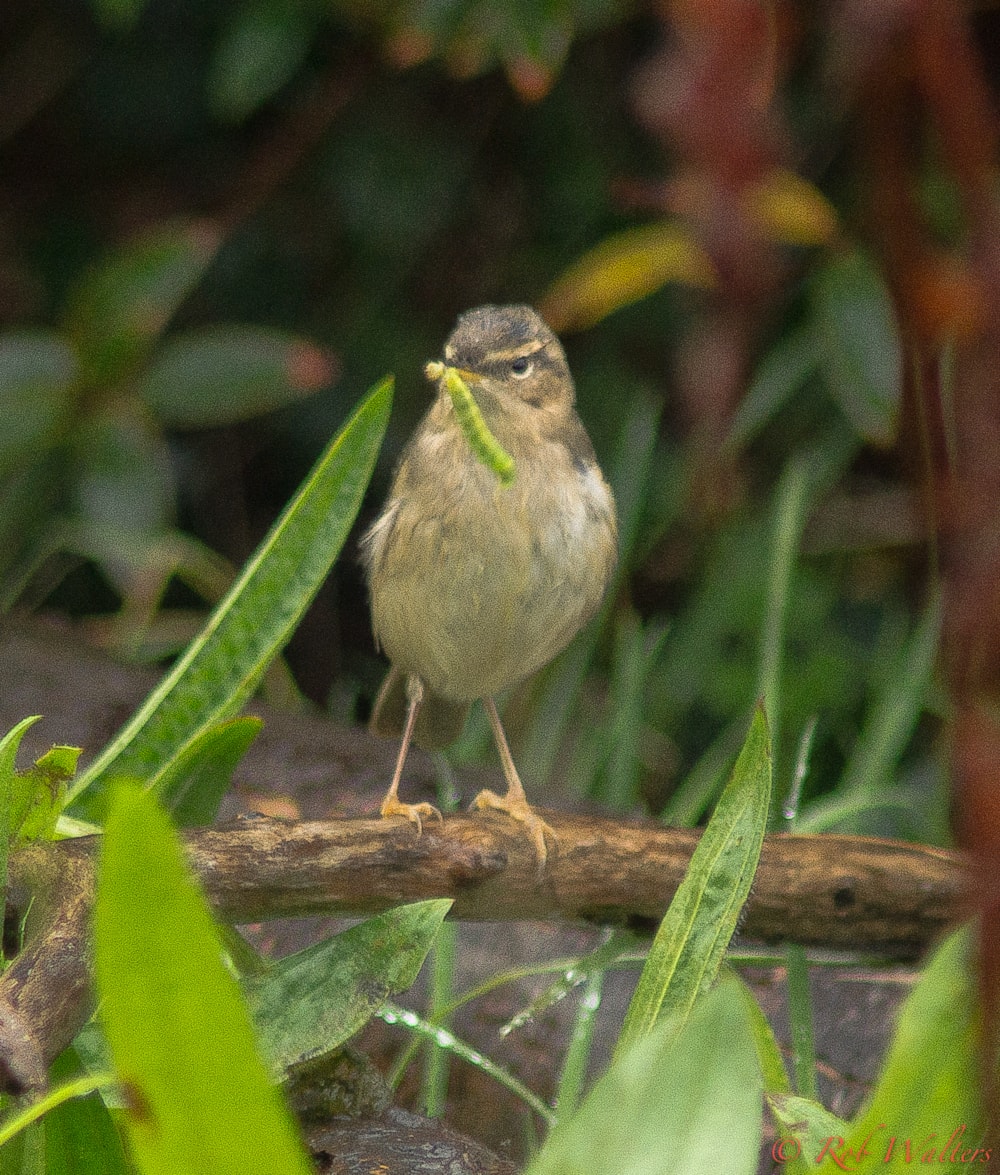 Dusky Warbler, Sandown, Isle of Wight (Robert Walters).
Nine Great Grey Shrikes included two in Langdale Forest, North Yorks, on 20th, while in Glamorgan the late first-winter Red-backed Shrike at Porthcawl clocked up two days. The juvenile Rosy Starling at Eastriggs, Dumfries and Galloway, continued to visit garden feeders.
Western Palearctic
It was a quiet week, though Spain had a good time. On Fuerteventura, the Dwarf Bittern was still at Llanos Pelados and is now approaching two years in its favoured barranco. Elsewhere in the Canaries, the Pied Crow was reported again on Gran Canaria, along with the Laughing Gull, offering a neat double-act for any prospective WP lister fancying a weekend trip to the island to connect with Gran Canaria Blue Chaffinch.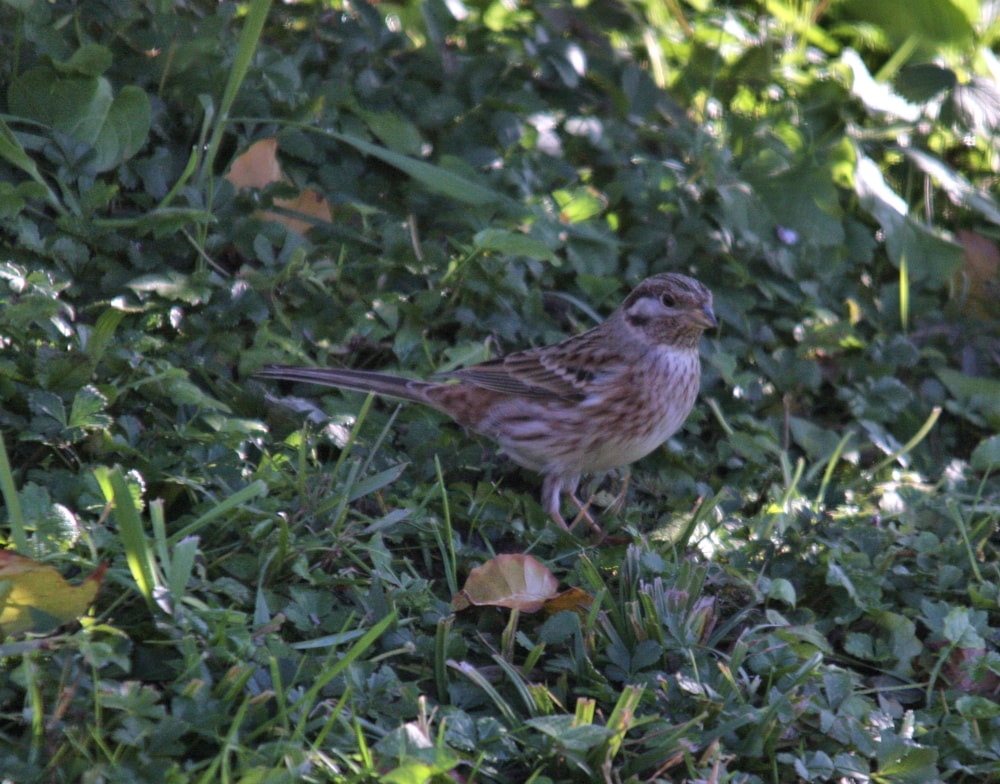 Pine Bunting, Le Crêt de Lachat, 74230 Manigod, Haute Savoie, France (Richard Prior).
On the Spanish mainland, the most striking record was a male Moussier's Redstart photographed on the streets of Malaga on 24th. Meanwhile, the Killdeer remained in Asturias.
In France, the three Great White Pelicans were still knocking about the Camargue, while a male Pine Bunting at Manigod, tucked up in the mountains of Haute-Savoie, may be of interest to anyone going on an Alpine skiing holiday in the coming weeks should it decide to winter.
On the other side of the Alps, the Hume's Leaf Warbler remained in Zurich, Switzerland. The German Black Scoter was still at Nieby on 21st, while both the Pied Crow and Crested Lark continued in The Netherlands.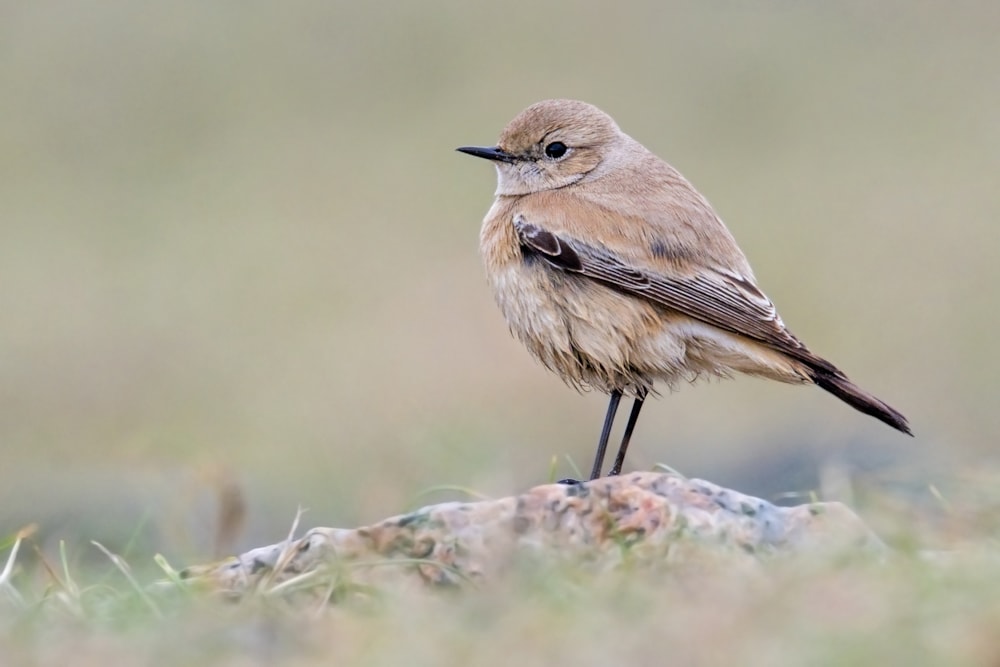 Desert Wheatear, St Ouen's Pond, Jersey (Romano Da Costa).
A Desert Wheatear proved popular on Jersey, with Iceland's best records involving a Black-throated Thrush at Stoovarfjordur on 26th – remarkably an Icelandic third but second for the garden it was found in – and a Black-crowned Night Heron in a cemetery in the capital Reykjavík on 22nd.