The continued presence of the American Royal Tern at Pagham Harbour, West Sussex, at dawn on 20th ensured that around 100 twitchers were rewarded for foregoing a night of sleep. Picked out at 04:20 in more or less the exact position that it had been seen at last knockings on 19th, the bird lingered for little more than quarter of an hour before powering out to sea.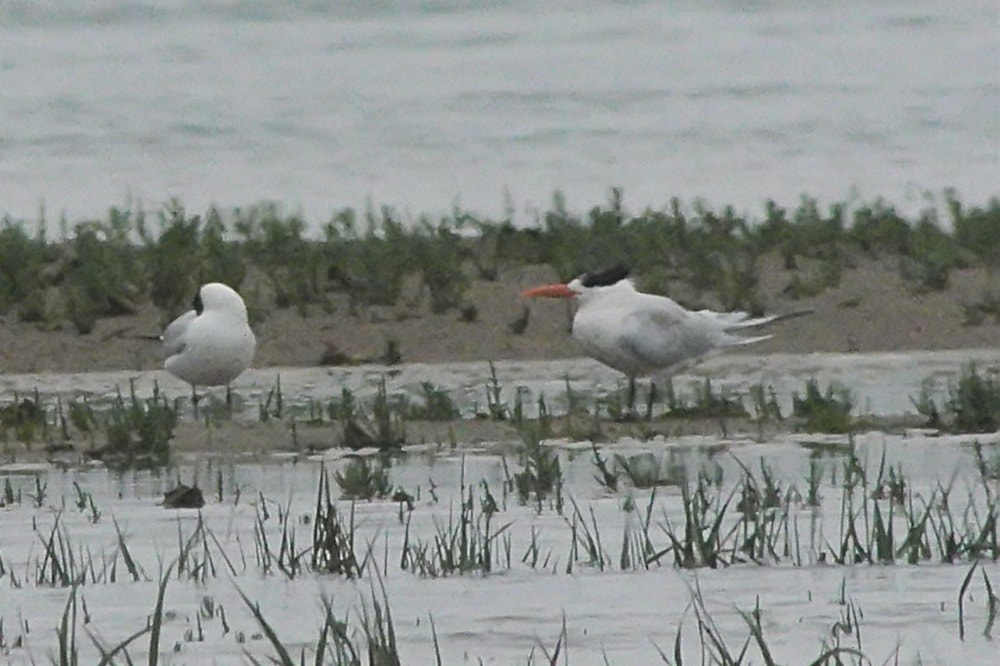 American Royal Tern, Church Norton, West Sussex (Steve Nuttall).
Birders continued to arrive at Pagham throughout the morning, but their efforts proved in vain – and then, at 20:20 that evening, we knew why: it had moved 120 km west to Weymouth, Dorset, where it was relocated at Lodmoor RSPB. However, it proved all too brief a visitor there and had gone by the time the news made it onto the BirdGuides sightings page. Thankfully, though, local birders were on hand to relocate it once again, this time resting on a buoy off Ferrybridge. It remained for around 30 minutes, until near-darkness at 22:15, when it flew off. It was again seen off Weymouth beach early on 21st but not subsequently. Where next – has it gone back to Guernsey? Only time will tell.
There was a general paucity of good birding nationwide as news slowed to a snail's pace, although a few new rarities were nonetheless unearthed. Of these, the male Black-headed Bunting at Norwick, Unst, Shetland, on 20th was probably the most visually stimulating. It was still there on 21st but then wasn't seen again until 26th, when it reappeared nearby.

Black-headed Bunting, Norwick, Unst, Shetland (David Cooper).
In Co Durham, a breeding-plumaged stint at Washington WWT on 20-21st proved to be a sudden, unexpected and quite spectacular record of Semipalmated Sandpiper. Initially thought to be a Little Stint when found on 20th, it was correctly identified the following morning. Though it only lingered for the rest of the day, it was well twitched and will likely prove one of the birds of the year locally. Shorebirds were otherwise scant, though the female Red-necked Phalarope remained at Frampton Marsh, Lincs, to 22nd.

Semipalmated Sandpiper, Washington WWT, Durham (Frank Golding).
The arrival of a Bonaparte's Gull at Crossness, London, on 23rd continued an unparalleled run of records of the species at what, at least at first glance, seems a fairly uninspiring London site. This is now the fifth individual seen since 2012, when two first-summers were seen side by side. An adult followed in July 2013, with a first-summer visiting in May 2017, and now this bird. What's more, three of these were found by the same observer! Meanwhile, the returning adult continued its stay at Oare Marshes, Kent, throughout the week.

Bonaparte's Gull, Crossness, London (Richard Bonser).
You can tell it's quiet when birders are travelling distances to see a Pied Crow on British soil. Last week's bird seems to have settled around Cromer, Norfolk, where it performed well (perhaps a little too well) until at least 23rd.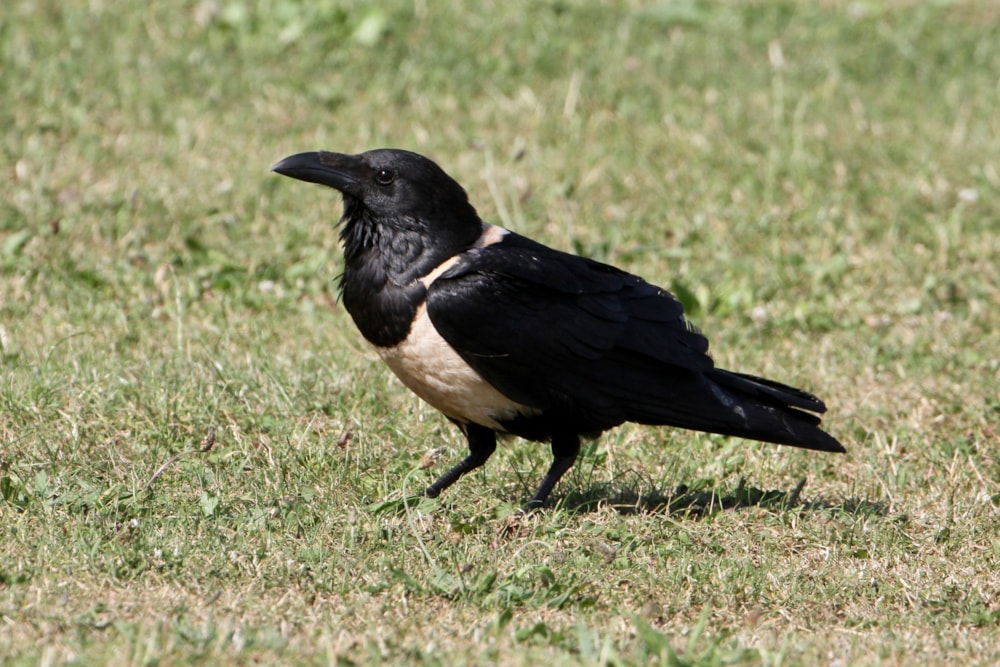 Pied Crow, Cromer, Norfolk (Trevor Williams).
Songsters included the elusive Great Reed Warbler at Fen Drayton Lakes, Cambs, to 25th and the Savi's Warbler still buzzing occasionally at Minsmere, Suffolk, as well as long-staying Iberian Chiffchaffs in North Yorkshire and Cheshire. Also still present was the female Eastern Subalpine Warbler on Fair Isle, Shetland, which looks set to summer there.
The Snowy Owl was still on St Kilda, Outer Hebrides, on 22nd, and the Snow Goose was last reported from Grutness, Shetland, on 20th. The Ferruginous Duck returned to the White-headed Duck pen at Washington WWT, Co Durham, on 22nd and the Ring-necked Duck remained on Islay, Argyll, for its second consecutive summer.
A Purple Heron flew over Midleton, Co Cork, on 24th but the only Glossy Ibis noted this week was the semi-resident bird at Druridge Pools, Northumberland. Other news confirmed that 10 pairs of Great Egrets have bred on the Somerset Levels, but there have been no Little Bitterns reported yet this summer.
A White-winged Tern flew south past Whitburn, Durham, on 20th, while one of the talking points of the week was an intriguing first-summer marsh tern at Blithfield Reservoir, Staffs, on 22nd. Though some suggested it might be an American Black Tern, the clean flanks, lack of shoulder markings and overall structure, with long legs and small bill, all clearly pointed to White-winged rather than the rarer Nearctic option.

White-winged Tern, Blithfield Reservoir, Staffordshire (Steve Nuttall).
In Oxfordshire, a Hoopoe visited an East Hendred garden on 20th, with a second bird in Chedworth, Glos, on 22nd. Another continued near Hesket Newmarket, Cumbria, to 20th. A Red-backed Shrike was reported from North Gare, Cleveland, on 20th and a female Red-breasted Flycatcher was trapped at Calf of Man Bird Observatory on 24th. Given that it is now several years since the species last bred at Lakenheath, any lingering Golden Oriole is likely to draw a crowd and a singing immature male at Speech House Woodland, Glos, did just that from 25th.
A slight reduction in Rosy Starling numbers this week saw 15 birds reported, including a second bird joining the original adult in a garden at Bullers of Buchan, Aberdeenshire, on 22nd. Other new birds were found in the likes of Brighton, East Sussex, Bournemouth, Dorset, Dungarvan, Co Waterford, and Orphir Bay, Orkney. Clearly some are still on the move, although the wind has definitely left the sails of the original westwards push – for example, numbers have apparently dropped off dramatically across France, so presumably birds are now reorienting back east.

Rosy Starling, Baltasound, Unst, Shetland (David Cooper).
Western Palearctic
In tandem with the lull on home shores, precious little news was received from around the region this week. The Black-browed Albatross seems to have made itself at home again on Sylt, Germany, despite its recent crash-landing experience – it remains to be seen whether it attempts to flirt with the island's captive Red-crowned Cranes again or whether it has learnt its lesson that landing in small, enclosed spaces is not sensible for a bird not suited to life on land. Meanwhile, in Kuwait, a Great Knot was noted at Jahra Pools on 24th.