In a year where Orkney – and North Ronaldsay in particular – continues to bat well above the average, it is a subtle first-summer Semipalmated Plover that takes the plaudits this week, found on the golf course on 7th and remaining into the following day. A species that is almost certainly overlooked on this side of the Atlantic, there have been just four previous British and six previous Irish records, with the most recent of the former concerning a first-winter on the Hampshire-West Sussex border in October 2013. A first for Orkney, there is just one previous Scottish record – a juvenile at South Glendale on the Outer Hebrides from 7-11 September 2012. Also on the island this week, a crisp juvenile Baird's Sandpiper was a smart find at Garso from 3rd, remaining until the end of the week.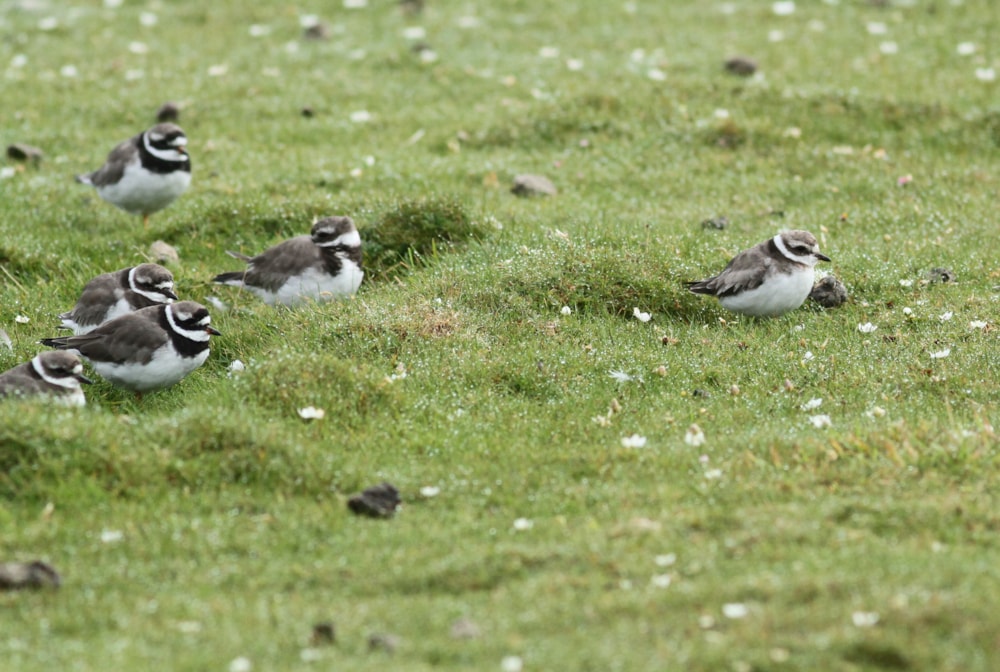 Semipalmated Plover, North Ronaldsay, Orkney (Dante Shepherd).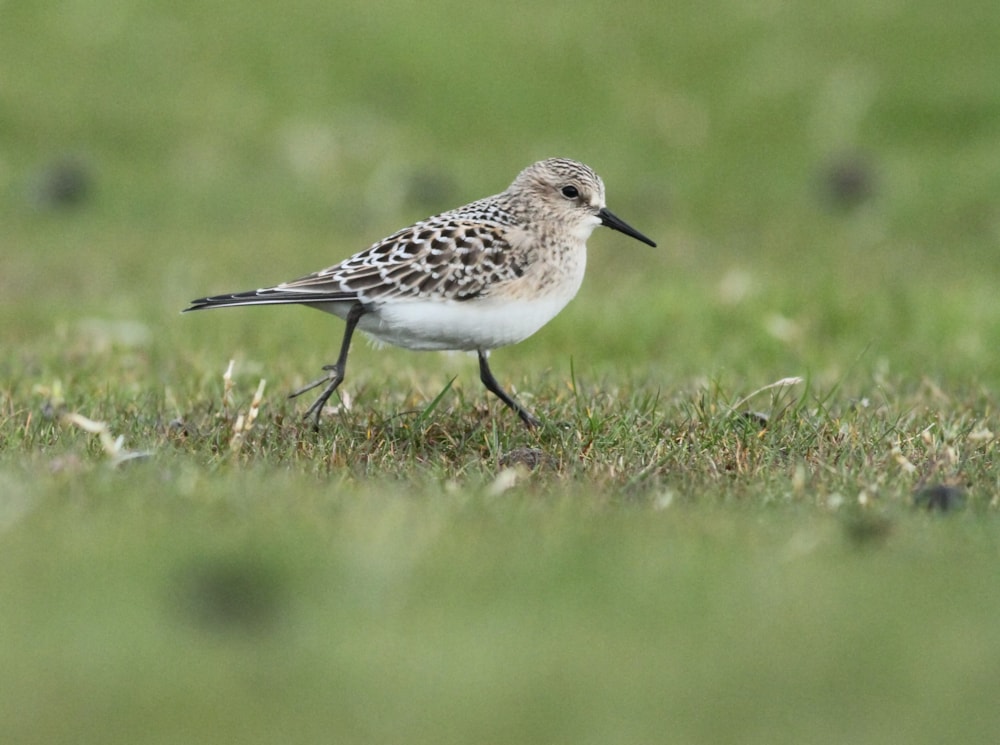 Baird's Sandpiper, North Ronaldsay, Orkney (Dante Shepherd).
Not to be left out, nearby Burray scored from 3-5th when a delightful juvenile Wilson's Phalarope dropped onto Echna Loch before relocating to Burray Moors. Just the third for Orkney – after one-day birds on 3 September 1981 and 5 September 2002 – it proved a popular addition to the island's avifauna during its brief stay.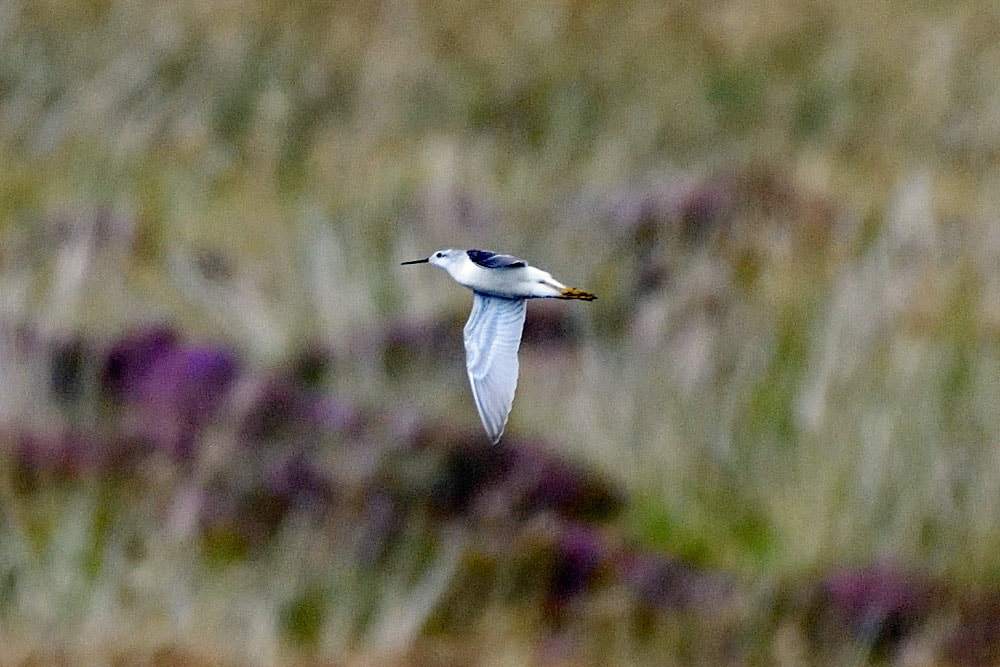 Wilson's Phalarope, Burray, Orkney (Ian Cunningham).
Right at the very end of the week, a flock of five Blue-winged Teal on the Outer Hebrides at Eoligarry, Barra, on 8th became the largest flock ever recorded in Britain. Initially sparking a mini-island twitch for Northern Shoveler, it wasn't long until it was noted that they were rather lacking in the bill department and they were actually looking at something altogether rarer! New in and mobile, they quickly headed off north. It equals the Irish record of five on Achill Island, Co Mayo, in September 2010, with the previous largest counts otherwise concerning groups of three at Howmore on South Uist, Outer Hebrides, in 2009 and at Boultham Mere, Lincolnshire, in 2013.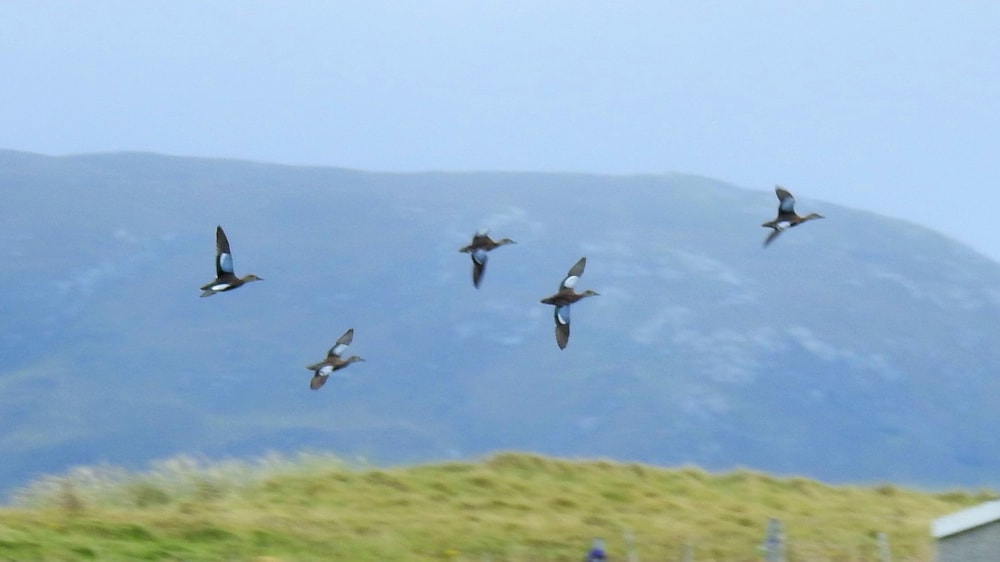 Blue-winged Teal, Eoligarry, Barra, Outer Hebrides (Bruce Taylor).
This week saw no fewer than three new juvenile Semipalmated Sandpipers – highlights of each and every autumn we are lucky enough to be graced with their presence – with the individual at Hayle Estuary from 2nd undoubtedly the most popular. Other singles were at Loughaunbeg, Co Galway, on 5-6th and in the Outer Hebrides at Loch Ordais, Lewis, on 8th. Another possible was at Loch na Cille, Argyll, on the same date.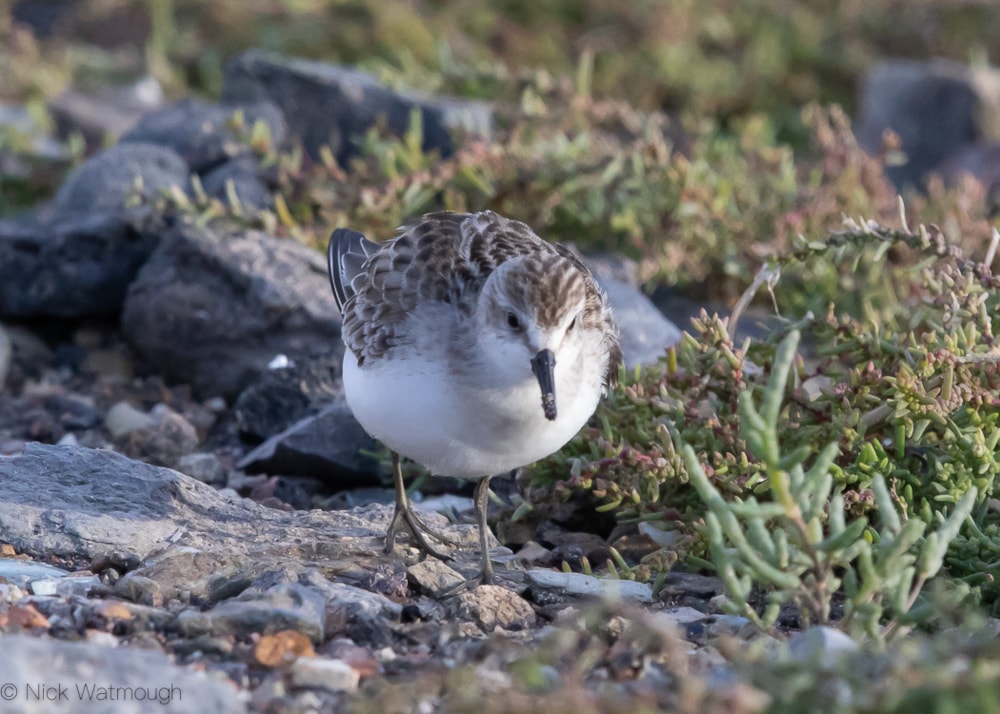 Semipalmated Sandpiper, Hayle Estuary, Cornwall (Nick Watmough).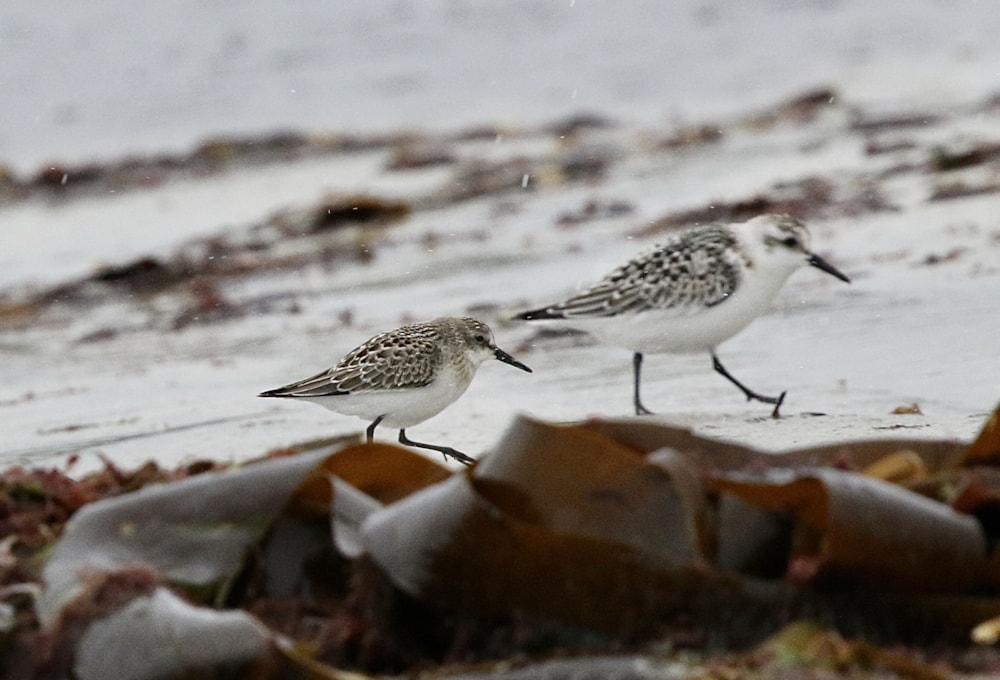 Semipalmated Sandpiper, Loch Ordais, Lewis, Outer Hebrides (Bob McMillan).
In Derbyshire, the Bearded Vulture continued to patrol the Dark Peak between Crowden and Woodhorn. Snowy Owls this week numbered two – a returning male at Ronas Hill, Mainland Shetland, from 6th and the lingering female still on St Kilda. On the Isle of Wight, a new juvenile Pallid Harrier rocked up at Brading Marshes RSPB on 2nd, remaining until 6th.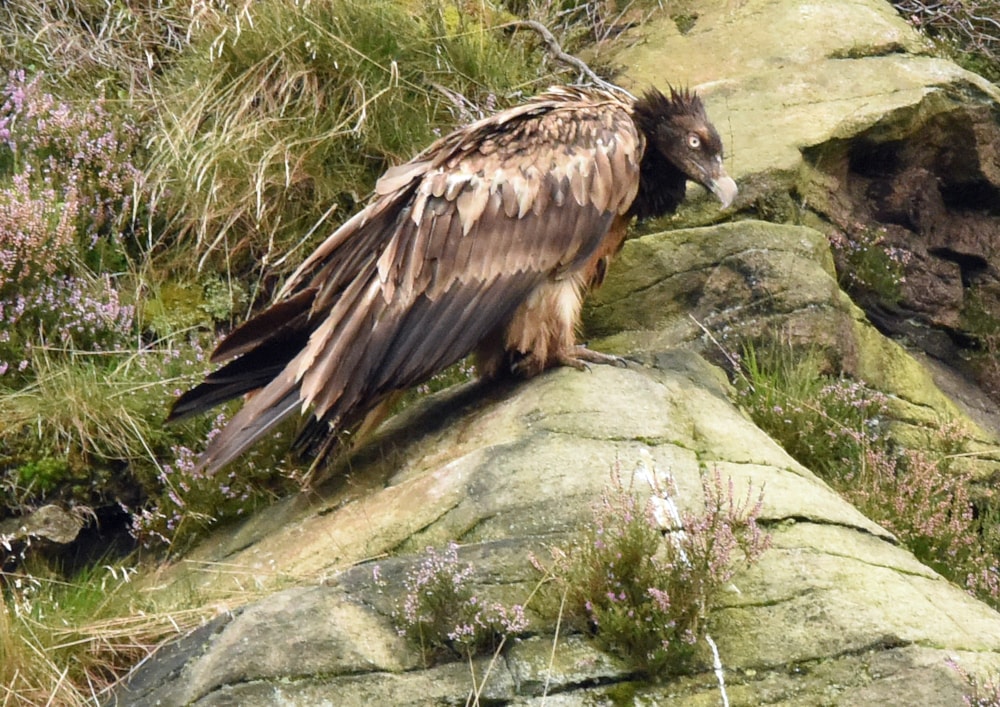 Bearded Vulture, Crowden, Derbyshire (Tony Hovell).
In Northern Ireland, a possible Grey-bellied Brant was on Strangford Lough at Mount Stewart, Co Down, on 8th. An eclipse drake King Eider was off Nairn on 4-5th. An American Black Duck away from the Highland enclave of Strontian – where the drake merrily remained among a gaggle of hybrids – would prove undoubtedly popular; a probable drake at Otterspool, Lancashire, on 5th was unfortunately all too brief.
The only Fea's-type petrels of the week flew past Bridges of Ross, Co Clare, on 3rd and Fanad Head, Co Donegal, on 4th. Adult Bonaparte's Gulls were at Garretstown, Co Cork, on 4-5th and Oare Marshes NR, Kent, throughout.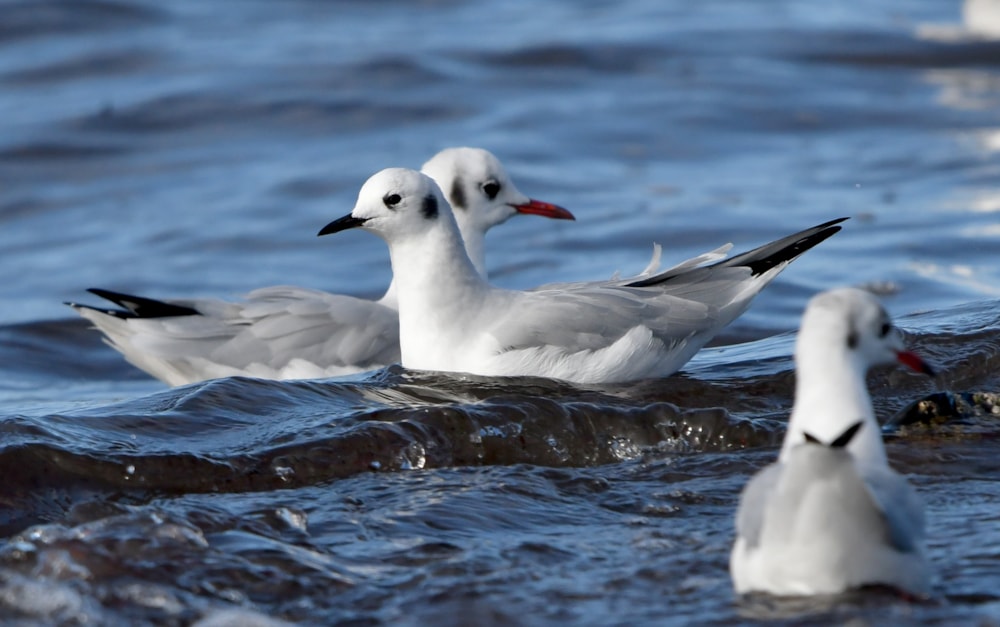 Bonaparte's Gull, Garretstown, Cork (Richard Mills).
At Harbour View, Co Cork, a nighttime ringing session saw a juvenile Baird's Sandpiper trapped and ringed late evening on 8th. On St Mary's, Scilly, Porth Hellick's Spotted Sandpiper remained in place throughout the week, while Cumbria's Long-billed Dowitcher was at Old Anthorn until 6th at least.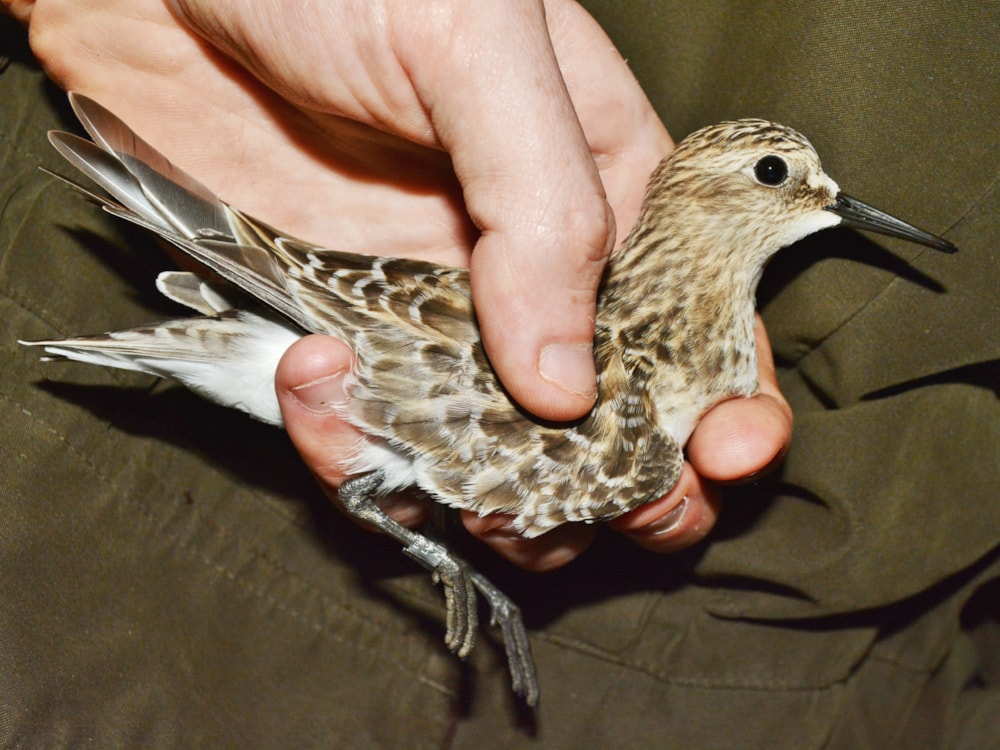 Baird's Sandpiper, Harbour View, Cork (James O'Neill).

Spotted Sandpiper, St Mary's, Isles of Scilly (Kris Webb).
Things were light on the eastern passerine front this week, a possible Pallas's Grasshopper Warbler reported from Soar, Devon, on 4th would have proved to be Britain's earliest ever record, if confirmed. Elsewhere, a Red-throated Pipit was reported from the Brent Charlie oil platform on 5th, 186 km north-east of the Shetland capital of Lerwick. Loch of Spiggie held a brief Two-barred Crossbill the previous day, while on Orkney, North Ronaldsay's Eastern Subalpine Warbler remained until 3rd.
In Cetacean news, the pair of Northern Bottlenose Whales were still swimming up and down Loch Goil until 6th at least.
Scottish mainland
What better way to open the first week of September in Scotland than a smattering of Sabine's Gulls, with two juveniles at Loch Gruinart, Islay, and another off Islay at Portnahaven on 4th, followed by one from the decks of the Ullapool to Stornoway ferry on 6th and then an adult at Ullapool, Highland, on 7-8th made for a decent week for arguably the smartest gull to grace Scottish waters. Aside from the aforementioned Sab's the seas were relatively quiet, the Aberdeenshire coast provided a Long-tailed Skua off the Mains of Slain on 2nd and a large Shearwater sp was noted passing Fife Ness on 7th.
In Ayrshire, the lingering Spotted Crake at Doonfoot extended its stay until 7th at least, while further north Common Cranes have become a staple in Aberdeenshire in recent years but a count of 11 adults at Loch of Strathbeg RSPB on 5th was notable.
Wader passage brought a Pectoral Sandpiper to Loch of Strathbeg RSPB, Aberdeenshire, on 2nd and a Red-necked Phalarope was at Caerlaverock WWT in Dumfries & Galloway the same day. Small numbers of Curlew Sandpipers were noted from several sites including 15 at Aberdeenshire's Ythan Estuary.
Northern Isles and the Hebrides
Several headlands around the Outer Hebrides featured in a decent week of seabirds; a single Great Shearwater moved south off Rubha Ardvule on 3rd and 32 Leach's Storm Petrels flew past the same day. The Butt of Lewis had four Great Shearwaters go through on 5th and while only two Leach's Storm Petrels were noted past the Butt, they did see an impressive 568 Sooty Shearwaters move throughout the day. There was a small passage of Sabine's Gull that kicked off with a juvenile at Vatersay on 3rd and brought up to seven individuals on 4th, with four off Griminish, two from Rubha Ardvule and a single adult off Barra. On land, a Buff-breasted Sandpiper was seen to arrive in off the sea at Rubha Ardvule on 7th and was still present on 8th when three more were found on South Uist – one at Kilaulay and two at Ardivachar Point. Pectoral Sandpipers were noted from Loch na Reivil, North Uist, and Eoligarry, Barra, the latter site presenting the only notable passerine of the week in the form of a Common Rosefinch on 3rd.
Away from the headliners Orkney slipped rather quietly into autumn, last week's juvenile White-winged Tern lingered at Echna Loch until 5th surviving a Peregrine Falcon attack in the process. A single Leach's Storm Petrel was noted passing Papa Westray on 4 and a first-summer White-tailed Eagle was on Hoy on 5th. Two Snow Geese were prompt fall arrivals at Roos Loch, Sanday, as the week ended. North Ronaldsay provided a smidgeon of passerine action with three Common Rosefinches, a single Barred Warbler and the first few Lapland Buntings of autumn with up to five noted. Another Common Rosefinch was on Stronsay.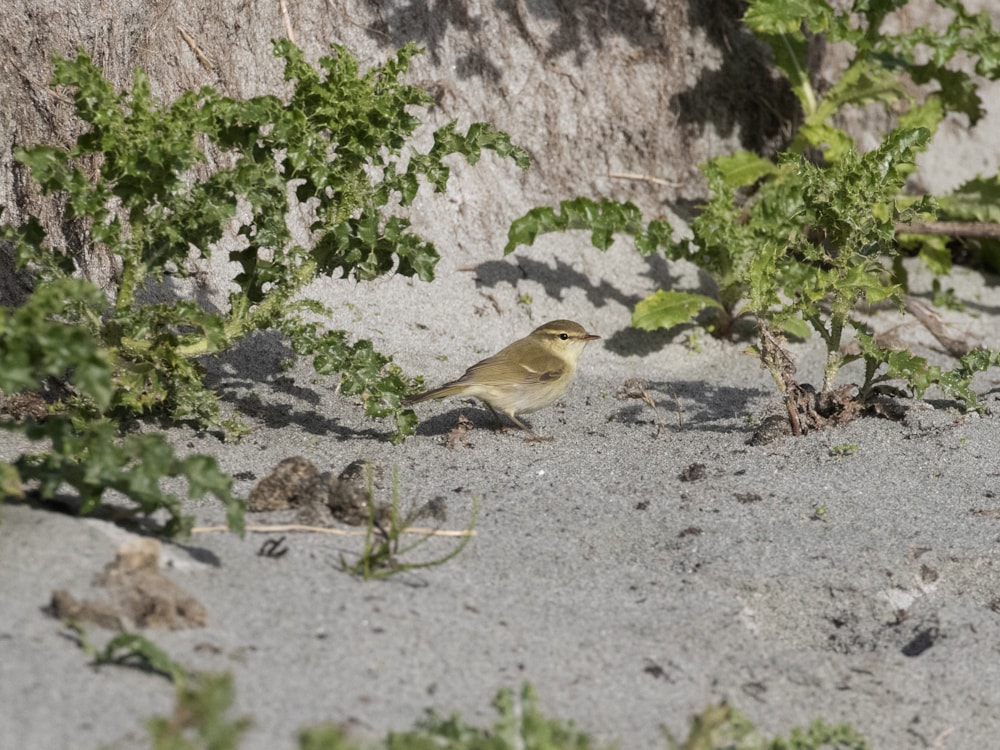 Greenish Warbler, Sandwick, Unst, Shetland (Jamie Partridge).
The first week in what will hopefully prove a productive Shetland September brought an arrival of Arctic Warblers across the archipelago, with possibly seven individuals involved. Camb, Yell, and Fair Isle both chipped in two each on 3rd and 4th respectively with singles at Skaw, Unst, on 2nd, Maywick on 3rd and Ellister on 4th. By contrast, only two Greenish Warblers were recorded in the week, a settled individual at Valyie, Unst, throughout and another at Sandwick, Unst, on 4th. Up to four Barred Warblers made the cut around the islands this week but only a single Marsh Warbler – one at Halligarth. Citrine Wagtails continued to provide photogenic subjects on Fair Isle, at Swinister Burn and at Hillswick. Three Wrynecks were all found on 3rd at Quendale, Halligarth and Baltasound while both the shrike species dug out this week, a Woodchat Shrike on Yell at Camb and a Red-backed Shrike on Unst at Lamba Ness came on 8th.
Other reports of interest included Fair Isle's long-staying Rosy Starling continuing to love life in the Schoolhouse compost bin, and an American Golden Plover spent the week on Yell in the Loch of Papil area, while over on Unst a robust-looking eclipse drake Northern Eider offered a hint of winter birding at Skaw from 2nd to 6th.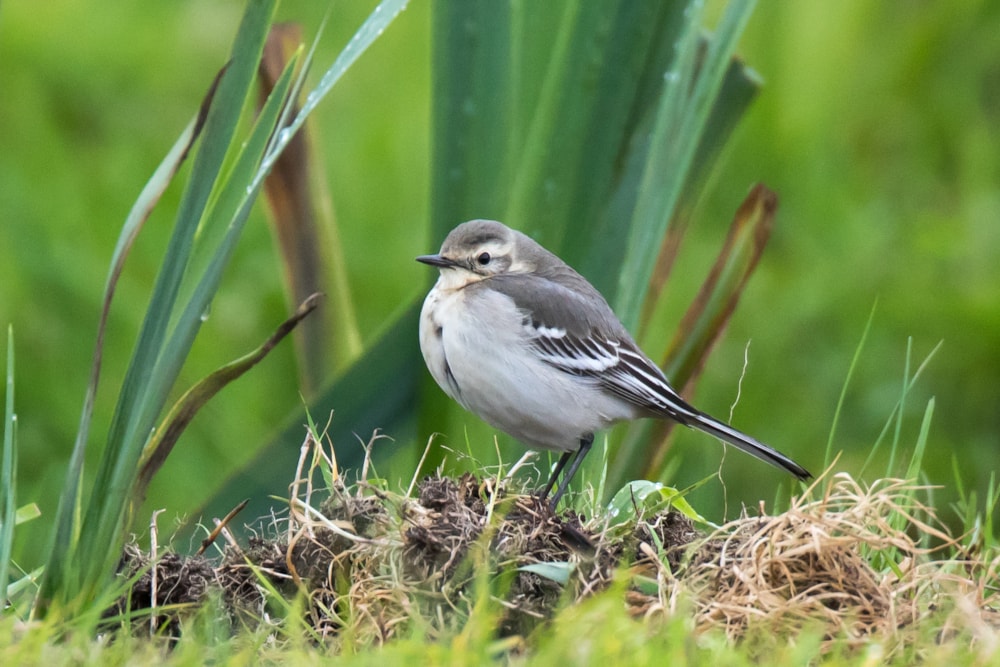 Citrine Wagtail, Swinister nr Sandwick, Mainland, Shetland (Mick Kemp).
North-East England
Autumn's land of hope and promise didn't exactly start with a bang anywhere in the North East, an adult Western Cattle Egret at Druridge Pools, Northumberland on 2nd and a Pectoral Sandpiper found in Budle Bay by one of the regulars on 6th were the highlights. Boulmer continued to throw up the occasional decent seawatch with Long-tailed Skuas on 3rd and 6th and a Black Tern on 3rd as well as some double figure counts of Sooty Shearwater in the week.
Budle Bay was one of nine sites with Curlew Sandpiper and also held the peak count of 15+ on 5th. A juvenile Black-necked Grebe was at Druridge Bay Country Park, notable in a year with very few records of the species in the county, and a Black Guillemot flew past St Mary's Island on 7th after flying past Whitburn Coastal Park, Durham. The same day also saw a Red-necked Grebe, the second in the week, and a decent 32 Sooty Shearwaters move past the Whitburn observatory. With a Western Osprey also noted at Whitburn on 5th the observatory was having a reasonable week. Nearby, up to five Curlew Sandpipers were at Boldon Flats NR and eight Greater Scaup flying past Chourdon Point on 6th was a good record.
In Cleveland, a Western Cattle Egret was again at Greatham Creek on 3rd and 4th. Greatham was favoured by up to nine Curlew Sandpipers with one or two noted at three other sites on Teeside. Up to four Great Egrets were mobile around several sites but noted together at Cowpen Marsh on 3rd. A lone Little Stint was at Seaton Snook on 5th.
North-West England
Cumbria continues to lap up passage Curlew Sandpipers, with four sites logging birds. Up to seven juveniles remained off the railings at Bowness-on-Solway throughout and were accompanied by a juvenile Little Stint. Elsewhere, two were at Port Carlisle on 3rd and 5th, five at Eskmeals CWT on 4th and a single at South Walney on 8th. More Little Stints were about, with one at Port Carlisle on 3rd and two at Eskmeals CWT the following day. A Hooded Crow spent the 2nd at Whitehaven harbour, and a Black Guillemot was off South Walney NR on 3rd.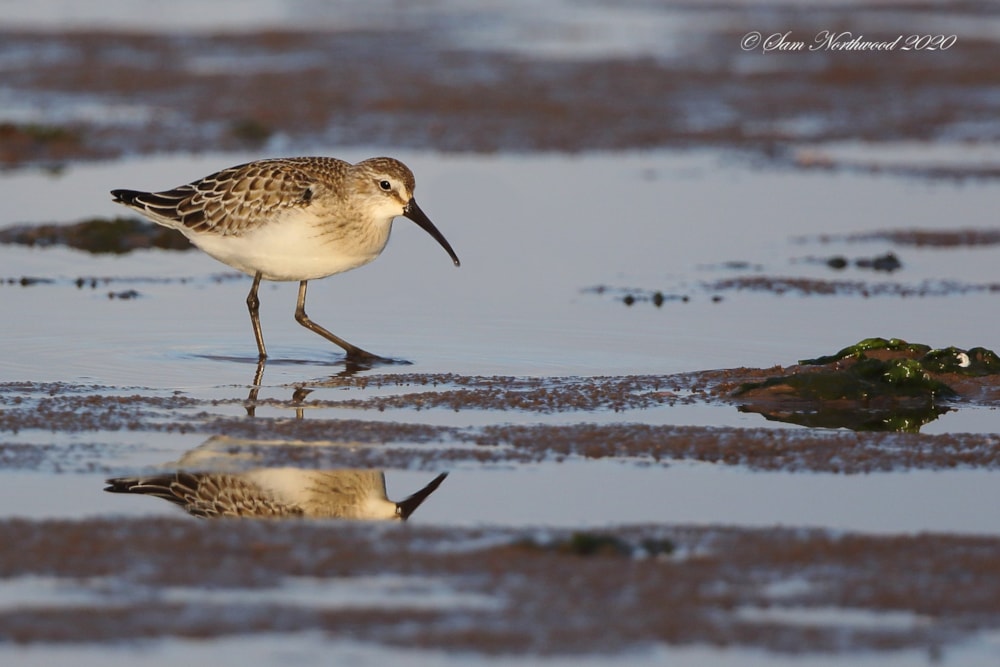 Curlew Sandpiper, Port Carlisle, Cumbria (Sam Northwood).
Good seawatching continued in Lancashire, with another juvenile Long-tailed Skua past Starr Gate on 3rd and Sabine's Gulls past Blackpool on 5th and Fleetwood on 7th. A Great Northern Diver also lumbered past Starr Gate on 3rd. However, it was arguably the first hint of Leach's Storm Petrel passage that got the blood pumping, with three past Starr Gate on 4th and one past Freshfield the following day. Leighton Moss RSPB had a flyover European Honey Buzzard on 6th, and three Jack Snipe on 8th. Other bits and pieces included the injured Tundra Bean Goose still at Banks Marsh until 5th at least, while decent numbers of Curlew Sandpipers continued to move through with 10 sites recording birds, while Little Stints were at Banks Marsh on 5-6th and Knott End-on-Sea on 8th. Banks Marsh also continues to support a decent flock of six Eurasian Spoonbills, one of the highest counts ever for the county.
September never truly feels underway until the first Leach's Storm Petrels are logged past Cheshire's coastline and we were in luck this week, with three past New Brighton and one past Wallasey on 5th, and another briefly at New Brighton the following day – until a Peregrine Falcon fancied a breakfast snack, that is. Sabine's Gulls are always a quality county bird, so it was pleasing to have three coastal localities reporting birds on 5th, with perhaps an even more exciting report of a juvenile east past Hale lighthouse on the evening of 8th. The Dee Estuary continues to provide an excellent days' birding with up to seven Eurasian Spoonbills still at Parkgate, at least one Spotted Crake still showing well at times at Burton Mere Wetlands RSPB and Curlew Sandpipers at various spots. An early Jack Snipe flew onto No 3 Bed at Woolston Eyes on 7th, and Astbury Mere's juvenile European Shag remained present and correct throughout.
Over in Greater Manchester, the Wryneck stayed throughout the week until it pulled a classic Friday night bunk and wasn't seen at all on 5th. Meanwhile, an exciting record came in the form of a flyover European Turtle Dove just the other side of the moors over Scout Road on 4th. Little Woolden Moss managed to pull in both Curlew Sandpiper and Little Stint on 2nd, with another Little Stint briefly touching down at Audenshaw Reservoirs on 4th. Interestingly, two Whooper Swans were at Bickershaw Flash on 6th.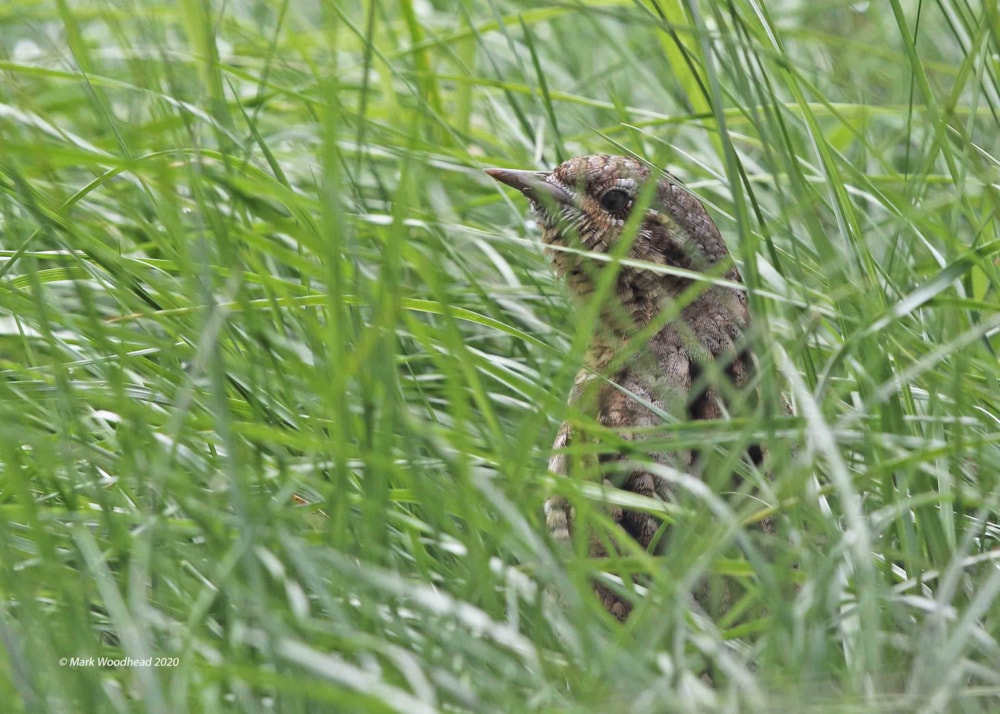 Wryneck, Horwich, Greater Manchester (Mark Woodhead).
Lincolnshire and Yorkshire
In a significantly quieter week for Lincolnshire than of late, the highlight was a juvenile Pectoral Sandpiper at Frampton Marsh RSPB from 5th. Gibraltar Point produced Wryneck and Long-tailed Skua on 5th, but the coast was otherwise quiet save a Lapland Bunting at Rimac on 8th and skeins of returning Pink-footed Geese.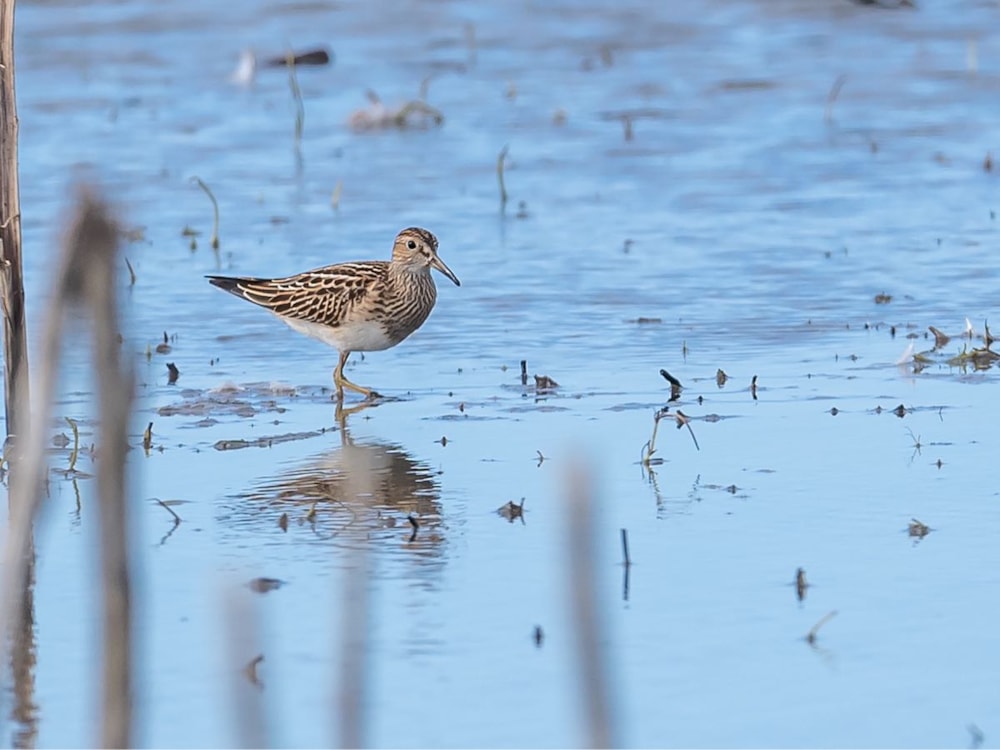 Pectoral Sandpiper, Frampton Marsh RSPB, Lincolnshire (Ted Smith).
The Spurn area produced a couple each of Barred Warbler and Wryneck, with another of the former at Skeffling on 2nd. A Corncrake was at Grimston on 4th and, near Doncaster, a Ruddy Shelduck continued at Southfield Reservoir. Best from the Flamborough area were Long-tailed Skua and European Turtle Dove. A sleepy week on the North Yorkshire coast produced Lapland Bunting at Ravenscar and Black Guillemot; Spotted Redshank and Black-necked Grebe were among the highlights inland at Nosterfield NR.
A Wryneck well inland at Wainstalls, West Yorkshire, from 4-6th was a nice record. A Black Tern visited Wintersett Reservoir on 8th and Manx Shearwater was rescued in Wakefield city centre on 4th. A juvenile Temminck's Stint was welcome at Old Moor RSPB, South Yorkshire, from 5th and another Manx Shearwater was rescued from Woodsetts on 7th. Little Stint at Hatfield Moors and Black Tern at Orgreave Lagoons were among the other highlights.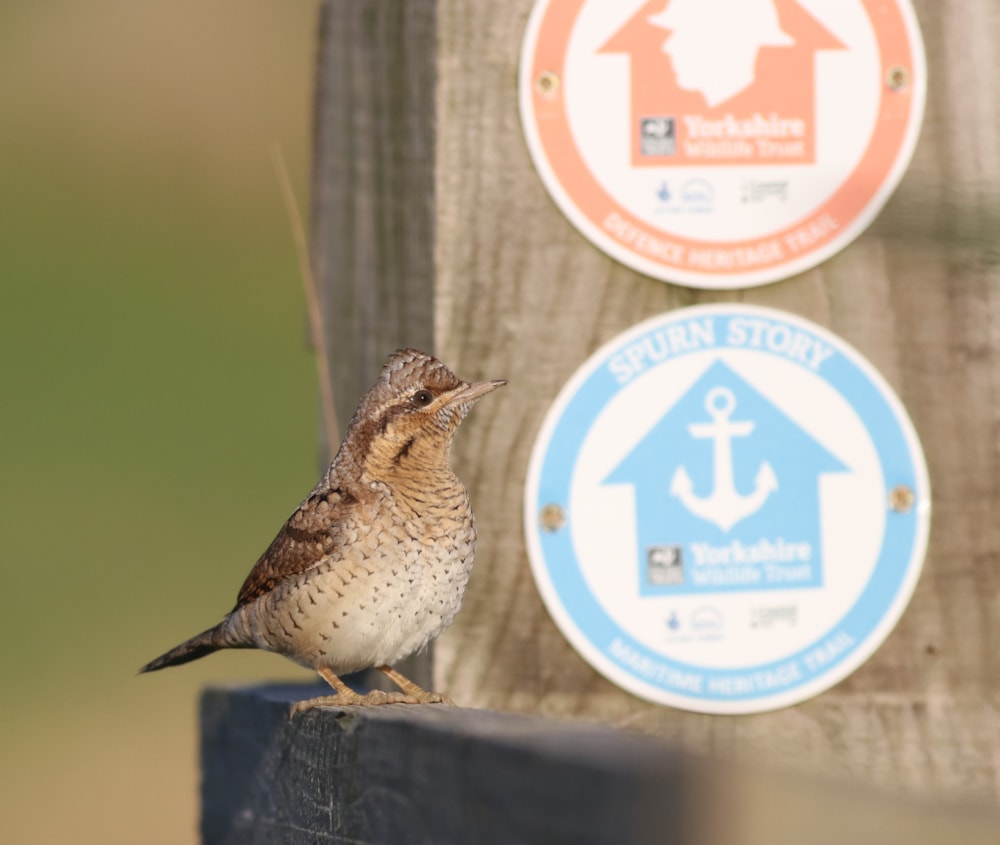 Wryneck, Spurn YWT, East Yorkshire (Bethan Clyne).
West Midlands
In Staffordshire, Belvide Reservoir continues its purple patch with juvenile Black Tern from 4-6th, Little Stint on 5th and last but certainly not least, a showy juvenile Purple Sandpiper on the dam on 7-8th. Meanwhile, Blithfield Reservoir had a respectable run with up to two Curlew Sandpipers and two Little Stints. A Black Tern was at Chasewater on 5th.
The rather dapper male Red-backed Shrike continues to find Sutton Park NNR, West Midlands, to his liking and was being reported throughout. As is often the case, with more eyes on site more birds are found and this was likely the reason behind two flyover European Honey Buzzards on 4th and 6th. The juvenile European Shag remained at Bartley Reservoir until 6th at least, and a Manx Shearwater was taken into care at Walsall on 6th.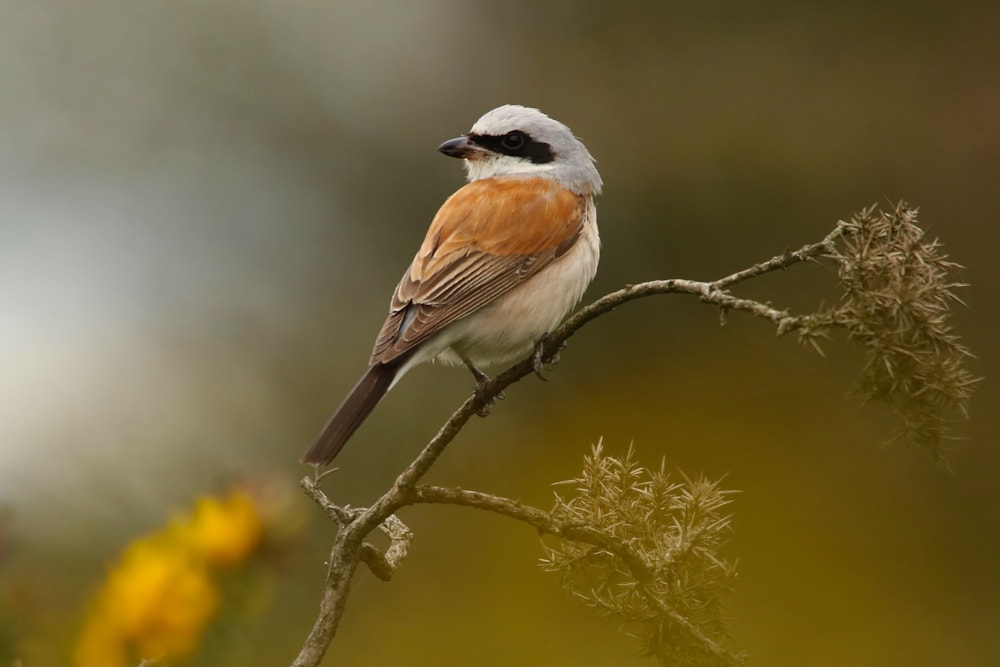 Red-backed Shrike, Sutton Park NNR, West Midlands (Jill Daelman).
Rather grippingly for local birders, a Wryneck pitched up in a private garden by Great Malvern, Worcestershire, on 4th but sadly there were no follow-up reports. A juvenile European Shag was at Upper Bittell Reservoir on 4th, while two Western Cattle Egret remained at John Bennett Wetland on 2nd, and Upton Warren NR continued to support the juvenile Curlew Sandpiper throughout. Worcestershire had a familiar week, with up to seven juvenile European Shags lingering at Draycote Water accompanied by two juvenile Caspian Gulls. A new juvenile European Shag was found along the River Tame at Hams Hall on 5th.
East Midlands
Nottinghamshire's windswept wanderers were kept to a juvenile Kittiwake at Hoveringham GPs on the afternoon of 7th. Other more conventional birds included the star-studded line-up at Slaynes Lane, Mission, with Ruddy Turnstone, Little Stint and four Curlew Sandpipers finding the site to their liking. Another Little Stint was at Attenborough NR on 2nd. A Western Cattle Egret remained at Holme Pierrepont and the German-ringed Caspian Gull was again at Langford Lowfields RSPB on 5th.
In Northamptonshire, both Stanford and Pitsford Reservoirs supported juvenile European Shags through the week, with a juvenile Black Tern at the latter site on 3rd. Three Western Cattle Egrets were a constant fixture at Stanwick GPs, and a Eurasian Spoonbill flew west over Billing Aquadrome on 8th. Juvenile Caspian Gulls roosted at Daventry Reservoir CP and Boddington Reservoir on the evenings of 4th and 7th respectively. An impressive flock of more than 30 Ring Ouzels kept the Bearded Vulture company at Crowden, Derbyshire.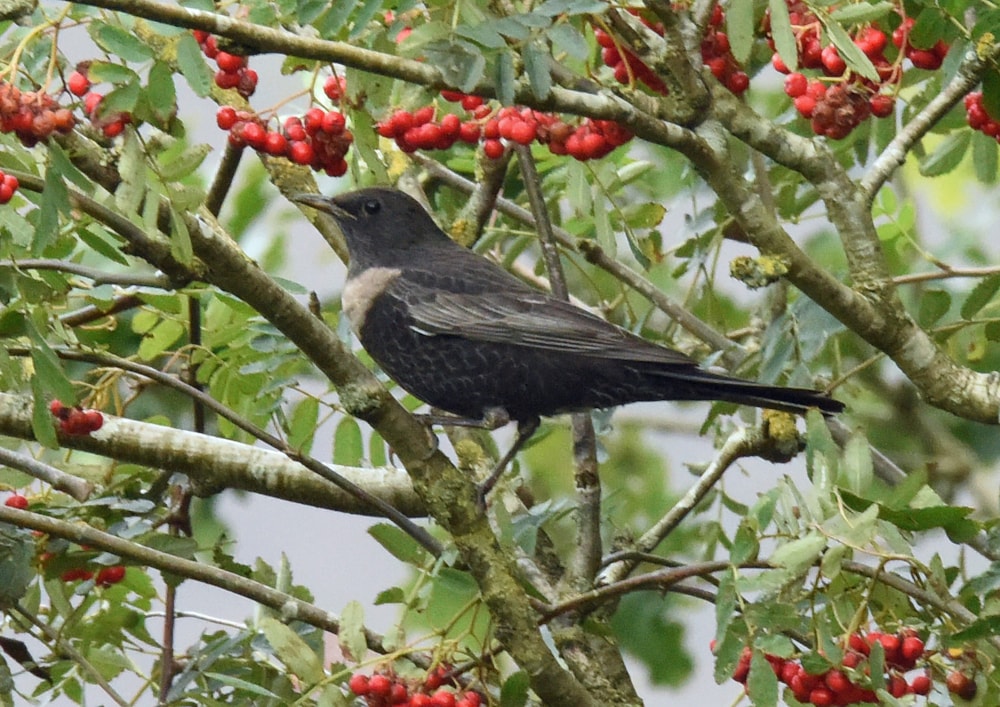 Ring Ouzel, Crowden, Derbyshire (Tony Hovell).
A Rosy Starling proved all-too-brief at Hinckley, Leicestershire, on the morning of 2nd. Elsewhere, a first-winter Red-backed Shrike made a nice surprise for one lucky ringer at Wigston SW on 4th and was seen on and off until that evening. A Wryneck was at Brascote Pits from 5th and a juvenile European Shag found itself on Stoney Cove from 2nd. A Red-necked Grebe was in South Arm at Rutland Water on 4th, and it would be perhaps wise to assume this is a returning bird. Also on the 4th, a Manx Shearwater paid a brief visit before it met an untimely end via the gullet of a Great Black-backed Gull. Again this week many other notable birds were seen, namely Eurasian Spoonbill, Ruddy Shelduck, Arctic Tern, Caspian Gull, 12 European Shags, Black-necked Grebe, two Red Knots, Curlew Sandpiper, 2 Wood Sandpipers and 2 Little Stints … and breathe!
East of England
Whatever the weather, Norfolk always has a nice selection of birds on offer at this time of year. Two Red-backed Shrikes at Waxham were among the most popular this week, with one being particularly confiding. The juvenile White-winged Tern at Cantley Beet Factory was unfortunately found dead on 7th, having presumably been consumed by a local Peregrine Falcon. A handful of Wrynecks included at least three in the east of the county, while the Purple Heron was seen again at Ormesby Little Broad on 2nd.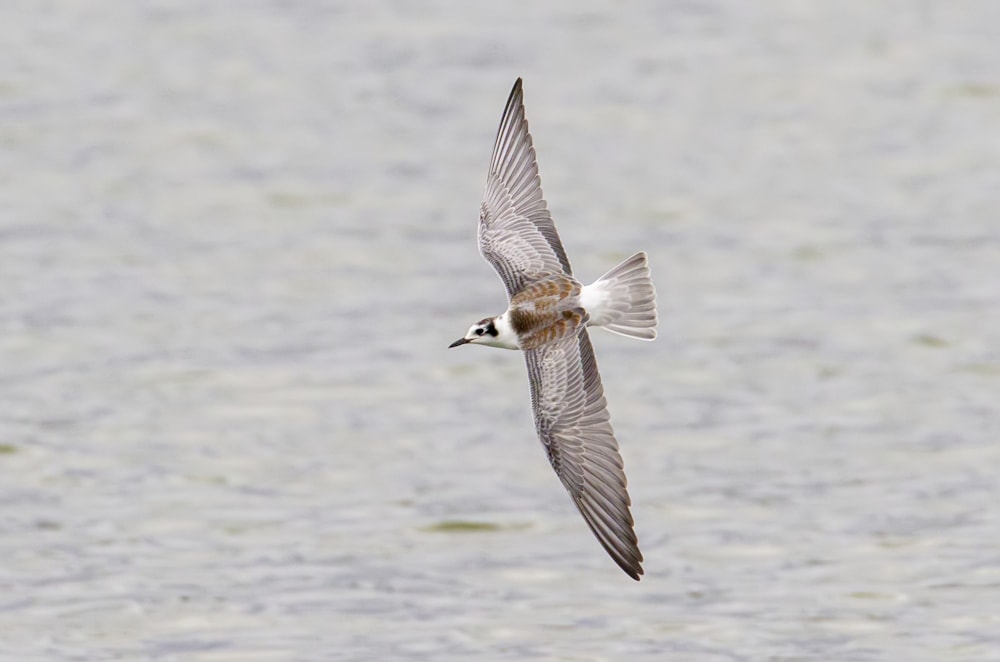 White-winged Tern, Cantley Beet Factory, Norfolk (Sean Gray).
Suffolk's highlight was also a Red-backed Shrike, with a fearless bird at Bawdsey drawing plenty of admirers. A Lapland Bunting was also at Bawdsey on 8th, while a juvenile Pectoral Sandpiper was at Hazlewood Marshes on 6th and numerous Caspian Gulls were seen at both Lowestoft and Southwold. A female Long-tailed Blue butterfly was in a garden at Trimley St Martin on 4th.
Late news for Essex concerned an Ortolan Bunting sound recorded over Chafford Hundred on 1st, while a European Honey Buzzard flew over Rayleigh on 6th. Abberton Reservoir offered a nice selection of birds, including Black Terns and numerous Curlew Sandpipers and Little Stints.
Eight Sandwich Terns visited Wilstone Reservoir, Herts, on 4th and the Western Osprey continued at Panshanger Park. One of the Isle of Wight White-tailed Eagles flew over Brogborough Hill, Beds, on 6th and a couple of sites produced Garganey. Cambridgeshire's highlight was a Wryneck at Fen Drayton RSPB on 7th, though a European Shag also remained at Grafham Water, as did the Dernford Spotted Redshank.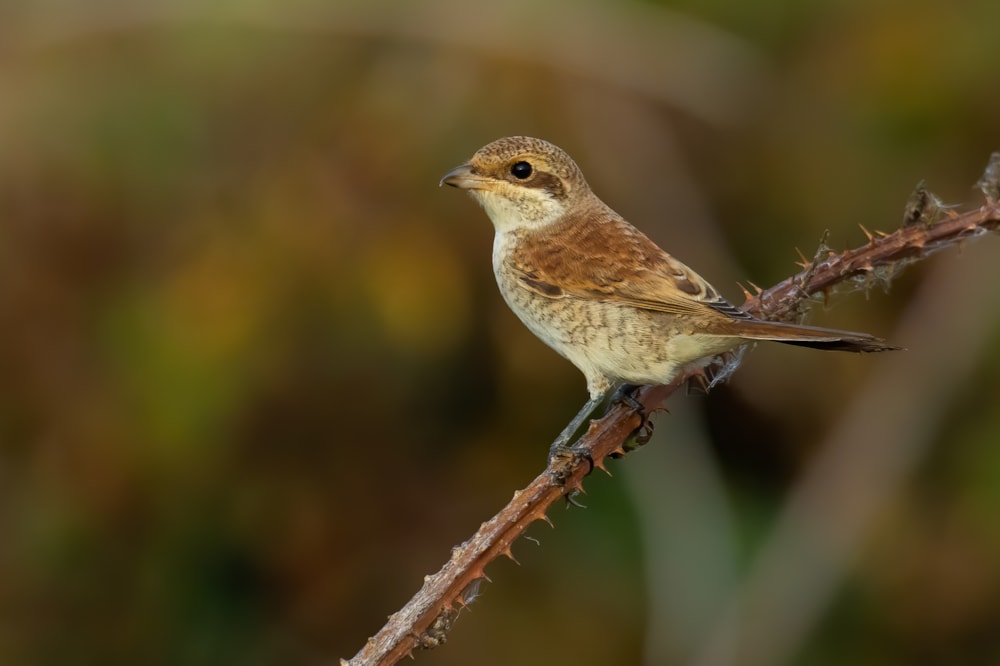 Red-backed Shrike, Southwold, Suffolk (Chris Hawes).
South-East England
Buff-breasted Sandpiper is always good value in the South-East, so one at Oare Marshes, Kent, was welcome on 7th, though sadly it proved only a fleeting visitor. The American Golden Plover continued both there and across the Swale on Sheppey throughout. Two Pectoral Sandpipers at Worth Marsh on 7th made it a sweet 'Yank' hat-trick.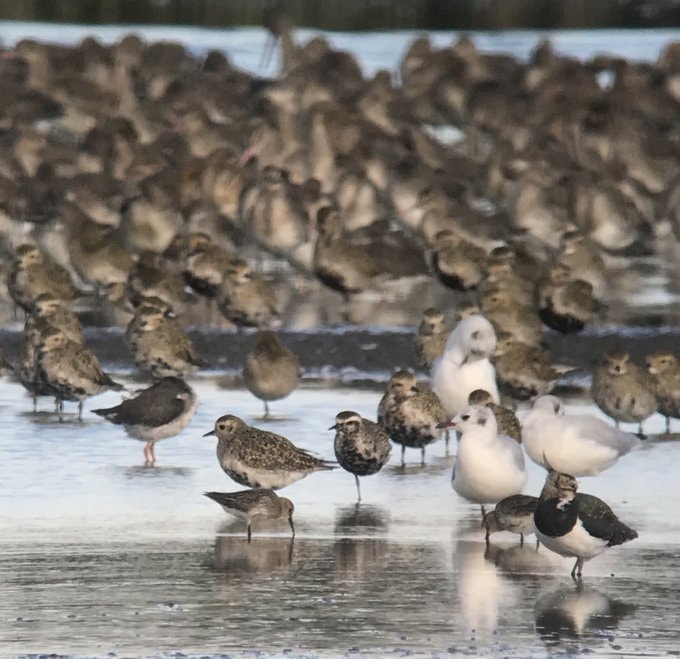 American Golden Plover, Oare Marshes NR, Kent (Andrew Edwards).
Elsewhere in Kent, a Black Kite was noted at Tenterden and Tunbridge Wells on 2nd and a European Bee-eater was at St Margaret's at Cliffe on 7th. New Wrynecks were found at Swalecliffe and Abbot's Cliff, with the latter site hosting the previous week's Red-backed Shrike until 2nd. New Red-backeds were at Worth Marsh, Capel le Ferne and Pegwell Bay. The Dungeness Glossy Ibis was present all week.
East Sussex's star birds, the three Eurasian Dotterel, lingered at Ditchling Beacon until 6th but could prove hard to connect with. A European Honey Buzzard flew over Brighton on 6th, while Wrynecks were logged at four sites: Beachy Head, Holingbury, Seaford and Tide Mills (two).
Eurasian Dotterel, Ditchling Beacon, East Sussex (Shaun Ferguson).
In West Sussex, two Wrynecks were enjoyed, with a brief and elusive bird at Church Norton and a slightly more cooperative one at Elmer. Pagham Harbour also scored a Red-backed Shrike, by the North Wall, on 5th and an early Lapland Bunting at Church Norton on 2nd. A European Honey Buzzard flew over Pulborough Brooks on 3rd.
Even Surrey got in on the Wryneck act, with a brief bird at Shackleford on 2nd. A Hoopoe was in private gardens in Reigate from 4th. London too lived its best Wryneck life this week, with two birds: one at Richmond Park, which was rather shy, and a much showier individual at Hanwell. Three Sandwich Terns visited King George V Reservoir on 3rd.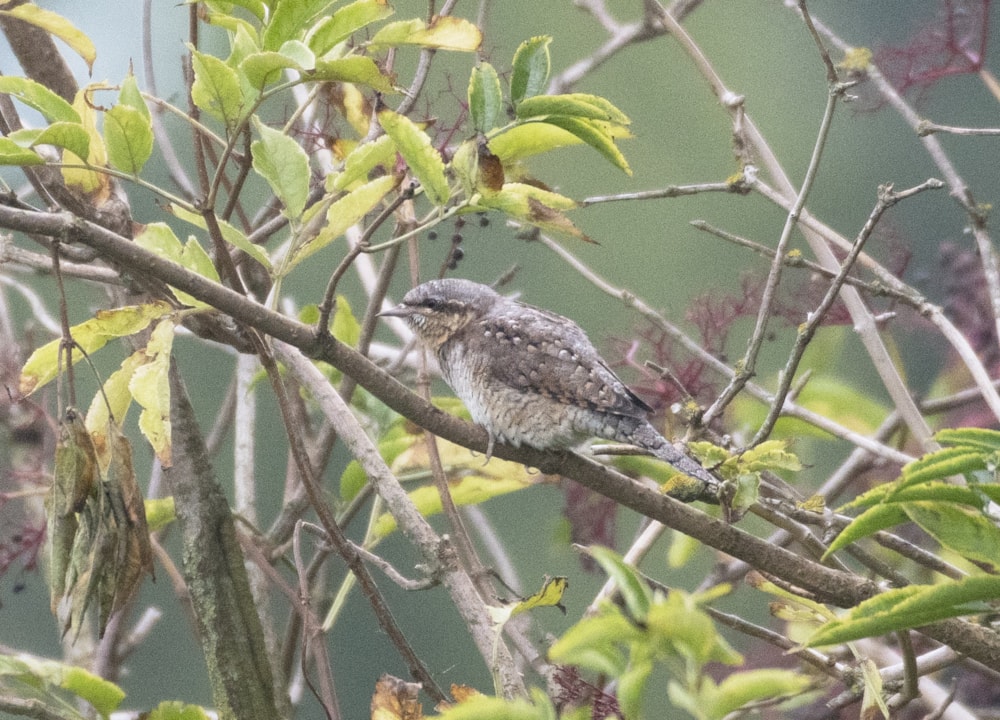 Wryneck, Shackleford, Surrey (Ed Stubbs).
Western Cattle Egret and Wood Sandpiper headed up proceedings in Buckinghamshire, while Oxfordshire scored a Wryneck, with one near Wantage on 5th. A fine inland count of seven Sandwich Terns was achieved at Farmoor on the same day. Berkshire's 22nd Manx Shearwater was a terrific find at Theale GPs on 5th, though it had gone by late morning.
In Hampshire, the Barton on Sea Icterine Warbler made it to 2nd but wasn't seen thereafter. A Pectoral Sandpiper visited Farlington Marshes on 6th and a Wryneck was at Lower Test Marshes on 4th. Across the Solent, two European Honey Buzzards were seen on the Isle of Wight, at Brading Marshes and Ventnor Downs respectively, and a Lapland Bunting was at Bonchurch on 6th.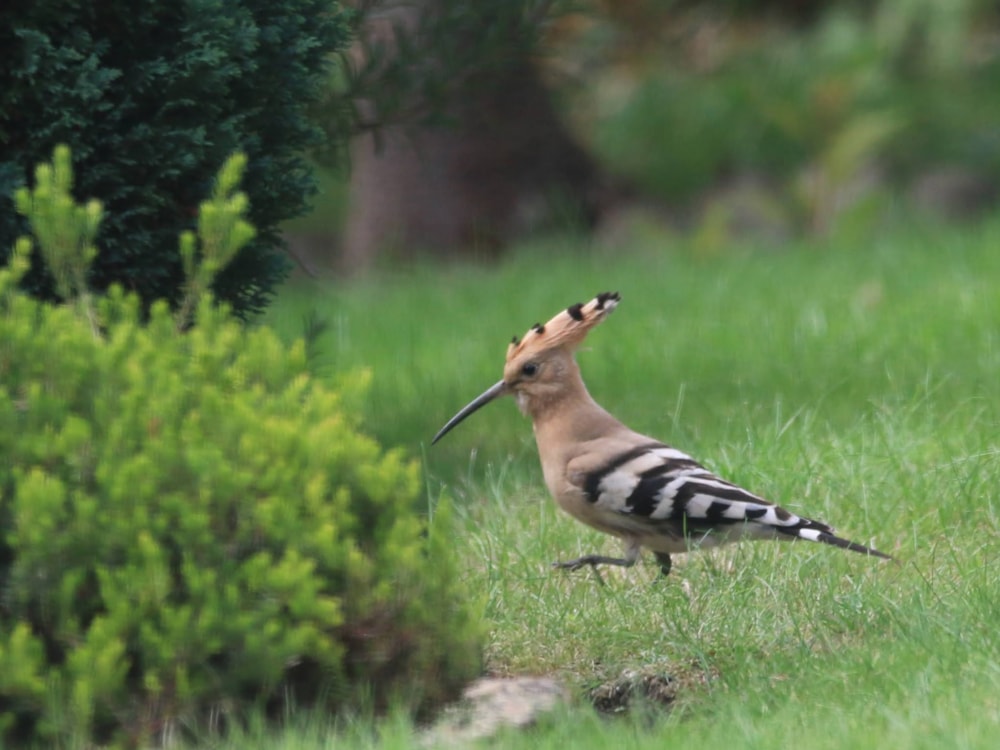 Hoopoe, Reigate, Surrey (Sarah Lyons).
South-West England
Early Cornish Nearctic wader action included an American Golden Plover at Polgigga on 3rd and three Buff-breasted Sandpipers – at Nanjizal Valley (4th), Park Head (6-8th) and Porthgwarra (7th). A Hoopoe was at Nanjizal Valley on 7th, with a Citrine Wagtail and Icterine Warbler at Porthgwarra on the same date. Wrynecks were at eight sites, and a Barred Warbler was at Porthgwarra on 5th, topped by a Melodious Warbler the next day. A Blue-headed Wagtail was at Lizard Point on 5th. At Hayle Estuary a Glossy Ibis flew over on 3rd; two Pink-footed Geese were at Polgigga on 8th and a high count of 11 Knepp White Storks were near Lizard village on 2nd. A Great Shearwater was off the Scillonian III on 2nd, while four Sabine's Gulls flew past Pendeen on 5th.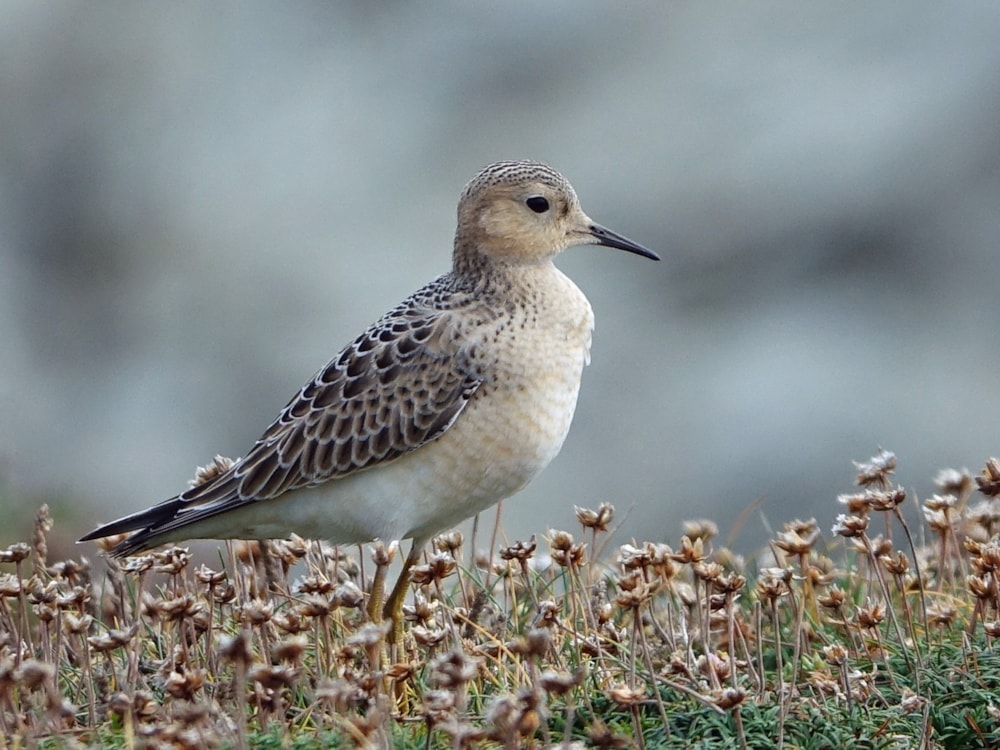 Buff-breasted Sandpiper, Park Head, Cornwall (Diane Reynolds).
On Scilly, St Mary's was a hive of activity, with a Barred Warbler on 2nd, Melodious Warbler on 3rd, Common Nightingale on 4th and Alpine Swift on 6th. Wrynecks were on Bryher and St Martin's on 5th and 7th respectively; a Eurasian Spoonbill was noted on St Martin's, too. A wide-ranging Black Kite was noted moving between Tresco, St Mary's and St Martin's. A Hooded Crow was on Samson on 8th, while 14 Great Shearwaters were noted off a pelagic on 3rd.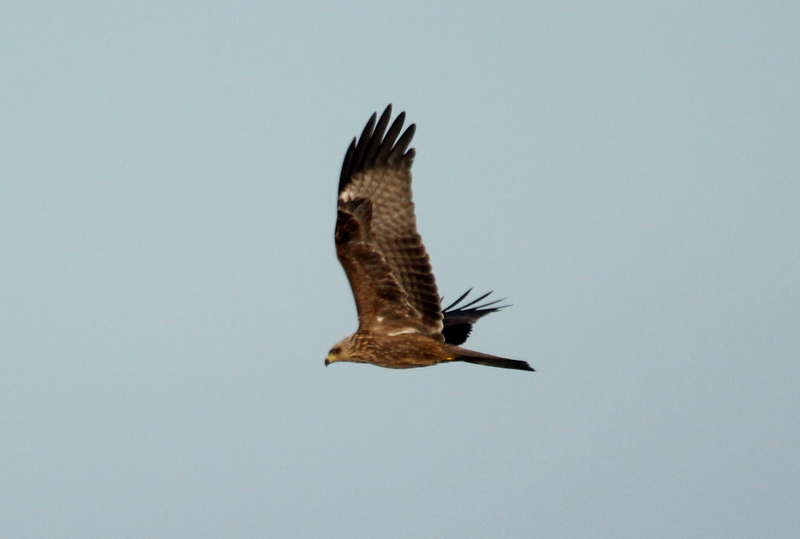 Black Kite, St Mary's, Isles of Scilly (Kris Webb).
Lundy, Devon, scored an Icterine Warbler on 5th, following on from last week's Melodious Warbler, with a Marsh Warbler the next day. Wrynecks at five sites all proved brief; birds at Yalberton and Aylesbeare Common RSPB were notable inland finds. Three Glossy Ibis included birds at Powderham and Isley Marsh RSPB. A juvenile Long-tailed Skua past Berry Head on 2nd, followed by a Pomarine Skua the following day. Another was off Lundy on 5th. A European Honey Buzzard flew south over Harleston on 6th. The Exe Estuary Slavonian Grebe remained in situ all week, while wandering Knepp White Storks included 15 over Ivybridge on 4th.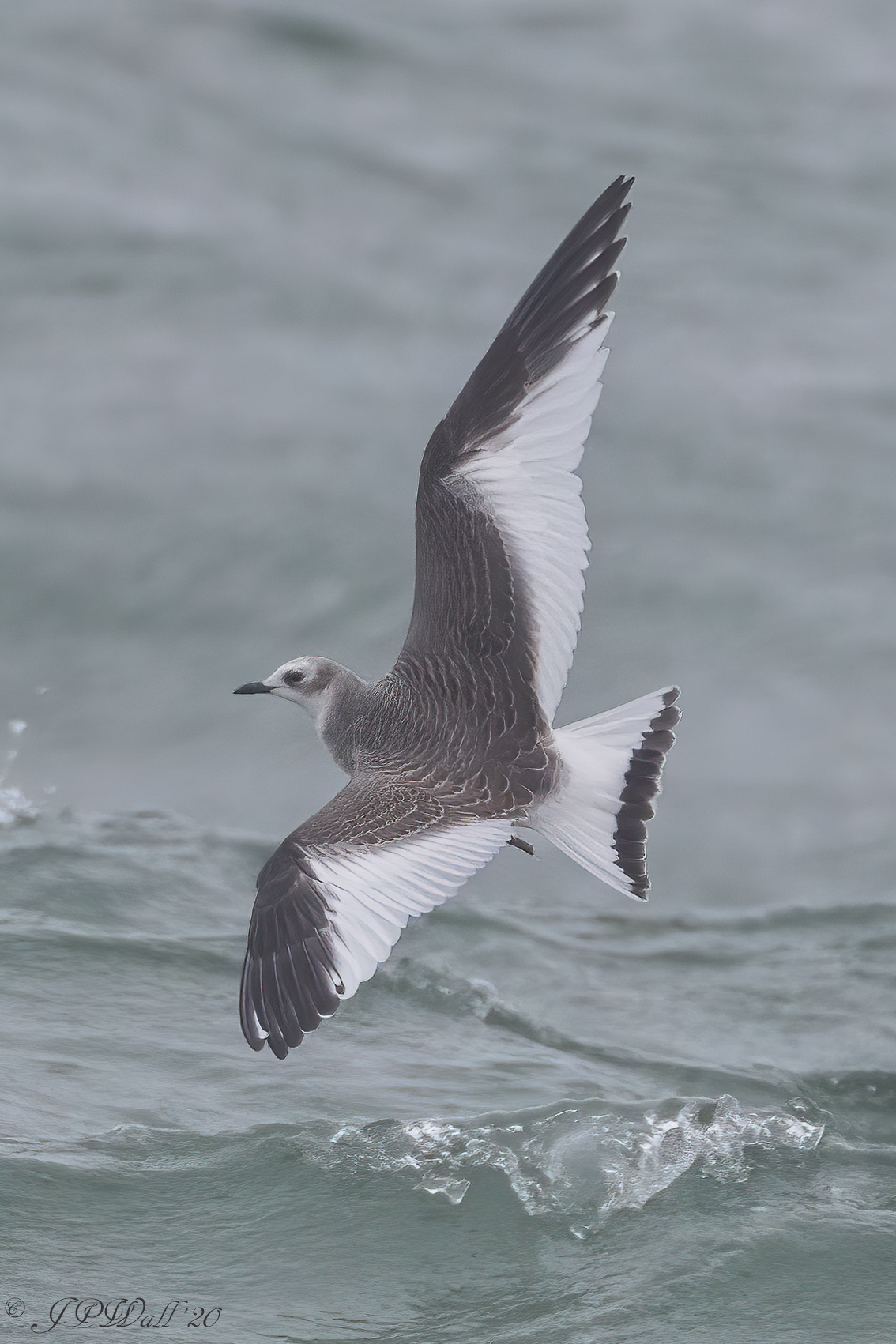 Sabine's Gull, Chesil Cove, Dorset (John Wall).
A delightfully tame juvenile Pectoral Sandpiper was the star turn in Dorset this week, present on the beach at Kimmeridge on 5-6th. A juvenile harrier sp considered to be either a Montagu's or Pallid flew west over Abbotsbury Swannery on 8th; Easton had a westward-bound Northern Goshawk on the same date. Wrynecks were at Maiden Castle, Charmouth and Portland, while 16 Knepp White Storks overflew Dorchester on 5th. Three Ortolan Buntings were logged this week – at Durlston CP (4th), Portland (5th) and Weymouth (7th). Two Sabine's Gulls – an adult and a juvenile – were at Ferrybridge on 3rd, alongside a juvenile Rosy Starling on Portland. A Eurasian Dotterel flew south over Wyke Down on 6th and a Lapland Bunting flew north over St Aldhelm's Head, while a White-tailed Eagle flew west over Wareham the following day.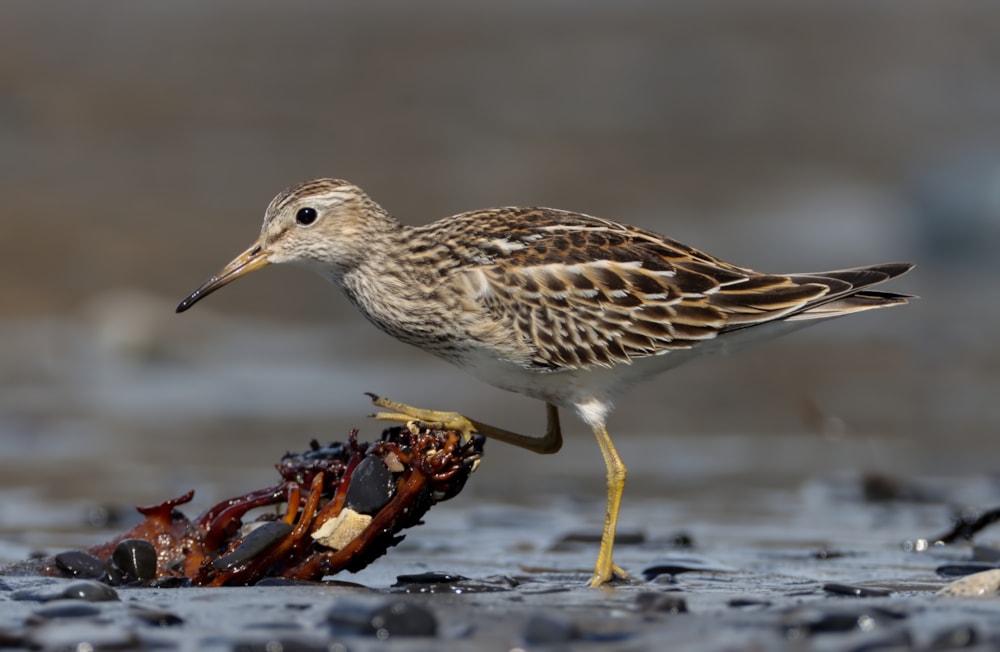 Pectoral Sandpiper, Kimmeridge, Dorset (Lee Fuller).
A dapper first-winter Grey Phalarope at Cheddar Reservoir on 5-6th put smiles on the faces of Somerset birders, with a European Shag present at the same site throughout. Two juvenile Black-winged Stilts remained at Steart WWT, with the Purple Heron still at Durleigh Reservoir. Elsewhere, Shapwick Heath NNR's Black-necked Grebe remained and three Ring Ouzels were on Aisholt Combe, while two Common Cranes flew past West Buckland.
Gloucestershire hosted a Red-backed Shrike at Marshfield from 5th, while a Eurasian Dotterel flew over Marshfield and a possible Ortolan Bunting flew over Sharpness on 2nd. Two Temminck's Stints were at Cotswold Water Park on 3rd, with a Glossy Ibis overhead the next day. Wrynecks were at Blakehill Farm NR and Middle Woodford, Wiltshire, with a Common Quail at Worton the only other county bird of note.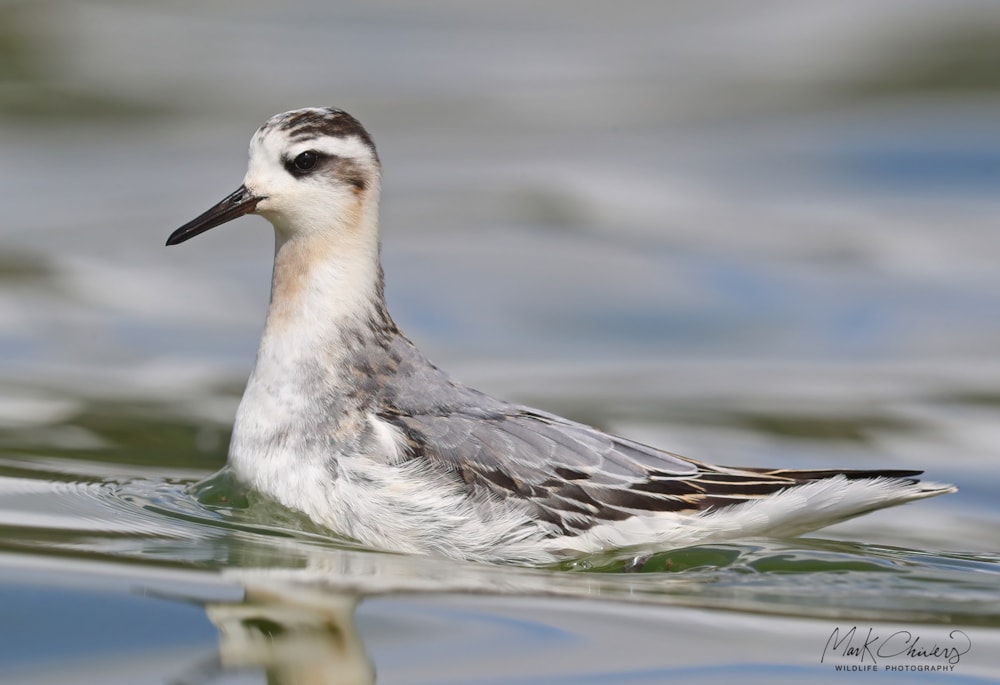 Grey Phalarope, Cheddar Reservoir, Somerset & Bristol (Mark Chivers).
Wales
Bardsey Island had another respectable week: four Wrynecks were seen, while a Lapland Bunting flew over on 5th. Over the sea, three Roseate Terns, three Sooty Shearwaters, two Pomarine Skuas, two Grey Phalaropes and European Storm Petrels flew past.
The 5th produced the first smattering of Leach's Storm Petrels with birds past four localities along the north coast. Sabine's Gulls also scored big, flying past 12 locations from 4-7th, with a hefty five sites on Anglesey alone. With seemingly all eyes cast to the sea midweek more decent birds were picked up with Balearic and Sooty Shearwaters, Pomarine Skua, Grey Phalarope, Roseate and Black Terns all reported. An adult Slavonian Grebe was off Whiteford Point, Glamorgan, on 5th, and two Black-necked Grebes drifted south past Great Orme, Conwy, on 8th.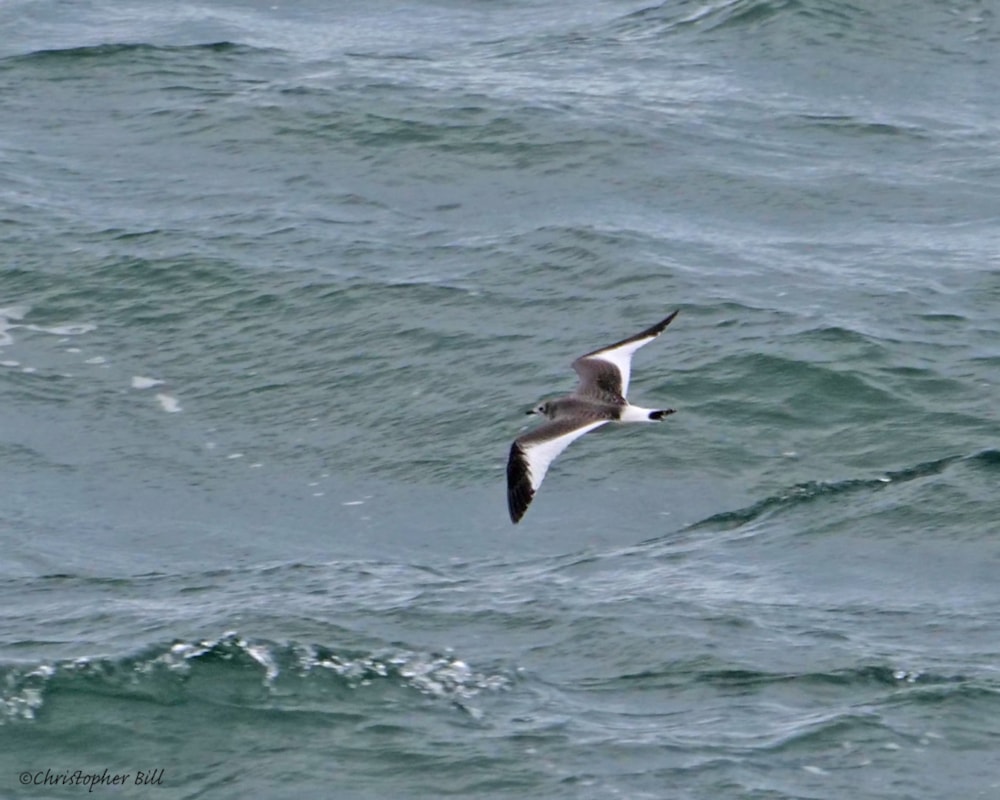 Sabine's Gull, Porth Ysgaden, Gwynedd (Christopher Bill).
A juvenile Buff-breasted Sandpiper was photographed (and retrospectively identified) near Castlemartin, Pembrokshire, on 5th but there was sadly no further sign. Away from their typical aforementioned haunt, Wrynecks had a good showing this week with singles at The Spinnies NWWT and Aber Falls, Gwynedd, both on 5th and one trapped and ringed at Oxwich Marsh, Gower, Glamorgan, on 6th. Melodious Warblers were on both Skokholm (2nd) and Skomer (6th), and adult Rosy Starling was at Bull Bay, Anglesey, until at least 8th. Meanwhile, a Lapland Bunting flew over Cemlyn Bay, Anglesey, on 5th.
Turning out attention to leggy suspects, in Gwent, Goldcliff Pools NR's Glossy Ibis continues to show, while other reports at Ferryside rugby pitch, Carmarthen, on 4th and Kidwelly from 6th presumably relate to one individual. A Purple Heron was flushed at Cors Ddyga RSPB, Anglesey, on 6th and, perhaps unsurprisingly given the species' elusive nature, there were no further reports. Curlew Sandpipers were again well represented at 17 localities, while Little Stints were reported from two.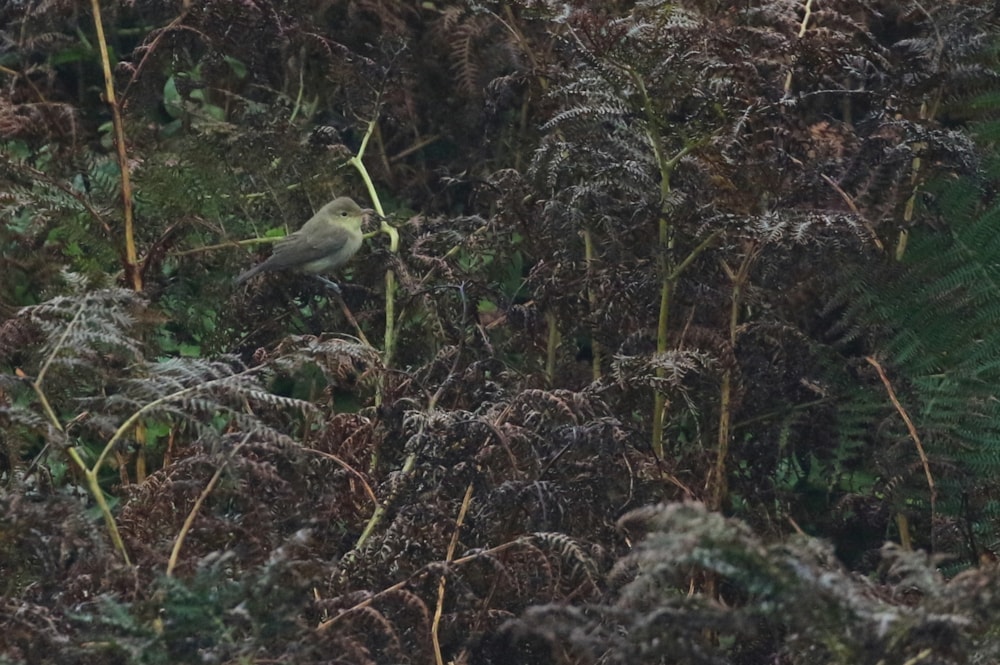 Melodious Warbler, Skokholm, Pembrokeshire (Richard Brown).
Ireland
A good early spread of American waders was the main talking point, with five sites scoring Pectoral Sandpiper, including up to five at Tacumshin. Six Buff-breasted Sandpipers were noted, including birds in off the sea at two Co Donegal sites. A White-rumped Sandpiper was at Blanket Nook, Co Donegal, from 6th.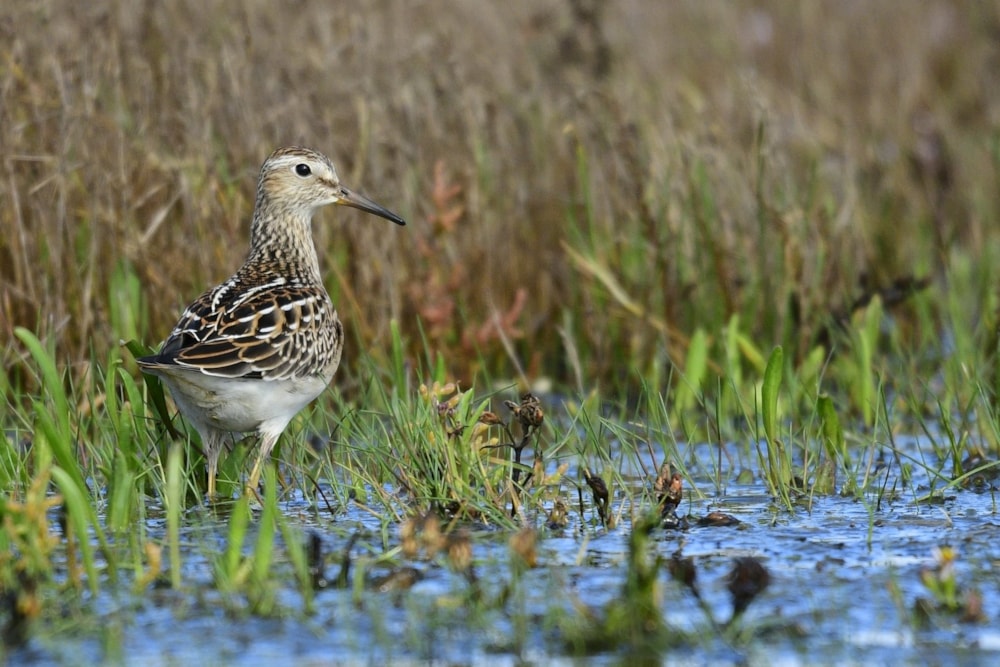 Pectoral Sandpiper, Tacumshin, Wexford (Stephen King).
A Wilson's Storm Petrel flew past Annagh Head, Co Mayo, on 5th, with double figures of Great Shearwaters there on 3rd and 5th. An adult Ring-billed Gull was a welcome record for Barrow Harbour, Co Kerry, on 6th. Several Sabine's Gulls were seen around the north and west coasts.
Best bird from the east was a Greenish Warbler on Great Saltee Island, Co Wexford, on 6th. A Wryneck was at Galley Head, Co Cork, on 3rd. A first-winter Red-backed Shrike was popular at Kilmichael Point, Co Wexford, from 5th, with another at Millisle, Co Down, on 3rd. A family of three Common Cranes over Rogerstown Estuary, Co Dublin, on 5th represented a major Irish record.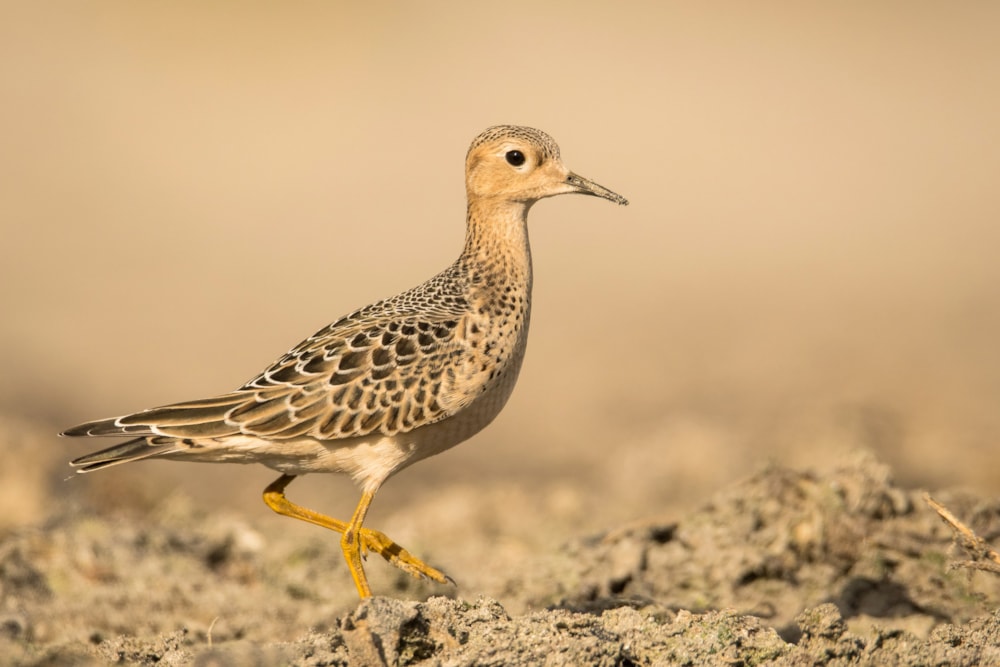 Buff-breasted Sandpiper, Harbour View, Cork (James O'Neill).
Western Palearctic
Early Nearctic waders included an adult Semipalmated Plover at Fajã Grande, Flores, plus a juvenile Least Sandpiper at Lira, Spain, and Baird's Sandpiper at Ría de Ribadeo o del Eo, as well as a Semipalmated Sandpiper at Île-de-Sein, France, and a Pectoral Sandpiper at Vazon Bay, Guernsey. An adult Laughing Gull was on Corvo on 4th.
A Brown Booby was on the French side of the Channel off Cap de la Hague on 5th, while the Pied-billed Grebe remained at Rocheservière until 7th. In Belgium, a Great White Pelican was at Arendonk on 7th, while neighbouring The Netherlands held a new Black-winged Kite – the female Amur Wagtail remained in situ at Strypsche Wetering.
In Spain, Elegant Terns were noted at Cádiz and Chipiona during the week, and a Long-legged Buzzard remained at Agón, in the north of the country. Israel's fifth Wilson's Storm Petrel was off Eilat on 7th, while a Crested Honey Buzzard flew over Ras Shukeir, Egypt, on the same date. A first-winter Marbled Duck of unknown origin was at Kelbra, Germany, throughout; Belarus' fifth Black-winged Pratincole was at Syalets on 6th.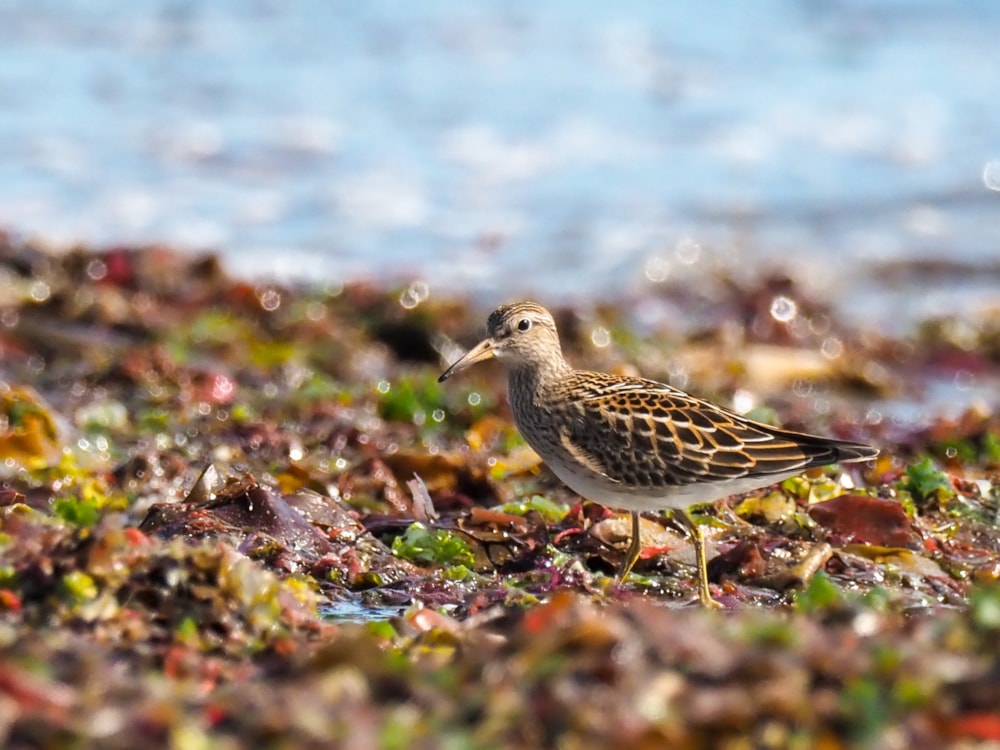 Pectoral Sandpiper, Vazon Bay, Guernsey (Andy Marquis).