Only once or twice a year does writing this column feel like an impossible task due to the sheer number of quality birds, and it's fair to say that this Wednesday's edition was one of those occasions. At times, it felt like a battle to keep up with the repeated sound of the mega alert, which threatened to spiral out of control at times … in an exciting way of course, for this week truly felt like that in which autumn 2019 perhaps peaked.
Rarity wise the unquestionable highlight of the week was Ireland's first Least Bittern, which was found moribund some way inland at Farranfore, Co Kerry, on 7th. Unfortunately it died shortly after being picked up and was well expired before news made the public airwaves – a huge shame and a tragic end for a spectacular bird. The Azores dominates Western Palearctic records of this diminuitive Nearctic heron, having bagged eight of the previous nine – including a moribund bird just a few weeks ago on São Jorge.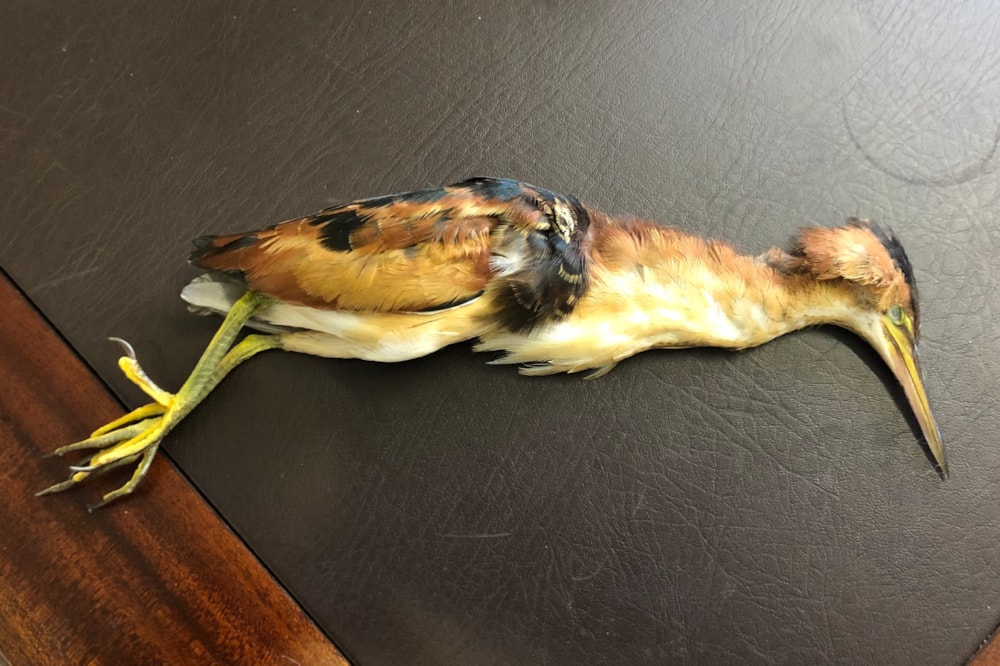 Least Bittern, Farranfore, Kerry (Anthony O'Connor).
Most of the other headline slots were dominated by a strong list of American landbirds, making it one of the best weeks for 'Yanks' in recent times, probably stretching as far back as the extraordinary autumn of 2008. As well as birds being found following last week's conducive weather, warm fronts off two different low-pressure systems – one of which moved through on Friday night and into Saturday and the other on Sunday night into Monday – were evidently both 'producers'.
It's not often we get to announce that a single week produced two different Black-and-white Warblers, yet that was exactly the case this week, with Britain and Ireland managing one apiece. The first was discovered trapped in netting by non-birders at the vineyard on St Martin's, Scilly, on 2nd and was there throughout the day, unbeknown to birders on the isles. Unfortunately, news only came out late that night when photos were forwarded to the county recorder and there was only a very brief sighting of the bird the following day by a single observer. The second was on Inishbofin, Co Galway, and was equally as elusive to the masses, being seen only by the finder late on in the day on 5th, and had gone the next morning following a clear night. The latter was just a third for Ireland and is needed by most keen listers there, following birds in Co Derry in 1984 and Co Cork in 1978.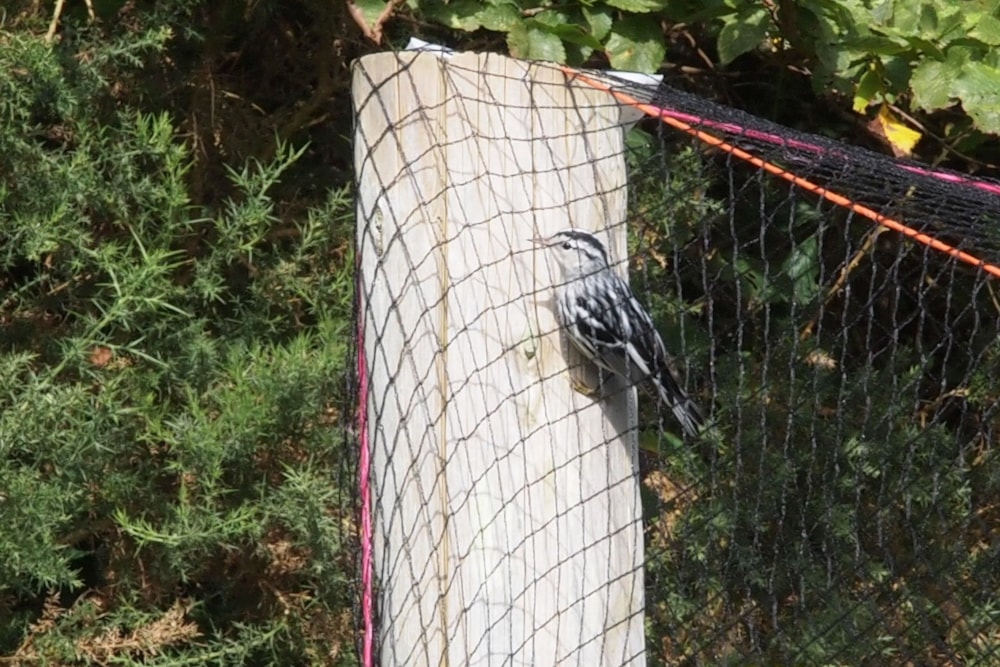 Black-and-white Warbler, St Martin's, Isles of Scilly (Mick Knight).
A Yellow-billed Cuckoo arrived on St Mary's, Scilly, on 2nd, but quickly vanished into gardens in the Hugh Town area. What might be the same bird then resurfaced at nearby Lower Moors on 6th and, although elusive and mobile, was still showing intermittently the next day.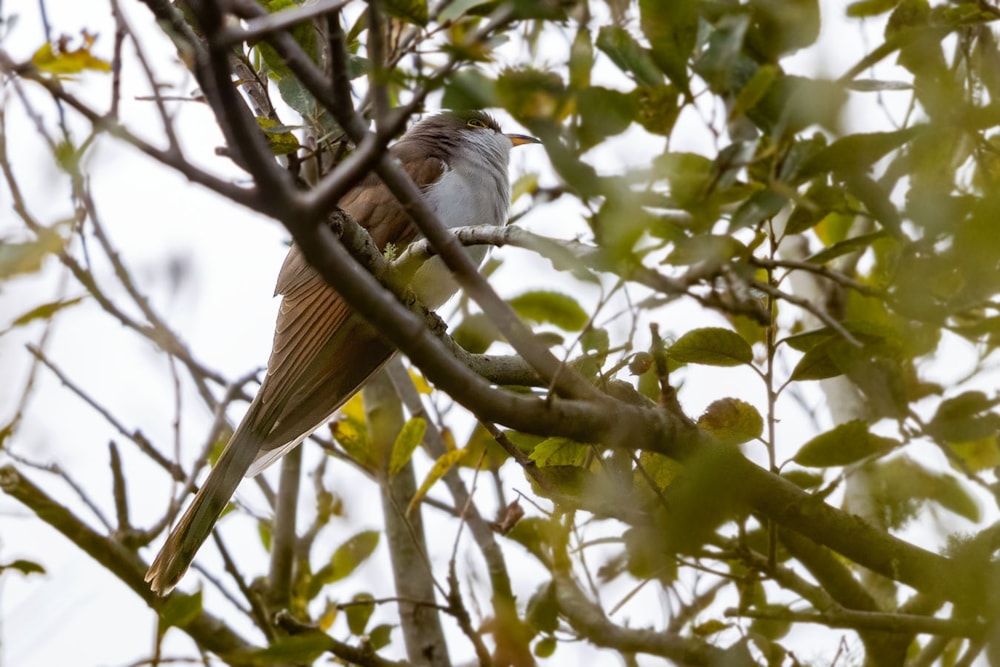 Yellow-billed Cuckoo, St Mary's, Isles of Scilly (Kit Day).
Perhaps the star of an excellent week was a stunning Common Nighthawk along the River Maine near Ballymena, Co Antrim. Reported for three days as a European Nightjar, analysis of grainy video footage by the BirdGuides team early on the morning of 7th seemingly revealed it to be the rarer cousin.
The initial video that sparked the re-identification of the Galgorm 'nightjar' as a Common Nighthawk (Nial Mulvenna).
It was then seen flying around for a period late afternoon and again at dusk that evening, and again at dawn on 8th. Then, sensationally, it was found at roosting on the ground in broad daylight mid-morning, before being flushed by a frisky horse and spending the rest of the day in an adjacent tree.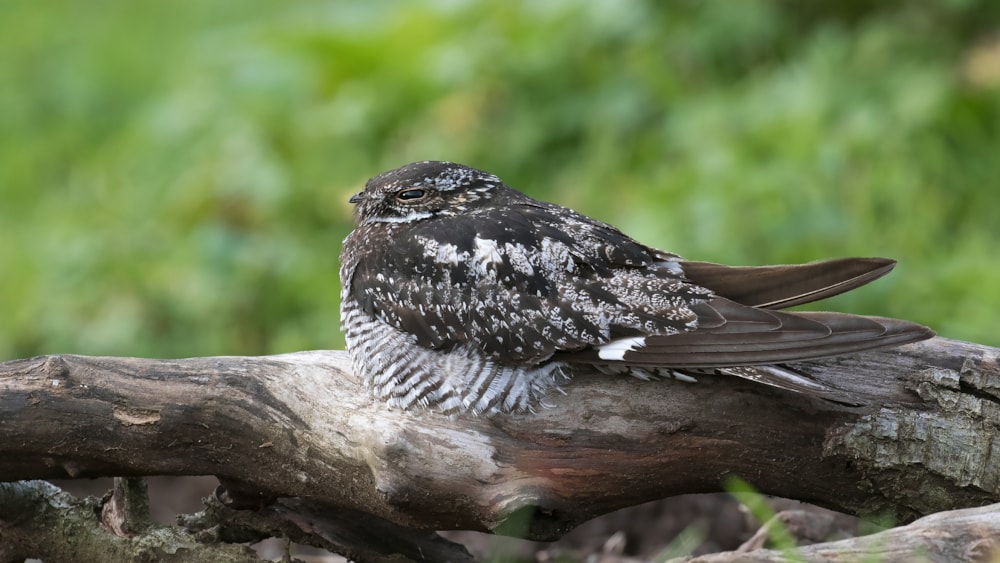 Common Nighthawk, Galgorm, Antrim (Josh Jones).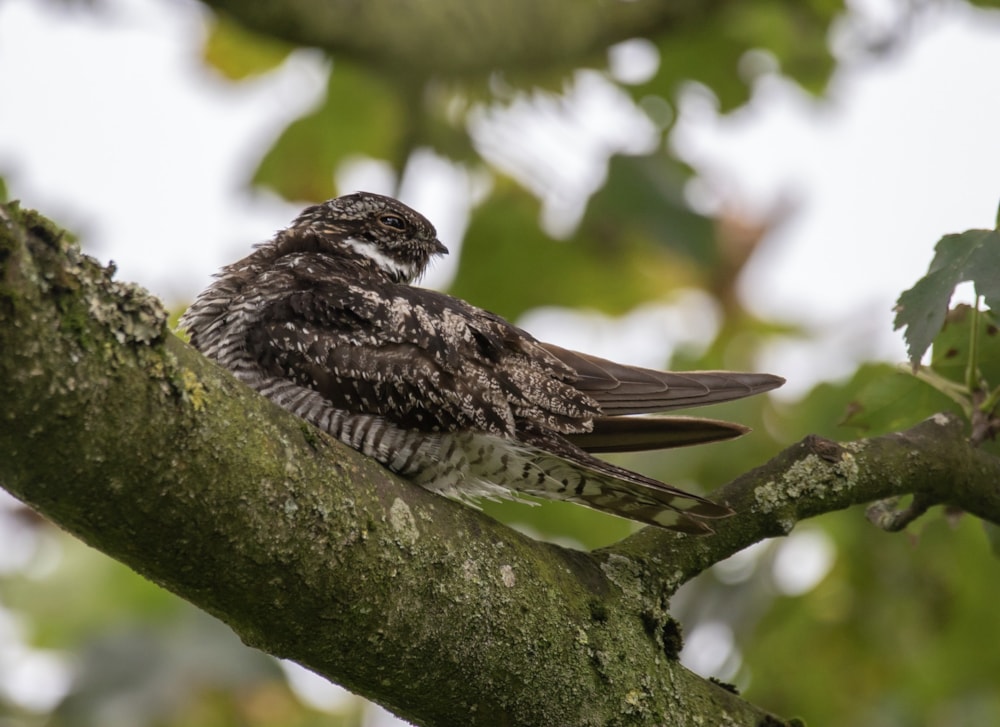 Common Nighthawk, Galgorm, Antrim (Jonathan Rosborough).
Ireland also scored its fourth Baltimore Oriole, when an elusive first-winter was found hiding among dense fuchsia and gorse stands at the western end of Achill Island, Co Mayo, on 6th. It lingered to 8th and follows birds in Co Donegal in May 2017 and Co Cork in 2001 and 2006.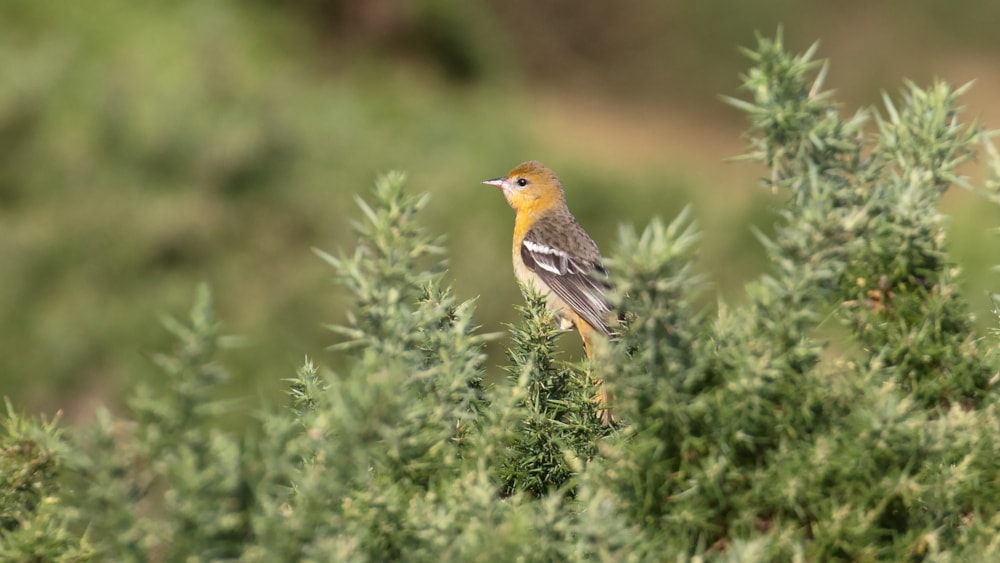 Baltimore Oriole, Keem, Achill Island, Mayo (Josh Jones).
The run of Red-eyed Vireos continued, with seven of the week's eight being new birds. They were as follows: in Cornwall, singles were at Church Cove from 2-4th and Porthgwarra from 6-8th, while a third arrived on St Mary's, Scilly, on 8th. In Ireland, three were found on 6th: at Slyne Head, Co Galway, Kilbaha, Co Clare, and Helvick Head, Co Waterford, the latter of which lingered to 7th. Another was at Lehanmore, Co Cork, on 8th, while the Rathlin Island bird lingered to 2nd.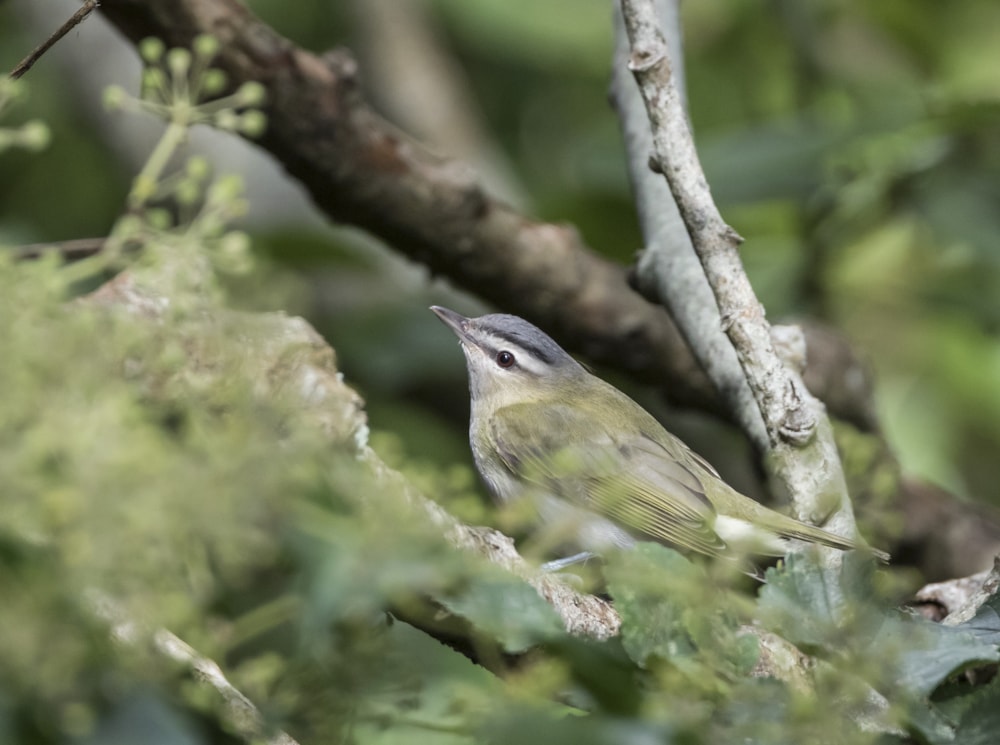 Red-eyed Vireo, Church Cove, Cornwall (Phil Carter).
… and all of this before mentioning the flyover Chimney Swift along the M11 motorway near Coolbeg, Co Wicklow, on the afternoon of 8th, or indeed the week's three American Black Terns – these including the continuing bird again at Nimmo's Pier, Co Galway, on 4th and new juveniles at Longham Lakes, Dorset, from 5th and (briefly) St Mary's Island, Northumberland, on the morning of 7th.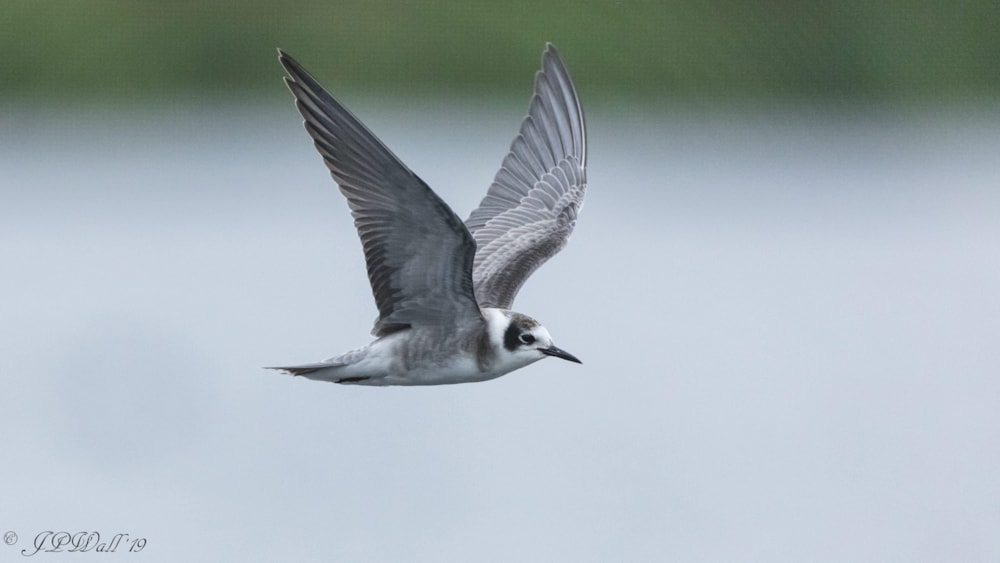 American Black Tern, Longham Lakes, Dorset (John Wall).
It would be harsh to say the least that eastern birds barely got a look in this week, even though Britain's fourth Rufous-tailed Robin was seen on 6th, amid all the carnage unfolding out west. It was, though, a fleeting affair, being seen by one fortunate observer in the small plantation at Houbie, Fetlar, Shetland, for a few minutes during the evening. Unfortunately, it couldn't be found again by dusk and, true to form for an elusive species that has put in two one-day appearances (Fair Isle and Norfolk), it had gone by the following morning. Incidentally, the other previous record involved a dead bird on North Ronaldsay in 2010 …
A juvenile Blue-winged Teal pitched down on St Agnes, Scilly, on 7th, moving to St Mary's the following day. The drake was also still at Frankfield Loch, Clyde, on 4th, with the American Black Duck also still at Strontian that day. Seven Ring-necked Duck was a decent total for early October and included fresh arrivals on Barra and in Co Cork. A Ferruginous Duck was at Llangorse Lake, Powys, on 6th. A female King Eider was at Carrickfergus, Co Antrim, from 6th. The blue-morph Snow Goose was still at Vane Farm, Perth and Kinross, to 5th.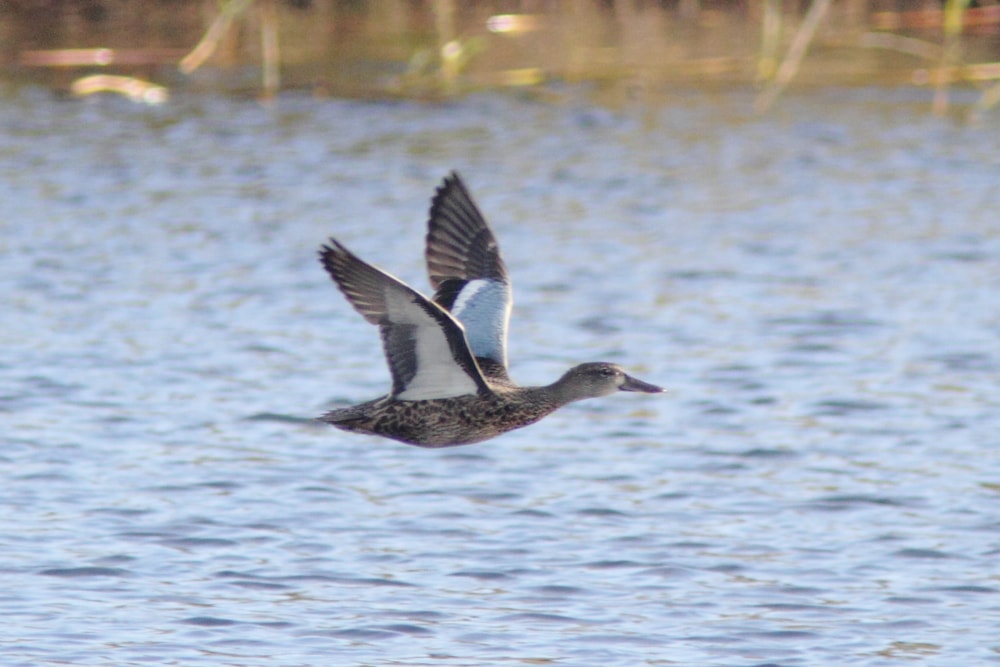 Blue-winged Teal, St Mary's, Isles of Scilly (Scott Reid).
The Snowy Owl was last seen on Shetland on 2nd, but the St Kilda bird lingered all week.
Another new Long-billed Dowitcher was found this week – a juvenile on Tiree on 5th. Others remained at St Aidan's RSPB, West Yorkshire, and Bowling Green RSPB, Devon. The trickle of freshly arrived American Golden Plovers continued, with four new birds among the eight seen. The two Pectoral Sandpipers were still putting on a show in Worcestershire this week, with singles in Cheshire, Co Antrim and on Fair Isle. Four widely spread Buff-breasted Sandpipers included new arrivals on Sanday, Orkney, on 2nd and in Co Galway on 6th. The Shetland Semipalmated Sandpiper was last seen on 6th, while a new bird was at The Gearagh, Co Cork, on 8th and another remained at Tacumshin, Co Wexford.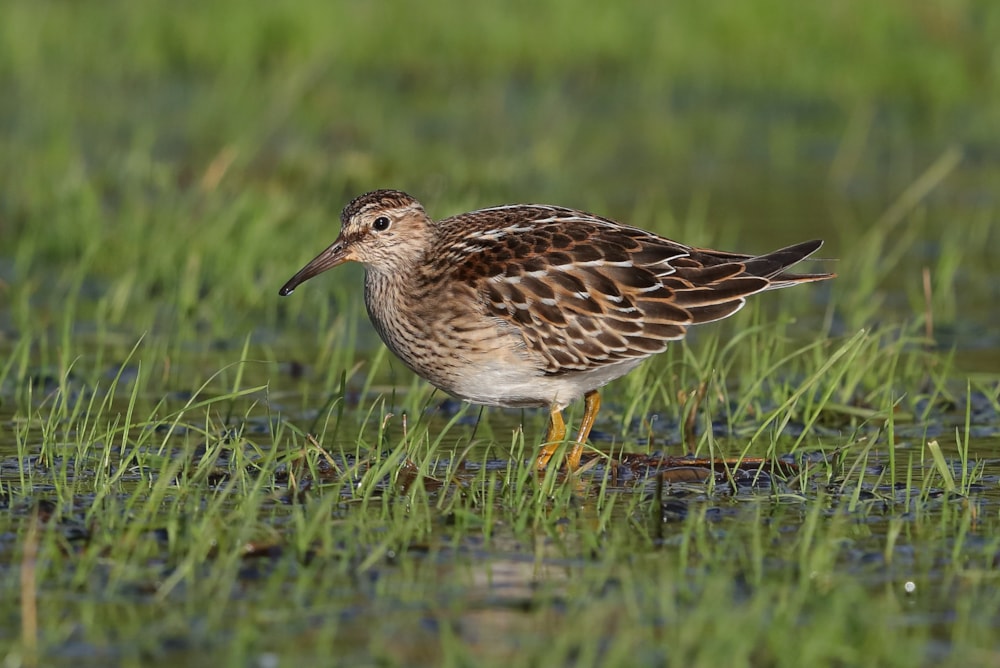 Pectoral Sandpiper, Clifton Pits, Worcestershire (Chris Cook).
A Lesser Yellowlegs was at Killongford, Co Waterford, on 4-5th with the Ayrshire bird still at Capringstone Flash to 3rd. The Black-winged Stilt remained in Berkshire all week and a Kentish Plover took up residence on the shore at Southport, Lancs, from 5th.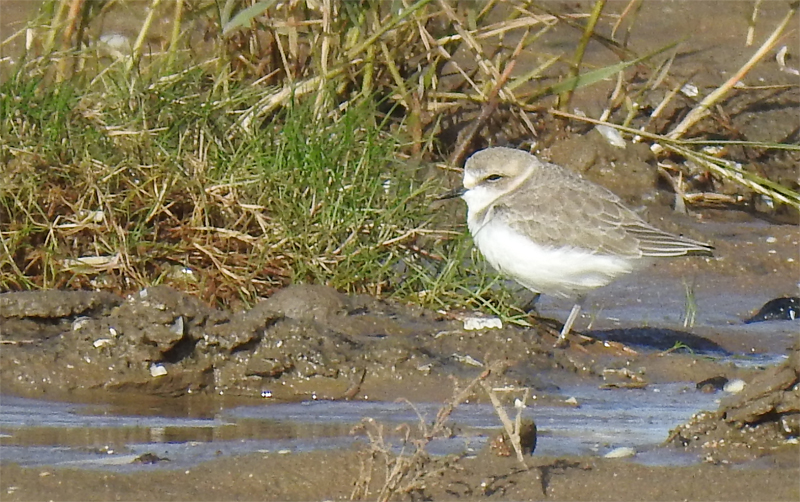 Kentish Plover, Southport, Lancashire (John Galletly).
Just the two Ring-billed Gulls were seen: one was at Mullaghmore, Co Sligo, on 2nd and the regular adult was still at Nimmo's Pier, Co Galway, on 4th. A White-winged Tern on Tresco on 2nd was a fine record for Scilly.
Six Hoopoes included a popular if distinctly mobile bird in the Amble area of Northumberland from 5th. The European Bee-eater was still at Ollaberry, Shetland, to 6th, but generally looked quite miserable in images and must have been regretting the decision to head north. Most of the dozen Wrynecks were along the south coast or on Scilly, though there were outliers in East Yorkshire and Northumberland.
Content continues after advertisements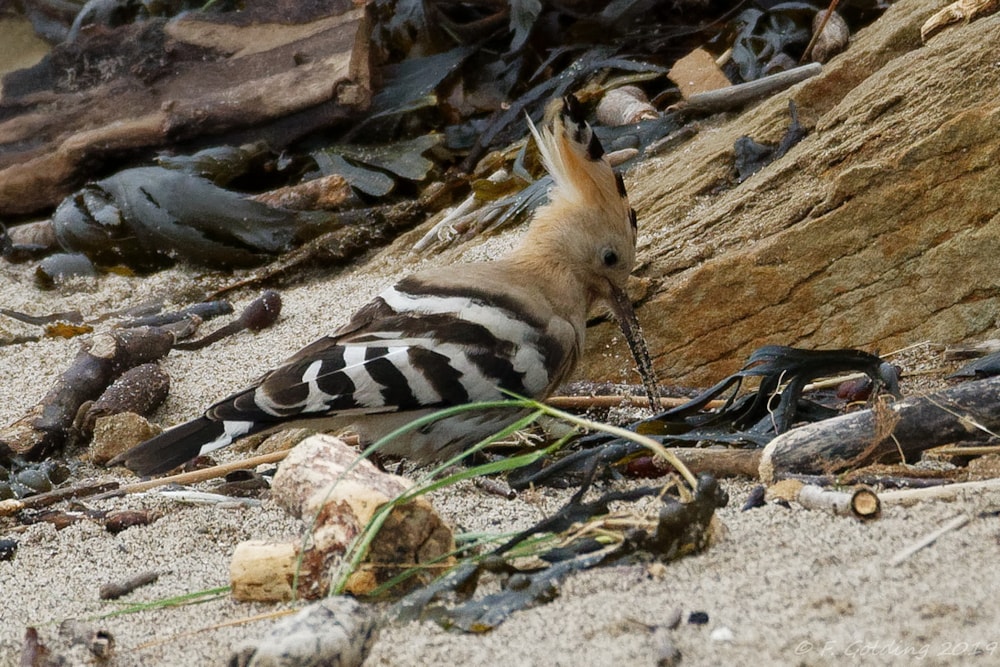 Hoopoe, Amble, Northumberland (Frank Golding).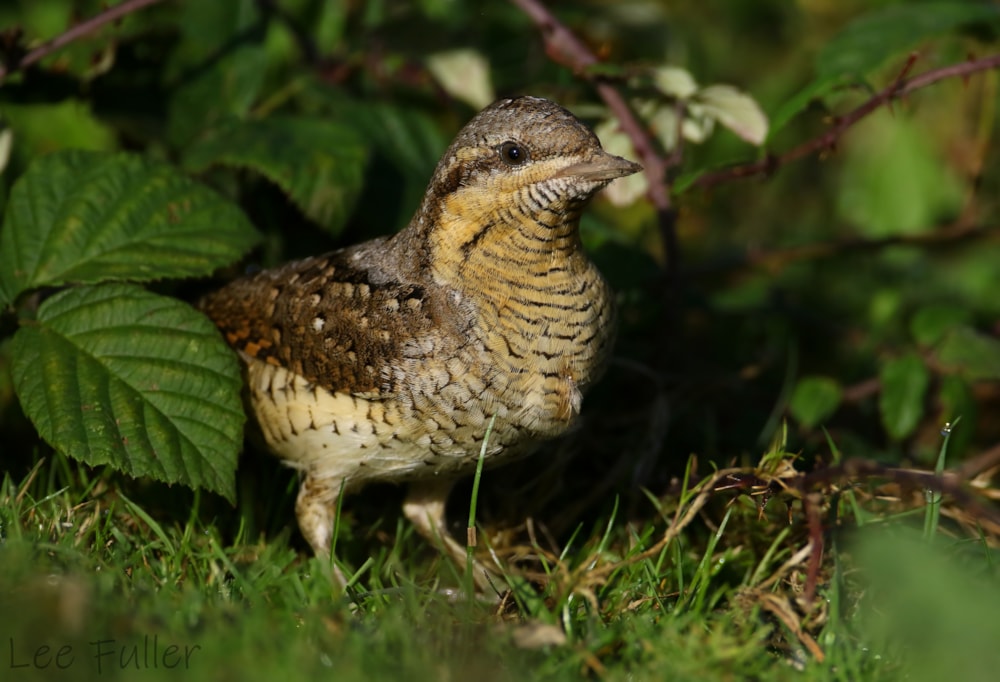 Wryneck, Hook-with-Warsash LNR, Hampshire (Lee Fuller).
Shetland scored three of the week's six Olive-backed Pipits, with another on Sanday, Orkney, at mainland birds at Mains of Usan, Angus, on 6th and on Holy Island, Northumberland, on 7th. At least two Red-throated Pipits were seen in Cornwall, but it was a stunning male on St Mary's, Scilly, on 7th which took the biscuit. Some 15 Richard's Pipits were seen, while three Greater Short-toed Larks were split between Shetland and Scilly. Returning Shore Larks were noted in six east-coast counties.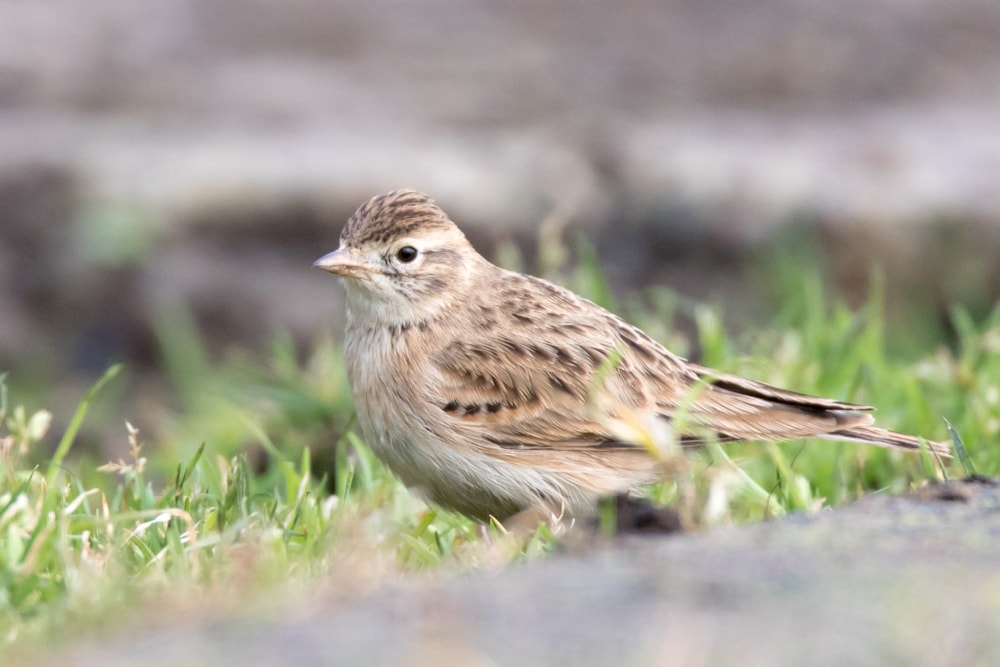 Greater Short-toed Lark, Garths Ness, Mainland, Shetland (Mick Kemp).
It seems the Blue Rock Thrush on St Mary's is preparing for an extended stay, although seeing itn't becoming any easier a job – it was still proving skittish and fleeting in its appearances throughout the week.
A new Siberian Stonechat was at Kilnsea, East Yorkshire, on 6-7th, while last week's Shetland bird remained at Hillwell. A candidate Stejneger's Stonechat was unearthed at Westing, Unst, on 8th. Six Red-flanked Bluetails included a frankly stunning adult male at Brotton, Cleveland, on 3rd and again on 6th. Others were found in Fife, Aberdeenshire and on Sanday, Orkney, and Fair Isle; last week's bird on Unst unfortunately perished when it flew into a window on 3rd. Around 20 Red-breasted Flycatchers were seen from Co Cork to Shetland.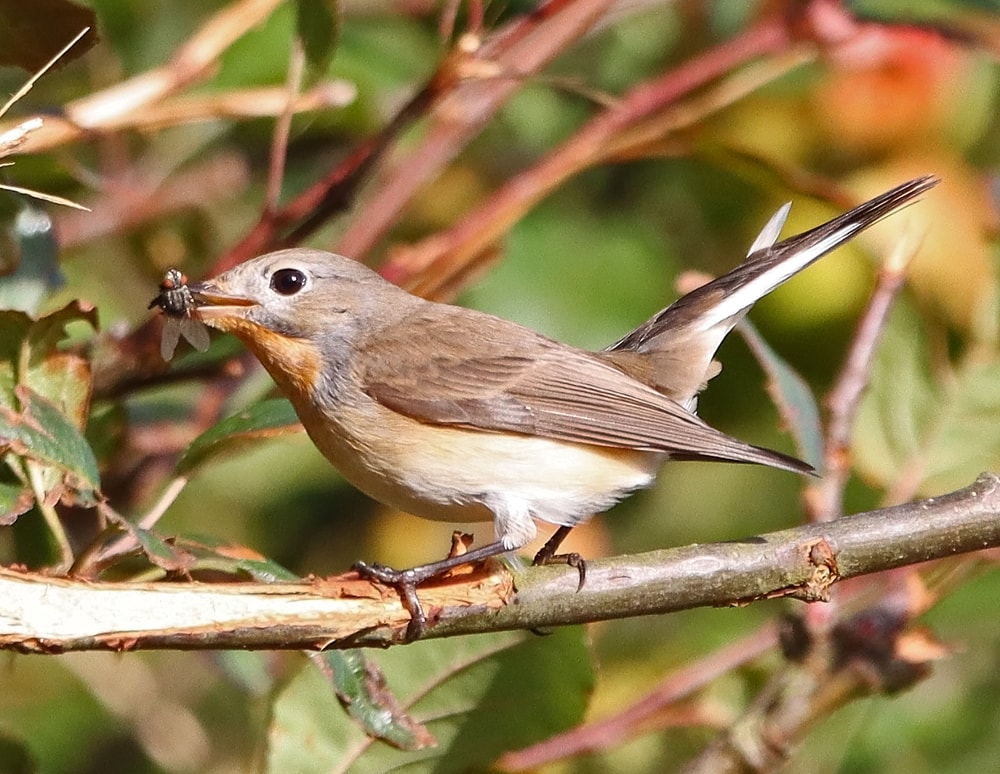 Red-breasted Flycatcher, Flamborough Head, East Yorkshire (John Derick Elvidge).
Last week's Booted Warbler was still at Spurn, East Yorkshire, to 3rd. Greenish Warblers were found at Cot Valley, Cornwall, and Cunningsburgh, Shetland, on 2nd, with the Holy Island bird present all week. Another Blyth's Reed Warbler was trapped at Nanjizal, Cornwall, on 2nd, with a bird found at Barns Ness, Lothian, on 8th. Two Marsh Warblers were at Spurn, East Yorks, on 6th, with another at Cruden Bay, Aberdeenshire, on 7th. The week's only Melodious Warbler remained on St Mary's, Scilly, to 5th.
A likely Western Bonelli's Warbler was at West Burra, Shetland, on 5th, with Subalpine Warblers of sorts at Wells-next-the-Sea, Norfolk, on 6th and on Barra, Outer Hebrides, on 8th. The autumn's first Pallas's Warbler is always a welcome moment, with this year's at Minsmere RSPB, Suffolk, on 5th – another followed on Unst on 8th. A total of six Dusky Warblers was amassed after the first at Haroldswick, Unst, on 2nd.

Western Bonelli's Warbler, West Burra, Shetland (Tom Hines).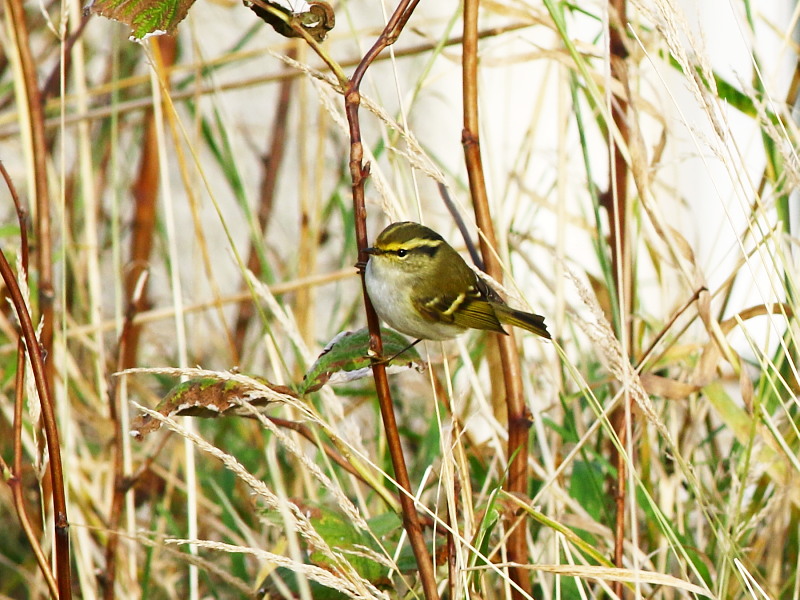 Pallas's Warbler, Baltasound, Unst, Shetland (David Cooper).
Other miscellaneous scarce migrant tallies included eight Red-backed Shrikes and 20 Barred Warblers, but just two Rosy Starlings.
There was a significant arrival of Ring Ouzel, typically along the south and east coasts, which peaked on Sunday and Monday. Aided by south-east winds, it took place amid the first broad arrival of winter thrushes across the lower half of our isles, with many sites scoring their first Redwings and Fieldfares of the season. Indeed, this movement was detected nocturnally too, with a 420 Redwings and 222 Song Thrushes sound recorded over Chesterton, Cambs, on the night of 5-6th.
The highest Ring Ouzel count was a whopping 50 on the Isle of May, Fife, on Sunday, though 37 at Beachy Head, East Sussex, on 8th and 30 and 27 at Dungeness, Kent and Flamborough head, East Yorks, respectively on 7th are worth of mention. There were plenty of decent inland totals with 20 at Cissbury Ring and 16 at Black Down, both in West Sussex, of note on Monday and Tuesday. It seems a good start to the autumn for this species and thus an ideal time to walk your nearest hill or downs in search of this scaly and charismatic turdidae.
Another species present in higher numbers than usual was Jay. After huge counts were charted in northern European and Dutch migration sites in September – seemingly linked to a crop failure – there seem to be plenty roaming around the British countryside at present. A noteworthy 62 were logged over Hunstanton Cliffs, Norfolk, in two hours on 8th; not quite the impressive three-figure hauls the site achieved in autumn 2012, but impressive nonetheless. Otherwise, aside from the thrushes, there wasn't much else of note among the assembled autumn vis-miggers this week, although 106 Reed Buntings over Spurn on 3rd is worthy of a mention.
Two or three Coues's Arctic Redpolls were found among a larger arrival of Mealy Redpolls to Shetland, while the Hornemann's Arctic Redpoll lingered on North Ronaldsay to 6th. Common Rosefinches were in Fife and Devon. After the glut of Rustic Buntings over the past fortnight, the only record this week was the Spurn bird last seen on 4th. A couple of Little Buntings were also at Spurn, with singles in Norfolk, Lincolnshire and Orkney and several on Shetland. Tresco, Scilly, played host to the week's only Ortolan Bunting.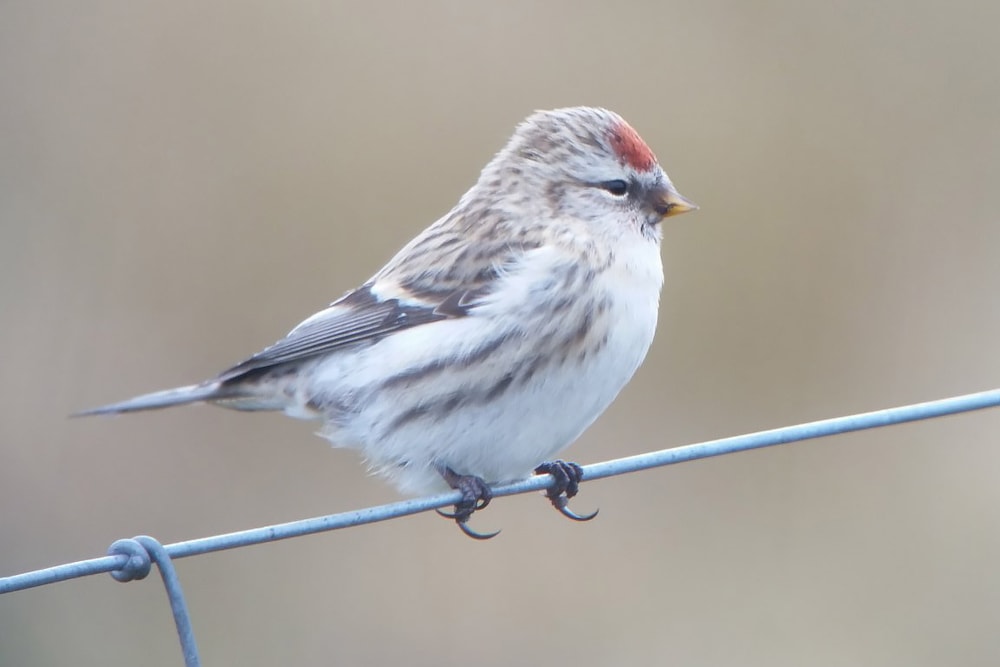 Coues's Arctic Redpoll, Bressay, Shetland (Gaz Clements).
Western Palearctic
We begin the WP summary in the Azores, and more specifically Corvo, where the first confirmed Prothonotary Warbler for the region was seen from 4-7th. The supporting cast included an Ovenbird on 6th, male Hooded Warbler, Magnolia Warbler, American Yellow Warbler and Philadelphia Vireo on 7th, and Black-throated Green Warbler and Northern Harrier on 8th. With multiple Black-and-white Warblers, Red-eyed Vireos and a single Rose-breasted Grosbeak, it was another memorable week for the legendary island.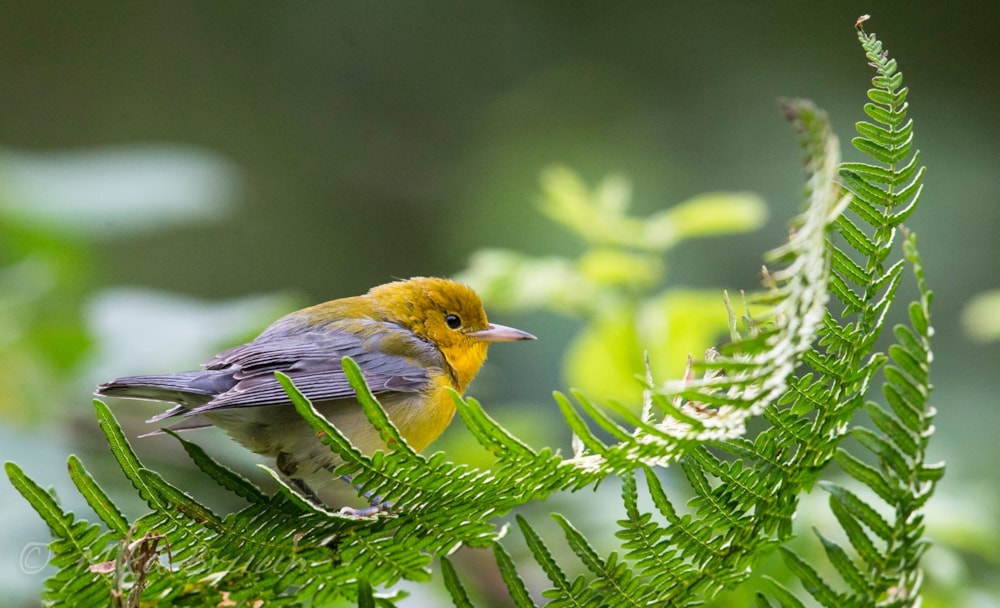 Prothonotary Warbler, Corvo, Azores (Mika Bruun).
Elsewhere in the archipelago, singles of American Buff-bellied Pipit and Red-eyed Vireo were on Terceira, where a good crop of waders included a Greater Yellowlegs.
The French Ovenbird stayed on Molène to 2nd, but was arguably upstaged by another new species for the national list in the shape of a stunning Blackburnian Warbler on Yeu Island for the day on 2nd. Birders Europe-wide were green with envy.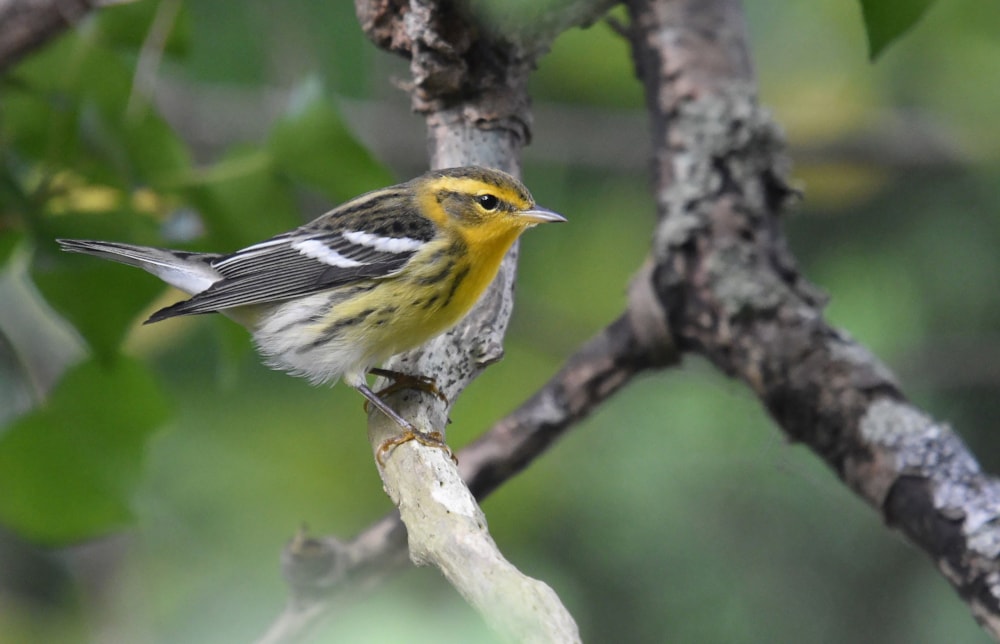 Blackburnian Warbler, L'Île-d'Yeu, Vendée (Jean-Marc Guipain).
The American theme continued with a Swainson's Thrush on Ouessant Island on 8th, while other significant records included a Paddyfield Warbler at Trunvel, Finistère, on 2nd and an Isabelline Wheatear in Alsace, the latter part of a small influx of the species to north-west Europe that also included the first record for Switzerland at Diesbach on 6th and birds in Belgium and The Netherlands. When you include the multiple British records of recent weeks, it's been a good autumn for the species in Europe.
In Iceland, a first-winter male Rose-breasted Grosbeak was trapped and ringed at Seltjörn on 7th.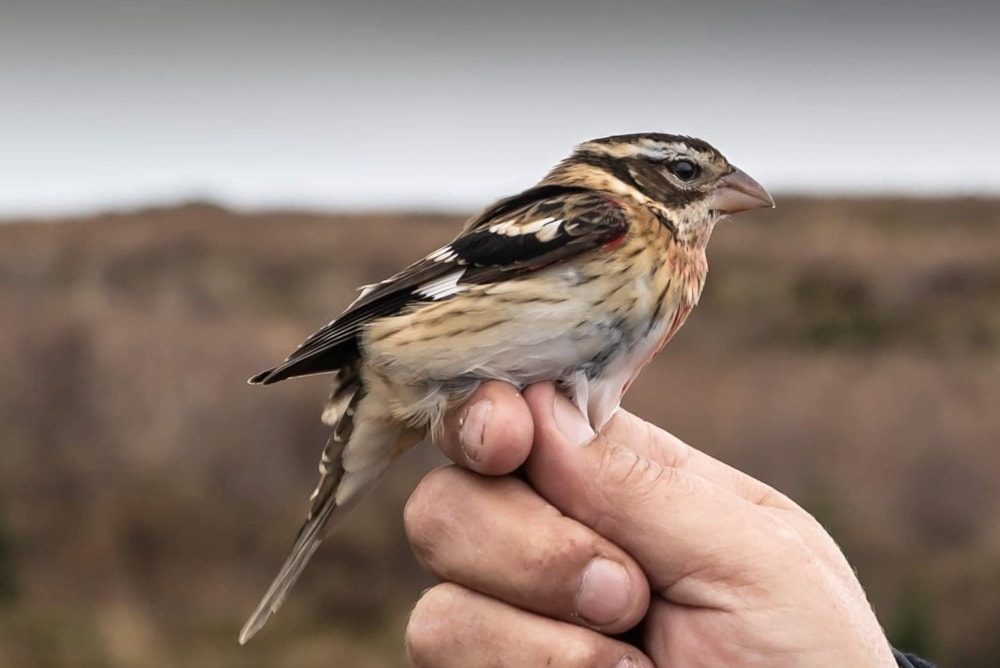 Rose-breasted Grosbeak, Seltjörn, Suðurnes (Gudmundur Falk).
The island of Utsira played host to Norway's fifth Brown Shrike on 3rd, with a beautiful male Red-flanked Bluetail also seen there later in the week. Another Brown Shrike, this time an adult male and seemingly of the grey-crowned lucionensis subspecies, visited Landsorts, Sweden, on 5th. A third, a first-winter, was on Vlieland, The Netherlands, on 5th.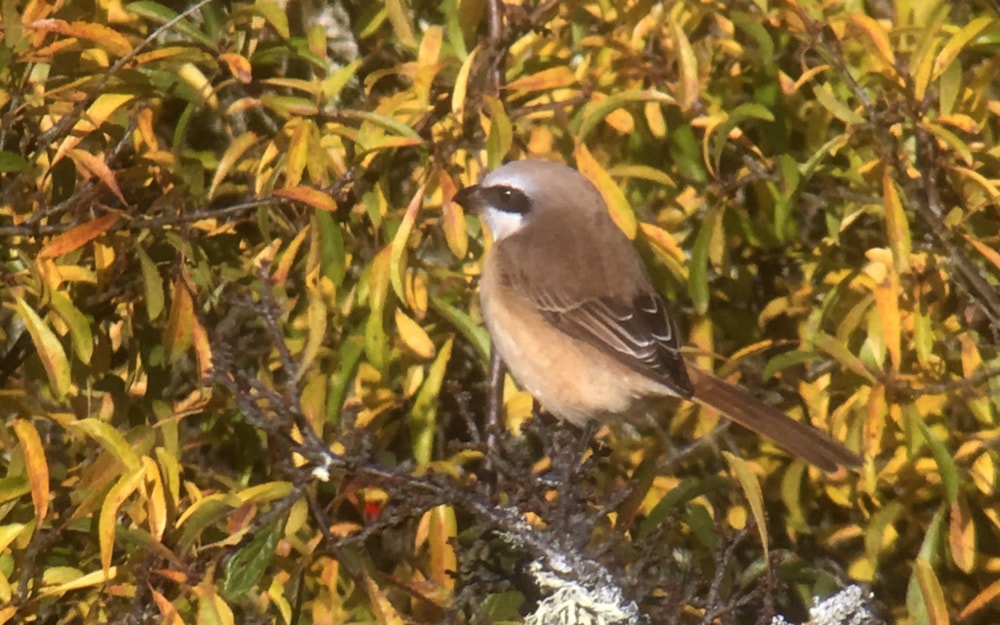 Brown Shrike, Landsort, Stockholms län (Espen Quinto-Ashman).
Back in Sweden, an Asian Desert Warbler was at Faro, Gotland, on 8th. A Stejneger's Scoter was again seen in Estonia. Albania's first Little Bunting was at Orikum on 8th.
Long stayers included the Dwarf Bittern still on Fuerteventura and the White-throated Bee-eater at Eilat, Israel.