It was beautiful bank holiday weekend for the vast majority of Britain and Ireland, with almost everywhere enjoying at least a day or two of wall-to-wall sunshine. The warmest regions were south-east England and the Home Counties.
However, at this time of year, unbroken blue skies rarely prove productive for bird migration. All birds, rare or otherwise, have a tendency to simply keep going if conditions are fair. So, while the forecasted easterlies and warm temperatures may have generated some optimism among birders – being the sort of conditions that often bring us multiple Red-footed Falcons, for example – more often than not they fail to deliver, and it's fair to say that this weekend … well, didn't deliver.
It was a lingering quartet of North American visitors that made up the week's rarest sightings. The American Bittern at Carlton Marshes, Suffolk, has finally answered questions as to its sex by beginning to 'boom' (if you can call it that – see this video for an example of what they sound like).

American Bittern, Carlton Marshes, Suffolk (Jonathan Theobald).
In south-west Wales, the Green Heron remained on show at Llan-mill until Bank Holiday Monday. After 10 days of access, though, MP Simon Hart's garden is now closed to the public. It'll be interesting to hear in due course just how long the bird decides to stay.

Green Heron, Llan-mill, Pembrokeshire (Tony Minvalla).
The American White-winged Scoter has made itself a pillar of reliability and true to form it continued to be seen off Musselburgh, Lothian, for another seven days. We wait with bated breath to find out if it moves north to Aberdeenshire a little later in the summer. Meanwhile, the Pied-billed Grebe remains territorial at Loch Feorlin, Argyll, and there was a report (for the first time in six weeks) of a Pacific Diver in Mounty's Bay, Cornwall, although it remained a 'possible' seen from a boat on 5th.
A flotilla of White-billed Divers continues in Scottish waters, most notably in the Moray Firth, where at least five were off Portsoy, Aberdeenshire, on 4th and singles were off both Cullen and Lossiemouth, Moray. Both Ronaldsays, South and North, scored for Orkney, while the classic location of Kirkabister, Shetland, also hosted a bird. Further south, one remained off Barra, Outer Hebrides. The only individual to be seen out of Scotland this week was off Tory Island, Co Donegal, to 5th.
Curiously, two Hooded Merganser were located this week, both of which were first-summer males, and both were in very similar states of plumage. However, the bird at Leven, Fife, on 5th had a ring on its right leg, while the other, at Seaton Common, Cleveland, on 6-7th didn't. Presumably because of the ring issue, one will be accepted, while the other won't make the grade …

Hooded Merganser, Seaton Common, Cleveland (Martyn Sidwell).
The American Wigeon was again reported from Grindon Lough, Northumberland, from 5th. Four Green-winged Teal saw birds noted at Tacumshin, Co Wexford, on 6-7th, Loch of Strathbeg, Aberdeenshire, from 4th and Balnakeil, Highland, and Colonsay, Argyll, on 7th. The American Black Duck was also still skulking on the Strontian River, Highland, on 8th. A pair of Ring-necked Duck remained on Achill Island, Co Mayo, on 7th, with others still at Saltholme, Cleveland, and on Islay, Argyll. The King Eider was chilling out at the Ythan Estuary mouth, Aberdeenshire, all week, while a new drake Surf Scoter was off Portmahomack, Highland, from 7th and at least one drake remained off the Lothian coast.
Potentially one of the week's most interesting records, two first-winter Ross's Geese were at Keiss then Loch of Mey, Highland, on 3rd. While the problem with free-flying escapes always remains, surely two immatures together in northern Scotland deserves more than a customary glance, for it seems an injustice that the species doesn't yet sit on Category A of the British Ornithologists' Union's British list. Meanwhile, further south, the white-morph Snow Goose relocated from Cheshire to Lancashire, where it was seen at Crossens Outer Marsh from 2-4th.
A female-type Little Bittern showed superbly for a day at Waren Mill, Northumberland, on 5th, delighting all-comers. However, it had moved on by the following morning. A total of seven Purple Herons was logged, including a well-watched bird at Cley Marshes, Suffolk, from 4-7th and the lingering bird still at Tophill Low, East Yorks, throughout. One reported at Brandon Marsh, Warks, on 4th had apparently already been present for four days, while another flew off from St Aidan's, West Yorks, on 8th. South coast records came from Cornwall and the Isle of Wight. Glossy Ibises were logged at 11 sites, including a concentration of records from north-west England, where it seemed at least three birds were seen at sites in Staffordshire, Cheshire and Lancashire.

Little Bittern, Budle Bay, Northumberland (Chris Barlow).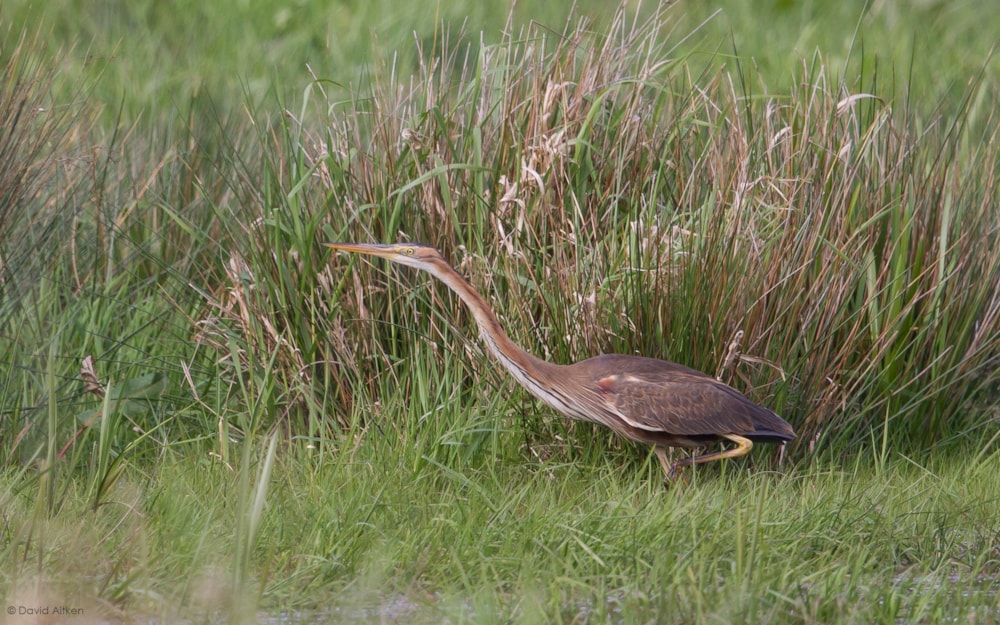 Purple Heron, Tophill Low NR, East Yorkshire (David Aitken).

Glossy Ibis, Druridge Pools, Northumberland (Jonathan Farooqi).
Late news of the year's first Red-footed Falcon was received on 2nd, concerning an immature female at Old Hall Marshes, Essex, on 1st. A Black Kite flew over Hartland Moor, Devon, on 8th, while the potential Black-eared Kite was seen again on Orkney on 5th. The female Montagu's Harrier returned to Blacktoft Sands, East Yorks, on 3rd, while another was seen in Kent on 4th. There was an array of European Honey Buzzard sightings from southern and eastern areas, though none lingered.
Content continues after advertisements
The Snowy Owl was seen a couple of times at Frampton Marsh, Lincs, to 5th and then on private land at nearby Freiston Shore on 7th. Apparently the female seen on St Kilda, Outer Hebrides, on 7-8th was a different bird to that in late April, while another fleeting record came from Hermaness, Unst, Shetland, on 6th.
The Bonaparte's Gull was last reported at Longham Lakes, Dorset, on 5th; the adult at Topsham, Devon, was also seen on the same day. Meanwhile, the Laughing Gull was still on St Martin's, Scilly, on 7th. An immature Ring-billed Gull visited Porth Reservoir, Cornwall, on 8th. White-winged Terns are always celebrated when they turn up and a pristine adult at Lackford and Livermere Lakes, Suffolk, on 7th was no exception.

Bonaparte's Gull, Topsham, Devon (Phil Edmonds).

White-winged Tern, Livermere Lake (Ampton Water), Suffolk (Barry Woodhouse).
The Pectoral Sandpiper remained at South Huish Marsh, Devon, to 2nd, while another was on Islay, Argyll, on 4th. The wide-ranging male Black-winged Stilt visited Eldernell, Cambs, again on 3-4th before relocating to Rutland Water on 5-6th. It was then back at Eldernell on 7-8th. Elsewhere, two returned to Bowers Marsh, Essex, on 7th. The Long-billed Dowitcher was still at Grindon Lough, Northumberland, on 7th, with another again at Lady's Island Lake, Co Wexford, on 3rd. The spring's first Temminck's Stint touched down at the London Wetland Centre, Barnes, on 7-8th.
Almost all Eurasian Dotterel records came from the north or west of Britain. The southernmost reports came from the Welsh hills (Plynlimon, Ceredigion, on 5th and Foel Fras, Gwynedd, on 7th) and the traditional 'tripping' grounds of Choseley, Norfolk, where two were seen. Up to 16 were at Swinefleet, East Yorks, to 5th, with ones and twos at traditional locations such as Pendle Hill, Lancs, and Ingleborough, North Yorks.
Given the weather, we might have expected a few more records of European Bee-eater than the two received. One flew over Flamborough Head, East Yorks, calling on 6th, followed by a fly-over in Cornwall on 7th. Golden Orioles were also thin on the ground, with a singing male briefly at Titchwell, Norfolk, early on 8th, as well as one still at Portland, Dorset, on 2nd and another briefly in the county at Wyke Regis. Two Wrynecks were in Norfolk on 3rd, while a fine Northamptonshire record came from Thrapston Gravel Pits on 4th. At least one was then in the Spurn and Kilnsea area, East Yorks, on 5-6th.
It seems it's one of those years for Iberian Chiffchaff imposters, with a few cases of confusing birds already this spring, the latest being a songster at Ringstead, Norfolk, from 7th, which was reidentified as a Common Chiffchaff on 9th. In Cornwall, bona fide males sang at Chapel Porth to 6th and at Polgigga from 5th. Meanwhile, in Cheshire, the male sang at Thurstaston Common all week.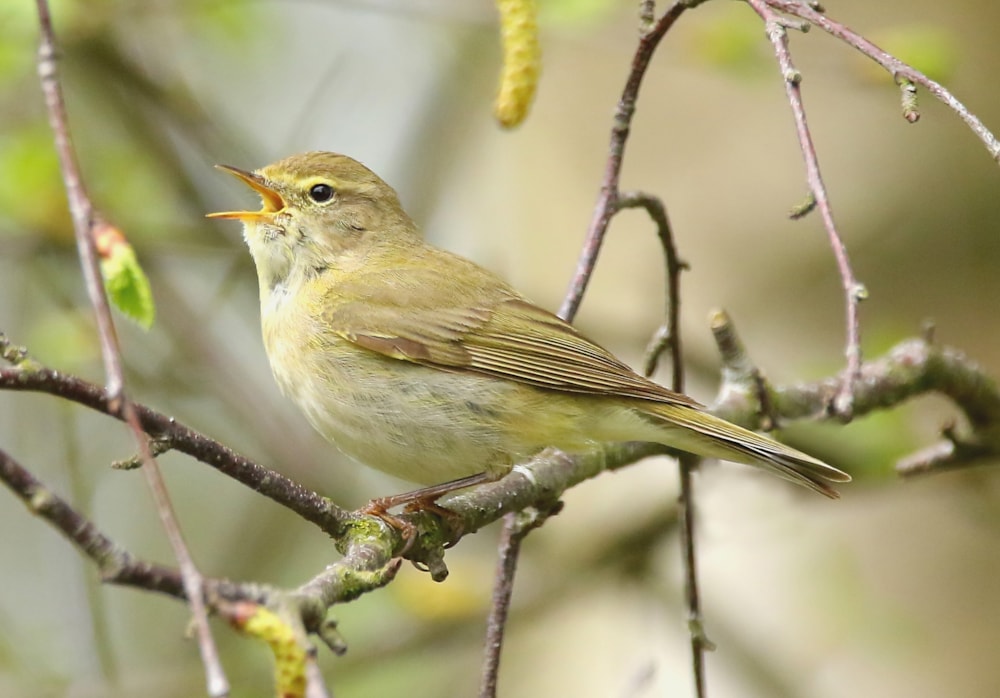 Iberian Chiffchaff, Thurstaston Common/Royden Park, Cheshire (Jaz Hughes).
A Savi's Warbler was in fine voice at Strumpshaw Fen, Norfolk, on 5-6th; another was found at Radipole Lake, Dorset, on the evening of 8th, while the male at Minsmere, Suffolk, continued to advertise itself. A Thrush Nightingale was trapped on the Isle of May, Fife, on 4th. The first Red-backed Shrike of the year was a female near Cleethorpes, Lincs, on 5th, followed by a male photographed at Seaford, East Sussex, on 7th. Another male was then at Dawlish Warren, Devon, on 8th. A Woodchat Shrike was on St Agnes, Scilly, on 4-5th, with another reported at Pennard Burrows, Glamorgan, on 5th.
A Red-throated Pipit flew over Sheringham, Norfolk, on 8th and a Black-headed Wagtail was at Bournemouth Airport, Dorset, on 6th. A Red-rumped Swallow reached Fair Isle, Shetland, on 3rd, with one still at Gibraltar Point, Lincs, to that same day and a twitchable bird at Alton Water, Suffolk, on 2nd. Others were in Kent, Dorset, Cornwall and East Yorkshire. A Greater Short-toed Lark graced Blakeney Point, Norfolk, on 6-7th.
There were a handful of European Serin records this week, including a couple of notable Irish occurrences. One was reported at Kylemore Abbey, Co Galway, on 3rd, with another in a garden at Schull, Co Cork, on 4th. One proved gettable at Selsey Bill, West Sussex, on 3rd, though the same could not be said for records from Lincolnshire and Cornwall. An Ortolan Bunting visited Nanjizal, Cornwall, on 7th.
Western Palearctic
The first Crested Honey Buzzard for Greece flew over Afilanta, Lesvos, on 2nd, although there were precious few other stand-out regional rarities recorded. Italy's third Atlas Pied Flycatcher was at Isola Ventotene on 6th, while Hungary's fifth Demoiselle Crane was at Hortobágy on 3rd.
Belgium's first Western Orphean Warbler was singing near Havenne, Namur, from 7th and the Pygmy Cormorant remained in Brussels. The Black-browed Albatross remained remarkably reliable at Sylt, Schleswig-Holstein, Germany. Dutch records included a Lesser Spotted Eagle at Den Oever on 8th.
Other bits and bobs included a Basra Reed Warbler at Eilat, Israel, on 8th, the American Royal Tern still on Guernsey and a Harlequin Duck in St Petersburg, Russia, the latter having been present since the previous August. In south-west Iceland, a Solitary Sandpiper was at Sandgerði on 8th.

Solitary Sandpiper, Sandgerði, Iceland (Alex Máni Guðríðarson).