In a year where Nearctic vagrants continue to shine, Northern Ireland's first-ever Bufflehead was at Quoile Pondage, Co Down, from 5th, the drake identified courtesy of a post on a Facebook bird identification site. It follows hot-on-the-heels of Ireland's fourth, at an undisclosed site in Co Clare at the end of November.
In the Republic, Co Cork's young male Belted Kingfisher remained in the creek opposite Puxley Castle, often in close company with a Common Kingfisher, and was reported until the week's end. Meanwhile, the Double-crested Cormorant continued at Carrig Island, Co Kerry, proving most reliable around its favoured roost site near Carrigafoyle Castle. For birders across Ireland, there are now less than 10 days to wait until the end of the national county-level lockdown.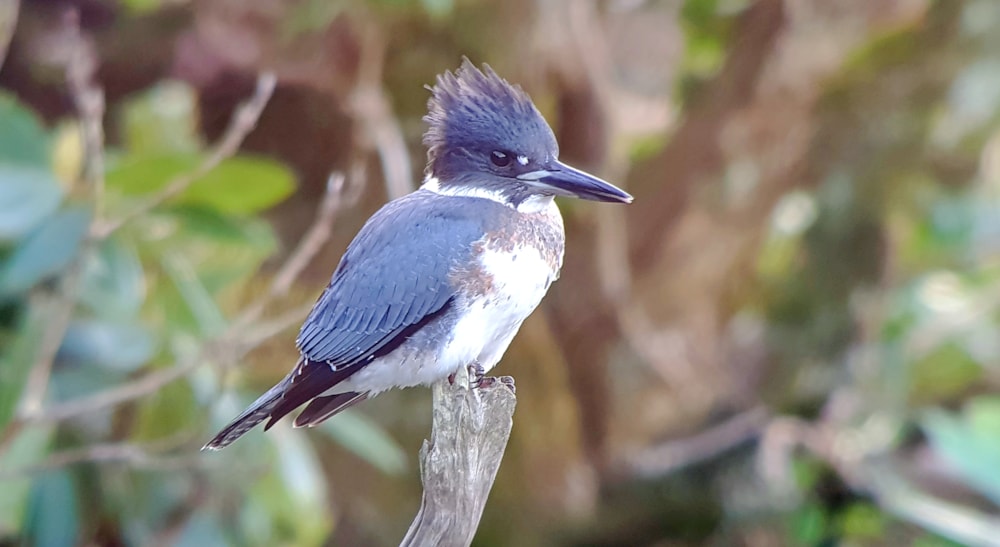 Belted Kingfisher, Castletown Bearhaven, Cork (Sean Cronin).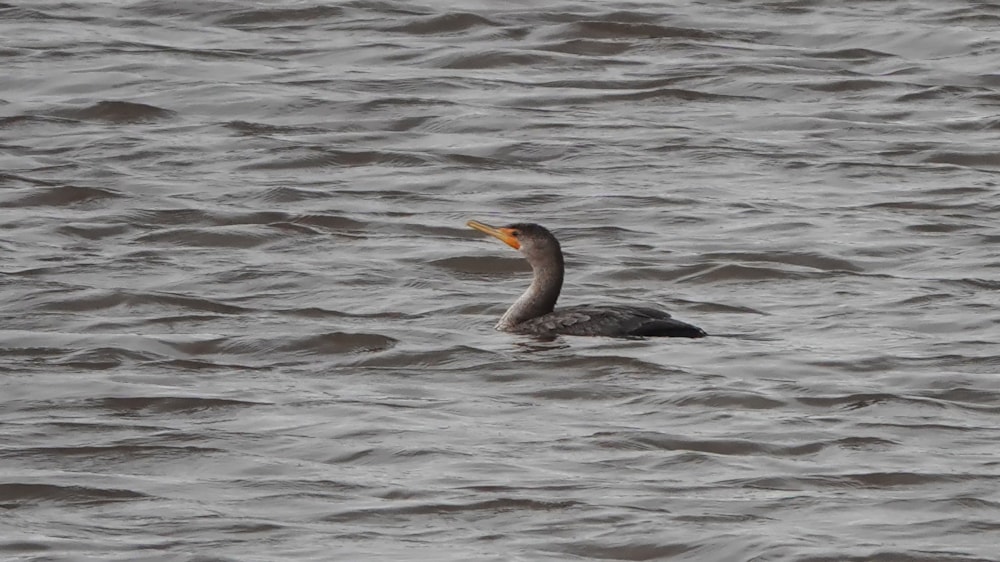 Double-crested Cormorant, Ballylongford, Kerry (Davey Farrar).
In Cornwall, the young Sociable Lapwing remained mobile with Northern Lapwings in the general vicinity of Crows-an-Wra, besides a short visit to Skewjack Farm on 6th, although there was no sign after this date.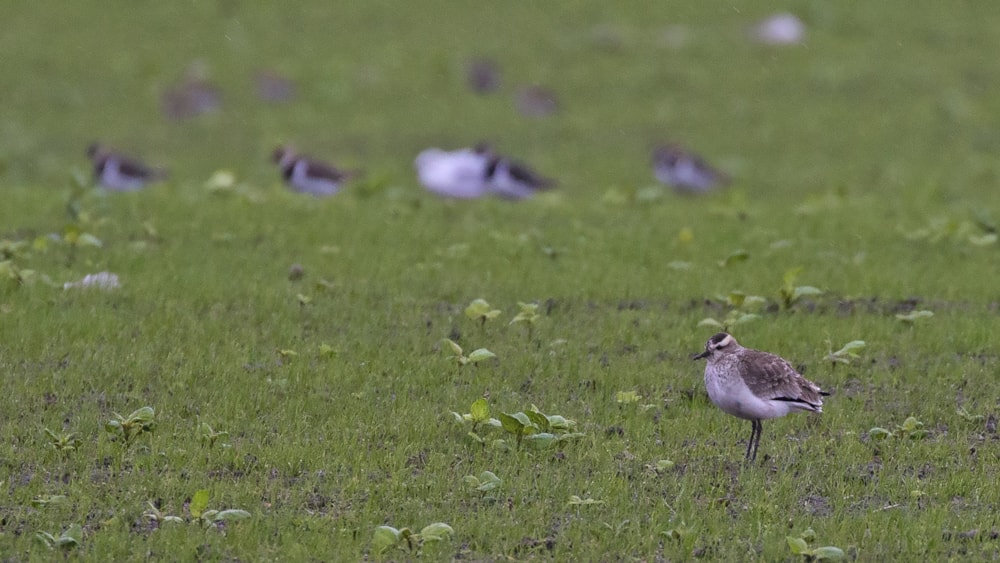 Sociable Lapwing, Crows-an-Wra, Cornwall (Sam Viles).
Sociable Lapwing, Crows-an-Wra, Cornwall (Matthew Mellor).
In Co Donegal, the two 'queen' King Eiders were last seen off St John's Beach on 2nd, although the young drake lasted at Stack Rocks, Pembrokeshire, throughout. A drake flew past Nairn, Moray & Nairn, on 5th – two Grey-bellied Brants were recorded there with Pale-bellied Brents the next day. On 7th, a first-winter female Ferruginous Duck was a brief visitor to Abbotsbury Swannery, Dorset, but wasn't to be found the following day.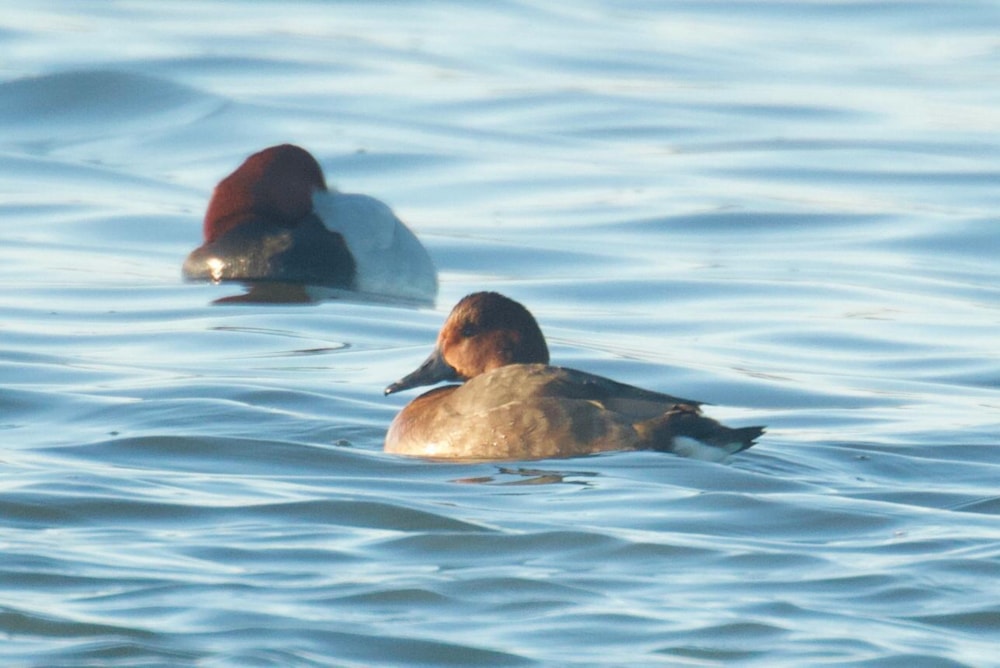 Ferruginous Duck, Abbotsbury Swannery, Dorset (Charlie Wheeler).
Showing well off Penzance, Cornwall, until 4th, the regular Pacific Diver was last noted heading past Mousehole on 6th. The Pied-billed Grebe remained settled at Chelmarsh Reservoir, Shropshire, throughout. In the Outer Hebrides, two Richardson's Cackling Geese remained settled at Balranald RSPB, North Uist, while at least one was with Barnacle Geese in Argyll at Ballygrant, Islay, on 8th. A Cackling Goose with Canada Geese at Slimbridge WWT, Gloucestershire, on 8th likely belonged to the minima subspecies, a very unlikely vagrant and the most common subspecies in captivity.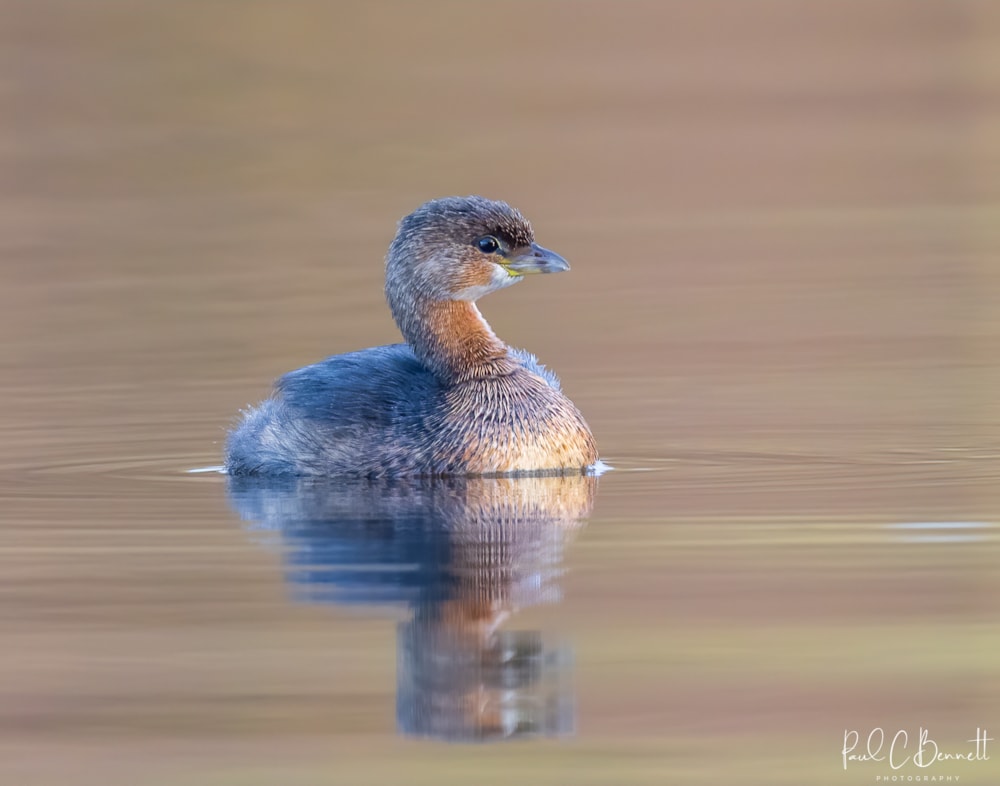 Pied-billed Grebe, Chelmarsh Reservoir, Shropshire (Paul Bennett).
In Ireland, the returning adult Forster's Tern was back at Nimmo's Pier, Co Galway, on 6th.
The Mullet peninsula, Co Mayo, had a remarkable week. A first-winter drake American Black Duck at Cross Lough – present since 14 November – topped the billing, alongside a Richardson's Cackling Goose at the same site – present since 22 October. Meanwhile, a white morph Gyr Falcon was at Termoncarragh Lough on 6th.
Fife's first Rustic Bunting away from the Isle of May was at Kingsbarns on 7th, with Surrey's first-winter still at Thursley Common all week.

Rustic Bunting, Thursley Common, Surrey (Gary Thoburn).
Somerset's Eastern Yellow Wagtail proved a cool customer at Steart WWT throughout; Suffolk's male Alaskan Yellow Wagtail was last reported on 6th. In Kent, the mobile Eurasian Crag Martin was last noted between Kingsdown and Samphire Hoe CP on 4th.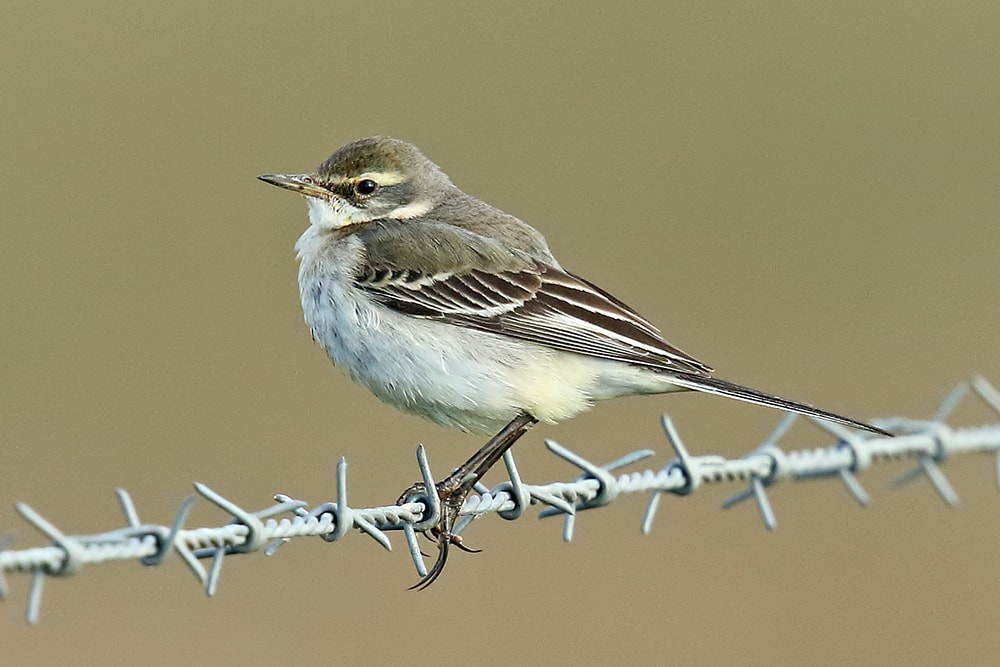 Eastern Yellow Wagtail, Steart WWT, Somerset & Bristol (Gary Thoburn).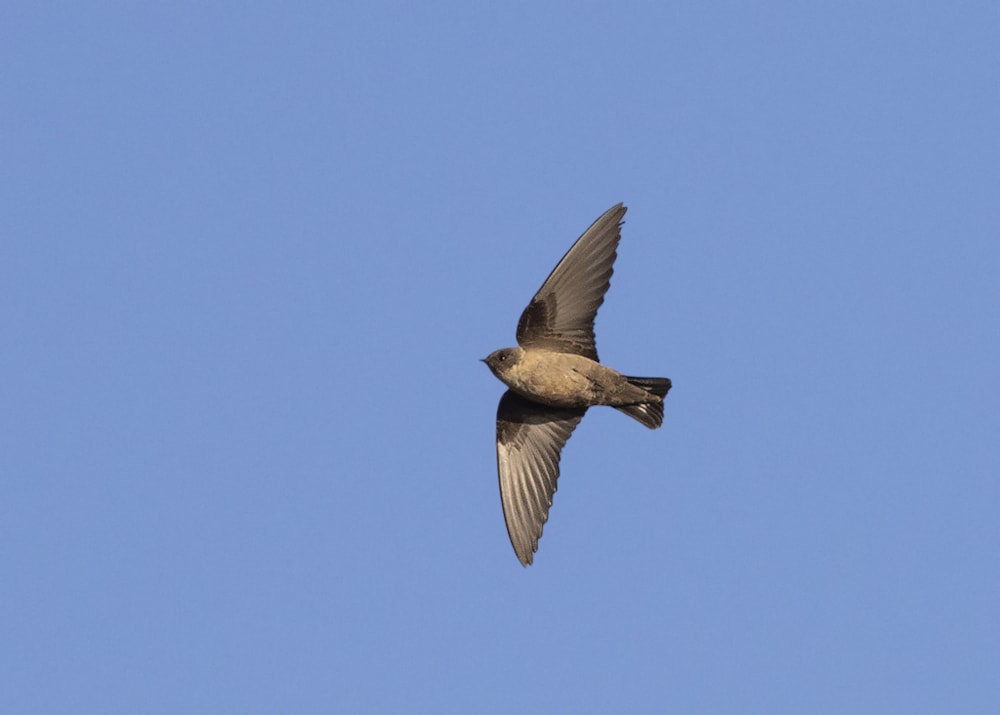 Eurasian Crag Martin, Samphire Hoe CP, Kent (Steve Ashton).
Looking set for a winter holiday in Fife, the juvenile Hudsonian Godwit remained steadfast on the Eden Estuary off Guardbridge until 7th. A Spotted Sandpiper was a smart find at Bremore, Co Dublin, from 3-6th, while Findhorn Bay, Moray & Nairn, held onto the juvenile Pacific Golden Plover. In Cumbria, the adult Long-billed Dowitcher was back at Old Anthorn on the afternoon of 3rd, while at Scorton, North Yorkshire, the youngster lasted until the end of the week.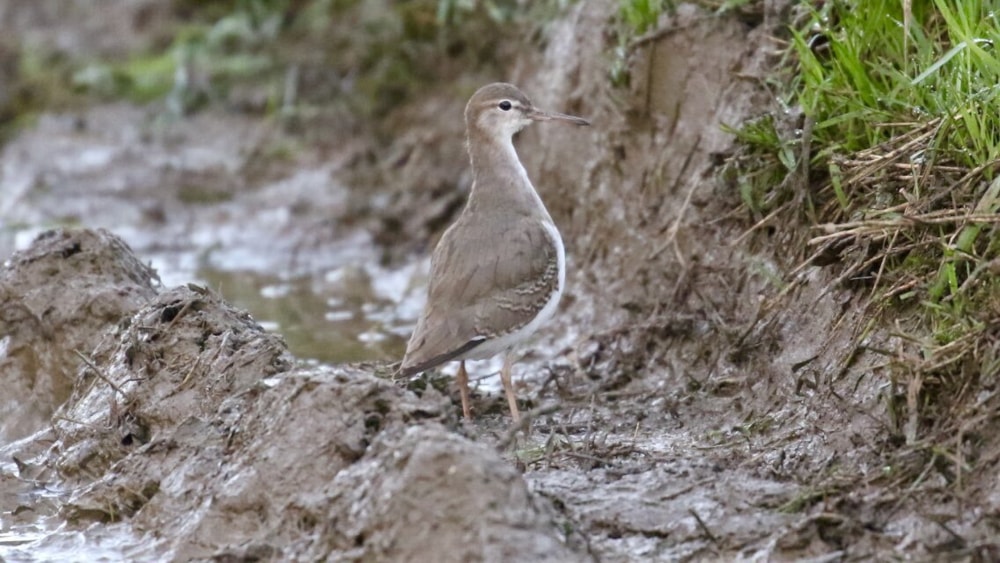 Spotted Sandpiper, Bremore, Dublin (Aidan G. Kelly).
On 24 November, Britain's third-ever Geoffroy's Bat was found hanging off a garden chair in Southwick, West Sussex, and taken into care.
Northern Isles and the Hebrides
A Taiga Bean Goose on Fair Isle, Shetland, on 4th was joined by a Tundra Bean Goose. On the Mainland, two Siberian Chiffchaffs remained at Hoswick and the White-billed Diver floated around South Nesting Bay until 3rd, while the Waxwing was still in Lerwick.
In Orkney, an adult Kumlien's Gull flew past Mull Head, Papa Westray, on 6th, where no fewer than seven White-billed Divers flew past on the morning of 1st. A Siberian Chiffchaff was on Sanday on 4th. A new Lesser Yellowlegs was in the Outer Hebrides at Ardivachar Point, South Uist, on 7th and the drake Green-winged Teal remained at Loch Sandary, North Uist. Meanwhile, the drake Surf Scoter reappeared in the Sound of Taransay, Harris, on 7th
Scottish mainland
No fewer than five Ring-necked Ducks graced the Scottish mainland this week: Kilmardinny Loch, Clyde, Cameron Reservoir and Kinghorn Loch, Fife, Acharacle, Highland, and Loch na Bo, Moray & Nairn. Redhead Smew were at five sites – Hogganfield Loch, Clyde, Blairgowrie, Perth & Kinross, Loch of Skene, Aberdeenshire, Loch Watten, Caithness, and Cameron Reservoir, Fife. In Highland, the intermediate morph Snow Goose was last reported from Nigg Bay on 6th. Two juvenile Pomarine Skuas flew north past Girdle Ness, Aberdeenshire, on 5th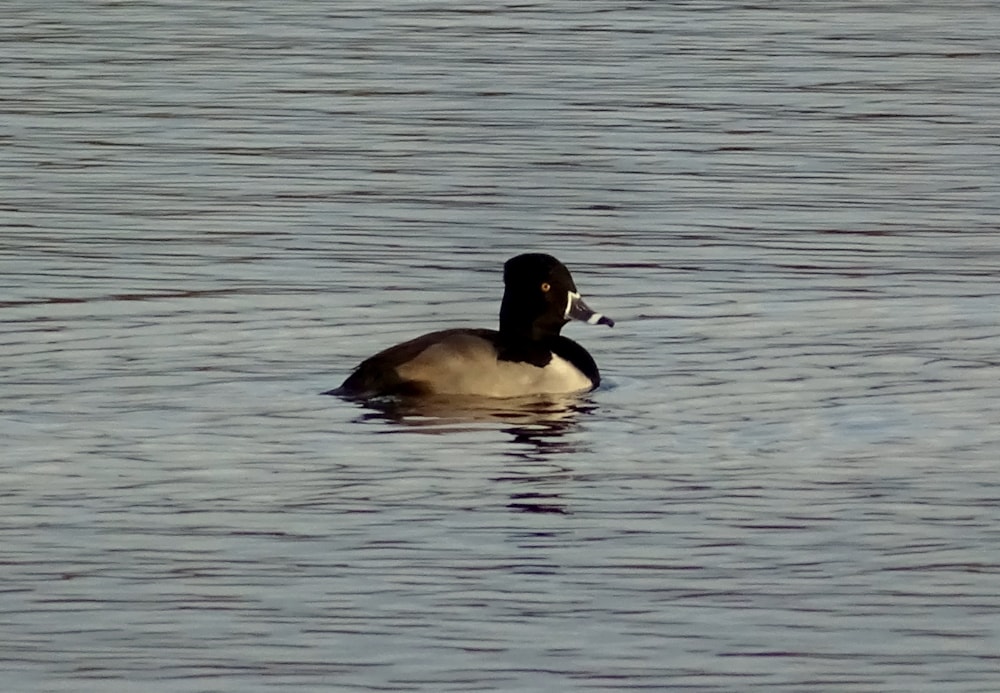 Ring-necked Duck, Kinghorn Loch, Fife (John Nadin).
Originally found on 27 November, a Rough-legged Buzzard was still near Cabrach, Moray & Nairn, on 8th. A small arrival of Waxwings included individuals at Grantown-on-Spey, Highland, and Granton, Lothian, on 6th. In Moray & Nairn, seven were at New Elgin from 2nd, with another two at Kingsteps from 3rd. Meanwhile, a Shore Lark was again at Belhaven Bay, Lothian, on 3rd. At least five Lapland Buntings were at Kingsbarns, Fife, while another was in Argyll at Loch Kinnabus, Islay. The Water Pipit remained at Seamill, Ayrshire. Five Siberian Chiffchaffs were noted: in Lothian at Seafield, Edinburgh (three), Seafield, Fife, and Cruden Bay, Aberdeenshire.

Iceland Gull, Kilnaughton Bay, Islay, Argyll (Dan Brown).
North-East England
Regular coverage at Northumberland's Longhoughton Steel paid dividends again this week with a Grey Phalarope on 5th, relocating to Cullernose Point later that morning. Other highlights in the period included the long-staying drake American Wigeon at Grindon Lough, a second second-winter Iceland Gull – hopefully the first of a good winter for the species – at North Shields and a Tundra Bean Goose at Seaton Sluice on 7th.
A Great Egret was at Rising Sun CP on 7th, a juvenile Pomarine Skua flew past Seaton Sluice on 5th and it or another was around Tynemouth on 6th. The Howick Hooded Crow remained all week, as did the Tynemouth Black Redstart. A single Hawfinch was again west of Morpeth on 3rd. The North Blyth Snow Bunting gathering was up to nine this week.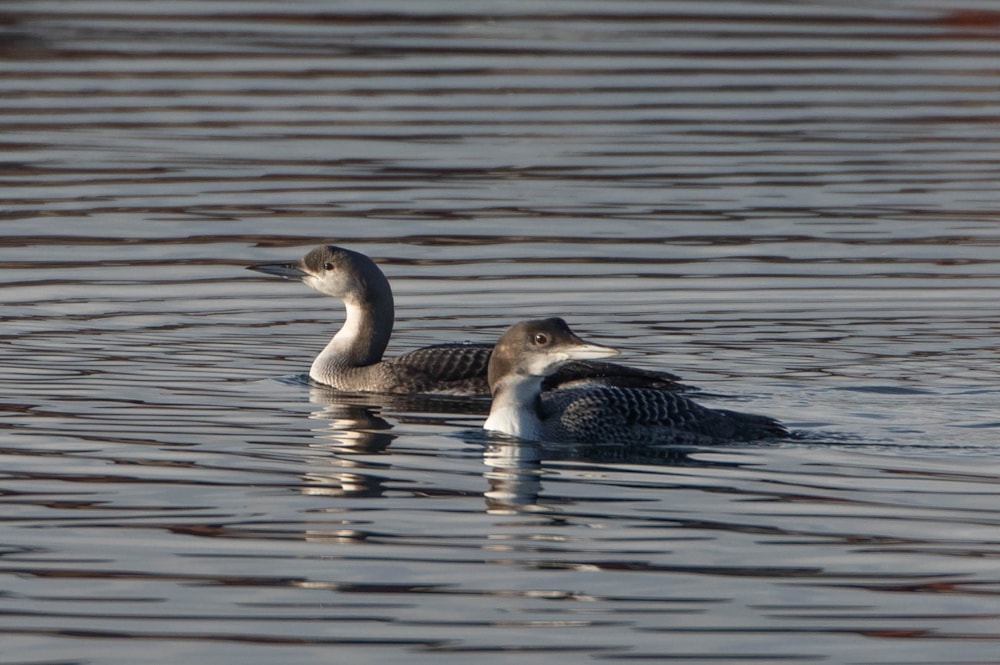 Black-throated Diver (left), Hartlepool, Cleveland (Martyn Sidwell).
Two Waxwings flew through Whitburn, Durham, on 7th in a quiet week for the county. Two Lapland Buntings were noted in stubble at Ryhope and four Mealy Redpolls were at Washington WWT. A Great Egret remained at Bishop Middleham and, more unusually, one was visiting gardens at Trimdon and Peterlee area on 7-8th. Two Snow Buntings remained content at South Shields Leas.
A textbook-looking drake Northern Eider first reported on 2nd (and first seen on 28 November) loafing with Common Eider off the Redcar seafront remained all week and was unquestionably the main draw in Cleveland in the period. A Glossy Ibis toured the Salthome RSPB/Cowpen Marsh/Greatham Creek area, where a Great Egret also hung on. A Black-throated Diver spent several days scouring Jackson's Landing, Hartlepool, offering a good opportunity to see the species close up. Ten Snow Buntings continued to linger at South Gare and 120 Twite ranged inland a little to Cowpen Marsh.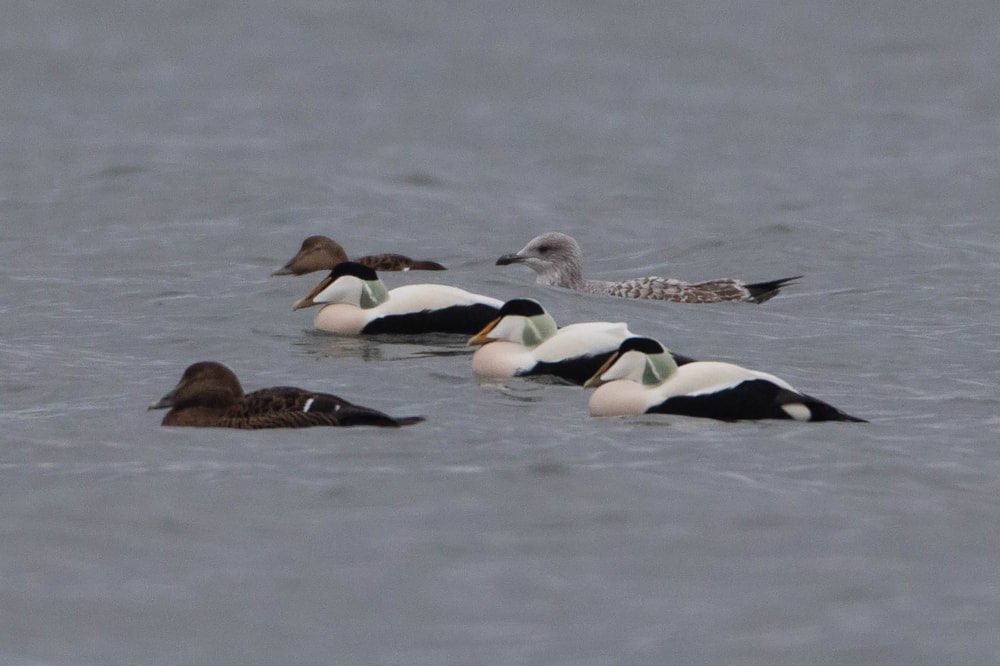 Northern Eider (second from right), Redcar, Cleveland (Martyn Sidwell).
North-West England
In a quiet week in Cumbria, a possible Todd's Canada Goose at Edenhall on 2nd kept things ticking over. Moving onto Lancashire, the first-winter Grey Phalarope continued to grace Marshside RSPB until 3rd. The Siberian Chiffchaff was seen sporadically at Ainsdale NNR and a first-winter Caspian Gull roosted at Fishmoor Reservoir on 3rd.
A juvenile Glaucous Gull and a Little Stint proved an interesting pair at Burton Mere Wetlands RSPB, Cheshire, on 3rd, with the latter remaining until at least the 8th. Elsewhere, grey geese were staking their claim, with larger than average numbers of Pink-footed Geese in the county including an impressive inland roost of 3,000 roosting at Woolston Eyes on the night of 7th. A group of 23 Russian White-fronted Geese over Neumann's Flash on 4th made for a great regional count, while both Russian and Greenland White-fronted Geese could be found among Pink-feet at Culcheth. Meanwhile, unassigned Greater White-fronted Goose records came from Chelford on 2nd and one heard overflying Warrington on the night of 5th. Six Tundra Bean Geese flew over Raby on 7th. Greater Manchester enjoyed a rest this week, with the first-winter drake Greater Scaup still at Elton Reservoir and an adult Caspian Gull again roosting at Audenshaw Reservoirs on 5th.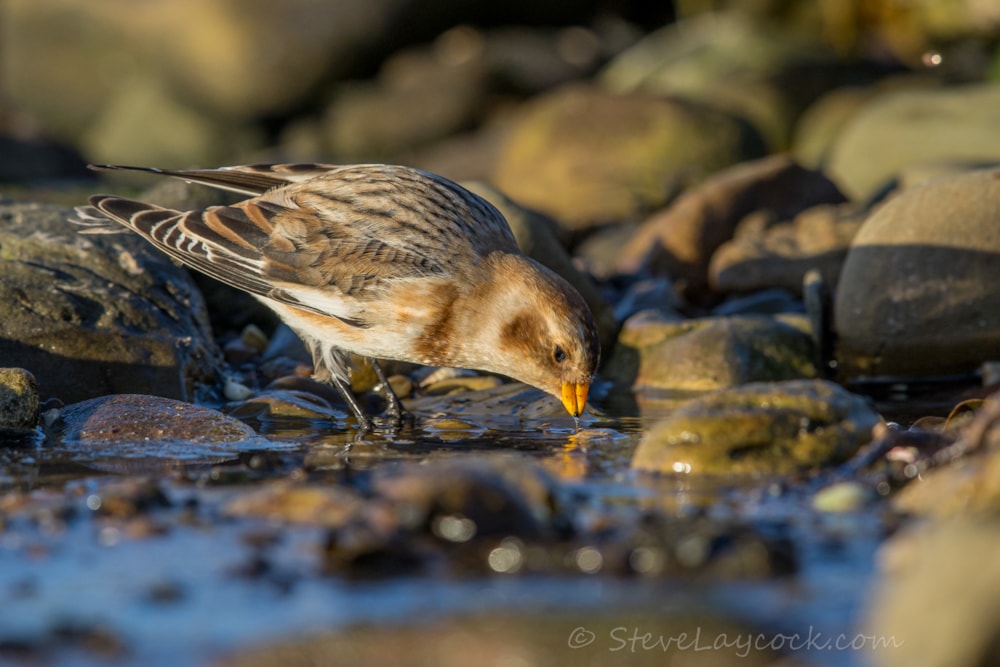 Snow Bunting, Cockersand Abbey, Lancashire (Steve Laycock).
Lincolnshire and Yorkshire
On the Lincolnshire coast, a Dusky Warbler was at Donna Nook on 9th. Covenham Reservoir produced a new Red-necked Grebe. A Glossy Ibis was at Deeping Lakes on 2nd, with three Common Cranes seen from Deeping High Bank on 5th. The Baston area held up to 21 Russian White-fronted Geese. A Eurasian Spoonbill was an unusual December record at Woodhall Spa Airfield on 2nd, while up to 24 Bewick's Swans were at Holbeach St Johns.
With so few seen this autumn, a Little Auk past Spurn, East Yorkshire, on 2nd was of note, with the area also holding Russian White-fronted Geese, Caspian Gulls and Greater Scaup. Four Bewick's Swans commuted between North Cave Wetlands and Bursea, while a Western Cattle Egret visited Tophill Low on 3rd. Up to three Black Redstarts were at Flamborough Head.
Two Grey Phalaropes lingered off Filey Brigg, North Yorkshire. In a poor winter for the species, it was nice to receive a record of a Rough-legged Buzzard at Rosedale Abbey on 6th – another belated report from Blackmoorfoot Reservoir followed. The Lesser Yellowlegs remained at Nosterfield LNR, as did the Great Northern Diver at Malham Tarn.
A juvenile Iceland Gull roosted at Potteric Carr, South Yorkshire, on 2nd, with a Siberian Chiffchaff at Askern from 6-8th. A Red Knot was at Orgreave Lagoons on 8th.
West Midlands
A flock of 18 Russian White-fronted Geese at Radford Meadows SWT on 5th made for a nice Staffordshire record. The first-winter Little Stint remained at Belvide Reservoir, where a Caspian Gull roosted. Another two Casps roosted at Chasewater.
In Shropshire, an adult Bewick's Swan was a pleasing sight at Venus Pool NR on 6th, although regular forays off the reserve proved a cat-and-mouse chase for observers. A Russian White-fronted Goose made a brief appearance at Chelmarsh Reservoir on 6th, where the Great Northern Diver remained settled. A late Yellow-browed Warbler was at Maesbury Marsh on 5th and a Snow Bunting was at Long Mynd from 6th. A second-winter Caspian Gull roosted at Priorslee Lake on 4th and 8th, while a first-winter livened up the roost at Bartley Reservoir, West Midlands, on 7th.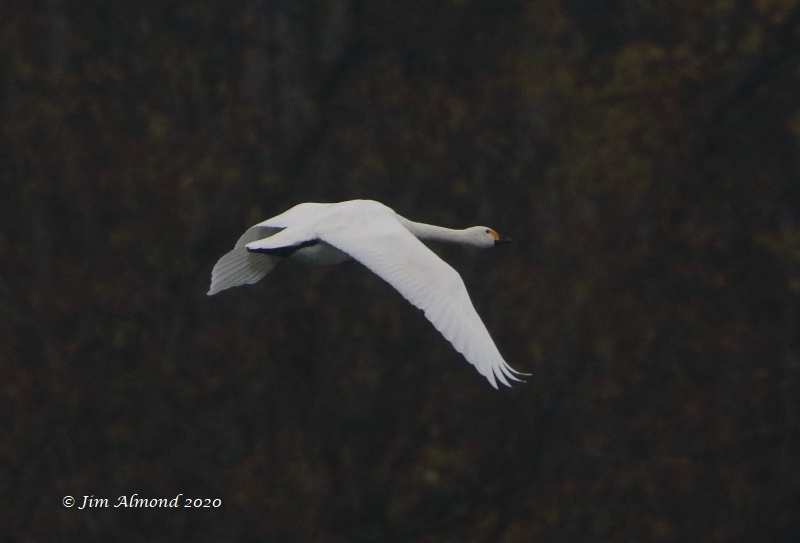 Bewick's Swan, Venus Pool NR, Shropshire (Jim Almond).
More Russian White-fronts were to be had in Worcestershire, with a nice count of 21 at Lower Moor on 5th. The Siberian Chiffchaff was still reported from Kempsey sewage works on 6th and the juvenile Great Northern Diver lengthened its stay at Ripple GPs. Not to miss out, Draycote Water provided Warwickshire's complimentary albifrons action with six Russian White-fronted Geese overhead on 8th. Also at Draycote, a Red-necked Grebe was a nice find, with two juvenile Great Northern Divers, up to six European Shags and two Caspian Gulls completing the set. A first-winter Caspian Gull was at Brandon Marsh NR on 6th.
Content continues after advertisements
East Midlands
An adult Eurasian Penduline Tit photographed at Langford Lowfields RSPB on 6th made for an exciting morning in Notts and by the following afternoon a second bird had materialised. Impressively, the same site continues to play host to a Little Bunting. Russian White-fronted Geese were scattered across three localities, a Eurasian Spoonbill was off Slaynes Lane, Idle Washlands, from 2-5th, and a juvenile Great Northern Diver was at Hoveringham GPs on 8th, and a Caspian Gull was at Attenborough NR. Moving to Northants, four Bewick's Swans paid a brief visit to Pitsford Reservoir on 4th and two sites logged Russian White-fronts. Hollowell Reservoir held onto the juvenile Great Northern Diver and up to four Black-necked Grebes remained at Stanford Reservoir.

Caspian Gull, Attenborough NR, Nottinghamshire (Neil Loverock).
An adult and juvenile Dark-bellied Brent Goose pairing were a respectable find among Pink-footed Geese at Carr Vale NR, Derbyshire, on 6th and four Russian White-fronted Geese flew west over High Bridge GPs the same day.
Two sites in Leicestershire logged Russian White-fronts, with a particular shout-out to a flock of 24 at Eyebrook Reservoir on 5th, where the two Smew remained present and correct. The Great Northern Diver spectacle continued at Rutland Water, with up to five still being reported this week. Other highlights included three Smew and a Red-breasted Merganser.
East of England
Two ringed Snow Geese near Dereham, Norfolk, on 3rd transpired to be the birds previously seen at various Scottish localities, including in Lothian as recently as November. They subsequently moved to the coast at Snettisham RSPB. At least three Glossy Ibises were in the county, while a Black Brant was at the classic location of Cley NWT and the Lesser Yellowlegs hung on at Wiveton. Up to three Iceland Gulls were along the coast.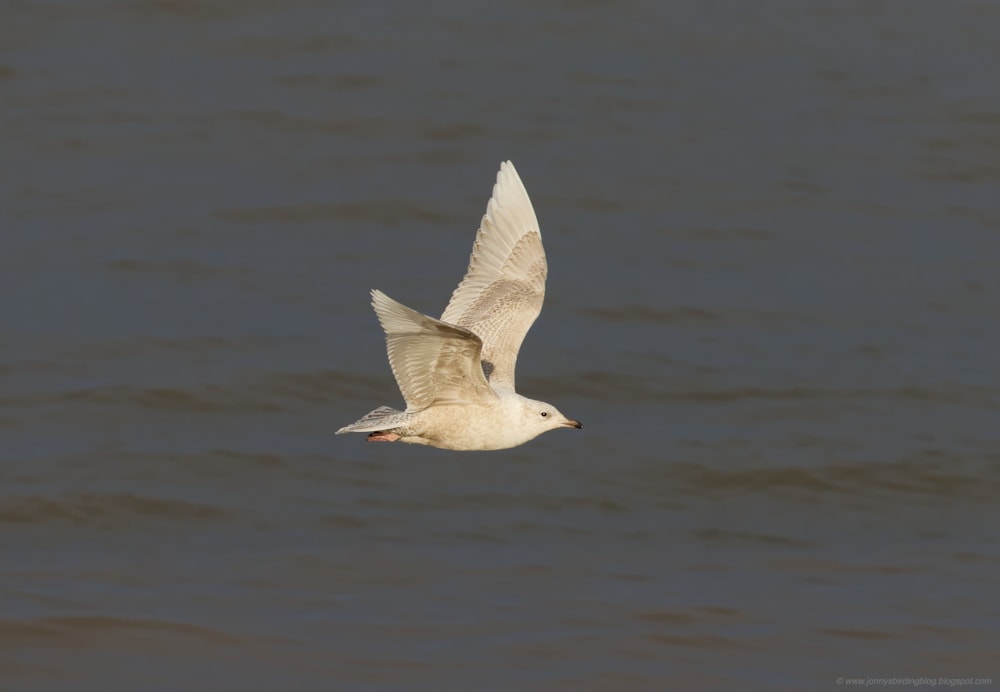 Iceland Gull, Weybourne, Norfolk (Jonathan Farooqi).
A goose fest was to be had in Suffolk, where parties of Russian White-fronted Geese remained numerous and included several counts in excess of 100. Tundra Bean Geese were seen at six sites, including an impressive 22 at Blackheath from 7th. Stalwarts included the Great Grey Shrike at Upper Hollesley as well as the usual array of Snow Buntings, Caspian Gulls and coastal ducks.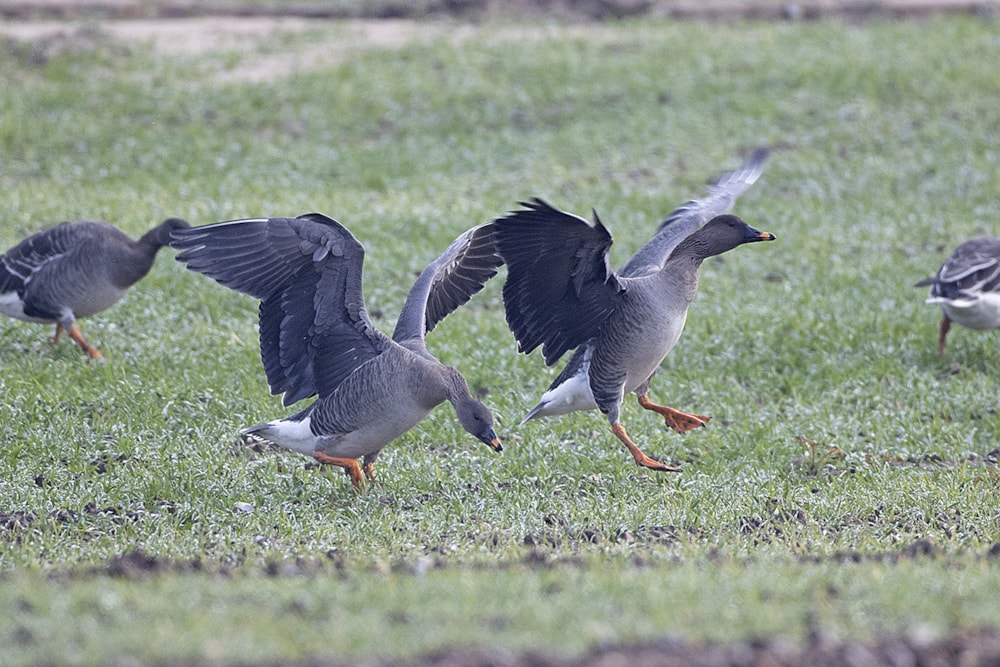 Tundra Bean Goose, Wenhaston, Suffolk (Andrew Moon).
A couple of Black Brant were seen in the Mersea Island area of Essex, while as many as 25 sites held Russian White-fronted Geese and five Tundra Bean Geese. Abberton Reservoir was one of these and also produced Red-necked Grebe, up to six Bewick's Swans and three Long-tailed Ducks.
Three Bar-tailed Godwits flew through at Redbournbury, Herts, on 8th, where there was also a Hen Harrier. Russian White-fronted Geese were the order of the week in Bedfordshire, with up to 19 at Broom GPs and 17 at Southill. Quite how many Glossy Ibises are at large in Cambridgeshire remains up for debate, but at least six were seen simultaneously on 5th – four at Earith and two at Fen Drayton RSPB. Two Great Northern Divers remained at Grafham Water.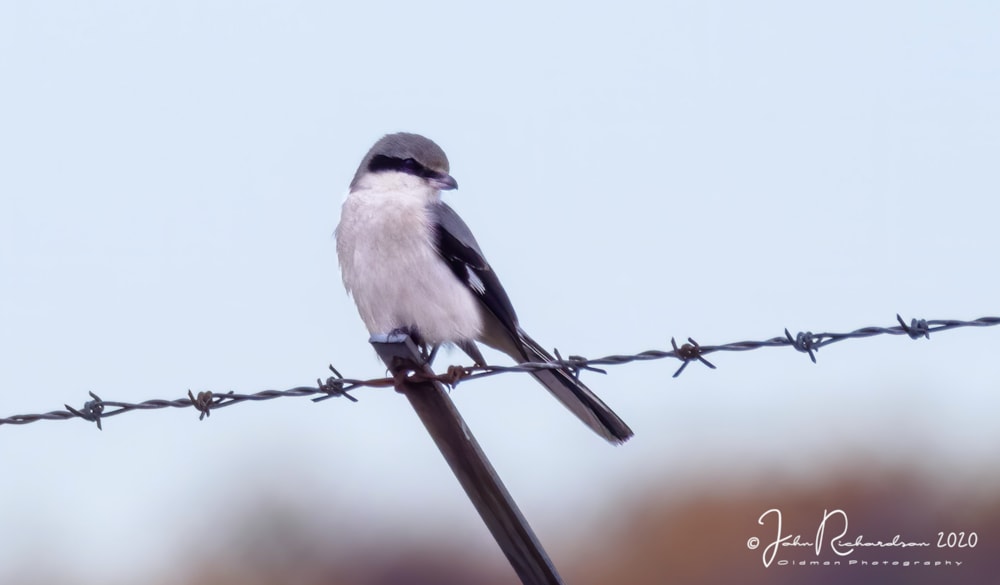 Great Grey Shrike, Upper Hollesley Common, Suffolk (John Richardson).
South-East England
A Richard's Pipit which arrived at Marsh Farm, Sidlesham, on 4th crowned a tidy week for the Selsey peninsula in West Sussex. Other highlights included a Glossy Ibis at the same site from 2nd, two Snow Buntings at East Head and up to 42 Russian White-fronted Geese in the area. Indeed, the albifrons invasion was still in full swing, with no fewer than 17 other Sussex sites logging the species. One of them was Pett Level, East Sussex, where a Tundra Bean Goose was seen sporadically. Arlington Reservoir scored a neat brace with the lingering Snow Bunting and a Black-throated Diver.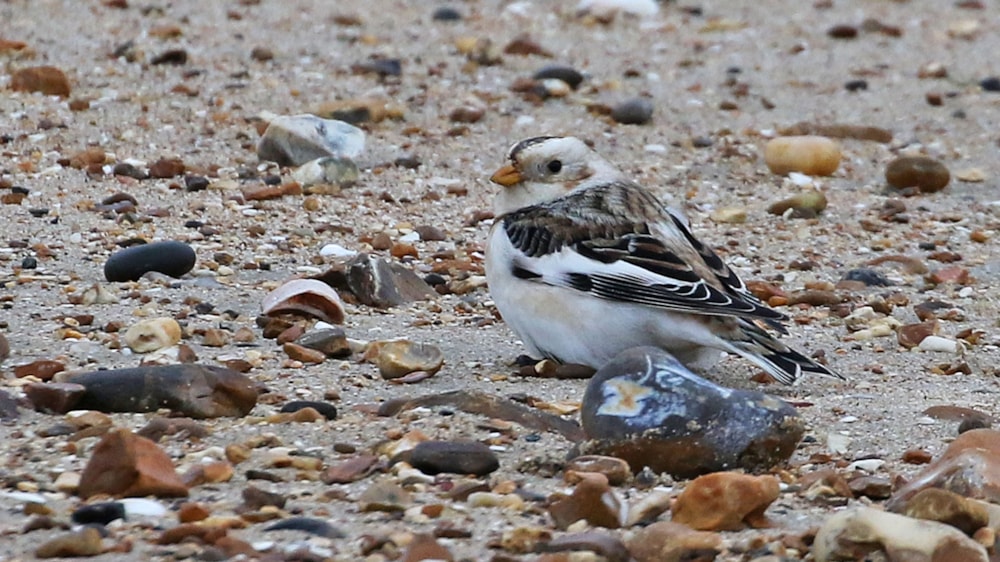 Snow Bunting, Hill Head, Hampshire (Chris Rose).
Only four Hampshire sites scored Russian White-fronts, with Hill Head, Normandy Marsh, Titchfield Haven and Warblington logging birds. The former site hosted a Snow Bunting too, last seen on 5th. The New Forest Great Grey Shrike continued at Slufter's Inclosure but the Bransbury Common bird in the north of the county wasn't seen after 2nd. On the Isle of Wight, a single Russian White-fronted Goose was noted at Brading Marshes.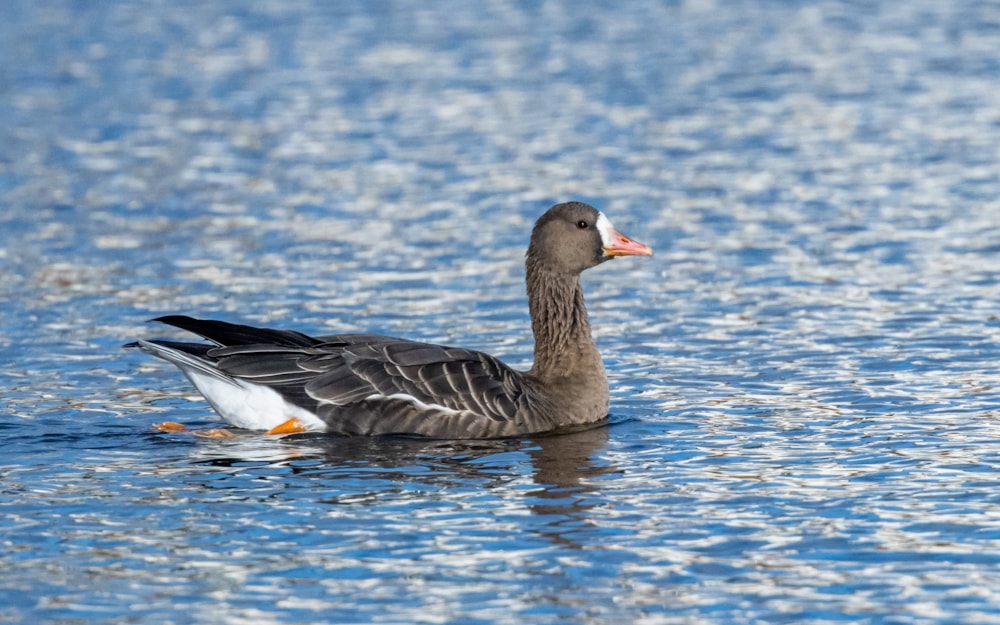 Russian White-fronted Goose, Holmethorpe Sand Pits, Surrey (Arturas Kundrotas).
The Little Bunting continued at Thursley Common, Surrey, where a Great Grey Shrike (perhaps the north Hants bird) pitched up on 8th. The Betchworth Russian White-front flock remained and another singleton was at Holmethorpe SP, while a new flock of 22 was at Burpham from 8th. The Walton reservoirs held onto their Great Northern Diver and Greater Scaup, as did Tice's Meadow its Dark-bellied Brent Goose.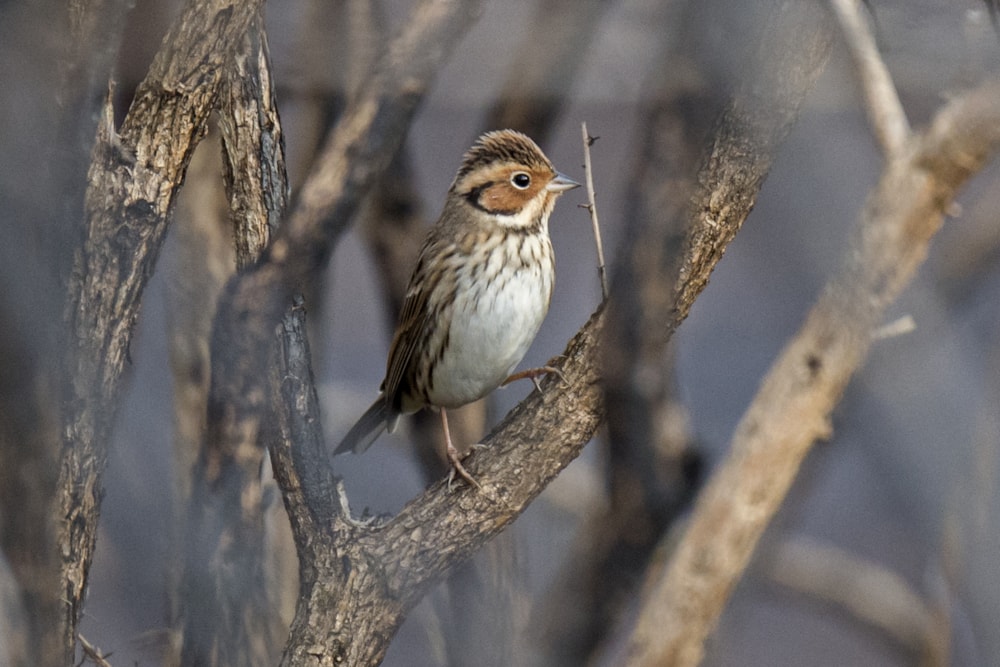 Little Bunting, Thursley Common, Surrey (James Sellen).
After a quiet spell for the county, no fewer than five Berkshire sites scored Russian White-fronts, with notable flocks of 27 around Englefield and 13 at Bisham. A Greater Scaup was at Burghfield Common on 4th and the Western Cattle Egret was still about at Lower Farm GPs. It was a similar Russian White-front story in Buckinghamshire, too, with six sites hosting, including a flock of 14 at Hillesden that also held a Pink-footed Goose. Elsewhere in Bucks, a Yellow-browed Warbler was at Watermead Lake on 6th and a Siberian Chiffchaff was trapped and ringed at Linford Lakes on 7th.
In Oxfordshire, only Chimney Meadows NNR and Buscot hosted Russian White-fronted Geese: both single birds. At Enslow, a Glossy Ibis was an all too brief visitor on 7th. The Iceland Gull was again at Sutton Courtenay/Appleford GPs and, at Farmoor, the Great Northern Diver and up to three Greater Scaup continued. One of the released Great Bustards from the Wiltshire project proved popular at Letcombe Regis from 6th.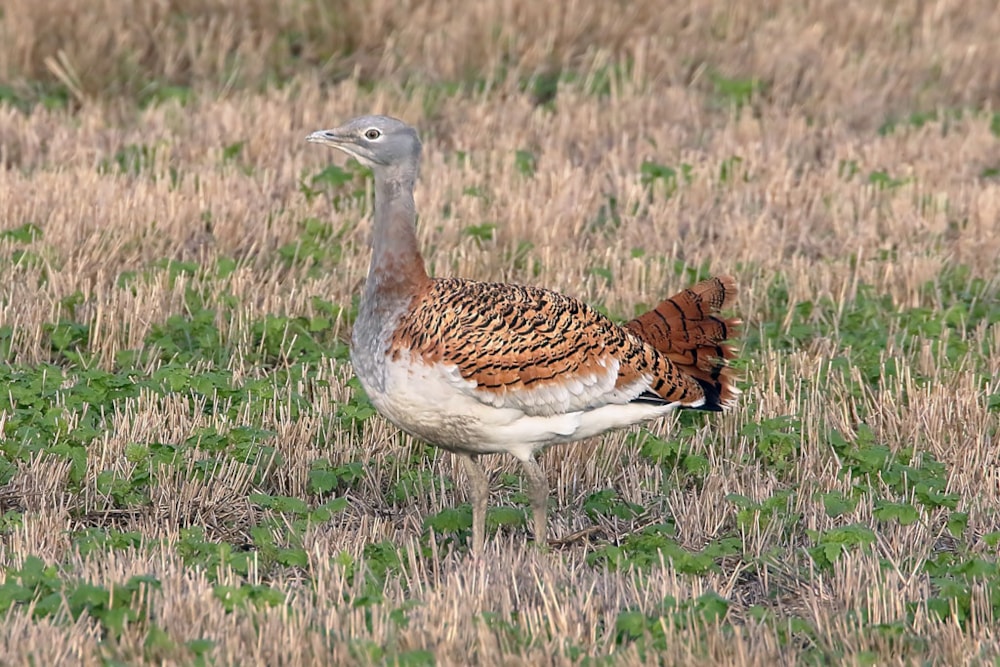 Great Bustard, Letcombe Regis, Oxfordshire (David Hastings).
London's Russian White-front-fest continued with an astonishing 16 sites logging birds. While this didn't include any double-figure counts, the incongruous nature of many – including birds at sites like Clapham Common and Hyde Park – will ensure this influx will be remembered fondly in the capital. Three Tundra Bean Geese were at Rainham Marshes on 5th, too. The Yellow-browed Warbler remained at Walthamstow Wetlands and, nearby, a Siberian Chiffchaff was at Walthamstow Marsh.
With birds at a bonkers 28 sites, Kent continued to be the epicentre of the Russian White-front invasion. Especially notable counts included 160 at Reculver, 192 on Sheppey and a mighty 480 at Shuart, but all were eclipsed by an astonishing 550 at Sandwich Bay on 2nd. Tundra Bean Geese at 10 sites was similarly nuts and included nine on Sheppey. Interestingly, four sites scored Waxwings, including six in Canterbury. Two Lapland Buntings were about, at Ash and Sandwich Bay, while six sites recorded Snow Bunting – all on the north or east coast. An Iceland Gull flew past Foreness Point on 6th and the Dungeness Glossy Ibis continued.
South-West England
The adult Ring-billed Gull at Hayle Estuary and the male Red-breasted Flycatcher at Church Cove – both long-stayers – were the most popular Cornish scarcities in a week that also saw two Ring-necked Duck at Siblyback Reservoir (present since 22 November). News broke of a Dusky Warbler at St Erth from 6th, while other highlights included a Richard's Pipit at Nanquidno Valley on 2nd and an adult Russian White-fronted Goose at Devoran from 7th. A Rosy Starling remained in St Buryan, Siberian Chiffchaffs were at two sites and Lapland Buntings were at three. Offshore, no fewer than two Humpback Whales were off St Ives on 7th and a Leach's Storm Petrel flew past Pendeen on 5th.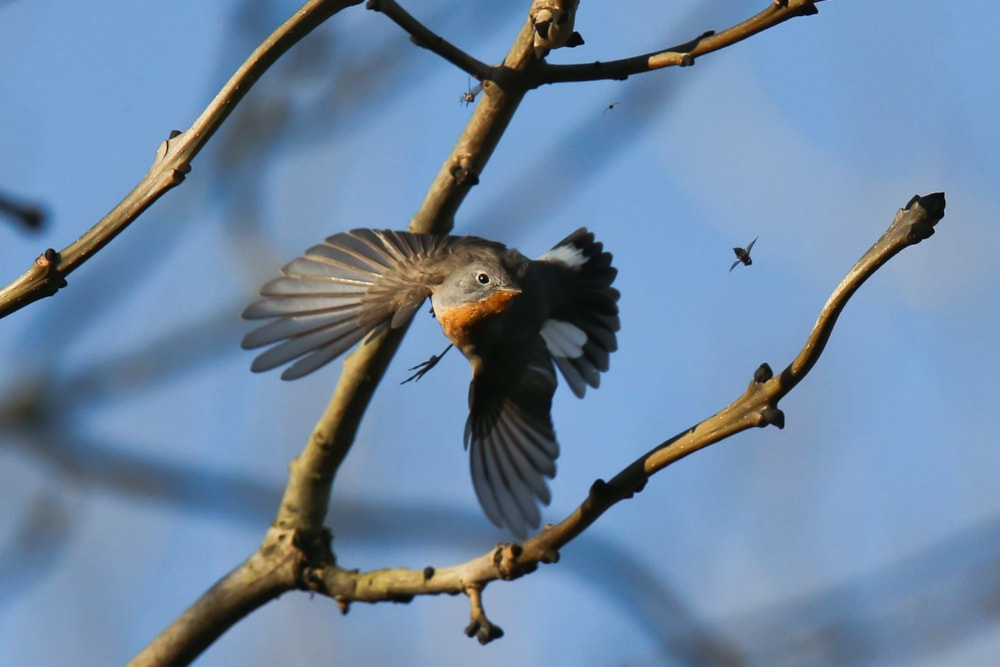 Red-breasted Flycatcher, Church Cove, Cornwall (Lee Gregory).
In Devon, a drake Ring-necked Duck was new-in at Slapton Ley from 1st. Seaton hosted a juvenile Glaucous Gull on 5th and a single Glossy Ibis was still at Fremington Quay on 3rd. A Long-tailed Duck and Black-necked Grebe were off Paignton, and a Red-necked Grebe was off Broadsands, while a white-morph Snow Goose of unknown origin was at Powderham on 5th. Siberian Chiffchaffs were at Efford, Dawlish Warren NNR and South Milton Ley (two), with Yellow-browed Warblers at three sites. The Great Grey Shrike was reported again at Soussons Down on 8th.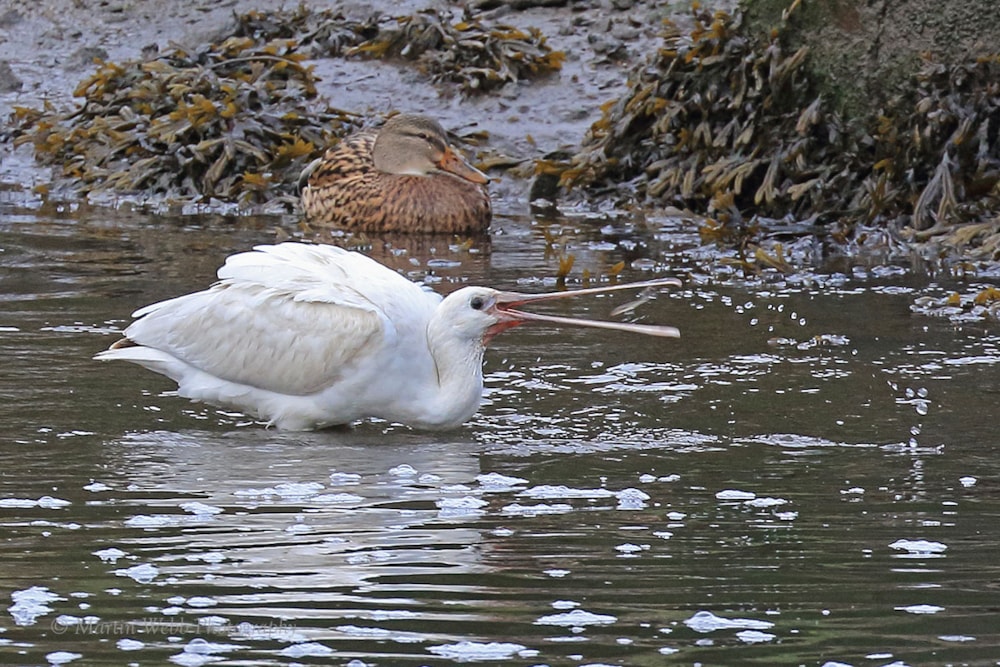 Eurasian Spoonbill, Maenporth, Cornwall (Martin Webb).
A Pallas's Warbler on St Mary's, Scilly, was trapped at Porth Hellick on 6th, with a Snow Bunting in the airport car park on 7th and at least one Dusky Warbler still around Lower Moors with at least two Siberian Chiffchaffs. Best of the rest on the island included two Iceland Gulls, Russian White-fronted Goose and three Western Cattle Egrets. A Siberian Chiffchaff, Yellow-browed Warblers and four lingering Western Cattle Egrets were the best on Tresco, while a juvenile Iceland Gull and two Yellow-browed Warblers were on St Martin's.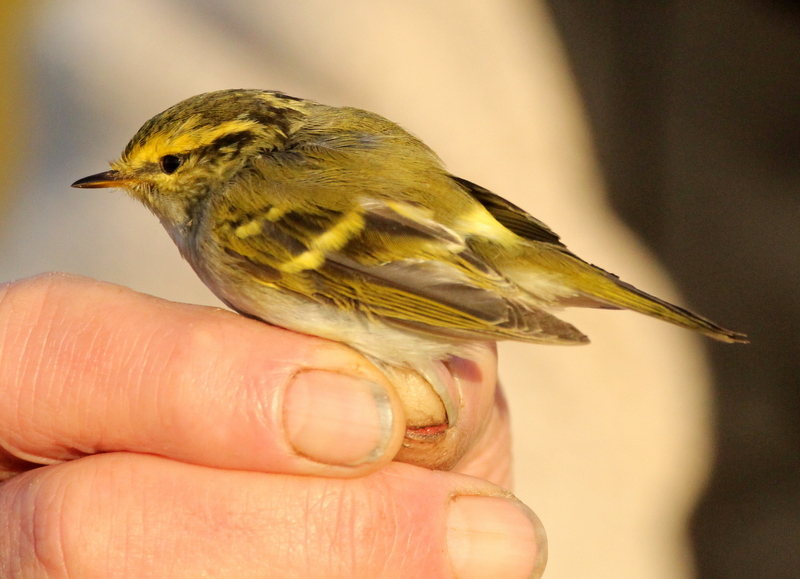 Pallas's Warbler, St Mary's, Isles of Scilly (Kris Webb).
Three Ring-necked Duck – an adult drake, adult female and first-winter drake – were Gloucestershire's highlight this week, at Cotswold Water Park from 3-5th, having been seen in Hertfordshire in November. A Slavonian Grebe was there too, while a Russian White-fronted Goose was on the Wiltshire side. Eleven Tundra Bean Geese at Oldbury Power Station on 5th relocated to Slimbridge WWT on 8th. Crabtree Hill's Great Grey Shrike remained, while Black Redstarts were at both Gloucester Cathedral and Oldbury Power Station.
In Somerset, four Eurasian Penduline Tits proved a headline act on Stockland Marsh, Steart WWT, from 6th. A Great Northern Diver was new at Cheddar Reservoir on 8th, while a Slavonian Grebe was there on 4-5th. A juvenile Tundra Bean Goose was a one-day visitor to Wimbleball Lake on 4th, though the Tundra and two Russian White-fronts were still at Apex Leisure Park. Another nine Russian White-fronted Geese were near Templecombe on 4th. A Yellow-browed Warbler at Royate Hill LNR, Bristol, on 2nd was also notable.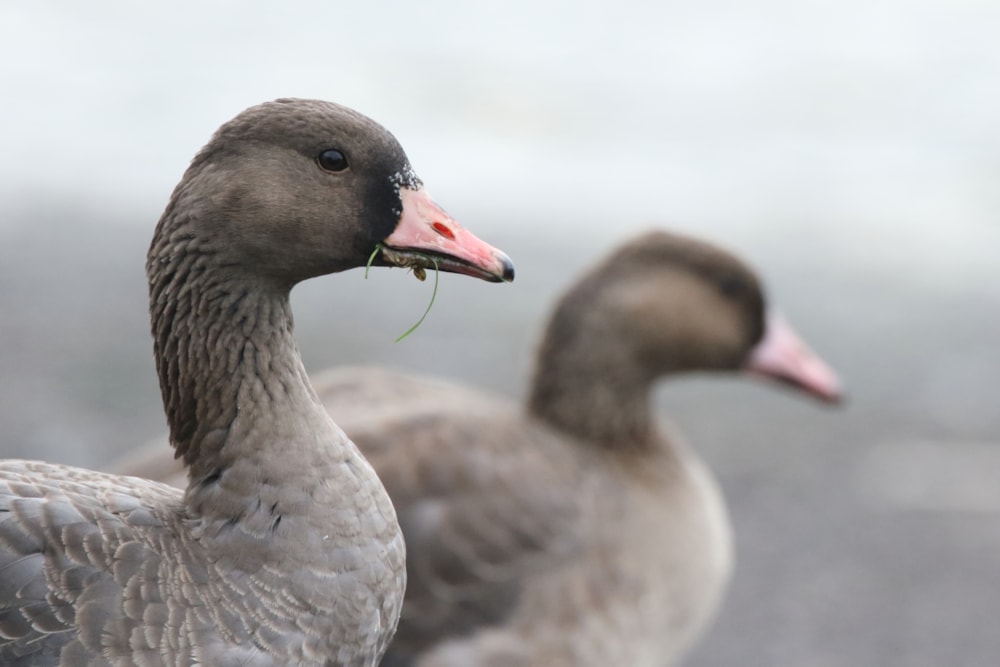 Russian White-fronted Goose, Apex Leisure Park, Somerset & Bristol (Andrew Jordan).
Kinson sewage works, Dorset, hosted a wintering Siberian Chiffchaff from 6th and a Water Pipit remained at Lytchett Fields RSPB. Originally reported as a Barred Warbler, a remarkably late Garden Warbler was in a Langton Matravers garden from 29-6th at least. On The Fleet, two Black Brant lingered at Butterstreet Cove until 2nd and the Velvet Scoter was off Tidmoor Point, while, elsewhere, two Long-tailed Ducks were still off Jerry's Point and a young drake was still at Silverlake, West Knighton. At Longham Lakes, the drake Green-winged Teal lasted for another week, and the first-winter Glossy Ibis was still at Stanpit Marsh throughout. A Red-necked Grebe was again in Portland Harbour, alongside two Black-throated Divers, the mobile Iceland Gull and several Black-necked Grebes, and the Rosy Starling remained at Easton, Portland.
Wales
It was pleasing to report a particular stripey Larus roosting again at Llys-y-Fran Reservoir, Pembrokeshire. The adult Ring-billed Gull roosted on the evening of 6th after first being reported (as an adult) way back in 2006! The first-winter Caspian Gull was logged in the Cardiff Bay roost throughout, being joined by a second-winter on 8th.
Ring-necked Duck were reported from four sites across the country, including a pair at Lower Talley Lake, Carmarthen. The juvenile Tundra Bean Goose continued to decorate Nedern Brook, Gwent, throughout, while single Russian White-fronted Geese were reported from Llandegfedd Reservoir, Gwent, and Kenfig Pool, Glamorgan. Two Velvet Scoter were off Coppet Hall Beach, Pembs, on 3rd, with another off Broad Haven on 6th.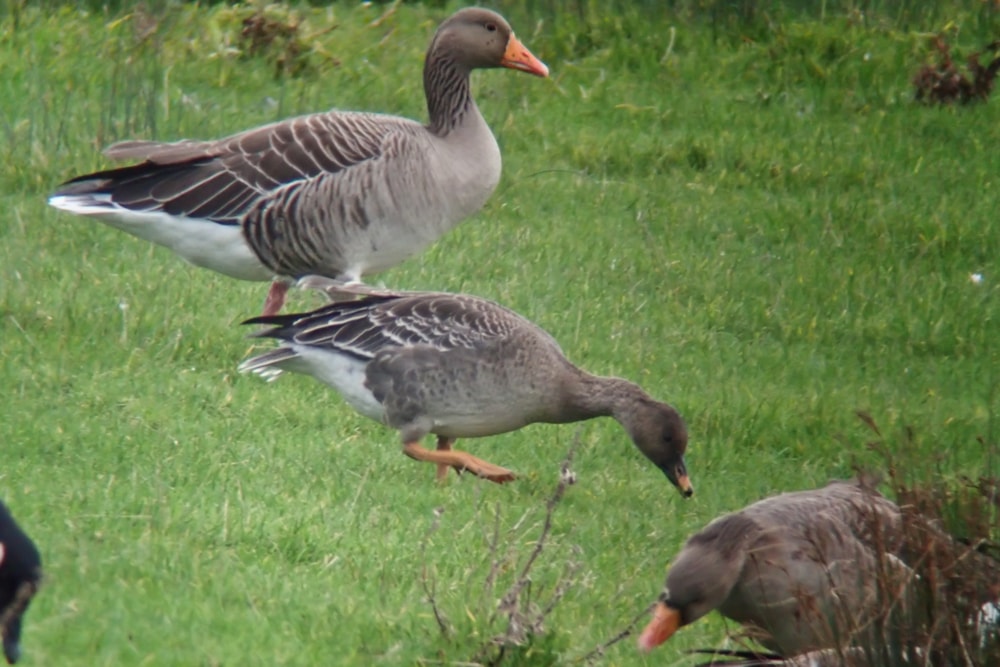 Tundra Bean Goose, Goldcliff Pools NR, Gwent (Lee Gregory).
A Hoopoe attending a private garden at Portskewett, Gwent, from 7th was a little unorthodox for December. In another garden, this time on Anglesey, the adult Rosy Starling remained at Amlwch Port. Both the adult and juvenile Glossy Ibises remained faithful to Goldcliff Pools NR, Gwent, throughout.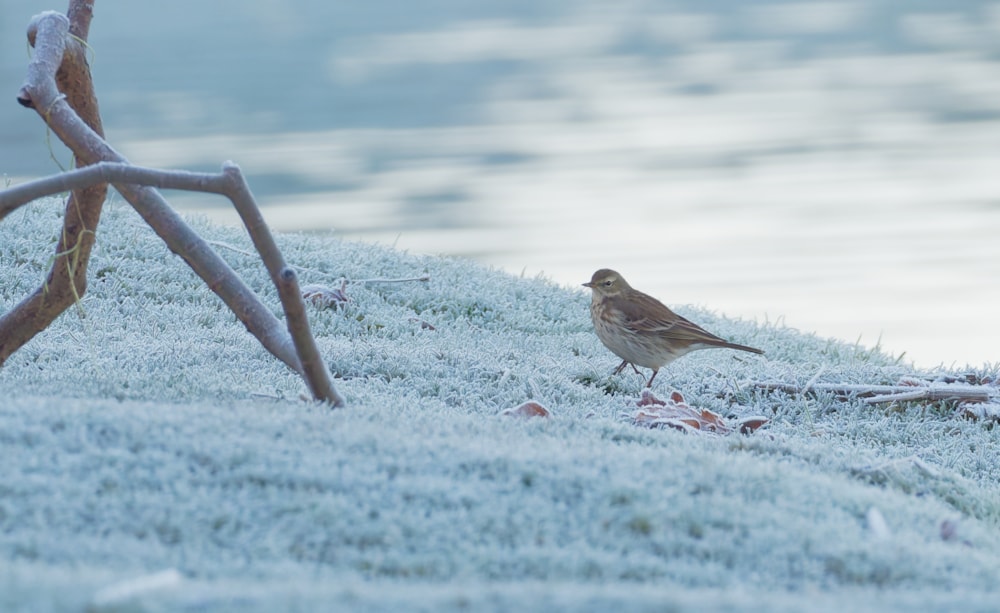 Water Pipit, Ogmore Estuary, Glamorgan (Paul Roberts).
Ireland
A first-winter Ring-billed Gull on The Mullet, Co Mayo, was notable, while up to 10 Iceland Gulls were there in the opening week of December. Another Ring-billed – an adult – was at Killimer, Co Clare. Common Crane remains rare in Ireland and one flying over Lucan, Co Dublin, on 5th was notable. Three sites continued to hold Glossy Ibises, with at least seven Great Egrets also at large.
Two American Wigeon and a Green-winged Teal were at Termoncarragh Lake, Co Mayo. Four sites held Ring-necked Duck, including two in Co Clare. The Green-winged Teal remained at Blennerville, Co Kerry, and a Surf Scoter was found off Garretstown, Co Cork, on 6th, while at drake was at Dundrum Bay, Co Down, on 3rd. The Black Brant hung around at Myroe Levels, Co Londonderry.
Two Siberian Chiffchaffs were ringed at Owenahincha, Co Cork, on 6th, with another seen at Shankill, Co Dublin, on 8th.
Western Palearctic
Two Forest Wagtails at Jahra Pools, Kuwait, on 7th were undoubted highlight in what proved another remarkable week in the WP hot-spot. These form just the second and third records for the Western Palearctic, with the only other record hailing from the country at Al Abraq in November 2006. Otherwise, an Ashy Drongo – the country's fourth and either the fifth or sixth for the region – was at the private Sabriya Oil Field from 4th, an adult Masked Wagtail – the country's seventh record – was at Jahra Pools on 5th, and two Indian Rollers were still at Sulaibiya Pivot Fields on 8th.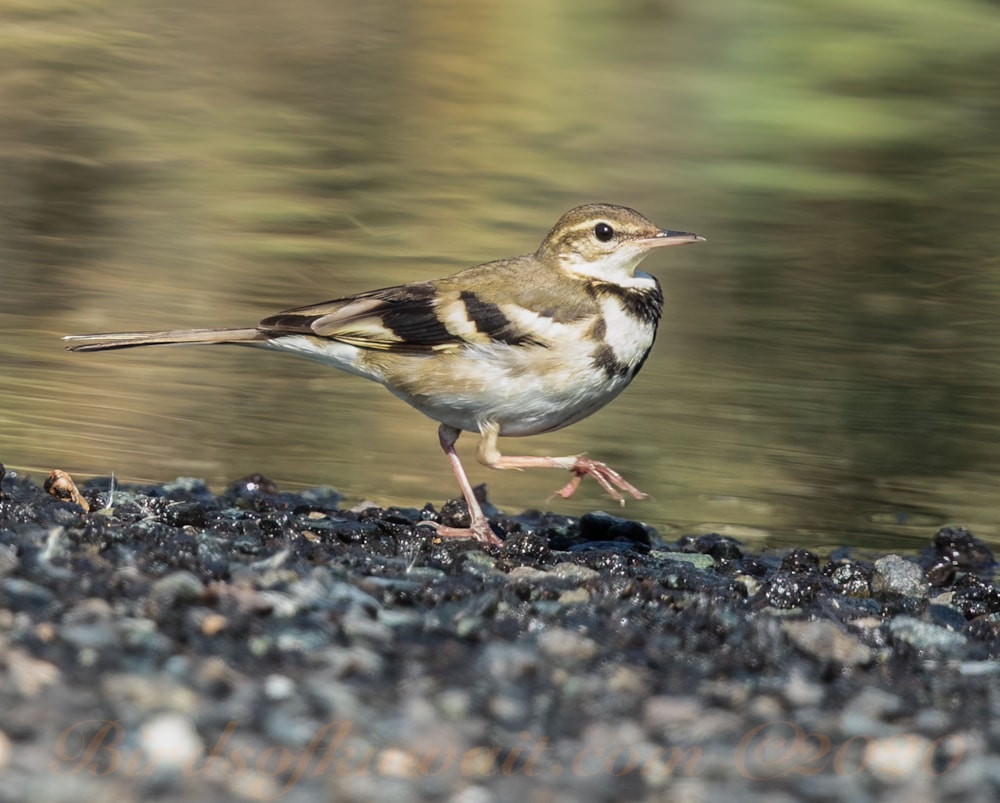 Forest Wagtail, Jahra Pools, Kuwait (Abdulrahman Alsirhan).
Elsewhere in the region, a male Pine Bunting was in the Balearics near Orient, Mallorca, on 6th, with the Israeli Bateleur sighted near Beit Nir on 3rd. In the Azores, a White-winged Scoter was a fresh find at Angra do Heroísmo, Terceira, on 8th – a first for Portugal, no less. The female Belted Kingfisher was again reported from Lajes do Pico, Pico, on 8th, and the Green Heron at Povoação, São Miguel, was still around until 7th.
A new Blyth's Pipit was on the outskirts of Umeå, Sweden, the Asian Desert Warbler remained at Solberga, Öland, until 6th, and the Alaskan Yellow Wagtail lingered at Trelleborg. In Germany, a Pygmy Cormorant was again near Alfhausen, while, in Finland, an Oriental Turtle Dove was noted at Keikyä, Sastamala, on 4th and the country's second Richardson's Cackling Goose was at Maaviiki from 1st. A Black-throated Thrush was at Hoograven, The Netherlands, from 4th and a Blyth's Pipit was at Havenhoofd from 5th.