All in all, it's been another relatively quiet birding week across Britain and Ireland – although, being mid-September, use of the term 'quiet' is always relative, for there was nonetheless some decent action to be had in many areas.
The big story of the seven days was not a bird, but an Arctic cetacean – more specifically a Beluga Whale, sensationally found in the River Thames off Gravesend, Kent, late morning on 25th. This spectacular animal lingered within a couple of kilometres of its original location for the rest of the day, allowing large numbers of birders and the general public alike to connect. The presence of media helicopters circling overhead as well as several TV crews made for a slightly surreal experience on the banks of the Thames on a sunny and warm September afternoon. Of course, the outlook for the whale may be bleak, as it so often is for displaced cetaceans, but it appeared in good health and was seemingly actively feeding at times. Here's hoping for a positive outcome.

Beluga Whale, Gravesend, Kent (Josh Jones).
Bird of the week was a surprise Yellow-breasted Bunting on Whalsay, Shetland, on 22nd. Almost a year to the day since one on Out Skerries, itself the first gettable one for several years and touted as perhaps "one of the last" of its kind to be twitchable on our shores, this latest bird lingered throughout the following day and performed very well. Evidently all hope for this species is not yet lost, despite ongoing catastrophic declines across Siberia.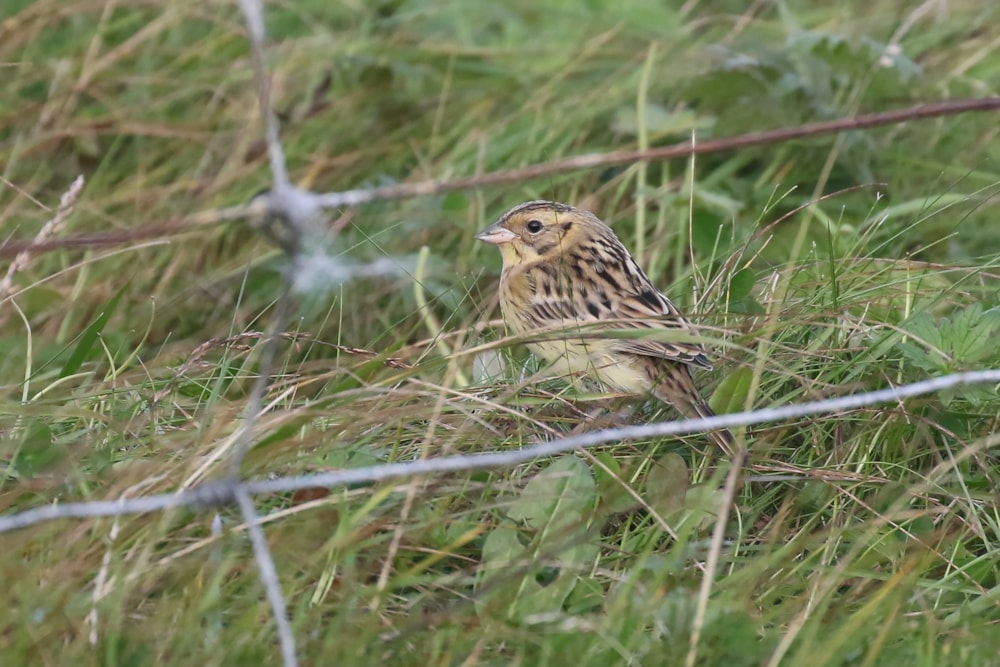 Yellow-breasted Bunting, Vats-Houll, Whalsay, Shetland (John Irvine).
Otherwise, excitement came for those happy to brave the occasionally filthy conditions to stare out to sea. Storm Ali certainly stirred things up a tad, as evidenced by the many thousands of Great Shearwaters in the seas off Cornwall and the Isles of Scilly. Over 2,200 passed Porthgwarra, Cornwall, during 20th, with large numbers of common species offshore making for a genuine seabird spectacle. That day also produced 2,400 Great Shears past Horse Point, St Agnes, Scilly. It was quite localised, though, with just a single bird reported from Ireland all week and none further east than two at Berry Head, Devon, during the big passage on 20th. Whether or not the week's rarest shearwater was directly related to the storm or not is unclear, but there's no doubting that the Barolo Shearwater past Rossall Point and later Heysham, Lancs, on the morning of 20th must have generated great excitement among its admirers.
The following day produced a Fea's-type Petrel past Pendeen, Cornwall, with 18 Grey Phalaropes and 48 Great Shearwaters among the supporting cast. A few Leach's Storm Petrels were also seen in both western and eastern areas, with small numbers noted around the classic Wirral locations, albeit not in the numbers seen last year.
Heavy rain and northerly winds on 23rd produced excellent seawatching on the north Kent coast, with Oare Marshes, Kent, producing an amazing 450+ Great Skuas past plus a nice selection of scarcities, including a couple of Sabine's Gulls, 16 Pomarine Skuas and a single Long-tailed Skua. Further east, a vigil at Walpole Bay, Margate, saw 37 Sooty Shearwaters, 150 Great and 70 Arctic Skuas logged along with another Long-tailed and two 'Poms' by mid-afternoon. A scattering of inland skuas followed, mainly Great Skuas, while the Cambridgeshire hot-spot of Foul Anchor registered 16 Great and seven Arctic Skuas heading inland up the River Nene on 23rd.

Pomarine Skua, Oare Marshes NR, Kent (Dominic Mitchell).
As always with these conditions, there were a few unfortunate stories: a Manx Shearwater flew into a window in Thirsk, North Yorkshire, on 21st, another was found nestled in a car park in the Elan Valley, Powys, on 18th, and a third was rescued from a football field in Forest Town, Notts, on 21st. Among a large 'wreck' of Grey Phalaropes on coastal and inland waterbodies, one at Loscoe Dam, Derbyshire, was sadly notable for being taken by a pike on 23rd. Fortunately, though, most of the young Northern Gannets seen over various inland sites following the weekend's winds will presumably reorient themselves back to sea.
It was a fantastic week for Grey Phalaropes across the country (fantastic from a birder's perspective that is, perhaps not so much for the birds). A total of 376 reports of the species were disseminated across the BirdGuides news service during the seven days, with the somewhat chaotic map below giving an idea of just how many turned up inland across the southern half of Britain. As they tend to do, many individuals gave exceptional performances to the gathered crowds, with shout-outs to those at Crosby Marine Park, Lancs, and Huntspill, Somerset, for their exceptional fearlessness.

Grey Phalarope, Huntspill, Somerset & Bristol (Carl Bovis).

Grey Phalarope, Crosby Marine Park, Lancashire (Daniel Gornall).
Potentially one of the biggest birds of the week, a presumed adult Sooty Tern flew north past Whitburn, Durham, on 23rd, although Bridled Tern couldn't be conclusively ruled out. That said, it would seem most likely that this is the summer's bird still knocking around in the North Sea.
An early juvenile White-rumped Sandpiper graced Leam Lough, Co Mayo, on 20th, with an adult at Mannin, Co Galway, that day. Another White-rumped Sand was at Myroe Levels, Co Derry, from 22nd, with it or another calling in at the Bann Estuary on 22nd. The Baird's Sandpiper remained on Tresco, Scilly, to 21st, with records from both Tacumshin and Lady's Island Lake, Co Wexford, on 21st perhaps relating to the same bird.
A few new Buff-breasted Sandpipers sneaked in, with a nice trio at Dale Airfield, Pembs, from 22nd, and two at Loop Head, Co Clare. Singles were at Tacumshin, Co Wexford, and Myroe Levels, Co Derry, while there were western Scottish records from Tiree, North Uist and St Kilda. One was near Uyeasound, Unst, on 19-20th, with an American Golden Plover close by there. A further 'Buff-breast' was on the Scottish east coast near Dunbar, Lothian, on 21-22nd. Twenty-seven sites logged Pectoral Sandpipers, with a couple of multiples pushing the total number recorded to 30.
A total of 10 American Golden Plovers were seen across Britain and Ireland, all of which were moulting adults – it's about time the first juvenile pitched up. Bucking the trend was a fine adult Pacific Golden Plover, still largely in breeding plumage, which spent a few hours at Aldeburgh Marshes, Suffolk, on the morning of 20th before flying off high to the west.

Pacific Golden Plover, Aldeburgh Marshes, Suffolk (Andrew Moon).
It's perfectly feasible to think that reports of Lesser Yellowlegs in Cornwall and Dorset may involve the same bird. In the former county, a juvenile was at Devoran Quay from 19-21st. Then, on 23rd, a couple of mid-morning fly-bys at Abbotsbury Swannery preceded the same bird pitching up at Lodmoor RSPB from mid-afternoon, where it remained until the end of the review period.

Lesser Yellowlegs, Lodmoor RSPB, Dorset (Jon Mercer).
A brief Bonaparte's Gull dropped in at Langford Lakes, Wilts, on 21st while the Co Sligo adult continued at Long Rock to 24th. Adult Ring-billed Gulls were at Kilkee, Co Clare, and Sligo Town. Meanwhile, a Laughing Gull was reported briefly on St Martin's, Scilly, on 21st. The adult Forster's Tern continues in Co Louth for now, being reported again at Soldier's Point on 23rd. News on 22nd concerned a juvenile White-winged Tern at Marton Mere, Lancs; it had already been present for four days by that point and remained to 23rd.
Three Pallid Harriers lingered, including the well-watched juvenile near Therfield, Herts; remarkably, it was photographed sitting on someone's bird feeders on a couple of dates. Elsewhere, the juvenile female at Welney, Norfolk, stuck around all week but the Cheshire bird wasn't seen past 22nd. Meanwhile, on St Kilda, the Snowy Owl remained in situ.

Pallid Harrier, Therfield, Hertfordshire (Mark Thomas).
Passerine highlights included the continuing White-throated Sparrow on Foula, Shetland, where there was also a Golden Oriole on 25th. The autumn's first Red-eyed Vireo always gets the pulse racing among birders and often signifies further arrivals from North America – although this week's bird, seen at Nanjizal, Cornwall, on 20th, seemed to have travelled alone.

White-throated Sparrow, Foula, Shetland (Donna Atherton).
Content continues after advertisements
Reports of Tawny Pipit from both Nanjizal and nearby Porthgwarra on 24th could well have involved the same bird. A Citrine Wagtail was at Norwick, Unst, Shetland, on 21-22nd, with another found on Arranmore Island, Co Donegal, on 23rd – the day the Scilly bird was last seen. There were records of Richard's Pipit from Northumberland on 20th, Hampshire on 22nd, Fair Isle on 24th and East Sussex on 25th.

Citrine Wagtail, Norwick, Unst, Shetland (Robbie Brookes).
Despite uncompromising westerlies, the harbingers of this autumn's Yellow-browed Warblers nonetheless made it through, with a couple in Kent and even a few on the Isles of Scilly by the end of the week, with the stand-out record concerning one at Mizen Head, Co Cork, on 23rd. One or two battled onto the east coast and there was also a light scattering in Shetland. With reports of over 100 ringed on the Norwegian island of Værøy (and many more seen only there), it appears they are amassing in their thousands just across the North Sea. As soon as things go calm, it appears inevitable that we will be swamped by 'Yellow-brows' as their relentless westward march recommences.
Double figures of Common Rosefinches were seen around Shetland, while a couple were in the Spurn area on 23rd. Further south, notable records came from Skokholm, Pembs, on 22nd and Froward Point, Devon, on 23rd, with a couple also seen on the Isles of Scilly. As well as an Ortolan Bunting on Fair Isle on 23rd, two were seen at Portland, Dorset, on 24th (with another not far away at Wyke Regis), and another was on St Mary's, Scilly, on 25th.

Common Rosefinch, Spurn YWT, East Yorkshire (Philip Robinson).
Away from the Northern Isles, just three Barred Warblers were seen (in Highland, East Yorkshire and Norfolk), while just a single Icterine Warbler was found – at Baltasound, Unst, on 21st. Melodious Warblers were in Cornwall and on the Isles of Scilly. In Shetland, Blyth's Reed Warblers were on Foula and Fair Isle.
A Red-backed Shrike was present on Tiree, Argyll, on 23-24th, just a couple of days after one was seen on Mull – same bird? Others were in Pembrokeshire, Hampshire and Shetland. The Woodchat Shrike continued to show well at Barns Ness, Lothian, through the week and another was found at Ynyslas, Ceredigion, on 24th. A Little Bunting was at Hobbister, Orkney, on 21st, while the Shetland bird was last seen at Lund, Unst, on 20th. The continuing Bluethroat on Out Skerries ploughed a lone furrow for its species across Britain and Ireland this week.
Just 16 sites registered Wrynecks, although several were in Cornwall and a showy bird entertained at Wells-next-the-sea, Norfolk, over the weekend. Half-a-dozen Rosy Starlings were seen, mostly in southern areas (there were two apiece in Dorset and Cornwall), although a youngster showed well at Barns Ness, Lothian, from 21st.

Wryneck, Wells-next-the-Sea, Norfolk (Jeff Lack).

Rosy Starling, Barns Ness, Lothian (Ian Andrews).
A drake Hooded Merganser was a great find at Streamstown Bay, Co Galway, on 25th – it was wary, fully winged and appeared to bear no rings. In Lothian, the drake American White-winged Scoter remained off Musselburgh sea wall throughout the week and often showed rather well. The female King Eider was again on the Dyfi Estuary, Ceredigion, on 24-25th and the drake was relocated off Burghead, Moray, on 25th. A couple of Surf Scoter were in the Sound of Taransay, Outer Hebrides, on 21st. Freshwater species included a new first-winter Ferruginous Duck at Minsmere, Suffolk, on 25th and the drake still at Abberton Reservoir, Essex, on 22nd, where one of three Ring-necked Duck also lingered. The others were in Co Donegal (back again from another winter at Lough Shivnagh) and Gartmorn Dam, Forth, from 19th.

American White-winged Scoter, Musselburgh Lagoons, Lothian (Andy Butler).
Western Palearctic
A more eventful week around the WP region saw the continued presence of the French Red-necked Stint at Hyères, Var, throughout. In Brittany, Trunvel ringing station scored heavily when a Pallas's Grasshopper Warbler was extracted from its mist nets on the morning of 24th, and there was a Laughing Gull in Charente-Maritime on 25th.

Pallas's Grasshopper Warbler, Trunvel, Finistère (Léa Bonnot).
Also trapped and ringed, this time in Denmark, was a Red-flanked Bluetail at Skagen Bird Observatory on 24th.

Red-flanked Bluetail, Skagen, North Denmark (Simon S. Christiansen).
A South Polar Skua was photographed off Illas Sagres, between A Coruna and Pontevedra, north-west Spain, on 21st, while a couple of Elegant Terns were at Chipiona, north of Cádiz, on 23rd.
Storm-blown seabirds were a feature this week, with a Manx Shearwater at Yverdon-les-Bains, Switzerland, on 24th, the day after Slovenia's second Great Skua was seen at Lake Ptuj. Just the third Manx Shearwater for Poland was seen off Kąty Rybackie on 24th, with a Sooty Shearwater (the country's 15th) also seen on 25th.
Finland enjoyed a productive week with a Steppe Grey Shrike at Pori on 19th followed by a Cinereous Vulture lingering near Liminka from 23-25th. Meanwhile, in Germany, a first-winter Sociable Lapwing was at Torgau, Saxony, from 22nd.

Cinereous Vulture, Liminka, Northern Ostrobothnia (Esa Hohtola).
Finally, Israel's first Arctic Warbler was trapped at Eilat Birdwatching Centre, Israel, on 23rd.

Arctic Warbler, Eilat, Southern District (Noam Weiss).